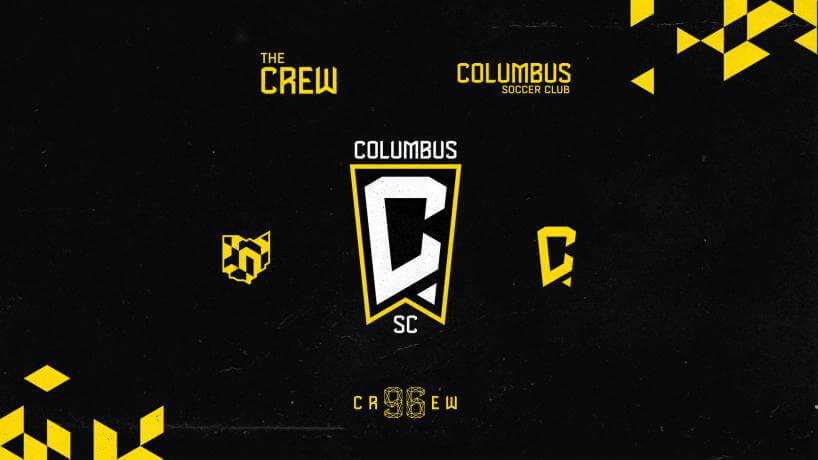 [Editor's Note: Today's lede is by longtime Uni Watch team member Alex Hider, who has the latest on an inexplicable MLS redesign. — PL]
By Alex Hider
"Not needed. Tone deaf."
Those were the words that a good friend of mine — a lifelong Columbus Crew fan and season ticket holder — used to describe the team's new team name and logo, which were unveiled yesterday after a weekend full of leaks.
His description is probably an understatement. A team coming off a successful push to save its club and a second MLS championship now sees some of its most ardent supporters in a mutiny over a redesign that few fans asked for.
The team is now officially known as Columbus SC and has banished the word "Crew" — a moniker the club has used since it was founded as one of the charter MLS members in 1996 — from its new primary badge.
However, the club told local media outlets that it hopes fans still refer to the team as "the Crew," just as Liverpool fans call their club "the Reds" and Arsenal fans call their team "the Gunners." The team even included "The Crew" and "Crew 96" wordmarks as part of their unveiling. It feels like a weak attempt to have it both ways.
For a team that likes to tout its extensive MLS history and heritage, there's no reason to make a move this drastic. Supporters who had stuck behind the team for 25 years were unlikely to be clamoring for a name change, so making that change only alienates the club's most hardcore fans.
Moreover, the new badge feels like a serious aesthetic downgrade. Just six years after unveiling a crest that was near-universally praised, the team opted to ditch it for a new mark featuring a "C" shaped like Ohio's distinctive pennant-shaped state flag: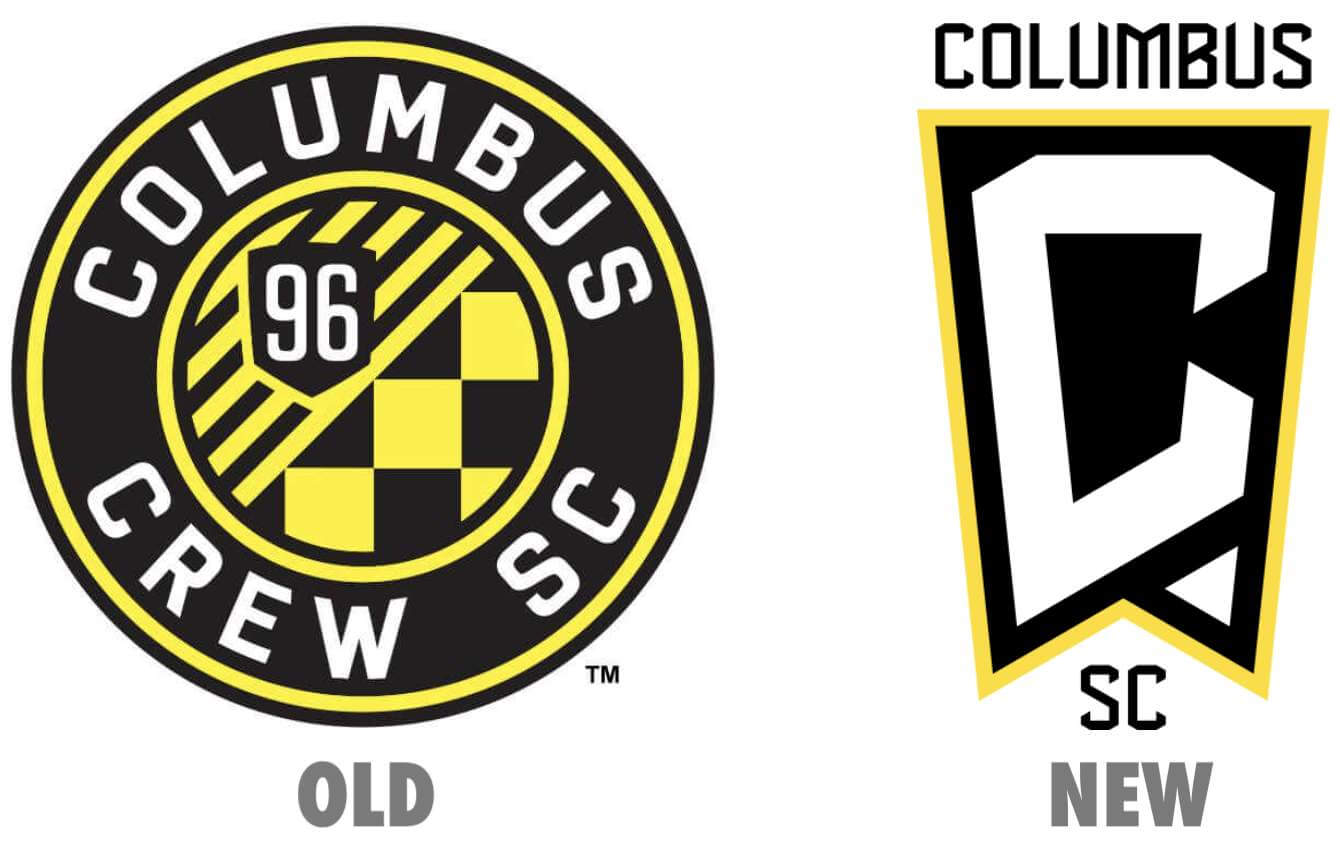 It's a good concept in theory, but the execution misses the mark. The pennant is a difficult shape to work with, especially when trying to house letters or words. The final product feels a bit clunky, especially when compared to the simple, straightforward roundel the team has been using.
There's also that little triangular element at the bottom-right corner of the new badge, which somehow seems simultaneously unnecessary yet essential to keep the logo from feeling incomplete. You have to figure an issue like that could have been avoided if the team chose to orient the logo horizontally instead of vertically.
For a group of fans that just fought like hell to #SaveTheCrew and keep the club in town, Monday's formal announcement was a gut punch.
On Sunday night, the Nordecke — a coalition of the club's largest supporters' groups — condemned the rebrand, alleging that the club did not involve any of the fan groups in the design process and that the team recruited fans for promotional materials without informing them of changes ahead of time. A handful of fans even went to the team's stadium on Monday evening to formally protest in person.
The #Nordecke Statement on the #Crew96 Rebrand pic.twitter.com/78K0LGY4MA

— The Nordecke ⭐⭐ (@Nordecke) May 9, 2021
In some ways, Columbus fans could have seen this coming. Among those who stepped up to buy the team and keep them in town was Tennessee businessman Jimmy Haslam — the owner of the NFL's Cleveland Browns, who had their own ill-advised redesign in 2015.
Haslam remedied that mistake after five seasons — the quickest timeline allowed by the NFL. Could he do the same for the Crew if fans continue to voice their displeasure?
• • • • •
• • • • •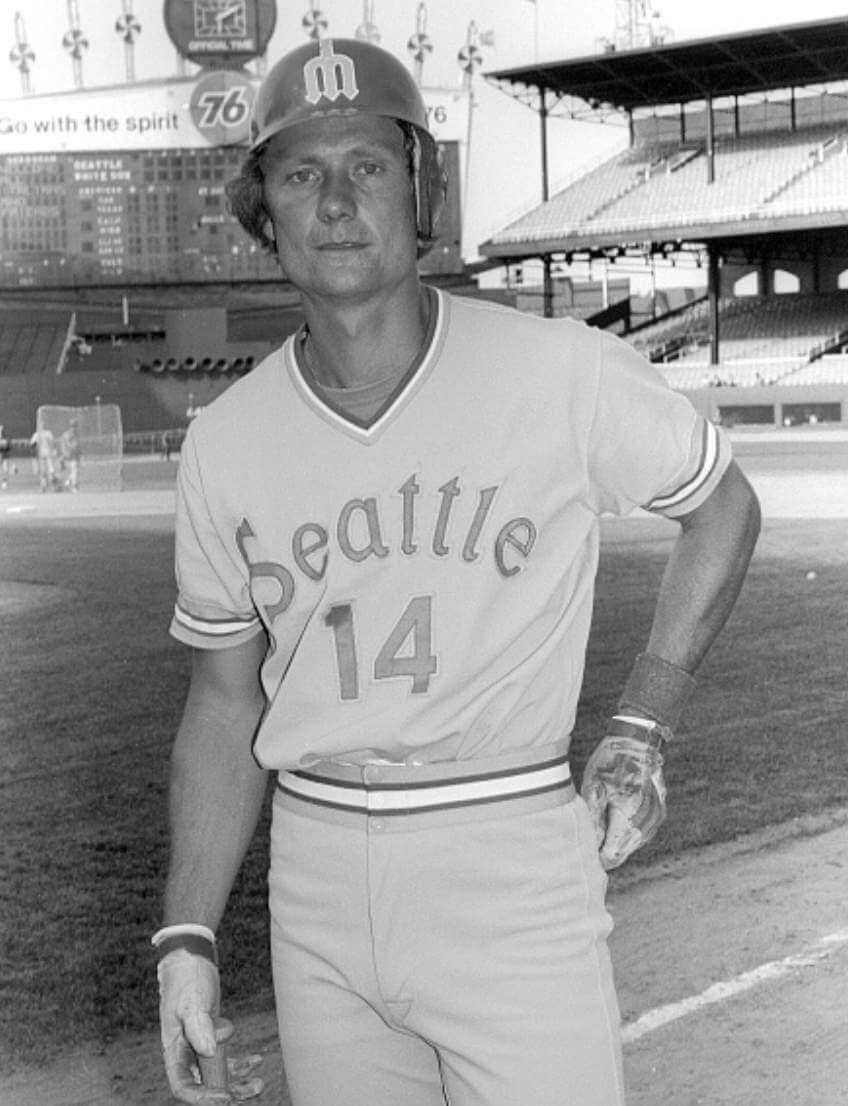 Click to enlarge
ITEM! History mystery solved: Yesterday I showed this photo of Tom Paciorek wearing a Mariners road jersey with centered numbering. The photo was clearly taken at Chicago's Comiskey Park, probably in 1978 (the M's wore an All-Star Game patch in '79, had two-tone batting helmets in '80, and switched to a different uni design in '81, so '78 is the year that makes sense).
I was so excited to share this photo with you yesterday that I didn't do what I should have done first: show it to uni scholar Bill Henderson. I ran it by him yesterday and got this response:
Never seen this before! Ever. The Mariners were incredibly sloppy and cheap. And inconsistent. I wonder if he was reissued a jersey that had the 4 as the first number, and to be quick they just stuck a 1 in front of the existing 4. To prove this theory, I would look to see if he was a mid-season add to the team or if he was on the opening day roster.
That was an interesting theory, so I looked up Paciorek's 1978 game log. And sure enough, Atlanta released him in May of that year, and then he joined the Mariners on June 22 — in Chicago. So as Bill suggested, they probably gave him a makeshift jersey, and then this photo (along with a similar shot clearly taken as part of the same photo shoot) was probably taken right after he suited up for the first time. It likely went out over the wire with a caption saying that he was the newest addition to the Seattle roster.
"It's possible that the local shop in Chicago sewed his uniform, using whatever the team trainer had in his kit, and probably on deadline," says Bill. "That would be similar to what happened when Mark McGwire joined the Cardinals in Philadelphia." For details on that, look here and here.
That June 22 game in Chicago where Paciorek made his Mariners debut was the final game of a three-game series. After that, they played a three-game set in Milwaukee (the Brewers were still in the American League at the time). Paciorek didn't play in the series opener but did appear in the second and third games. It's not clear whether he was still wearing the centered-number jersey for those games, but the M's went back to Seattle for a long homestand after that, so he presumably had a proper jersey when they went back on the road on July 7.
All of which is a long way of saying that Paciorek probably wore this jersey for a few games at the most, and possibly only for one game. So that photo documents a very rare phenomenon!
(My continued thanks to Twitter-er @ianb78 for bringing the Paciorek photo to my attention, and to Bill Henderson for providing the probable answer to the mystery.)
• • • • •
• • • • •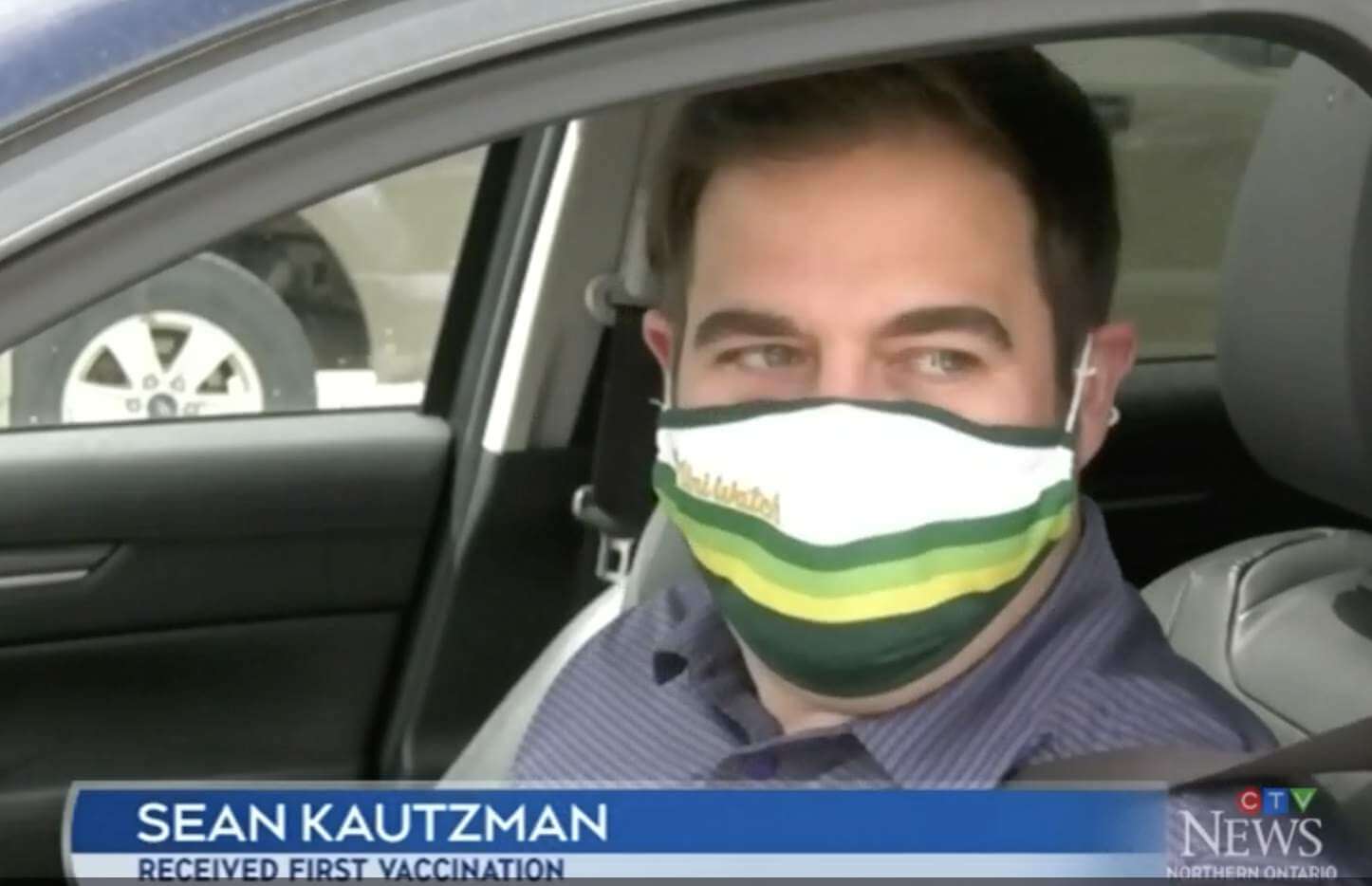 ITEM! Uni Watch mask makes televised vaccination debut: Uni Watch reader Sean Kautzman received a Covid vaccination yesterday at a drive-thru site in Sudbury, Ontario, and then was interviewed by a TV news crew — while wearing his Uni Watch mask! — as he prepared to drive back home.
You can see the full video clip here. Sean appears about a minute into the report.
I'm very proud to see Uni Watch having a presence to help promote public health. Congrats on your first vaccination shot, Sean, and also on your televisual appearance!
• • • • •
• • • • •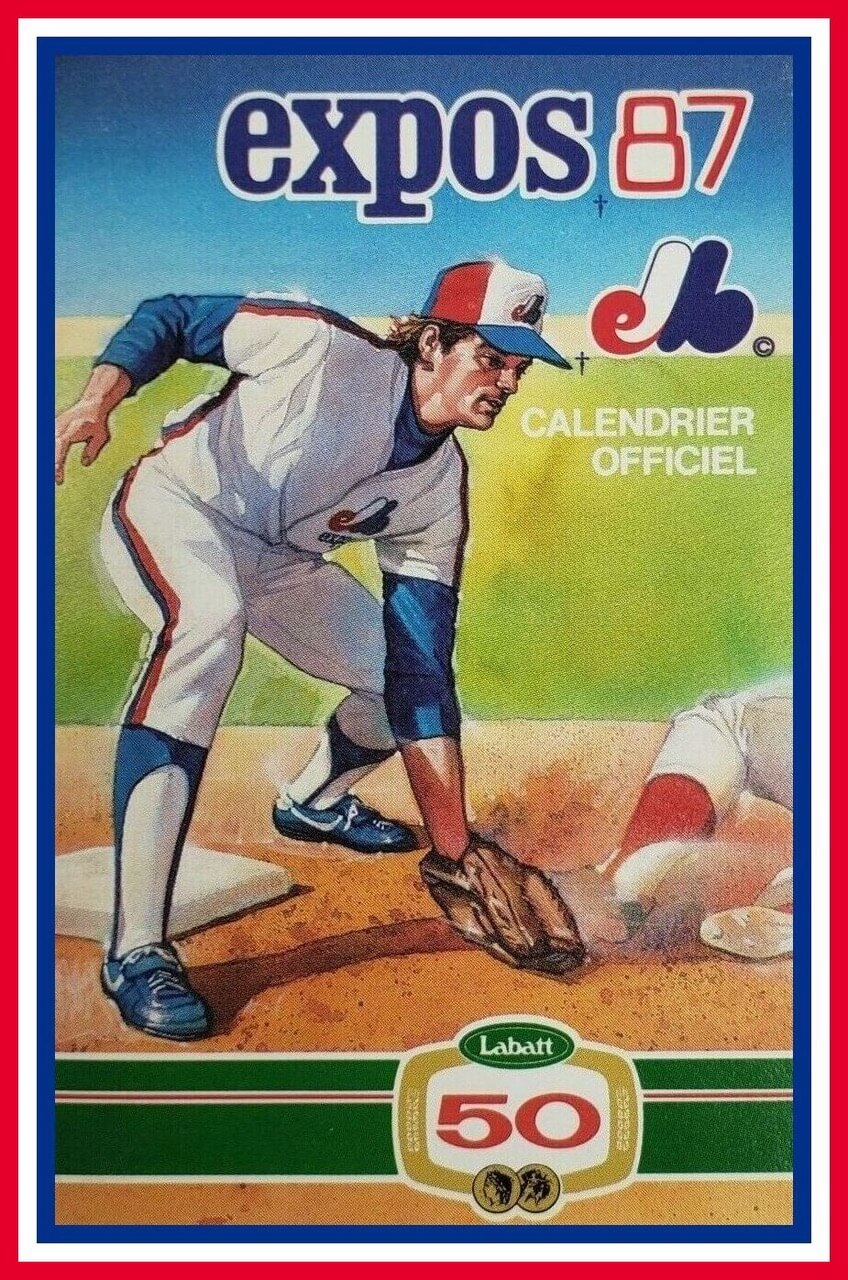 Click to enlarge
Collector's Corner
By Brinke Guthrie
Follow @brinkeguthrie    
Leading off this week with some terrific calendrier officiel art on this 1987 Montreal Expos pocket schedule. Look at those stirrups! The artwork on the 1981 and 1982 schedules is almost as good. I remember getting these way back when, when postage was a dime or something. I'd write to teams and ask for a sticker and schedule, and usually got a nice reply.
Now for the rest of this week's picks:
• This is a stadium giveaway Cincinnati Reds "Schottzie" Energizer Flashlight. Now, I don't see any connection between Marge Schott's dog and a flashlight, but logic didn't always apply with Mrs. Schott. (True story: Marge once wanted to smoke in my Mazda Miata, and I told her no. Her reply was, "Awfully small car, honey." Also: Schottzie once sat on me in Marge's office. A huge, huge dog. And I fed Schottzie Lorna Doones and Yoo-Hoo in a limo once, but that's another story.)  
• Check out this 1950s Gotham Push Button Magnetic Baseball Game. The outfield signs even have 1950s-era advertising for Planter's Peanuts, Burma Shave, and Gillette Razors.
• Former Baltimore Colts defensive end and Hall of Famer Gino Marchetti was also in the restaurant biz. Here's a promotional puzzle that says, "Everybody Goes to Gino's!"
• Last week I included an entry for Reggie Jackson Car Wax. This week? An empty box for Reggie Specs from Victory Optical. The man was an endorsement dynamo!
• How about the cover art for this 1957 Wonder Books title, Football for Beginners! That kid's helmet makes his head look like a pumpkin. 
• Here are a pair of 1960s postcard shots for Dodger Stadium. The top photo is from the first Opening Day there, on April 10, 1962.
• The Minnesota Fighting Saints were a 1970s WHA team. Here's a team banner with player autographs.
• New York Yankees and Giants managers Bill Dickey and Mel Ott heartily endorsed Chesterfield cigarettes in this 1946 magazine ad. A) Always Milder. B) Better Tasting. C) Cooler Smoking. Checks all the boxes! (No mention of that pesky lung cancer.)
• Celebration is the title of this 1982 St. Louis Cardinals World Champions album with audio from KMOX radio. 
• Yahtzee created this Montreal Canadiens Collector's Edition. The "classic shake, score and shout dice game!"
• And we conclude with an item from reader Will Scheibler: Is this a Pro Football Hall of Fame coin bank or a juice reamer?
• • • • •
• • • • •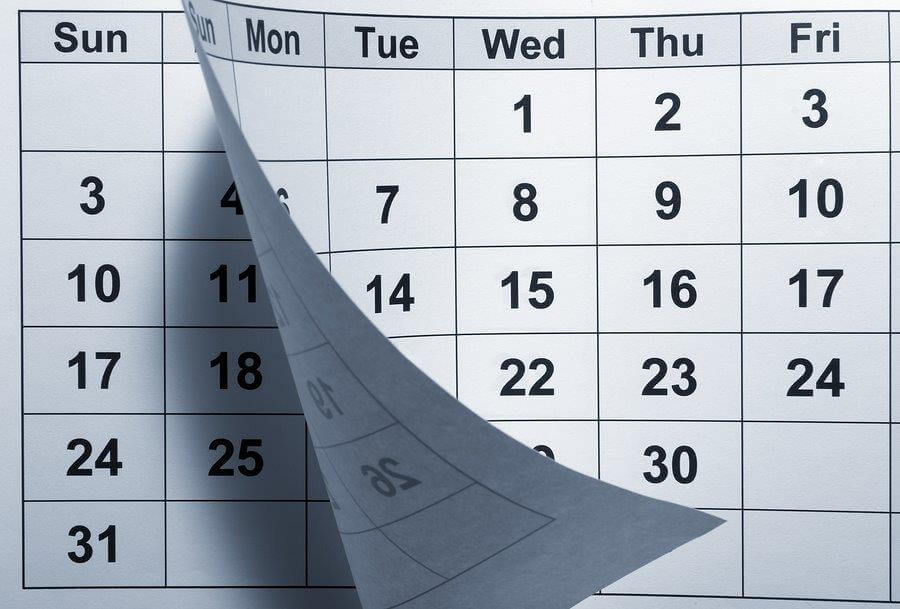 Calendar reminders: May is always a big month on the Uni Watch calendar, and this year will be no exception. Here's what's in store:
• May 17 — a mere six days away — will mark the (15th!) anniversary of the very first post on this blog in 2006. Per longstanding tradition, that means it will also be Purple Amnesty Day — the only day of the year when I'll accept orders for purple-inclusive membership cards, so get those purple orders ready! As usual, designer Bryan Molloy and I will also have some purple merch offerings that will be available for exactly 24 hours — no more, no less!
• Nine days later — May 26 — will mark the 22nd anniversary of the very first Uni Watch column appearing in The Village Voice in 1999. It will also be the date of a very special uni-centric event that longtime Uni Watch reader and all-around swell guy Jason Von Stein has organized. I'll let him explain:
Hello, Uni-verse!

I love Uni Watch because it brings people together, no matter what uniform they wear or root for. Uni Watch also celebrates the arts. So please join us for a free celebration Wednesday, May 26, as a bunch of wonderful musical performers celebrate Uni Watch's 22nd anniversary and also raise money for worthy charities.

The event will be live-streaming on this Facebook page. Here's the schedule of who'll be performing, and the charities they'll be supporting [click to enlarge]: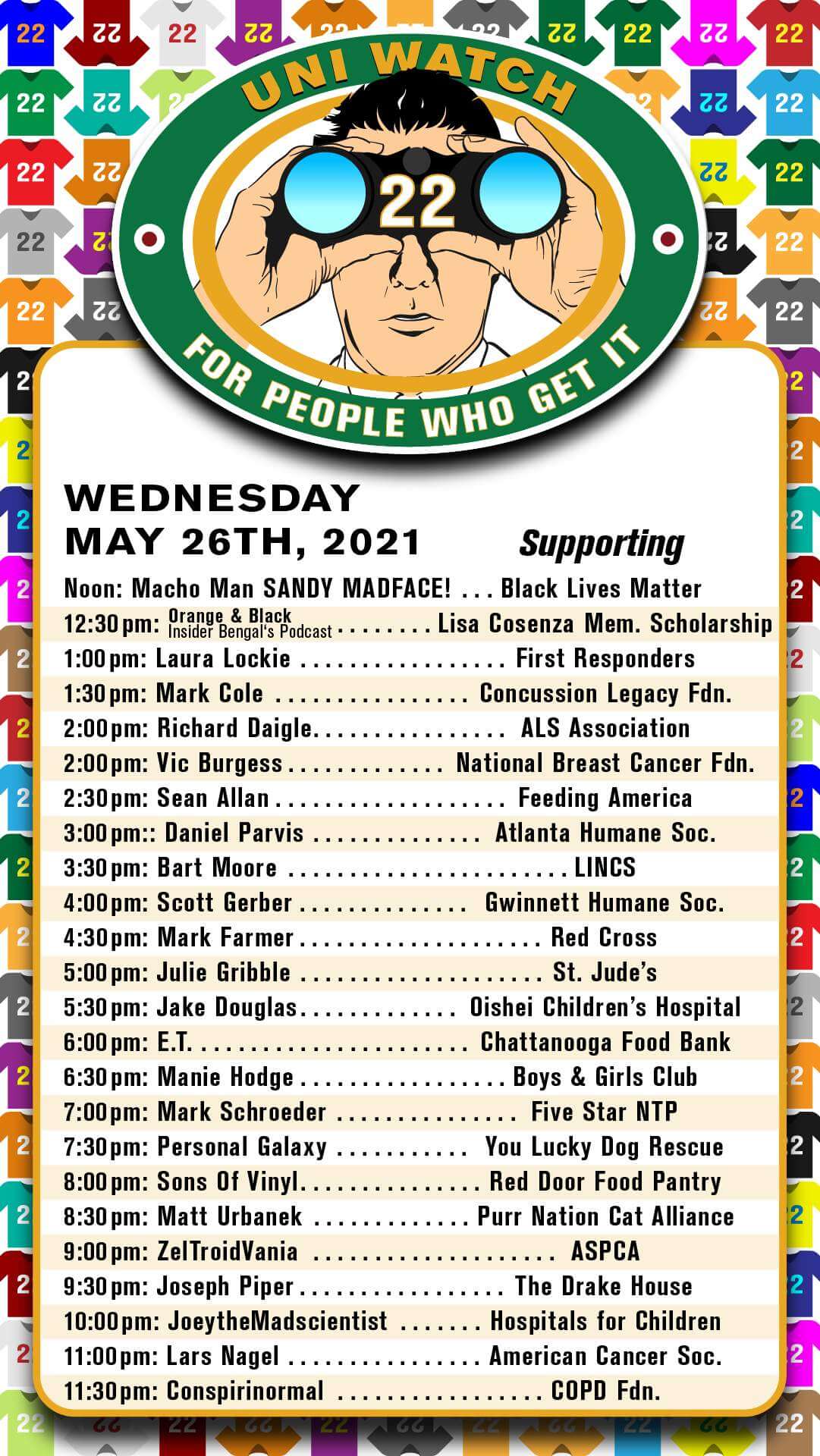 The performers will be live-streaming from their homes on the event page. You'll know who is currently performing by the red "Live" box appearing in the upper-right corner of the screen, and you'll be encouraged (but not required, of course) to donate to that performer's charity.

We will also be having "Stupid Sports Trivia" between performers, with prizes courtesy of Ebbets Field Flannels, Asgard Press, and others.

Feel free to interact with us during the event and tell us what Uni Watch means to you. If you like, we encourage you to wear your favorite uniform and post photos of yourself on the event page! The person whose photo has the most "Likes" will win a Uni Watch prize package that Paul has provided, featuring a Uni Watch koozy, trading card, magnet, and membership card. (Don't have a uniform to wear? Between now and May 26, use the checkout code UNI22 to get 10% off at Ebbets Field Flannels.)

We hope you'll join us to celebrate 22 years of Uni Watch, to enjoy lots of great musical performances, and to support lots of worthy causes. Thanks!
Isn't that nice? I've had nothing to do with the planning of this event, so Jason deserves every last bit of credit for putting it together. Thanks, Jason!
• • • • •
• • • • •
The Ticker
By Alex Hider

Baseball News: On Sunday, the Marlins decorated their mound with two team logos around a heart, spelling out "Mom" (from Brice Wallace). … Schlafly, a St. Louis-based brewery, has released a new Cardinals-themed T-shirt (from Andrew Cosentino). … The Rocket City Trash Pandas, the Angels' Double-A affiliate, will wear gold-trimmed uniforms for their home opener tonight (thanks to all who shared). … More Ump Watch: Umpire Hunter Wendeltstedt wore Jordan 11 sneakers during the Atlanta/Phillies game Sunday night (from Tim Shriver). … Arkansas has unveiled a new, fantastic baseball-specific logo — Pitching Ribby (from Matt Snyder and Taylor Crabtree). … The Lotte Marines of Japan's Pacific League will wear black uniforms for nine games in July and August (from Jeremy Brahm). … Oh man, check out this fantastic 1986 spring training photo of Tim Raines wearing an Expos bucket hat (from Jeff Bryniarski).

NFL News: Thanks to the league's new numbering system, Panthers rookie CB Jaycee Horn has chosen to wear No. 8 in honor of Kobe Bryant (from Kary Klismet). … Speaking of the new numbering system, the current count is that 16 newly eligible players — not including Horn — will wear a single-digit number next season (thanks Brinke). … Man, the Seahawks' current uni set would sure look nice in the team's retro color scheme (also from Brinke).

College Football News: James Madison has unveiled a new logo to commemorate its 50th football season (from Ted Bloss and Andrew Rader). … San Jose State players have received their 2020 Mountain West Championship rings (from Kary Klismet).

Hockey News: The Islanders' AHL affiliate in Bridgeport, Conn., is changing its name from the Sound Tigers to the Islanders. Here's their new logo (thanks to all who shared). … Check out these Stars prototype designs that the team considered but ultimately rejected in 2011 and 2013.

Basketball News: When the Timberwolves unveiled their new uni set in 2017, there was a lot of talk about how the striping conveniently housed the Nike maker's mark. But Peyton Winters notes that now that Nike uses the Jordan makers' mark on their Statement uniforms, it leads to the logo awkwardly straddling two different fields of color. … @OrangeandPloo notes that the warm-up gear colors for Sunday's Knicks/Clippers game seemed flipped — the black-clad Clips wore blue warm-ups on the bench, while the white, blue and orange Knicks wore dark gray warm-ups. … A new Arizona women's uniform may have leaked in a commitment video posted by prospect Maya Nnaji (from Rocky De La Rosa).

Soccer News: An FC Cincinnati blog had some fun with the Columbus logo unveiling by adding that floating triangle from their new badge to every MLS logo (from John Flory). … Washington Capitals star Alex Ovechkin is a new investor for the NWSL's Washington Spirit, so they gave him a custom shirt (from our own Jamie Rathjen). … Also from Jamie: AC Milan's new first shirt will be debuted next weekend by its women's team, which makes them the first Serie A club to do that. … Several versions of the Tampa Bay Rowdies have existed through the years dating back to the 1970s. Matthew Algeo was watching a NASL Indoor match from 1982 and noted that the team added the word "Indoor" to their jerseys. … New match ball for the Bundesliga and 2. Bundesliga (from Ed Zelaski). …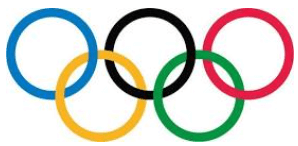 Olympics News: New men's and women's volleyball uniforms for Brazil (from Jeremy Brahm).


Grab Bag: Australian Football League Essendon is the first AFL club to release Indigenous uniforms this season (from our own Jamie Rathjen). … The next four items are from Kary Klismet: A Canadian newspaper has published a profile on the first member of the Royal Canadian Mounted Police to wear a turban. … New uniforms for the Royal Thai Police. … These are the eight mascot finalists for the 2023 Winter World University Games in Lake Placid, N.Y. … Japan has a new costumed mascot to promote Covid safety measures. … It appears that Amazon has updated its Android notification tray icon. It's now the smile arrow logo. According to @PhillyPartTwo, the company used to use the shopping cart icon in that spot. … Wingate University, a D2 school in North Carolina, is considering changing the name of the school after it was found that its namesake was a slave owner. What's more interesting was that the namesake was not involved in the school's founding at all (from James Gilbert). … The Pensacola Police Department is removing Confederate imagery from its police badges, uniforms, and cruisers (from Timmy Donahue). … Also from Timmy: Interesting new non-mono uniform for courthouse officers in Frederick County, Md.
• • • • •
• • • • •