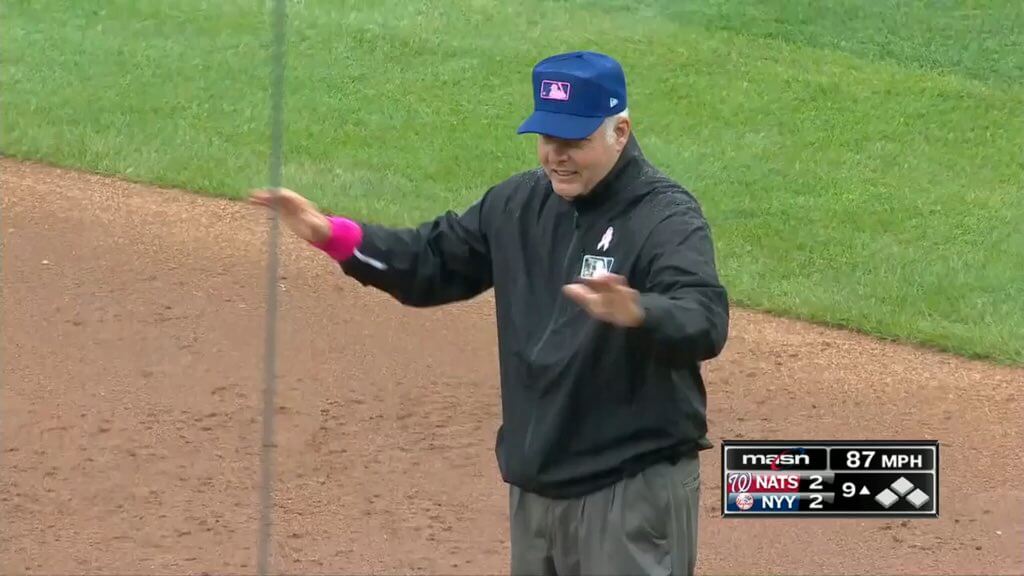 For all images, click to enlarge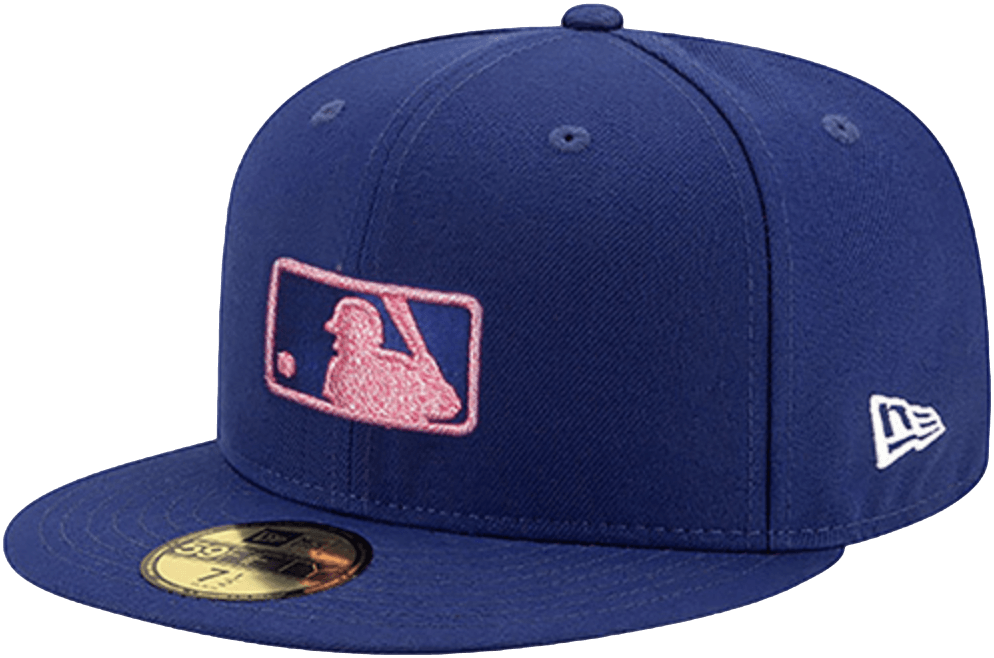 Good morning and welcome back to Ump Watch (now revised from the longer and clunkier Ump Patch Watch), where we continue to obsessively document the world of umpire attire.
As you may be aware, yesterday was Mother's Day. We already knew that the players would have pink-logo caps (and lots of other pink gear, which we'll get to in a minute), but we didn't know that the umps would be wearing royal blue caps with pink MLB logos.
The blue caps were most apparent on the base umps, but they also stood out under the plate umps' masks, as you can see here: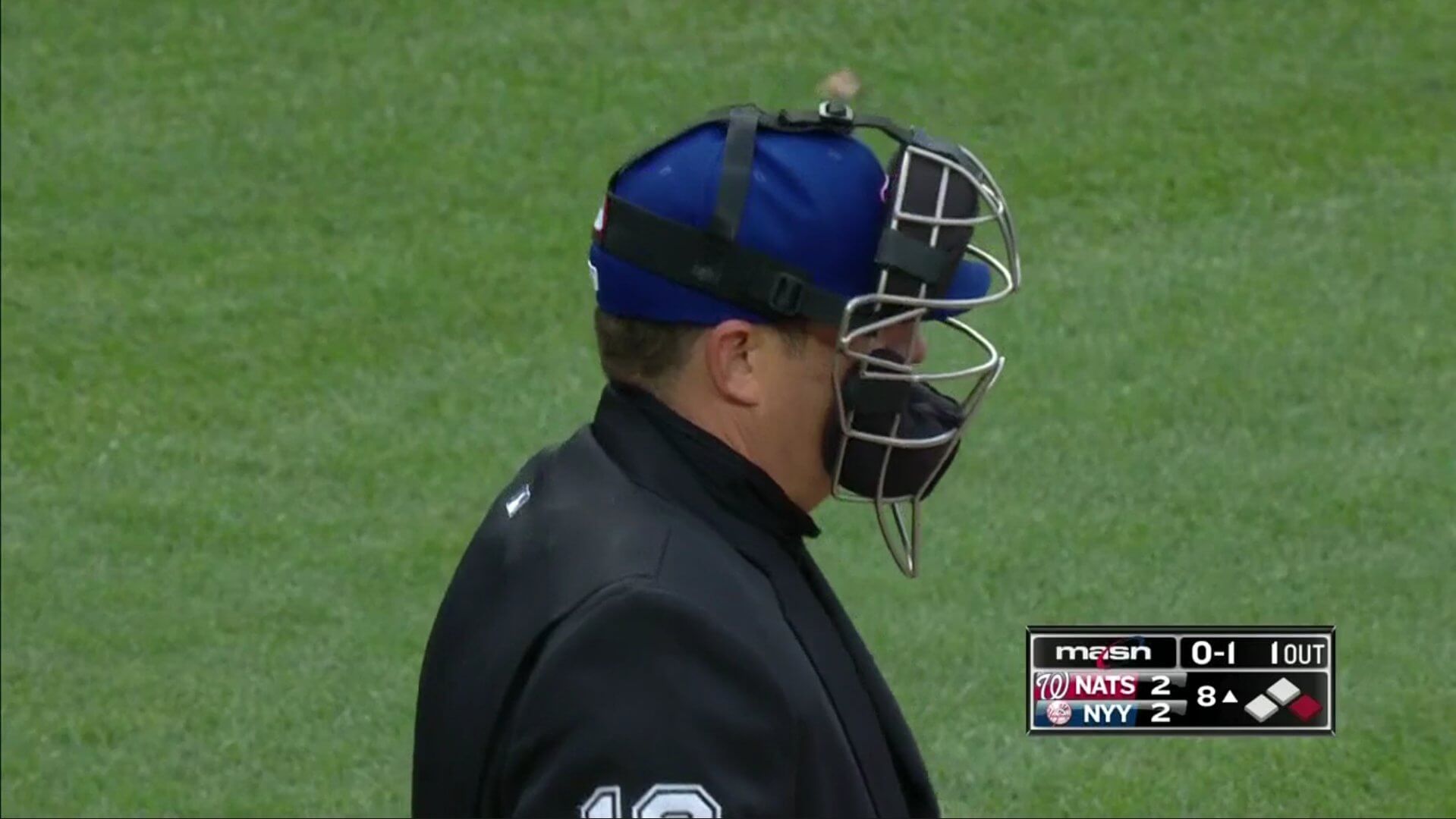 At least one ump — Marvin Hudson, who was working the plate for the Atlanta/Philly game — had a royal blue neck gaiter to match his blue cap: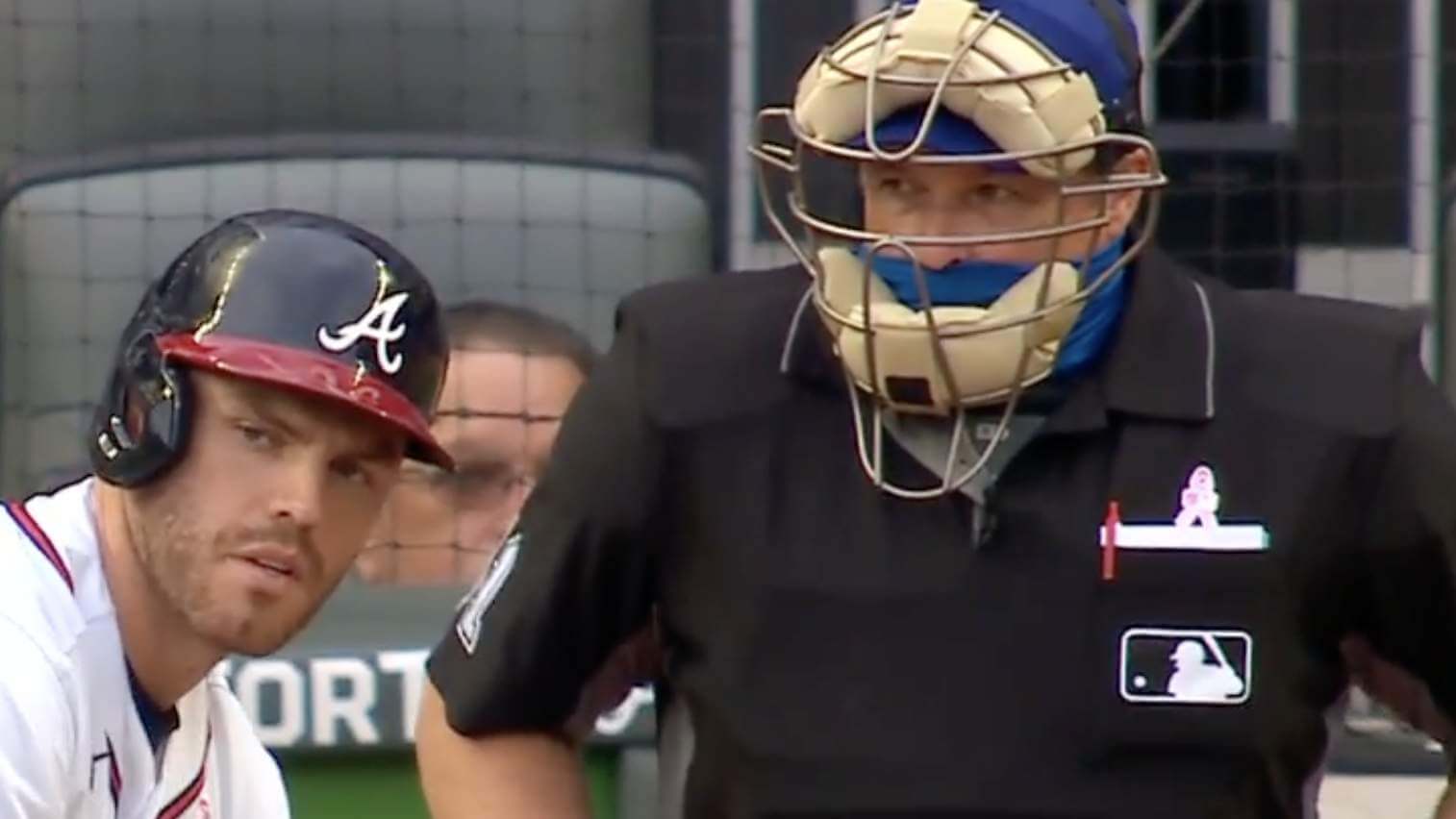 The blue caps were an odd match for the umps wearing black, but they worked well for umps wearing blue jerseys. That made for a strange situation in Texas, where the umps and the Rangers looked like they were on the same team, at least above the waist: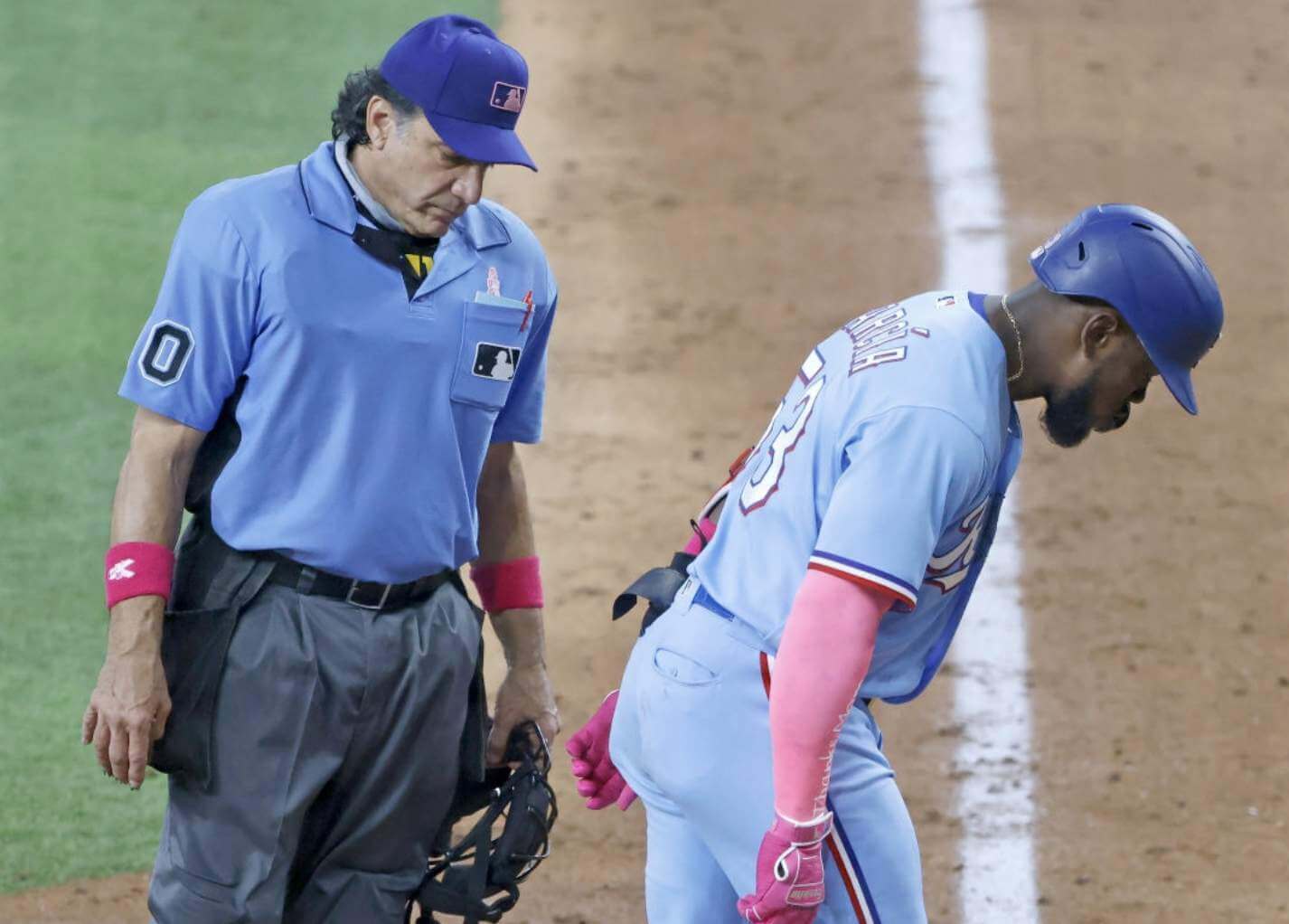 I couldn't recall the umps wearing blue caps for previous Ma's Days (or at any other time, for that matter), so I decided to do a little digging. Obviously, there were no Ma's Day games last year because of the pandemic, but here are the caps that the umps wore for the five years before that: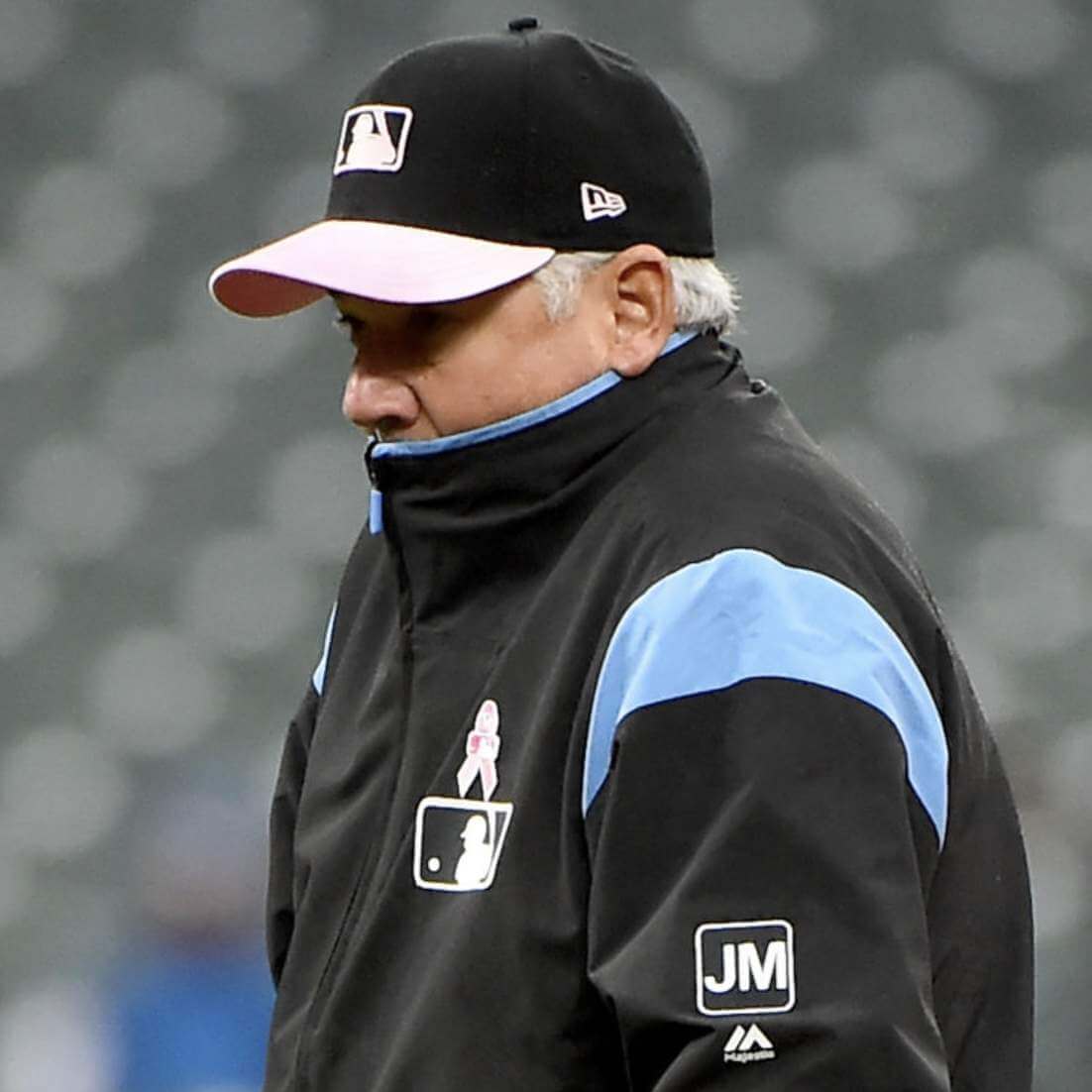 2019: Black crown, pink brim, pink MLB logo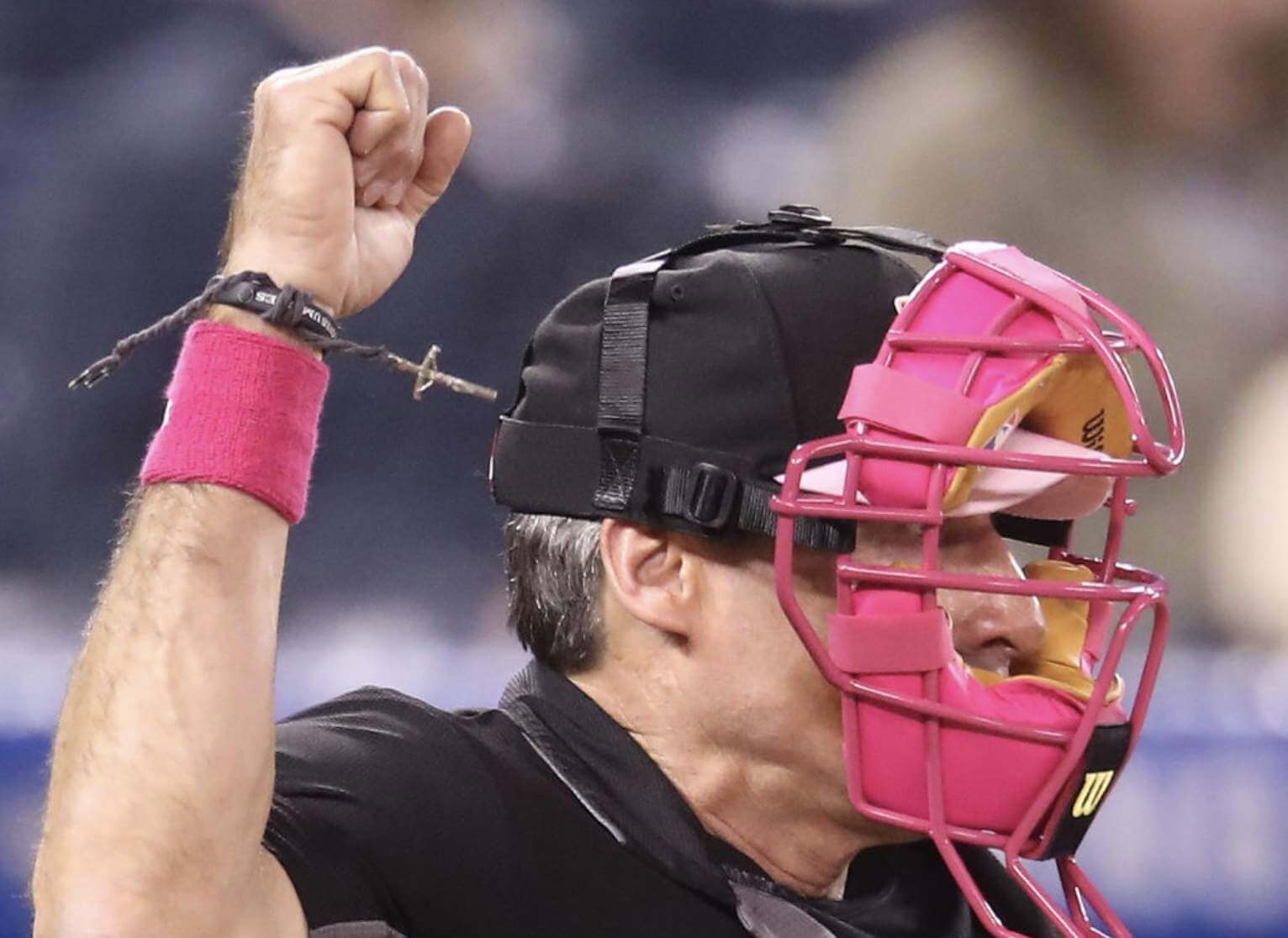 Also: Note the crucifix bracelet in that second shot! That's Ángel Hernández, and he's been wearing it for years. (Yes, we all know he's a bad ump, so let's please skip the obvious jokes. Thanks.)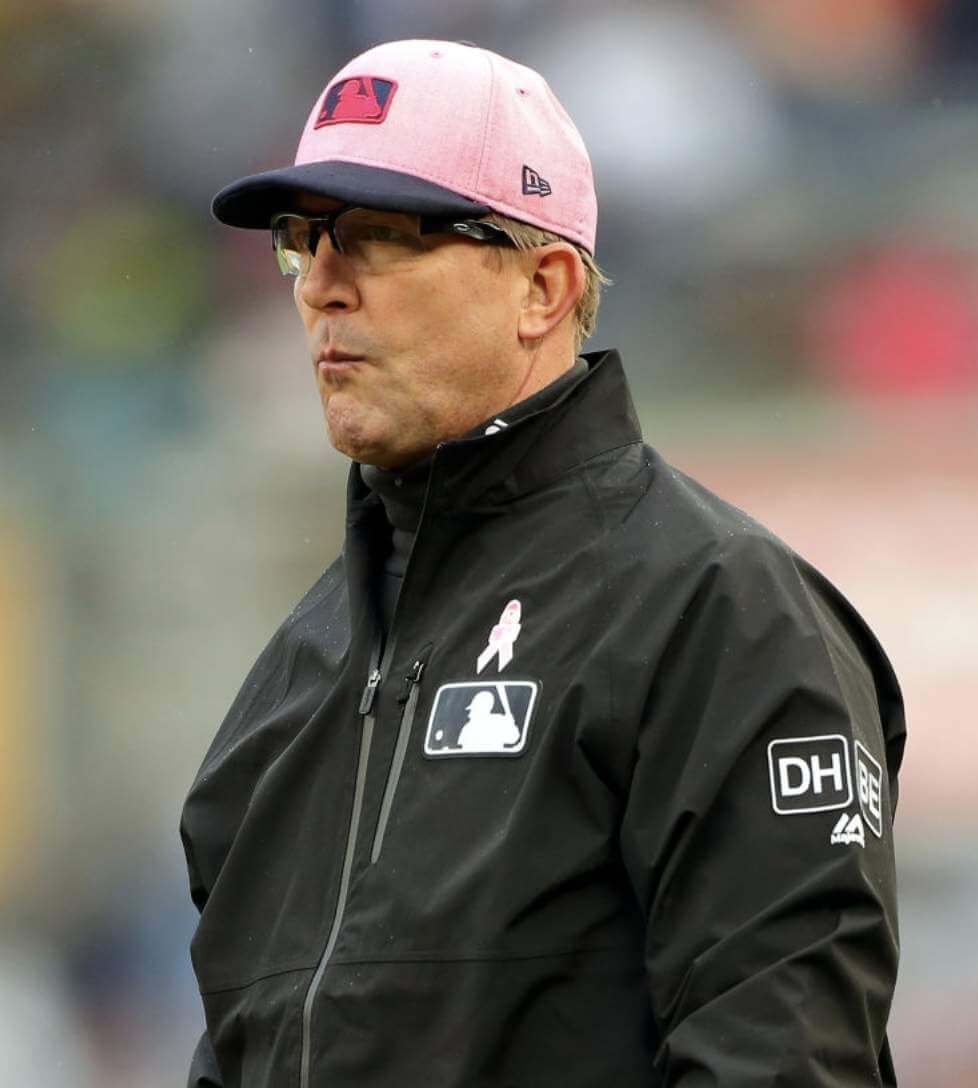 2018: Pink crown, black brim, red MLB logo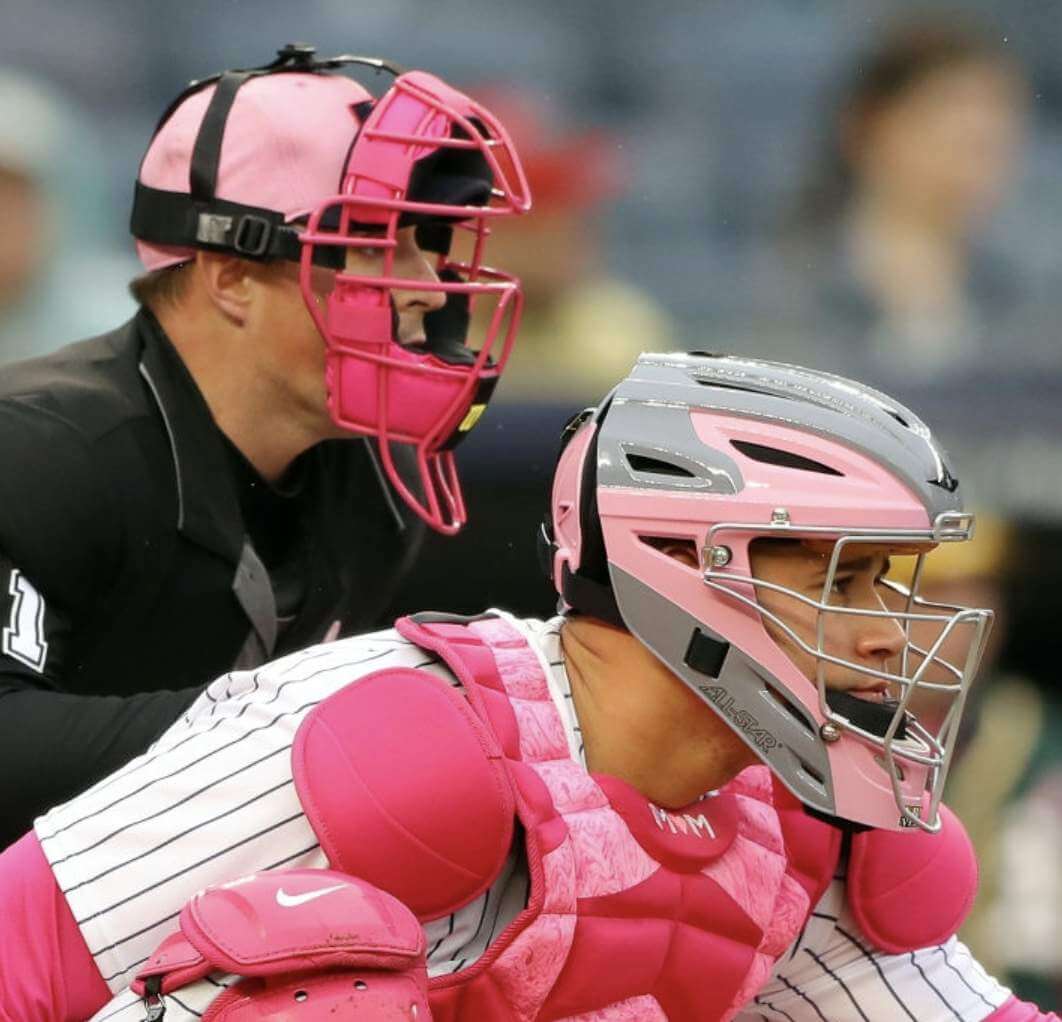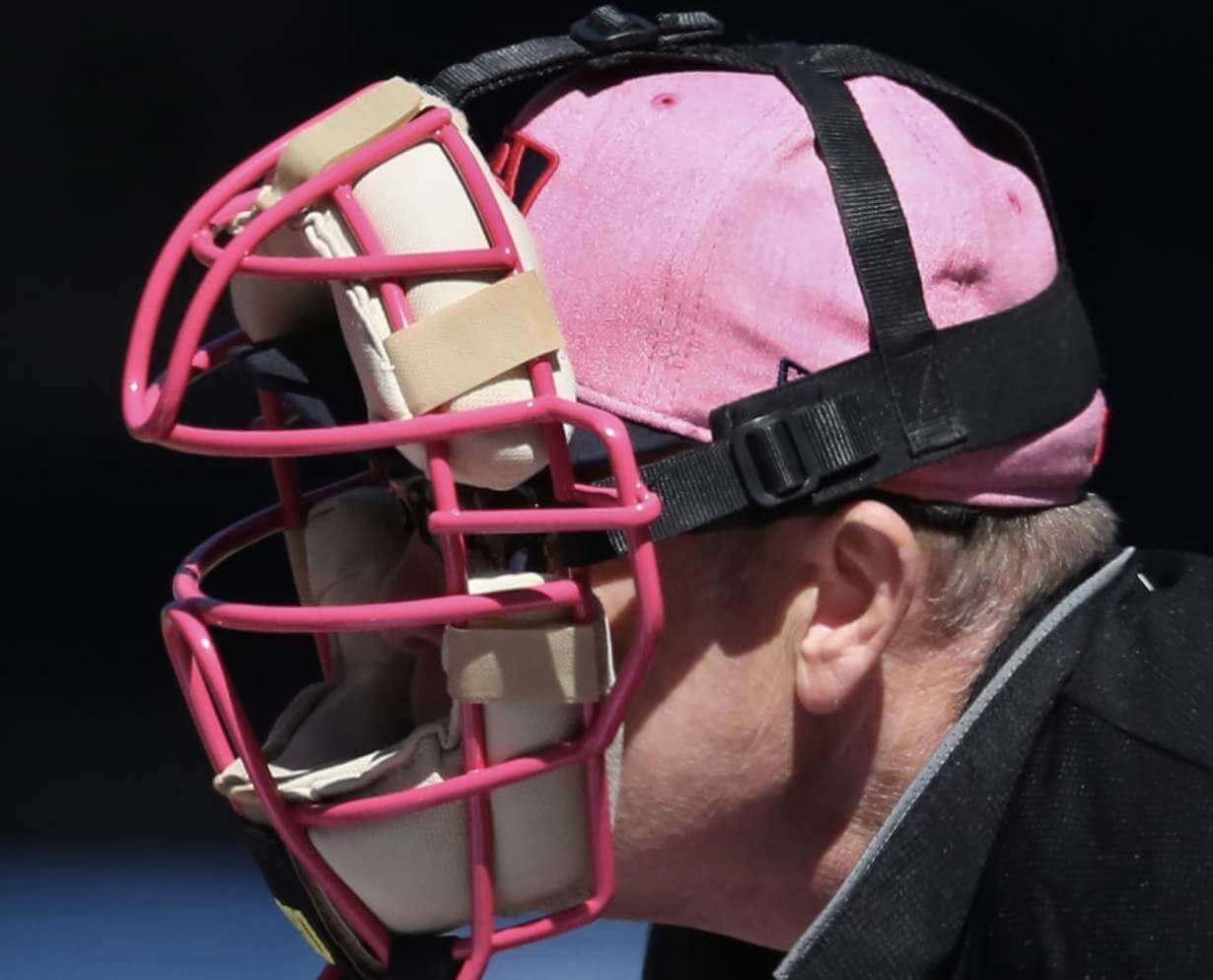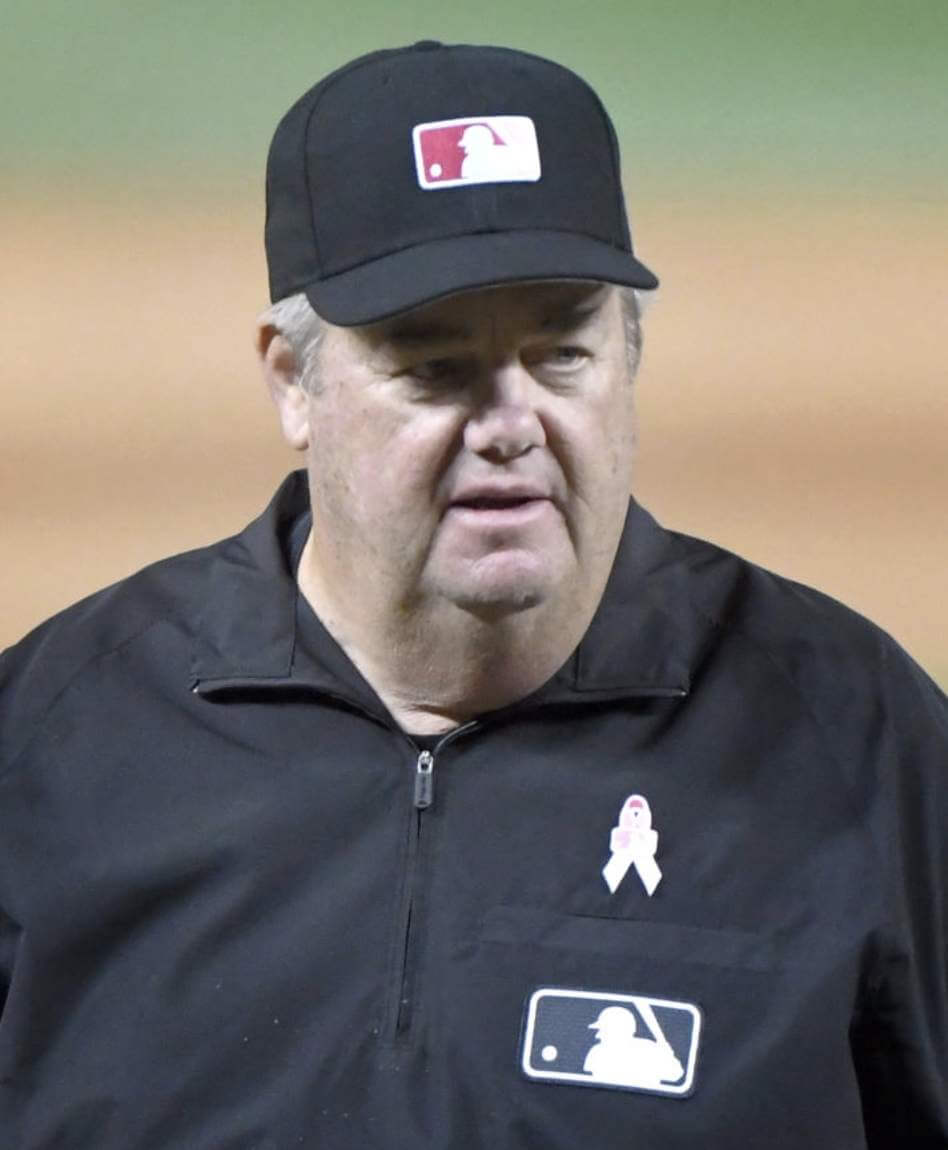 2017: Black crown and brim, pink MLB logo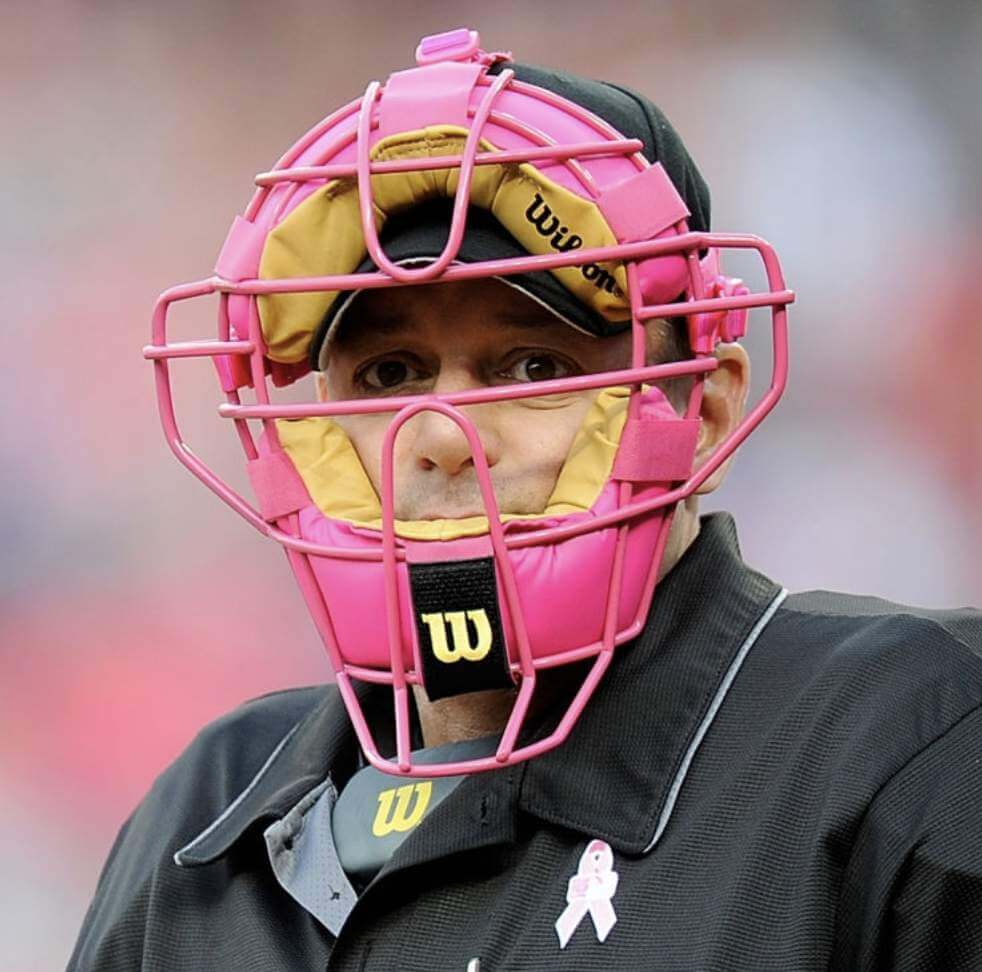 2016: Same as 2017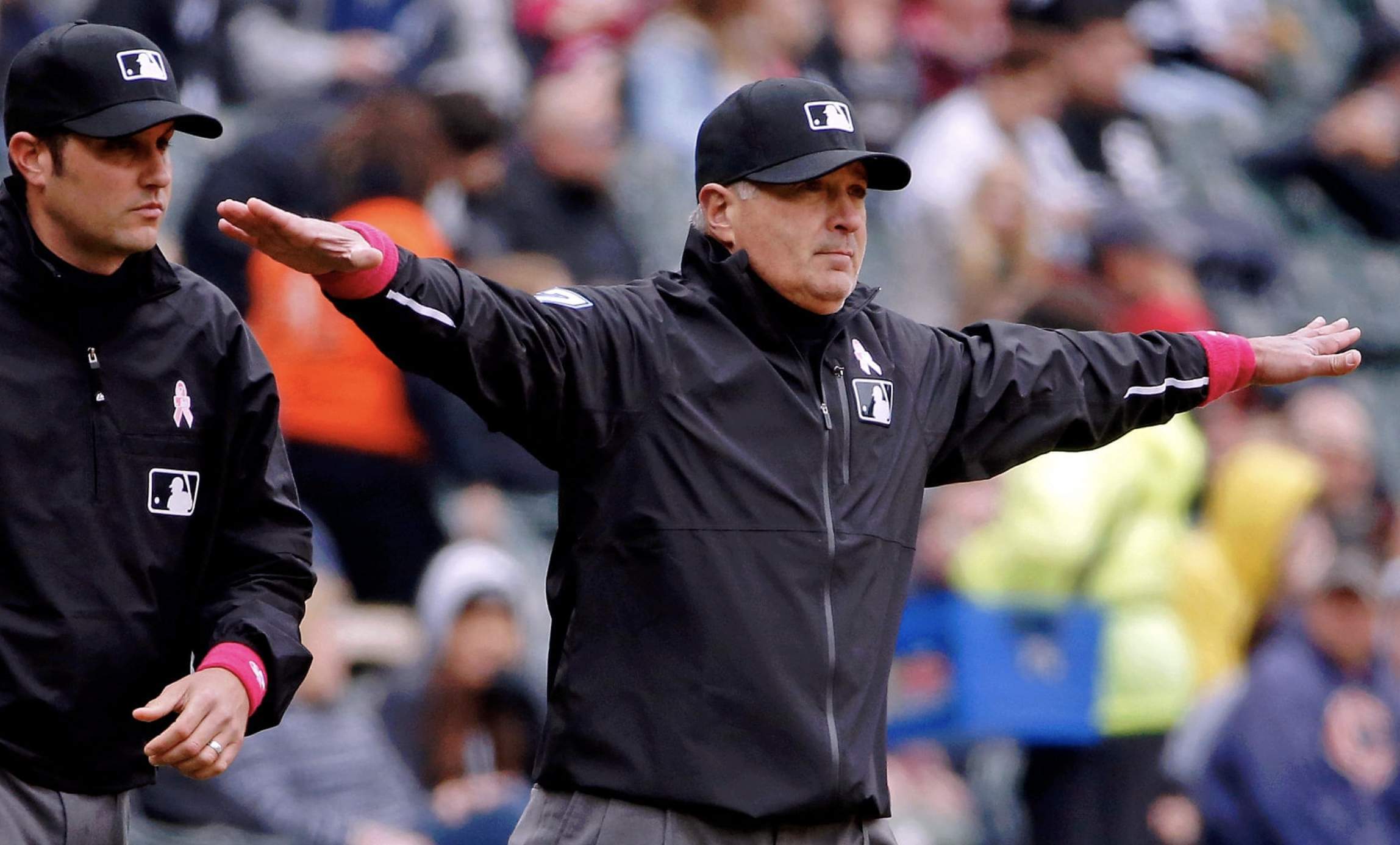 2015: Standard ump caps

———
So yesterday marked the fifth consecutive time that the umps wore a commemorative hat design for Ma's Day, but it was the first that the cap design was blue. Maybe they'll use this same design for Pa's Day next month..?
Now, we all know that MLB sells the Ma's Day team caps. But can you also buy a Ma's Day ump cap? Yes, apparently.
And we also know that MLB auctions off the game-used Ma's Day gear. But does anyone really bid on game-used Ma's Day ump caps? Yes, apparently.
As an aside: While researching the ump caps from previous years, I came across this shot from 2019, showing a plate ump (I didn't note which game this was from, so I don't know who the ump is, sorry) with black tape covering up a patch — probably a memorial patch, just like we saw a week ago: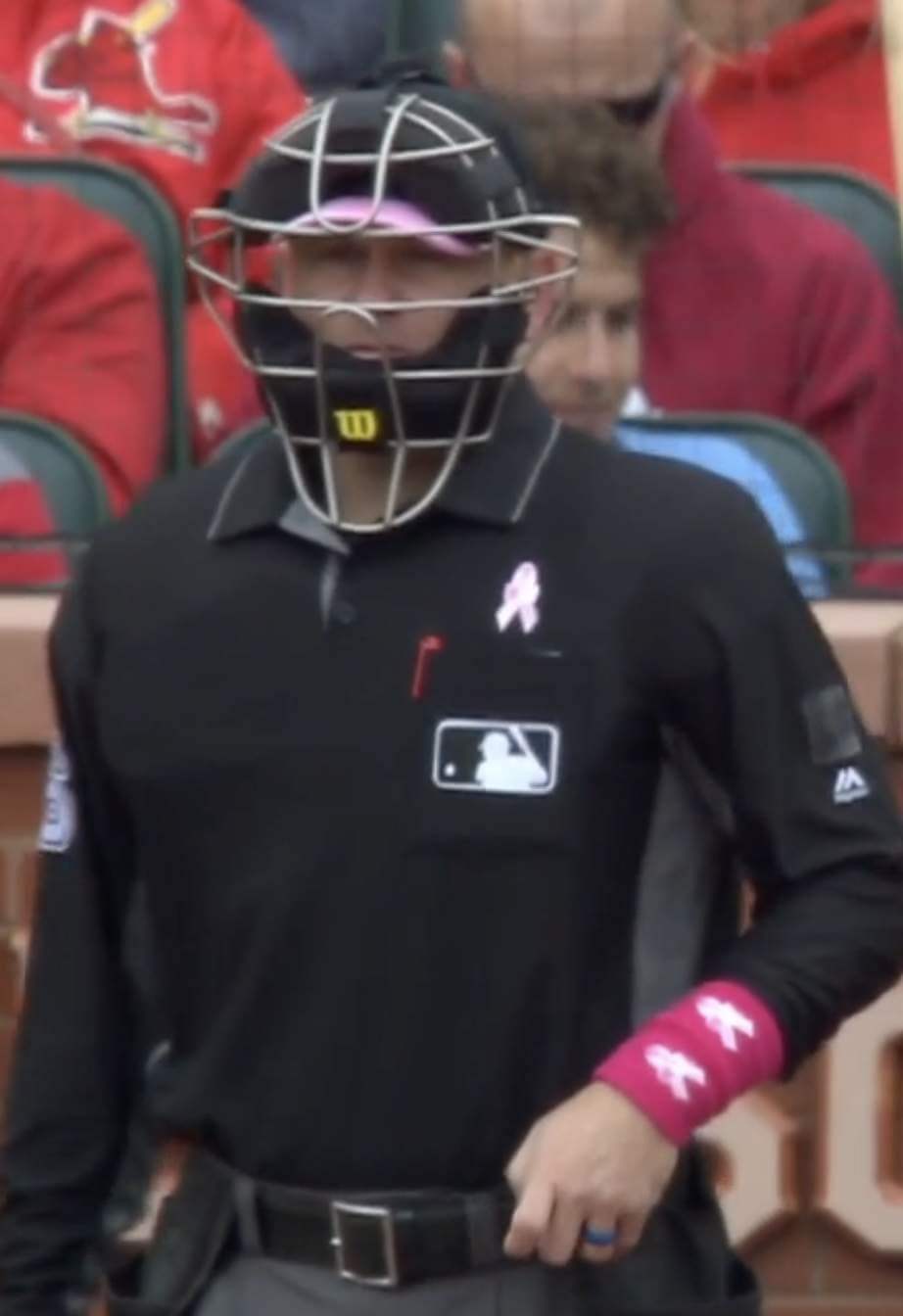 Holiday gear overlapping with a patch cover-up — that's some peak Ump Watch right there!
But wait, there's more! Umpire Manny Gonzalez, who was working the plate in the D-backs/Mets game, had several things — presumably names — written on his mask's backplate: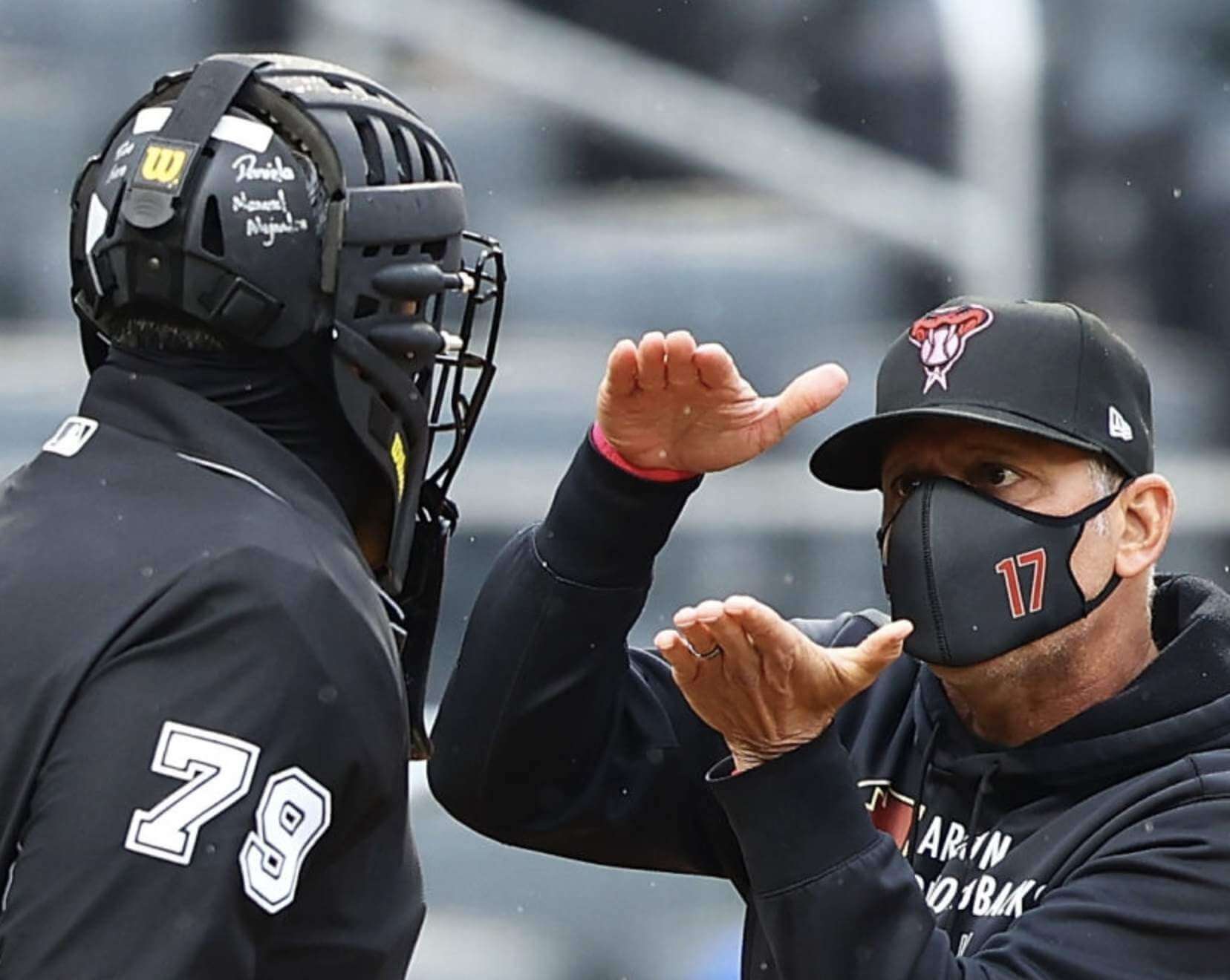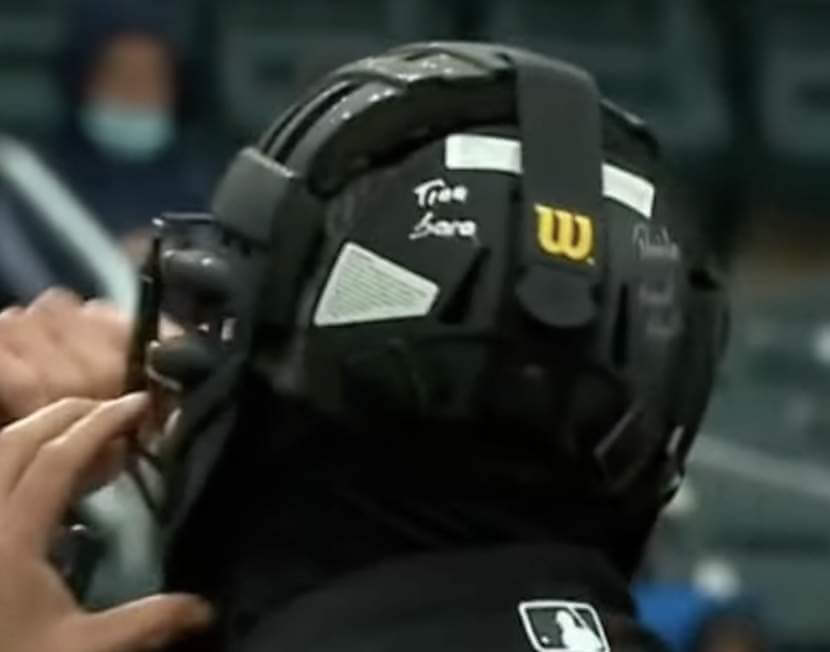 I can't make out what those inscriptions say. Maybe the names of his mother and wife..?
Or maybe they have nothing to do with Ma's Day. I couldn't find any other rear-view shots of Gonzalez's mask from this season, so we don't know for sure when he added the inscriptions. But he definitely didn't have them last September.
Meanwhile: It has come to Ump Watch's attention that the umpires share the field with a bunch of insignificant also-rans called "players." Apparently these "players" also wear uniforms, and these uniforms sometimes have interesting quirks of their own. Strange but true! For example:
• Cardinals catcher Yadier Molina wore a pink chest protector (so did lots of other catchers yesterday) and a pink mask, the latter of which suffered some damage when he took a foul ball off his forehead:
Yadi's mask before and after the foul tip. 🙁 #STLFLY pic.twitter.com/hvLFtMega4

— Bally Sports Midwest (@BallySportsMW) May 9, 2021
• Lots of players, including Padres first baseman Eric Hosmer, wore pink compression sleeves with "Thanks Mom" (missing the comma of address, tsk-tsk) printed on them: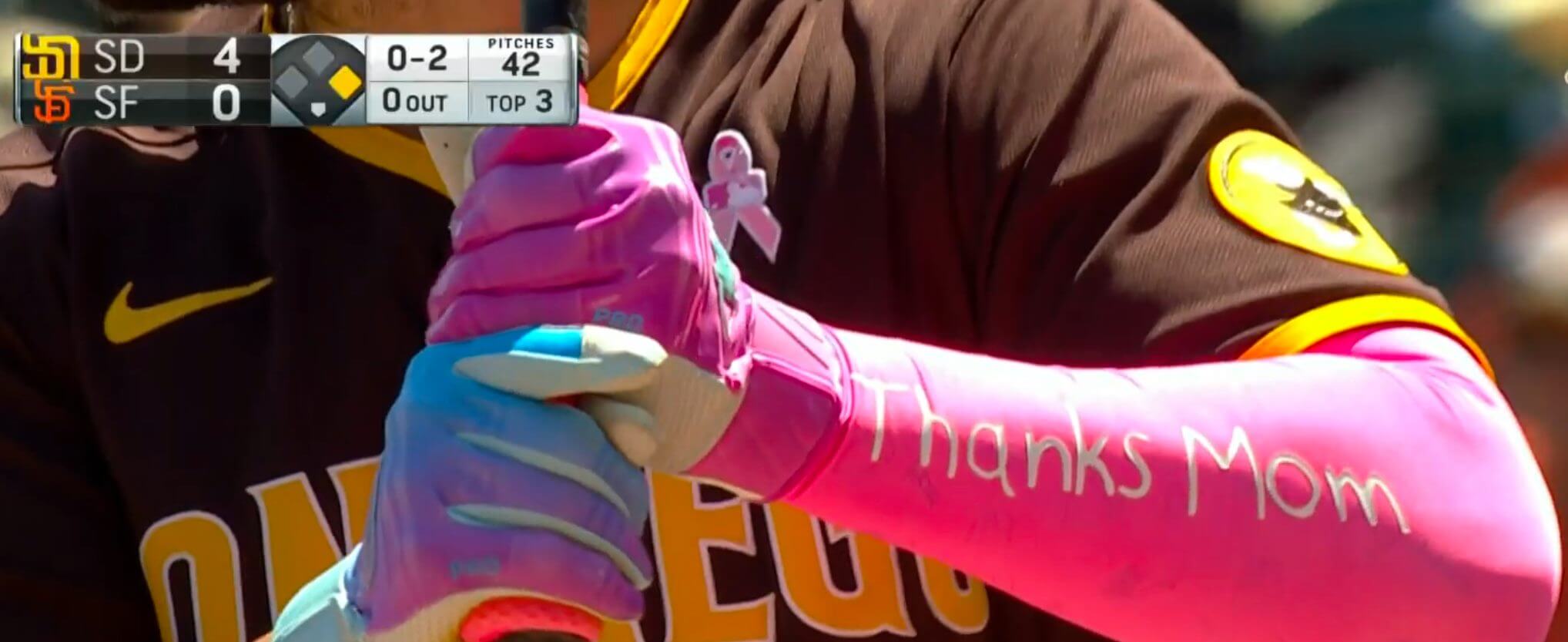 • The A's debuted their "O" cap logo — the one that looks like labia when rendered in pink — and, as usual, looked even stupider than all the other pink-accented teams, because pink clashes with their magnificent color scheme: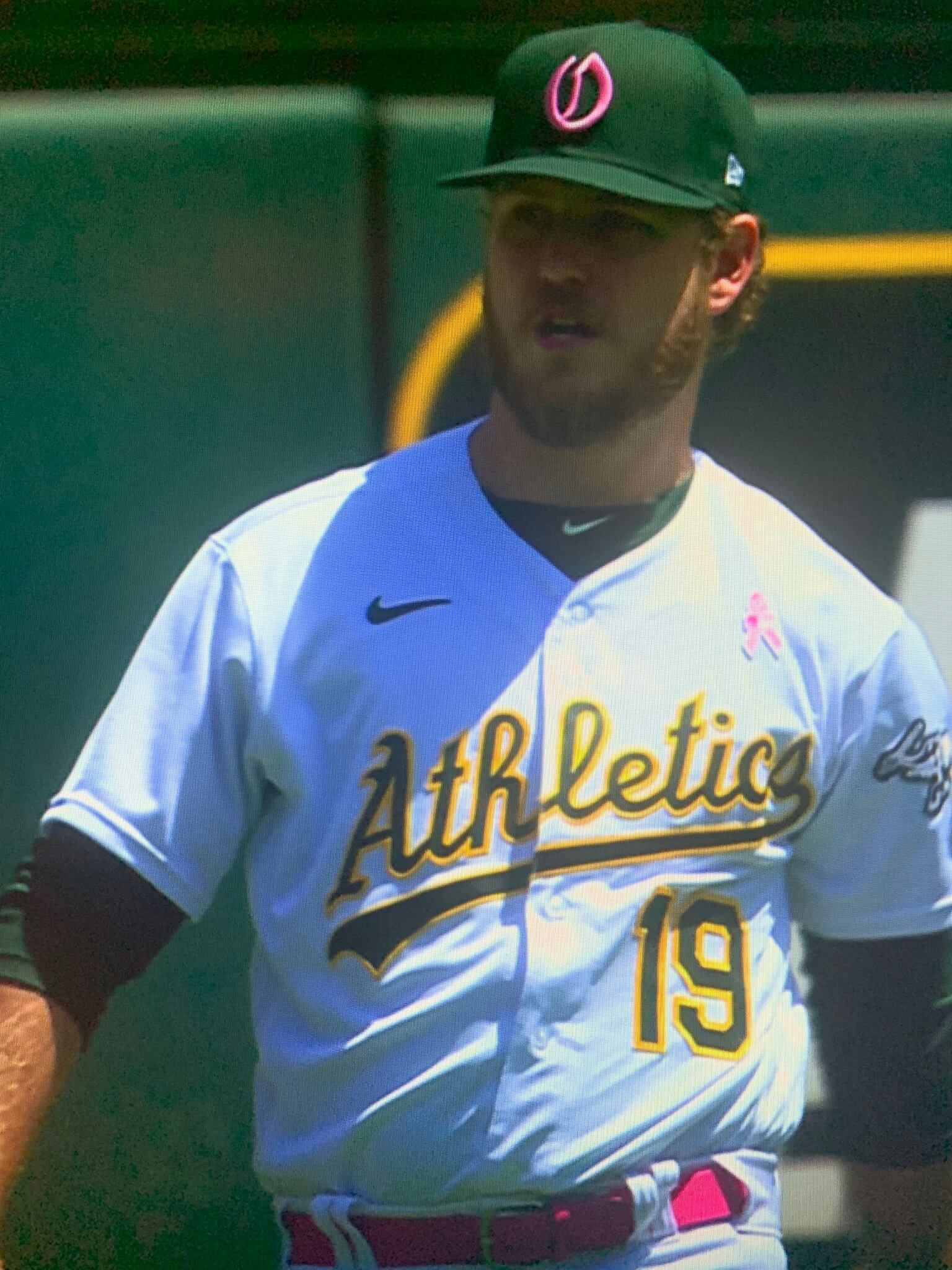 That wraps up this edition of Ump Watch. Sorry to have gone slightly off-topic with the non-ump stuff!
(My thanks to all contributors, including Tim Akins, Steve Dodell, Elena Elms, Mike Nessen, @buckwildinsani1, and our own Brinke Guthrie.)
• • • • •
• • • • •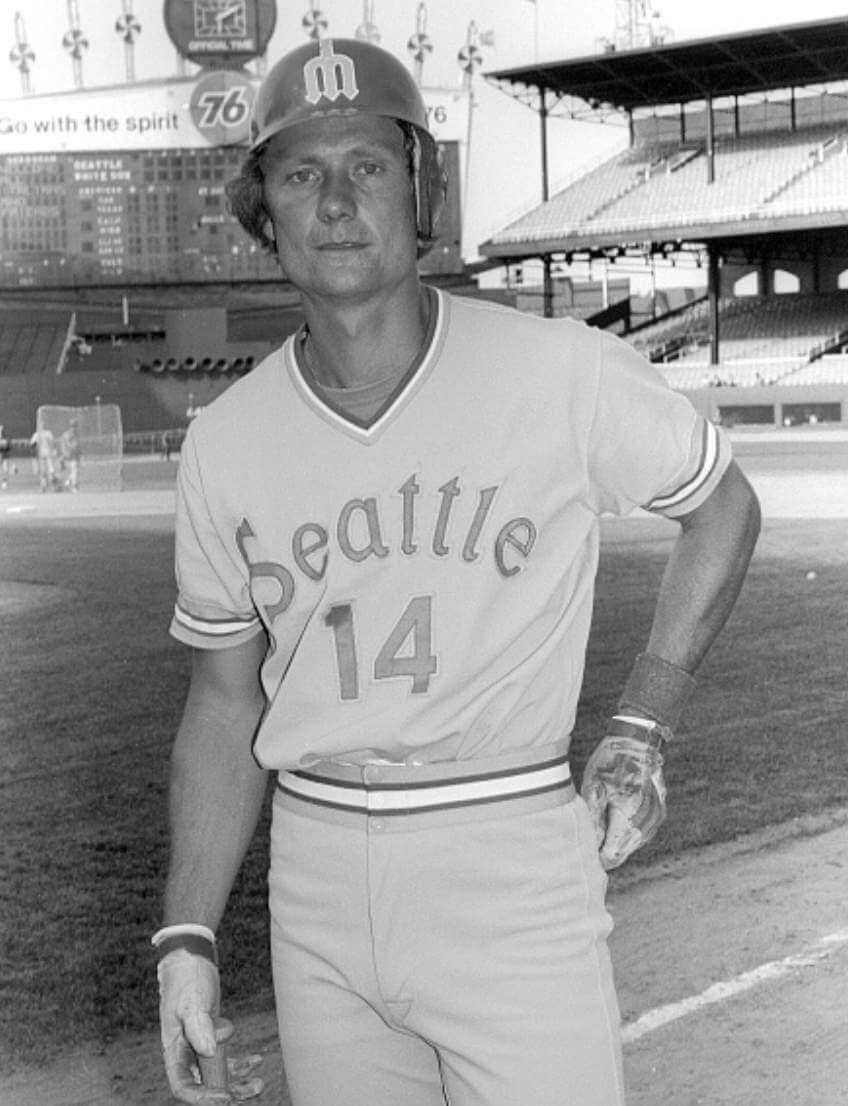 Click to enlarge
History mystery: I can't recall if we've seen this photo before, but check out this shot of Mariners first baseman/outfielder Tom Paciorek, probably from 1978. What's with the centered number? My first thought would be, "Must've been something they were experimenting with during spring training," but the photo was clearly taken at Comiskey Park in Chicago. Hmmmm.
Anyone know more..?
(My thanks to Twitter-er @ianb78 for this one.)
• • • • •
• • • • •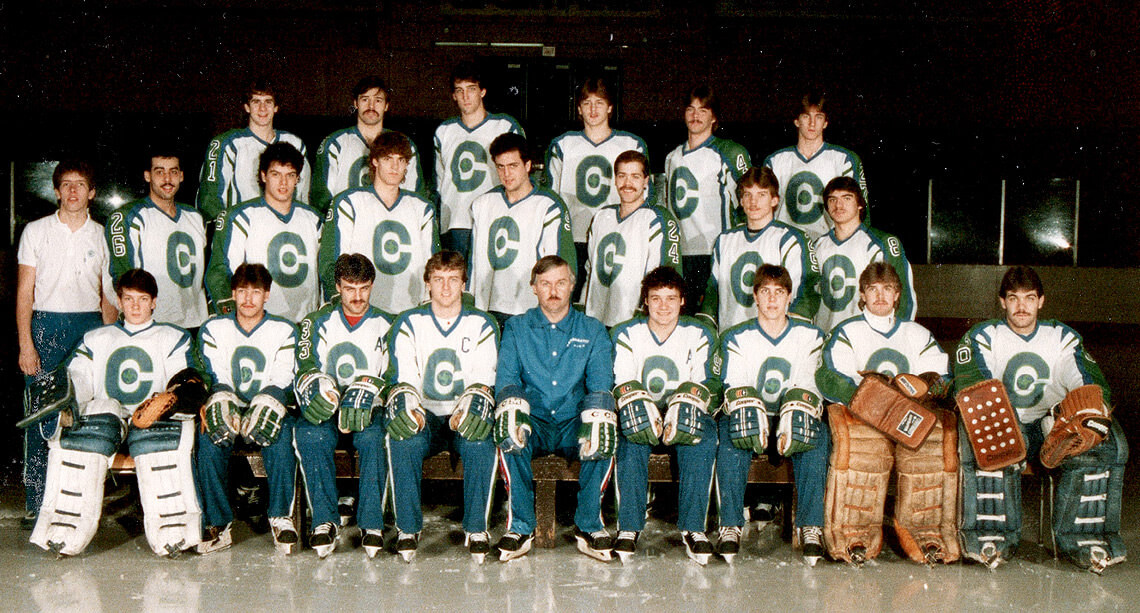 Click to enlarge
Too good for the Ticker: The Shawinigan Cataractes — a team in the Quebec Major Junior Hockey League — had some really unusual uniforms in the mid-1980s. For starters, there are the teal Cooperalls. Then there are the strange partial UCLA-style shoulder stripes. And then, most of all, there are the vertically stacked sleeve numbers! Never seen that before.
This uniform was worn in the 1985 Memorial Cup Final. In this video clip, you can see how the shoulder stripes actually extend down into full-fledged side panels. Also: It's a Cooperalls-vs.-Cooperalls game! Check this out:
(Big thanks to Wade Heidt for this one.)
• • • • •
• • • • •
The Ticker
By Jamie Rathjen

Baseball News: By coincidence, two Astros/Blue Jays frankenjerseys appeared for Mother's Day. One was worn by Patty Biggio, the mother of Toronto 2B Cavan and wife of former Houston 2B Craig (from Ignacio Salazar) and the other by Olga Gurriel, the mother of Houston 1B Yuli and Toronto LF Lourdes Jr. (from multiple readers). … A roofing company in Colorado uses a Rockies-like logo (from Perry Sailor). … Fashion designer Ralph Lauren is launching new baseball-themed apparel collections for the Cardinals, Cubs, Dodgers, and Yankees, with the Red Sox and some other teams to follow later this year (from Tom Turner).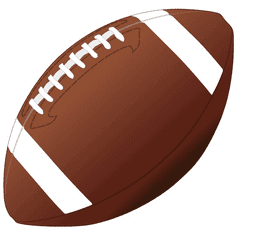 Football News: Our hopes of the Patriots possibly adding silver pants this season, based on a mannequin that appeared at the recent NFL draft, have been quashed (from multiple readers). … The reason why officials wear black and white stripes is apparently thanks to an official at modern Eastern Michigan University in 1921 (from @Wilds_Lee). … This year is the 100th anniversary of the CFL's Hamilton Tiger-Cats' "Oskee Wee Wee" cheer, which started with one of the Ticats' predecessors, the Hamilton Tigers. "For people who know the cheer and think it is nonsensical, the article somewhat explains it," says Wade Heidt.

Hockey News: The Blackhawks wore city flag-themed pregame jerseys yesterday to benefit their charitable foundation (from multiple readers). … Two recent color-vs.-color games in the British Columbia Hockey League included the Penticton Vees (black) vs. the Trail Smoke Eaters (orange) and the Nanaimo Clippers (black) vs. the Cowichan Valley Capitals (red). Additionally, Cowichan's red jerseys were worn with white helmets instead of blue. "A few major junior and junior A teams went with just one helmet this season rather than their usual two," says Wade Heidt.

NBA News: The Nets apparently are in the market for both a possible new ad patch and a new arena name (from Tom Turner).


Soccer News: The crest for a rebrand of the Columbus Crew as Columbus SC appeared on social media yesterday. The Columbus Dispatch confirmed the crest is accurate and a rebrand is planned (from multiple readers). … The Portland Timbers and Seattle Sounders didn't change against one another for the first time in at least the 17 meetings Getty has pictures of going back to 2010 (also from multiple readers). … Some clubs that have to wear league fonts like to wear proprietary fonts for domestic cup games, but it's rare to see both used in the same tournament like Hibernian, who used a new font for the Scottish Cup semifinals. … Retiring Reading midfielder Fara Williams was given a shirt with her NOB and No. 4 by Chelsea, her opponents yesterday and one of her former clubs, and two Chelsea players also got framed shirts for appearance milestones. … New second shirt for the Netherlands' Ajax. … The women's soccer website The Equalizer has a paywalled article on the origin of the recently-retired Sky Blue FC name and logo. … The NWSL's Challenge Cup got a new trophy, which unsurprisingly looks like the cup's logo, for its second edition. … TCU wore black with purple numbers in the women's NCAA tournament yesterday. I'm not usually one to complain that numbers are illegible or two teams look too similar, but that look is ill-advised — the game's commentator couldn't read them, and that after TCU wore white numbers on white in the previous round. … During a recent Scottish Women's Premier League match between Hearts and Spartans, Hearts goalkeeper Charlotte Parker-Smith was sent off for a foul. With no substitute goalkeeper on the bench, Hearts had Lia Tweedie take over in goal, wearing an outfield shirt with an orange bib over the top to distinguish her from her teammates (from Graham Clayton).

Grab Bag: This article explores the occasionally bizarre Australian Football League color clash policy. Complicating factors include that clash guernseys only became common in the late '90s, some teams held out without one for even longer, and changing to white shorts is often preferred instead (also from Kary Klismet). … The U.K.'s Netball Superleague's Surrey Storm wore black armbands in memory of longtime Zimbabwean coach Ledwin Dondo, who led their national team at the sport's last World Cup in 2019. … The next two are from Kary Klismet: Star Trek: The Next Generation's Starfleet uniforms were redesigned after two seasons because they were uncomfortable. … Division II Indiana University of Pennsylvania has a new mural in its arena.
• • • • •
• • • • •