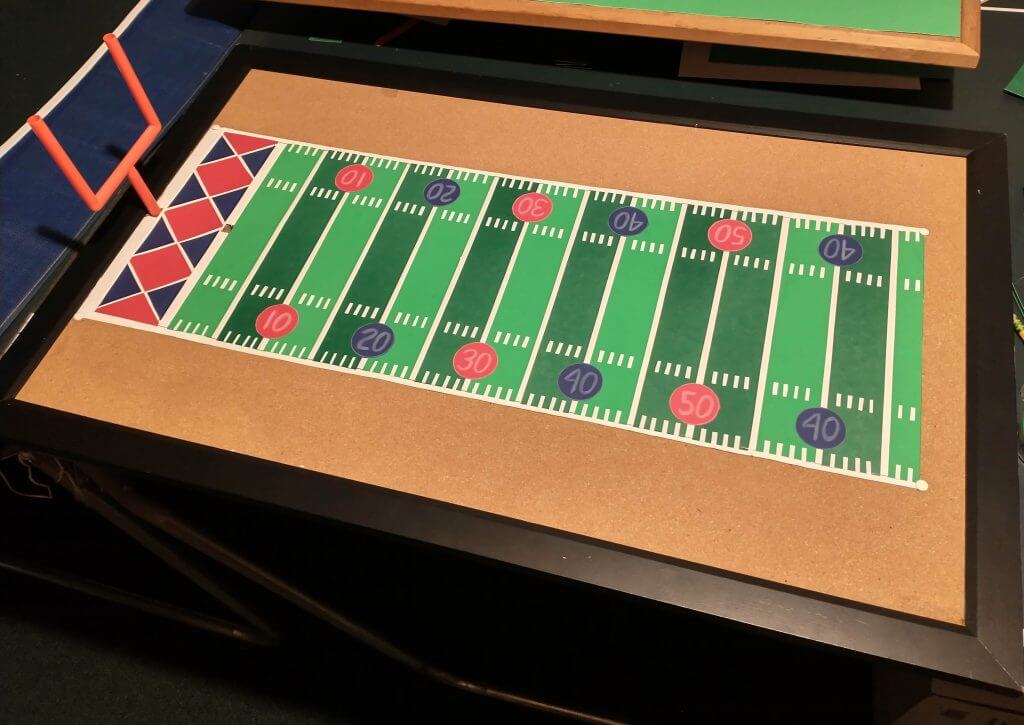 By Phil Hecken, with Jim Vilk
Follow @PhilHecken

A couple months ago, I featured the ubiquitous Jimmer Vilk's Paper Football Project, a nifty DIY he based on a different DIY. Since that time, Jim has been promising me he will have a special field to go along with all those paper footballs. Well, the Vilkman has again put his DIY skills to good use and what you're about to see today is pretty amazing. And it's definitely not what I was expecting. I better let Jimmer take it from here…
• • • • •
Putting the Foot in Paper Football
by Jim Vilk
For several weeks I've been promising Phil a paper football field. I don't think he was expecting what he got today, though. Yes, I wanted (and still want) to make a proper field with two end zones. This field, however, serves a very specific purpose. It's for practicing the most important part of the game, the field goal!
To explain, let me go back to what was supposed to be Pro Bowl week. I shared this photo with Paul…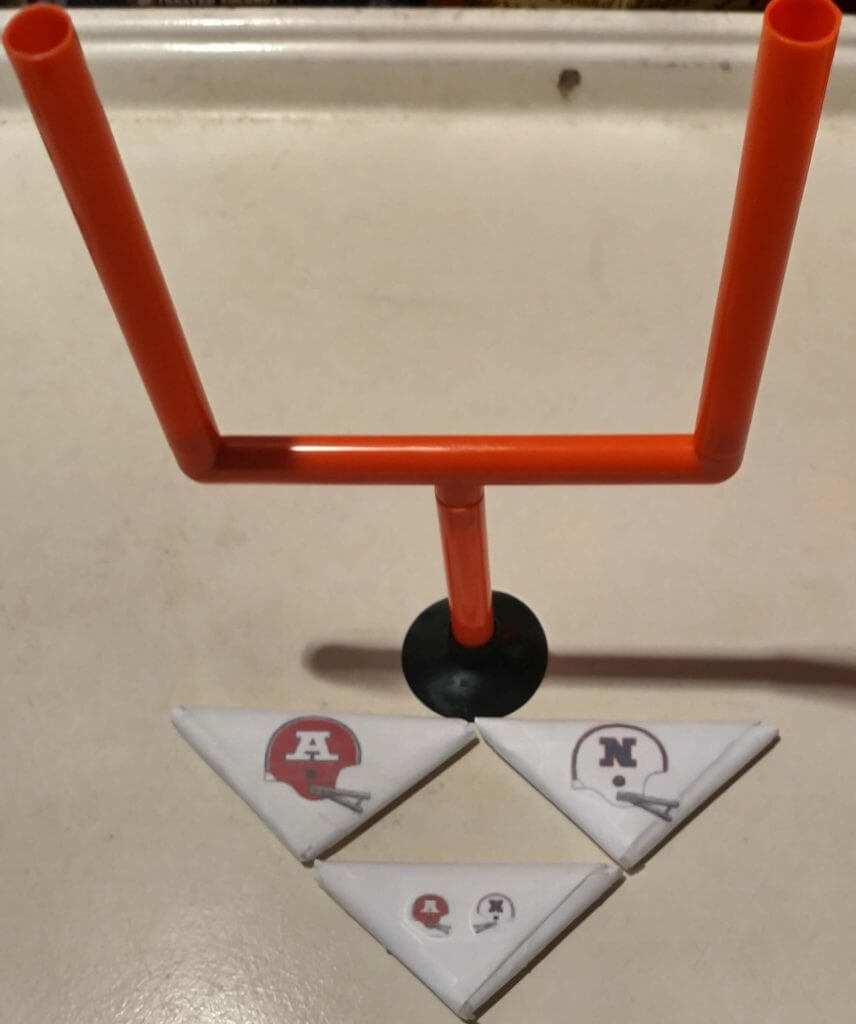 … and I told him if there wasn't going to be a real Pro Bowl, I was going to have one paper-style at the Vilk household…or, if I couldn't get anyone to play with me, I was going to have an AFC vs NFC field goal kicking contest. As it turns out, I couldn't get anyone to play, and I didn't have the time or space for the kick-off either. That got me thinking…how can I kick paper footballs solo without worrying about knocking over my goal posts? Yes, they have suction cups at the bottom, but they're not *that* good. I needed a base of some sort, and since we have lots of cork bulletin boards sitting in our basement, I took one and drilled two holes in it.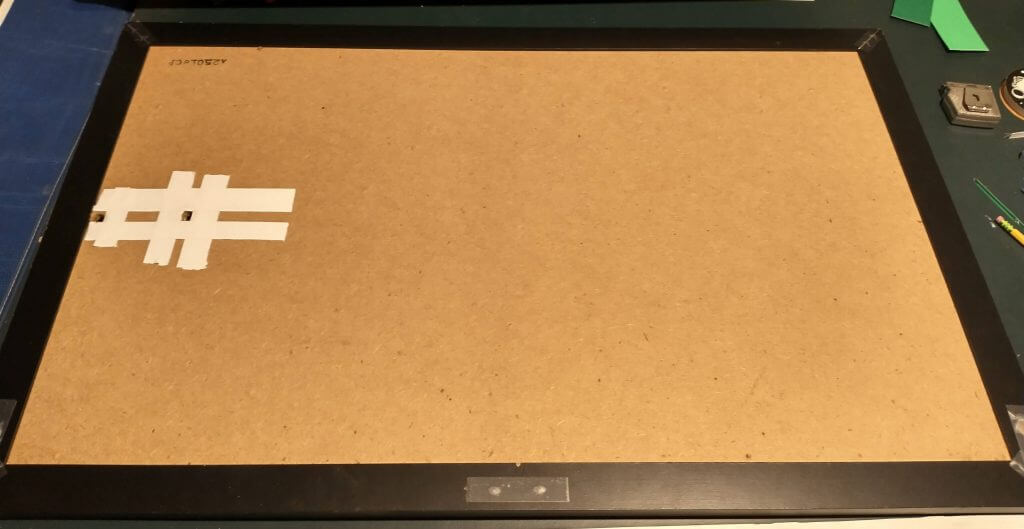 By the way, I don't recommend drilling into cork. It gets sloppy, hence the duct tape to reinforce the holes.
Why two? For those of a certain age who noticed the hole in my goal line, you know it's because I wanted the option to throw back to that glorious time when the NFL (and the AFL and the AAFC) placed the goal posts on the goal line.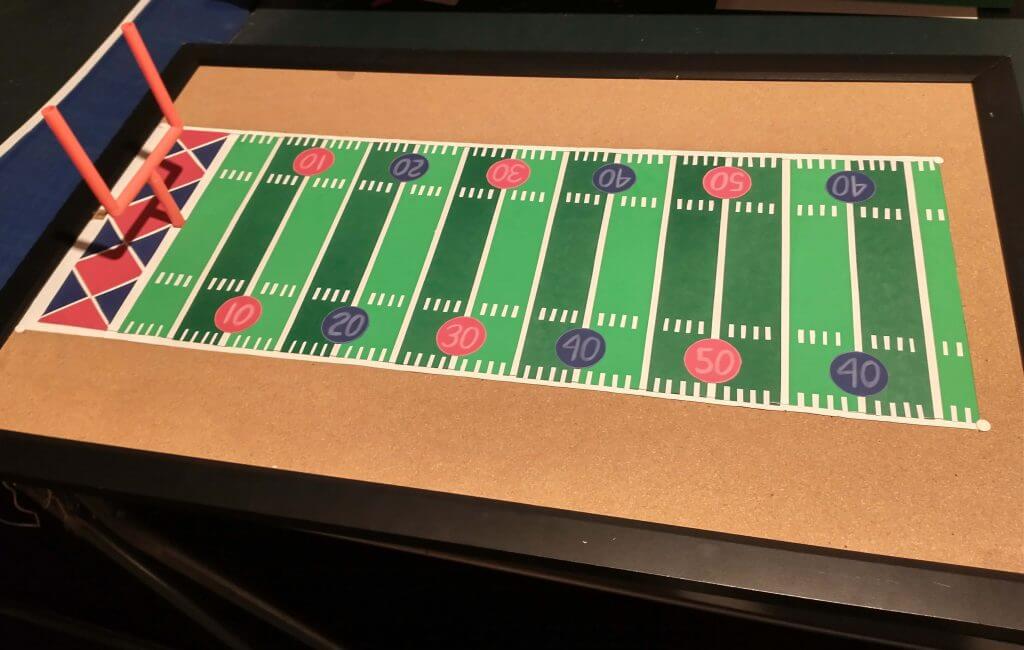 The next thing I needed was to decide what kind of field design I wanted. This was around the same time I discovered this, which took me down a rabbit hole of classic electric football fields. Ultimately I picked an amalgam of the game I wanted…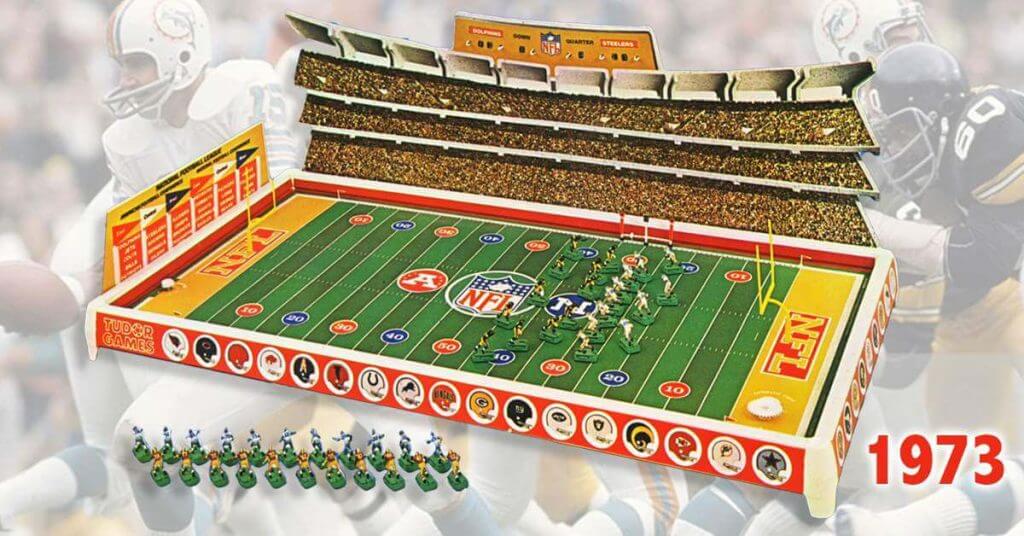 …and the game I got (which I really liked, so I wasn't complaining…and I liked the fact that they sold you a combo you'd never see on the field – blue Dallas vs white KC).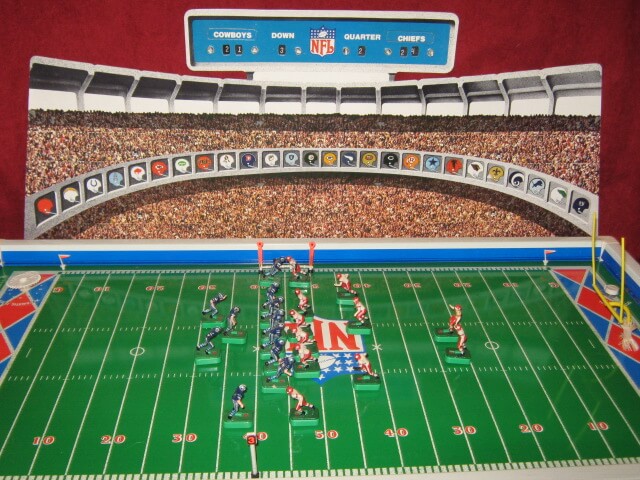 The game I wanted had alternating shades of green every five yards. I had plenty of light green poster board on hand, but just enough dark green to give me a field with the reasonable distance for a field goal attempt. So I laid down a base of white poster board and white duct tape, then glued strips of the green poster board over it.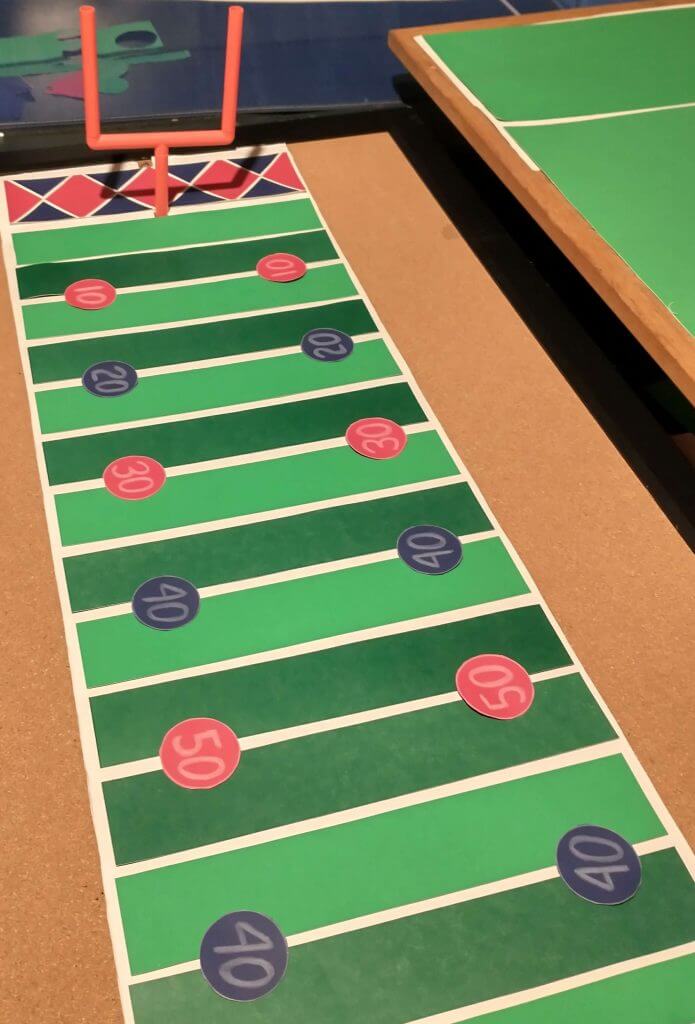 Next, I took "ten yard" strips of blue and red paper and drew the end zone design I wanted on each strip. Then I trimmed them and glued them over the white end zone.
With all the crafting supplies my wife has, I thought for sure she'd have something to let me make circles for the yard-line numbers. Nope…I had to use an old pill bottle to trace circles, then I drew the numbers (harkening back to the old Astrodome font) with a white pencil.
You'd think it would be smooth sailing from there, until I realized the white pencil barely showed up at all on the green poster board. Luckily I had lots of white label stickers, which happened to be exactly the 1/2 inch I wanted for my hashmarks.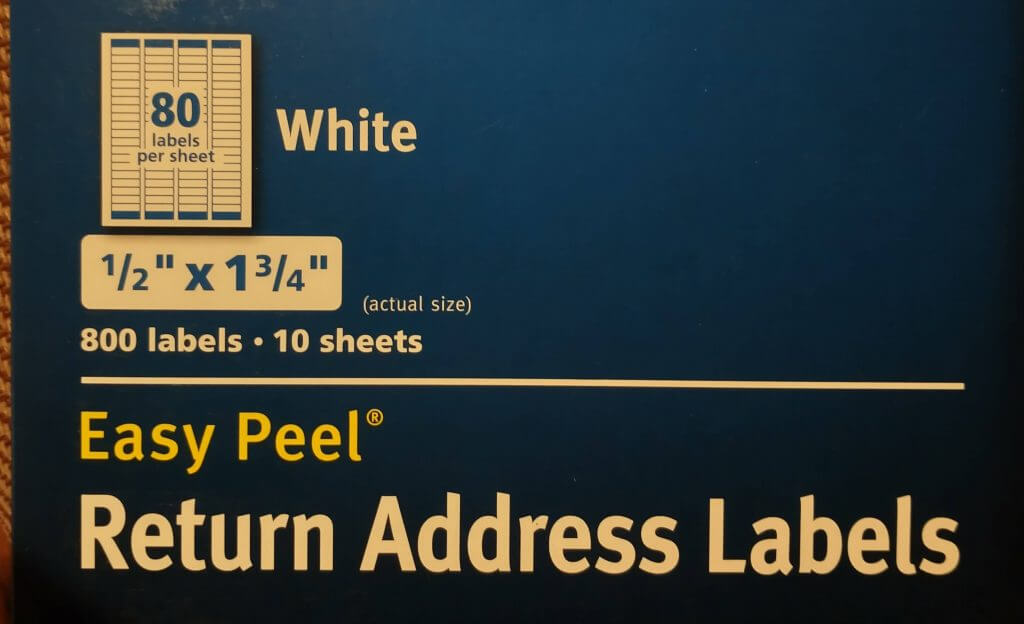 From there I began the painstaking task of trimming the labels by hand and placing them in line with the help of a template I made out of white poster board.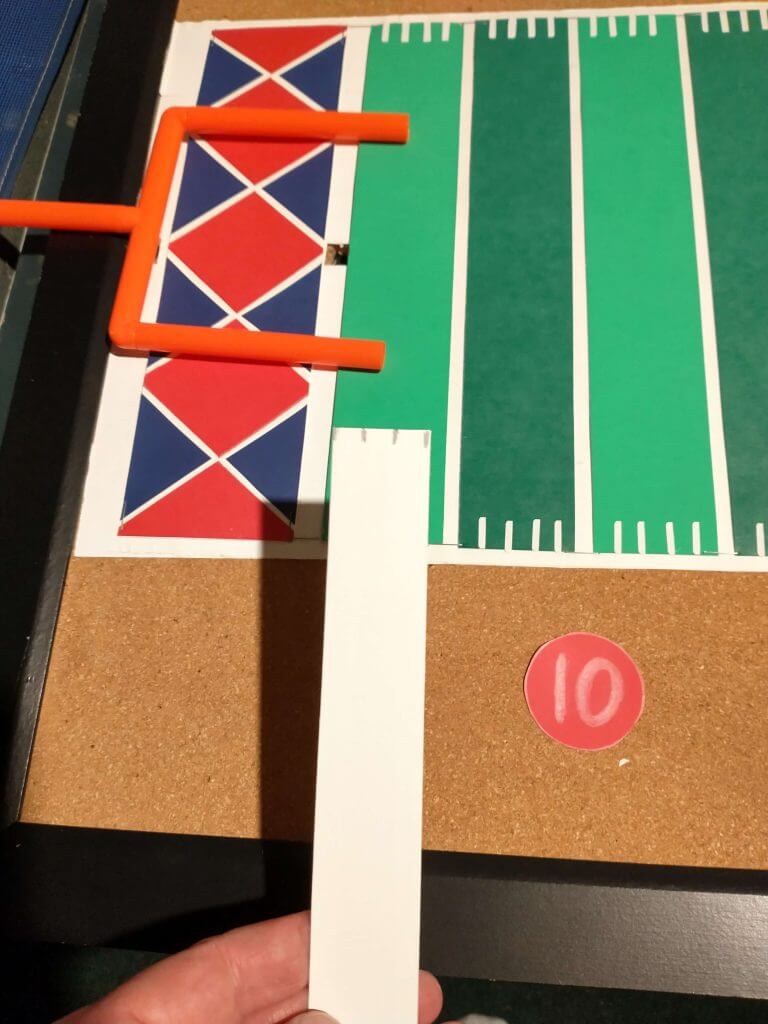 Is my field to scale? No. I can make field goals from way past this distance, but it's all about fun and having something I can easily put away when I'm not using it. I chose to keep the field with these dimensions because, with the goalpost on the goal line, I can only attempt a "67 yard" kick. With the goalpost on the end line…well, maybe someday in my lifetime someone will hit a 77-yarder. I doubt it, but I'm ready just in case.
While building this, I thought back to my idea of making a paper football league. I came up with one, which I'll reveal next time. Stay tuned…
• • • • •
Pretty cool, right? Good stuff Jimmer! We'll take a look at that Paper Football League in another six months whenever you get a chance to complete it!
Readers? What do you think of this DIY effort?


And Now…Jimmer Vilk returns with a College 5 & 1!
Longtime readers will remember back in the early days of Uni Watch, before there was even an official "Sunday Morning Uni Watch," I used to run Jim Vilk — the ORIGINAL Mr. 5 & 1 — doing weekly rundowns of NCAA football. Although Jimmer retired from his football 5 & 1's like a decade ago, he will periodically return for non-football specials. But today, for the first time in forever, Jim's back with a special 5 & 1…
Here's Jimmer:
• • • • •
I didn't realize spring football was still going on until someone in the UW comments mentioned it being (I'm Still Calling It 1-AA) FCS playoff time. With eight games on tap yesterday I thought I'd surprise Phil with a quick and nasty 5&1 just like the old days. Here we go…
#5 Holy Cross/South Dakota State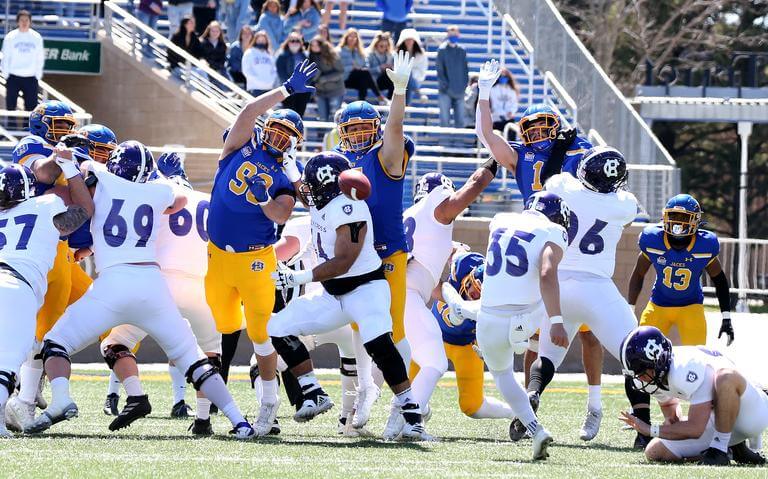 An AWFUL lot of white, Holy Cross, but I like your font.
__________
4. Monmouth/Sam Houston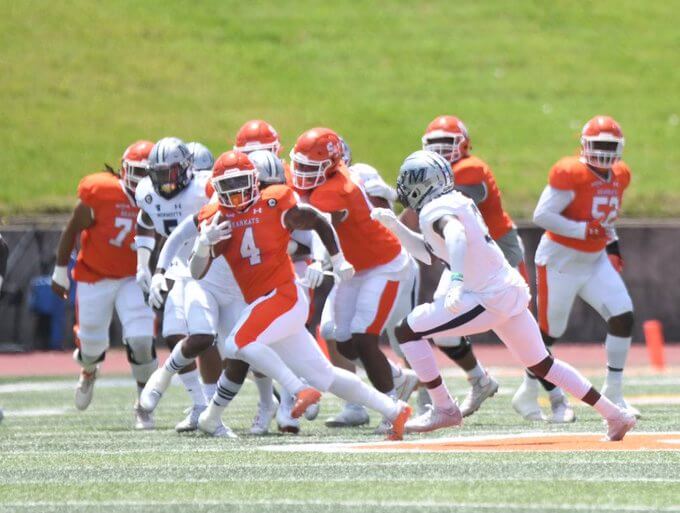 A lot of white again…at least there's a pants stripe.
__________
3. Southern Illinois/Weber State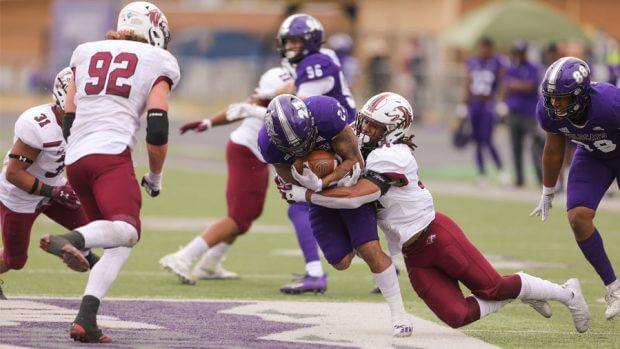 Paul's away for the weekend, so purple is allowed.
__________
2. Davidson/Jacksonville State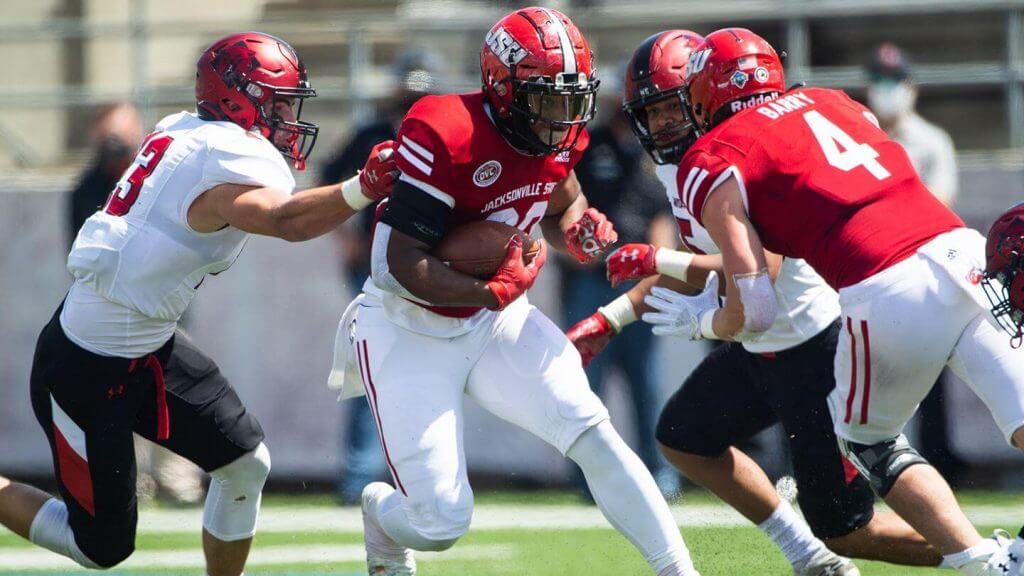 Nice contrast despite the similar colors.
__________
1. VMI/JMU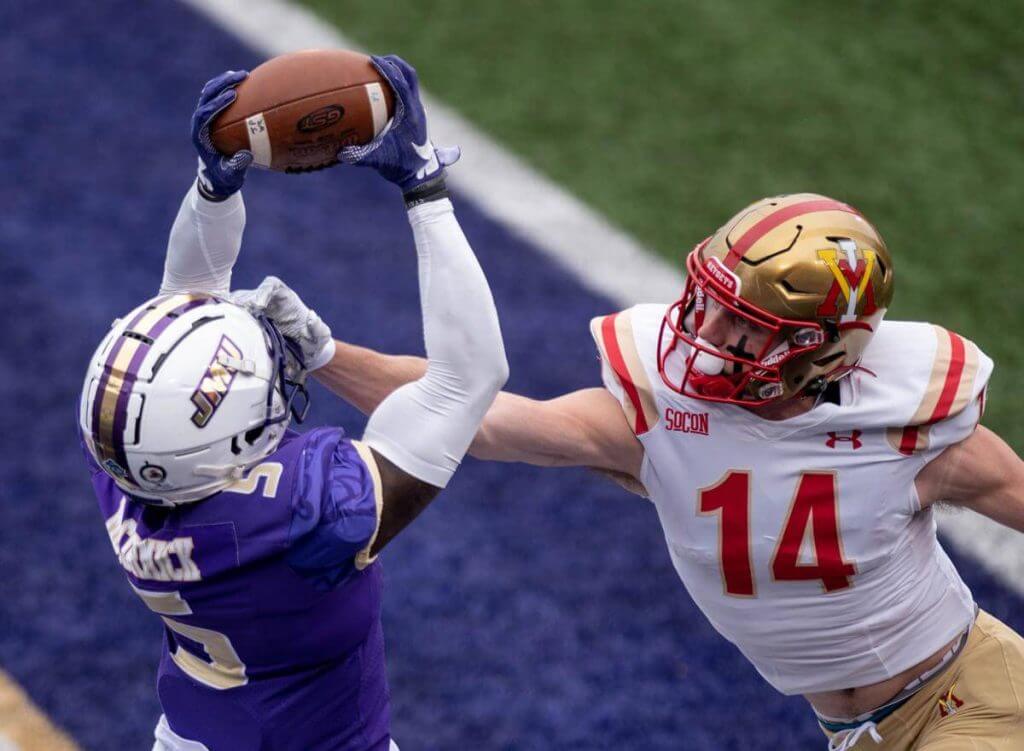 A little bit of shiny to go with this color palette special.
__________
&1…
Sacred Heart/Delaware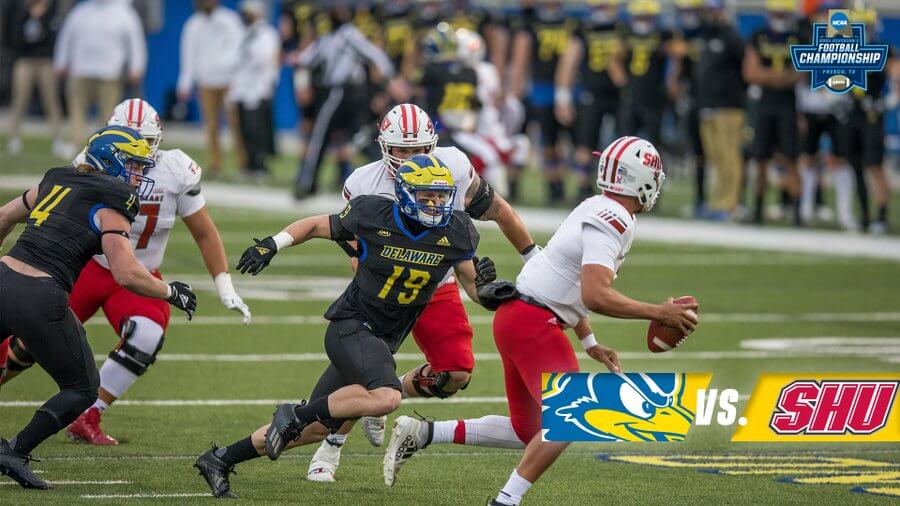 Oh no no no no no…the *Blue* Hens took a potentially great matchup and made a real cockup of it.
• • • • •
Thanks, Jimmer. Just like old times!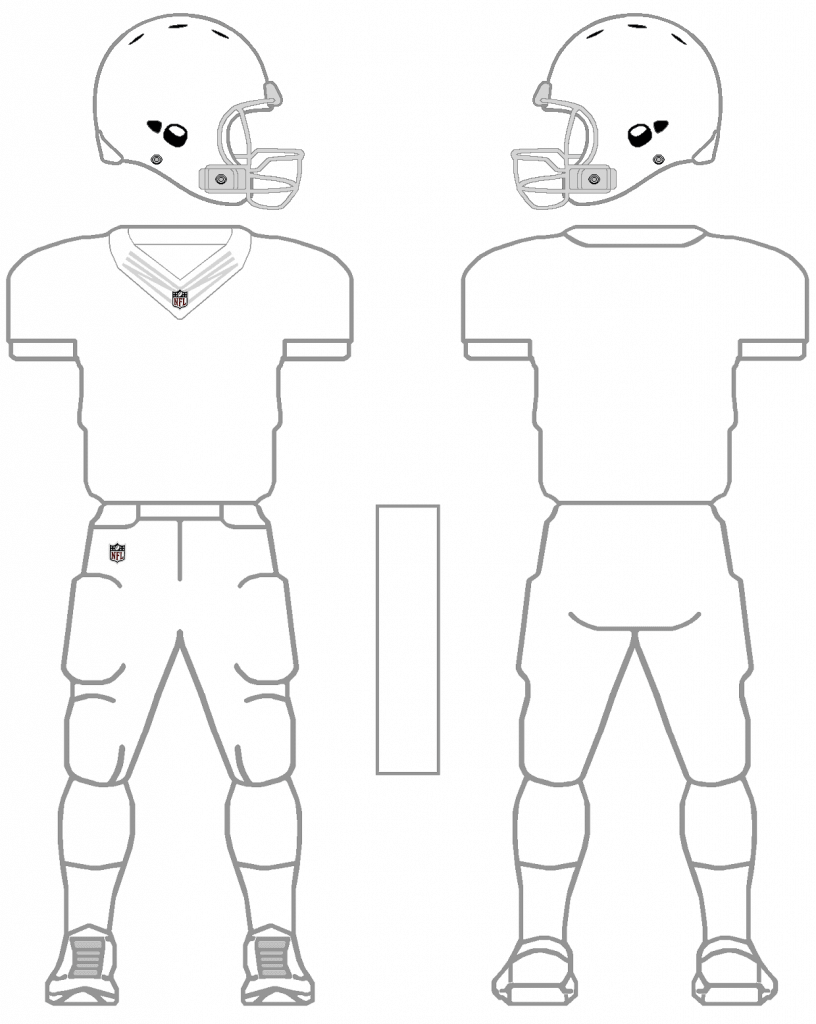 Uni Concepts & Tweaks
Time for more Uni Tweaks from the UW readership.
I hope you guys like this feature and will want to continue to submit your concepts and tweaks to me. If you do, Shoot me an E-mail (Phil (dot) Hecken (at) gmail (dot) com).
• • •
Today's set of concepts comes from Walter Helfer, who has some NFL helmet ideas:
He writes…
Dear Phil,

Here are three NFL helmet concepts:

San Francisco- The one-day 49er helmets might have gone down easier had the decal been an evolution of the "S.F. in the oval" insignia.

Tennessee- Three faceted stars meeting point-to-point on the dark blue helmet is evocative of the rondel in the state flag.

Washington- Yes, please, to the tasty stripes of the antecedent of the WFT, and let's add an old-school "W".

All the Best,

-Walter
And here are his designs: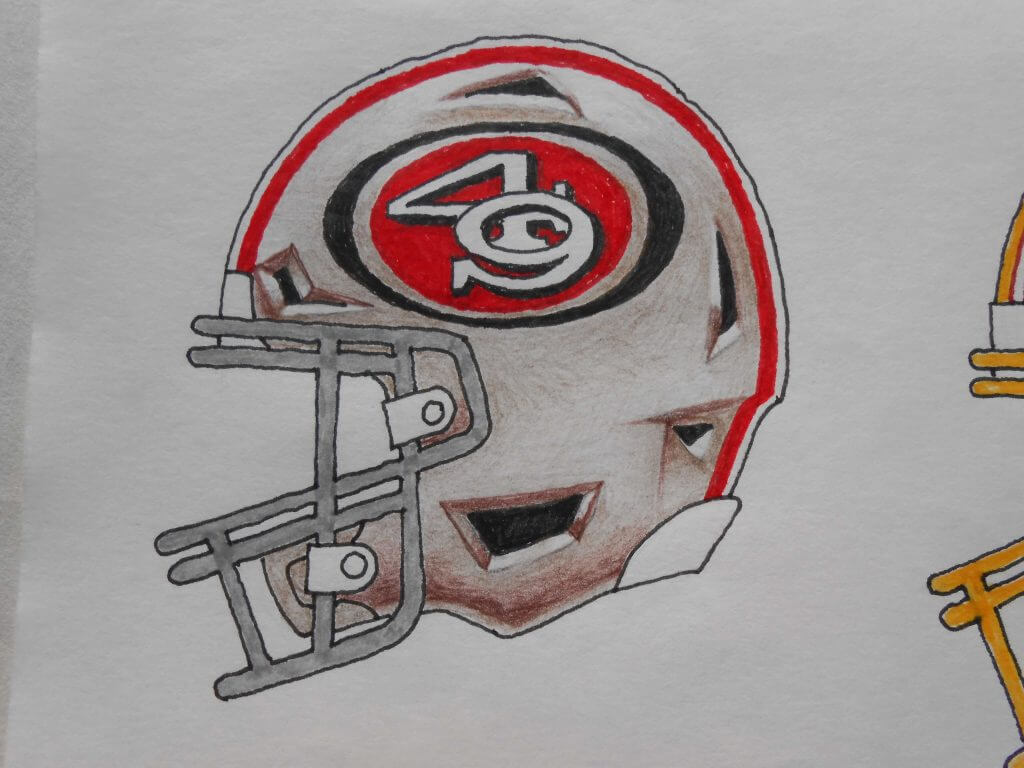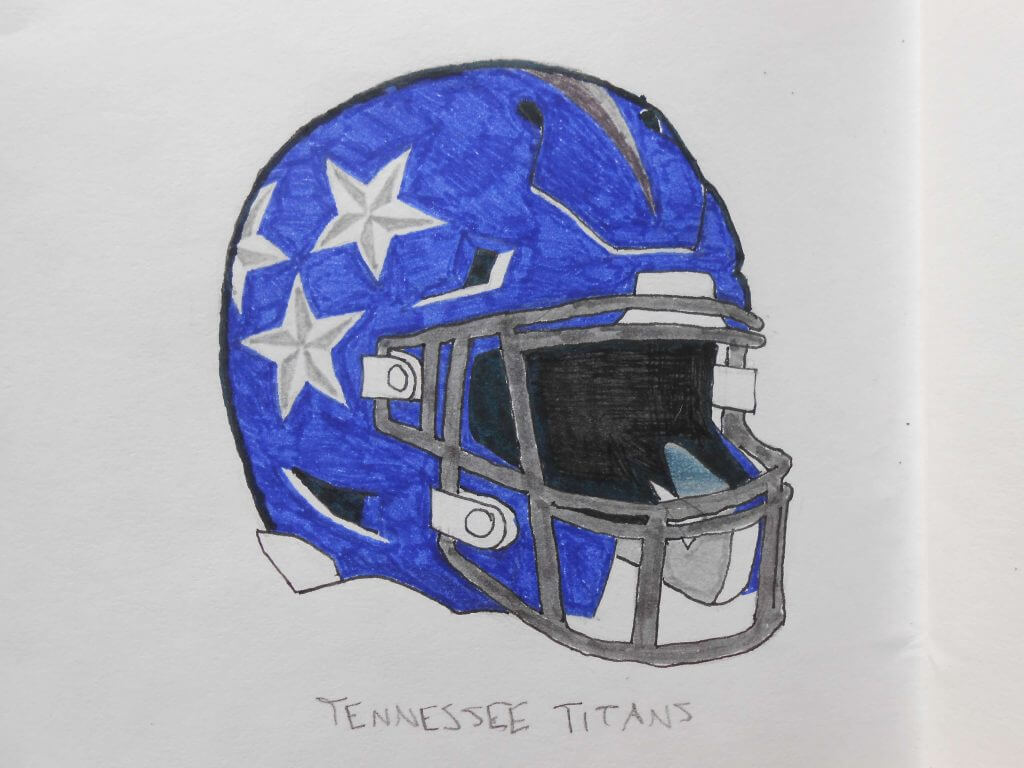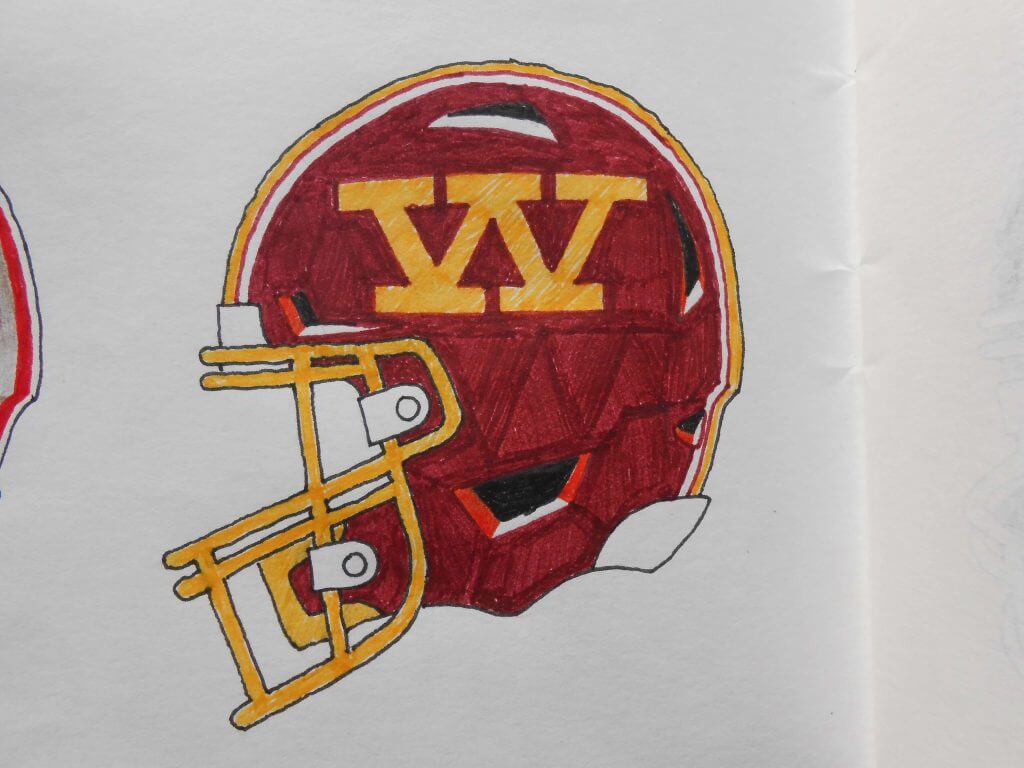 • • •
Thanks Walt!
OK readers (and concepters). If you have some tweaks or concepts, shoot 'em my way with a brief description of your creation and I'll run 'em here.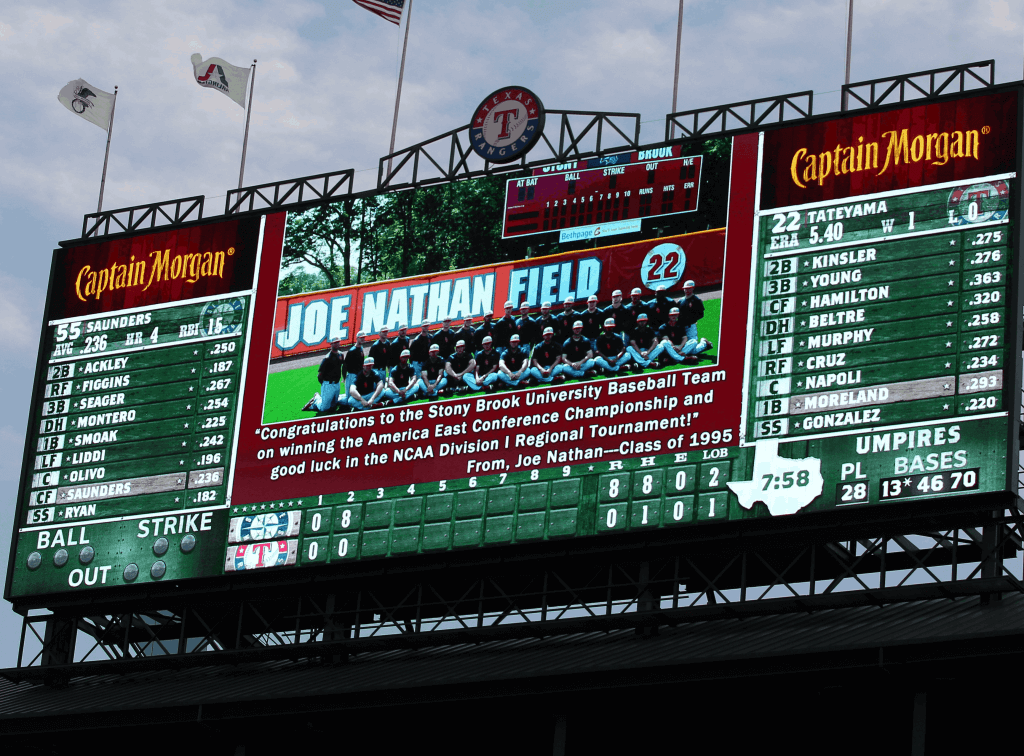 Guess The Game…
from the scoreboard
Today's scoreboard comes from Haymarket Zecken.
The premise of the game (GTGFTS) is simple: I'll post a scoreboard and you guys simply identify the game depicted. In the past, I don't know if I've ever completely stumped you (some are easier than others).
Here's the Scoreboard. In the comments below, try to identify the game (date & location, as well as final score). If anything noteworthy occurred during the game, please add that in (and if you were AT the game, well bonus points for you!):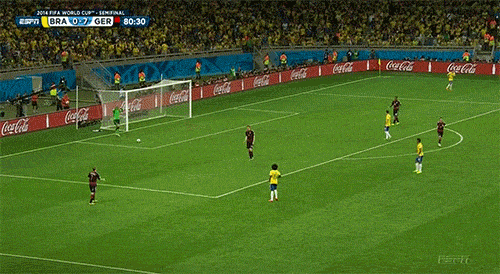 Please continue sending these in! You're welcome to send me any scoreboard photos (with answers please), and I'll keep running them.


Uni Watch News Ticker
By Phil

Baseball News: Reader Timm Dunn noticed the Seattle Mariners were supposed to be wearing the blue hat with the green bill when they wore the navy blue road top, but in the last 3 games with the Red Sox, they have worn their solid navy hats. … Le Creuset has come out with a line of MLB-branded Dutch ovens (because how can all those baseball-loving gourmet home chefs possibly make a decent beef bourguinon without one?). From Kary Klismet. … Also from Kary: National Geographic has a cool story about how the tradition of ballpark organ music started 80 years ago this month. … Looks as though a local Madison landscaping company has been poaching the Dodgers logo (from @bullyday). … Ole Miss Football Coach Lane Kiffin exited the baseball bullpen to 'Real American' to throw out the first pitch to John Rhys Plumlee (from Timmy Donahue). … Apparently a Taiwanese baseball team attemped a throwback and it didn't turn out as well as it could have (from Jeremy Brahm). … Also from Jeremy: "May not hit Paul right, but 29th anniversary of Sanfrecce Hiroshima and their purple gear." … During yesterday's game against the Mariners, the Red Sox' Marwin Gonzalez was batting with a broken C-flap on his helmet (from Sean Robbins). … Looks like one of the Oakland Athletics coaches in the dugout last night was wearing a Majestic dugout jacket from 2 years ago (from Rudy Gutierrez). … In yesterday's Yankees/Cleveland game, Gerrit Cole's turtleneck with the interlocking NY was similar to the one the Yankees wore during the championship years under Joe Torre (from Gershon Rabinowitz).

Football News: Centreville (Mich.), Boyle County (Ky.), and Calvary Christian (Columbus, Ga.) High Schools have received their championship rings for winning state titles last fall (from Kary Klismet). … Not a super rarity, but here's a picture of Carson Palmer holding a jersey (uniform) he never wore on the field (from Coach KT). … Noah Kastroll notes, "Spring game end zones (had) Pitt & Panthers in script & the Panther Head will be at midfield. This is all new. I'd love to see this for a regular season game." … The "City Section Perpetual Football Trophy" had been lost. A woman found it in the trash (from Paul). … Many NFLers who thought about switching their uni numbers following the NFL's relaxing of rules have balked at the costs. Tyreek Hill may be an exception. … After "dropping" their smokey gray unis for a spell, the Tennessee Vols were back in them for their spring game, leading to some speculation they may return in the future. … Richard Green saw the Maryland spring game and is wondering if Maryland will have a new helmet option (I don't think they've worn one that looks like that yet, with the flag helmet stripe and TV numbers). I kinda dig it. Update: Apparently it's their "Spring Game helmet" (worn in 2019 also).

Hockey News: ICYMI: The Tampa Bay Lightning have unveiled their Stanley Cup championship rings (from Kary Klismet). … Here's a look at Michel Plante, at his legendary father Jacques' Fibrosport factory in Magog, Quebec, spray-painting a rack of masks bound for retail sale (from Jerry Wolper). … Here's an interesting look at a variety of headwear worn by Swedish hockey goalies in the past (from Wade Heidt). … Also from Wade: some pretty interesting warm up sweaters for the Winnipeg Jets last evening. … Still more from Wade: The WHL's Prince Albert Raiders will be wearing some special jerseys on Monday. … Check out this 1994-95 NHL All Star Game cap (lockout season, game never played). From Tony.

NBA/College/Basketball News: Need some gift ideas for a mom who's a hoops fan this Mother's Day? Maybe these planters made from upcycled Spalding NBA basketballs will do the trick! (from Kary Klismet). … More from Kary: The Barangay Ginebra Kings of the Philippine Basketball Association have unveiled new uniforms. … Scorebug bug: The Dallas Mavericks were actually 32-26, not 32-36 (from Bobby's Burner).

Grab Bag: It's rare (has it ever happened?) that a reader will praise a modern day ad, but Max Weintraub says, "Look how simple and wholesome this ad is, during the UVa v Syracuse lax game. Eat Virginia Peanuts, with a silly elephant: So simple and pleasing." … Also from Max, a scorebug bug — NCAA doesn't seem sure what Maryland lacrosse is ranked. "Are they number 1? (Yes) Are they 21? (No) But the NCAA shows them as both on this graphic." … Tanglewood Elementary School in Fort Worth has a new tiger head logo (from Kary Klismet). … Also from Kary, the University of Texas has decreed that all of the school's band members will be required to play "The Eyes of Texas," even as the controversy over the song's origins and possible ties to racism continues. … Here's one blog's rankings of the best rugby jerseys of all time (Kary, again). … And one more from Kary: Two German gymnasts competing at the European championships this week wore full bodysuits to protest the sexualization of women and girls in the sport. … This is pretty cool: a local optometrist has a business card designed as a baseball card (from Jay Jones). … Robert E. Lee HS (Midland, TX) rebranding to cost at least $1.447 million, including $326,596 for uniforms for various programs (from Timmy Donahue). … Due to the pandemic, the Women's Volleyball Championship for 2020 was played last night, and James Gilbert points out there will be "quite a few of these '2020 National Champions' crowned in April 2021."


Uni Tweet of the Day
Großer Respekt to German champion gymnast Sarah Voss for protesting sexualization in women's gymnastics by wearing a bodysuit at the European Artistic Gymnastics Champs this week. May this be the beginning of the end of forcing women athletes into needlessly revealing uniforms. pic.twitter.com/FWEKhVf99l

— Frogmouth (@frogmouth_inc) April 24, 2021


And finally… that's it for me for this weekend. Big thanks to Jimmer Vilk both for his paper football fields AND for making a return cameo to football 5 & 1. Good stuff buddy.
Everyone have a great week, stay safe and I'll catch you next Saturday. Till then…
Peace,
PH