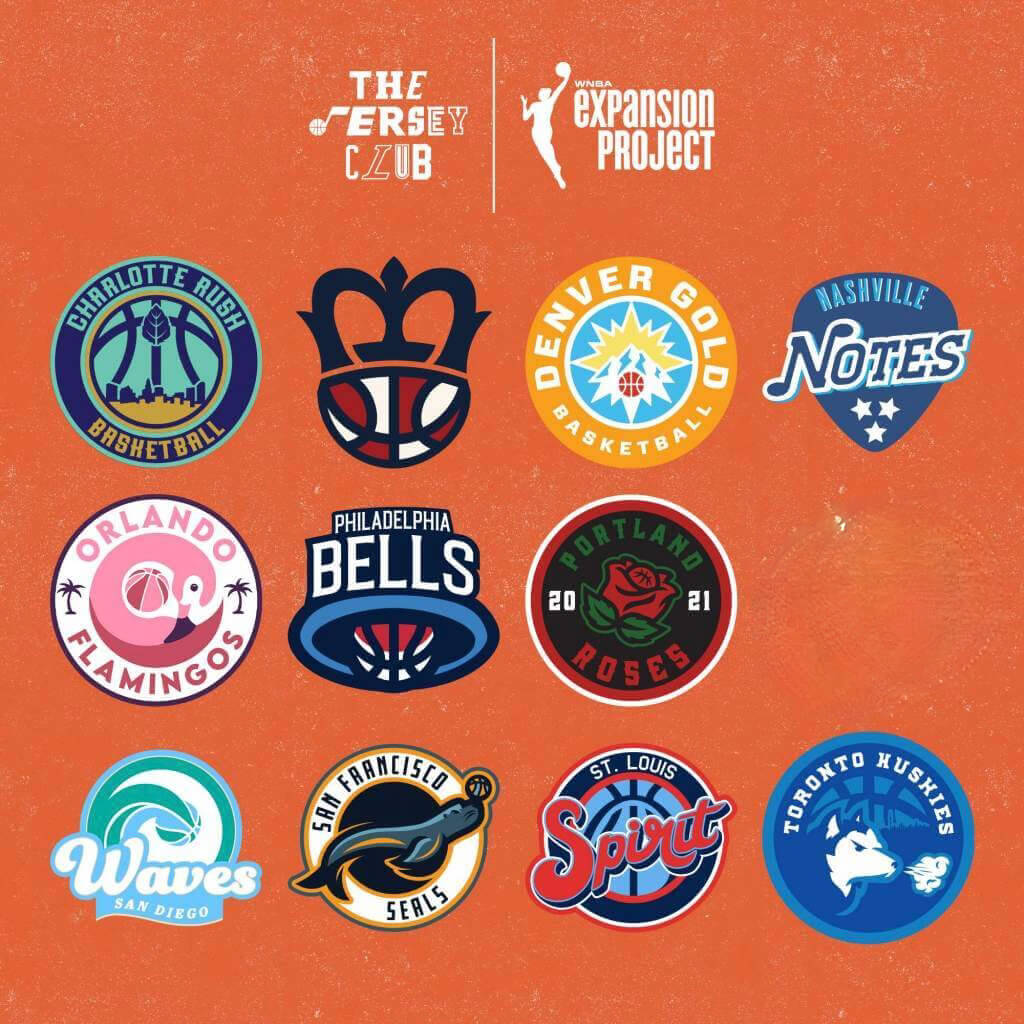 For all images, click to enlarge
[Editor's Note: Today we have a rare weekday appearance by weekend editor Phil Hecken, who has a great project that just couldn't wait until Saturday. Enjoy. — PL]
By Phil Hecken and the Jersey Club
Follow @PhilHecken

Good morning, Uni Watchers! As you may be aware, the WNBA recently released new uniforms for all 12 of its teams (and our own Jamie Rathjen gave us the rundown on those here). With the league marking its 25th season and really coming into its own, and with the league's draft taking place tonight, a group of 15 designers known as the Jersey Club has devised what they call the WNBA Expansion Project, a reimagining of the WNBA from its current 12 teams to 23, with new franchises in Charlotte, Cincinnati, Denver, Nashville, Orlando, Philadelphia, Portland, San Diego, San Francisco, St. Louis, and Toronto.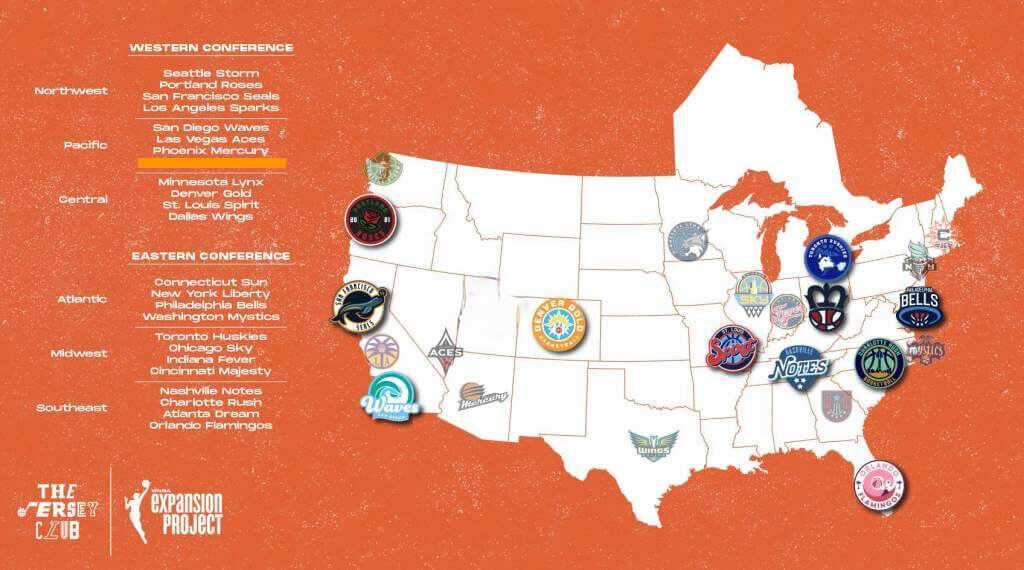 And what would these new teams wear? I'll hand the mic over to the Jersey Club and let them tell you.
The WNBA Expansion Project
By The Jersey Club
A while back we found ourselves brainstorming our next project. One of us said, "What about the WNBA?" and boom — we had lightning in a bottle. It was crazy and inspiring to see all the ideas start flowing. And then seeing them brought to life by this incredibly diverse talent pool just blew our collective minds.
Shortly after we got started, we were convinced that our group chat was being "listened to" because we started seeing fan suggestions, jersey leaks and all kinds of WNBA buzz on Twitter. It was eerie at times how things we talked about would pop up in our timelines, but ultimately it just pushed us to get everything done by the day of the draft. We're incredibly proud of this project, and hope it inspires more people to support the league and its players.
Here are the teams we've come up with — enjoy!
__________
Charlotte Rush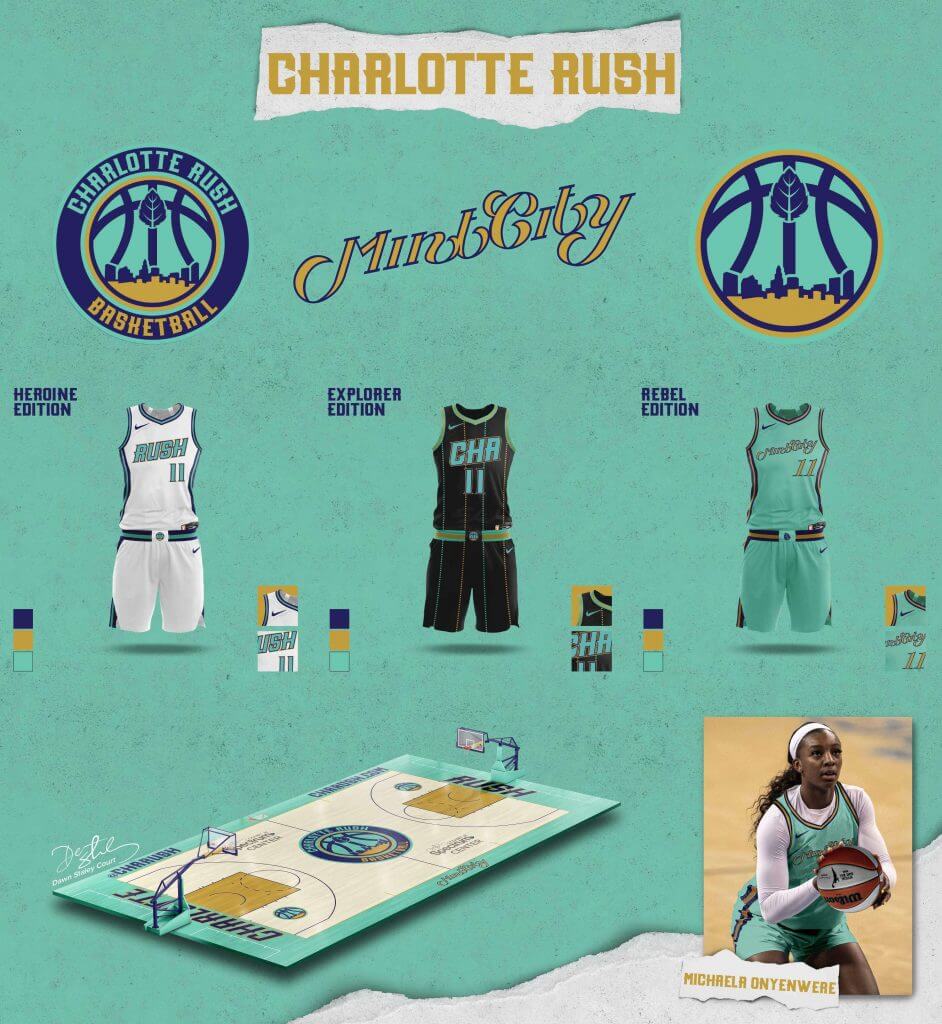 __________
Cincinnati Majesty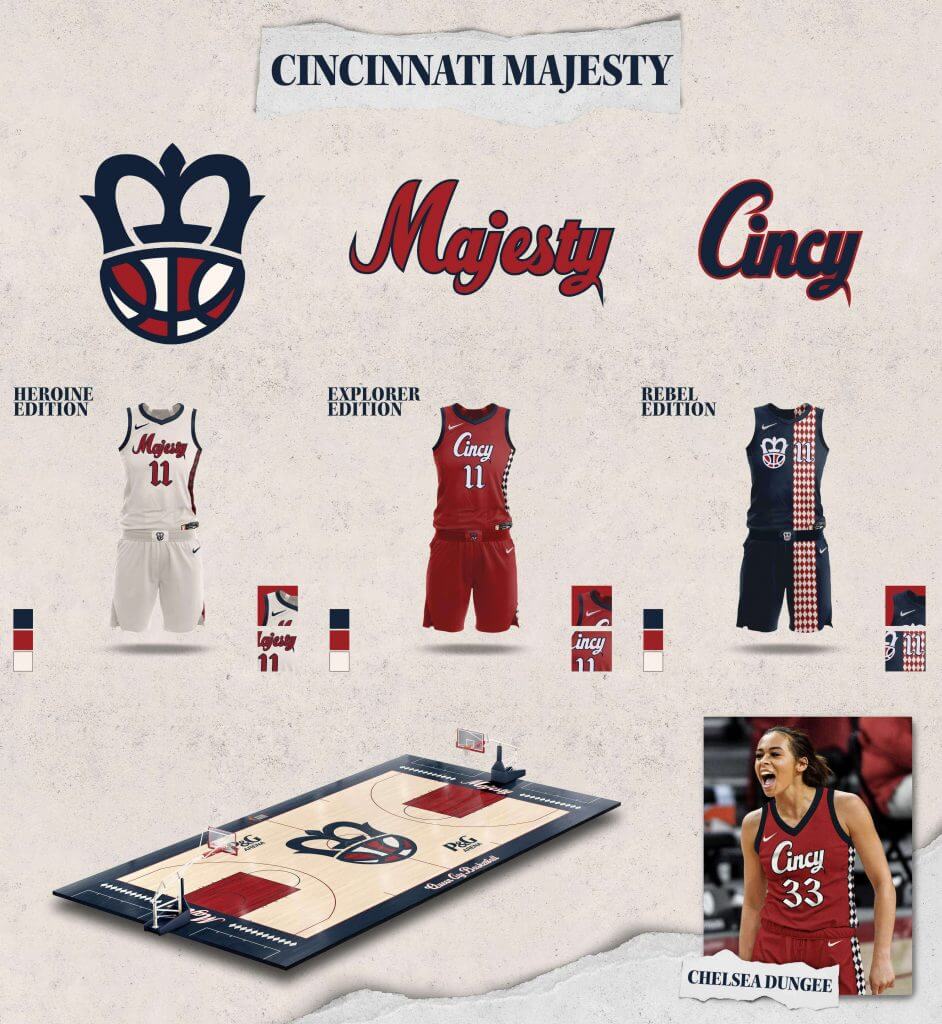 __________
Denver Gold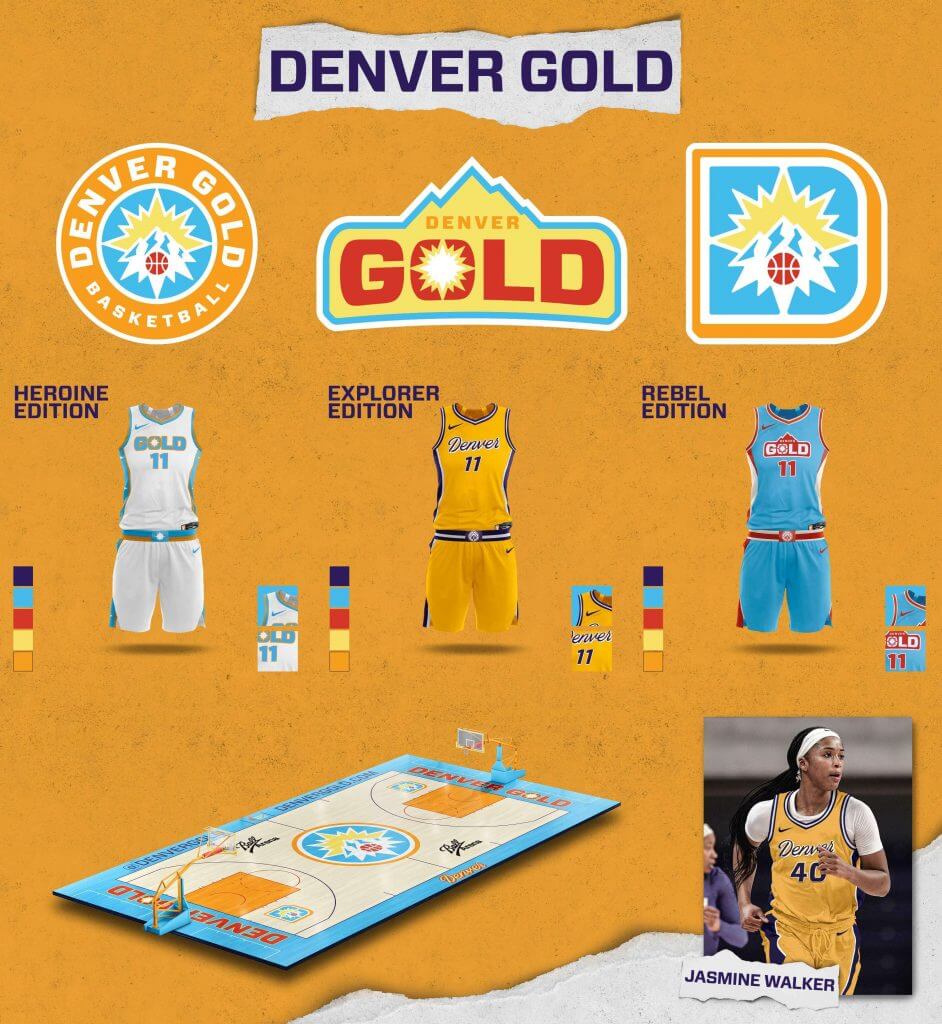 __________
Nashville Notes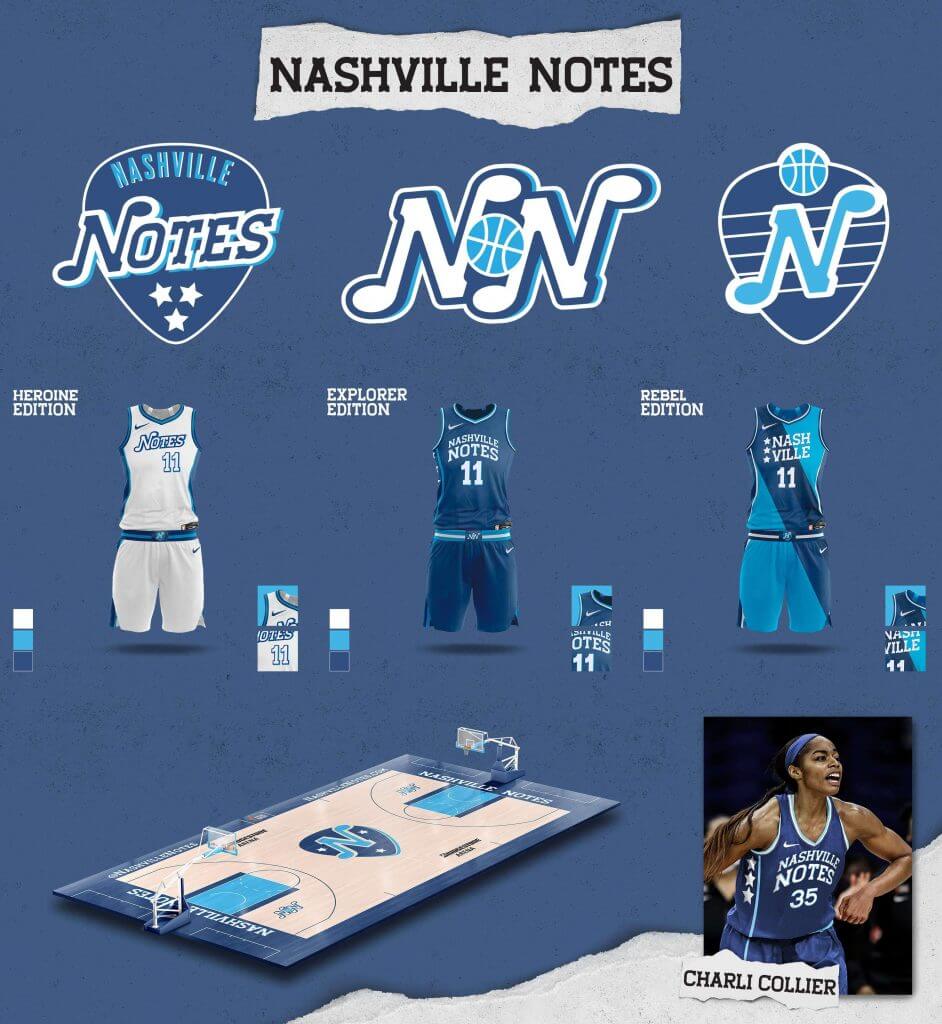 __________
Orlando Flamingos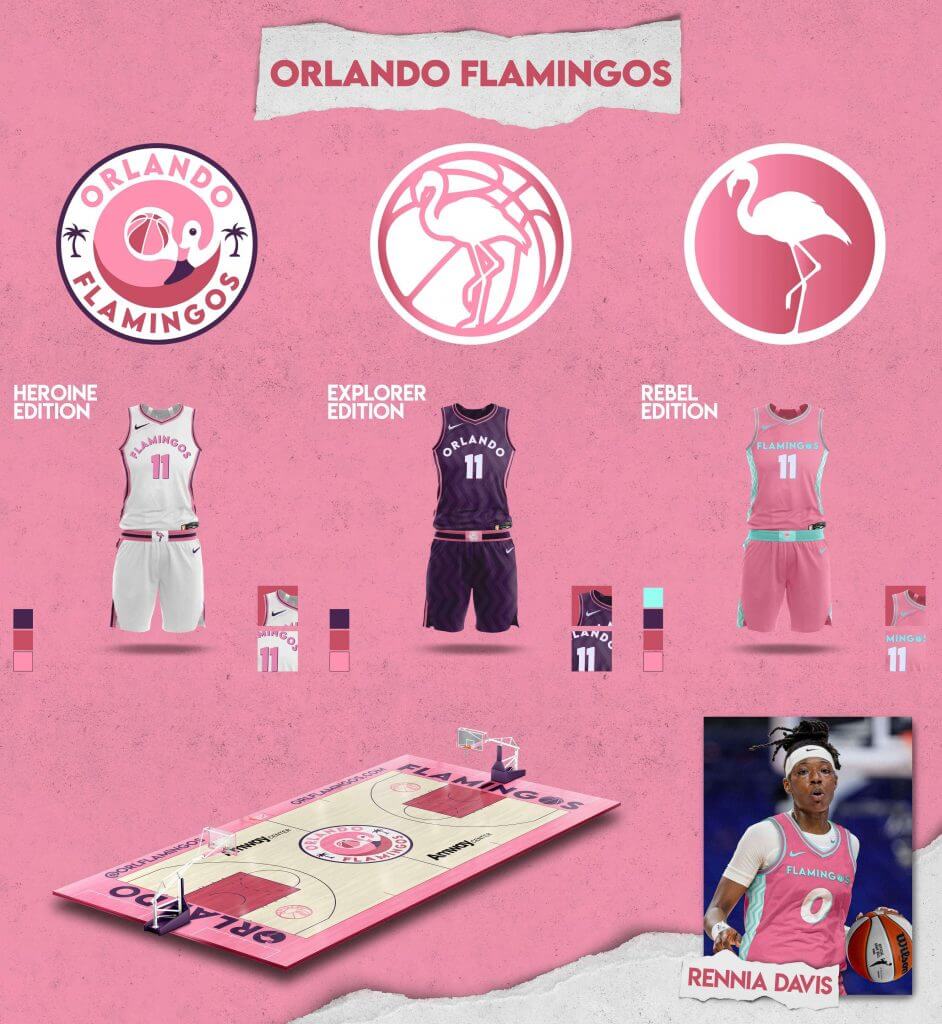 __________
Philadelphia Bells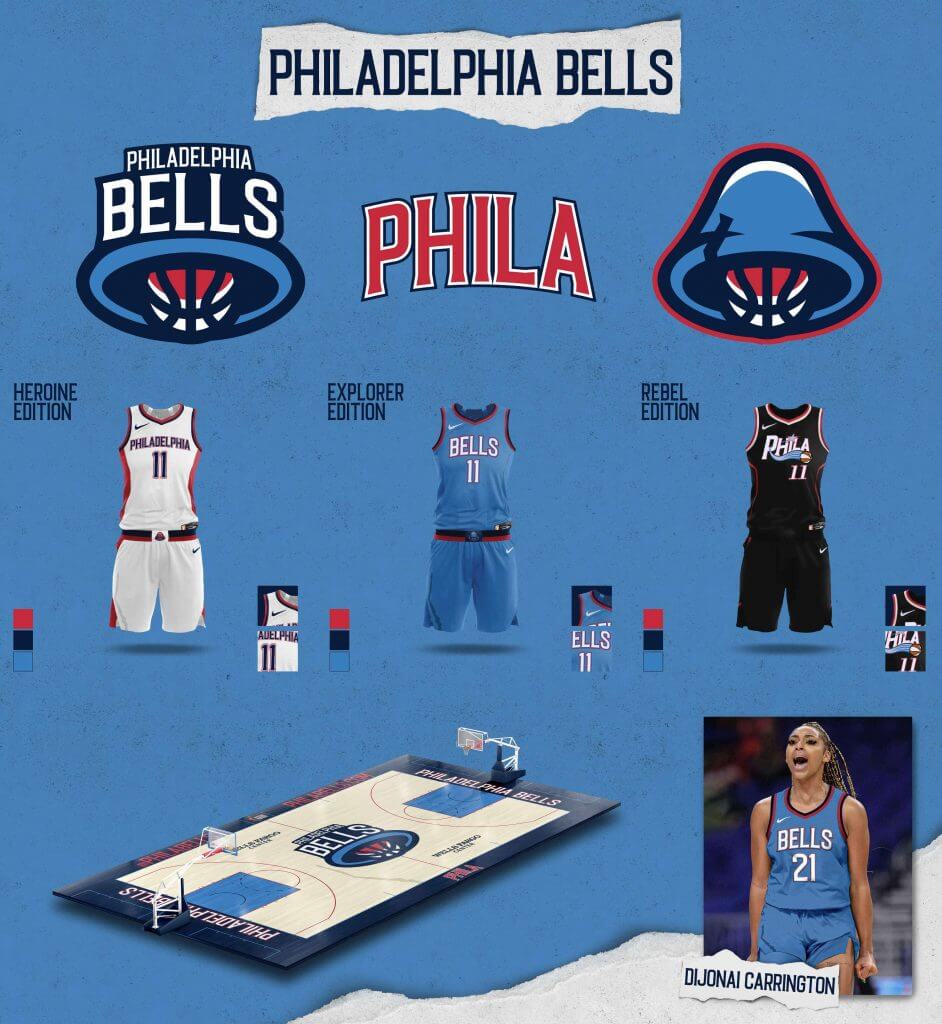 __________
Portland Roses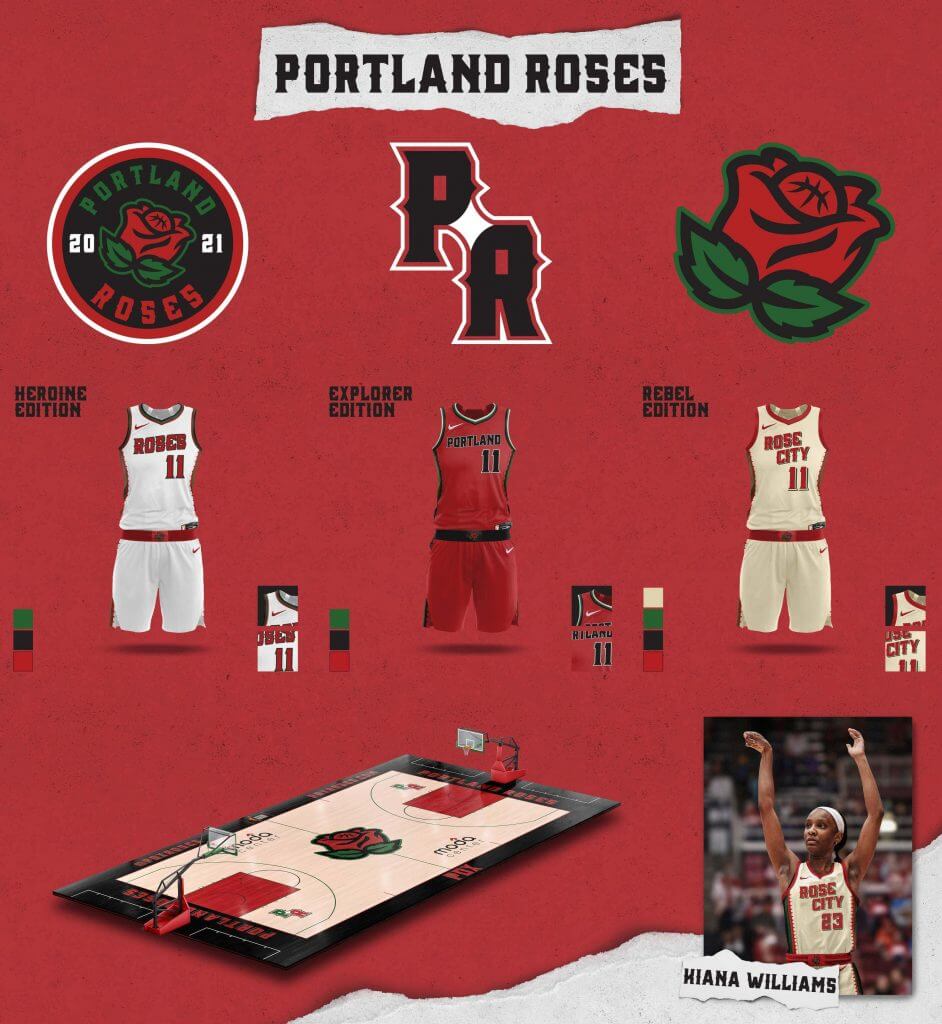 __________
San Diego Waves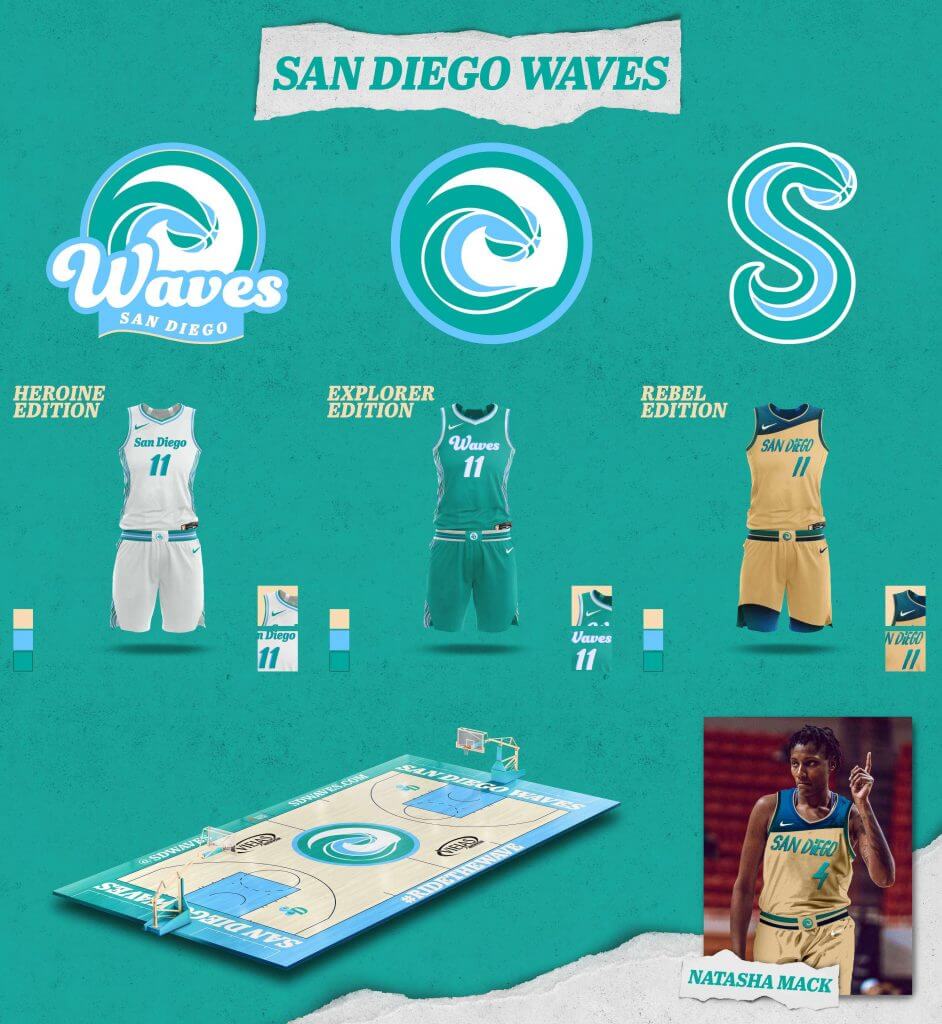 __________
San Francisco Seals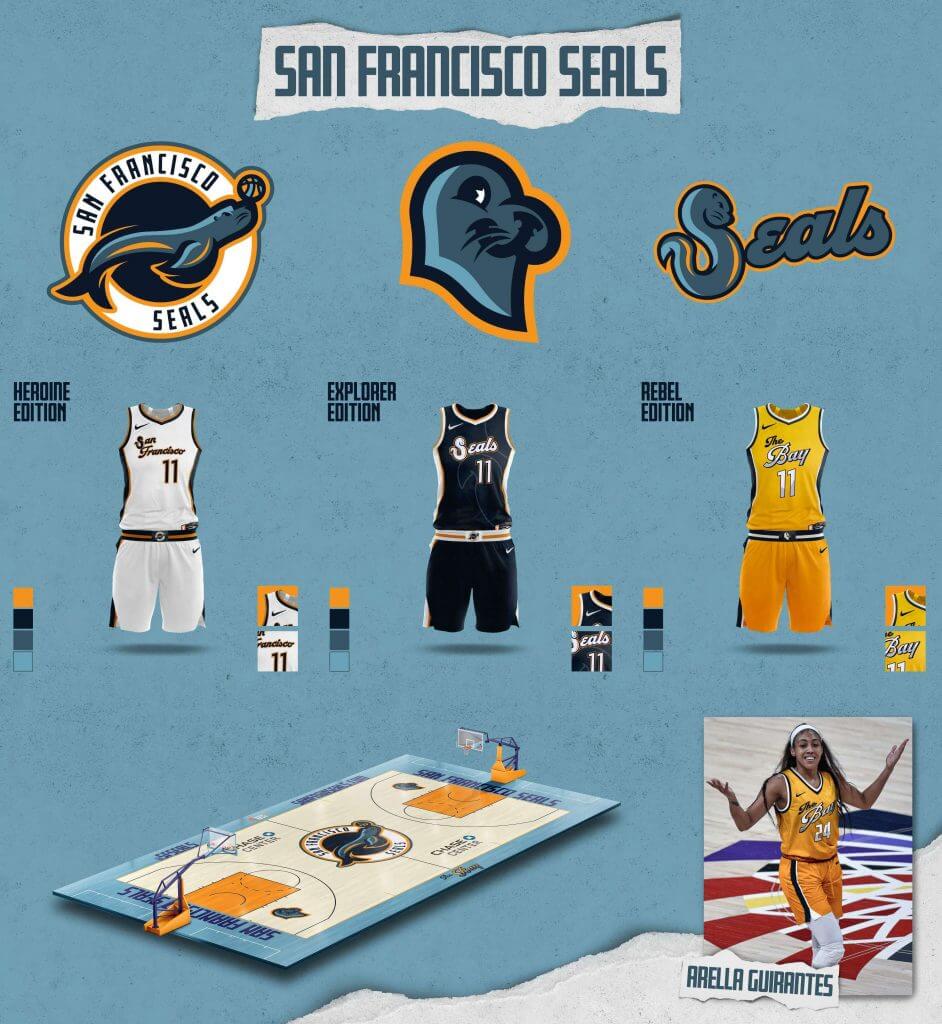 __________
St. Louis Spirit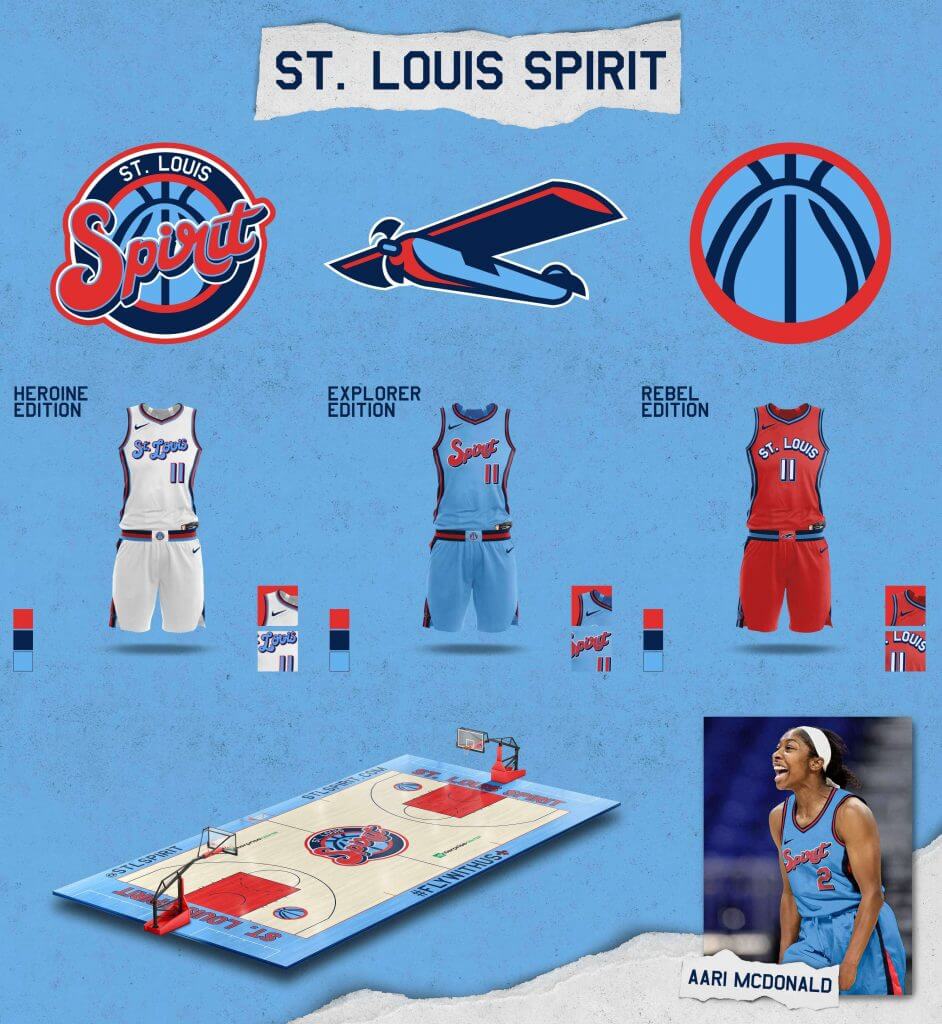 __________
Toronto Huskies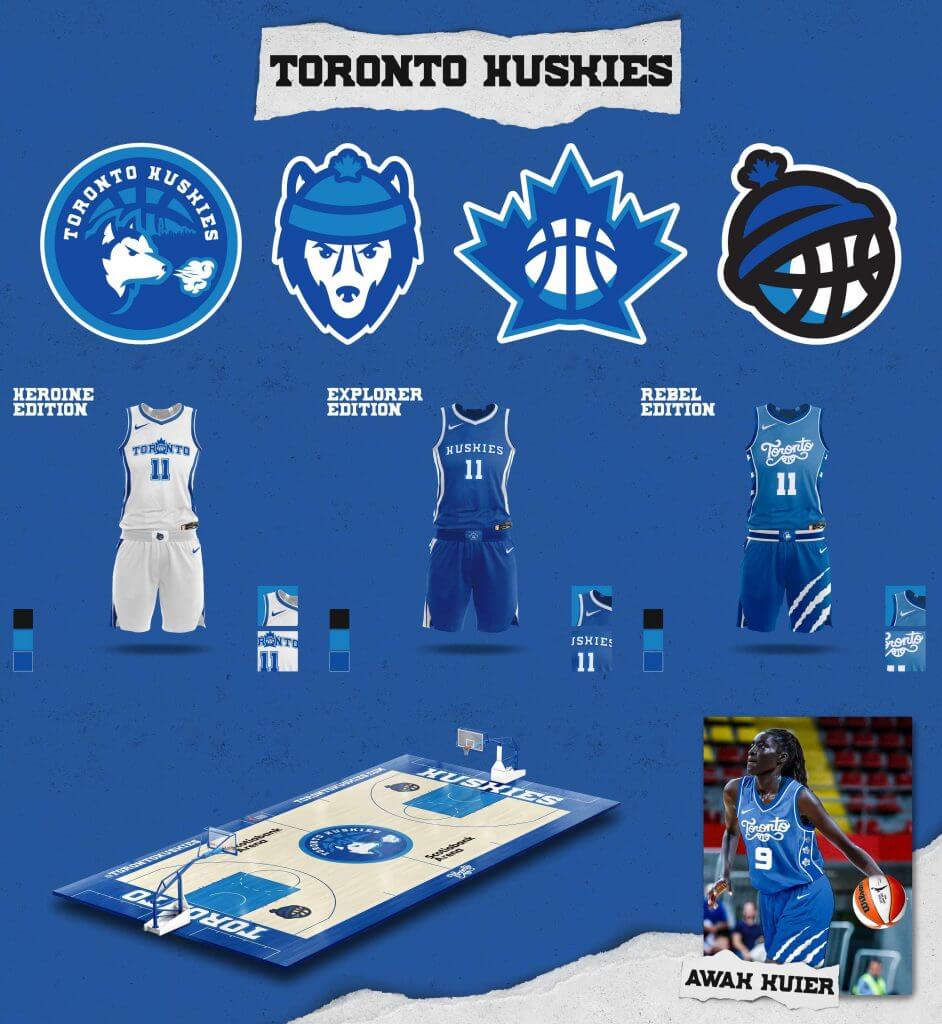 __________
Phil here. Thanks to the Jersey Club for sharing their work with us!
If you want to learn more about the Jersey Club, you can follow them on Twitter here. And if you're wondering why I ran this content today instead of on the weekend, it's in part because the WNBA draft is tonight, and also because I'll have our big MLS Season Preview this weekend. Hope to see you back here in a couple of days for that.
Now back to Paul for the rest of today's content.
• • • • •
• • • • •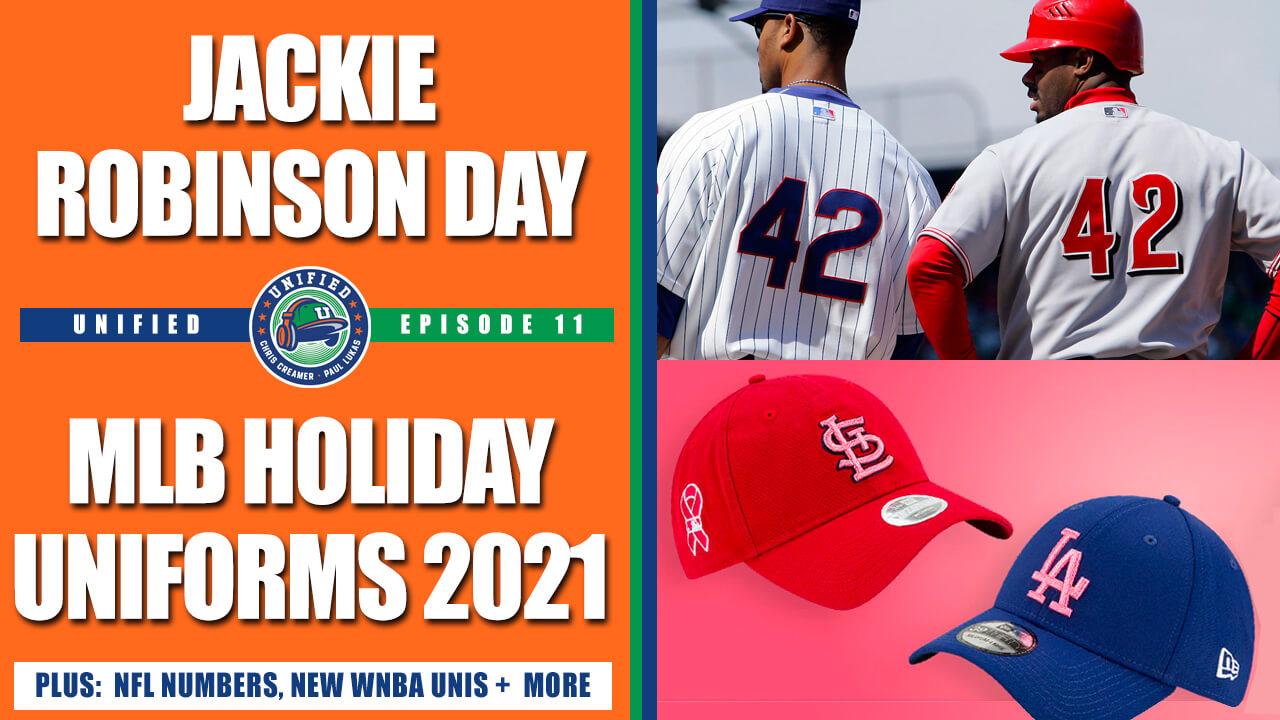 New podcast episode: Paul here. For this week's episode, Chris Creamer and I discussed a bunch of things, including:
• MLB's new holiday caps
• The history of Jackie Robinson Day, and how it should be handled going forward
• The proposed changes to the NFL's uni number rules
• The new WNBA uniforms
• The ongoing saga of the Braves, the MLB All-Star Game, and all the related issues
• Our favorite uniforms from fictitious teams in movies
As always, you can listen to us on Apple, Google, TuneIn, and Spotify (the episode isn't yet up on Stitcher, but it should be soon), or just use the player below:
The show notes for this episode, which include photos of many of the things we discussed, are available at the podcast's newly redesigned website. Those photos (and some additional ones) also appear in the video version of the episode, which you can see here:
We have great deals from this episode's advertisers: Streaker Sports (get 20% off any order with checkout code UNIFIED), Ebbets Field Flannels (10% off, except on NFL items, with checkout code UNIFIED), and Homefield Apparel (15% off with checkout code UNIFIED).
Enjoy the episode, and thanks for listening.
• • • • •
• • • • •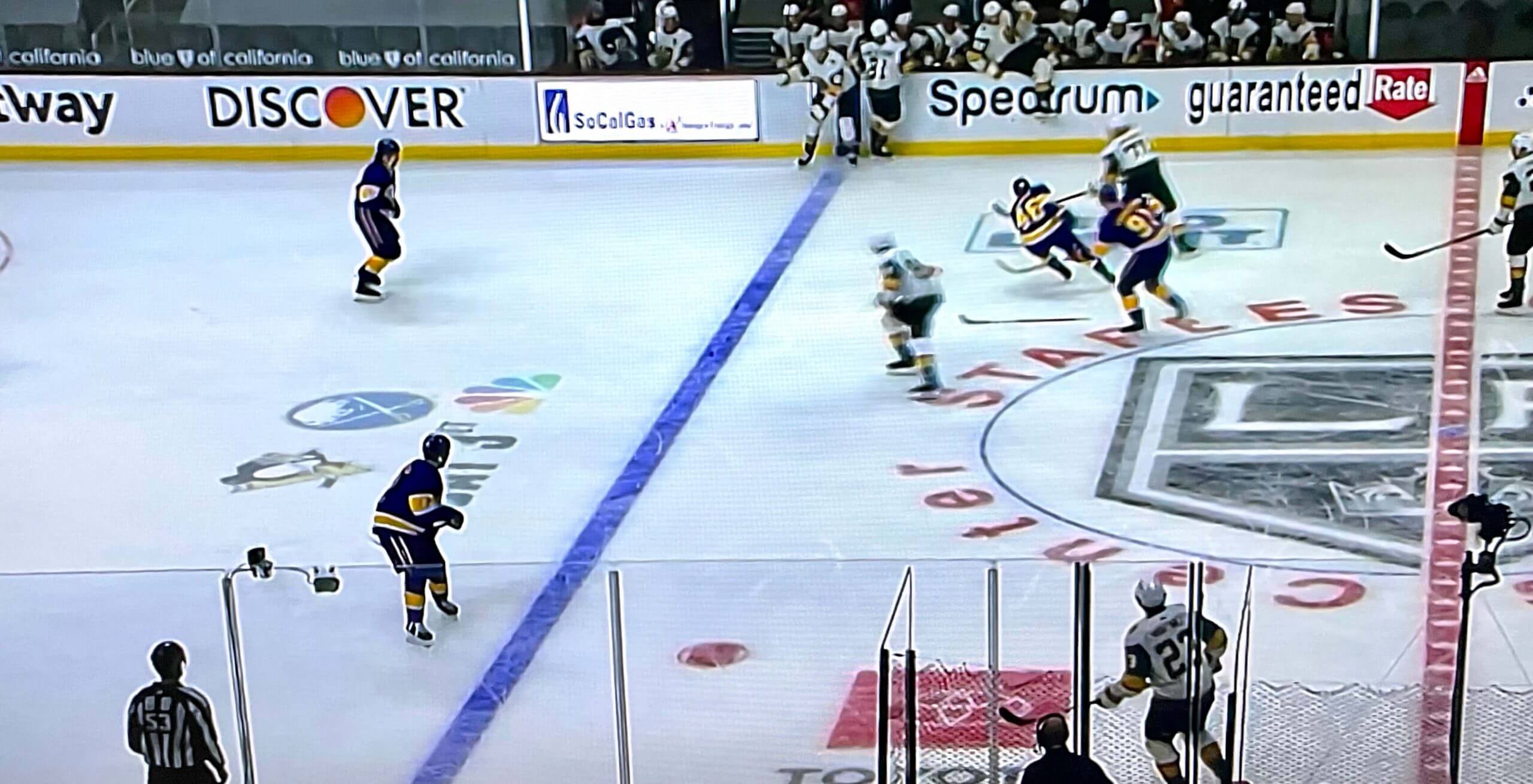 Who's playing here anyway?: Weird case of logo creep in last night's Golden Knights/Kings game in LA, as an ad for NBC's broadcast of this Saturday's Penguins/Sabres game appeared on the ice. Very strange to be watching two teams and then see the logos for two other teams appearing on the ice!
Or at least it seems strange to me. Is this something that's been going on for a while and I just hadn't noticed?
(My thanks to Ryan Farrar for this one.)
• • • • •
• • • • •
Too good for the Ticker: Yesterday was the anniversary of the Expos' first home game — the first MLB game to take place outside the United States. The great BSmile posted some excellent video footage from the game, which includes a glimpse of the fantastically attired usher shown above. Now that's a uniform!
(Big thanks to Tim Donovan for bringing the usher's uni to my attention.)
• • • • •
• • • • •
The Ticker
By Paul

'Skins Watch: Washington is the latest state to ban Native-based iconography in its public schools (thanks, Phil). … The Massachusetts town of Wakefield is putting its high school's Native American team identity and imagery to a vote (thanks to all who shared). … Nashoba High School in Massachusetts has changed its team name from "Chieftains" to "Wolves" (from Kary Klismet). … The Savannah, Mo., school board has voted to keep the local high school's "Savages" team name but to phase out its associated Native American imagery (thanks to all who shared).

Baseball News: Today is Jackie Robinson Day. All uniformed MLB personnel will wear No. 42 and go NNOB. I look forward to reader/commenter Mark in Shiga's annual critique of the all the 42s not being properly vertically centered on the back of the jerseys. … In a related item, Blackwing makes a set of Jackie-themed pencils, produced in collaboration with the Jackie Robinson Foundation (from James Spears). … New caps for the Coastal Plain League's Spartanburgers. … A fan at Tuesday's Mets/Phils doubleheader was wearing one of the original "I'm Calling It Shea" shirts from 2009 (from David Rakowski). … Here's a close look at the green cleats that Mets P Marcus Stroman has been wearing (from Jakob Fox). … The Rays have received their American League championship rings (from Kary Klismet). … Also from Kary: The owner of the Twitter account Bandbox Ballparks, who digitally recreates defunct vintage Major League baseball stadiums, has put together this really cool virtual video tour of Cleveland's old League Park. … Clemson softball debuted a new purple-over-orange combo the other day (from Josh Sinclair). … Here's a weird one: The cover image for Atlanta's Opening Day scorecard shows 2B Ozzie Albies using a bat made for Twins DH Nelson Cruz (good spot by Jake Tilley). … New caps for the Jersey Shore Blue Claws (from Jason Hillyer). … Due to pandemic-related border restrictions, the High-A Vancouver Canadians will start their season playing their home games at Ron Tonkin Field in Hillsboro, Ore., sharing the stadium with the Hillsboro Hops. "The C's are making themselves at home by painting logos in the Hillsboro bullpen," notes Wade Heidt. … Phillies OF Andrew McCutchen has been wearing stirrups lately. I don't recall seeing him do that at any other point in his career. … Cleveland 3B José Ramírez has his personal logo on his headband (thanks to all who shared). … Fans of the High-A Beloit Snappers will have the opportunity to bid on the naming rights to the team's stadium for every home game this season (from Timmy Donahue). … Check it out: Fenway Park in Lego (thanks, Brinke).

NFL News: The Bengals will reveal their new uniforms on Monday at 9am ET. The new set will reportedly include three jerseys and three pant options, making for a total of nine possible combos.


Hockey News: Kaid Oliver of the WHL's Edmonton Oil Kings will pay tribute to his late grandfather and former Oil King Ace Bailey this Saturday by changing his uni number and NOB (from Wade Heidt). … Tuesday's ticker mentioned that new Penguin Jeff Carter will wear No. 77, which was last worn for the Pens by Paul Coffey in 1992. "This Athletic story goes a little deeper (paywalled), including quotes from Coffey and a list of numbers that have been issued only once in Penguins history," says Joe Werner. … The Kings have added another ЯR game, on April 26 (from Jakob Fox). … The Caps will mark C Nicklas Backstrom's 1,000th game tonight by having all players wear his number and NOB during pregame activities. … New mask for Avs G Devan Dubnyk (from Wade Heidt). … John Muir notes that at Colorado College head coach Kris Mayotte's introductory presser, he had a personalized jersey, a school color tie, a school lapel pin, and a school logo mask.

NBA News: In a recent podcast episode, former Sonics great Jack Sikma says that the team's skyline logo was designed by his father-in-law (from @MrNursfen).

Soccer News: Chelsea midfielder Jorginho wore a different pair of socks than the rest of his team in Tuesday's Champions League quarterfinal match against Porto. He's at lower-right in that photo (good spot by Hunter Gingras). … A new 1990s-style Dortmund kit has apparently leaked (thanks, Phil). … Rochester's new team, the Flower City Union, which will begin play next year, unveiled its primary logo (from D.J. Mitchell). … INAC Leonessa Kobe — a team in the new WE League, a women's league set to debut in Japan later this year — has released its inaugural kits (from @smntcsilverfox and Jeremy Brahm).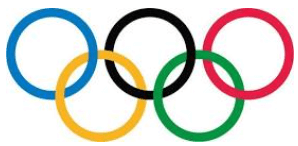 Olympics News: Here are the Olympics and Paralympics uniforms for Croatia, South Korea, and Russia (thanks, Phil). … Meanwhile, here are Team USA's closing ceremony uniforms. … Did you know that "sport climbing" is now an Olympic sport? Uniforms for the U.S., Japan, South Korea and Austria were unveiled yesterday (from Brian Kerhin and Phil). … New gear — looks mostly like retail merch — for Team Canada (from Wade Heidt). … Here are Japan's wrestling uniforms (from Jeremy Brahm).

Grab Bag: Disney has revised its dress code for theme park workers. … Two lacrosse items from James Gilbert: Albany's new NLL team is due to reveal its name and logo this afternoon, and new chrome helmets for UNC. … Also from James: The upcoming Goodyear 400 race at Darlington Raceway on May 9 will feature throwback tires and caps. … Here's an in-depth article about this year's EF-Nippo cycling jersey (from Bernie Langer). … Here's the longest, most in-depth article you're ever likely to see about the Mascot Hall of Fame (from Kary Klismet). … Also from Kary, and also mascot-related: Students on Prince Edward Island are welcome to submit mascot designs for the 2023 Canada Games, which will be held in the province. … One more from Kary: Oklahoma State has a new esports arena. … UPS drivers can now have visible tattoos (from Timmy Donahue). … Also from Timmy: British Royal Family members will not wear military uniforms to Prince Philip's funeral. … The California city Placerville, once known as Hangtown, is removing the noose from its logo (from Max Weintraub). … AEW wrestler and former Olympian Anthony Ogogo has a variation of the Olympic rings logo on his trunks — and it spells out his name!
• • • • •
• • • • •