For all images, click to enlarge
Good morning and greetings from Uni Watch HQ, where all three inhabitants continue to be safe and well, and where one inhabitant reached the ripe old age of 57 yesterday.
Although my birthday was Sunday (thanks for all the kind tweets and emails!), we made a full weekend celebration of it, beginning with a Saturday trip to Manhattan, where we visited two museums. This felt like a big deal, because we've avoided museums, art galleries, and all similar places throughout the pandemic, but we decided that it was time to dip our toes back into that pool.
Our first stop was the Grolier Club, North America's oldest club for bibliophiles. They currently have an exhibit on the history of American magazines dating back to the mid-1700s (there's a good review of it here), which turned out to include a decent number of sports-related titles, including the September 1908 issue of The Baseball Magazine that's shown above. The informational placard says:
First-class cover art had never been viewed as a necessary competitive edge for an all-sports publication until the advent of Baseball Magazine. Its writers would be the best the sport had to offer and the eye of appeal of its covers would compete on the newsstand with the best general interest publications. Through its first decade, Baseball Magazine proved an artistic and commercial success, reaching a six-figure circulation.
Interesting, right?
The exhibit also includes a May 1938 issue of the NAACP's magazine, The Crisis, with Negro Leagues star Josh Gibson on the cover. According to the placard, it was the only time during his career that Gibson appeared on a magazine cover:
Speaking of Black publications and athletes, there's also a rare copy of Our Sports (one of the two Black sports magazines that I wrote about back in December), plus Satchel Paige on the cover of Jet and Jackie Robinson on the cover of an early edition of TV Guide (described as "a highly unusual appearance for an African American on a magazine intended for a predominantly white readership"):
TV, sports, and magazines appear to have been heavily intertwined from the start. The cover illo for the debut issue of an early publication called All About Television — published way back in 1927! — showed a family watching a football game:
Similarly, the first issue of Television Forecast — described as a forerunner of TV Guide — featured baseball on the cover, and two primary headlines on the all-text debut cover of Local Televiser were "Winter Sports Schedule Announced by WCAU-TV" and "Four Major Sports on WFIL-TV This Week":
The exhibit also included lots of non-sports magazines, including the debut issues of Time, Life, Popular Science, Esquire, National Geographic, and a lot more. You can see some additional photos here.
From there we walked over to the Museum of Modern Art, which has a completely mind-blowing exhibit of Soviet and European graphic design (mostly posters) from the 1920s and '30s that I'd been wanting to see for months (here's a really insightful review). Of the 300-plus pieces on display, a few were sports-themed, including these really excellent postcards that promoted a 1928 athletics exhibition (this one is definitely worth clicking to enlarge!):
There were also these, which promoted athleticism and physical fitness:
Also: Remember when I recently wrote about how the Belarusian soccer team FC Vitebsk released a kit based on the Russian designer El Lissitzky's piece Beat the Whites With the Red Wedge? If you liked that, this exhibit has several El Lissitzky pieces, including these:
The rest of the pieces were not sports-related, but an astonishingly high percentage of them were really, really good — especially the ones by one of my heroes, the great Russian constructivist Aleksandr Rodchenko. Sometimes I hear a song that sounds perfect and I think, "There is no other music besides this music — what other music could there possibly be?" That's how I feel about Rodchenko's design work. It's so good, so Just Right, that everything else just melts away and there's nothing else, because what else could there possibly be? What need could we possibly have for any other type of design? These next images are all his:
Oh, man — that stuff is so fucking good. At some point Mary sidled up to me and said, "You must be in heaven," and it's true — I was. You can see lots of additional pics from the exhibit here.
After marinating in that exhibit for a while, we checked out exhibits on Alexander Calder (another one of my heroes — really, really good) and Black architecture (also good, but more interactive and thus more mentally and emotionally demanding, and by that time we didn't have the stamina for it, so we didn't really get the most out of it — that's on us).
Then we walked way across town to the Javits Center, where Mary got her first vaccination shot. Between that and the two museum visits, it was a very full day! And a really good one.
Yesterday was my birthday proper. Two things were very different from the norm: First, I'd normally have a big party, but of course that wasn't possible this year. And second, as many of you know, the weather on my birthday is usually terrible (this dates back to one of my earliest childhood birthday parties, when we had some sort of outdoor activity planned but it got rained out, prompting my father to make up a very sweet on-the-spot lie — "Oh, don't you know? Rain on your birthday is a sign of good luck in the year to come!" — and since then it has rained [and occasionally snowed, and on one occasion hailed] every single year, which has become a ritual that I enjoy and look forward to), but yesterday was spectacularly nice — sunny, about 60º.
At first I was bummed about this (I've become very emotionally invested in the rainy birthday thing over the years). But if I couldn't have a party, it was nice to have a sunny day for a change! So we went for a nice riverside drive and then parked at a rest stop and went for a walk in the shadow of the Verrazzano-Narrows Bridge: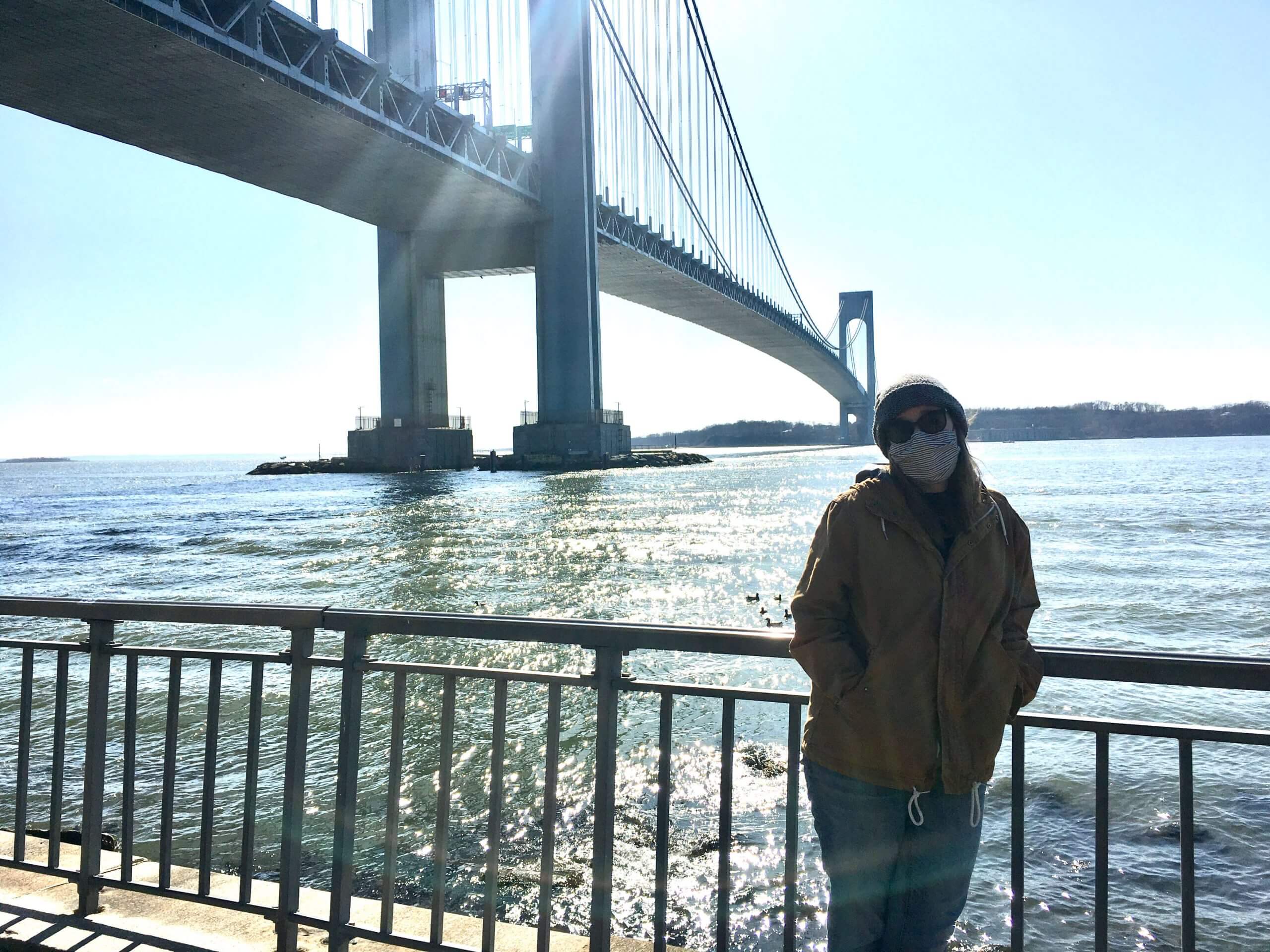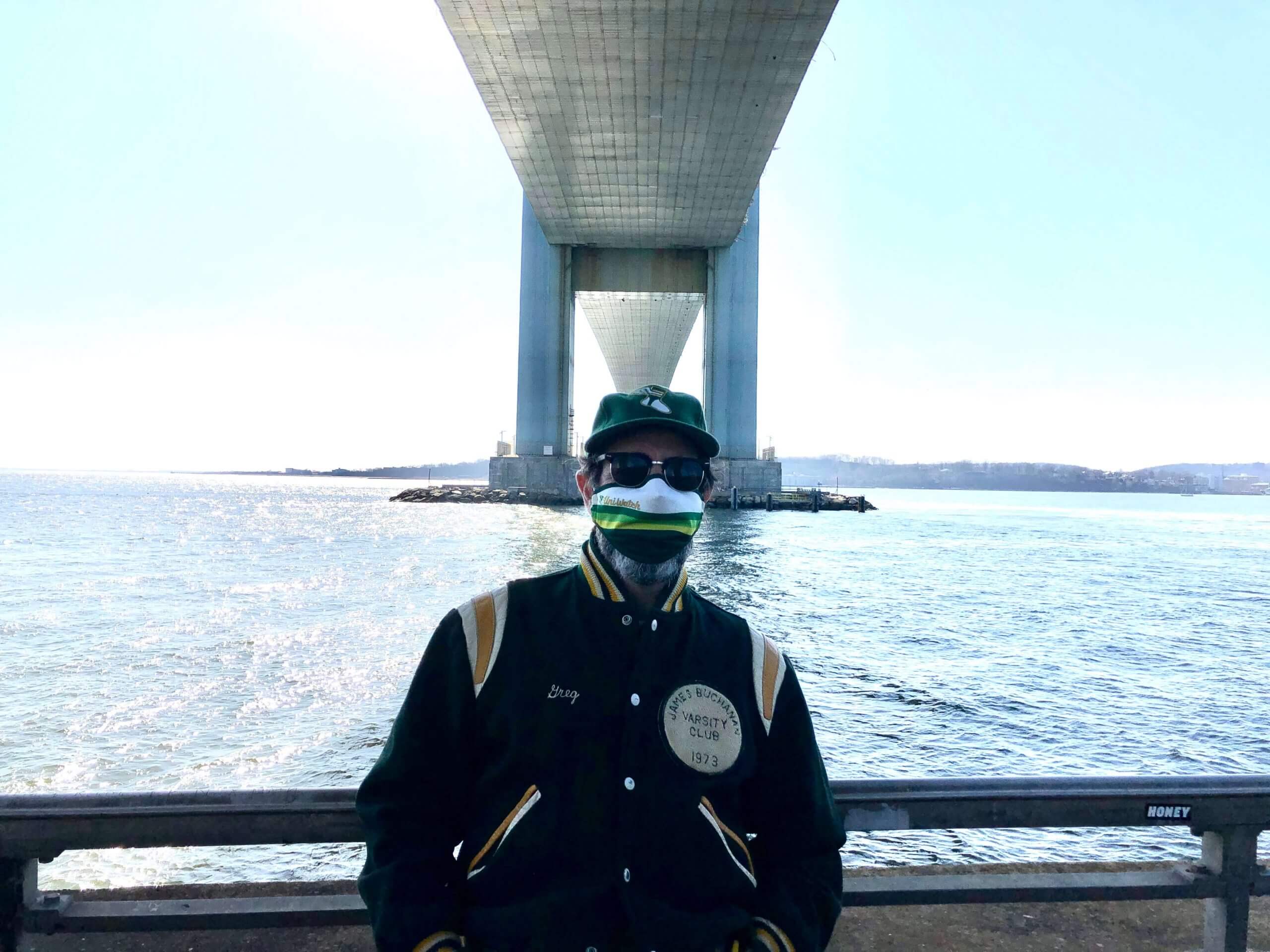 It was great to be out amongst so many other Brooklynites who were enjoying the start of spring. I can honestly say it was the nicest, sunniest, most pleasant birthday experience I've ever had. A good change of pace from the usual birthday monsoon!
After a bit of that, we returned home for cocktail hour (Champagne instead of beer, in light of the occasion), and then Mary whipped up a spectacular Chinese-style feast, followed by a birthday cake (mocha with mocha frosting):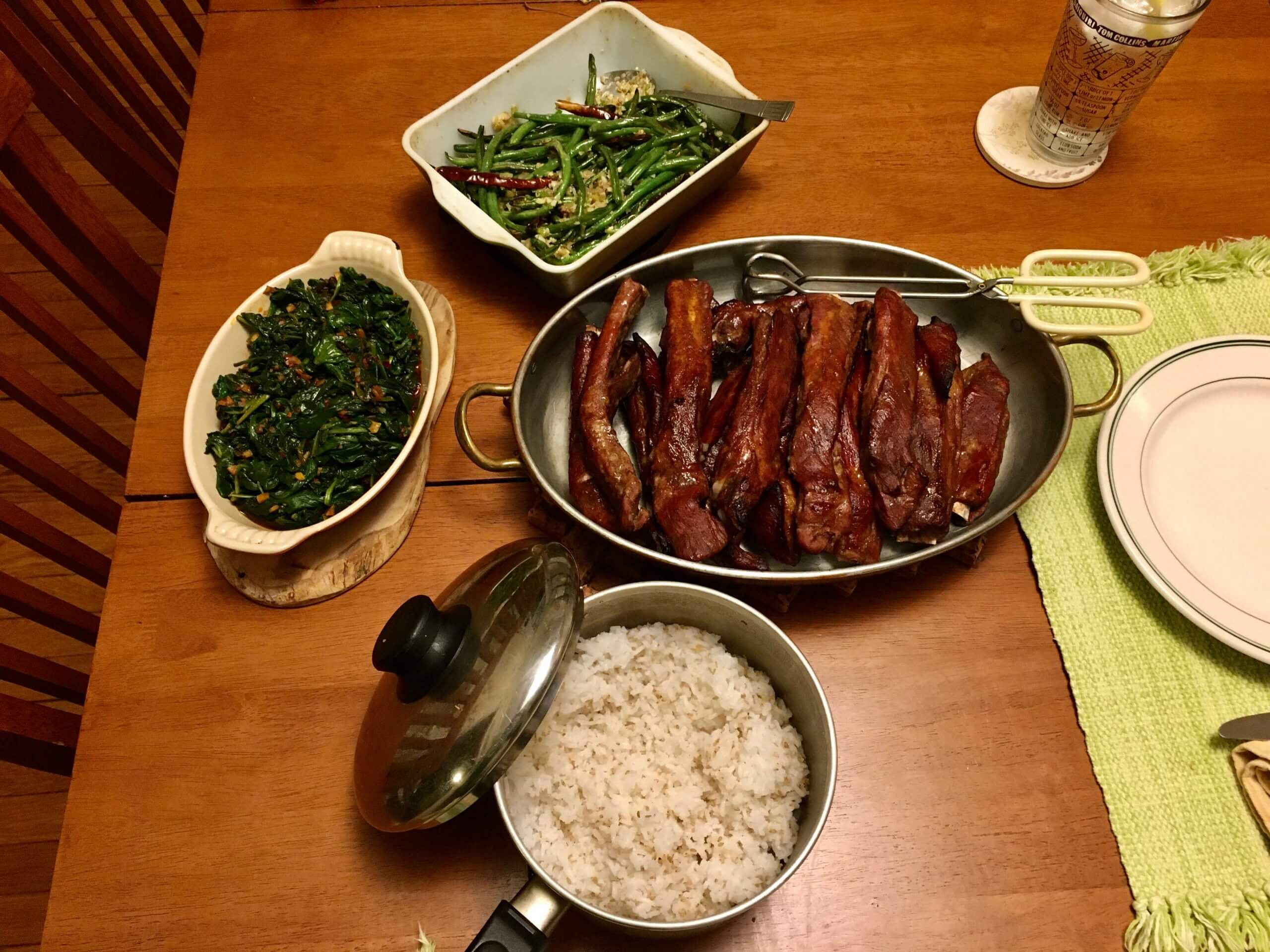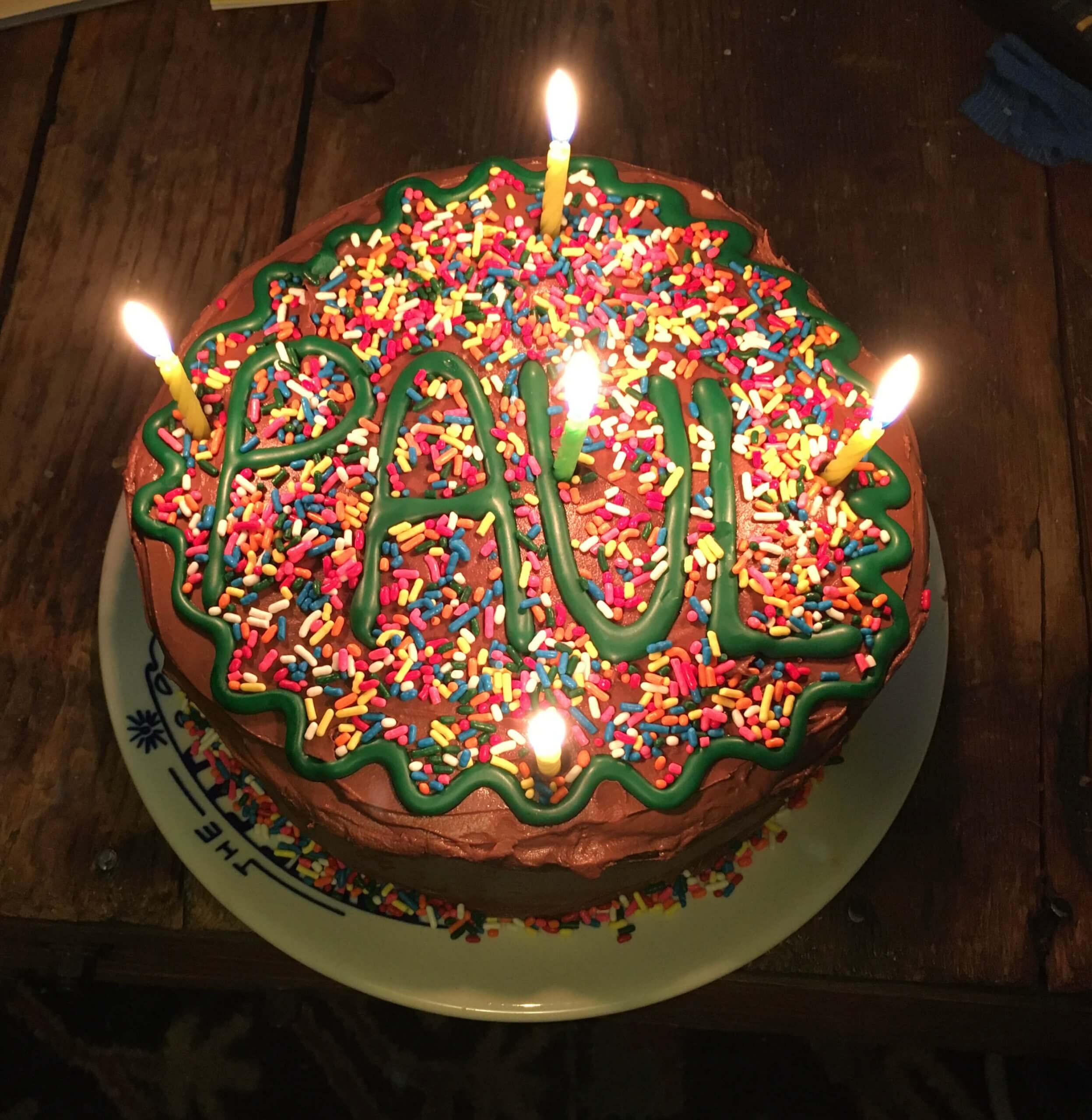 That, my friends, is one hell of a swell birthday weekend. Hope your weekend was festive in its own way, even if you had nothing in particular to celebrate!
• • • • •
• • • • •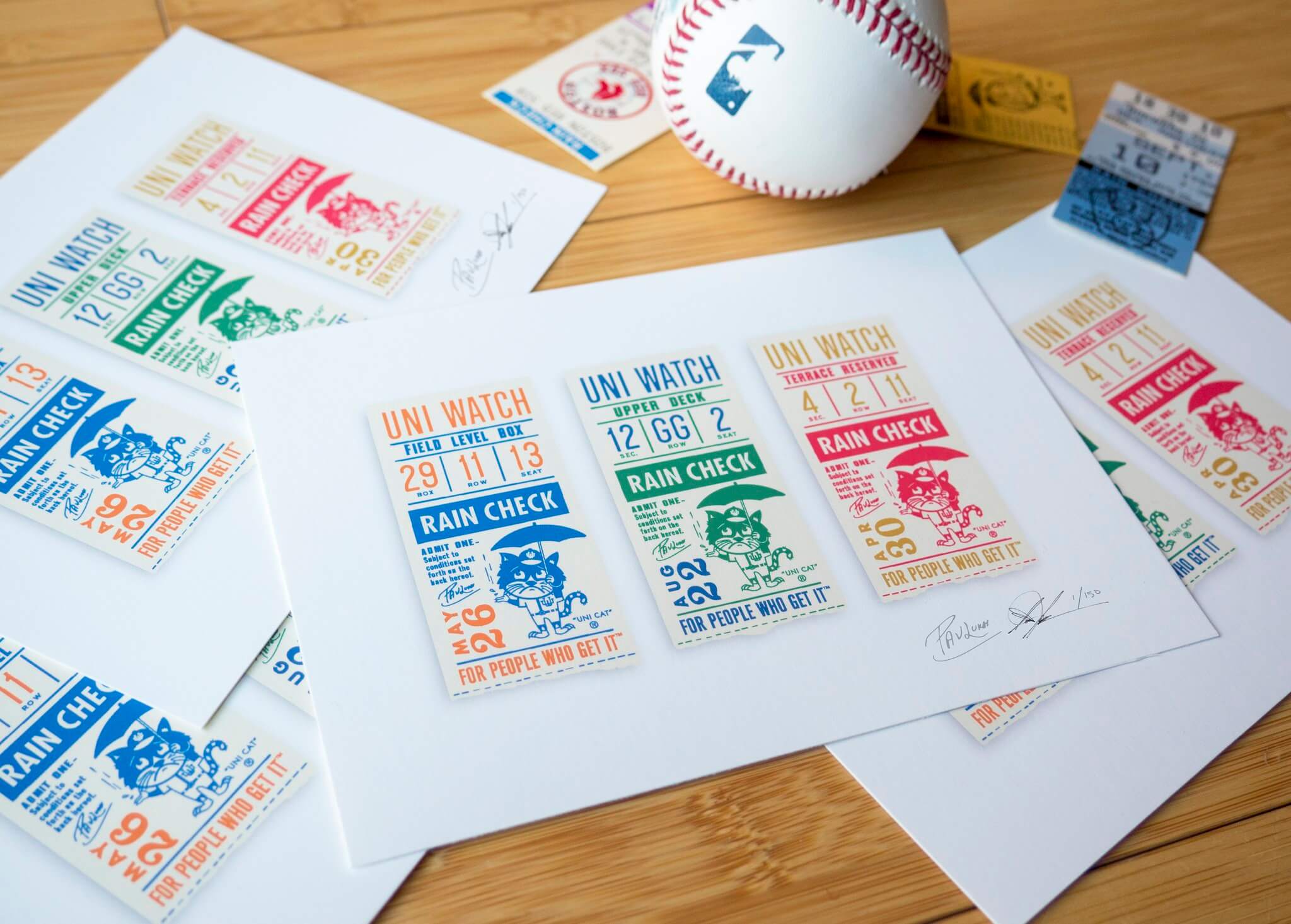 Click to enlarge
"Rain Check" reminder: I recently mentioned that Todd Radom and I had found a small stash of our limited-edition 2018 "Rain Check" print that we had set aside for promo purposes and then forgotten about. These are all signed by both Todd and myself. Available while supplies last on Todd's website.
• • • • •
• • • • •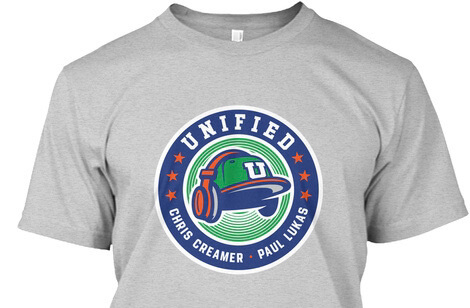 ITEM! Podcast T-shirt raffle: Reader Max Weintraub recently ended up with an extra grey Unified T-shirt, size 3XL, and has generously offered to send it to a lucky Uni Watch reader, so we're going to raffle that off today.
This will be a one-day raffle. USA addresses only, sorry. To enter, send an email with your mailing address to the raffle in-box by 8pm Eastern tonight. One entry per person. I'll announce the winner tomorrow. Big thanks to Max for sponsoring this one!
• • • • •
• • • • •
The Ticker
By Jamie Rathjen

Baseball News: The Dodgers wore a patch yesterday for Sudden Unexplained Death in Childhood Awareness Month (from Dave Sikula). … Phillies OF Bryce Harper showed up at a gas station in full uniform (thanks, Brinke).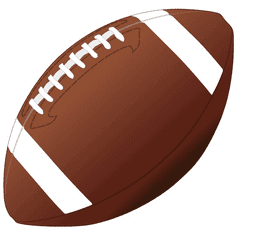 Football News: Some new WFT acquisitions now have their uni numbers (from Dell Michaels). … New uni numbers for Alabama as well.


Hockey News: The first two items are from Wade Heidt: The WHL's Brandon Wheat Kings have a new black alternate. … In the same league, the Portland Winterhawks and Seattle Thunderbirds usually go color-vs.-color at least once per season and did on Saturday. … Teams and players that wore mismatched socks for World Down Syndrome Day, which was yesterday, included the Senators in a practice (from Moe Khan), the AHL's San Jose Barracuda and Henderson Silver Knights (from Ian Lee and @TimmyHowl), the WHL's Prince Albert Raiders and Winnipeg Ice, along with other WHL teams (from Wade Heidt), and some Professional Women's Hockey Players Association members.

Basketball News: This article from last week makes a great argument, using the NCAA's practice of calling the basketball Final Fours "Final Four" and "Women's Final Four" in their logos, for qualifying both men's and women's sports. That avoids making men's sports the "default," which is especially noticeable this time of year with the men's tournament. … Another difference between the two tournaments is that only the men's uses the March Madness logo — which makes no sense — so the specially-made women's courts replace that with a generic "Women's Basketball" logo in the style of every other NCAA sport (from Moe Khan). … However, the women's venues in Texas don't even all use that court, just the host teams' normal ones (from Liam Smith). … Meanwhile, at the men's tournament, the scorers' table at Baylor/Wisconsin yesterday displayed the wrong teams (from Kyle Baker). … WaPo invites you to guess the men's tournament teams from these illustrations (thanks, Phil). … Wizards SF Rui Hachimura now has cherry blossom-themed sneakers (from John Muir). … Several Rutgers men's players have been wearing their headbands upside-down.

Soccer News: Scottish Premiership clubs Celtic and Rangers stood together as an anti-racism gesture before playing yesterday. Players and officials in England and Scotland have been kneeling for a few seconds before games all season, but some clubs have stopped doing that, usually saying that it's become an empty gesture. … Also in the Scottish Premiership, St. Johnstone and Ross County played their second blue-vs.-blue matchup this season. … In the Bundesliga, Freiburg wore their yellow third kit, instead of the normal red, at home yesterday because an unnamed player is red/green color blind and opponents Augsburg wore green (from Cory Mizer). … Players and officials at the CONCACAF men's Olympic qualifying tournament in Mexico are wearing CONCACAF 60th-anniversary patches and captains' armbands. … Portuguese side SL Benfica replaced their usual NOBs with "Racismo Não" (No Racism) last night (from @mikeDfromCT). … The new Denmark kits feature a sound wave pattern based on a 2019 recording of fans singing the Danish national anthem (from Trevor Williams).

Grab Bag: The first two items are from Sy Hart: Major League Rugby's San Diego Legion apparently got a white third shirt at short notice. … Romania's men's rugby union team wore a new flag-striped shirt best described as "multicolor" for the first time. … Stanford wrestler Shane Griffith competed at the Division I championships in a plain black singlet as a statement on Stanford ending its wrestling program (from Ross Bendik). … In Australia, a number of Victoria pro teams and sports governing bodies are involved with the state government's campaign against sports teams accepting betting ads; however, the only team I've seen actually wearing the campaign's logo is Melbourne's AFLW team on their shorts. … Formula One twice held a race in the early '80s in the parking lot of Caesars Palace in Las Vegas called the Caesars Palace Grand Prix. In 1981 the podium finishers received, instead of the usual laurel garlands, the garlands attached to caps, so they looked vaguely like wreaths (from Graham Clayton). … Reader Jason Hillyer had an Ohio University hoodie that was too small for him, so he and his wife Alison cut out the script and logo from the hoodie and re-sewed it onto this jacket. … Ryan Blaney, who won yesterday's NASCAR Cup Series race at Atlanta Motor Speedway, had "2" and "24" inscribed on his cap, presumably for Gigi and Kobe Bryant (from @waynetm41).
• • • • •
• • • • •