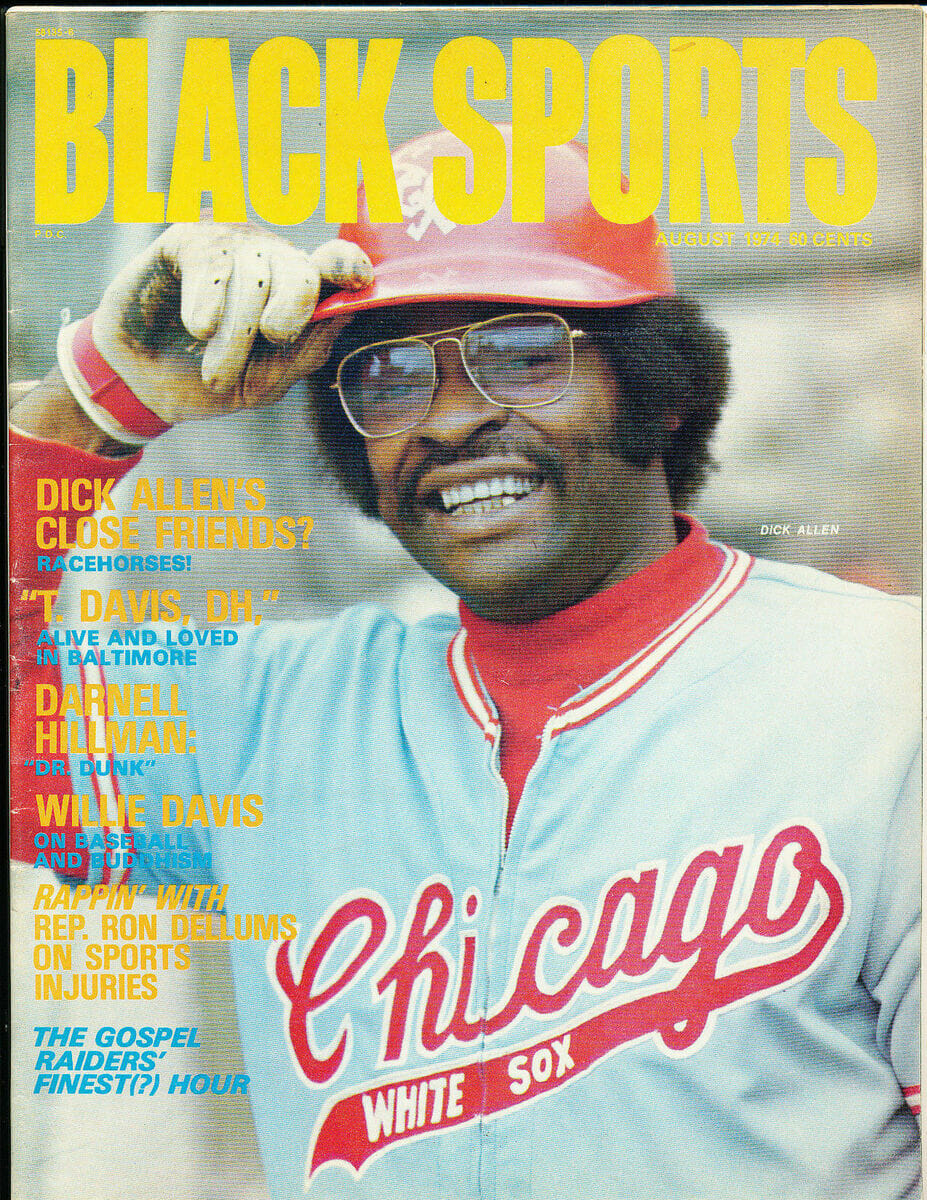 For all photos, click to enlarge
While doing photo research for Tuesday's blog entry about Dick Allen, I came across this shot of him on the cover of the August 1974 issue of a magazine called Black Sports. I almost ended up using that photo to show the chain-stitching in the tail of the White Sox's road jersey insignia, but I was intrigued by Black Sports, so I found a different photo of Allen to show the chain-stitching and decided to investigate Black Sports further.
Why was I intrigued? Because I subscribed to Sport magazine throughout the 1970s, plus I regularly read Sports Illustrated and The Sporting News at our local library and pored over just about every sports-related publication that showed up in the magazine rack of our local five-and-dime store at the time, and I don't recall ever seeing Black Sports in those days (or anytime since). So I wanted to know more.
My first stop was Wikipedia, where I learned that Black Sports launched in 1971 and was published on a monthly basis until folding in 1978. One of its first editors-in-chief was a 23-year-old Bryant Gumbel.
Black Sports (which should not be confused with a more recent publication called BSTM [Black Sports The Magazine], which was briefly published around 2011) was founded by a guy named Allan P. Barron. There's a 1973 interview with him here, and here's a great 1971 photo of him (in the center) flanked by then-NFL players Rickie Harris (left) and John Mackey (right). They're holding copies of the magazine's debut issue, whose cover featured Milwaukee Bucks players Oscar Robertson and Lew Alcindor (later to be known as Kareem Abdul-Jabbar, of course):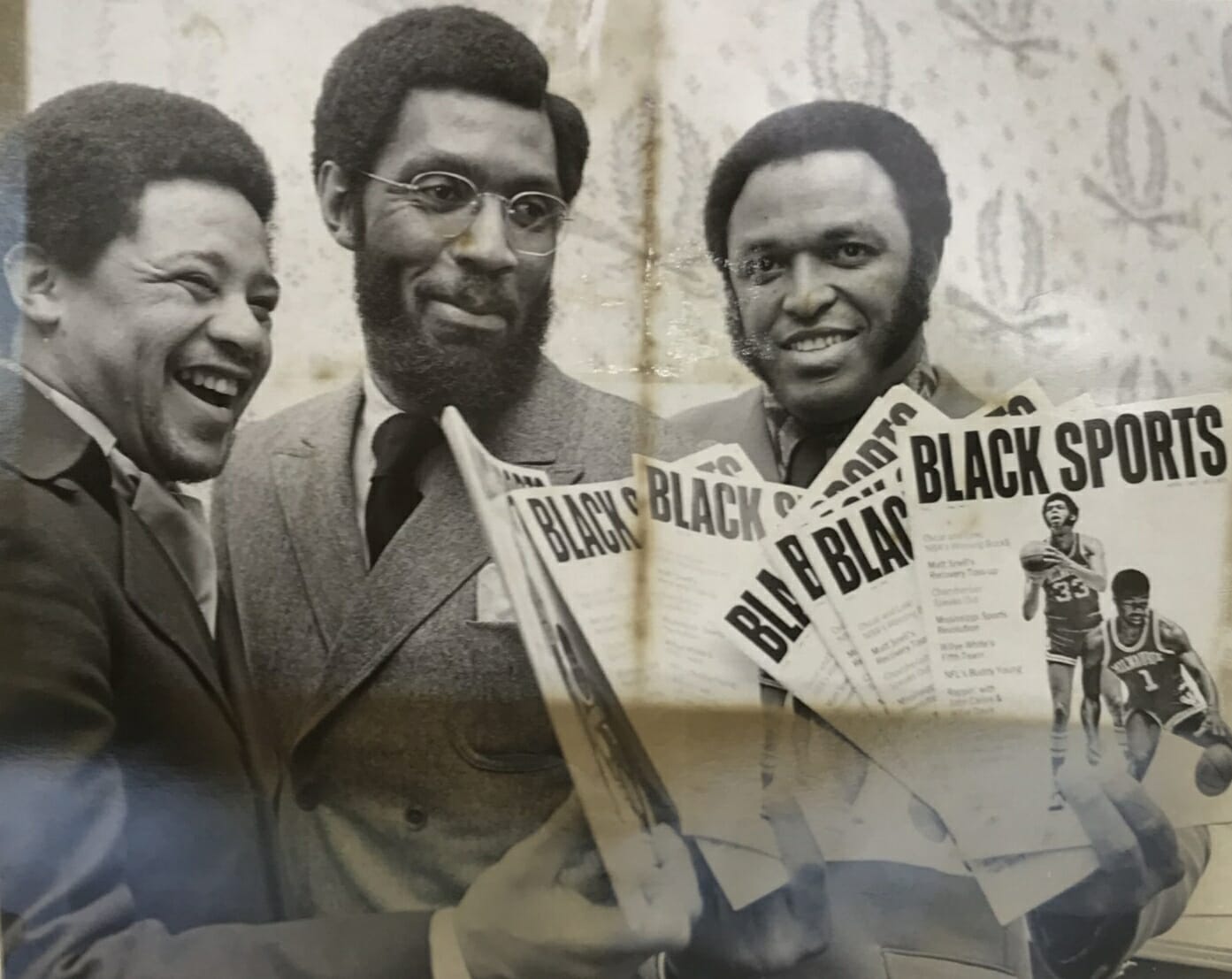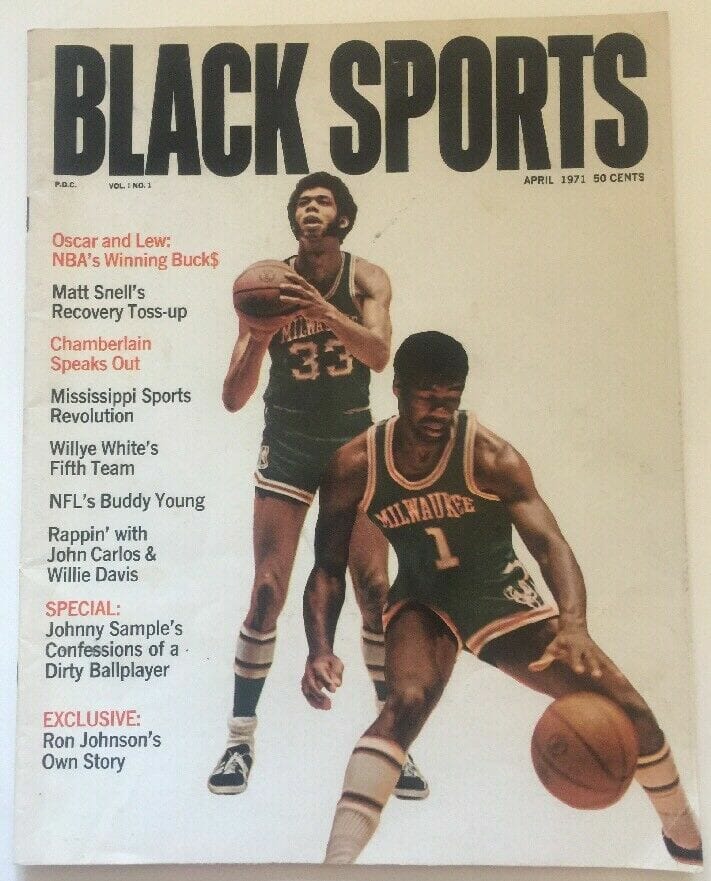 A digital version of that inaugural issue is available on the Smithsonian Institution's website — you can page through it here. In his introductory publisher's statement on page 5, Barron explained the magazine's premise as follows:
Black Sports is dedicated to the entertainment and education of society by providing up-to-date information on the new major force: the Black athlete. Black Sports will be a four-dimensional exposure, with the fourth dimension being that certain quality of understanding that can only come from being in the same family, experiencing the same problems.
In addition to the Robertson/Alcindor cover story, that debut issue had articles on NBA star Wilt Chamberlain, MLBer Donn Clendenon, NFL running backs Matt Snell and Ron Johnson, NFL exec Buddy Young (who authored the explosive memo about Black NFL players that I wrote about for The Undefeated a few years ago), and a lot more. Fascinating reading, and worth spending some time with. Again, you can page through it here, and you can see some of the magazine's other cover designs here and here.
I know, of course, that there have been countless publications produced by and for Black Americans over the years, from newspapers like The Amsterdam News and The Chicago Defender to magazines like Jet and Ebony (among many others). But I was completely unaware of Black Sports until I stumbled across that one cover photo of Dick Allen (which, to be clear, surely says more about me than it says about Black Sports). Really interesting!
And there's more. While going down the Black Sports rabbit hole, I learned about a 1953 magazine called Our Sports, self-described as "The Negro's Own Sports Magazine." It lasted only five issues, the covers of which are shown here in their order of publication: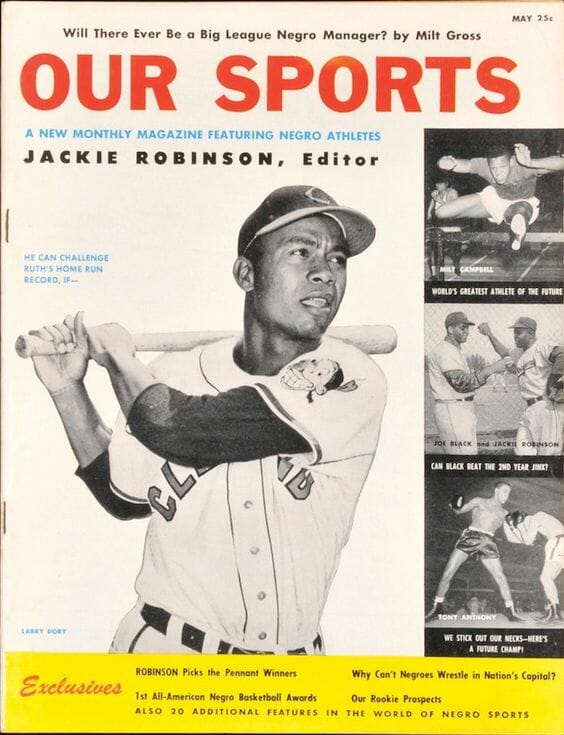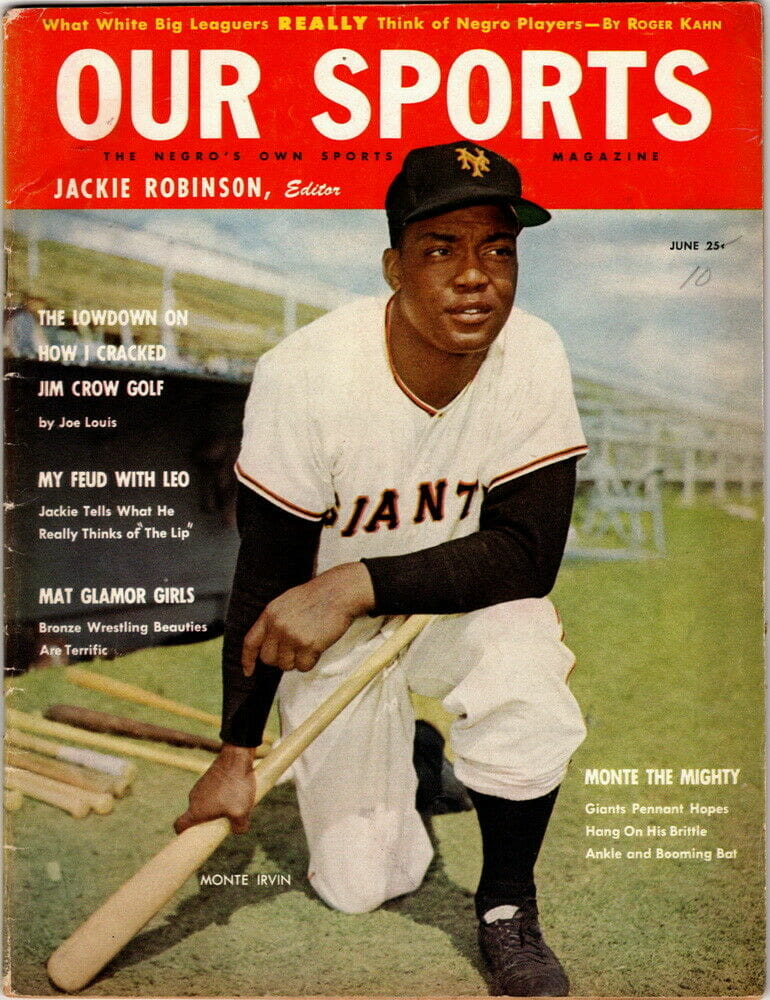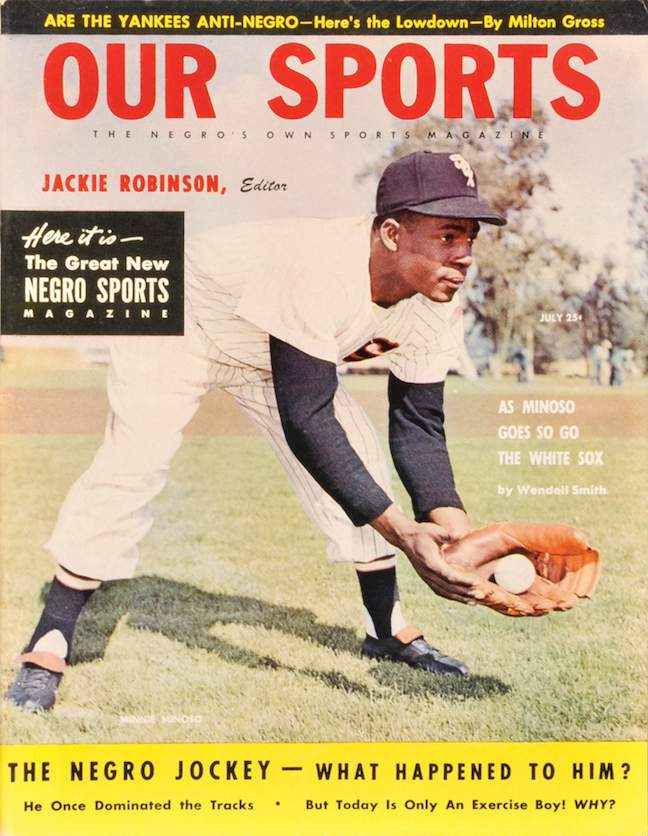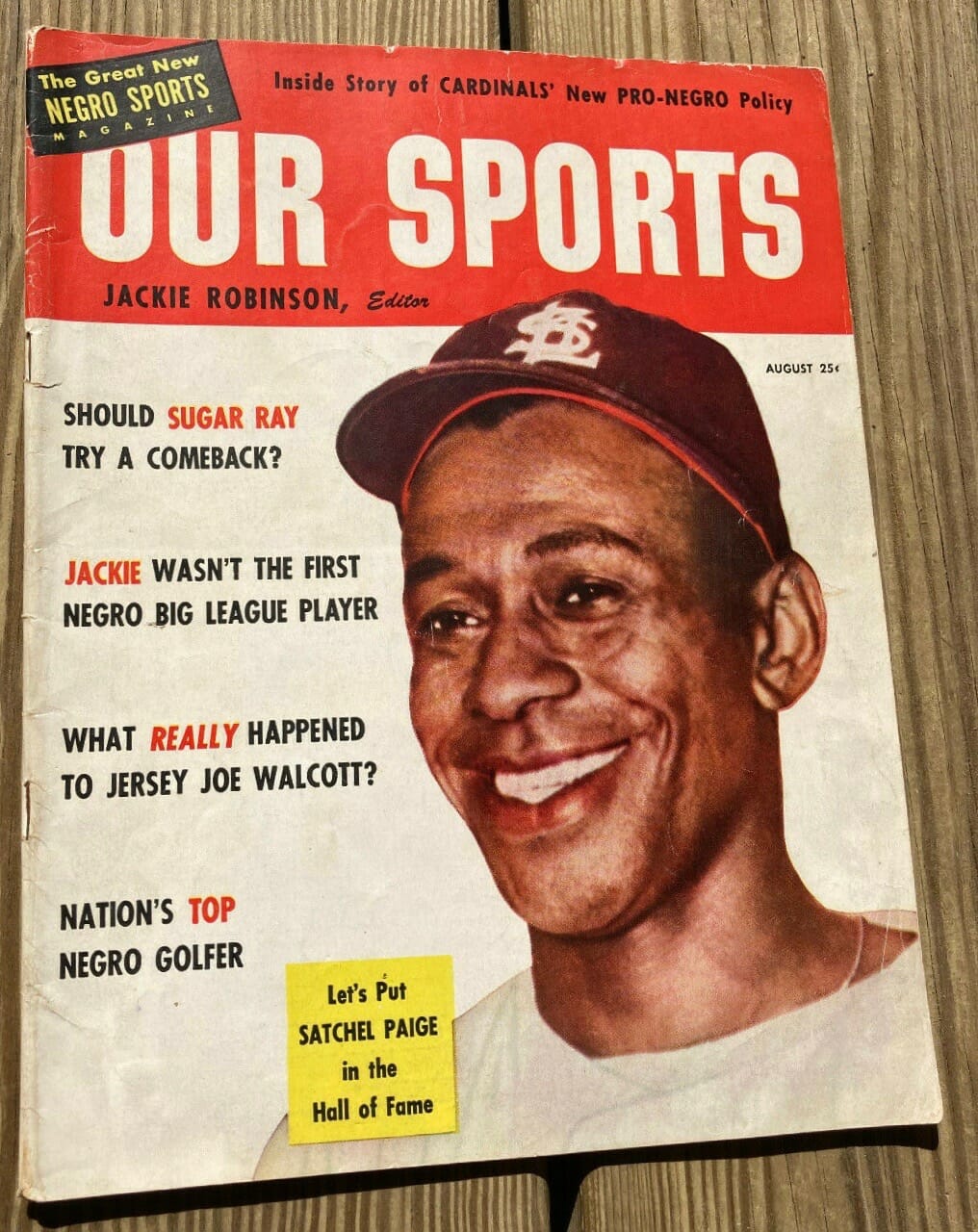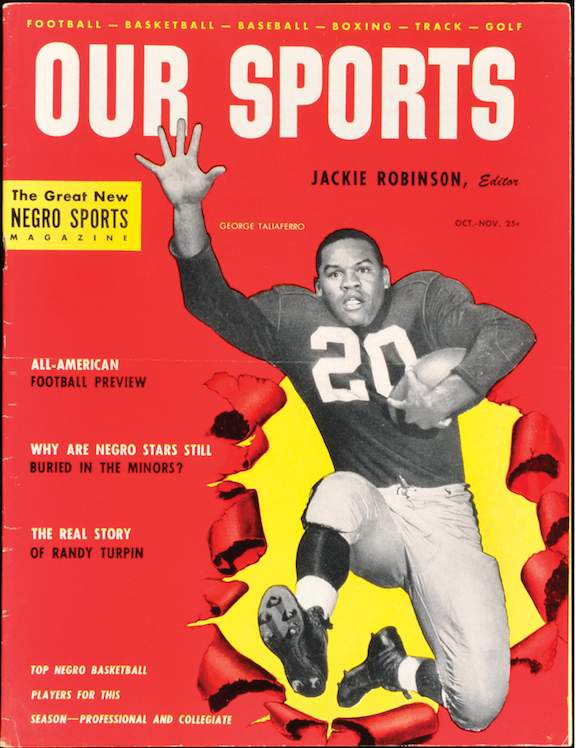 As you can see on those covers, Our Sports was supposedly edited by Jackie Robinson, although he was still playing at the time and therefore appears to have served primarily as a figurehead to provide the enterprise with star power and credibility. This auction listing for a few vintage copies of the magazine provides further details:
Six years after Jackie Robinson broke the color line of major league baseball, he lent his name, as nominal "editor," to this first attempt to publish a magazine about Black athletes in all areas of American sport — which failed in less than a year.

As Robinson was then still an All-Star of the Brooklyn Dodgers, it's doubtful that he had any hands-on responsibility for this magazine, though he did write two articles — one in which he "Picks the Pennant Winners" of the 1953 season, and another about his "feud" with manager Leo Durocher. Executive Editor S.W. Garlington, veteran African-American journalist, newscaster, and columnist for the influential Black New York Amsterdam News, may have had more to do with the intriguing blend of articles.
Faaaascinating. Garlington had a long, varied career in Black NYC-based media (including a stint at the helm of a short-lived 1954 gossip/exploitation mag called Brown). I assume that the rest of the staff of Our Sports — and also Black Sports — was Black, although it's interesting to see that the second issue of Our Sports cover-teased an article by the White baseball writer Roger Kahn (who at that time was a 25-year-old Brooklyn Dodgers beat reporter for The New York Herald Tribune and would go on to write the all-time classic book The Boys of Summer).
Here are some page spreads from the third issue of Our Sports: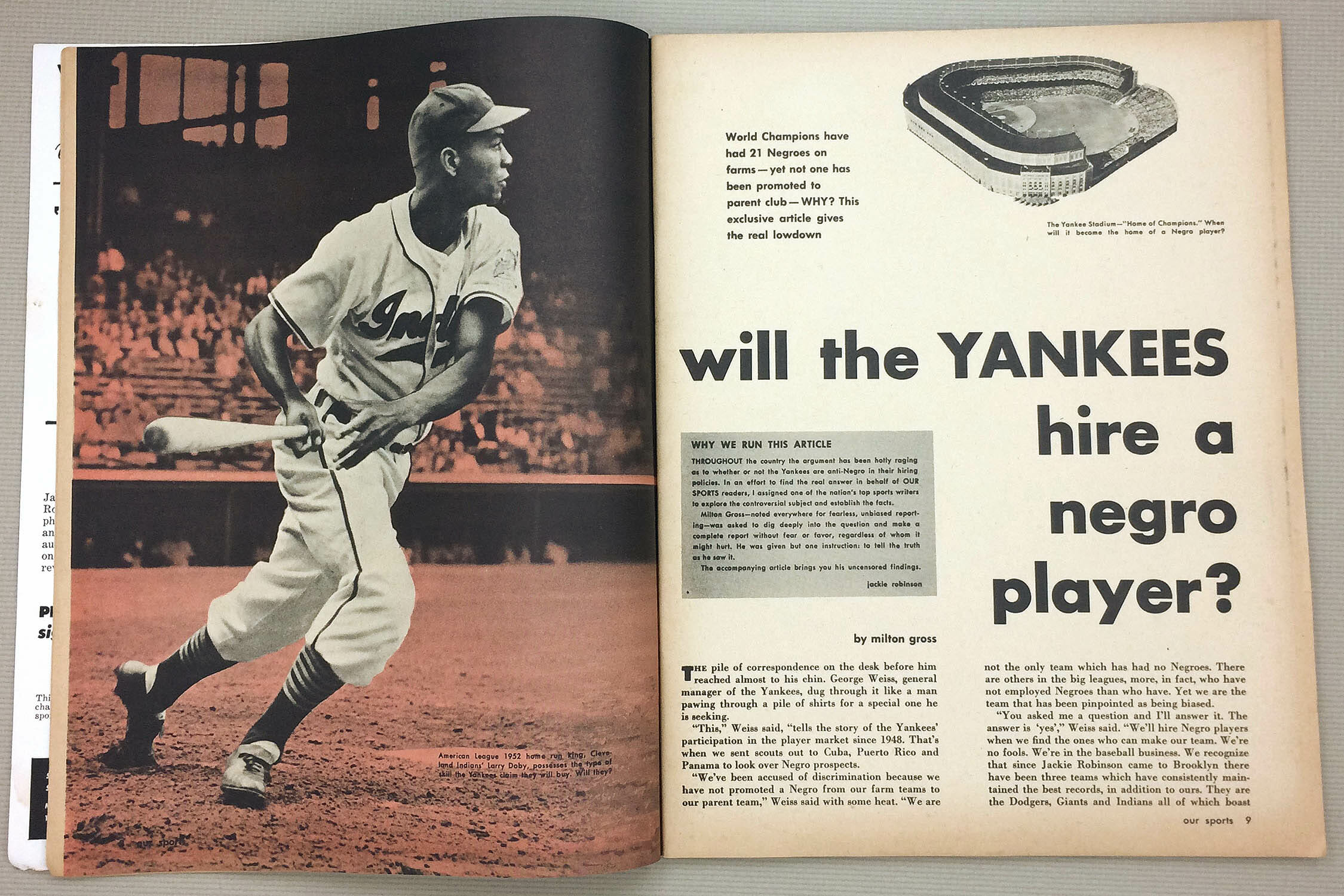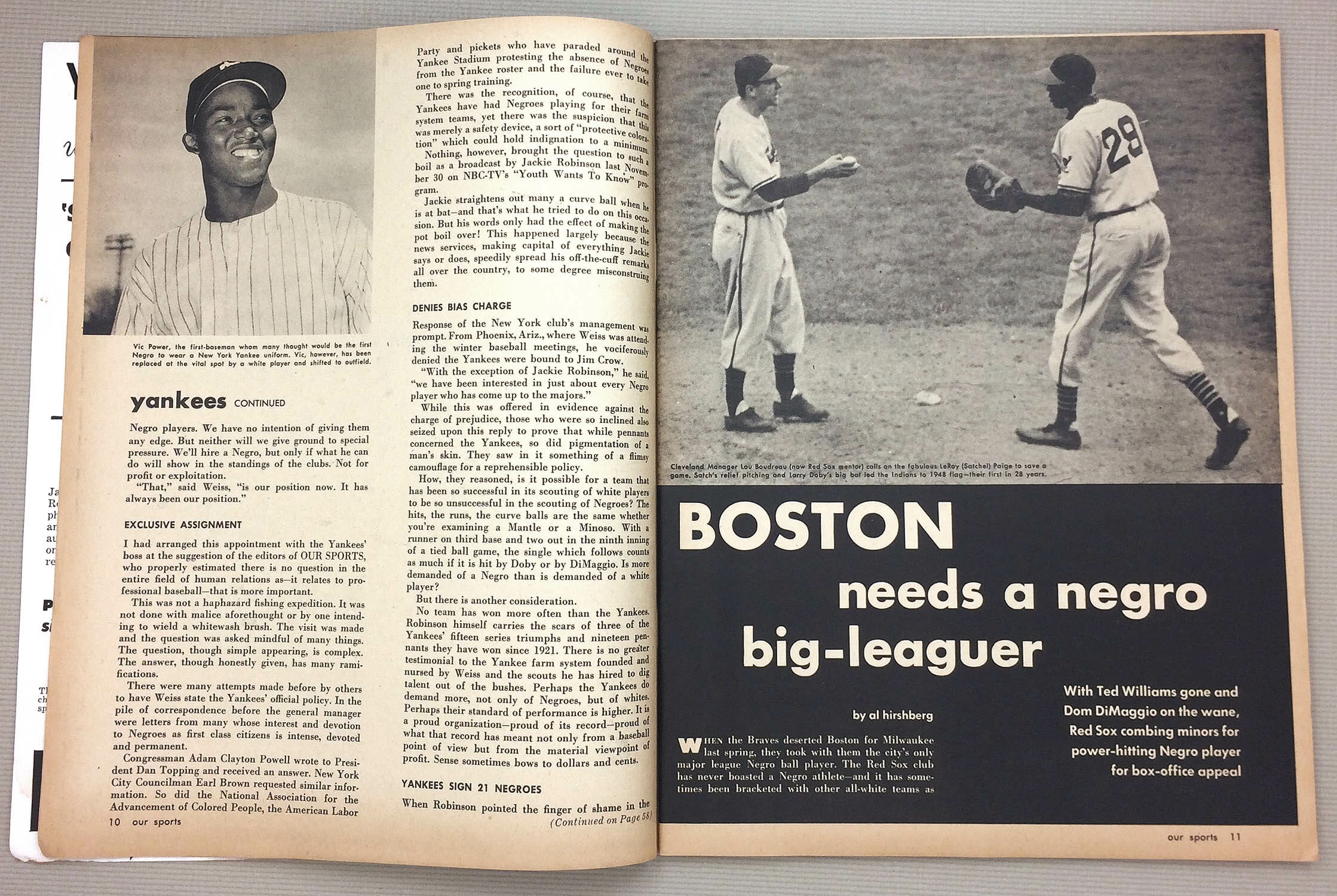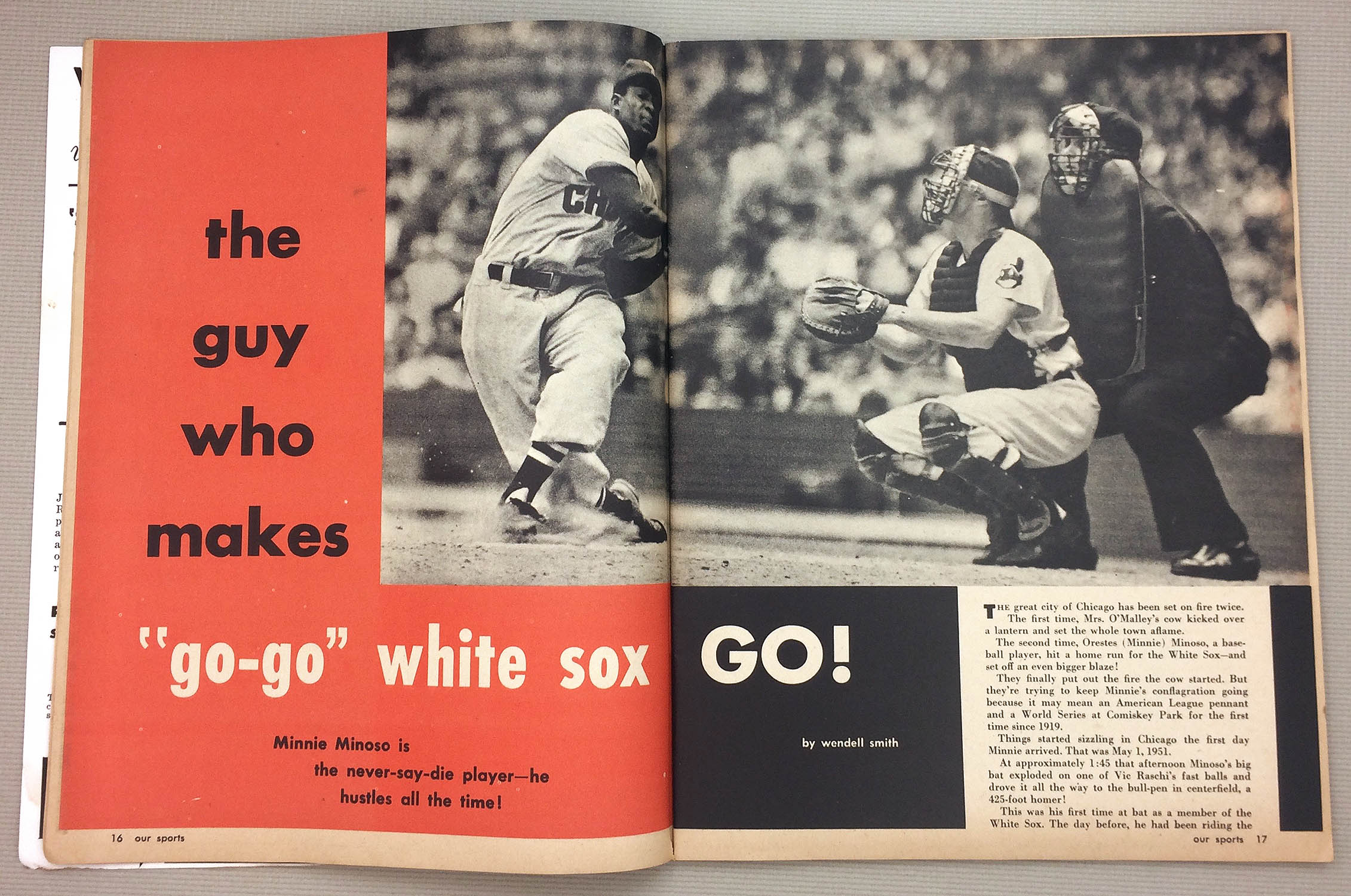 Love that design/layout style. Lots of classic little midcentury details — the lowercase headline, the lowercase bylines, two-color printing, and so on.
Just from those five covers and three page spreads, we can see that Our Sports was ahead of its time. For example:
• The first issue cover-teased the possibility of a black MLB manager. It would be more than 20 more years before that barrier was broken by Frank Robinson (who by that time, just to bring things full-circle, had also appeared on the cover of Black Sports).
• The third issue asked how long it would take for the Yankees to have their first Black player. It would be two more years before Elston Howard earned that distinction.
• That issue also pushed for the Red Sox to add a Black player. Four years later, the Sox became the last big league team to integrate when they added Pumpsie Green to their roster.
———
These two pioneering Black sports magazines clearly laid the groundwork for contemporary outlets like The Undefeated, and for Black sportswriters like Ralph Wiley and William C. Rhoden. But from what I can tell, almost nothing has ever been written about them or the role they played in sports media history. That story deserves to be told at greater length (and in a higher-profile venue then Uni Watch) — how great would it be to get some quotes from Bryant Gumbel? But that story should probably be told by a Black writer, not by me, so I'll soon be sharing today's blog entry with some Black media folks who might be interested.
Meanwhile: Have any Uni Watch readers ever read either of these magazines, or maybe even saved some back-issues? I'd be interested in hearing more.
• • • • •
• • • • •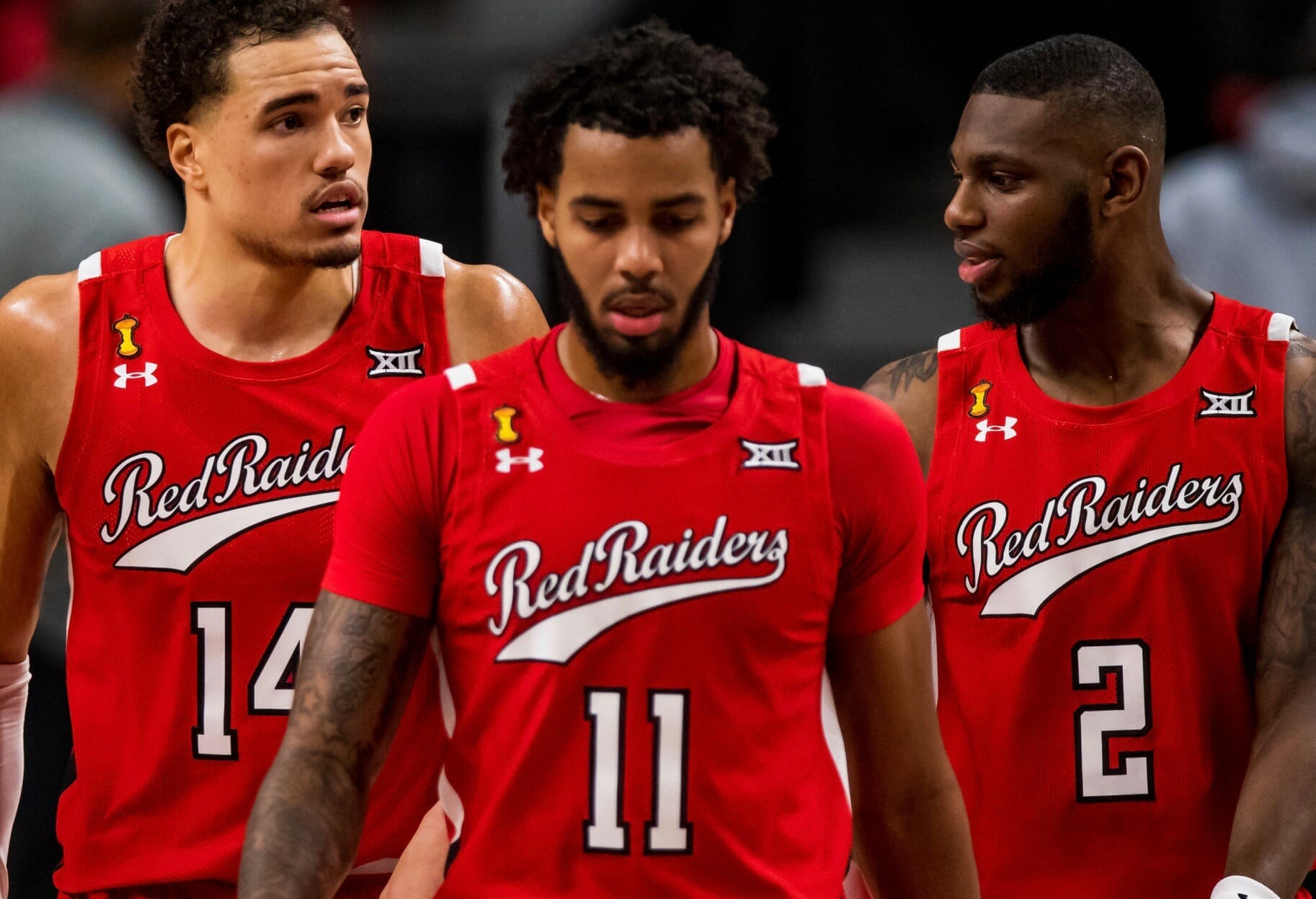 Click to enlarge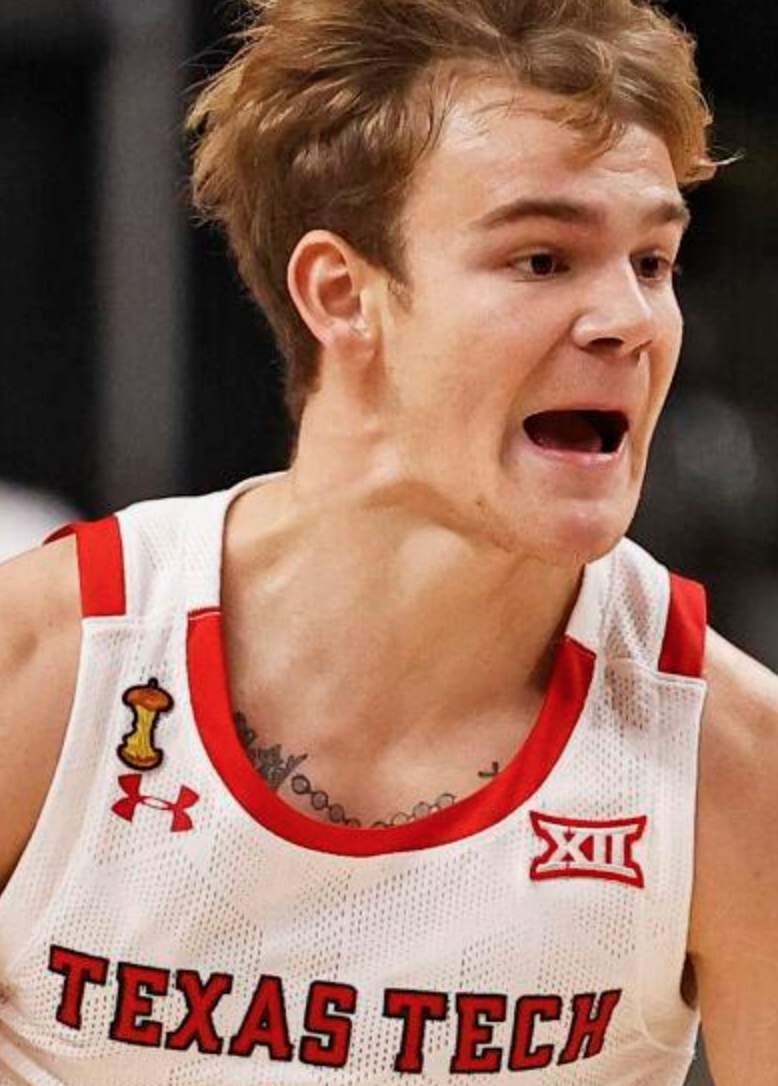 Core values: Here's one that slipped through the cracks during the start of the college hoops season: Texas Tech is wearing a patch depicting a rotten apple core. What's up with that?
According to this page, the patch was conceived by player Kyler Edwards — a guard in his junior year — who describes the design concept as follows:
The team wanted to make a [social justice] patch that was unique and not just something that everyone else had. We want to get rid of all the bad apples in all walks of life, including police brutality, sexism, and racism. These are topics around the world and we have the support of our coaches. We need to keep talking about it until it gets fixed.
That is definitely the most distinctive social justice patch I've seen so far this year. The apple graphic is also featured, much more prominently, on the team's shooting shirts: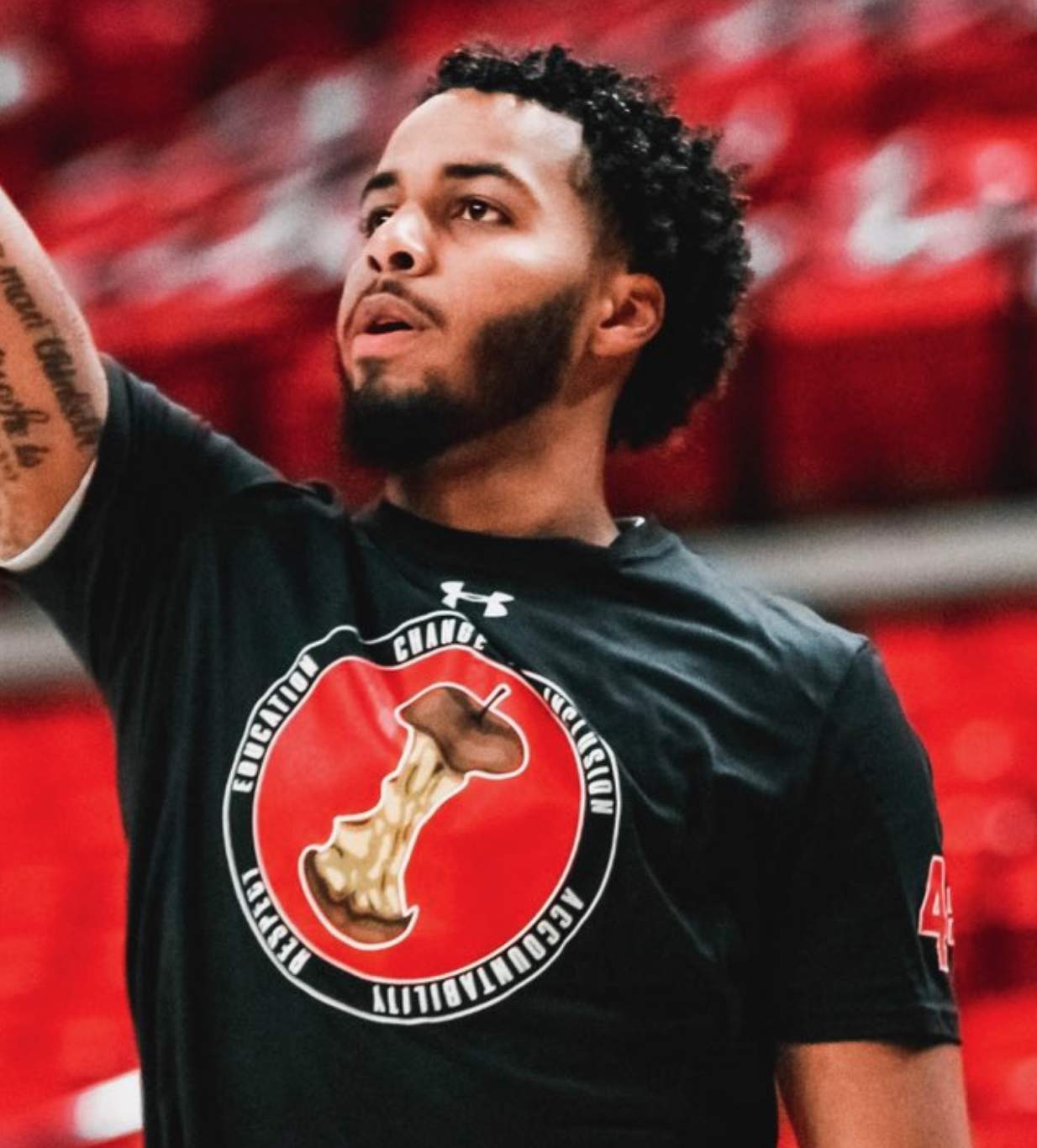 (My thanks to Kary Klismet for letting me know about this one.)
• • • • •
• • • • •

Click to enlarge
[Insert my head exploding here]: One of my longtime peeves is the way desktop publishing software's use of smart quotes has led to the rise of improperly oriented apostrophes (or as I like to call it, the "apostrophe catastrophe"). I first wrote about it on this website way back in 2009 and then wrote about it for The New Republic in 2013. The problem has only gotten worse since then, as an entire generation has grown up not knowing the difference between an apostrophe and a single open quote.
I have never seen a better example of that than the Texas Tech ad shown above, which showed up on a website I was looking at yesterday (presumably because I had gone to the Tech basketball site while working on the bit about the rotten apple core). I understand why they got the first apostrophe wrong — that's the basic problem with smart quotes — but how did they then get the second one right? And why didn't anyone notice the inconsistency?
The thought that people were paid to produce and approve this while copyeditors and proofreaders are being laid off throughout the media world (they're usually the first ones to go) is baffling and infuriating.
• • • • •
• • • • •
IMPORTANT "Collect 'em all!" reminder: If you've collected all 12 of this year's monthly Uni Watch Pin Club pins, you're eligible to get our 2020 All-Star pin as a free bonus.
If you qualify, you must notify me asap by emailing me with (a) your mailing address and (b) some combination of photographic evidence and/or receipts to prove that you've purchased all 12 pins. For example, if you order the December pin today (as of this morning, there were 27 of them remaining), you could send me a photo of the 11 pins you've already received plus your email from Teespring confirming that you ordered the December pin. Or you could look up all 12 of your Teespring confirmation emails and send screen shots of those. As long as you can prove that you collected 'em all, that's what I'm looking for.
I will be ordering the All-Star pins soon, with the quantity based on how many people have emailed me their documentation. I'll definitely order an extra dozen or so (because I know there will be stragglers and late-comers), but that's it — a dozen extra, not 50 extra. So if you've collected 'em all, please prove it pronto. Thanks!
• • • • •
• • • • •
The Ticker
By Paul

'Skins Watch: Anderson High School in Ohio, whose teams used to be called the Redskins, has narrowed its choices for a new name to 10 semifinalists (from Kary Klismet). … Also from Kary: Some alums of Lamar High School in Colorado are trying to get the school to stop calling its teams the Savages. … One more from Kary: New logo for Menomenee Falls (Wis.) High School, which is replacing its Native American team name with "Phoenix." … Students at the U.S. Naval Academy typically paint a campus statue of the Native warrior Tecumseh prior to the annual football game against Army. This year, however, the school is only allowing students to paint panels on the statue's base (from Timmy Donahue). … Also from Timmy: Guilford High School in Connecticut is changing its team name from "Indians" to "Grizzlies." … Another Connecticut school, Farmington High, will no longer call its teams the Indians (from John Dankosky). … Caledonia-Mumford High School, near Rochester, N.Y., is changing its team name from "Red Raiders" to "Raiders," and is also retiring its Native American mascot character (from Matthew Holman and Frank Collins). … The latest issue of the music magazine The Big Takeover features indie-rocker Joe Pernice wearing a jacket festooned with sports logo patches, but with a Chief Wahoo patch prominently removed (from @sumohuggs).

Working Class Wannabes™: The first paragraph of an article about the Alabama basketball team refers to the team's "patented blue-collar work ethic." … A player on the Auburn football team says, "Being blue collar, being hard-working and not being given anything — that's Auburn." … An article about the UMass football team says head coach Walt Bell "wants to become a blue-collar, run the ball down your throat sort of football team." … An article about the NHL's New York Islanders says, "The Islanders have a blue-collar mentality. … This 'blue-collar' headspace is rarely seen in modern-day sports." Oh really? I guess that writer has never read the Working Class Wannabes™ section! … An article about the National Collegiate Hockey Conference says the Minnesota Duluth team has "the blue-collar approach that coach Scott Sandelin instills in his teams." … An article about MLS's New England Revolution says, "It's a blue-collar group full of players who, according to one source, 'would die for the crest.'" … An article about the NFL's Washington Football Team says, "Washington [is] more of a blue collar offense that isn't spectacular but can be effective." … An article about former Kentucky football offensive line coach John Schlarman says his players were a "perfect fit for [head coach Mark] Stoops's blue-collar approach." … An article about the NFL's Pittsburgh Steelers says, "Any discussion of the Steelers' sustained success must begin with [head coach Mike] Tomlin — a gritty, no-nonsense leader who is perfect for this team and its blue-collar city."

Baseball News: Have you ever heard of a team having a specific uniform just for Friday-night road games? That's what Abilene Christian now has (from Brandon McAuliffe). … The Single-A Charleston RiverDogs, who've been affiliated with the Yankees for the past 16 years, will now be part of the Rays' farm system. … The story behind Yankees 1B Luke Voit's uniform number has to do with college football's Army/Navy game (from Griffin Smith). … The St. Paul Saints, which have been an independent team since their 1993 inception, will now be the Twins' Triple-A affiliate, which is already leading to some fun graphics (from @snowdan13).

NFL News: In a move between Massachusetts sports stars, Patriots CB Stephon Gilmore and Jayson Tatum of the NBA's Boston Celtics have swapped jerseys. … As the result of a bet on last week's UVa/Boston College game, Falcons QB Matt Ryan had to wear a Virginia QB Matt Schaub jersey in practice yesterday. "The jersey he wore is anachronistic because it only was worn in modern times from 2012 to 2017 (both as a throwback and as the primary home jersey in the last two of those years), which is way after Schaub's time, and I don't think it ever had an NOB either," says our own Jamie Rathjen. "However, the Falcons' third quarterback, Kurt Benkert, wore that design as his home jersey." … According to the teams' respective uniform schedules, the Bears will wear white throwbacks this Sunday against the Texans, who will wear white over navy. Obviously, those can't both be true. Since the Bears are the home team and opting to wear their retro whites, the Texans will presumably wear navy, despite what their uni sked says (from Chris Mitchell). … This has gotta be the most bizarre Dolphins shirt ever, right? (Good find by Trevor Williams.) … In a probable NFL first, Chargers OL Forrest Lamp has an endorsement deal with a lamp company (from Taylor Crabtree and @boxseatbanter).

College Football News: Here's a rarity — a Canadian college football item: New uniforms for the University of Ottawa (from Moe Khan). … Here's the uni combo that Southern Miss's seniors have chosen for this week's game, which is the final home game of the year. … Miami is going BFBS this week (from Josh Lefkowitz). … Tomorrow's rivalry game between Arizona and Arizona State will be color vs. color, with the Sun Devils wearing Sparky-clad helmets. Additional info here (from @ASU_Uniformity). … Oh man, look at this double-facemask setup from a West Virginia high school in 1971. … Cross-listed from the NFL section: As the result of a bet on last week's UVa/Boston College game, Atlanta Falcons QB Matt Ryan had to wear a UVa QB Matt Schaub jersey in practice yesterday. "The jersey he wore is anachronistic because it only was worn in modern times from 2012 to 2017 (both as a throwback and as the primary home jersey in the last two of those years), which is way after Schaub's time, and I don't think it ever had an NOB either," says our own Jamie Rathjen. "However, the Falcons' third quarterback, Kurt Benkert, wore that design as his home jersey." … Cross-listed from the baseball section: New York Yankees 1B Luke Voits' uni number is tied the Army/Navy game (from Griffin Smith).

Hockey News: Slovak team HK Nitra has coronavirus-themed jerseys (from Mike Chamernik). … An Ontario man is looking to sell a very old hockey stick. How old? It's believed to be from the late 1800s (from Ted Arnold). … Michigan debuted a new dishwater jersey last night (from Michael Zerbib). … New mask for Regina Pats G Roddy Ross (from Wade Heidt).

NBA News: The Jazz created a very amusing video, styled like an 8-bit video game, to promote their schedule for the upcoming season (from Allan Jennings). … Cross-listed from the NFL section: In a move between Massachusetts sports stars, Celtics F Jayson Tatum and Stephon Gilmore of the NFL's New England Patriots have swapped jerseys. … It was reported a while back that Blue Diamond Almonds would no longer be advertising on the Kings' uniforms. As of yesterday, they haven't found a replacement (from @SacKings_Unis). … Similarly, it was announced back in June that the Timberwolves were looking for a new corporate sponsor advertiser, but they apparently don't have one yet. … There's also an NBA team whose existing uni advertiser has made a change to its ad patch design, but I'm not going to show that here because fuck that. In the interests of complete coverage, I'll probably list it in my NBA Season Preview later this month, but not here. … Following up on an item from earlier this week, Blazers F Carmelo Anthony will not be switching from No. 00 to No. 7 after all (from Mike Chamernik). … Etienne Catalan, something-something, uni numbers, something, you know what to do.

College and High School Hoops News: We had a Canadian school in the college football section, so here's one for college hoops: New uni teaser for the University of Northern British Columbia (from Wade Heidt). … 1990s throwbacks tonight for Texas Tech (from Kary Klismet). … Dayton is using inconsistent number fonts. … The logo for the 2022 Final Four has been revealed. … The most cringe-inducing corporate-advertised arena name will be sticking around for at least another decade (blame Timmy Donahue). … Very Uni Watch-y color matchup in last night's Oregon/Florida A&M game, as the teams went yellow vs. green. … New uniforms for Oak Hill Academy, a prep school in Virginia (from Carson Cox).

Soccer News: New Christmas biscuit-themed shirt for German side FC Nürnberg (from Jeremy Brahm). … New Saint Barbara-themed shirt for French side RC Lens (from Ed Zelaski). … Also from Ed: New home and away shirts for J1 League team Vissel Kobe, and new third shirt for Aussie side Western Sydney Wanderers. … One more from Ed: Really interesting thread on this year's Canadian Premier League award trophies, each of which is a unique piece of Inuit sculpture carved by Indigenous artists. … Sometimes low tech gets the job done: During yesterday's friendly vs. the USA, coaches on the El Salvador sideline were diagramming plays on a magnetic board (from John Muir).

Grab Bag: Fun, interesting piece on the cultural history of sweatpants (from my pal Carrie Klein). … Federal officials have seized more than 200 counterfeit autographed jerseys in Cincinnati. … Bowsher High School in Ohio has changed its team name from "Rebels" to "Blue Racers" (from many readers). … New centennial logo for the Connecticut town of West Haven. … There's a new coffee table book "that charts Nike's transformation from rebellious upstart to global phenomenon" (from Anthony Nuccio). … The Nashville Superspeedway has a new logo and website as it prepares for its return to the NASCAR circuit for the upcoming season (from Kary Klismet). … Color Mafia company Pantone, in its annual exercise in self-fulfilling prophecizing, has forecast the 2021 colors of the year (from Eric Juergens and Jason Hillyer). … In the latest move toward peak Idiocracy, Australian cricket will wear deodorant ads on their jersey underarms. Can the asteroid please just plow into the Earth and get it over with already? (From Colm Heaney.)
• • • • •
• • • • •
• • • • •
Our latest raffle winner is Christopher Parmanand, who's won the membership "family pack." Congrats to him, and thanks to Jeff Worth for sponsoring this one.
Happy Hanukkah to all who'll be celebrating tonight. — Paul