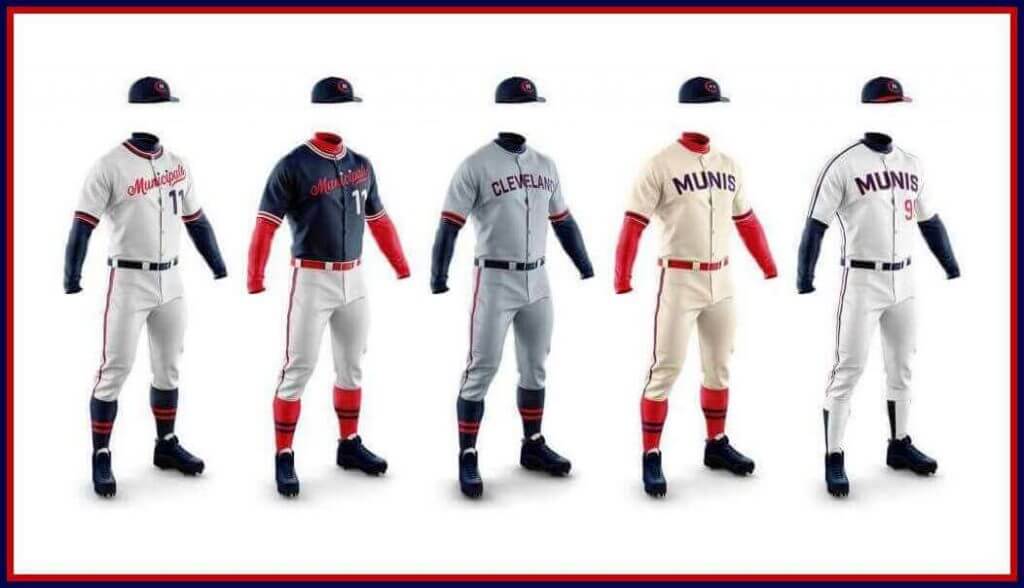 By Phil Hecken, with James Lansdowne and William Weible
Follow @PhilHecken

Good morning Uni Watchers — hope everyone is staying safe and well, and that those of you who are eligible to get your COVID vaccination have done so.
I've got a really special lede for you guys today: A little less than a week ago, Mike Joseph (whose work has appeared on Uni Watch and who actually created the uniform template used below) introduced me to two gentlemen who have created a new visual identity and name for the Cleveland Indians: Cleveland Municipals co-founders Will Weible and Jamie Lansdowne will weigh the options and explain how the Cleveland Indians can "get it right." It's part one of two, and today will focus on Jamie and Will's uniform vision for a redesign of the Cleveland baseball club, who have announced they will be jettisoning the name "Indians" (now expected in time for the 2023 season), and have yet to settle upon a new moniker. It's quite an in-depth project, so let's get to it straight away. Enjoy!
• • • • •
The Cleveland Municipals
By Will Weible and Jamie Lansdowne
Cleveland's baseball team has finally decided to drop the "Indians" name. Now it is the club's task to choose a new, replacement name suitable for one of baseball's oldest and most storied franchises. While many replacement options have been suggested, only one will preserve and carry forward the team's legacy: The Cleveland Municipals. Naming the team the Municipals gives us, the people of Cleveland, the opportunity to tell a real story about ourselves and our shared history — a story that holds within it our proud sports traditions, a profile of our city over the last 125 years, and a recognition of what all Clevelanders share.
We're two born-and-raised Clevelanders with a lifetime of passion for our town and our teams. We're supportive of the organization's decision to change the name, and because we're huge fans we want to make sure the new name properly honors one of the oldest franchises in baseball and a charter member of the American League. Our biggest fear is that our team might get stuck with a grab-bag name that sounds like an expansion team with no history.
The Municipals concept as a whole is a way for us to honor as much Cleveland sports and cultural history as possible, while paying tribute to the people of Cleveland and their reputation as the most loyal fans in sports. Leaning into the meaning of the word municipal also embodies the renewed commitment to the community the organization has promised, while making clear that the team belongs to and represents all Clevelanders.
When it came to designing the Munis uniforms, we wanted to be clear that although the name was changing this was not meant to be a new team, but rather a new era for a storied franchise. So we combed through our entire uniform history from 1901 to the present, picking out things we like and things we think most Cleveland fans regard as canon. The idea was to not only have a timeless uniform lineup that looks good, but also one that serves as a sort of summary of the franchise to maintain a solid foundation as the name changes. These uniforms are pretty similar to what the team is wearing now, with a few elements from different eras woven into the look. During the process we fooled around with different color schemes, but ultimately could not imagine a Cleveland baseball team in anything other than red and blue. It just wouldn't feel right. We believe the resulting look is a classic style appropriate for a team with our history and one that long-time fans will find familiar.
We're always examining ways to improve and expand the concept for eventual use across the franchise, and we've been fortunate to gain the enthusiastic support of esteemed designers and Northeast Ohio natives Michael Bierut and Jesse Reed, who have recently come onboard as informal advisers. From the beginning we've viewed this as a community project, so we leap at any opportunity to work with fellow Clevelanders like Michael and Jesse who understand the city. At the end of the day, this name is a tribute to Cleveland and its people.
__________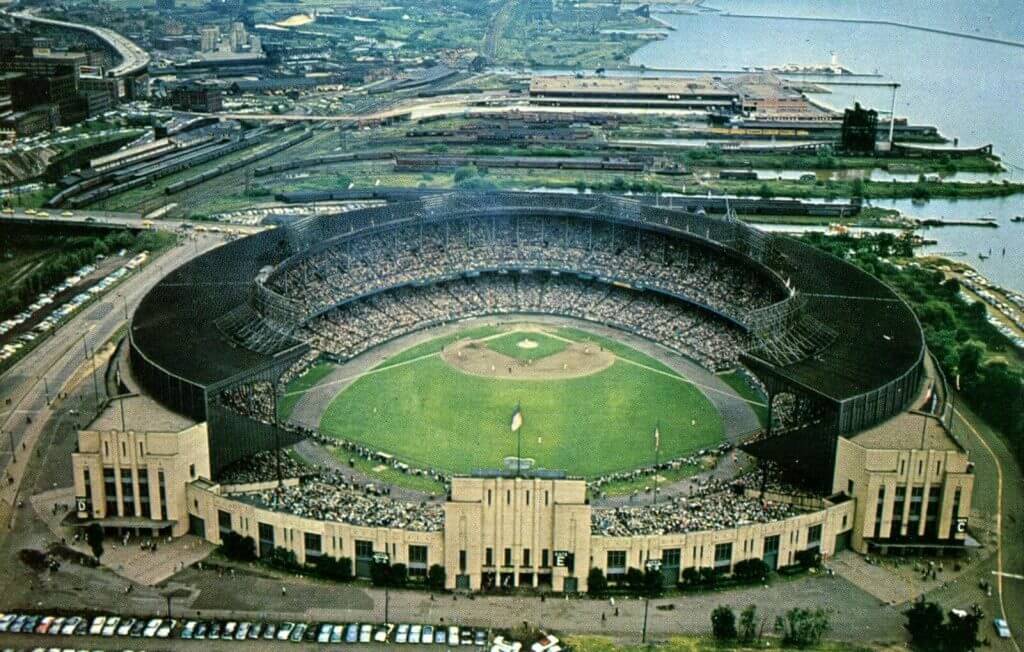 MU-NIC-I-PAL
relating to a city or town
Municipal Stadium holds the top three All-Star Game attendance records, set by the 1981, 1935, and 1954 Midsummer Classics respectively. The five World Series games played at Municipal in 1948 and 1954 each drew over 71,000 fans.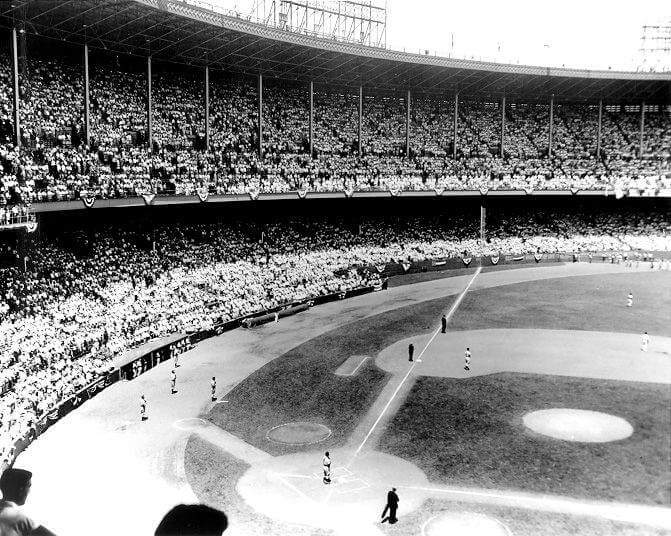 __________
THE LOOK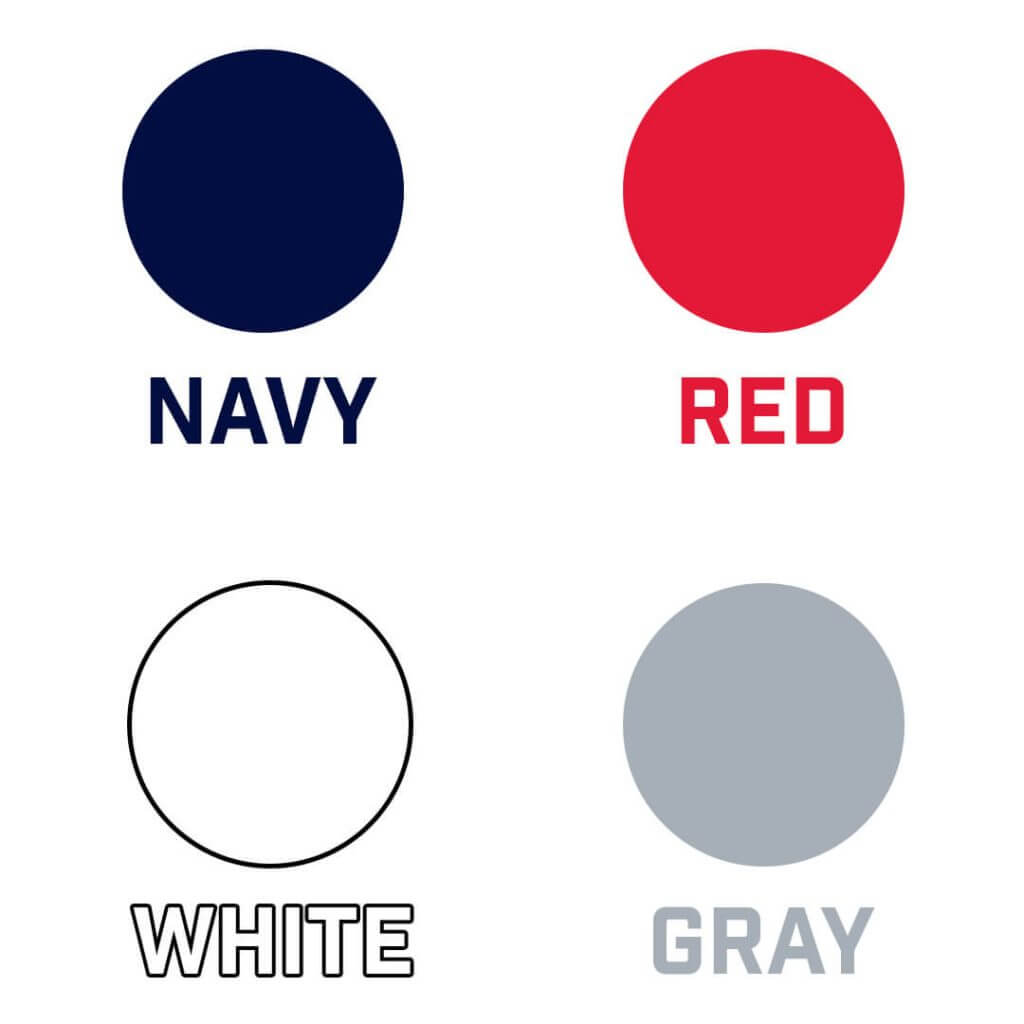 We will continue the blue, red, white, and grey color scheme Cleveland has worn for over a century, maintaining a solid foundation for the fans and the franchise.
Showcasing the team name in red script continues a Cleveland tradition dating to 1946.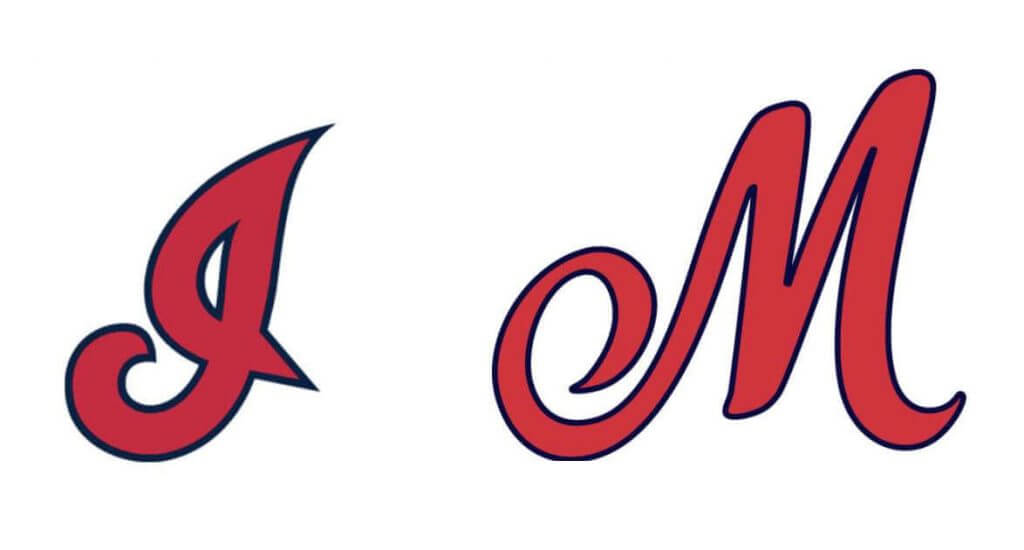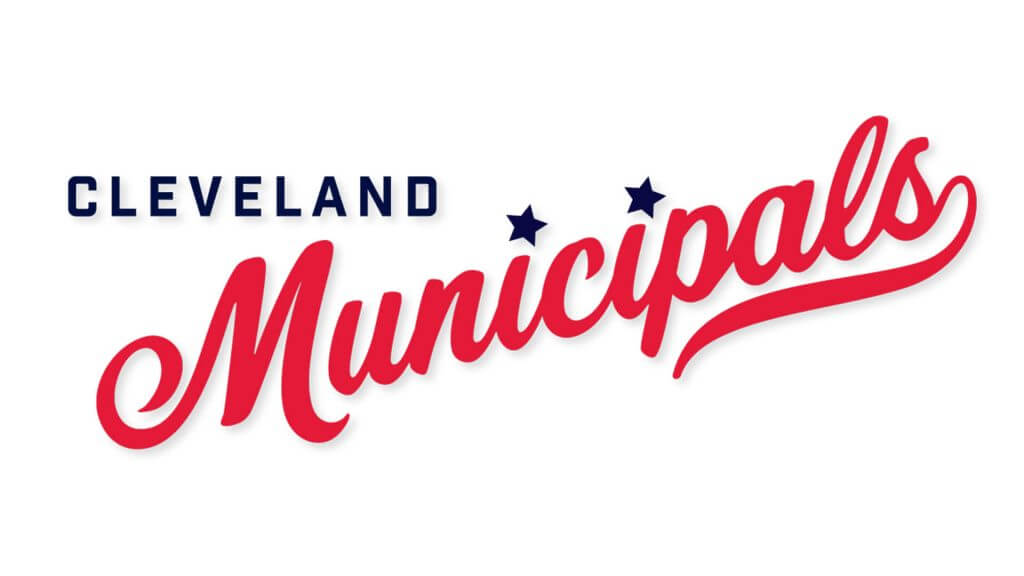 The two stars dotting the two "i's" represent the two World Series titles won in the Indians era.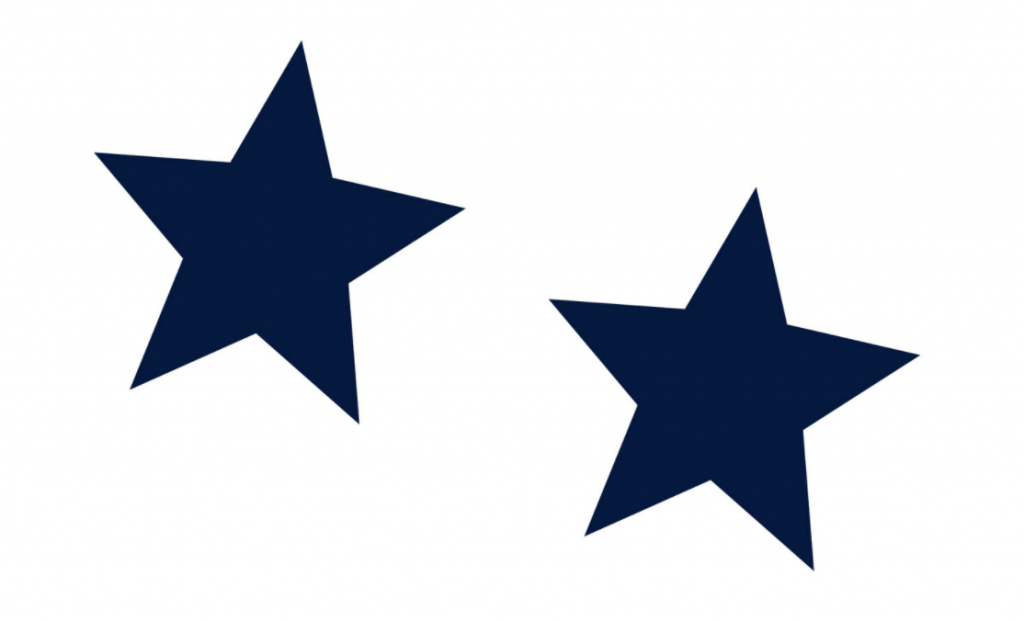 __________
THE LOGO
Completed in 1931, Municipal Stadium hosted four All-Star Games, two World Series, seven NFL Championships, and countless other cultural events. The "C" in our logo is modeled after the stadium itself, celebrating the cradle of Cleveland sports history. A white Municipal "M" inside the "C" is a nod to Cleveland's most successful Negro League team, the Cleveland Buckeyes.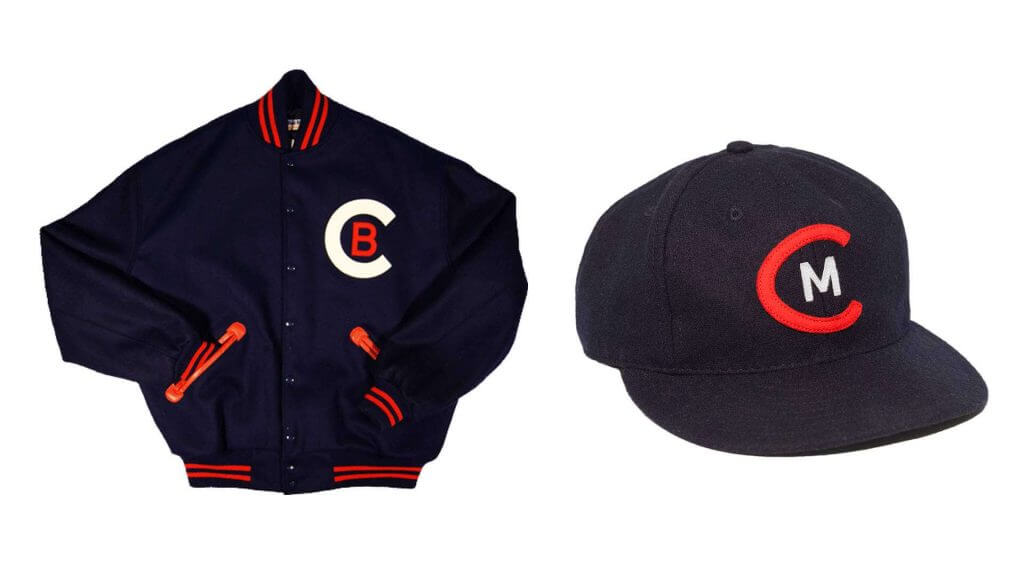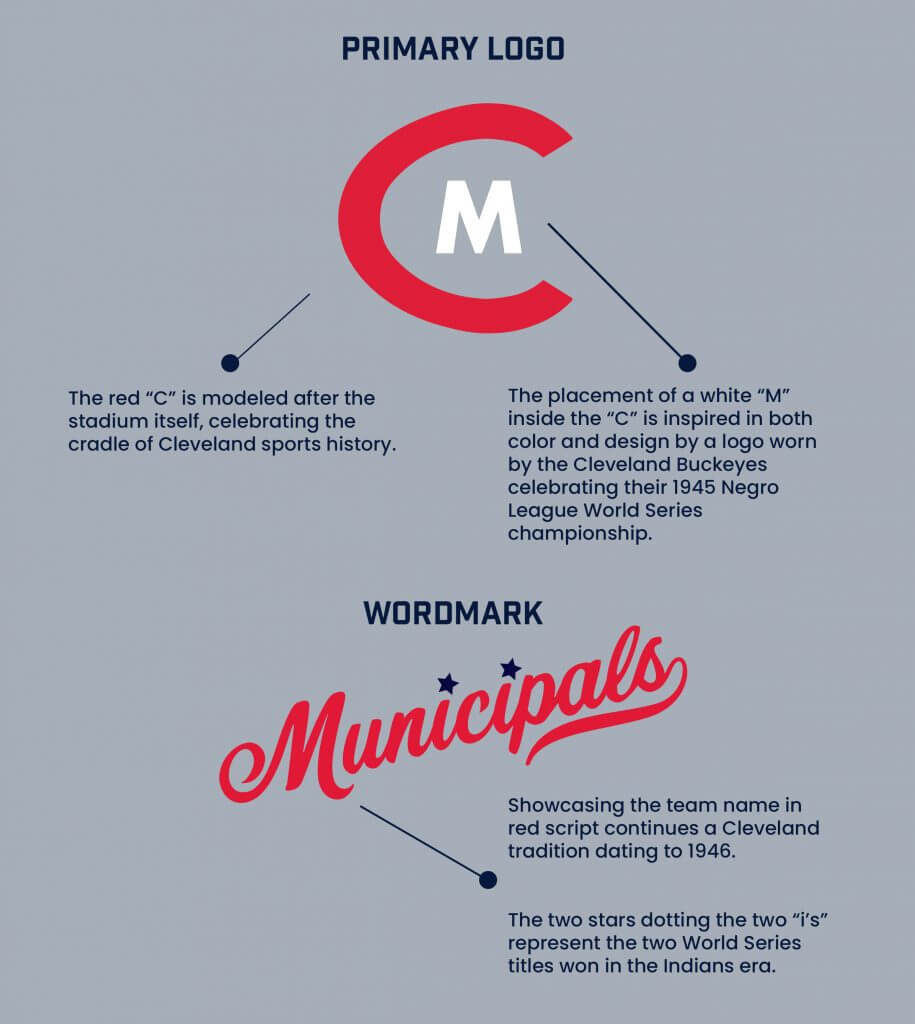 __________
THE HAT
Cleveland has worn a blue hat throughout our history, most often with a red "C." The placement of a white "M" inside the "C" is inspired in both color and design by the Cleveland Buckeyes. The Buckeyes wore the above logo on jackets celebrating their sweep of the Homestead Grays in the 1945 Negro League World Series, the first game of which was played at Municipal Stadium. This logo pays homage to Cleveland's Negro League teams and recognizes their contributions to Cleveland sports history.

__________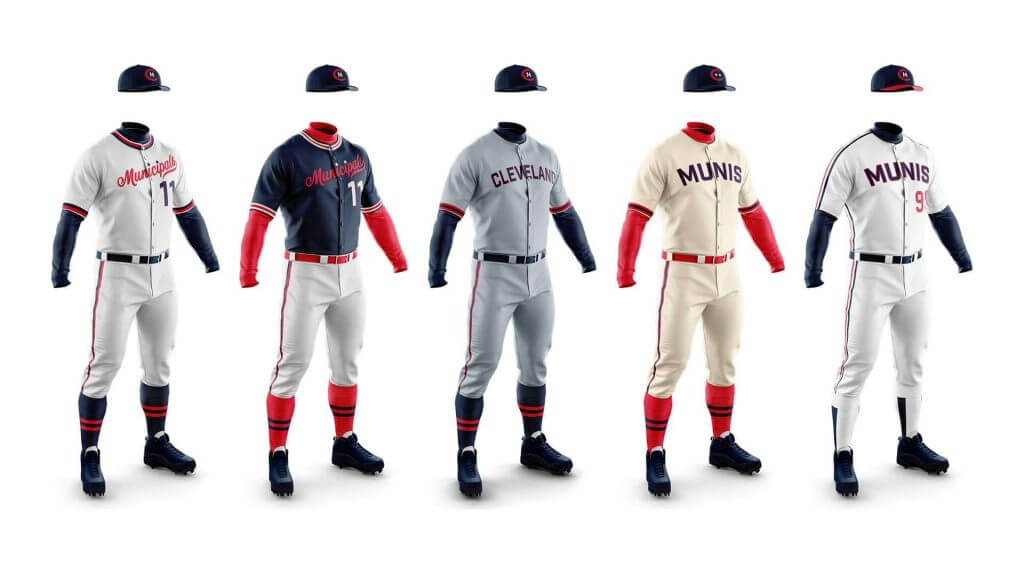 THE UNIFORMS
Home: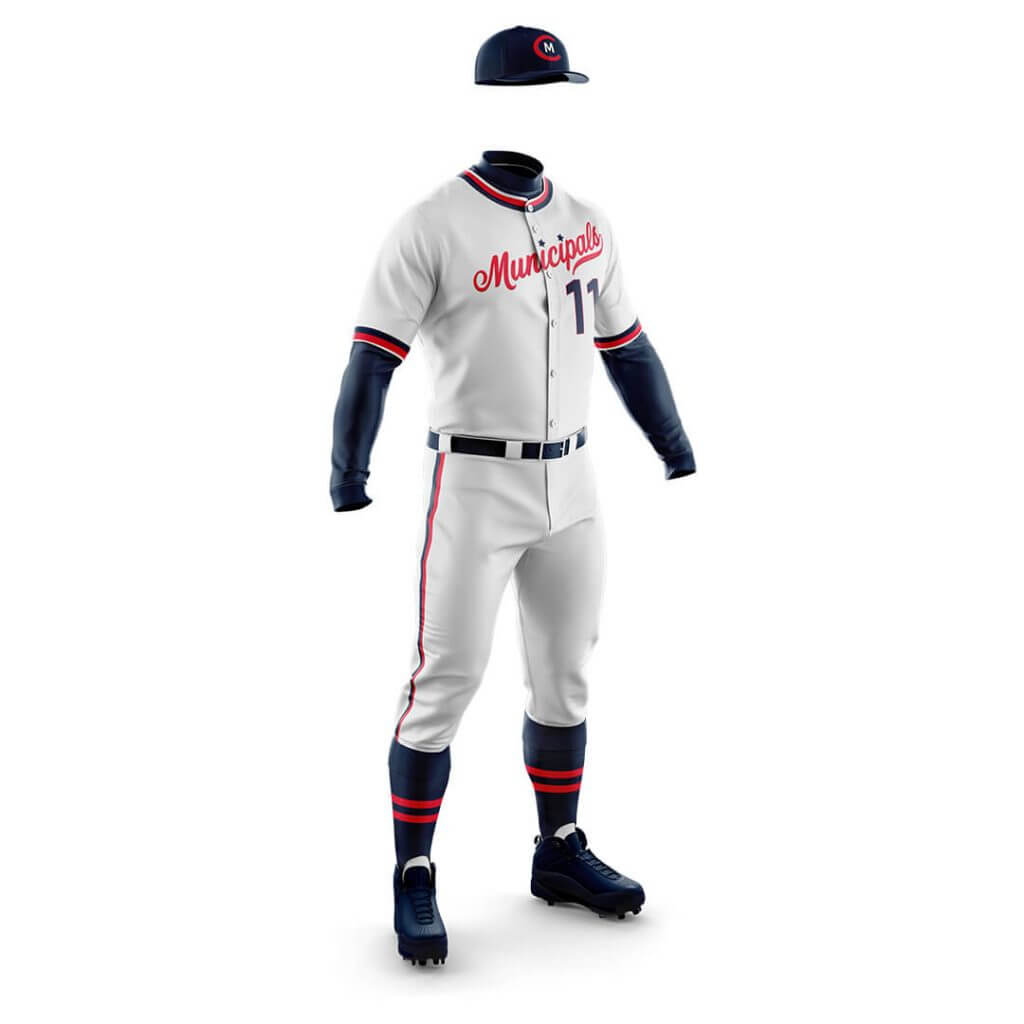 A white home uniform with red and blue has been a staple of our look since the 1930s. The tradition continues with collar and sleeve striping inspired by the 1970s and front numbers inspired by the 1960s, '80s, and early '90s. Blue socks have been worn since our inception, with red stripes common from the 1930s to present. Matching blue undershirts follow our most consistent style since 1901.
_____
Road: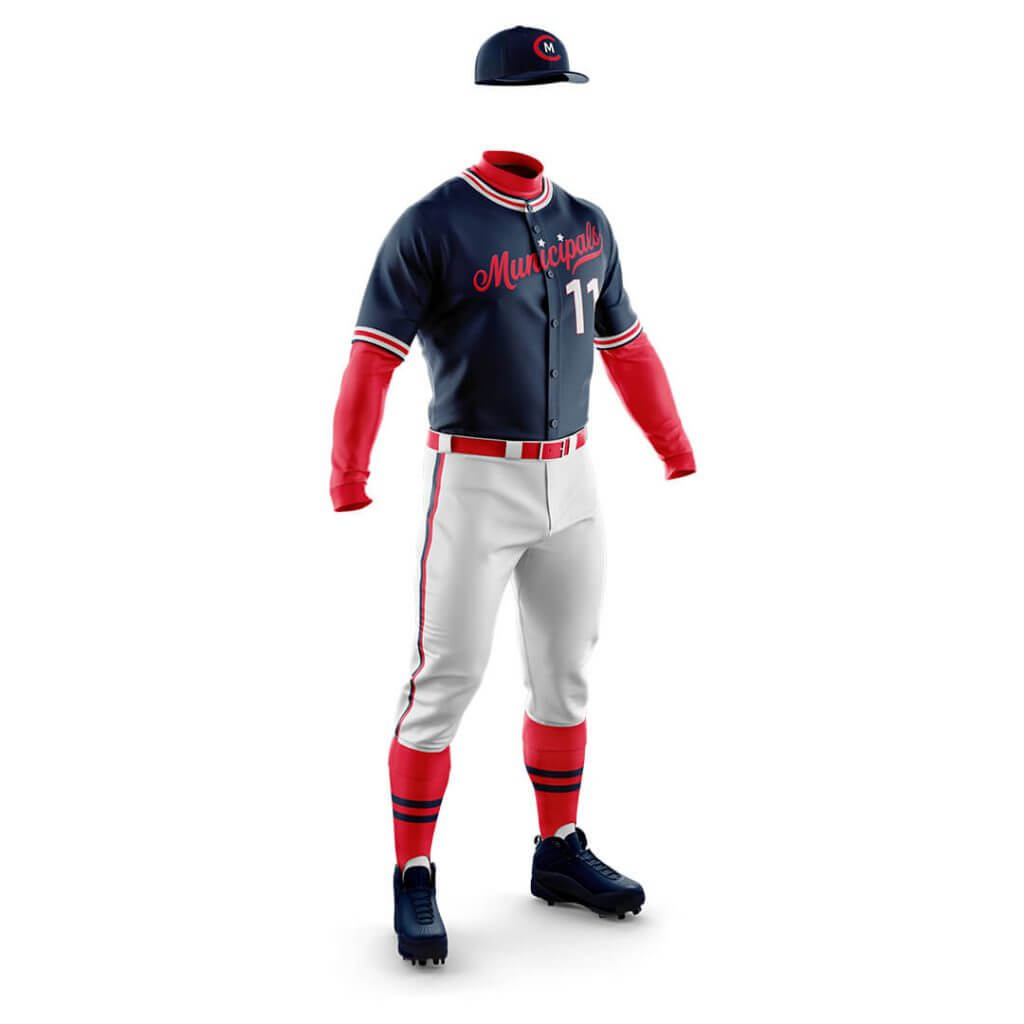 A blue road uniform was used from 1902-04, but wouldn't appear again until 1975. This look matches the striping and numbers of the white, but incorporates the red undershirt, belt, and socks combination made iconic by the boom years of the 1990s. It has remained part of our lineup ever since. White pants with matching striping carry over from the home uniform.
_____
Alternate: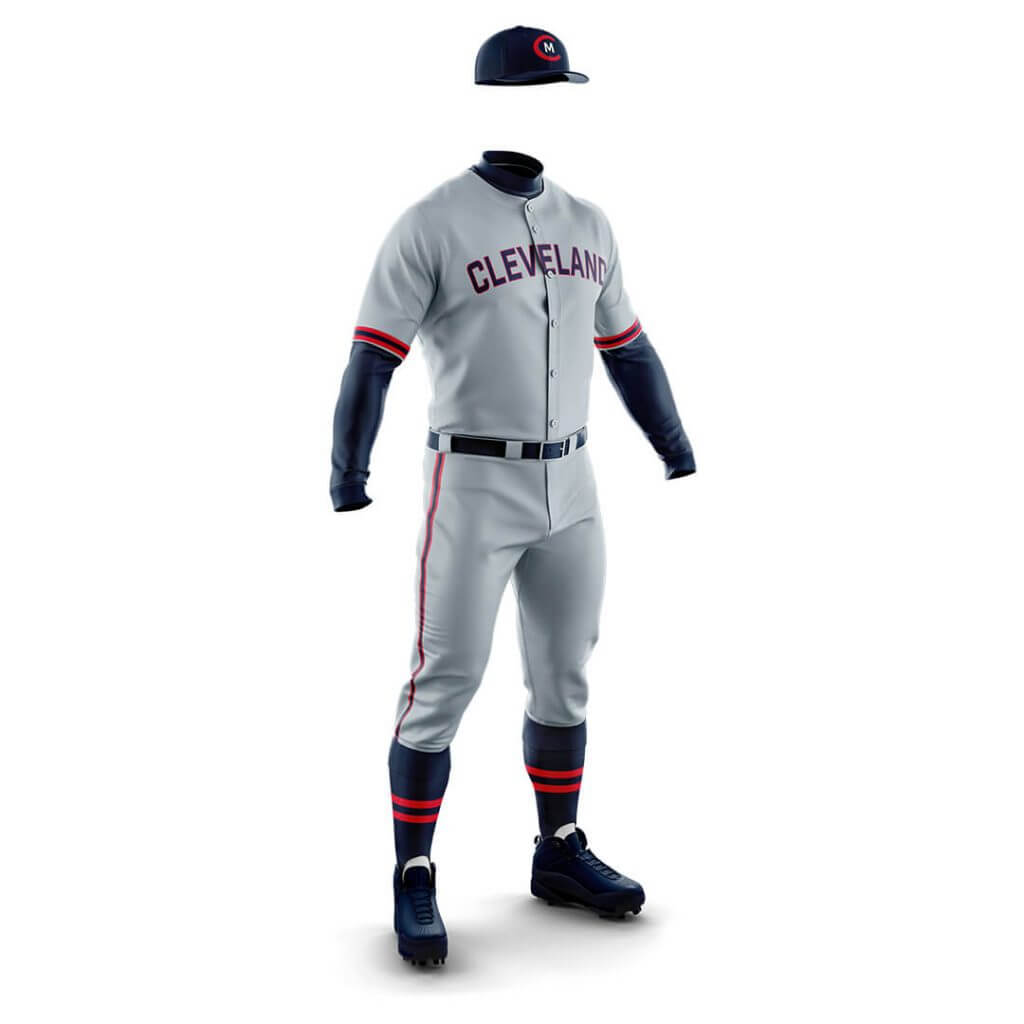 Cleveland has worn grey uniforms for all but nine seasons since 1901. This version is similar to the grey alternate fans have come to love in recent years, acting as a bridge into the new era of Cleveland baseball. A simple grey uniform encapsulates Cleveland's entire baseball history. A blue undershirt and matching blue socks complete the look.
_____
Sunday Alternate: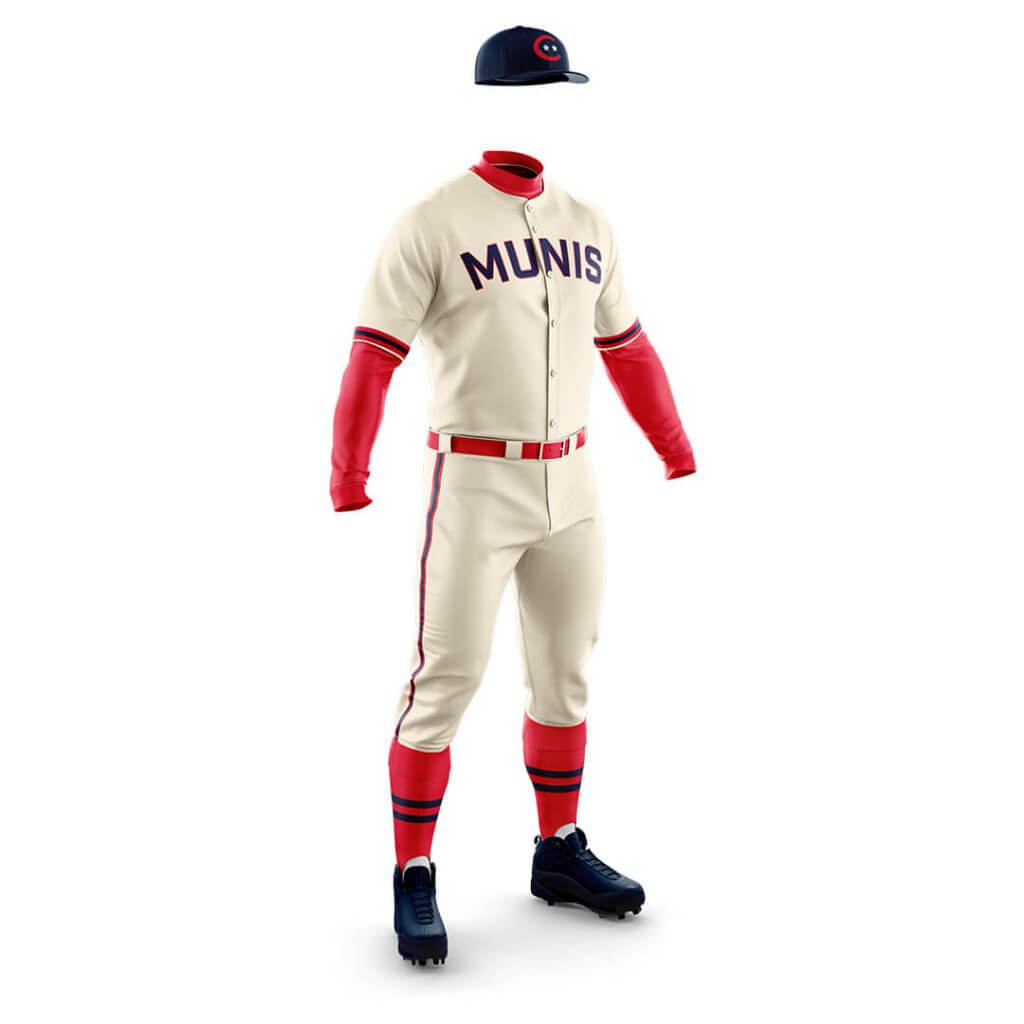 While League Park was still in use, Cleveland played Sunday games at Municipal Stadium. This Sunday alternate pays homage to that tradition with an old-school cream tone and the team nickname on the chest. The red undershirt, belt, and socks contrast the blue versions of the white home uniform, as does inverted sleeve striping. The alternate hat and helmet feature the two stars from the main logo, ensuring the titles from our previous era are always represented.
_____
Major League Throwbacks: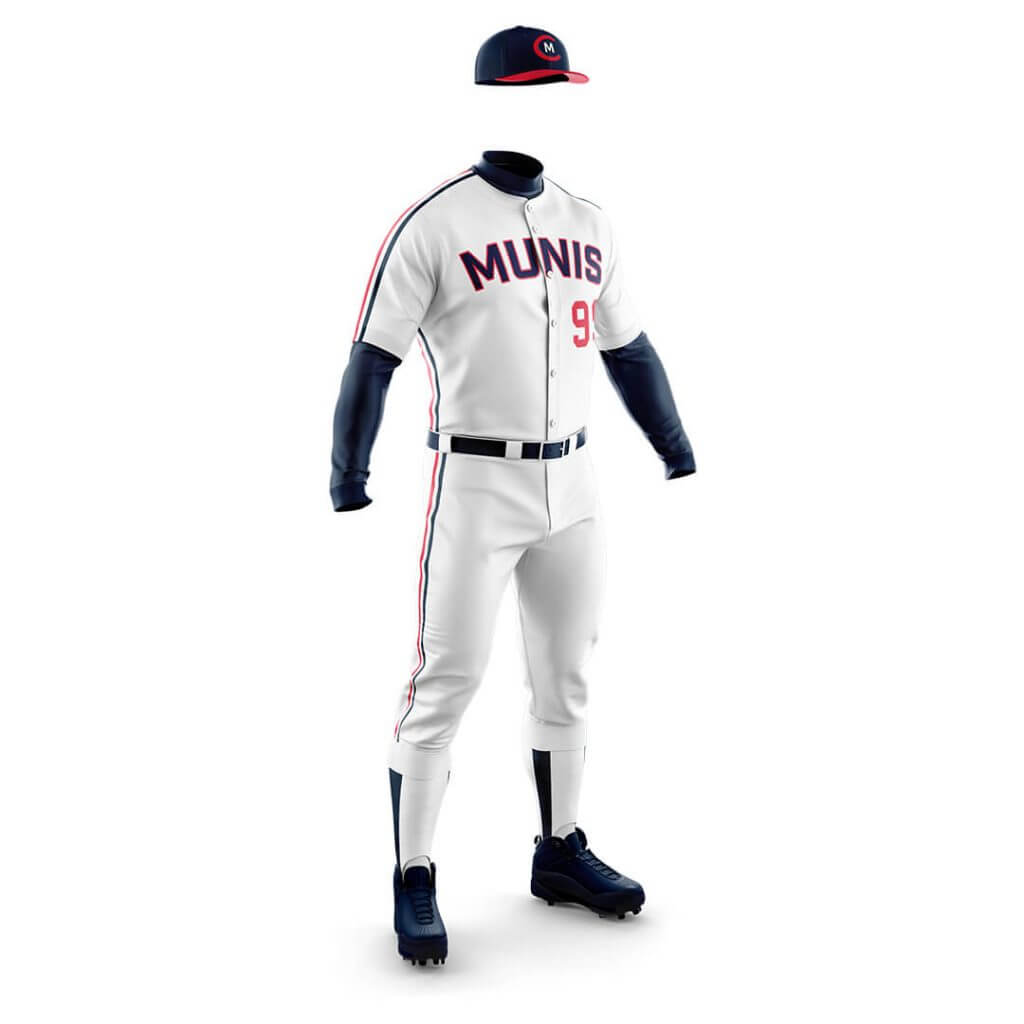 When you think about Cleveland throwback uniforms two eras come to mind immediately: the 1970s sansabelt/pullovers and the late '80s/early '90s uniforms as seen in Major League. Worn in varying forms from 1986 to 1993, these unis are a fan favorite—and not just because of Lou Brown's legendary squad. Front numbers returned to our jerseys in 1986 for the first time since the 1963-69 era as pullover shirts reverted to button downs. In 1989 the "racing stripes" on the pants were extended to the sides of the torso and sleeves, making for a look that is hard to deny as classic '80s. These were the uniforms worn during the last season at Municipal Stadium, and the first Cleveland uniforms worn by many of the iconic players that fueled our 1990s run. We add a red brim to our standard Munis hat to complete the look. Our friend Mike from UniMockups made these as a fun tribute to the team in celebration of Opening Day.
Uniform renderings provided by Uni Mockups.
• • • • •
Wow! Thanks Jamie & Will! Thank you for sharing this project with us. You can follow their efforts on Twitter: @clemunicipals and Instagram: @clemunicipals.
But we're not quite done with Jamie and Will yet — there's still more to be told. Next time, we'll learn how the guys came to embrace "Municipals" as their preferred choice for the new name and identity of the Cleveland professional baseball team.
Readers? What say you?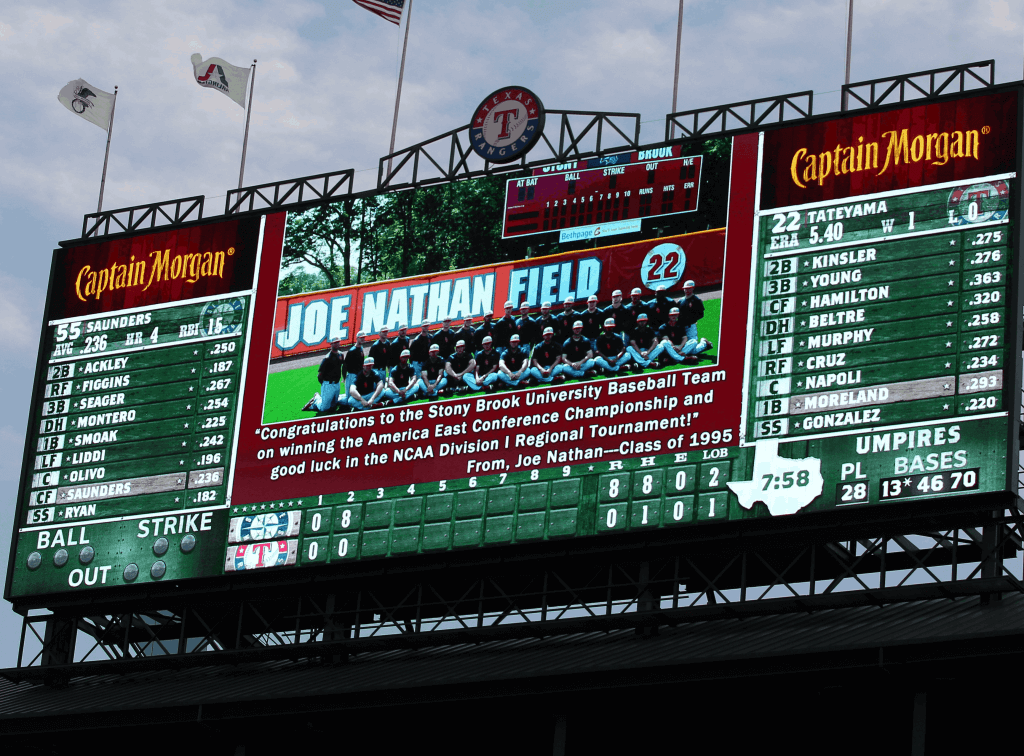 Guess The Game…
from the scoreboard
Today's scoreboard comes from Nicholas Bartell.
The premise of the game (GTGFTS) is simple: I'll post a scoreboard and you guys simply identify the game depicted. In the past, I don't know if I've ever completely stumped you (some are easier than others).
Here's the Scoreboard. In the comments below, try to identify the game (date & location, as well as final score). If anything noteworthy occurred during the game, please add that in (and if you were AT the game, well bonus points for you!):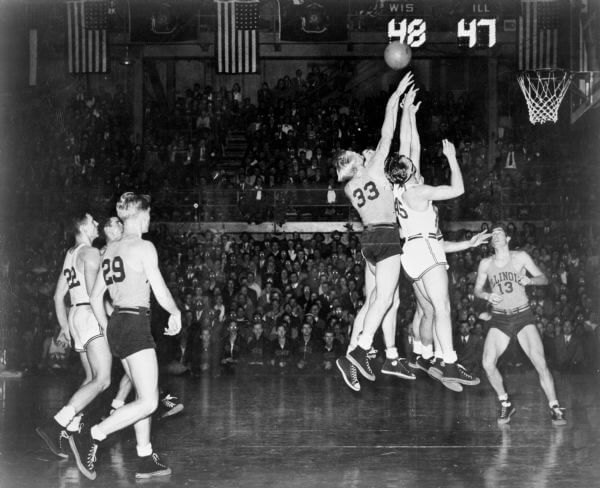 Please continue sending these in! You're welcome to send me any scoreboard photos (with answers please), and I'll keep running them.


The "BEST OF" Kreindler's Korner
Hey guys & gals. You've enjoyed Kreindler's Korner for several years now, mostly on the weekends, on Uni Watch, but with the recent coronavirus outbreak, Graig's time is just too precious and he needs to tend to other things besides coming up with a new writeup each weekend.
So, going forward, for as long as the COVID-19 situation is bad in New York, I'm going to run a few "Best of's" until Graig returns.
Here's today's offering:
• • •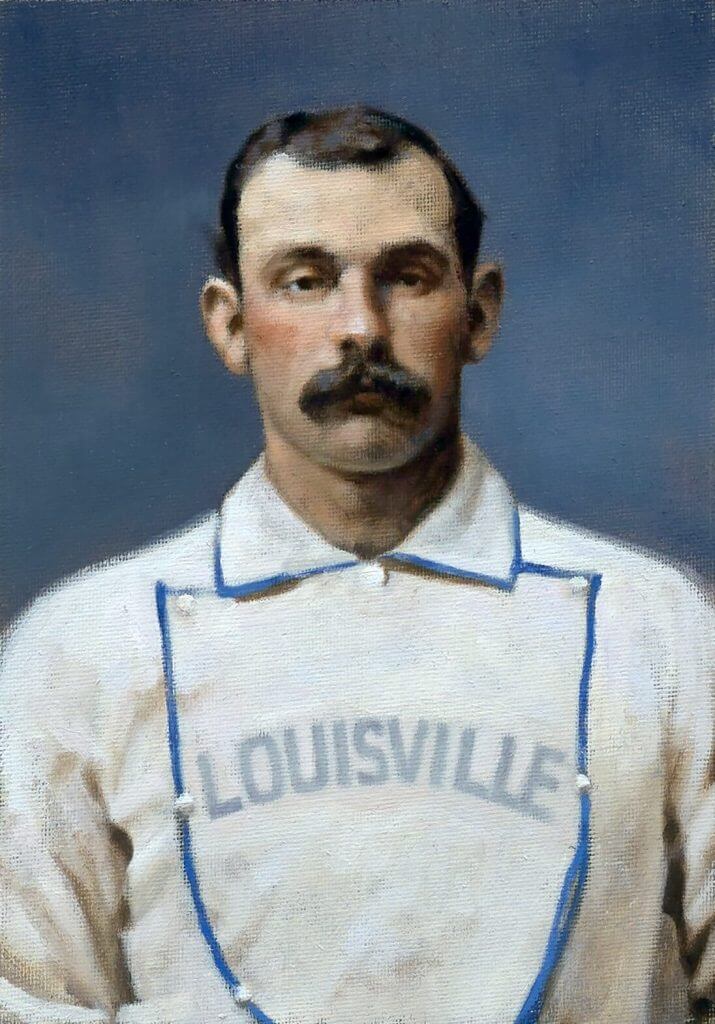 Title: "Jim Devlin, 1876" (color study)
Subject: Jim Devlin, 1876
Medium: Oil on linen mounted to board
Size: 5" x 7"

For me, one of the most gripping stories from Ken Burns' Baseball documentary involved that of Jim Devlin, a pitcher for the old Louisville Grays who was eventually banned for his involvement in throwing games in 1877. He and his three teammates cost their ballclub the pennant that year, and their subsequent ostracizing from the sport was considered the first scandal in National League history.

Jim's story seems all the more tragic because of the annual letters he submitted to National League President William Hulbert, all of which were in the hopes of being reinstated. He wrote to other dignitaries of the league, including the likes of Charles Chase (club president of the Louisville Grays) and Harry Wright (then the manager of the Boston Red Caps). A letter to the latter still survives to this day.

In said correspondence, he pleaded for help from Wright, explaining that he was in need of any kind of work to support himself and his family, claiming that he hadn't a dollar to his name. No response ever came, either from Wright or any of the other magnates he reached out to.

Devlin died in October of 1883 from tuberculosis. To read more about the scandal of the Louisville Four, MLB Historian John Thorn's account is a must-read.

My painting depicts the man a year before those events, with the Louisville Grays in 1876.
• • •
Thanks, Graig! You can (and should!) follow Graig on Twitter.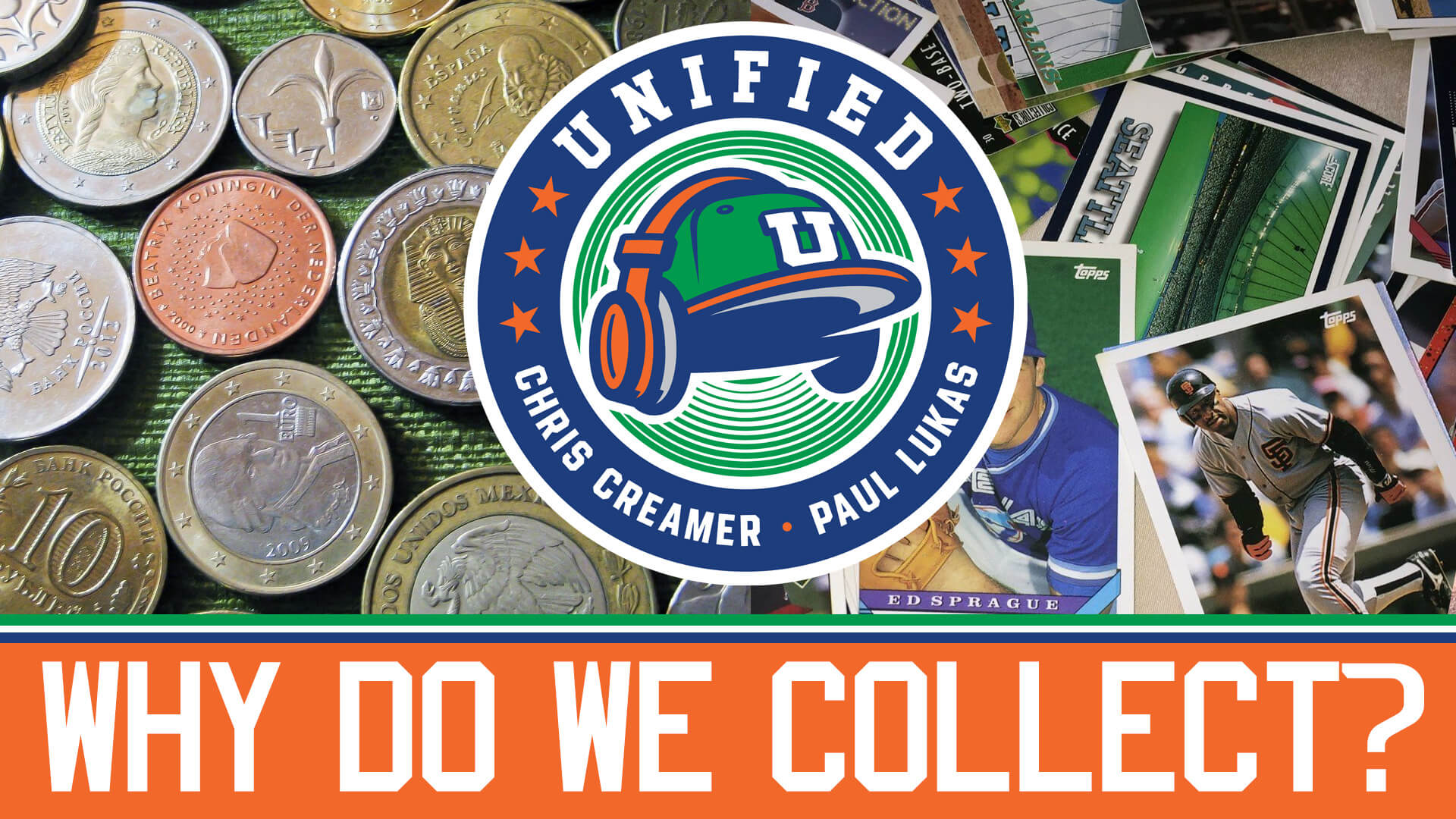 And now a few words from Paul: Hi there. In case you missed it earlier this week, the latest episode of Unified is about collecting. Why are so many people who are into uniforms and logos also into collecting stuff? What's the difference between collecting and hoarding? What did Chris Creamer and I collect when we were kids? What do we collect now? And what does all of this have to do with the 1987 movie Throw Momma From the Train? Chris and I discuss all of that in this episode, and a lot more.
As always, you can listen to us on Apple, Google, Stitcher, TuneIn, and Spotify, or just use the audio or video player below:
Please consider supporting this episode's advertisers, Oxford Pennant (get 20% off any order with checkout code UNIFIED), Ebbets Field Flannels (10% off, except on NFL items, with checkout code UNIFIED), and Homefield Apparel (15% off with checkout code UNIFIED).
Meanwhile, I've teamed up once again with Adelph Wear — the brand run by longtime Uni Watch reader Nathan Haas — to create a new line of Uni Watch hockey jerseys (shown below), which are customizable with your choice of number and NOB, as well as new Uni Watch socks and stirrups (shown at right).
In order to get in on these items, you must place your pre-order by March 31. You can do that here. We expect the finished product to ship out by the end of April.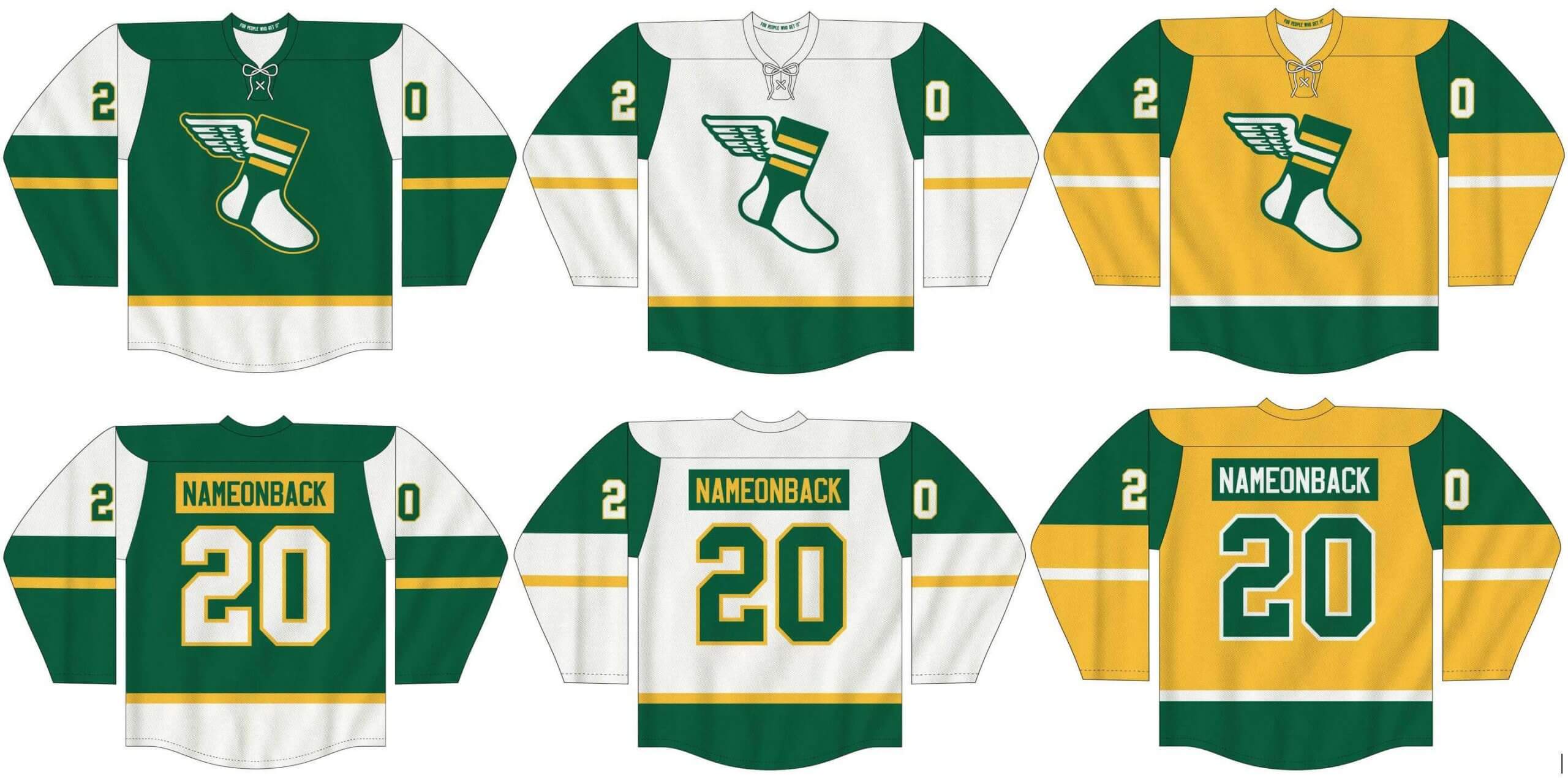 My thanks, as always, for your consideration.


The Ticker
By Anthony Emerson


Baseball News: David Cone wore a knockoff Mets uni with his own name in script on the front in a 1989 New York Daily News commercial. … This is so cool: the Burlington Sock Puppets, a new team in the now-independent Appalachian League, have a stirrup mascot and logo (from multiple readers). … Here's some great color home video footage of the 1967 Cubs/White Sox exhibition game (from Bob Gassel). … The Smithsonian Magazine has a pretty nice article about how the baseball cap became a fashion item (from Gary Chanko). … Kansas State wore green jerseys last night for St. Patrick's Day (from Blake Cripps).

NFL News: Longtime OT Donald Penn signed a one-day contract with the Raiders in order to retire with the team. He wore a T-shirt with his face as the Raiders logo during the ceremony.
.

Hockey News: The Athletic has a truly excellent article about NHL players who choose to add accent marks to their NOBs, like Alexis Lafrenière and Tim Stützle (from multiple readers). … Rangers G Alexandar Georgiev has added a No. 77 to his mask, honoring Russian junior league player Timur Faizutdinov who died this week after being hit in the head by a puck  (from Deb Seymour). … The Capitals wore St. Patrick's Day-inspired warm-up sweaters last night, with odd green-to-white gradient numbers (from our own Jamie Rathjen). … The Lightning have turned tweets from their fans into rolls of hockey tape (from Wade Heidt).

NBA News: New Bucks players P.J. Tucker and Rodions Kurucs will wear Nos. 17 and 00 respectively (from Etienne Catalan and Maverick Johnson). … Also from Etienne: new Heat F Trevor Ariza will wear No. 0.

College/High School Hoops News: The New York Times has a great article on the number of teams wearing orange in the midwest bracket (from Peter Lattman). … In addition to having less-furnished weight rooms, the swag bags for the Women's NCAA Tournament are way less substantial than the men's tournament (thanks, Jamie). … Oral Roberts' NOBs are super inconsistent. Come on, ORU, Thompson isn't even that long of a surname! (from Beau Parsons). … Liberty and Oklahoma State represented the two extreme ends of the uni number width scale (from Dave Pod). … Two NOB notes from North Texas — G James Reeves V is going RNOB, while G Mardez McBride appears to have the remnants of an old NOB underneath his (from Gavin Paul). … Morehead St. had a very satisfying starting lineup, uniform number-wise (from Matt Estreich). … Also from Matt, a Powerade spot airing endlessly during NCAA games features this confused hockey player wearing an NFL captain's "C" patch.

Soccer News: Here's something I didn't know: La Liga side SD Huesca uses a different captain's armband for every road match, in honor of the team they're playing. The one Huesca captain Jorge Pulido wore a few days ago at Camp Nou in Barcelona an absolutely beautiful one honoring FC Barcelona, and the city of Barcelona itself. I've never heard of a team doing this before, but I love it (from Brent Wilson). … Hallelujah: Manchester United will have a new primary shirt ad at the start of next season, finally moving on from the ugly Chevrolet logo they've worn since 2014 (from multiple readers). … German side Sandhausen will have Macron as their new kit provider (from Ed Żelaski). … New primary shirt ad for LAFC (from Andrew Doran). … FC Cincinnati's West End Stadium had its external façade lit for the first time (from Kary Klismet and Wade Heidt).

Grab Bag: The Major League Rugby team Houston SaberCats have sold their butts to a company appropriately called Tushy. … New logo for the San Diego Zoo (from Kary Klismet). … Also from Kary: New Indigenous-inspired uniforms for Surfing Australia. … The town of Herzogenaurach, hometown of Rudolf and Adi Dassler, founders of Puma and Adidas respectively, used to put Adidas and Puma logos on directional signs pointing to their factories (from our own Brinke Guthrie).


And finally… big thanks to Jamie and Will for sharing their Cleveland Municipals project! Really stellar work guys.
That'll do it for me for today — everyone enjoy the Tourney and/or whatever sports are on the dial today, and I'll catch you back here tomorrow.
Peace,
PH