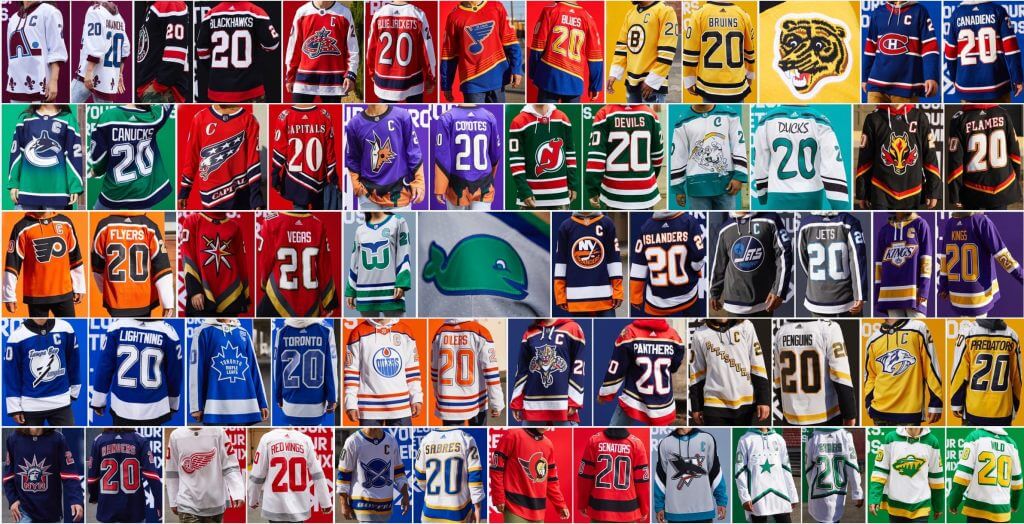 Click to enlarge
As you're surely aware by now, the NHL yesterday unveiled its "Reverse Retro" program, which attempts to reimagine a chapter from each team's visual history in a new color scheme. Today we're going to take a team-by-team look at all 31 designs.
Before we get to that, it's worth mentioning that Reverse Retro (let's call it RR for short) bears a strong resemblance to some of the experimental concept projects that fan-designers like to play around with, like the non-matching NFL helmet logo project that was featured on the site last Friday or the various concept programs that Phil often features on the weekends. In other words, it's a fun idea that works really, really well in some cases … and not so well in others. As we see with so many fan-designed projects, attempting to force-fit an entire league into a certain template or concept doesn't always work.
That's fine when we're just kicking around experimental ideas. But for something that's actually going to appear on the ice, every design should have a good reason for existing. I don't think anyone could credibly claim that the NHL has achieved that standard with RR — too many of the designs feel like the result of someone saying, "Well, we have to do something for this team, so here it is."
That said, a bunch of the designs really are sensational. It would be great if the league could do a program like this just for the teams where it makes sense, instead of trying to shoehorn everyone into the same protocol, but that isn't the way these initiatives work. Too bad.
A few notes about the team-by-team breakdown that follows:
• I was provided with photos of the jerseys, but not the rest of the uniform — grrrr.
• For all photos, you can click to enlarge.
• For each team, I've copy/pasted the Adidas promotional text that explains the jersey's design inspiration. That text appears indented and in italics, and it should at least give you an idea of the intent behind each jersey.
ATLANTIC DIVISION
Boston Bruins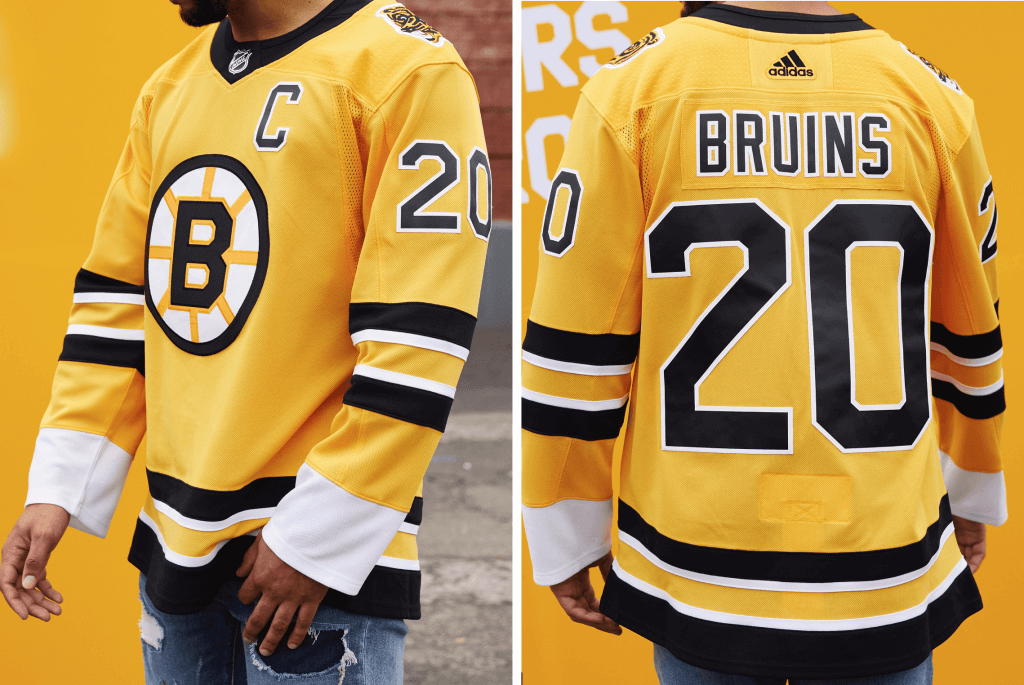 Inspiration: 1988 and 1999, when the Bruins played in the Stanley Cup Final)

Reverse Retro treatment of the classic white uniform worn at home at the Boston Garden for 15 years. The shoulder patch features a fan-favorite bear crest to complement the traditional spoked-B. Bruins greats Ray Bourque and Cam Neely both donned the '90s version of these threads.
Paul says: Feels more like a "normal" design than a RR design, but whatever — this is clearly the best jersey in the entire RR program. Make it permanent!
———
Buffalo Sabres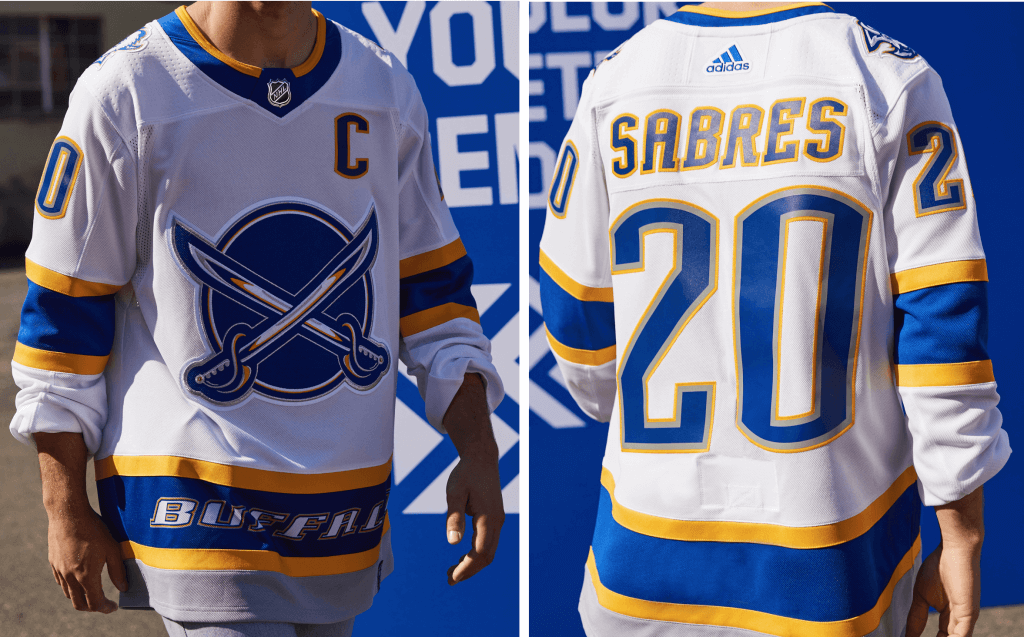 On Nov. 22, 2000, the Sabres unveiled the team's first-ever alternate jersey against the Philadelphia Flyers. The jersey paid tribute to the team's original sweater, while also incorporating colors and elements from the 1996 design. The organization chose from more than 50 different concepts and developed an homage to the original blue and gold crest — featuring the traditional circle and crossed-Sabres logo — adorned on a red-based jersey, trimmed in the team's black and silver of the 1990s. The word "BUFFALO" appeared on the lower trim to signify the team's proud attachment to its hometown.

This former alternate jersey was worn by the Sabres for six seasons. This jersey returns in the updated royal and gold colors to sit alongside the new home and away jerseys introduced this year. Hall of Fame goalie Dominik Hasek wore the red version of this sweater.
Paul says: Never liked anything about this design — the crest feels AHL-ish and the lettering across the bottom is embarrassing. The new color scheme is a bit less distasteful than the garish original, but the overall design is still a stinker. (Here's an article about how this design was created.)
———
Detroit Red Wings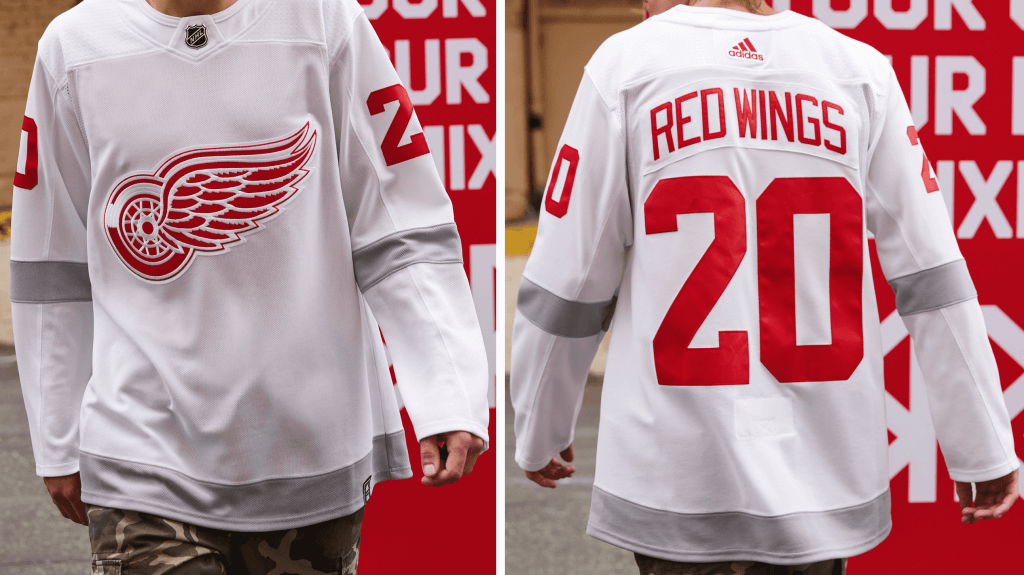 Inspiration: 1998, the year Detroit won their 9th Stanley Cup Championship and second in a row.

Worn by 1998 team captain and current General Manager Steve Yzerman. The gray of this Reverse Retro jersey is inspired by the silver from the Red Wings' NHL Centennial Classic jersey.
Paul says: Weak attempt to shoehorn this team into the RR program. Comes off as a watered-down version of their primary white design, with the grey highlights added as an afterthought. At least they kept the vertically arched NOBs.
———
Florida Panthers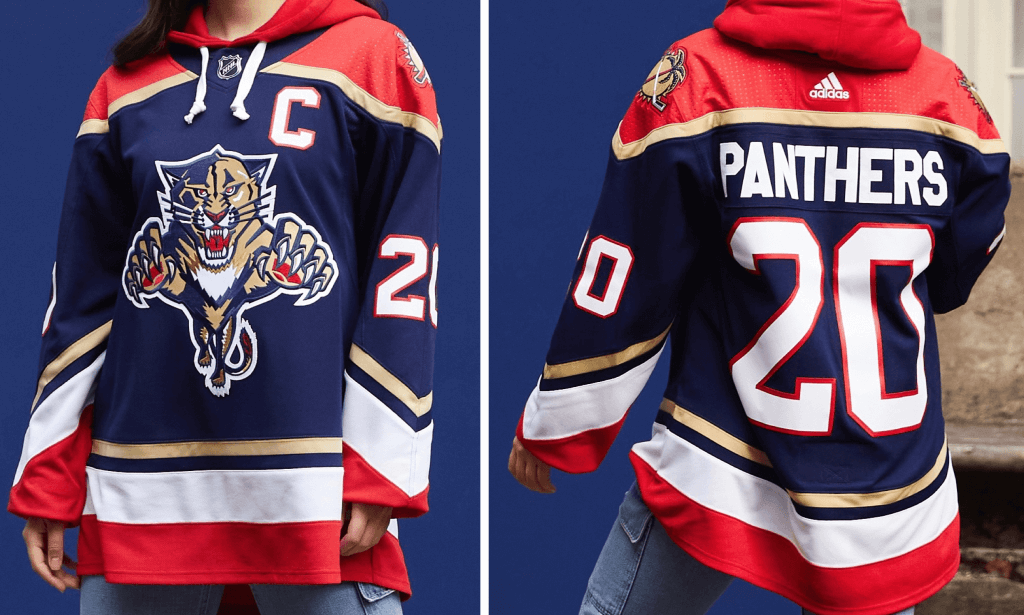 Inspiration: 1996, when the Panthers made the Stanley Cup Final in only their third season.

The team's crest is featured front and center, while palm tree graphics on the shoulders and pointed sleeve stripes add considerable design details that nod to the South Florida region.
Paul says: Nice jersey. If it looks familiar, it's because it's more or less a throwback to their 1998-2007 navy design.
———
Montreal Canadiens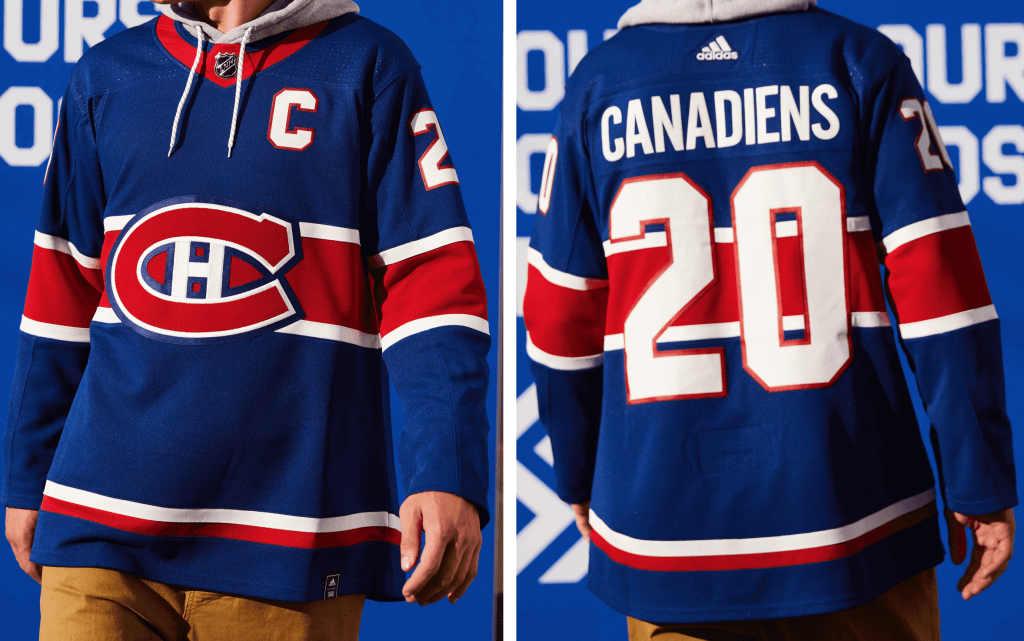 Inspiration: 1976, when Montreal captured its 19th Stanley Cup Championship.

The 1976-77 team is widely regarded as one of the greatest teams of all-time, still holding the record for the most points scored by any NHL team in a season. This Reverse Retro jersey honors that team, which was full of future Hall of Famers Bob Gainey, Rejean Houle, Guy Lafleur, Larry Robinson, Steve Shutt, Mario Tremblay, and Peter Mahovlich.
Paul says: Traditionalists may hate the idea of the Habs wearing anything other than red, but I kinda love this. Always liked the blue Phillies cap, and this works the same way — red and royal blue invert quite nicely.
———
Ottawa Senators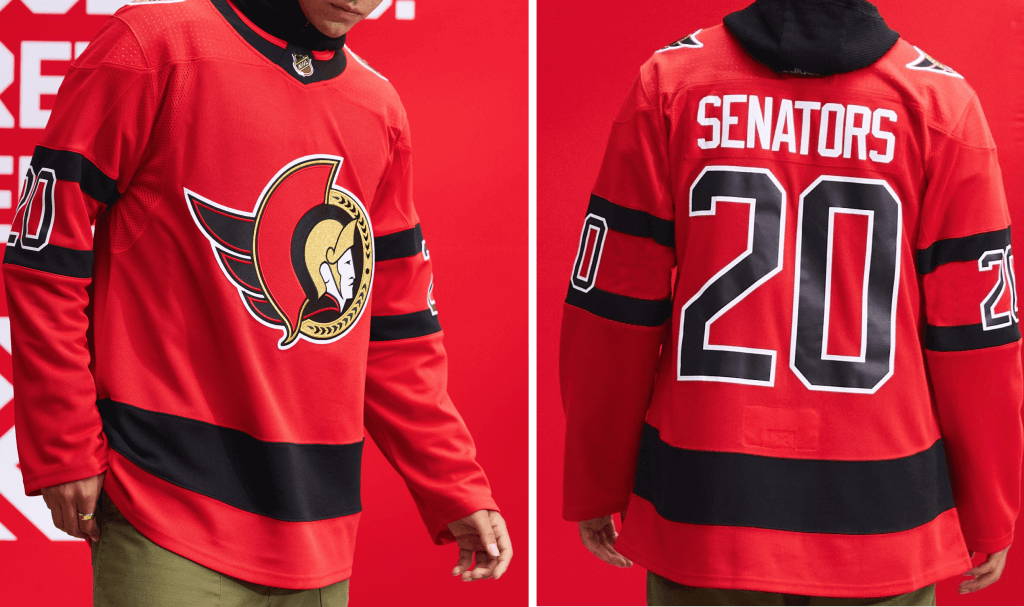 Inspiration: 1992, the Senators' inaugural season.

The classic first-year jersey will be worn in red for the first time in this Reverse Retro jersey to complement the team's recent rebranding.
Paul says: If third jerseys had existed in 1992, the Sens would clearly have added this red design to their inaugural white and black set. It will essentially fill that role with their new retro primary set, so it integrates well into the team's current look. The only problem from my perspective is that I've never been in love with that look. Meh.
———
Tampa Bay Lightning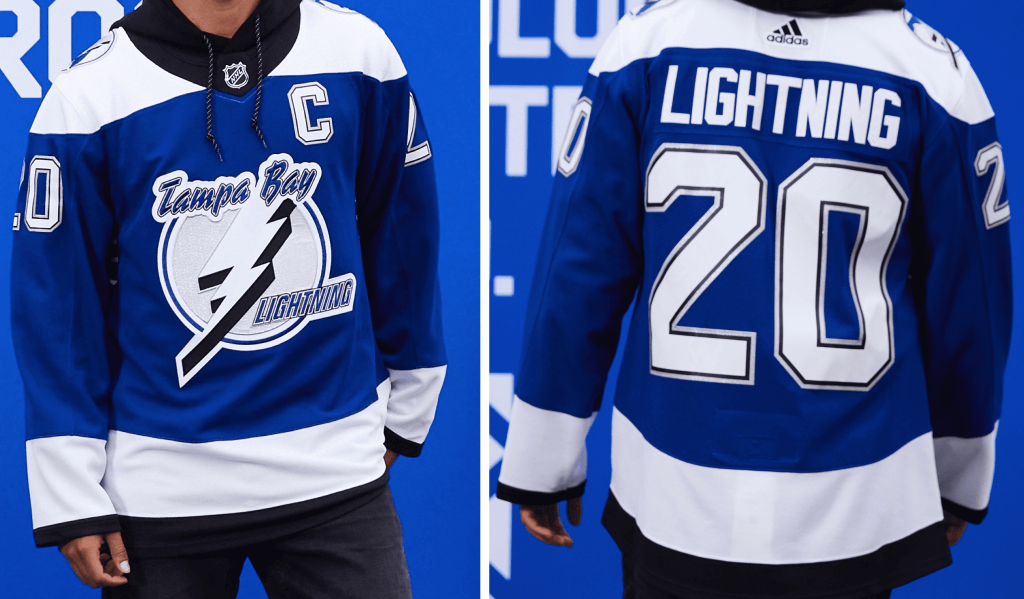 Inspiration: 2004, when the Lightning won the Stanley Cup Championship.

Vincent Lecavalier and Martin St. Louis celebrated the Lightning's 2004 Stanley Cup Championship with this royal Reverse Retro version of the jersey worn when they hoisted the Stanley Cup for the first time. Captain Dave Andreychuk captured his first championship after 22 seasons in the NHL.
Paul says: It's sort of amazing that they never wore a blue version of this design (I actually had to double-check to make sure). A fun variation.
———
Toronto Maple Leafs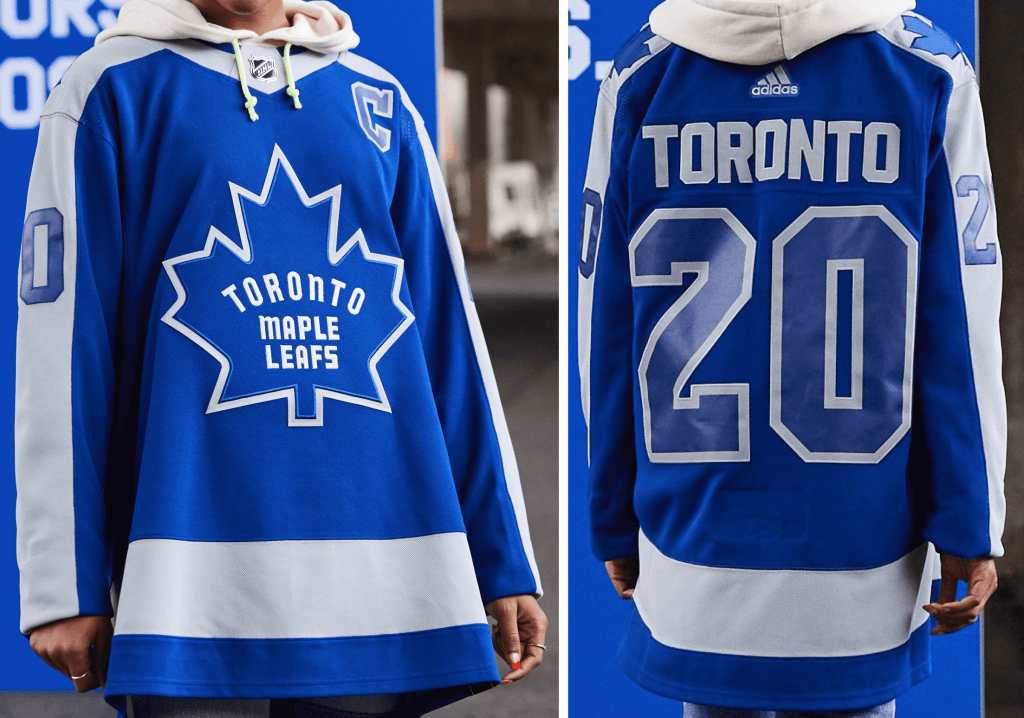 The Reverse Retro [design] combines the distinct crest and the shoulder stripes that started to appear in the late '60s and early '70s. Names like Keon, Bower, Ellis, and Horton graced the sweaters of this memorable era in Toronto Maple Leafs history. A remix of the club's storied history with its present and future.
Paul says: They're in the same boat as the Red Wings: When your color scheme is just one color plus white, there's nothing to "reverse" off of, so you end up trying to explain, ideally with a straight face, that you've created something that (a) fits into the RR program and (b) has some plausible reason to exist, even if neither is the case. Lame-o.
———
METROPOLITAN DIVISION
Carolina Hurricanes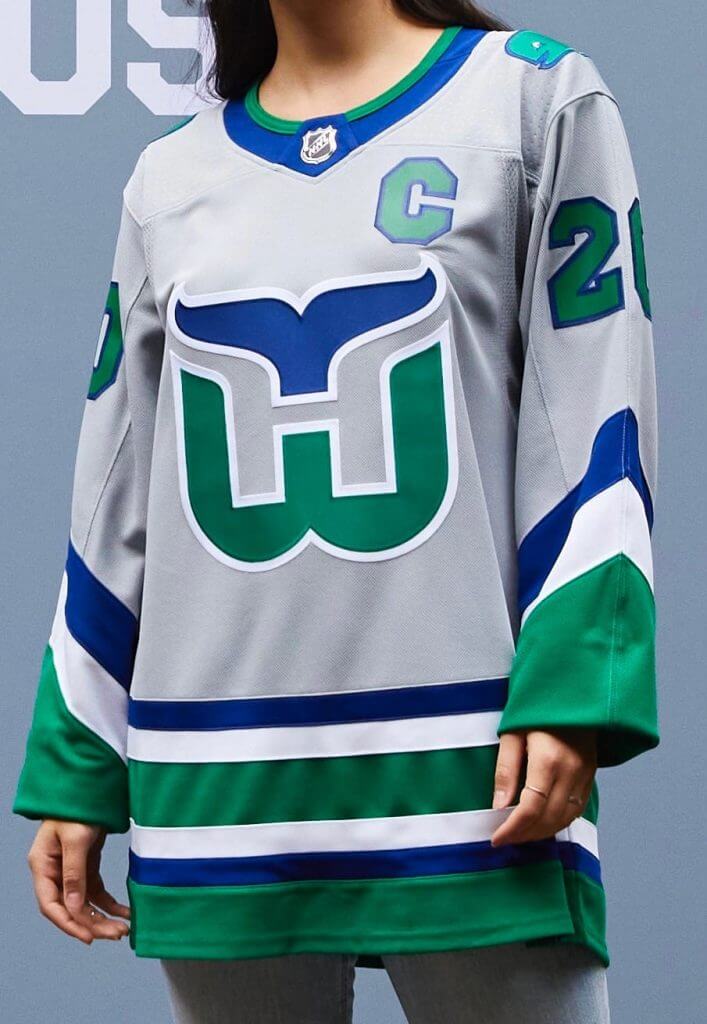 Inspiration: 1979, the franchise's inaugural season as the Hartford Whalers.

Gray is the only color shared by both the Hurricanes and Whalers — a fitting color for this Reverse Retro jersey that connects Connecticut to North Carolina. The vintage Whale logo is featured as shoulder patches.
Paul says: Like everyone else, I love that Whalers crest, love Pucky, and so on. But the grey treatment looks so drab. Pfeh.
———
Columbus Blue Jackets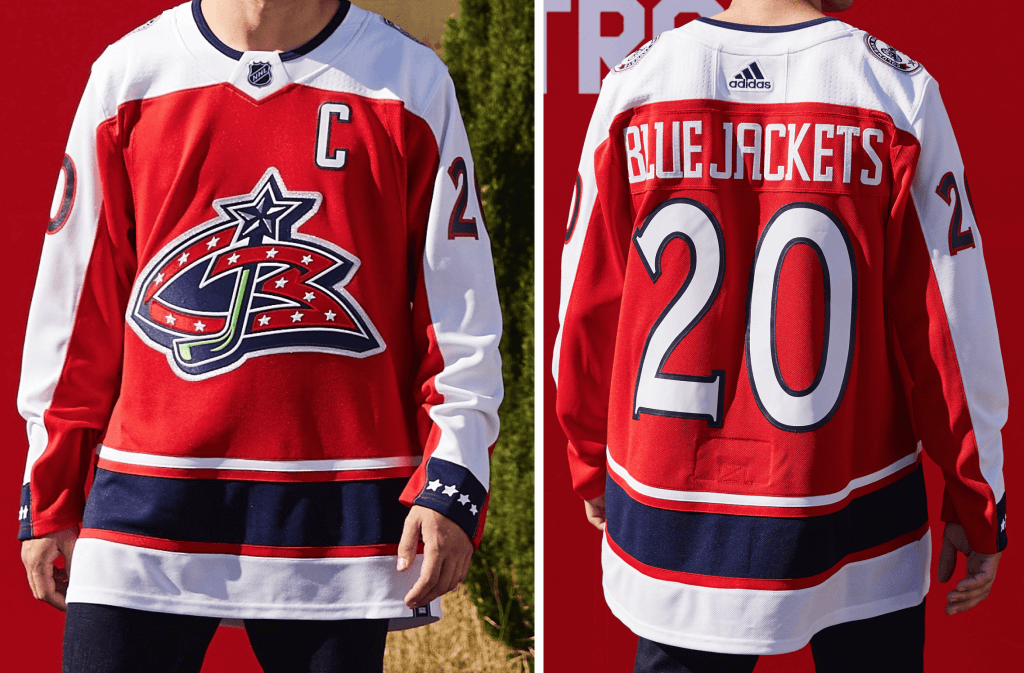 Inspiration: 2000, the Blue Jackets' inaugural season.

Red, White & Blue, the colors represented on the state flag of Ohio, have served as the Blue Jackets' primary colors since the club's inception. This Reverse Retro jersey, however, marks the team's first primarily red jersey and features the original CBJ crest worn from 2000-07.
Paul says: From a distance, or at a quick glance, this red, star-spangled jersey feels like a bad Capitals design. But nope, it's a bad Blue Jackets design, complete with that miserable inaugural crest, which didn't look good in the original color configuration and looks no better here.
———
New Jersey Devils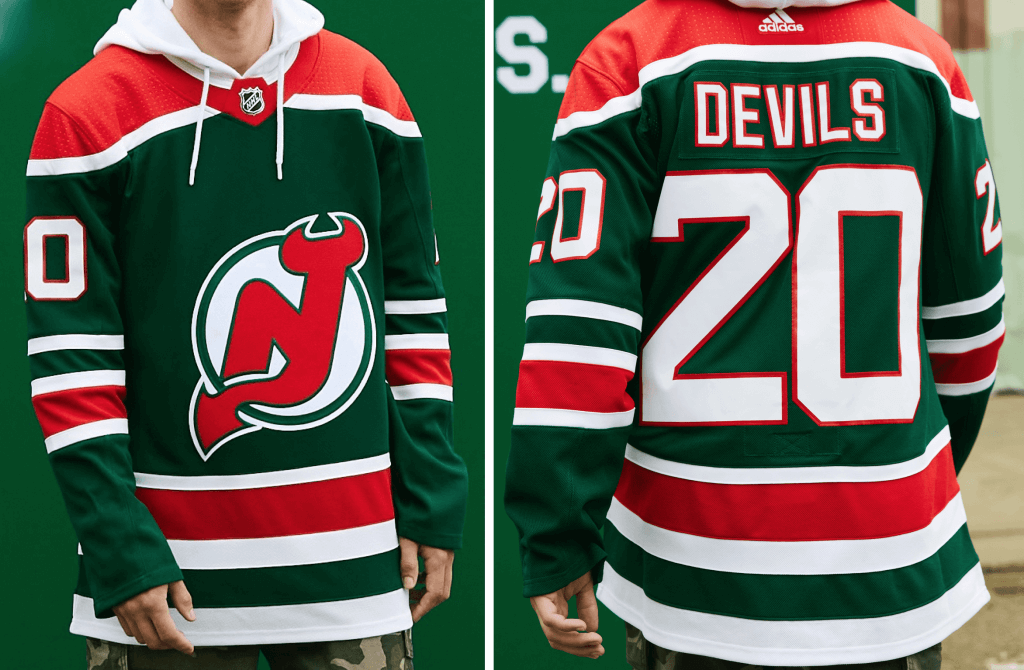 Inspiration: 1982, the Devils' inaugural season.

While green has been part of the Devils' color palette throughout the history of the franchise — to represent the Garden State and the Pine Barrens of New Jersey — this is the first time the Devils will wear a primarily green jersey.

Red represents the mythical Jersey Devil that was spotted and lived in those Pine Barrens.
Paul says: I'm probably biased because green is my favorite color, but I think this color-flipped version of the Devils' original red/green design totally works. Nicely done!
———
New York Islanders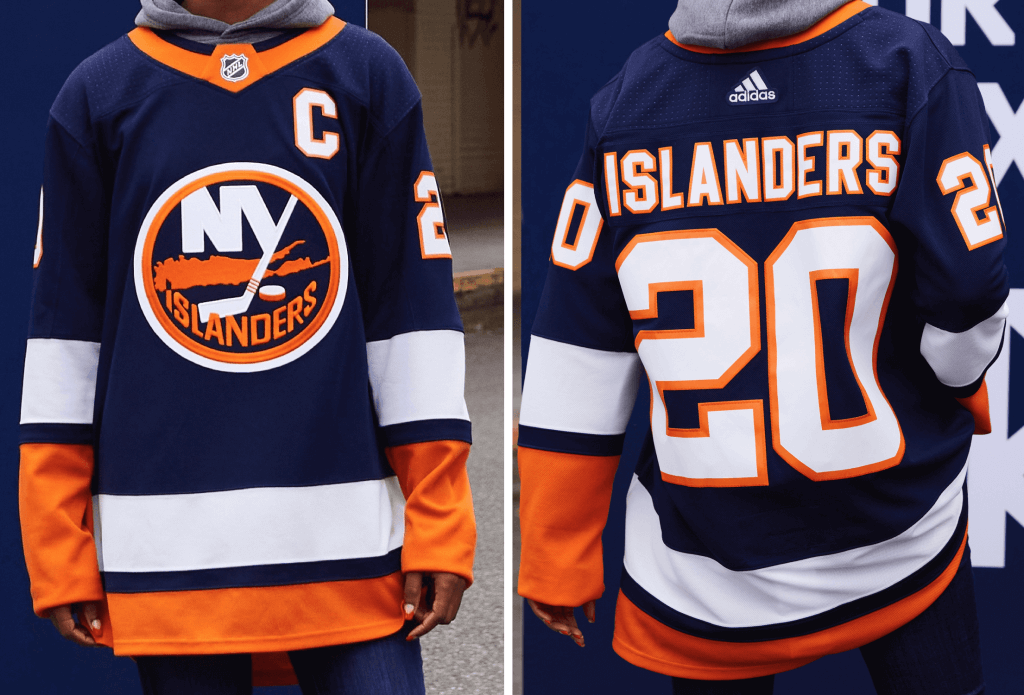 Inspiration: 1980, the beginning of the Islanders' dynasty with four straight Stanley Cup Championships from 1980-83.

This Reverse Retro jersey pays homage to the Islanders' home white jersey from 1980, reimagined in navy blue, a past color worn by the Islanders franchise. Legends who won Cups in this jersey include Mike Bossy, Bobby Nystrom, Clark Gillies, and Bryan Trottier.
Paul says: Your basic classic Isles design in navy instead of the usual royal. Looks great, but let's not pretend that it's actually anything new. Why not do a fisherman treatment instead?
———
New York Rangers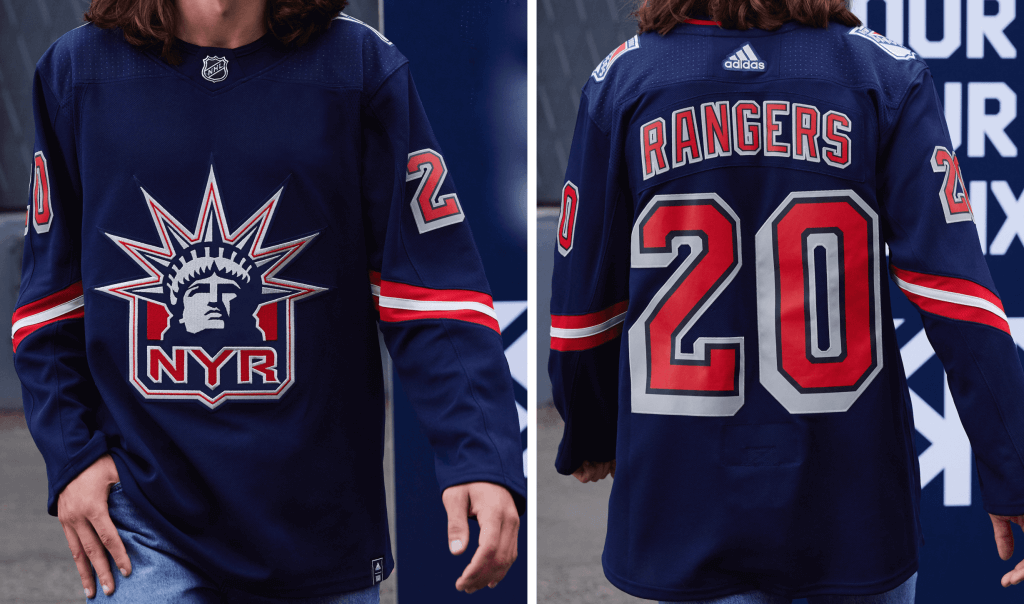 This Reverse Retro jersey marks the return of "Lady Liberty," 24 years after her first appearance. This Rangers remix is updated with several bold details that still honor the original look, including a silver color, drop-shadow numbers, and the team's recognizable Statue of Liberty crest. Rangers legends Wayne Gretzky, Brian Leetch, Mike Richter, Mark Messier, and Adam Graves were icons in this sweater.
Paul says: I know a lot of Rangers fans love the Liberty design, but I've never much cared for it. This new version is a downgrade from the original, because the white outlining on the NOB and number has been scrapped, so the typography really lacks pop. Disappointing.
———
Philadelphia Flyers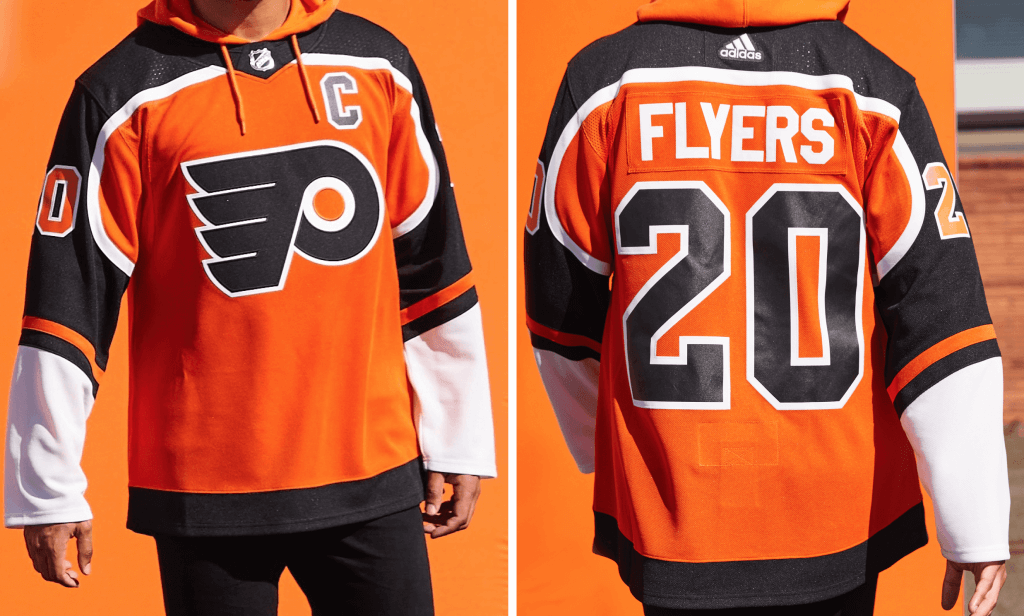 The Philadelphia Flyers Reverse Retro jersey celebrates the '95 season that featured the dominating line of Eric Lindros, John LeClair and Mikael Renberg, a division title, and Lindros being named the league's MVP.
Paul says: That yoke/sleeve shape looked better in the original white than in the reimagined black. And let's face it, contrasting nameplates have now become part of the Flyers' DNA — they should always use those.
———
Pittsburgh Penguins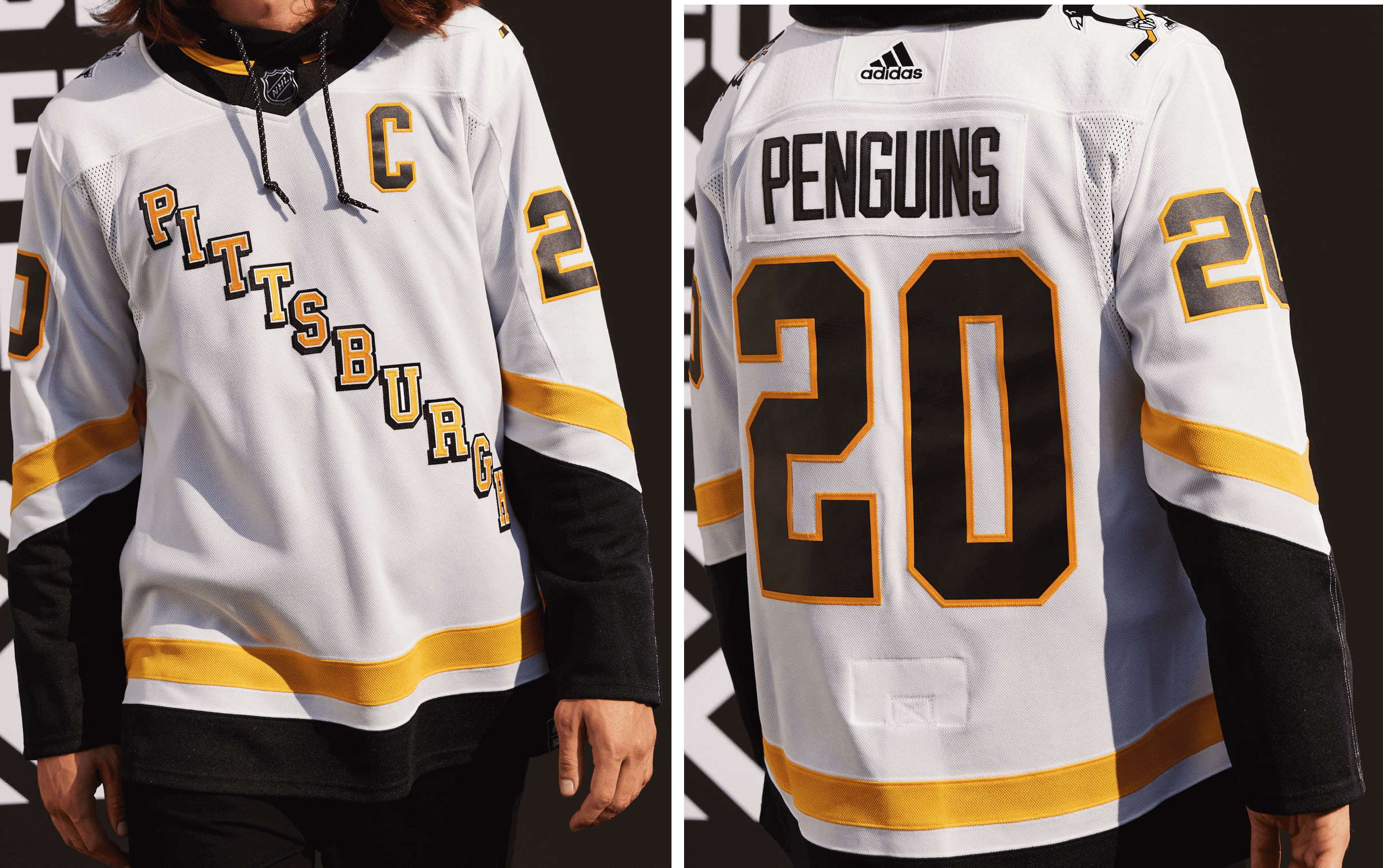 Inspiration: 1997, the last season before Mario Lemieux's first retirement.

Mario Lemieux captured his sixth scoring title in 1997, wearing this jersey. The growing popularity of the team, and the superstars who wore it, made the Penguins jersey a fashion statement and cultural juggernaut, with notable appearances in music videos and other mediums.
Paul says: When viewed in a vacuum, this isn't a bad-looking design. But doing a white version of this black jersey, which was itself a riff on the original Pens jersey, which in turn was a riff on the Rangers' jerseys is like doing a photocopy of a copy of a copy of a copy — too many generations removed from the original to feel crisp or inspired.
———
Washington Capitals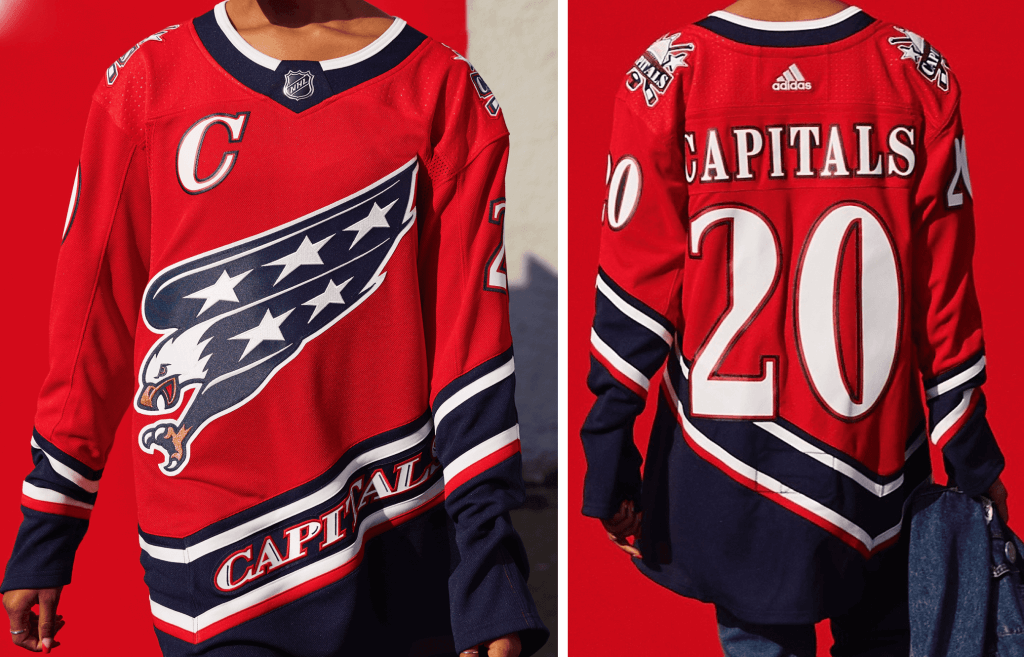 Reimagined in the patriotic colors of the flag, this iconic Reverse Retro look will remind fans of the 1997-98 Capitals team, comprised of great players Peter Bondra, Olie Kolzig and Calle Johansson. Originally part of a Capitals rebrand that included switching to a lighter shade of blue, this patriotic sweater will finally be made in current Capitals red, white and blue — perfect for Caps fans who like to Rock the Red.
Paul says: Never liked the screaming eagle, never like seeing a team name on the lower part of the jersey. Looks even worse in this garish red treatment than it did in the original color scheme.
———
CENTRAL DIVISION
Chicago Blackhawks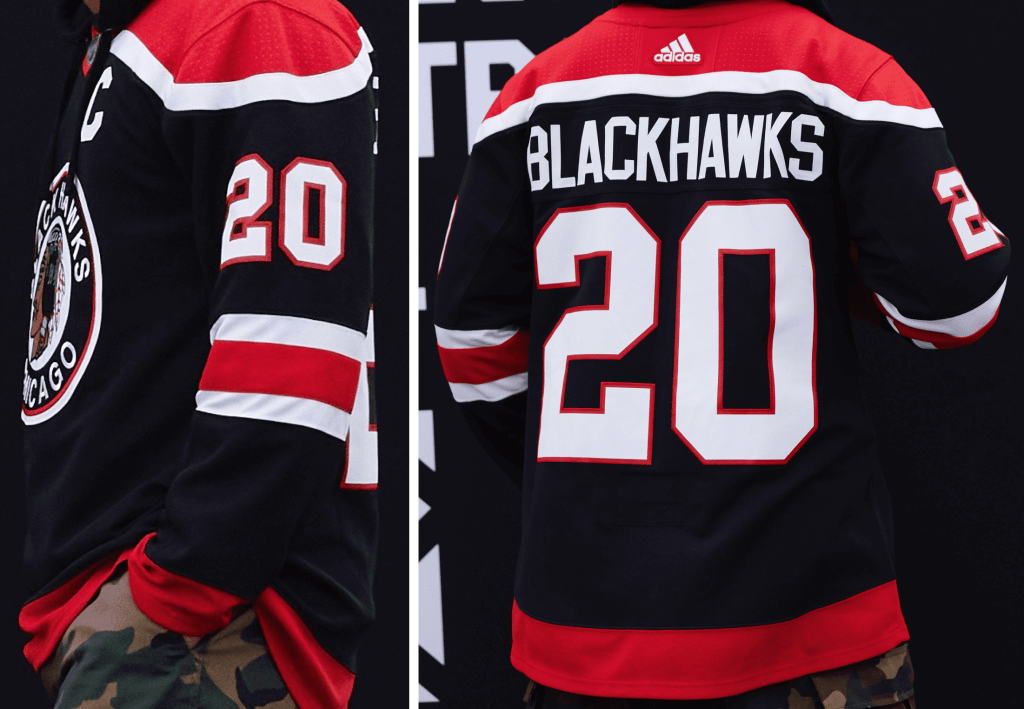 The Blackhawks Reverse Retro edition is a take on the secondary white jersey to the barber pole-striped style worn from 1937-1955. It has never been used in this colorway.
Paul says: So this is interesting: Adidas didn't provide a full-frontal view for this one in the package of advance materials they sent me last week. I figured that was just an oversight (press materials sometimes have little glitches like that), so I asked my Adidas rep, who said he'd see if anything could be done. Never heard back after that. Fast-forward to yesterday, when the official unveiling took place and all 31 teams tweeted little promo videos of their RR jerseys. The Blackhawks' video provides only the briefest glimpse of the front jersey view:
Crafted for the Windy City.

Introducing the #Blackhawks adidas #ReverseRetro jersey. Hitting the ice in 2021. pic.twitter.com/RQiNU5MkIL

— Chicago Blackhawks (@NHLBlackhawks) November 16, 2020
So there was no front view in the press kit and barely any front view in the promo video. That can't just be a coincidence — seems like folks at Adidas and/or the league and/or the team are getting uncomfortable with the Native American mascot logo. Good.
———
Colorado Avalanche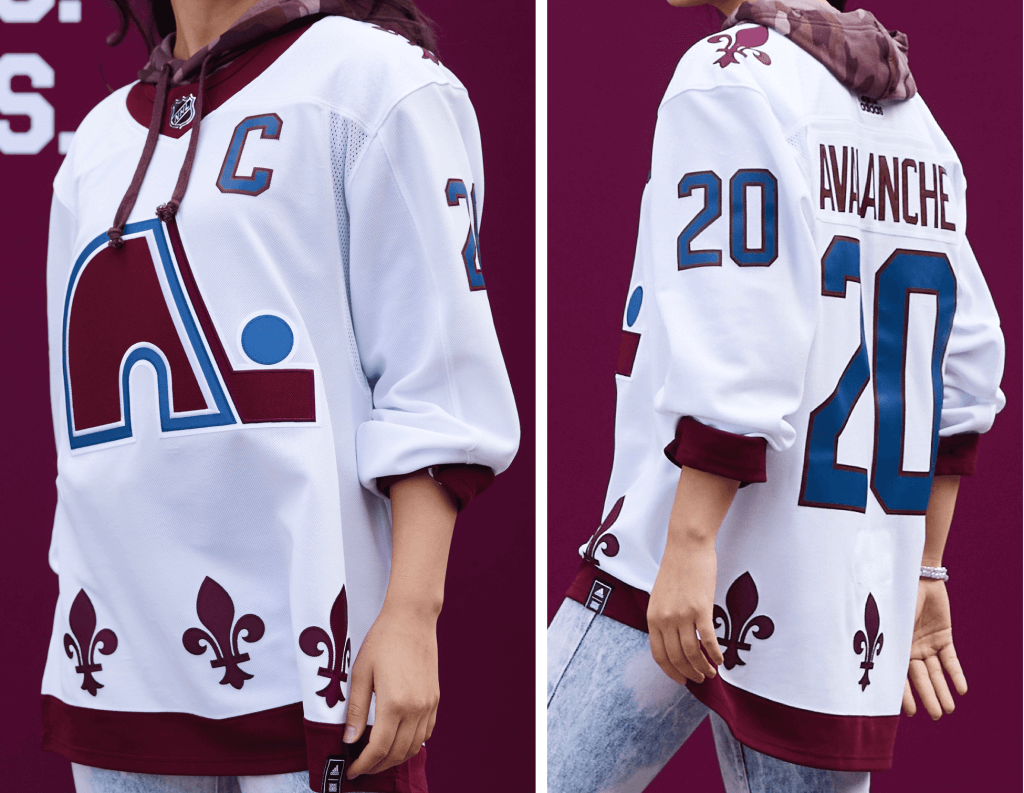 Inspiration: 1979, the inaugural NHL season of the franchise known as the Quebec Nordiques.

Features the famous Nordiques igloo logo. Rather than stripes, the hem features a unique graphic design of multiple fleur-de-lis — a nod to Quebec's French culture. The Nordiques prided themselves as being among the most-Northern Teams and now this jersey will be worn by the team playing in the highest elevation. One of the few Reverse Retro jerseys in snowy white, a nod to the Northern Nordiques and the frosty elevation Avalanche. Worn by Hall of Famers Michel Goulet, Peter Forsberg and Joe Sakic.
Paul says: Although I'd prefer the original color scheme, anything that gets the old Nordiques logo back in circulation is A-OK with me! (My former ESPN colleague Greg Wyshynski has a good article about how this design came about.)
Also: I know some people don't like it when a relocated franchise uses a logo from its previous city. Speaking as a Brooklynite, it's never bothered me when the Dodgers have worn Brooklyn throwbacks, or when any other team does something similar. Throwbacks are, among other things, history lessons, and the Nordiques are part of the Avalanche's history. But I understand why it ruffles some people's feathers, and I think reasonable people can disagree on that point.
———
Dallas Stars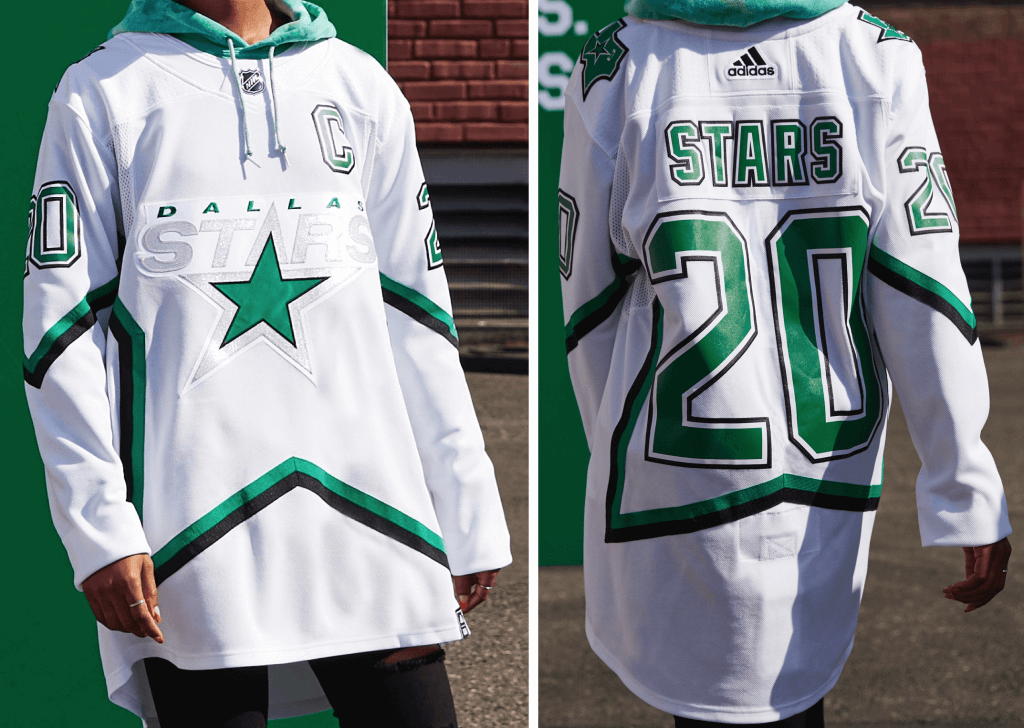 Inspiration: 1999, the year the Stars won the Stanley Cup Championship.

The stars at night are big and bright indeed! Dallas wore the original road green version of this big star jersey design in Buffalo for their iconic 1999 Stanley Cup victory, but it was never as bright as this icy all-white version. This Reverse Retro jersey brings the current Stars colors to this fan favorite that conjures up special memories of that 1999 victory.
Paul says: No matter how much you describe something as "icy," silver on white doesn't work. Next!
Update: This white jersey will apparently be worn with white pants and socks:
The Stars will be wearing white pants and gloves with the Reverse Retro. pic.twitter.com/cs5XNtHtME

— Matthew DeFranks (@MDeFranks) November 16, 2020
———
Minnesota Wild
Inspiration: 1978 — unique combination of the North Stars' 1978 jersey with the current Minnesota Wild crest.

This Reverse Retro jersey is the first time the beloved North Stars' green and gold colorway has been worn by the Minnesota Wild, complete with era-specific drop-shadow numbers. Legends in the North Stars organization, including Mike Modano, wore these colors while playing in the Twin Cities.
Paul says: Pure genius here — it all works, and the old North Stars-style numerals really tie it all together. First-rate!
———
Nashville Predators
This remix revisits 1998, the Predators' first season in the NHL. The speed nicks in the numbers, striping pattern, and crest pay homage to the original jersey, while a textured silver sleeve fabric brings a fresh twist to the design.
Paul says: Mighty similar to the team's current home jersey. Another example of a jersey that isn't necessarily bad but has no compelling reason to exist.
———
St. Louis Blues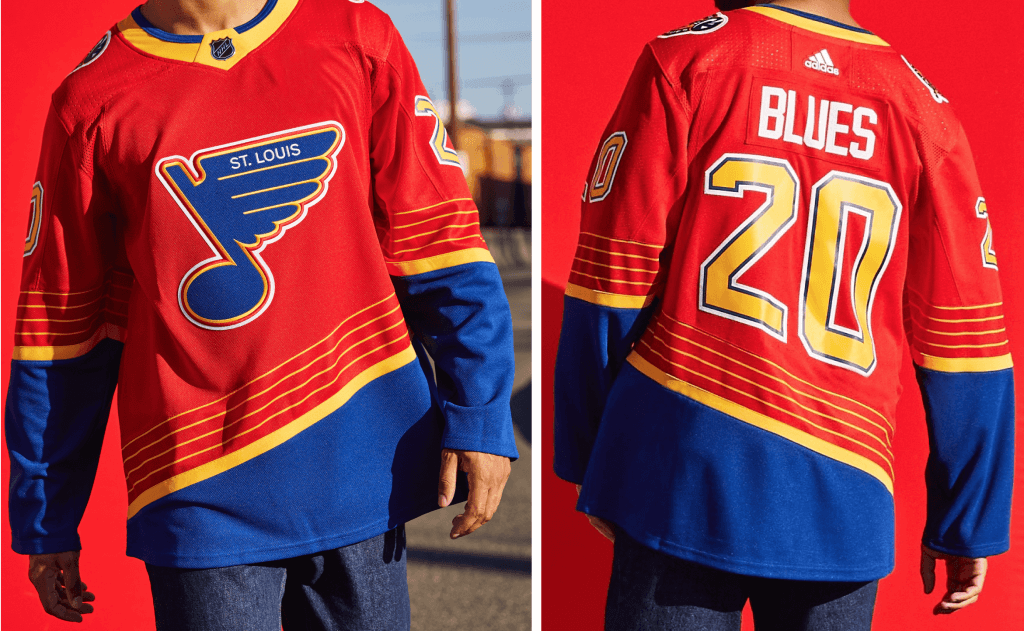 The Blues blast out the nostalgia again in this red Reverse Retro version of this classic 1995 jersey. Some of the greatest Blues sported the original uniform, such as Hall of Famers Wayne Gretzky, Grant Fuhr, Brett Hull, Al MacInnis and Chris Pronger.
Paul says: Tell you a little secret: I always loved the original white and blue versions of this template. So in theory I'm cool with this one, but in practice it makes no sense to have a red jersey for a team called the Blues! Come on, people — think!
Also: It would've been so much cooler if they'd found a way to revive the old trumpet-themed prototype design instead. A missed opportunity.
———
Winnipeg Jets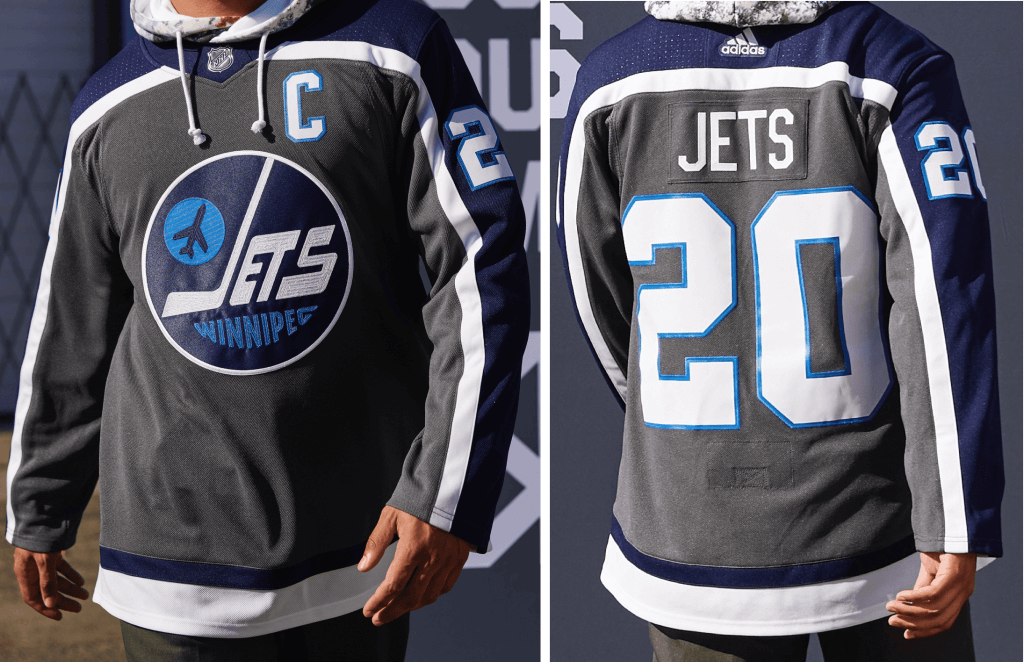 Inspiration: 1979, the Jets' first year in the NHL.

This Reverse Retro jersey combines the classic style with the team's current colorway. A throwback to 1979, honoring the Jets' first year in the league. This remixed design integrates the iconic heritage plane crest with the bold "Winnipeg" lettering. Remastered in fighter grey, this jersey takes the classic heritage look that the 1980s-era Jets wore, including legend Dale Hawerchuk, and gives it a modern twist.
Paul says: I'm surprised by how much I like this. The two shades of blue and the white both work really well against the charcoal base color. A sleeper hit!
Also, to their credit, the Jets posted a photo of the entire uniform, which confirms my initial thought that his design works surprisingly well: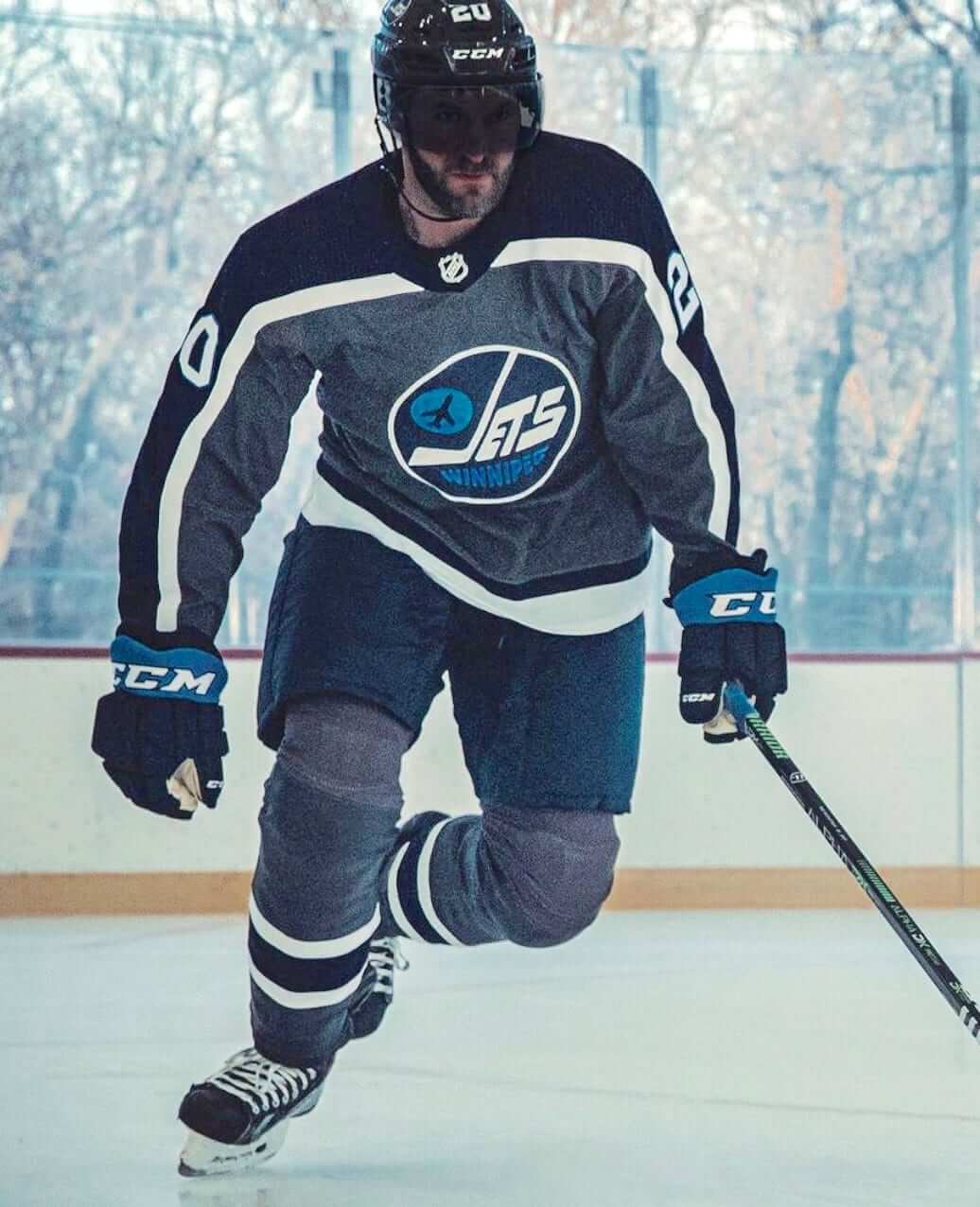 ———
PACIFIC DIVISION
Anaheim Ducks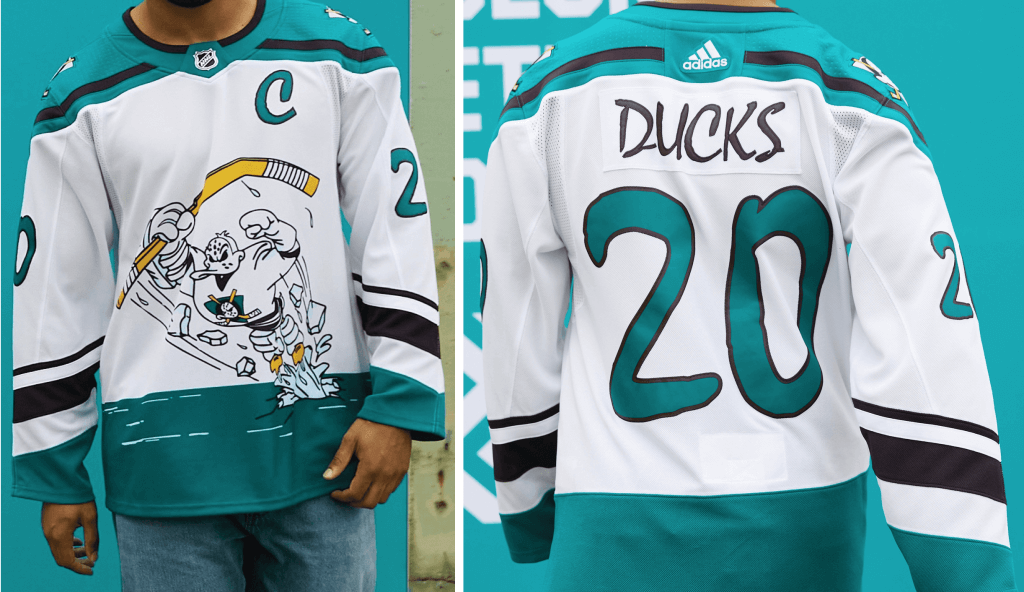 Inspriation: 1995, the Ducks' third year and first third jersey.

Fans often refer to this jersey as "Wild Wing," as it features the team's mascot, Wild Wing, breaking through an ice hem stripe.

The lettering was unique to that one jersey which has not been used on an authentic jersey since. The original version continues to be one of the team's most requested by fans at retail. It is the only Mighty Ducks jersey to feature sublimated artwork and the only jersey to feature the team's mascot.
Paul says: Wild Wing in white — what's not to like? A natural for the RR program. Well done.
———
Arizona Coyotes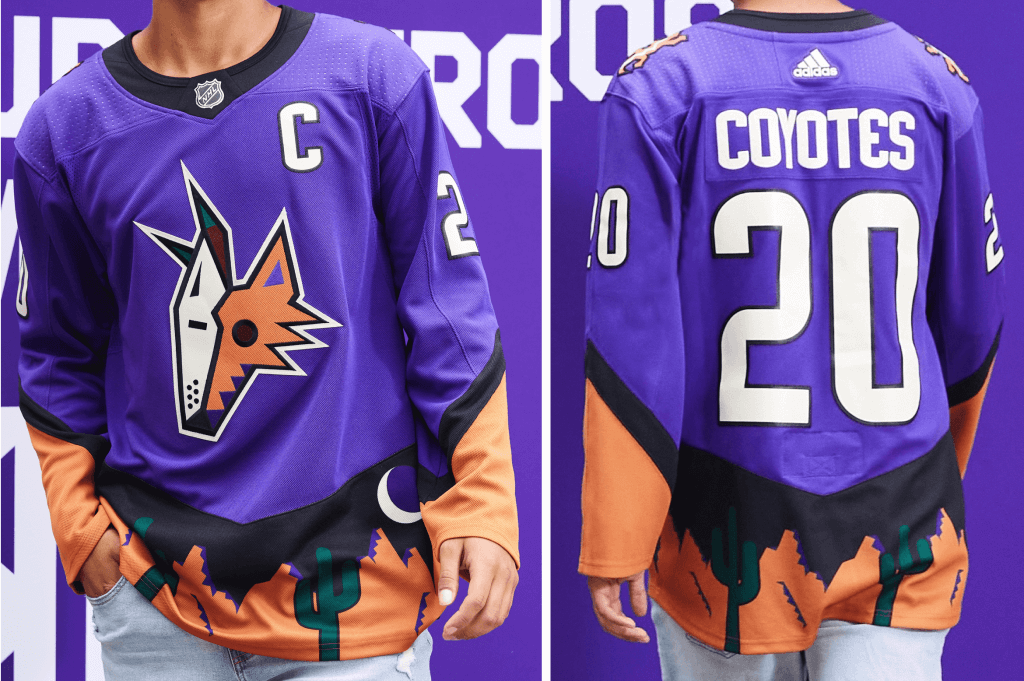 Inspiration: 1999, the Coyotes' third year and first third jersey.

Instead of traditional striping at the hem and cuff, this Reverse Retro jersey features a graphic depiction of the desert. A unique treatment as the Coyotes brought hockey to the desert and this jersey brought the desert into the hockey rink. This jersey features hem artwork that incorporates the Coyotes' crescent moon logo as part of the landscape and a unique lizard shoulder patch.
Paul says: Nope, nope, nope. I can deal with green accented by purple, but not the other way around. No can do.
———
Calgary Flames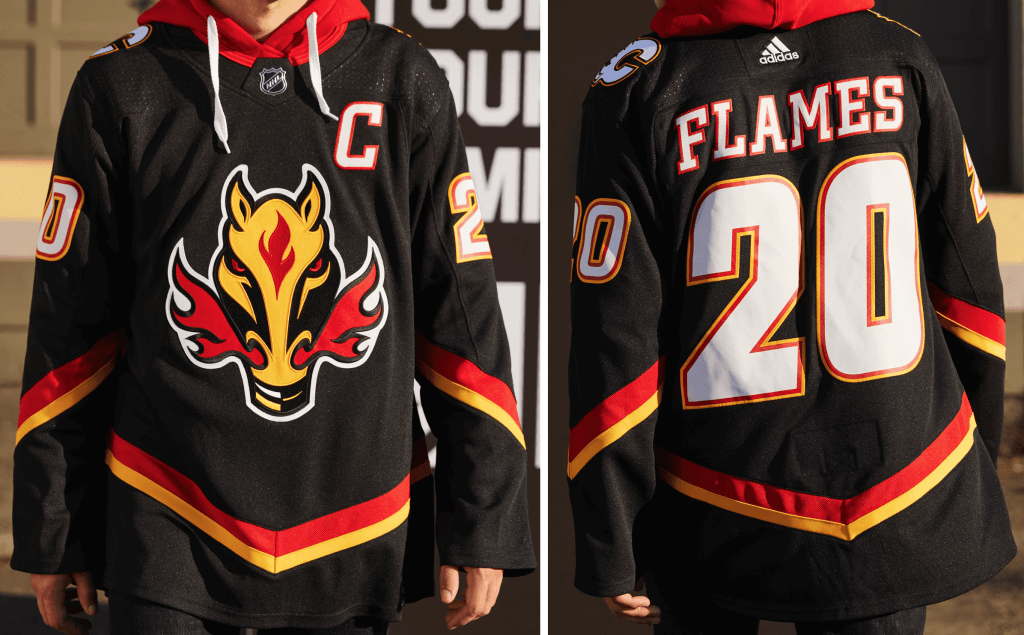 Inspiration: 1998, the Calgary Flames' first third jersey and first time a Flames jersey did not feature the iconic "Flaming C" as the front crest.

Originally celebrated Calgary's Western culture. The original version of this Reverse Retro jersey became the team's home jersey from 2000-2003.
Paul says: Forgive me if I'm missing something, but what exactly is the color-swapped aspect of this one? It's nearly a straight throwback. All retro, no reverse.
———
Edmonton Oilers
Inspiration: 1979, the Oilers' inaugural season in the NHL.

The debut jersey of The Great One, Wayne Gretzky. The first time the Oilers have ever worn an orange yoke on a white jersey. This Reverse Retro jersey features the vintage colors worn in 1979 and previous classic Oilers jerseys.
Paul says: As mentioned in the press notes, they've swapped the usual blue yoke for orange. Ditto for the NOB and number colors, plus they've also inverted the sequence of the sleeve and belly stripes. All of which is fine, but maybe they should've gone all the way and inverted the crest colors as well, no?
———
Los Angeles Kings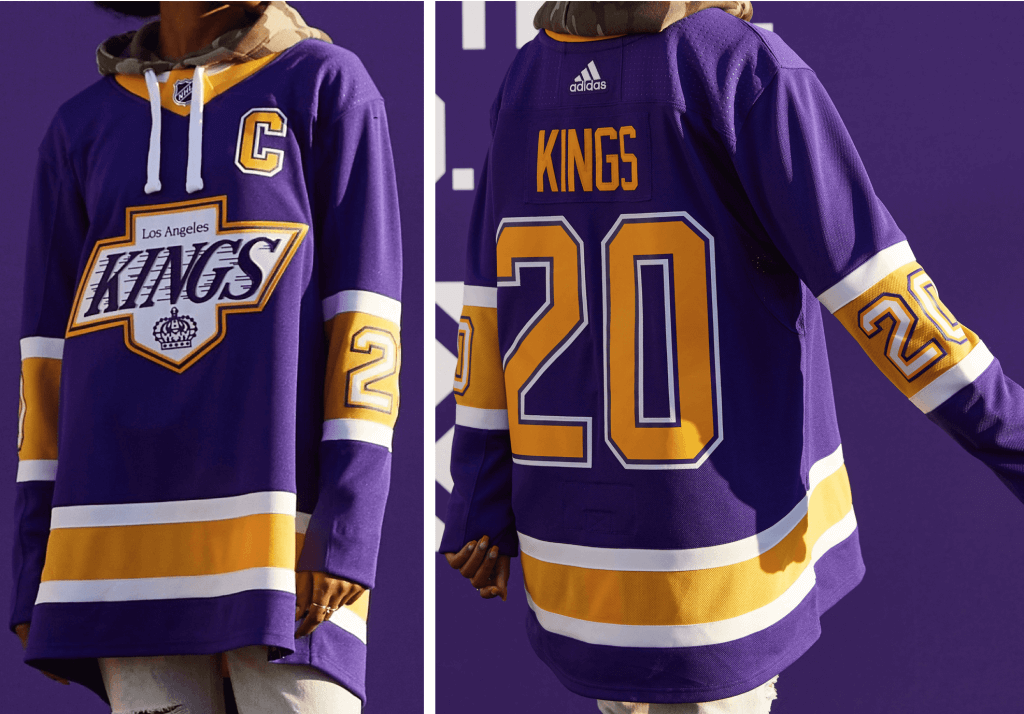 Inspiration: 1989, the year that Wayne Gretzky became the NHL's all-time leading scorer.

This Reverse Retro Jersey features the team's beloved crest, an homage to the '90s era of LA Kings hockey. The throwback look is combined with the founding LA Kings Forum Blue and Gold colors, a tribute to the team's original uniforms in the '60s and '70s while also highlighting a favorite color combination of Los Angeles sports fans.
Paul says: That crest will never look good in any color combo, but it really falls flat against the bold purple and yellow. More importantly, why didn't they do something with the Burger King design?! Come on, people, that should've been a lay-up!
———
San Jose Sharks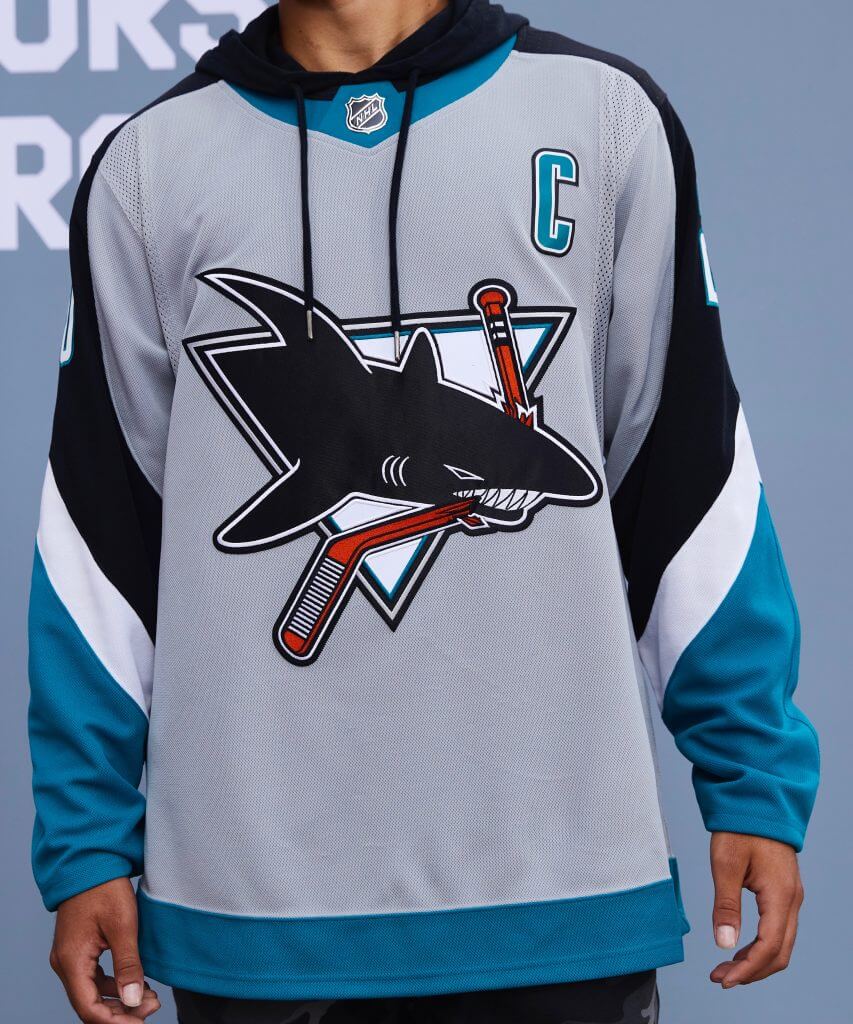 The Sharks' first third jersey circles around to take another bite in this Reverse Retro jersey. Sharks' recognizable crest, combined with sleeve numbers and point accents, brings back classic vibes from the team's 1998 season.
Paul says: I don't usually care for grey uniforms, but this one works for me — not bad! (Sorry, they didn't provide a rear view of this one.)
———
Vancouver Canucks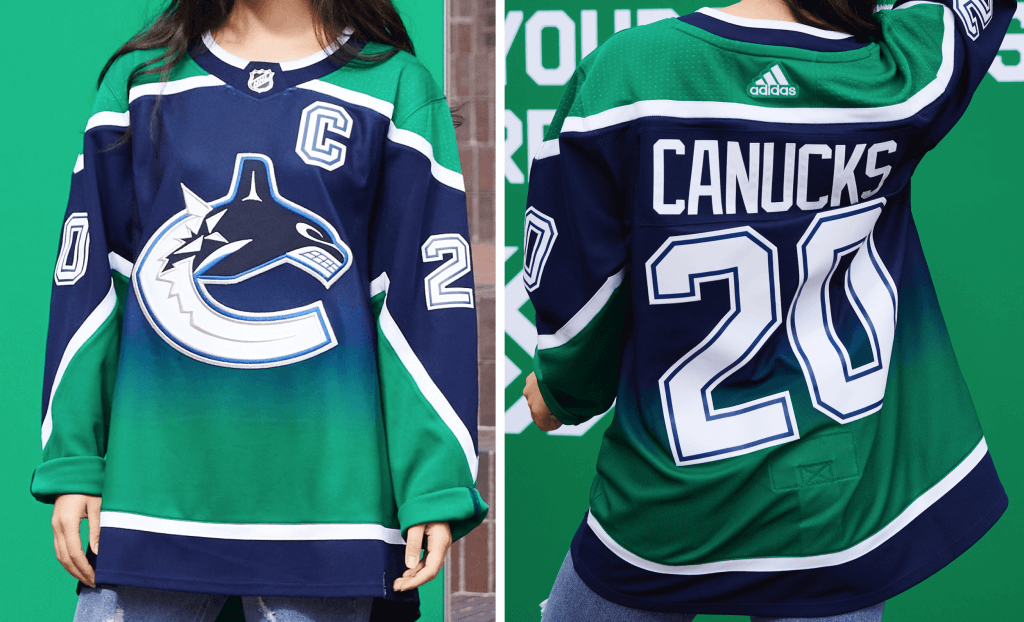 Originally red, this colorful jersey marked the beginning of an exciting new Canucks era in 2001 — and now does again in 2020 — in the team's iconic Pacific Northwest colorway.
Paul says: Reimagining the original design's blue-to-red gradient in the team's current colors is amusing (and an improvement!), but this team has soooooo many interesting chapters in its design history — the stick-in-rink logo, the flying V, the neon skate — so it's disappointing that they decided to riff on the orca instead of one of those other themes.
———
Vegas Golden Knights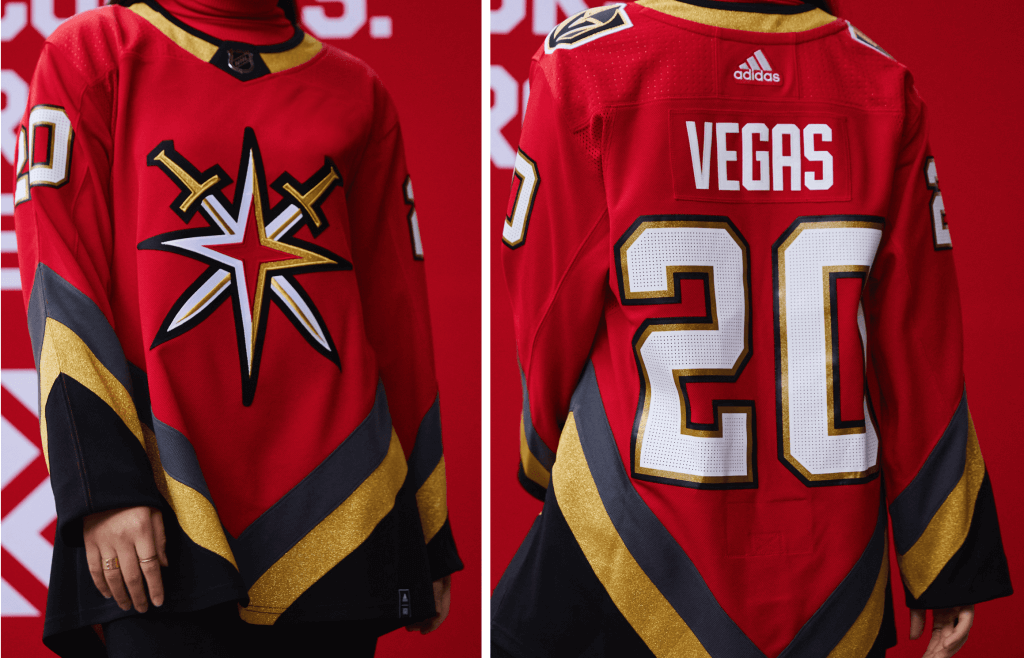 Inspiration: 1995 — pays homage to Las Vegas Hockey history.

Inspired by the pioneers of hockey in the desert, the Golden Knights Reverse Retro jersey pays homage to the teams and players that paved the way in Vegas while breaking new ground for the Knights.

The red color and stripe pattern derived from the past pro hockey franchises within the Las Vegas area and their players. … This will be the first time Vegas wears completely new stripes, not just recolored versions of their existing striping. It will be the first time they wear a red jersey and it will be the first time their beloved secondary mark appears as a jersey crest. It is a tribute to the pioneers of the past in a sparkling new sweater for the future. A combination that can only be seen in Vegas!
Paul says: I get that they don't have a history to draw upon, but this feels like a minor league jersey.
———
So that's my take. I imagine some of these will look a bit better or a bit worse once we get to see the pants, socks, and helmet colors. Here's hoping that happens soon.
It's not yet clear to me how often the RR uniforms will be worn for the upcoming season, or how long they'll remain in the teams' wardrobes. Like, will they become long-term fixtures? Will they turn over every year or two, like the NBA's City and Statement alternates? To my knowledge, that info has not yet been been posted, so stay tuned.
(My thanks to Joey Slattery for the full-uni Jets image, and to Adidas for their assistance.)
• • • • •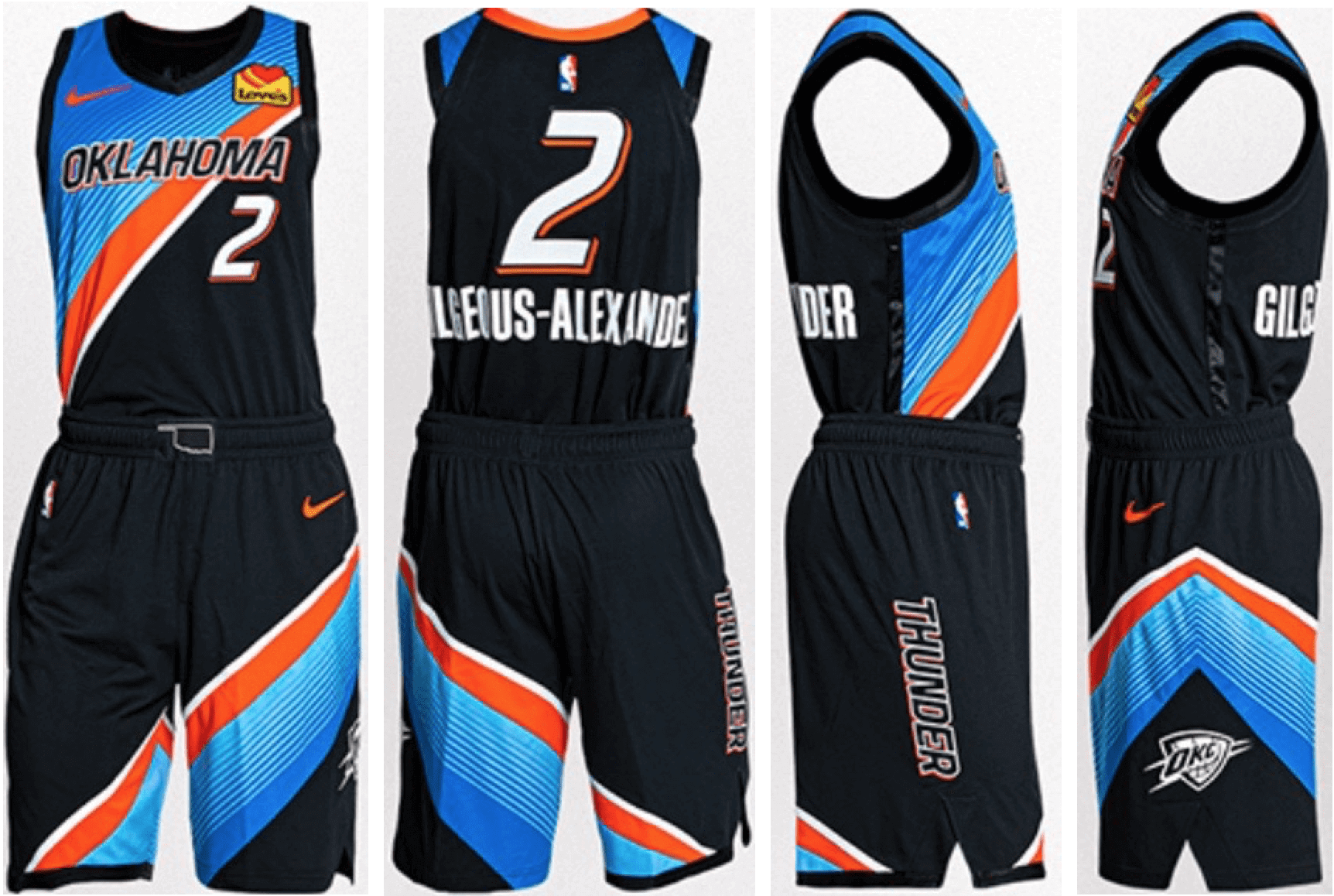 • • • • •
Click to enlarge
NBA update: The Thunder yesterday became the latest NBA team to unveil a new City alternate (additional photos/info here). Something about this one feels very NASCAR to me — like, I could envision that diagonal-themed design working as a car livery.
Meanwhile: Ace NBA leaker Igor Coelho (who I interviewed earlier this month) has now leaked the Celtics' City alternate, which is based on the team's championship banners:
🚨 VAZOU!

Este é o novo uniforme City Edition do BOSTON CELTICS.

Cores tradicionais e um layout com referências importantes para a franquia!

Ele se propõe a reproduzir os banners que representam os títulos dos Celtics e homenageou Red Auerbach com uma frase na barra da camisa. pic.twitter.com/A274MZqpNs

— Camisas da NBA (@camisasdanba) November 16, 2020
And while we're at it, Igor also has a leak of the Heat's new (and absurd) Miami Vice-themed alternate:
🚨 VAZOU!

Estas são as primeiras imagens da nova camisa City Edition do MIAMI HEAT.

Mais uma versão de um dos uniformes preferidos do público! Nesta, o rosa e o azul foram misturados para criar um efeito gradiente em toda a camisa.

O que vocês acharam? pic.twitter.com/JNfHunWBkA

— Camisas da NBA (@camisasdanba) November 15, 2020
• • • • •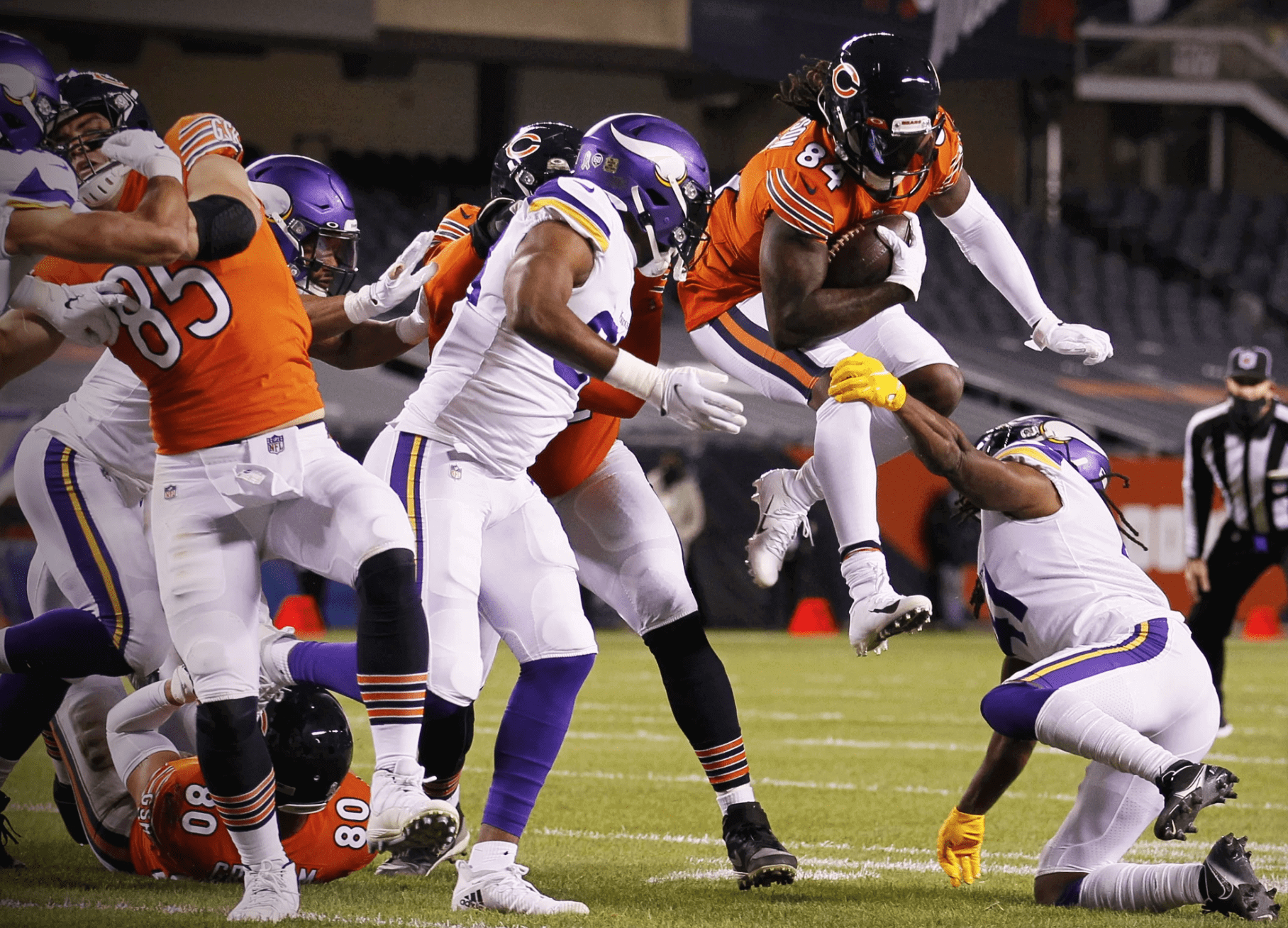 • • • • •
Click to enlarge
Rare sight: Last night's Vikings/Bears game was uni-notable on two levels. First, the Bears wore their orange alternate jerseys for the second and final time this season. And second, the Vikings went mono-white for the first time since their 2015 season opener. In fact, according to the Gridiron Uniform Database, that 2015 game (which you may have blotted out of your mind because it also featured the 49ers going BFBS) was, somewhat incredibly, the only previous instance of the Vikings wearing white over white since introducing their current uni set in 2013. All of their other white-jerseyed games since then have featured the purple pants. Who'da thunk?
• • • • •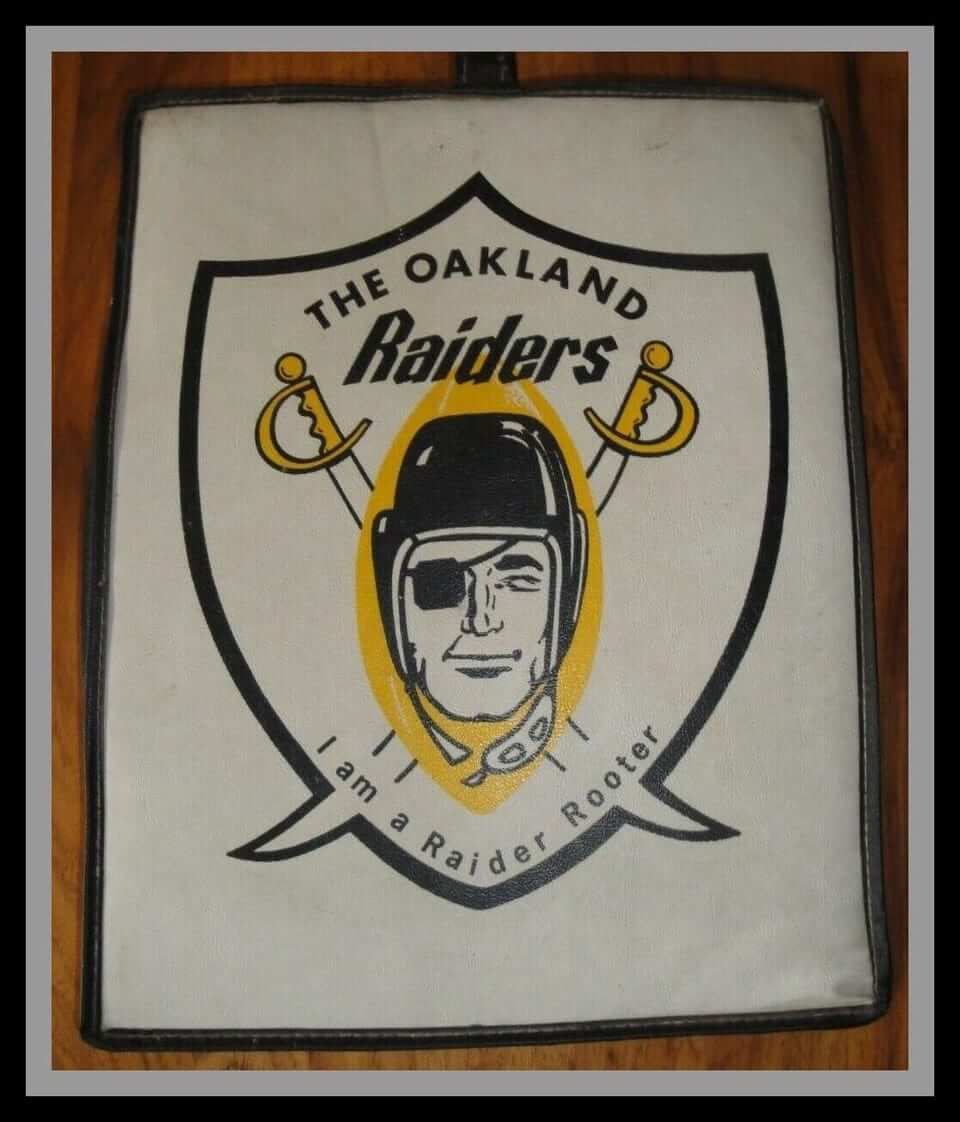 • • • • •
Click to enlarge
Collector's Corner:
By Brinke Guthrie
Follow @brinkeguthrie
Just bid, baby.  Here we have a 1960 Oakland Rayduhz seat cushion, so you too can be a "Raider Rooter." (As opposed to, say, a "Roto Rooter.") Note their original logo included the yellow.
Now for the rest of this week's picks:
• Got a few products this week that were endorsed by the pros! Let's start off with this 1986 Dodgers toothbrush and toothbrush holder, endorsed by Dave Winfield (who never played for the Dodgers, but whatever). The brush is shaped like a Louisville Slugger baseball bat.
• The late great Lou Brock of the St. Louis Baseball Cardinals came up with what has to be a unique item in the history of athlete endorsements: Ladies and gents, the Brockabrella.
• Niners great Joe Montana put his (replica) signature on this Nerf-like foam football from Bay Area department store chain Mervyn's California.
• From the 1960s: Bobby Hull says, "Keep your skates razor sharp with the Bobby Hull Skate Sharpener!
• Take it from Mickey Mantle: The Dynasonic car alarm is total protection for your car and its contents! It's "The Deluxe Electronic Protect-O-Matic Synchro Multi-Phase Auto Alarm System." I have no idea what that means.
• The late Thurman Munson endorsed this regulation baseball-size Wiffle Ball.
• Okay, moving on from the endorsement scene, take a look at these 1940s Wilson high-top basketball shoes. A far cry from today's sleek high-tech Nikes, right? (Notice the Wilson logo — still the same after all these years.)
• Check out this great-looking 1950s Montreal Canadiens "wool jersey."
• The always-crazed-looking Pat Patriot graced the side of this "All-Star Sports Bag."
• Be a part of the Monday Night Football crew with this ESPN/MNF cap.
• With cold weather here, check out this page of MLB blankets made by Biederlack. I have one of their blankets from 1982 and it's excellent quality!
• And from reader Will Scheibler, check out this late-1990s NBA sleeping bag! Okay, so the jerseys shown on the sleeping bag aren't exactly the same ones that the teams wore, but it's still pretty great!
Got an item to include on Collector's Corner? Tweet submissions to @brinkeguthrie
• • • • •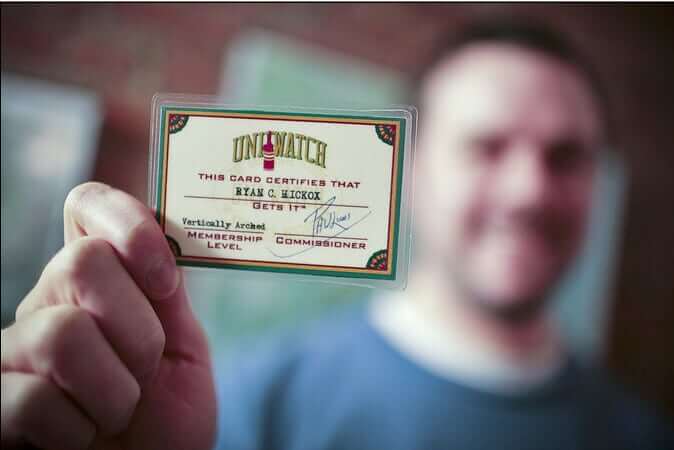 • • • • •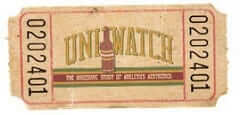 ITEM! Yet another membership raffle: Reader Chris Pedersen has generously purchased two Uni Watch memberships for me to raffle off, so that's what we're going to do today.
This will be a one-day raffle. No entry restrictions. To enter, send an email to the raffle address by 8pm Eastern tonight. One entry per person. I'll announce the two winners tomorrow. Big thanks to Chris for doing this!
Meanwhile, the two winners of yesterday's membership raffle are Jonah Reyes and Steve Cecil. Congrats to them, and big thanks to reader David Staples for sponsoring that one.
• • • • •
• • • • •
The Ticker
By Alex Hider

Baseball News: Mo Gaba was a young man from the Baltimore area who had several bouts with cancer. He also became a local celebrity by often calling into local sports radio talk shows. Gaba died in June, and the Orioles are planning to honor him with his own talking bobblehead next season (from Matt Rashfordb). … An Astros fan turned a chicken coop into a replica of the Astrodome (from Timmy Donahue).

Pro Football News: Vikings WR Adam Thielen wore Alex Trebek tribute cleats during pregame activities last night (thanks to all who shared). … According to the The Green Bay Press-Gazette, the Packers will not be adding memorial decals for former RB Paul Hornung and former CB Herb Adderley. Though both were Hall of Famers, the team typically wears memorial decals to honor Hall of Famers whose numbers have been retired by the team — though they are bending those rules to honor Hall-of-Famer Willie Davis with a No. 87 memorial this season (from Jeff Ash). … The Panthers Uniform Tracker has been updated. … "Can't unsee it" find by David Pasquini, who notes that if look hard enough, you can make out a guy on a bicycle within the facemask of the Browns' logo. … The Toronto Argonauts have a new logo — an updated version of their classic boat/football logo (thanks to all who shared).

College Football News: Louisville will be wearing throwbacks on Saturday (from ACC Tracker). … Eastern Kentucky and Western Carolina are facing off this weekend in a game dubbed the "Opportunity Bowl," which is being played in honor of Dr. Sheila Pressley, a WCU grad and EKU faculty member who died in January. Teams will wear a patch with the game's logo (from Robert Sampson). … FIU punter Tommy Heatherly has been wearing striped leg sleeves — leg warmers? — in recent games (from David E.).

Hockey News: Republicans in the Florida House of Reprentatives celebrated winning the majority in the chamber with a commemorative hockey sweater featuring an elephant crest (from @NoelBlahab). … One of the caddies at The Masters wore a Stars shirt under his jumpsuit over the weekend (from Trevor Williams).

Basketball News: The Suns traded resident cowboy and SF Kelly Oubre to acquire PG Chris Paul yesterday, meaning Oubre will never wear the team's new city uniforms on the court despite modeling them in promotional materials (from Rocky De La Rosa). … Speaking of the Suns, their arena is currently without a name after Talking Stick Resort chose not to extend its naming rights deal (from Adam Vitcavage).

Soccer News: Austin FC, which will begin play in MLS in 2021, is slated to unveil their new uniforms tomorrow (from David Wiechmann). … A caddy at The Masters this weekend was wearing a Leeds United shirt under his jumper (from @texastrevor).

Grab Bag: This New York Times piece explores the wearable tech pieces that pro and college sports teams are employing to try and prevent the spread of Covid-19 (from Tom Turner). … Apparel company Mitchell & Ness is working with Sports Illustrated on a line of T-shirts based on the magazine's classic cover designs (also from Tom Turner). … This feature explores the work of James Niehues — the artist known for his hand-painted ski slope maps (from Michael Sullivan). … The rest of these are from Kary Klismet: The Supercars Championship, an Australian touring car racing circuit, has a new logo … Ralph Lauren has signed a deal to become the exclusive outfitter for the Australian Open. … The Cowichan Valley School District in British Columbia has a new logo designed by a Native American artist and featuring symbolism significant to the local Cowichan Tribes.
• • • • •
• • • • •