Good morning, and happy Ides of March from Uni Watch HQ, where all three inhabitants continue to be safe and well. Hope everything is also good at your home.
I know most of you don't care about boxing, but I want to talk about it today because former undisputed world middleweight boxing champion Marvin Hagler (shown above in his 1986 title defense against John Mugabi) died over the weekend. He was my favorite boxer, in part because of his skills, demeanor, and professionalism, in part because of his combination of hand speed and power, and in part because he was the rare fighter who could switch back and forth between southpaw and orthodox — but mostly because of his aesthetics.
To me, Hagler always looked like the dictionary definition of a boxer: the sculpted body, the perfect physical proportions, the symmetry of his features, the bald head atop the naked torso. Plus I loved the striped tube socks, and I loved two things about his trunks: First, they were always tailored just right for his thighs and were therefore never too billowy. And second, the length of his trunks was always perfect.
Or so I thought.
Hagler's trunks look a bit short in that photo shown above, no? When I found that photo yesterday, I initially thought the short trunks must have been a one-fight aberration. But then I looked at his 1983 fight against Roberto Durán (click to enlarge):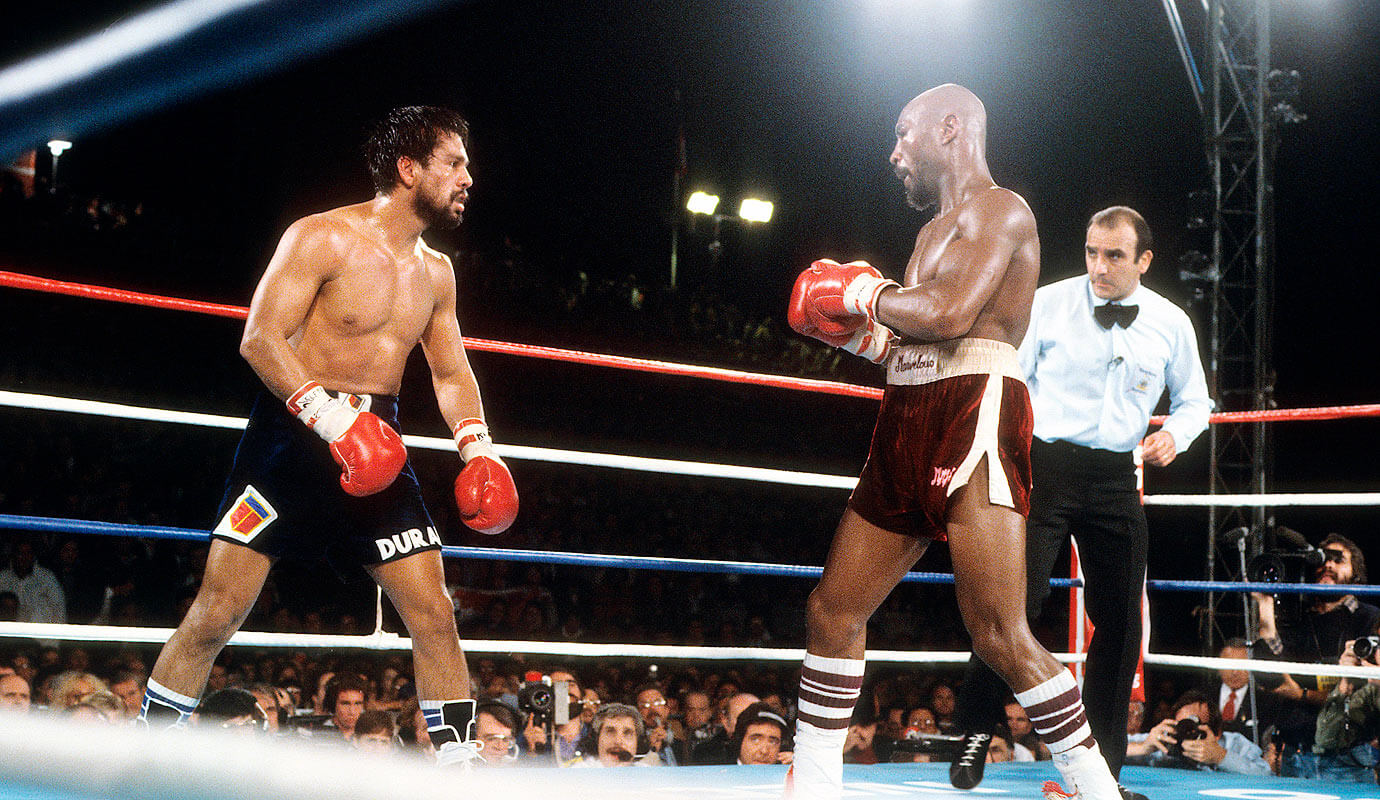 And then his 1984 bout against Juan Roldán:
And then his 1987 career finale against Ray Leonard:
Embed from Getty Images
And so on. In all of those bouts — and in every other Hagler fight I looked up yesterday — his trunks were classy-looking (and color-coordinated with his sock stripes!) but a bit shorter than I remembered. I really thought he wore them two or three inches longer, but he clearly didn't. This doesn't change the fact that Hagler was almost always the better-looking man in the ring, but his trunks definitely seem too short to me now. In some cases, the triangular cutouts on the sides allowed the trunks to ride up even higher, creating a loincloth-ish look, as seen in this shot from his 1983 bout against Wilford Scypion:
Embed from Getty Images
I watched all of Hagler's fights during this period when they happened, yet I had no memory of his trunks being too short. The only conclusion I can come up with is that my tastes have changed. In the 1980s, when I watched Hagler in real time, his inseam length looked Just Right. But now, several decades later, it seems slightly but consistently too short. I've always said that fashions may change but good design standards are eternal, but it turns out that my design standards can change with the fashions, at least in this case.
It's also interesting to see that as boxing trunks got longer, boxing socks got shorter, changing the leg exposure from the thigh to the calf — the exact same thing that happened in basketball.
Anyway: The trunks length notwithstanding, I still think Hagler looked like the consummate boxer. It was always a pleasure to watch him work. R.I.P.
Update: Shortly after I published today's entry, I learned that my friend and former cat-sitter Laura got to meet Hagler and his family when she was a kid because her father worked for a sporting goods company. Here's a sensational 1981 photo of her, at age 12, with Hagler (click to enlarge):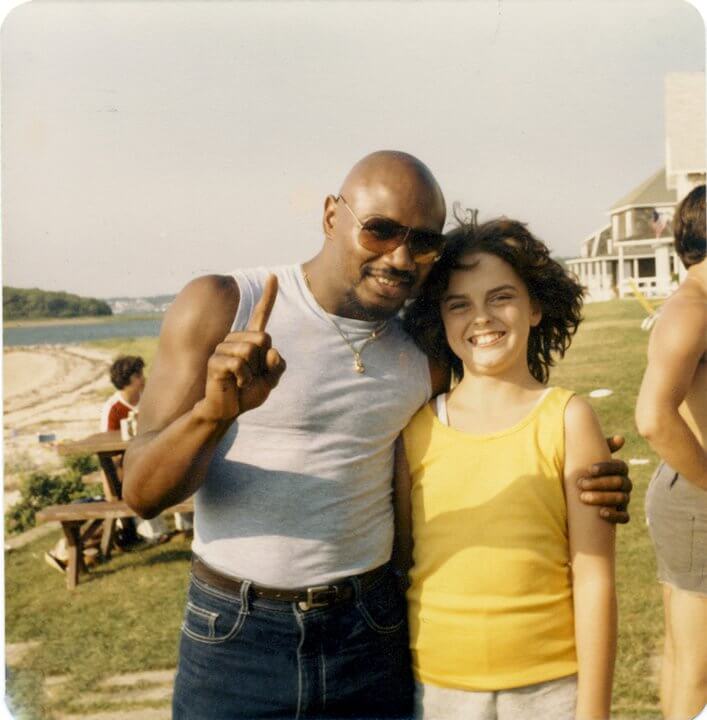 Oh man, is that pure gold or what?
• • • • •
• • • • •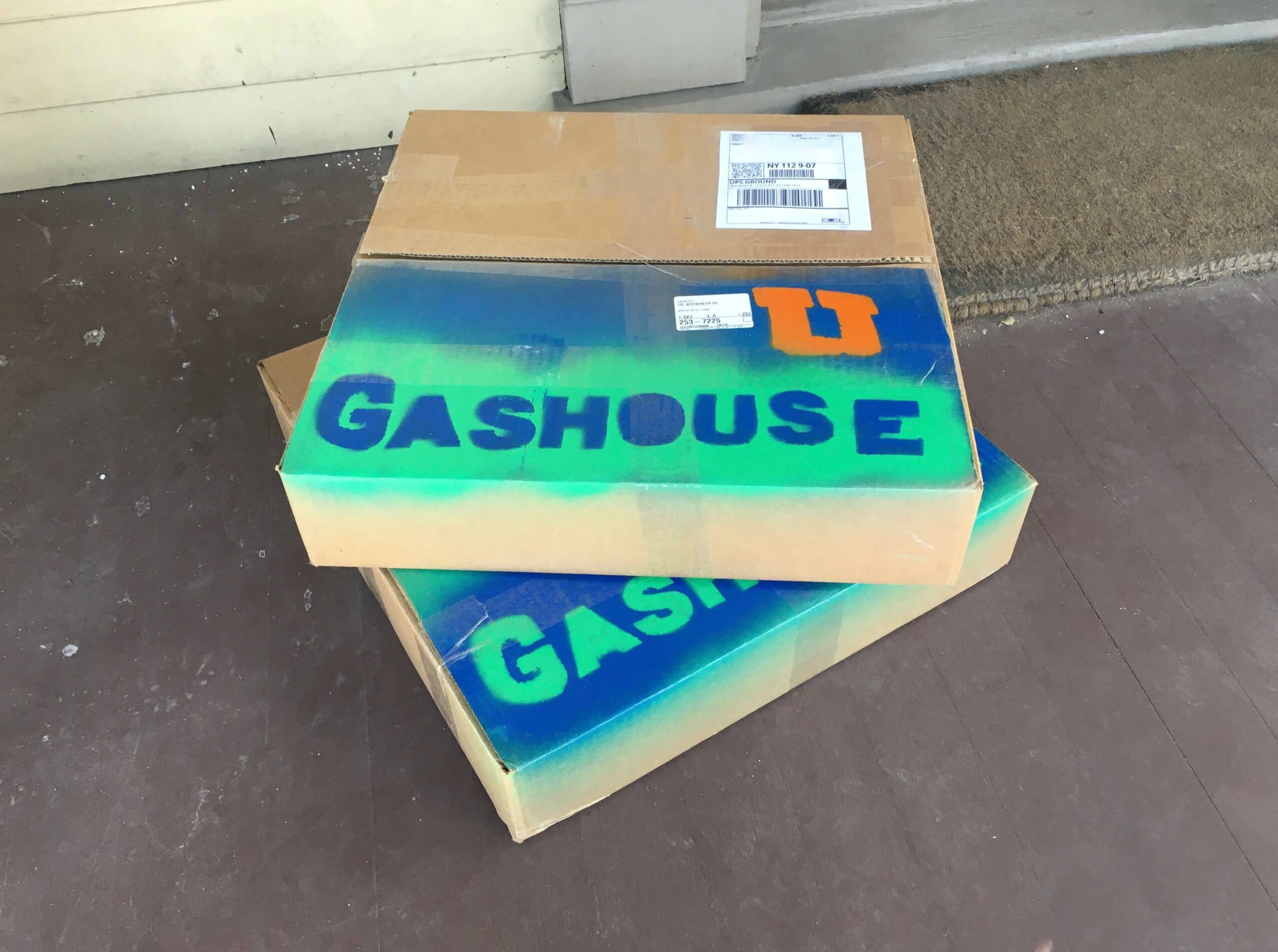 For all pics, click to enlarge
What have we here? A pair of large packages arrived at Uni Watch HQ on Friday with "Gashouse" stenciled on them — a sign that they were from 3D logo master Kevin Cearfoss. And what was inside? Let's have a look: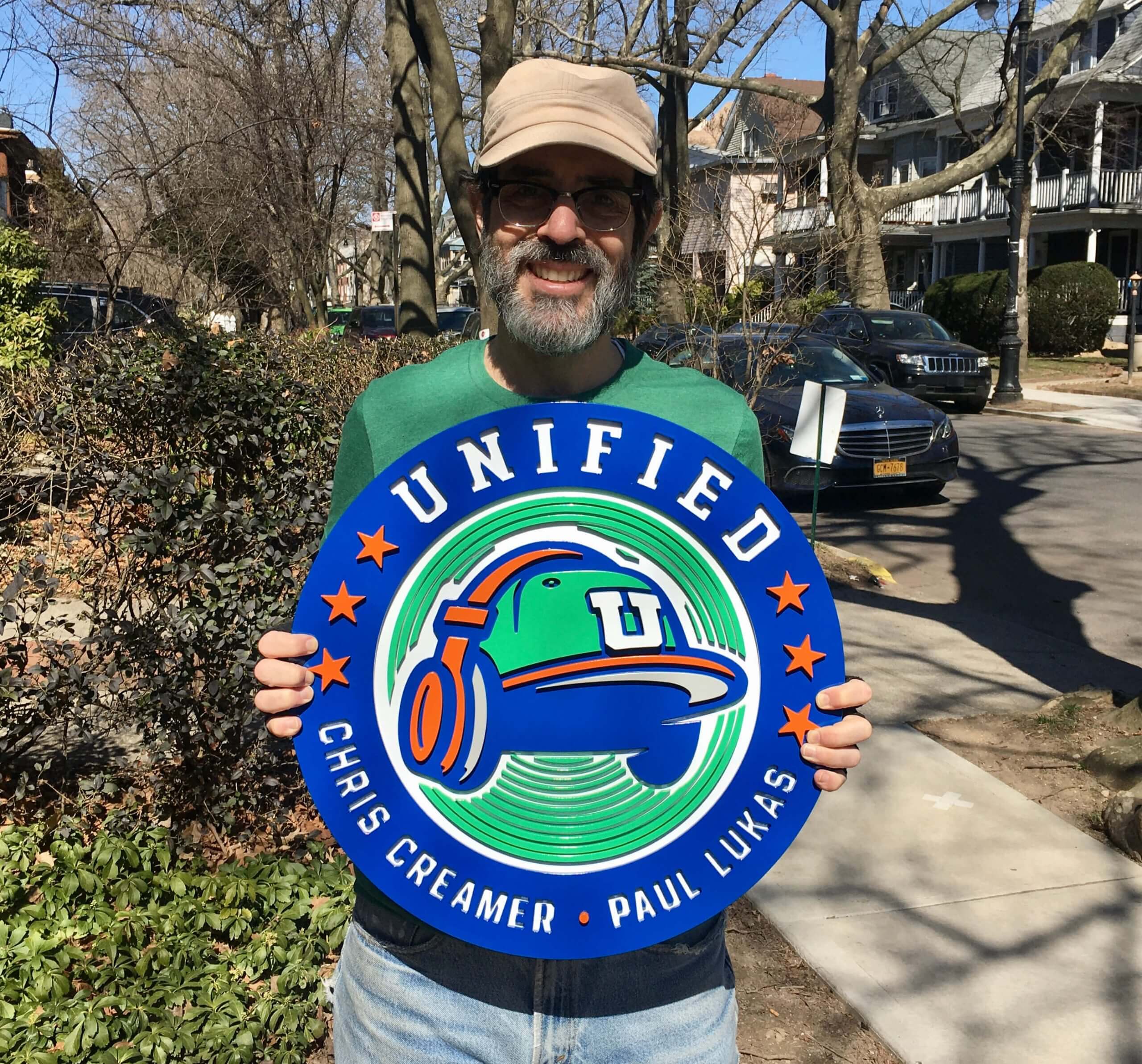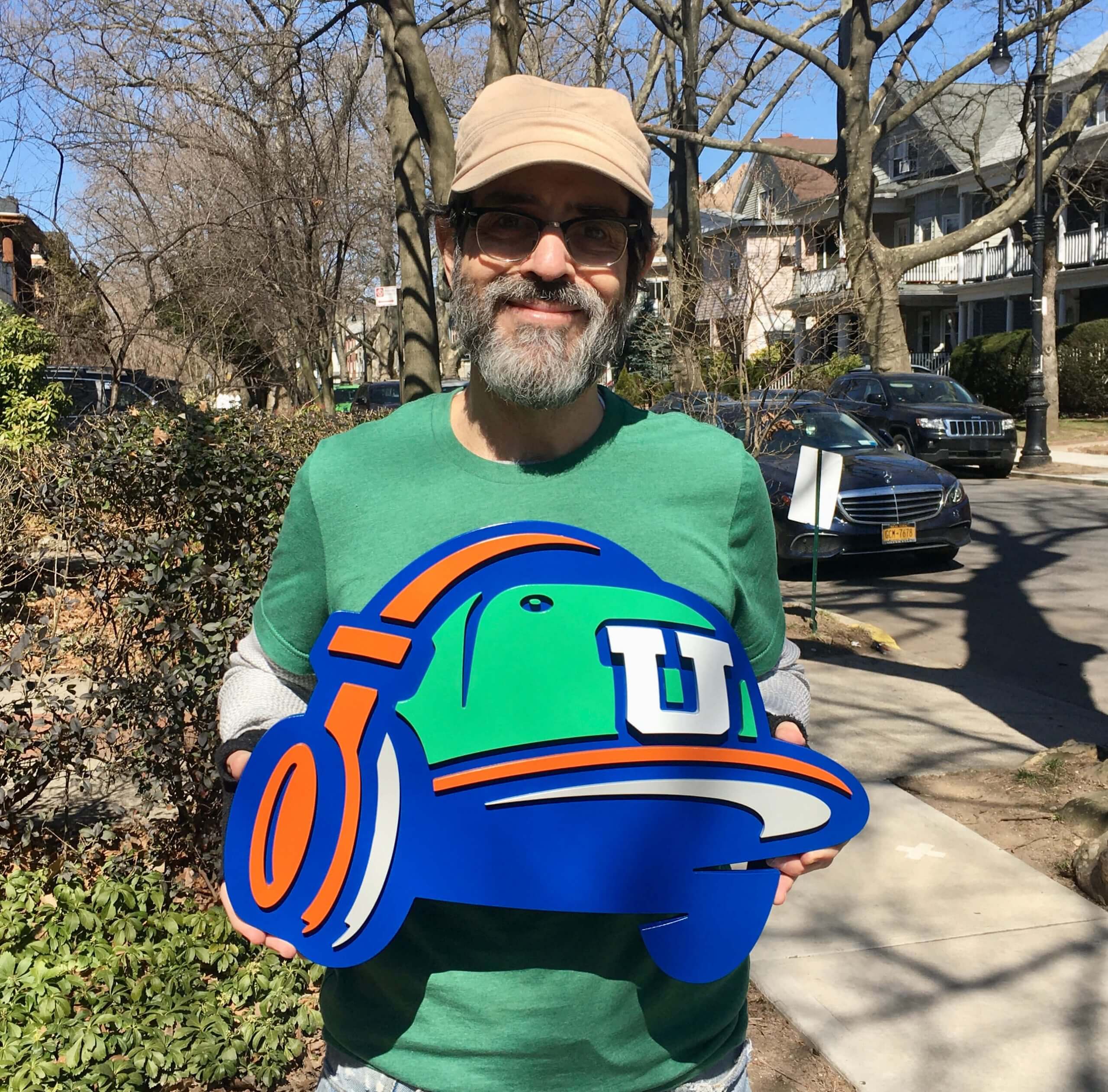 Oh, man — are those awesome or what? The primary logo is particularly impressive work, because of the lettering and all the little radio-wave arcs: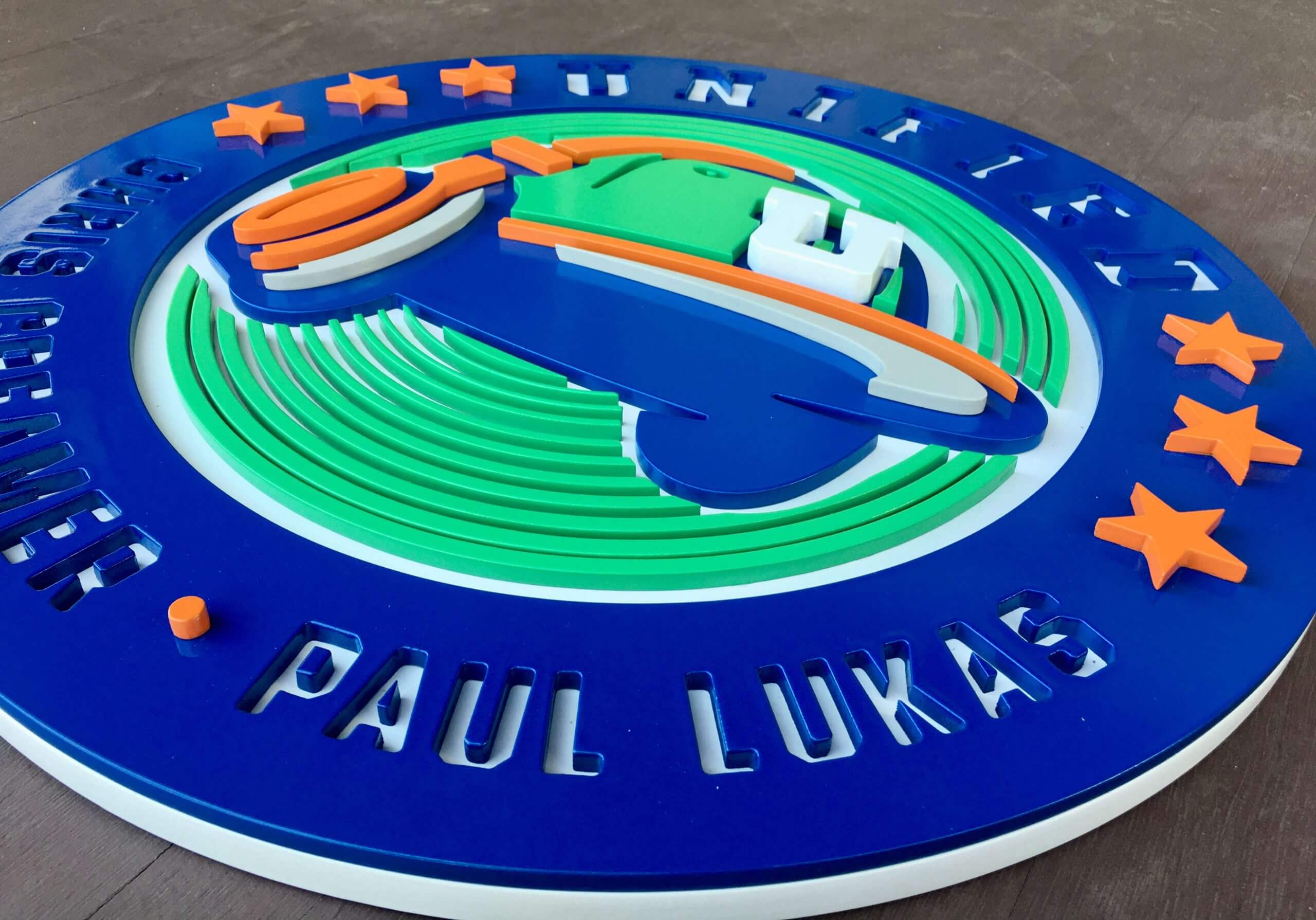 I should mention that Kevin took it upon himself to make these, just because he wanted to (thanks, buddy!). I don't think he'll do that for just anyone, but I do know that he takes commissions. You can see more of his logo projects, and also contact him, on Twitter.
• • • • •
• • • • •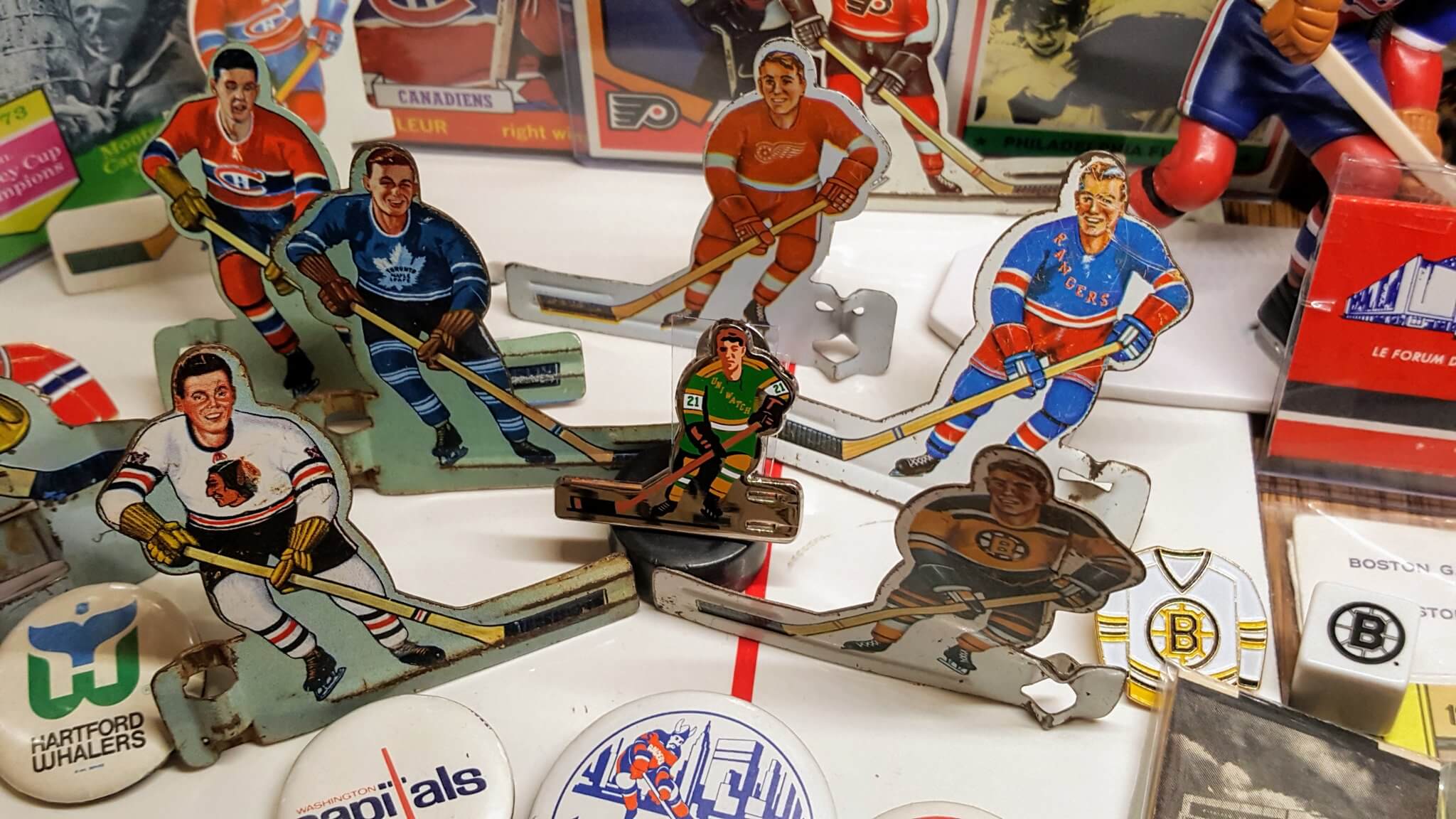 Click to enlarge
Undersized rookie: Reader Tim Jenkins liked our latest Uni Watch Pin Club release so much that he added it to the table hockey section of his memorabilia room. How great is that?
Reader Brett Mandel went a step further, putting his pin on the "ice":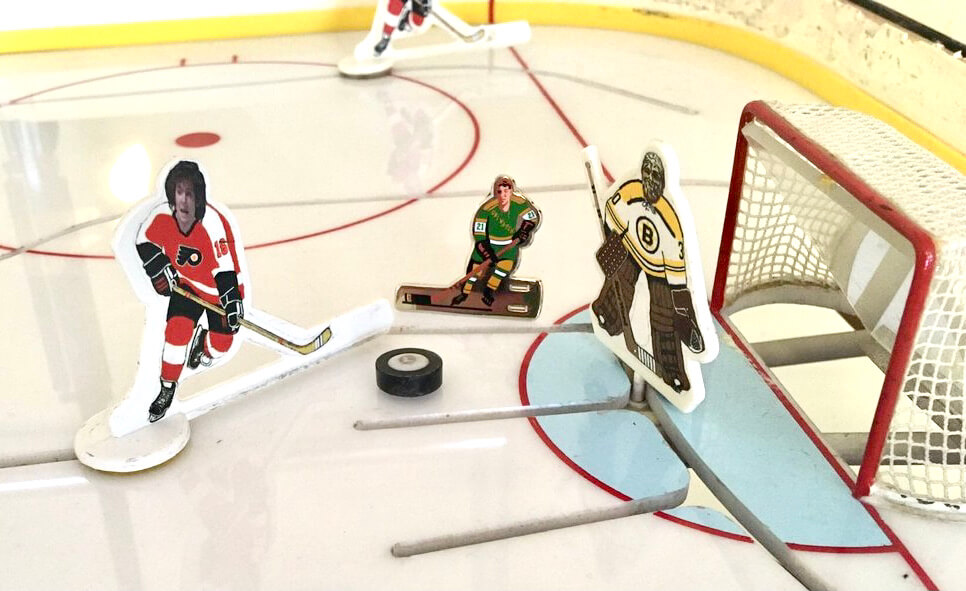 Great stuff, guys. Pin designer Todd Radom and I are honored to be part of your displays!
• • • • •
• • • • •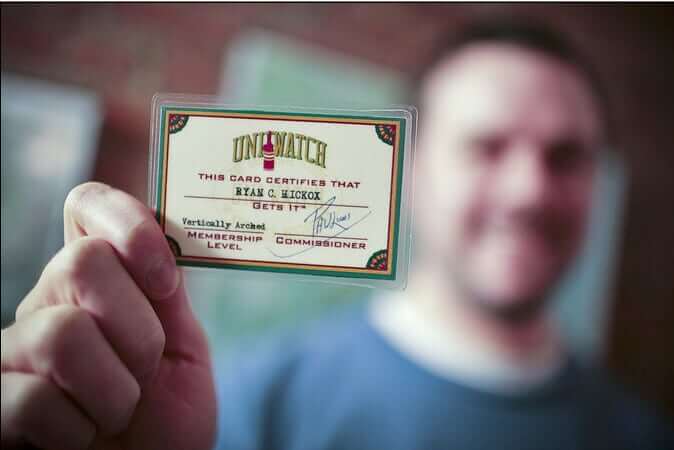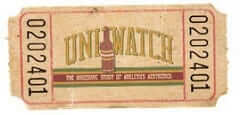 ITEM! Yet another membership raffle: Reader Jacob Olson recently purchased a membership for me to raffle off to a lucky winner outside the USA, so that's what we're going to to today.
This will be a one-day raffle, open only to non-USA entrants. To enter, send an email to the raffle in-box by 8pm Eastern tonight. One entry per person. I'll announce the winner tomorrow. Big thanks to Jacob for sponsoring this one!
• • • • •
• • • • •
The Ticker
By Jamie Rathjen

Baseball News: Dodgers P Trevor Bauer received a warning from MLB for wearing his personal logo on his belt (from Jakob Fox and @juice2deuce). … Reader Art Savokinas found his dad's 1983 Phillies media pass. Numbers on the back allowed the team indicate which home game of the season it was for. … Taiwan's Chinese Professional Baseball League's Fubon Guardians made some changes to their Sunday alternates (from Jeremy Brahm). … We've seen this before, but once more won't hurt: It's rare to see a photo of Henry Aaron with FIOB. That's from either 1962 or '63, when his brother, Tommie, was also on the team (from our own Phil Hecken).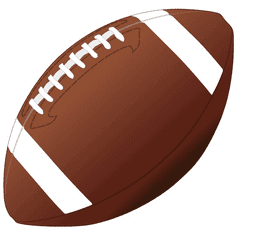 Football News: The Bengals' director of communications, Emily Parker, appeared on a podcast to talk about the new uniforms. Among other things, she said they're not changing the logo (from Kary Klismet). … Saints QB Drew Brees made a video announcing his retirement. His sons, who appear in the video, are all wearing what appear to be game-worn jerseys because they all have patches (from Jonathan Earl). … FCS school Mississippi Valley State has grey jerseys with white numbers that are fine up close, but not from TV distance (from @Wilds_Lee).

Hockey News: The Maple Leafs wore Toronto St. Pats throwbacks last night. According to Sportslogos.net head Chris Creamer, they're to appear again on Friday at home (from Chris Mack). … Devils C Janne Kuokkanen was victimized yesterday by an NOB typo (thanks to all who shared). … The University of New Brunswick women's team added memorial helmet decals for program benefactor Anna Goddard (from Wade Heidt). … The next two are also from Wade: The Alberta Junior Hockey League's Brooks Bandits have new black alternates. … The WHL's Lethbridge Hurricanes and Red Deer Rebels went color-vs.-color.

Basketball News: Here is a short video of the court for the Division I men's tournament at Indiana's Assembly Hall being built. "Out of bounds graphics are stickers so I guess [the] courts can be reused," says James Gilbert. … Six schools in the Midwest Region have orange as a team/uni color (from Randall J. Sanders and Tod Meisner). … Here's a weird one: Reader Tom Bierbaum found some photos of the Warriors and Bullets going blue vs. blue, apparently in 1967. Anyone know more? … Israel's Maccabi Tel Aviv added fans' names to their warm-up shirts and jerseys yesterday (from Jeremy Brahm). … NBA numerologist Etienne Catalan has more new and changed player numbers. … The logo of a Québec City auto parts dealer is based on the early-2000s Pistons logo (from Daniel Marceau).

Soccer News: The two English Championship clubs that lost their front shirt advertiser at short notice because it went into administration, Queens Park Rangers and Nottingham Forest, handled the situation differently. Forest didn't replace the advertiser, while QPR did with a new one on a patch. … The National Health Service patches worn by English clubs last season reappeared on Portsmouth and Salford City in the EFL Trophy final. … Italy's Serie B's U.S. Lecce wore late-'70s throwbacks yesterday for the 113th anniversary of the founding of their original predecessor, which is today. The only other immediately obvious reason for the throwbacks is that Aldo Nardin, Lecce's goalie from that period, passed away last year (from Trevor Williams). … Part of Walton Hall Park, the stadium for Everton's women's team, was damaged by fire on Friday.

Grab Bag: North Melbourne's AFL Women's team plays occasional home games in Hobart, Tasmania, and each time wear guernseys with their logo modified to say "Tasmanian Kangaroos." … Pro golfer Lee Westwood supports the soccer club Nottingham Forest and has their crest on his yardage book (from Rob Matuga). … A cricket club in Tampa, the Tampa Tigers, wears letters instead of numbers. As you can tell from that picture, they also poach the logo of the AFL's Richmond (from Peter Della Penna). … New traffic officer uniforms for the Uganda Police (from Timmy Donahue).
• • • • •
• • • • •
Click to enlarge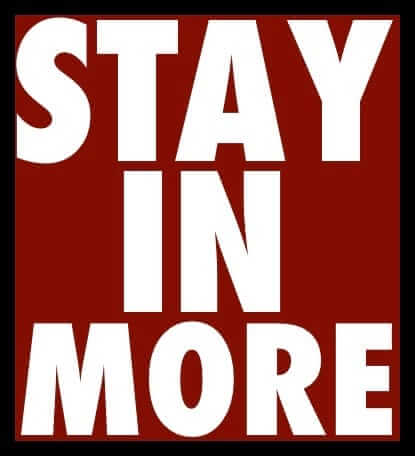 What Paul did last night: Now that the clocks have changed, Pandemic Porch Cocktails™ should routinely be taking place in daylight once again. We're hoping this means more foot traffic on our sidewalk — more neighbors, more kids, more doggies (although all of those were scarce yesterday).
As always, you can see the full set of daily Pandemic Porch Cocktails™ photos — now almost a full year's worth — here.
• • • • •
Here's hoping our Colorado readers, including Ticker stalwart Kary Klismet, are able to stay safe and warm during the fallout from the weekend storm and power outages. My thoughts are with you. — Paul