Click to enlarge
The Super Bowl uniform matchup finally came into focus last night, as the Buccaneers — the designated home team this year, because it's the NFC's turn to have that status — announced that they'll be wearing their white jerseys and pewter pants. That means KC will be wearing red jerseys and (presumably) white pants.
Let's shift into FAQ mode:
What do you think of this uni matchup?
I think it's pretty good. The combo that the Bucs have chosen is by far their best look, and KC's combo should provide a good level of contrast. I think this will likely rank as one of the better-looking Super Bowls.
If the Bucs are the home team, why aren't they wearing their home uniform, especially when the game is taking place in their home stadium?
Remember, there are no home or road uniforms in the NFL — the home team can wear whatever it chooses. In the Bucs' case, they wore white at home three times this season (and won all three of those games), so it's not completely out of character for them to do so again for the Supe.
How often has the designated home team chosen to wear white?
According to Super Bowl uniform scholar Jay Braiman (whose singular genius was showcased on the site earlier this week), this is the seventh time it has happened (although two of the previous six instances involved the Cowboys, who routinely wear white at home, and a third instance involved Washington, which routinely wore white at home at the time). The six previous teams to do so have gone 4-2.
KC also wore red over white in last year's Super Bowl. Has a team ever worn the same uni combo in two consecutive Supes?
Have they ever! In Supes XXVII and XVIII, the Cowboys and Bills both wore the same uni combos for two consecutive years — white over silver for Dallas and blue over white for Buffalo. Not only that, but the Bills had worn that same combo in Super Bowl XXVI, so they actually wore the same combo in three consecutive title games.
Only one other team has matched the Bills' uniform uniformity by wearing the same combo in three consecutive Supes. That would be the Patriots, who wore their white/navy combo in Super Bowls LI, LII, and LIII.
Several other teams have worn identical attire two years in a row:
• The Cowboys in Super Bowls XII and XIII (so they've gone back-to-back on two separate occasions, making them the only team with that distinction).
• The Steelers in Super Bowls XIII and XIV.
• Washington in Super Bowls XVII and XVIII.
Do we have any photos showing how the jerseys will look with this year's Super Bowl patch?
Glad you asked — here you go:
Oh my 😍 pic.twitter.com/JXIlhktipA

— Kansas City Chiefs (@Chiefs) January 28, 2021
To my knowledge, the Bucs have not yet released any similar photos. (I realize there are images of retail jerseys with the patch, but that's not the same thing.)
When will we see the players wearing their Super Bowl jerseys for Media Day?
Good question. According to a report from last week, KC players won't be in Tampa until the day before the game. And even if they arrived at the usual time, the standard media gathering would presumably be impossible during the pandemic. I imagine they'll do something via video, but will the players bother to wear their jerseys or other gear under those circumstances? Remains to be seen.
Anything else worth noting?
This would be a good time to brush up on KC's logo inconsistencies and Tom Brady's record-setting number of jersey patches (a record he'll extend by wearing this year's Supe patch for the big game).
Also, expect a lot of uni-come-lately folks to make a big fuss about Bucs running back Leonard Fournette wearing his old purple/yellow LSU shoulder pads: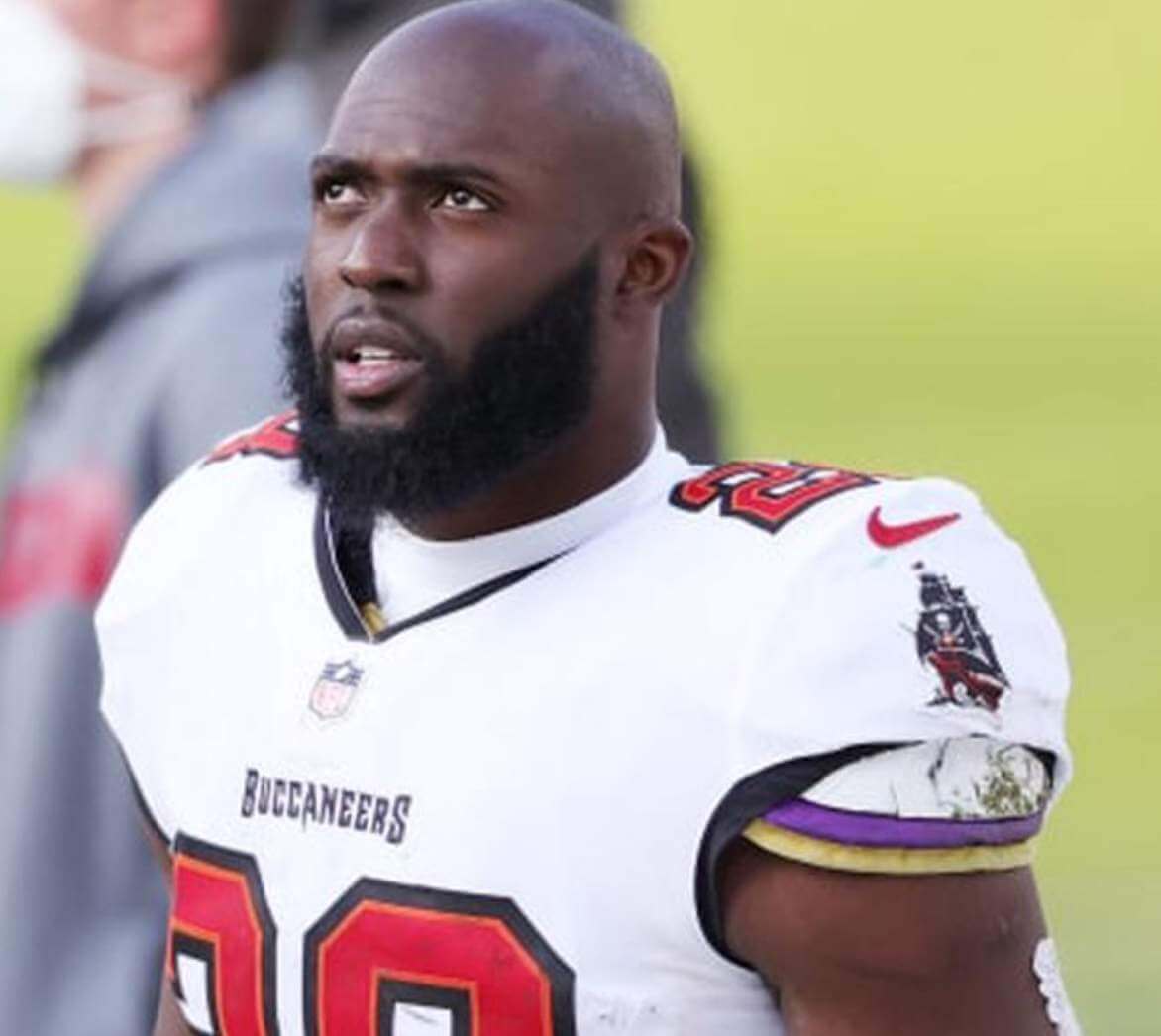 Fournette's been doing this for his entire pro career (including the three seasons he spent with the Jaguars), but lots of people are going to see it for the first time in the big game and say, "Hey, he dusted off his old pads for the Super Bowl, how cool is that!"
Any other good Super Bowl uni tidbits that I'm overlooking? Feel free to post them in today's comments.
(Big thanks to Jay Braiman for research assistance. If you haven't already read his annual Super Bowl uni preview, you should definitely check it out here.)
• • • • •
• • • • •
Pretty cool color footage of the All-American Girls Professional Baseball League (AAGPBL), which existed from 1943-1954 pic.twitter.com/ch3UhyaVuI

— Ben Porter (@Ben13Porter) January 28, 2021
Sheer magnificence: Oh man, look at this spectacular AAGPBL color footage — with Uni Watch color matchup to boot! I could watch this all day.
Interesting that the third base coaches are wearing standard white or grey baseball unis, instead of their team colors.
(My thanks to @BallparkHunter and @munistadium for pointing me toward this one.)
• • • • •
• • • • •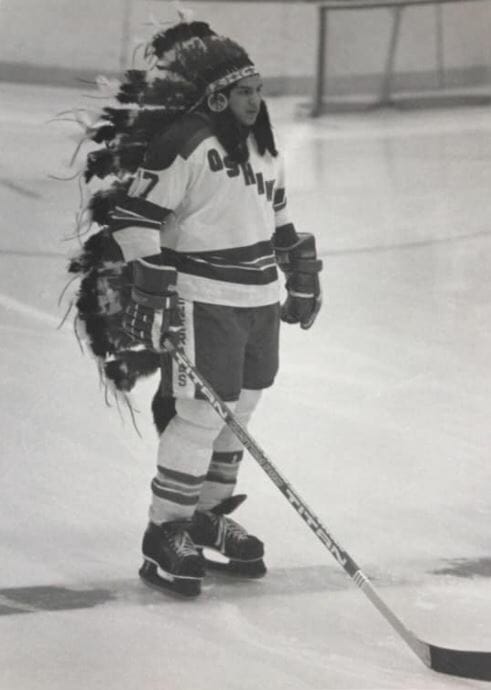 Use your head(dress): The photo above shows Oshawa Generals player Barry Tabobundong, who was Ojibwa, wearing a headdress on the ice prior to a game, circa 1980.
I'd never seen anything like that before, but it turns out it wasn't unique. Here's a similar show of Soo Greyhounds left wing Chris Brant wearing a headdress (and Cooperalls!) during an exhibition game during the early 1980s: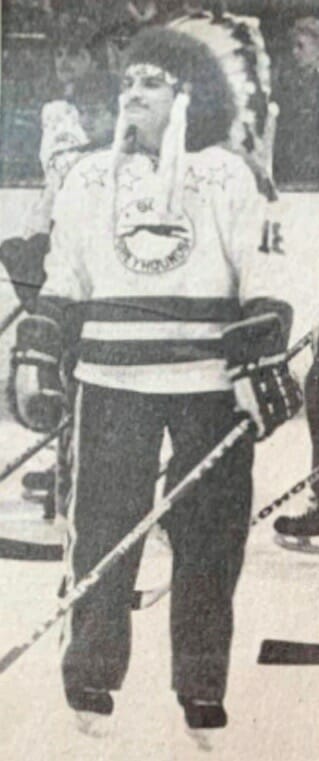 (Big thanks to Wade Heidt for pointing me toward these photos.)
• • • • •
• • • • •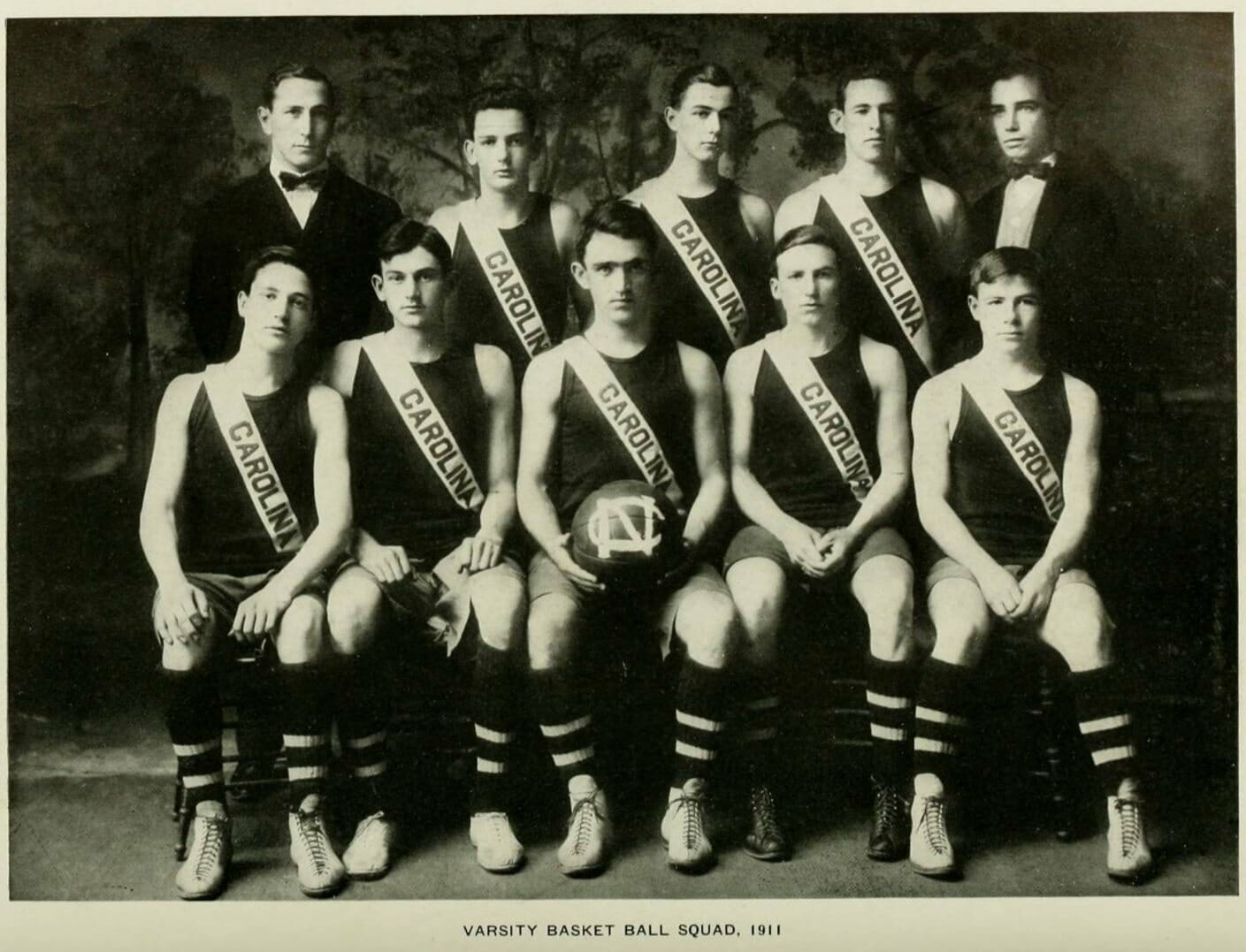 Click to enlarge
Too good for the Ticker: I'm totally digging the sash-based design of the 1911 UNC hoops uniforms. Let's see them revive that as a throwback!!
(Big thanks to James Gilbert for this one.)
• • • • •
• • • • •
The Ticker
By Paul

'Skins Watch: Bellingham High School in Washington has formed a task force to replace its current "Red Raiders" team name (from Kary Klismet). … Also from Kary: Indian Hills Community College in Iowa has updated its logos and visual identity to remove Native American imagery but is keeping its "Warriors" team name. … Marion High School in Iowa will no longer call its teams the Indians (from @MetsFanVI). … A Wisconsin school district has narrowed down the choices for replacing its "Indians" team name (from Brian Kerhin). … Vancouver Canucks G Braden Holtby's new mask has an Indigenous theme and was designed by an Indigenous artist (from David Cummings). … Here's info and video on the "Land Acknowledgment" that the Chicago Blackhawks are presenting prior to each home game this season. … The school board in Shawnee Mission, Kan., has voted to remove Native-based mascots and imagery from the district's schools, a move that will result in four schools having to make changes (from @spiders_six and @retrojayhawk). … Two Washington State wineries and a labeling company have agreen to stop using Native signifiers in their package designs after being sued by the Yakama Nation (from Andrew Schmidt). … Unionville (Penna.) High School, having previous dropped "Indians" as its team name, has chosen "Longhorns" as its new identity. … Watertown High in Connecticut will no longer call its teams the Indians. They're the seventh school in the state to eliminate Native-themed team names and/or imagery since 2019 (from John Dankosky).

Baseball News: Check out these two cool trophies that were given to Henry Aaron — one for reaching 500 home runs, and another for being the first player ever with 500 homers and 3,000 hits. … Disney is now selling its own baseball jerseys. … Newly acquired Blue Jays OF George Springer will wear No. 4. … As expected, newly acquired Red Sox P Adam Ottavino will wear No. 0. He's now worn that number for three teams — the Rockies, Yanks, and Bosox — but he has a ways to go before he matches all-time hero of zero Al Oliver, who wore No. 0 for six teams: the Rangers, Expos, Giants, Phillies, Dodgers, and Blue Jays. … Check it out: Robin Williams in an all-star softball uni (from @spiders_six). … The University of Nebraska-Omaha has a new ballpark, which will host its first game on March 5 (from Kary Klismet). … Why was Pedro Martinez such a good pitcher? He says it's because of his bizarre-looking double-jointed fingers.

NFL News: Everyone wants the NFL to bring back custom Super Bowl logos, but the league doesn't appear to be listening. … When Tom Brady joined the Bucs and was initially told that No. 12 was already taken by Chris Godwin, Brady said he'd take No. 7 because he was going for his seventh Super Bowl title. Godwin eventually gave up No. 12 for Brady, of course (thanks to all who shared). … Raiders TE Jason Witten is retiring, which will remove his Walter Payton Man of the Year patch from circulation.

Hockey News: The Sharks are now running their own pro shop and merch kiosks after terminating an agreement with Fanatics (from Nathan Fry). … The Bruins' "Pooh Bear" alternates made their on-ice debut 25 years ago yesterday. For that game, the team wore white helmets — the only time white buckets were worn with that uniform, according to @WeberKing. … The Avs and Leafs are the latest teams to release their uniform schedules (from @milehighrukus and Gabriel Hurl, respectively). … The OHL's Peterborough Petes are holding a fan vote to determine the best Petes player to wear each uni number (from Wade Heidt).

NBA/WNBA News: Good article about a Canadian shop that specializes in selling vintage T-shirts to NBA players (from Ted Arnold). … The WNBA's Connecticut Sun have a new logo. "I guess I would call it a modernized version of the old one," says our own Jamie Rathjen. … New 76ers G Raylon Tucker will wear No. 9. … Interesting article about whether NBA players should be subject to stricter mask regulations (WSJ link) (from Mike Chamernik). … 76ers C/PF Joel Embiid wore Kobe Bryant tribute sneakers last night (from Matt Rashford and Mike Chamernik). … Think NBA uni matchups are weird today? Check out the Warriors and Bullets going blue vs. blue in the mid-1960s! (Great find by David Holland.)

College Hoops News: New 1983 throwbacks for Rutgers (from Pete Stein). … Michigan State has revealed its Big 10 championship ring design (from Kary Klismet).

Soccer News: New "Legends jersey" for Austin FC (from Jim Howicz). … Lots of chatter about the new Inter logo, which will apparently look like this (thanks to all who shared). … Spanish side Athletic Bilbao is refusing to wear their new Copa del Rey winner's patch, insisting that it lists the incorrect number of titles that they've won (from Trevor Williams).

Grab Bag: Did you know the White House has a logo? It does — and it's just been redesigned. … New logo for Post-its. … New logo for the digital music standard MIDI. … In Europe, Coke cans have had the Coke logo replaced by inspirational messages. … New design for the Amazon app icon. … Here's a ranking of WorldTour cycling kits (from @cutters79). … Here are the kits for this year's Six Nations rugby union championship. "Of particular note is the England '150th anniversary of rugby' throwback, which moves maker's marks and ads to the shoulder, plus it's white and has a rose," notes Tim Dunn. … The U.S. Army has issued new wear guidelines for its basic green service uniform. … Meanwhile, the Marine Corps may have a new uniform in the works. … Following up on an item from yesterday, here's more on that crummy new Anchor Steam package design. … The rest of these are from Kary Klismet: A wrestling outfitter is making a line of Marvel superhero-themed singlets. … New helmet design for rookie driver Will Brown of the Erebus Motorsport team in Australia's Supercars Championship racing circuit. … Here's an article that tracks the history of American firefighter helmet designs. … Several new NASCAR team helmet designs have been unveiled for the 2021 season. … New fire suit for Scott McLaughlin of IndyCar's Team Penske. … South Garland High School in Texas, which previously dropped its "Colonels" team name because of its ties to Confederate imagery, has chosen "Titans" as its new identity.
• • • • •
• • • • •