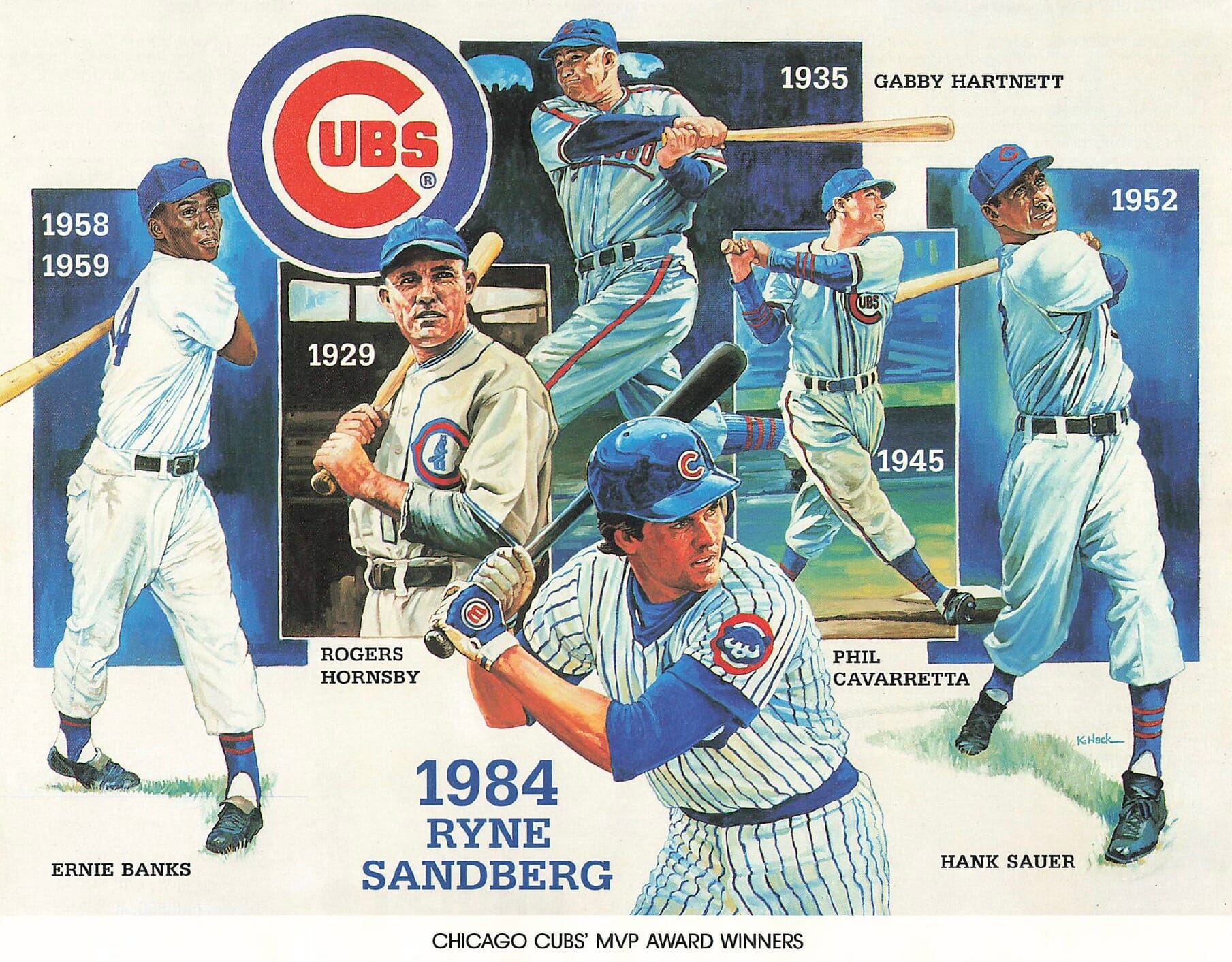 For all images, click to enlarge
Check out this illustration showing various Cubs players who won the National League MVP Award. A great composition, and so many great uniforms!
That wonderful illo appeared on an 8.5″ x 11″ print that was given away in the mid-1980s by Chicago-area Unocal 76 gas stations. There was lots of descriptive text on the back — along with, I'm happy to see, a little "About the Artist" section for the illustrator, Konrad Hack: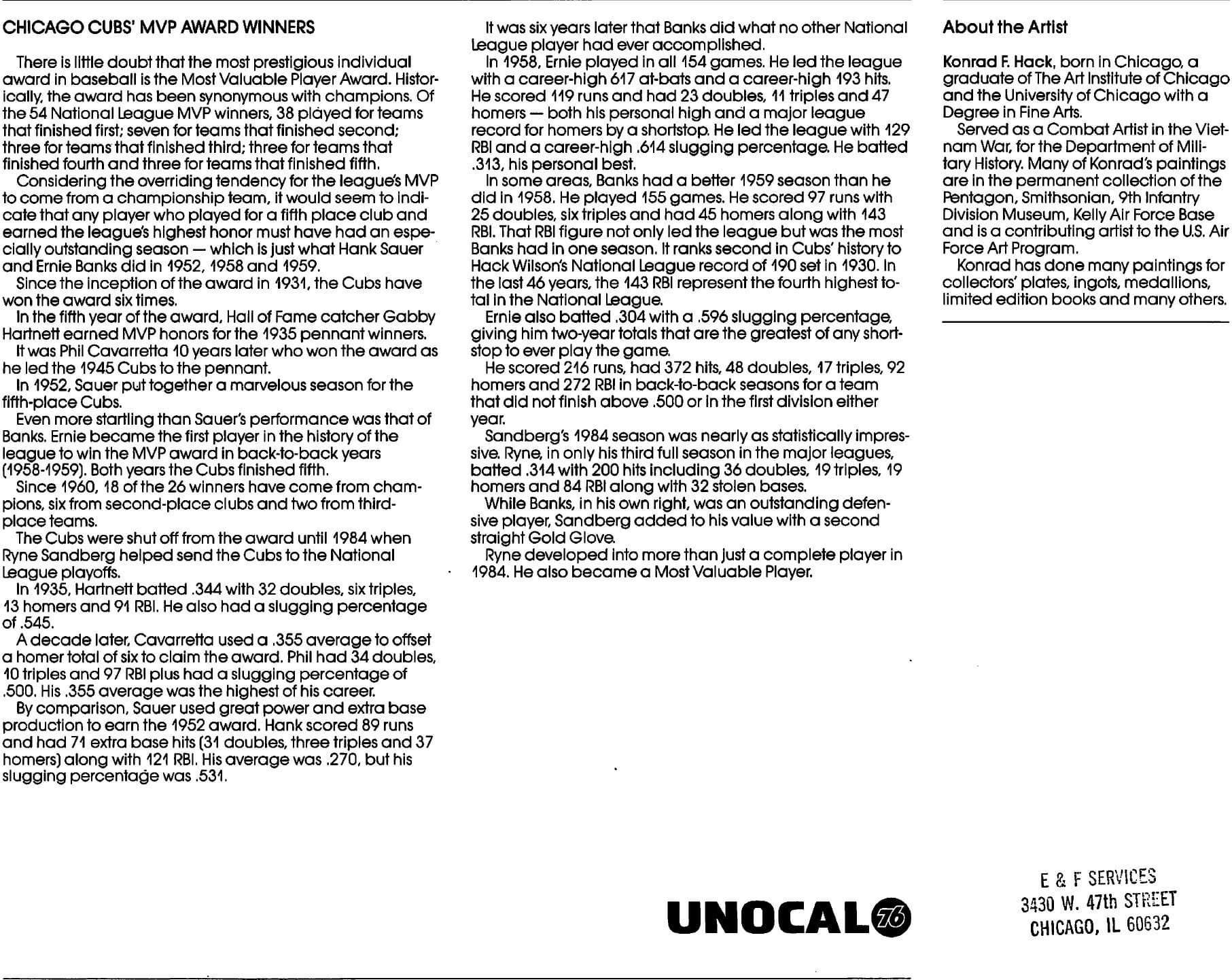 That is one of 15 prints that Uni Watch reader Darren Rusakiewicz recently came across. I'd never seen them until Darren recently sent scans of them to me. "My grandpa collected them in the 1980s," he says. "They must've been a giveaway with a tank of gas or something like that. I can't remember." The running theme in most of the prints is the Cubs' division-winning 1984 season in general and Ryne Sandberg in particular, so the prints were presumably given away in 1985.
Four separate artists, all from and/or based in Chicago, are credited on Darren's 15 prints. Konrad Hack — the guy who did the MVPs illo — is my favorite. Here are the other three that he did: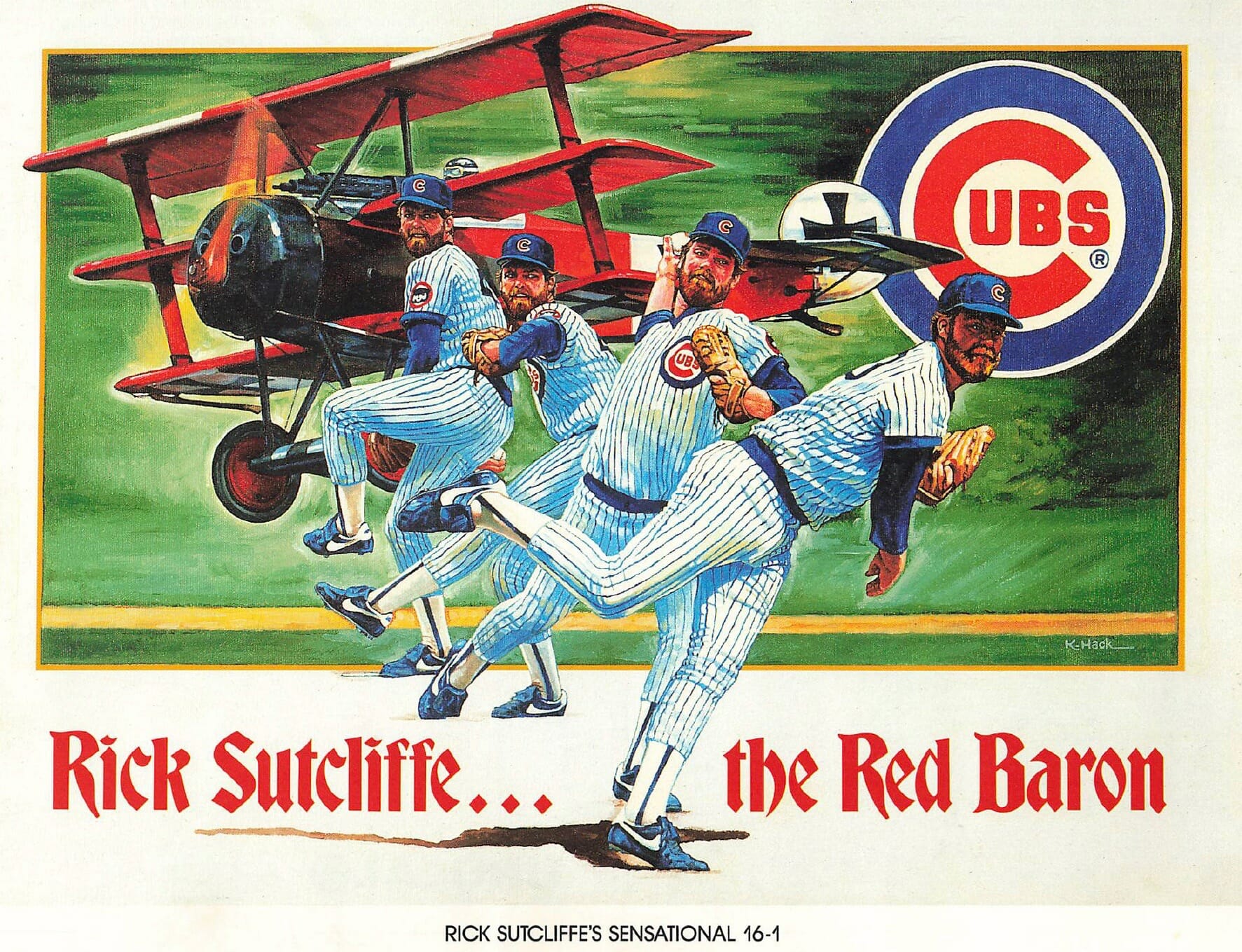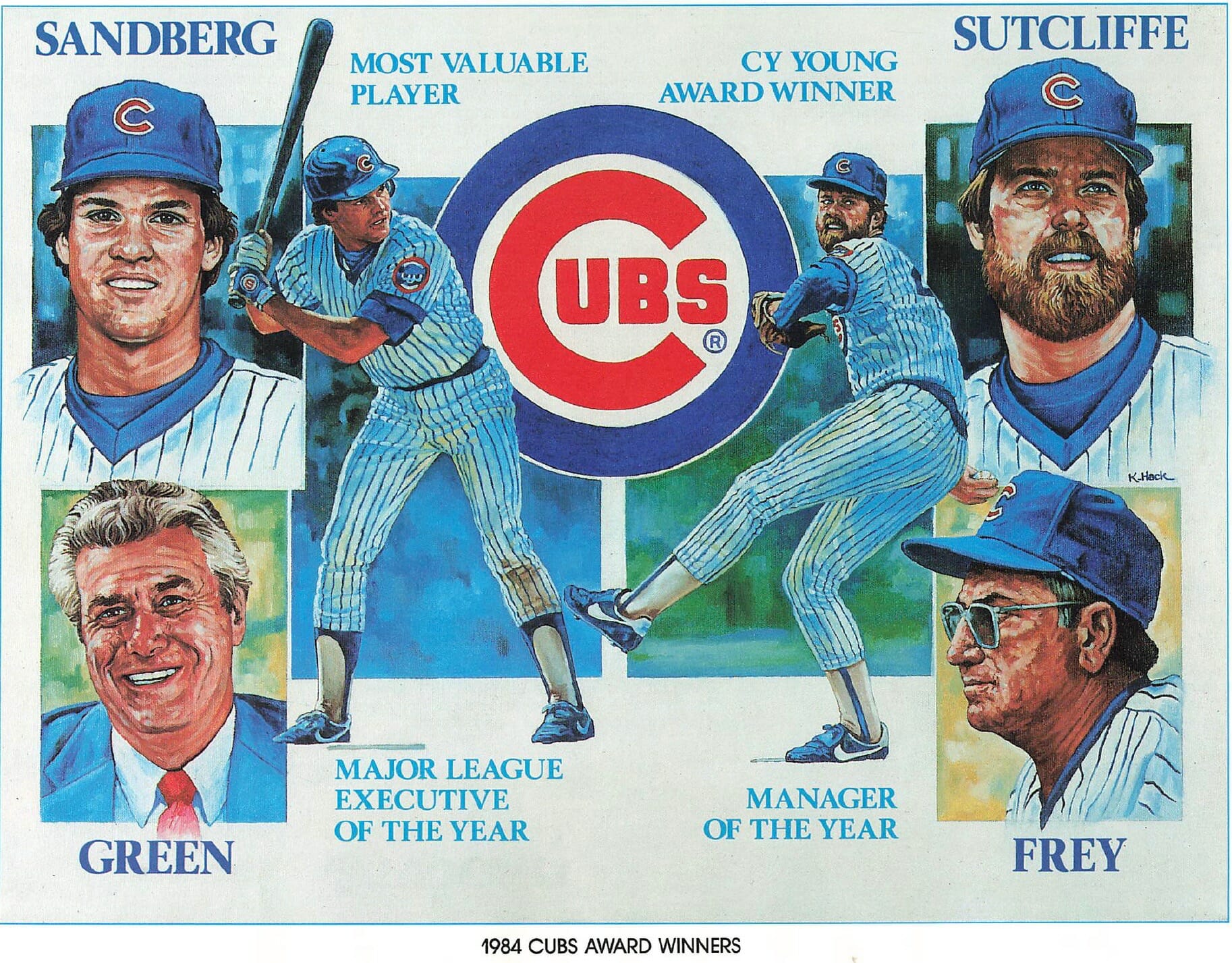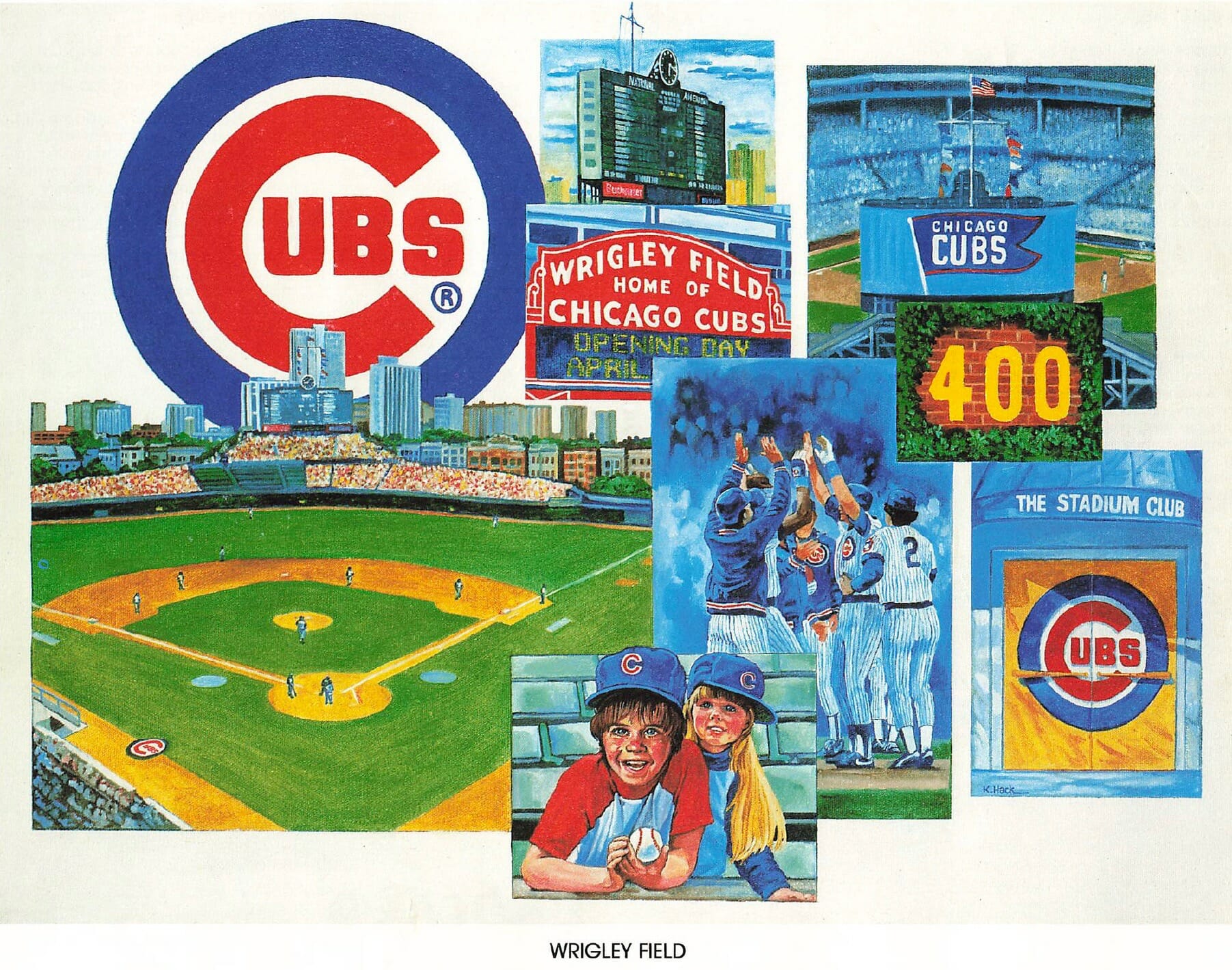 Hack is now about 75 years old and is still active as an artist. I found this listing for a showing of his work from just a few months ago.
Darren's collection also includes three prints by an artist named Lawrence Salk, and I like his stuff almost as much as Hack's. Here are Salk's three illos: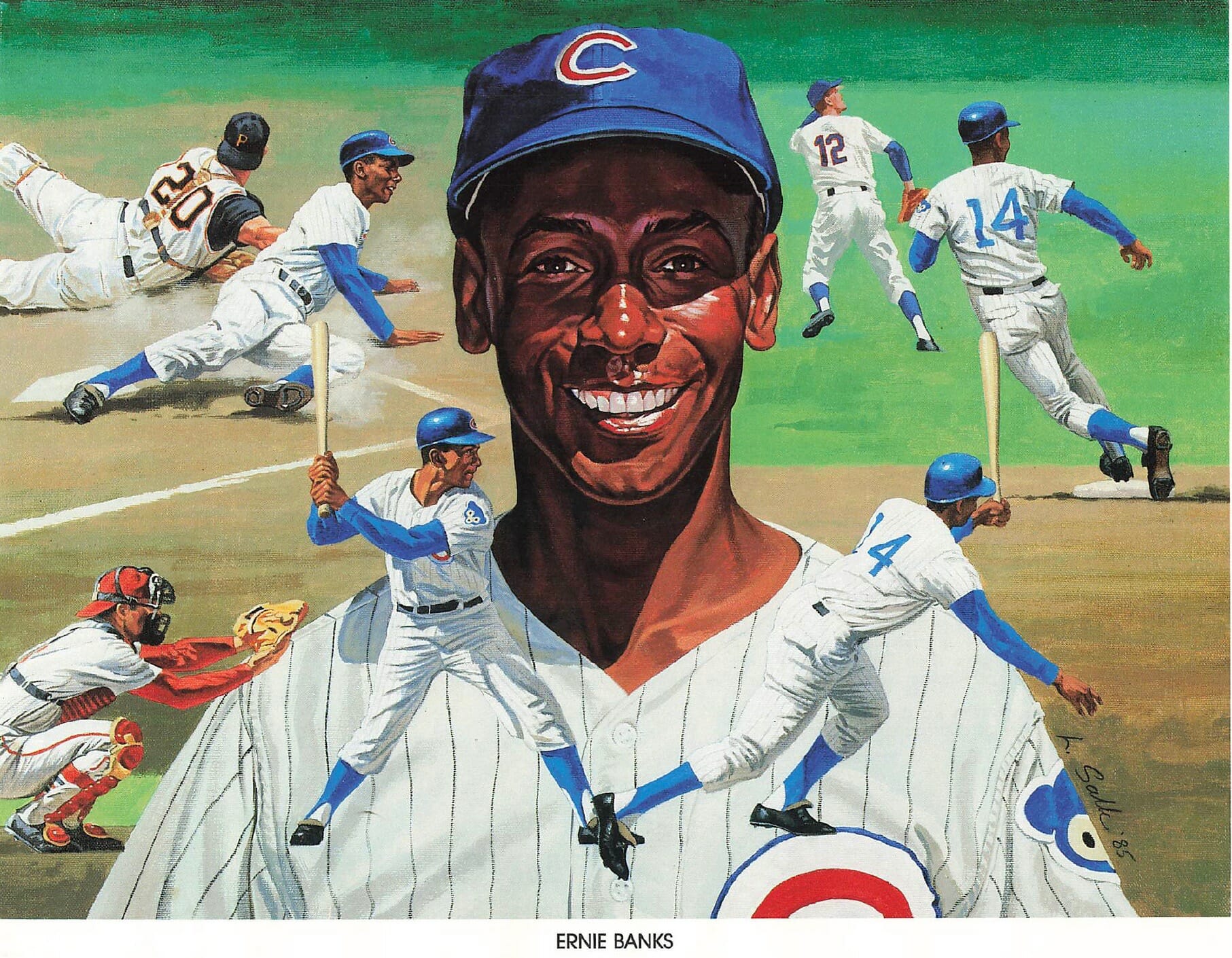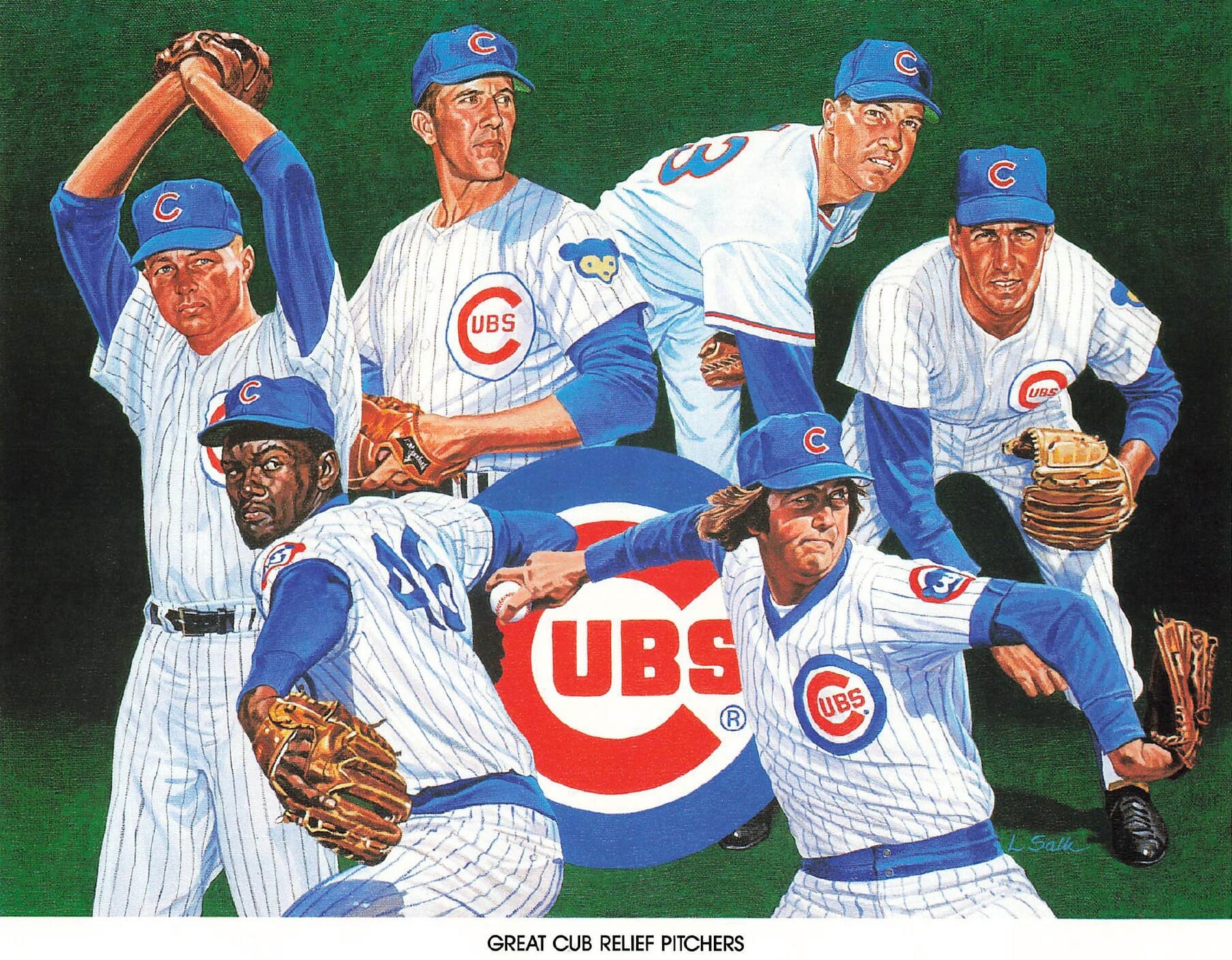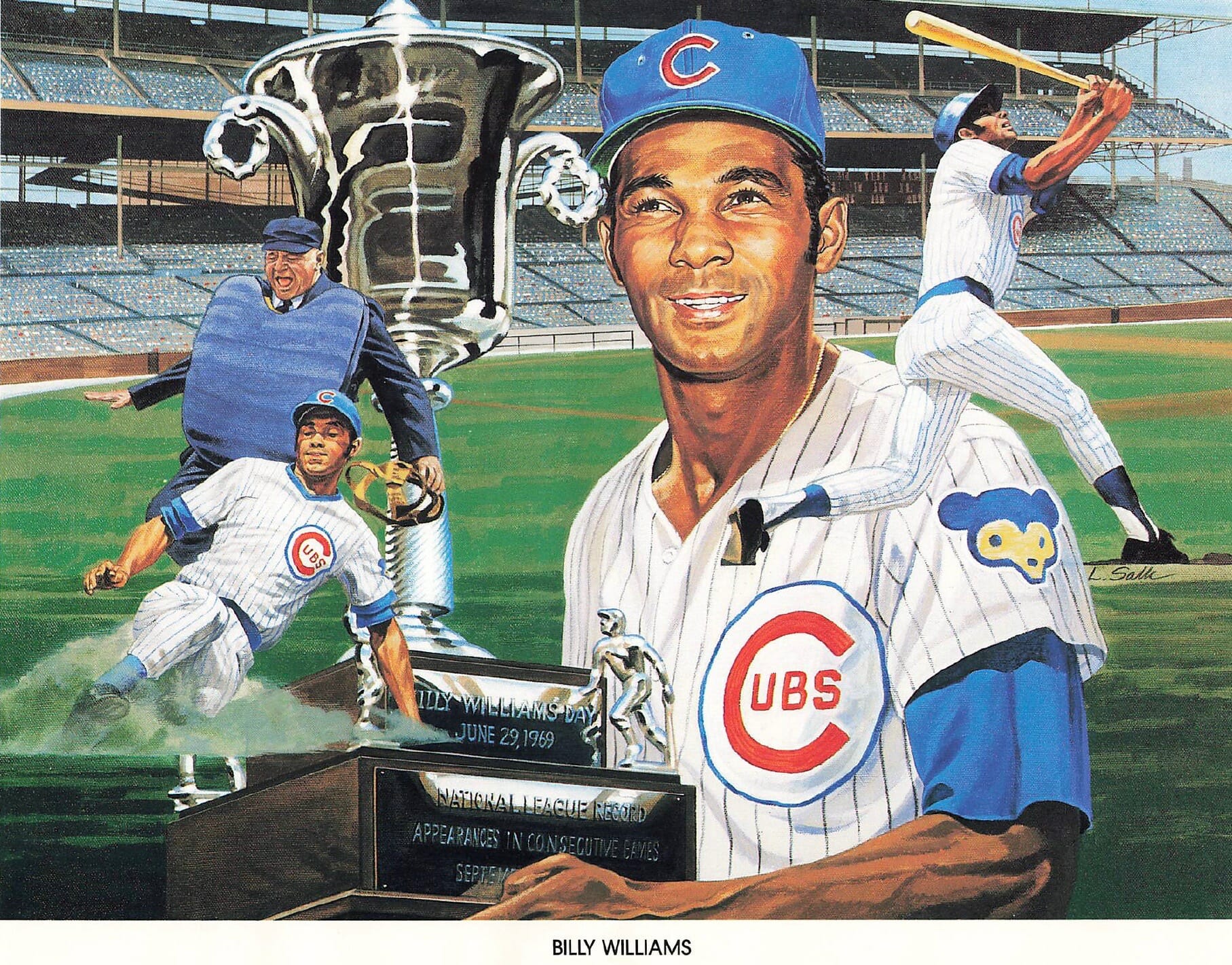 Such gorgeous stuff! Unfortunately, Salk died in 2004. (Fun fact: Among tons of other work, he did the portrait of Kramer that figures prominently in an episode of Seinfeld.)
There are also four prints by a guy named Tom Sulek. Solid work, although I found his style a bit grainier than I prefer: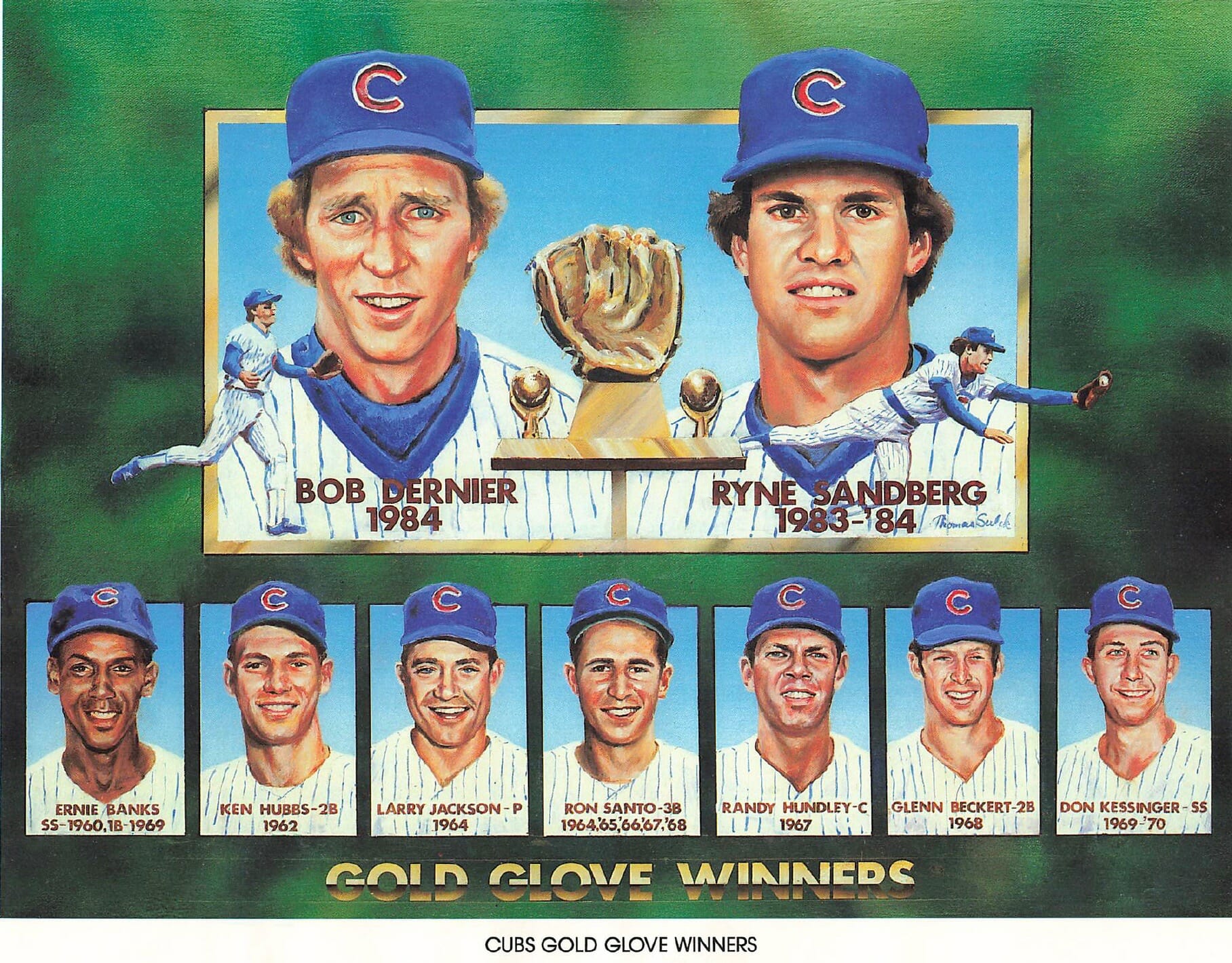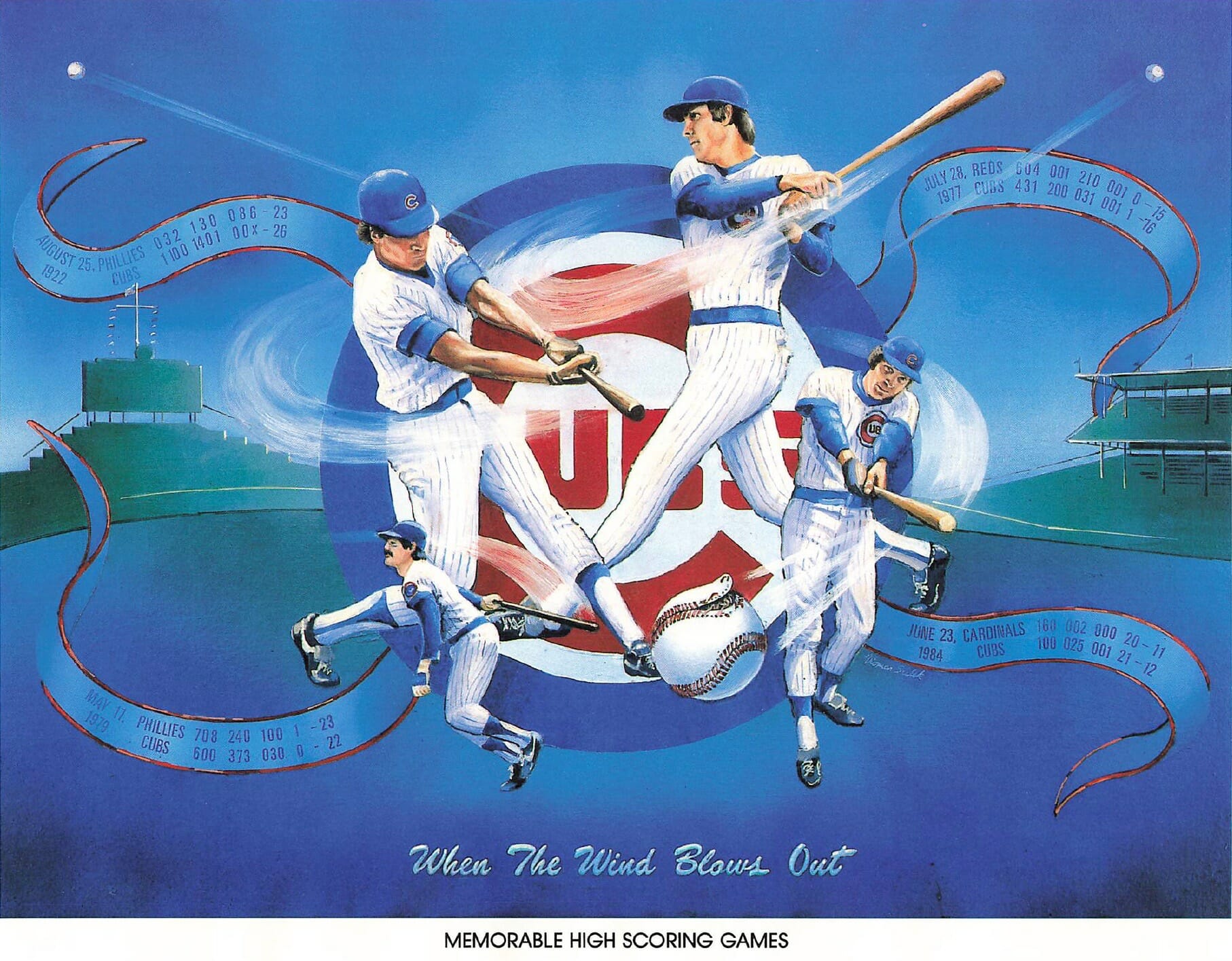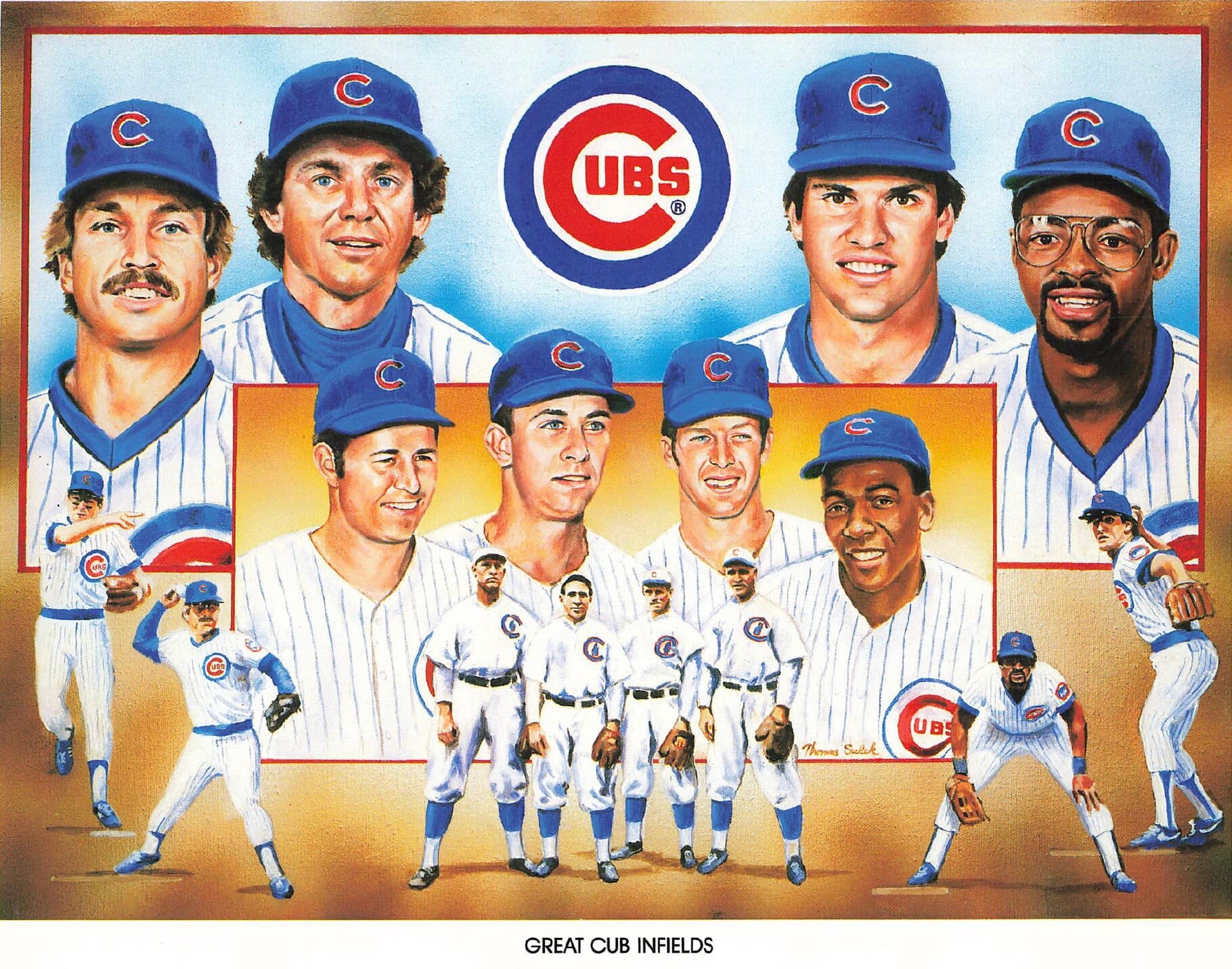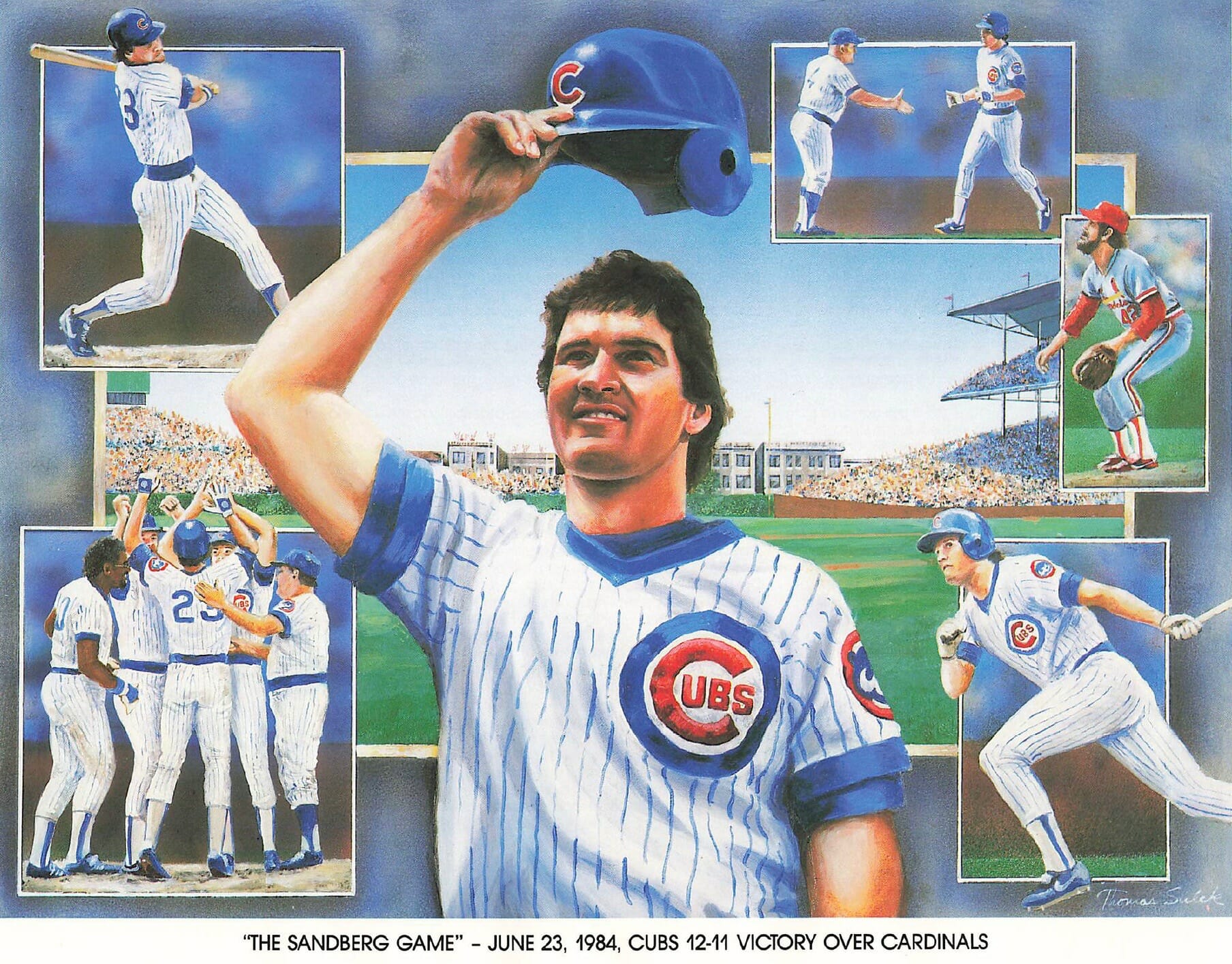 According to Sulek's LinkedIn page, he got out of the freelance illustration game in 1991 (and also worked for six years for the White Sox!).
Finally, there are four prints by Todd Doney. His style was much more stylized and less photo-realistic than the other guys' and, honestly, not as much to my taste. Very nice compositions, though: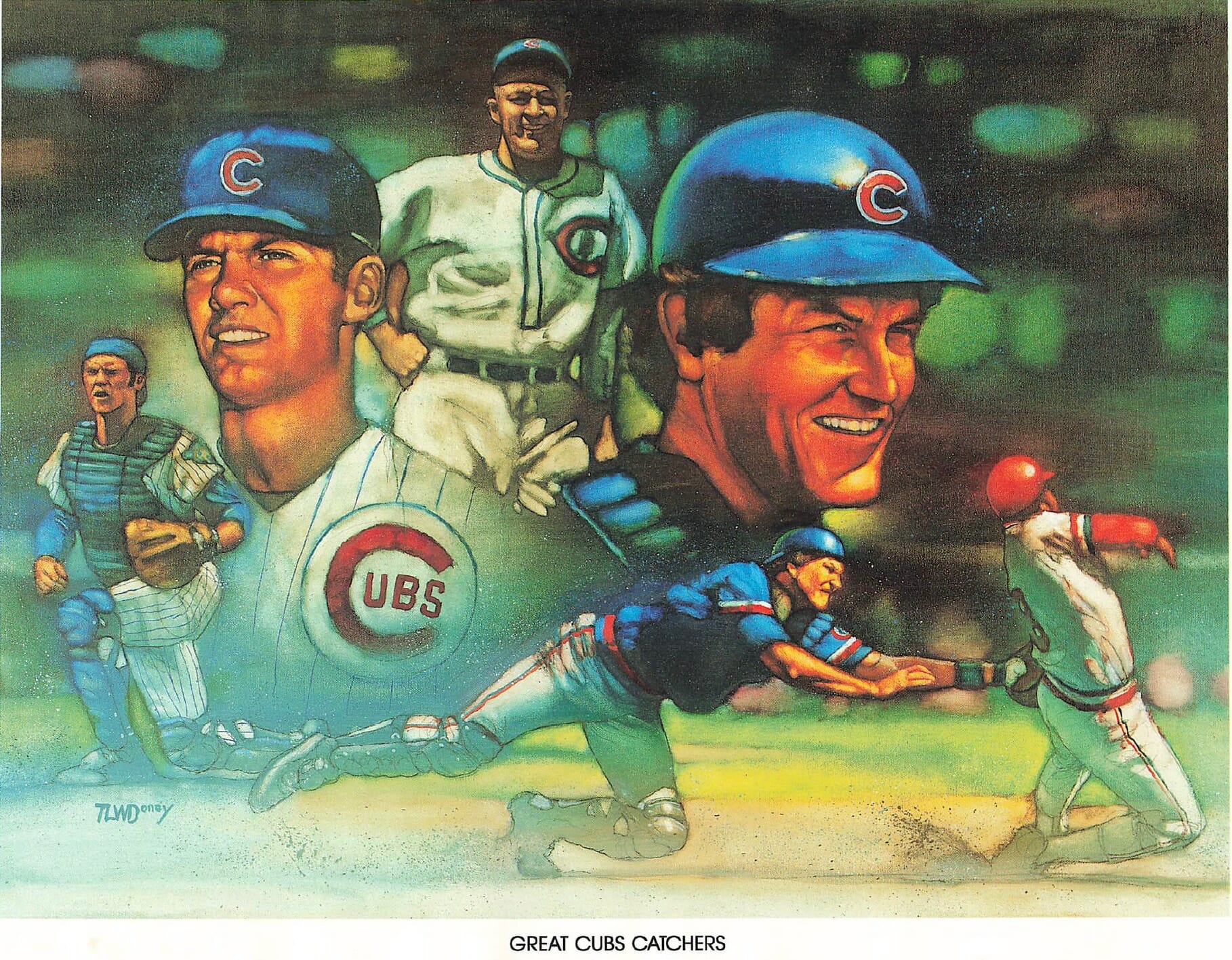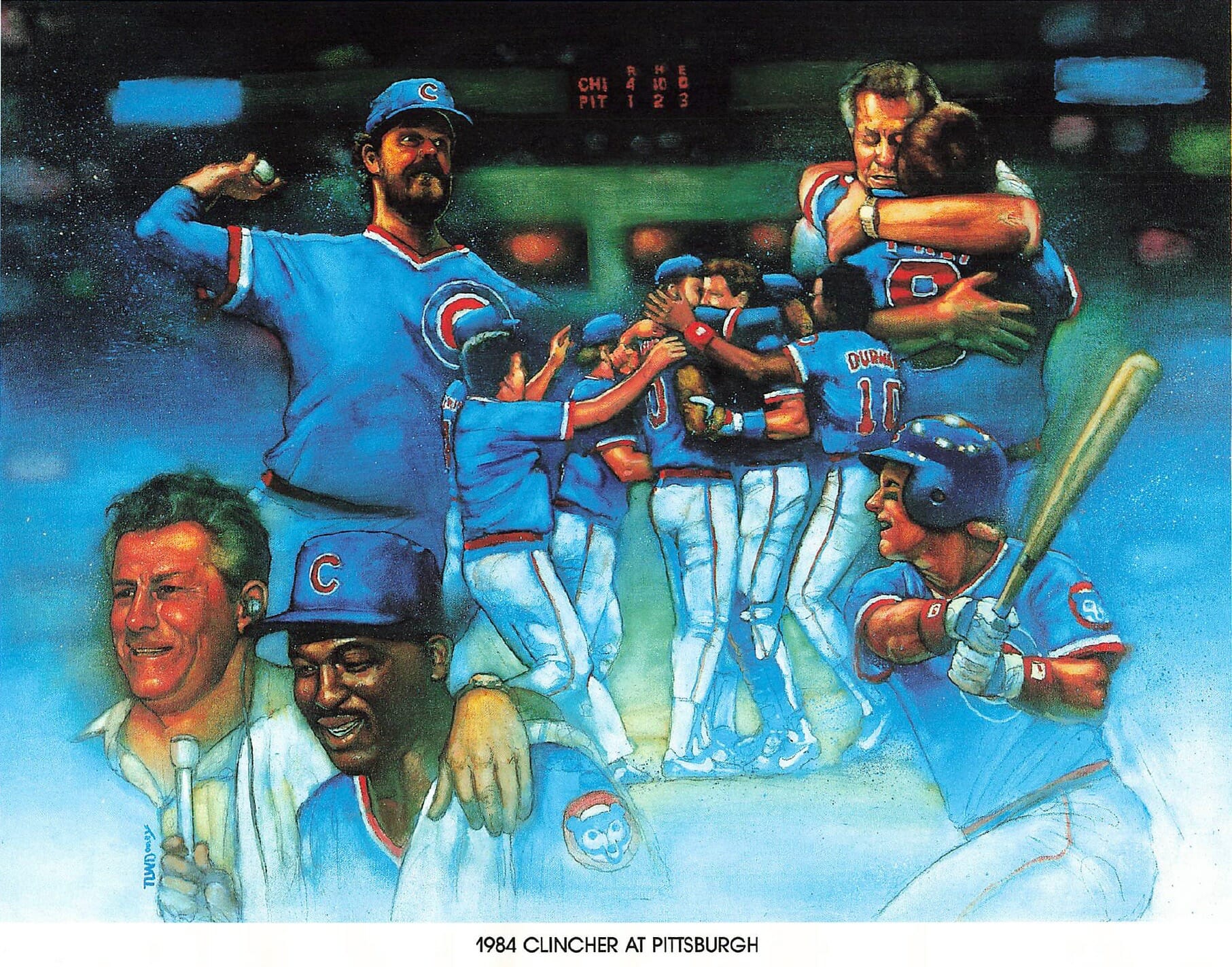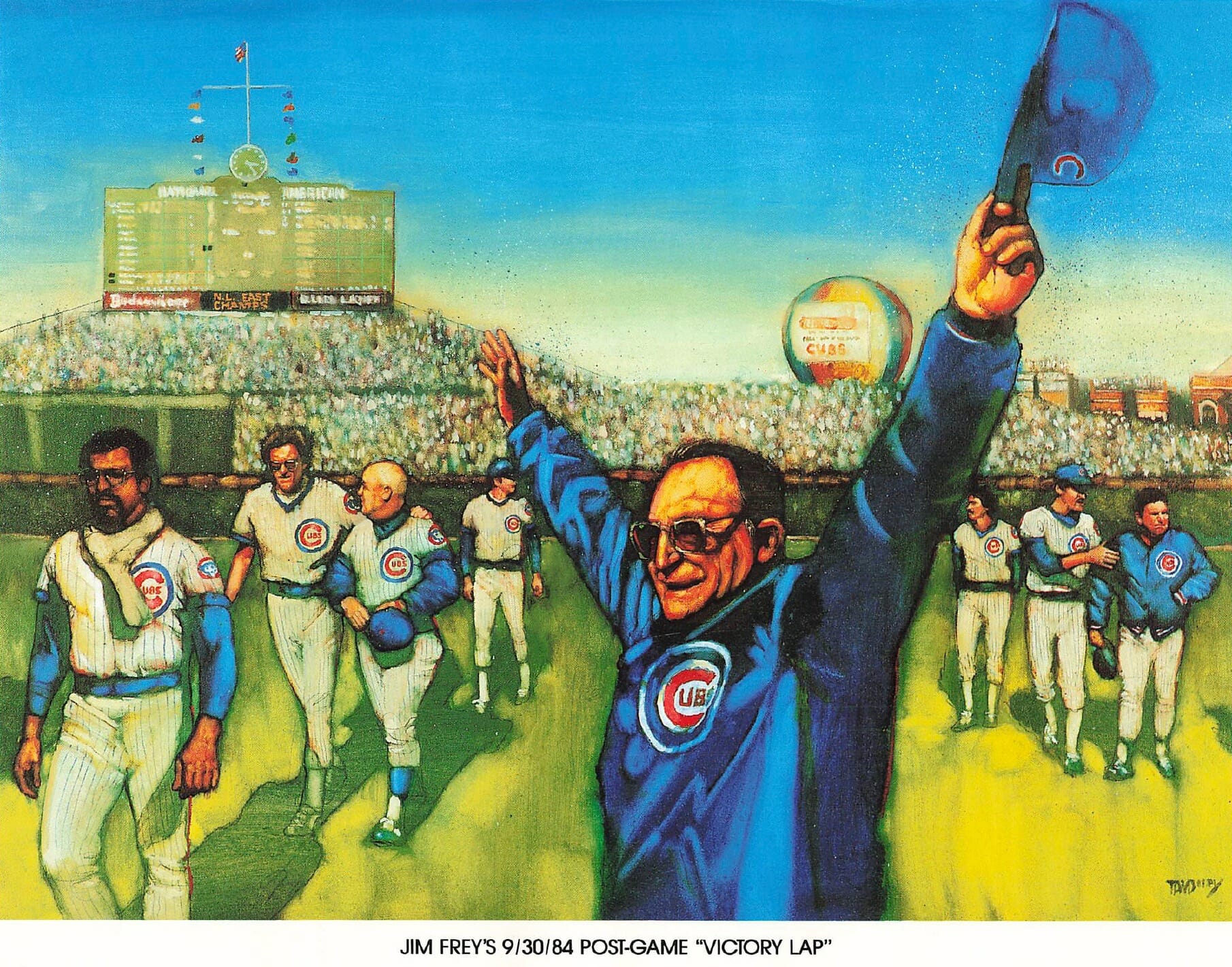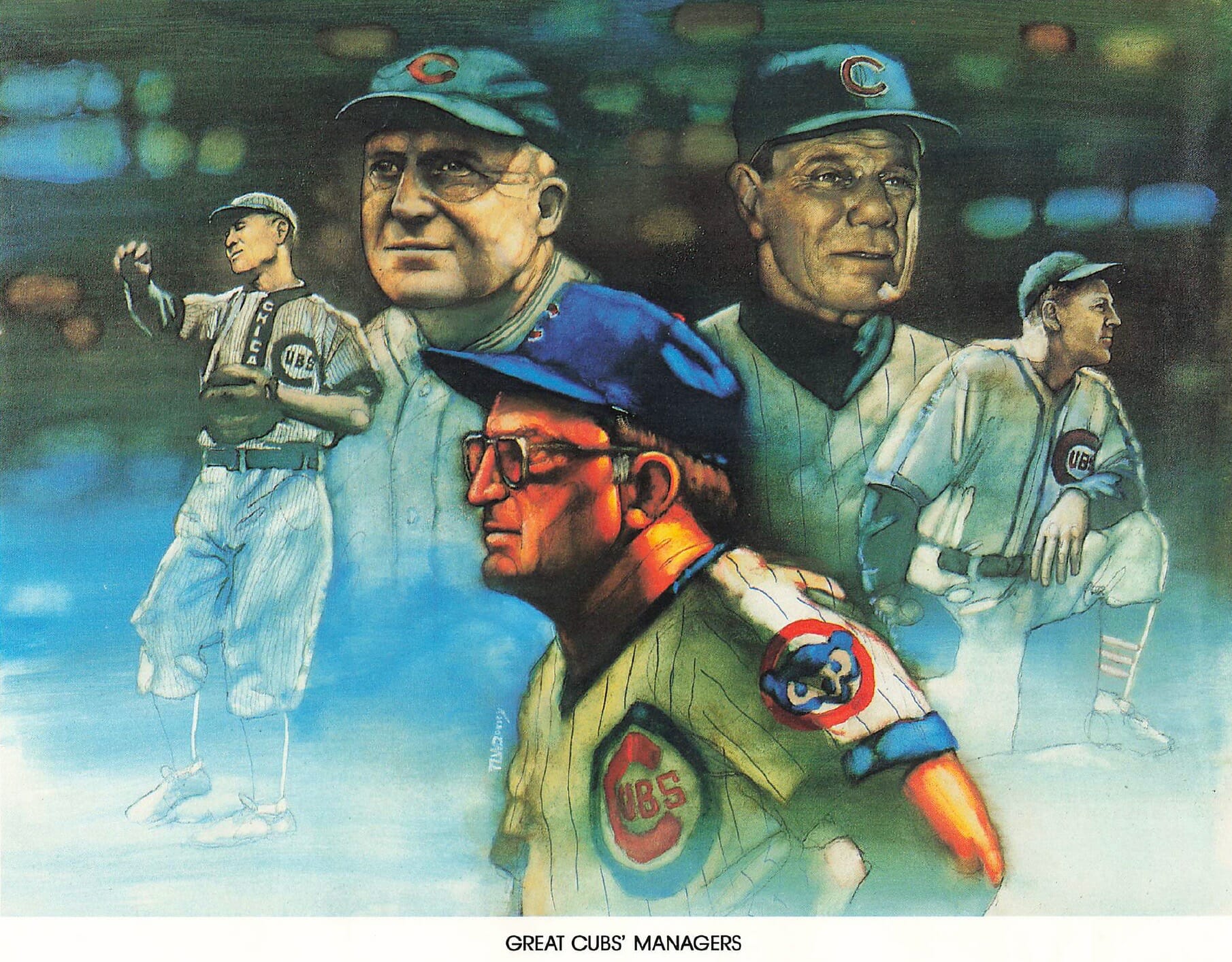 Doney has had a long art/illustration career and is apparently still going strong.
I poked around online to see if this series included any other prints that weren't part of Darren's collection. I found this Fergie Jenkins print, which looks like it was done by Salk. (Darren, if you're reading this, you should buy that one to complete the collection!)
You can see all of Darren's prints, including the text on the back, here. Please join me in thanking him for sharing this great artwork with us!
• • • • •
• • • • •
• • • • •
• • • • •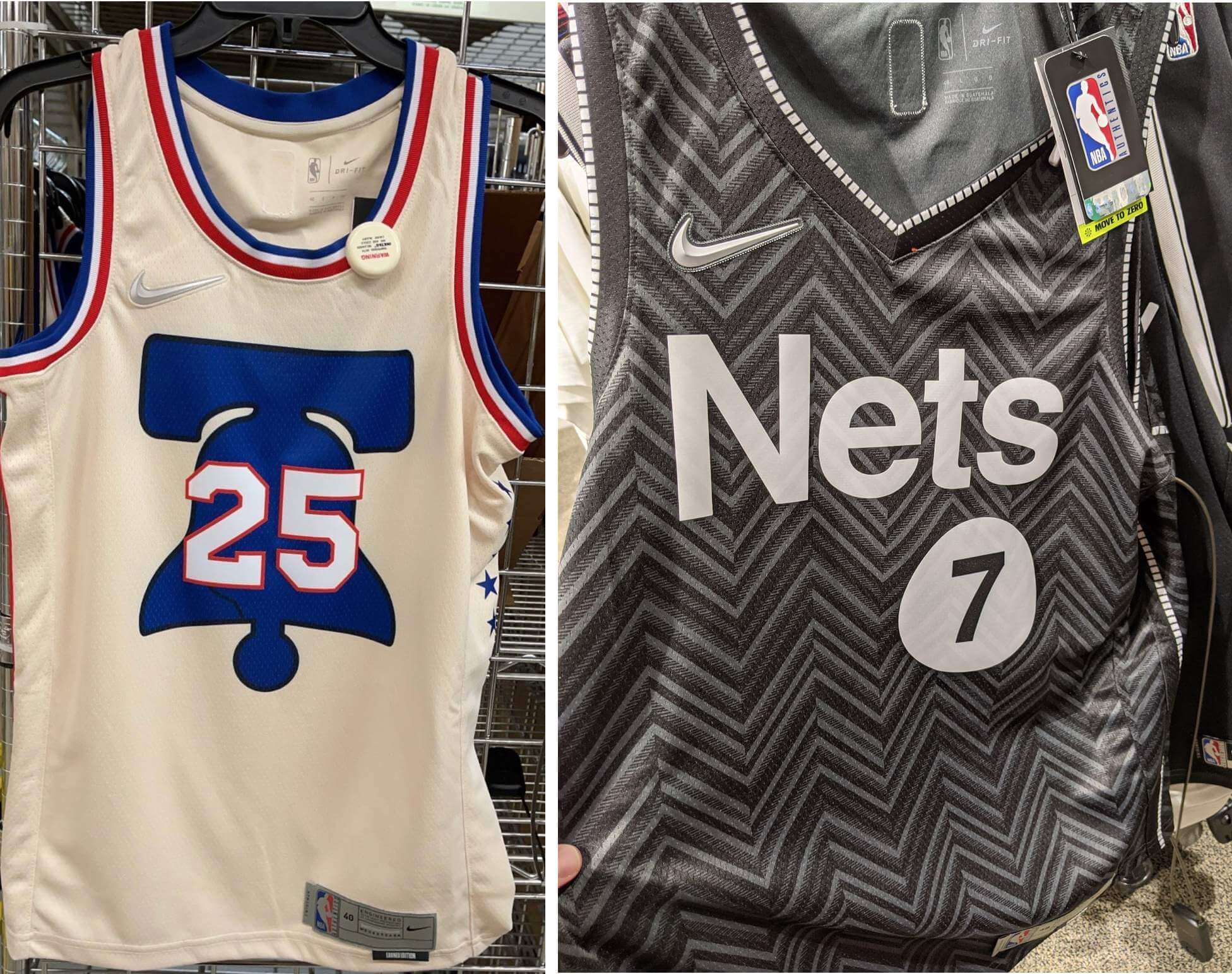 Click to enlarge
More NBA leaks: The latest NBA Participation Trophy Earned designs to leak are for the 76ers and the Nets.
The Nets entry, like most of the Earned uniforms, is useless merch-dump slop. But I really like the Sixers design — a lot! I do kinda wish that the numerals either fit entirely within the Liberty Bell or, better yet, that the bell could be smaller and allow the numbers to overflow the bell's bounds a bit more, but it's still pretty good. How often do you see an NBA jersey without the team's name, city, or logo on the front? Nicely done!
• • • • •
• • • • •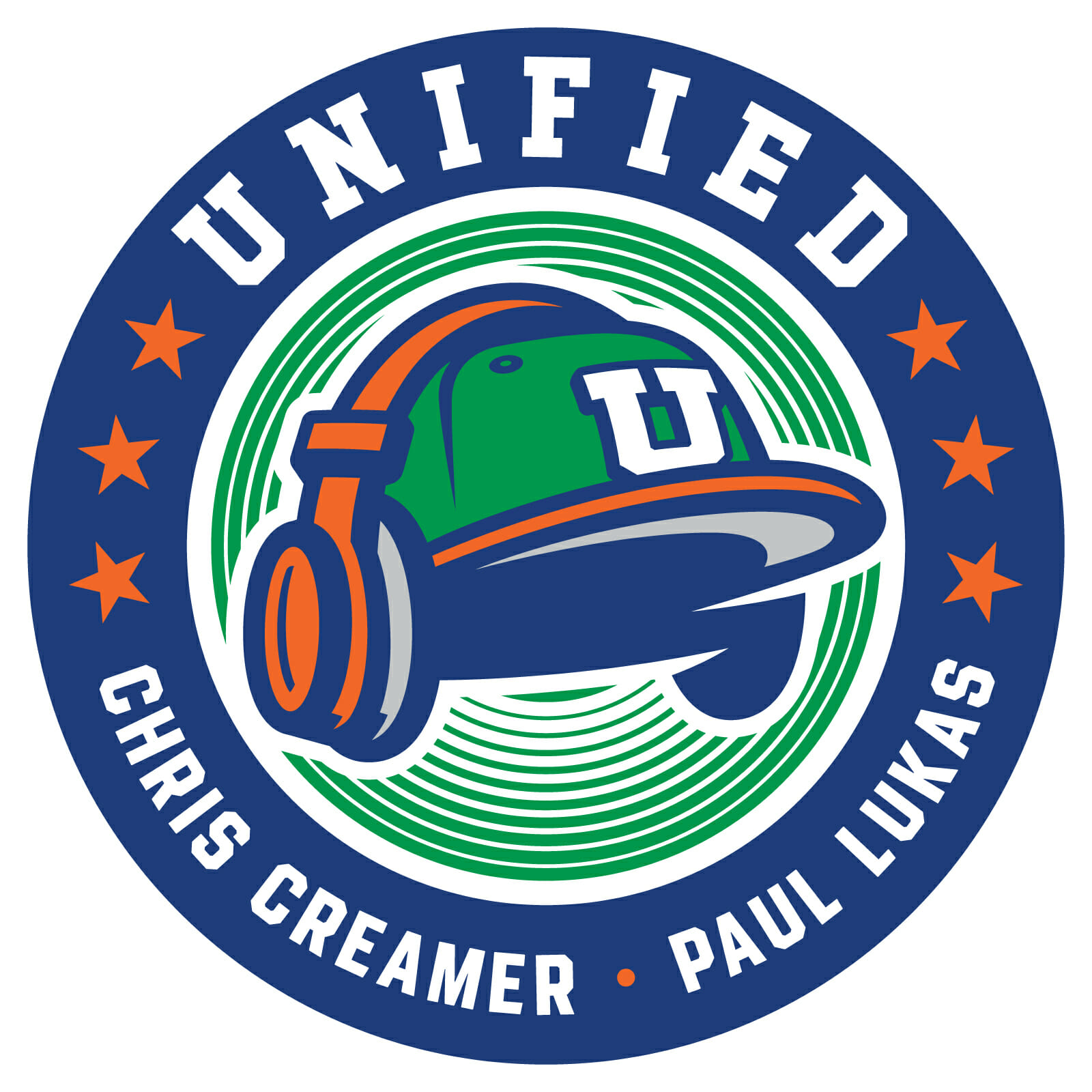 Podcast reminder: In case you missed it yesterday: For this week's episode of Unified, the recent scenario in which the Mets' starting rotation could have featured both a No. 0 and a No. 00, which I wrote about on Monday, led us to explore various situations featuring zero and double-zero (including, as shown above, such famously zero-clad players as Benito Santiago, Jim Otto, and John Davidson). It was a really fun discussion, in part because Chris isn't usually that into uniform numbers, but he still ended up having a lot to say!
We also talked about the Jags' new emphasis on teal, the news that the Washington Football Team's placeholder identity will be extended for another year, the ЯR uniforms that we think deserve to be upgraded to full-time status, and more.
You can listen to this episode, and subscribe to future ones, on Apple, Google, Stitcher, TuneIn, and Spotify, or just use the player below:
The show notes from this episode, which include photos of most of the things we discussed, are here. Those photos also appear in the video version of this episode, which you can watch here:
Enjoy the episode, and thanks for all the enthusiasm and positive feedback on this project.
• • • • •
• • • • •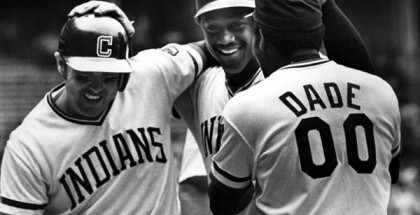 Speaking of double-zero: After checking out this week's podcast episode about "heroes of zero," reader/listener Marty Stevenson checked in with this anecdote I'd never heard before:
In 1977, outfielder Paul Dade wore No. 00 for the Cleveland Indians. On second base late in a close game, he took off to steal third (he made it).

After the game, which the Cleveland won, manager Frank Robinson was quoted as saying, "I don't know why he wears that number, but when he took off, I thought, 'Oh-oh.'"
Hmmmm. That's a great story — if it's true! Sounds potentially apocryphal, but I haven't had time to fully research it yet. Made me smile, though!
Update: The story is indeed true, at least according to an item at the bottom of this 1977 Sports Illustrated page (which was located by reader/commenter James Gilbert — thanks!).
• • • • •
• • • • •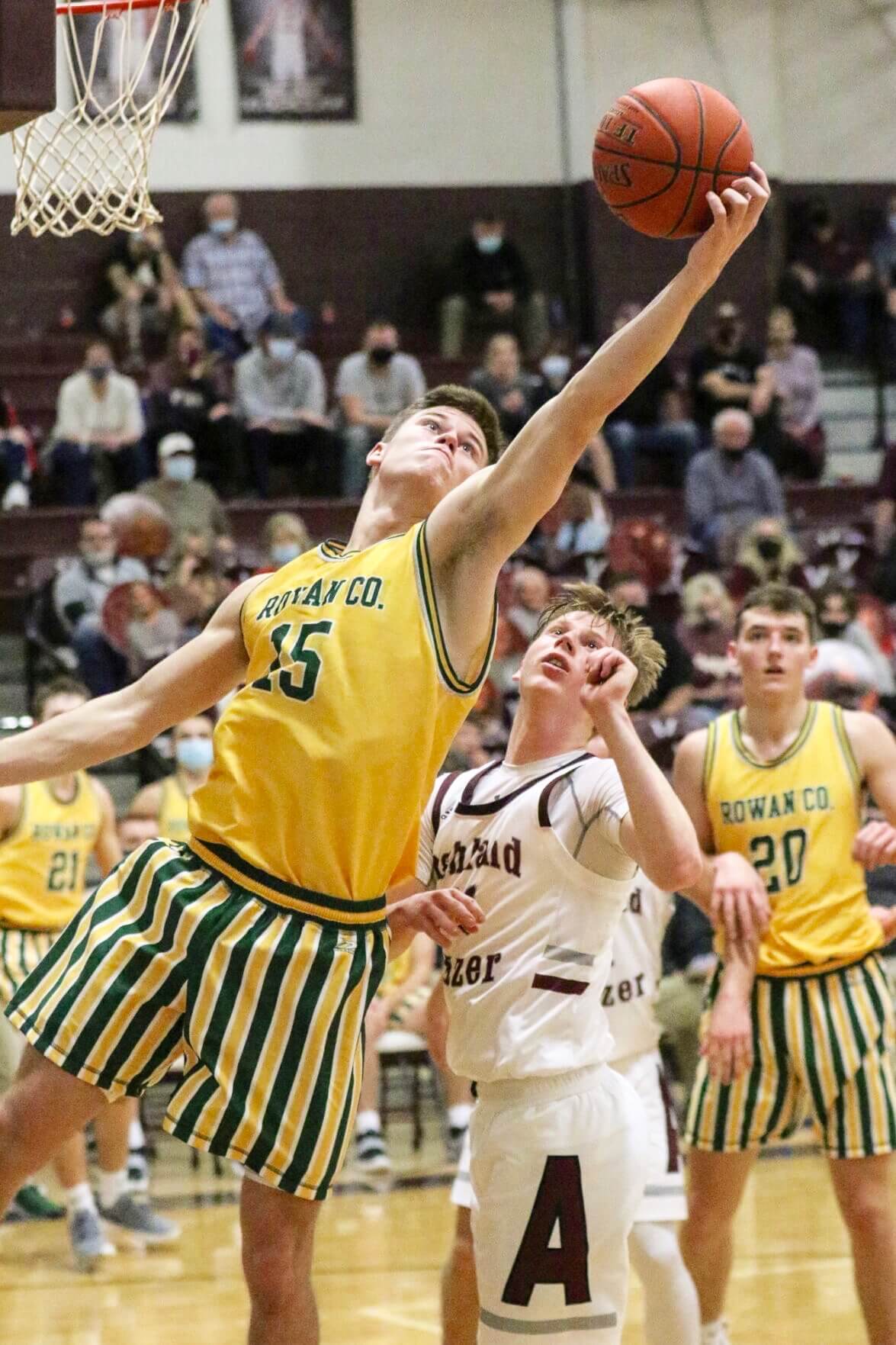 Photo by Matt Jones, The Daily Independent; cick to enlarge
Too good for the Ticker: I love green and yellow, and I also love stripes. But the boys' basketball uniforms worn by Rowan County High School in Kentucky might be too much, even for me. Yowza!
Also uni-notable: The opposing team in that game — Paul G. Blazer High — was wearing TNOB: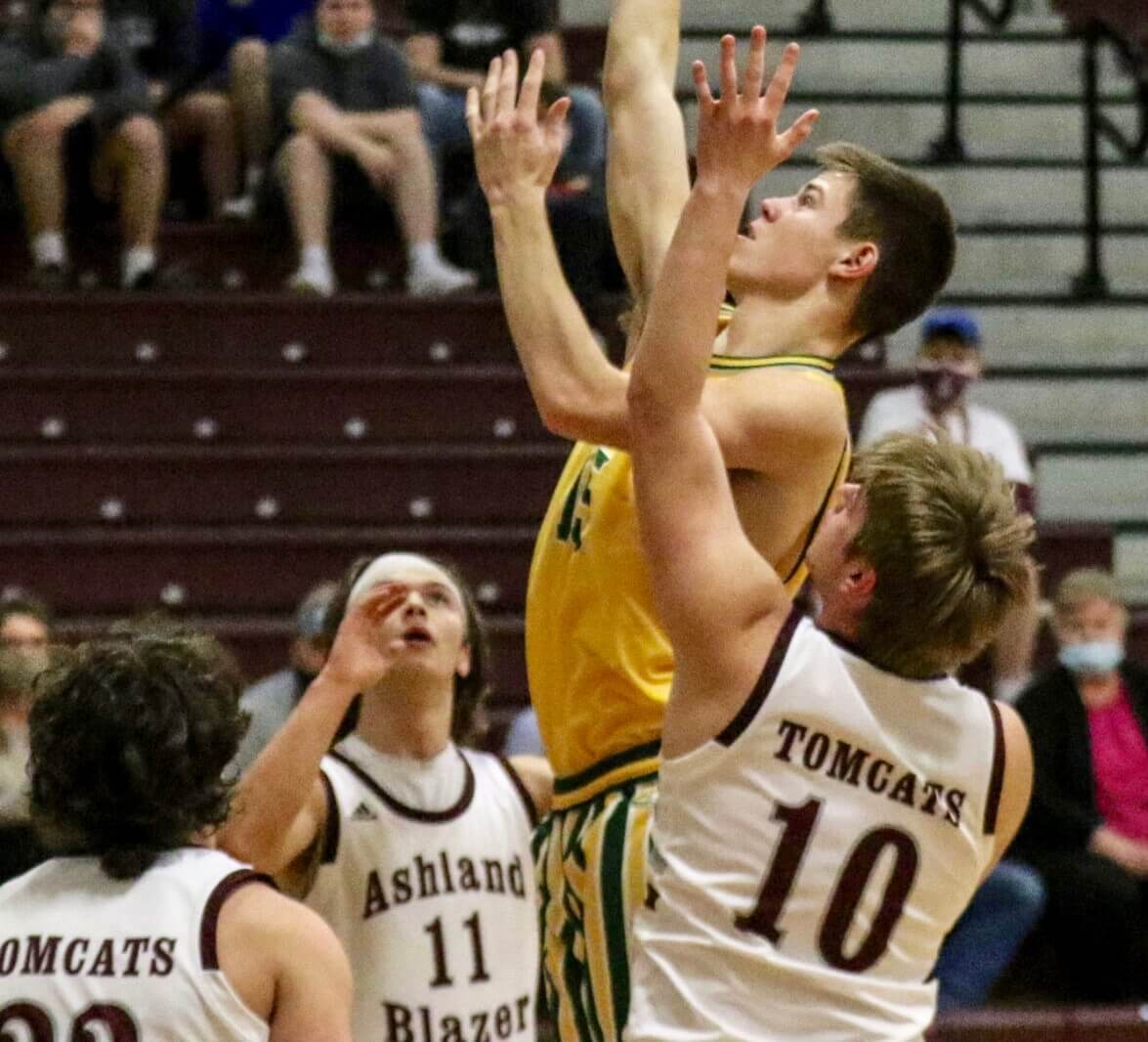 You can see more photos from this game here.
Regarding that "Tomcats" team name: A tomcat is, by definition, male, so I wondered what the school's girls' teams are called. According to Wikipedia, they go with "Kittens," which is some serious sexist bullshit — the boys get an adult name while the girls get a diminutive/infantilizing name. That should be changed.
(Big thanks to Ray Schaefer for this one.)
• • • • •
• • • • •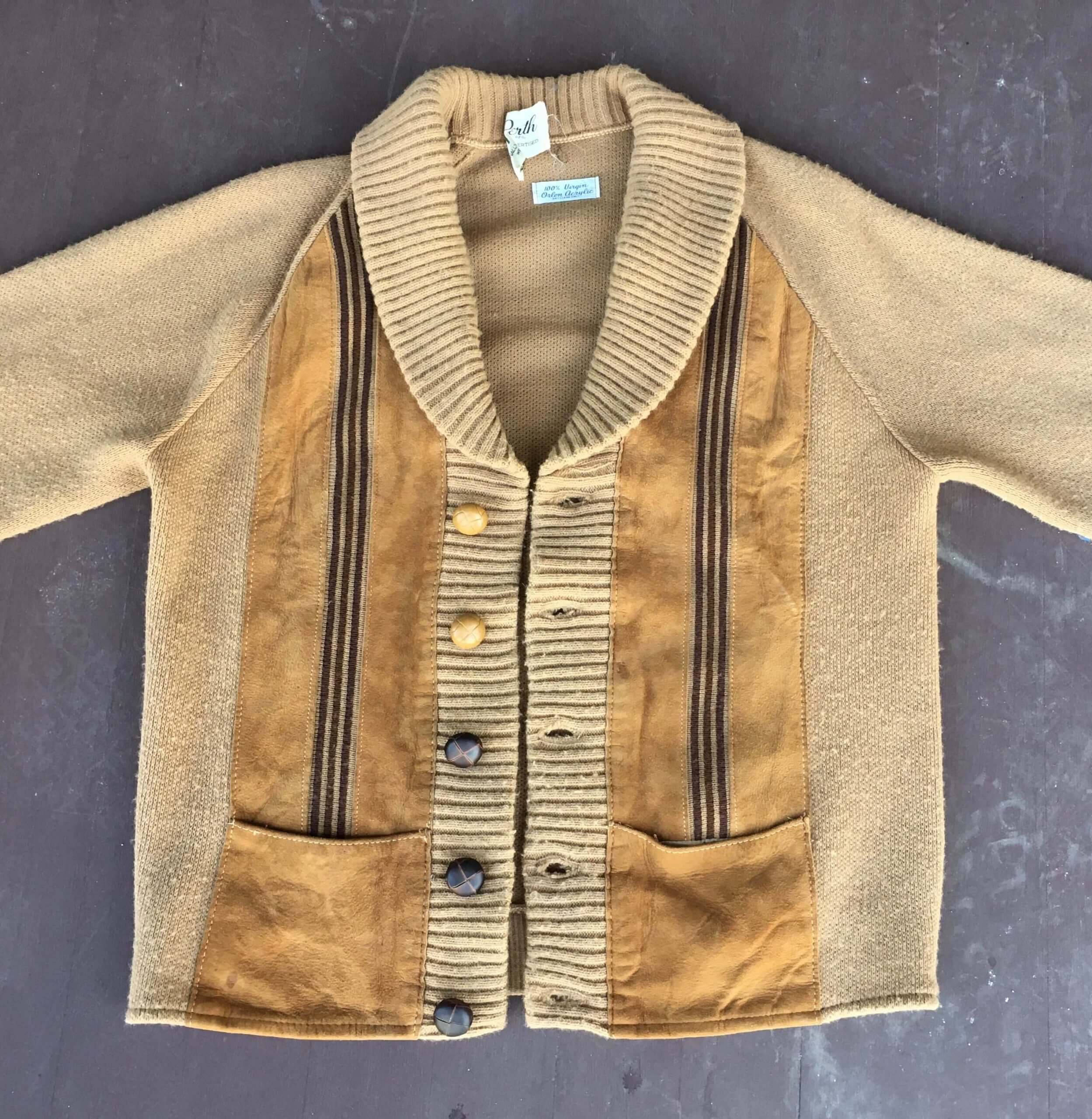 Click to enlarge
So what? Sew buttons! I recently scored this great vintage cardigan. Loved everything about it but the buttons, which were molded plastic designed to simulate leather buttons (not ideal, but I could live with it) and a pale yellow/tan color that didn't offer much contrast from the background fabric (a much bigger issue, at least for me). So I got some brown leather buttons, which I figured would match the vertical stripes, and swapped them in.
The photo above shows three of the five original buttons replaced with the new ones. (After taking the photos, I finished the job.) The new ones look so much better! Here's another shot: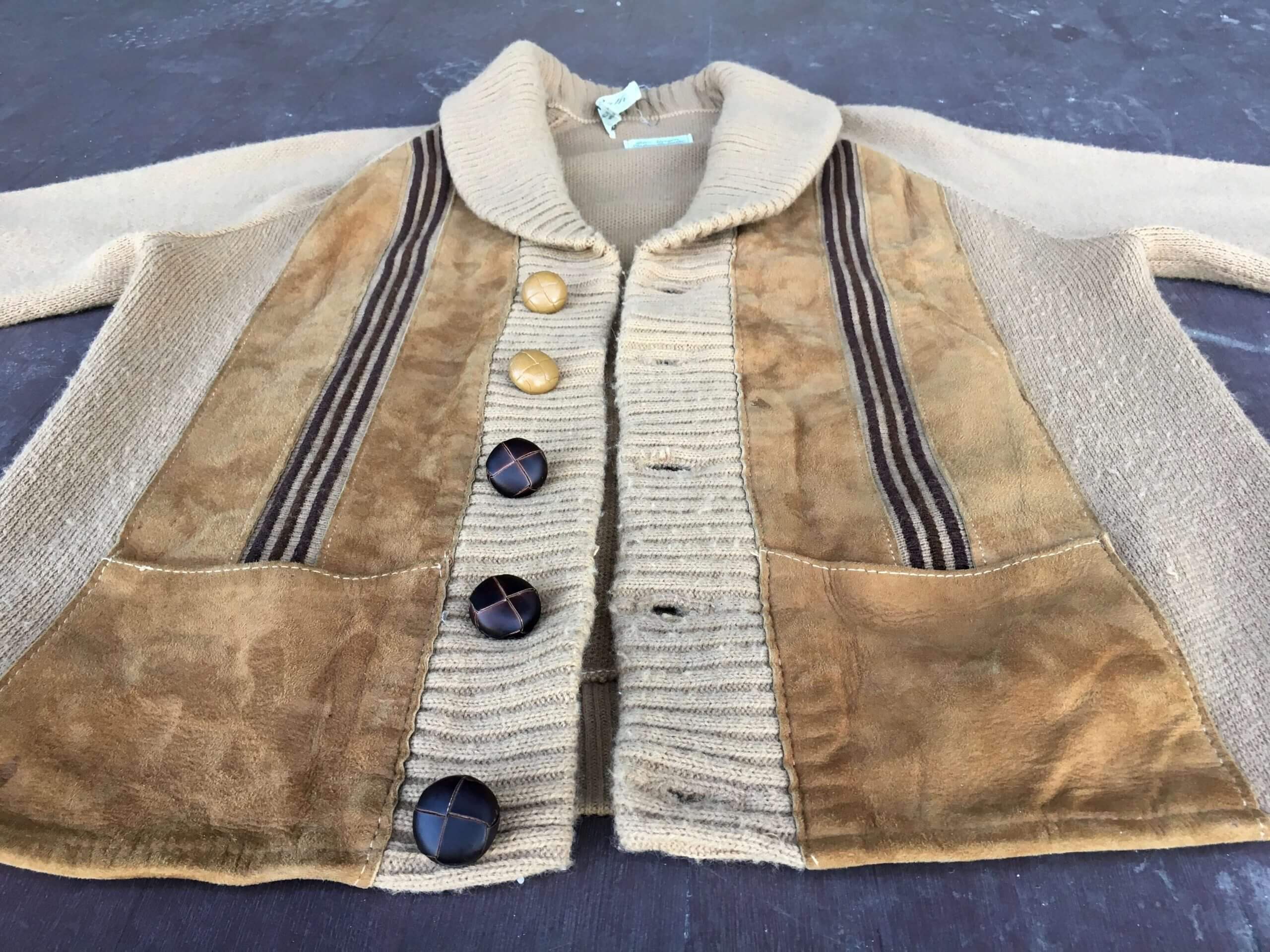 My sewing skills are very rudimentary, but it always feels good to work with my hands like this, even for something as simple as a few buttons.
• • • • •
• • • • •
The Ticker
By Anthony Emerson


Baseball News: New Mets SS Francisco Lindor wore Eddie Murphy's jacket from Coming 2 America to Spring Training (from Mike Chamernik). … Also from Mike: Once upon a time, Earl Weaver grabbed his pitcher's glove to prove a point to an obstinate umpire who had called the pitcher for a balk. … Here's a look at Florida State's many uniforms for this season (from multiple readers).

College Football News: Michigan and Northwestern have created a new rivalry trophy named after George Jewett, the first Black football player at both universities (from Mike Chamernik and Timmy Donahue).

Hockey News: The Caps wore Black History Month pregame sweaters last night, complete with a clever anti-racism shoulder patch. More looks here (from our own Jamie Rathjen and Brandon Weir). … Also from Brandon: here's a video of Michigan State goalies discussing their masks. … Looks like Bruins D Urho Vaakanainen's name is just short enough to allow him to have regular-sized letters on his nameplate (from @artofscorebug).

NBA News: Sportswriter Jeremy Schaap has some interesting thoughts on Nets PG Kyrie Irving wanting to change the NBA logo to honor Kobe Bryant instead of Jerry West. Irving also gave some additional thoughts about it (from @boss_hogge). … A Grizzlies blog has ranked the team's top five uniforms. … The Mavs have worn five different uniforms in their past five games.

College/High School Hoops News: UNC wore Carolina Blue at home, creating a blue-vs-blue matchup against Georgia Tech (from James Gilbert).

Soccer News: New dark kit for FC Cincinnati (from multiple readers). … Toronto FC ST Jozy Altidore accidentally leaked the team's new home kits in a hastily-deleted Instagram story. … It appears Rangers covered up their back ad with a piece of blue tape during their Europa League match against Antwerp. UEFA prohibits more than one ad on a kit during continental play (thanks, Jamie). … New shirts and outfitter for Belarusian club FC Vitebsk. "The shirts keep the El Lissitzky influences from last year's Cup shirt," says Ed Zelaski.

Grab Bag: The bib for pro golfer Rory McIlroy's caddy misspelled McIlroy's name (from @markinvictoria). … Temple University is retiring all of their owl-based logos (from multiple readers). … An Australian study has indicated that uncomfortable and inappropriate uniforms are turning some girls off from sports. … If you looked at a computer any time between like 2003 and 2013, you probably saw the iconic Windows XP default desktop. Here's the fascinating story behind the photo, and the man who took it. … Cycling New Zealand has rejected a jersey design based on the country's All-Blacks rugby jersey (from Gareth Hooton). … Third-tier Engligh rugby league team Keighley Cougars have become the first professional sports team to wear the LGBTQ+ Progress Flag on their kit (from Philip Brown). … New senior academy logos for the rugby union team Toronto Arrows RFC. … Graphic designer Rajie Cook, who designed the now-ubiquitous pictographs that appear all over airports, parks, and other public spaces, has died (from Jerry Kulig).
• • • • •
• • • • •
• • • • •
That's a wrap for this week. Stay safe, enjoy Phil's weekend content, check out the podcast if you haven't done so already, and I'll see you back here on Monday.