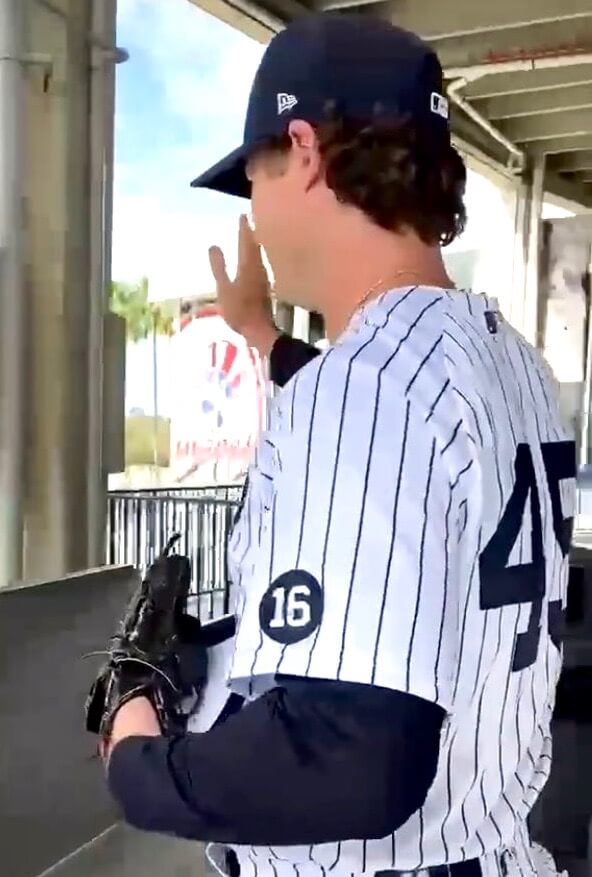 2021 continues to be a banner year for MLB memorial patches, as a social media photo of pitcher Gerrit Cole revealed the team's new "16" memorial for Whitey Ford.
As you may recall, Ford died on Oct. 8. The Yanks added a "16" sleeve memorial for him the following day and then were promptly eliminated from the playoffs by the Rays that night, so they only got to wear the "16" for one game. I predicted at the time that the memorial would almost certainly carry over to this season (there's precedent for that, as they added an "8" for Yogi Berra during the last week of the 2015 season and carried it over for all of 2016), so it's no surprise that they've chosen to do that.
What is surprising, however, is the design of the patch. The Yankees' usual protocol is that players whose numbers have been retired are memorialized with their uniform number (rendered in black numerals, with no circle), while mere mortals get a black armband. Ford's number has been retired, so they gave him the standard numerical treatment last October for that one-game memorial (which shared space with the "HGS" patch they were already wearing for Hank Steinbrenner):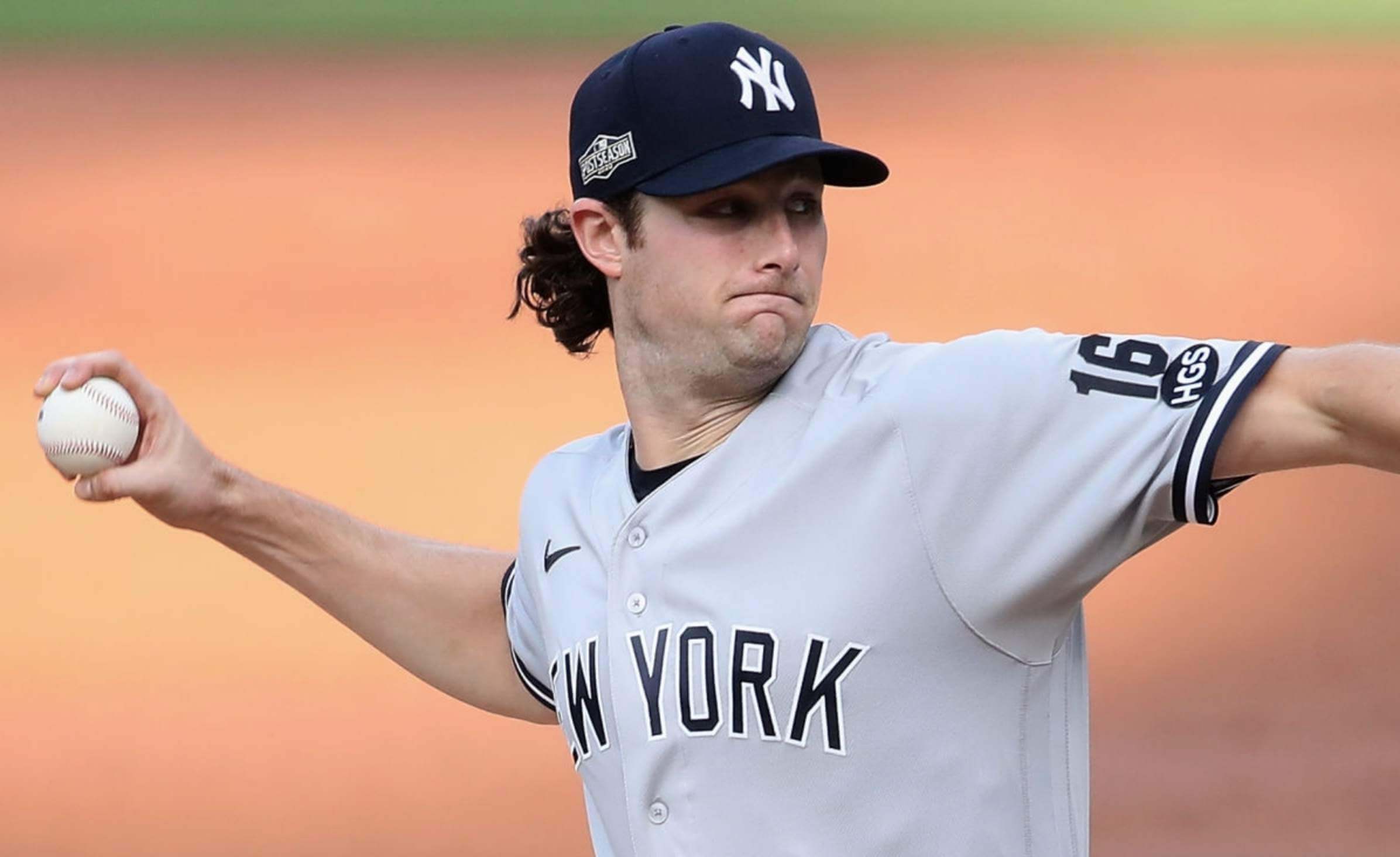 I assumed they'd repeat that same treatment this season. But instead, they're going with the black circle with the white "16." That would be a fairly standard and unremarkable memorial design for any other team, but it's an interesting deviation from the Yanks' usual protocol. In fact, according to Bill Henderson's jersey guide, this appears to be the first time the Yanks have ever used the black circle/number format. Who says they're stuck in their ways? They're branching out, getting all wild and crazy on us!
Meanwhile, does anyone else think the new patch is sitting too low on Cole's sleeve? Personally, I'd like to see a bit more clearance between the patch and the sleeve cuff.
(My thanks to @sumohuggs for spotting the Cole photo.)
• • • • •
• • • • •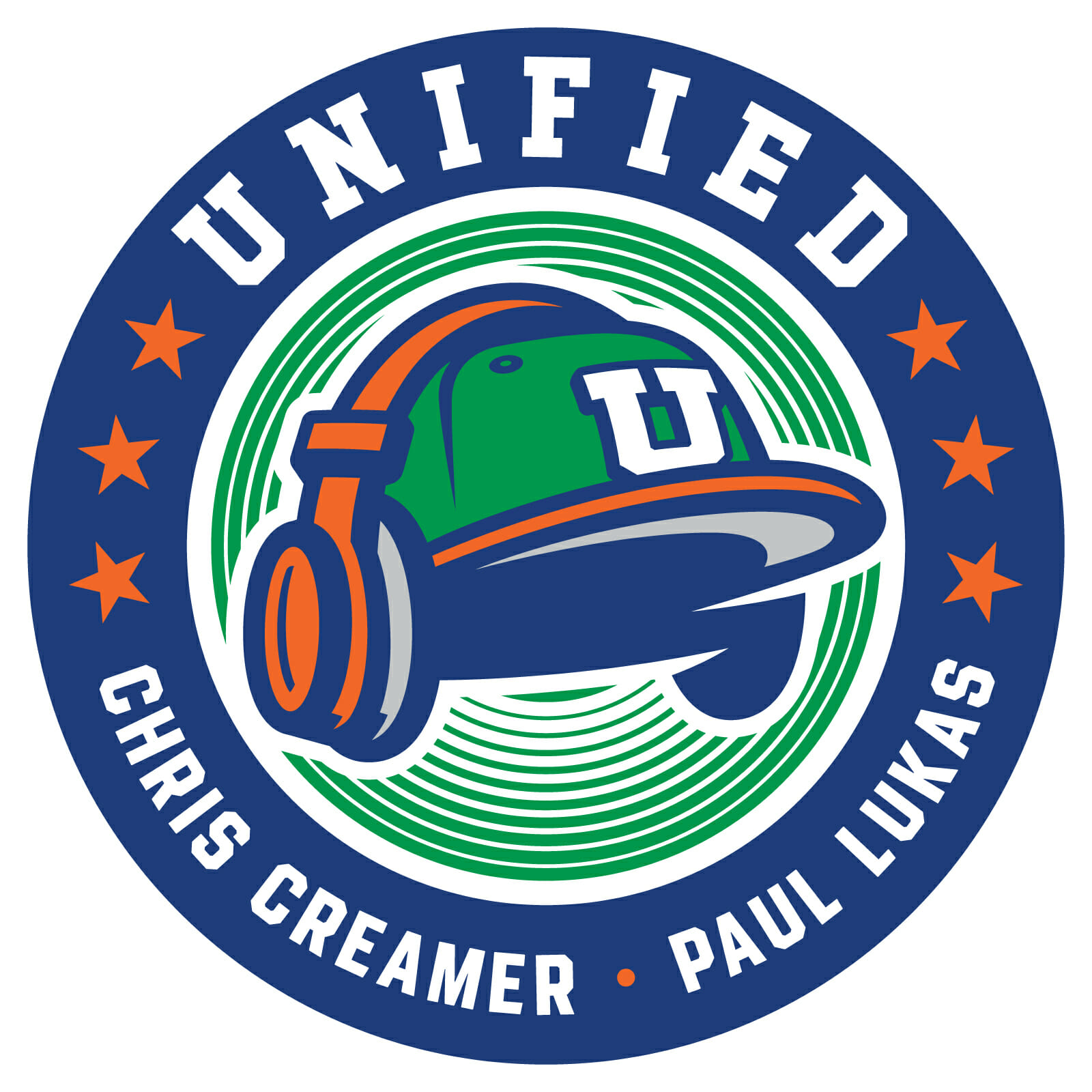 ITEM! New podcast episode: For this week's episode of Unified, the recent scenario in which the Mets' starting rotation could have featured both a No. 0 and a No. 00, which I wrote about on Monday, led us to explore various situations featuring zero and double-zero (including, as shown above, such famously zero-clad players as Benito Santiago, Jim Otto, and John Davidson). It was a really fun discussion, in part because Chris isn't usually that into uniform numbers, but he still ended up having a lot to say!
We also talked about the Jags' new emphasis on teal, the news that the Washington Football Team's placeholder identity will be extended for another year, the ЯR uniforms that we think deserve to be upgraded to full-time status, and more.
You can listen to this episode, and subscribe to future ones, on Apple, Google, Stitcher, TuneIn, and Spotify, or just use the player below:
The show notes from this episode, which include photos of most of the things we discussed, are here. Those photos also appear in the video version of this episode, which you can watch here:
Enjoy the episode, and thanks for all the enthusiasm and positive feedback on this project.
• • • • •
• • • • •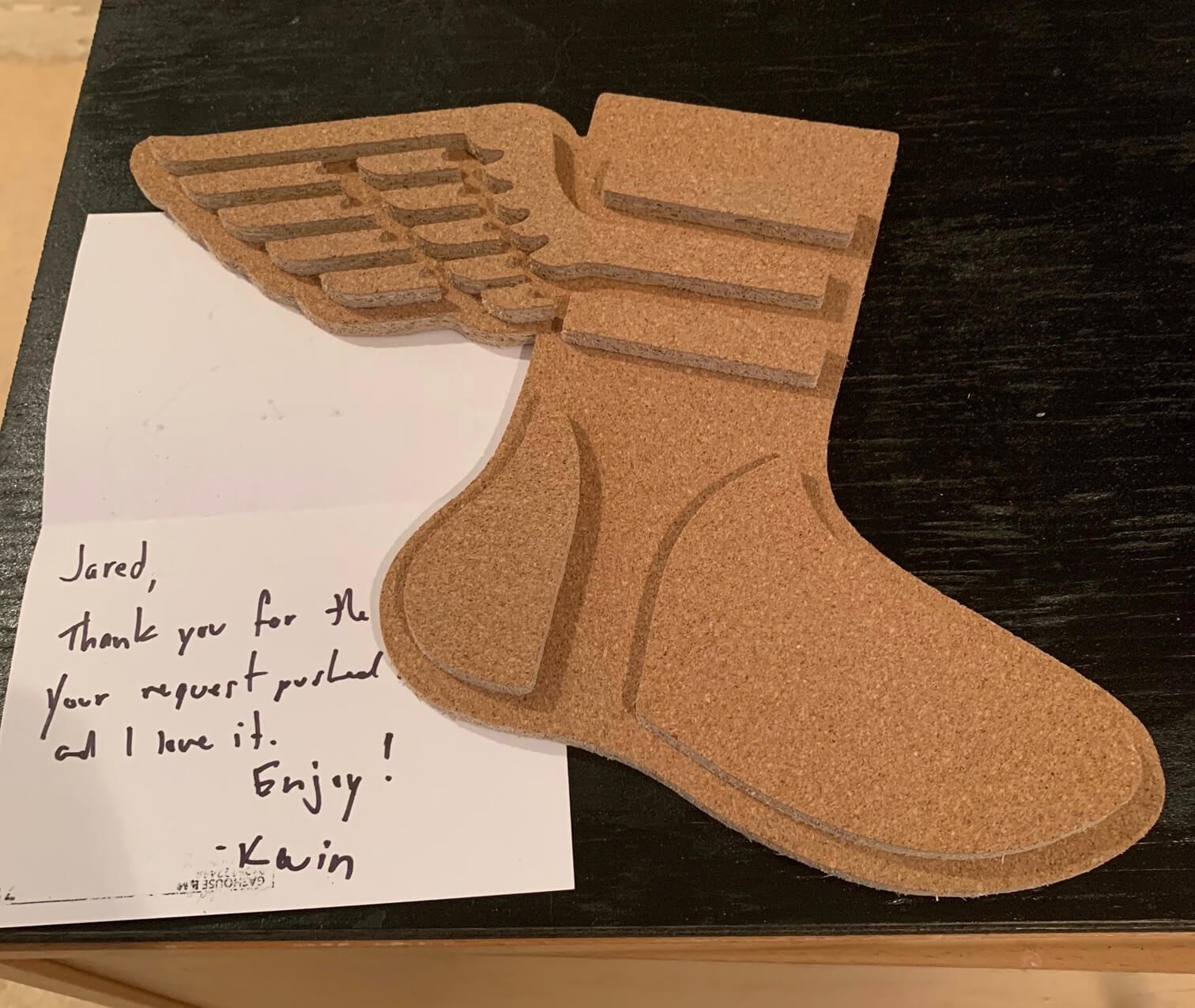 Click to enlarge
Put a cork in it: I recently received a note from reader Jared Adkins, as follows:
I'm toying with the idea of upgrading my Uni Watch Pin Club display. I was thinking of seeing if an artist on Etsy (I haven't sought anyone out in particular, this is early territory for this project) would make a cork board in the shape of the Uni Watch logo.

Before I did that though, I wanted to see if that was okay with you — and if so, if you had any artists you'd prefer me to get in touch with for said project.
Obviously, I was more than okay with it. And I knew just the man for the job: Kevin Cearfoss, whose 3D wood logos have been featured on Uni Watch a few times. I didn't know how cork-savvy he was, but I figured it was worth a shot, so I suggested that Jared get in touch with him. "And tell him I sent you!," I added. (I always love being able to say that.)
Kevin had never worked before with cork, but he was game for the challenge. He even produced two different designs for Jared to choose from — a flat version and a 3D version:
@ErikRGamborg @UniWatch @PhilHecken @unifiedcast @sportslogosnet Attention UniWatchers: looking for some feedback on a project for the Pin Club. Which do you like more? Vote in the thread. #uniwatch #pinclub pic.twitter.com/GeCAMxmGAu

— Kevin Cearfoss (@GashouseILM) February 14, 2021
It was a tough call! Personally, I think I would've gone with flat, but Jared chose 3D. Here's how it looks with his pin collection (click to enlarge):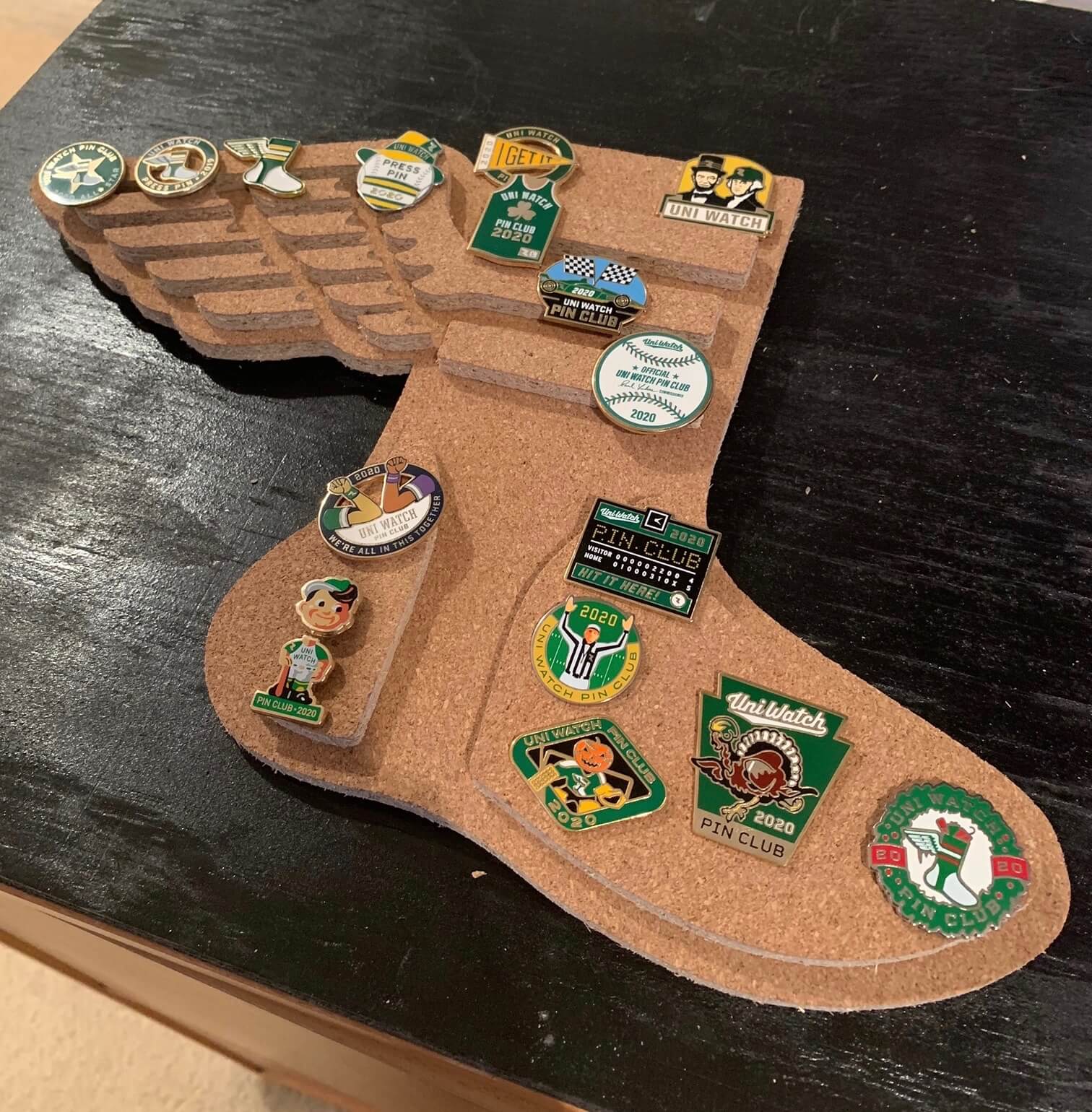 It's great that Jared has a cool new display for his pins, but it's even better that two members of the Uni Watch comm-uni-ty have connected on this project — I love that! Thanks for all the enthusiasm and support, guys.
• • • • •
• • • • •
The Ticker
By Paul

'Skins Watch: Nike has apparently stopped using the team name "Indians" on its website (from @spiders_six). … Unfortunately, however, that isn't stopping other parties from selling a remarkably tone-deaf Indians shirt (from Shannon Shark). … In a related item, The Athletic is holding a bracket competition for a new name for the Indians (from Kary Klismet). … The 25 Colorado high schools that still use Native-based iconography would have to make changes by June of next year or face a $25,000 monthly fine under a bill that's been introduced in the state legislature (from Glenn Chavez). … The state of Wisconsin may provide funding to help schools finance the change from Native American team names (from Ray Barrington). … Also from Ray: Weyauwega-Fremont High School in Wisconsin has changed its team name from "Indians" to "Warhawks." … D3 Carthage College's teams will now be called the Firebirds, instead of the Red Men and Lady Reds (from @shwrth and Kary Klismet). … Also from Kary: The Port Clinton (Ohio) school board is refusing to act on a petition signed by over 3,000 students and alumni calling for the high school to drop its "Redmen" team name. … One more from Kary: The chief of the Cherokee Nation has asked car maker Jeep to discontinue its use of the name "Cherokee" for its line of SUVs. … Saugatuck Public Schools in Michigan are changing their team name from "Indians" to "Trailblazers." "Another win for sensible mascots," says John Chapman. … Reprinted from yesterday's comments: The school district in Marion, Iowa, has changed the local team name from "Indians" to "Mavericks" (from the pseudonymous Another JT). … The board of William S. Hart High School in California, which has been soliciting community input on whether to change the school's team name from "Indians," recently heard from a local Indian tribal president who said the team's current mascot "gives an inaccurate representation of local Native American culture and tradition" (from Tim Dunn). … A California driver was pulling the old trick of using a mannequin in the passenger seat so he could drive in the car pool lane. Interestingly, the mannequin was wearing a Chief Wahoo cap (from Dante Centuori).

Baseball News: The Royals and Tigers will wear Negro Leagues throwbacks on May 23. Let's hope the jerseys don't have the maker's marks shown in those mock-ups (from Ryan Atkinson). … Check out this old photo of Forbes Field. Look at that sort of heart-shaped infield cutout behind second base — don't think I've ever seen anything quite like that before (from BSmile and Joe Bonavita). … The latest team to join the Atlantic League is the West Virginia Power. Additional info here. … Number switcheroo for the Dodgers, as P Tony Gonsolin has given up No. 46 so newly acquired teammate Corey Knebel can wear it. Gonsolin will now wear No. 26. … A fan in Cleveland has digitally recreated League Park, where the Indians played up through 1946 (from Jonthan Dies). … Former Yankees P Masahiro Tanaka is now with the Tohoku Rakuten Golden Eagles in Japan. Here's how he looks in their uniform. … Mets SS Francisco Lindor showed up at spring training with blue hair (from Ryan Mallon). … Speaking of Lindor, he's also one of several Mets who've been wearing mesh-backed caps this week. Others include P Jacob deGrom and P David Peterson (thanks to all who shared). … Here's the story behind the Phillie Phanatic bat that Phils OF Bryce Harper has been seen with lately (from Michael Hochman). … Louisville has worn four different uniforms in their first four games of the season, and they have another one coming on Saturday (from M. Brinston Barry). … New mono-black uniforms for D3 Pacific Lutheran. As you might imagine, that "PLU" abbreviation speaks to me a bit! … Fun article about an Ontario couple that has every Blue Jays bobblehead ever issued (from Andreas Papadopoulos).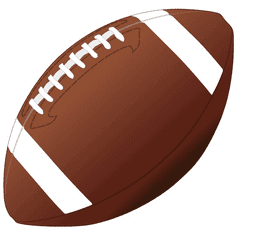 Football News: Here's a good post about how you can trace evolution of football shoes through old sporting goods catalogs. … UCF now has a series of icons and logos that coordinate to specific players and coaches (from ,@TdashTill).

Hockey News: The Athletic has a paywalled article about two guys who are trying to bring the Air Jordan aesthetic to hockey skates (from Mike Chamernik). … Former Capitals coach Bruce Boudreau's new USPHL junior hockey team will be called the Hershey Cubs. If that logo looks familiar, it's because it's a riff on the old Minnesota Fighting Saints logo (from Ted Taylor). … The AHL's Henderson Silver Knights have a town crier who announces goals (from Mike Chamernik). … You don't often see overhead photos of NHL games, but there are some really good-looking ones here and here (from Andreas Papadopoulos). … The Capitals have worn four different uniforms in the space of a week (from @1995hoo).

NBA News: The latest NBA Earned leak is for the Heat. … Nets PG Kyrie Irving thinks the NBA logo should be redesigned to be based on Kobe Bryant instead of Jerry West (thanks to all who shared).

College and High School Hoops News: Purple alternates last night for Clemson (from Scott Trembly). … Indiana F Race Thompson wore a clear facemask last night after possibly breaking his nose in Tuesday's practice

Soccer News: New "community kit" for the LA Galaxy (from Jakob Fox). … The Museum of Jerseys site has a new post on Scotland's tartan-patterned or -accented shirts (thanks, Jamie). … Atlanta United FC's new kit will apparently be unveiled tomorrow (from @asa_m_d). … New match ball for the Georgian top tier Erovnuli Liga (from Ed Zelaski). … The new USWNT shirt may have leaked.

Grab Bag: Organizers of a beach volleyball tournament in Qatar will allow players to wear bikinis after all. Two German players had planned to boycott the event due to a ban on bikinis. … McDonald's has a new ad campaign featuring a modified verison of its famous golden arches. … New logo for bicycle tire brand Panaracer. … The new Batman Unburied podcast now has its own logo. … New logo for the Indiana city of West Lafayette. … Over 160 Confederate symbols were removed from public spaces in 2020 (NYT link) — more than in the previous four years combined. … Some new uniform items from the U.S. Army: new gloves, and also new nursing and maternity shirts for female soldiers (from Timmy Donahue). … New helmets tomorrow night for Maryland lacrosse (from Wes Brown). … Oh for fuck's sake: A Virginia Senate budget amendment would block the D.C. region's Metro system from receiving at least $166 million in state funding unless it renames a rail station after a bank. Seriously gross (from @VictoryCB). … With Valparaiso University no longer calling its teams the Crusaders, here are five possible replacement names (from @R_LMN). … New IndyCar livery for Jimmie Johnson's No. 48 car (from Tim Dunn). … Reprinted from last night's comments: Here's a complete rundown of AFLW Indigenous Round guernseys (from Graham Clayton). … Yesterday's Ticker mentioned that the National Lacrosse League's New England Black Wolves were relocating to Albany, N.Y. Now the franchise is holding a contest to rename the team (from Wade Heidt). … Unusual and interesting design for some new U.S. Postal Service trucks (from R. Scott Rogers). … New line of tennis attire for Roger Federer (thanks, Brinke). … The U.S. presidential seal usually includes the words "Seal of the President of the United States." But during a recent appearance by President Biden, his lectern had the image from the center of the seal but didn't have the wording (good spot by Devin Driscoll). … Here's one writer's take on why Red Bull Racing's F1 livery doesn't need changing (from Ephraim Vorzman).
• • • • •
• • • • •