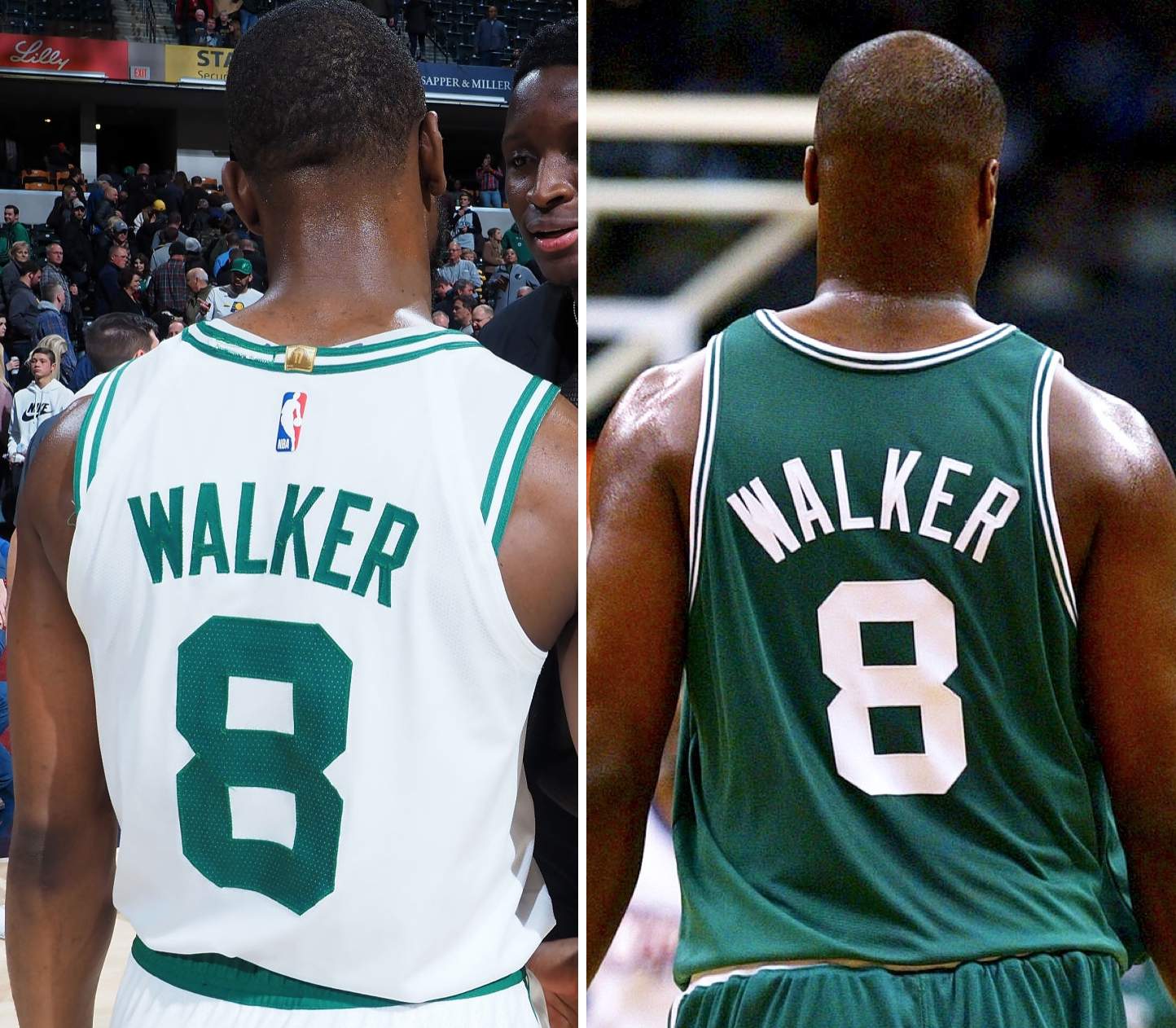 Happy Presidents Day, and greetings from Uni Watch HQ, where I'm happy to report that all three inhabitants continue to be safe and well. Hope things are also good at your home.
Reader Andrew Fallon recently pointed out something interesting: Kemba Walker currently wears No. 8 for the Celtics (above left), and Antoine Walker wore that same number for the Celtics two decades ago (above right). That led Fallon to pose a genius trivia question: How often have separate players with the same surname worn the same number for the same team?
It turns out that there's a decent number of these instances spread out across the uni-verse (in all sports, not just in the NBA). In fact, there are several other cases involving the Celtics. For example, Dee Brown used to wear No. 7 for them (below left) and Jaylen Brown wears it today: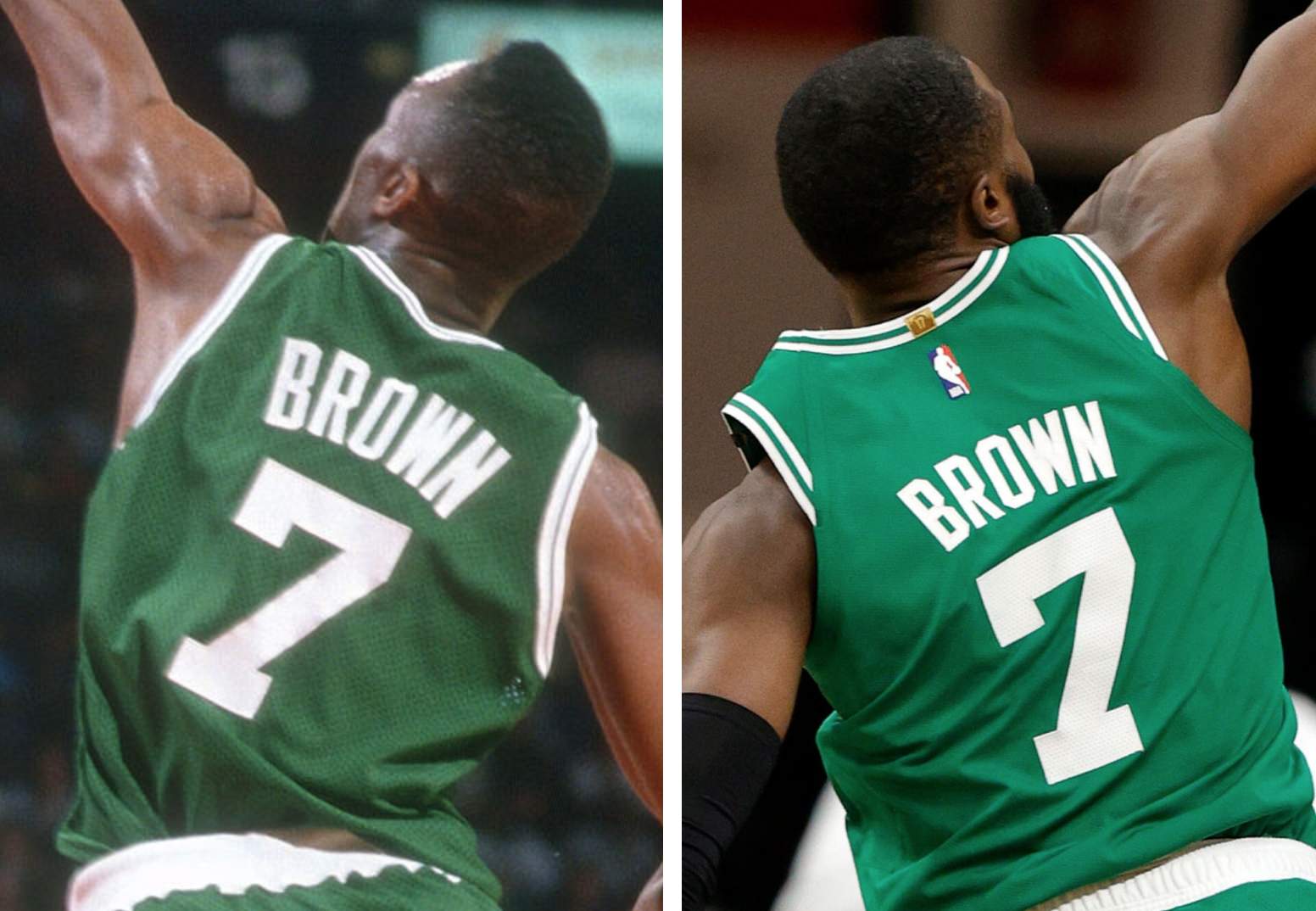 The Celtics have also had both Eric Williams (left) and Terrence Williams wearing No. 55: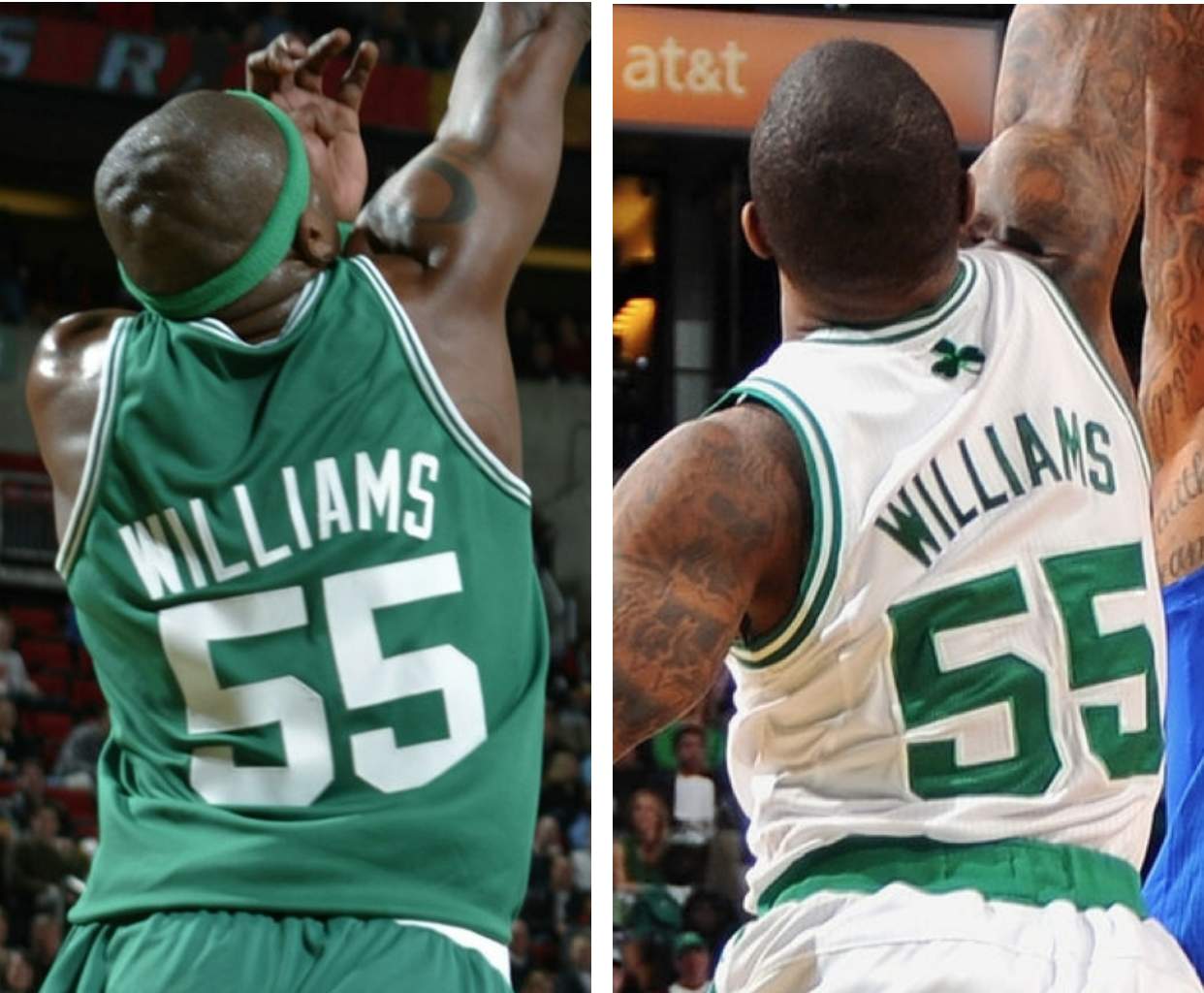 Terrence Williams is involved in another one of these pairings, as he and Deron Williams (right) both wore No. 8 with the Nets: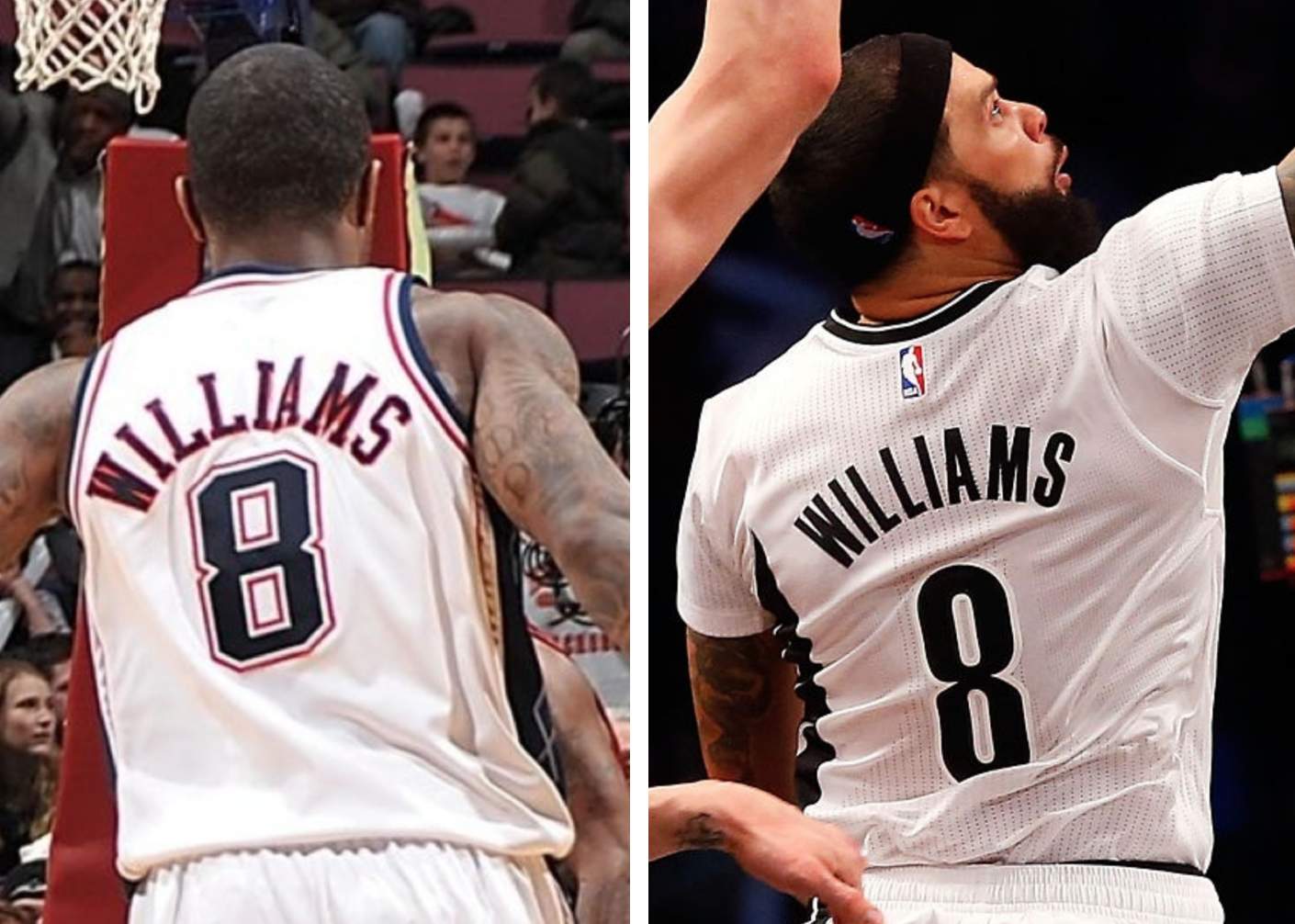 What should we call this phenomenon? I've been trying to come up with a snappy name or acronym, but the best I've been able to do is STNN (short for "same team, name, number"), which isn't very good. Anyone..?
Whatever we end up calling it, I quickly discovered that it's a deep and fruitful rabbit hole, so I decided to establish some ground rules. First, I omitted any examples involving siblings (like J.D. and Stephen Drew both wearing No. 7 for the Red Sox), father/son combos (like Bobby and Barry Bonds both wearing No. 25 for the Giants), or other blood relations (like Takeo and Brandon Spikes, who are cousins, both wearing No. 51 for the Bills). Those instances feel less surprising and therefore less satisfying, because they seem more predetermined and obvious instead of like random coincidences, so I say they don't qualify.
Second, I decided to include pairings where one of the NOBs includes a first initial and the other doesn't. In those cases (which came up only a couple of times), the surnames match even if the NOBs don't, and that's good enough for me.
With those two guidelines in mind, here's a partial list of STNNs, broken down by league:
NBA
• Juwan Howard (left) and Josh Howard both wore No. 5 for the Mavericks: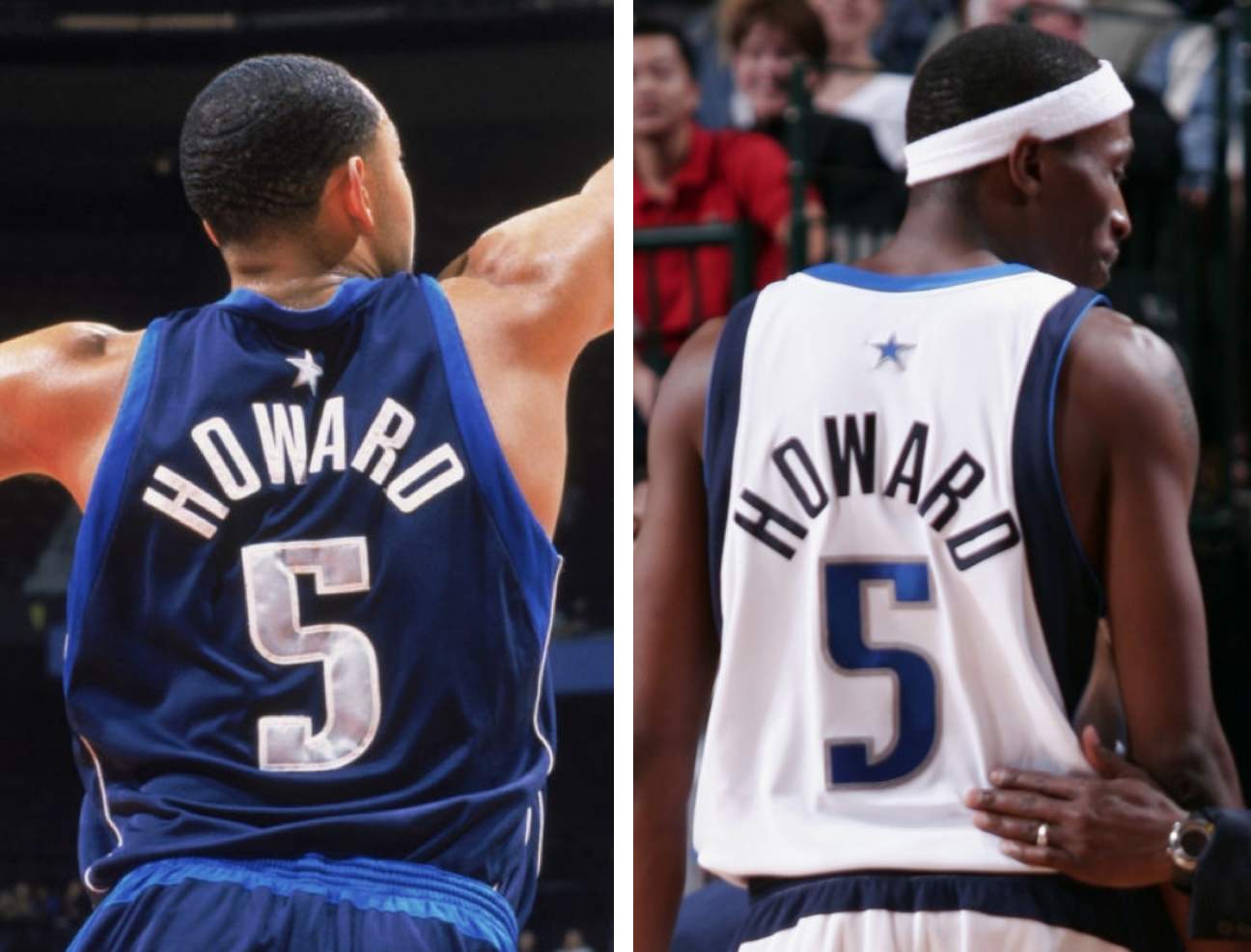 • The Mavs have also had Gerald Green (left) and Josh Green wearing No. 8: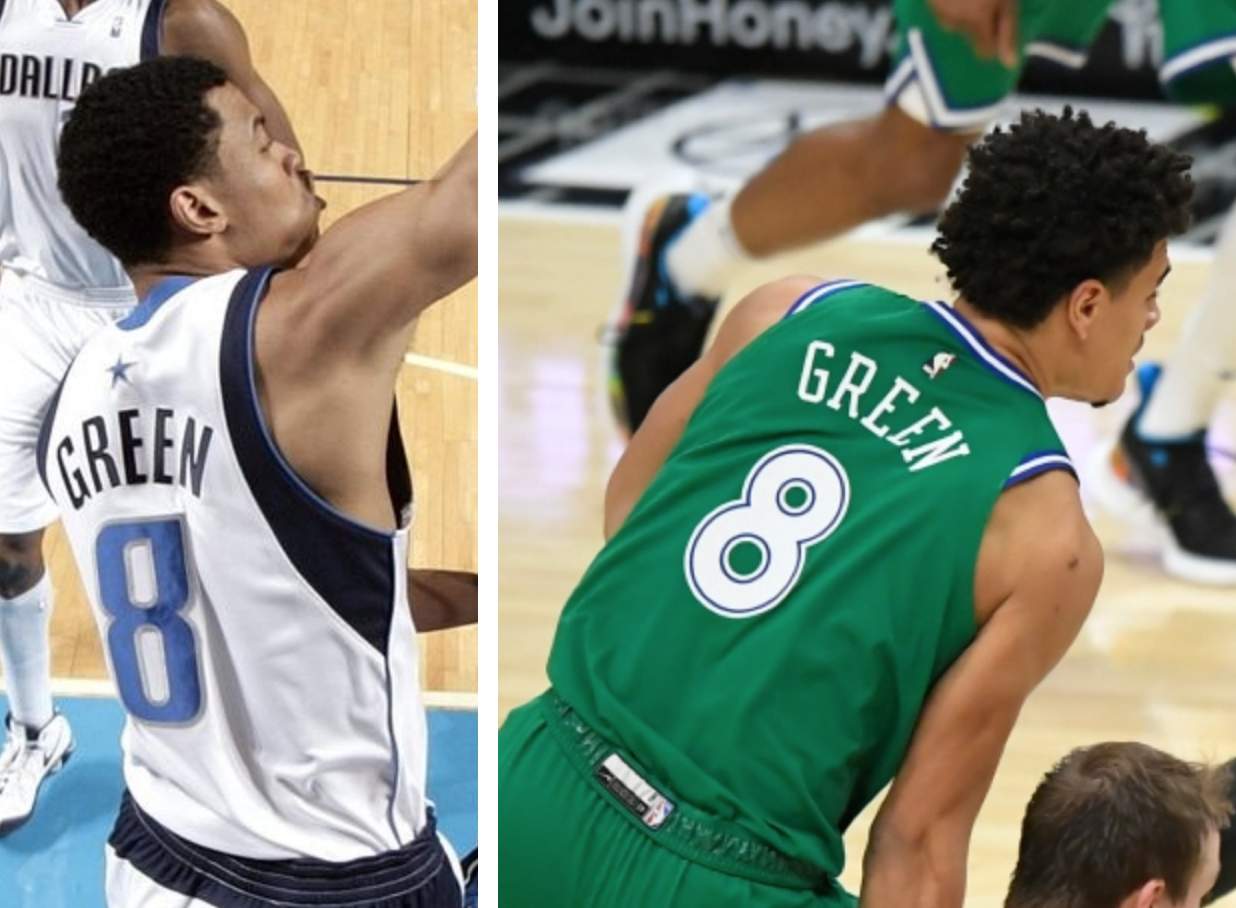 • Terrence Jones (left; sorry, couldn't find a rear-view photo) and Mason Jones have both worn No. 9 for the Rockets: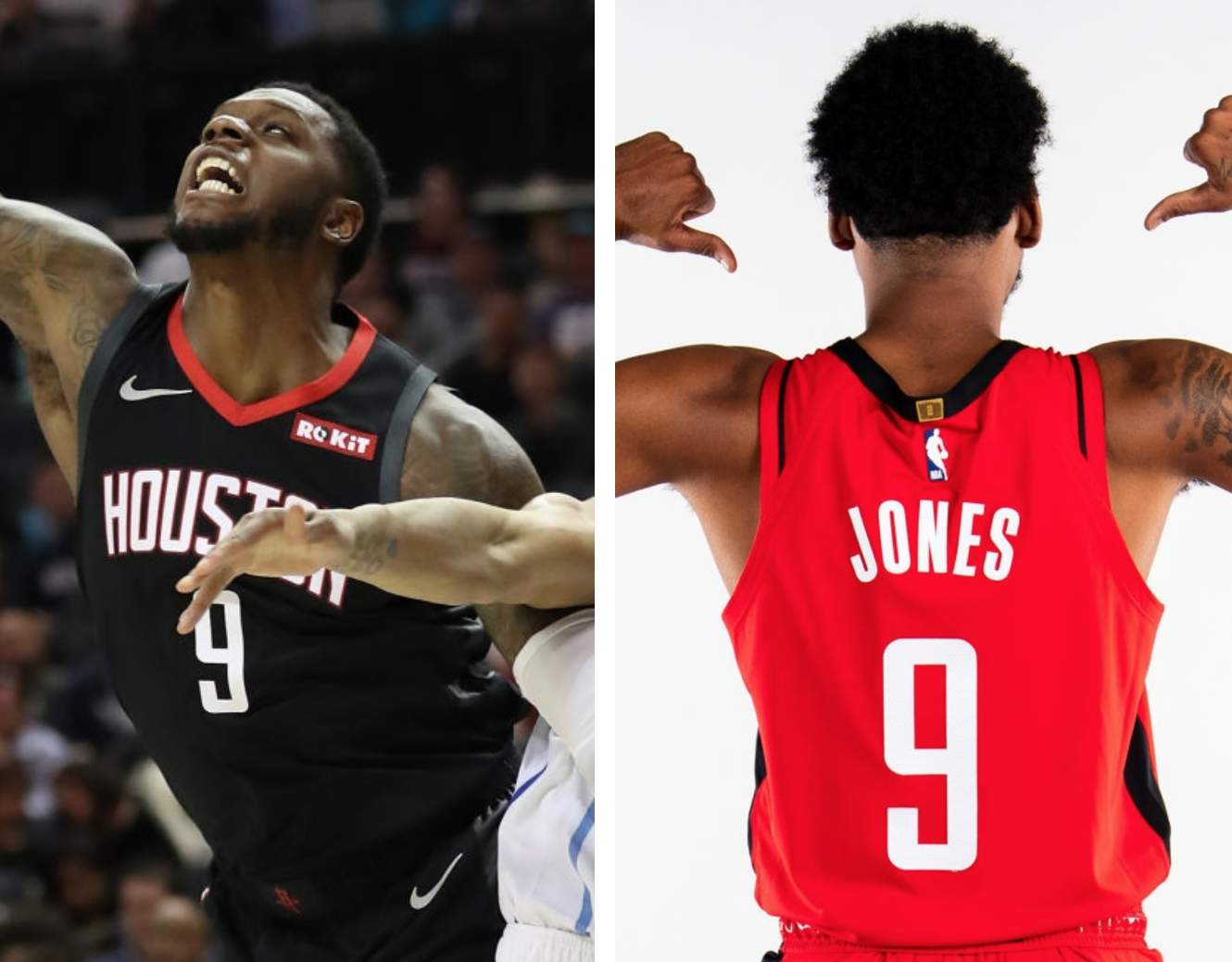 • Harvey Grant and Brian Grant both wore No. 44 for the Trail Blazers: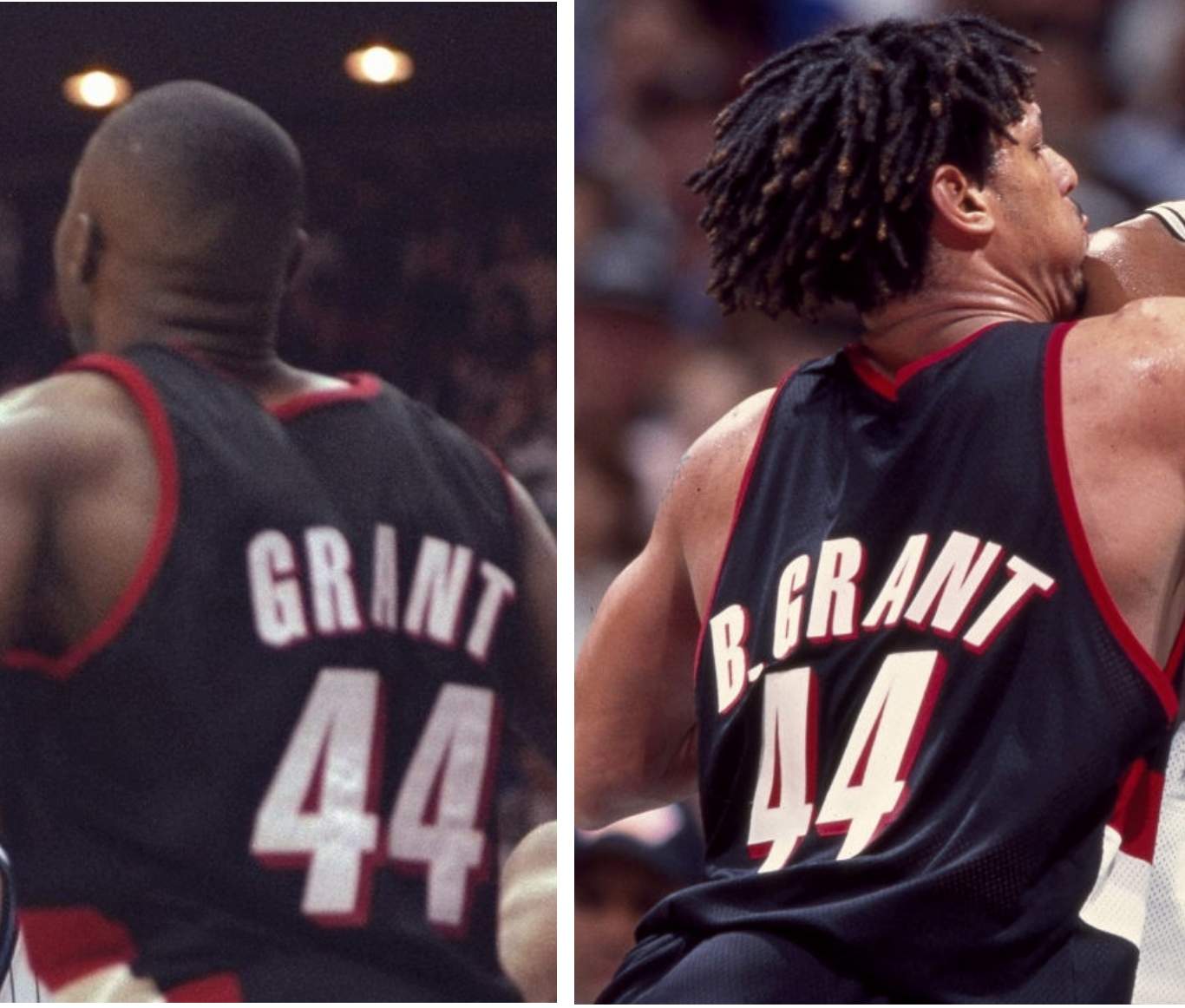 • Ben Wallace (left) and Rasheed Wallace both wore No. 30 for the Bullets (although I couldn't find rear-view photos for either of them, sorry):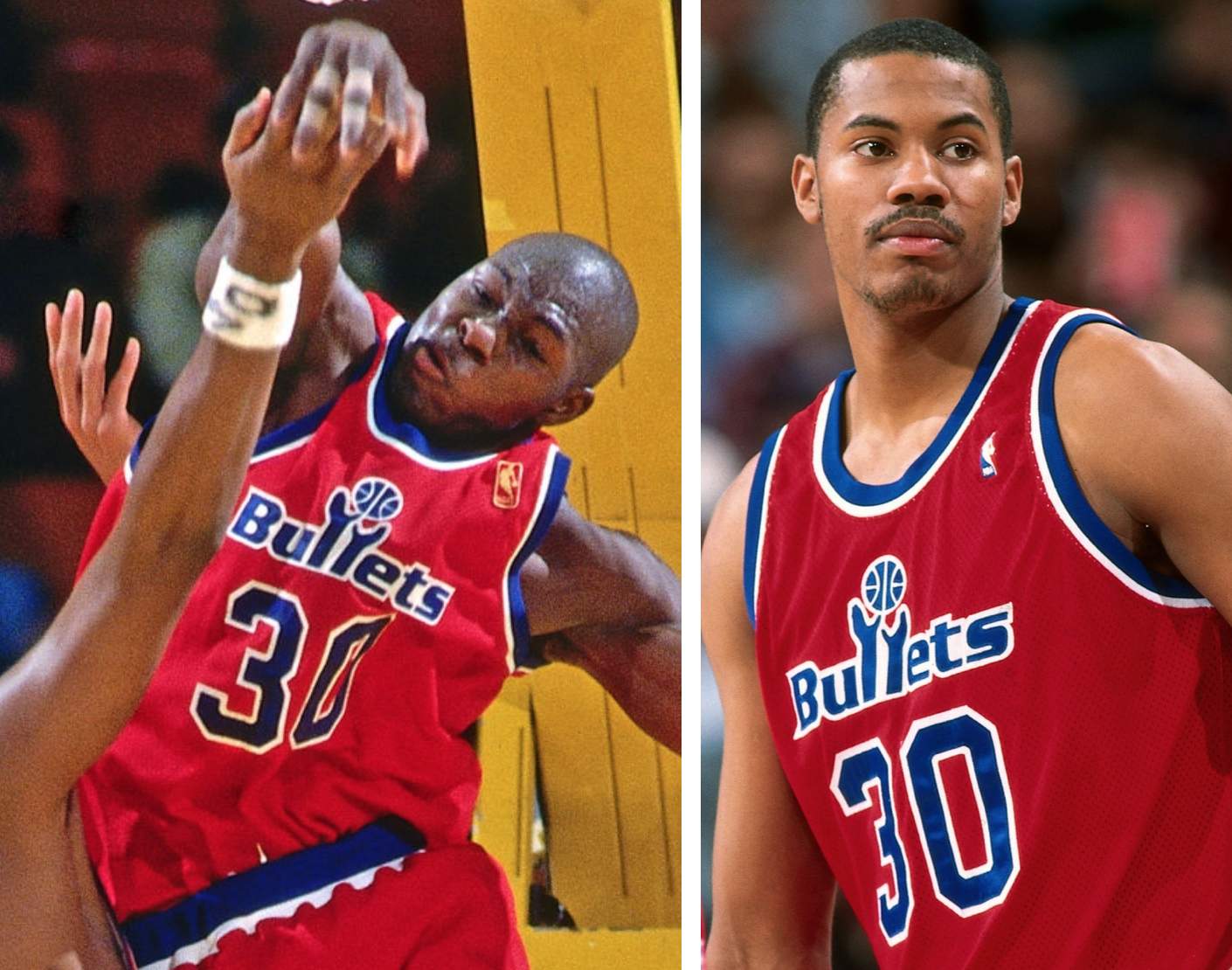 Update: I haven't confirmed whether this is true, but someone on Twitter is claiming that the two Wallaces literally wore the same jersey: "When Ben Wallace signed, they gave him the jersey Rasheed left behind."
NFL
• Tim Brown (left) and Antonio Brown have both worn No. 81 for the Buccaneers: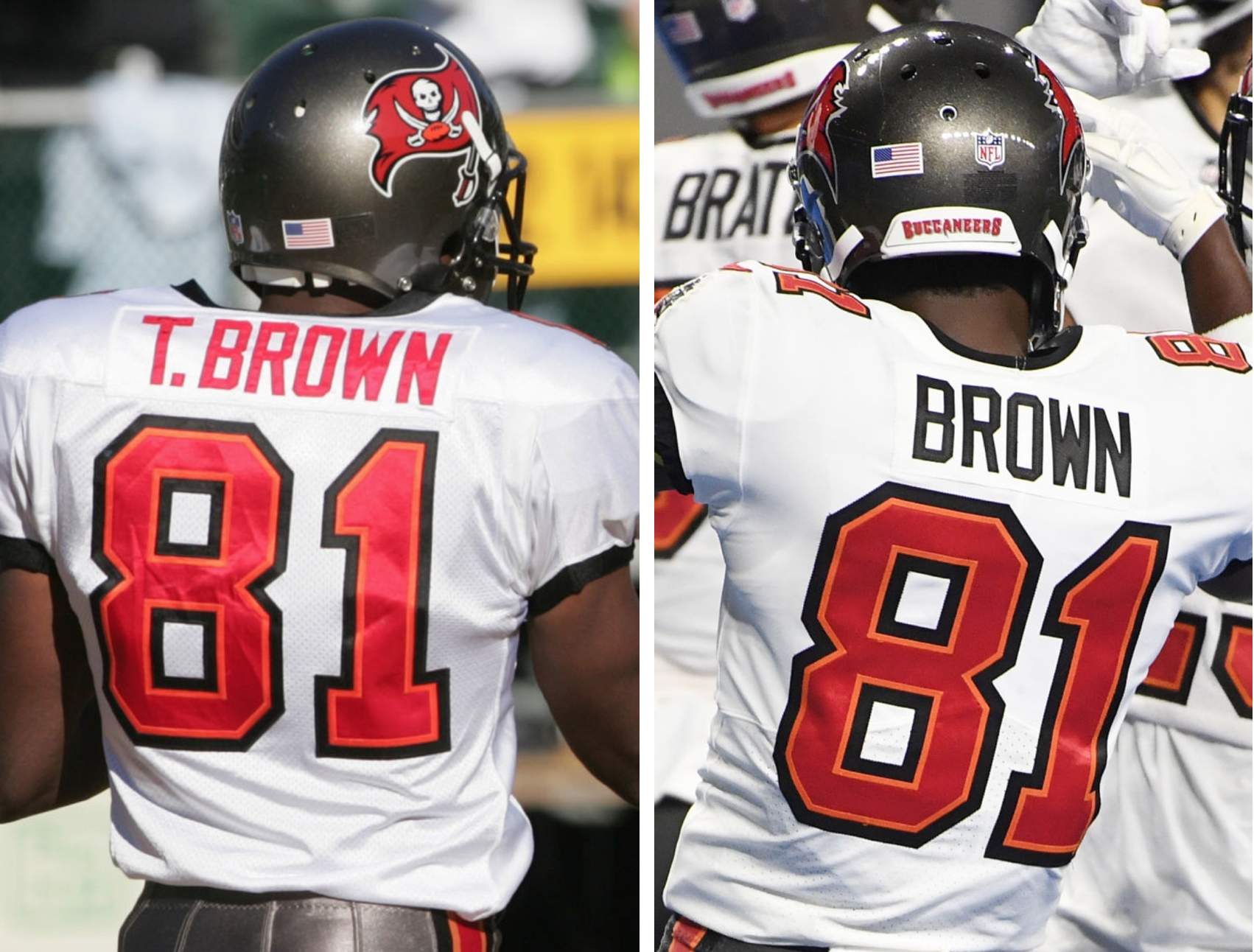 • Antonio Bryant (left) and Dez Bryant both wore No. 88 for the Cowboys: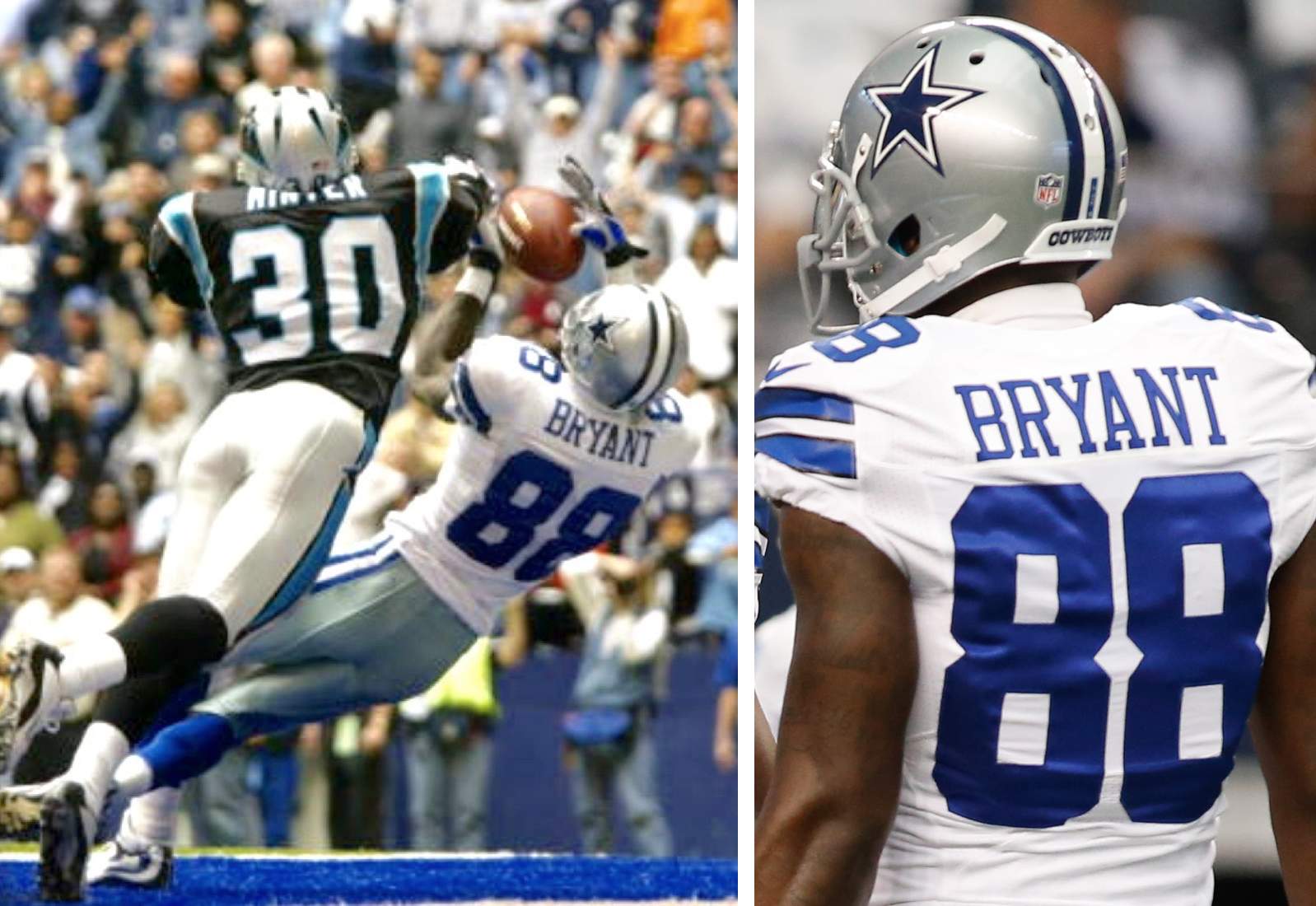 • Reggie Bush (left) and Rafael Bush both wore No. 25 for the Saints (a particularly interesting example because one of them played offense and the other played defense):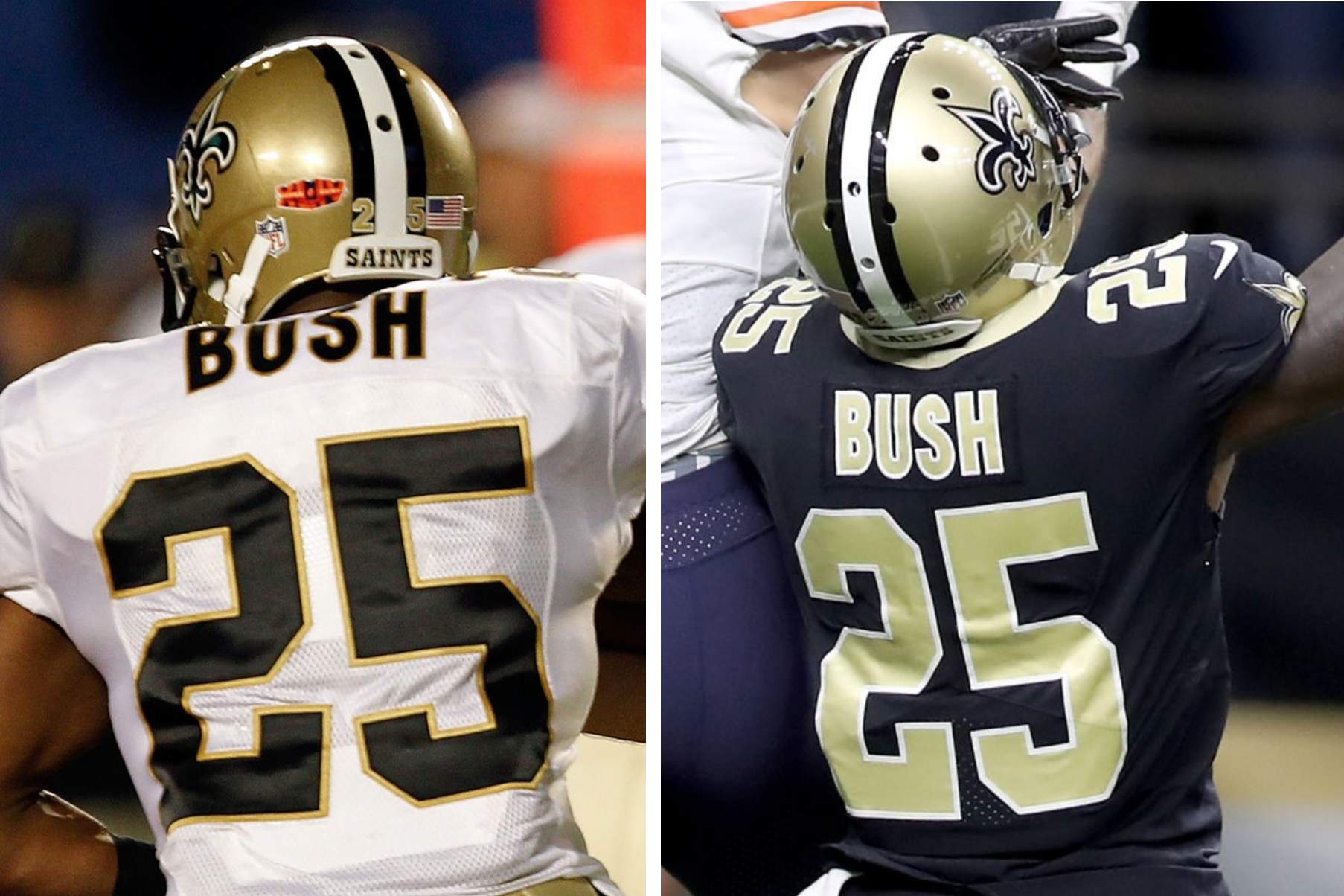 • In another offense/defense pairing, Julius Jones (left) and Pacman Jones both wore No. 21 for the Cowboys: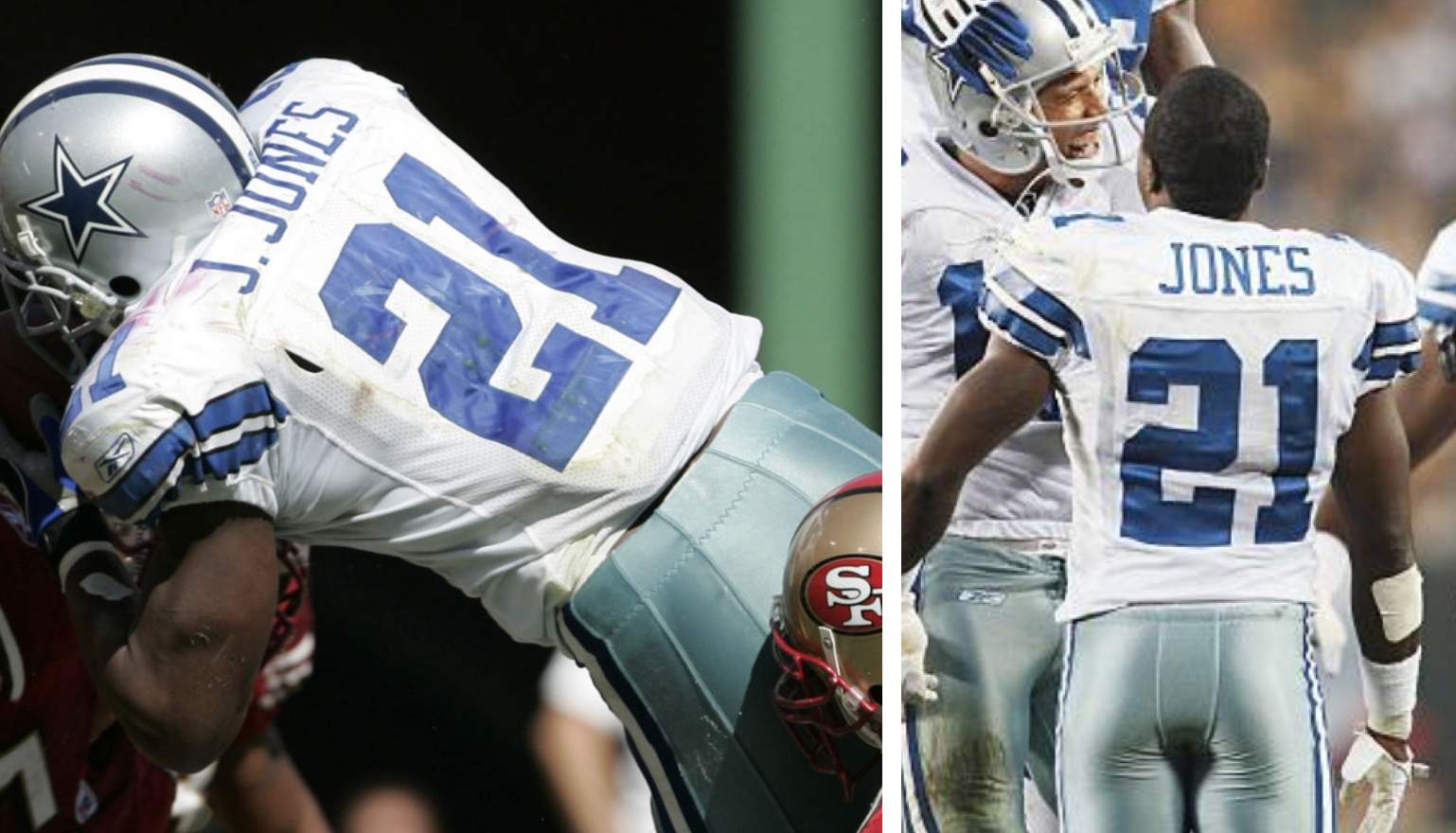 MLB
• Here's a really good one: Jack Clark (left) and Will Clark both wore No. 22 for the Giants, and also both wore No. 22 for the Cardinals! Check it out: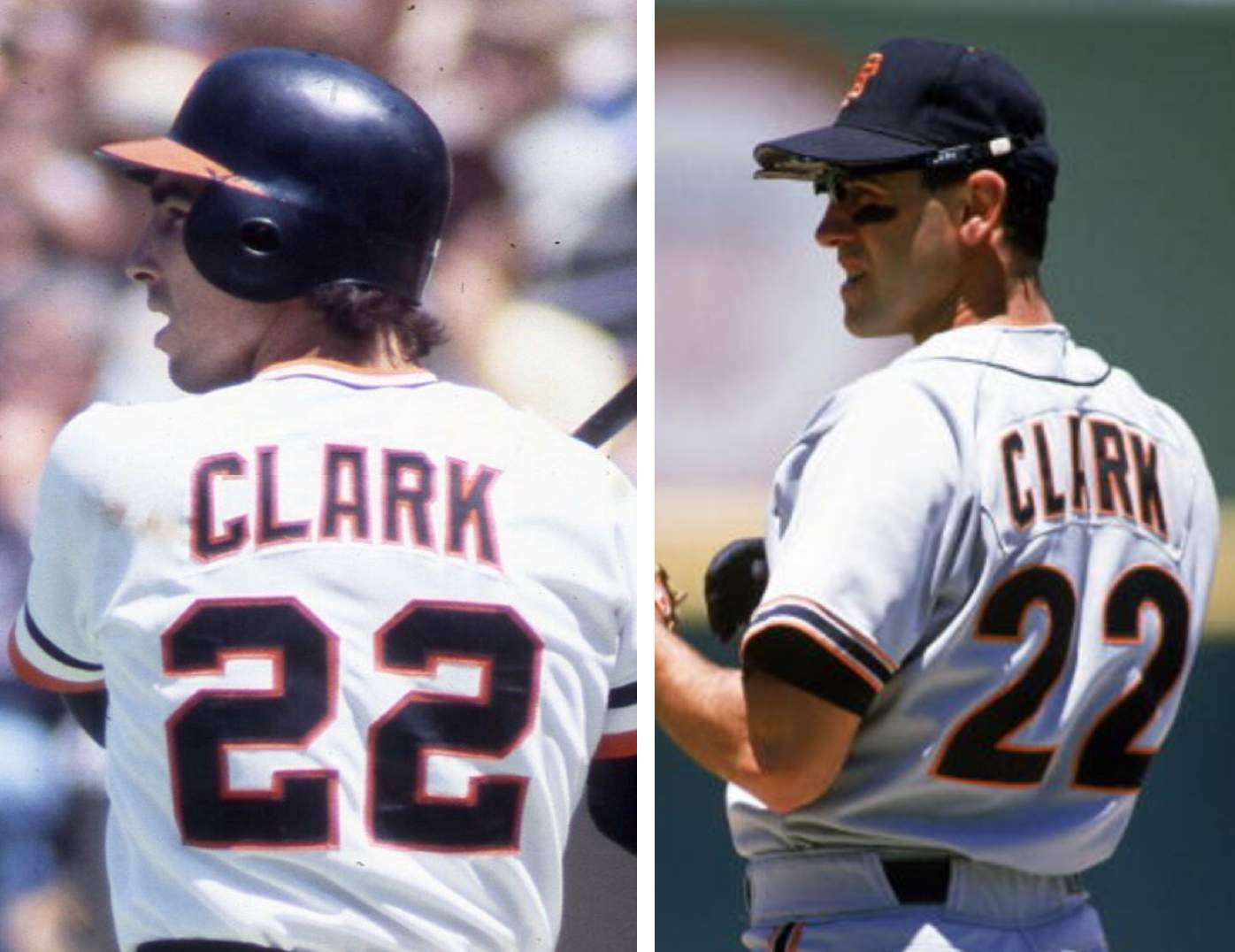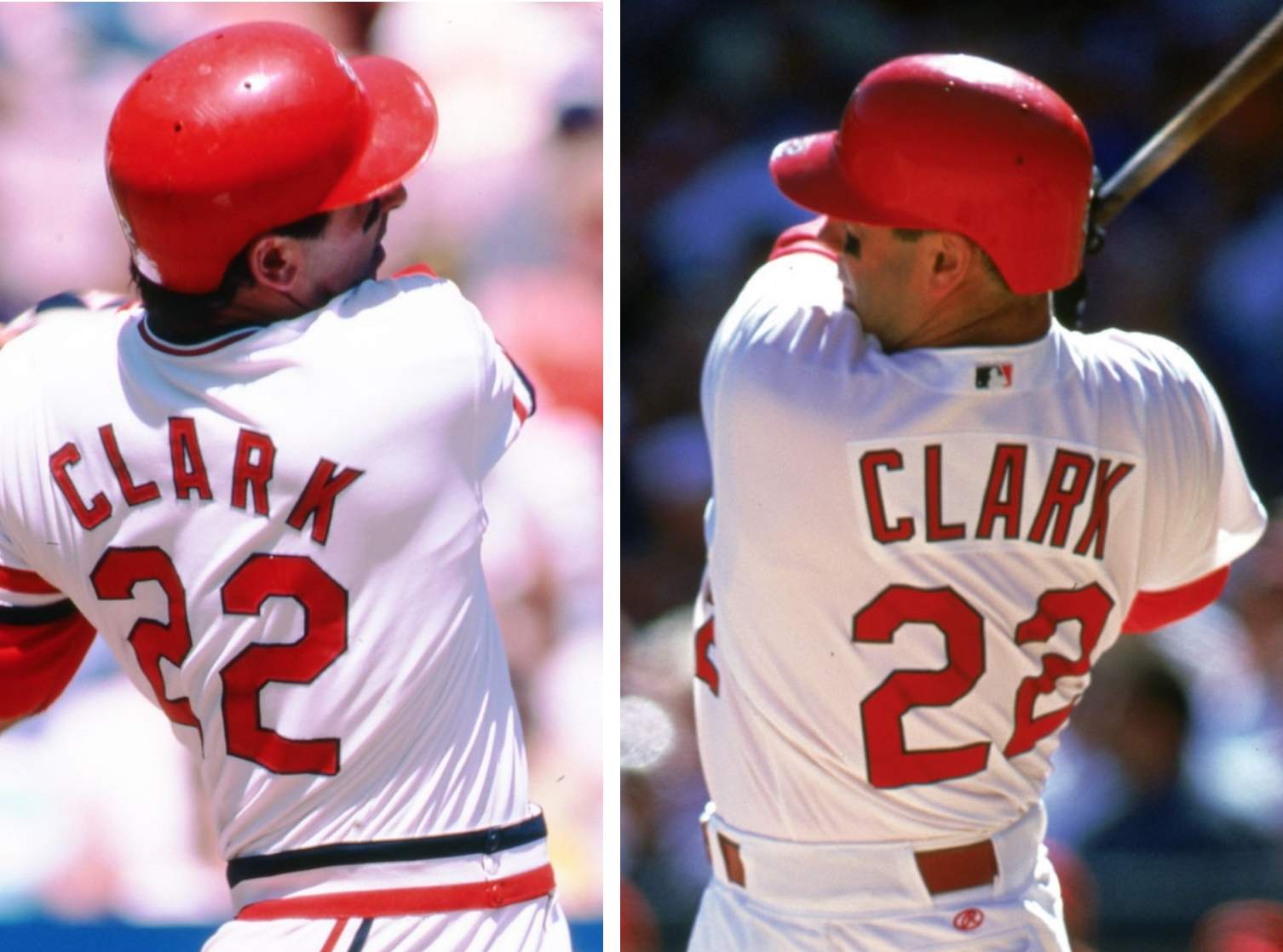 NHL
• Brian Boyle (left) and Dan Boyle both wore No. 22 for the Rangers: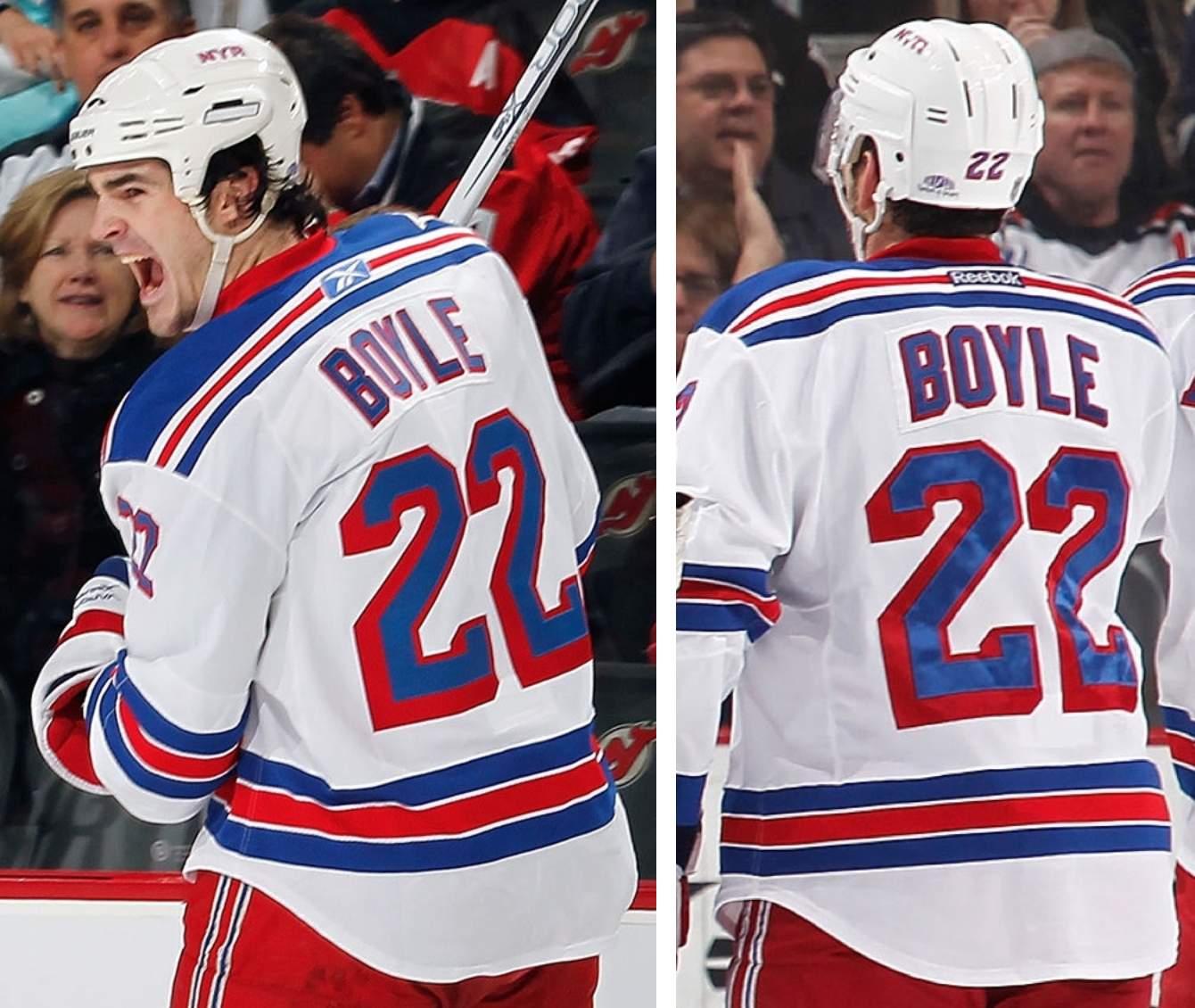 ———
Fun topic, right? It's also interesting to compare the photos and see how certain uniform elements have evolved from one era to the next.
This list is by no means complete — I'm sure there are lots of additional examples. If you know of any (again, let's please omit cases involving relatives), go ahead and post them in today's comments.
(Big thanks to Andrew Fallon for coming up with this topic, and to Cobbert Covington, Craig Eliason, A.J. Frey, Derek Harlan, Khalid Khowaja, Matty Mackay, Jeff Stotts, Ivor von Esch, @txmitch_, @Cappo_4, @calvin_u, and @00Danimal for their contribtions.)
• • • • •
• • • • •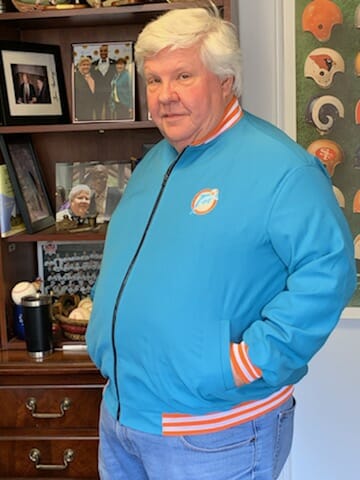 Made to measure: Got a note the other day from longtime reader and Dolphins superfan Bill Hetrick, as follows:
I ran across a company Evolution of Style. The owners are custom tailors who have ventured off into custom sports jackets with incredible linings.

I'm a tough fit for off-the-rack attire, and it's been irritating through the years to not be able to wear many of the standard sports-logo clothing items that I'd like to have. But I recently had a suit made locally, and then I had Evolution of Style take the measurements from my suit fitting to create the first sports-themed jacket I've ever had that actually fits me correctly! It's a revelation, I tell ya.
Aside from the fit, Bill was also able to get a custom lining filled with Dolphins photos (for the second and third photos, you can click to enlarge):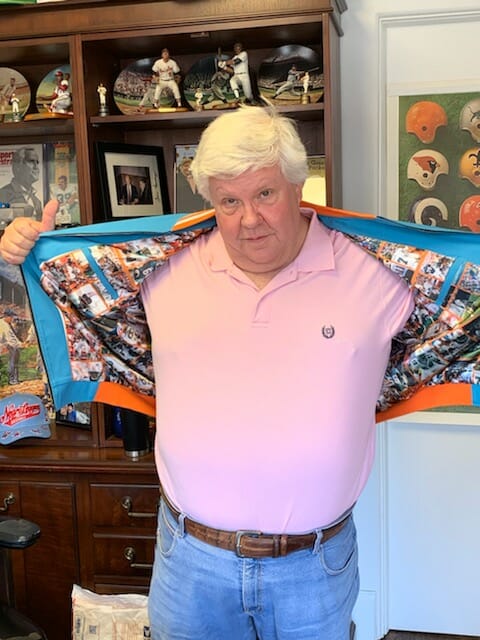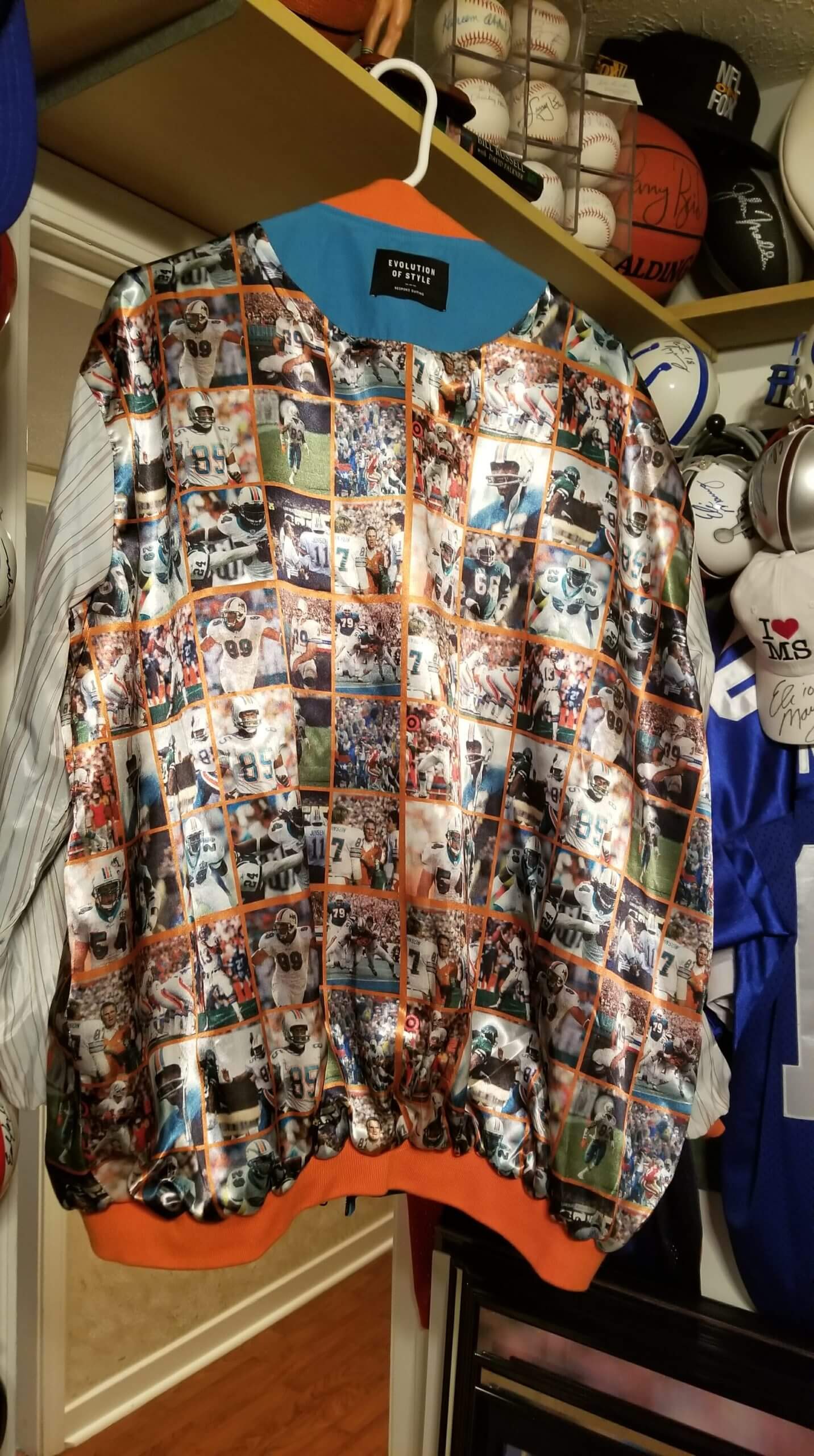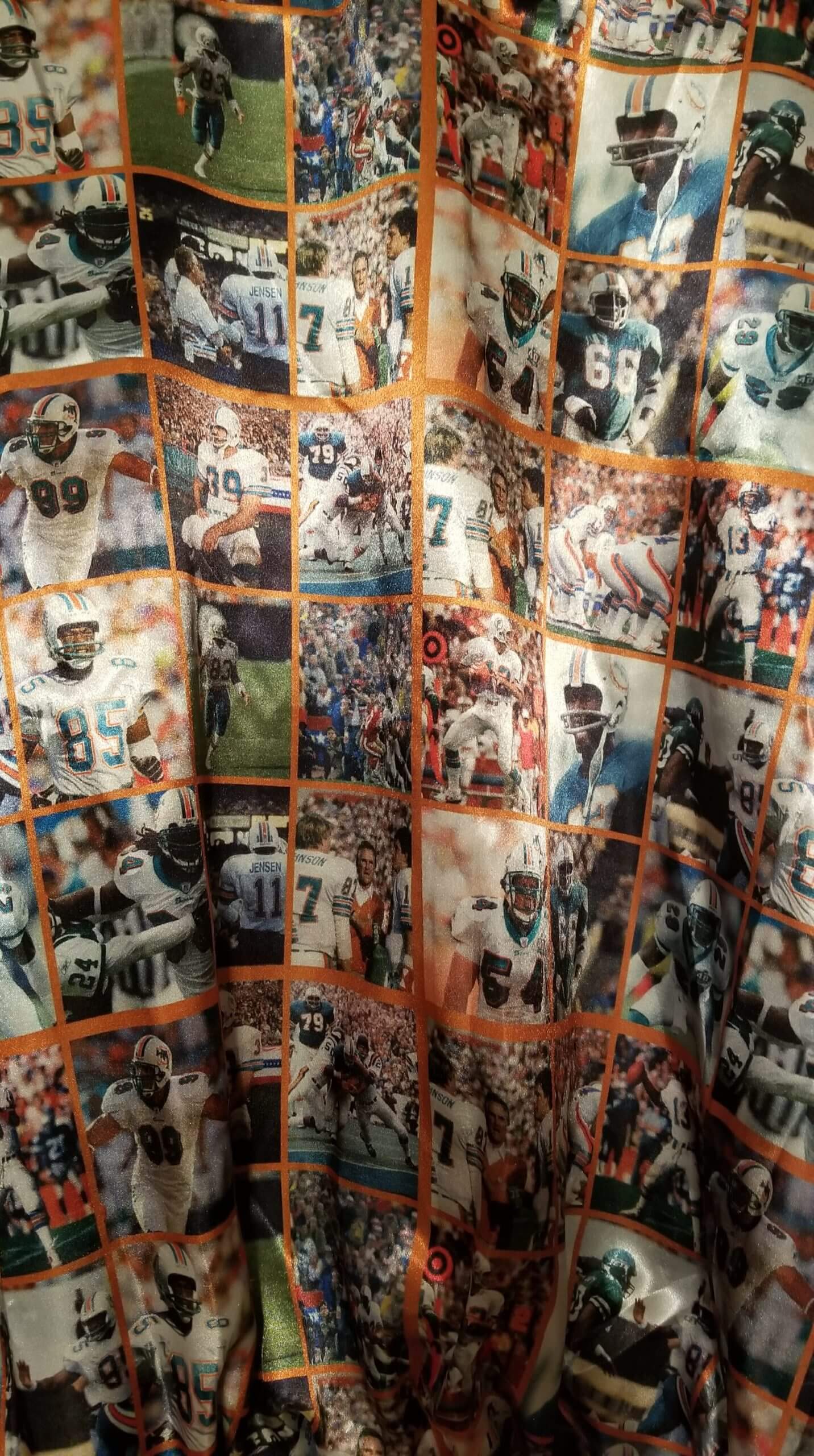 • • • • •
• • • • •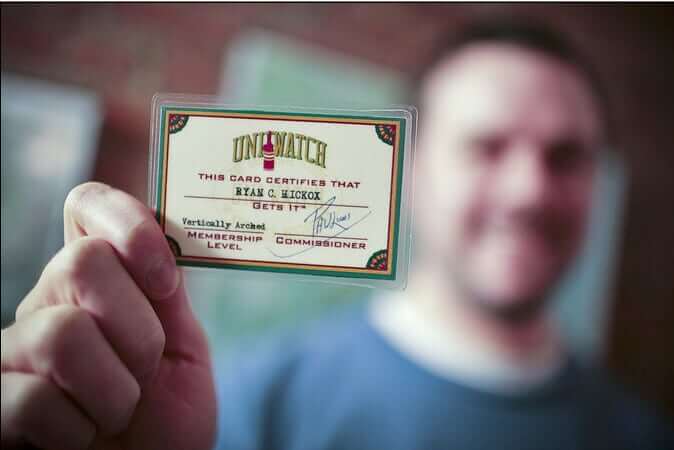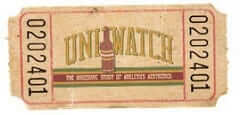 ITEM! NASCAR membership raffle: With the NASCAR season having kicked off with yesterday's Daytona 500, longtime reader Chris Hickey has generously purchased a Uni Watch membership for me to raffle off, with the stipulation that the winner must choose a NASCAR-themed card design. (Remember, we don't show advertiser/sponsor logos on our cards, so the design can only show the car number and any associated striping.)
This will be a one-day raffle. To enter, send an email to the raffle in-box by 8pm Eastern tonight. I'll announce the winner tomorrow. Big thanks to Chris for sponsoring this one!
Meanwhile, the winners of last Friday's raffle for four Uni Watch T-Shirt Club shirts are Tyler Moody (for the BFBS shirt), Tim Holdener (BP), Steven Lobejko (home), and Patrick Martin (St. Paddy's). My repeated thanks to Morgan Doninger for that one.
• • • • •
• • • • •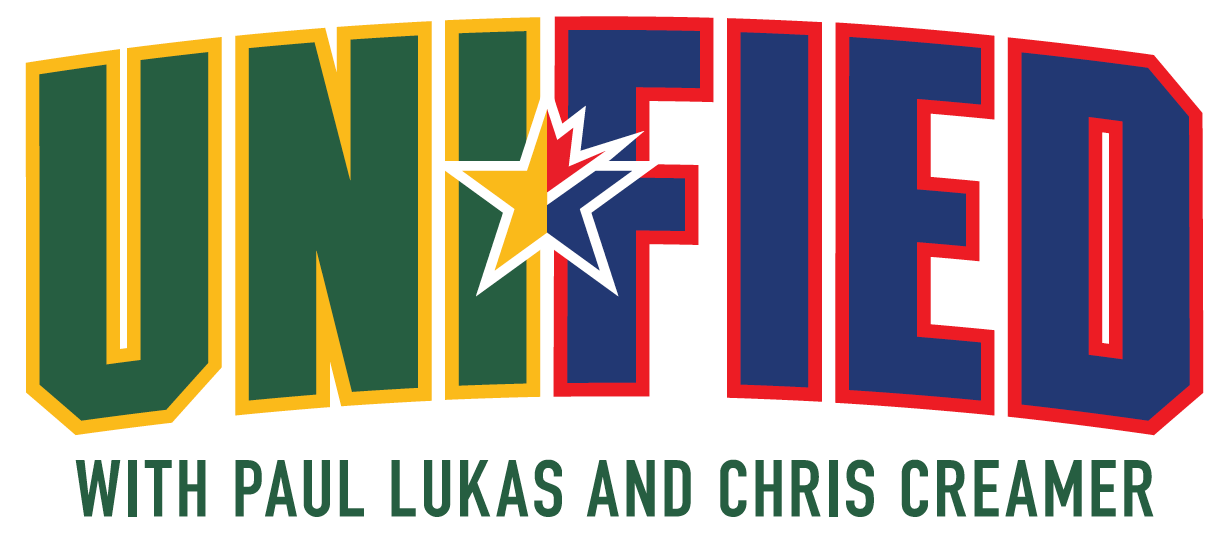 Podcast reminder: In case you missed it last last week, the second episode of Unified, my new podcast collaboration with SportsLogos.net founder Chris Creamer, is now available. This episode begins with a quick Super Bowl recap and then segues into a discussion of the Browns' new 75th-anniversary logo, which evolves into a deeeeep discussion about the do's and don'ts of anniversary patches. You can listen to it, and subscribe to future installments, on Apple, Google, Stitcher, TuneIn, and Spotify, or just use the player below:
The show notes, which include photos of most of the patches and other things we discussed, are available here.
You can also check out the video version of the episode here:
If you missed our first episode, it's available here. Our next episode should be ready on Thursday. Thanks for checking out the podcast, and for all the great feedback we've gotten — Chris and I really appreciate it.
• • • • •
• • • • •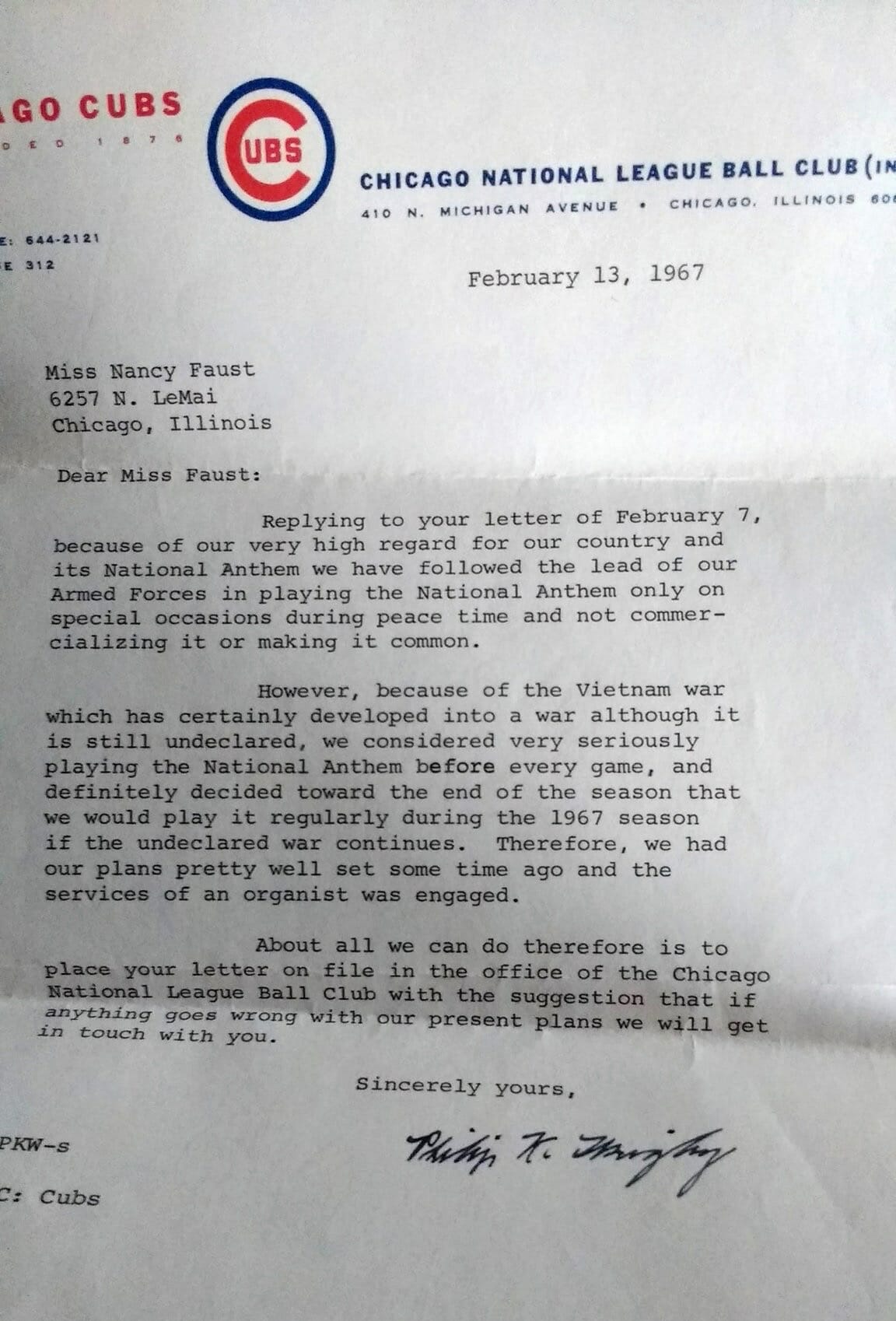 Click to enlarge
Too good for the Ticker: With all the recent fuss about the national anthem, former longtime White Sox organist Nancy Faust tweeted a photo of a letter she received in 1967 from Cubs owner Philip K. Wrigley, apparently in response to her inquiry about a possible organist gig with the Cubs. The letter spells out Wrigley's feelings at the time about playing the anthem, among other things.
Faust was about a month shy of her 20th birthday when this letter was written. Although Wrigley turned her down, she began playing the organ for the White Sox in 1970, a gig she ended up keeping for 40 years.
(Big thanks to Joe Wroblewski for pointing me toward this one.)
• • • • •
• • • • •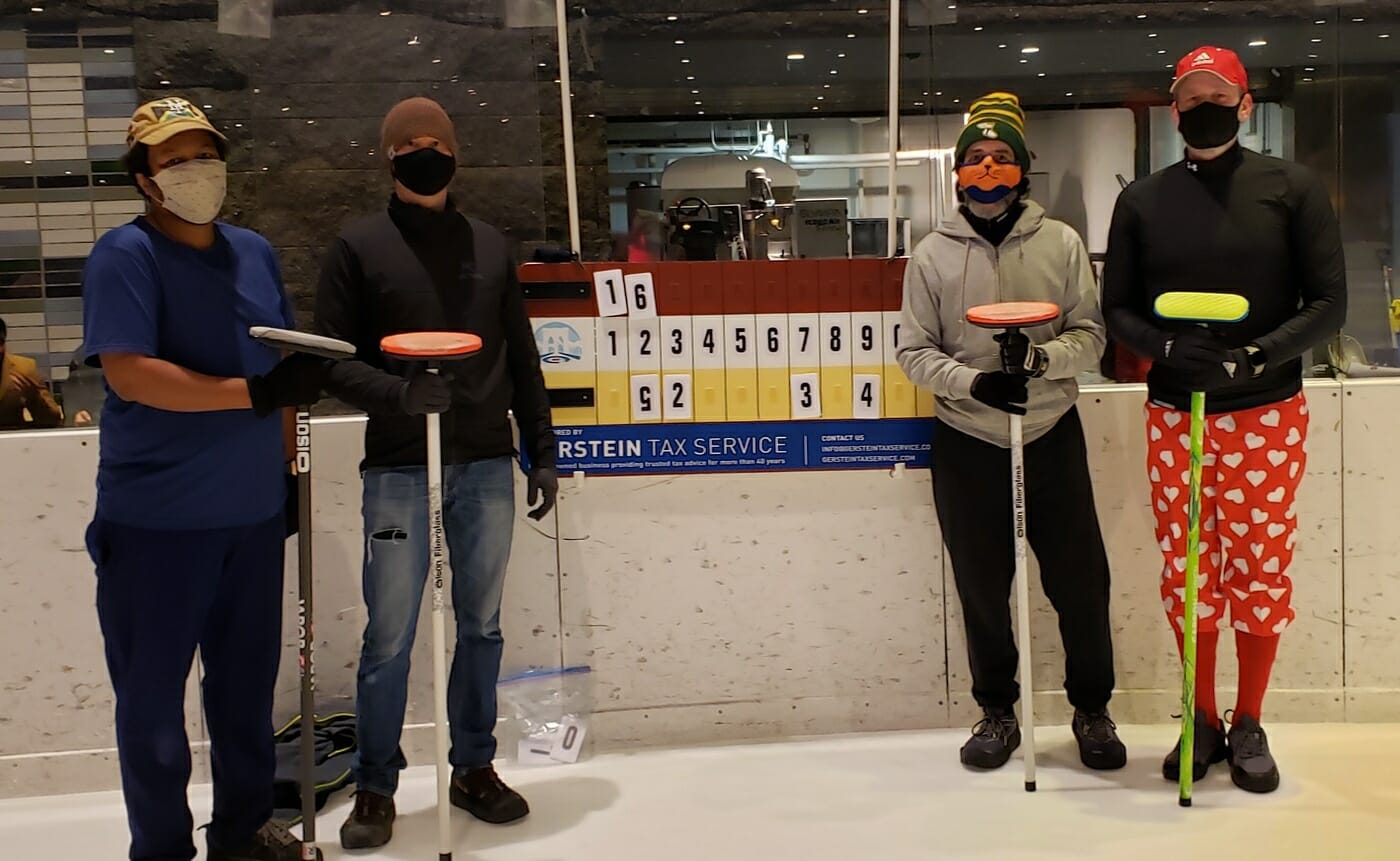 Click to enlarge
Like riding a bike: Uni Watch summit meeting yesterday in Brooklyn, as an old curling buddy invited me and Phil to sub for two of his teammates who couldn't make it to last night's match. As you can see, I wore my Uni Watch toque, while Phil went full Valentine's Day (with excellent high-cuffed blousing!). It was the first time Phil and I had seen each other in over a year — so good to hang out again, buddy!
I hadn't curled in a few years (I stopped when Mary was in grad school, because Sunday nights were one of the few time slots when we could relax at home together), but it all came back quickly enough, and I surprised myself by playing pretty damn well. Phil, meanwhile, has been curling all along on Long Island and is now really good. Our opponents were badly overmatched, as we won 12-2. Good to be back out on the ice again.
• • • • •
• • • • •
The Ticker
By Jamie Rathjen

Baseball News: A Redditor came up with a small but effective modification to the Angels logo (from Steven Dauster). … Doubleday Field in Cooperstown, N.Y., is being renovated, so six artists, some of whom will be very familiar to Uni Watch readers, made prints featuring the stadium's exterior. … The Brewers' website wrote about the first incarnation of their mascot, Bernie Brewer (from Mike Chamernik). … The next two are from Kary Klismet: The podcast This Week in Baseball History talked about the 1905 incident involving Cleveland 2B Nap Lajoie leading to the development of sanitary socks worn under stirrups. … Iowa has a new black jersey.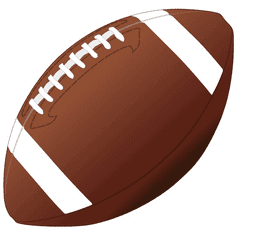 Football News: The Patriots' stadium is a Massachusetts Covid-19 vaccination site. The scoreboard even shows how many people have come through (from Jon Viera). … The daughter of the Lombardi Trophy's designer thinks it was disrespectful for Tom Brady to throw the trophy and wants an apology (from Kary Klismet). … It looks like some of the players in Fan Controlled Football have silver helmets and others have black helmets, even on the same team, but it's unclear why (from Blain Fowler).

Hockey News: Capitals C Evgeny Kuznetsov is one of the players using a new stick from Bauer that has a hole in the upper part of the blade. It's been used in NHL games for about a year, and you can see more about it here (from Brock Jackson).

Basketball News: Women's college teams that wore pink or pink accents recently included both George Washington and St. Bonaventure, both Pitt and Wake Forest, both Florida State and Miami (Fla.), Clemson (from @ClemsonUniforms), North Carolina (from James Gilbert), Penn State, and Wisconsin. … Blazers F Robert Covington was wearing a plastic mask yesterday (from Mike Chamernik). … Vermont's men's team debuted black alternates yesterday (from Jeff Hickey). … The new grey uniforms for Oregon's men's team mentioned in yesterday's Ticker forced Arizona to wear red at home (from Dane Drutis). … The next three are from Kary Klismet: NAIA Bacone College and a a Connecticut high school have new floors. … Kobe Bryant gave high school-aged LeBron James a pair of sneakers, which are now up for auction. … A new Casper mattress commercial shows a guy using a left-handed catcher's mitt. "As we know, lefty catchers are extremely rare, and lefty catcher's mitts are even rarer — yet they found one for this ad," notes Mike Chamernik

Soccer News: Paris Saint-Germain and Inter Milan wore Chinese NOBs, with PSG doing so on their new fourth shirts (Inter also from Will Dubois). … The NWSL's North Carolina Courage's new second shirt for some reason didn't get a reveal, but it's on their online store. … New second shirt also for Real Salt Lake. … D.C. United's new second shirt apparently comes with blue shorts, which is fine by me (from @ScottyBeats86). … More new shirts for some South American clubs, including Ecuador's LDU Quito and Barcelona SC and Argentina's Talleres. … Japan's Hokkaido Consadole Sapporo have a 25th-anniversary logo (from Jeremy Brahm). … Bayern Munich are now in possession of the Club World Cup champions' patch, which they'll presumably wear for the first time today.

Grab Bag: Australia's Seven Network debuted a new AFL scorebug starting with AFL Women's — old on left, new on right. … The Canadian women's curling championship, the Tournament of Hearts, has a 40th-edition logo, counting from when it got its current name (from Wade Heidt). … Michael Jordan and Denny Hamlin's new NASCAR Cup team, 23XI Racing, has its own sneakers (from Brian Fletcher). … The next three are from Kary Klismet: Wolfe Tones, a County Antrim Gaelic football club, replaced the ad on their second shirt with one for a charity that helps to repatriate deceased Irish expatriates to Ireland. … Minnesota's Free Lutheran Bible College has new logos, and Jefferson Community College in Watertown, N.Y., wants to name its new mascot.
• • • • •
• • • • •