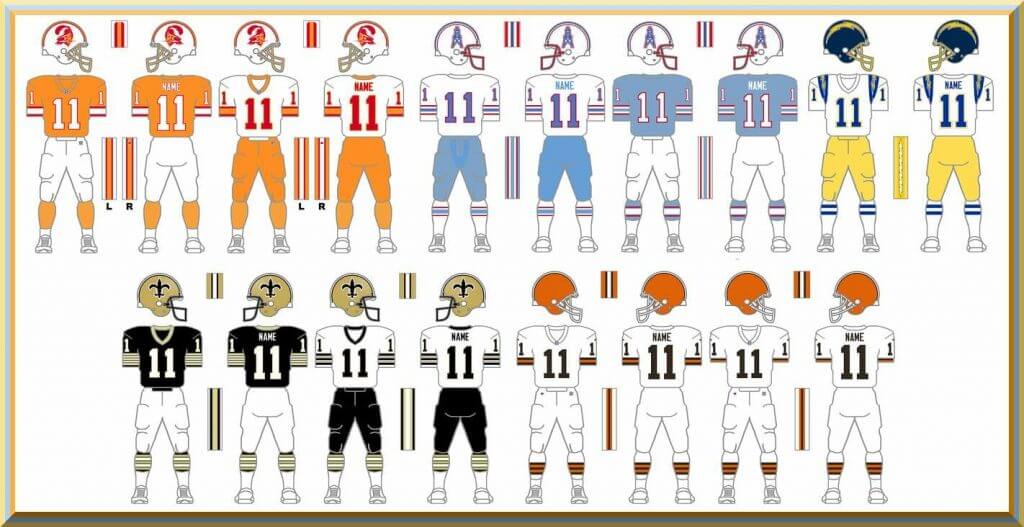 By Phil Hecken, with Corey Buck
Follow @PhilHecken

Greetings and a good Saturday, Uni Watchers. I hope everyone is safe and well, and you had a good week.
As weekend readers know, during the College Football season, one of the highlights of Sunday Morning Uni Watch is the "5 & 1," a subsection wherein the best five and worst one ("5 & 1") looking games are featured. It's quite popular, and also subjective — your "best" five looking games and my five best looking games may or — as is often the case — may not line jibe. Sometimes that's part of the fun. Because it's subjective, beauty is in the eye of the beholder, so to speak. The 5 & 1 has also been applied to other sports (NBA All Star game uniforms, for example).
Recently, reader Corey Buck approached UW with his proposal for a different kind of 5 & 1 — based on the "Greatest NFL Uniform Season" concept. His pitch went as follows:
Good afternoon! I know everybody has their thoughts on what the greatest NFL uniform is of all time (Oilers, Chargers, Packers, 80s Rams, etc), and while most people can come up with a rough consensus of which ones are top 10 worthy, the ordering usually differs. I know you love a good (colorful) NFL uni matchup (especially with the many playoff picks by uniform and the many 5 & 1s on the site throughout the years), so I tried my own research project combining the two.

Which team had the most matchups in a season with a top tier uni matchup? I just finished my research and wondered if you'd be interested in my findings. I don't know if it's anything worthy of posting on the site, but I'd be happy to go into further detail with you if you're interested.

Thanks for your time to read this, hope y'all are still staying safe, and have a great day!
I was definitely interested and asked Corey to go further. After some back and forth, he shared his ideas with me, and which you'll see below.
The reason I stressed above that the 5 & 1 is subjective is because it is. I'll be the first to say I don't necessarily agree with his choices but — and this is the key — he set forth in detail parameters for his research and drew his own conclusions from that research, which even led Corey to dismiss his predisposition. But he explains it all (and a lot better than I) below. Please read it through and then we'd love to hear your thoughts (and your own nominees) for …
• • • • •
The Greatest NFL Uniform Season
By Corey Buck
When most people think of "Greatest NFL Uniform", opinions always differ. Most people would agree about which ones could be deserving, even if they disagree on the order. Generally, people or websites would include the 80s Patriots, Run 'n Shoot Oilers, 80s Rams, powder blue Chargers, Kelly green Eagles, classic Packers or Steelers, and a few others as well.
Like many other regular readers, I've always enjoyed reading the 5 & 1 posts throughout the years, so sometime in late December of 2020, I thought what if someone did that with the NFL over the course of a season? Which of those iconic uniforms would have had the "greatest season" or the most games in one season with a great uniform matchup? All my research came from The Gridiron Uniform Database because that is a reliable and well trusted website when it comes to uniform matchups.
___
I gave myself a few rules/criteria to follow as I dug into this little project:
1. I stuck to the seasons between 1978-1996 as those years had 16 game seasons, there was a relatively consistent divisional alignment of the teams in the league, and most franchises seemed to have their best uniforms somewhere in that time frame (1982 for some reason is missing most matchups for all teams, so that year was omitted from my judging).
2. No teams wearing the same color pants (ex: Seahawks vs Raiders). Especially if they both have the same base helmet color too. Needs more contrast, so I'm not a fan.
3. Teams wearing white over white, don't look great to me either. It's not always a bad look, but I feel like its lacking in the eye test because there is less color involved.
4. I go one franchise at a time, one season at a time. I pick a franchise who is regarded as having an all-time classic uniform (ex: 49ers), start at their 1978 season, and count how many of those matchups would look great, as if I watched it in person. If it looks good, the colors go well together or have good contrast on the field, that team gets a point. Then I'd proceed to their 1979 season for that same franchise and do the same thing.
5. I only considered regular season matchups. I shouldn't punish one great uniform for not having as many good matchups as another just because one made the playoffs and the other didn't. It just didn't seem right.
6. I didn't check every single franchise. Some it was because they didn't have what I (or most people) would consider a top tier uniform (ex: Giants), because their white jersey was exclusively paired with white pants (ex: Browns), thus breaking rule 3, or a combination of both (ex: Vikings).
7. As far as the Washington Football Team is concerned, I think they have a solid color combination, but I didn't want to completely rule them out because of the controversy around their helmet logo that was only just recently removed. So, I made an exception for them and I treated the uniform as it was in that particular year but swapping out the helmet logo and replacing it with the uniform number, similar to how they had it this past season. This uniform with the number on the helmets were a solid contender initially (and I think would look good today), but would they make the top 5?
8. It's all for fun, it's my opinion, and my rules I'm choosing to abide by. If you have another opinion, or you disagree with my findings, that's ok. We're all adults (probably), but you're more than welcome to disagree and tell me what you think the result would be in your eyes or what rules you'd change or add to judge them.
Think about which team you expect to have the most games of good, quality uniform matchups. Think you've got it? Great. You're probably wrong like I was with my guess.
I started my research with franchises most people would agree would have the more iconic/best uniforms, and then added a few dark horse candidates (Falcons and Saints) afterwards to see if any other franchises would fare better than I'd expect. I was honestly a little surprised by my findings. Even with my bias to my favorite team, the Houston Oilers, they didn't come out on top.
__________
Thus, I present to you my official 5 & 1 Greatest NFL Uniform Season: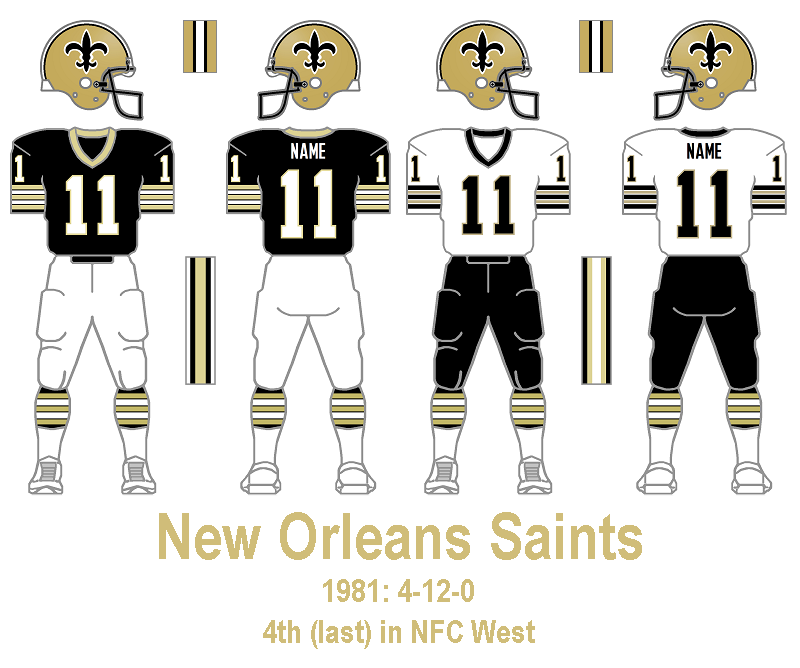 Downfall: Week 8 vs Bengals
Not a fan of the black/white vs white/black. If the Saints wore gold pants instead of black, I'd enjoy this more. Also, how have the Bengals never had orange pants? I feel like they should have had those at some point. They would probably pair well with the white jersey.
_____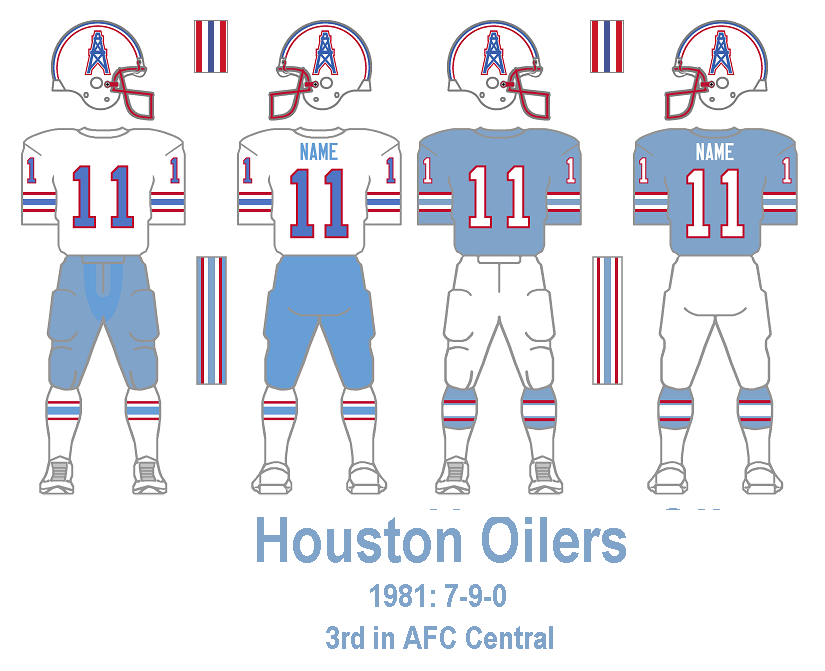 Downfall: Week 3 vs Dolphins
As much as I'll always argue these Oilers (specifically 1981-1998 with the red facemask) are the best uniforms in history, and those Dolphin ones are solid in their own right, I just can't quite get myself to completely convince myself the aqua/white vs white/light blue is a high quality matchup. I had a hard time debating if I liked this combo or not and finding pictures of this particular matchup in color wasn't easy, but I did find this video to confirm that I am not a fan.
_____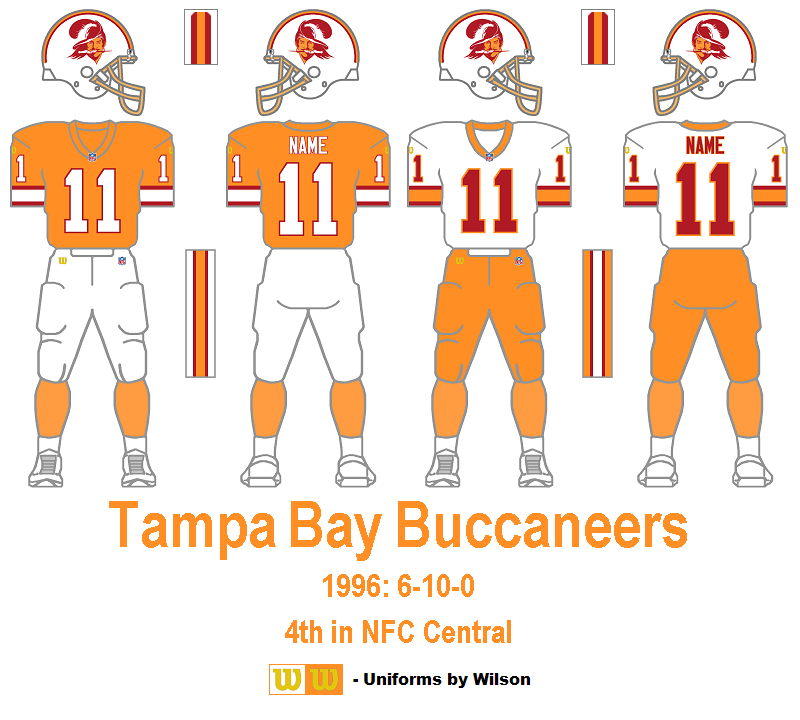 Downfall: Week 3 vs Broncos
The final season of the Creamsicles. Same problem as with the Saints above. White/orange vs orange/white just doesn't quite work for me. I like the orange for both teams and wish they'd go back to and utilize these uniforms more, but it needs a little more contrast than just orange and white for this matchup. I'm not sure what the best solution would be to make it better. Blue socks for the Broncos? Idk, but it needs something.
_____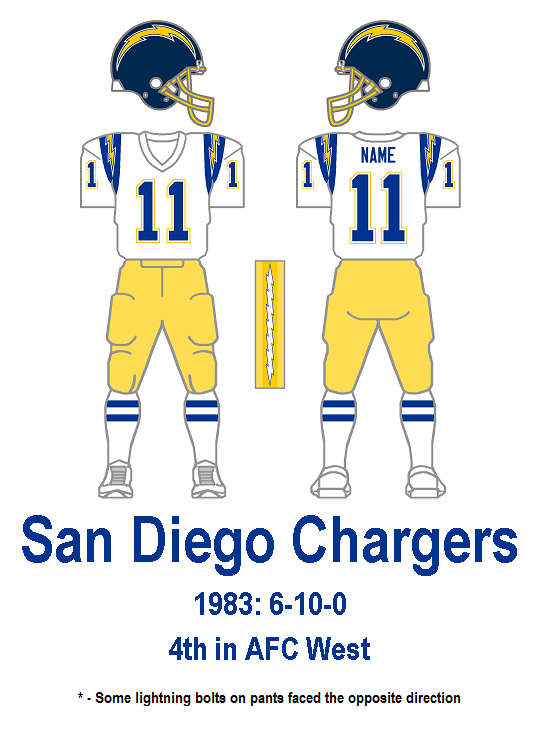 Downfall: Week 10 vs Steelers
I bet most people would've guessed if the Chargers were up this high, it would be in the light blue years. Nope. They stopped those in 1973, so those just missed out on my time frame. This was the only year they wore the same uniform the entire season. If the Chargers would've worn some blue pants for that one game, they'd likely take the top spot.
_____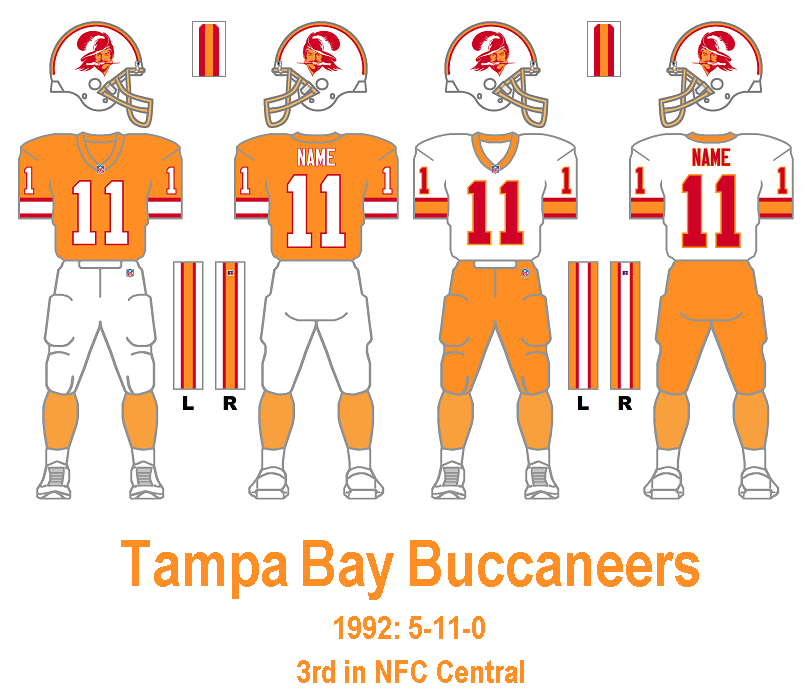 Downfall: none
Every matchup on here would easily be great in terms of variety of color and well as contrast. It's truly a shame these aren't a regular in the league anymore. As I looked at each weekly matchup in this season, I slowly grew more excited that there could be an entire season of one team having an excellent matchup.
_____
I didn't really look for an & 1, but after about 5-10 minutes of quick guessing/research, I'll nominate this one.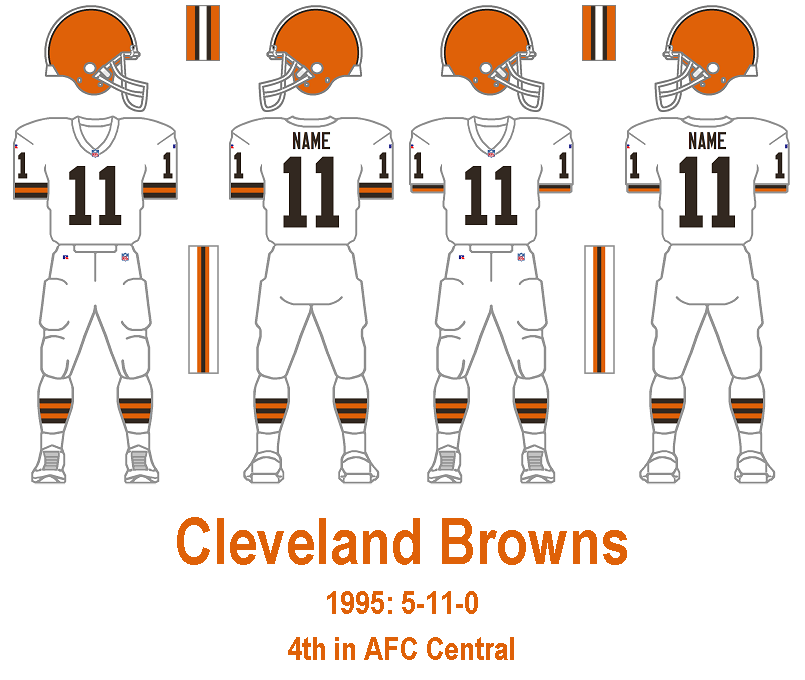 Downfall: Every Week
White over white for every game? That's just boring. Apparently they did the same thing in 1986 and in 1973, but at least '73 doesn't count in this ranking because they played fewer games that season. It's weird of all the years the Browns have been around, they've had orange pants for only 16 seasons, and brown ones for only 9 seasons. If they want to wear white/white once or twice a season, I can live with that a little, I guess. I'm not saying go full on Oregon Ducks or anything like they tried in 2016, but if you're going to wear white for one part, just try to wear a little bit of color for the other.
• • • • •
Thanks, Corey! Great research and explanations — and wonderful food for thought and further discussion. Readers, please feel free to share your thoughts and views in the comments below.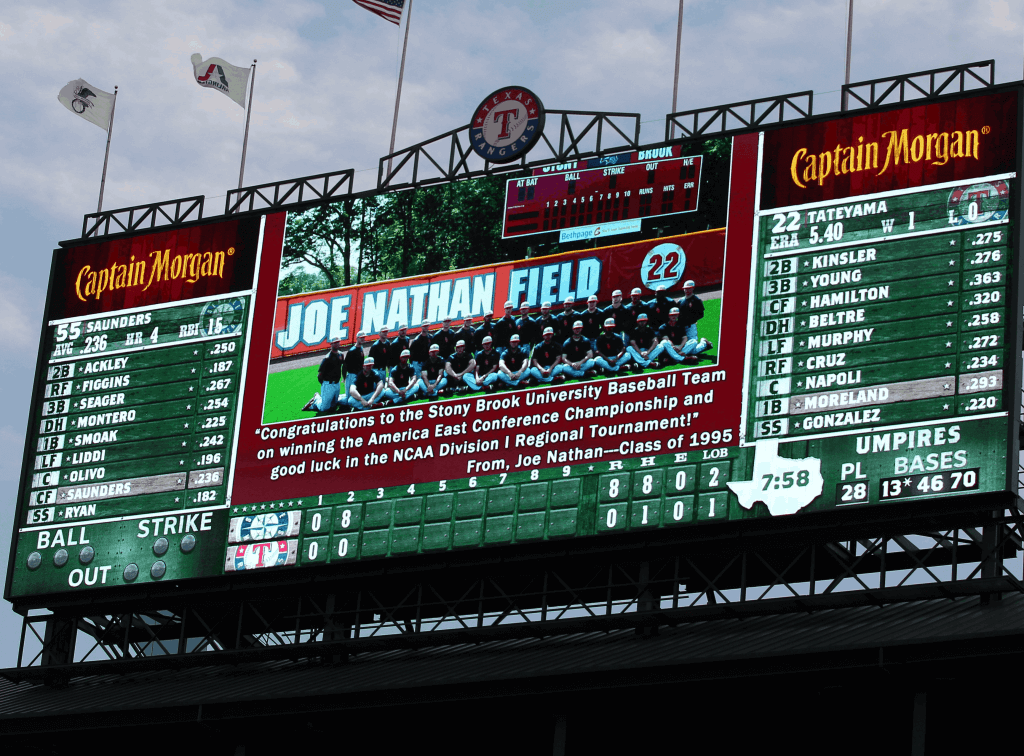 Guess The Game…
from the scoreboard
Today's scoreboard comes from ojai67.
The premise of the game (GTGFTS) is simple: I'll post a scoreboard and you guys simply identify the game depicted. In the past, I don't know if I've ever completely stumped you (some are easier than others).
Here's the Scoreboard. In the comments below, try to identify the game (date & location, as well as final score). If anything noteworthy occurred during the game, please add that in (and if you were AT the game, well bonus points for you!):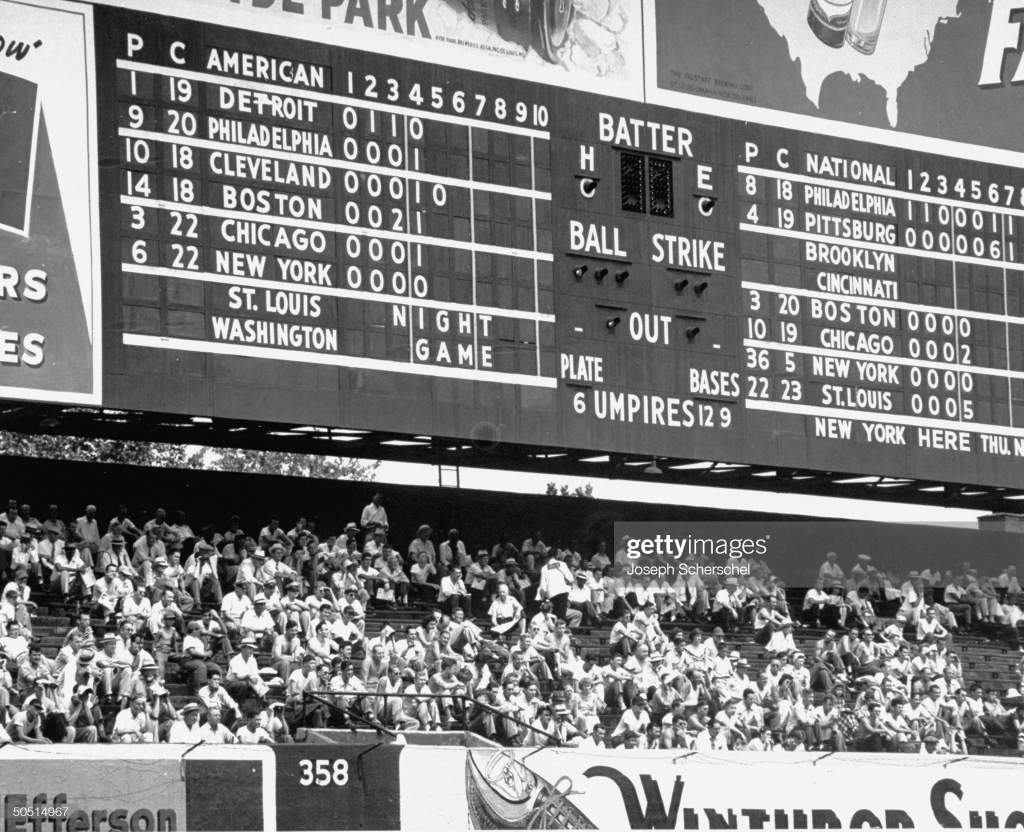 Please continue sending these in! You're welcome to send me any scoreboard photos (with answers please), and I'll keep running them.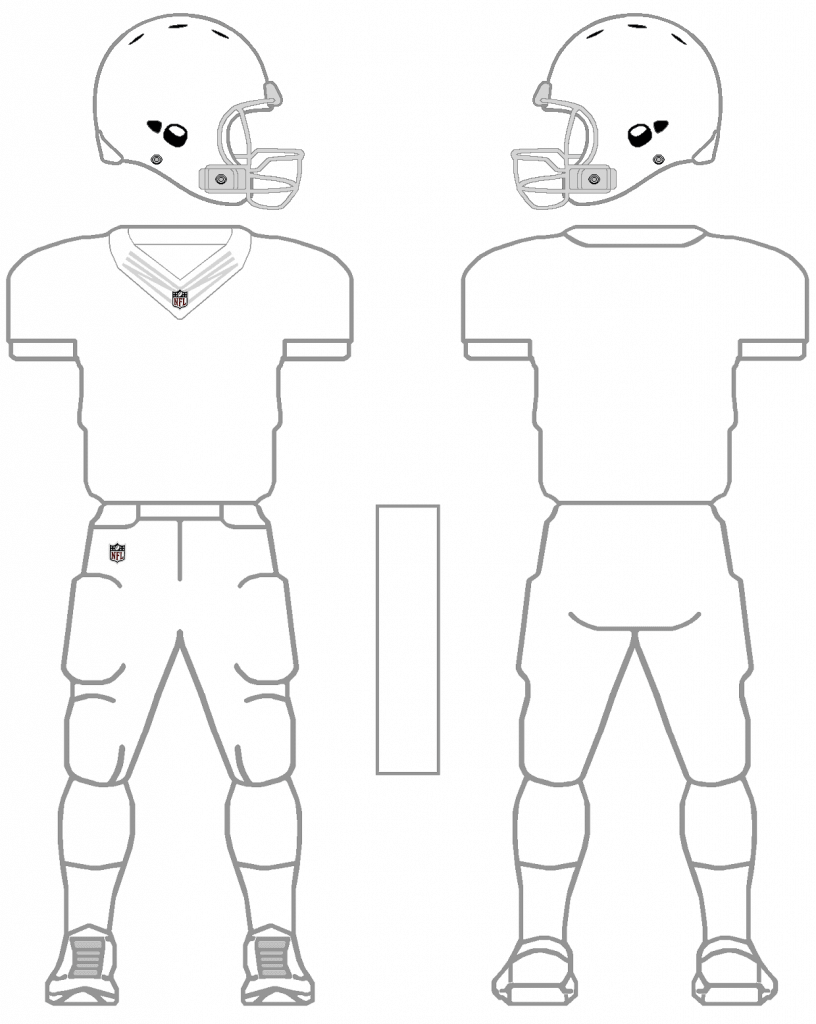 Uni Concepts & Tweaks
Time for more Uni Tweaks from the UW readership.
I hope you guys like this feature and will want to continue to submit your concepts and tweaks to me. If you do, Shoot me an E-mail (Phil (dot) Hecken (at) gmail (dot) com).
• • •
Today's set of concepts come from Andrew Velis, with a new take on the San Francisco Dons (and a little help from Seth Reese, whose designs have been featured on UW before):
Hi Phil,

Love the website. I wrote a post to contribute to Uni Watch. I believe this is the correct email. If not I apologize in advance.

I would like to share a redesign of the USF Dons jerseys. I was hungry to spark a little creative energy into the program after a pre-season win against Virginia. Jerseys apparel is a great way to wear & show some pride. I discovered a post about a designer (Seth Reese) who redesigned all the NBA jerseys. One of the designs became an inspiration for the new The SA Spurs jerseys. I contacted Seth to commission designs of the Dons Men's Bball jerseys.

I asked Seth to go for full creativity with no restrictions and shared a little about USF Don's team history. What he came back with was two-fold.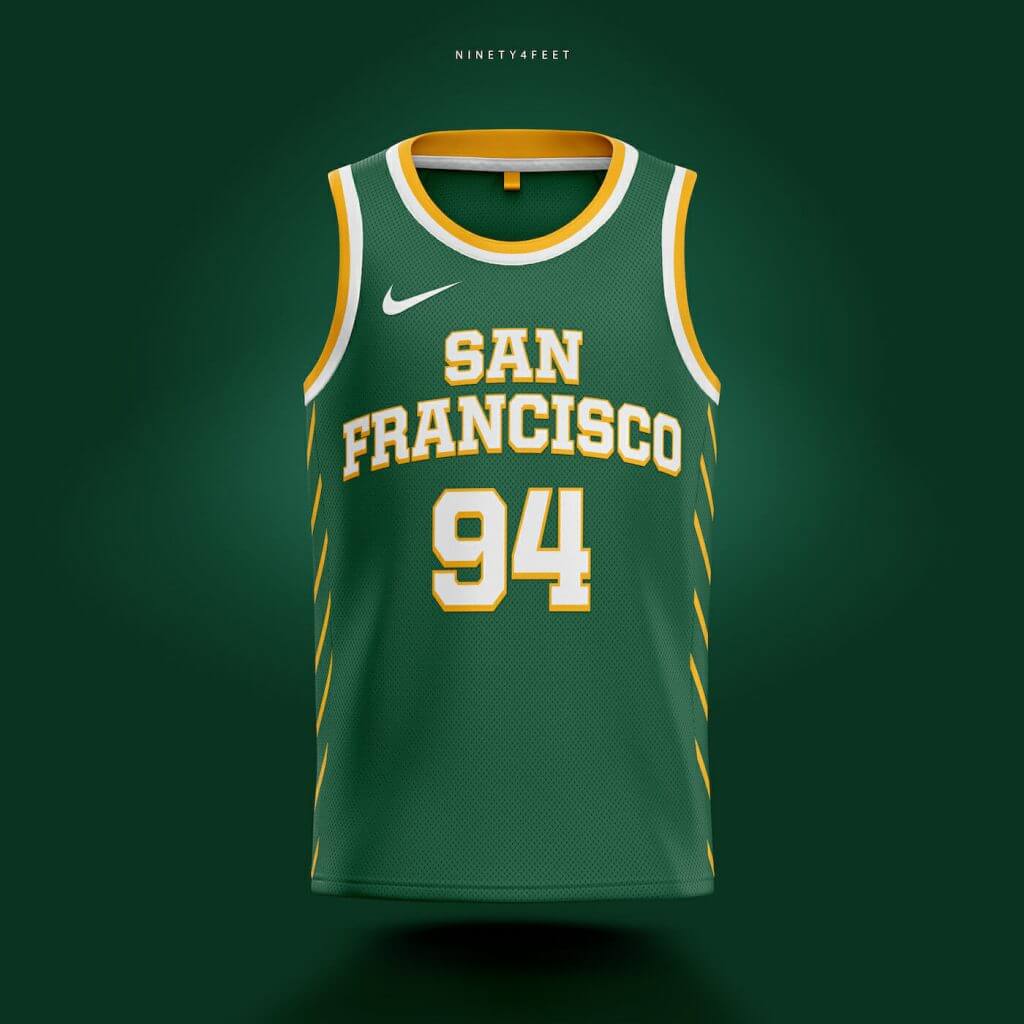 One design is retro-inspired from USF's 1950s era. The bold lettering brings us back to when USF's ball clubs had recently won national championships. The side panel component stripes are the suspension cables of the Golden Gate bridge. Inspiration for the side paneling was taken from footage of Georgia @ USF in 1981.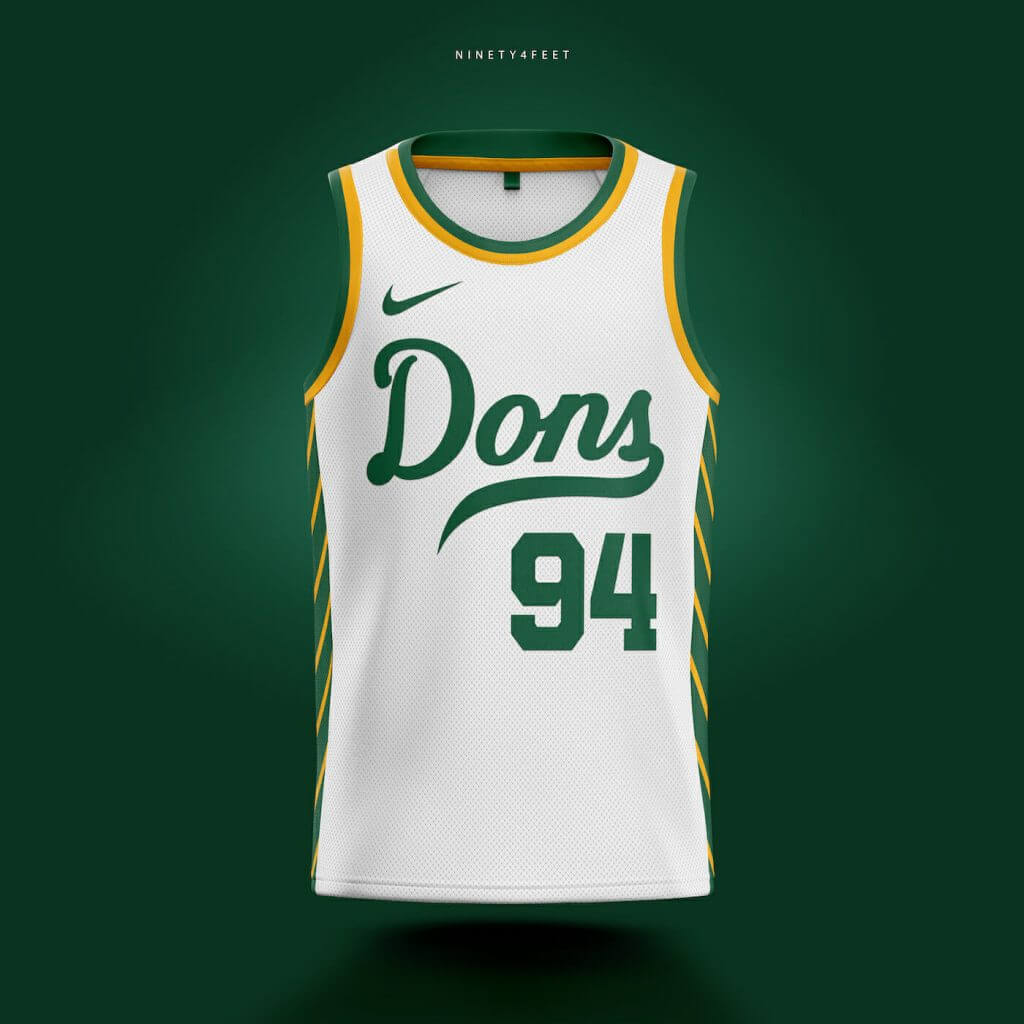 The second design followed that of a script logo mark. This design cue idea was for a timeless look that would follow the program for years to come. Coupled with the side paneling and minimalist design, you have a modernized jersey that looks rather exciting to look at and potentially wear. The front and center "Dons" script logo mark expresses that the team needs no other explanation. "We are The Dons."

As a USF alum, wearing pride can be as simple as putting on a jersey and expressing support for your team. The jersey redesign was a dream birthed by Seth's work. If only in concept form today, it is inspiring to see. Happy uni-watching!

PS. Seth provided a plethora of designs including several alternates to the ones above that I provided if necessary. I also attached an infographic highlight the design language Seth used.
Best,

—
-Velis
• • •
Thanks Andrew (and Seth)!
OK readers (and concepters). If you have some tweaks or concepts, shoot 'em my way with a brief description of your creation and I'll run 'em here.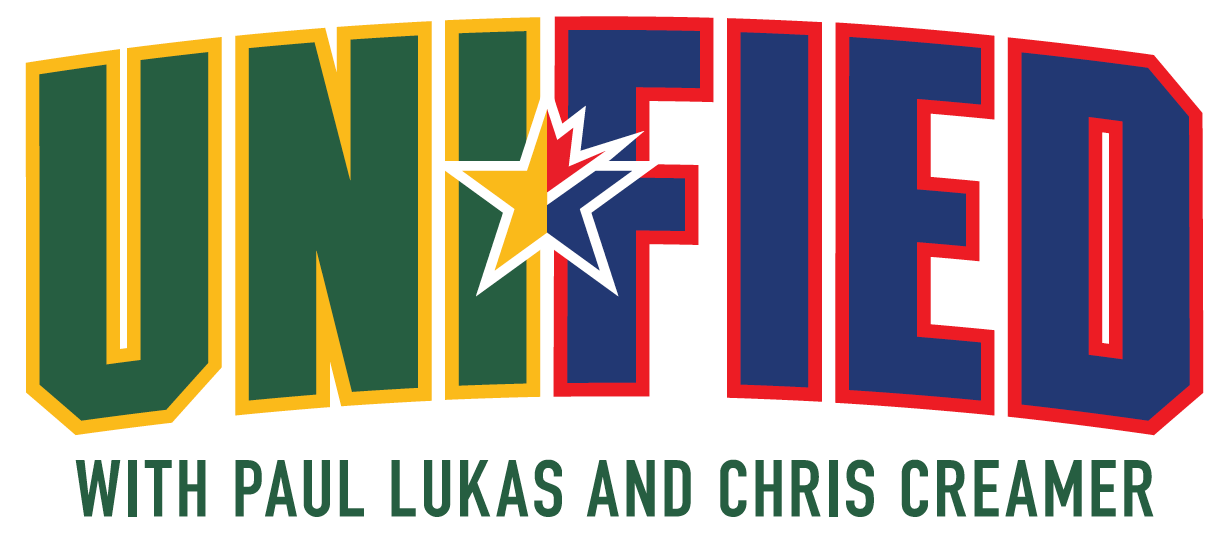 Podcast reminder: Paul here. In case you missed it a few days ago, the second episode of Unified, my new podcast collaboration with SportsLogos.net founder Chris Creamer, is now available. This episode begins with a quick Super Bowl recap and then segues into a discussion of the Browns' new 75th-anniversary logo, which evolves into a deeeeep discussion about the do's and don'ts of anniversary patches. You can listen to it, and subscribe to future installments, on Apple, Google, Stitcher, TuneIn, and Spotify, or just use the player below:
The show notes, which include photos of most of the patches and other things we discussed, are available here.
You can also check out the video version of the episode here:
If you missed our first episode, it's available here. Our next episode should be ready on Thursday. Thanks for checking out the podcast, and for all the great feedback we've gotten — Chris and I really appreciate it.
Okay, that's it for me. Thanks for listening. Now back to Phil.


The Ticker
By Anthony Emerson


Baseball News: For some reason in 1991, Dodgers OF Darryl Strawberry wore P Orel Hershiser's jersey before (and maybe during?) a game at Dodger Stadium (from Dave Sikula). … The first three commemorative baseballs have been revealed. … The Double-A Mississippi Braves used an odd Atlanta Braves roundel logo in a graphic posted to their Twitter page yesterday. Anyone ever seen that before? (from Jeremy Poursine). … Speaking of the Braves, their 150th anniversary patch is on their left sleeve, their All-Star Game patch is on their right sleeve, and they're adding memorial patches for Hank Aaron and Phil Niekro (and maybe Don Sutton, too). Imagine if they make the playoffs, too! … The Minor League reform plan has seen the dissolution of classic league names, like the Pacific Coast League, International League, and Eastern League. Now MiLB teams will be divided into generic, geographically-named leagues like "Triple-A East" and "Double-A Central." Here's a breakdown of each Major League team's farm system after the realignment. The realignment and dropping of 40 teams has not gone unnoticed in Washington, with Vermont Sen. Bernie Sanders excoriating MLB in a statement, and threatening to rescind tax breaks. Vermont's only MiLB team, the Lake Monsters, were dissolved as part of the realignment. … The Low-A Columbia Fireflies, who were formerly affiliated with the Mets, posted a video announcing their new affiliation with the Royals by having a player remove a Mets cap and jersey and put on a Majestic Royals jersey and cap (from @willchitty4). … New unis — with vests — for the Sooners (from Sam McKinley). … Some gorgeous new unis for Texas A&M (from Timmy Donahue). … Also from Timmy: New alternate unis for Ohio softball. … What will teams do with the millions of unused promo items from 2020? (from John Cerone). … Here's a great page on the history of Little League's logo (from Christopher Pisciotti).

NFL News: When Tom Brady asked Chris Godwin for No. 12 after signing with the Bucs last year, Brady apparently promised Godwin he'd get a Super Bowl ring in return (from Ray Barrington).
.

College/High School Football News: The Tournament of Roses is suing the City of Pasadena over who has the rights to Rose Bowl Game — The Tournament believes they have sole rights, while the city believes the rights are shared between themselves and the Tournament (from Timmy Donahue).

Hockey News: New pads for Rangers G Igor Shesterkin (from @tierknala). … Here are two "Top 5" lists of the best NHL Reverse Retro jerseys.
.

Soccer News: Dynamo Kyiv has a new shirt advertiser (from Ed Żelaski). … DC United have launched their new away kit. If you buy it online, there's an option to get "Statehood" and "51" on the back (from @artofscorebug our own Jamie Rathjen). … Formula One team Williams Racing has revealed its new team kit, worn beneath firesuits for drivers and the pit crew. Why is this in the soccer section? Because it's virtually identical to Bundesliga team Schalke 04's 2019-20 home kit. Both, of course, were manufactured by Umbro.

Grab Bag: Immigration officers in the small island nation of St. Kitts and Nevis have new uniforms (from Timmy Donahue and Kenneth Traisman).
.


And finally… big thanks to Corey Buck for his new twist on the 5 & 1 (and combo Greatest NFL Uni Season to boot) — this was a lot of fun, and a really good think piece. If you readers have any additional ideas for different 5 & 1 takes, I'd love to hear them! Let's talk: (Shoot me an E-mail (Phil (dot) Hecken (at) gmail (dot) com).
Everyone have a good Saturday and I'll catch you all back here tomorrow. Stay safe!
Peace,
PH