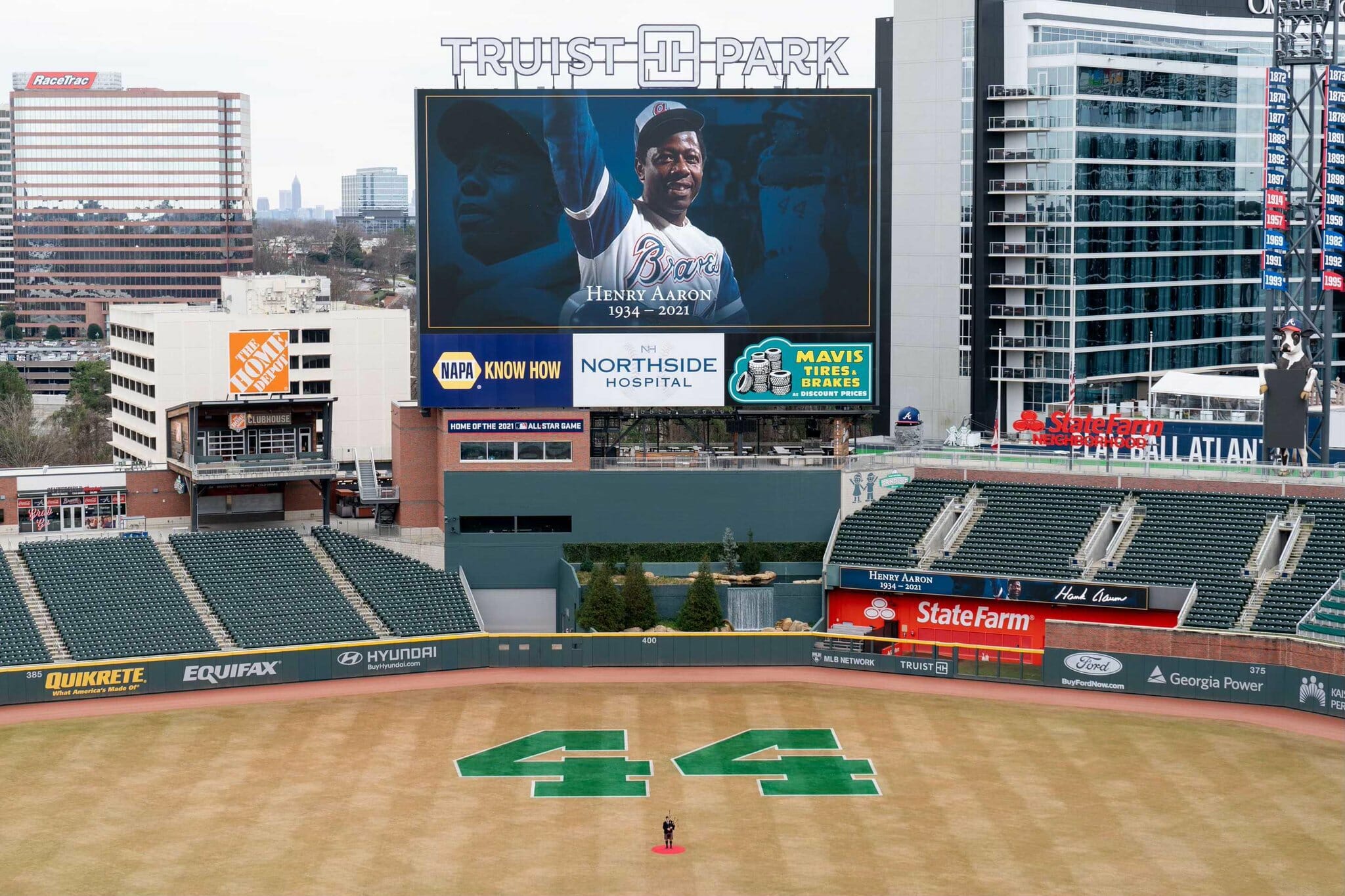 Click to enlarge
Strange doings yesterday in Atlanta, as a memorial service for Henry Aaron was held at the Braves' ballpark. As you can see, they emblazoned a huge "44" in the ballpark's outfield grass — a simple, straightforward gesture.
Or at least it should have been simple and straightforward. But it was puzzling on several levels:
First, why would they use green, a color that Aaron never wore at any point in his career? Why not use Braves colors?
Second, the two numerals appear to have been misaligned, with the second "4" rotated slightly counterclockwise relative to the first one (click to enlarge):

Third, and most confoundingly (at least to me), what is the negative space in the numerals supposed to be? Here are some of the interpretations and guesses that I saw on Twitter during the course of yesterday afternoon, and my reactions to them:
• "They're tomahawks." Uh, really? If so, they're the weirdest-looking tomahawks ever, and certainly nothing like the Braves' signature tomahawk. I don't see it.
• "They're hammers, for Hammerin' Hank." That seems even less visually apparent than the tomahawks. Again, I don't see it.
• "They're spears." I suppose you could make that case. But it would be very a strange choice, since the Braves have never used spear imagery (thankfully), plus spear tips are usually depicted as being symmetrical, not pointing down.
• "They're arrows, like in the FedEx logo." Okay, but what would that be symbolizing, especially since the arrows are pointing to the left (which in our culture indicates going backwards) and slightly downward (please, no "six feet under" jokes)? I don't understand the rationale.
In short: There's no plausible explanation, at least that I can think of, except maybe that they used a gimmicky font with a very funky "4." But why would they use a gimmicky font for a memorial service? It doesn't make any sense.
I figured there had to be something obvious that I was just missing, so I tweeted a query. To my surprise (and, I guess, relief), it turned out that I hadn't missed anything — nobody else had a good explanation either. But one of my Twitter followers, Matt Snyder, suggested that I ask the Braves' field/groundskeeper honcho, Tyler Lenz. That was an excellent idea, so I DM'd Lenz. While waiting for him to respond, I scrolled through his Twitter feed and found a photo that he posted on Saturday, showing the "44" before the white border had been added:
One the best to ever do it. #44 pic.twitter.com/h2DKsljnna

— Tyler Lenz (@T_LenzTurf) January 23, 2021
I figured one of his followers must have responded to that tweet by asking him about the negative space in the numerals — but nope.
A little later, Lenz got back to me. He said:
The font was chosen by people much higher up on the food chain than myself. And there is no subliminal message associated with it.

It was done in green because that's what we've used in-season for Hank Aaron Week in the past.
So that's our answer (or, in the case of the font, our non-answer). Very strange. I'll contact the Braves today to see if I can learn more.
• • • • •
• • • • •
For all photos, click to enlarge
Speaking of memorials…: Longtime Maple Leafs star George Armstrong died on Sunday, and yesterday the Leafs honored him with a really interesting memorial patch. It's based on this photo of Armstrong posing with the Stanley Cup after the Leafs won the 1967 championship (which was the last time they won the Cup, incidentally; click to enlarge):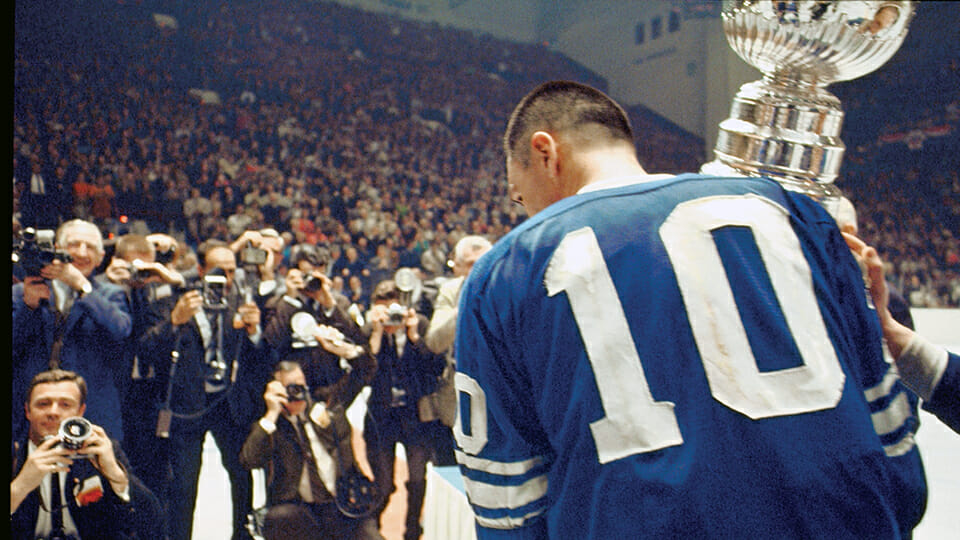 In addition to adding the patch, the Leafs all wore Armstrong's No. 10 and his NOB (even though Armstrong played entirely in the NNOB era) during pregame activities: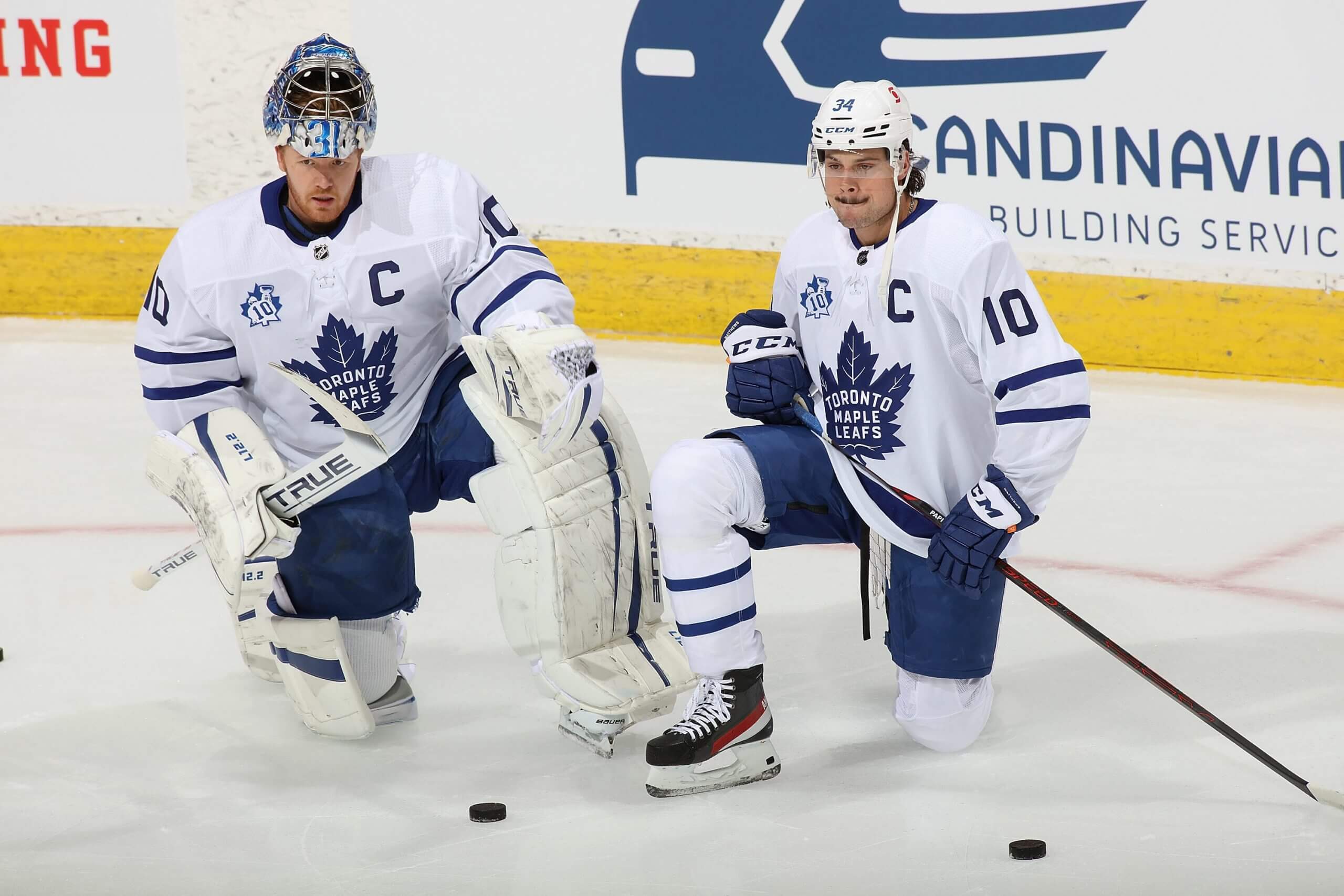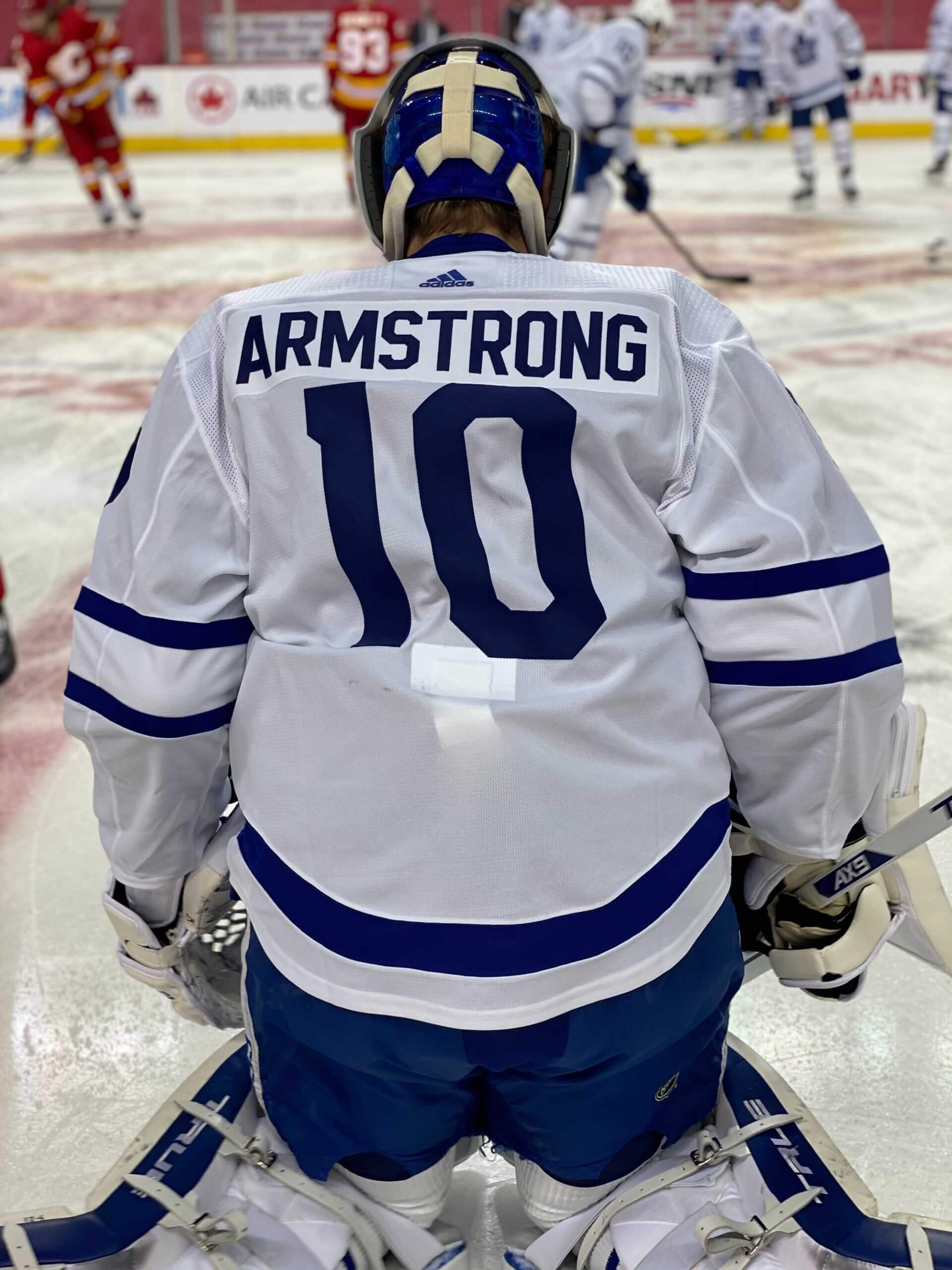 I'm trying to think of any other examples of memorial patches, from any sport, that show a rear view of the honoree, and for now I'm coming up empty. There are some non-memorial examples (in MLB, e.g., the Yankees saluted Mariano Rivera with a rear-view patch, but that was for his retirement, not for his death), but I can't think of anything quite like this Leafs/Armstrong patch. Anyone..?
• • • • •
• • • • •
The Ticker
By Lloyd Alaban

Baseball News: Here's a look at the new corporate naming signage that's being installed at the Brewers' ballpark (from @TheRealKiefer).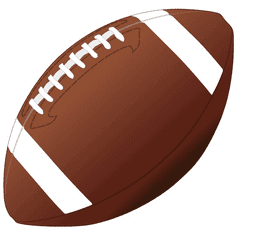 Football News: Cutouts will fill the stands at Raymond James Stadium for the Super Bowl (from Mike Chamernik). … This video follows some of the Patriots' equipment staff while they speak about the team's uniform history (from Chris Michael Gil). … Here's a closer look at what would have been the NFC's jerseys and AFC's jerseys for this year's Pro Bowl (from @thechodog and @philenespanol). … The National Bobblehead Hall of Fame released bobbleheads celebrating the 35th anniversary of the Bears' Super Bowl XX win (from Kenneth Traisman). … New uniforms for Jackson State (from Jonte Robertson). … Here's a uniform history of the CFL's Edmonton Football Team (from Wade Heidt).

Hockey News: Black alternates last night for the Bruins. … Following up on an item from yesterday, the Capitals released some additional details about their new alternate uniform, which made its debut in last night's game against the Islanders (from multiple readers). … Ducks G John Gibson wore a Kobe Bryant-themed mask last night to mark the first anniversary of Bryant's death (from Wade Heidt). … We may have had this item before, but it's worth repeating: The Wild have moved all of the Minnesota high school hockey sweaters from their arena concourse to the stands. Some have accompanying head cutouts too (from Jakob Fox). … The Huntsville Havoc of the SPHL will rebrand for one weekend as the Rocket City Long Dogs (from Tyler Earles). … Maybe it's just the lighting, but it appears that Wild players have inconsistent helmet colors (from @PullThroughPerr).

Basketball News: Blue vs. blue last night for the Wizards and Rockets (from Jordan Wert). … The Clippers wore "Kobe" facemasks last night, to mark the first anniversary of Kobe Bryant's death (from Jakob Fox). … Speaking of Bryant, the small city in Italy where he lived unveiled a plaza in his honor (from Timmy Donahue). … Ohio men's wore gold shoelaces last night for pediatric cancer awareness (from our own Alex Hider). … Color vs. color last night for Pitt and Clemson women's (from @FalcoNat38). … The NBA initially decided not to have an All-Star Game this season, but now there's talk that the game may take place after all, perhaps in early March.

Soccer News: Manchester City went mono-sky blue, a rarity, yesterday (from Nicky Guerrero). … Wisla Krakow teased their new kits (from Ed Zelaski). … New uniforms for Japanese side Ehime FC. "The back of the uniform shows a detailed outline of the Ehime Prefecture on Shikoku island," says Jeremy Brahm.

Grab Bag: Here is NASCAR driver Austin Cindric's first NASCAR Cup Series car (from Jakob Fox). … New kits for the Toronto Arrows of Major League Rugby (from Andy Buck). … The next few items are from Timmy Donahue: Buffalo police officers will need to have their last names visible on their uniforms, except during a protest. … The Maine State Police revealed 100th-anniversary badges, which are replicas of the first badges issued to troopers. … The New Hampshire State Police is hoping to expand its applicant pool by ending a ban on arm tattoos. Tattoos deemed to be racist, sexist, or indecent are still not allowed. … The U.S. Army has introduced changes to its hair policy for female soldiers. … New logo for Anchor Steam beer (from Scott Rogers). … Amtrak has revealed its 50th-anniversary trains. One of them, named 46, was supposed to carry then-President elect Joe Biden to Washington for his inauguration, but the trip was canceled due to the Capitol insurrection earlier this month (from @bryanwdc). … All five teams in New Zealand's Super Rugby Aotearoa have unveiled new alternate kits (from Sy Hart). … Australia's national rugby union team, the Wallabies, is consulting with past players on the design of the team's next shirt (from Mark Ward).
• • • • •
• • • • •