Click to greatly enlarge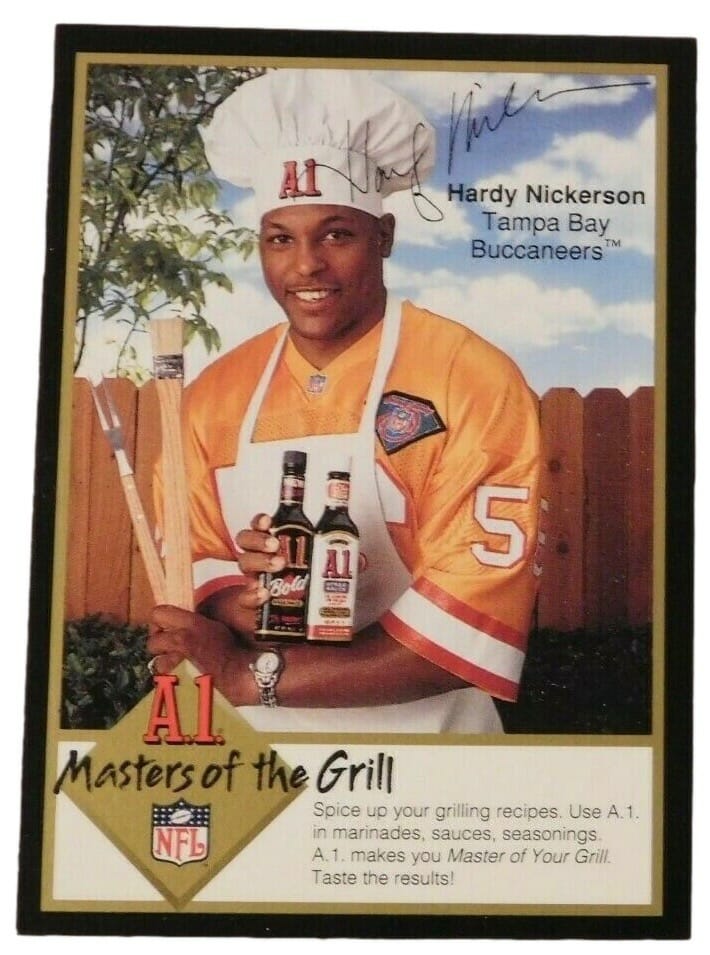 Longtime Uni Watch reader/supporter Robert Brashear recently got in touch to let me know he'd found something interesting buried in a drawer: a set of 28 A1 Steak Sauce "Masters of the Grill" recipe cards from 1994, each with a different NFL player on the front. Much like the late-1980s Diet Coke/NFL ads that we recently explored, these A1 cards offer an interesting overlap between advertising and the uni-verse.
I'd never been aware of these cards before, so I looked on eBay and found a full set for myself ($10, including shipping). They're shown above, arranged in alphabetical order of the teams' cities. After studying them at length, here are some observations:
• The overwhelming majority of the players are offensive or defensive linemen, presumably because the ad agency thought big, rough-tough guys were a good fit for grilling meat.
• One of the few non-linemen is Jerome Bettis, who was then with the Rams. He's so strongly associated with the Steelers (at least in my mind) that it's almost startling to see him in a Rams jersey.
• Another one of the non-linemen, Browns fullback Tommy Vardell, is wearing a jersey that looks more black than brown.
• Since this promotional campaign ran in 1994, the NFL's diamond anniversary patch is evident on most of the jerseys. It's missing from a few of them, however.
• The Giants' representative — center Bart Oates — didn't actually play for the Giants in 1994. He was acquired by the 49ers prior to the start of that season. So his A1 photo shoot was probably the only time he wore a Giants jersey with the anniversary patch.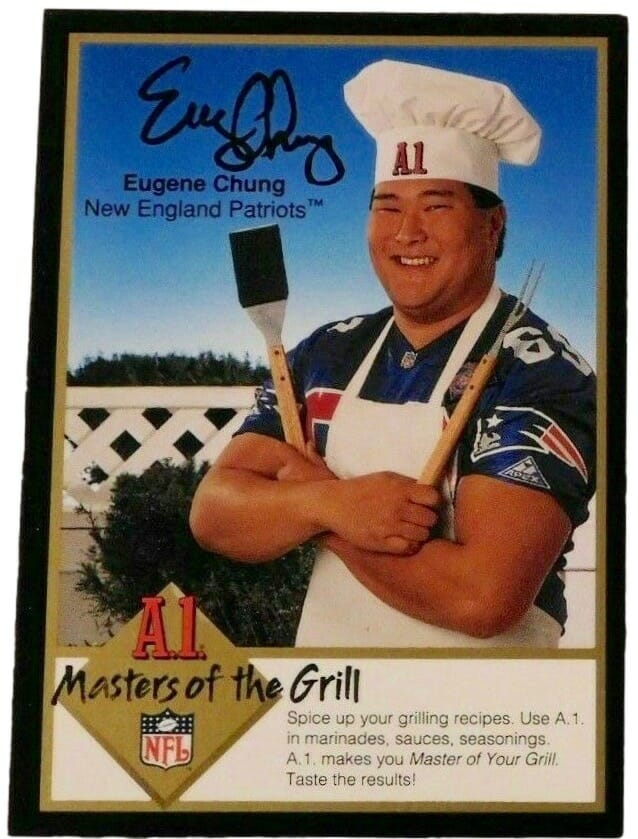 • Patriots offensive lineman Eugene Chung appears to be wearing the team's 1993 jersey — the one with the red chest numbers and white TV numbers. And yet he does have the 1994 anniversary patch. Strange!
• 1994 was also when the NFL rolled out its first throwback program, but there are no throwback jerseys featured on any of the cards.
• The various jerseys include maker's marks for four different uniform manufacturers — Champion, Russell Athletic, Wilson, and Apex — plus there are several without any visible logo creep. (According to the Gridiron Uniform Database, several teams were outfitted by Starter that season.)
• One player — Vikings offensive lineman Chris Hinton — appears to be wearing a blank, unofficial jersey. In addition to having no visible uni numbers and no anniversary patch, it also does not have the NFL logo at the collar.
• Seventeen of the players are wearing A1 chef's toques, while the other 11 have A1 ballcaps. One of those 11 — Dolphins tight end Keith Jackson — somehow got away with wearing his ballcap backwards, hiding the A1 logo. Another cap-clad player — Packers offensive lineman Ken Ruettgers — achieved a similar brand-quashing effect by wearing his cap tilted back on his head.
• All 28 of the the players are wearing aprons. Four of them — Oilers defensive lineman Ray Childress, Chargers offensive lineman Courtney Hall, 49ers offensive lineman Harris Barton, and the aforementioned Ruettgers — wore their aprons at the waist, exposing more of their jerseys. The other 24 players have their aprons over their torsos. Those aprons have the A1 logo on the chest, but most of the players have their arms folded and/or are holding props in a way that obscures much or all of the logo.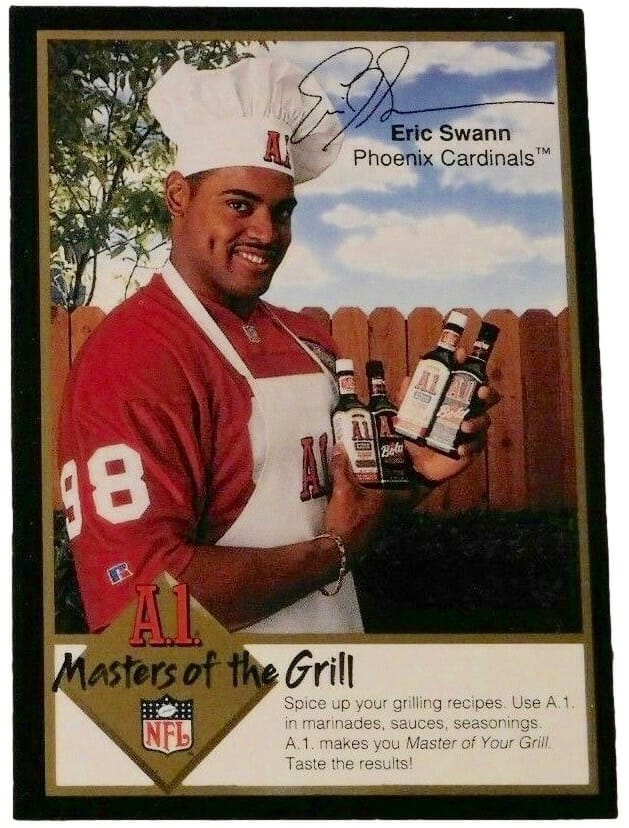 • Fifteen of the players are either holding or standing alongside two bottles of A1. There are also six players with one bottle, six more with no bottles (surprising!), and one player — Cardinals defensive lineman Eric Swann — who held four bottles.
• Although this campaign was all about grilling, a grill is visible in only four of the photos. Three of those shots just show a lonely-looking kettle grill in the background, but one player — Raiders defensive lineman Howie Long — got to pose in front of a big grill of assorted meats.
There are more things I could compare (which grilling tools each player is holding, the photo backdrops, etc.), but I think that's enough for now.
Meanwhile, the back of each card has a recipe featuring A1 as a key ingredient. Most of them are about what you'd expect, and there doesn't appear to have been any attempt to match regionally themed recipes to the players' team locations (i.e., the card for the Saints player does not feature a Creole or Cajun recipe). Here's a representative sampling: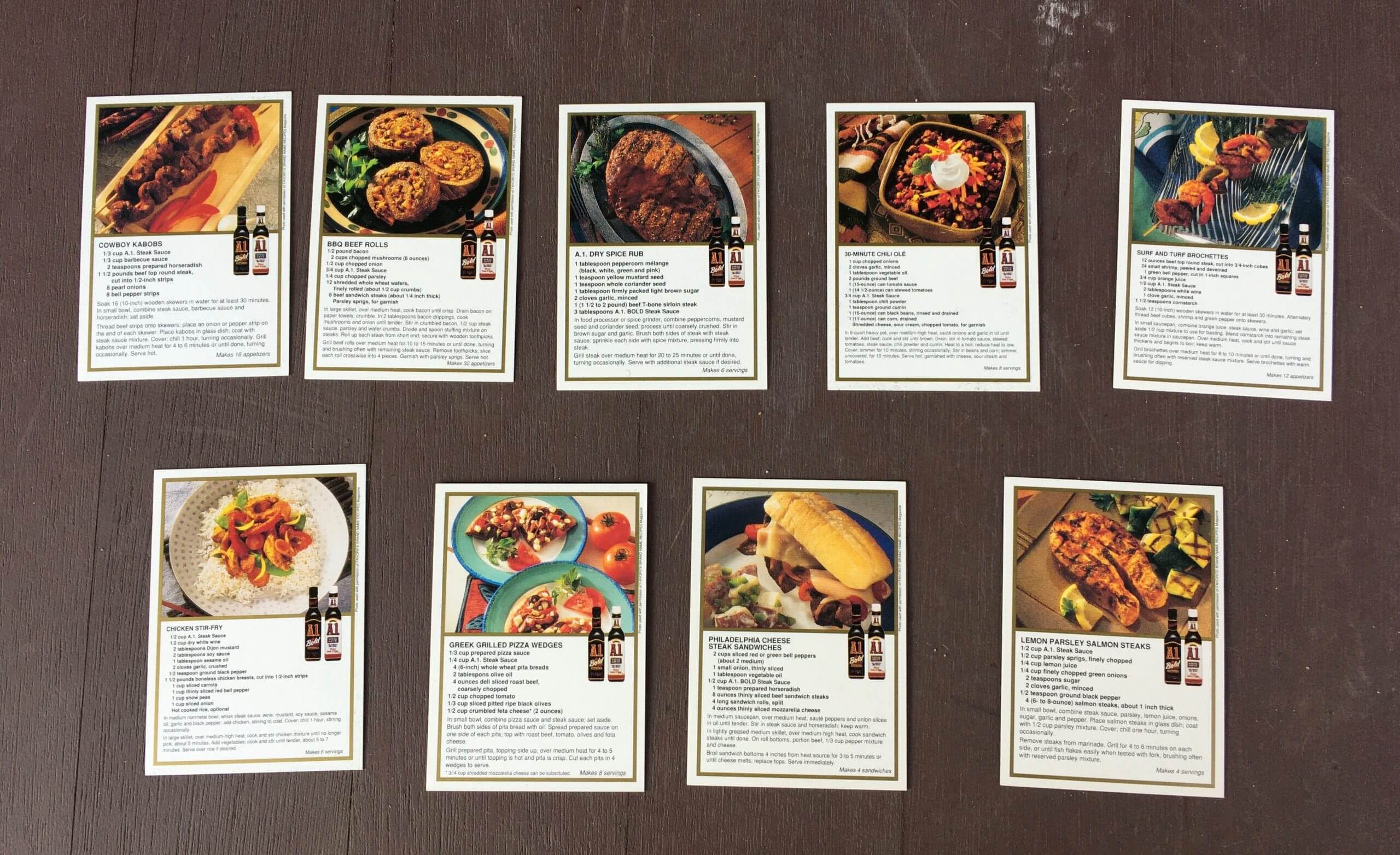 I should probably mention here that I've never much cared for A1. To me it's just runny ketchup with a bit of added spices and a lot of added sugar. But it's interesting to see that their basic package design has barely changed since 1994. Here's a comparison — 1994 trading card version on the left, current version on the right (note that "Steak" is no longer part of the official product name):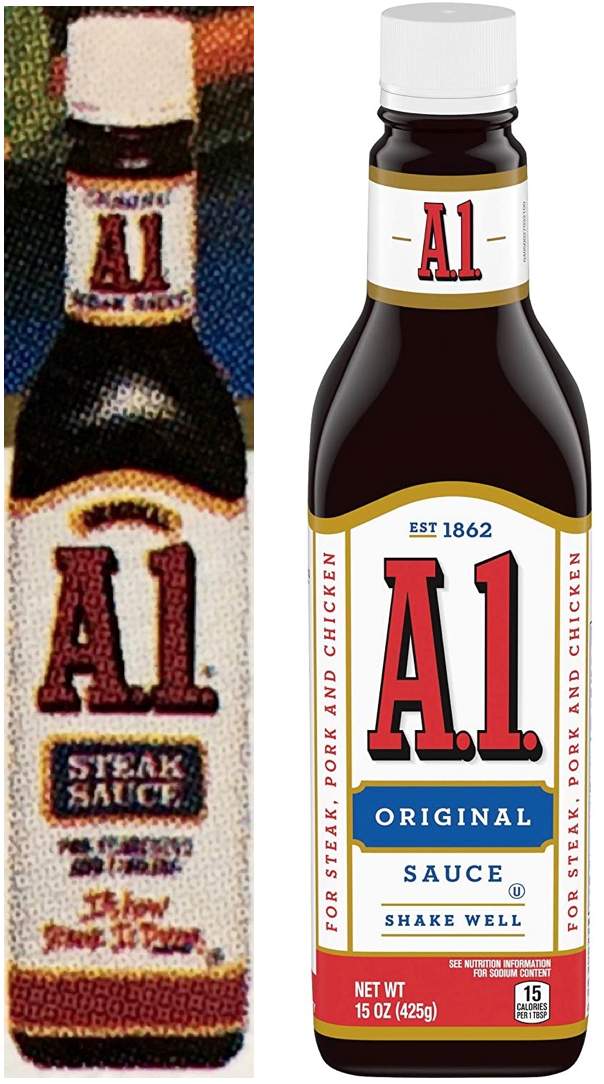 Also, trading cards feature a brand extension called A1 Bold, which had a black label. That product was apparently introduced in 1994 — the same year the trading cards were issued — but is no longer in production, at least not under that name. There is, however, a current a product called A1 Bold & Spicy. It's not clear to me if that's essentially the same product (anyone..?), but here's another design comparison: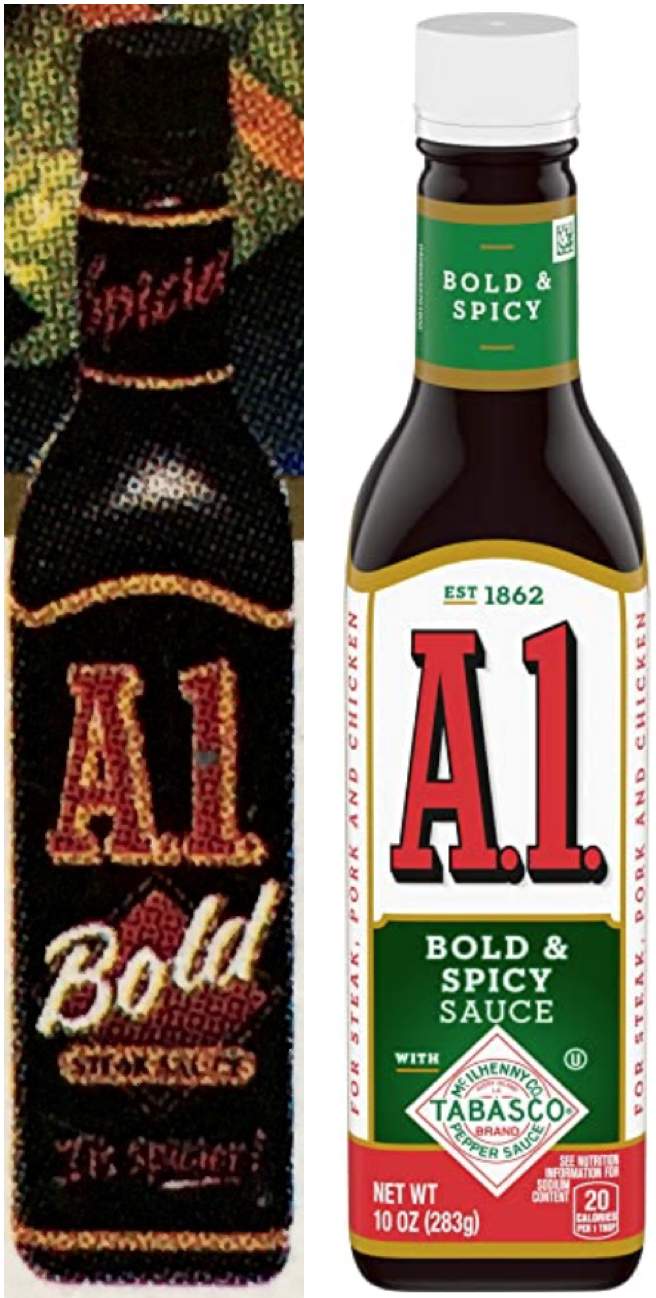 ———
And there you have it. If you want your own set of these cards, there are lots of them available on eBay.
(Big thanks to Robert Brashear, who deserves all the credit for this entry, and to Joel Keller for the Bart Oates note.)
• • • • •
• • • • •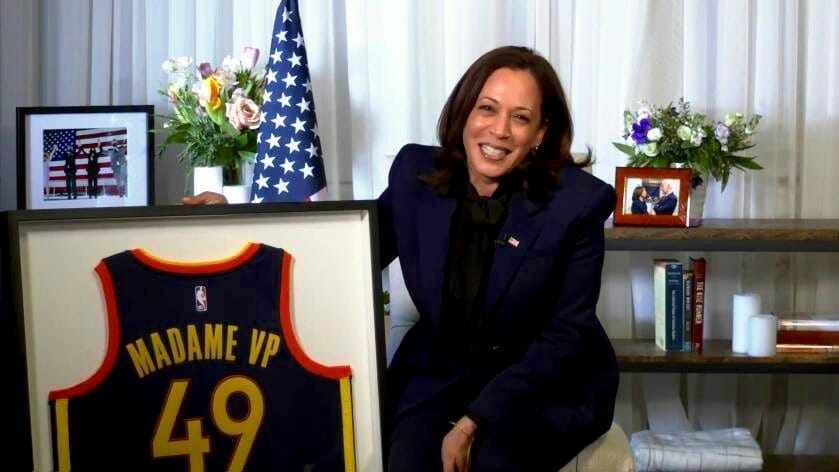 Click to enlarge
Uni-auguration: With Oakland native Kamala Harris ascending to the office of U.S. Vice President yesterday, the Warriors sent her one of their Oakland alternate jerseys (additional info here). Note that while Joe Biden is America's 46th president — a number we'll presumably be seeing a lot of in the months and years to come — Harris is the 49th veep, which explains the number on her jersey.
In other developments related to yesterday's inauguration:
• Speaking of the 46th prexy, when President Biden left the inauguration and went to Arlington National Cemetery, he traveled in a car with a "46" license plate: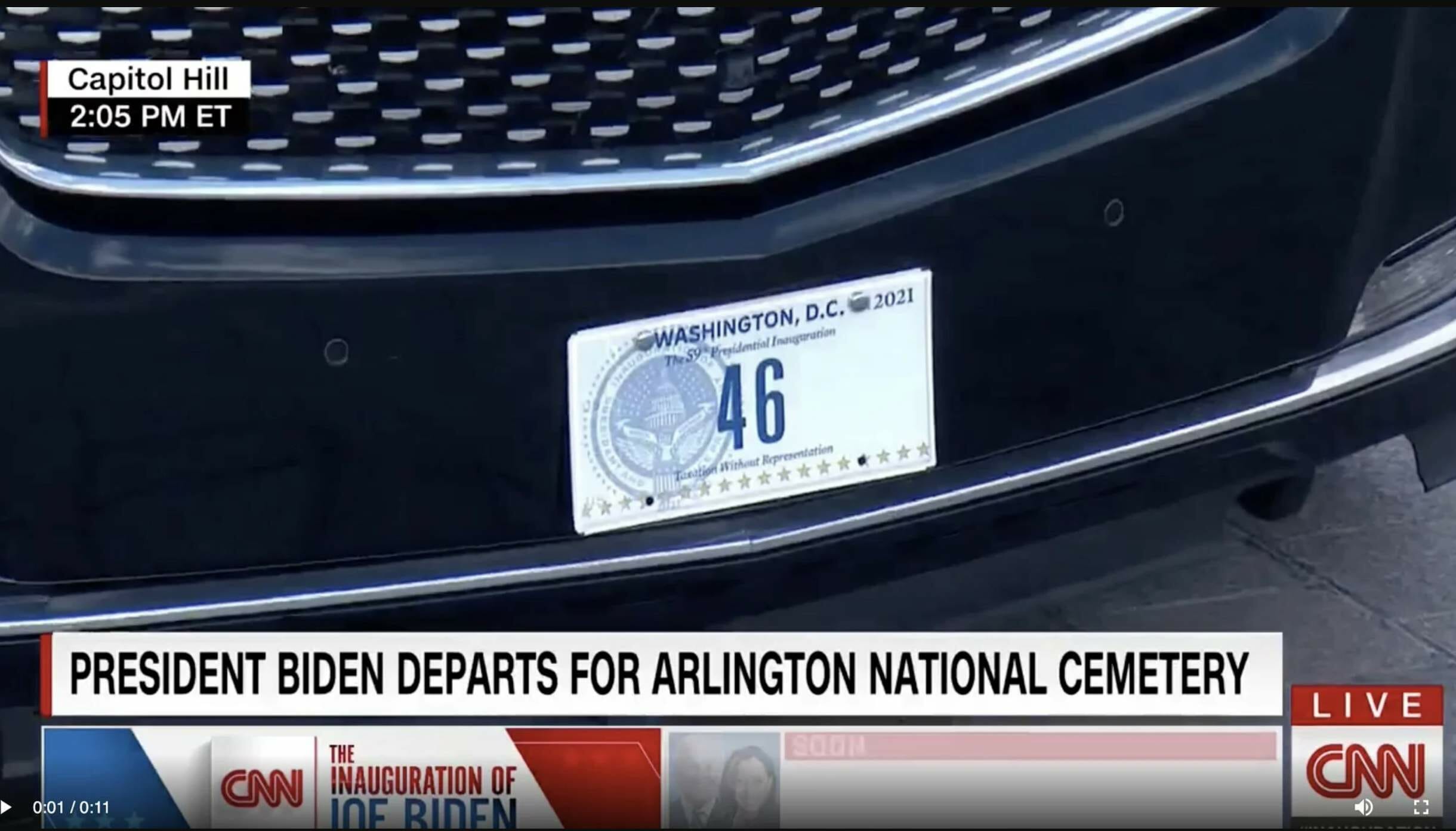 • In a related item, here's a list of the best players in various sports to wear No. 46.
• Kansas City Mayor Quinton Lucas was on hand at the inauguration and wore a Chiefs hat: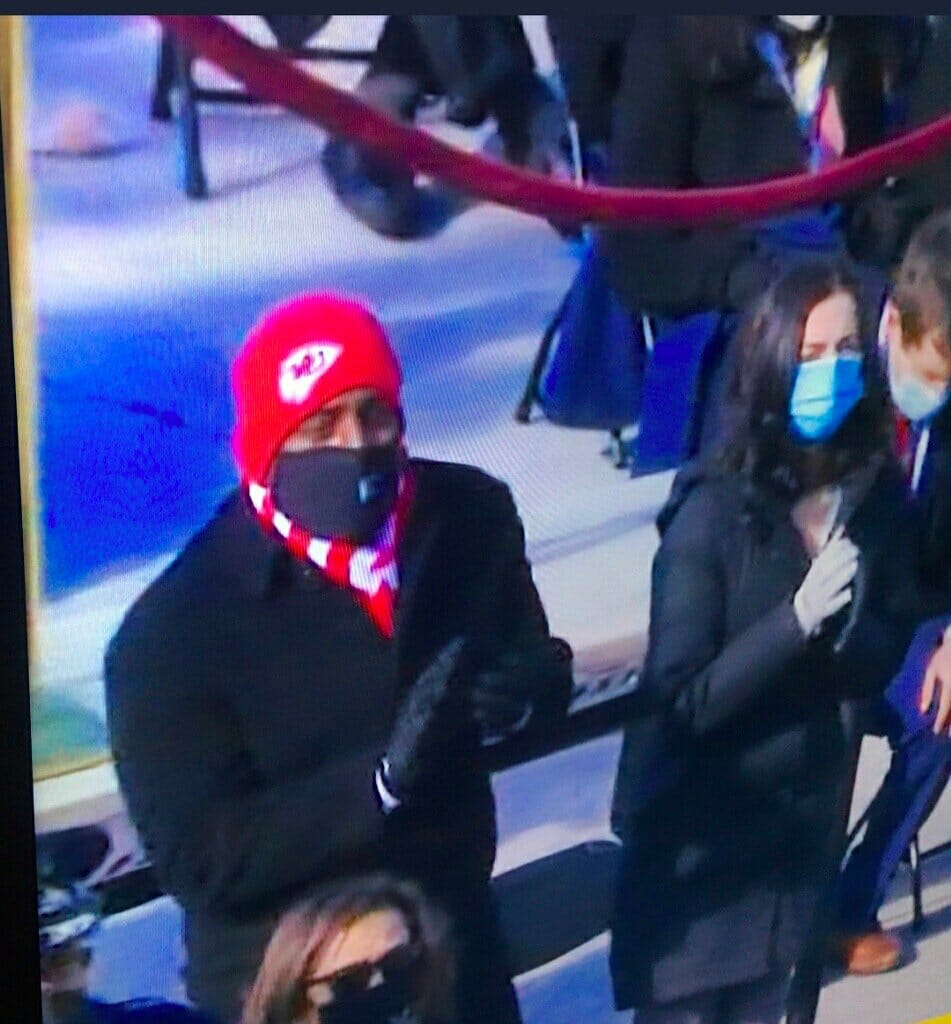 • Minnesota Sen. Amy Klobuchar wore U. of Minnesota colors: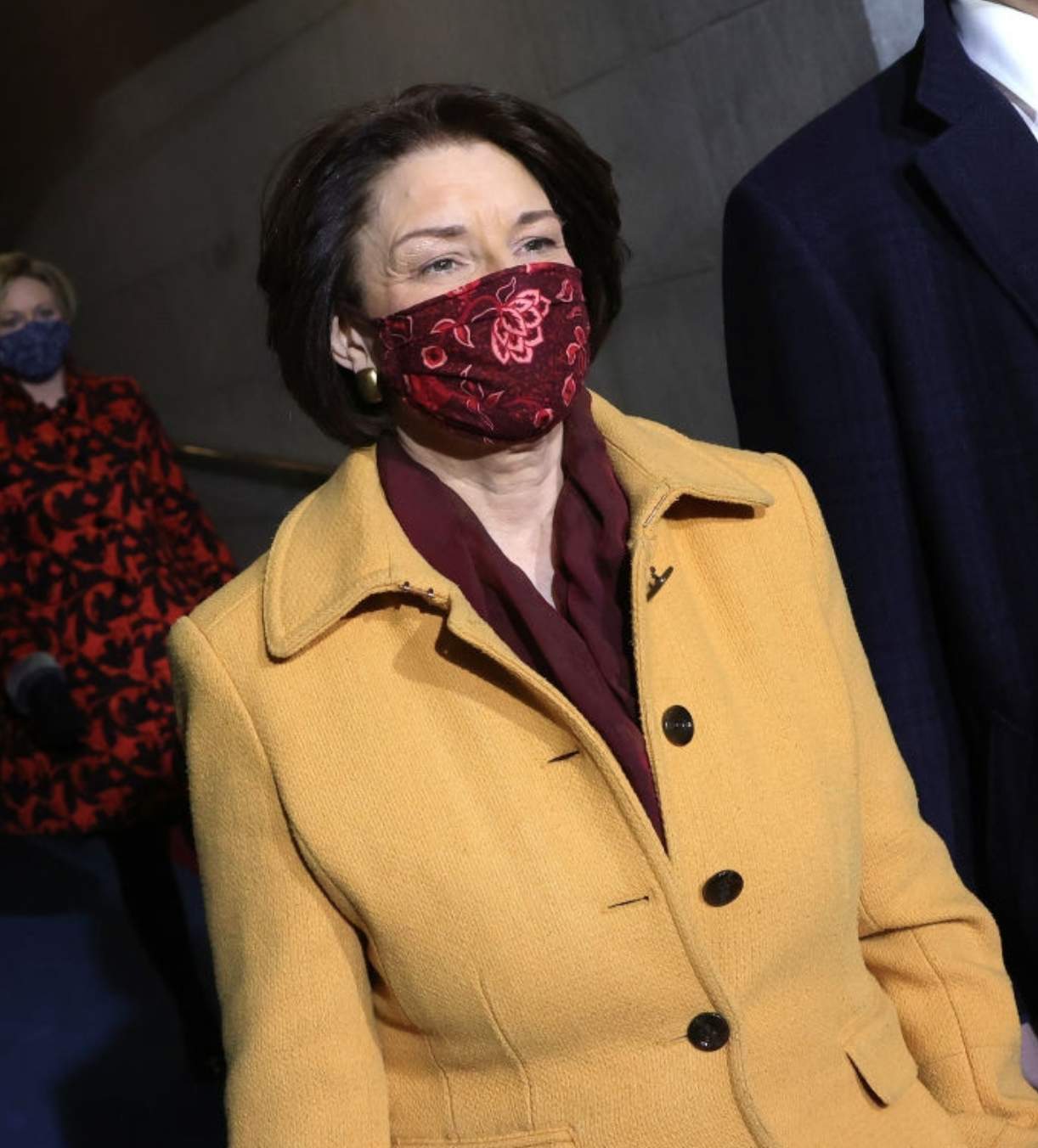 • Lots of women at the inauguration wore purple. Some may have done so as a gesture of bipartisanship (blue + red = purple), while others did it in honor of Shirley Chisholm, who in 1972 was the first Black female presidential candidate:
Why are so many women wearing purple at Biden's Inauguration today? https://t.co/xYbXupMAwO pic.twitter.com/HDLnN3EQS1

— New York Post (@nypost) January 20, 2021
• In addition, lots of women around America wore black Chucks and pearls as a shout-out to Vice President Harris.
• Finally, I was struck by how this photo of the Bidens and Harrises was like the 1990s uniform scene all over again — purple, teal, and black: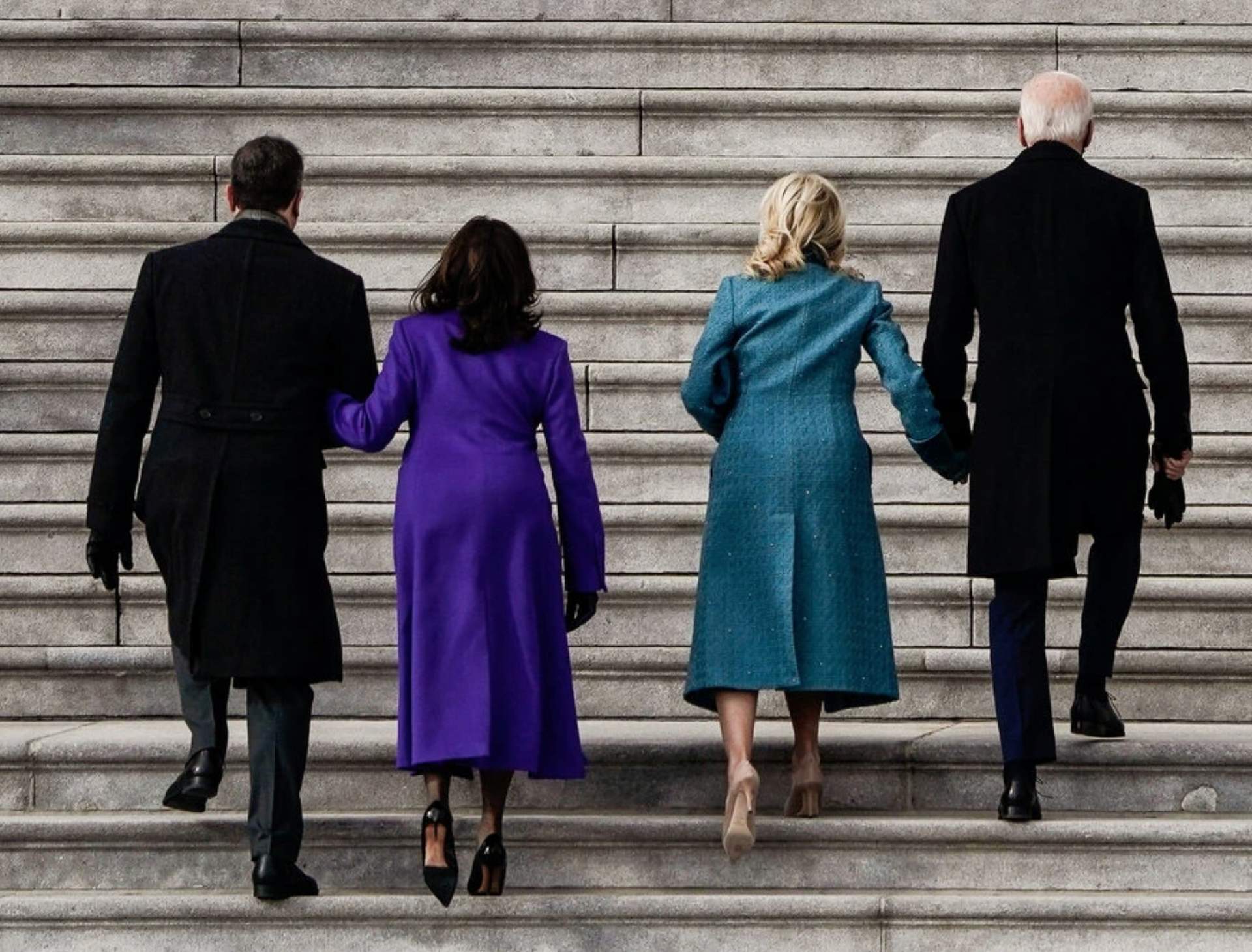 (My thanks to Brinke Guthrie, Craig Kind, Rob Krosley, and Ron Ruelle for their contributions to this section.)
• • • • •
• • • • •
Click to enlarge
ITEM! Clearance sale: Uni Watch Cufflinks, which were originally priced at $26.99 and then reduced to $16.99, are now available at a bargain basement price of $9.99. Granted, you probably don't have many formal events on your socially distanced calendar, but we'll all be vaccinated soon enough, and there are only 27 pairs of cufflinks remaining, so move fast!
• • • • •
• • • • •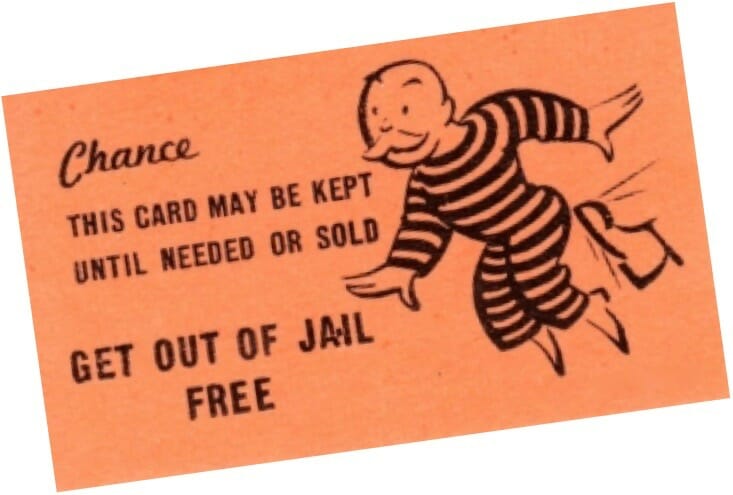 "Life Sure Is Weird" Department: I woke up yesterday to learn that someone I've known for over 30 years had received a presidential pardon. (Spoiler alert: Not Lil Wayne.)
We met in 1987, when I was a big fan of a band he played in, and quickly became friends. We also had a lot of friends in common in the worlds of indie-rock, zines, and so on. Later, in the early 2000s, he ascended to much more high-powered strata of media and influence — like, very high-powered — but we stayed in touch.
Over time, though, our values diverged, he became less and less recognizable to me, and I found that it required an increasingly complex level of emotional gymnastics to justify my friendship with him. In 2018, by which time he had been credibly accused of sexual harassment by someone who worked for him, I decided I could no longer perform those gymnastics and that our fundamental values had become irreconcilably incompatible. So we met up one last time, talked about our friendship, and then I "broke up" with him. It was hard, and sad, but I knew it was the right thing to do.
I thought that would be a clean break, but he turned out to be further under my skin than I realized. Each time a certain kind of news was reported — news that I knew would matter to him or affect him in one way or another — I'd think of him and wonder if this latest news might make him rethink his positions. On some level, it embarrassed me, and still does, that I continued thinking about him in this way. But people and relationships are complicated, and it's hard to just toggle them on and off like a light switch.
Last fall, federal charges were brought against him, alleging some really loathsome behavior that, unfortunately, seemed consistent with certain things I knew about him (and also consistent with the earlier sexual harassment accusation). His attorney issued a statement that didn't even deny the allegations — he just said the allegations didn't merit a criminal prosecution. At first it seemed like an odd thing for an attorney to say — the usual statement would be "My client categorically denies all the charges, and we look forward to rebutting them in court" or something like that, right? — but then I thought of my ex-friend's high-powered connections and realized what was going to happen: He was going to get a pardon.
And sure enough, that's what happened. But even though I expected it, it's still sick-making. And by accepting the pardon, he's admitted his guilt.
I should say here that when we were friends, he was a good friend. There were generous favors, valuable advice, invitations to gatherings at his home, and a general spirit of generosity, right up to the end. I know the person I initially liked is still in there somewhere, and I imagine he'll probably remain under my skin to a certain extent, maybe forever.
Crazy world.
• • • • •
• • • • •
The Ticker
By Paul

'Skins Watch: It would be fair to say that Lewistown High School in Illinois has not gotten the memo regarding the use of Native imagery. "I knew their teams were called the Indians but never knew how much they really leaned into the Native American imagery instead of distancing themselves from it," says Stile Smith.

Baseball News: Here are some great photos of the ushers and other staffers at Colt Stadium, where the Colt .45s played before becoming the Astros and moving to the Astrodome (thanks to all who shared). … What would MLB team logos look like as minor league logos? Maybe something like this (from @SacKings_Unis). … Looks like the Nats may have a new alternate logo (from R. Scott Rogers).

NFL News: The Cleveland City Council saluted the Browns for their season but used the team's outdated uniforms when doing so (rare non-soccer contribution from Ed Zelaski). … Several Ravens players gave signed jerseys to RB Mark Ingram, who was released by the team on Tuesday.

College Football News: This is weird: It's really hard to see, but back when Maryland had white helmet shells, they also used white rear-helmet numbers. Additonal examples here and here. Why would any team use white on white? (From Steve Hoyle.)

Hockey News: New pads for Golden Knights G Robin Lehner.




NBA News: The Warriors are embracing their "Oakland" alternate uniforms, which debuted last night (from Mike Chamernik). … Those uniforms also come with some pretty wild warm-up jackets. Here's a closer look (from Antonio C.). … The NBA is adding on-court security to prevent handshakes, hugs, and other physical contact among players (from Mike Chamernik). … The Mavs have begun giving a championship-style belt to their defensive player of the game (from Timmy Donahue).

Soccer News: Chattanooga FC has extended its kit deal with Hummel (from Ed Zelaski). … French side RC Strasbourg plans to use airplane fuselages to renovate its stadium in a sustainable manner (from Kary Klismet). … Also from Kary: Dutch club Feyenoord has released its new stadium plans.

Grab Bag: Good article about a New York uniform shop that provides unis to Postal Service employees. … Here's how the rock band Korn's frontman, Jonanthan Davis, created the band's logo. … Here's an article on the current state of pro golf sponsorships and endorsements (NYT link).
• • • • •
• • • • •