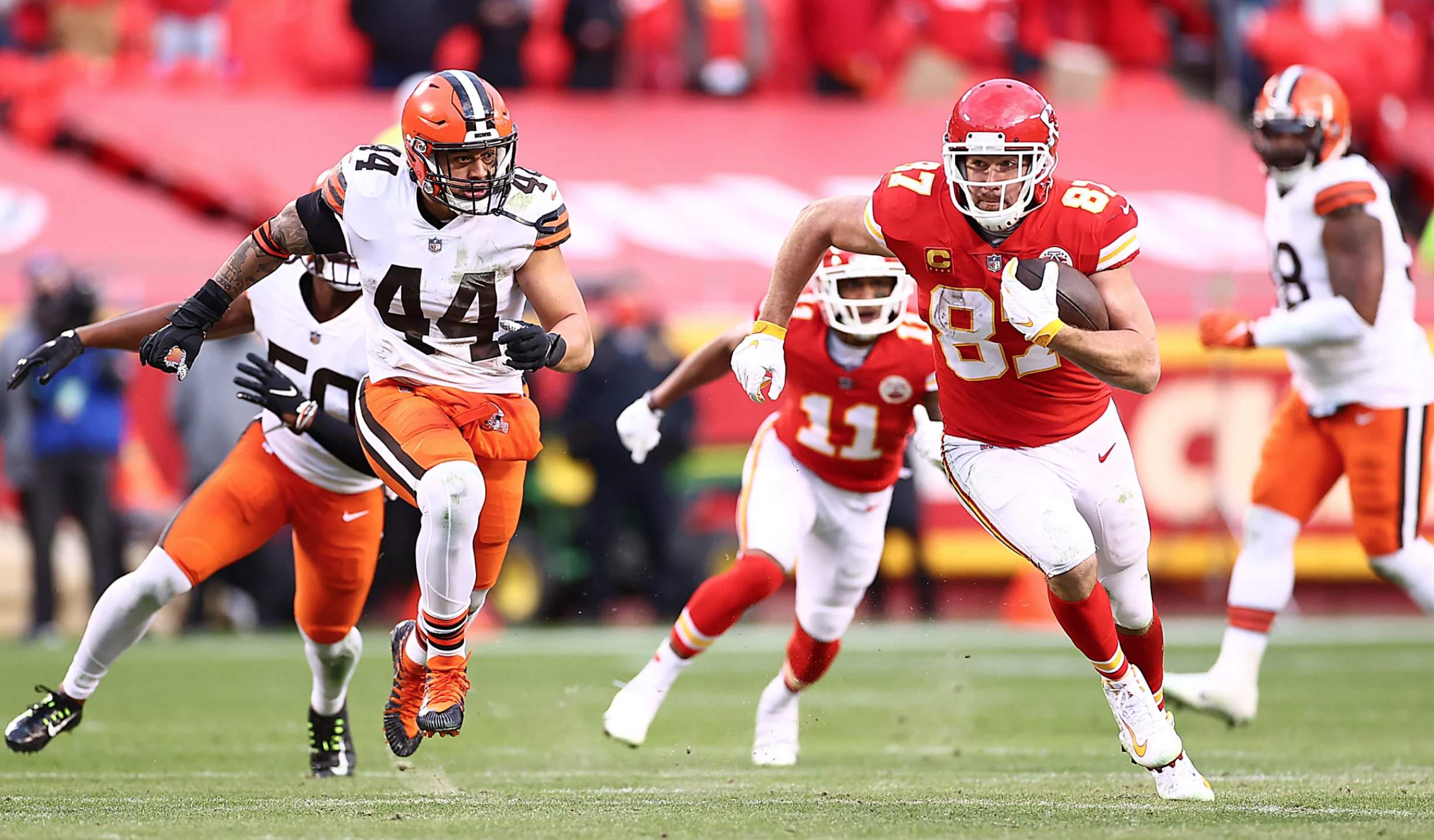 For most photos, click to enlarge
Good morning, and greetings from Uni Watch HQ, where all three inhabitants continue to be safe and well. Hope the same is true at your home.
Gorgeous playoff game yesterday between KC and the Browns. I was rooting for the Browns for a variety of reasons, not the least of which is that a Bills/Browns AFC championship game would essentially have been the Lake Erie Bowl (or, if we were lucky, the Lake Effect Bowl), which would've been fun. Too bad.
A few other notes from yesterday's games:
• Browns kicker Cody Parkey was showcasing some serious biker shorts action: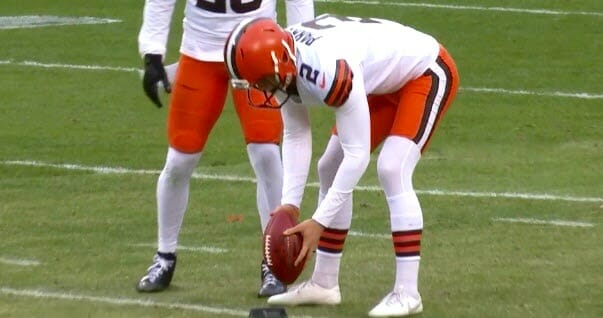 • The wordmark on Browns tight end Austin Hooper's nose bumper was crooked: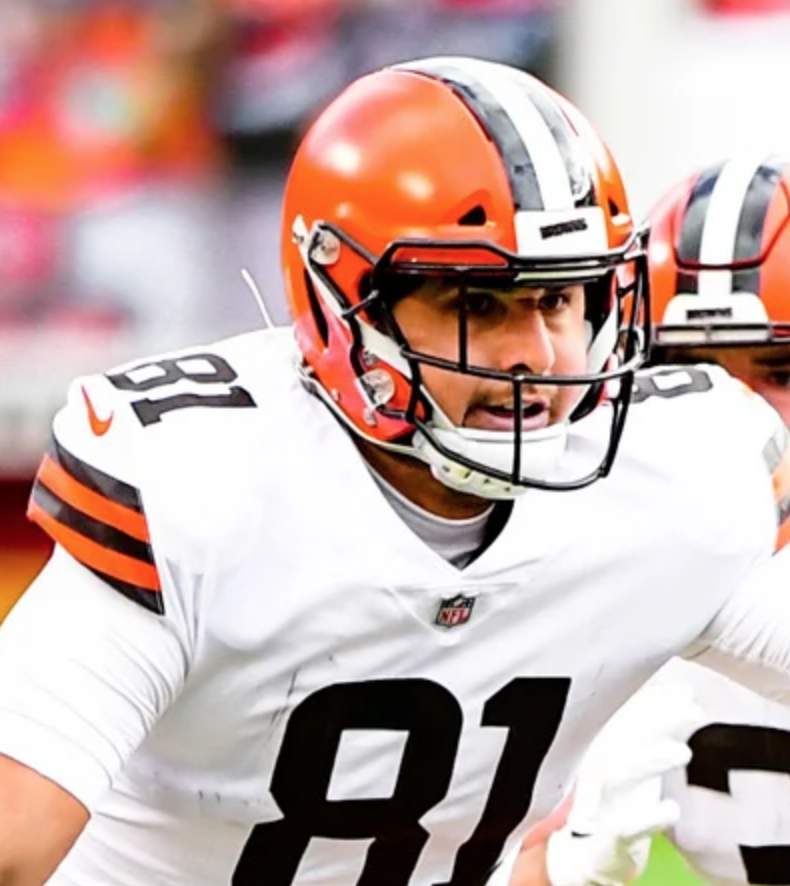 • Because the Bucs and Saints are both in the NFC South, they played each other twice during this regular season, making yesterday their third time facing each other in a little over four months. The Bucs wore three different uni combos for those three games: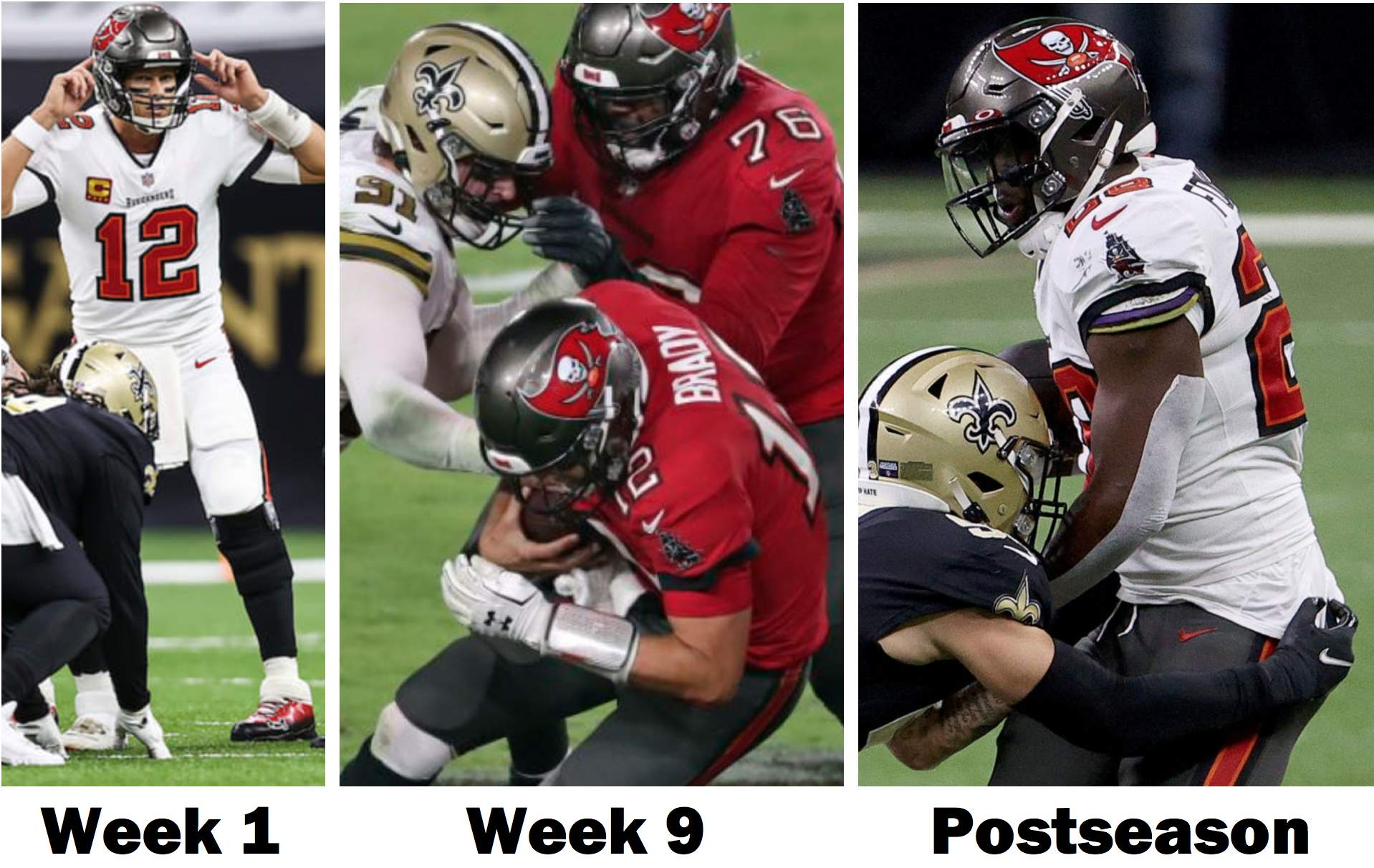 • Multiple reports indicate that yesterday may have been Saints quarterback Drew Brees's last game. If he does indeed retire, that would remove one of the rare Walter Payton Man of the Year jersey patches from circulation.
Looking ahead: If the two home teams win next week — Green Bay and KC — we'd have a rematch of Super Bowl I. And their uniforms have barely changed since 1967: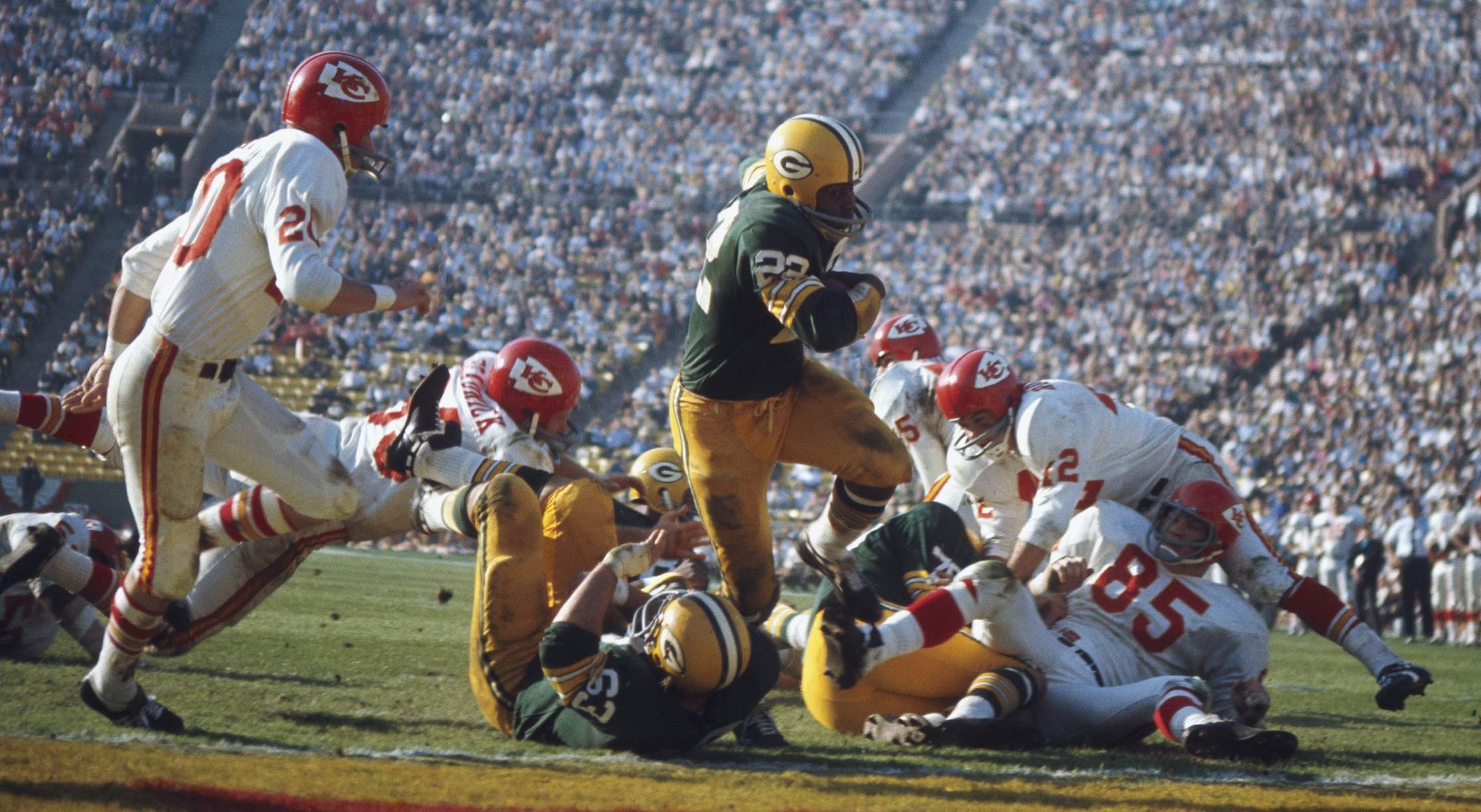 The NFC is the designated home team this year, so we'd once again have the Packers in green and KC in white. The big difference, of course, is that KC's red pants, which they typically wear with their white jerseys these days, didn't yet exist in 1967 — they were introduced two seasons later.
KC rarely goes mono-white anymore. According to the Gridiron Uniform Database, the last time they did so was Week 9 of 2018, and the time before that was Week 6 of 2016. But if we do get a KC/Packers matchup, wouldn't it be cool if KC went with the white pants to recreate that Super Bowl I vibe?
Then again, they lost that game, so maybe that's the last thing they'd want to do. Still, a fella can hope.
(My thanks to Moe Khan, @NFL_Journal, and @keginaring for their contributions to this section.)
• • • • •
• • • • •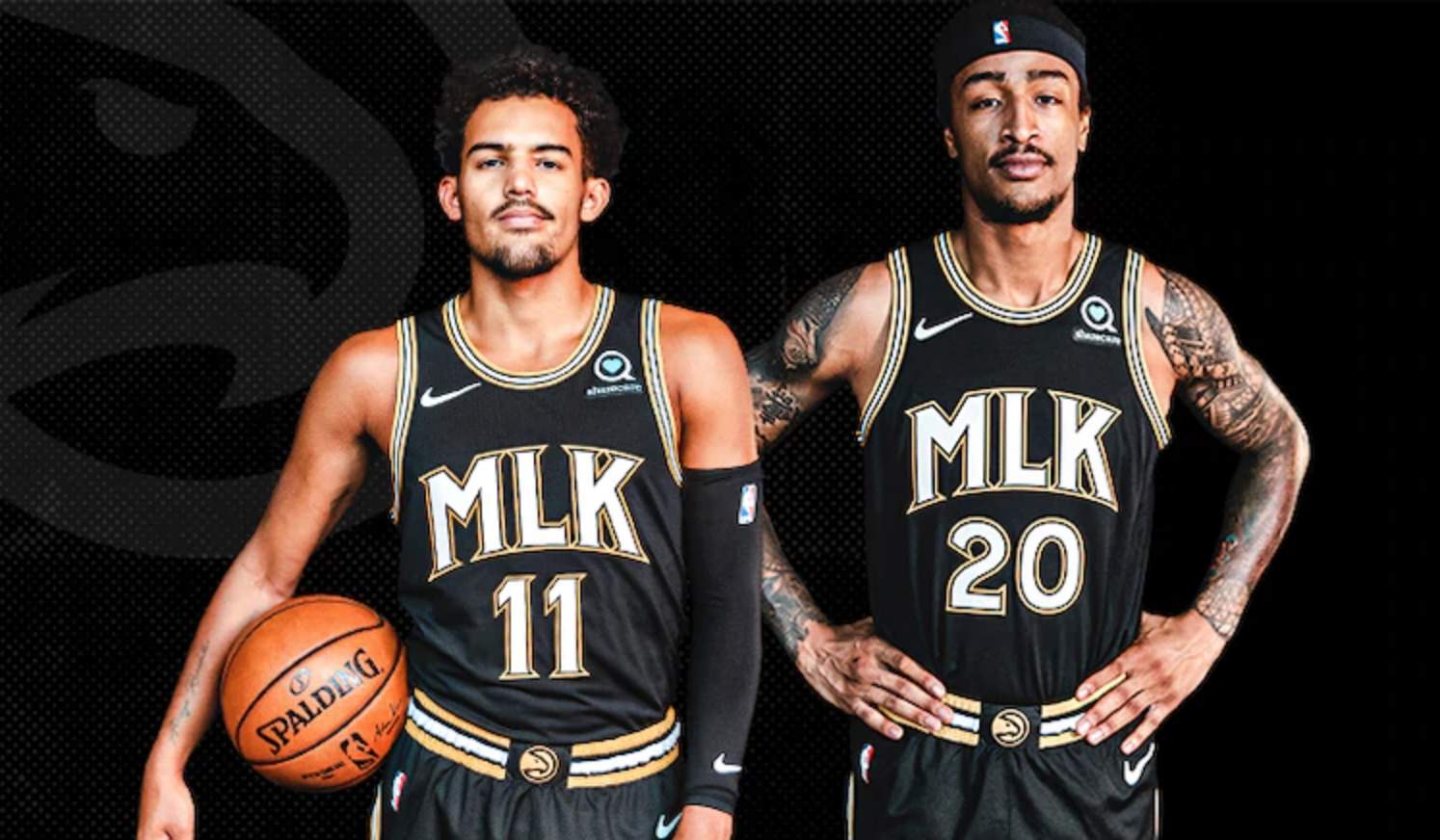 MLK Day: Today is Martin Luther King Jr. Day — the day when we honor the life of history's greatest American. The Hawks, who play in King's native city of Atlanta, will mark the holiday by debuting their "MLK" alternate uniforms (one of which was recently blessed by Pope Francis), along with their matching court, for this afternoon's game against the Timberwolves. Additional info on the designs is available here.
The Hawks are not the first NBA team to wear a King-themed uniform (although they're the first to wear his initials). The Grizzlies collaborated with the National Civil Rights Museum in Memphis to create a King-centric alternate uni for the 2016-17 season, and they had another King-based uni in 2017-18.
King would have turned 92 this year. It's incredible to think he was only 39 when he was assassinated in 1968 (or to put it another way, paraphrasing the great Tom Lehrer, when King was my age, he'd been dead for 17 years). Think how much more he could have accomplished, and how different the world might be. What a waste. R.I.P.
• • • • •
• • • • •
Cavs correction/update: Many of you told me how much you enjoyed last Wednesday's interview with Spencer Heffernan, who told the story of how how his now-deceased father, Cavaliers game-day entertainment director Mark Heffernan, designed the Cavs' 1999-2003 uniforms. It now turns out that some of the information in that piece needs to be updated.
First, while Mark Heffernan does appear to have had a role in creating the Cavs' 1999-2003 uni set, he was not the sole creator. Correspondence between the league and the team indicates that there were likely several Cavs people involved (including Heffernan), and that the final design was executed by NBA Properties.
Second, toward the end of the piece there were several concept designs for other NBA teams — the Hawks, Bucks, Suns, Knicks, etc. — that Spencer Heffernan told me were created by his father. It turns out that those designs were actually created by longtime uniform designer Tom O'Grady, who at the time was the NBA's creative director. Those designs were sent out to various teams, which is apparently how they ended up in Mark Heffernan's files. When Spencer found them after Mark's death, he mistakenly thought Mark had created them.
I'm happy to set the record straight, and I've added a correction to the end of the original entry.
• • • • •
• • • • •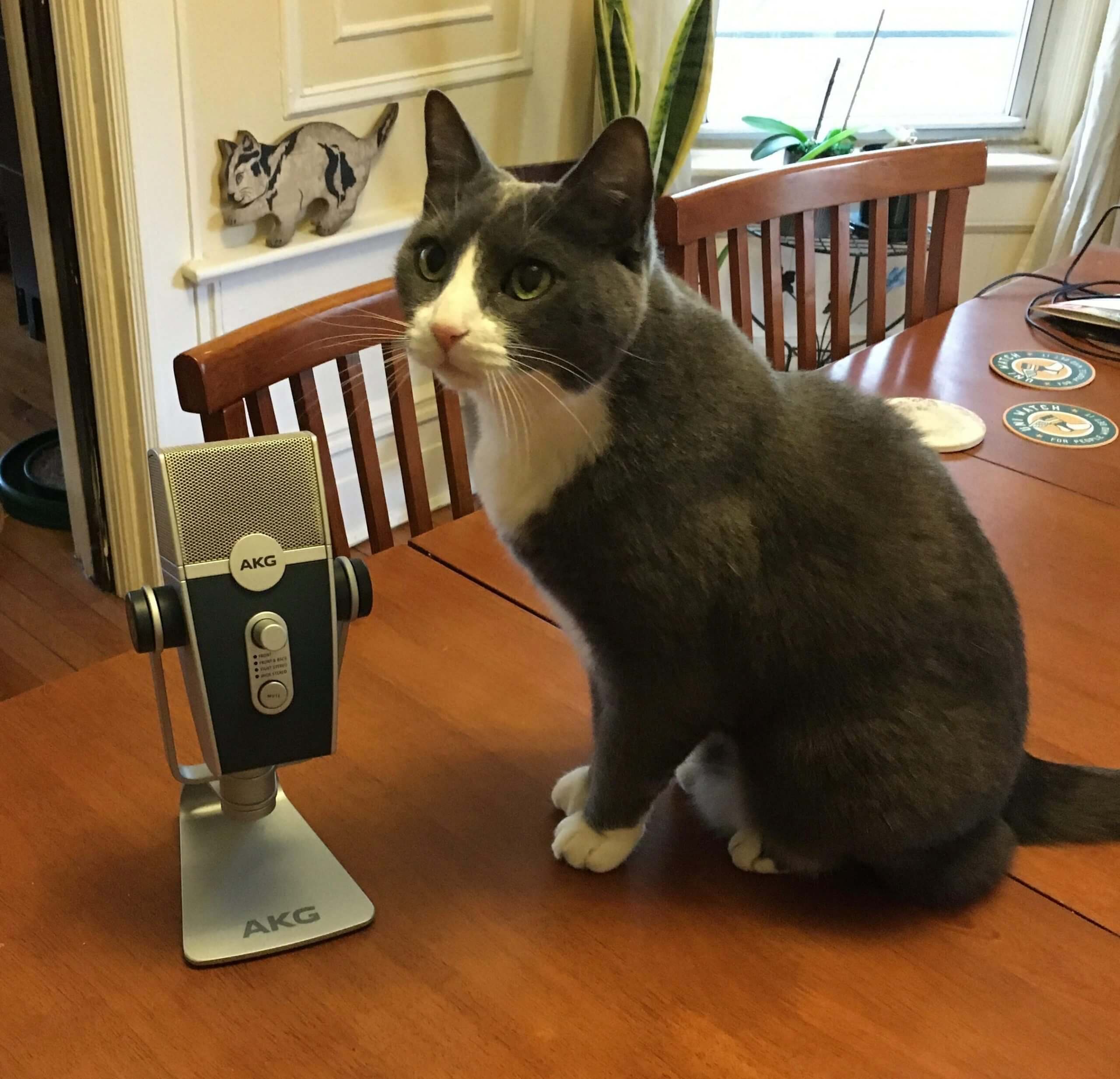 Click to enlarge
Chatty catty: Uni Watch girl mascot President Caitlin was test-driving the new fancy-shmancy microphone that I'll be using for an upcoming podcast project (more on that soon). She usually has at least as much to say around here as I do, but she doesn't need a mic — trust me on that.
• • • • •
• • • • •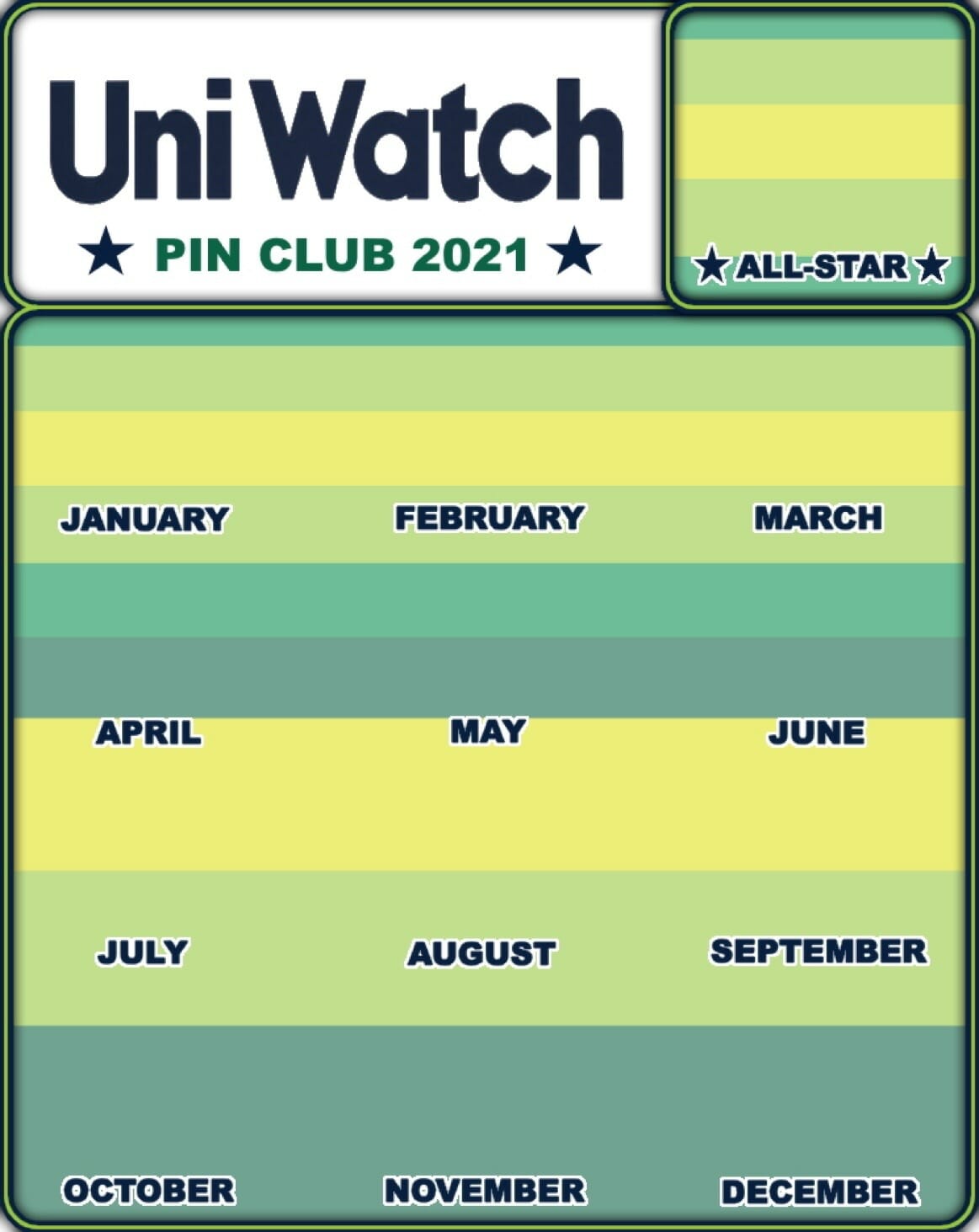 Pin Club update: Reader Blake Pass, who designed the display template for our 2020 pins, has now created one for 2021 (shown above). You can download it here.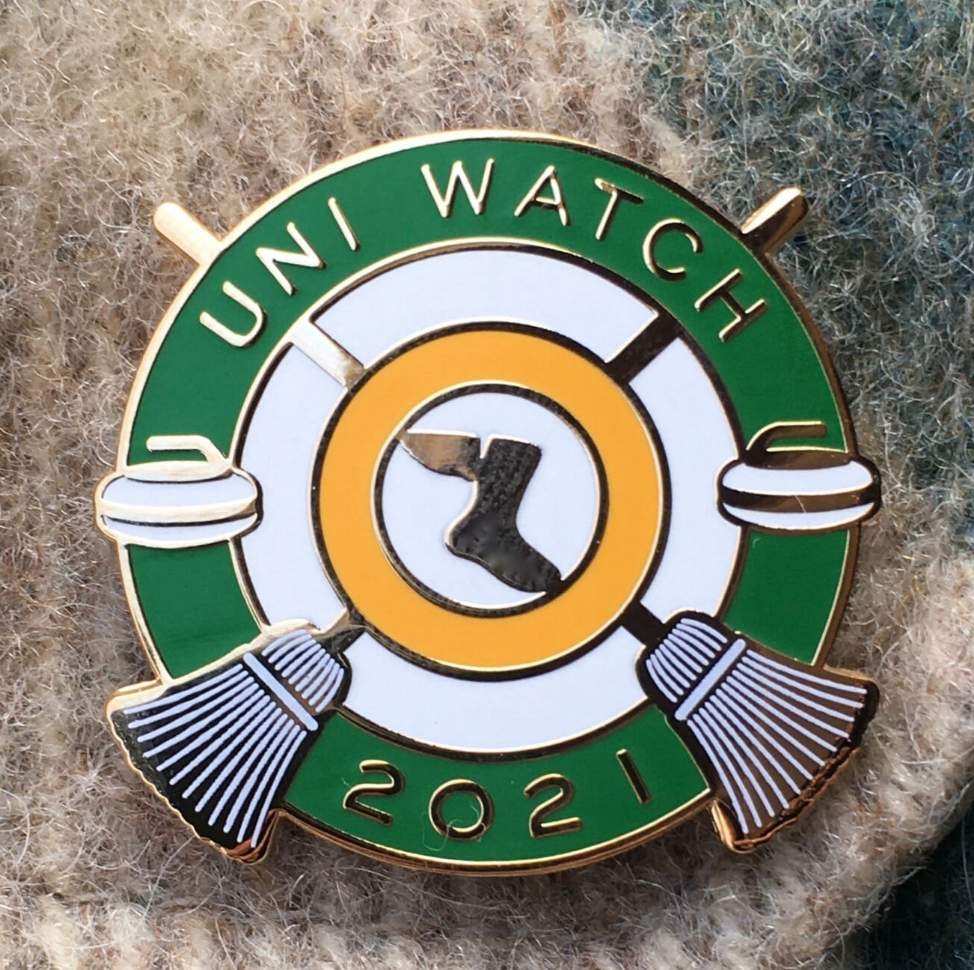 While we're at it: If you somehow haven't yet seen the January 2021 pin, it features a curling theme. As of this writing, there are about 50 of them remaining. You can get yours here while supplies last.
Also: All of our remaining 2020 pins have now been marked down from $13.99 to $9.99 (plus card-carrying Uni Watch members can save even more by using their 15% membership discount). Those are all available in the Uni Watch Shop.
As always, my thanks for your support and consideration.
• • • • •
• • • • •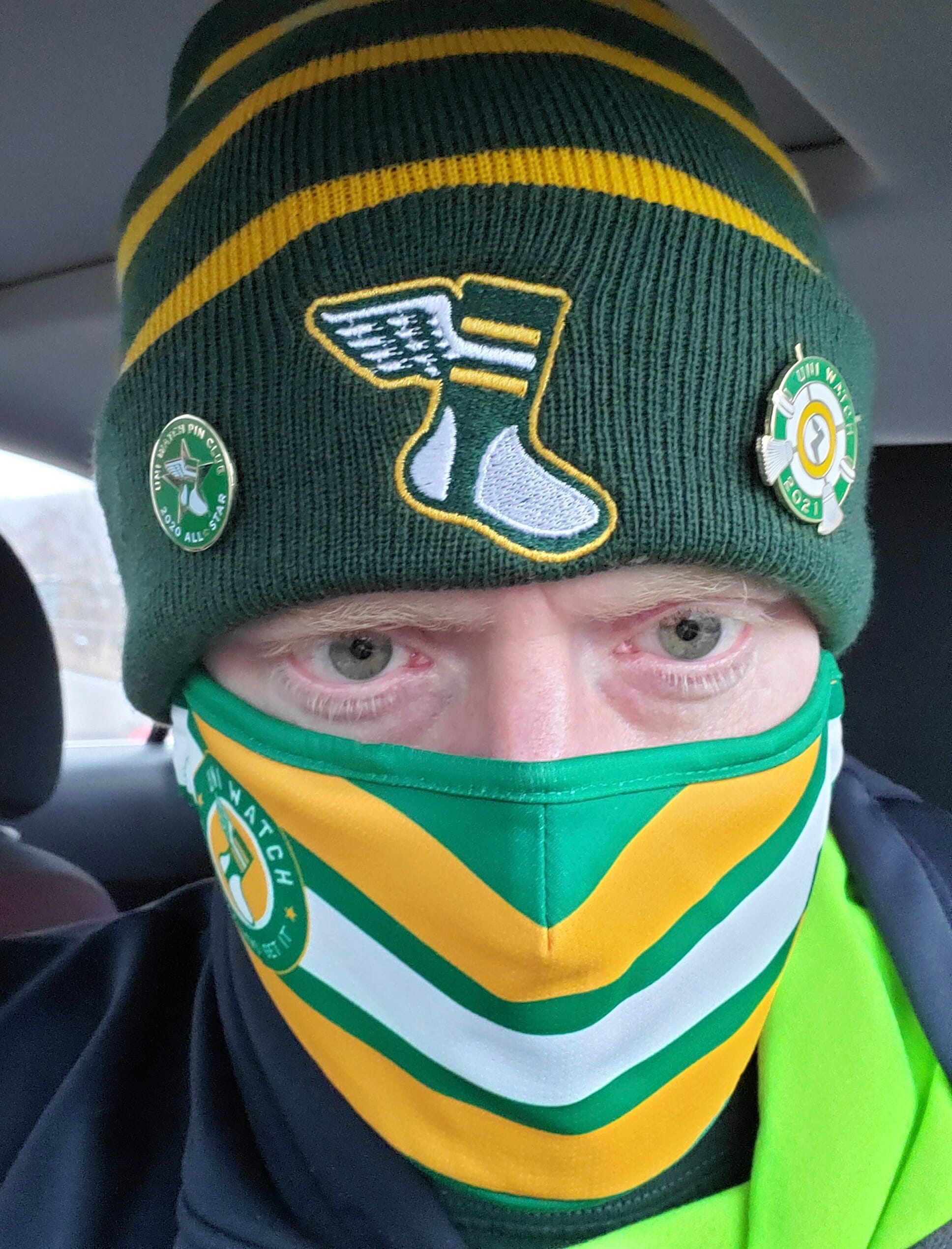 Click to enlarge
Way to represent: Who was that going full-Uni Watch the other day (including our first sighting of a Uni Watch Pin Club All-Star pin in the wild)? None other than reader Mike Wilson. Looking sharp, Mike!
• • • • •
• • • • •
The Ticker
By Jamie Rathjen

Baseball News: The Mets have a few uni number updates (from Sam Maxwell). … Taiwan's Chinese Professional Baseball League's Uni-Lions have an alternate logo for this season (from Jeremy Brahm).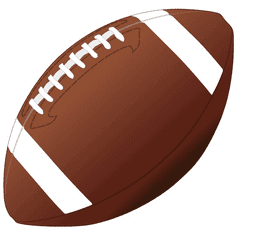 Football News: Buccaneers QB Tom Brady sent Washington DL Chase Young his jersey from last week's playoff game after Young asked for it.

Hockey News: The WNBA's Seattle Storm are one of the latest teams sending cardboard cutouts of players in uniform to the NWHL bubble — to support every team, apparently. Others to join them include the Storm's WNBA league-mates the Las Vegas Aces, along with the NHL's Islanders and Bruins. … Cross-posted from the soccer section: The DEL's Kölner Haie participated in 1. FC Köln's annual diversity day and wore rainbow numbers yesterday. … Blackhawks broadcaster Pat Foley had some very amusing commentary about Panthers G Chris Driedger's The Mandalorian-themed mask (from @The_Big_GB).

Basketball News: Northwestern's men's team wore grey at home against Iowa. … A boys' high school team in Oklahoma has been wearing masks during games (from Dan Bewley).

Soccer News: Germany's 1. FC Köln continued an annual tradition of holding a diversity day and wearing a rainbow captain's armband and accents this weekend. Ice hockey's Kölner Haie participated yesterday as well. … In Italy, Inter Milan will apparently have a new logo in a few months (from Trevor Williams). … New kits for Japan's Tokushima Vortis (from Jeremy Brahm). … Some of the teams at the African Nations Championship debuted new kits, including Burkina Faso and Cameroon. The tournament only allows teams to use players from their country's own league, as those players rarely make full-strength top-level African men's national teams (Burkina Faso from Trevor Williams). … MLS's website picked the league's best 11 mascots (from Wade Heidt). … Premier League side Southampton has ended its kit deal with Under Armour two years early and is switching to Hummel (from Ed Zelaski and Germán Cabrejo).

Grab Bag: Great Britain's field hockey teams in the recent past temporarily did not wear ads, but only the women's team now has a new one, as do the two FIH Pro Leagues for the first time. … Bangladesh's cricket teams have a new shirt shirt commemorating 50 years of independence — I would guess it's for the One Day International and/or Twenty20 teams as it's not white (from Jerry Pemberton). … NASCAR Cup Series driver Davey Allison had the same primary advertiser for most of his career, but the agreement was finished so close to the start of the 1987 season that he went to Daytona without the advertiser's decals (from Trevor Williams). … A recreational marijuana shop in Maine is facing a fine because the state has ruled that the shop's mermaid-based logo could encourage underage cannabis use. … Here's an interesting analysis of how Burger King's new logo is an example of the "flat design" trend.
• • • • •
• • • • •