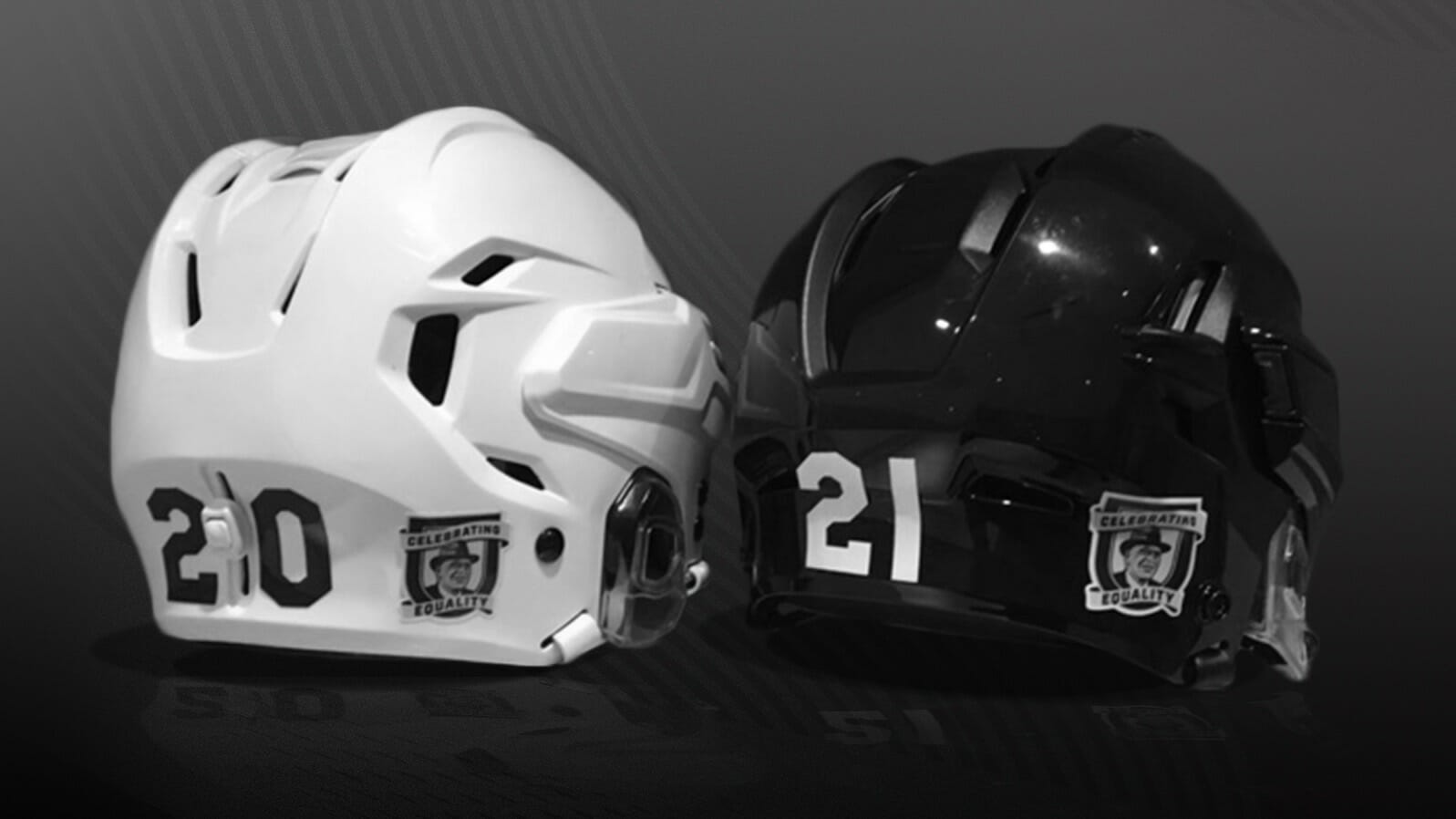 Click to enlarge
Next Monday, Jan. 18, is Martin Luther King Jr. Day. It's also the 63rd anniversary of Bruins left wing Willie O'Ree becoming the first Black player in NHL history. To honor that dual significance, and to acknowledge our society-wide social uprising over the past year, the NHL yesterday announced that all players will wear a helmet decal honoring O'Ree from this Friday, Jan. 16 (the start of the MLK Day holiday weekend) through Feb. 28 (the end of Black History Month).
Here's a closer look at the decal design: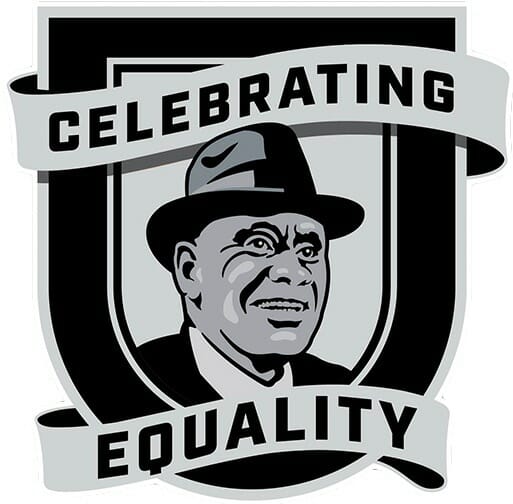 In other NHL news yesterday, the league also announced the details for the two outdoor games that will be taking place at Lake Tahoe on Feb. 20 and 21, and also revealed the logo for the two-game promotion (click to enlarge):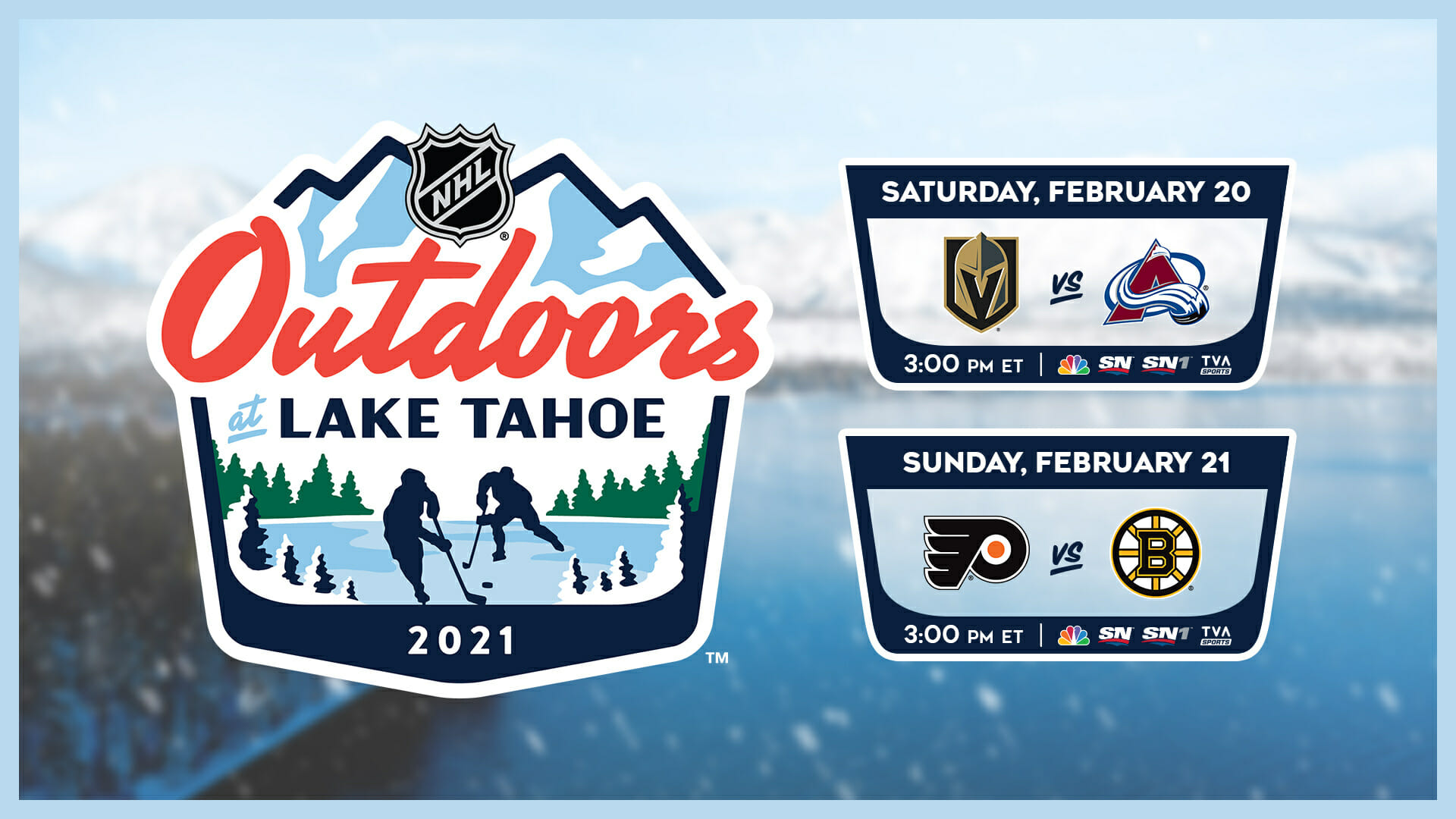 All four teams will wear their Reverse Retro uniforms for these games (which in the case of the Avs means a team from Colorado will be wearing the logo of a team from Quebec for a game in Nevada). I've asked the league if the "Outdoors at Lake Tahoe" logo — which is a pretty nice logo, right? — will be worn as a jersey patch and/or helmet decal but haven't yet received a response.
The timing of these news bulletins was good, because they came out just as we were putting the finishing touches on the annual Uni Watch NHL Season Preview, which is available now on InsideHook. Enjoy!
• • • • •
• • • • •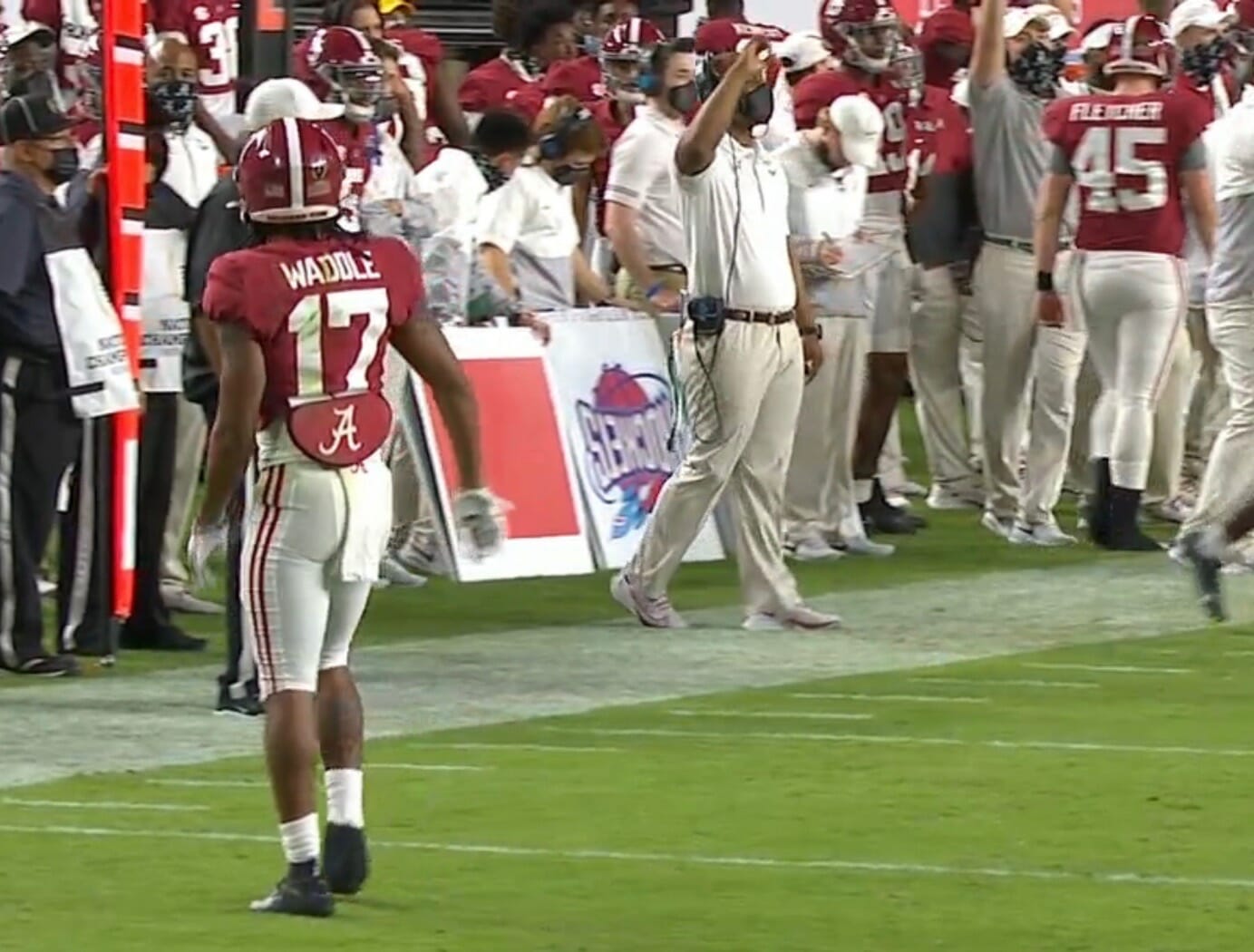 Click to enlarge
CFP wrap-up: Weird scene during last night's college football national championship game, as there was a large placard featuring the Houston Rockets' 1990s logo on the Alabama sideline. I realize this probably had to do with play-calling or some such, but does anyone have any specifics?
A few other notes from last night's game:
• Alabama wide receiver Devonta Smith, who won this season's Heisman Trophy, was wearing a Heisman-themed Covid mask before and after the game:
• Speaking of Covid masks, both of last night's head coaches — Alabama's Nick Saban and Ohio State's Ryan Day — wore the same kind of mask. That particular model has become popular with college football coaches.
• In a puzzling move, ESPN ran some graphics packages that inaccurately showed an Ohio State helmet with a red facemask: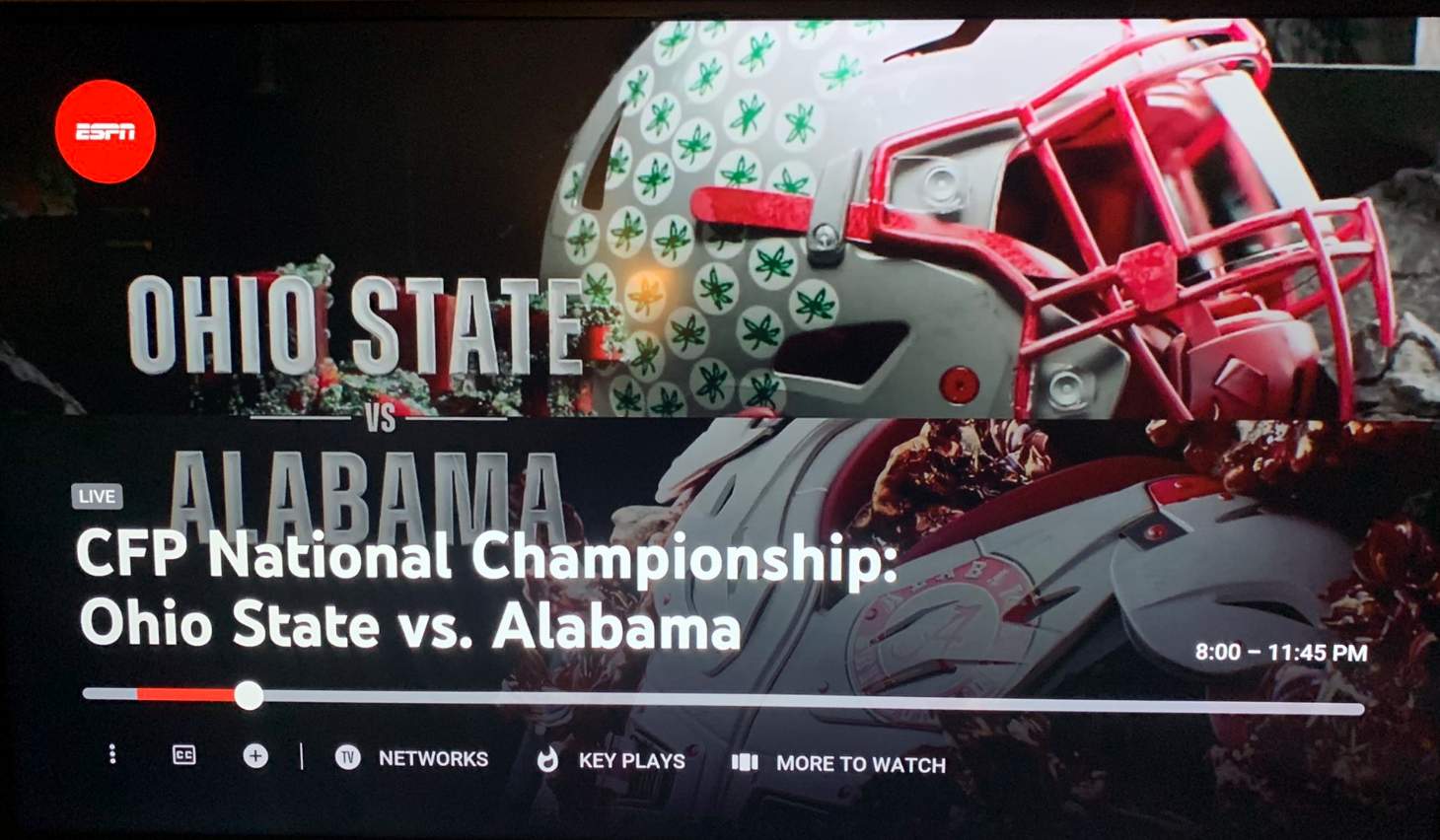 (My thanks to Carlos Mejia, Mike Chamernik, and @SportsPSD for their contributions to this section.)
• • • • •
• • • • •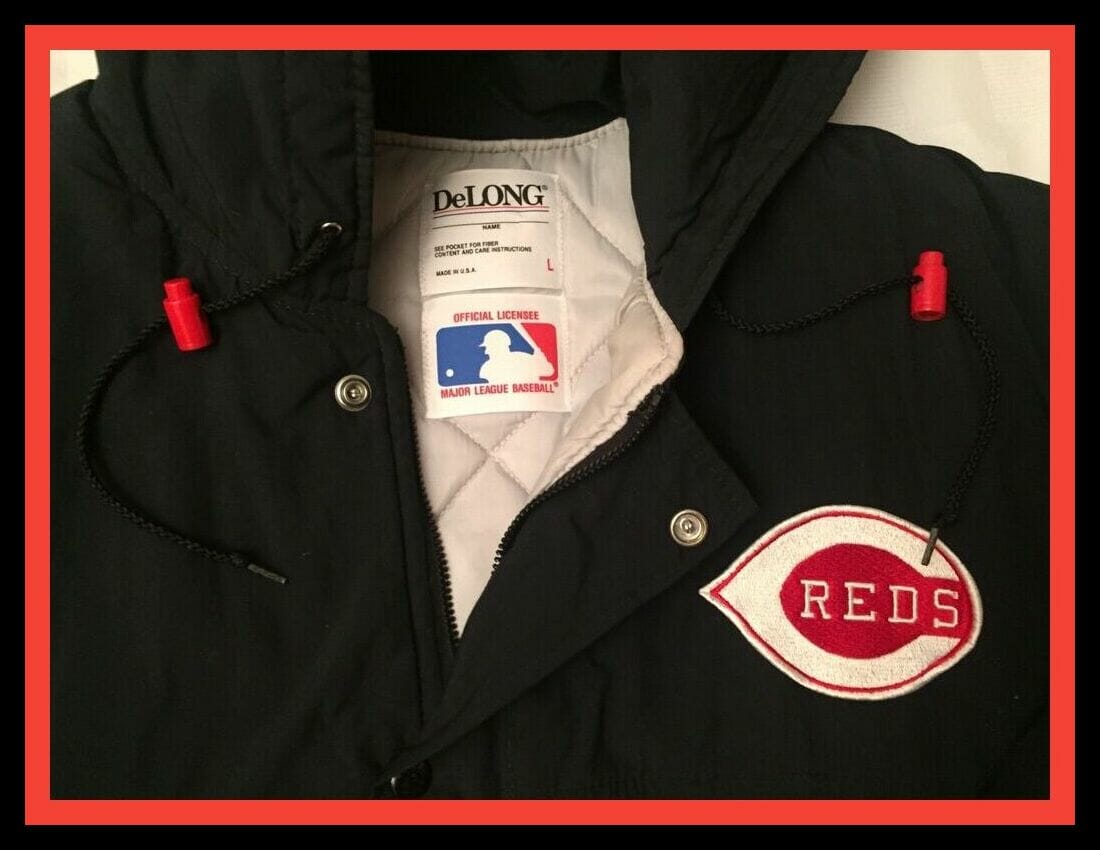 Click to enlarge
Collector's Corner
By Brinke Guthrie
Follow @brinkeguthrie 
Starting off this week with an item I owned and wore at one time, this quilted DeLong Cincinnati Reds parka. The seller calls it a "1980s team-issued bomber jacket," but I never saw them wear this. Then again, I bought mine in the 1990s at Cincinnati's well-known Koch's Sporting Goods, which at the time had a big connection to the Reds, so who knows. It was warm and incredibly comfortable — I do know that!
Now for the rest of this week's picks:
 • Another terrific DeLong item here: Take a look at this amazing looking Denver Broncos varsity jacket!
 • Couple of Dodgers items here: The late, great Tommy Lasorda was featured on this 1979 album, Tommy Lasorda Talks to Kids About Baseball. And from that same year, here's a working press pass for The Long Beach Independent Press Telegram. Don't forget to park in Blue Lot 27!
 • "We're the 49ers" is the title of this 1984 45-rpm record made by team members. The late Dwight Clark (No. 87) is the only one I recognize. Judging from his absence, Joe Montana wanted no part of this.
 • Nice cover art of Ozzie Smith turning two over a Montreal Expos runner on the menu for Ozzie's restaurant and sports bar in St. Louis (now closed, alas).
 • Groovy, man: "'Turn On' to the world's fastest sport" is the tagline for this 1971 NHL brochure, sponsored by Tastykake snack foods.
 • This is a 1981 New York City subway poster that encourages fans to "Catch the Yankees" on WABC, which was the team's radio flagship at the time.
 • Here's a very cool ticket brochure for the 1974-75 NHL California Golden Seals. (Couldn't the marketing folks come up with something more original than "The Future Is Now?") This was their next-to-last season in Oakland before packing up their skates and moving to Cleveland in 1976.
 • Kroger sponsored this 1989 Houston Astros credit card-sized AM radio. It comes in its original box but the earphone is missing, and the seller doesn't know if it works. 
 • Always liked the logo for the old World Football League, as shown on this 
pair of embroidered patches.
 • Wrapping up this week with a pair of hockey items: This NHL Lamp has a light-up puck at its base, and here's a 1978 iron-on T-shirt transfer for Peter Puck, the little fellow was featured on 1970s CBC and NBC NHL telecasts (and is also a daily presence on the hockey section of the Uni Watch Ticker!). 
• • • • •
• • • • •
Membership update: Six new designs have been added to the membership card gallery. That includes Derek Hempel's, which is based on the 1990s Milwaukee Admirals' uniforms. He chose No. 798 because that's his badge number as an Oklahoma State Trooper.
Derek was also the sponsor of yesterday's membership raffle, which was won by Keith Wells. Congrats to Keith, and thanks again to Derek.
Ordering a membership card is a good way to support Uni Watch (which, frankly, could use your support these days). And remember, as a gesture of comm-uni-ty solidarity, the price of a membership has been reduced from $25 to $20 until further notice, plus a Uni Watch membership card entitles you to a 15% discount on any of the merchandise in the Uni Watch, Uni Rock, and Naming Wrongs shops, and the discount also applies to our Uni Watch Classic Cap and Uni Watch toque. (If you're an existing member and would like to have the discount code, email me and I'll hook you up.)
As always, you can sign up for your own custom-designed card here, you can see all the cards we've designed so far here (now more than 3,000 of them!), and you can see how we produce the cards here.
• • • • •
• • • • •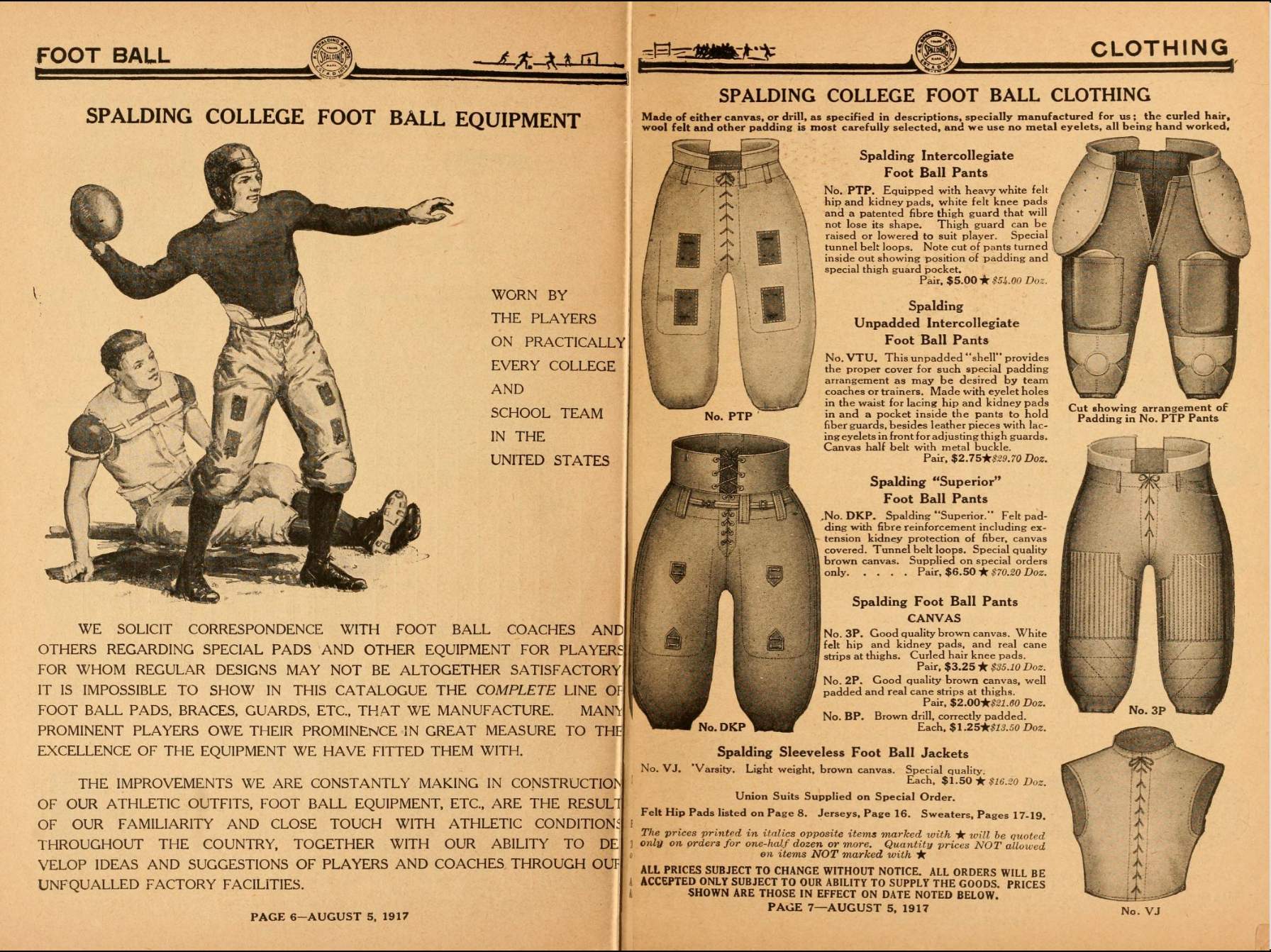 Click to enlarge
Too good for the Ticker: The two-page spread shown above is from a 1917 Spalding catalog, which is one of nine old sporting goods catalogs shown here. For each of them, you can click to page through the individual catalogs. Great stuff!
(Big thanks to James Gilbert for this one.)
• • • • •
• • • • •
Click to enlarge
What, no 22-pack?: Once upon a time, as I recall it, if you wanted to buy a multi-pack of beer, you had two options: a six-pack or a case of 24.
Then came the 12-pack, which made certain kind of intuitive sense — twice as much as a six-pack, half as much as a case.
Then came the 18-pack, which I always thought was silly. Like, just get a case already.
And now we've reached the point where — well, you can see for yourself in the photo shown above, which I took at my local supermarket today.
When I posted that photo on Facebook yesterday, longtime reader/pal R. Scott Rogers left a brilliant comment: "A 20-pack? I honestly understand the 18-pack, but cans/bottles are naturally a base-6 proposition. At its most fundamental level, a 20-pack is 3-1/3 6-packs. That's like the Federal Reserve issuing a paper currency note worth $66.67."
I love the idea of beverage packaging being "a base-6 proposition." Brilliantly stated, Scott!
• • • • •
• • • • •
Native American mascot discussion video: Last night I was a panelist for a discussion of Native American mascots and imagery in sports, organized by the Wisconsin radio show Conversations in Color. It was a really good session — if you're interested (or if you just want to see which green plaid shirt I wore), the full 90-minute video is embedded above.
• • • • •
• • • • •
The Ticker
By Alex Hider

Baseball News: The Spring Training facilities for the Astros and Nationals might be getting a new name. … A contestant on last night's Jeopardy! episode — the first in the post-Alex Trebek era — was wearing a Mets tie (from Nick Vega).

NFL News: Sunday marked the Browns' first win in Pittsburgh since 2003 — and was also the first time since 2003 that they wore orange pants in Pittsburgh (from D.J. Mitchell). … Several Saints players, including QB Drew Brees, wore T-shirts in support of the social media campaign #SayHerName before Sunday's playoff game. The campaign started last summer following the police shooting of Breonna Taylor. Given the current political climate — and Brees's initial comments in the days after the death of George Floyd — the Saints tweeted, and then later deleted a photo of Brees wearing one of the shirts (from Kary Klismet and Mike Chamernik). … Spotted in a listicle ranking of DC Comics movies: some sort of Rams/Patriots beach sculpture in the background of a shot from Supergirl (1984) (from Joseph A. Bailey).

College Football News: Navy's former live goat mascot, Bill, died recently at the age of 14 (from Timmy Donahue). … Former North Carolina C Harris Barton was recently inducted into the College Football Hall of Fame. According to James Gilbert, this yearbook photo of Barton shows him in a "portrait jersey" — a jersey that was never worn in a game.

Hockey News: Kings G Troy Grosenick has a new mask that includes a few LA Easter eggs (from Jakob Fox). … The Flames played an intrasquad scrimmage last night and gave each team a logo, based on the numbers for former team greats Lanny McDonald and Jarome Iginla (from Antonio C.). … A few Minnesota Wild players will appear as cardboard cutouts during NWHL Minnesota Whitecaps games this year (from our own Jamie Rathjen). … Colorado Rockies G Michel Plasse is wearing the wrong style of pants in this photo from the late 1970s (from @imgarthvolbeck). … New uniforms for the hockey club of Resurrection Christian School in Loveland, Colorado. … Here's a hockey uniform design concept based on Mississippi's new state flag.

Basketball News: Check out the lettering on the jerseys for the 1977 Dannevirke Danes of New Zealand — super inconsistent, but in a good way (from @retro_70s). … New Cavs PG Yogi Ferrell will wear No. 5 (from Etienne Catalan). … In response to backlash from some fans, the University of Kentucky has expressed support for players and coaches who've been kneeling before games to protest social injustice. … Last night Trail Blazers had five players on the court wearing Nos. 0, 00, 2, 3, and 4.

Grab Bag: Canadian tennis player Genie Bouchard has signed an apparel deal with New Balance (thanks, Brinke). … Couple of railroad-themed entries from David Firestone: This YouTube video tracks the history for Amtrak's logo and livery history, and this video notes the history of the Chessie the Railroad Kitten. … Marvel is facing calls to retire the logo of vigilante superhero the Punisher, as the logo has been co-opted by right-wing groups in recent years and was worn by many of the insurrectionists at last week's Capitol riot (from Kary Klismet). … NSFW: A French rugby union player's shorts were pulled down during a recent match (from Eric Bangeman).
• • • • •
• • • • •