At the end of a truly miserable year that has brought so much sorrow and stress into so many of our lives, fate bestowed a small consolation prize upon us yesterday, as a dog wandered onto the field during a Bolivian soccer match and used someone's right boot as a chew toy. He romped around for a bit with the boot, then sort of gave up and rolled over, and finally was carried off by a player.
It's pretty much the most delightful thing ever. And I don't know about you, but I could use some delight right about now, so let's enjoy it!
I don't speak Spanish, so I asked the Twitter-verse if someone could provide a rough translation of what the broadcasters were saying:
He grabbed a boot. They're going to send him off. Whose boot is it? That's the question.

There he goes again with the shoe! How will the story of the puppy with the shoe end?

The dog with the shoe. It's very affectionate, very playful. They won't be able to get him off easily. He's pleading his case: "I want to play too. I want everyone to see me on TV."
And there's more! Turns out there was a very similar incident — resulting in a similarly delightful video — a little over two years ago during a soccer match in Gori, Georgia. Bonus points for the title of the YouTube clip:
Awwww — good boy!
I think that's enough for our final lede entry of the year, don't you? After all the hassles this year has presented, it's nice to go out with a smile.
(Special thanks to the Tugboat Captain for bringing the pooch video to my attention, and to Jorge Cruz, @NassauNuts, Rafael Rosas Castro, Cesar Martín, Nick Vega, Martin Tully, and Germán Cabrejo for responding to my request for translation assistance.)
• • • • •
• • • • •
An NBA first: Kudos to Spurs assistant coach Becky Hammon, who last night became the first woman to act as head coach of an NBA team after Gregg Popovich was ejected. (Now she just needs to pull her mask up over her nose!)
• • • • •
• • • • •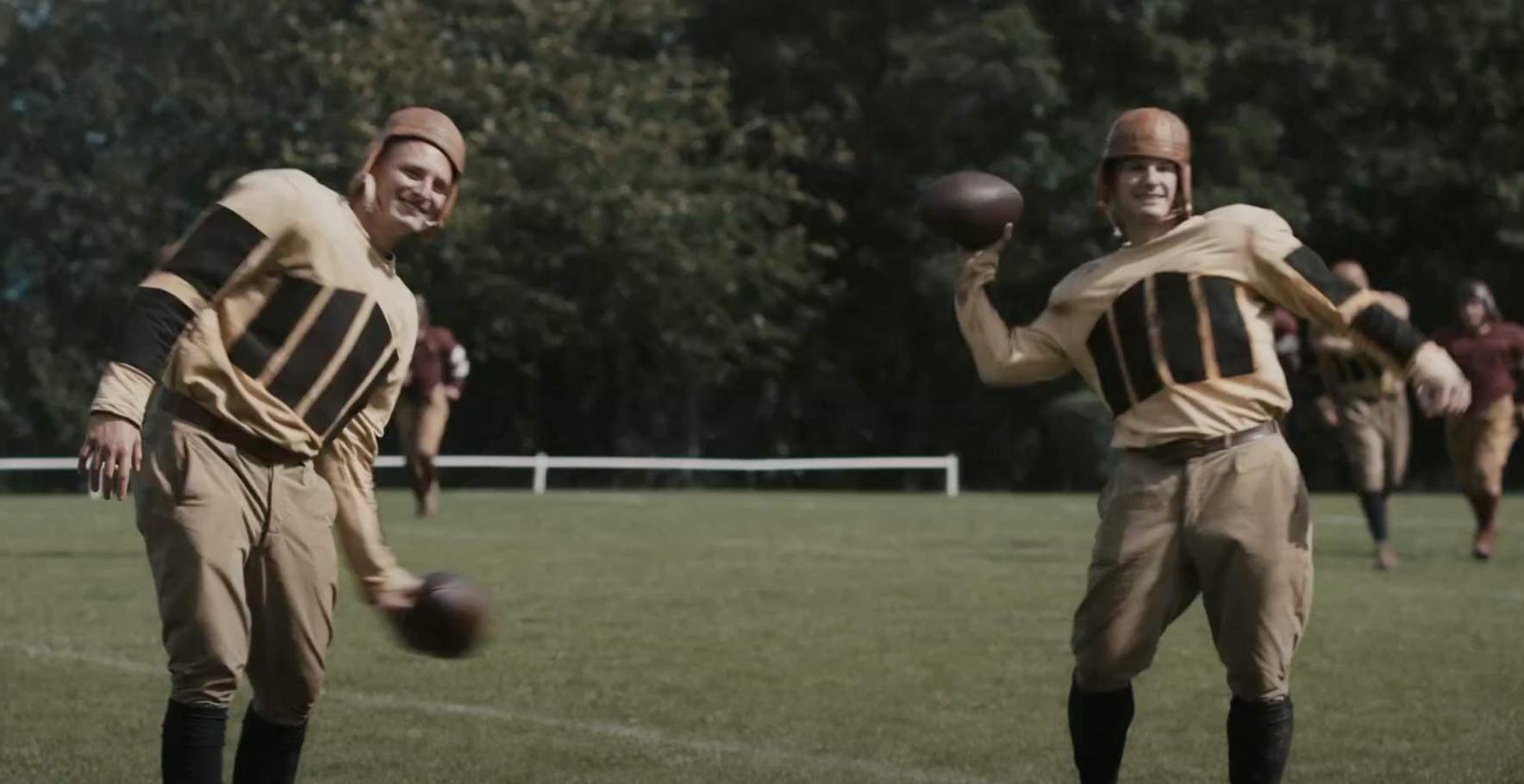 Click to enlarge
A rare plug for yesterday's post: Occasionally there's a Uni Watch post that I'm very excited to publish because I really enjoyed working on it and can't wait to put it out there. These stories usually aren't about breaking news or leaks — those are exciting too, of course, but I'm talking more about posts that are interesting, posts that teach me things.
Yesterday's entry — an interview with the guy who directed a new TV commercial that features a lot of great old-timey football uniforms — was one of those. I learned so much cool stuff while putting it together, and I was stoked to share all of that with you folks because I figured you'd dig it as much as I did. Or at least that was my hope — sometimes the readership's response doesn't match my own enthusiasm.
As it turned out, you people seemed to like reading yesterday's post as much as I liked putting it together. There was so much positive response — some people called it an "instant classic," others said it was their favorite post of the year, and so on — all of which really meant a lot to me. It felt like my own giddy enthusiasm for the post was returned in kind — a nice bit of reciprocity.
Anyway: I don't usually promote the previous day's post, but I'm going to do it for this one. So if you haven't already read yesterday's entry, I hope you'll check it out. The early returns suggest that you'll probably like it.
• • • • •
• • • • •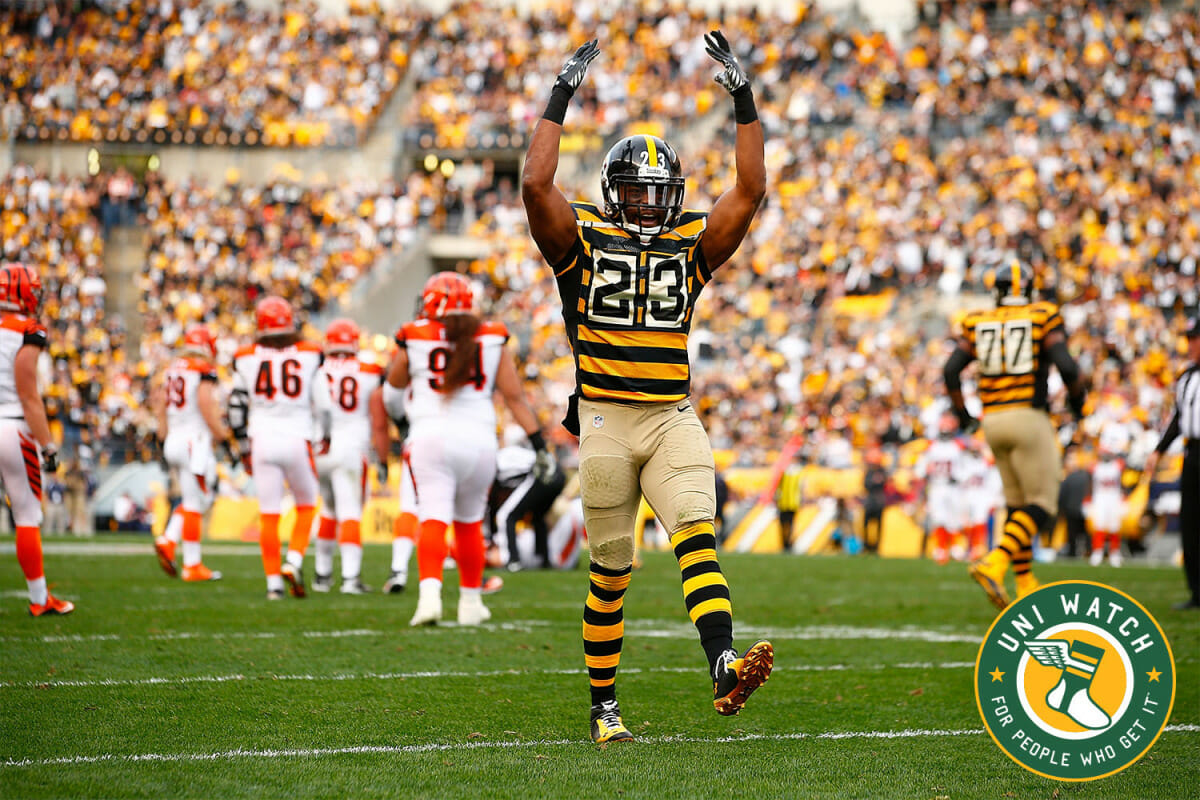 Click to enlarge
"So bad it's good" reminder: In case you missed it yesterday, my final piece of the year for InsideHook is a look at uniforms that are "so bad, they're good" (including the Steelers' bumblebee throwbacks, shown above). You can check it out here.
• • • • •
• • • • •
The Ticker
By Paul

NFL News: Following up on an item from yesterday, here's how the Bears' Gale Sayers on-field memorial will look this Sunday. … In an attempt to avoid distractions and keep everyone focused on the task at hand, the Colts will not show the scores of the games that could affect their playoff chances this Sunday. … The Titans are adding a helmet decal this Sunday in response to last Friday's downtown Nashville bombing (from @MrBudziszewski). … The Jags will go white over teal this weekend — their ninth uni combo of the season. … The Bills, who have not had live fans in attendance at their home games all season long, will be permitted to have a limited number of fans on hand for the postseason.

College and High School Football News: Here's how Alabama's jerseys look with the Rose Bowl patch, and ditto for Notre Dame (from Griffin Smith and Warren Junium, respectively). … Looks like the Peach Bowl will be color vs. color, with Georgia in black and Cincinnati in red (thanks to all who shared). … The Texas Six-Man Division II State Championship Game features a school that poaches an NFL team's logo against a school that poaches an NHL team's logo (from @shoelessmuseum). … In case you were wondering, the World's Most Disgusting Condiment Bowl Duke's Mayo Bowl did not end in a mayo bath for the winning coach, which left some fans disappointed (from Kary Klismet). … Speaking of that game: The winning team, Wisconsin, broke the trophy, and then "fixed" it with a bottle of mayonnaise (thanks to all who shared). … The Jordan maker's mark on Oklahoma DE Ronnie Perkins's jersey for last night's Cotton Bowl had an amputated limb (from @UncleFraz). … In a related item, here's an interesting thread about Florida's Cotton Bowl patch placement (from Sam McKinley). … You know the cliché about football being all about the Xs and Os? Back in 1977, Belleville High in Kansas wore an "XO" pattern on their pants. So they were very into either diagramming plays or else hugs and kisses (from Matthew Wiegand).

Hockey News: Here's a time-lapse video of the Wild's new ice surface being set up, including the 20th-anniversary logo at center ice (from @Natron44). … Similarly, the Avs have put their 25th-anniversary logo at center ice (from Wade Heidt). … Here's a time-lapse video showing the installation of the Flyers' ice surface, too (from John Kelemen). … New masks for Sharks G Martin Jones (from Jeremy Brahm). … The Panthers have added a star pattern to their red line (Wade Heidt again). … Zdeno Chára, who wore No. 33 for 14 years with the Bruins, will wear that same number with the Capitals (thanks, Jamie, and to everyone else who shared). … Donald Shane has a good analysis of the Red Wings' uni number situation.

NBA News: The Celtics began the season wearing a "Tommy" memorial band for former coach Tommy Heinsohn. But now that former coach K.C. Jones has also died, they've changed the memorial to a "Tommy-K.C." band. … Knicks G/F Reggie Bullock talked a bit about his weird uni snafu from last Saturday. … Here's something I didn't remember: During the 1997 preseason, the Magic and Spurs played a game with a red/white/blue ABA ball as part of an ABA 30th-anniversary promotion (from Jorge Cruz). … Here's an article about the court design that goes with the Suns' City uniforms. … Here's a video of a bunch of NBA players naming their choices for the coolest NBA jerseys of all time. Note that they were asked to name a "jersey," not a "uniform." Sigh. … Clippers F Kahwi Leonard, who took eight stitches to his mouth area after an on-court collision earlier this week, returned to the court last night wearing an unusual mask (from Mike Chamernik).

College Hoops News: Arkansas coach Eric Musselman was wearing his Covid mask upside-down last night (from Bret Bartelme).


Soccer News: A football club in Argentina commissioned its own version of Michelangelo's Creation of Adam, but with Lionel Messi and Diego Maradona instead of Adam and God (from Jakob Fox). … Paris Saint-Germain's fourth kit has leaked (from Kary Klismet).

Grab Bag: Here's a look at the evolution of Wonder Woman's costume (NYT link). … Here's one of those articles about the history of Star Trek uniforms.
• • • • •
• • • • •
• • • • •
That's a wrap for 2020, and not a moment too soon. I'd like to thank each of you for sticking with Uni Watch throughout this difficult year. Many of you have told me that the site was a lifeline for you in these troubled times — it was for me as well, and so were all of you folks. Here's to better things in 2021. See you then. — Paul