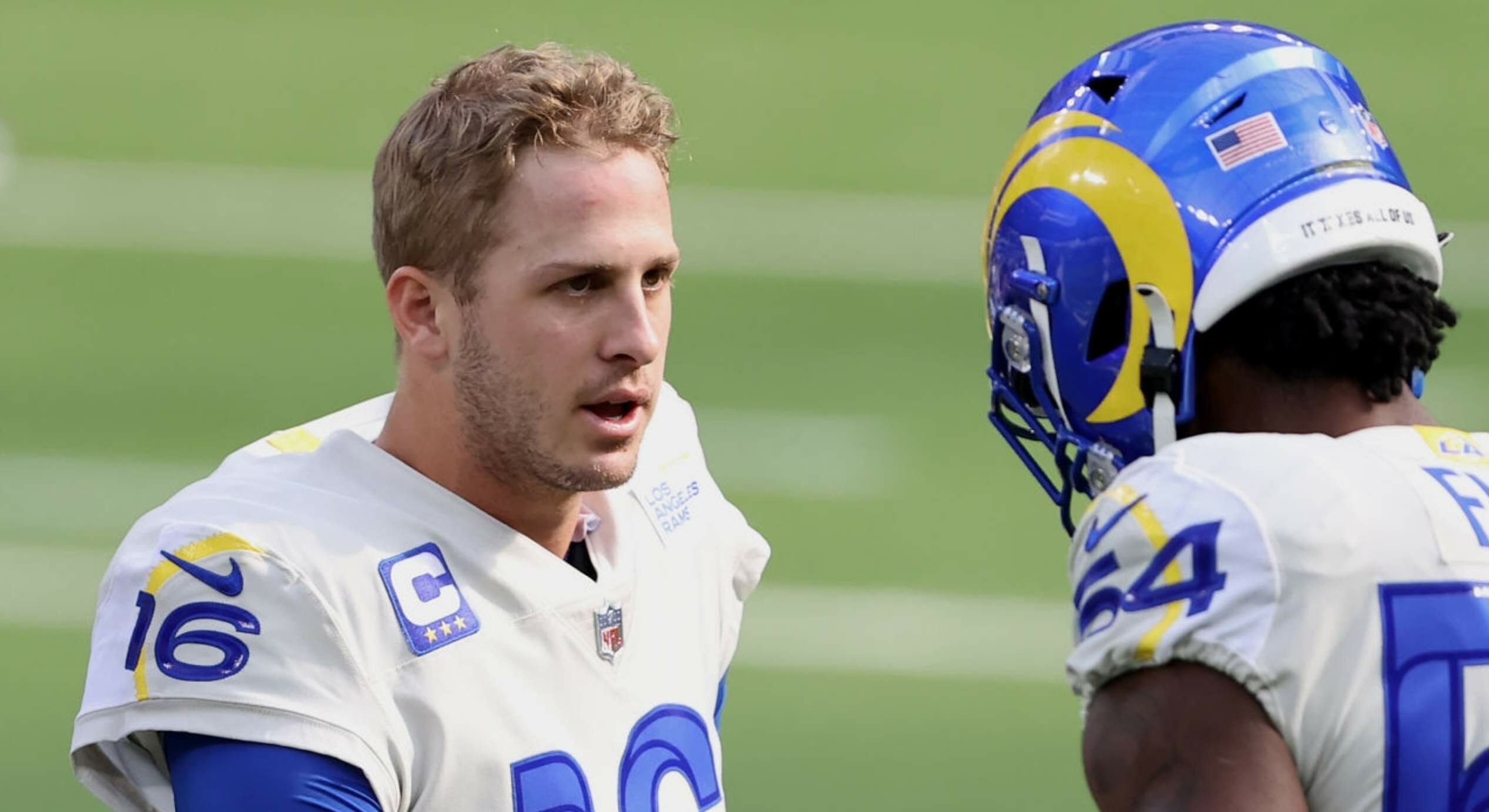 For all photos click to enlarge
The photo above shows Rams quarterback Jared Goff and linebacker Leonard Floyd wearing the team's dishwater jerseys. But if you look closely, you can see that their sleeves are actually two-tone — they're dishwater in front of the curved yellow sunburst line and white in back of it.
You can see the same thing in this photo of Rams safety John Johnson III and linebacker Troy Reeder — dishwater on the front portion of the sleeve, white on the back portion: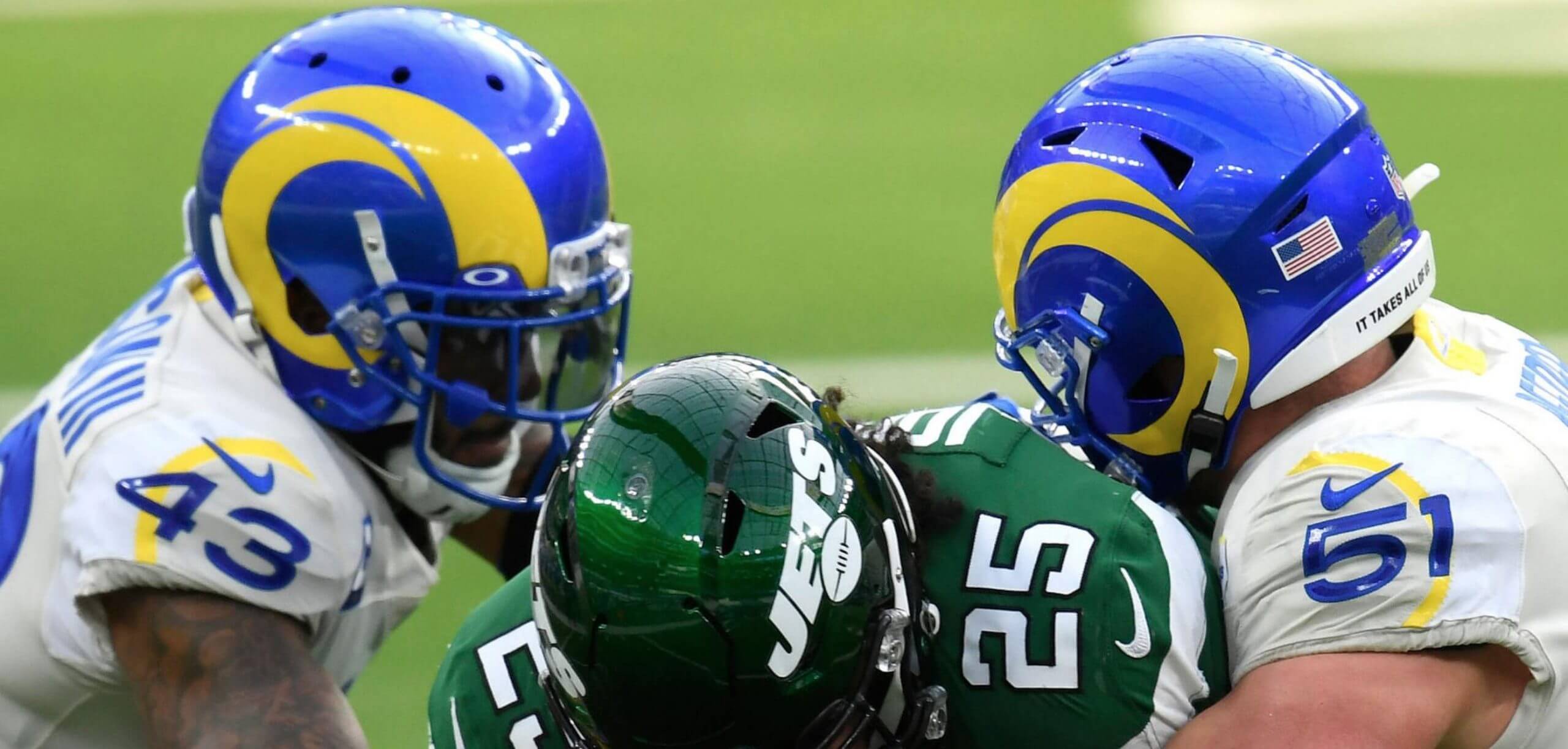 Did you realize that the dishwater sleeves included a white panel? I didn't! Or at least I didn't until Uni Watch reader Jonathan Dodd brought it to my attention yesterday. Once he pointed it out, I couldn't stop fixating on it: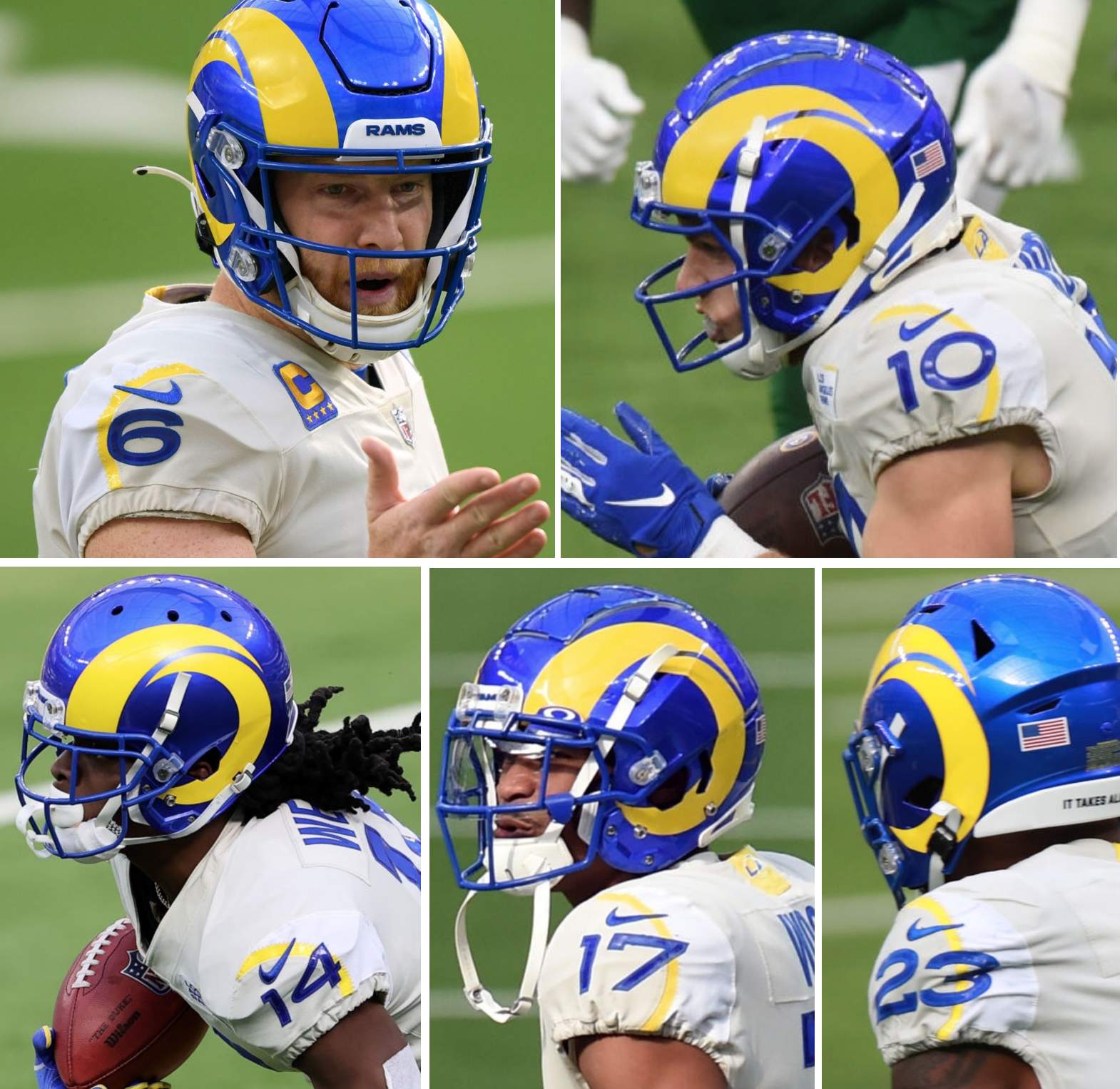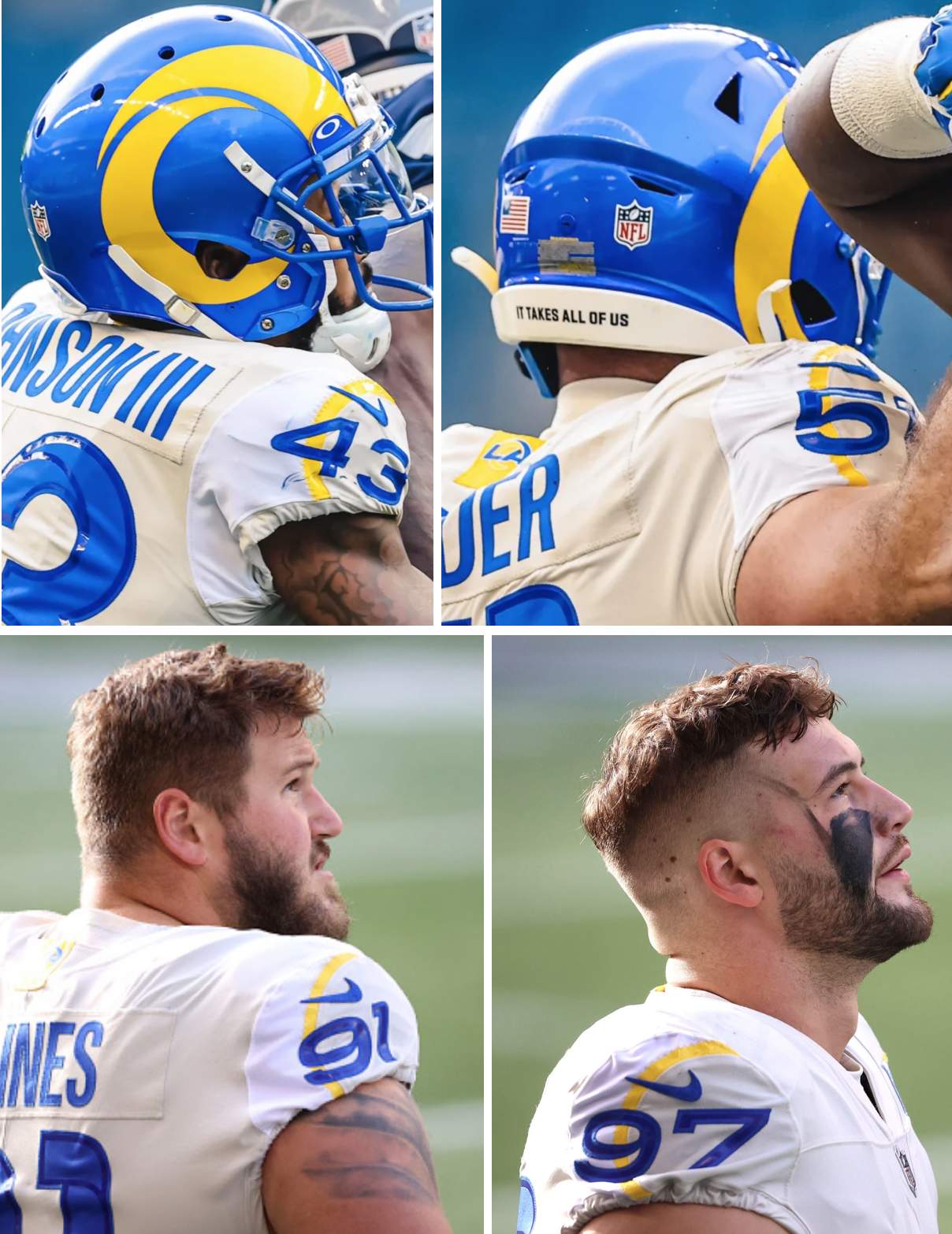 Now that I see it, it appears that they were trying to create another horn shape on the uniform, but it doesn't work (in part because the horn is curling the wrong way, and in part because the two-tone sleeve just looks ridiculous). Instead, when I look at these pics, it's almost like the uniform is molting — the dishwater is the old skin that the uniform is trying to shed and discard, revealing the fresh white skin underneath.
If you already knew about the two-tone sleeves, well, my apologies for devoting today's blog entry to old news. But if, like myself, you hadn't been aware of this until now, here are a few thoughts:
• I was surprised that I hadn't noticed the two-tone sleeves earlier. Were they shown in the unveiling photos back in May? As it turns out, yes — but the distinction between the white and dishwater colors wasn't very evident, apparently because of the lighting, as seen in these two unveiling pics: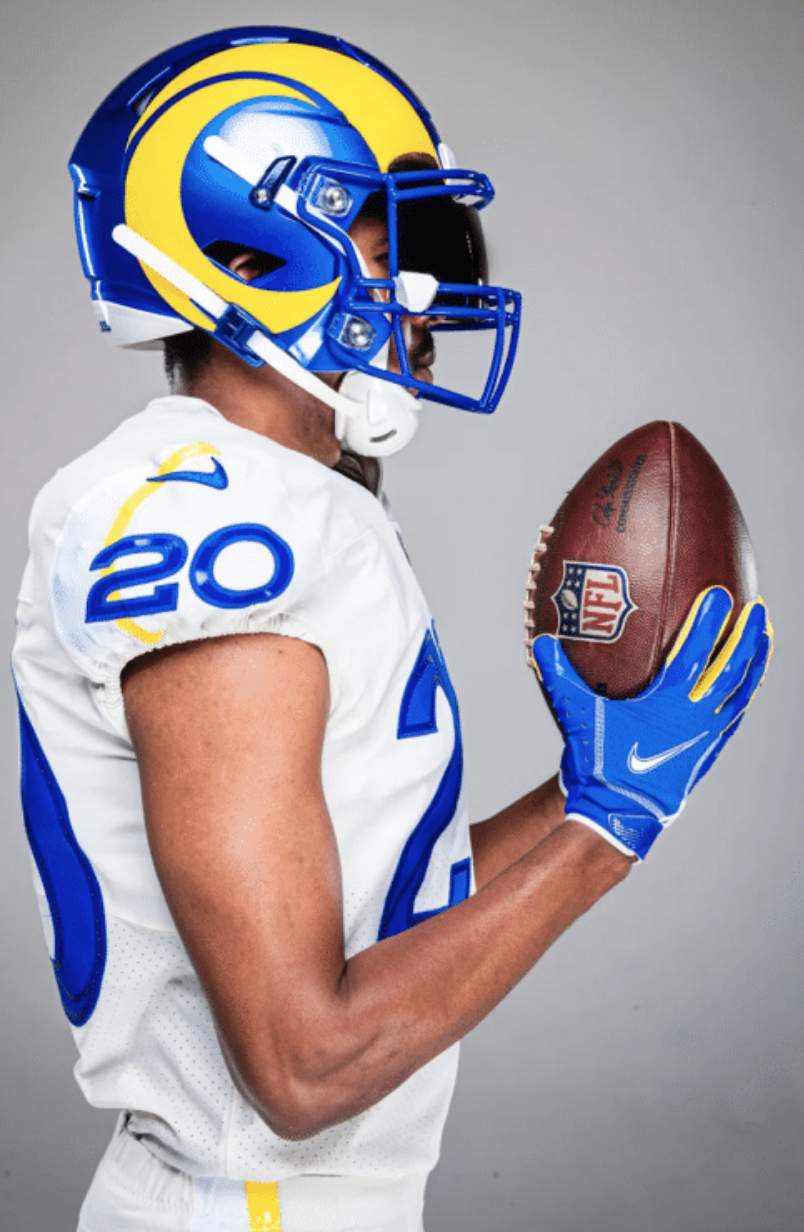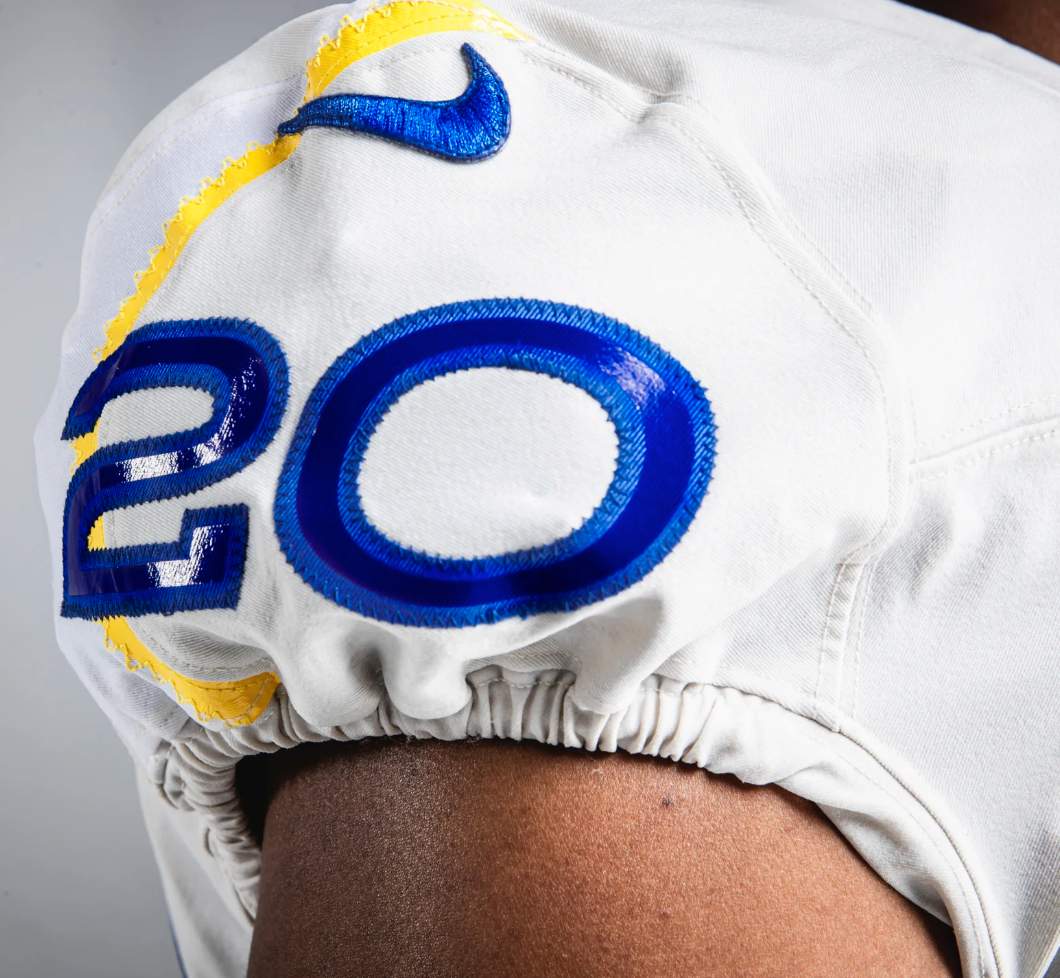 Now that we know about the white elements, you can see them in the unveiling photos. But if you didn't already know they were supposed to be white, it would be easy to miss that, as I (and maybe you) apparently did.
• Since the white panels are always positioned toward the back side of the sleeve, the two-tone effect isn't visible in photos that show the players from the front or even from a three-quarter view, so that may be another reason that I (and maybe you) haven't noticed the two-tone sleeves until now: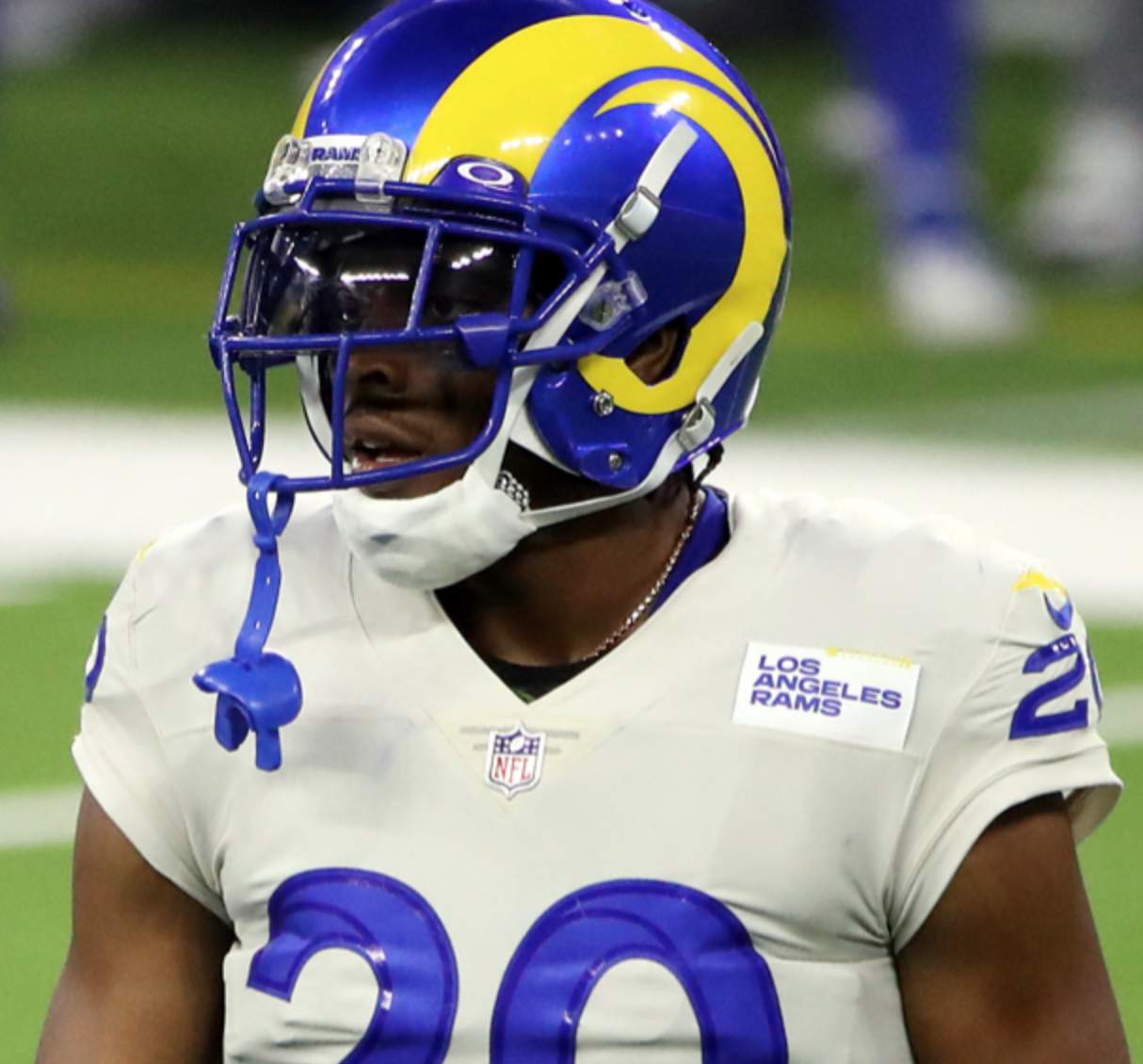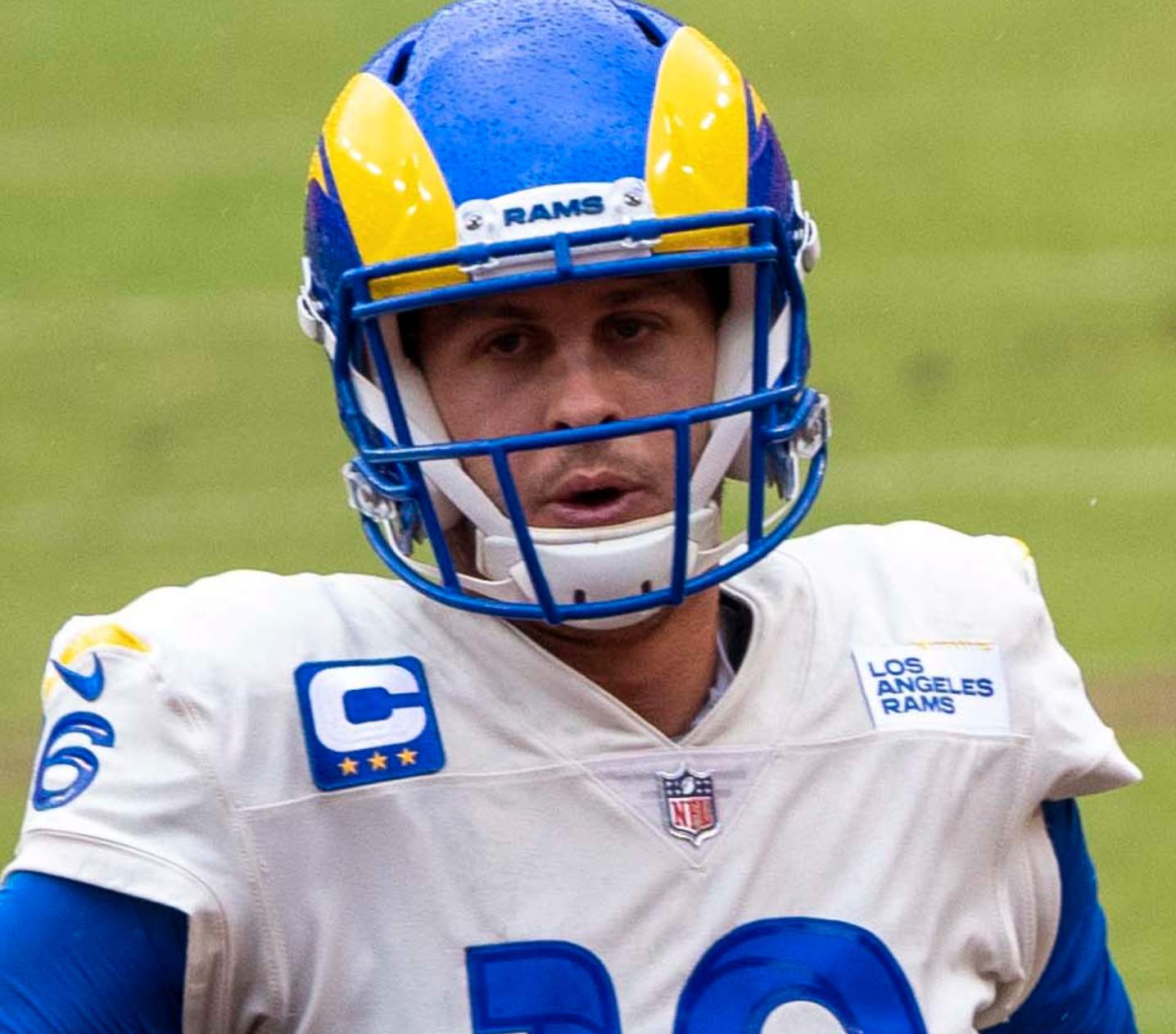 • In one way — and only one way, I'd say — the white panel on the sleeve makes a certain kind of sense, because the striping on the dishwater pants also includes white highlighting: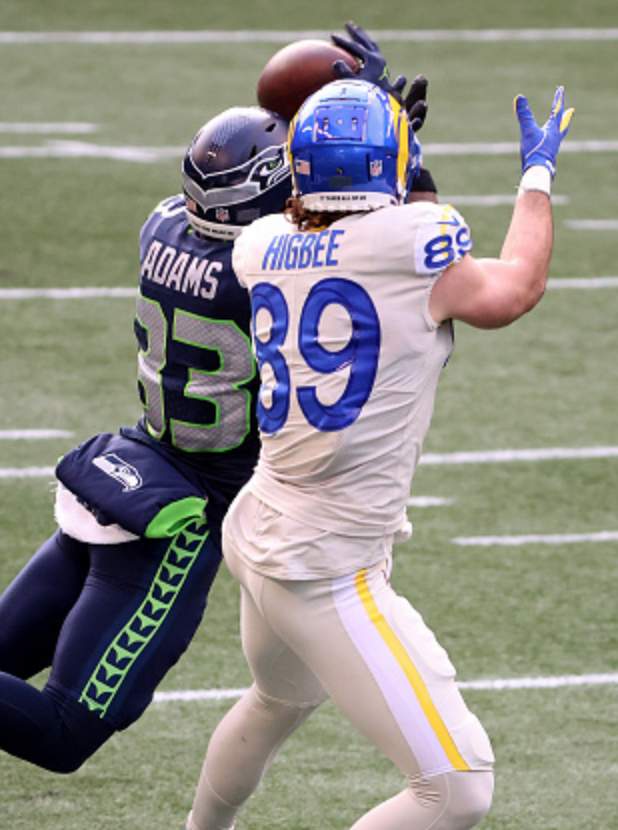 So I suppose you could argue that there's a bit of consistency between the white panels on the sleeves and on the pants. But I don't think the white elements work from a design standpoint — instead of enhancing the dishwater base color, which is what a trim color's supposed to do, the flashes of white just make it clear how bad the base color is by comparison.
The net effect is like viewing the world through a dirty window and then wiping two small clean spots on glass — suddenly the world looks so much brighter and better in those two spots! That's how those white elements on the dishwater uni look to me. Just make the whole thing white already.
• Finally, speaking of consistency, wondering if there's a similar two-tone situation on the sleeves of the team's blue jerseys? Nope — because the sleeves on the blue jersey don't have the sunburst line, or TV numbers, or anything else that shows any visual connection to the dishwater jerseys: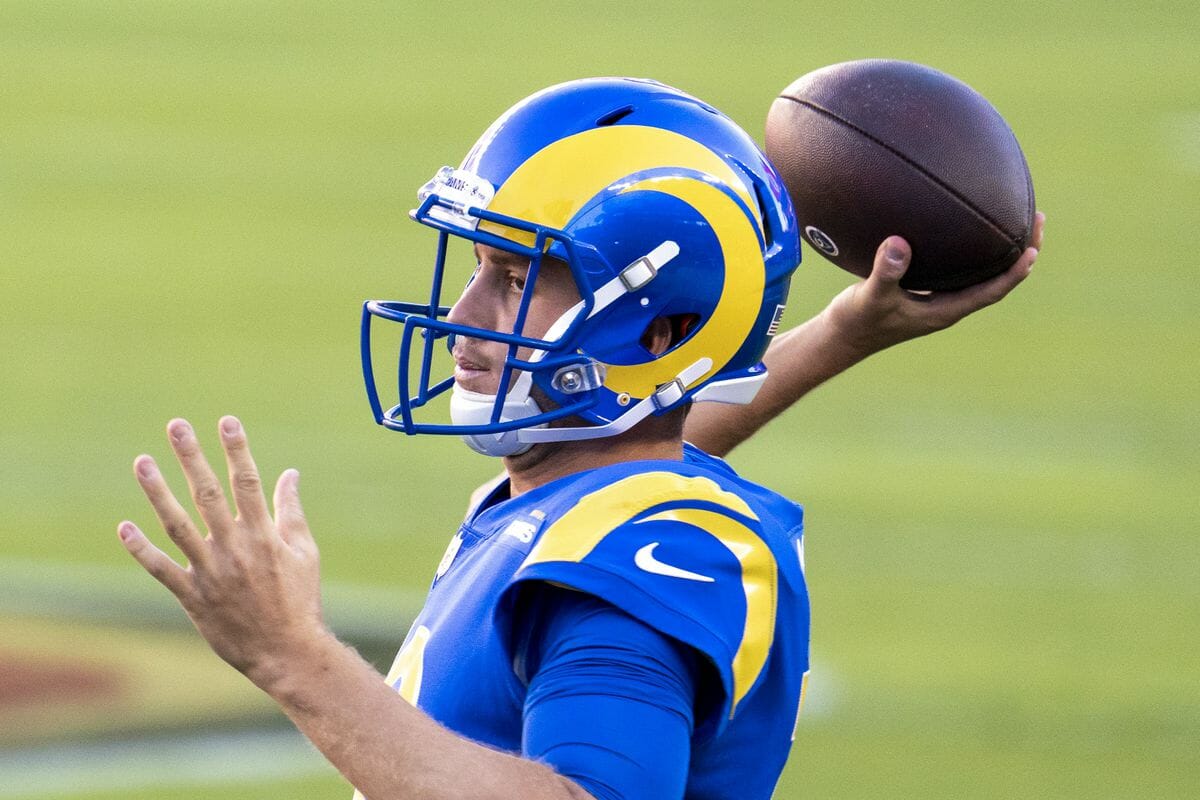 ———
Again, my apologies to anyone who already knew about all of this, and my thanks to reader Jonathan Dodd for pointing it out so I could finally get up to speed.
• • • • •
• • • • •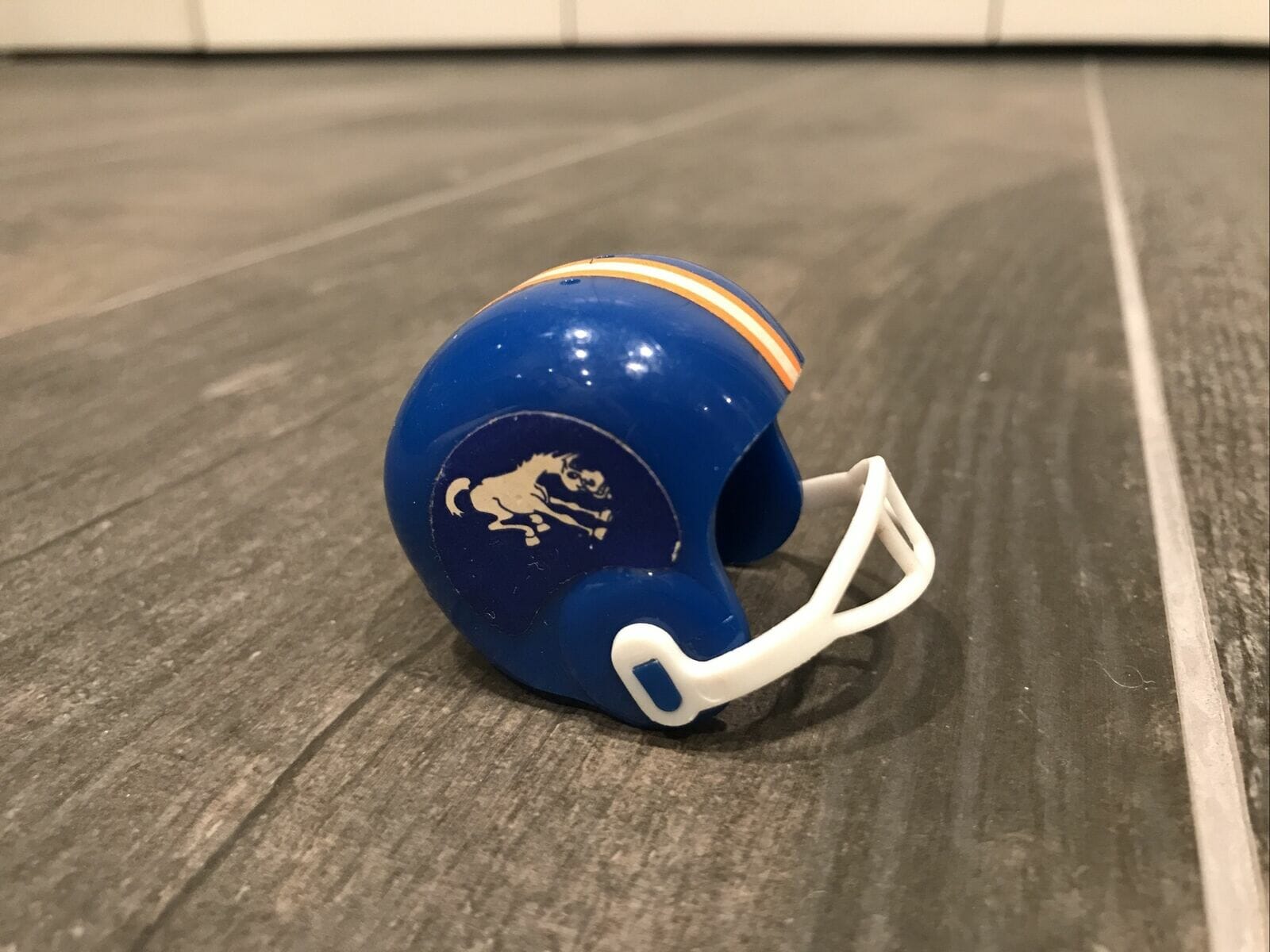 Click to enlarge
Costs a lot more than a quarter: Would you pay $670 for a gumball helmet? That's how much someone on eBay is asking for this Broncos model. The seller says:
Considered to be a "Holy Grail" of bumball football helmets, this helmet manufactured in 1967 by Orange Products Inc. (OPI) features the bucking Bronco logo on a blue sticker and on a blue helmet. This logo and helmet combination never existed in reality. … There are several theories as to why OPI made this helmet. Few of these helmets are believed to be in existence. This helmet is in excellent condition, and very few of the ones [in] existence match the condition or exceed the condition of this helmet. The flaws I noted on this helmet are a white vertical crease on the left side sticker, some wear on the edges of both side stickers, and small tears and scuffs on the center stripe towards the rear of this helmet. The flaws can clearly be seen in the photos. Inside the helmet is stamped "2." It's believed OPI used these helmets in their pencil sharpener series; however, I don't see any evidence whatsoever that this helmet had a pencil sharpener in it at one point.
Interesting — I didn't even realize there was such a thing as a holy grail of gumball helmets! Shouldn't have been surprised, though, since there's a holy grail for just about every category of collectibles.
(Big thanks to Rick Porter for this one.)
• • • • •
• • • • •
Collector's Corner
By Brinke Guthrie
Follow @brinkeguthrie    
We're back with one last Collector's Corner to wrap up the year. Let's start off with this terrific Detroit Red Wings program from 1956! I love these old designs — no hash tags or gimmicky slogans, just a simple image. The seller says "This colorful book has had one owner, personal family collection. It has been secured and preserved in plastic storage, since 1956." And in case you're wondering, defenseman Dale Anderson wore No. 18 that season.
Now for the rest of this week's picks:
• That's clearly Dan Fouts (despite the lack of Chargers colors) shown on this poster for the 1992 Seagram's Golden Quarterback Challenge III. This Seagram's promotion resulted in all sorts of merchandise, but it's not clear what the Gold Quarterback Challenge III actually was. Does anyone know more?
 • This one dates back 134 years! It's an 1886 invoice for the purchase of baseball gloves from Peck & Snyder in New York City. Total price: $4.75!
 • Broncos fans, keep warm with this 1970s Broncos stadium blanket from Pendelton.
 • Fins fans! This 1970s Miami Dolphins bulletin board was straight from the Sears NFL Shop.
 • Take a look at this 1970s San Diego Chargers Ron Mix jersey, in all its Sand-Knit glory.
 • Although Paul's not a soccer fan, he does like old uni catalogs, so he might want to look into this 1967 Rawlings soccer catalog. [Indeed! — PL]
 • Johnny Bench used a terrific logo (shown here on a glass) for his 1970s 
Home Plate restaurant. That one was northwest of Cincinnati; he also had the "Home Stretch" restaurant in Northern Kentucky. You can see the logo for that one on this glass.
 • Tom "The Bomb" Tracy (great nickname!) was a CFL/NFL running back from 1955-64 and was of significant enough stature to warrant his own Franklin signature football helmet.
 • In 1992, you could buy these Happy Baseball Birthday cassettes. This one was from Braves pitcher John Smoltz. Not sure to what degree they were "personalized," but let me know if you find one where he says "Happy Birthday, Brinke!"
 • Here's a 1977 Detroit Tigers placemat from Barrelhead Root Beer. It's an MLB Player's Association item, so no logos, but I'd swear that pitcher in the center is Steve Carlton of the Phillies.
That's it for Collector's Corner in 2020. See you next year!
• • • • •
• • • • •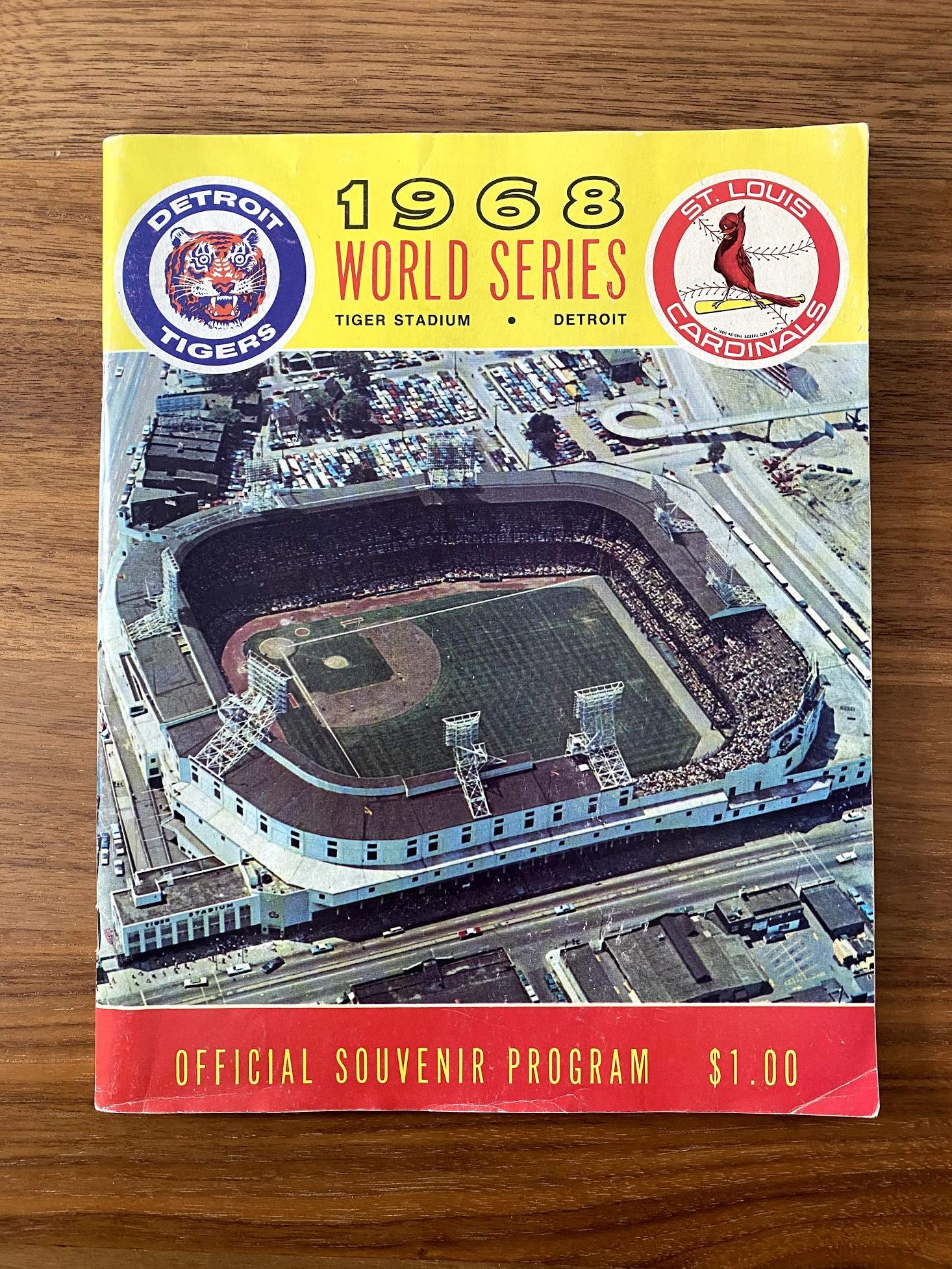 For all images in this section, click to enlarge
Too good for the Ticker: Reader Robbie Biederman (a very talented graphic designer who's worked for the NHL and the Detroit Lions) recently found this 1968 Cardinals/Tigers World Series program at his parents' house. "Sure, there's some nice uniform-related imagery, but the real gems are the endless pages of local 1968 advertising," he says. Check out, for example, this magnificent uni-centric Chrysler ad — featuring Bob Hope and illustrated by the great Willard Mullin: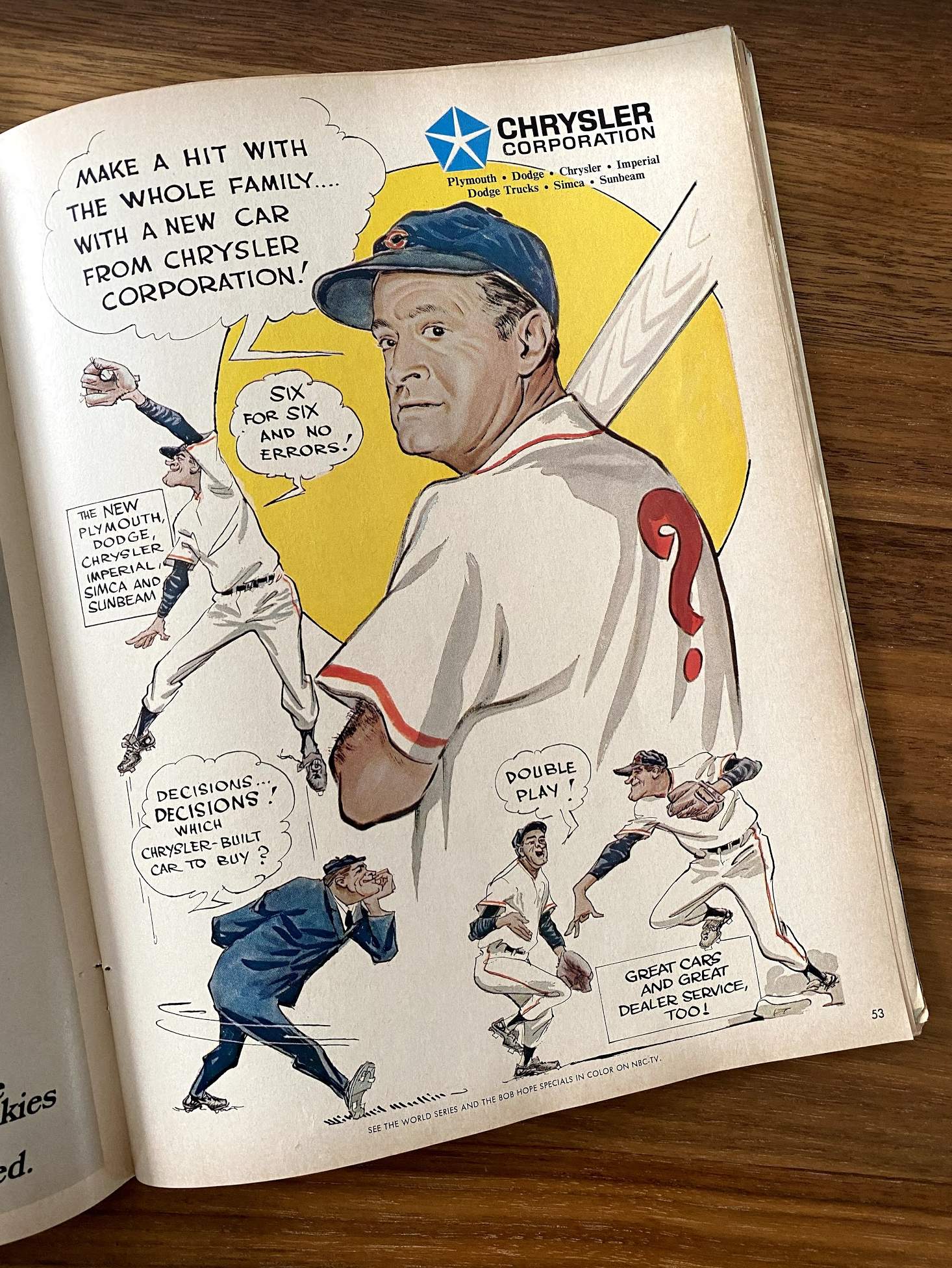 There's also this page with two fun ads — one with Detroit's other pro teams congratulating the Tigers on winning the 1968 pennant, and another showing a tiger licking his chops while a cardinal's feather dangles from his mouth: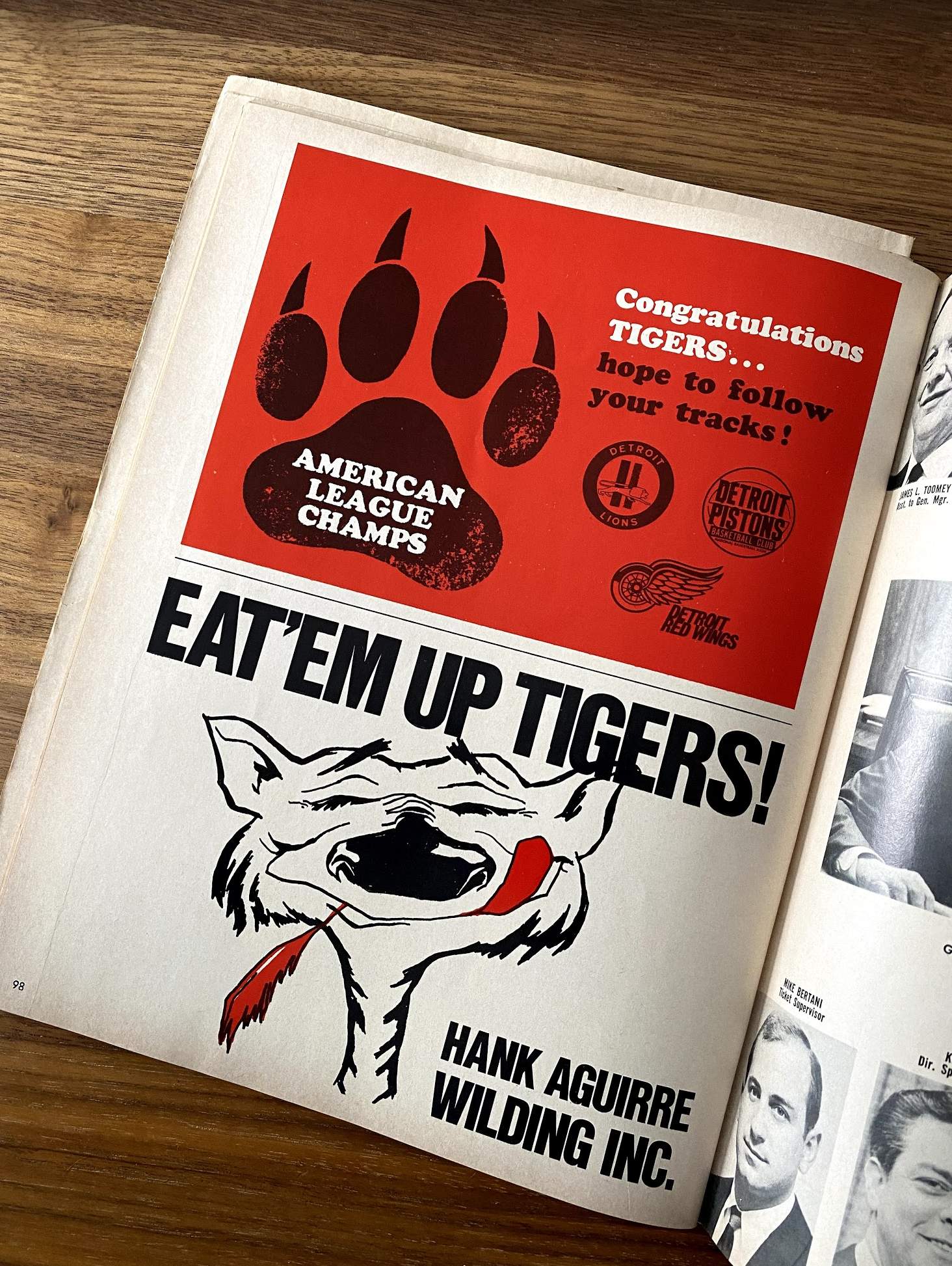 Great stuff. Thanks for sharing, Robbie!
• • • • •
• • • • •
The Ticker
By Alex Hider

Baseball News: Here's one writer's choice for the best White Sox player for each uniform number (from Chris Rhode). … Meisei High School in Japan uses the Marlins' old logo on its basketball jerseys (from @bigmeechenergy).

Pro Football News: Patriots C David Andrews was once again wearing last season's NOB and number fonts for last night's game against the Bills. He's been doing that all season long (from Tim Hayes). … Browns P Jamie Gillan was wearing the wrong socks on Sunday — the rest of the team was wearing socks that matched the jersey sleeve striping. … Packers LB Rashan Gary had some weird-looking stitching or lacing on his jersey collar on Sunday night. Maybe the remnants of some emergency repairs? (From Eric Starke.) … Cardinals QB Kyler Murray gave his offensive line painted portraits of themselves in game action as Christmas gifts (from Kary Klismet). … The city of Regina is turning Mosaic Stadium — home of the CFL's Saskatchewan Roughriders — into a public skating rink during the offseason (from Wade Heidt).

College/High School Football News: Auburn Uniform Database guru Clint Richardson has published a history of the unis the Tigers have worn in their various appearances in the Citrus Bowl. … Here's how the Alamo Bowl patches will look on Texas's uniforms (from Damon Hirschensohn). … Speaking of Texas, QB Sam Ehlinger will wear a captain's "C" during the Alamo Bowl, but it will be placed in a different spot than it was last season (from Timmy Donahue). … Lots of purple in this SportsCenter clip about a six-man high school football in Texas, including a dark grey and purple uniform worn by Moran High School (from Jorge Cruz).

Hockey News: New number assignments for the Canadiens. New RW Corey Perry will wear No. 94 for the first time in his NHL career. Fellow RW Michael Frolik will wear No. 67 (from Mike Engle). … Kings G Cal Petersen has a new purple/gold mask with throwback wordmarks and a tribute to Kobe Bryant (from Jakob Fox). … If you've ever wondered how your favorite NHL team's logo would look like as a slug, your wish has been granted. Insert the obvious Sabres jokes here (from our own Brinke Guthrie). … Not a lot of contrast in yesterday's game UConn and Providence (from @HurleyMania).

Basketball News: Spurs SG Dejounte Murray has new sneakers matching the team's "fiesta" colors (from Kary Klismet). … Cross-listed from the baseball section: Meisei High School in Japan, the alma mater of Wizards F Rui Hachimura, is using a version of MLB's Miami Marlins' old "M" logo. Pretty wild to see that on a basketball jersey (from @bigmeechenergy). … Lots of notable uni quirks in this scene from the Cleveland Show — the Sixers-inspired jersey, the rec-specs and knee pads, former President Barack Obama wearing No. 44 and the presidential seal on the basketball (from @PhillyPartTwo).

Soccer News: .Greek club team A.C. PAOK has released renderings of its new stadium, which is slated to open in 2022 (from Kary Klismet).

Grab Bag: All of these are from Kary Klismet: New athletics logo for CCCAA school Los Angeles Southwest College. … Brighton High School in New York has changed its team name from Barons to Bruins, as the district said the old nickname represented "elitism" and had "ties to slavery." … New band uniforms for Olmsted Falls High School in Ohio.
• • • • •
• • • • •