For all photos, click to enlarge
Good morning! Greetings from Uni Watch HQ, where all three inhabitants continue to be safe and well. Hope the same is true at your home.
Now then: We've had lots of instances this season of Patriots players wearing the wrong number and/or NOB fonts. But yesterday it was the Colts that were afflicted, as offensive lineman J'Marcus Webb, playing in his first game of the season after being activated from the practice squad, had the proper number font on the front of his jersey but last year's number font on the back.
Here's another view: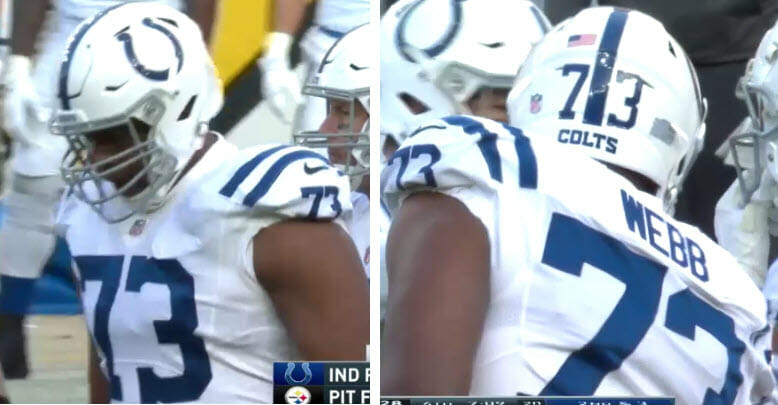 The Colts' final game of the regular season is at home, so Webb will be wearing a blue jersey in that game. If they make the postseason and have to play on the road, we'll have to keep an eye out to see if they've given Webb a proper jersey.
In other news from around the league yesterday:
• The Packers and Titans played an excellent snow game in Green Bay. Photos don't really capture how visually pleasing this game was, so here are some video highlights:
My only gripe: I wish they hadn't superimposed the yard-line numbers and hashmarks, or at least not done so all the time. Overall, though, a splendid spectacle!
• The Rams went mono-dishwater: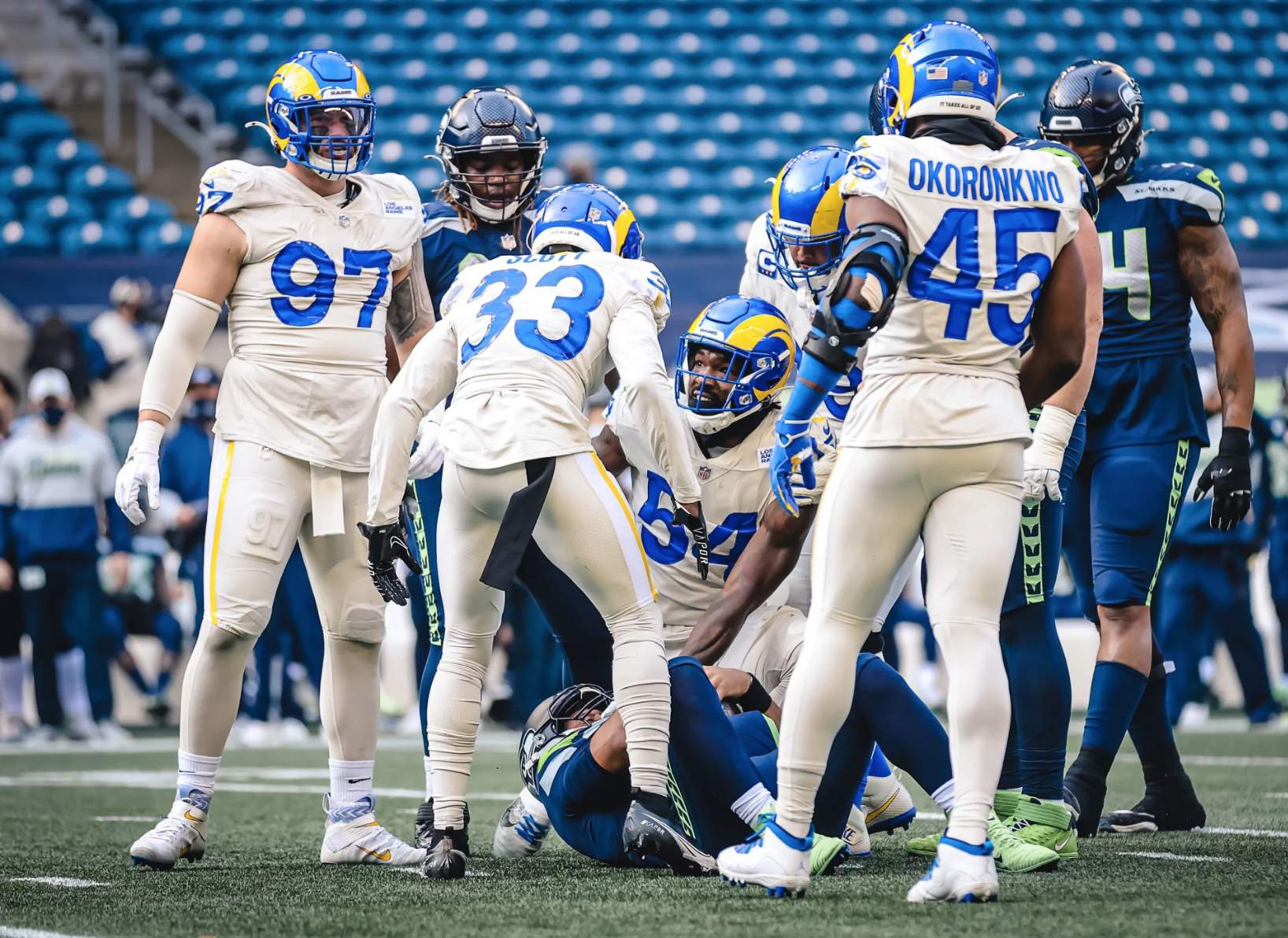 As you can see in that photo, they once again went with the matching dishwater undershirts, instead of the blue ones they wore earlier this season. Interestingly, the team's uni-combo announcement graphic showed the base layer in blue:
@RamsNFL going full dishwater. But will they go blue underneath?? Looks like it. @UniWatch @PhilHecken pic.twitter.com/xgryLVJeMp

— FritoBoat (@FritoBoat) December 27, 2020
Obviously, that's an old photo from earlier in the year. The more interesting thing to me is that they'd show an untucked player like that in their uni announcement. It really has become part of the team's look.
• The Jets went mono-green:
• The Ravens went mono-purple: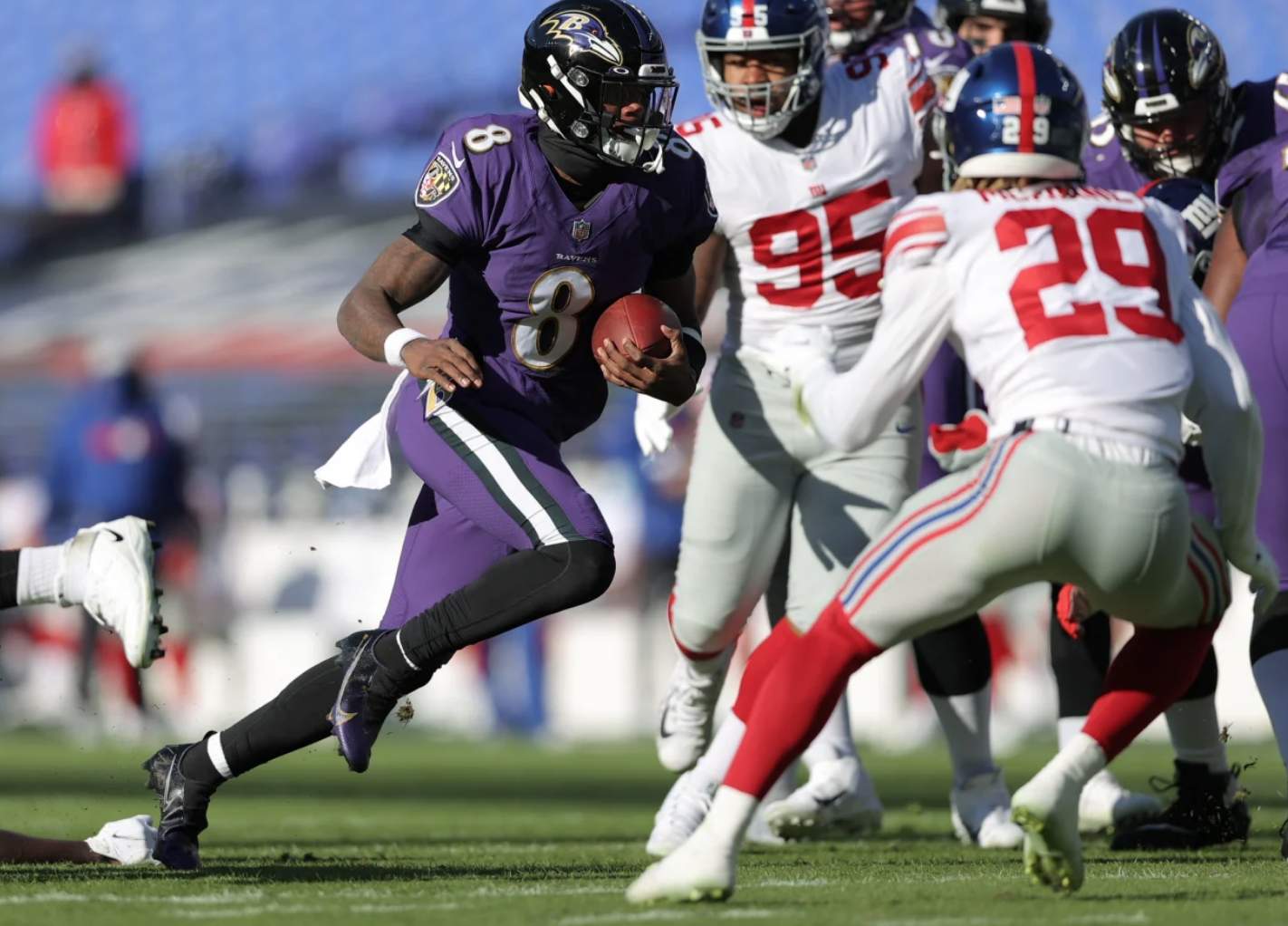 • The Texans went mono-navy: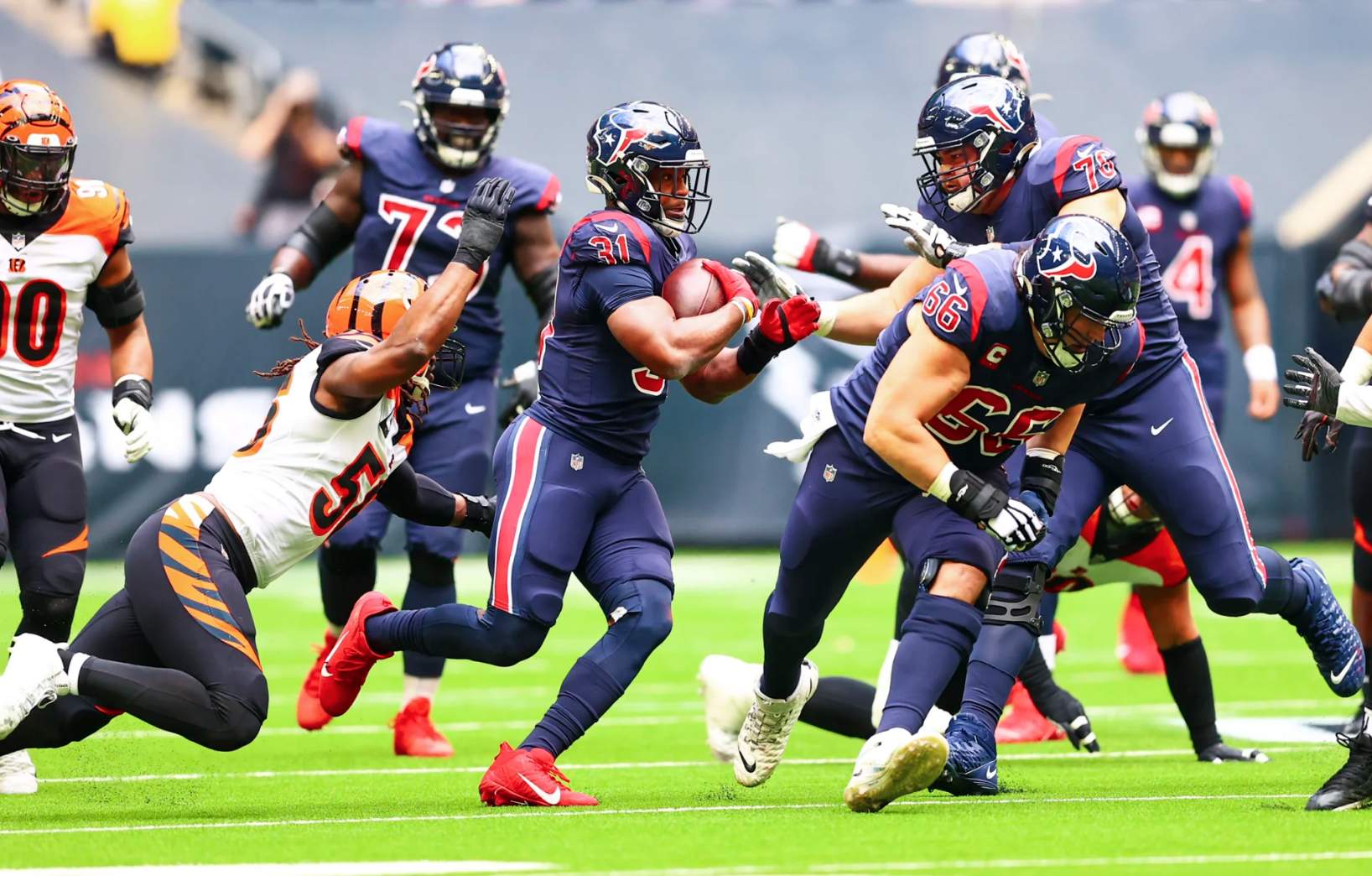 • With the Panthers playing in Washington, Carolina players saluted cancer-stricken former coach Ron Rivera, who now coaches Washington, by wearing "Rivera Strong" hoodies during pregame activities: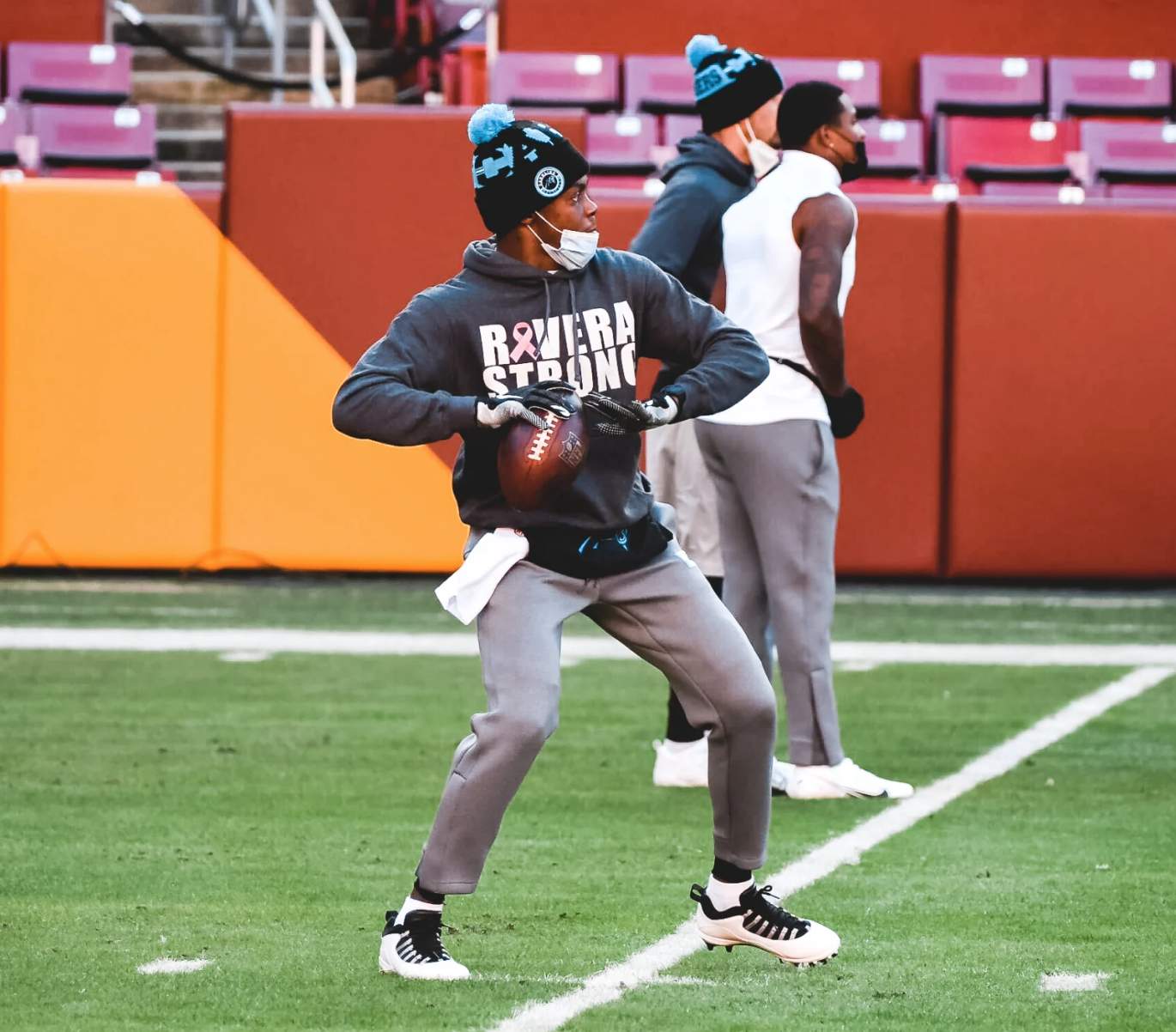 • One team wore white at home: the Cowboys, of course.
(My thanks to Mike Chamernik, Brian Scherb, and @NFL_Journal for their contributions to this section.)
• • • • •
• • • • •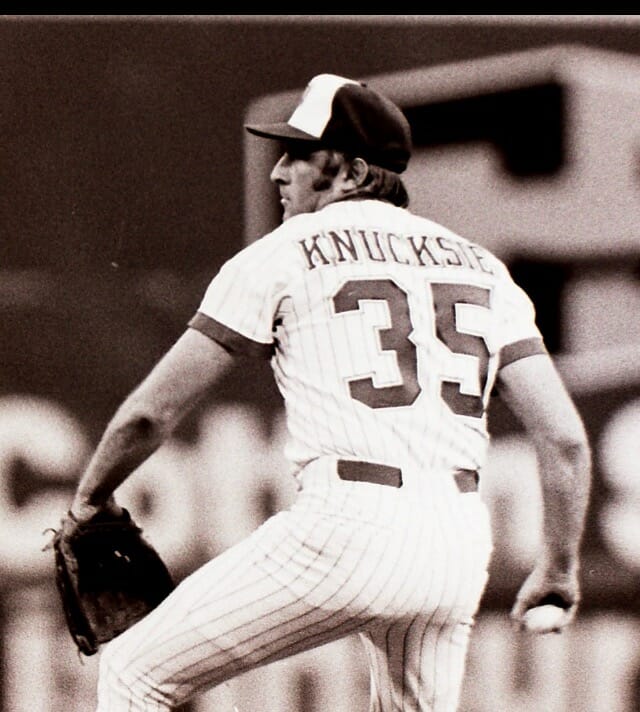 So long, Knucksie: Word came down yesterday that Hall of Famer Phil Niekro has died at the age of 81. His most uni-notable moment came in 1976, when he and his Atlanta teammates wore nickNOBs on their home jerseys part of the season. His was "Knucksie," after his signature knuckleball pitch.
After his playing days were over, Niekro managed the Colorado Silver Bullets, a women's pro team that existed from 1994 through '97. Here's how he looked in their uniform: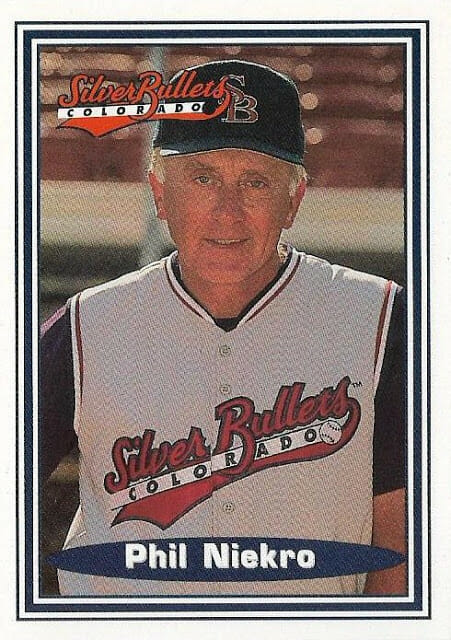 Like most successful knuckleballers, Niekro was able to pitch to a ripe old age — he was 48 when he retired. But even in the 1970s, when he was in his 30s, I remember thinking that he had an older, craggier look to him — he looked more like a coach than a ballplayer, at least to me. Sorry to hear that age finally caught up with him. R.I.P.
• • • • •
• • • • •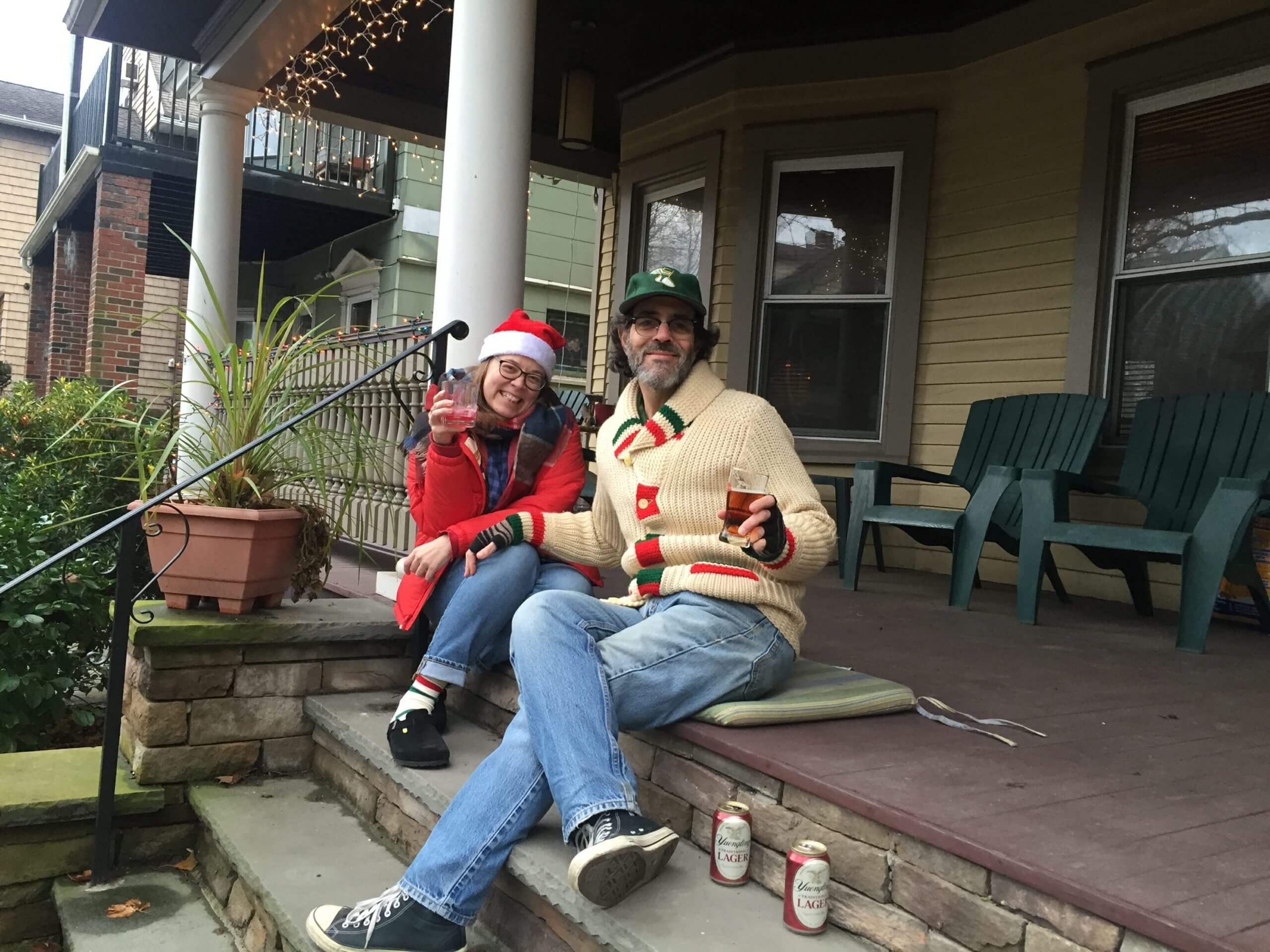 Click to enlarge
Christmas wrap-up: The photo shown above was taken on Christmas Day by our neighbor Jason, who dropped by to join us for afternoon cocktails on the porch. I like how the the stripes on my curling sweater (gifted to me earlier this year by Uni Watch reader Will Scheibler — thanks again, Will!) matches the stripes on the Tugboat Captain's Pendleton socks — a gift that a certain Santa left under her tree this year.
Speaking of gifts, the Captain got me this swell assortment of vintage bowling-themed glasses, which I've already started putting to good use in our porch sessions. I put some white paper in the glasses so their designs would be easier to see (click to enlarge):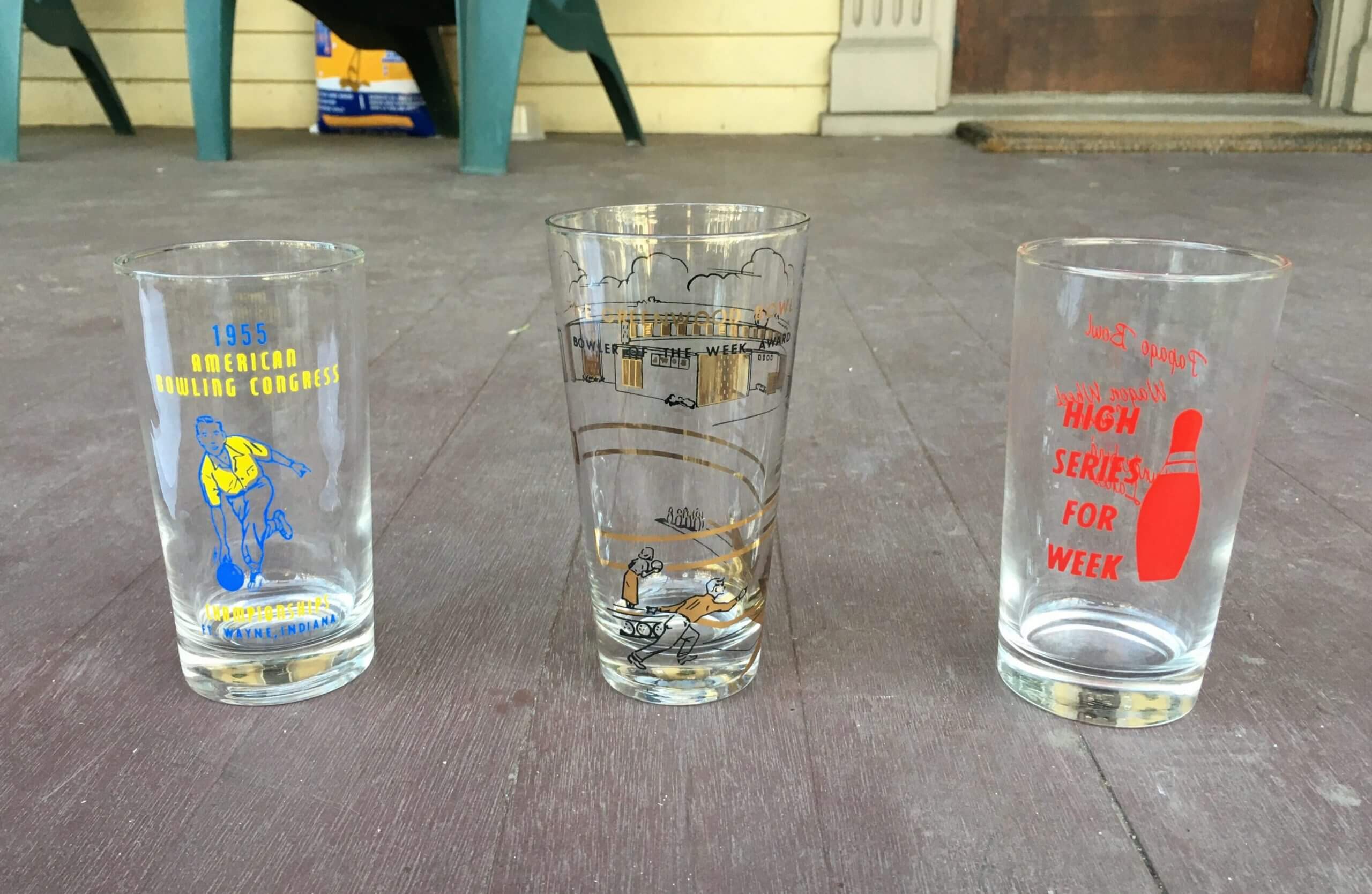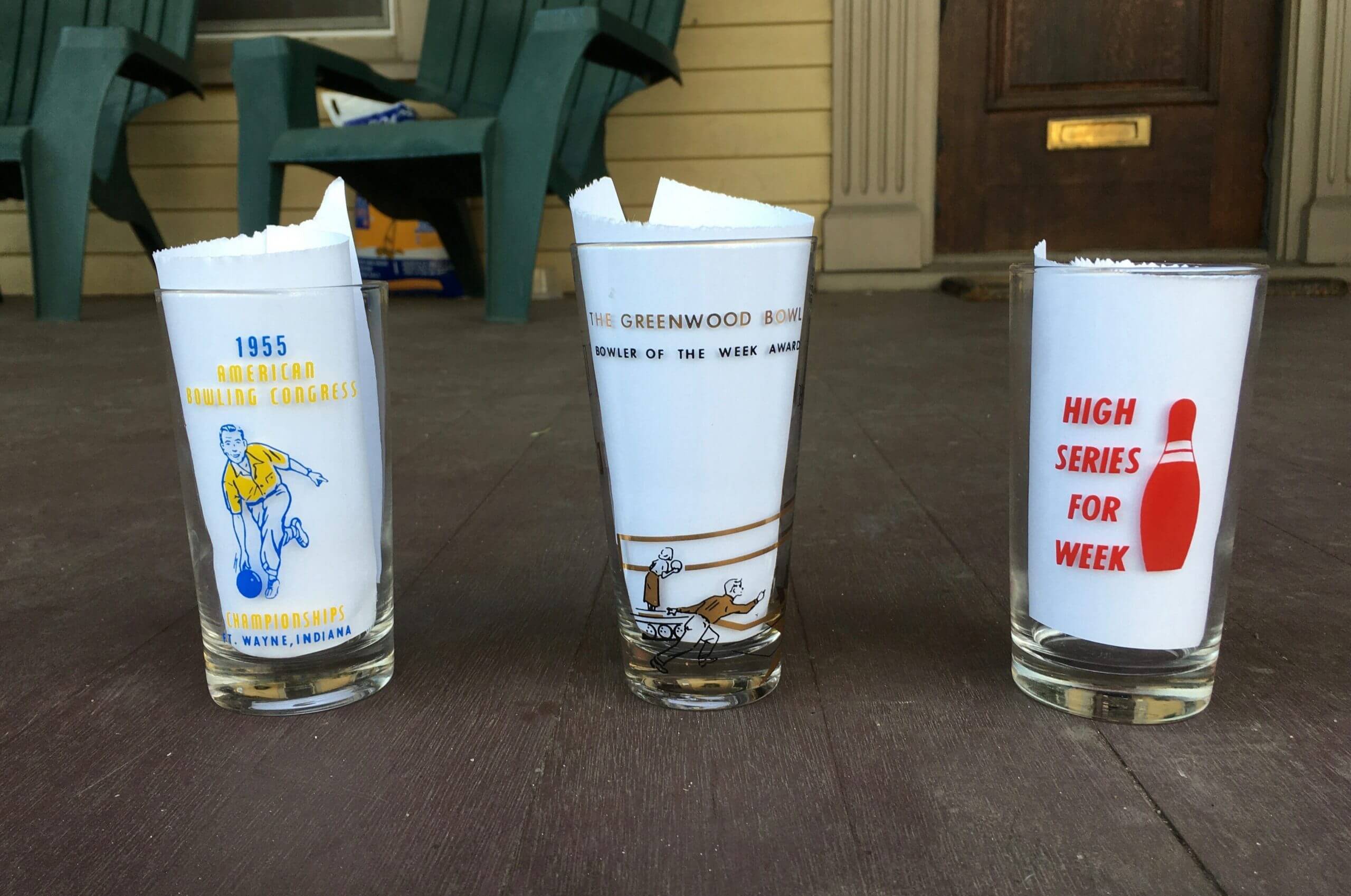 For dinner, we roasted a delicious duck, accompanied by a cherry/port sauce, cranberry/raisin/walnut dressing, and a salad. It was a really nice feast for two, which felt like enough for this year.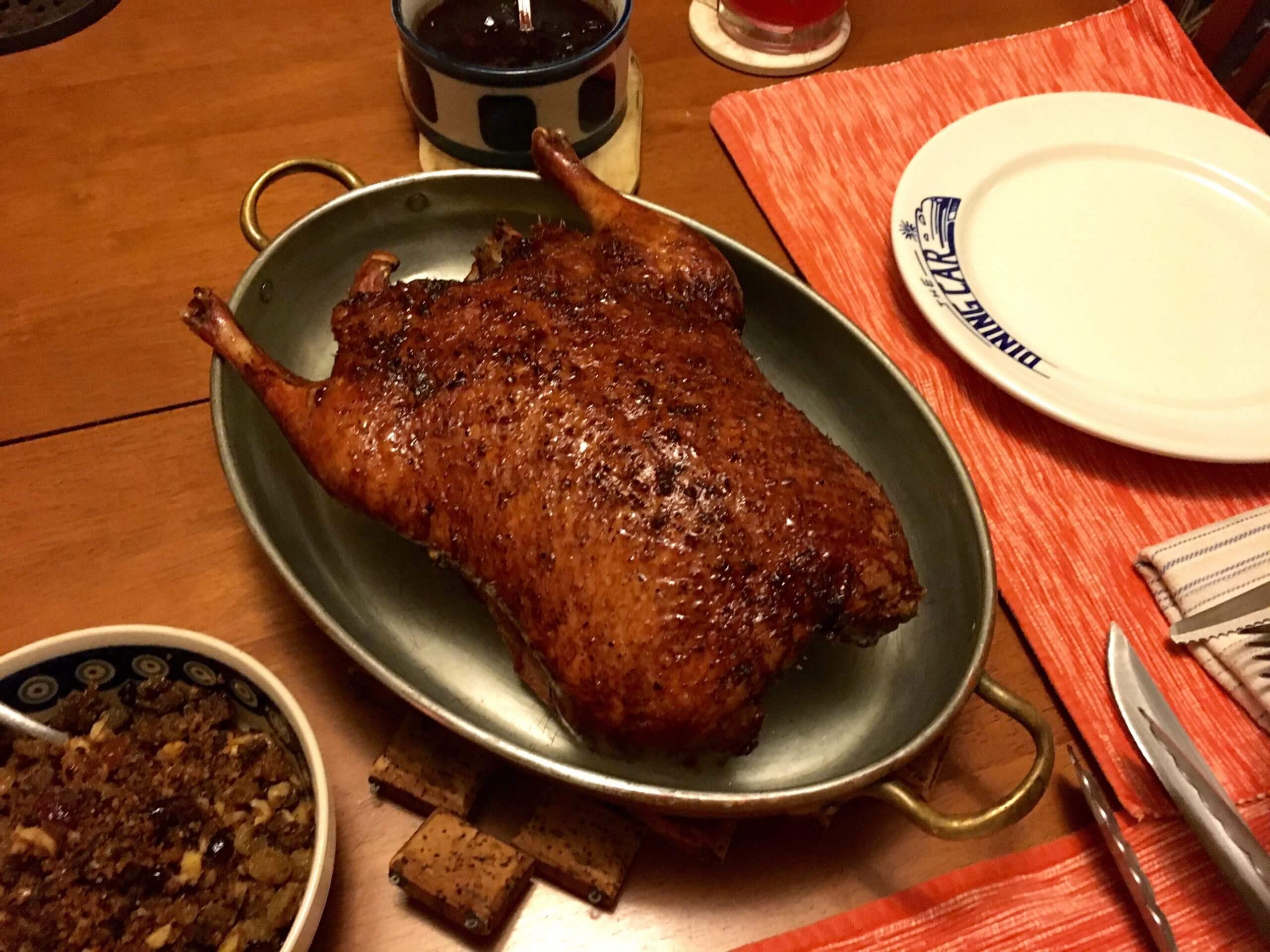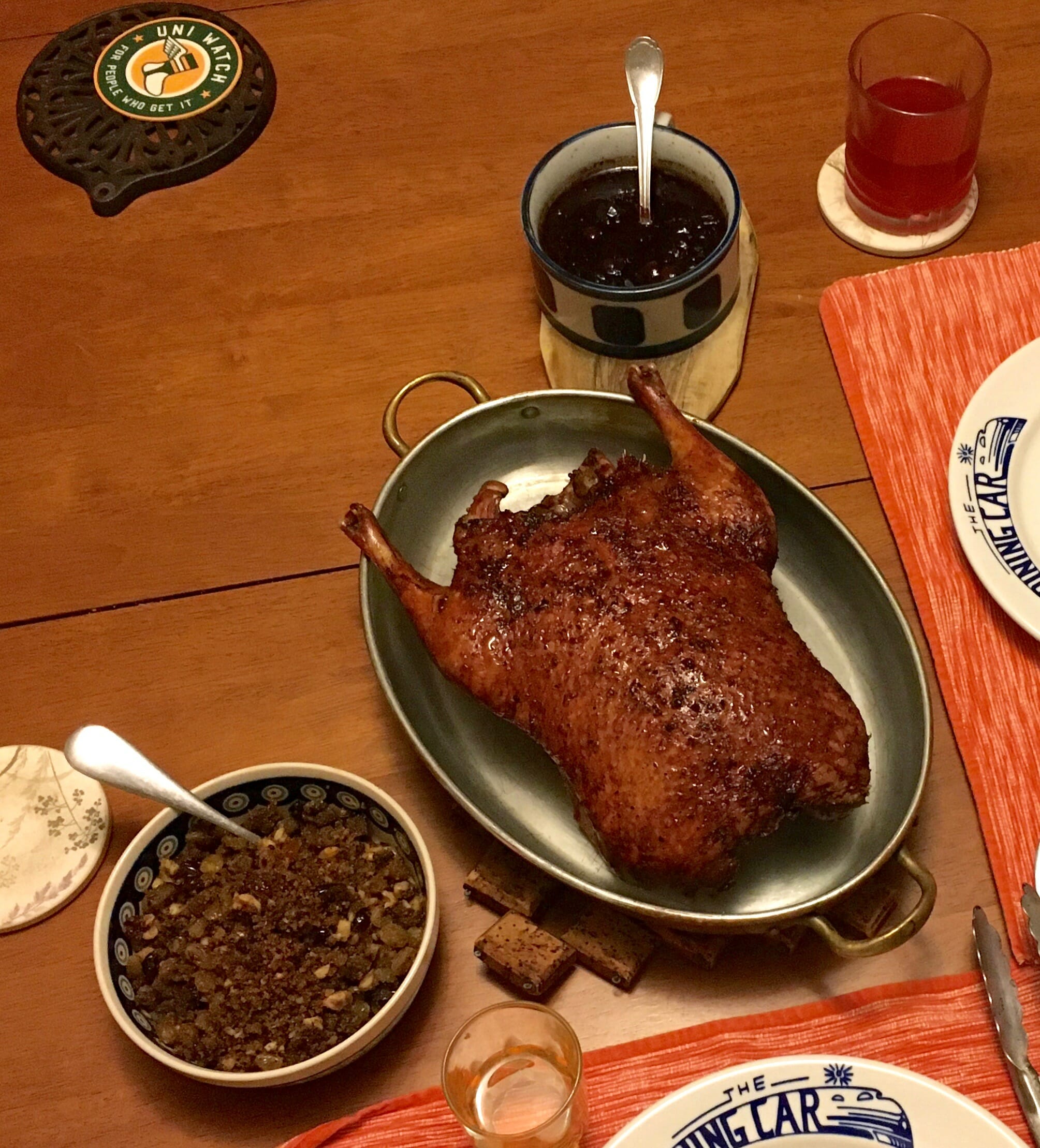 We had duck leftovers on Boxing Day. Then yesterday we stripped all the remaining meat from the carcass, used the carcass to make a stock, and then used the stock and remaining duck meat to make possibly the greatest holiday-leftovers dish ever — duck ramen: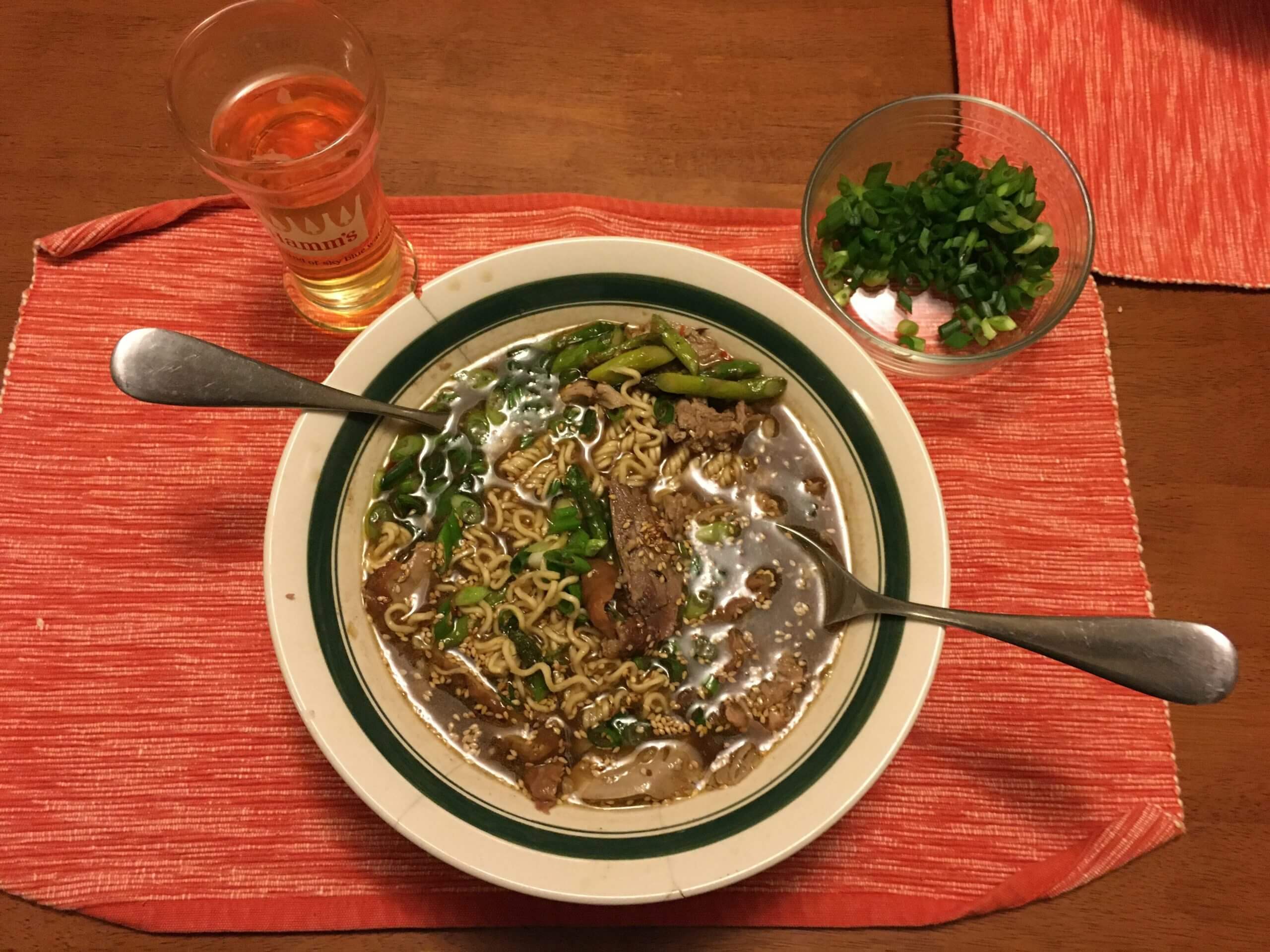 Mmmmm. However you spent your Christmas and the rest of the holiday weekend, I hope it was a good one.
Meanwhile, as we run out the clock on the remaining days of 2020, here are a few orders of business:
• In case you missed it on Christmas Day, here are the winners of the 2020 year-end raffle. As of this morning, almost all the prizes have shipped out, and the remaining ones should be on their way in the next day or two. As you may already have experienced recently, the Postal Service is all bolloxed up at the moment, so be patient — everything will arrive eventually!
• For those of you who are Uni Watch Membership Club cardholders, the same 15% merchandise discount that you get in our Teespring shop can now also be applied to orders for the Uni Watch Toque and the Uni Watch Classic Cap. (If you're a card-carrying member and need a reminder of the discount code, email me and I'll hook you up.)
• Speaking of the membership club: Every year around this time, I hear from readers who say, "My New Year's resolution back in January was to finally sign up for a membership card, but I could never decide which design to get. Now that I only have a few days left to fulfill my resolution, I'm finally getting around to it!" If that's you and you've been procrastinating for nearly a full year now — or, for that matter, if you want to get a jump on your New Year's resolution for 2021 — you can sign up here. (Footnote: Remember how I reduced the membership fee from $25 to $20 at the start of the pandemic? It will be going back to $25 soon, or at least soon-ish, so this would also be a good time to take advantage of the discounted price while you still can.)
• For those who've been asking/wondering: The Uni Watch Pin Club's first monthly release of 2021 will launch this Friday, Jan. 1. Stay tuned.
• • • • •
• • • • •
The Ticker
By Jamie Rathjen

Baseball News: MLB's most prominent single-digitized pitcher, Blake Snell of the Rays, is reportedly on his way to the Padres. Snell has worn No. 4 for the Rays but won't be able to wear that number in San Diego unless he strikes a deal with OF Wil Myers, who currently wears it for the Padres. If Snell gets No. 4 from Myers or chooses another single-digit number, that will give the Padres two single-digitized pitchers on their staff, since Javy Guerra wears No. 8.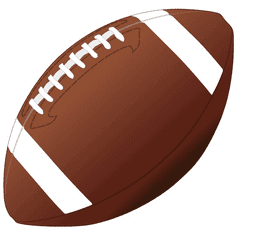 Football News: The Eagles' poster for yesterday's game against the Cowboys was Christmas-themed (from Bill Knowles and Kurt Esposito). … The New Mexico Bowl on Christmas Eve between Hawaii and Houston was one of two red-vs.-green matchups known to us around Christmas (from multiple readers). … The stripes on Liberty's white jerseys and pants don't match (from Tyler VanDeRostyne). … Texas annually has "jersey swap day" for its last practice of the season, where players wear each other's jerseys (from Timmy Donahue). … One member of Arizona State's equipment staff is an artist who made custom shoes for a number of the team's coaches and other staff (from Cole Streeper).

Hockey News: The Czech Republic has new jerseys for the world junior championship, which include a larger logo than before (from Gustav Thomsson). … An Ontario Provincial Police officer is accused of stealing some of Wayne Gretzky's game-worn equipment from Gretzky's father (from Andreas Papadopoulos). … At least two players on Vermont and Northeastern's men's teams were wearing masks or mask-like objects under their helmets (from @FrozenRodent).

Basketball News: Wisconsin and Michigan State's men's teams played the other red-vs.-green matchup on Christmas (from multiple readers).


Soccer News: English League One's Doncaster Rovers have a new third shirt with retiring midfielder James Coppinger, who helped design it, as its theme. His No. 26 is sublimated in the design. … New kits or shirts for several Japanese clubs, including Cerezo Osaka, Kashima Antlers, and Urawa Red Diamonds (from Jeremy Brahm, Sy Hart, and @JLeagueShirts). … Officials in Australia's A-League and W-League are now outfitted by Legea. … 1995-96 was the first season in which Bundesliga players could pick their own numbers instead of the old system of assigning numbers for each game based on position, so Bayern Munich players explained why they chose what they chose (from Denis Hurley). … Bundesliga club Hertha will have a new shirt advertiser for the rest of the 2020-21 season (from Ed Zelaski).

Grab Bag: Russia's men's handball team must compete as the "Russian Handball Federation Team" in the upcoming world championships in Egypt because the country is banned from using national symbols at world championships. However, the ban doesn't apply to the ongoing ice hockey world junior championship because it's not a senior tournament. … New jerseys for several cycling teams, including Alé BTC Ljubljana, B&B Hotels-Vital Concept, and Team Bahrain Victorious, who were renamed from Bahrain-McLaren. … India's field hockey teams play their competitive home games in the state of Odisha, which is to get a new stadium in time to host the men's World Cup for the second time in a row in 2023. … Butler's esports teams use a logo that is a bulldog formed from video game controllers (from Adam Hainsfurther). … There's a company that makes chocolates shaped like auto racing helmets — it just made a set based on the W Series, using the color schemes of the series' liveries.
• • • • •
• • • • •