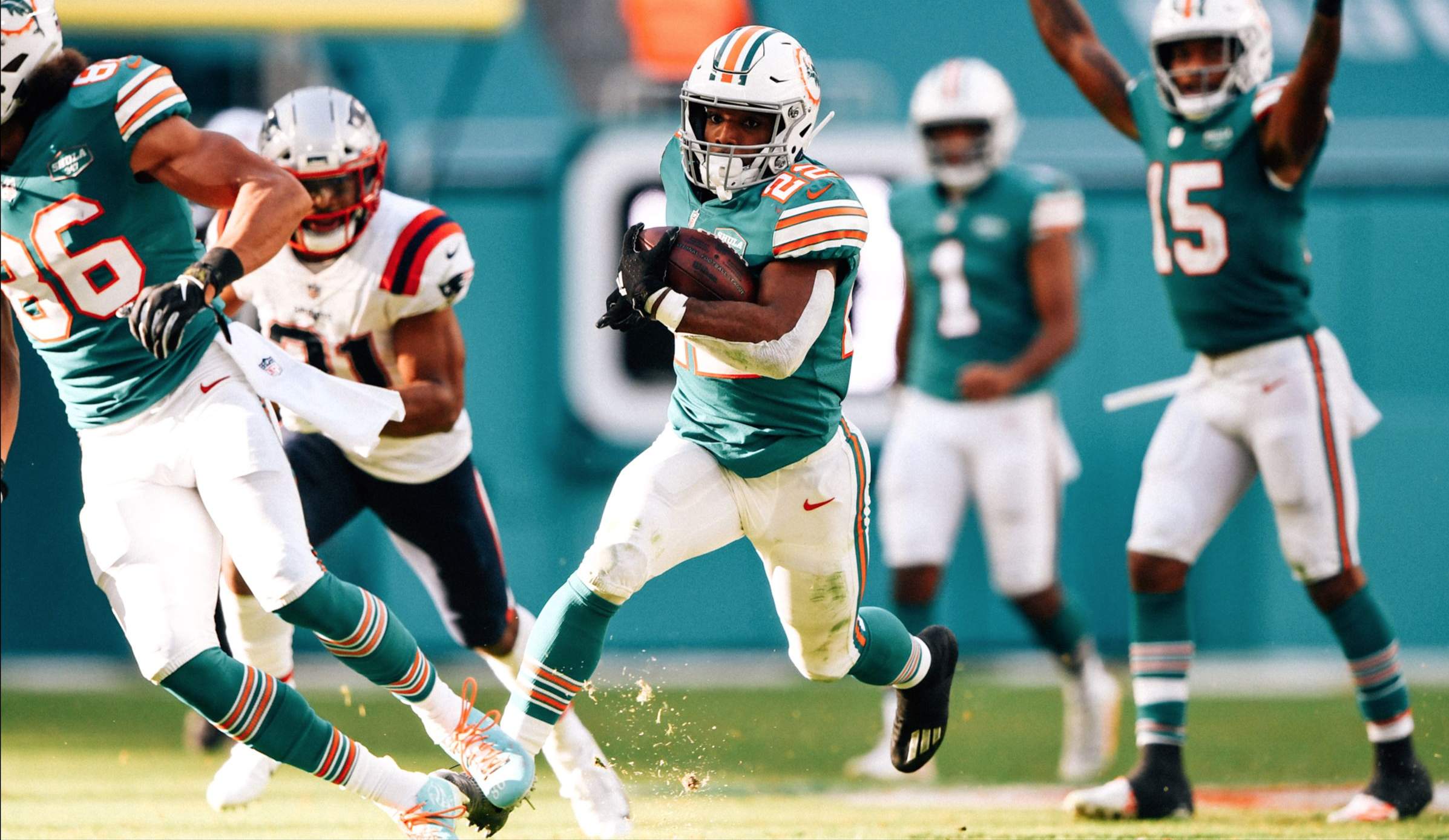 For all photos, click to enlarge
Good morning! Greetings from Uni Watch HQ, where all three inhabitants continue to be safe and well. Hope the same is true at your home.
So here's a weird one: A week ago, the Dolphins wore their awesome aqua throwbacks against Kansas City. As you can see above, they wore the throwbacks again yesterday, this time against the Patriots.
I asked Gridiron Uniform Database researcher Bill Schaefer if he could recall a previous instance of a team wearing its throwback alternate two weeks in a row. I specified that we shouldn't count the 2018 or '19 Rams (since their throwbacks essentially became their primaries) and that we also shouldn't count the league's 1994 75th-anniversary throwback program or the 2009 AFL 50th-season throwback program (since teams were supposed to wear their throwbacks a lot for those campaigns). He said the only previous example he could think of was in 2005, when the Bills wore their throwbacks for the first two games of the season. So what the Dolphins have done over these past two weeks is very, very rare.
(Update, 9:20am: Bill just let me know that he found a much more recent example. The Dolphins wore throwbacks on Weeks 13 and 14 of the 2018 season. So not only is there a fairly recent precedent for back-to-back throwbacks, but the Dolphins themselves have done it before!)
That Pats/Dolphins game also featured another pair of starting quarterbacks wearing No. 1 — Cam Newton and Tua Tagovailoa. Prior to this season, that had never happened before; now it's happened three times in the past seven weeks.
In other news from around the league yesterday:
• For the first time since Week 13 of the 2017 season, and only the fifth time ever, Washington went mono-maroon (a fun thing to say out loud, although not a good look on the field):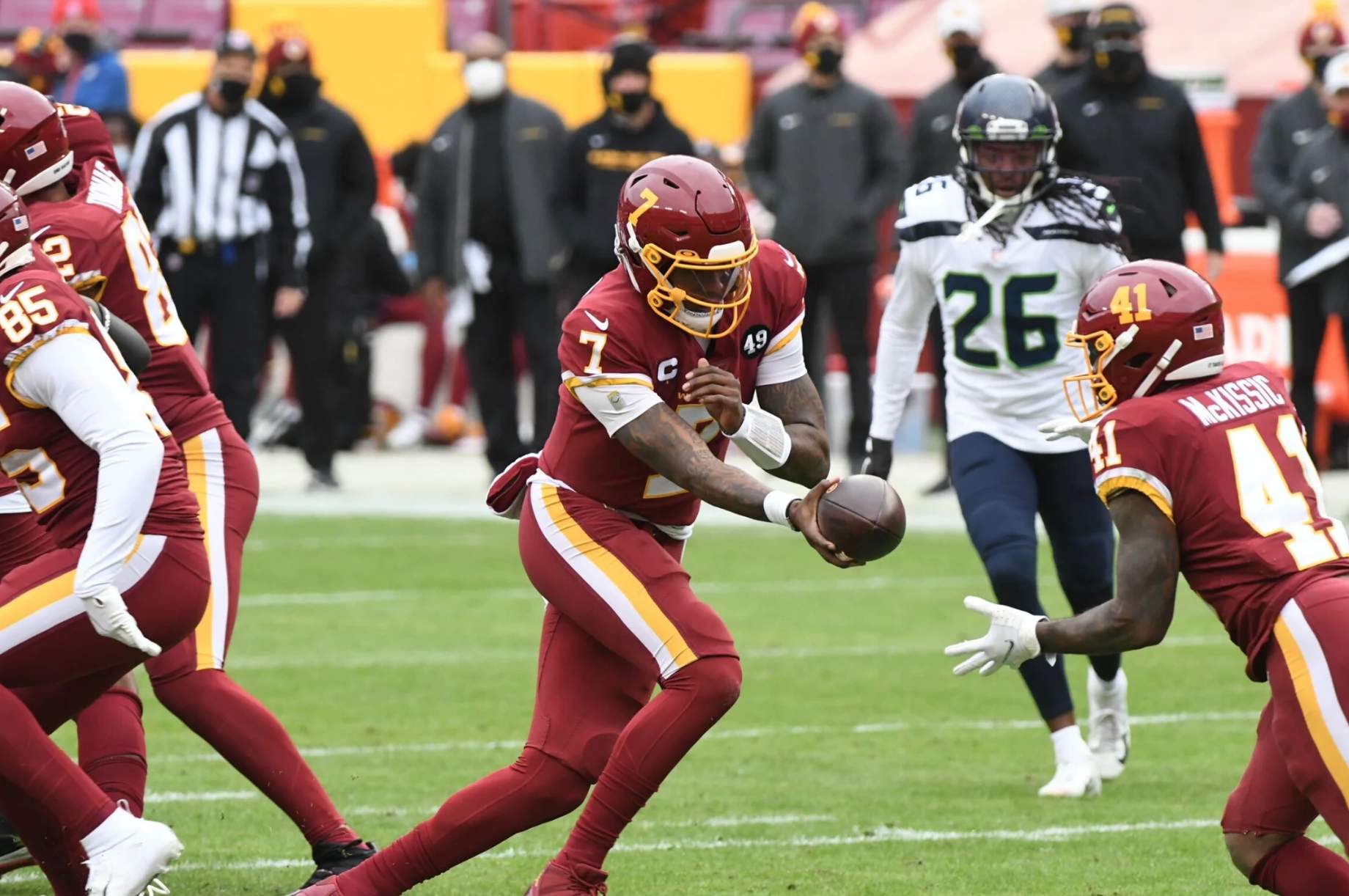 • For the first (and let's hope last) time this season, the Colts went mono-blue: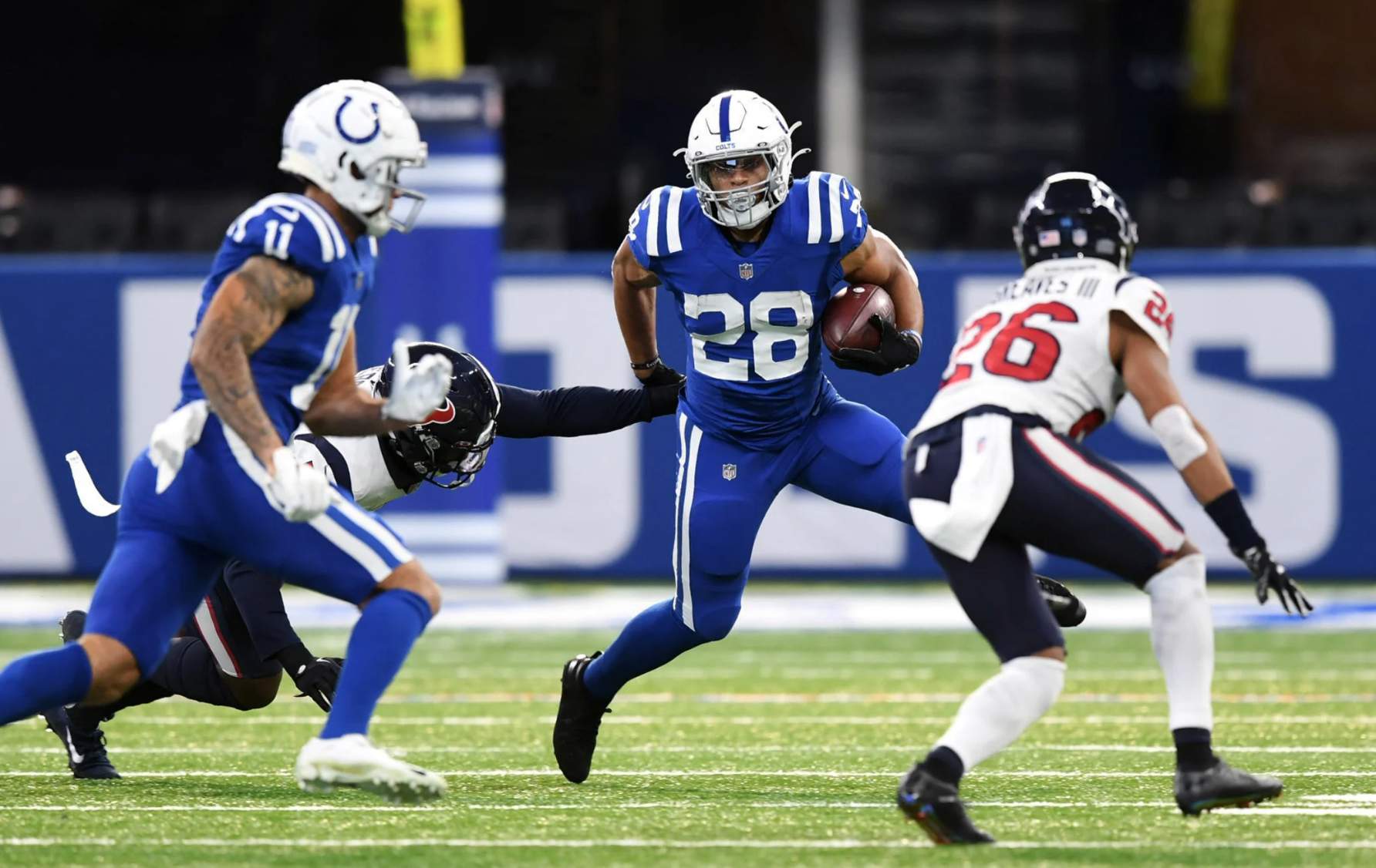 • The Titans went mono-navy: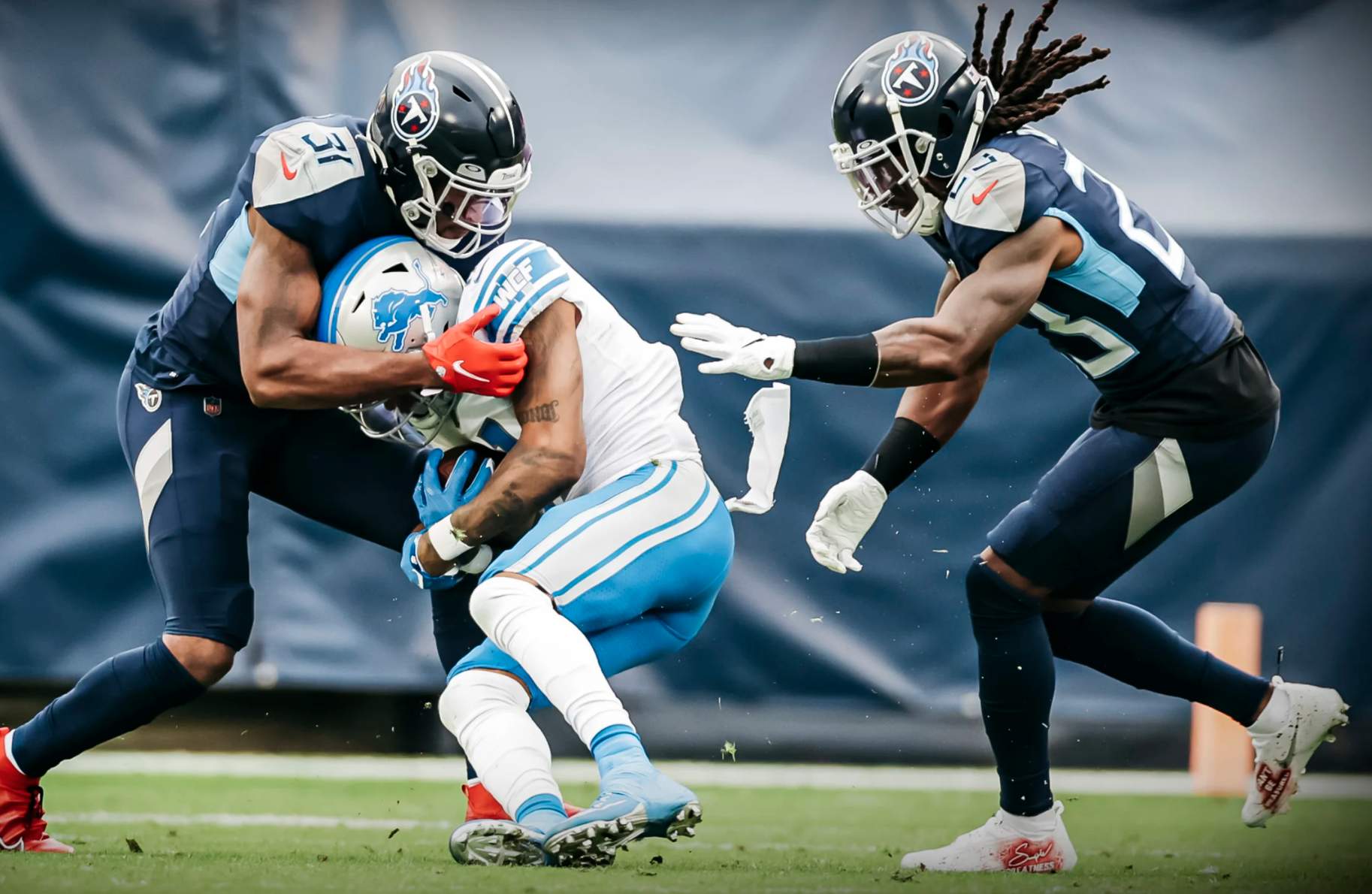 • The Rams wore a color combo that, somewhat surprisingly, they hadn't yet showcased until now — dishwater over yellow: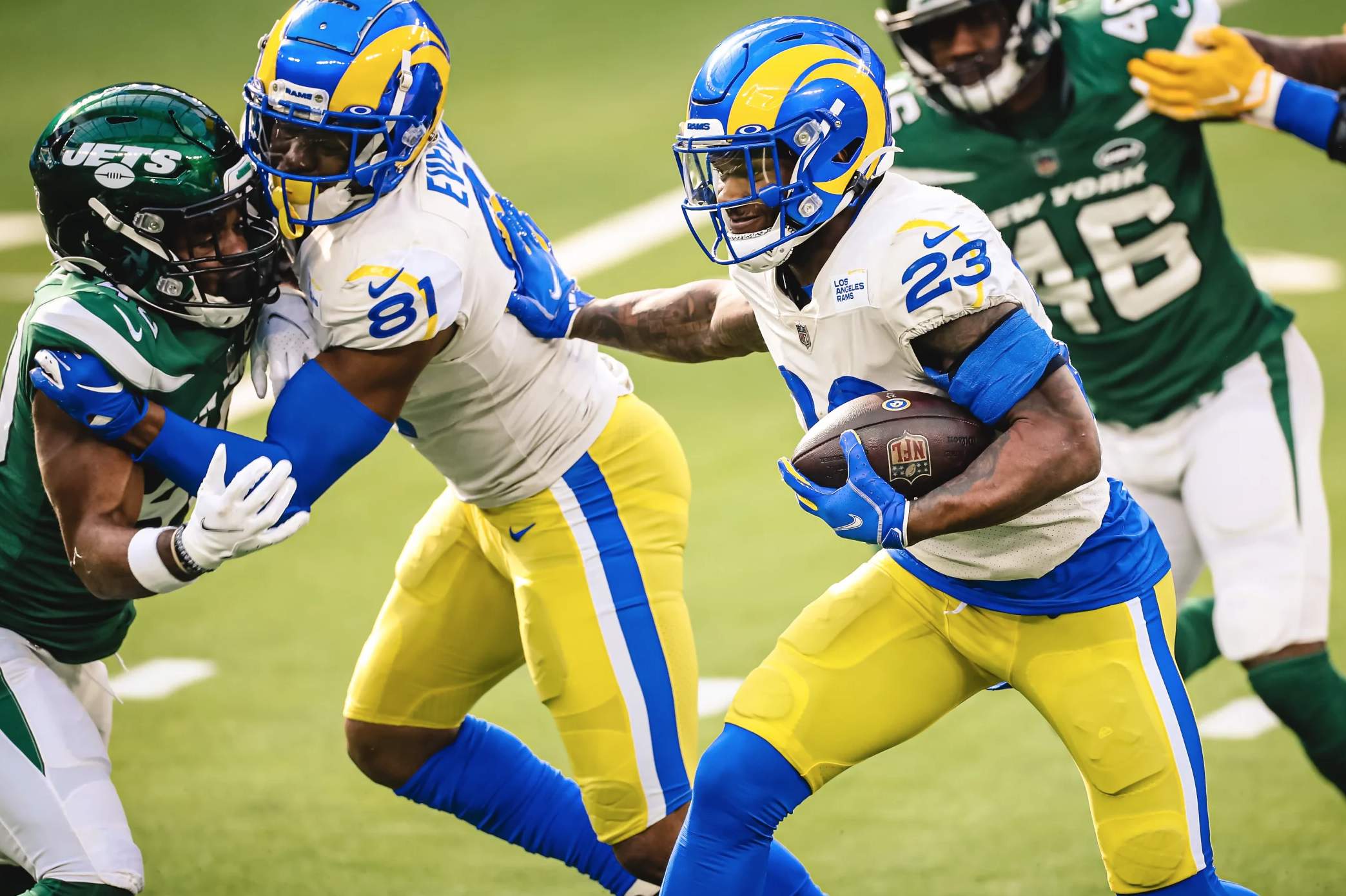 • From that same game: Longtime NFL running back Frank Gore, who's now with the Jets, has been wearing super-short pants for many years and for a variety of teams. But even by his own impressive standards, he was in rare form yesterday: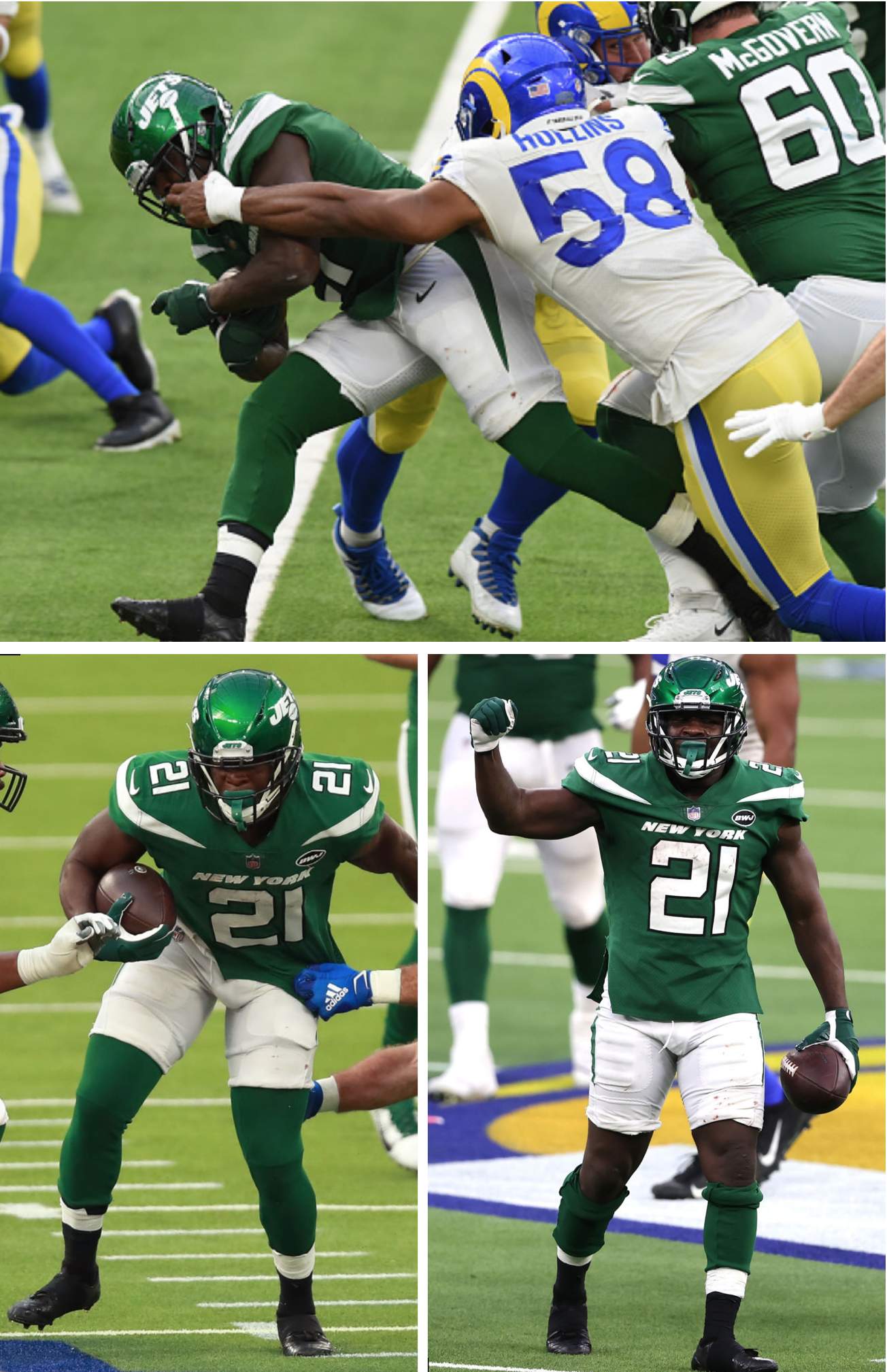 • For several weeks the Cardinals' field had featured the NFL logo at midfield and "Arizona" in both end zones due to the 49ers sharing the stadium because of pandemic restrictions in California. But the Cards are currently in the midst of a two-week homestand, so their team logo was restored to midfield, and "Cardinals" was restored to one of the end zones: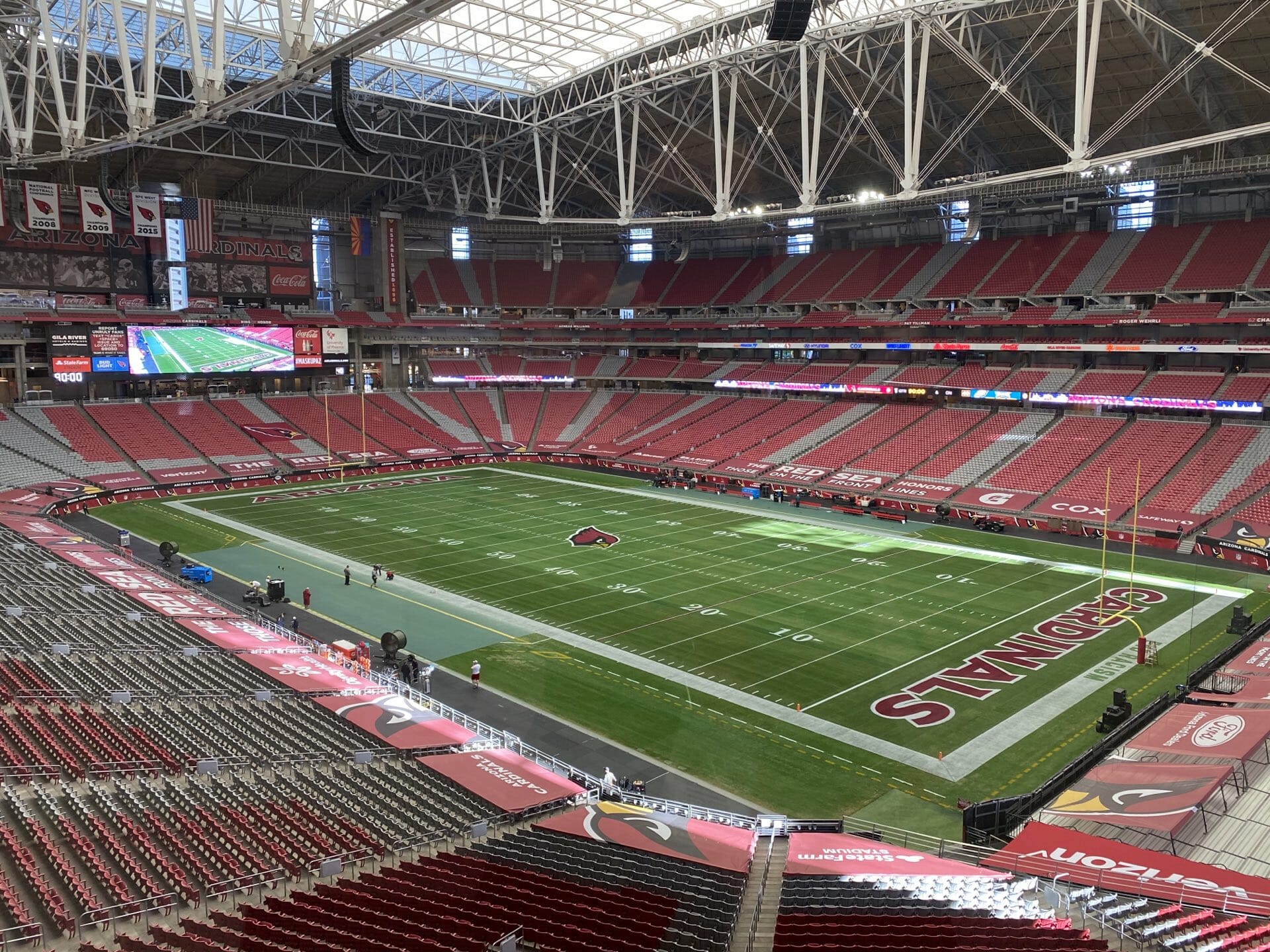 • Washington doesn't usually have their quarterbacks use a play-calling wristband, but they provided one yesterday for Dwayne Haskins, who made the start in place of the injured Alex Smith:
From @NFLGameDay: #WashingtonFootball Team OC Scott Turner and HC Ron Rivera want QB Dwayne Haskins as comfortable as possible today against the #Seahawks, so they're giving him a wristband with plays on it to help him with the verbiage in the huddle. pic.twitter.com/RZYjqpoHDq

— Mike Garafolo (@MikeGarafolo) December 20, 2020
• I realize Kansas City quarterback Patrick Mahomes is unconventional in all sorts of ways (and I also realize that today's quarterbacks don't always feel the need to grip the ball along the laces), but man, this is one very odd-looking way to grip a football:

• Bears wide receiver Cordarrelle Patterson wore a Minnesota Twins Kirby Puckett jersey during pregame activities:
Game recognizes game.#CHIvsMIN | #DaBears pic.twitter.com/VQjcz0ojyh

— Chicago Bears (@ChicagoBears) December 20, 2020
• Two teams wore white at home: the aforementioned Rams (if dishwater counts as white) and, of course, the Cowboys.
(My thanks to Mike Chamernik, Josh Pearlman, and Griffin Smith for their contributions.)
• • • • •
• • • • •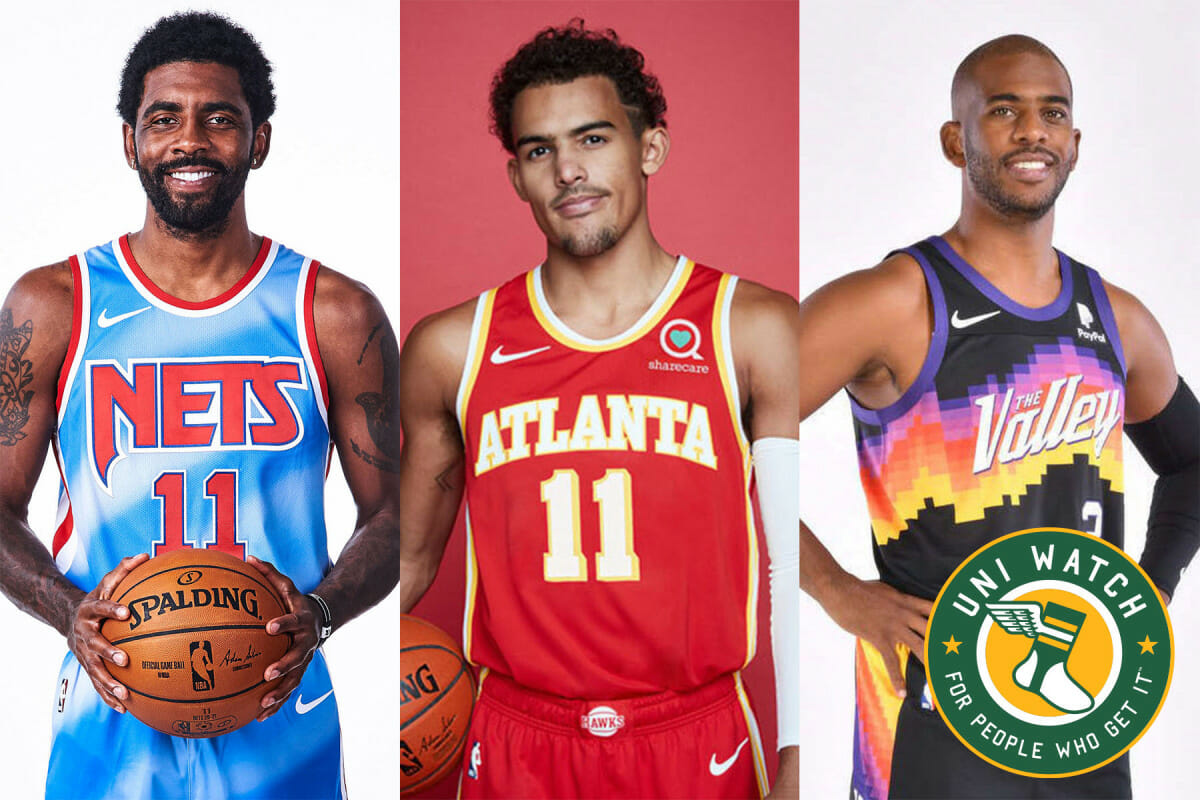 Click to enlarge
Time for the NBA Season Preview: The 2020-21 NBA season begins tomorrow, which means it's time for the annual Uni Watch NBA Season Preview, with everything you need to know about this season's new uniforms, logos, courts, and more (including the Nets' new tie-dye throwback, the Hawks' new uni set, and the Suns' new City alternate, all shown above). It's available now on InsideHook — enjoy.
• • • • •
• • • • •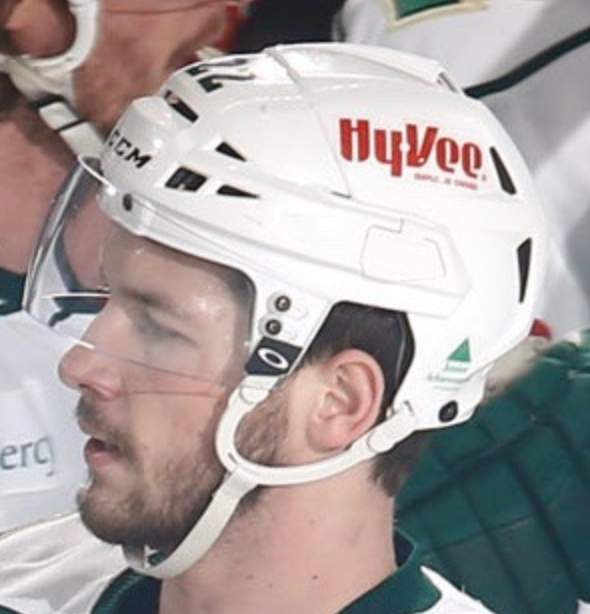 NHL helmet ad update: David Pagnotta, editor-in-chief of the hockey website The Fourth Period, reported yesterday afternoon that NHL helmet ads are now a done deal for the upcoming season. Sigh.
I know some of you are probably thinking, "Well, they need to do that because of all the revenue they lost due to the pandemic." But as I explained last Friday, lost revenue has nothing to do with this, because the helmet ads are actually make-goods. Moreover, the ads are likely to stick around after the pandemic is over. If you missed all of that on Friday, you can get caught up here.
• • • • •
• • • • •
I know I looked away from the needle

And yes, I know I need a tan

But I am so confident that the #Covid19 vaccine is safe & effective that I decided to take it myself pic.twitter.com/TQbog6fu7i

— Marco Rubio (@marcorubio) December 19, 2020
Florida man wears non-Florida shirt: Once and perhaps future presidential candidate Marco Rubio, one of the two U.S. Senators from Florida, tweeted this photo of himself receiving the coronavirus vaccine on Saturday. As many observers quickly noted, he was wearing a USF Cougars T-shirt — that's the University of Sioux Falls, a Division II school in South Dakota, which is approximately 1,219 miles from the western tip of the Florida panhandle. As far as Google and I can tell, Rubio has no known ties to that school.
Obviously, this was supposed be a shirt for that other USF — the University of South Florida, whose teams are called the Bulls and whose colors are green and gold (mmmmm). So how did this T-shirt mix-up happen? Here's one possible scenario:
Rubio [to staffer]: Get me a USF T-shirt for the vaccine photo-op.

Staffer [while googling "USF T-shirt"]: Got it, boss. It'll be here tomorrow.
Of course, that would require Rubio and the staffer who ordered the shirt and any other staffers who were involved all being unaware of the differences between the two USFs. I suppose that's possible, but is it plausible?
Another possibility: Rubio's staff intentionally pranked him. I'm not sure that's plausible either, but it's certainly fun to think about. Whatever the real situation is, it's clear that at least Rubio himself is completely clueless about a major educational institution in his state (and is also a poser trying to pass himself off as a big fan).
Since the vaccine involves two separate injections, Rubio will have another photo-op in a few weeks. Here's hoping he asks his staff for a Miami T-shirt, and that they respond by getting him one for Miami of Ohio.
• • • • •
• • • • •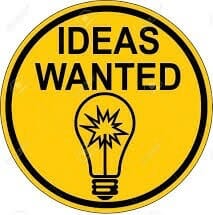 Input requested: I could use some ideas for an upcoming project, and some advice for another project. Here's the deal:
• My next piece for InsideHook will be a listing of uniforms that are "so bad, they're good." Obviously, we could all define that concept in different ways, so I'm interested in getting input from sensibilities other than my own. If you'd like to offer some suggestions (current and past uniforms are all eligible), feel free to post them in today's comments, or just email me.
• I have a podcast project in the works — it'll be somewhat uni-related but not entirely — and would like some advice on (a) a good microphone to buy (I'm willing to spend up to $100 but am happy to spend less if I can get good sound at a lower price point) and (b) which platform I should use for uploading the sound files so people can listen to them. For these podcast questions, please don't post in the comments section — just email me.
Big thanks in advance for your feedback and assistance!
• • • • •
• • • • •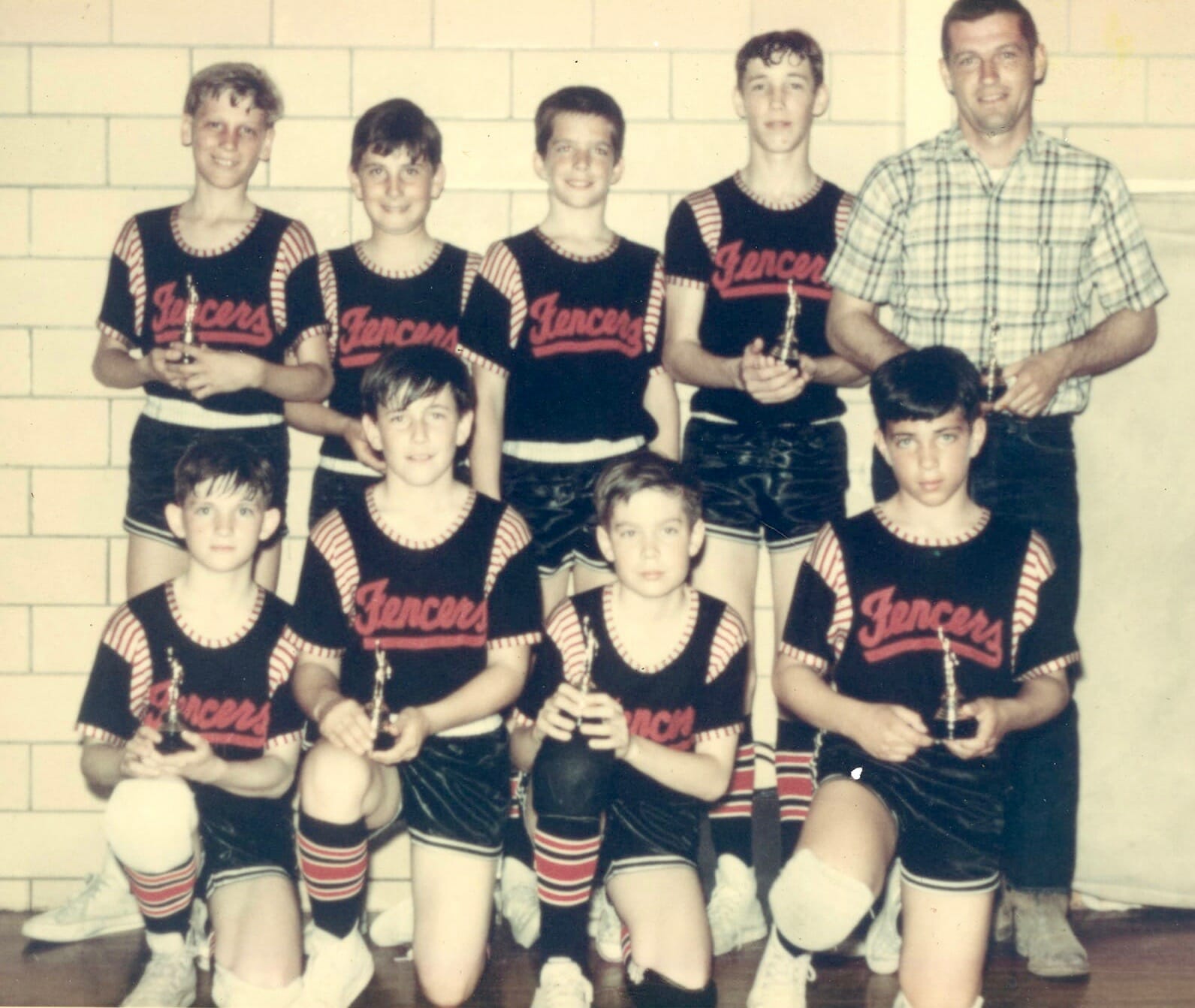 Click to enlarge
Too good for the Ticker: Oh man, so much uni-driven goodness in this 1967 photo. I'm assuming this was a basketball team, even though the team was called the Fencers. Great uniforms, plus the coach's green plaid shirt would be a perfect fit for me!
(Big thanks to Kate Sutter for this one.)
• • • • •
• • • • •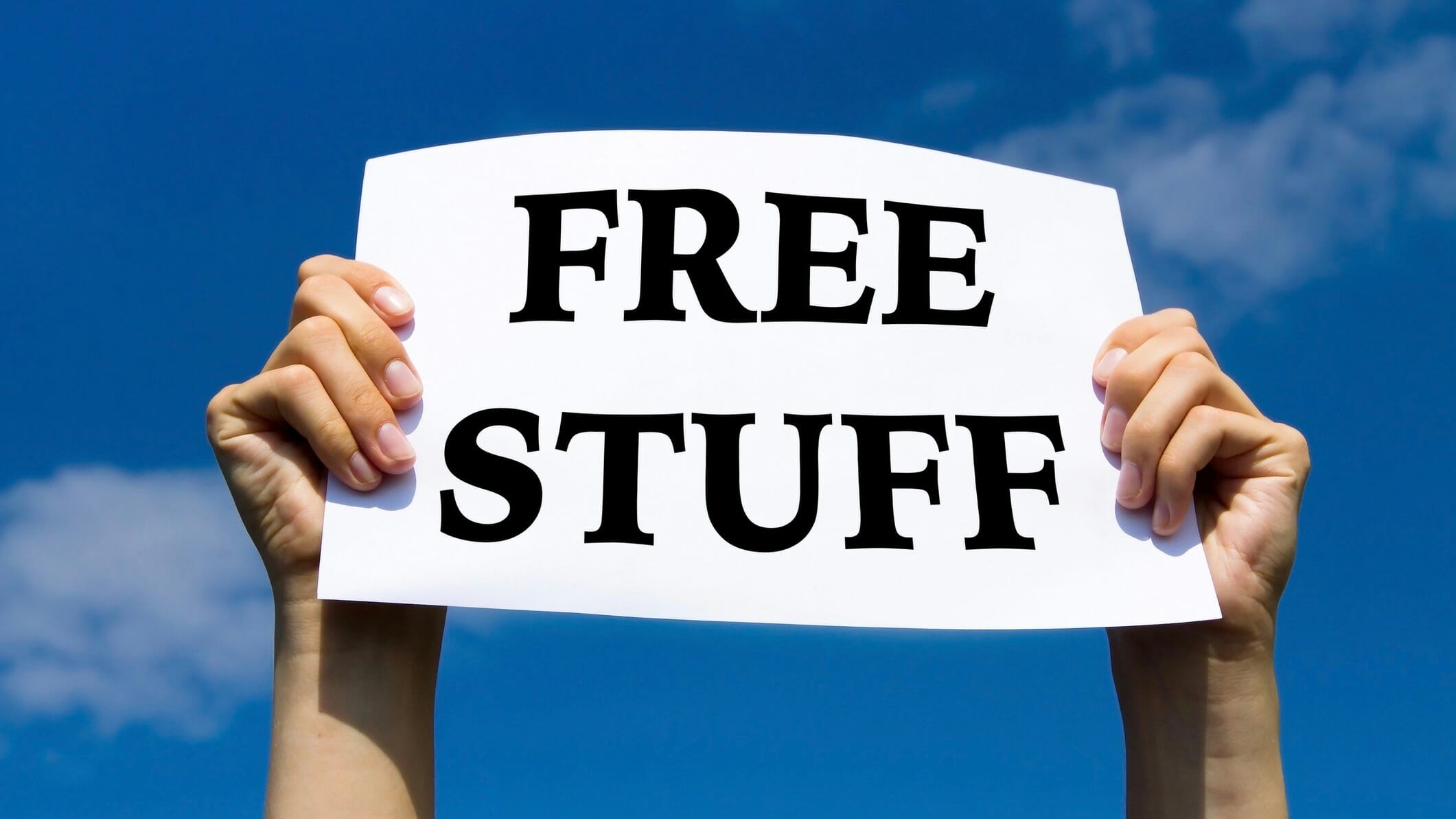 Raffle reminder: In case you missed it on Friday, our annual Uni Watch Year-End Raffle, in which I give away all the freebies I've received over the course of the year, is now under way. Full details here.
• • • • •
• • • • •
Quite a yarn: This has nothing to do with uniforms or sports, but it's too good not to share. Everyone loves pizza, right? So check out the video embedded above — it'll be the best 58 seconds you spend today, trust me.
Obviously, the yarn/wool/etc. work is amazing. But don't overlook the excellent sound design — so good! Enjoy.
(Big thanks to the Tugboat Captain for this one.)
• • • • •
• • • • •
The Ticker
By Jamie Rathjen

Baseball News: Canada Post has a postmark that refers to one of the earliest recorded baseball games, which was played in Beachville, Ont., in 1838 (from Cino Commisso). … A Redditor is starting a vintage base ball team and got his old-timey uniform (from Jacob Hicks). … Here is how the Yankees' team name changed from Highlanders to Yankees (from Trevor Williams).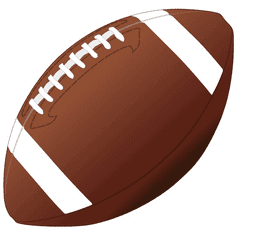 Football News: Left over from Saturday: At least one Utah player had a giant Schutt maker's mark on the back of his helmet (from Jeffrey Moulden). … One of CFL.ca's writers is doing what is theoretically a uniform history of each team. Here is the BC Lions edition. You may not know, though it can be seen there, that they wore British Columbia's 1971 centennial logo as a helmet logo (from Wade Heidt and Dean McGee).

Hockey News: The Junior A British Columbia Hockey League's Chilliwack Chiefs have a new alternate (from Wade Heidt).



Basketball News: Florida State's men's team wore their turquoise N7 alternates on Saturday, which created a color-vs.-color game against UCF (from @VictoryCB). … N.C. State's women's team debuted apparent new black alternates at home yesterday, which created color-vs.-color with Miami (Fla.) (from Gabe Cornwall). … Michigan State's men's team also debuted black alternates yesterday (from multiple readers). … George Mason's men's team is debuting white alternates today. … Two teams got their championship rings from last season: the Canadian Elite Basketball League's Saskatchewan Rattlers (from Wade Heidt) and Oregon's women's team for the Pac-12 championship (from Kary Klismet).

Soccer News: New shirts for Japan's Gamba Osaka and Brazil's Bahia (both from Ed Żelaski). … Italian club Atalanta continued an annual tradition of wearing a fourth shirt in their last match before Christmas (also from Trevor Williams). … NWSL commissioner Lisa Baird said the league is planning on a new logo at the end of next year, as 2022 will be its 10th season.

Grab Bag: New jerseys for the cycling teams Bora-Hansgrohe and FDJ Nouvelle-Aquitaine Futuroscope. … England's netball team has a new kit. … Australian Twenty20 cricket's Sydney Sixers wear a "What's your Plan B?" sleeve patch, which is a reference to New South Wales's anti-drunken driving campaign. … AFL Women's has been doing something that I'm not aware of any other league doing on its own: keeping track of the player numbers for every team, including changes, for next season.
• • • • •
• • • • •
• • • • •
Today is the winter solstice, so the days will start getting longer again. One of many things to look forward to in the weeks and months ahead, as we put this terrible year behind us and hope for better times in 2021. — Paul