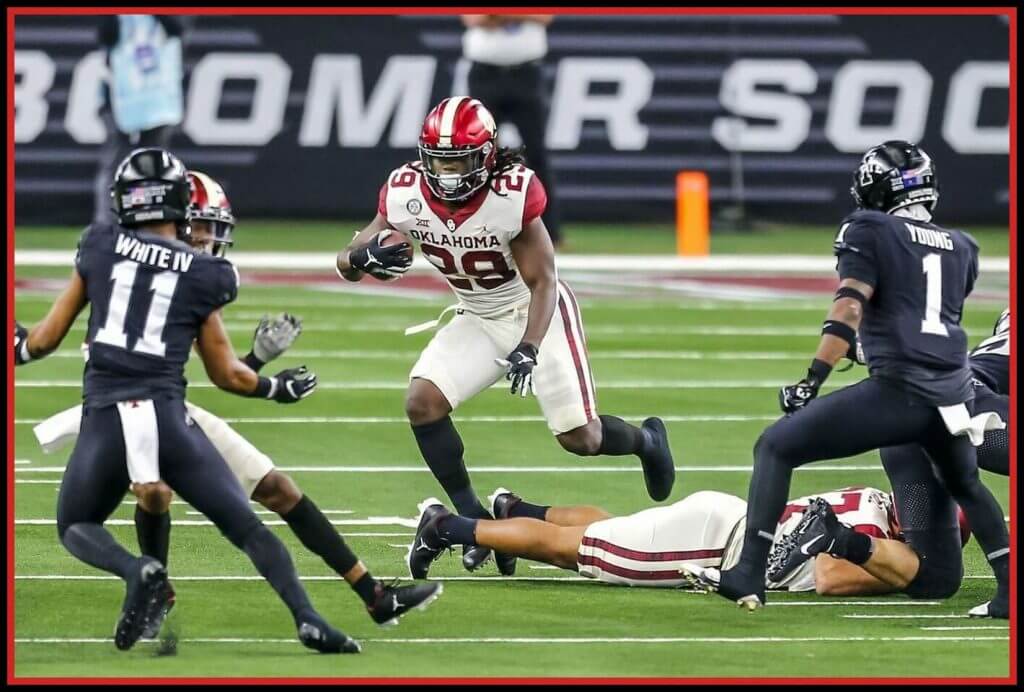 By Phil Hecken & the SMUW Crew
Follow @PhilHecken

Greetings all, hope everyone had a good Saturday. I'm coming down the homestretch with grad school, so I was pretty busy with final projects and papers yesterday. I did get to see a little bit of the games, but not nearly as much as I'd have liked. Sorry, but I just didn't have any extra time for a ticker.
Now then, in what would normally be a first weekend full of inconsequential (except for the teams in them) Bowl Games, we had not only Championship Weekend (with five Power 5 games played), we also got a few bonus games both for some of the Power 5 conferences as well as the non-P5. It's always nice when the Power 5 Championship games feature teams in their best school color unis. I mean, we had an absolutely spendid PAC-12 championship, a gorgeous ACC Championship (I wish Clemson would wear orange pants with their white jerseys always). There was a terrific looking B1G Championship, and an equally glorious SEC Championship. All teams in their Saturday best. All wearing what you'd expect them to. All in school colors. And then there was the BigXII Championship between Iowa State and Oklahoma.
Players and fans alike are a superstitious lot (or, in the words of Michael Scott, a little stitious), and (in the words of Crash Davis), you never fuck with a winning streak have to respect the streak. So, I'm disappointed, but not surprised, Iowa State came out sporting their…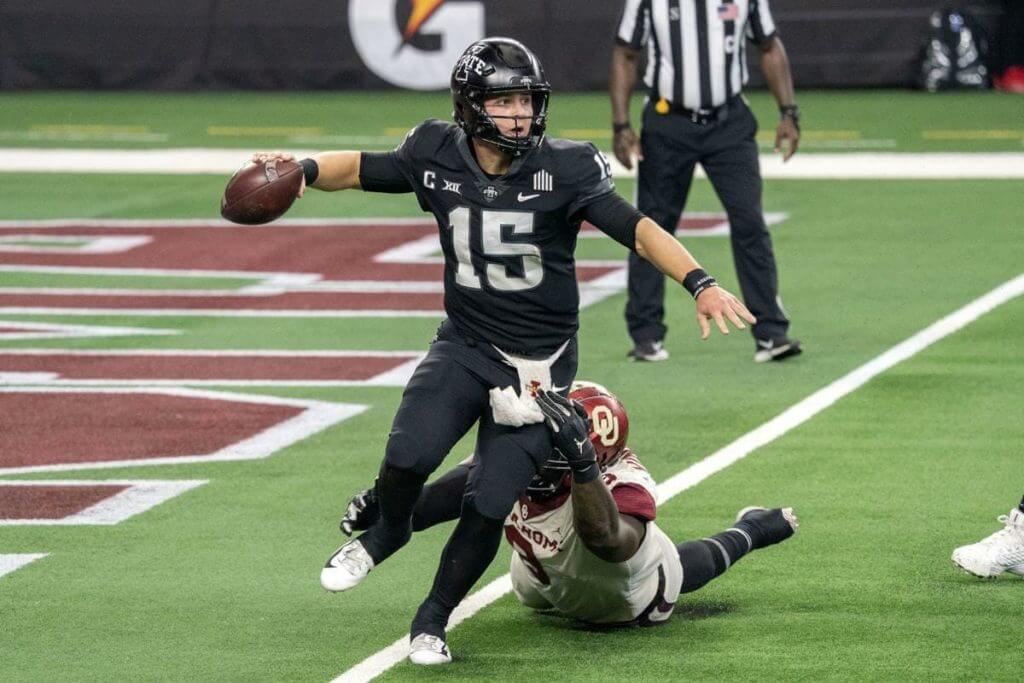 …BFBS unis. Sure, you've never won the BigXII, so why show up wearing school colors? When you're 5-0 all time in all black, including a win over Oklahoma earlier this year, well, you want to respect the streak. So you stick with what worked. Just one problem. This wasn't Oklahoma's first BigXII rodeo. And rather than wear their traditional road whites, they too decided to bust out the alternates.
The result?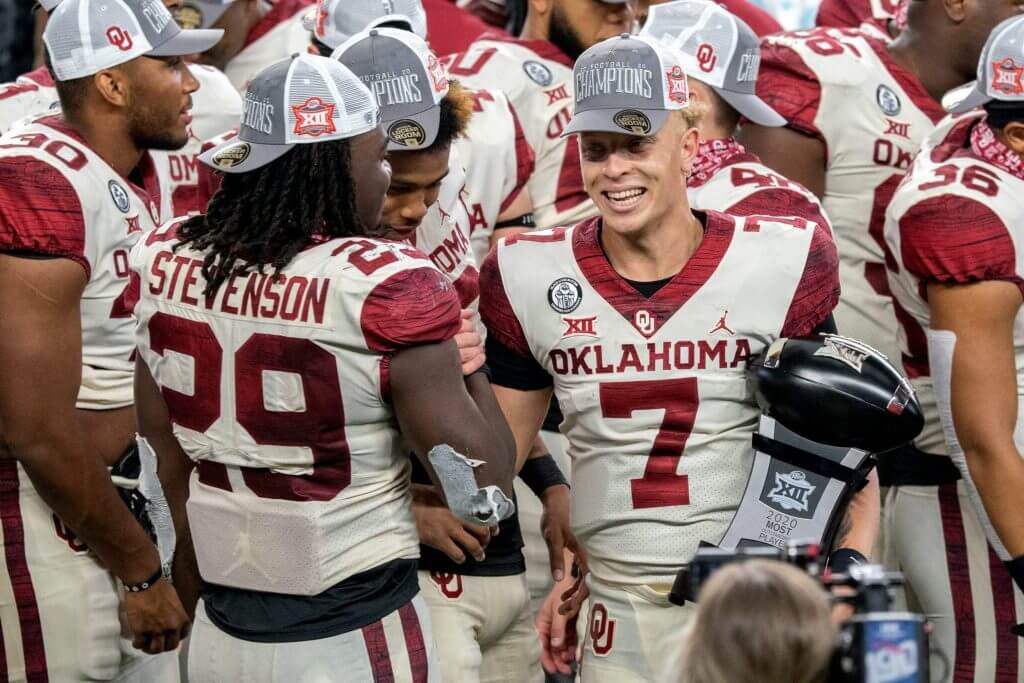 If you believe in luck and winning streaks and that you play better in a certain uni, then you do. Until you don't. And unfortunately for ISU, the undefeated BFBS unis now have one loss. A big one.
I'm certainly not saying the results would have been any different had ISU worn school colors, but it would have made for a better looking matchup than we got.
Congrats to Oklahoma, Oregon, Alabama, Clemson and Ohio State.
And now onto TJ with your…
• • •
Sunday Morning Uni Watch
By Terry Duroncelet, Jr.
The holidays are… K I L L I N G M E, but onwards and upwards, as they say.
From Friday:
• What's in a name? A lot of fabric apparently, because Timmy Donahue noted how several Ball State players' nameplates bled into the back of their shoulder stripes (click for the full thread).
• It's Real Scrimmage Hours with Rutgers in scarlet/scarlet/white vs. Nebraska's white/white/red.
• I spent five minutes trying to come up with the words to describe this game, but to no avail, so I'll keep it simple: it hits. It just hits.
From Saturday:
• Contrast Matters: California Love Edition.
• How can you make this game from early-November (if I'm not mistaken) better? You add some orange trou (from yesterday). Also from that same game: Timmy Donahue noted how Clemson's Derion Kendrick seemed to be… suspended in time. I know, I hate me for that line, too.
• Another looker. I can't chef's kiss any harder if I tried.
• Air Force wore their Red Tails unis against an Army Black Knights squad who lived up to their name.
• The 53-48 defeat at the hands of LSU isn't the only thing that's got Ole Miss feeling blue.
• All-black for Miss. State against Mizzou.
• And of course, Blaise D'Sylva provides us with some new helmet variations for WASU, Arizona State, and Miss. State.
• • •
Thanks, TJ — now onto the 5 & 1.


Eric's 5 & 1
Hey guys — I brought back one of the four "Guest Pickers" who had all submitted 5 & 1's the past two weekends. I want to stress, as I did to Eric, that I thought all the guest pickers did a great job, and I haven't had a chance to even think about how the 5 & 1 will work for the 2021 season next fall. So while his being selected to do the 5 & 1 today was based on a great job last week, it's not an endorsement of his work over any of the other guest pickers. As we head into the Bowl games, I may pick one or more of the other three for their selections in the coming weeks. But for today, please enjoy Eric's Championship Weekend 5 & 1.
Here's Eric:
• • •
5 & 1
by Eric Bangeman
It's the Sunday immediately before Christmas, so we should be talking about the bowl games sponsored by companies you're vaguely aware of that were on in the background while you did other stuff.
Should.
Instead, we just wrapped week 16 of the Division I-FBS football season, with 29, 28, 27… uh… looks like 19 games played. So 5&1 is here to serve up the authoritative take on who looked good and who didn't during the final weekend of the regular season. (And bowl season starts in two days!)
Honorable mention: With just 19 games, if you don't make the top five, you don't deserve to have your name spoken.
__________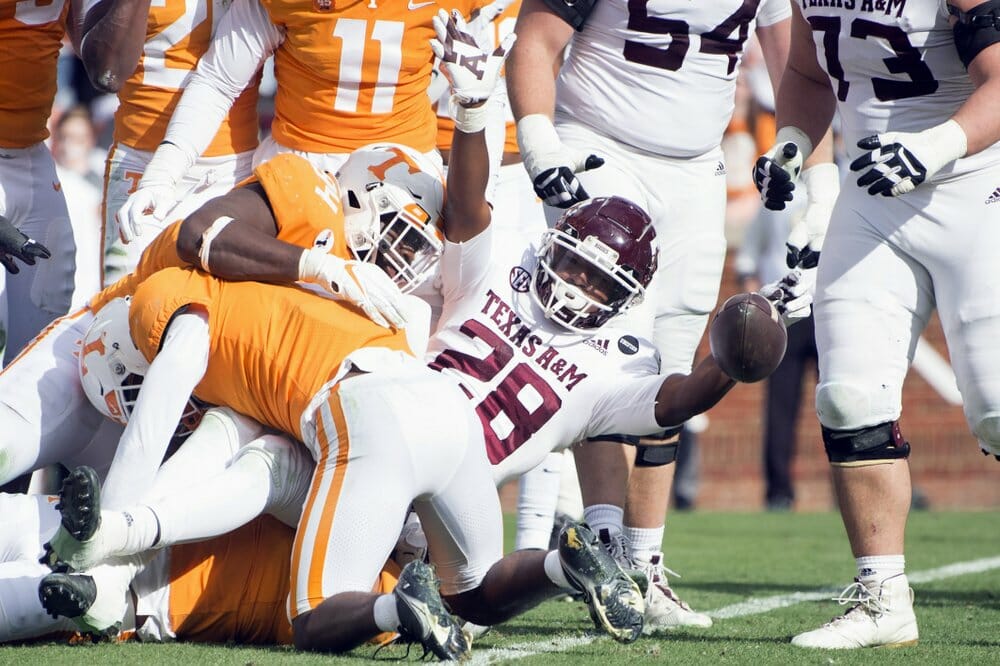 5. Texas A&M-Tennessee

We'll start out in the SEC, where the Aggies invaded Knoxville, making their final case for a playoff berth. The white clad A&M eleven shone bright in the December sunlight with their ever-present maroon helmets. Tennessee is another team that knows what it should look like, and comes dressed appropriately each and every Saturday. An understated but pleasing uni matchup.
__________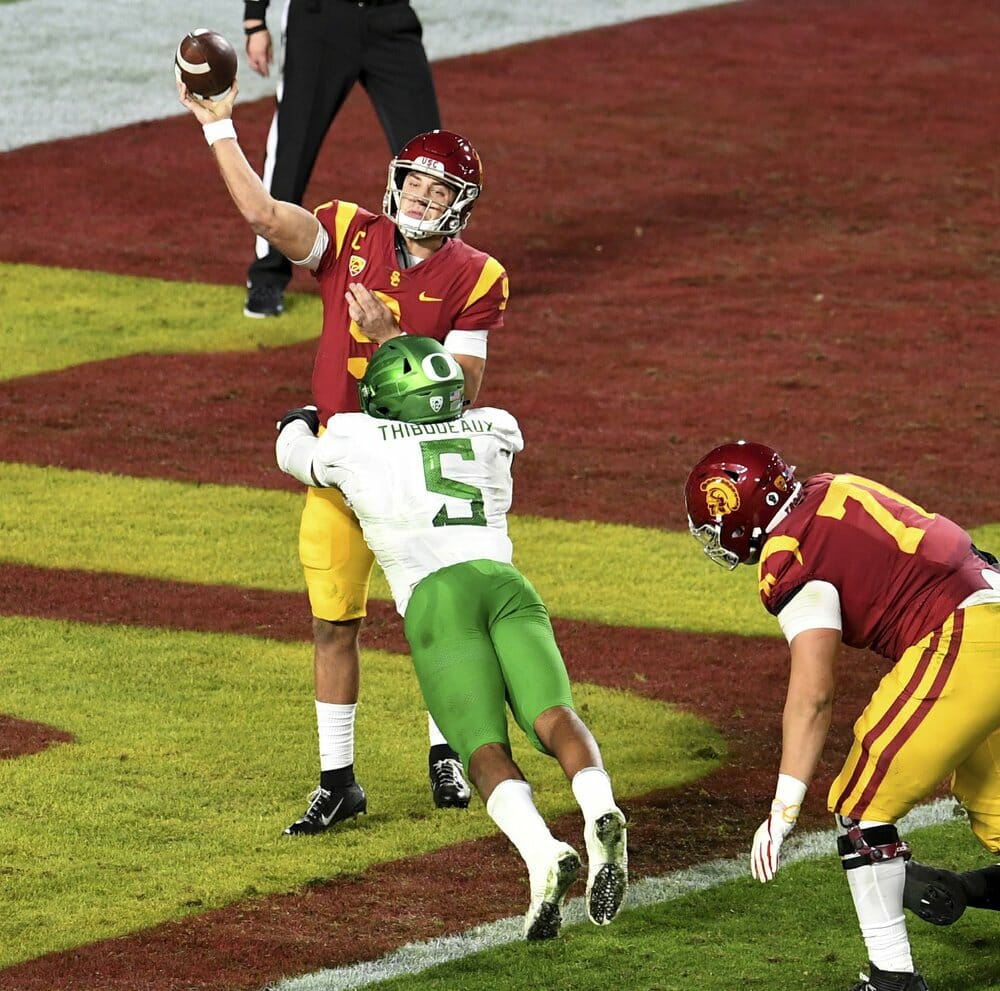 4. Oregon-USC

Wearing the same thing they wore last week, the Trojans make a second consecutive appearance in the top five. Surprise PAC-12 champions Oregon spun the Wheel-O-Unis up in Eugene and dialed up the perfect look for a USC foe: bright green helmets, white jerseys, and green pants. I would have liked a splash of yellow somewhere, but the two teams looked just dandy in the Los Angeles Coliseum.
__________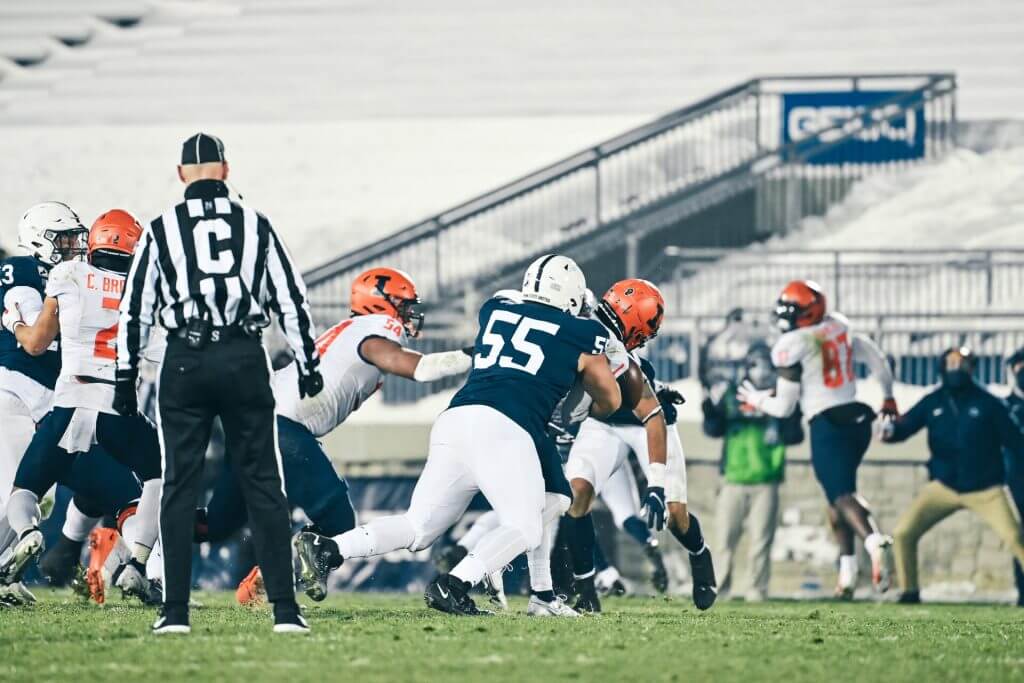 3. Illinois-Penn State

Penn State looked like Penn State always does. Depending on how they mix and match, Illinois' uniforms can be good, bad, or ugly. Saturday, the Fighting Illini suited up in what might be their best-looking set. With orange numbers and a blue collar, the jerseys tie the helmets and pants together very nicely. The game was a real looker.
__________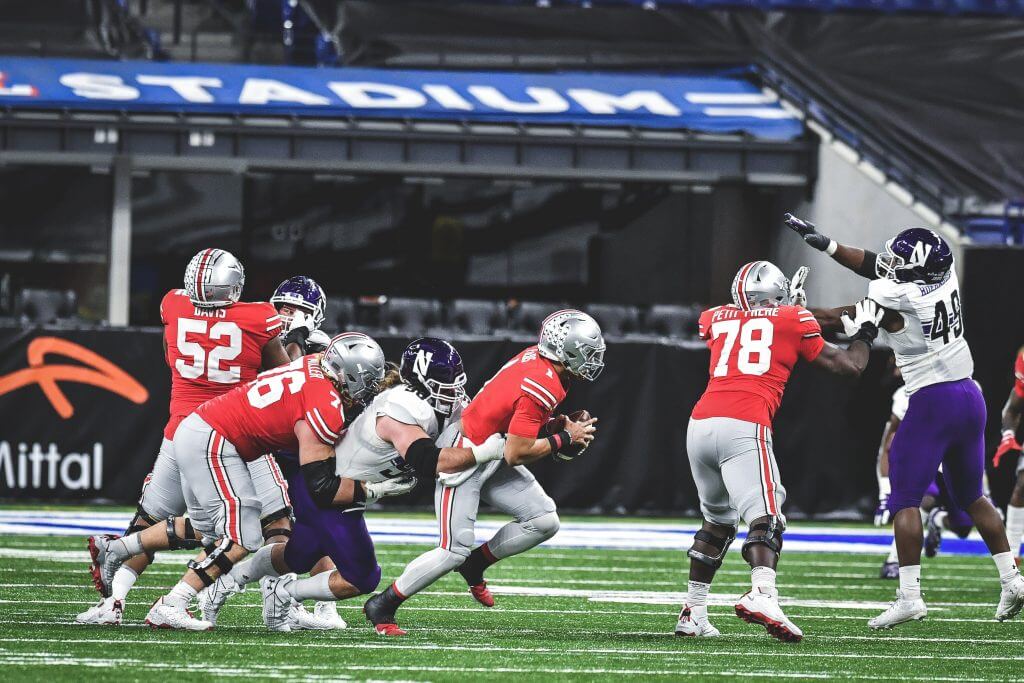 2. Northwestern-Ohio State

This one would make the list just about any Saturday of the season. 2020 B1G champions Ohio State has managed to tailor its classic look to modern jersey templates, so there are actual jersey stripes to enjoy. Northwestern turned up in one of their best looks: purple lids, white jerseys with the purple Northwestern stripe across the front, and purple pants. Indoors on the green carpet of Lucas Oil Stadium, the vivid contrast between the Buckeyes' scarlet-and-silver duds and the Wildcats' white and purple made this a no-brainer for this abbreviated Saturday.
__________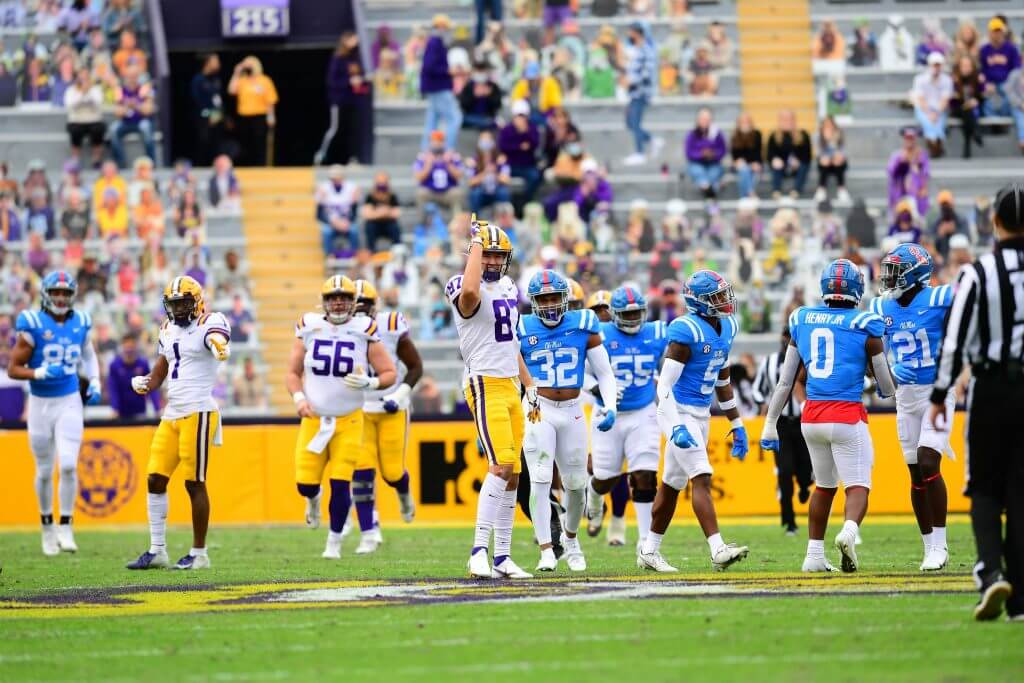 1. Ole Miss-LSU

Any game in Death Valley has a chance to show up on this corner of the Internet, as the Bayou Bengals always look fantastic. Saturday, they wore their home yellow-white-yellow combination. I'm not a fan of the Nike-fied font, but those purple numerals pop against the white jerseys, while the UCLA stripe adds another splash of color. And I'll take those Ole Miss baby blues any day of the week. The red stripe and red "Ole Miss" on the helmet are the bow on this sartorial package.
__________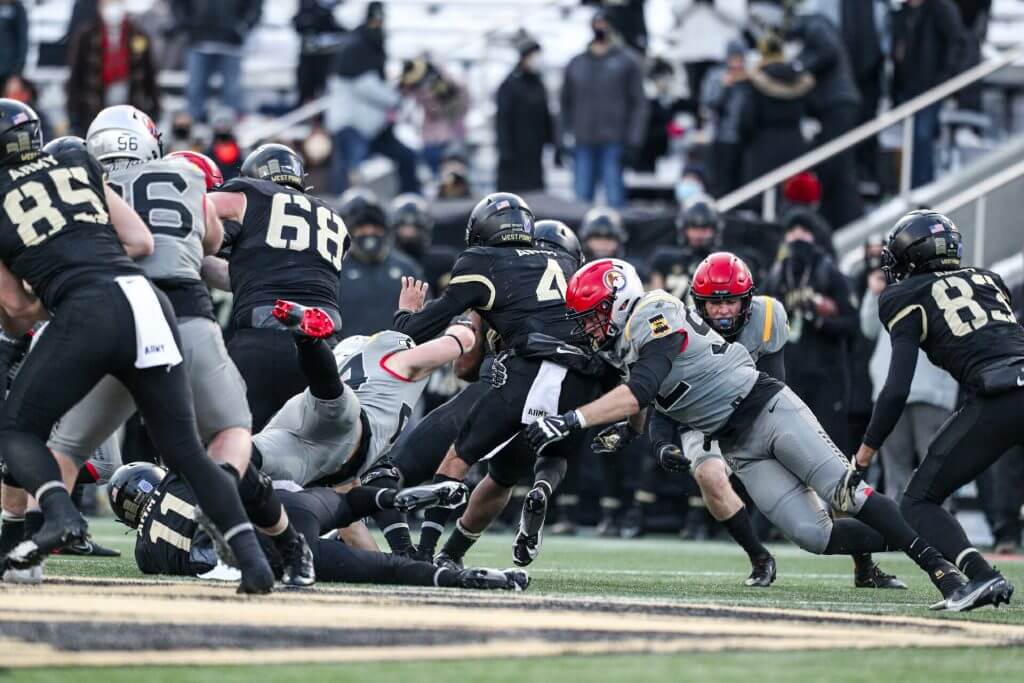 &1 Air Force-Army

Having the 2020 Commanders' Classic in this spot pains me. It's perfectly fine for a team nicknamed the Black Knights to wear all-black uniforms, so no complaints on that account. The Air Force Academy almost always looks gorgeous on the gridiron, and they broke out their special Red Tails unis to honor the Tuskegee Airmen. It's a really sharp uniform, and I dig the red-and-silver helmets. But this blah service academy melange of black and gray on an overcast day gets a dishonorable discharge from the 5&1.
• • •
Thanks, Eric! OK, what do you guys think of Eric's selections? What would your 5 & 1 have been?


NCAA Uni Tracking
Uni Watch will again track the uniform combinations worn by the "Power 5" conferences. All of the 2019 trackers are back!
We've got Rex Henry (tracking the ACC), Dennis Bolt (tracking the PAC-12), Kyle Acker (tracking the Big XII), and Ethan Dimitroff (tracking the B1G AND the SEC). Rex, Dennis, and Kyle and are all returning from 2015, and Ethan is back after joining the NCAA Uni Tracking a couple seasons ago. Ethan continues his dual role of tracking both the B1G and the SEC.
We started the year off with three conferences (SEC, B1G, PAC-12) not playing at all, but now all five of the Power 5 have returned to play.
Here are the Uni Trackers for the Power 5 Conferences (I've left all the previous tracker info in their usual slots, even if the conferences aren't playing. In case you want to click on any of the links):
+ + + + + + + + + +
Rex is up first today (ACC):
• • •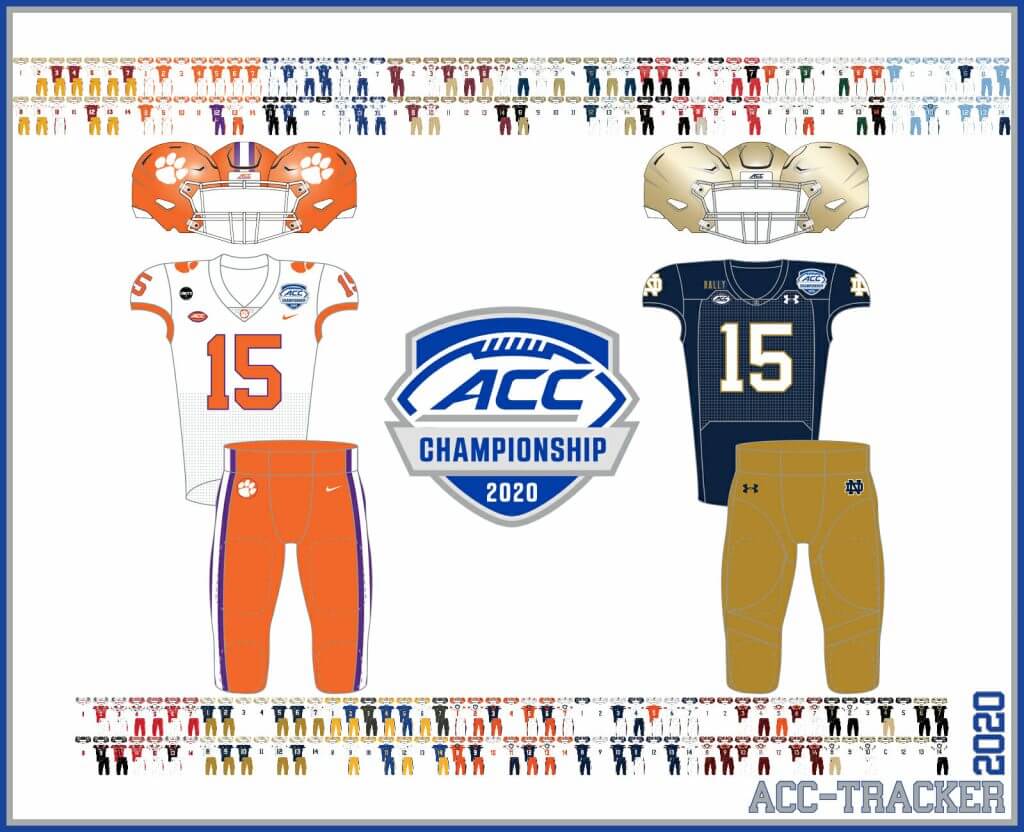 ACC

More Here.
Follow Rex on Twitter here.
• • •
And now, here's Dennis with the PAC-12: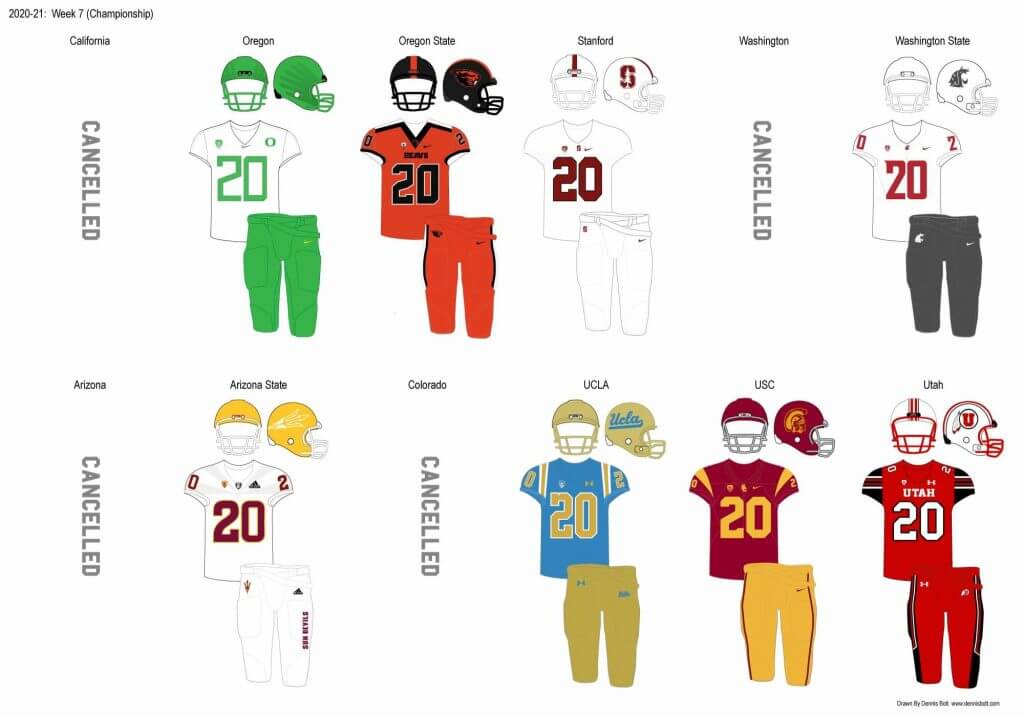 PAC-12

More here.
Follow Dennis on Twitter here.
• • •
And here is Ethan, with the SEC: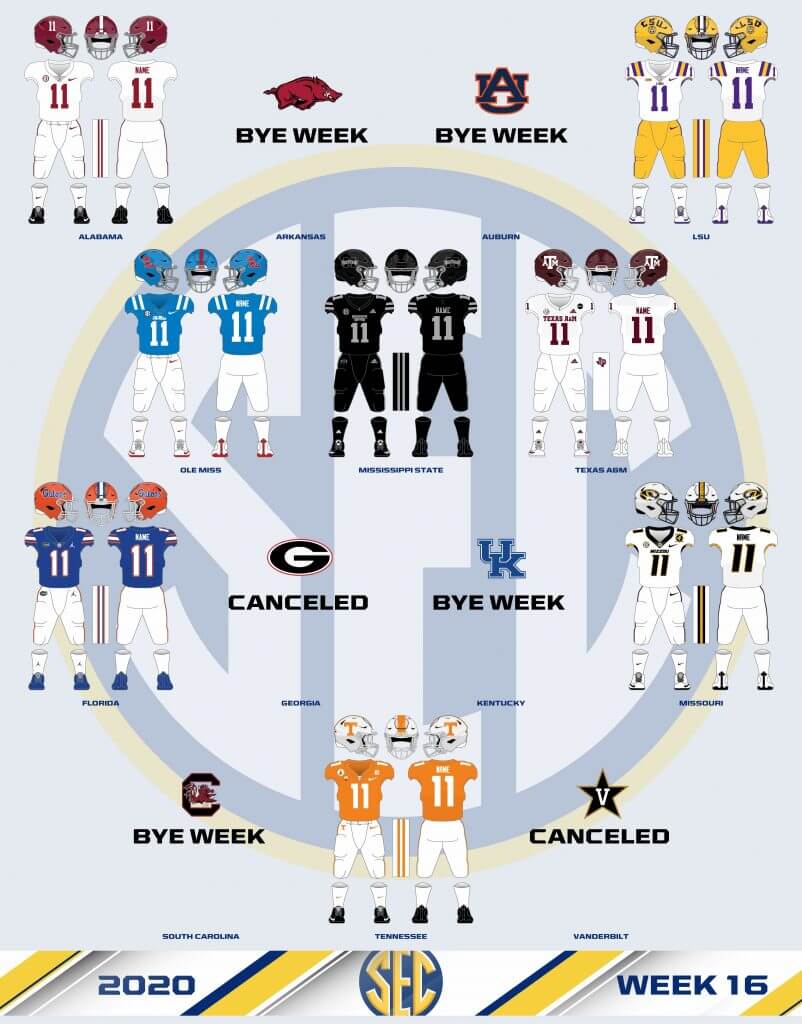 SEC

And be sure to check out Ethan's WVU Mountaineer Tracker.
Follow Ethan on Twitter here.
• • •
And here is Kyle with the Big XII: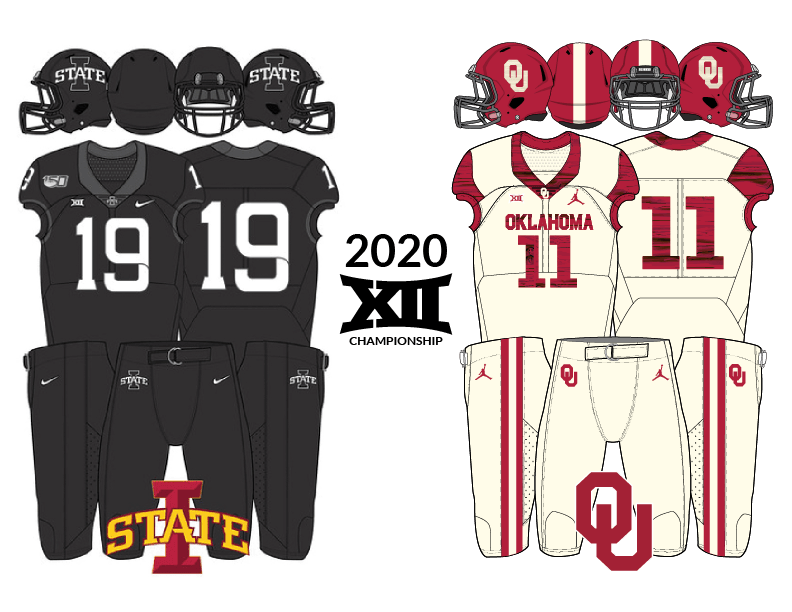 Big XII

Follow Kyle on Twitter here.
• • •
And here's Ethan with the B1G: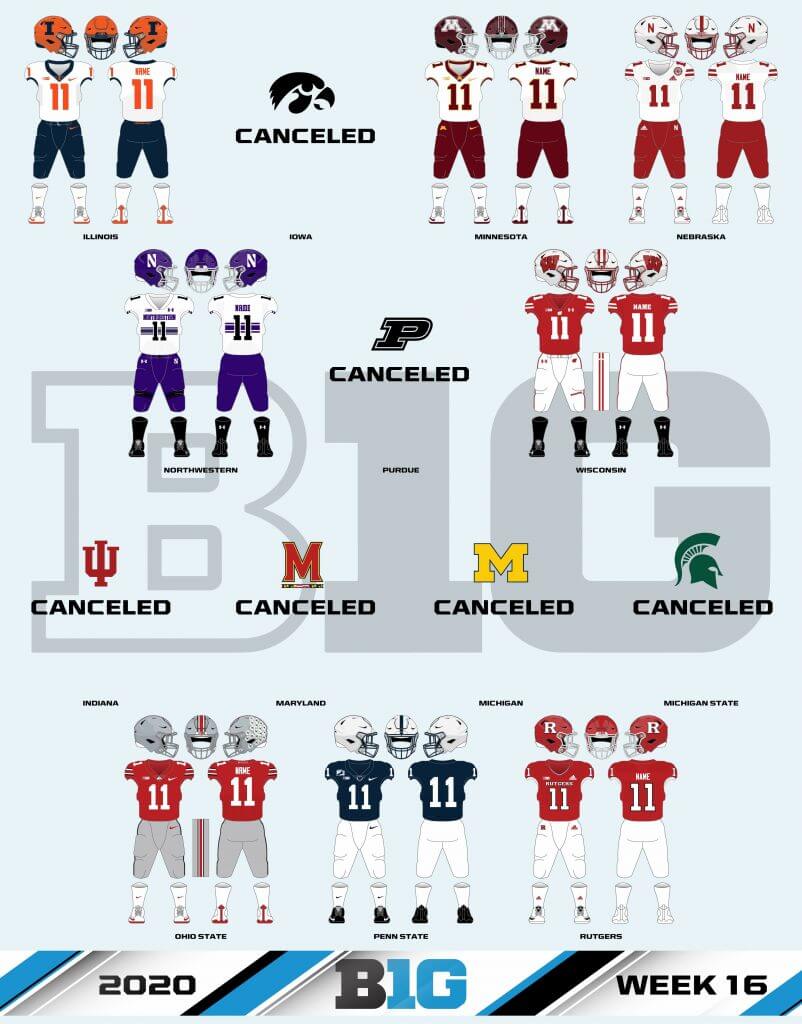 B1G




Welcome to the 2020 Oregon Ducks Uni Tracker. This little project was originally begun way back in 2008-09 by Michael Princip, who retired after several seasons, whereupon the project was continued by Tim E. O'Brien. He, too, retired from the tracking, but the project has been ably kept up by the man who also tracks the Pac12, Dennis Bolt.
Here's this week's Uniform Combo for the Ducks (you can click to enlarge):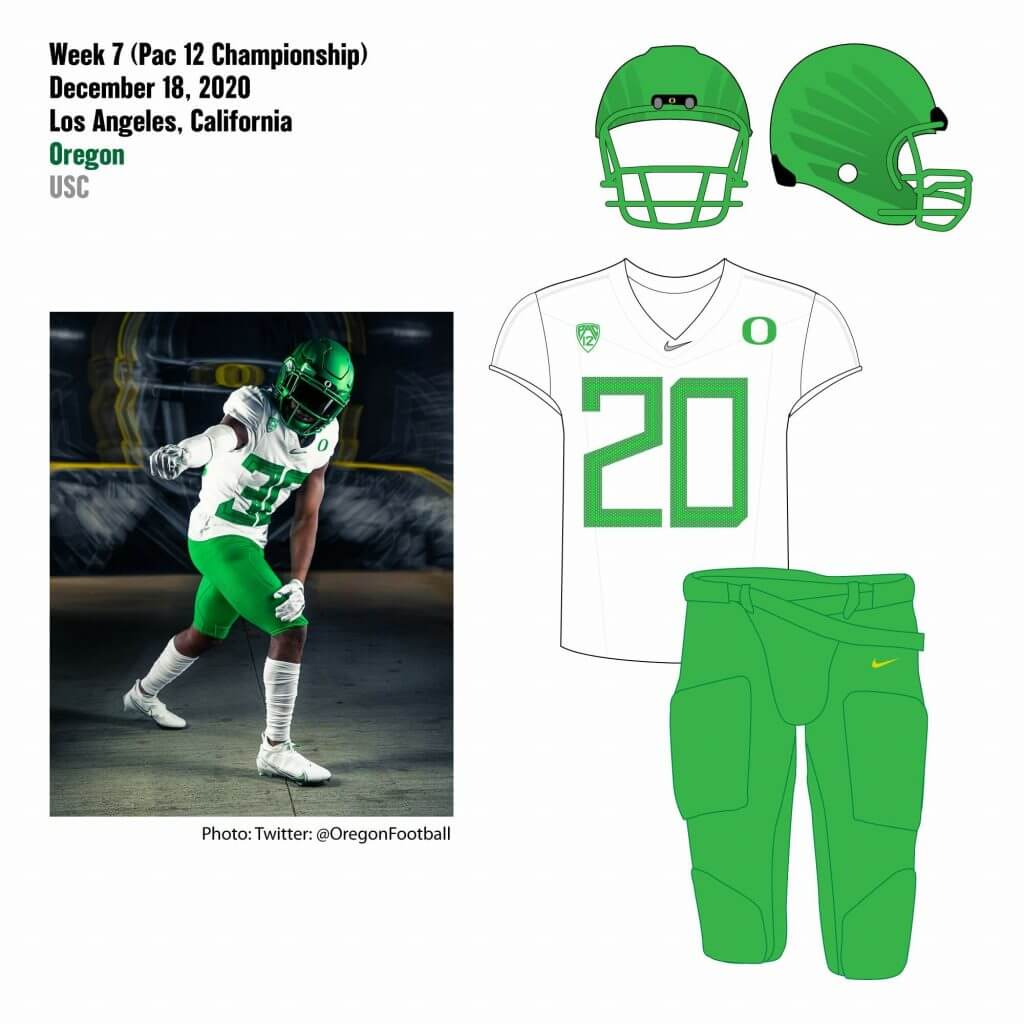 You can read about this uniform, and MUCH MORE, by checking out the Duck Tracker here!
Thanks Dennis!


Chris "Flip" Valenti, Decal Fixer
We don't normally have NFL games on Saturdays during the College Football "regular" season — of course, 2020 has been anything but regular. So yesterday, the Broncos took on the Bills on one of those COVID-induced schedulings (it should be noted that normally the NFL would be playing on Saturdays at this point in December, and the NCAA would be Bowling).
And as fate would have it, the Broncos wore their "Throwback"/Color Rash mono-orange uniforms yesterday in Denver. Normally this wouldn't be a big deal (and wouldn't even merit a ticker mention), save for this tweet earlier in the week, which led to all sorts of speculation that the Broncos were changing their logo, and maybe this was some sort of trial run for a uni-redo (which the team could sorely use).
Did the #Broncos tweak their Color Rush uniform? Top photos are the throwback logo from last season. Bottom photos are from a video team posted on Instagram.

There's a white background behind the bronco now instead of blue. pic.twitter.com/WB7LIVB5be

— Jon Heath (@ByJonHeath) December 16, 2020
Turns out, as one of the first media outlets to cover the "new" decal pointed out, "It was probably a mistake." Yep, it was a snafu wherein the bronco had a white background instead of the usual transparent background that revealed the blue helmet. This mistake was detected early — but not quite early enough — for the decals to corrected by the supplier in time for the game. Had the game been a "normal" Sunday game, that's what would have happened. But since the game was scheduled for yesterday, that left Chris "Flip" Valenti, the team's equipment manager, with the only logical option for someone obsessed with proper uni-protocol: fix the logos himself.
According to KCNC-TV's Ryan Greene, Valenti spent "most of the day" Thursday cutting out the white to reveal the blue, using an X-acto knife to perform the logo-surgery. How'd he do?
Chris "Flip" Valenti, the #Broncos' equipment manager, took on the tedious task of cutting out background in the Color Rush helmet. It's not perfect, but much better: https://t.co/SpjZWF8Nqp

(Photo courtesy of @joeabdellah / @Broncos official website: https://t.co/xjum20H3nt) pic.twitter.com/rm6GNSPtUO

— Jon Heath (@ByJonHeath) December 19, 2020
As the tweet says, and as you can see, it's "not perfect" (Valenti neglected to cut out the tiny portion of the white on the left side of the horse, next to the vertical slash of the "D"). He did get most of the white away from the right side of the horse, in the two sections where the most blue from the helmet shows through. What a fantastic job by Flip! Add his name to the UW Hall of Fame.
The "mistake" was barely visible on the close-up of the helmet. But how did the team's hats look on the field?
It's hardly noticeable: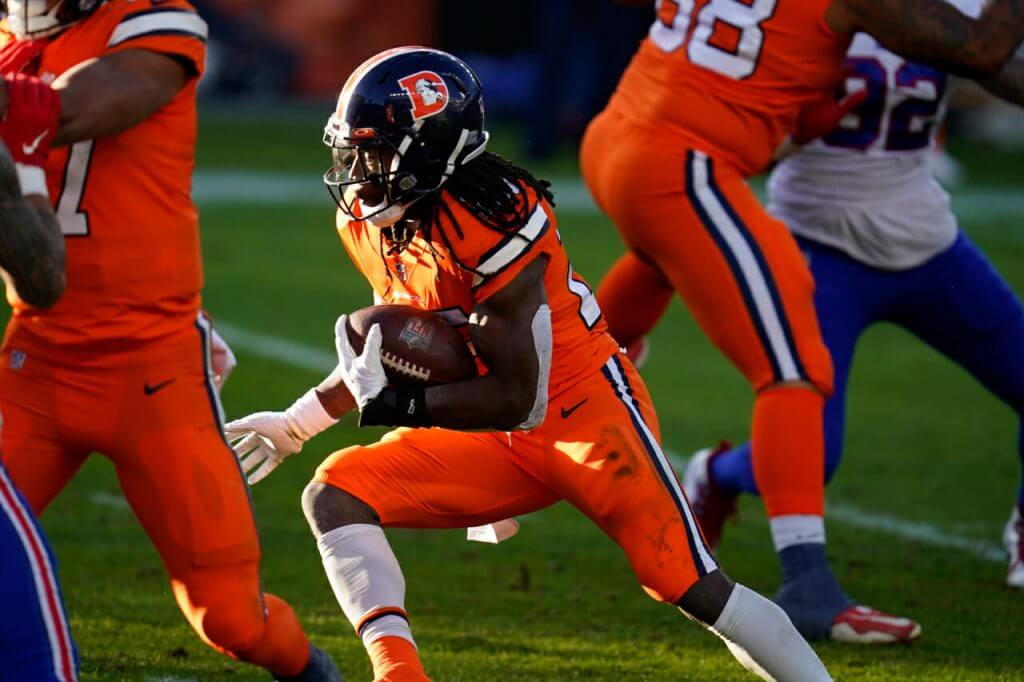 Here's a slightly enlarged look: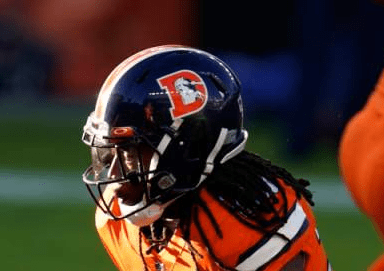 Sometimes, it's the little things!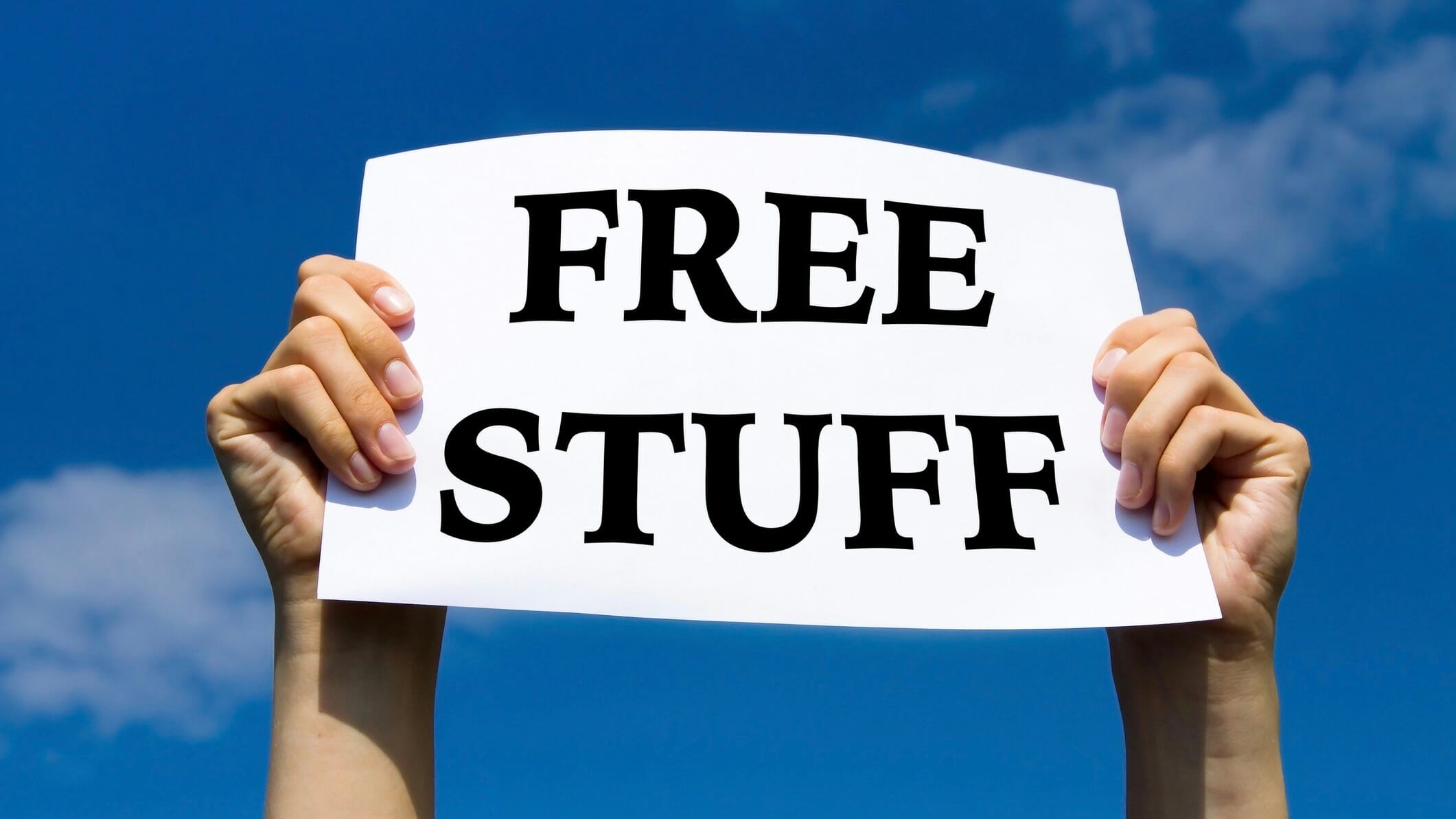 Raffle reminder: Paul here. In case you missed it on Friday, our annual Uni Watch Year-End Raffle, in which I give away all the freebies I've received over the course of the year, is now under way. Full details here.
Now back to Phil — over to you, buddy.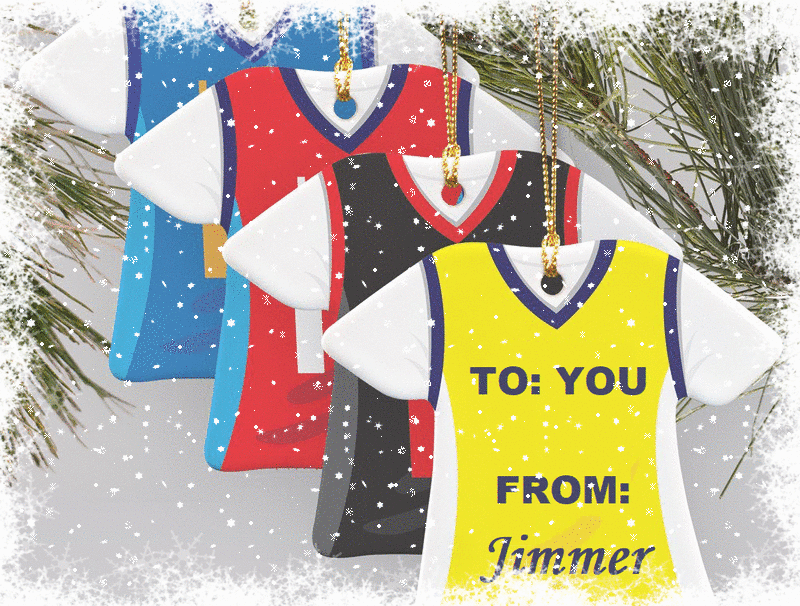 (Vilkmas) Raffle Reminder
Thanks, Paul.
In case you missed it yesterday, the annual Vilkmas Raffle, in which Jim Vilk gives away stuff he no longer wants some of his prized uni-related possessions, is now under way. Full details here.
Good luck to everyone who enters, and (once again) a YUGE thanks to Jim for doing this every year!


And finally… thanks, as always to the SMUW crew. Sorry about the lack of ticker today but the MMUW will have one and get you caught up on any uni news for the past couple days.
Everyone stay safe and well, and I'll wish an early Merry Christmas to all those out there in UW land! I'll catch you next Saturday.
Peace,
PH