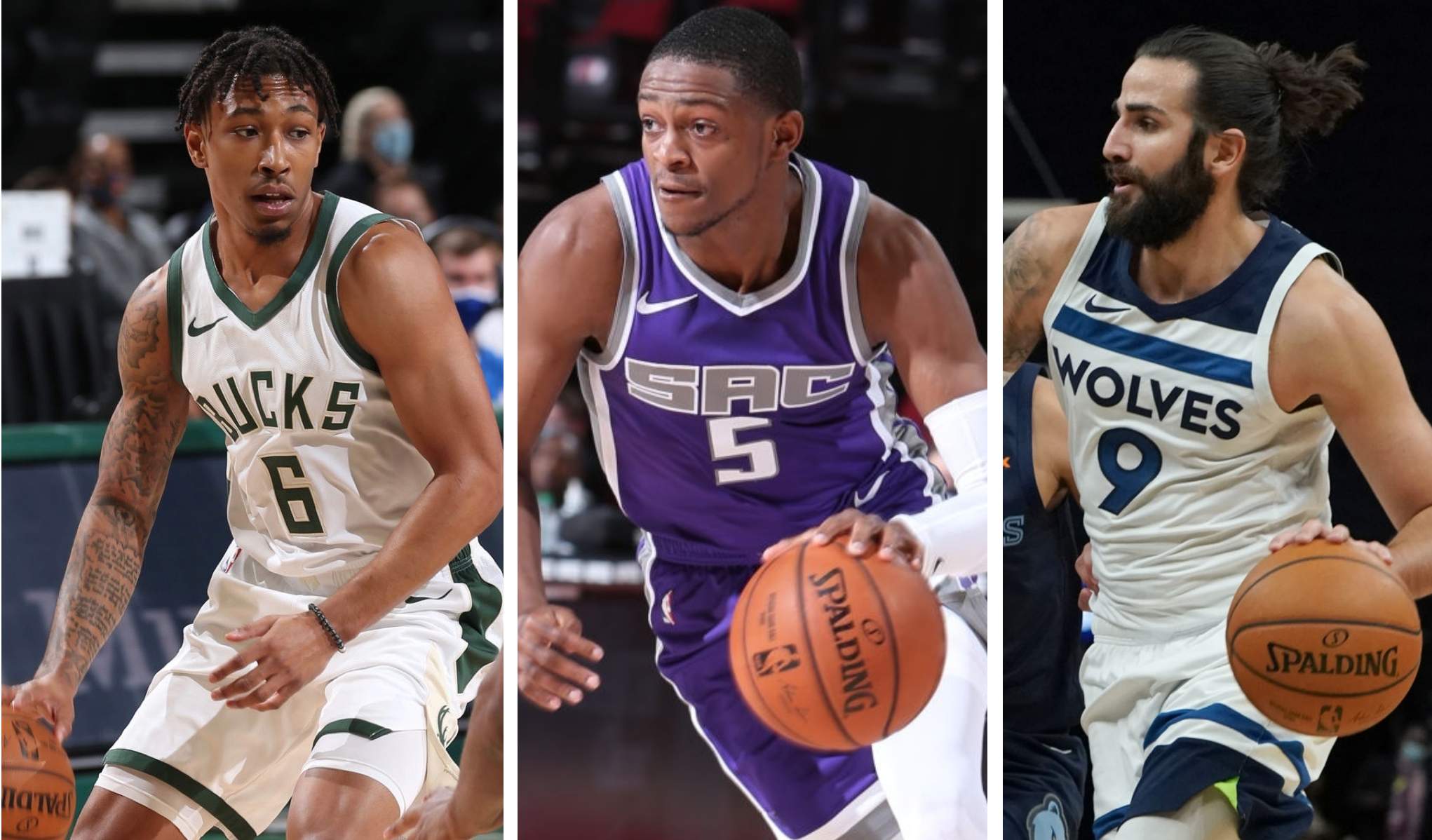 Click to enlarge
The 2020-21 NBA season tips off one week from today (I know, it's crazy — feels like we were just crowning the Lakers), and preseason games have now begun. And lo and behold, those preseason contests have revealed something magnificent: Three teams — the Bucks, Kings, and Timberwolves — do not have advertisements on their uniforms!
I'm not sure how long it's been since we last had three ad-free NBA teams. I do know the last time we had two such teams — that was almost exactly a year ago, on Dec. 17, 2019. The following day, the Pacers announced their ad deal with Motorola, which at the time left the Mavericks as the last ad-free team (a status they enjoyed for only one more month, as they struck their ad deal with Chime on Jan. 17).
These three teams — the Bucks, Kings, and Timberwolves — now have, by definition, the best uniforms in the NBA (yes, even though one of them wears purple). Let's look at how they arrived at this blissfully ad-free state:
Bucks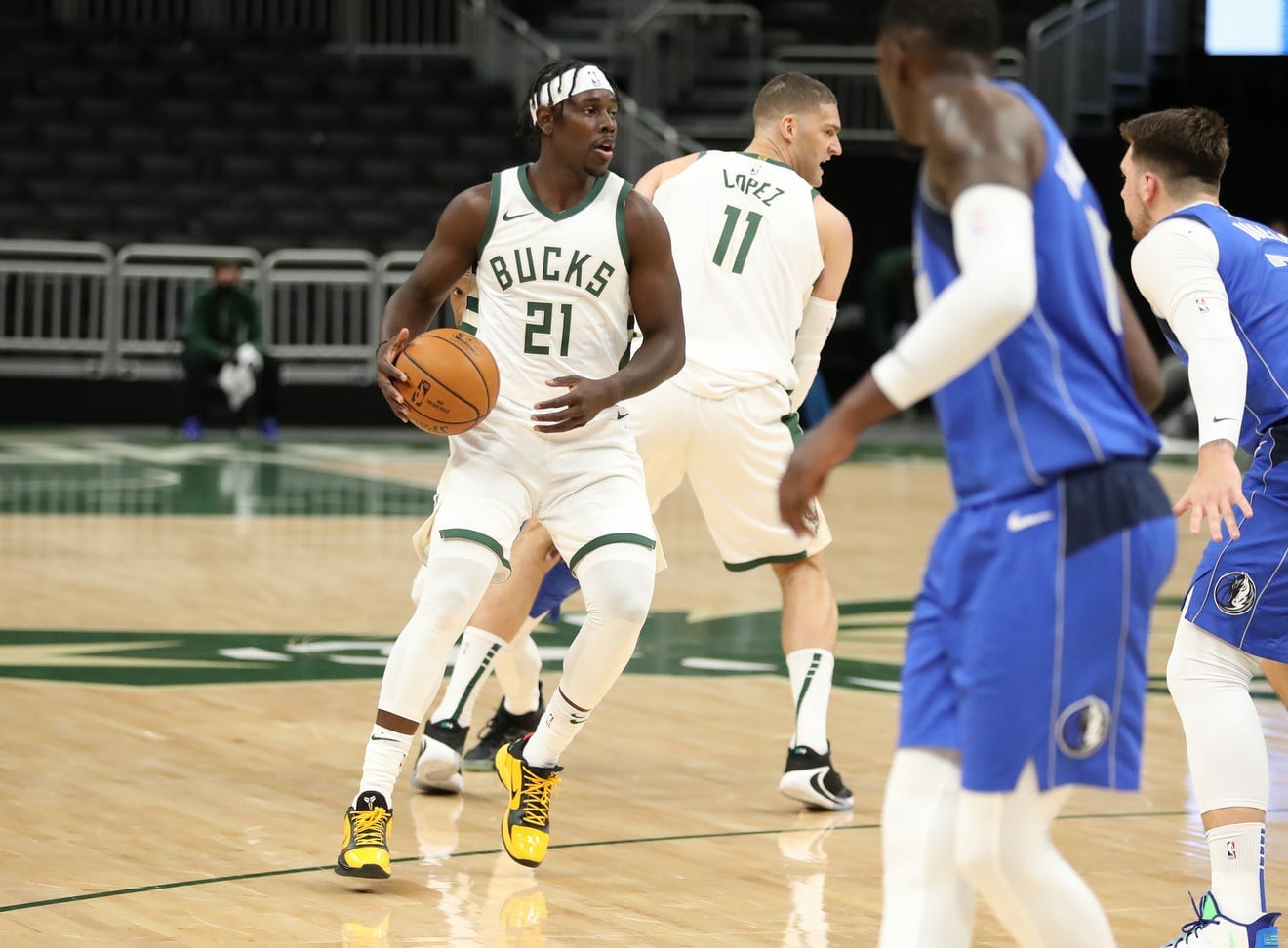 The Bucks agreed to sell space on their uniform to Harley-Davidson shortly before the start of the 2017-18 season (the first year ad patches were allowed) and have worn the motorcycle company's logo for three seasons. I've heard many fans say that the deal was a "good fit" because Harley is headquartered in Milwaukee, but apparently the fit wasn't good enough to maintain the ad deal.
Kings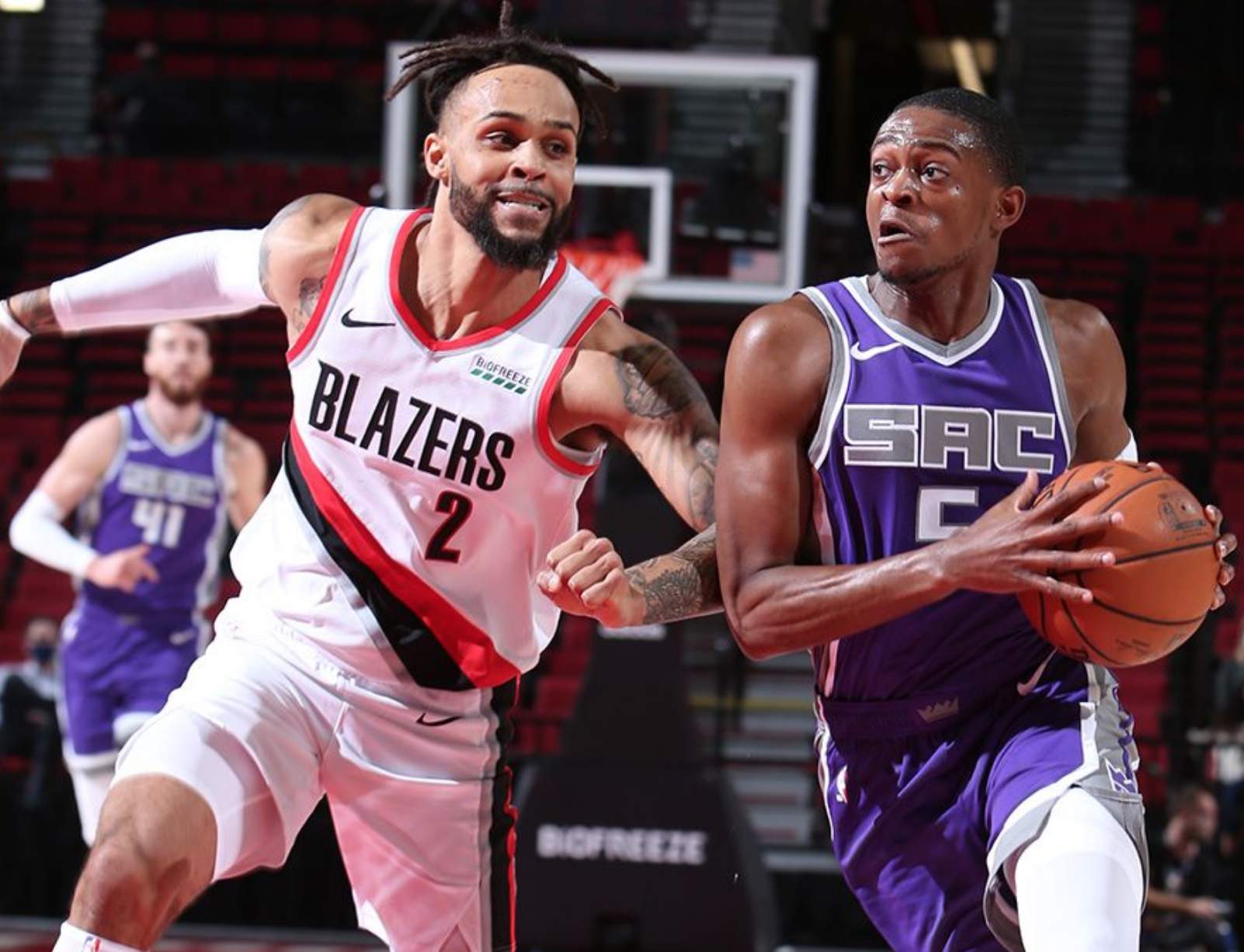 The Kings were the second NBA team to sell space on their uniform (following the 76ers). They were so eager to hop aboard the uni-advertising bandwagon that they announced their deal with Blue Diamond Almonds way back in October 2016 — a full year before they were permitted to wear the patch on the court! The patch deal, which ran for three seasons, has now expired and the team hasn't yet found a replacement.
Timberwolves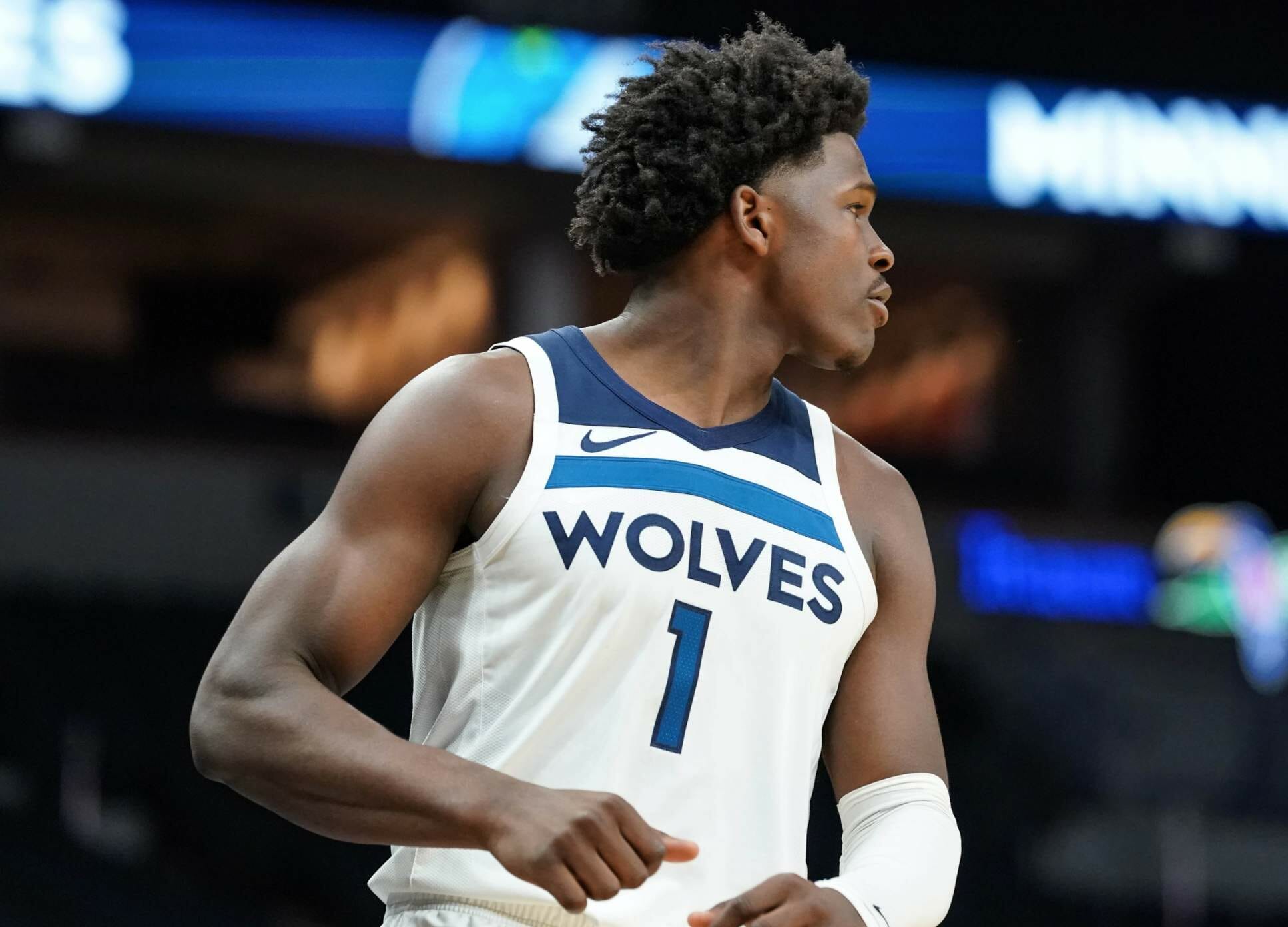 The T-Wolves have sold space on their uniform to Fitbit for three full seasons. Like all of the other NBA ad-patch deals, this one was touted as a natural partnership between two organizations that were perfectly suited for each other — so perfectly suited that the deal has now been allowed to expire three short years later. The team announced back in June that they're seeking a new uni advertiser that will "be a champion for social advancement," but apparently no such suitor has emerged.
The current Timberwolves uniform set was introduced at the same time the ad patch was added, so this is the first time these uniforms have been ad-free. It's also worth noting that the Fitbit ad (as well as the Nike maker's mark) fit rather neatly into Minnesota's jersey design. If the team finds a new advertiser, will they insist on a horizontal patch, or will they just let any old shape be a splotch on their uniform?
———
So there you have it: the Ad-Free Three. Let's enjoy them while we can, because they probably won't stay ad-free for long.
One additional thought: I'm wondering if any of you out there looked at the photos in this entry and thought something like this: "It's not that I like ad patches, exactly, but after seeing them on so many jerseys for a few years, I've gotten used to them, and now the ad-free jerseys look sort of empty, or even wrong, by comparison." Anyone feeling that way?
To me, that's part of why ad creep is so insidious. At first it seems like breach of boundaries, a violation of norms, but then you get inured to it, build up a resistance to it, until it seems like the new normal. That's usually when the advertisers decide to push the boundaries a bit more.
———
Important update!: Reader/commenter Brian Hoss has reminded me of something I'd forgotten about, namely that the Rockets' uni ad disappeared when last season transitioned to the Orlando bubble, and so far they haven't replaced it: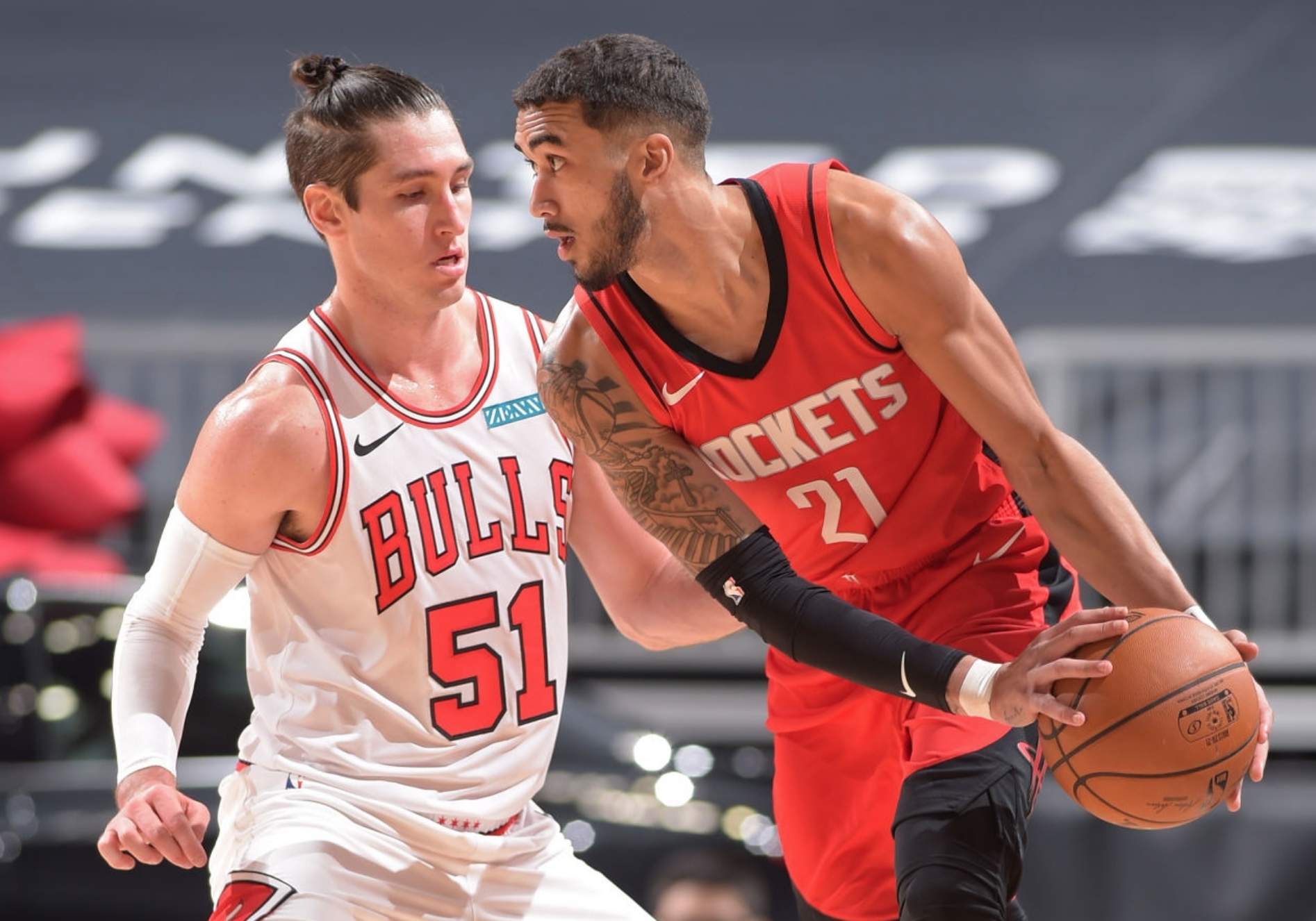 So the ad-free three are actually the ad-free four! Which doesn't rhyme but is still better than three.
• • • • •
• • • • •
Cleveland update: The Cleveland MLB team yesterday confirmed that it will soon be changing its name. Yesterday's announcement followed multiple reports on Sunday night that the decision to change the team's identity had been made.
In a letter to the team's fans, team president Paul Dolan said:
Our decision to change the current name is phase one of a multi-phased process. Future decisions, including the new name and brand development, are complex and will take time. … As we take the necessary time to determine a new name and brand, the team will continue using the Indians name and branding.
Although Dolan didn't spell out a specific time frame, that passage seems to indicate that the team will still use the "Indians" name and uniforms in 2021, with a new identity likely to come in 2022.
• • • • •
• • • • •
A seam ripper can fix that: Odd situation last night for Browns running back Kareem Hunt, as the Nike maker's mark on his pants was backwards (you can get a closer look here). I know we've occasionally seen this before on jersey sleeves, but I don't recall a previous instance of it on the pants. Anyone..?
In that same game, I heard from several people who noticed that the Browns did not have a midfield logo:
LET'S

FREAKING

GOOOOOOOOOOOOOOOOOOO

Tune in: https://t.co/duomvuhT6t pic.twitter.com/fnjDgSOSlk

— Baltimore Ravens (@Ravens) December 15, 2020
I know the Browns have done this before (I mentioned it in a MMUW post back in 2017), but it's not clear to me whether it's their current default look for every game. Anyone..?
(My thanks to Danny Pedroza and Danny Kroll for spotting the backwards pants logo.)
• • • • •
• • • • •
Click to enlarge
Collector's Corner
By Brinke Guthrie
Follow @brinkeguthrie 
Leading off this week with this Colts/49ers game program from Sept. 22, 1963. No Niners or Colts artwork on the cover, just generic players. The Colts won that one, 20-14, with the game played at Kezar Stadium. And something I didn't know — Kezar was the first home for the AFL Oakland Rayduhz. More on Kezar here. (And speaking of stadiums, check out this YouTube video showing paper versions of Kezar and Candlestick, along with the Niners' current stadium.)
Now for the rest of this week's picks:
 • Here's a 1970s Pittsburgh Penguins varsity jacket made by Holloway. The seller says there may be some glare on the photos, but if you look at the sleeves, I'm not sure if that's glare or just discoloration.
 • One more Pittsburgh item: This seller is selling three Pirates items — a comb, bike reflector, and pencil. The pencil package says "Root N Write."
 • Every tailgate party chef needs a chef's hat. This one from the 1960s says "Family Circle/NFL Tailgate Party." (Maybe next year we can finally have tailgate gatherings again.)
 • This 1970s MLB Standings Board comes with 21 team magnets! I never had the board but those magnets were all over our family fridge.
• So what do you do if you're putting a team helmet on a matchbook cover? You just leave off the facemask so it fits, as they did for this Miami Dolphins matchbook.
 • This pair of 1969 New York Mets mugs would look truly amazin' at Uni Watch HQ.
 • This 1970s Seattle Mariners vinyl jacket was a stadium giveaway sponsored by Godfather's Pizza.
 • The seller of this 1970s Philadelphia Eagles sideline jacket made by Champion says it's "game worn." They don't offer any proof of that, though.
• Here's a poster celebrating the NBAs 35th Anniversary. It includes team logos and players/coaches from the league's history up to that point.
Got an item to include on Collector's Corner? Tweet submissions to @brinkeguthrie.
• • • • •
• • • • •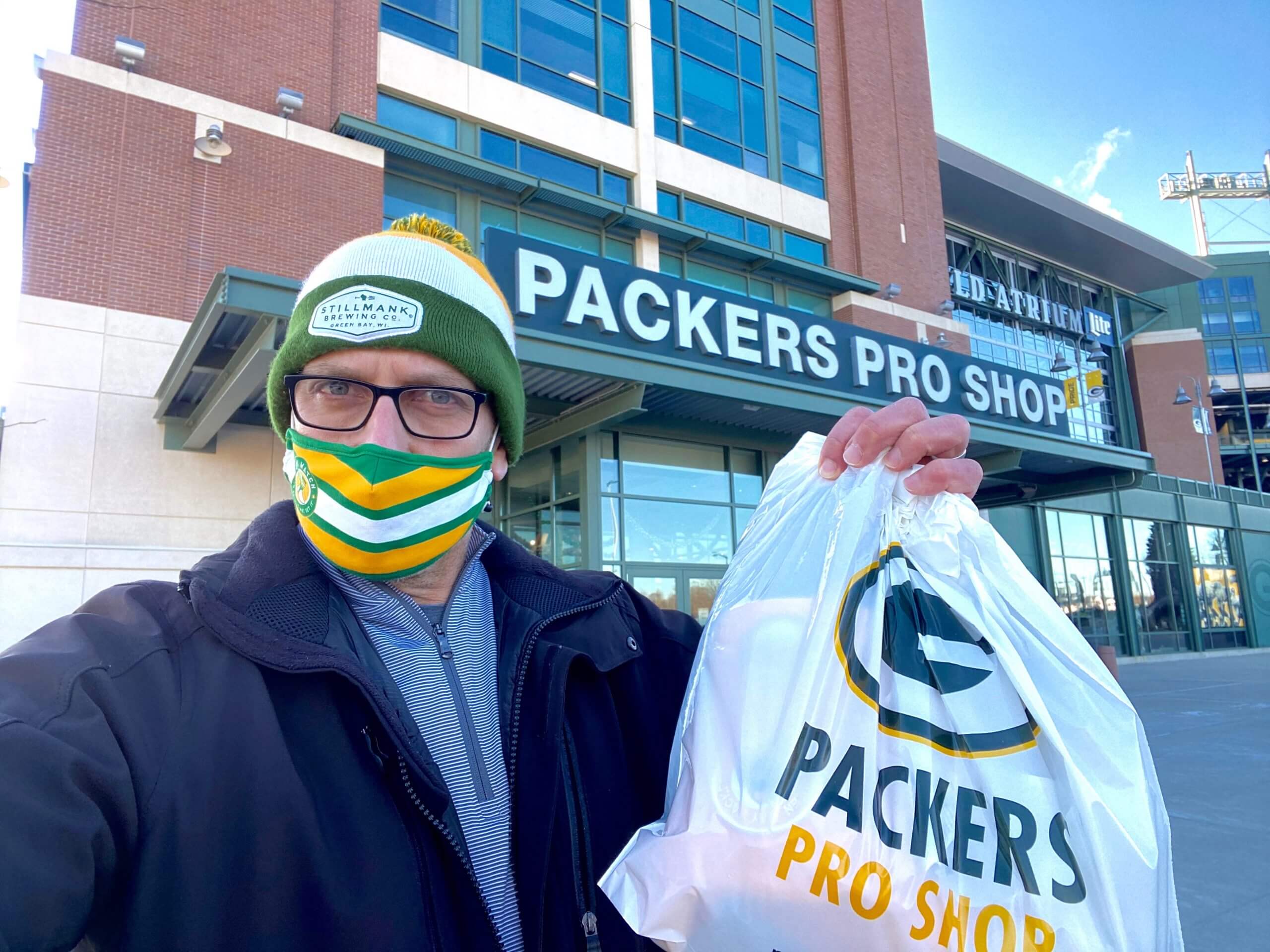 Click to enlarge
Matching colors: Who was that wearing a Uni Watch mask at the Packers Pro Shop at Lambeau Field yesterday? None other than longtime Uni Watch reader Kurt Rozek, who lives in Green Bay.
"I was in the shop for about 30 seconds before a woman asked me where I had purchased my mask," he says. "I had to explain to her that it wasn't a Packers mask."
• • • • •
• • • • •
Click to enlarge
Collect 'em all: Over the past 10 days or so, I've been reminding everyone that if you collected all 12 of this year's Uni Watch Pin Club releases, you're eligible for a free Pin Club All-Star bonus pin. A whopping 110 of you sent documentation that you collected 'em all, so those people will be getting the bonus pin, which should mail out toward the end of January.
It was interesting to see all the photos of people's pin collections. Some people just gathered their pins in a random pile and took a photo; others still kept the pins in their little zip-lock plastic baggies; and others had more elaborate displays (including Bill Hetrick, whose collection is shown above — perhaps he should change his surname from Hetrick to Hat Trick!).
Anyway: I thought it would be fun to share the photos of the more display-y presentations, so I gathered those photos into a Flickr set. You can see them here. (In some cases, there are only 11 pins in the photo because the person had ordered but not yet received the December pin.)
Big thanks to everyone who helped make the Pin Club such a success. Designer/collaborator Todd Radom and I are looking forward to continuing the project in 2021, and I think you'll like the designs we have in store — stay tuned.
• • • • •
• • • • •

Too good for the Ticker: I do love me some vertically striped socks — and if they're accompanied by contrasting jersey/shorts combo, even better! That's Monona Grove High School in Wisconsin, from a game that took place exactly 50 years ago today — Dec. 15, 1970.
"Monona Grove's colors were royal blue, grey, and white, so I'm guessing the socks were white and royal blue," says Jeff Ash, who sent the photo. Now we just need to find some color pics from that era.
• • • • •
• • • • •
The Ticker
By Alex Hider

Baseball News: This baseball print, made by North Carolina artist William Meade Prince, is part of a collection at UNC's art museum (from James Gilbert). … Alejandro Areces, the artist who reimagined the Orioles' logo for every other MLB team, is holding a bracket-style tournament to determine the best version. … East Central College, a JuCo in Missouri, has sold the naming rights to its baseball stadium to a fast food chain (from Jerome Peirick).

Pro Football News: Titans WR A.J. Brown wore the jersey of his idol, Falcons WR Julio Jones, before Tennessee's game against Jacksonville on Sunday (from Mike Chamernik). … Also from Mike: Browns Vice President J.W. Johnson told a local radio station that the team won't be adding orange jerseys to their rotation "for a while." … Aaron Pinto found a Super Bowl LIV toque on sale, but it didn't have the logo for the Chiefs or 49ers — the spot for a team logo was left blank. … This graphic shows the uniform of every Winnipeg Blue Bombers QB since 1946 (from Andreas Papadopoulos).

College Football News: Here's a look at the history of Troy's football stadiums. … Ashland Blazer High School in Kentucky has a long history of poaching Arizona's logo, but with their team headed to the state finals, the school commissioned these masks that appear to be inspired by Arkansas State's logo (from M. Brinston Berry). … Minnesota's football stadium will be getting a new name thanks to a corporate merger.

Hockey News: The Canadiens have published a step-by-step guide for building your own outdoor rink (from Mike Chamernik). … About 4,000 seats have been removed from the Palace of Auburn Hills and are being installed at the OHL's Flint Firebirds' arena (from Brian Weingartz).

NBA News: T-Wolves F Rondae Hollis-Jefferson has been wearing a mask — no, not a Covid mask, but plastic face guard — during preseason action. … Former NBA player Rex Chapman shared photos of the shorts he wore at Apollo High School in Kentucky in the early '80s — and they included belted shorts! (thanks to all who shared).

College Hoops: The entirety of the NCAA women's basketball tournament will take place in San Antonio this year. … New uniforms for the University of Northern British Columbia men's and women's teams (from Wade Heidt).

Soccer News: Scottish club Heart of Midlothian will wear shirts supporting the charity Tiny Changes for the second time before the final of last season's Scottish Cup next weekend (from our own Jamie Rathjen). … At the 2006 World Cup, Spike Lee covered up the Adidas logo on his France jersey and replaced it with an oversized Nike logo (from Lucas Shanks). … New official ball design for the J-League.

Grab Bag: India's army is getting new uniforms (from Kary Klismet). … FIVB released the logos for the 2022 Volleyball World Championships (from Jeremy Brahm). … The New York City Transit Museum is selling a clever Hanukkah card with a subway map-themed design (from @ohhhsourry). … Several Pennsylvania election officials were wearing masks with the state seal during the state's Electoral College vote yesterday (from Max Mersinger). … Sporting News is being sold to a Hong Kong investment firm.
• • • • •
• • • • •