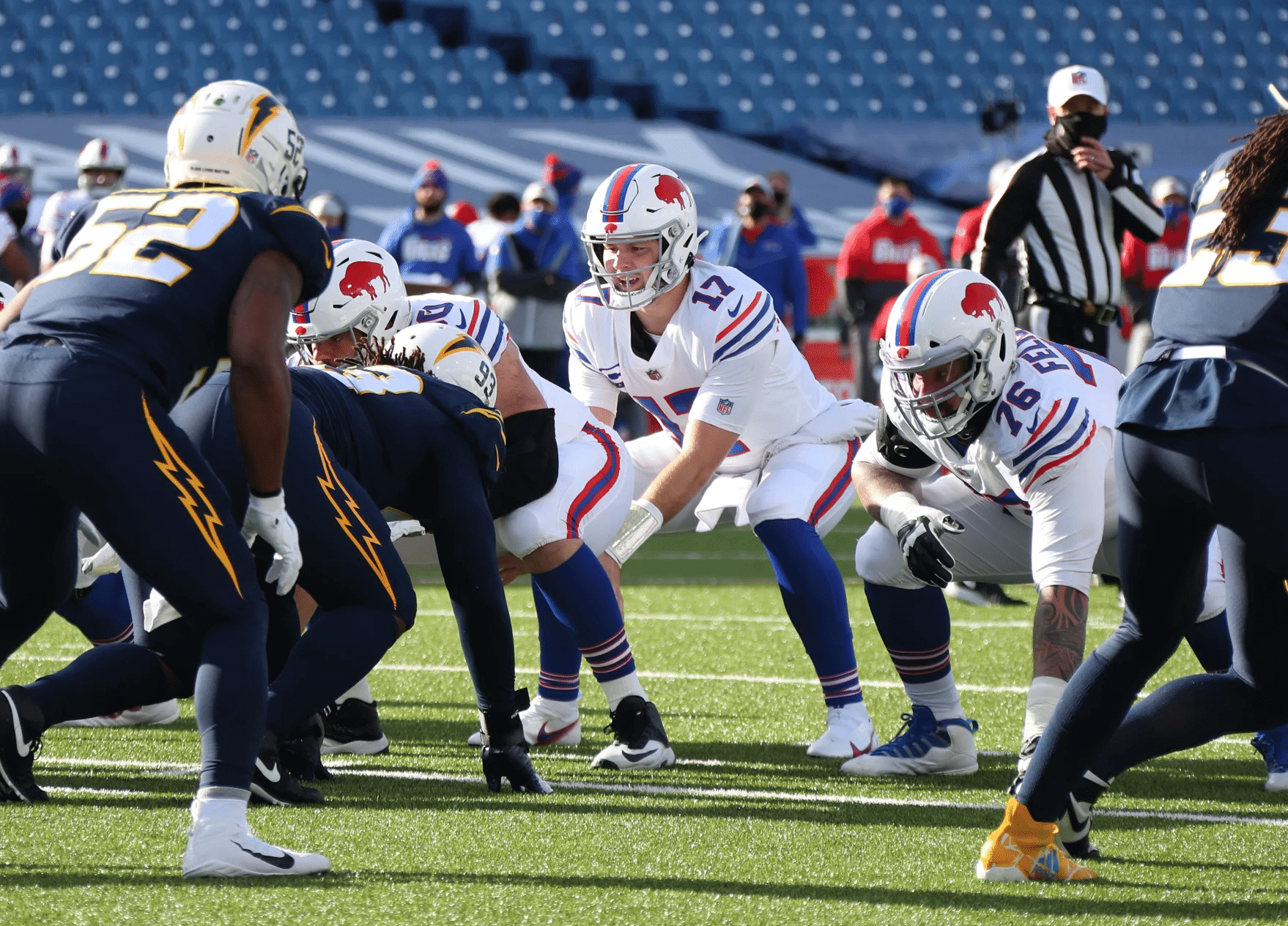 For all photos, click to enlarge
Good morning! Greetings from Uni Watch HQ, where all three inhabitants continue to be safe and well (and where two inhabitants are super-stuffed on Thanksgiving leftovers). Hope your long holiday weekend was a good one.
Now then: Major missed opportunity yesterday in Buffalo, as the Bills wore their white throwbacks, setting up what would have been a very visually pleasing AFL-style uni matchup against the Chargers — who, as you can see above, inexplicably opted to wear their mono-navy alternates instead.
This is essentially the same thing that happened in Vegas three weeks earlier, when the Raiders wore their silver-numbered white throwback jerseys while the Chargers inexplicably went mono-navy. Obviously, the Bolts get high marks for their new primary uniforms this season, but they've also scuttled what would have been some great de facto AFL throwback games. Disappointing.
In other news from around the league yesterday:
• The Bengals wore their mono-white alternates: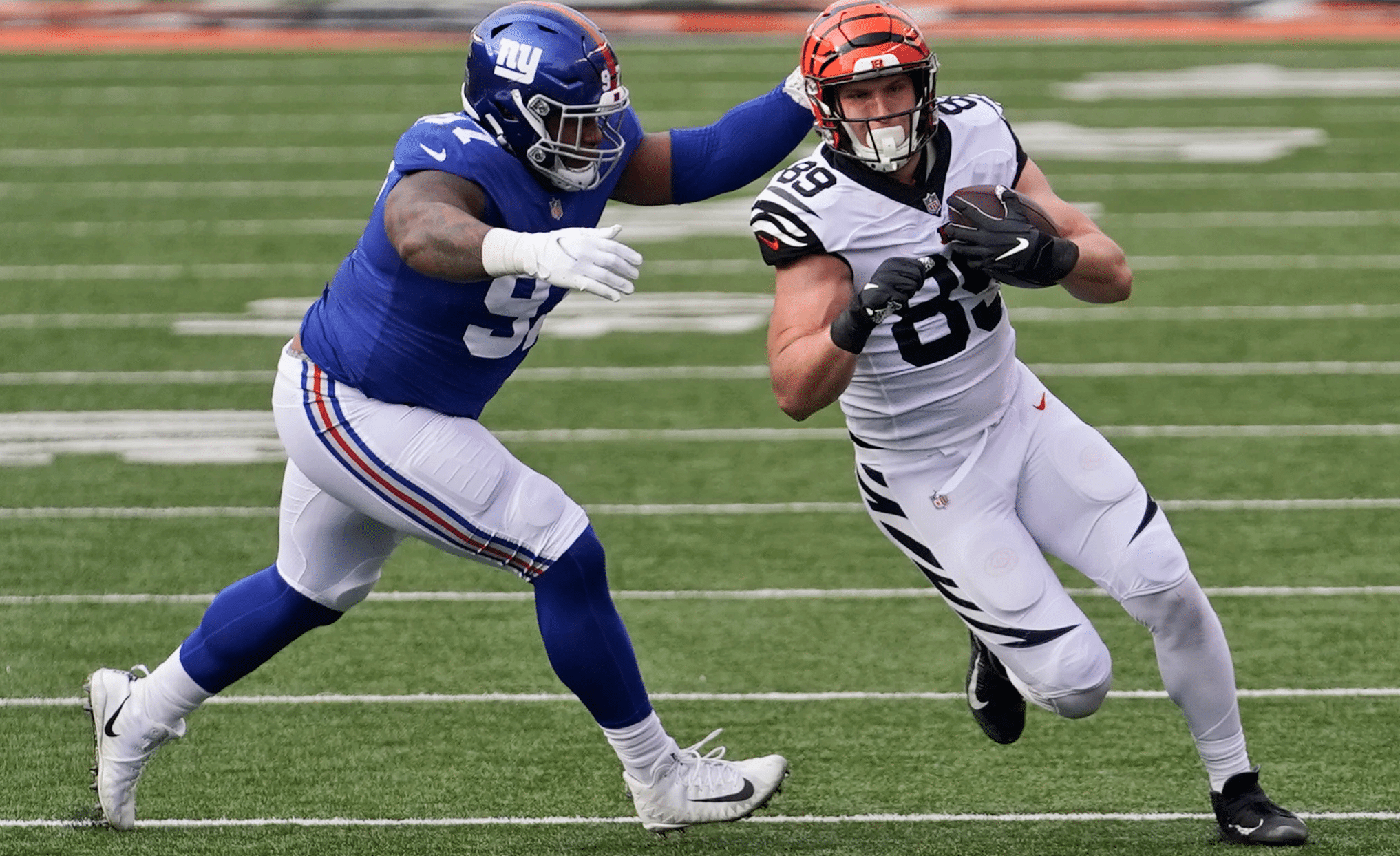 • The Browns went mono-white for the first time with their new uni set, while the Jags countered with mono-black: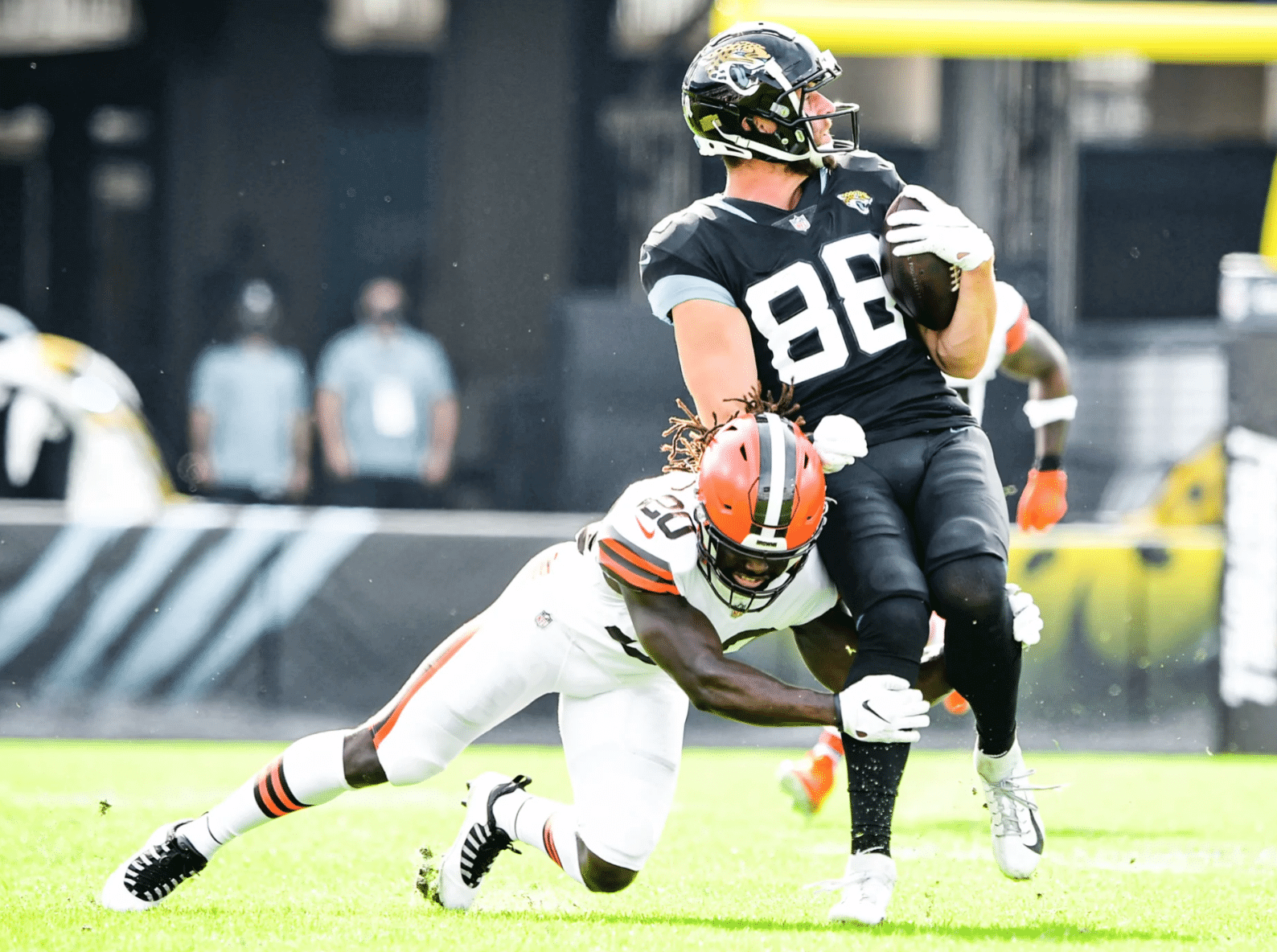 • The Falcons went mono-black as well: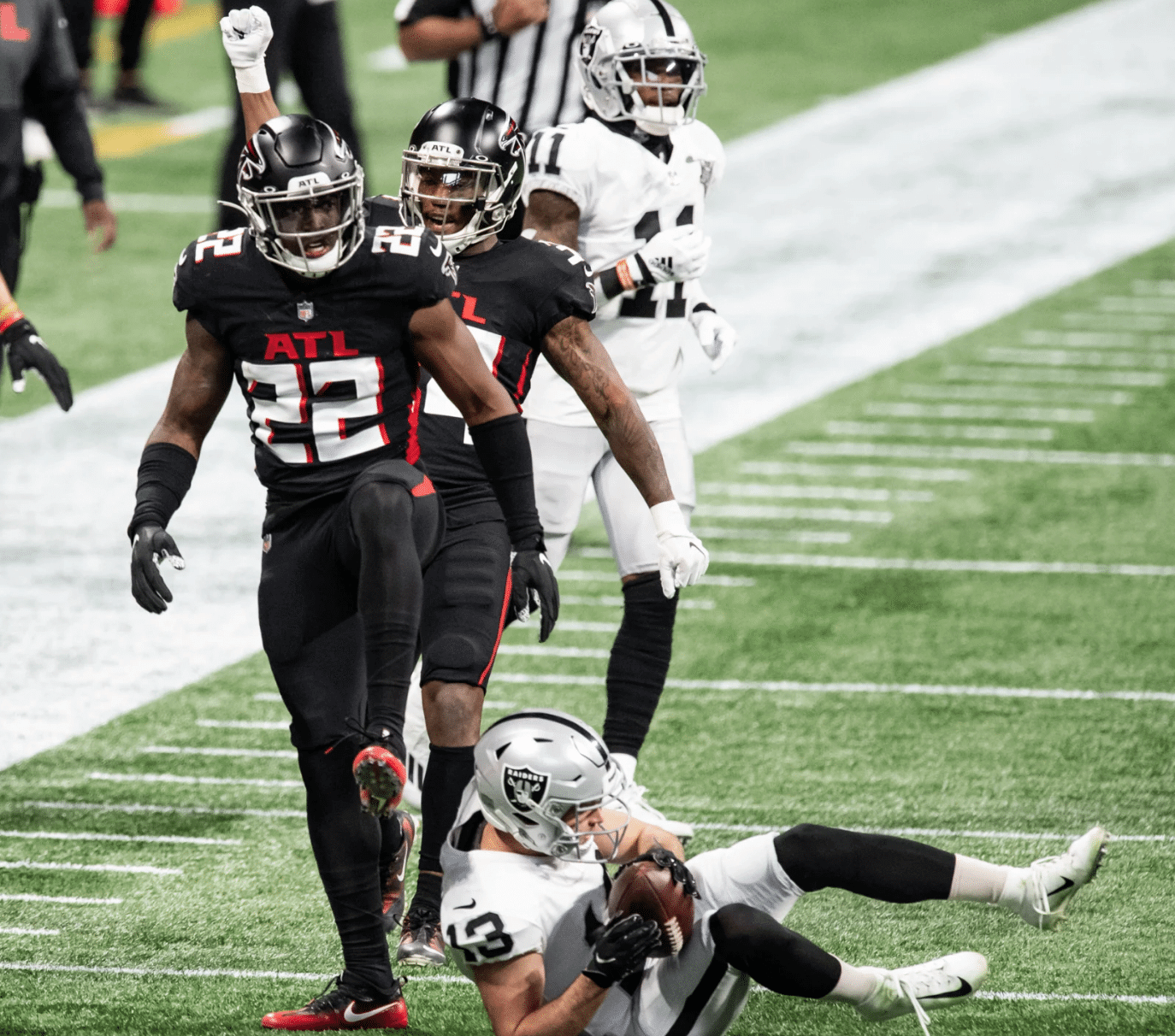 • Here we are in Week 12 and Patriots center David Andrews is still wearing last year's number and NOB fonts: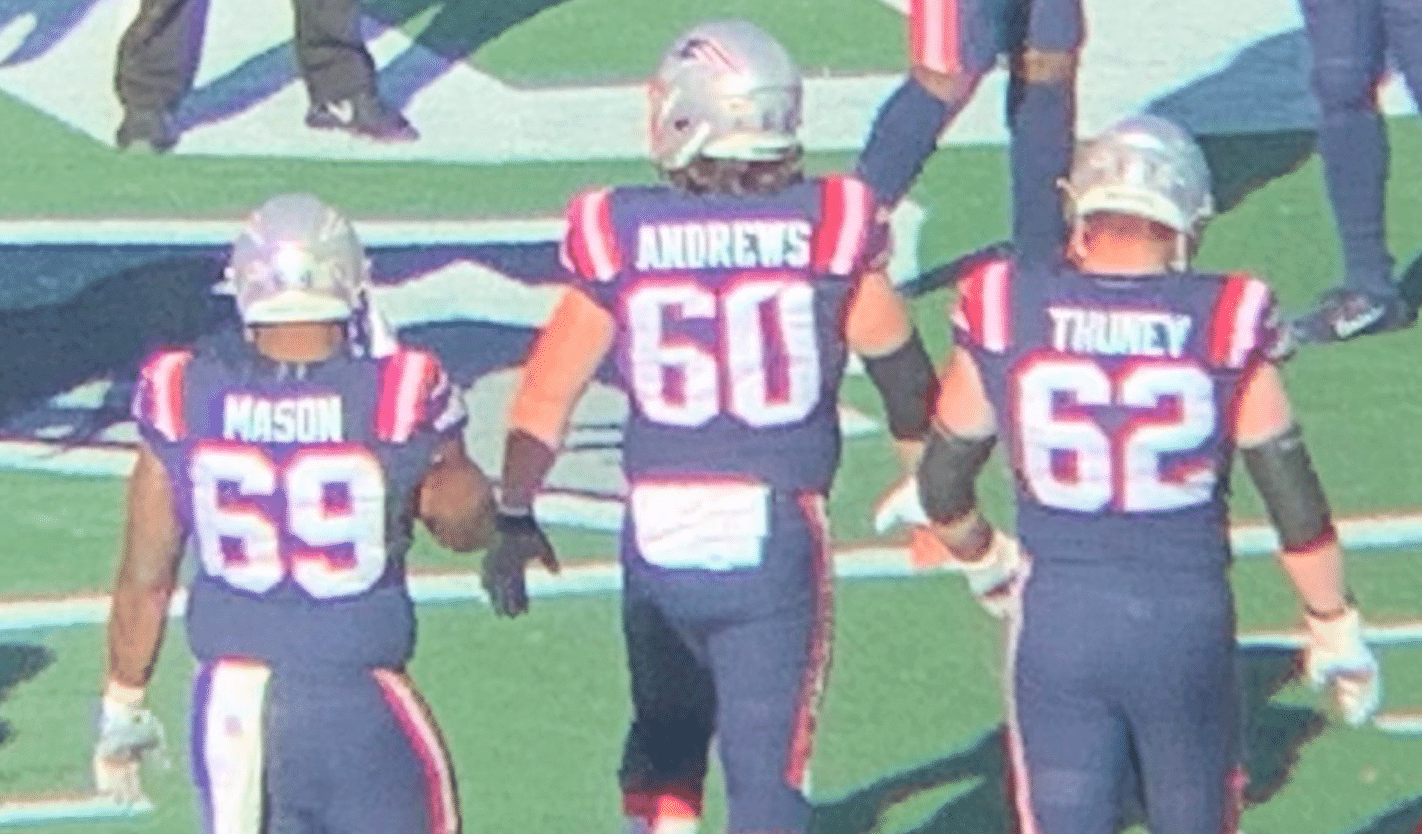 If nothing else, I guess this means nobody has arranged a jersey swap with Andrews this season, because he's still wearing the same jersey he started the season with.
• Cardinals defensive lineman Stacy McGee wasn't wearing the team's "8" memorial patch for Larry Wilson: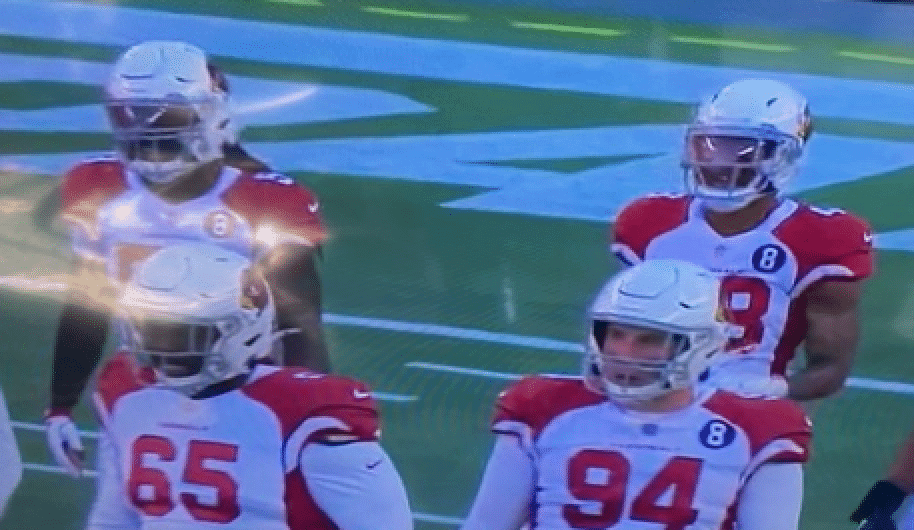 • Someone on the Giants — possibly tight end Levine Toilolo — had his cleats custom-painted to look like Converse high-tops: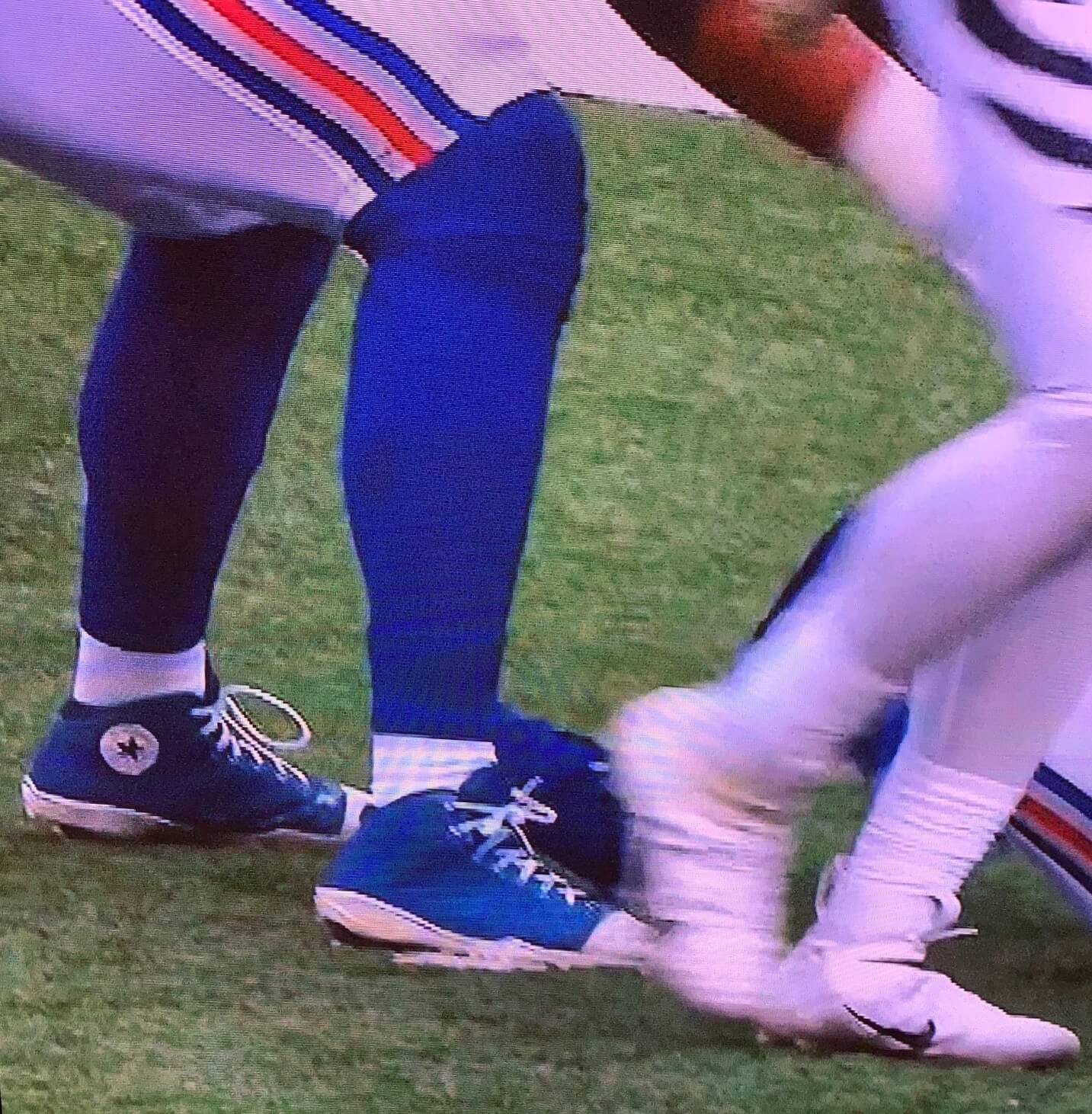 • The aforementioned Bills and Bengals were the only two teams wearing white at home.
And in a final note, G.I. Joevember ends tonight, so this was the last Sunday of the season featuring camouflage accessories.
(My thanks to Jake Martin, Mark Palczewski, and Andrew Walsh for their contributions.)
• • • • •
• • • • •
Argentina Leads Maradona Tributes
By Jamie Rathjen
Soccer clubs in Argentina and elsewhere had plenty of uni-related tributes to Diego Maradona, the Argentine playmaker who passed away last week. His status as an all-time great and the time he spent playing in Europe led to widespread displays beyond the places to which he was connected — even moments of silence, if nothing else, in games as diverse as English FA Cup second-round matches and women's international matches.
For example:
• In Argentina, the cup competition being contested by the Liga Profesional de Fútbol as a transition between the last pandemic-affected season and next season was renamed after Maradona.
• Gimnasia y Esgrima La Plata, the club Maradona managed at the time of his death, wore black shirts.
• Gimnasia and some others in Argentina also wore national team-themed warm-up shirts.
• Boca Juniors, one of Maradona's former clubs, wore "Maradona" as their team-wide NOB yesterday.
• Even Argentine officials got involved by wearing "Gracias Diego" on their backs.
• Napoli, the Italian club for which Maradona made more apperances than any other, wore an Argentina-style fourth shirt (shown at the top of this section) that had been in the works for a year with the hope that Maradona would get to see it, and its debut happened to be scheduled for yesterday.
• Other Italian clubs that had their own tributes included Bologna, Atalanta, Lazio, and Udinese.
• Elsewhere, there were many instances of black armbands, and those I saw ranged from Barcelona striker Lionel Messi wearing one over his captain's armband to several Premier League teams to Erzgebirge Aue and SV Sandhausen in Germany's 2. Bundesliga.
• Messi celebrated a goal yesterday by revealing an apparently game-worn Maradona shirt from Argentina's Newell's Old Boys under his shirt. Messi played for Newell's as a kid and Maradona did briefly in his later career, and they at least came close to overlapping there in 1994.
• New England Revolution midfielder Gustavo Bou, who is also from Argentina, also celebrated a goal yesterday by laying out and kneeling before an Argentine flag. The Revs were one of many non-Argentine teams that added Maradona's NOB and No. 10 to their warm-up shirts, at least for Bou.
• The Argentine Football Association collected even more tributes from around the country.
(Thanks to Germán Cabrejo, Tom Gronek, and Moe Khan for their contributions to this section.)
• • • • •
• • • • •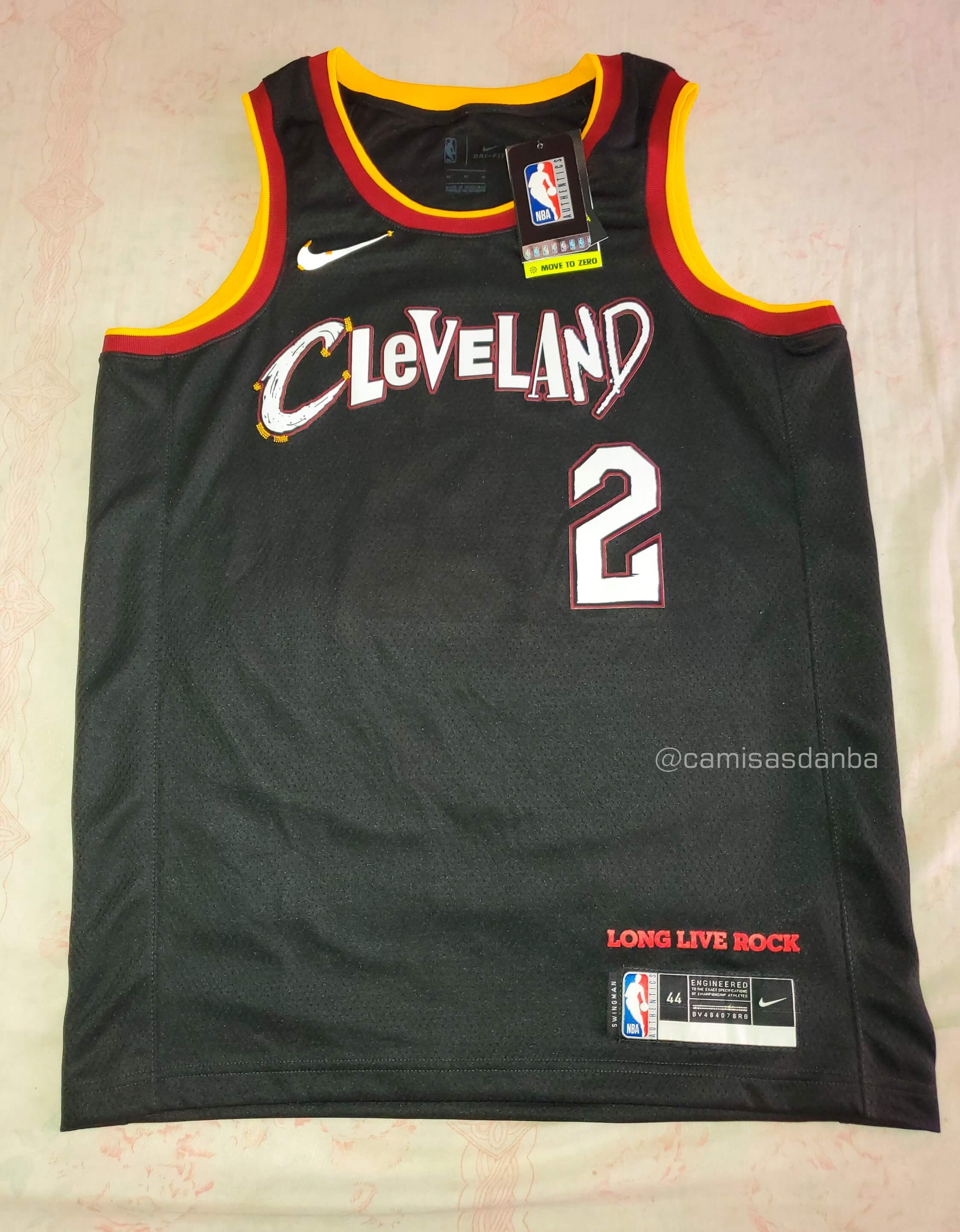 Click to enlarge
nBa UpDatE: The latest revelation from Brazilian leakmeister @camisasdanba (aka Igor Coelho) is the Cavs' new City alternate, which is destined to become known as the ransom note jersey.
The "Long Live Rock" slogan above the jock tag matches the typeface of a sculpture/sign outside the Rock and Roll Hall of Fame in Cleveland, and the chest lettering is drawn from a hodgepodge of band wordmarks. Whatever — looks just as bad as that hybrid LeBron jersey that was circulating a few days ago. What a mess.
• • • • •
• • • • •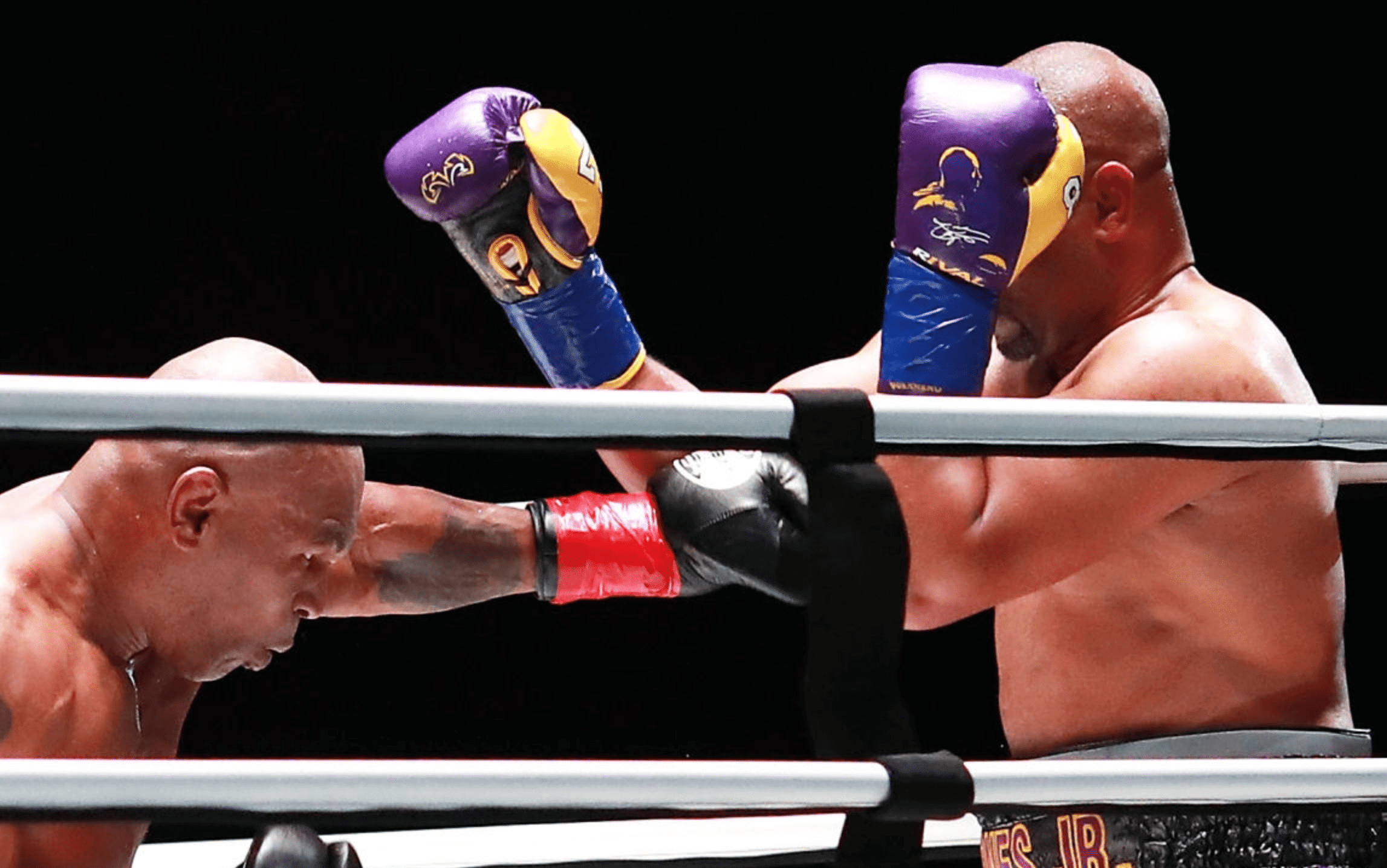 Click to enlarge
One last Kobe tribute: Interesting move by boxer Roy Jones Jr. in Saturday night's exhibition bout against Mike Tyson, as he saluted Kobe Bryant by wearing gloves rendered in Lakers colors, with No. 8 on one thumb, No. 24 on the other, and images of Bryant as well. Here's a close-up of the designs — as you can see, they even included a Black Mamba-style snakeskin pattern on the wrist areas (click to enlarge):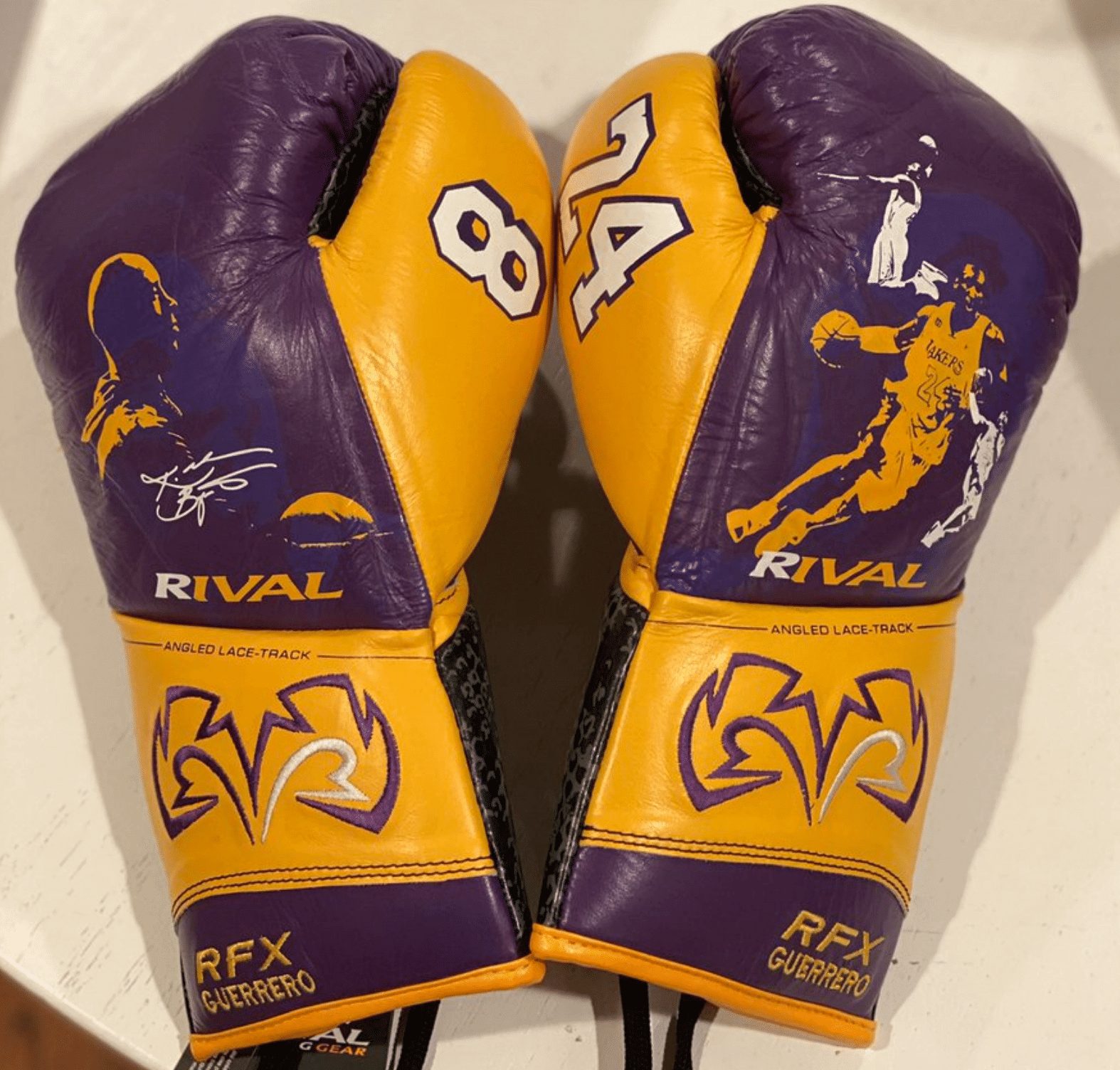 • • • • •
• • • • •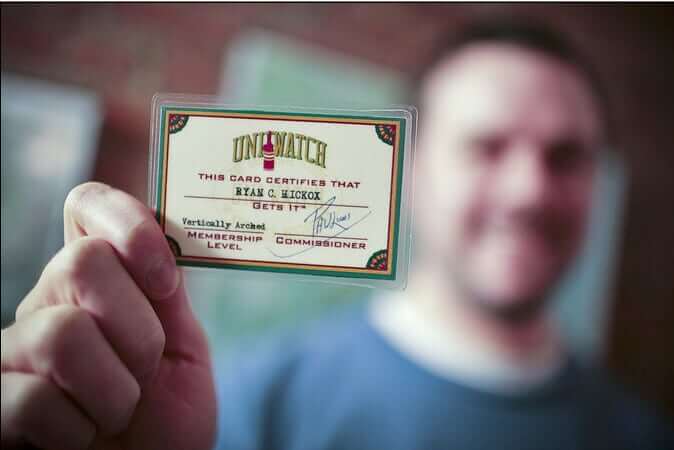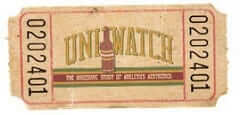 ITEM! Insane membership raffle: Longtime reader Bert Ayers already has eight membership cards of his own (so far) and has just purchased a whopping 10 additional cards for me to raffle off! That's too many to do in one day, so we'll do five today and another five tomorrow.
No entry restrictions on today's five prizes. To enter, send an email to the raffle address by 8pm Eastern tonight. One entry per person. I'll announce the five winners tomorrow. Please join me in thanking Bert for doing this!
Meanwhile, our latest raffle winners are Jeff Worth and Andy Moeschberger, each of whom has won a Uni Watch membership card (courtesy of reader Carlos Jalife), and Lincoln Arneal, who's won a Uni Watch Classic Cap (courtesy of Chris Hickey). Congrats, guys!
• • • • •
• • • • •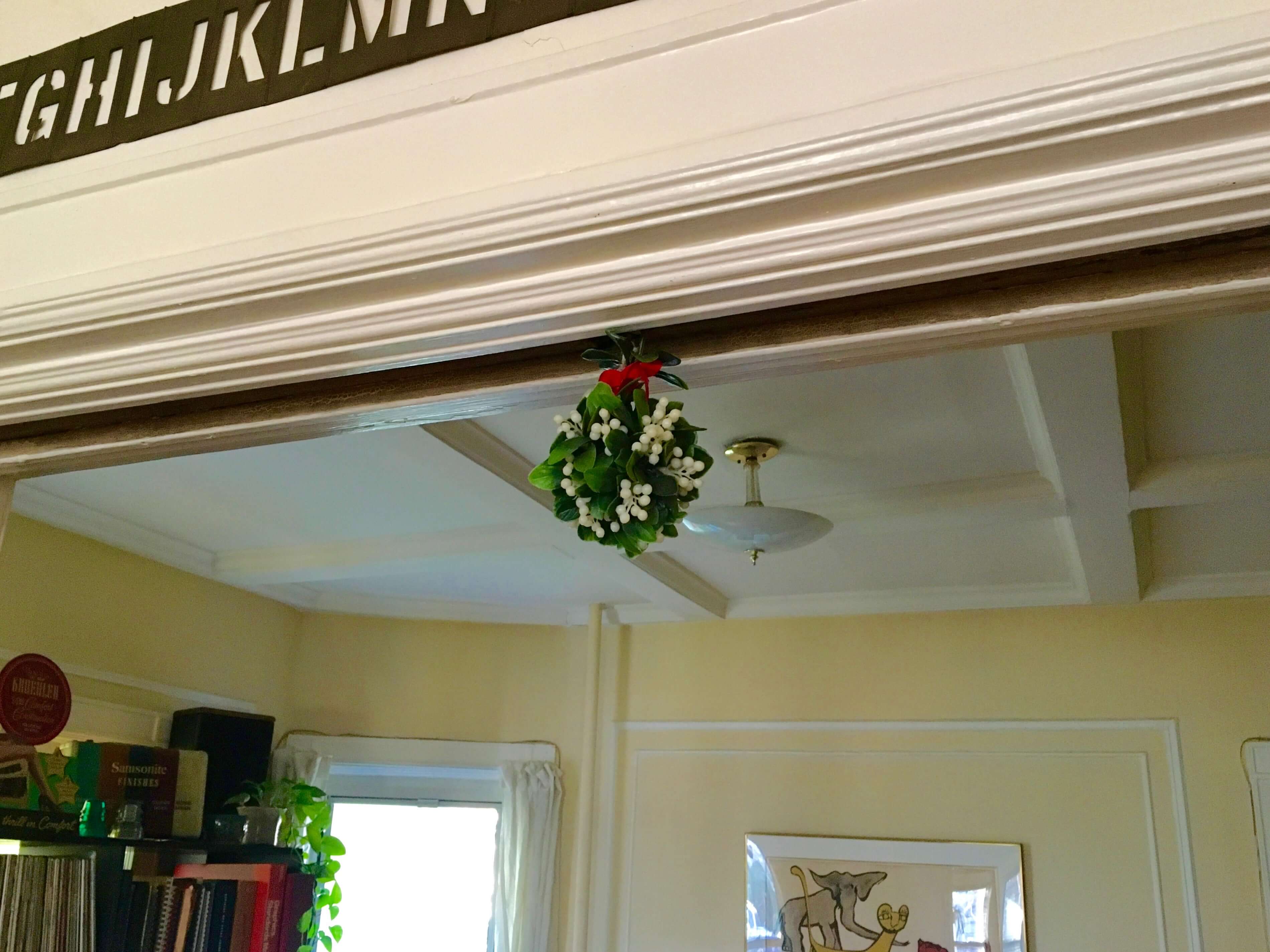 Click to enlarge
Holiday ritual: For the 28th consecutive year, the plastic mistletoe that I bought for $2.99 at the now-defunct Woolworth's in Herald Square in 1993 has been hung to work its magic. Per longstanding Uni Watch HQ protocol, the faux 'toe goes up after Thanksgiving and remains in place through the 12th day of Christmas. Let the Yuletide necking commence!
And as long as we're talking about holiday accessories, the great DIYer Wafflebored was nice enough to send us a homemade goalie blocker tree ornament! We don't plan to have a tree this year, so we hung the ornament in a place of honor from our mantel, right at the center of our M&M's lights: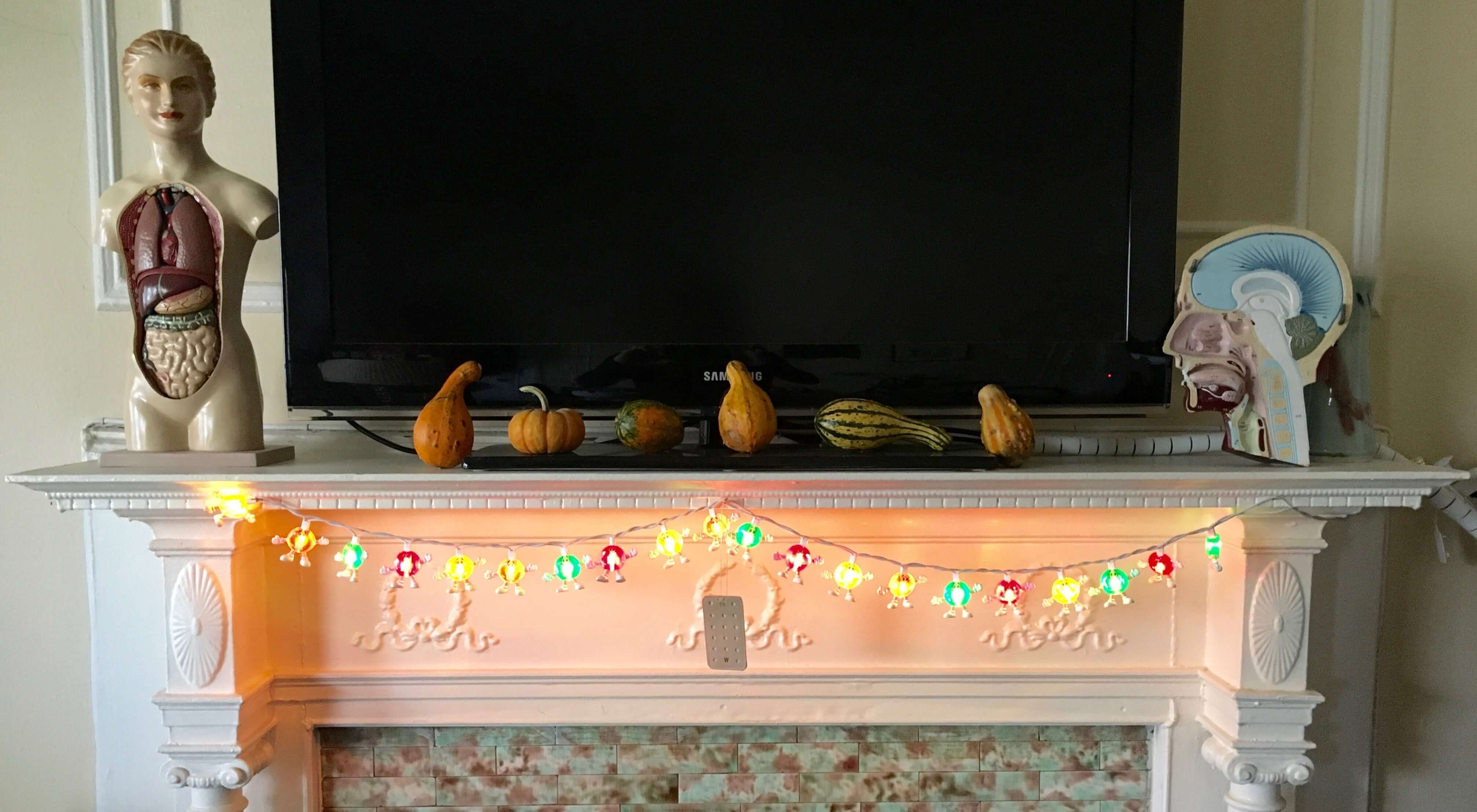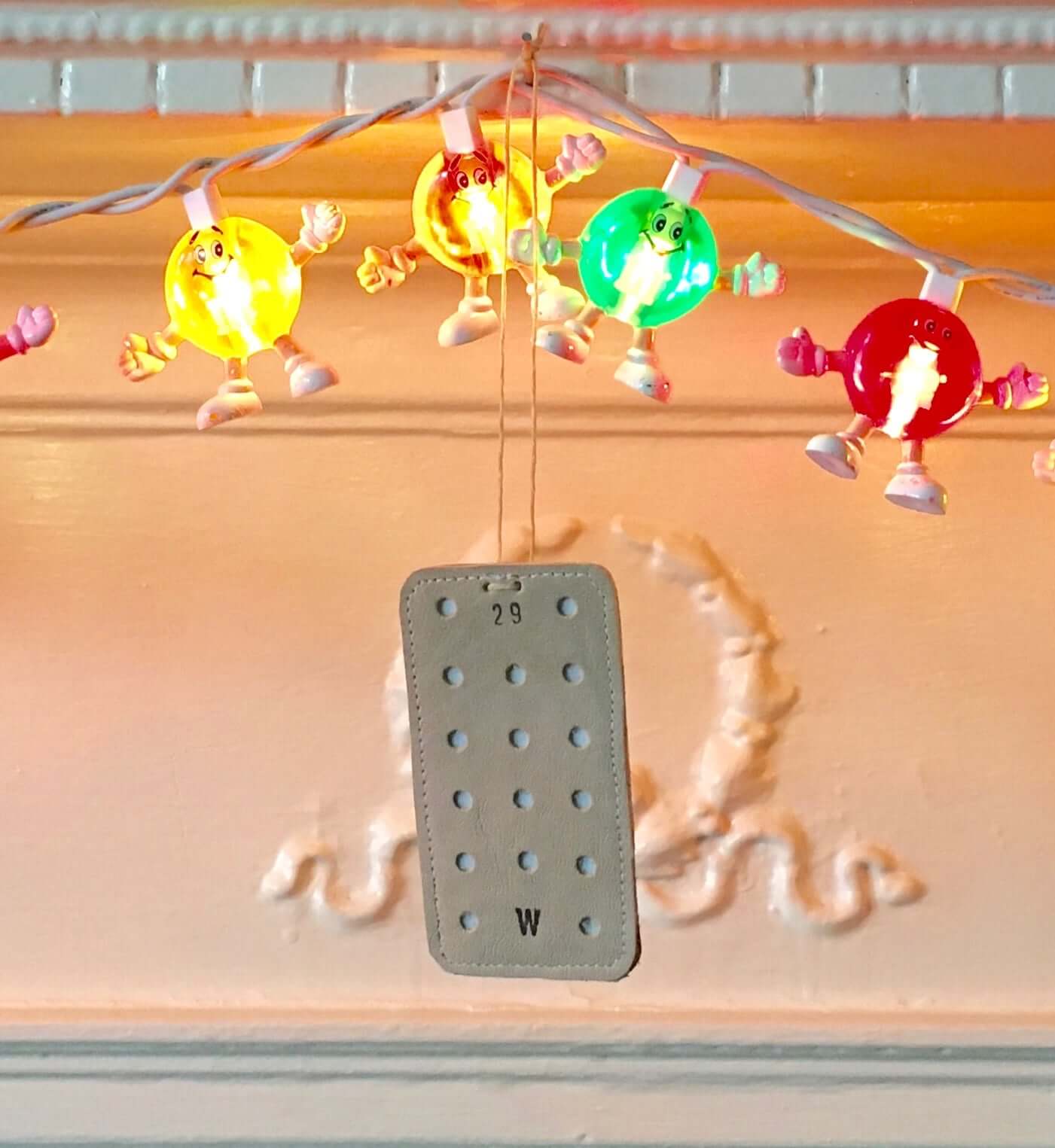 • • • • •
• • • • •
The Ticker
By Jamie Rathjen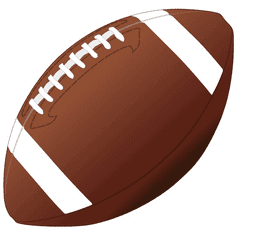 Football News: Army revealed their uniform for this year's Army/Navy game (from Nick Allen). … Left over from Thanksgiving weekend: Iowa broke out the stars-and-stripes helmet decals. … Vanderbilt K Sarah Fuller carried over her No. 32 from Vanderbilt's soccer team.

Hockey News: Michigan added cardboard cutouts of 20 alumni playing in the NHL, all in their pro uniforms, to their empty stands (from Wade Heidt). … Spectacular visuals in this photo essay about a group of NHL players who recently played hockey on a frozen lake in the British Columbia mountains.

Basketball News: NBA numerologist Etienne Catalan has more new and changed player numbers. … Stanford's teams added social justice patches.

Soccer News: Arsenal goalie Bernd Leno wore a mono-white kit featuring the outfield players' second shirt, which is also listed as the fourth goalie shirt, yesterday. The blog Museum of Jerseys points out that it's the eighth time they've used four goalie shirts in a season (from multiple readers). … Goalie cap sighting: AS Monaco's Vito Mannone wore one yesterday (from Brock Wilson). … Leeds United plan to rename the only Elland Road stand not already named after somebody in memory of center-back Jack Charlton. … Germany right-back Leonie Maier wore a patch for her 75th cap on Friday. … Brazil's women's team removed the stars representing the men's team's World Cups from their crest starting last week. … Are too many teams going with black/gold shirts? Perhaps (from Trevor Williams). … Arsenal center back David Luiz suffered a gash on his forehead during yesterday's match against Wolves, resulting in a bloody bandage wrap that looked a lot like Arsenal's away kit (from our own Anthony Emerson).

Grab Bag: In the Australian Football League, Adelaide's new guernseys have a form of cap number whereby the design includes the name of each player for the team, with each numbered in order. … South Africa's men's cricket team wore black armbands in memory of Covid-19 victims. … Cycling now has men's and women's esports world championships, which have their own version of the rainbow jersey for the winners. … Twelve items of Cleveland-centric sports memorabilia are up for auction (from Jason Hillyer).
• • • • •
• • • • •