The video shown above has the entire 1979 NFC Championship game between the Buccaneers and Rams. (The Rams won and went on to lose Super Bowl XIV to the Steelers.) I put it there just to show how good these two teams can look when facing each other.
If you want a close-up, this should do nicely: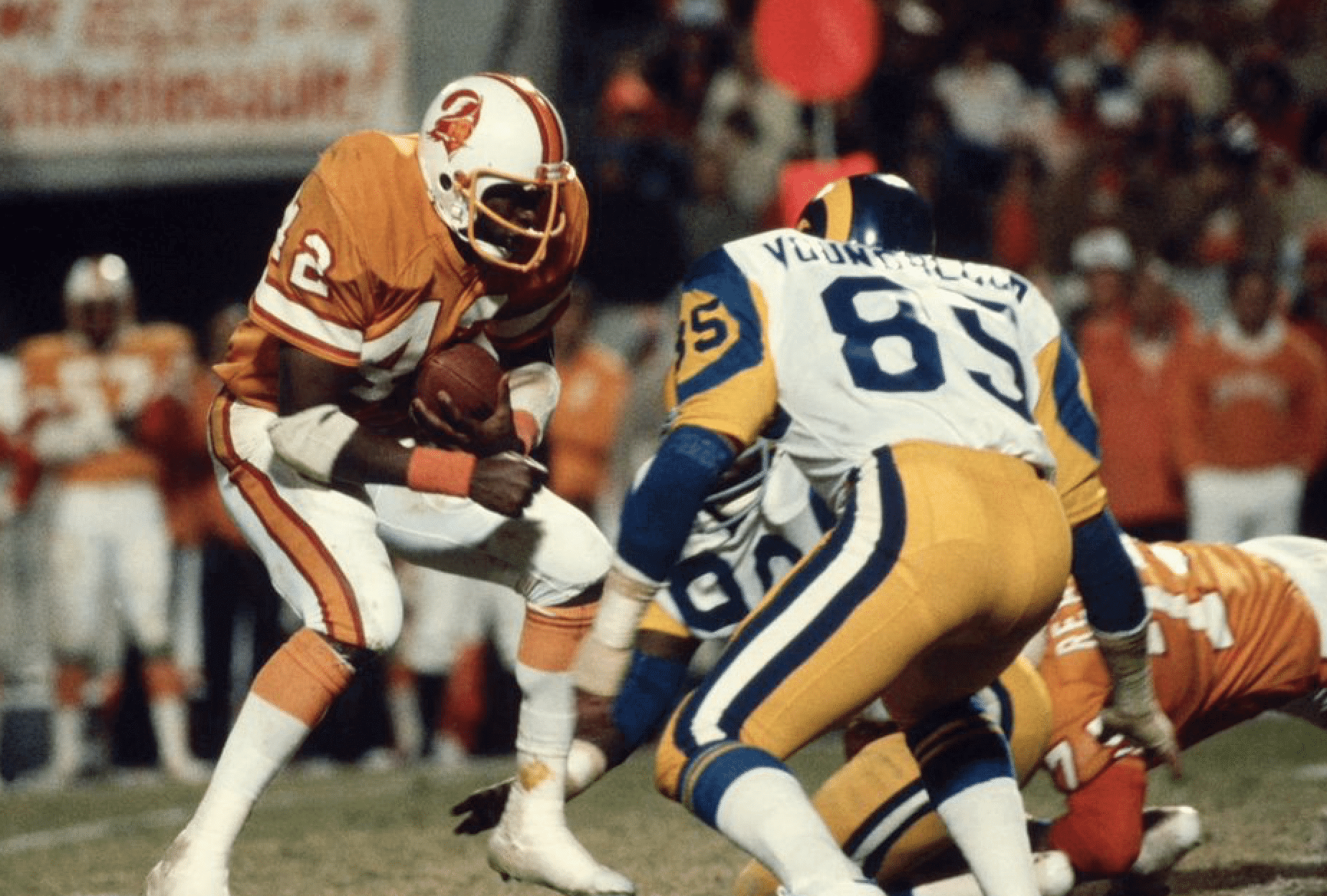 Now compare that to how these same two teams looked when facing each other last night: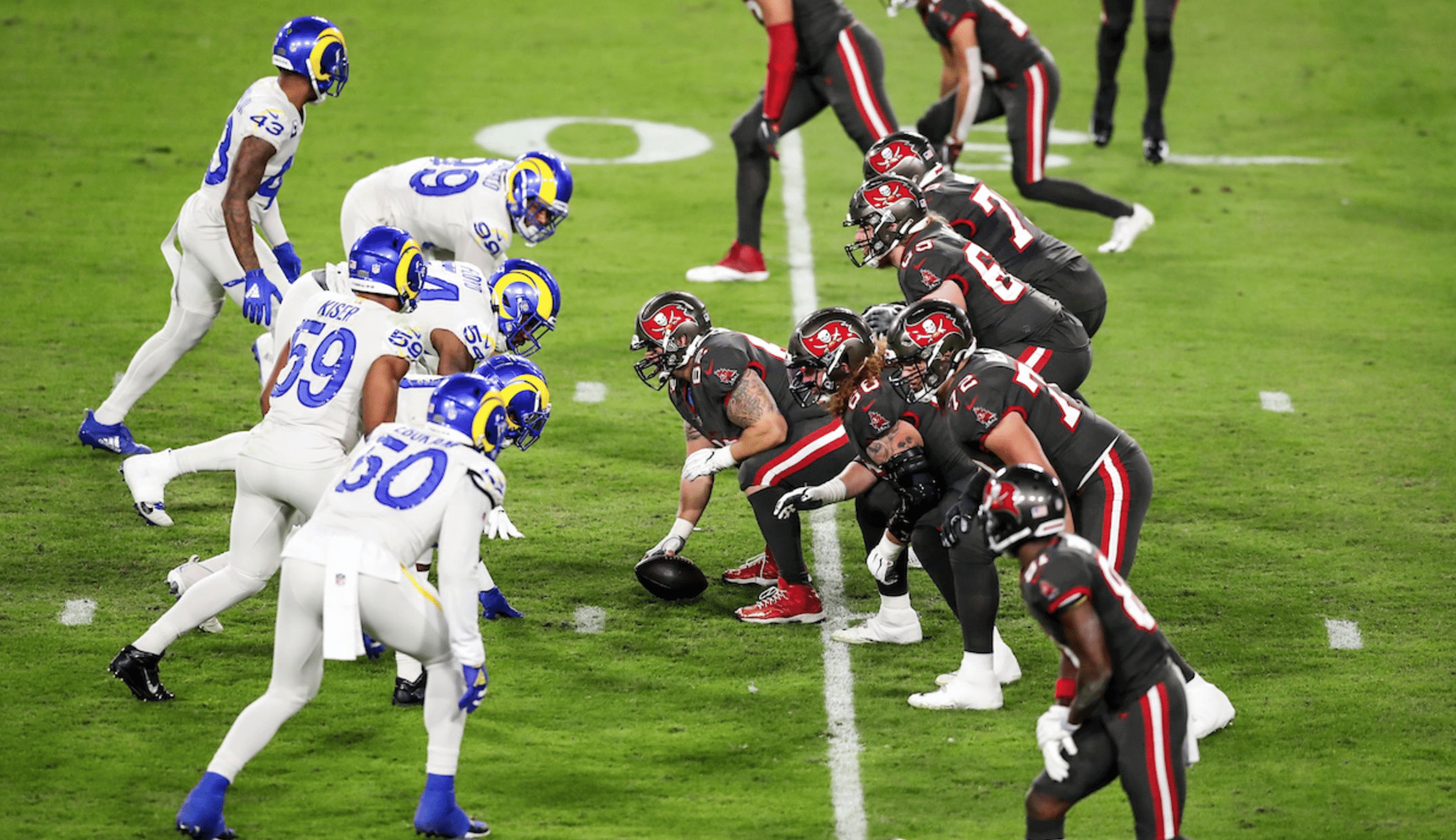 Dishwater vs. dogshit — what a disaster.
Naturally, there were lots of laundry jokes circulating during the game. Peter Macaluso said, "It looks like the Rams accidentally threw [their] white unis in the laundry with the Bucs' brown ones." And Zack Fowler said, "[I]t looks like [the Rams] meant to wear all-white but forgot to do laundry, and [the Bucs] meant to wear all-black but did too much laundry." Nice one.
Now, this was obviously a very, very bad-looking game. But was it the worst-looking Bucs/Rams game ever? Before you answer that, consider what these two teams wore when facing each other in 2015: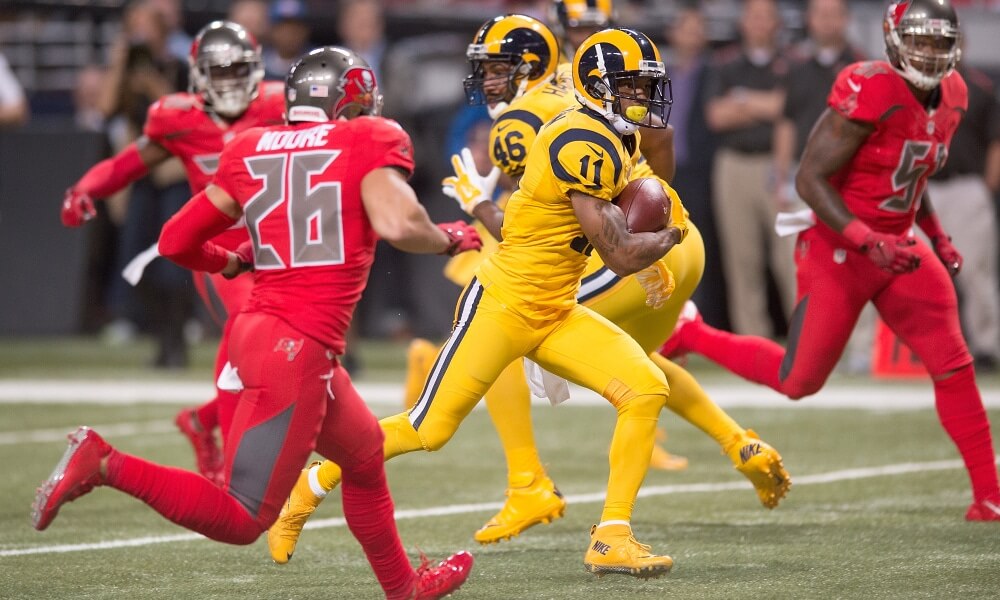 Ah, the infamous ketchup vs. mustard game, with the Bucs' alarm clock numbers thrown in for good measure. If forced to choose, which would you opt for? If you want to study for the test before responding, you can see more pics from last night's game here, here, and here, and you can see more pics of the Condiment Bowl here.
If forced to choose between those two football games, I think I'd rather watch baseball, or maybe go for a walk.
Two other notes from last night's game: First, as you may recall from earlier in the season, lots of Rams players were wearing untucked blue undershirts with the dishwater uniforms: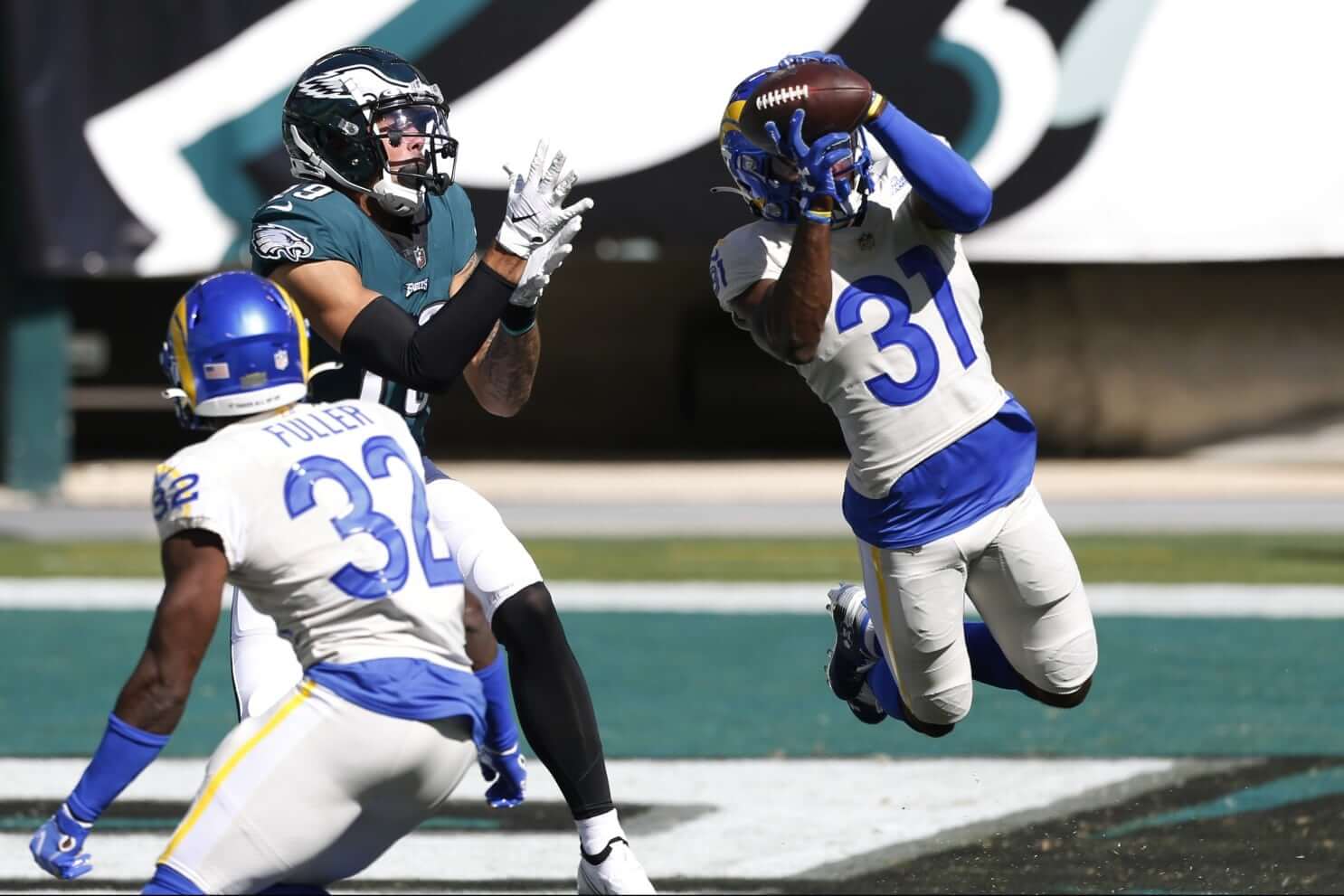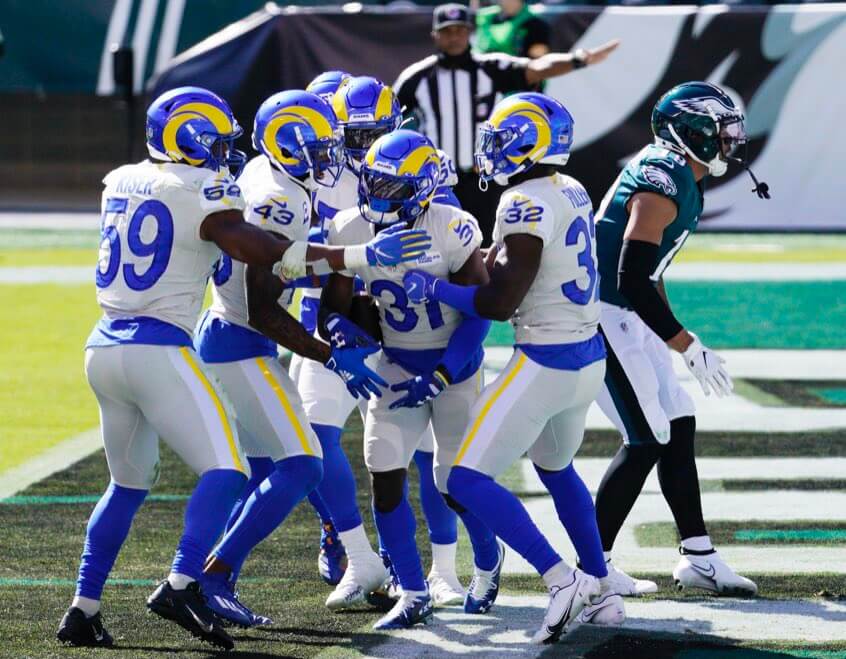 Last night they were wearing untucked dishwater undershirts, which still looked sloppy but at least didn't create that miserable cummerbund effect. So this is the rare dishwater uni component that actually improves the uni's overall look!
The other notable thing about this game is that it featured the first all-black officiating crew in NFL history (additional info here):
• • • • •
• • • • •
College Hoops Preview reminder: In case you missed it on Monday, the annual Uni Watch College Hoops Season Preview, with all the news on this year's new uniforms, logos, court designs, and related issues (including Arizona State's new black alternates, Duke's new "Equality" slogan underneath the back numbers, and UNC's new navy alternates, all shown above). is now available for your enjoyment on InsideHook.
• • • • •
• • • • •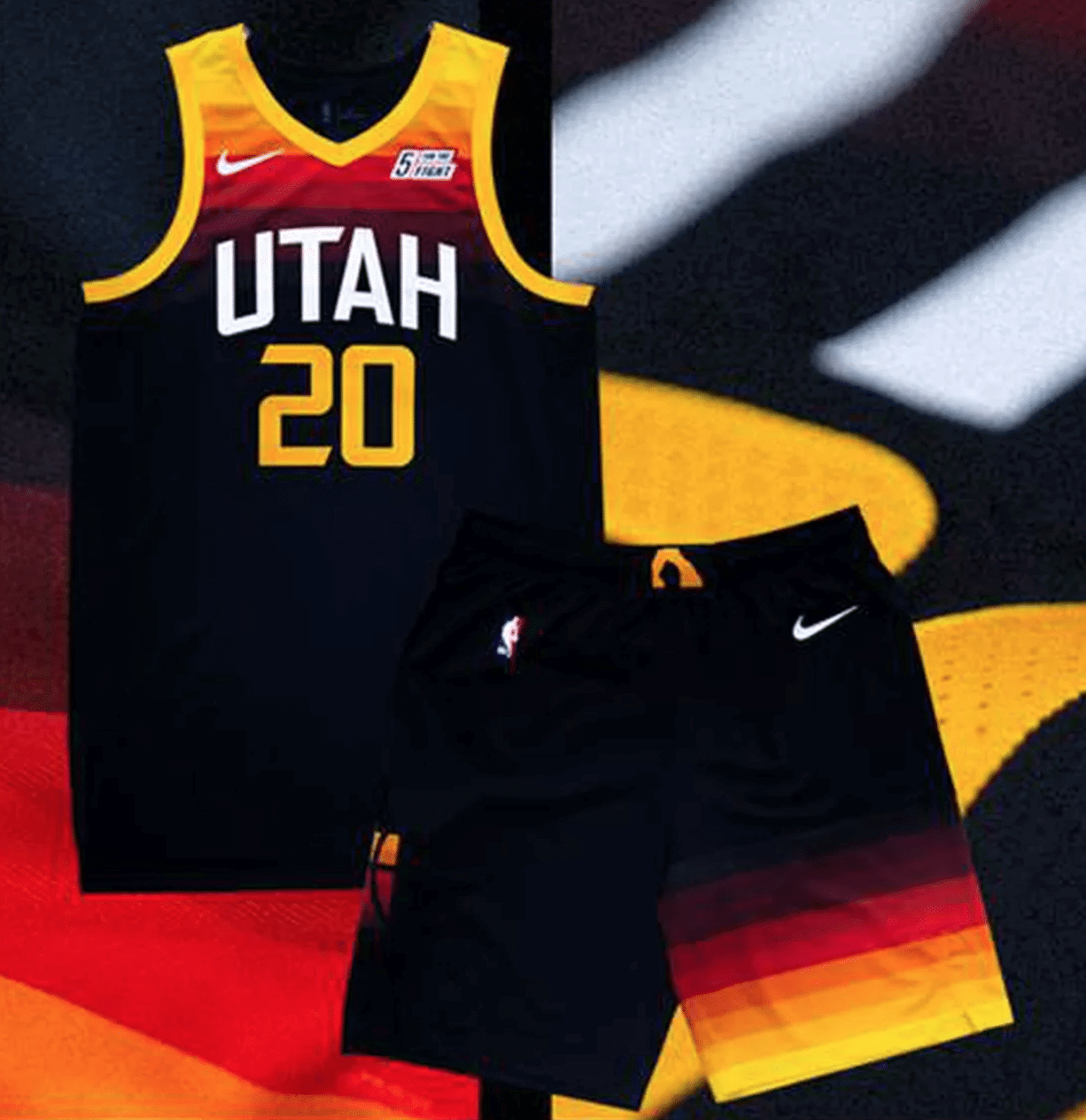 NBA hits keep coming: Let's give credit to the Jazz, who've managed to combine two major uni tropes — BFBS and tequila sunrise — into their new City alternates. Additional photos and info here, here, and here.
As is the case with so many NBA alternates these days, this one comes with its own court design:

I think all of this may look pretty good in game action. As several people suggested yesterday, maybe it's time to rename the team as the Utah Red Rocks.
• • • • •
• • • • •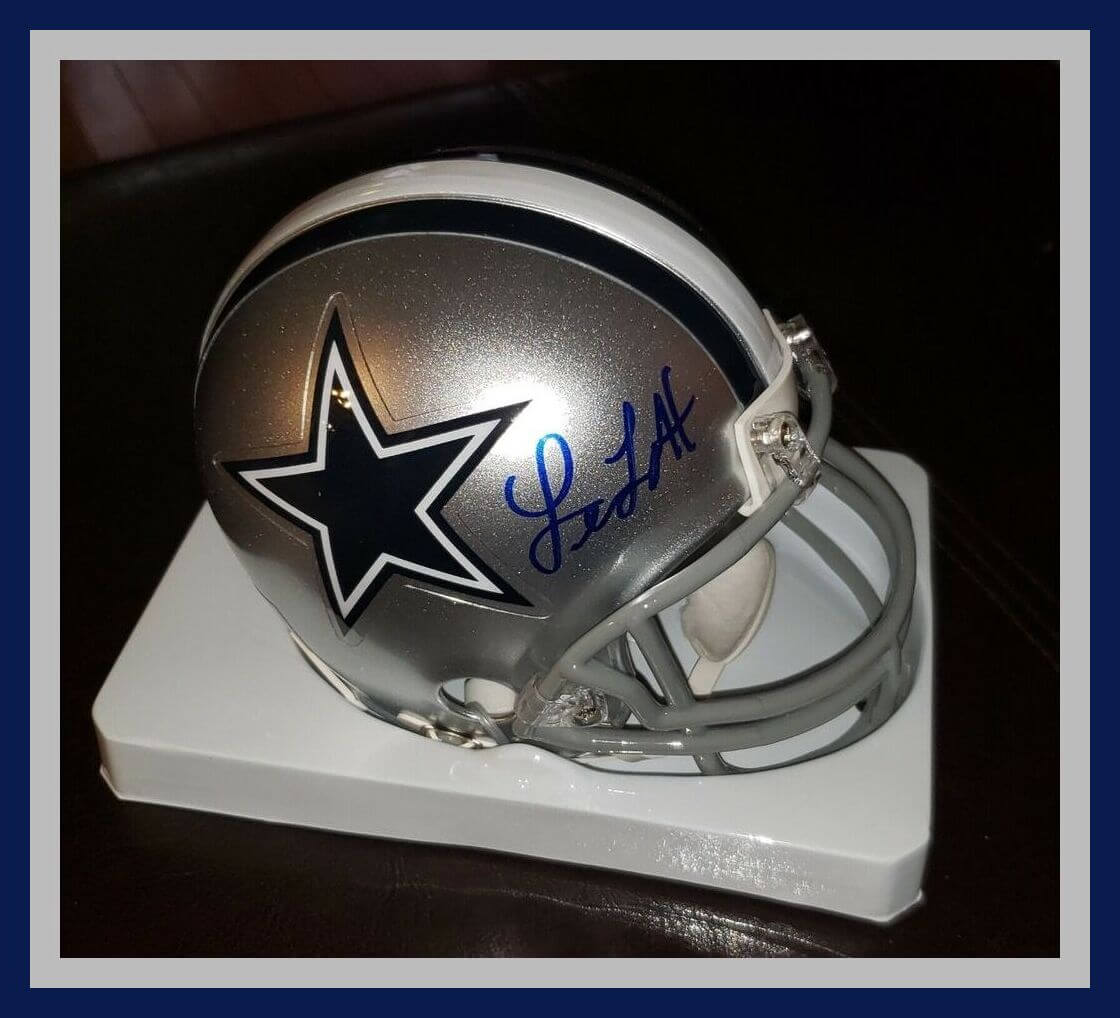 Click to enlarge
Collector's Corner
By Brinke Guthrie
I was quite the Dallas Cowboys fan from the early 1970s through the late 1990s. So with Thanksgiving being two days away, now is the right time to feature this Leon Lett autographed mini-helmet. Lett won three Super Bowls as a Cowboys defensive lineman, but he's most famous for two particular plays. One was in Super Bowl XXVII, when he was returning a fumble for an apparent touchdown and started celebrating a bit early:
Ouch. The following season, the Dolphins were lining up for a game winning field goal to beat Dallas (snowing in Texas Stadium!) and it was blocked! However, the ball was still live, and Leon zoomed over to scoop up the ball. This was an unfortunate decision — unless you were a Dolphins fan, of course:
Leon, you are forgiven. It's Thanksgiving. 
Now for the rest of this week's picks:
• Another great Cowboys item here, dating back to 1970: It's called a 
Texaco Flip-Chart, and the local Dallas Texaco stations would have them every week. You fold them up so that the offense of one team lines up against the defense of another. They were great — I remember getting the new one every week!
• Paul would probably like this Reach, Wright & Ditson athletic equipment catalog from 1929. [Yes indeed! — PL]
• Here's a set of 1960s Kansas City A's scorecard pencils, "compliments of" the  team. The seller notes, "Some wear." Well, sure — they're pencils!
• Speaking of "compliments of," the American League graciously gave away these 1966 pocket schedules.
• Here's a nifty two-in-one item for the New York Football Giants — a 1950s/1960s combination stadium seat cushion and poncho. (The poncho is contained in the seat cushion and there's a zipper to pull it out. So, if it rains, you won't get wet, but you won't have anything to sit on, either.) The cushion includes the Giants' old stadium-based logo, the pinstriped NFL shield, and "Football Country USA."
• It doesn't get much love, but I've always liked the World Hockey Association logo, available here on a sticker.
• Here's a set of four St. Louis Baseball Cardinals stackable team coasters. 
• This proves that companies will license anything: a 1980s Jim McMahon puppet and can cooler. Someone in marketing thought, "There is a need for this product."
• How about this (guessing 1950s or '60s) Green Bay Packers floaty pen! Now, this one has no ink, but the point here is that the football player would float across the field to catch the winning score!
• And here we have a 1969 Black Label beer can, celebrating the Boston Bruins' 1969-70 Stanley Cup championship. (No beer, though!)
Got an item to include on Collector's Corner? Tweet submissions to @brinkeguthrie
And be sure to check out the Uni Watch Facebook page starting Friday for a month of fun retro holiday content — an annual tradition curated by yours truly.
• • • • •
• • • • •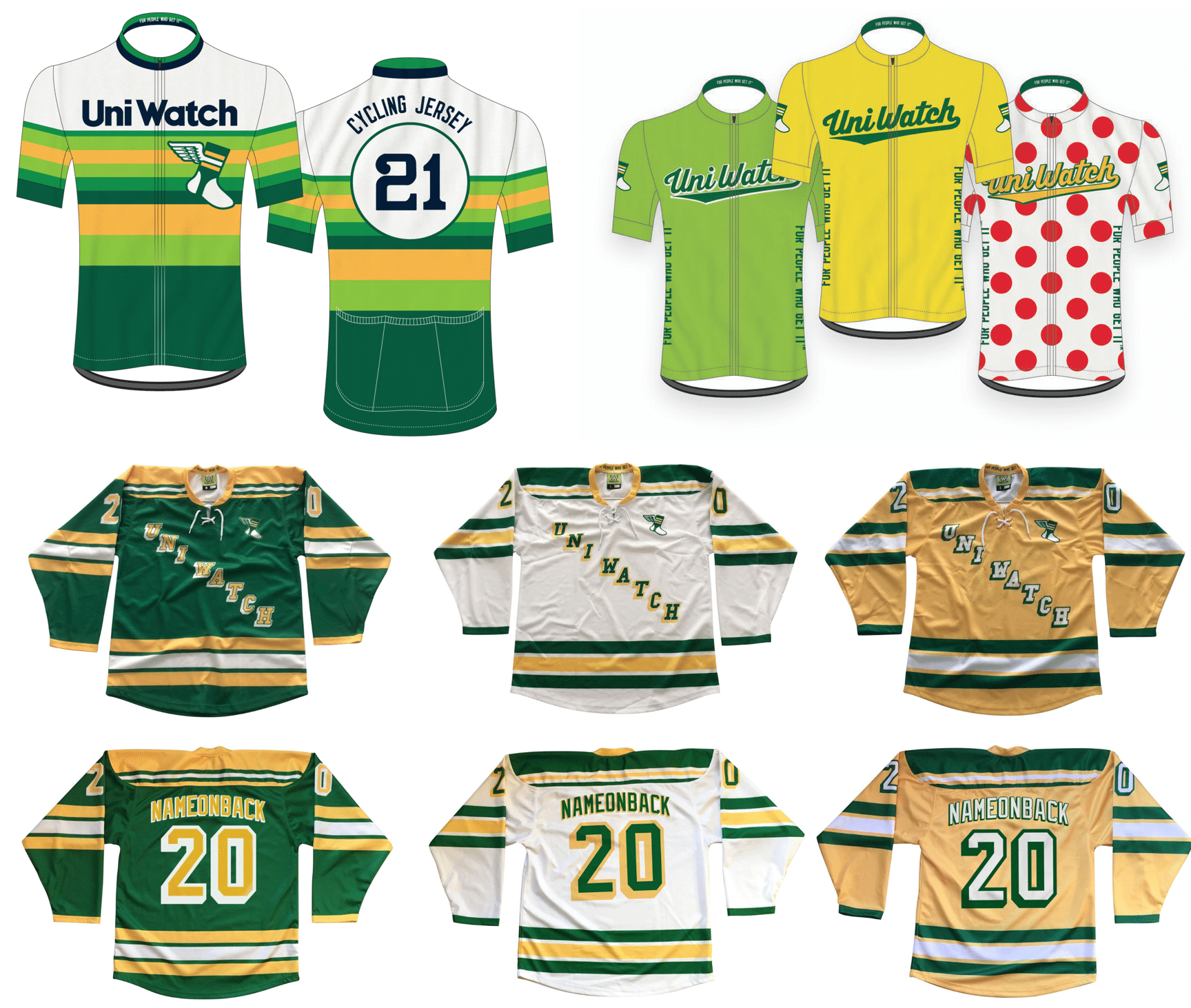 Click to enlarge
ITEM! Hockey, cycling jerseys available again: I'm happy to report that we're taking pre-orders for another round of Uni Watch hockey jerseys, tequila sunrise cycling jerseys, and Tour de Uni cycling jersey — all available with your choice of number and NOB.
You'll need to get your order in by Dec. 11, and they should arrive by mid-January. (Sorry, too late for Christmas delivery — mea culpa on that.) Full details here.
And as long as we're talking merchandise, keep the following points in mind:
• The Uni Watch Classic Cap, which normally costs $39.99, is now only $35.99 — a 10% break. All fitted sizes are currently in stock, along with the adjustable strapbacks.
• I've also reduced the price of Uni Watch trading cards. Full details here.
• Today and tomorrow are the last days to get in on Teespring's free shipping deal for all orders of $50 or more. You can combine items Uni Watch, Uni Rock, and Naming Wrongs shops (or any other Teespring items) to hit that $50 threshold. Use the checkout code FREEOVER50 to get in on the deal, which is good from now through the end of tomorrow.
My thanks, as always, for your consideration.
• • • • •
• • • • •
The Ticker
By Alex Hider

Baseball News: This 1972 photo shows Red Sox LF Carl Yastrzemski wearing a prototype of the sansabelt unis the team eventually switched to later that year — with a few notable differences, including pants striping (from AJ).

Pro Football News: The NFL is instituting new pandemic protocols that will require players to wear masks on the sidelines. … The Steelers will wear Color Rash uniforms on Thanksgiving (from Andrew Cosentino). … Following Sunday's pregame skirmish between the Titans and Ravens, here's a brief history of road teams disrespecting an opponent's midfield logo (from Josh Tretakoff). … Jon Solomonson found one of those old Riddell soft-shell helmet toppers at a Florida antiques store, except the shell was outfitted as a throwback Falcons helmet. … Barry Sanders threatened legal action to prevent a Detroit brewery from using his image — in 8-bit form — on one of their beer can designs (from Mike Chamernik). … According to Wade Heidt, this graphic features a player in a uniform he will never wear. Toronto Argonauts QB Matt Nichols (No. 20) was signed by the team in February 2020 and was promptly photoshopped into the Argos' 2019 set. Of course, the 2020 season was not played, and Toronto just debuted a new helmet logo for the upcoming season. … Matt Knobbe has built a page that allows you to send a custom-uniformed Tecmo Bowl Thanksgiving message to the recipient of your choice.

College Football News: Check out the cover of this 1966 Rose Bowl program, which features cartoon versions of the Big Ten and Pac-8 logos. They were designed by Disney Studios to celebrate Walt Disney's selection as the grand marshal of the Tournament of Roses Parade that year (from Kary Klismet).

Hockey News: Several items today from Wade Heidt: NHL.com caught up with Terry Smith, the man who designed the original Sharks logo, to get his thoughts on the team's new Reverse Retro jersey (also from Kary Klismet). … Charles-Edward Gravel, a goalie for the QMJHL's Blainville-Boisbriand Armada, was called up last night and played the entire game in the mask he wore with the Mississauga Senators of the Greater Toronto Hockey League. … Luke McGeough, the son of deceased NHL ref Mick McGeough, wore one of his dad's old jerseys while reffing a Saskatchewan Junior Hockey League game on Saturday. … A Wisconsin goalie took a shot to the head that dented his facemask in practice the other day (from Garrett Van Auken). … New BFBS uniforms for Holy Cross women's hockey (from @OlegKvasha). … The NWHL's Buffalo Beauts have new uniforms (from our own Jamie Rathjen).

Basketball News: For the latest in NBA number assignments, head to Etienne Catalan's Twitter page. … Interesting photoshop treatment by ESPN for free agent PG Isaiah Thomas (from Cody Reeder). … Miami is the latest college program to put a social justice message underneath the back uni numbers (from Jason Lefkowitz).

Soccer News: New logo for the Egyptian Premier League (from Kary Klismet). … Here's an interesting thread that imagines soccer jersey concepts for several UK-based supermarket chains (from Steve Kriske).

Grab Bag: Several items from Kary Klismet: Caledonia High School (Mississippi) is dropping its "Confederates" team name and opting instead for Cavaliers … X-Men writer Chris Claremont explains why characters tend to change uniforms and costumes intermittently. … New logos for the University of Pikeville, an NAIA school in Kentucky. … We have another NASCAR/football jersey crossover concept from Luis Fernando — this time it's Dale Earnhardt's silver and red paint scheme. … Here's an in-depth look at the U.S. Army uniform from World War I (from Timmy Donahue). … Another one from Timmy: South Korea is now permitting people with tattoos to become police officers. … Disneyland security guards have their own challenge coin — a commemorative coin often carried by military members or law enforcement (from Nick Allen). … New uniforms for French volleyball club ASPTT Mulhouse (from Jeremy Brahm). … New jerseys for Indiana University field hockey (from our own Jamie Rathjen). … Here's a video about the hidden history of Star Trek uniforms (from Steve Tilders).
• • • • •
• • • • •
• • • • •
Our latest raffle winners are Dan Netser, Casey Lute, Mike Engle, Bob Novotny, and Kraig Bishop, each of whom has won a Uni Watch Trading Card. Congrats to them, and my repeated thanks to Gordon Blau for sponsoring this one.