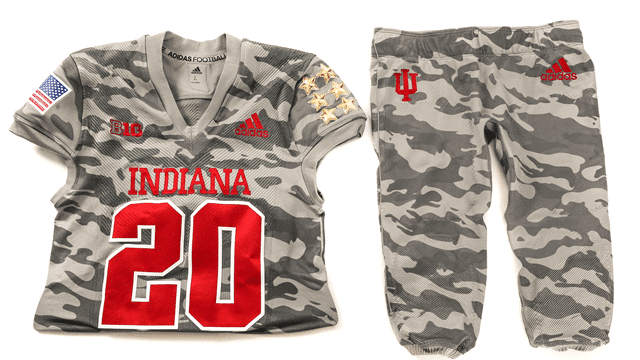 Nearly seven months ago, when the pandemic shutdown was still in its early phases, I wondered aloud if the pandemic might make the sports world and the uni-verse re-evaluate which types of heroes are honored on uniforms. And then a few weeks ago, in my treatise on virtue signaling, I noted that the pandemic and other events of 2020 appeared to have expanded the parameters for the types of virtue signaling we're seeing on uniforms, at least for this year.
But old habits die hard, at least judging by the new G.I. Joke uniform that the Indiana football team unveiled last night. They didn't say when they'll be wearing it, but I'm assuming it's for the Nov. 7 game against Michigan, since (a) that's the Hoosiers' only home game for the next month and (b) it's a few days before Veterans Day.
Interestingly, Indiana's press release didn't explain all of the uniform's "storytelling" details. But Jackson Kinney, who co-runs the sports division of the school's student-run TV station, gave a good breakdown last night in a Twitter thread. The info that follows comes mostly from that thread:
• The uniform is meant to honor the World War II battleship USS Indiana BB 58 (whose prow is currently installed outside the Hoosiers' stadium), with the camouflage pattern supposedly inspired by the ship's hull:
The camouflage design of the jersey draws inspiration from the design of the ship herself, painted camouflage to break up the silhouette for OTH (over the horizon) detection. (2/?) #IUFB pic.twitter.com/M4oR8zNVqf

— Jackson Kinney (@JJJJacksonBoone) October 27, 2020
• The nine gold stars on the left jersey sleeve represent the ship's nine engagements in the Pacific Theatre.
• It's not clear whether the helmet will also be camouflage (no photos were released). Whatever color or pattern it is, the names of the ship's crew members will be printed inside the center striping.
Maybe you think that's powerful and moving, or maybe you think it's pandering at best, stolen valor at worst. Either way, I really hope we can all agree that this uniform looks bad. Like, really bad. Camouflage jerseys just don't work on a football field, the pants make it even worse, and — here's the clincher — the red trim looks particularly brutal against the camo background. Woof!
The school's connection to the Indiana is interesting. The press release explains, for example, that the university "awards an annual $5,000 scholarship to one current or newly admitted student who either currently serves on or has served on the USS Indiana SSN 789, a United States fast attack submarine that was commissioned in 2018 and is the fourth naval vessel to bear the USS Indiana name" — something I didn't know until now. So in that sense, this uniform (or at least its press release) has been educational, which is a good thing.
But there has to be a better way to honor the ship, its crew, and Veterans Day than by having football players play dress-up soldier in cheesy costumes, especially in a year when many of us are embracing a more expansive concept of heroism. Come on, Hoosiers — you can do better than this.
• • • • •
• • • • •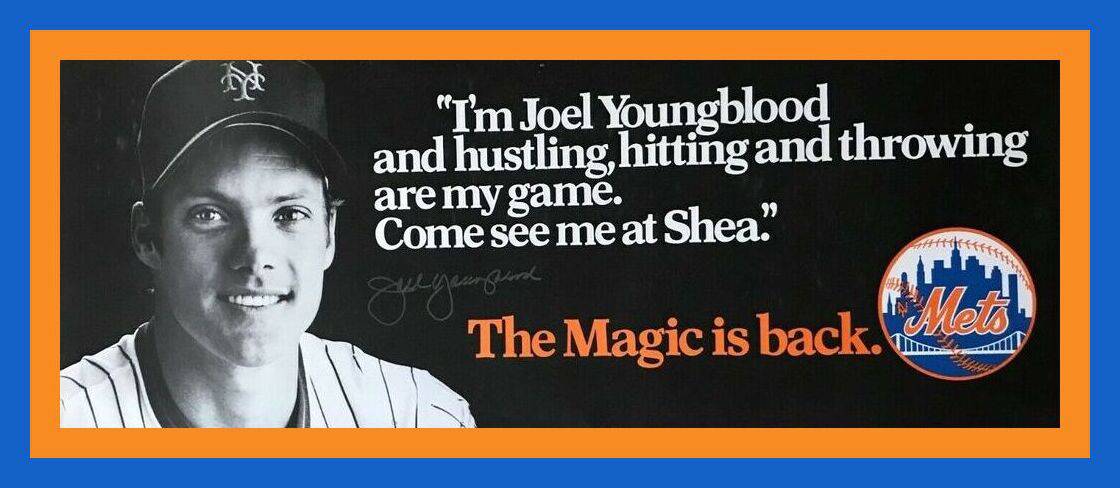 Click to enlarge
Collector's Corner
By Brinke Guthrie
Follow @brinkeguthrie    
Leading off today's Collector's Corner, we have a signed Joel Youngblood poster from his time with the Mets. This was part of a series of NYC subway ads that the Mets ran in 1980, and the seller says Youngblood signed it at Citi Field 39 years later!
Now for the rest of this week's picks:
• Here's a 1968 Dallas Cowboys helmet with perhaps the biggest facemask I've ever seen. A family of four can live in that thing! It even has a "Lilly" Dymo label, although the seller isn't claiming that Bob Lilly actually wore this.
• Look at this 1931 print ad for Jimmy Foxx's Reach baseball glove. Look at that thing — it looks like a living room recliner!
• How about this Kick-Off! Thrilling Football Game from 1941! Great box illustration.
• You can be a member of the 1972 Dodgers Pepsi Fan Club with this official patch.
• We've long featured the late-1960s/early-1970s NFL promo helmet banks, but this is the first New Orleans Saints version I've seen.
• Take a look at the terrific artwork on this 1968 Atlanta Falcons poster. The seller also has posters for several other teams.
• This set of of 1970s Philadelphia Eagles bumper stickers flatly states, "We're Number #1!"
• Here's a 1980s San Francisco 49ers glass. The seller says that the glass was sold full of, you guessed it, Fisher Nuts.
• One more Niners item: I can't say I've ever seen one of these floppy knit hats before.
• Baltimore Colts fans went "Colts Crazy" with this beer stein.
• • • • •
• • • • •

Click to enlarge
ITEM! Taco Tuesday: As you can see above, there are some new additions to the menu of theoretical T-shirts.
Wouldn't it be cool — you know, just in theory — if you could actually order these shirts? If you'd like to discuss that, or any other items on the theoretical menu — shoot me a note. I'm sure it'll be an interesting conversation.
• • • • •
• • • • •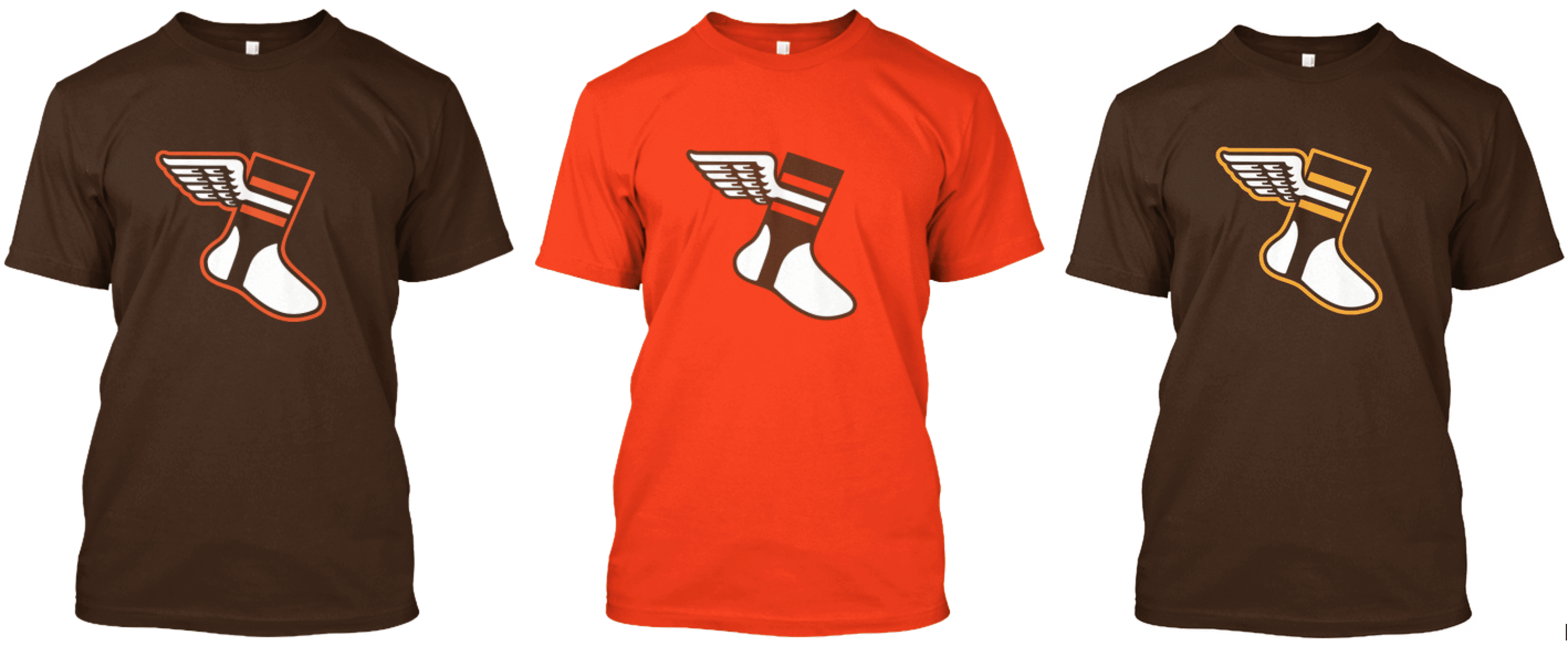 Click to enlarge
ITEM! New Color Remix shirts: As we get deeper into autumn, designer Bryan Molloy and I thought this was the right time to roll out some autumn-colored Color Remix shirts. These should appeal to Browns, Padres, Bowling Green, and Wyoming fans, or just to anyone who likes these colors.
Here's where you can get the brown/orange, orange/brown, and brown/yellow versions. Caps to follow next month!
Meanwhile, the Halloween-colored caps — black/orange and orange/black — are still available here, and all of the Color Remix T-shirts remain available in the Uni Watch Shop.
• • • • •
• • • • •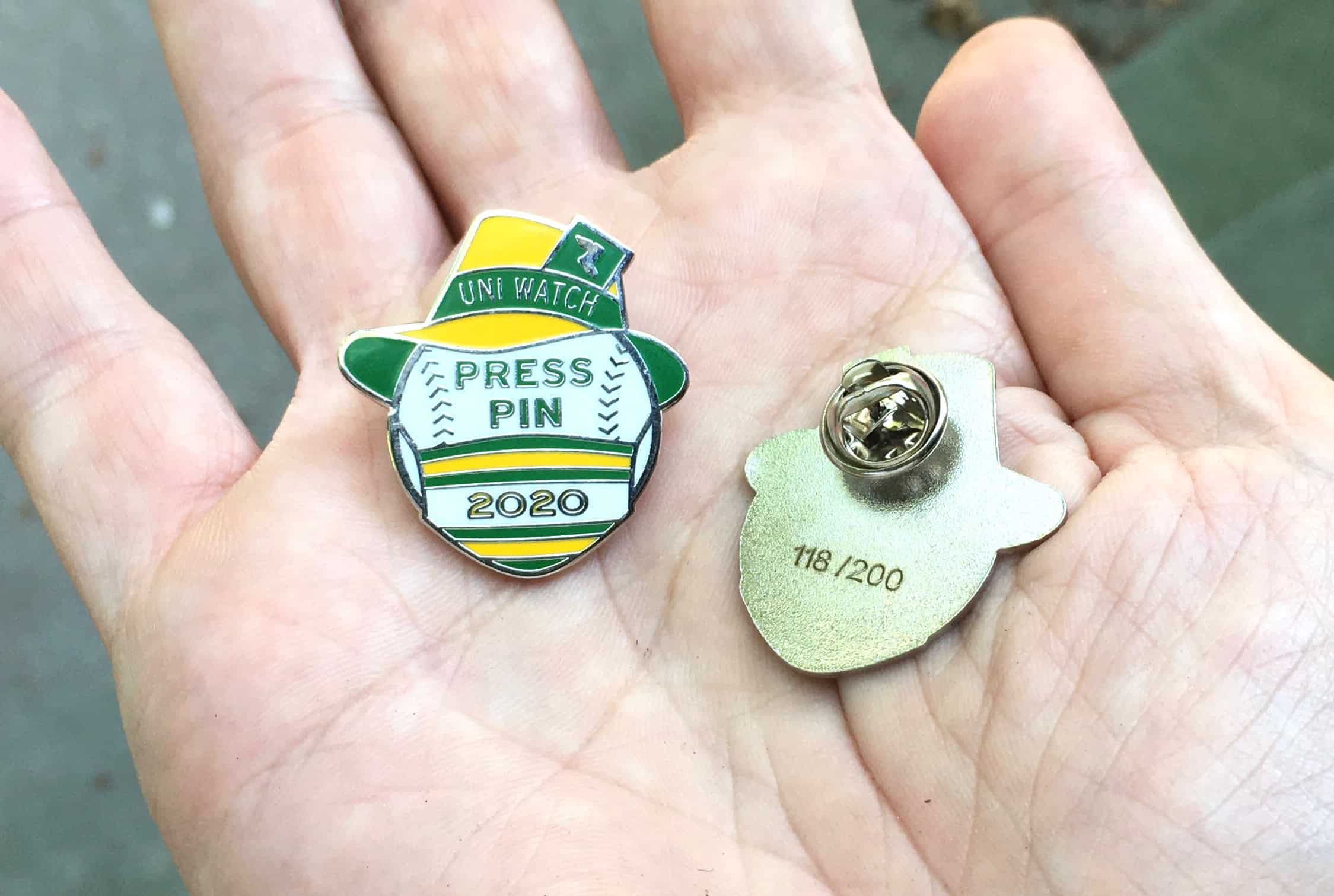 Click to enlarge
One last press Pin update: After a Teespring technical glitch that was causing problems for a few days, the Uni Watch 2020 Press pin is once again available. But probably not for long — as of this morning, there are only nine pins remaining. They're available here while supplies last.
• • • • •
• • • • •
The Ticker
By Alex Hider

Baseball News: Check out this 1964 photo of Mickey Mantle in a Dallas Cowboys T-shirt. Does anyone know anything about that "Skeet Shooting Champ" logo on the sleeve? (From Alan Tompas.) … Los Angeles Rams WR Josh Reynolds showed up to last night's game in a Dodgers jersey (from Jakob Fox). … The Ferris wheel at the Santa Monica Pier has been lit up with an animated Dodgers display to support the team's World Series drive (from Kary Klismet).

NFL News: The NFL Players Association is continuing to call for all teams to switch to natural grass in order to promote player safety — and it would no doubt be a huge aesthetic boost as well (from Mike Chamernik). … Cross-listed from the baseball section: Rams WR Josh Reynolds showed up to last night's game in a Los Angeles Dodgers jersey (from Jakob Fox). … Also from the baseball section: Check out this 1964 photo of Yankees great Mickey Mantle in a Cowboys T-shirt. Anyone know anything about that "Skeet Shooting Champ" logo on the sleeve? (From Alan Tompas). … From the forums at Gridiron Uniform Database: Great photos from the first American pro football game played outside of the U.S., when the New York Yankees and the Los Angeles Wildcats of the old AFL played in Toronto in 1926 (from Russell). … Good thinking by Mike Malnicof — he notes that in the (new) AFL's inaugural season in 1960, half of the league's eight teams — the Bills, Broncos, Chargers and Patriots —wore numbers on the sides of their helmets.

College Football News: Florida will wear 1960s throwback uniforms on Saturday. It will mark the first time the program has worn blue helmets since 1965 (from Cooper Goetz and Moe Khan). … Georgia Tech will wear 1990s "Black Watch Defense" throwbacks on Saturday. The design hearkens back to the days when standout defensive players got to wear black helmet striping and a black "GT" logo (thanks to all who shared). … At this point, it's pretty clear that replay failed Penn State during Saturday's game, and Indiana should have been spotted short on the deciding two-point conversion. But the Hoosiers won, and to the victors go the spoils — even if that means re-writing history on T-shirts to show the ball breaking the plane (from John Dankosky). … Iowa has added racial justice messaging to their rear helmet bumper this season (from our own Jamie Rathjen). … Reader Quentin Medeiros notes that Hawaii debuted a new pair of white pants on Saturday.

Hockey News: The Stars teased their new alternate uniforms, and it looks like they'll be black (from Chris Sadeghi). … Early voters at the Capital One Center in D.C. can get Caps-themed stickers (from @OlegKvasha).

Basketball News: Anyone voting early at the Barclays Center in Brooklyn gets an "I voted" sticker featuring the Brooklyn bridge and the logos for the Nets and Liberty (from @Starkman55). … Speaking of "I voted" stickers, early voters at the Capital One Center in D.C. can get Wizards or Mystics themed stickers (from @OlegKvasha). … New logo for  the Manchester Giants of the British Basketball League (from Timmy Donahue).

Soccer News: Sunday's Ticker included a note about Pharrell Williams-designed Adidas uniforms for a few top clubs. Usually, celebrity collaborations are relegated to merch dumps, but Juventus actually wore their version on the field Sunday (from our own Jamie Rathjen). … Players for the EPL's Wolves warmed up Sunday in T-shirts designed by local schoolchidren. Two dozen winners were selected from 800 entries (from Trevor Williams). … New third kit for Brentford FC of the English Championship (from our own Anthony Emerson). … Heerenveen, a top-level club in the Netherlands, filled its stadium with 15,000 teddy bears on Saturday to represent all the children in the country affected by cancer. They auctioned off the bears and raised more than $270,000 for charity (from Mark Coale).

Grab Bag: New renderings for the planned renovations at Charleston, S.C.'s professional tennis stadium (from Kary Klismet). … Another NASCAR/football jersey crossover from Luis Fernando, who put one together for driver Kyle Busch. … Morgan State has signed a new apparel deal with Under Armour and teased several new team uniforms (from Brian Simpkins). … Good thread on all things cats in college sports (from James Gilbert). … New uniforms for the French women's volleyball team RC Cannes (from Jeremy Brahm).
• • • • •
• • • • •