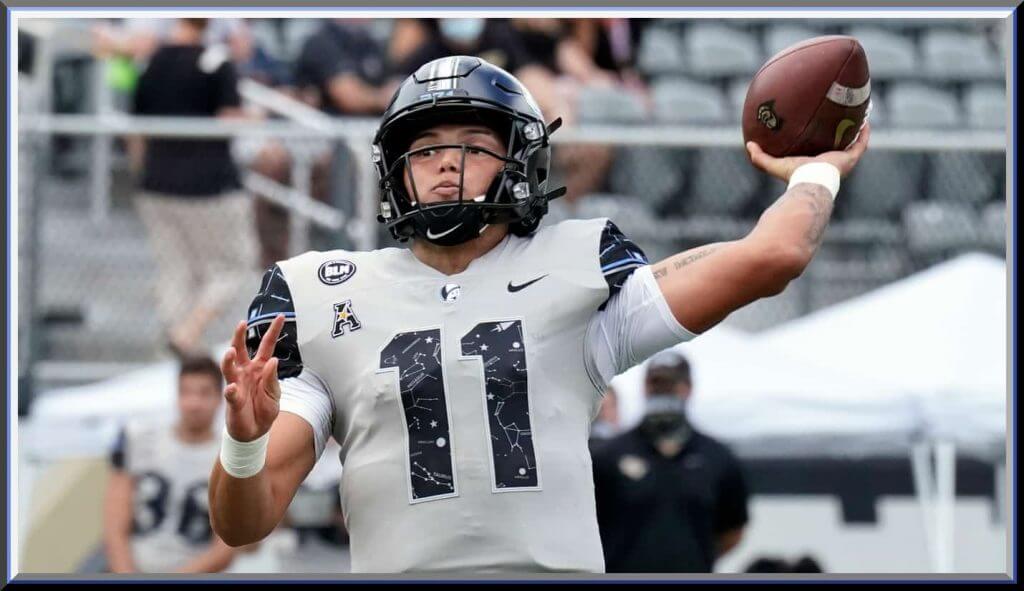 By Phil Hecken & the SMUW Crew
Follow @PhilHecken

Good Sunday morning, everyone. Hope you all had a good Saturday! Any crazy finishes to any games happen yesterday?
With the B1G resuming play this weekend, making this the b1ggest NCAAFB uni fest so far this season, there were lots of interesting games from which to choose.
UCF played its fourth annual "Space Game" and sported some nifty new unis for the game. A very good explainer of this year's uniforms can be found here.
Most gimmicky uniforms look better on paper (or computer screens) than they do on the field, but I thought Central Florida did a really nice job with these, and they turned out pretty nicely: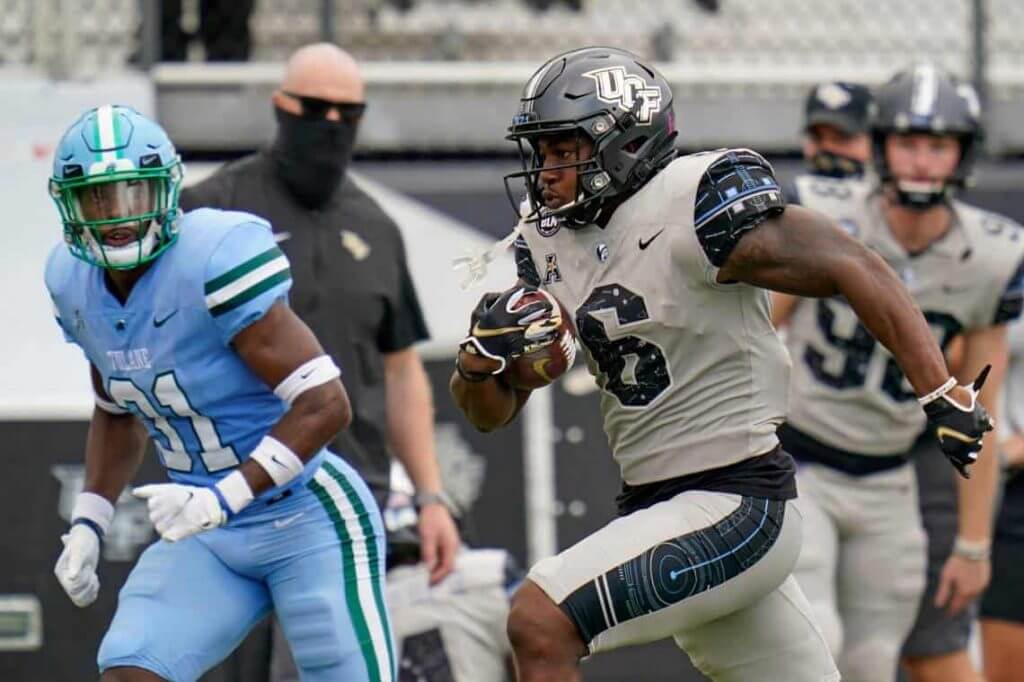 (It didn't hurt that Tulane wore what may be their best look either.)
They didn't "overdo" it with the space imagery, and I thought it was packaged quite well. Of course, UCF has a crappy number font (which can't be blamed on these one-offs), but otherwise I thought the team looked pretty good.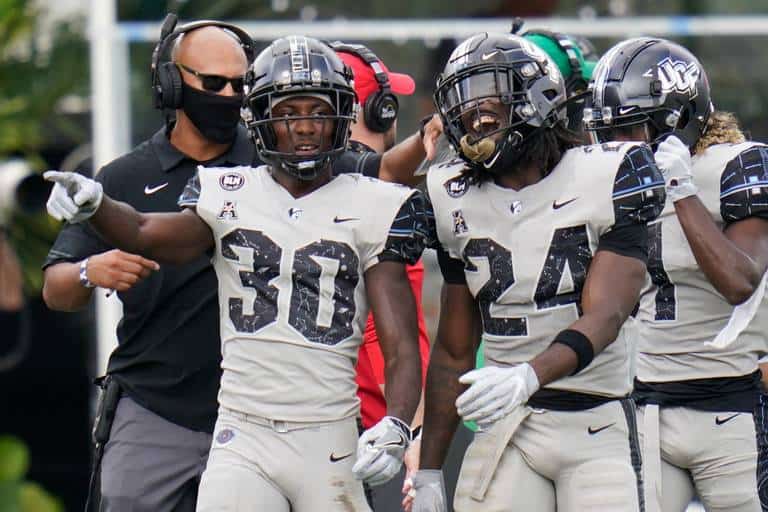 These weren't all that different from the Space Game uni worn in 2019, but those were white and the 2020 version was a light gray. The 2018 version was mono-black and featured a blue reflective material. Their inaugural 2017 unis were more space-themed only on the helmet. I think the 2020 version is their best look so far. Storytelling aside, if the unis don't look good on the field, then the gimmick has failed. UCF passed with flying colors.
OK, now here's TJ with the rest of your…
• • •
Sunday Morning Uni Watch
by Terry Duroncelet, Jr.
Time is an illusion (read: this week went by too fast), but Big 10 football is concrete. And Mountain West football, can't forget them.
From Thursday:
• Would it really be October if there wasn't some type of Breast Cancer Awareness demonstration? Appalachian State wore decals to mark such an occasion in their game against Arkansas State (full gallery here). In the past, they wore the decals on black helmets, as opposed to Thursday night's white.
From Friday:
• The Bee One Gee began play (on a mass-scale) on Saturday, but Illinois and Wisconsin kicked things off a day early, on Friday night. Illinois channeled their inner Duke and blacked out their block I decals, in recognition of the ongoing fight against racial injustice in the United States. Here's a great shot of the back, which shows some other BLM marks. Here's another with a different neck bumper message.
From Saturday:
• I'm not sure what I love more: Tulane's throwback helmet decals, or UCF's Mission IV unis (more details here).
• Mizzou wore the now seldom-seen block M helmet decals against Kentucky.
• Contrast Matters: Grey Area Edition. Not the worst-looking matchup I've seen, but still underwhelming. Also, P L E A S E Cowboys, if you don't wear this against Texas on Halloween next week, I will literally pass away.
• Ohio State wore EQUALITY neck bumpers against Nebraska (vid).
• Texas wore throwback uniforms against Baylor. The unis were a tribute to the 1970 championship team.
• Pitt… we need to talk. With all of your aesthetic success in recent years, you… choose to upchuck all over that? Like, just straight-up said "Pencil lead is a valid school color, right?" The only silver lining here is that they contrast from Notre Dame, versus if they were to wear, say, this. Also, I have no way of finding the corresponding footage, but apparently, there was some crew banter about Pitt's Pencil togs. If you want Phil's two cents from the last time they wore these a month ago, have at it.
That'll do it for this rather short Week 8. Because next week's column lands on November 1st, I'll say this now: I hope you have a safe and considerate Halloween, rather you're watching Crimson Peak and The Nightmare Before Christmas for the 2,456th quillionth time, or making homemade treats with family, or whatever the day calls for, and I'll see you next week.
• • •
Thanks, TJ! OK, now on to the rest of todays SMUW…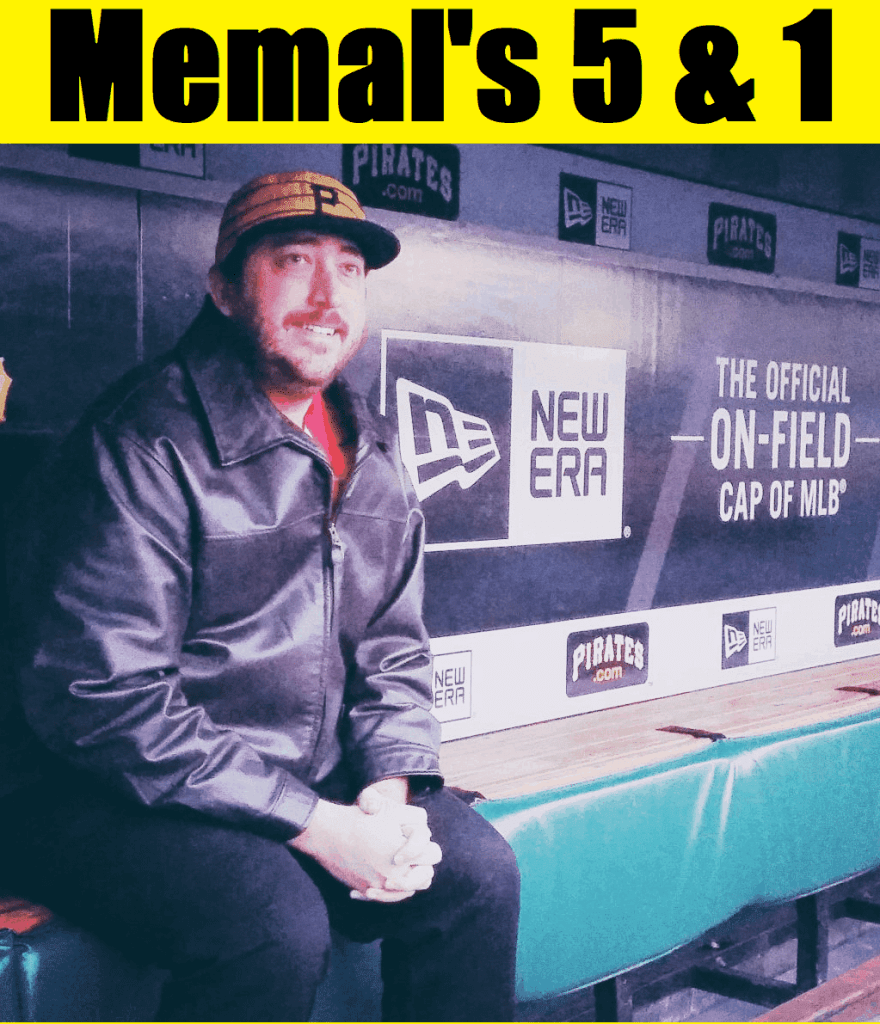 Memal's 5 & 1
Following in the footsteps of the original "5 & 1," Jim Vilk, Catherine Ryan after him, and finally Joe Ringham, in 2019 we introduced a new "5 & 1" (five good looking and one stinker) uni-vs-uni matchups — Michael "Memal" Malinowski. Like Joe, Catherine & Jim, Memal will pick HIS 5 best looking/1 awful matchup, and occasionally have some honorable mentions (both good and bad). You may agree and you may disagree — these are, after all, just opinions and everyone has one. Feel free to let him know what you think in the comments section.
Here's Memal
• • •
With two conferences kicking off their football seasons and only one cancellation there was a wealth of games to choose from for the 5&1 this week. I forgot how much effort it takes to see a picture or a highlight from every single game, but it was delightful to see so much college football action!
__________
Honorable mentions
__________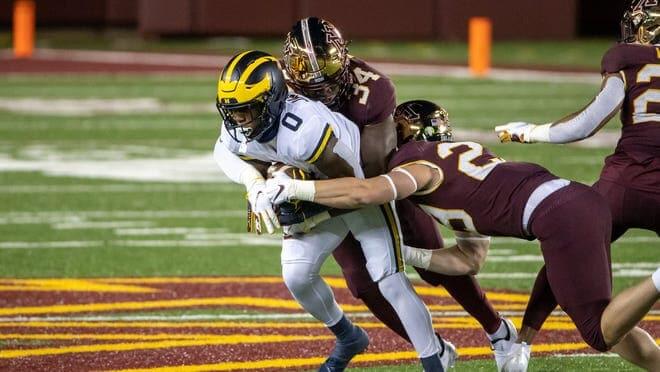 5. Michigan @ Minnesota

It's not every year teams open the season competing for a rivalry trophy, but the Gophers and Wolverines did just that on a chilly night in Minneapolis. The Wolverines looked sharp in their standard away set and the Gophers wore their golden chrome helmets with their maroon jerseys and pants.
__________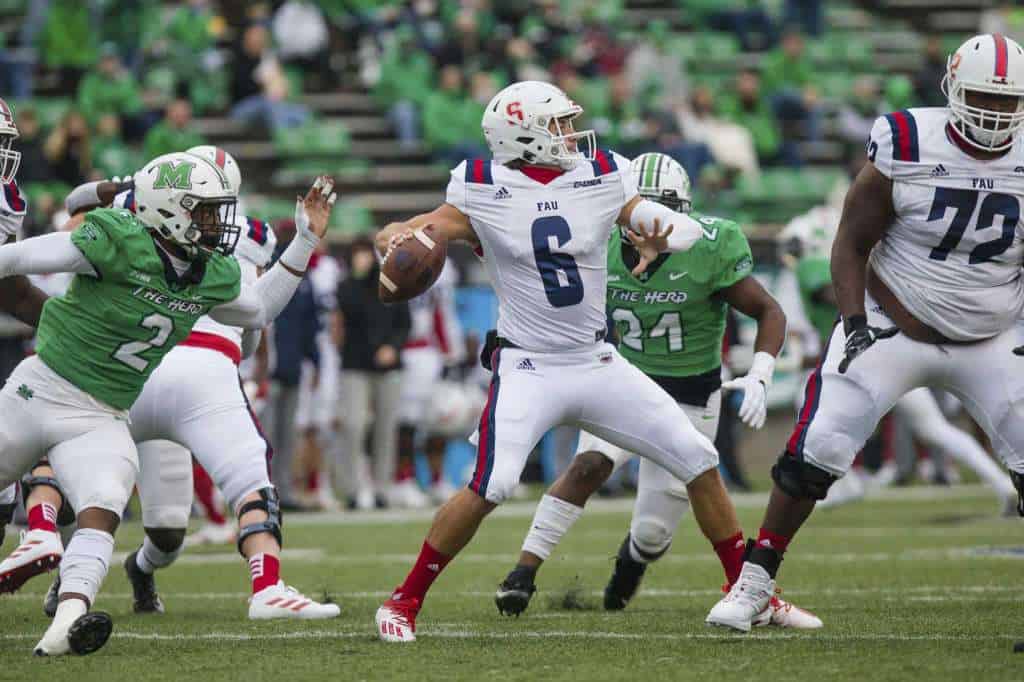 4. Florida Atlantic @ Marshall

Sometimes when teams both wear white helmets and white pants it's just too much of one color on the field, but, in this case, the contrast of the undefeated Herd's green and black against the red and blue of the Owls added enough to make this an interesting and good looking match up.
__________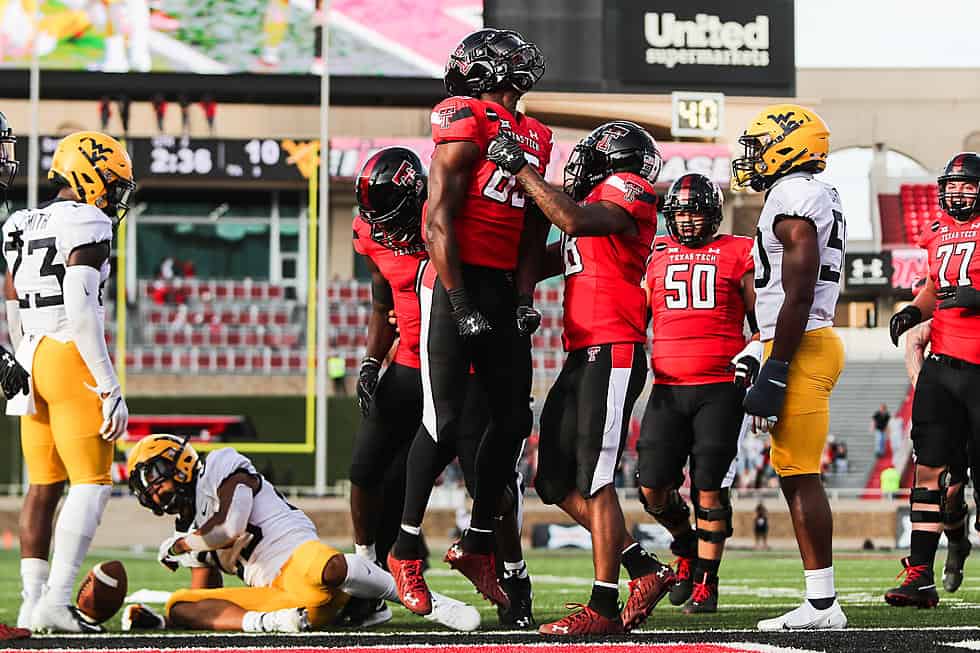 3. West Virginia @ Texas Tech

This was a bright and bold contest! I can't recall the last time I saw the Mountaineers in yellow/white/yellow, but against the Red Raiders in their best look, black/red/black, it was a great game in Lubbock for football fans and for Those-Who-Get-It!
__________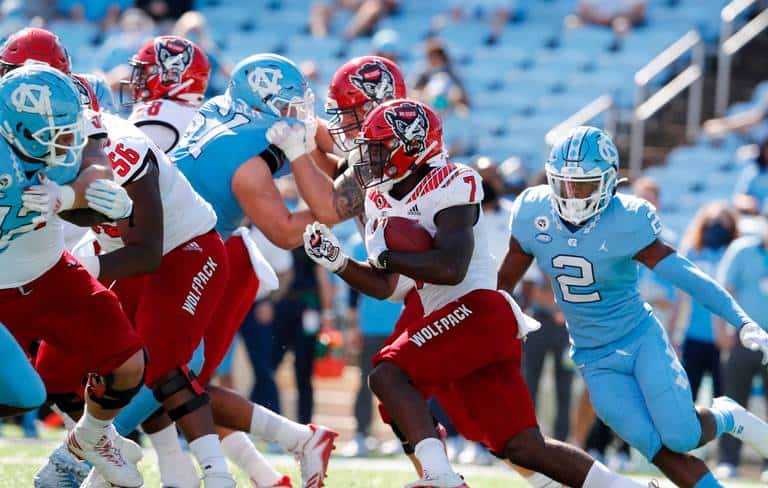 2. NC State @ North Carolina

The Tar Heels took on their in state foe Wolfpack in a big ranked match up and sported their Carolina Blue from head to toe, providing a terrific contrast to the NC State's red. Add on the unique stripe patterns sported by both teams, what was at stake(keeping pace near the top of the ACC standings), and a beautiful day at Keenan Stadium and you get a top 5 uni-match up!
__________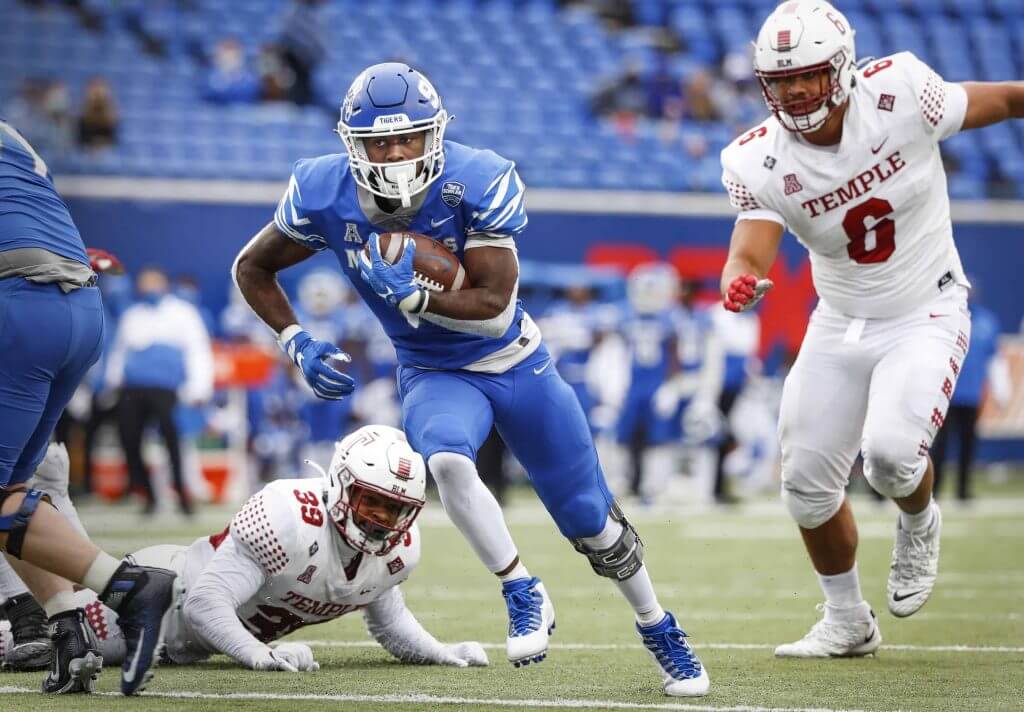 1. Temple @ Memphis

This game featured two of my favorite uni features; helmets featuring the team logo and a number on opposite sides(in this case, Memphis had their area code!) and completely unique stripe patterns! I don't always care for a mono vs mono uni match up, but those details made me overlook how the Owls and Tigers went mono-white and mono-blue respectively. This was a match up that was a lot of fun to look at!
__________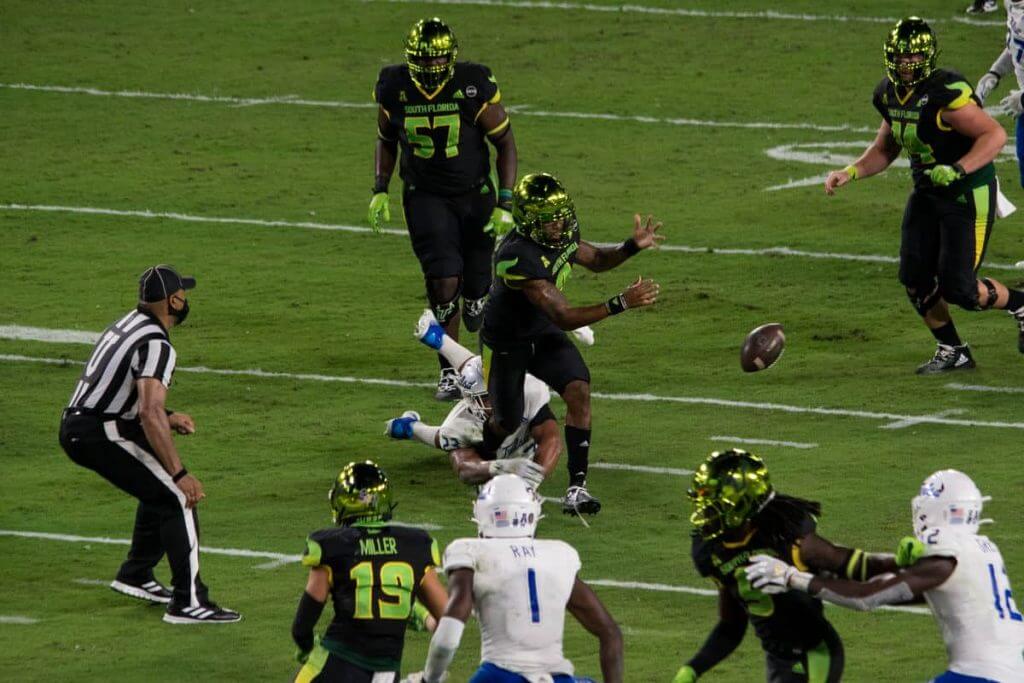 &1 Tulsa @ USF

I liked the alternate design the Bulls went with here, but I couldn't get over the sickening shade of lime they used. I get that South Florida went with the bright lime green because their standard shade of green is too dark for black unis, and I do like how it looks as a chrome helmet, but against a team in a plain white/white/blue uni set it comes off to me as looking ill rather than flashy or wild.
• • •
Thanks, Memal! OK readers? What say you? Agree or disagree with Memal's selections? Let him know in the comments below.


NCAA Uni Tracking
Uni Watch will again track the uniform combinations worn by the "Power 5" conferences. All of the 2019 trackers are back! Unfortunately, not all of the conferences are back. Here's how the trackers would track, if all the schools were playing:
We've got Rex Henry (tracking the ACC), Dennis Bolt (tracking the PAC-12), Kyle Acker (tracking the Big XII), and Ethan Dimitroff (tracking the B1G AND the SEC). Rex, Dennis, and Kyle and are all returning from 2015, and Ethan is back after joining the NCAA Uni Tracking a couple seasons ago. Ethan continues his dual role of tracking both the B1G and the SEC.
But this year the B1G and PAC-12 aren't playing at all. So we won't have tracking for them this season. UPDATE: The B1G has begun play and the PAC-12 expects to begin play in two weeks.
Here are the Uni Trackers for the Power 5 Conferences (I've left all the previous tracker info in their usual slots, even if the conferences aren't playing. In case you want to click on any of the links):
+ + + + + + + + + +
Rex is up first today (ACC):
• • •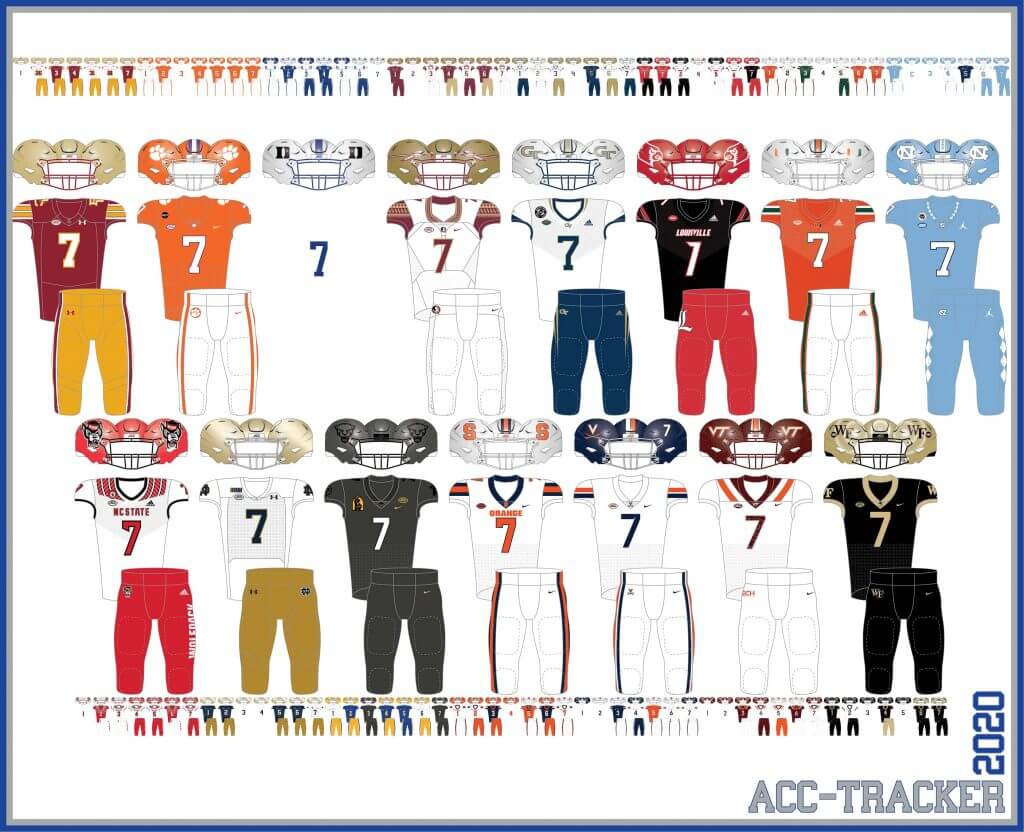 ACC

More Here.
Follow Rex on Twitter here.
• • •
And now, here's Dennis with the PAC-12: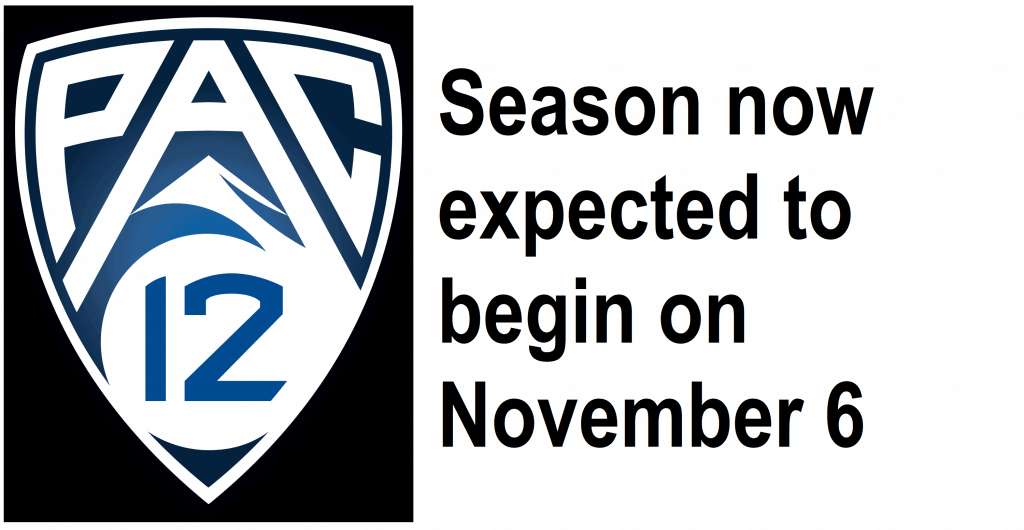 PAC-12

More here.
Follow Dennis on Twitter here.
• • •
And here is Ethan, with the SEC: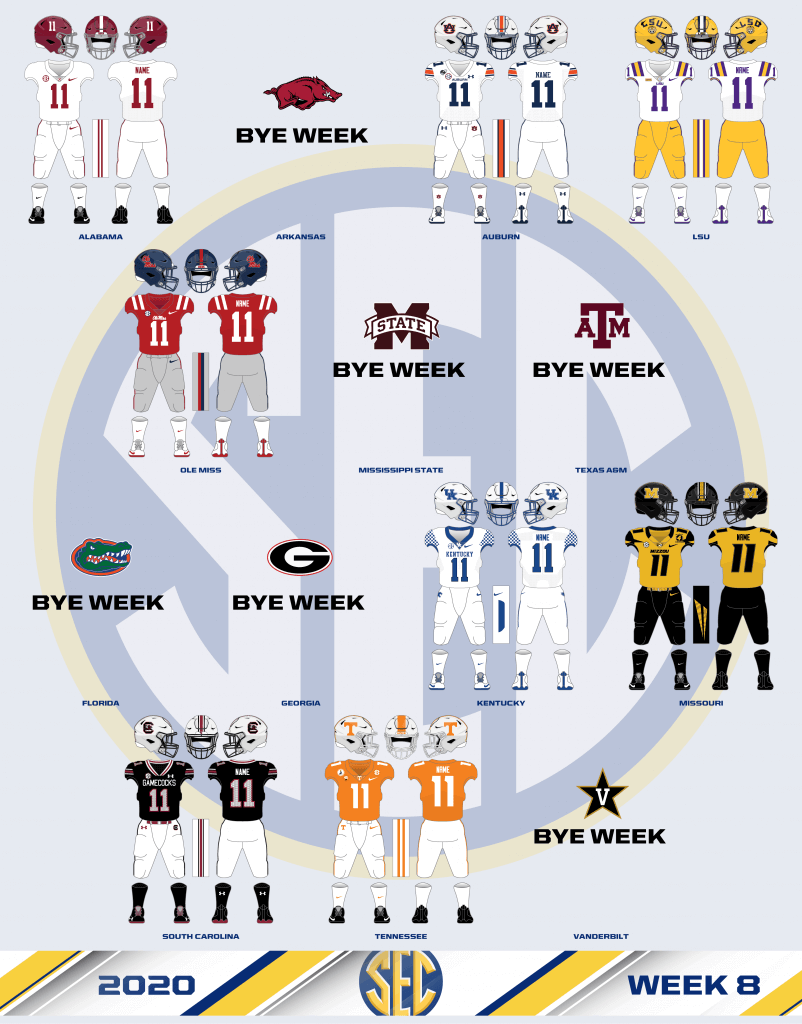 SEC

And be sure to check out Ethan's WVU Mountaineer Tracker.
Follow Ethan on Twitter here.
• • •
And here is Kyle with the Big XII: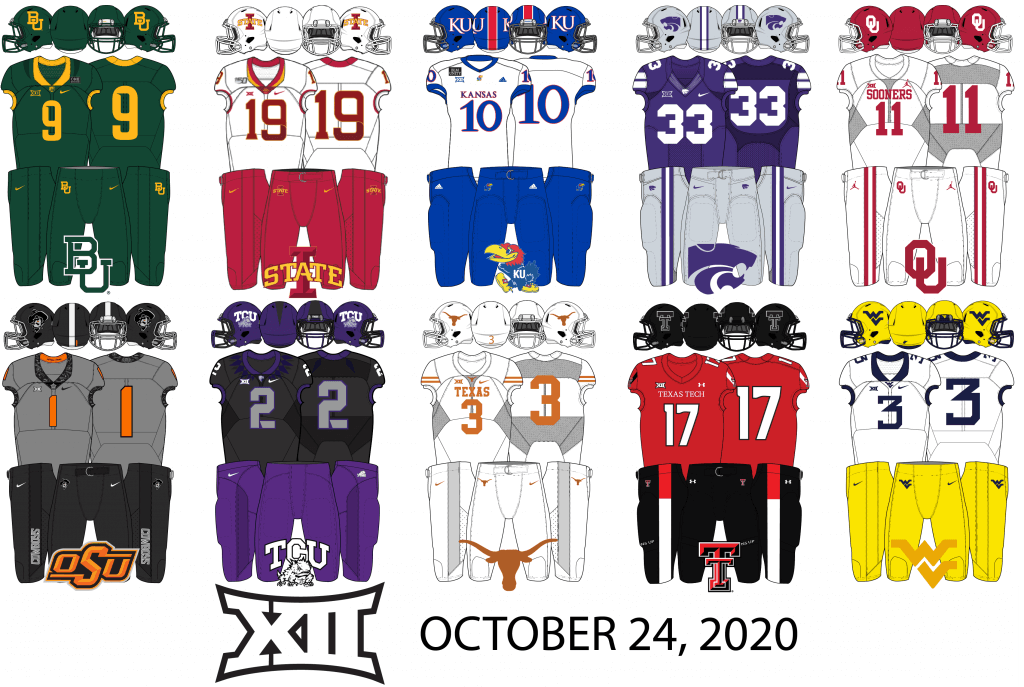 Big XII

Follow Kyle on Twitter here.
• • •
And here's Ethan with the B1G:
B1G



MLB Playoff Uni Tracking
We made it to the World Series, and over the past several weekends Alex Rocklein has been tracking the jerseys of all the teams involved in the MLB Post Season. Here's the full Wild Card round jersey matchups (click to enlarge):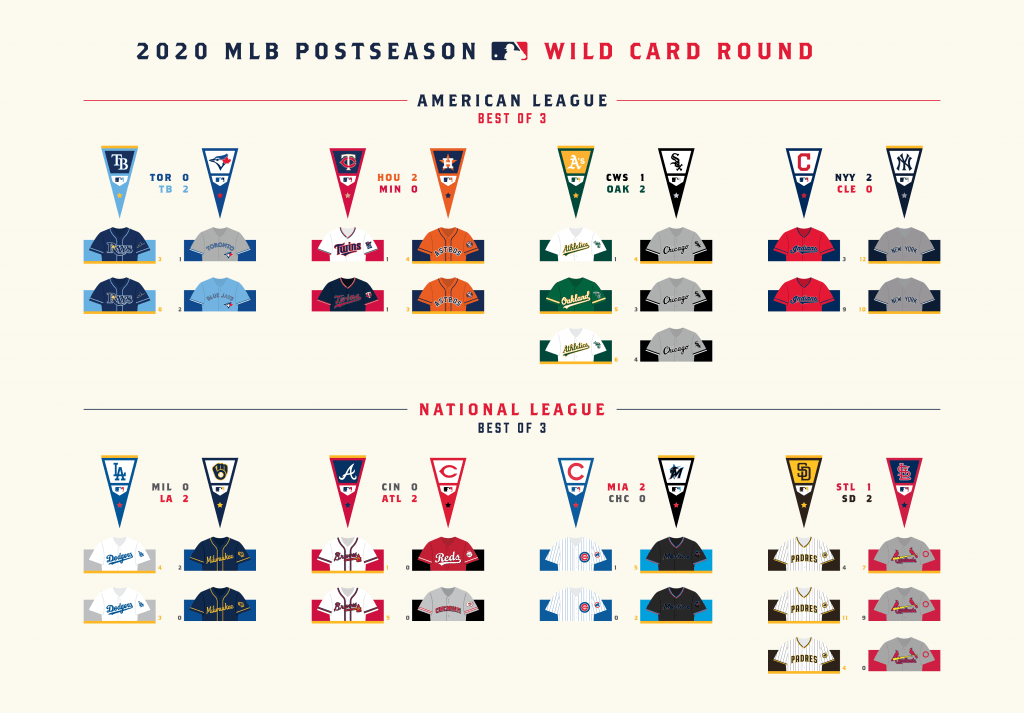 In a move I wasn't honestly expecting, the Rays went back to their favored Navy Blue jerseys last evening. Going into the game, they'd lost four straight times when wearing them, so maybe they felt they could break the streak/mojo by going back to them. Alex sent me his tracking before last night's game ended, so there is no score reflected in the graphic below: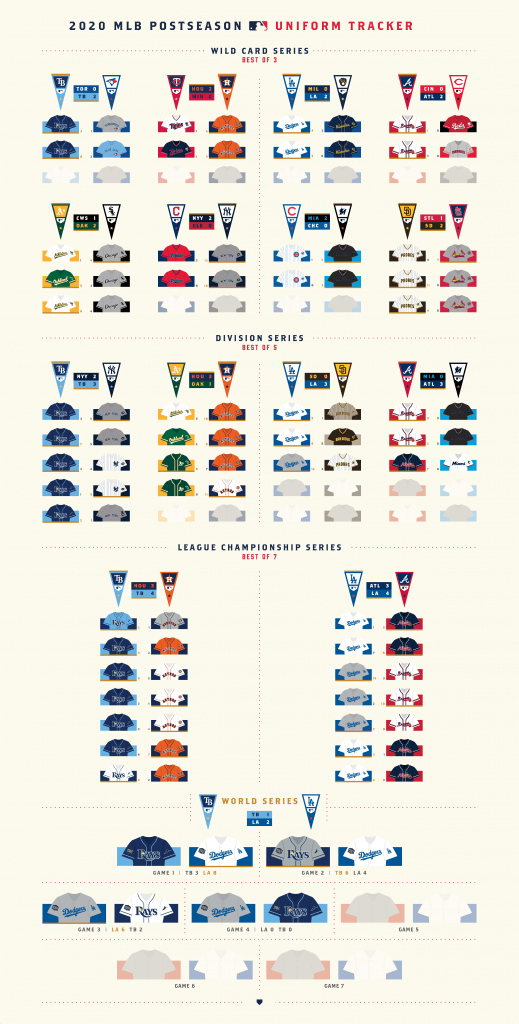 I hope you guys had a chance to watch the game last night. Unlike the night before, this one was a nail-biter throughout and featured one of the craziest endings I've EVER seen in a baseball game, let alone a World Series game. It was a thrilling comeback for the Rays, who I'm now certain will wear their navy blue tops for the remainder of the series. With the series now knotted a two games apiece, it's now a best-of-three and this being 2020…anyone can win.
Alex will continue to add to this graphic through the end of the World Series' and I will have the final graphic for you next Saturday.


B1G rankings/preview reminder: Paul here. In case you missed it on Friday, I marked the belated beginning of the Big Ten football season by ranking the conference's uniforms, plus I provided updates on all the uniform and patch/decal changes for the new season. You can check it out here.
One bit of breaking news not included in that piece, because it was announced Friday evening, is that Minnesota is adding two rear-helmet decals — one for longtime local sportswriter Sid Hartman, who died on Sunday (more on that here), and one with a "HERE" logo, which stands for Helping to End Racism through Education (more on that initiative here):
New additions to our lids. pic.twitter.com/SS2geTkGlq

— Minnesota Football (@GopherFootball) October 23, 2020
That's it from me. Now back to Phil!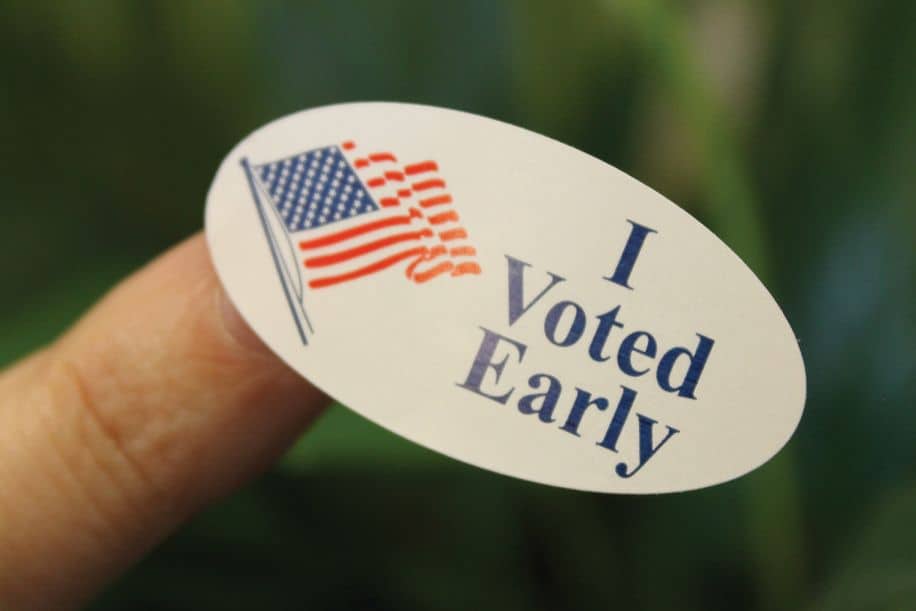 I Voted Early
As many (most?) of you know I live in the State of New York, and yesterday was our first day of Early Voting. Across my County, there were 15 official voting sites (not one's normal polling place), and I decided to take advantage of it. The place I chose was only about two miles away, so I figured I'd wait until the afternoon and see how bad the lines were. Turned out to be a good decision.
I'm not sure how it works in other jurisdictions (I'm assuming it's probably pretty similar), but in New York we get a post card giving us our voting info (on the flip side were the dates, times and locations for dropping off an absentee ballot or to vote early). One needn't bring this card to the polls, but it helps — because everything is now electronic, and once I waited in line (it was only about 50 minutes wait time, although one of the poll watchers said the wait times were four hours earlier in the day) I handed the card to the inspector who simply scanned the barcode, which printed out the ballot that corresponded to my AD (Assembly District)/ED (Election District). From there, I just had to fill the ballot out and then run it through a scanner. Boom!
It was the longest I've ever had to wait to vote in my life, but it was worth it. Everyone in line seemed eager to do their civic duty, and there were no incidents, altercations or electioneering of any kind. I don't want to say it was the most pleasant experience in the world, but it wasn't bad. Everyone wore a mask and socially distanced. I was proud of my fellow early voters!
I hope everyone who is eligible to vote does exercise the franchise. Whether you want to vote by mail, in-person early or as you (probably) always did — on Election Day itself — I urge you do to so. I don't think it's an understatement to say the 2020 election (not just on the Federal level) may be the most consequential of our lifetimes.
My ONLY regret is that the location where I voted ran out of "I VOTED" stickers. I saw a few people who were leaving the place with them, so I guess going later in the afternoon may have meant shorter waiting times, but also not enough stickers!
If any of you have voted early (in person), love to hear if you had any issues or was it relatively smooth sailing. (And did you get your sticker?)


Uni Watch News Ticker
By Phil

Baseball News: Last evening, Los Angeles Dodgers pitcher Brusdar Javier Graterol wore Kobe Bryant tribute cleats (from Jakob Fox).
.
.

NFL News: The Buffalo Bills will be in mono-white against the New York Jets today, who will be sporting mono-green. … Speaking of the Bills, this is pretty impressive: a guy flew a plane in the shape of the Bills logo over Orchard Park (from Marc Burgess). … To the surprise of exactly no one, the Saints will be wearing mono-black at home. … Newest Tampa Bay Buc Antonio Brown was photoshopped with his QB, Tom Brady, in the old Bucs uniform (and poorly at that). From Nicklaus Wallmeyer. … The last time the Browns played the Bengals, they wore brown jerseys over orange pants (the new set). They're headed to Cincy today and will again wear the orange pants, this time with the white jerseys. … The Atlanta Falcons have named Dr. Martin Luther King, Jr. as their honorary captain today, and will be wearing their red>black gradient uniforms to boot. … The Rams gave season ticket holders a commemorative acrylic ticket from their first game in SoFi Stadium and in the package there was a note with an inaugural logo on it. Submitter Jakob Fox says "Wonder why the Rams didn't wear a version of this w/out 'SoFi' for their opener." … On a related note (and also from Jakob), it looks like this may be the #vote sticker for SoFi Stadium.

College/High School Football News: Now that the B1G has begun play (with the PAC-12 scheduled to begin play in two weeks), you can now check out the Big Ten Football Helmet Schudule. … Speaking of the PAC, Arizona State football unveiled an alternate uniform on Saturday that is a throwback nod to its 1975 season. … The Orange Unified School District in California held a virtual grand opening for its new high school stadium on October 22nd because, well, you know (From Kary Klismet). … The University of West Florida has revealed its championship rings for winning the 2019 NCAA Division II national title (also from Kary Klismet). … Still more from Kary, who asks, "Is it just me, or do the championship rings that Birmingham High School earned for winning the Los Angeles City Section Open Division football title look like they belong to another, perhaps much better-known football team that plays on the other side of the country?"

Hockey News: We've seen several leaks (and confirmations) of the NHL's new "reverse retro" fourth jerseys already, and the Vancouver Canucks will apparently have four different options from which to choose. BONUS! One of the "possibilities" was a DIY created by the great Wafflebored. … The writer of this article hopes the Blues don't go with a yellow gold fourth. … Wade Heidt reports, "Home opener for QMJHL's Charlottetown Islanders (Friday) night. New alternate black uniforms with ghosted numbers for @IslandersHKY." Here's some video of the new black unis. … Still more from Wade Heidt: The Penticton Vees unveiled their new thirds Friday night at home against Salmon Arm during this extended BCHL exhibition season. They are cream and have a vintage-style look and logo. … Everyone it seems (well, except for me) is getting an "I Voted" sticker. Those who vote at Staples Center get a special Lakers or LA Kings sticker. Submitter Jakob Fox adds, "Not sure if there are Clippers or Sparks options too." Here's a better look at the LA Lakers vote sticker. And here's a look at the LA Kings sticker (from Joe Nocella). [Also posted in the Hoops Section]


NBA/College Hoops News: Everyone it seems (well, except for me) is getting an "I Voted" sticker. Those who vote at Staples Center get a special Lakers or LA Kings sticker. Submitter Jakob Fox adds, "Not sure if there are Clippers or Sparks options too." Here's a better look at the LA Lakers vote sticker. And here's a look at the LA Kings sticker (from Joe Nocella). [Also posted in the Hockey Section] … Maryland has unveiled its 2019-20 Big Ten championship rings (from Kary Klismet).

Soccer News: Man United, Arsenal, Juventus, Real, and Bayern have all gotten an Adidas kit makeover courtesy of Pharrell Williams. Some of these look pretty good!

Grab Bag: Interesting read about people who investigate stolen valor. Included an in depth look at the Sheriff's in race Callahan County TX where both candidates fabricated portions of their military records (from Timmy Donahue). … "How about the patterns on Belarus' men's team handball uniforms? I know that Belarus has one on their flag," says Jeremy Brahm. … Relating to Jeremy's observation, Ed Żelaski notes a similar pattern on the national soccer team shirt as well, though a bit more subtle.


And finally… that's it for me for this week. Everyone enjoy the NFL today and Game 5 tonight, and I'll catch you back here on Hallowe'en! Big thanks to the SMUW crew once again, and Alex for the Playoff Uni Tracking.
Peace,
PH