Don't look now, but the Big Ten football season, which was originally postponed back in August due to the pandemic (a decision that was later reversed), is about to get under way. The first game is tonight, as Wisconsin hosts Illinois, with all the other B1G teams playing tomorrow.
With that in mind, my latest piece for InsideHook is a ranking of B1G uniforms, along with a preview of uniform changes that some of the schools have made. You can check it out here.
• • • • •
• • • • •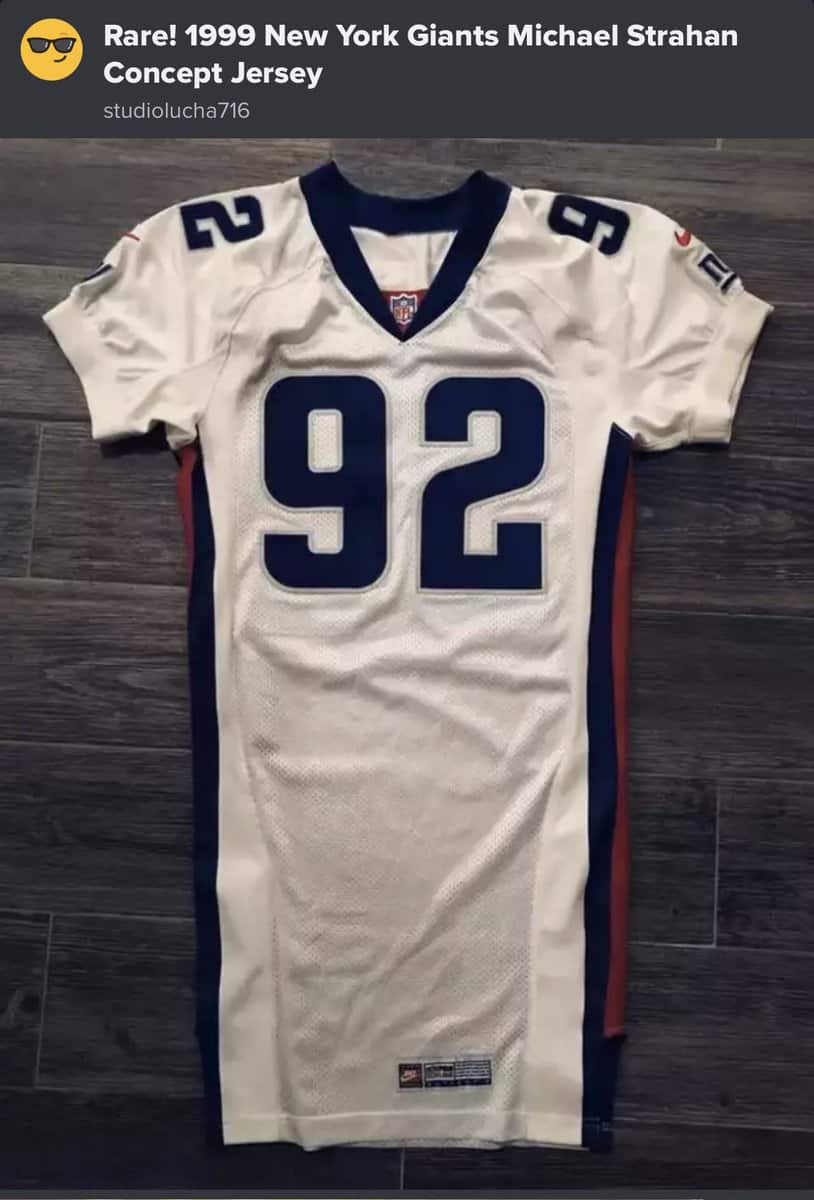 Click to enlarge
Too good (or at least interesting) for the Ticker: Here's something I've never seen before. According to Twitter-er @WorstGuyOnHere, this is a prototype jersey for a redesign that that the Giants were considering in 1999, complete with the brutal side panels that so many teams foolishly used around that time. Good thing they didn't go ahead with this one!
• • • • •
• • • • •
Membership update: Fun request by Jonathan Gutierrez, who requested that his latest membership card have a Heat theme, but with a 2020 NBA Finals treatment, complete with the Finals logo, the social justice statement, and the drop-down NOB. That's a lot to include, so we gave him the rare vertical card treatment.
Jonathan's card is part of a new batch that's been added to the membership card gallery. I have one slot left on our current sheet before sending it to the printer, so the next person to sign up with get their card very quickly!
Speaking of which: Ordering a membership card is a good way to support Uni Watch (which, frankly, could use your support these days). And remember, as a gesture of comm-uni-ty solidarity, the price of a membership has been reduced from $25 to $20 until further notice, plus a Uni Watch membership card entitles you to a 15% discount on any of the merchandise in the Uni Watch, Uni Rock, and Naming Wrongs shops. (If you're an existing member and would like to have the discount code, email me and I'll hook you up.)
As always, you can sign up for your own custom-designed card here, you can see all the cards we've designed so far here (now more than 2,900 of them!), and you can see how we produce the cards here.
• • • • •
• • • • •
The Ticker
By Anthony Emerson

Baseball News: Reader John Kimmerlein sends along a set of 1964 World Series tickets that the Orioles printed but never distributed — truly phantom tickets. "The note is from my Dad's buddy in the front office," says John. … At the 8:06 mark of this video from World Series Game Two, you can see Rays P Nick Anderson's broken necklace hanging out of his back pocket. Made for an odd sight as he delivered his pitches (from Ryan, who didn't give his last name). … The Charlotte Knights, Triple-A affiliates of the White Sox, gave Sen. Kamala Harris personalized jerseys for her and running mate Joe Biden while Harris was in Charlotte campaigning (from Marcus Hall). … Kary Klismet sends along a great story about how Wrigley Field's lack of lights before 1988 would have forced the Cubs to play at a different venue if they had made it to the World Series. … Here's a shot of past and then-present Mets managers Casey Stengel and Yogi Berra wearing the Mets' wool flannel and double-knit uniforms at the team's 1972 Old-Timer's Day event. The side-by-side shot really makes it clear how the shade of white shifted with the change in fabrics (from Scott M.X. Turner).

Pro Football News: A cloud of smoke descended on Lincoln Financial Field after a pre-game fireworks show during last night's Eagles/Giants game (from Mike Chamernik). … Looks like the Alouettes equipment staff didn't remove all of Fred Biletnikoff's sleeve numbers when applying the sleeve logo (from Tommy Gough).

College/High School Football News: DB Chamarri Conner earns Beamer's No. 25 jersey for Virginia Tech this weekend against Wake Forest. VT will go maroon-white-white in that game (from Andrew Cosentino). … UCF have unveiled new alternate unis inspired by outer space, featuring constellations in the uni numbers (from @CK_UCF). … Mississippi State is also launching a space-inspired uniform, which will make its on-field debut on Nov. 7 (from Romelle Slaughter II). … Illinois will wear a black "I" logo against Wisconsin tonight, plus a raised-fist rear-helmet decal, as a social justice statement (from @mrmichael21). … Iowa State is going white-white-red against Oklahoma State tomorrow (from Chad Lehman). … UNC is going mono-blue against NC State (from James Gilbert). … Michigan State going green-green-white this weekend (from @MSU_Uniforms). … Blue-white-white for UVA against Miami (thanks, Jamie). … Houston is going red-white-white against Navy (from Ignacio Salazar). … Tulane is going with throwback lids — and probably throwback unis — this weekend (from Nate Mueller). … New logo and corporate name for the Cactus Bowl. Dig the cactus goal posts! (from Joel Mathwig).

Hockey News: The Red Wings announced the uni numbers for six new players (from Brandon Weir). … Did you know, Bobby Orr didn't always wear No. 4. He wore No. 27 in the preseason of his rookie year. "You can tell it is an exhibition game by the wire, instead of glass, on top of the boards," says Bill Abley. … Also posted in the NBA section: The home of the Avs' arena has a new corporate name (from multiple readers). … LIU teased powder blue sweaters yesterday (from Oleg Kvasha). … St. Cloud State's women's hockey team is hosting a series of intrasquad scrimmages which they're calling the "COVID Cup" — complete with a logo (from Kurt Crowley). … The Islanders' "fish sticks" logo lives on, repurposed for a printing company (from Sam, who didn't give a last name).

NBA News: NBA 2K21 screenshots show the Lakers sans ad patch, as their deal with their previous advertiser has expired. Would be nice if the jerseys stayed that way, although that seems unlikely. … The Spectrum Center, home of the Hornets, has a logo for its 15th anniversary. Not yet clear whether it'll appear on the Hornets' unis (from T. Phillips). … Cross-posted from the hockey section: The Nuggets' arena has a new corporate name (from multiple readers). … The name "Celtics" wasn't always synonymous with Boston — New York once had a barnstorming squad called the Original Celtics. Note the shoes on Dutch Dehnert there! (from Marcus Hall).

College/High School Hoops News: New uniforms for Michigan State men's (from multiple readers). … Louisville men's new unis may have leaked. Hope you like giant shorts logos (from Mitch Wiley). … Arizona plans to wear a memorial patch for Lute Olson, but coach Sean Miller says "some of it is up to Nike," (from Adam Vitcavage).

Soccer News: RCD Espanyol, Barcelona's other team, have launched their 120th-anniversary kits. … MLS expansion team Austin FC have announced their sleeve advertiser (from Jim Howicz). … Mexican side Club Santos Laguna have unveiled their Día de Muertos kit (from Ed Żelaski). … The following are all from Kary Klismet: New logo for the Madagascar Football Federation. … Serbia's Red Star Belgrade has a new kit for Europa League matches, inspired by their 1978 kit. … Austrian side LASK also have new kits for Europa League play. … Footy Headlines has found out the colors of Barcelona's next home kit, for the 2021-22 season. … Footy Headlines has also listed the 10 worst kits in this year's Champions League. I dunno, I think I'm the only person who digs that Inter Milan kit!

Grab Bag: The University of Michigan's sports teams will all feature various social justice patches and decals, after a student-led movement to include them (from Brandon Weir). … Here's something we haven't seen much of during the pandemic: athletes wearing masks while playing. That's Pitt and Notre Dame women's volleyball (from Jeremy Brahm). … The logo for Denny Hamlin and Michael Jordan's new team has been revealed (from Christopher Hickey and @GoinRounds). … Speaking of the new team: Driver Bubba Wallce will drive the No. 23 car for the Hamlin/Jordan team (from Nicklaus Wallmeyer and Jakob Fox). … Jesse Owens and Ralph Metcalfe looked awesome in their college track unis. I think modern track stars prefer the more form-fitting ones, however (from Josh Youstra). … Trio of items from our own Jamie Rathjen: Old Glory DC, the District's Major League Rugby team, is moving its home games to Leesburg, Va., where the USL Championship soccer team Loudoun United play. … One of Australia's Twenty20 cricket teams, the Sydney Thunder, added a small piece of Aboriginal artwork to their sleeves for the Women's Big Bash League, which starts this weekend. The artwork was originally made in 2016 for the 150th anniversary of an Aboriginal team playing at the Melbourne Cricket Ground. … New kits for Colgate's field hockey team. … Jack in the Box is offering chicken-scented facemasks for free today (from John Cerone). … Adidas is looking to sell the Reebok brand. Additional info here (from @walbergLines).
• • • • •