For all photos, click to enlarge
In yesterday's Uni Watch World Series Preview, I mentioned how joyless and brutalist this year's World Series sleeve patch is. There's nothing the Rays and Dodgers can do about that, but one team did take a more thoughtful approach about how to wear it.
Take a look at the photo above, which shows Rays infielder Willy Adames and Dodgers outfielder Mookie Betts chatting during last night's Game One. If you look closely, you can see that Betts's sleeve patch is riding a bit higher on his sleeve. (Yes, I realize the Rays have the contrast-colored piping, which at first glance might make it harder to compare the two patches, but the Dodgers have a seam in that same spot, so it's easy to see that Betts's patch is clearly higher than Adames's.)
Here's another photo from last night, this time of Rays third baseman Joey Wendle and Dodgers first baseman Max Muncy. Again, Muncy's patch is clearly a bit higher than Wendle's: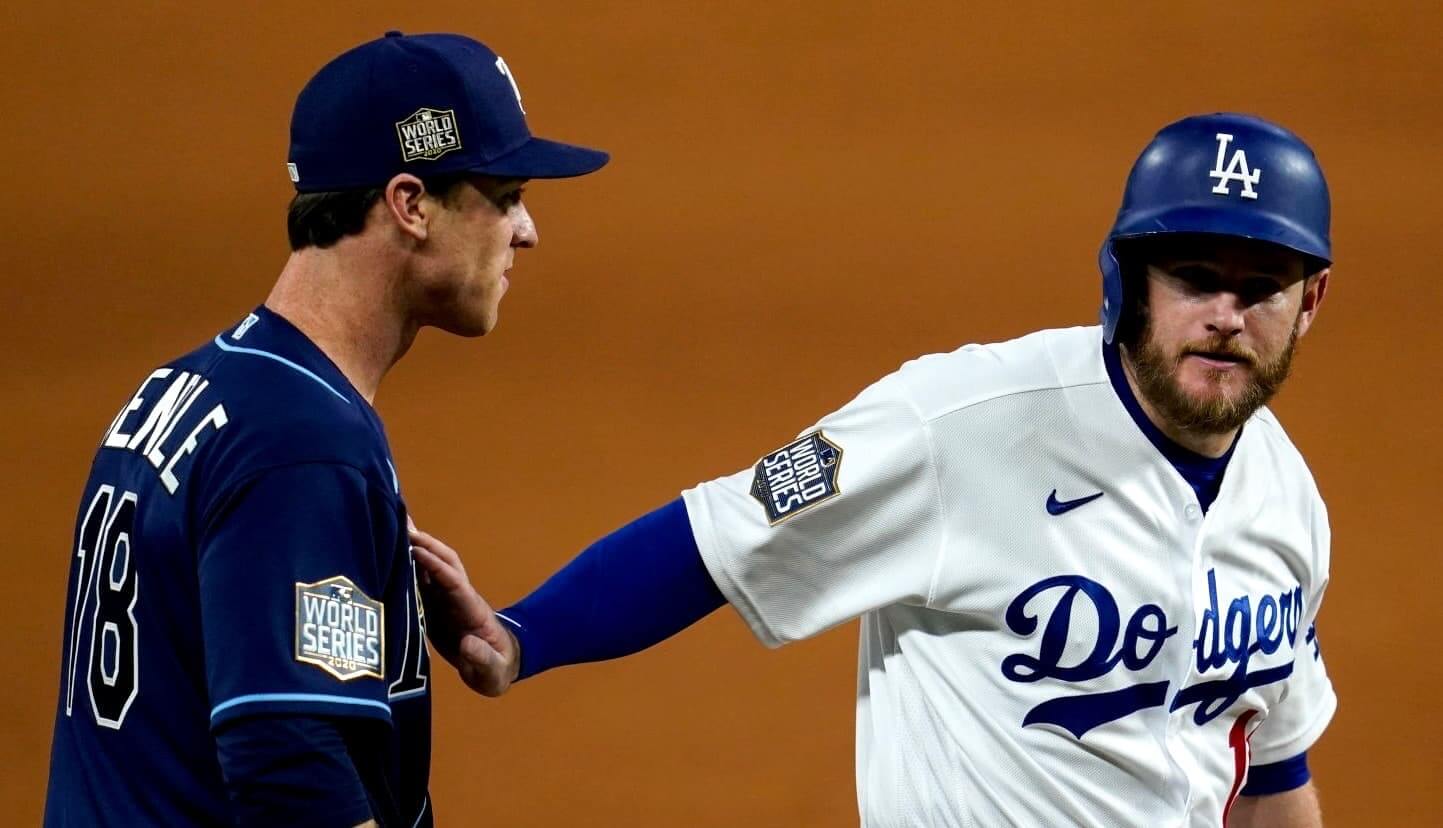 That patch positioning is no accident. During the last night's game, Dodgers design director Ross Yoshida (who, as you may recall, is very skilled with sidewalk chalk) tweeted the following:
Notice how the Dodgers World Series patch is placed closer to the middle of the right sleeve. That's to match the placement of the "LA" patch on our left sleeve.

We elected to keep the ["LA"] patch where it was previously, even though MLB offered to move the patch lower with the [Majestic] manufacturer logo on the sleeve going away. Most clubs chose to move their patches closer to the end of the sleeve.
Faaaaascinating. Sure enough, you can see that the Dodgers' two sleeve patches are nicely aligned on their respective sleeves: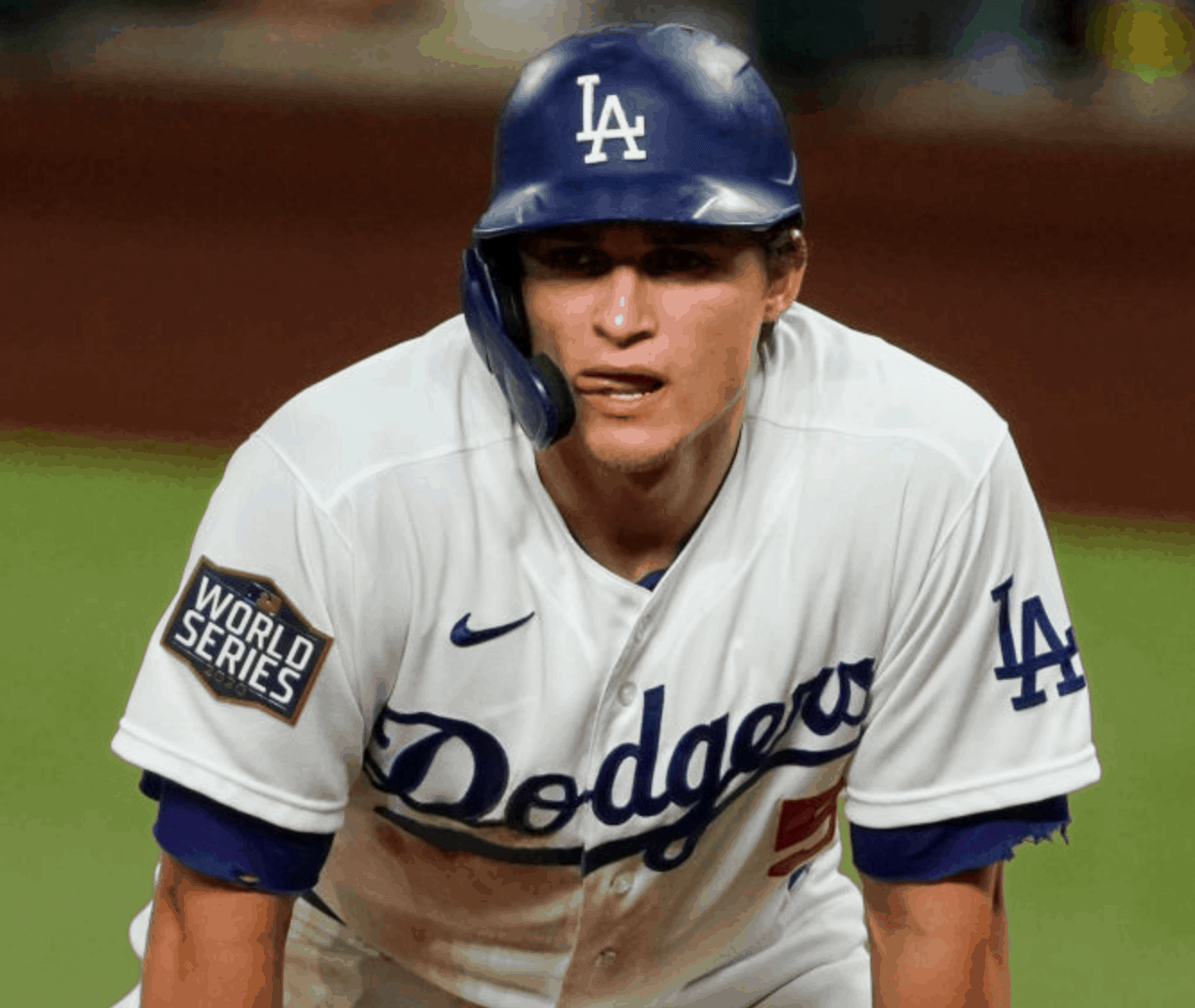 Ross's tweet brings up an interesting point that's been bugging me for most of this season (although I don't think I ever wrote about it except maybe in passing), namely that so many MLB sleeve patches this year seemed too low — especially on the left sleeve, where the Majestic logo used to be. In fact, the Rays are a good example of that phenomenon. Here's a side-by-side comparison: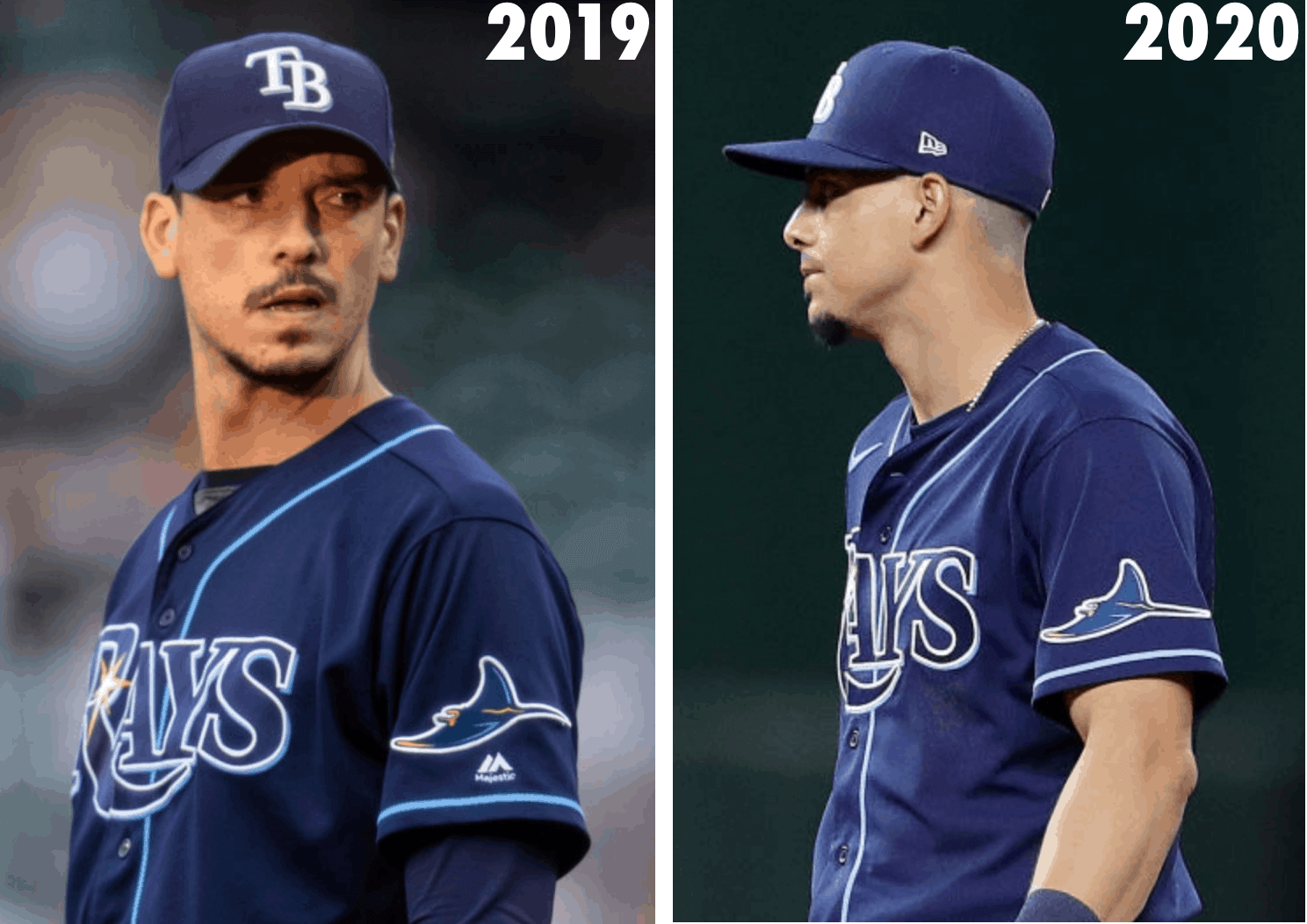 I realize the difference is very small, but sometimes a small difference can make a big difference. That's the case here, at least to my eye. Like they always say, baseball is a game of inches!
On the plus side, this means the Rays' right-sleeve World Series patch is aligned with their left-sleeve team logo patch (just like the two Dodgers patches are aligned). The down side, at least to me, is that they're both too low.
I realize some of you may prefer the Rays' patch positioning to the Dodgers' version. No problem there — reasonable people can disagree on that point. The more intriguing issue, and the point of this blog post, is that I had assumed this year's MLB patches were lower because someone at the factory thought, "Okay, no more maker's mark this year, so we'll move everything down." It hadn't occurred to me that MLB would actually ask the teams about this, and that different teams would make different choices. So interesting!
Also interesting, but not surprising, is that the Dodgers and Ross Yoshida pay big attention to small details, and that's one reason why they've continued to look so good over the years. Kudos to them!
• • • • •
• • • • •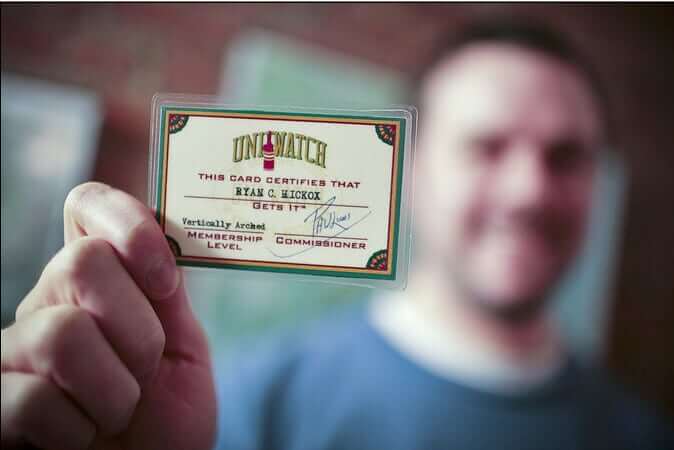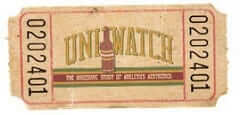 ITEM! New membership raffle: Reader Nicholas Bartell has generously donated a Uni Watch membership for me to raffle off, so that's what we're going to do today.
This will be a one-day raffle. No entry restrictions. To enter, send an email to the raffle address by 8pm Eastern tonight. I'll announce the winner tomorrow. Big thanks to Nicholas for sponsoring this one!
• • • • •
• • • • •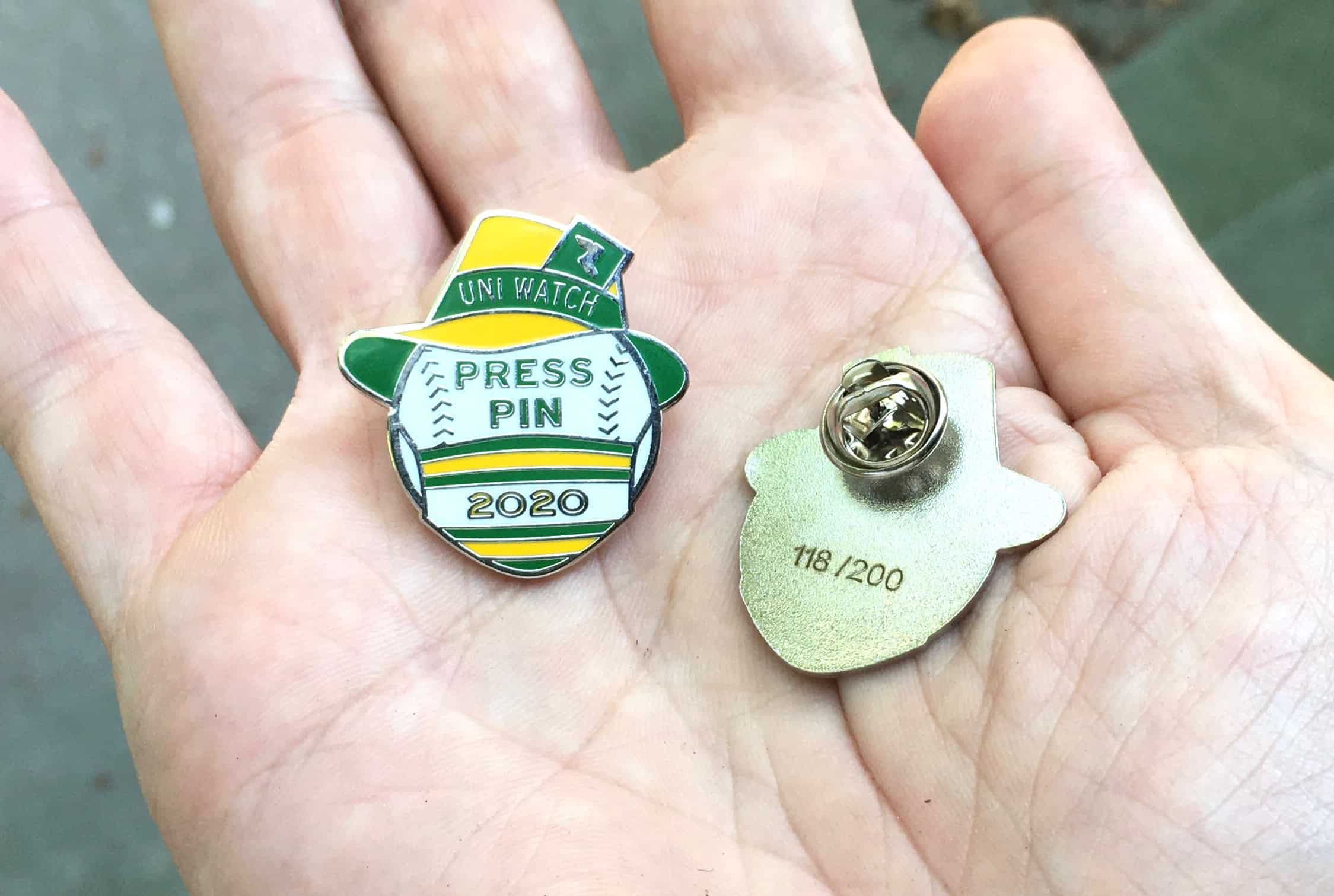 Click to enlarge
Press Pin update: As of this morning, there are 27 Uni Watch 2020 Press Pins remaining. They're available here while supplies last.
Meanwhile, reader Tom Jacobsen, whose prodigious Broncos memorabilia collection has been a past topic of Uni Watch admiration, ended up with pin No. 1. "Have to say, as someone who likes to collect things, seeing the No. 1 on the back was pretty exciting!" he says. Congrats, Tom!
• • • • •
• • • • •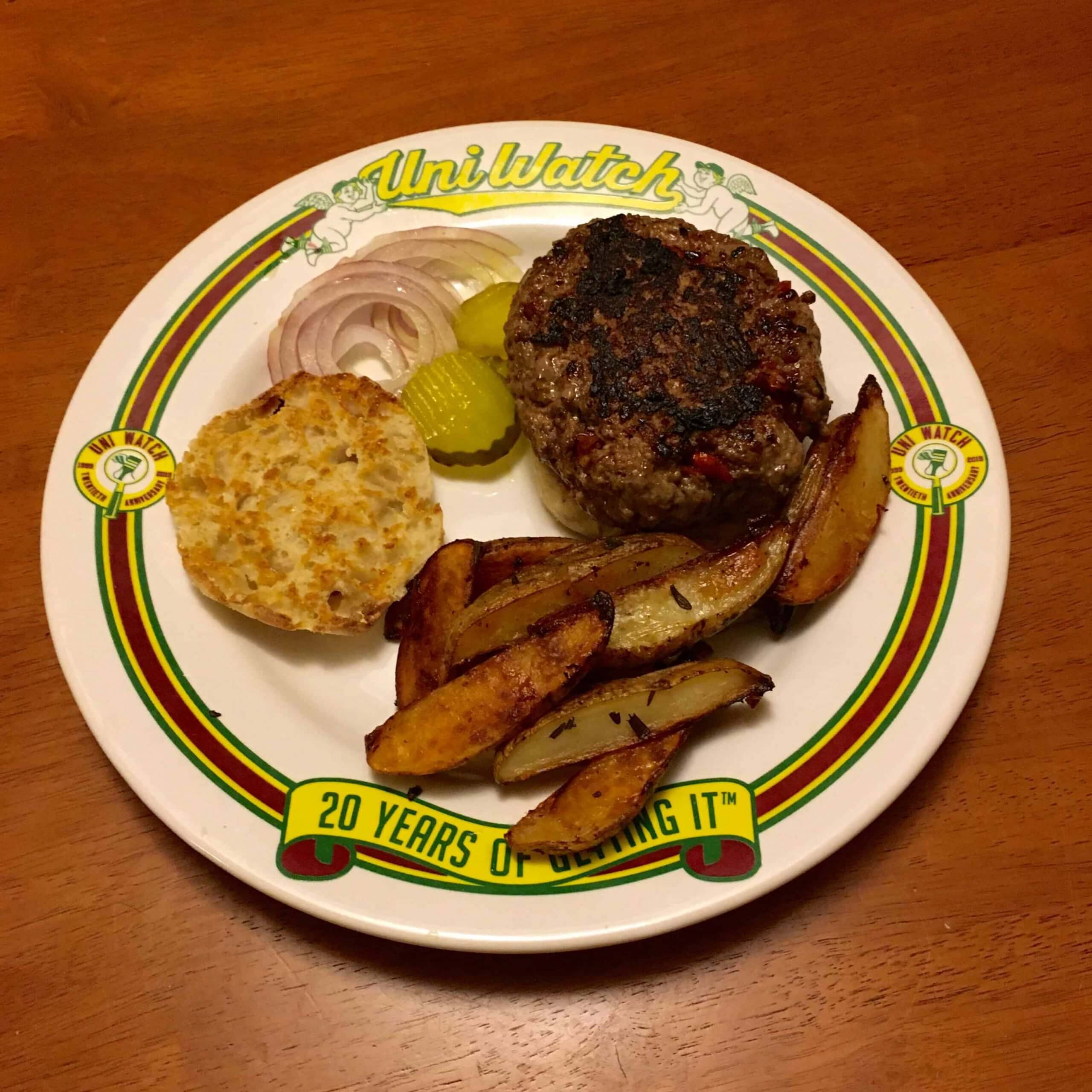 Click to enlarge
Culinary Corner: I wanted something a little special for the start of the World Series, so I chopped up a few sun-dried tomatoes, sprinkled them into half a pound of ground beef, added some salt, pepper, and a bit of Worcestershire sauce, cooked the resulting patty in a smoking-hot cast iron skillet, and then put it on a toasted English muffin (which, as you know, is the only proper bun for a hamburger).
Since we didn't feel like making our own French fries (so messy, all that leftover oil, etc.), the Tugboat Captain sliced up a few spuds, tossed them in duck fat and rosemary, and baked them in another cast iron skillet. Perfect.
• • • • •
• • • • •
The Ticker
By Lloyd Alaban

Baseball News: Dodgers P Victor Gonzalez is apparently using the same cap that he used in the playoffs, as you can see the outline of the Postseason patch under his World Series patch. Other players do this as well, including Dodgers P Clayton Kershaw, who superstitiously keeps the same sweat-stained cap all season long, but this is Gonzalez's first World Series, so it's the first time we've seen this from him. … Reader Neal Dorfman has created two spreadsheets with result-by-uniform breakdowns for the MLB postseason thus far. One is broken down by series, while the other is for uniform totals. … MLB.com has ranked what it considers the greatest bat flips in Major League history (from Kary Klismet). … Golfer Tiger Woods wore a Dodgers gaiter at a press conference yesterday (from Andy Garms).

NFL News: A team exec says the Washington Football Team's placeholder name will likely carry over to next season (from many readers). … Color Rash for the Texans this Sunday (from Ignacio Salazar). … Dolphins QB Tua Tagovailoa appeared in an ESPN graphic wearing a double-digit jersey, despite the fact that he wears No. 1 (from Austin Martin). … Bills K Tyler Bass has been applying eye black only under his left eye for the past two games now (from Mike Chamernik). … Here's a documentary about the history of every NFL stadium ever (from Kary Klismet).

College/High School Football News: Texas will wear white at home this week for the first time since 1950 (from Mike Barnes). … Penn State, whose season begins this weekend, will wear a social justice logo as a jersey patch and rear-helmet decal this season (thanks to all who shared). … The Gasparilla Bowl, which already had a ridiculous advertised name, now has a ridiculous new advertised name. … James Gilbert has compiled UNC's record by uniform. … Lamar Consolidated School District in Texas has released renderings of its planned new football stadium (from Kary Klismet). … Also from Kary: A photographer is suing the owners and handlers of the Texas Longhorns' live mascot, Bevo XV, for injuries he suffered in a scuffle between the steer and Uga X, Georgia's bulldog mascot, at the 2019 Sugar Bowl. … Reader Nate Mueller has released some renderings on a 3D-printed Cotton Bowl trophy he's been working on. … Nate has also recreated Alabama's 2009 Coaches' Trophy.

Hockey News: An apparently accurate mockup of a Capitals "reverse retro" alternate has leaked. An earlier version of this program would have had teams get new alternates at New Year's every year, so they would have two per season (from our own Jamie Rathjen).

Basketball News: According to this Reddit post, the Kings are getting a new uniform advertiser. … Louisville's new uniforms may have leaked (from Caleb Jenkins). … Here are some of the new number assignments for UNC women's. Only two Tar Heels will take the floor this season wearing the same numbers they wore last season (from James Gilbert). … Speaking of the Tar Heels, UNC women's G Petra Holešínská's jersey has diacritical marks on the NOB (also from James Gilbert). … Bob Barker, the former host of The Price Is Right, used to play basketball for Drury University. Here he is in uniform (from Max Weintraub).

Soccer News: Dynamo Kyiv gave out masks with their crest on them at their match last night (from Ed Zelaski). … Here are some crest updates for the 2020-21 season (from Kary Klismet). … The first images of the newly completed Al-Bayt Stadium have been released. It's one of the eight stadiums being built by Qatar for the 2022 World Cup (also from Kary Klismet). … New uniforms for Spanish side Espanyol (from multiple readers). … Mexican side C.F. Pachuca has a Dia de los Muertos shirt, inspired by the cempasúchil flower, commonly used in Mexican Dia de los Muertos altars. Here are some more looks (from Alberto Sanchez).

Grab Bag: Here are some shirt reveals ahead of the World Tens Series rugby tournament in Bermuda (from Sy Hart). … Here's a video revealing the history behind every Formula 1 logo (from Kary Klismet). … New logo for golf's Phoenix Open (from Josh Pearlman). … Cross-listed from the baseball section: Golfer Tiger Woods wore a L.A. Dodgers gaiter at a press conference yesterday (from Andy Garms). … Bed Bath & Beyond is selling a Syracuse sign that confusingly mashes up the states of New York and New Jersey (from Michael Hochman). … New uniforms for the Lalitpur Metropolitan City police in Nepal (from Timmy Donahue). … Also from Timmy: Fort Sill, Okla., trainees are the first to get the Army's new service uniform. … One more from Timmy: The Miami Police Department has issued a statement regarding a photo allegedly showing one of its officers wearing a political mask while in uniform, which is a violation of departmental policy. … Australia's national rugby union men's team, the Wallabies, have revealed an updated First Nations jersey (from Sy Hart). … Competitors in the recent Russian Higher League Championship chess tournaments played their games while wearing masks, and with plastic shields around the boards (from Graham Clayton).
• • • • •
• • • • •