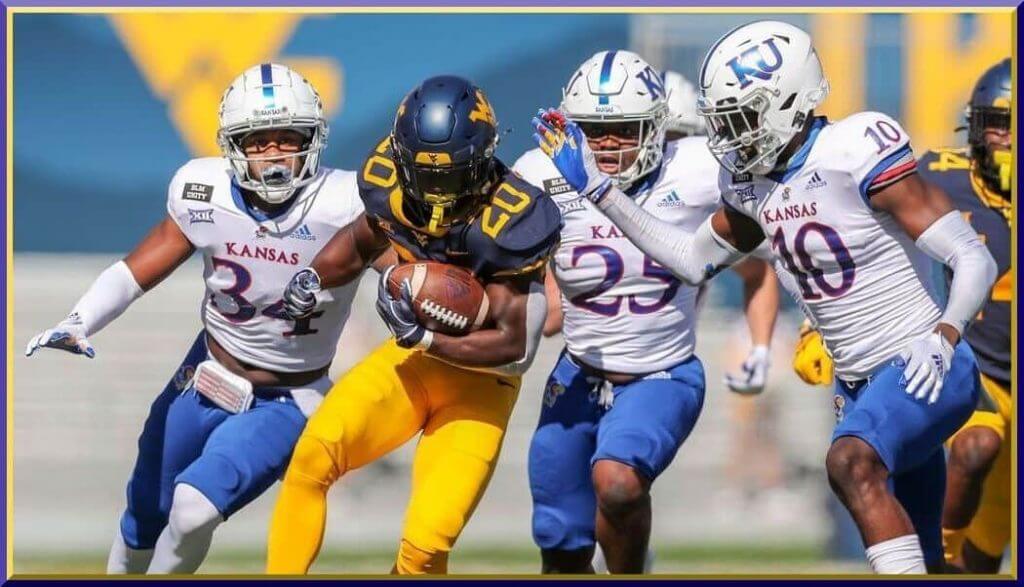 By Phil Hecken and the SMUW Crew
Follow @PhilHecken

Good morning Uni Watchers! Hope everyone is doing well. The uni news today is of course the NCAA, but if you're a baseball fan, how great have both LCS' been? Game 7 between the Dodgers and Braves today, and yesterday the Rays, after going up three games to none, lost three straight to the Astros, and donned white tops for the first time this post-season, holding on for the victory to advance to the big dance. The question now becomes…will the Rays wear white tops as the home team in the World Series, or return to the blue softball tops? Are they superstitious or just a little stitious???
Anyhoo. Back to the college gridiron. In what could have been one of the best looking games yesterday, the West Virginia Mountaineers wore their classic (and best) uniform combo, blue helmets and jerseys, atop gold pants. Some guys looked fantastic: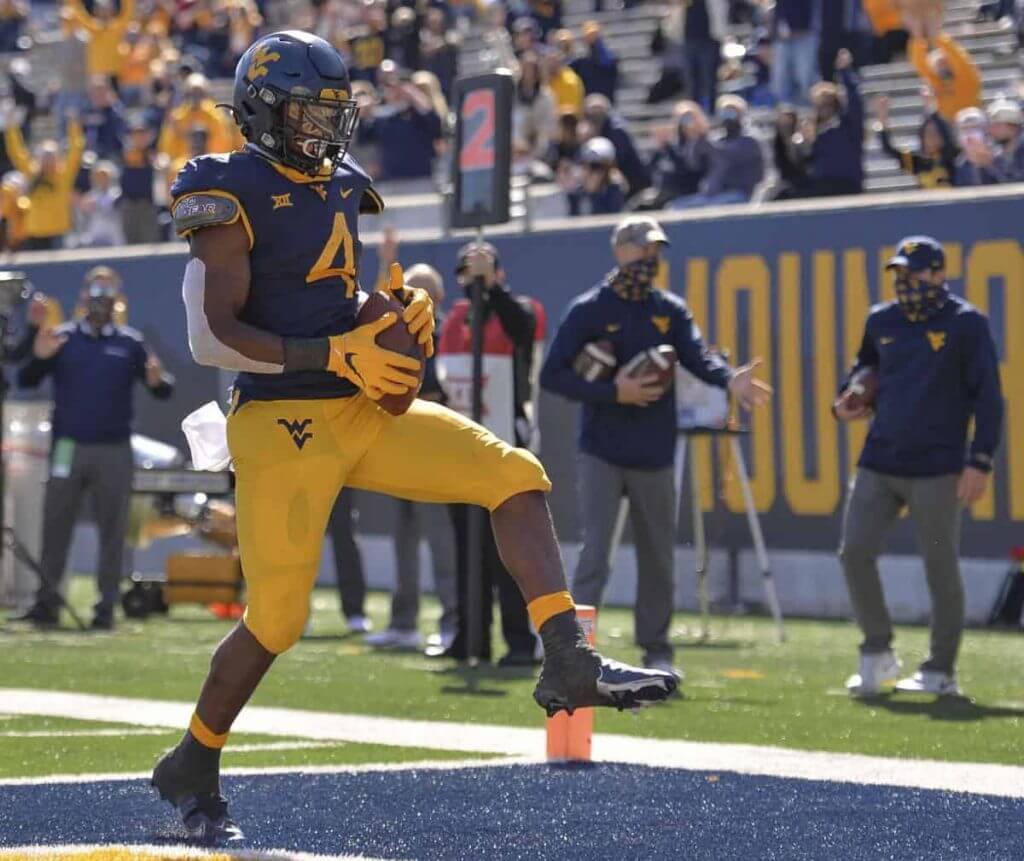 Unfortunately, many of the 'eers decided to wear high gold undersocks, ostensibly looking like they were wearing gold tights — not a good look at all.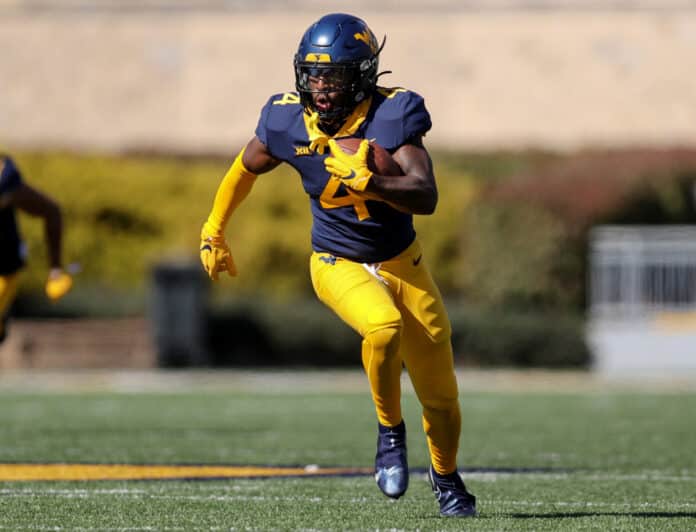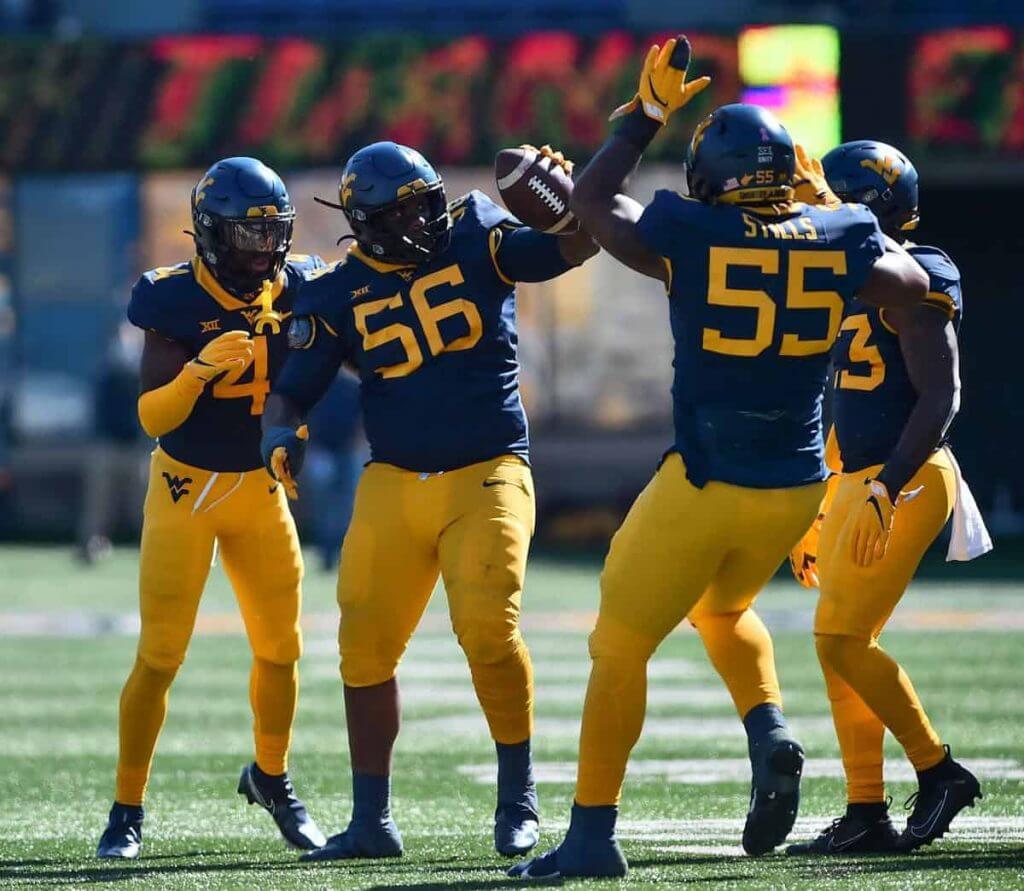 It wasn't the whole team, but enough to make me question their sartorial choices. If only they had worn blue undersocks with that combo. It would have been the best looking game yesterday. Rock Chalk looked equally good in their white/white/blue unis — several guys wore their white socks high (which is fine) while others opted for partial bare legs (also fine). Unless you're going for a color rash look, guys, please, DO NOT WEAR SOCKS THAT ARE THE SAME COLOR AS YOUR PANTS!
OK, enough of my old man ranting at a cloud. Let me now turn it over to TJ for the rest of your…
• • •
Sunday Morning Uni Watch
By Terry Duroncelet, Jr.
How is it two weeks until Spooky Christmas already?
From Thursday:
• I know all-black vs all-white is about as common as drinking water these days, but I'd be remiss if I didn't mention Arkansas State/Georgia State being black-and-red vs white-and-blue.
From Friday:
• BYU not only wore the royal roads on Friday against Houston, but they also wore grey facemasks in that same game. Neat. And according to donkey from shrek on Twitter (…), it was done as a nod to Gifford Nielsen, BYU's first college football HOFer. On a related note, here he is playing against the Utes. Check out those numbers!
• Tulane wore mono-black against SMU. Even though they missed the aesthetic mark by not going all the way with black helmets, the unis were met with good intent; they were Tulane's Wave Of Change unis, in recognition of the ongoing fight against racial and social injustice. From that same game: what's more rare than good news in 2020? How about a kicker wearing #62? From L.J. Sparvero: "This is from Friday's Tulane-SMU game. The Tulane kicker (Merek Glover) wore number 62. When is the last time you saw a kicker wear that number? (Or any number in the 60s for that matter?)"
From Saturday:
• Contrast Matters: "I ain't keen on Louisville's togs, but I'll Take It" Edition. Notre Dame still has the best helmets in college football 9 years later.
• Doug Keklak spotted a sideline jersey swap, but this was no ordinary swap: this was a swap to ZERO! I'm completely unsure and probably wrong, but from what I could match up, I believe this is Aggies sophomore RB Ainias Smith.
• SO CLOSE to being a looker, but the Gamecocks kinda spoiled it by going mono-garnet instead of garnet-over-black.
• Here's a look we haven't seen in a while (or at least, I haven't).
• At this point, it's no secret that I like high-contrast games. That being said, not every match has to be glorious colors vs all-white. Sometimes, seemingly-simple approaches make all the difference, like this weekend's matchup between Ole Miss and Arkansas. If there were no other apt time to wear the light blue helmets, this is definitely the perfect application.
• Now see, THIS is what I'm talking about! It's October, why not bring out the all-black? And I do mean ALL-BLACK. Plus, it contrasts well with North Texas's pleasantly-vibrant Kelly and white unis. Also, for those wondering why I'm being so lenient on what is otherwise (and objectively) BFBS, read Week 5's post for context.
• The quality of these next images could be better, BUT! Wake Forest has been doing a fine job on their racial and social justice decals. I don't have all of them logged, but a couple of weeks ago, they wore decals with Breonna Taylor's name on them, and yesterday, they wore decals with George Floyd's name. Huge thanks to Rex Henry for tipping me to the Floyd version.
And that'll do it for Week 7. Next week promises to be… A B1G ONE. See you then!
• • •
Thanks, TJ! And now for the rest of your SMUW…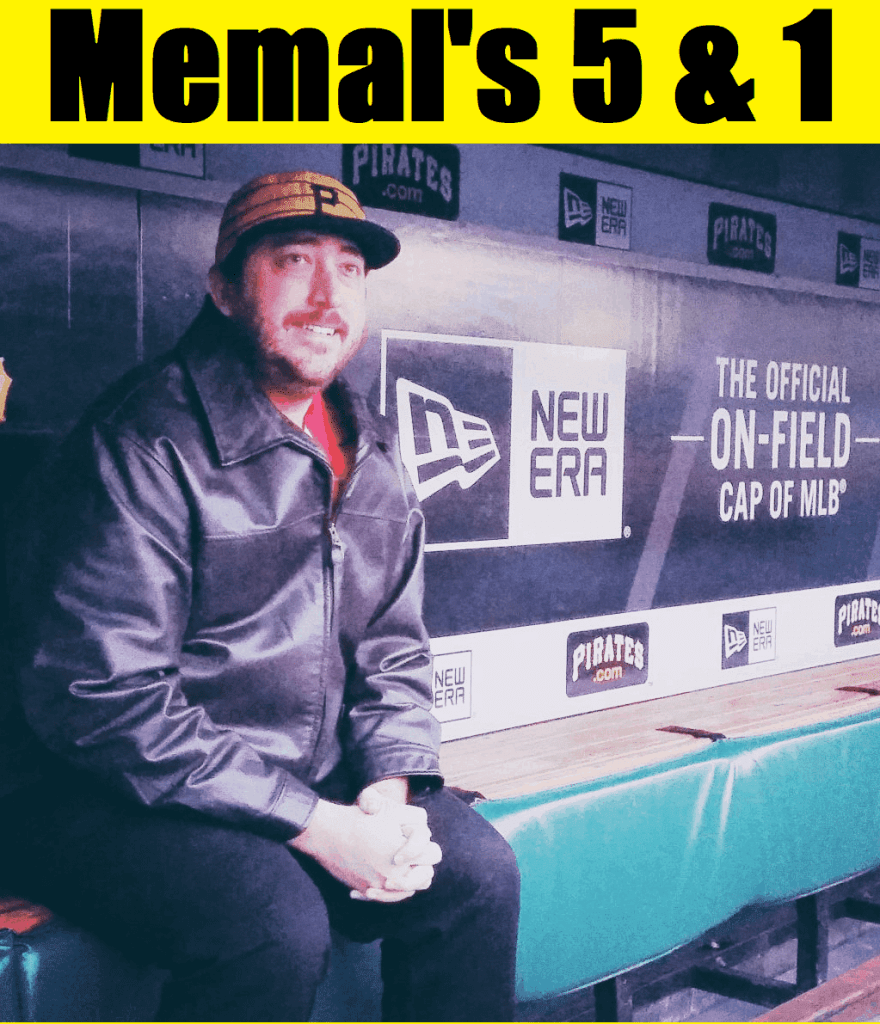 Memal's 5 & 1
Following in the footsteps of the original "5 & 1," Jim Vilk, Catherine Ryan after him, and finally Joe Ringham, in 2019 we introduced a new "5 & 1" (five good looking and one stinker) uni-vs-uni matchups — Michael "Memal" Malinowski. Like Joe, Catherine & Jim, Memal will pick HIS 5 best looking/1 awful matchup, and occasionally have some honorable mentions (both good and bad). You may agree and you may disagree — these are, after all, just opinions and everyone has one. Feel free to let him know what you think in the comments section.
Here's Memal
• • •
As I was trying to decide who the &1 was this week I realized it's been a pretty great looking college football season so far this year. As the height of fall foliage nears and the stakes for some teams continue to rise the season will hopefully continue to get better and better!
__________
Honorable Mentions
Duke @ NC State, Western Kentucky @ UAB
__________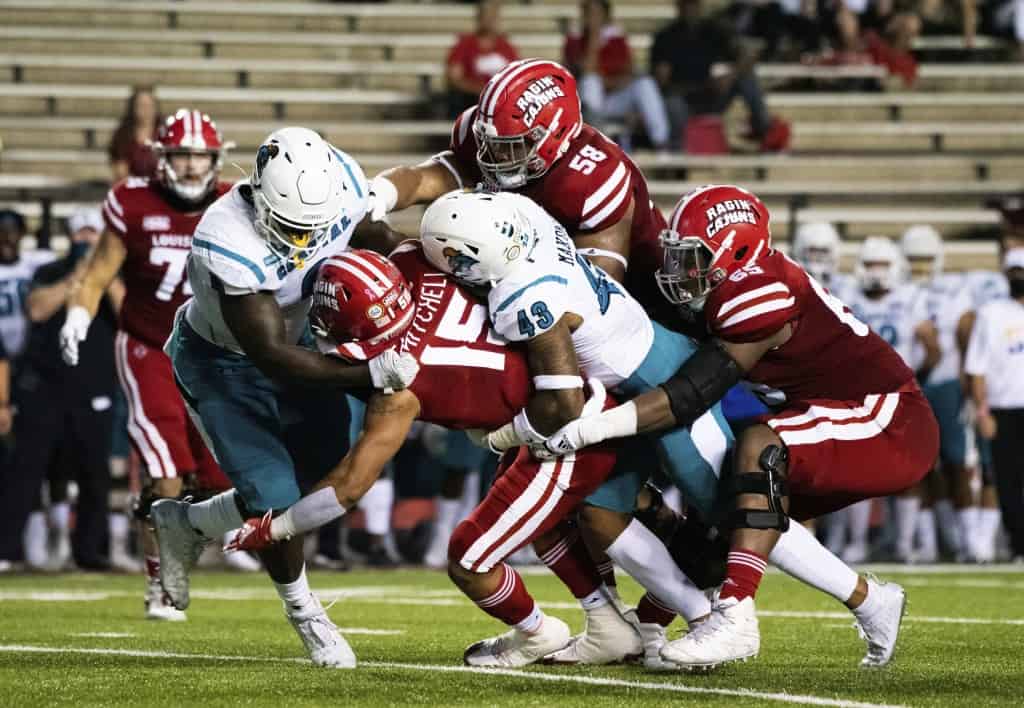 5. Coastal Carolina @ Louisiana-Lafayette

Some teams use weekday games as an occasion to break out an alternate uniform, but the Chanticleers and Ragin' Cajuns stuck with their regular home and away sets. I'm a 90's child and a fan of teal so I loved how it contrasted with vermillion on the field.
__________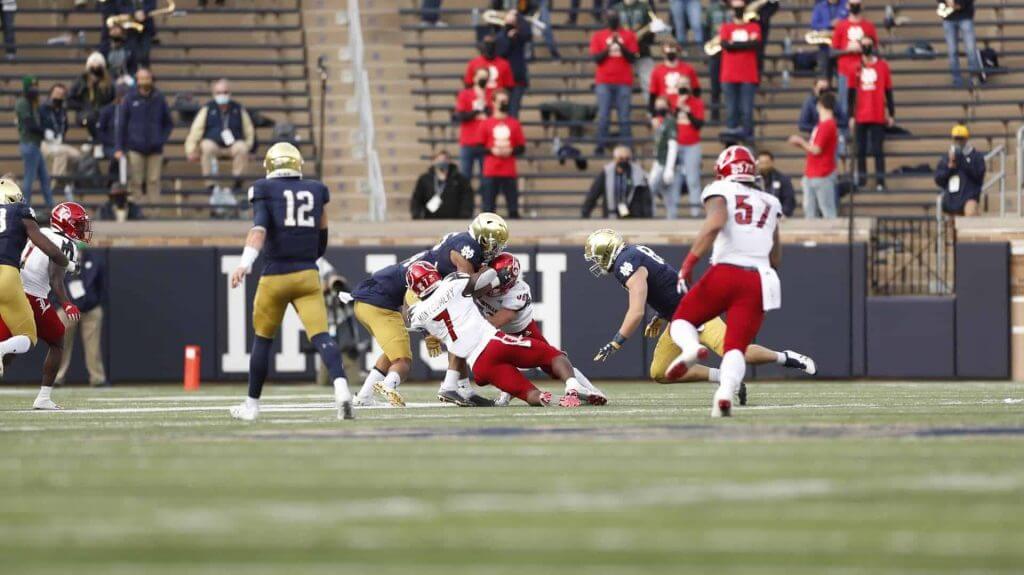 4. Louisville @ Notre Dame

I know I put Louisville in the &1 a few times this year, but I generally like their look and I was happy to see they took my favorite combination to South Bend, red/white/red. The Fighting Irish looked as they're supposed to look and it provided a brilliant contrast on a cloudy Indiana afternoon.
__________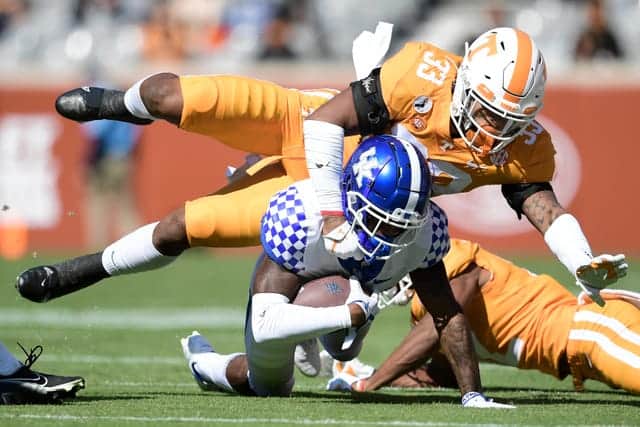 3. Kentucky @ Tennessee

I have a love/hate relationship with the Vols orange pants and I can't put my finger on why half the time they look so good and just "meh" the other half. Yesterday it probably had something to do with the Wildcats wearing blue/white/white and sporting the checkerboard sleeve design in Neyland Stadium, home of the checkerboard endzones.
__________
2. Pitt @ Miami

From the beautiful weather to how the teams looked down on the field, it was a very bright looking day in Miami Gardens! I didn't realize it until I saw this game that I've missed seeing the Hurricanes in orange jerseys and all the extra orange uniform pieces they wear with them. Their white/orange/white set looked magnificent against the gold/white/gold of the Panthers.
__________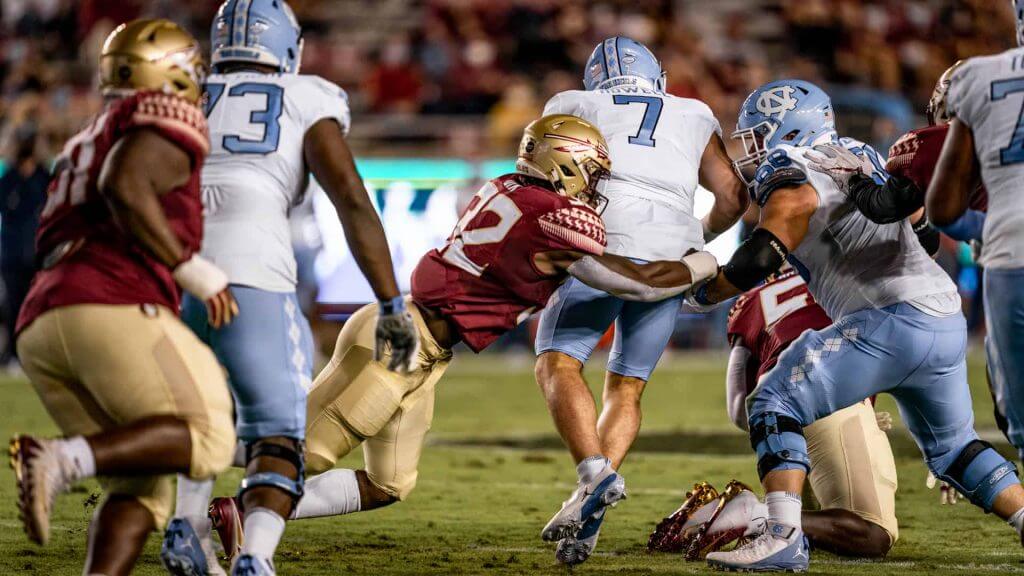 1. North Carolina @ Florida State

Some teams look better under the glow of the floodlights and, to me, the Seminoles are one of those teams, especially when they go gold/garnet/gold. I don't know what it is with the lights at Doak Campbell Stadium, because the Carolina blue really seemed to pop as well! It turned into an exciting contest and was certainly a feast for the eyes!
__________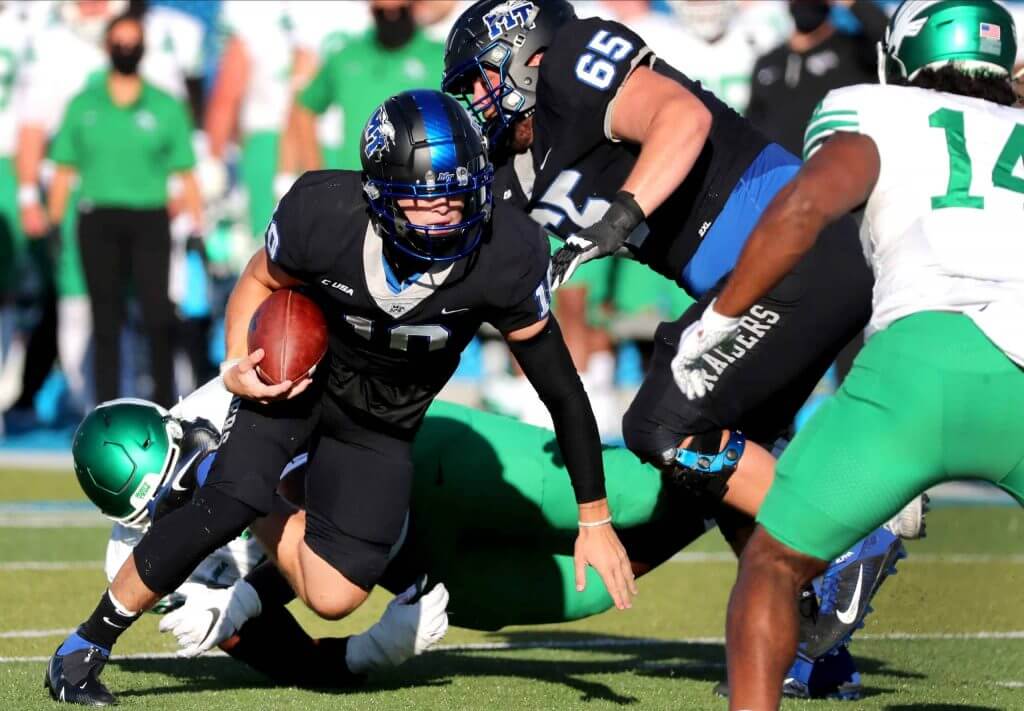 &1 North Texas @ Middle Tennesse State

This week's &1 is definitely a sacrificial lamb, for though the Blue Raiders wore not the worst example of a mono-black uni set, the Mean Green looked terrific in green helmets/white/green. It made me wish Middle Tennessee would have stuck with at least a blue jersey and silver helmet and put themselves in position for an honorable mention. All and all this wasn't an awful looking game, but in a week where there were no cringe inducing uni-matchups it earns the bottom spot for all it left me wanting to see.
• • •
Thanks, Memal! OK readers? What say you? Agree or disagree with Memal's selections? Let him know in the comments below.


NCAA Uni Tracking
Uni Watch will again track the uniform combinations worn by the "Power 5" conferences. All of the 2019 trackers are back! Unfortunately, not all of the conferences are back. Here's how the trackers would track, if all the schools were playing:
We've got Rex Henry (tracking the ACC), Dennis Bolt (tracking the PAC-12), Kyle Acker (tracking the Big XII), and Ethan Dimitroff (tracking the B1G AND the SEC). Rex, Dennis, and Kyle and are all returning from 2015, and Ethan is back after joining the NCAA Uni Tracking a couple seasons ago. Ethan continues his dual role of tracking both the B1G and the SEC.
But this year the B1G and PAC-12 aren't playing at all. So we won't have tracking for them this season. UPDATE: Both the B1G and PAC now will try to play in the 2020 season.
Here are the Uni Trackers for the Power 5 Conferences (I've left all the previous tracker info in their usual slots, even if the conferences aren't playing. In case you want to click on any of the links):
+ + + + + + + + + +
Rex is up first today (ACC):
• • •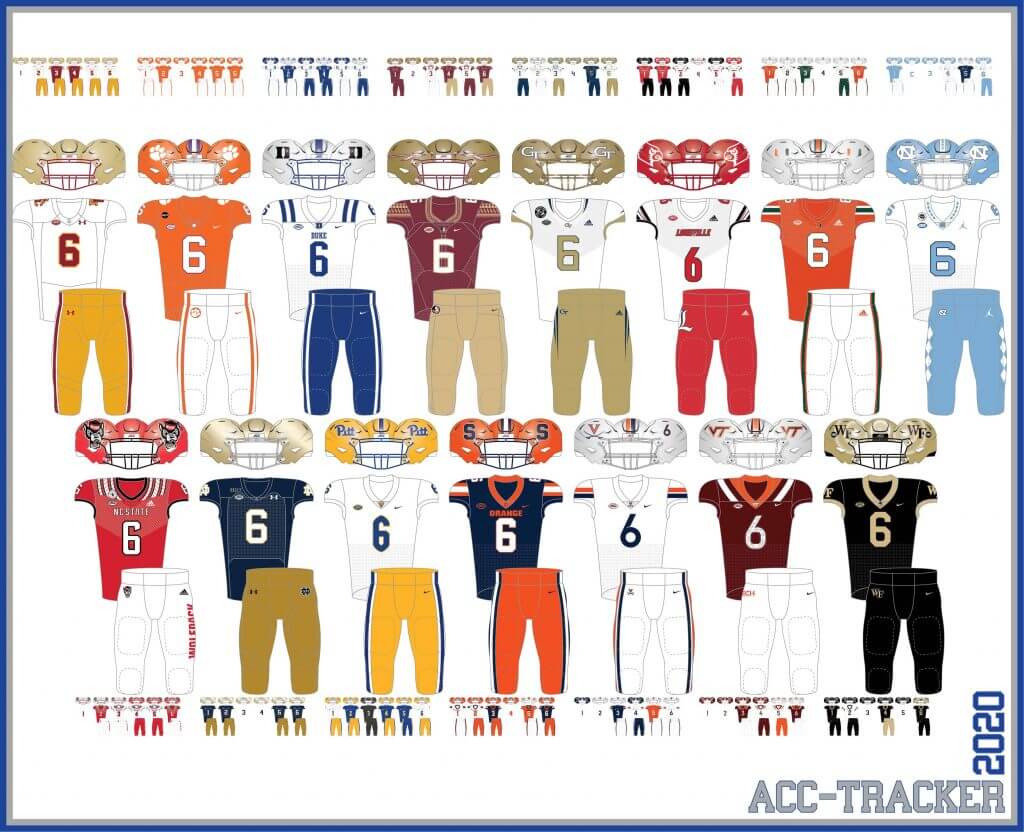 ACC

More Here.
Follow Rex on Twitter here.
• • •
And now, here's Dennis with the PAC-12: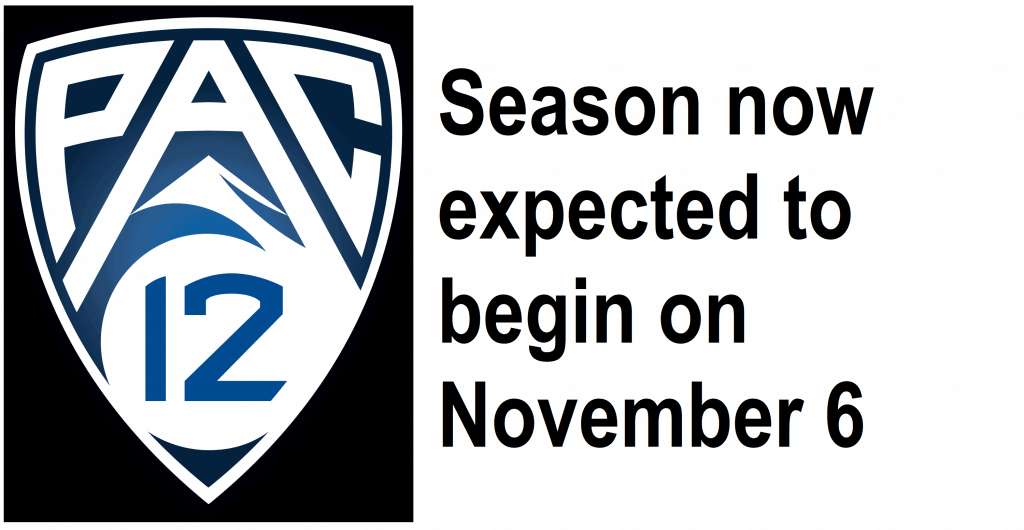 PAC-12

More here.
Follow Dennis on Twitter here.
• • •
And here is Ethan, with the SEC: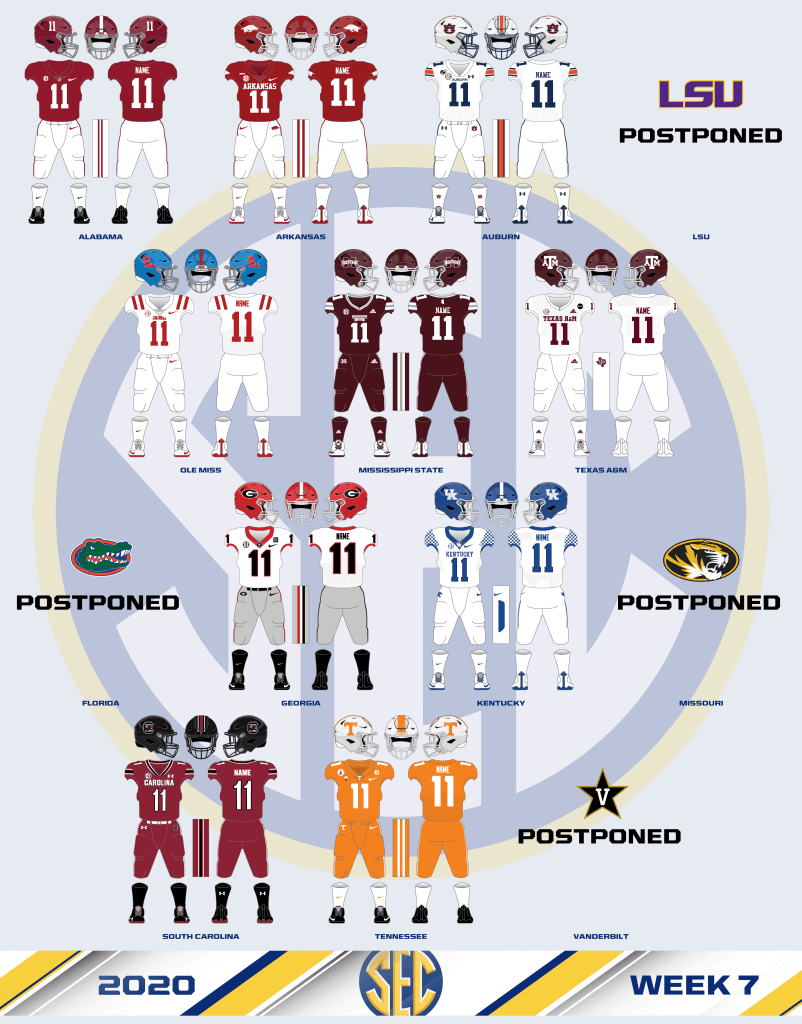 SEC

And be sure to check out Ethan's WVU Mountaineer Tracker.
Follow Ethan on Twitter here.
• • •
And here is Kyle with the Big XII: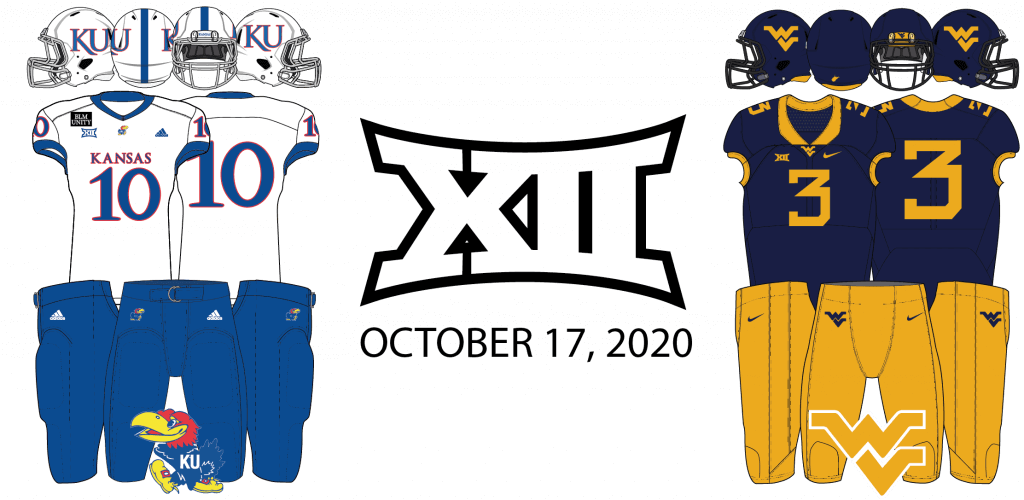 Big XII

Follow Kyle on Twitter here.
• • •
And here's Ethan with the B1G: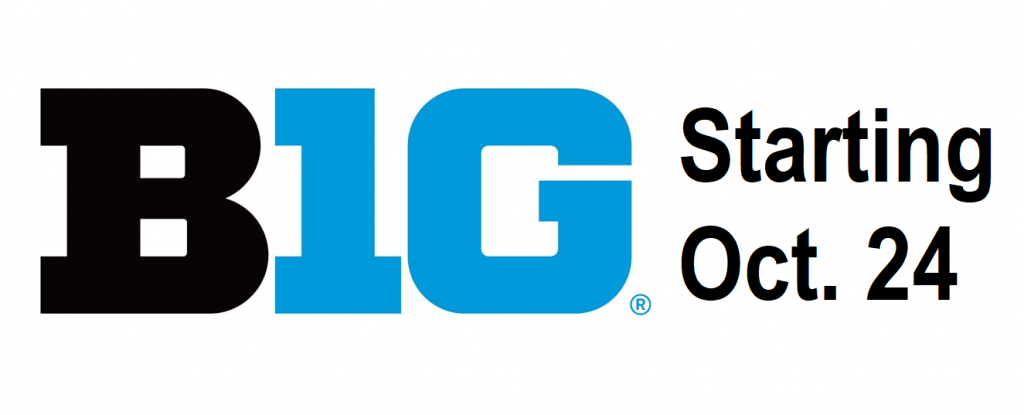 B1G



Meet The SMUW Crew!
I can't believe I haven't done this before, because the entire crew has been doing this for a number of years (some longer than others), and I never really gave them their proper due. So far we've "met" my Duck Tracker and PAC-12 Tracker, Dennis Bolt (and it now looks like he may end up being busy this season after all), Memal (who brings you the 5 & 1), Terry Duroncelet, who writes most of the main article, Ethan Dimitroff (SEC & B1G Tracking) and Rex Henry (ACC Tracking). Today we'll meet the final member of the SMUW crew, Kyle Acker, who tracks the Big XII.
So please everyone, here's your official introduction to Kyle, along with his photo (click to enlarge) and bio: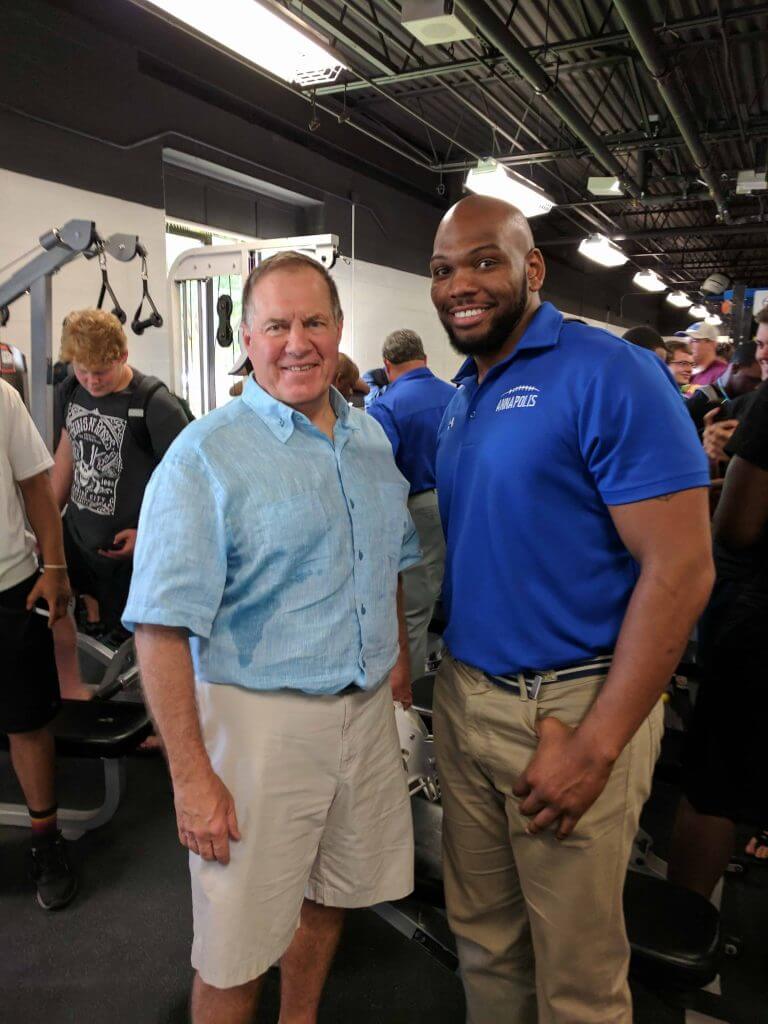 Name: Kyle Acker
Current City: Annapolis, MD

Former college and pro footballer, currently working as a graphic designer and High school football coach. Early uni influence started in the hip-hop era of the late 90s, taking trips to Philly to stock up on my collection of Mitchell & Ness jerseys. Without a doubt my favorite jersey is the Toronto Raptors unis, Tracy McGrady's rookie year (even though it is about three sizes too big). If you can believe it, I'm still trying to find a Jowan Howard jersey from his stint with the Miami Heat. I've been hooked on uniforms since NCAA Football on PlayStation 2 when they started adding all the jerseys in the game, and Oregon started doing the things they do. I discovered UW while aimlessly wandering through ESPN, and the early previews of college uniforms piqued my interests and I wanted more.

I'm a fan of all Chicago teams: Bulls, Bears, Blackhawks, Sox (over Cubs). But despite my Chicago roots, I like Saints, and Oregon Football (mostly because of the uniforms). Salisbury University alum with an interest in art, football, and movies.
Thanks, Kyle!
OK — now we've "met" the entire SMUW crew. Please give each and every one of them a big thanks for all they do for all of us!


MLB Playoff Uni Tracking
We're more than halfway through the playoffs, and almost to the World Series, and over the past couple weekends Alex Rocklein has been tracking the jerseys of all the teams involved in the MLB Post Season. Here's the full Wild Card round jersey matchups (click to enlarge):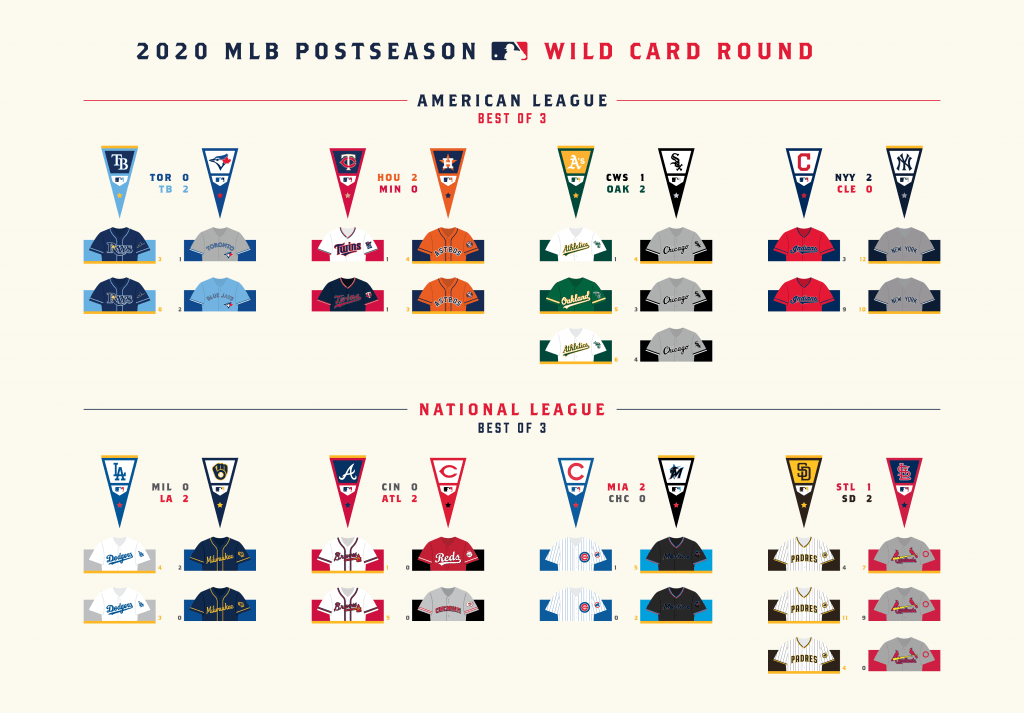 We have not one but TWO game sevens in the League Championship Series — the Rays (having won the first three and losing the next three) switched into white home jerseys for the series finale last night and won, advancing to the World Series. The Dodgers, after going down 3-1 against the Braves, rallied to take the next two, to knot that series at three games apiece. Game Seven is tonight.
Here's Alex's up-to-date uni tracking through last night's games: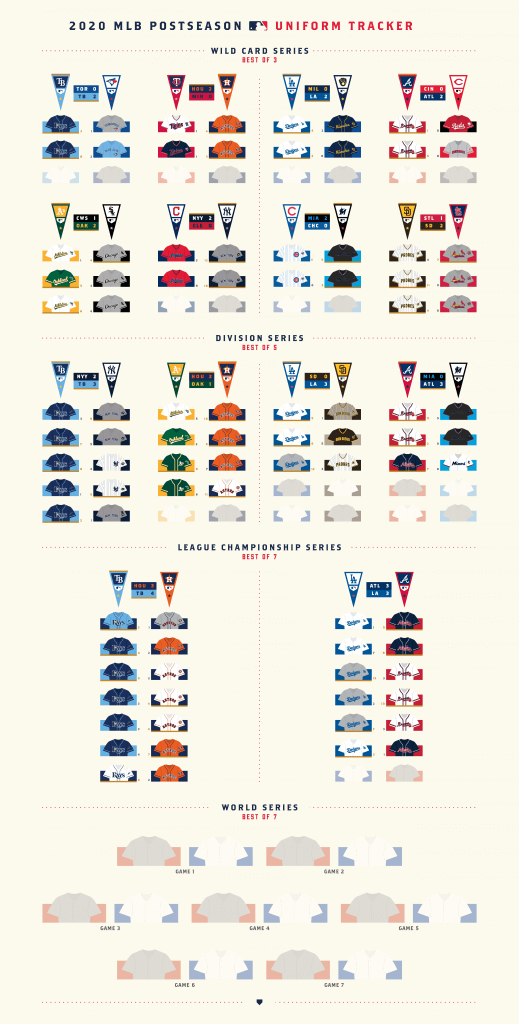 Alex will continue to add to this graphic through the World Series'.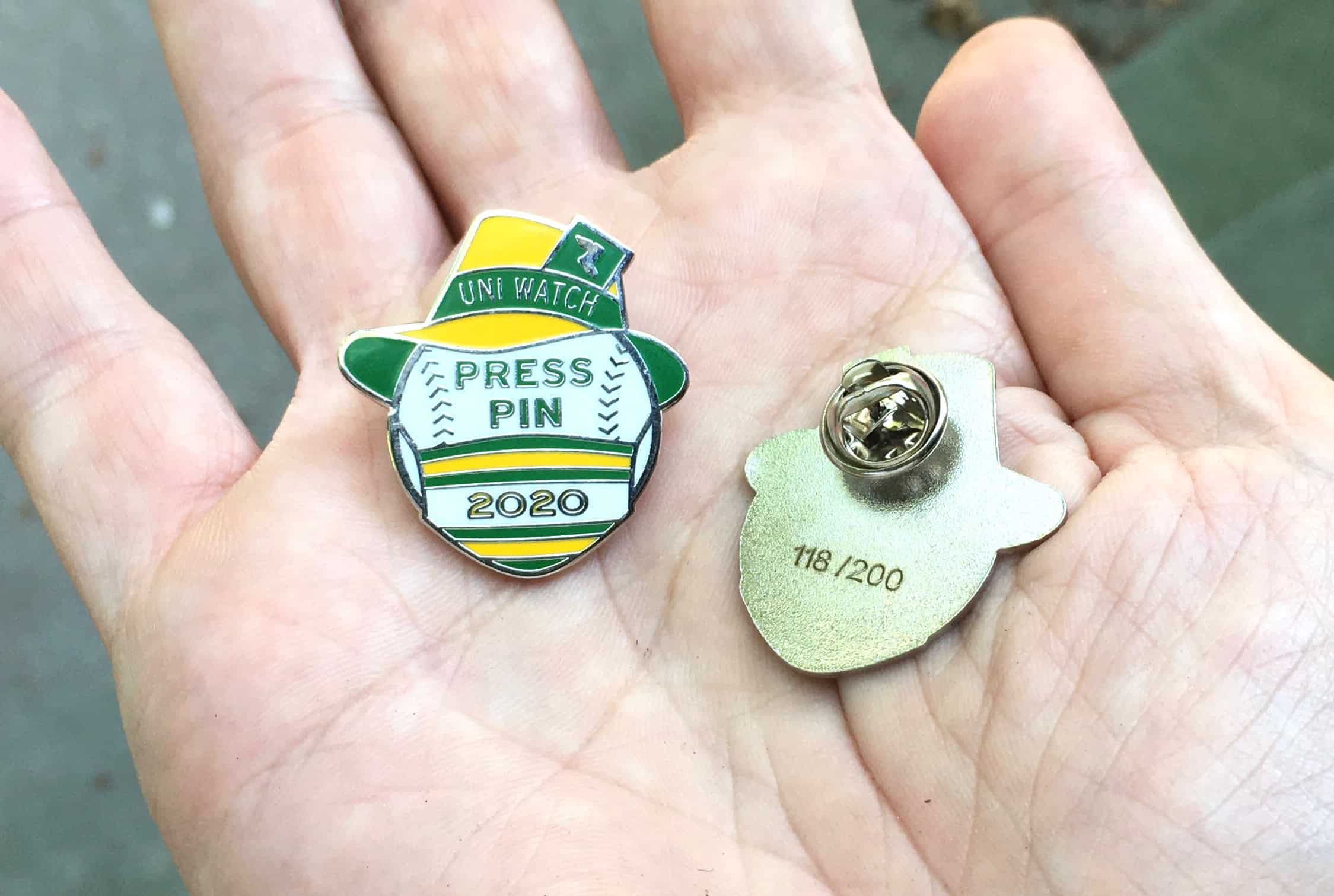 Click to enlarge
And now a quick word from Paul:
In case you missed it earlier this week, the Uni Watch 2020 Press Pin is now available. And it's going fast — as of Friday evening, there were only about 40 of them remaining from our numbered edition of 200. As you probably know by now, this year's design is a riff on the 1951 Dodgers World Series press pin, with a mask thrown in to capture the spirit of this crazy year (click to enlarge):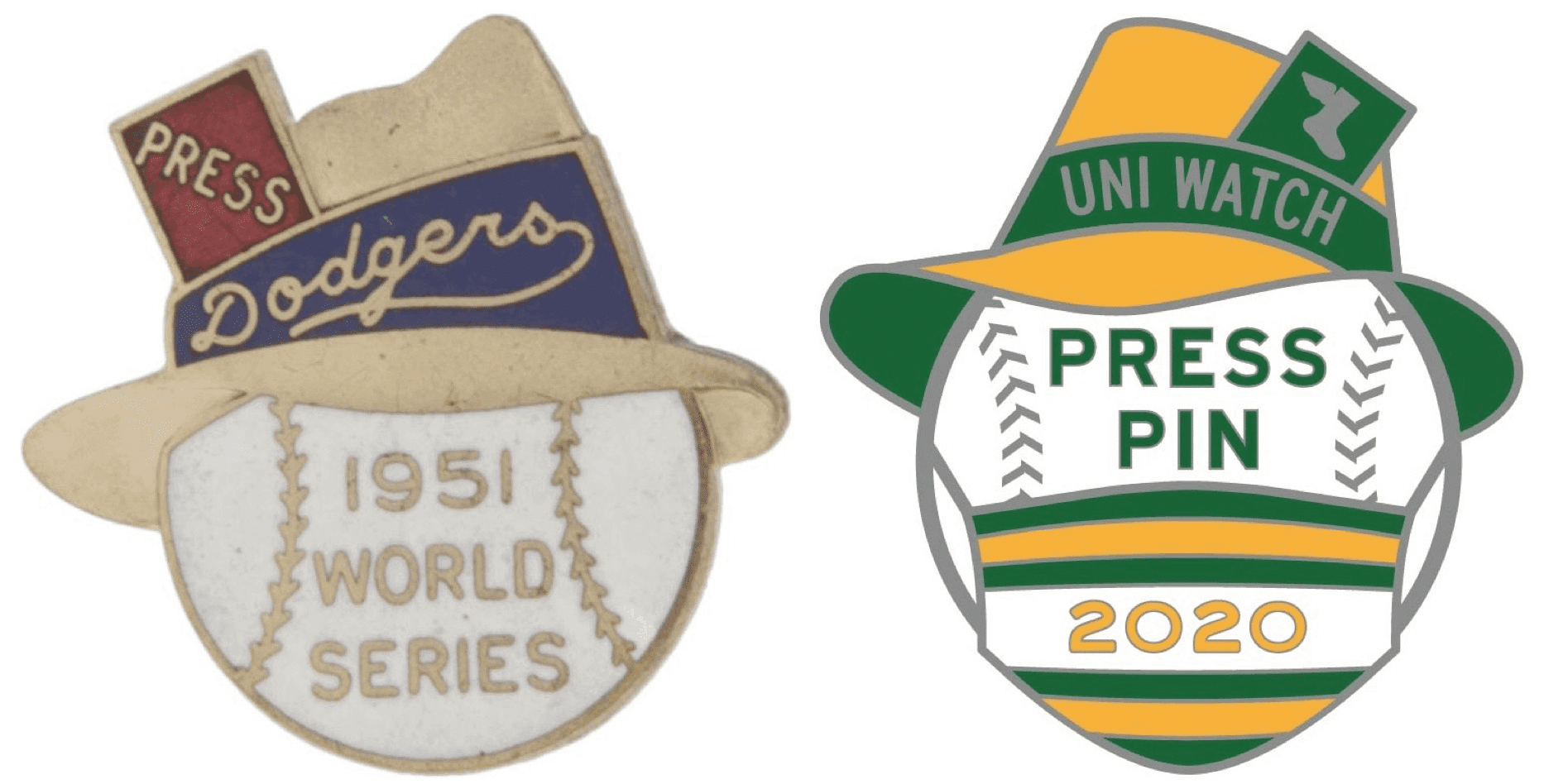 While we're at it: If you missed the launch of the press pin, you may also have missed the announcement of the latest addition to the theoretical T-shirt menu (click to enlarge):

Wouldn't it be fun — you know, just hypothetically — if these shirts were actually available? If you'd like to talk about that — or about any of the other menu items — shoot me a note and we can discuss that lamentable state of affairs.


Uni Watch News Ticker
By Phil

Baseball News: ICYMI from the other day: Here are the home and away uniforms for the new Johnstown Mill Rats of the Prospect League (from Zane Heiple. … Here's a look at some new bobbleheads commemorating the 1942 Negro League World Series, with a portion of the proceeds going to the Negro Leagues Baseball Museum (from Matthew McLaughlin). … C&D coming? Max Weintraub says the logo on this truck in Virginia looks familiar. Here's a closeup. Looks like they came close to nailing the script font too. … "I know many enjoyed Mookie Betts's catch (Fri)day, but the catch of the day (yester)day is apparently Fried Pollock," observes Robert Kahn. … "Pete Fairbanks came in for the Rays in relief in the 8th and you can see his undershirt logo through his jersey," notes Brad Phillips. … And here's our first look at the 2020 World Series logo patch on a cap (from @NYYDJ2).

NFL News: Yesterday's ticker had this item: "Does anyone recognize this logo Colts head coach Frank Reich is wearing on his sweatshirt in this pic?" Reader Terence Schull replies: "That shirt was produced by a t-shirt place in Indianapolis called The Shop. They are not licensed to use NFL logos so they use INDY instead. Evidently Coach Reich likes to buy local products…good for him!" … The Buffalo Bills will be wearing mono-blue against the Chiefs for their Monday night showdown. … Chase Claypool, Steelers wide receiver, is from Canada and his nickname is, amazingly, "Mapletron." This is his logo (from Jason Bernard).

College Football News: The Coastal Carolina Chanticleers wore a patch to honor Myrtle Beach police officer Jacob Hancher who was shot and killed responding to a domestic violence call earlier this month. The football team wore the patch during its 30-27 win over Louisiana on Wednesday. … When (and if) the PAC-12 resumes play this season, UCLA will still be outfitted by Under Armour even though the university is suing the apparel company for breach of contract. … Penn State is giving it's inaugural jersey #0 to safety Jonathan Sutherland. … Delaware is rolling out an alternate black uniform next spring (from Kevin McGuire). … Looks like we have the new University of Cincinnati third jersey that hasn't been unveiled yet (from Jase Greenberg).

Hockey News: Some of the Toronto Maple Leafs have new numbers (from Mike Chamernik).
.
.

Soccer News: Is there a Houston Dynamo rebrand possibly in the works? (from Al Gruwell). Here's some more on that.
.

Grab Bag: Great spot from Jakob Fox who notes, "Foo Fighters drummer had 864511320 on his cutoff shirt. Those numbers correspond to Vote out Trump. 86 – cancel; 45 – trump; 11320 – Election Day"


And finally… Thanks to the entire SMUW crew, as always, for their great work, and to Alex for the MLB Playoff Uni Tracking.
Everyone have a great week and I'll catch you back here next weekend. Enjoy the World Series (and game seven of the NLCS), and all the pro gridiron action this week.
Peace,
PH