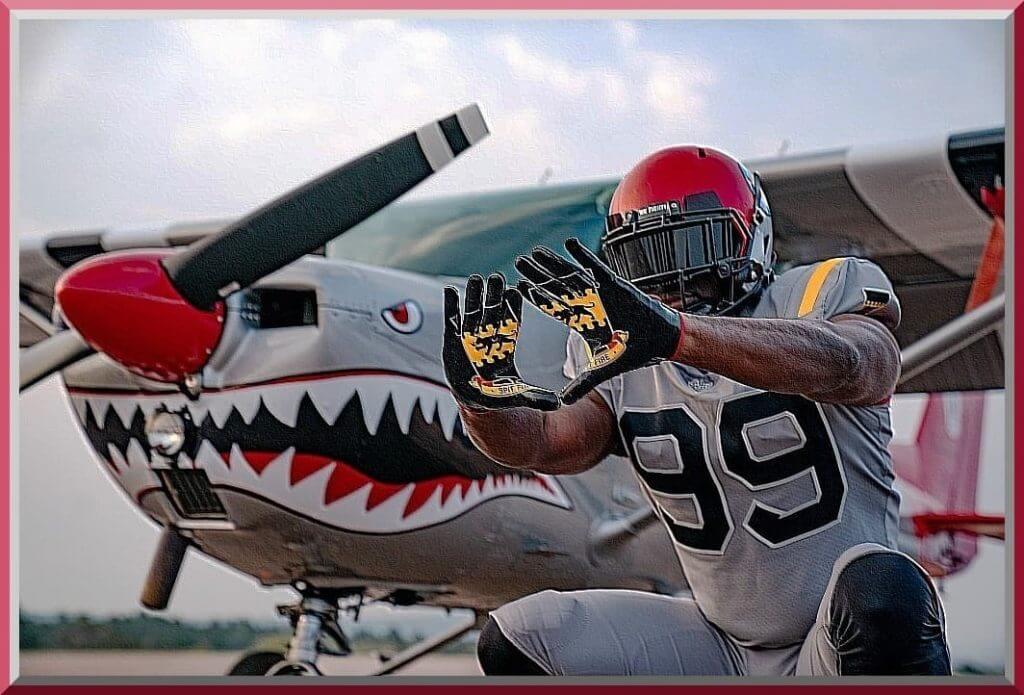 By Phil Hecken and the SMUW Crew
Follow @PhilHecken

Greetings boys and girls. Quick announcement — Memal was not available for his usual 5 & 1 spot today, so we'll have a special guest picker (which you'll see below). Hope everyone had a good Saturday, and you're all staying safe.
The NCAA Football season continues apace, and hopefully, within about a month, we'll have all Power 5 conferences playing. And of course, there are still several other conferences who've been underway for a while, so for those of you jonesing for college football, it's back!
Yesterday, the Air Force Academy wore their Red Tails uniforms honoring the Tuskegee Airmen. If you're not familiar with them, they were the first all-Black unit in the history of the Army Air Corps, the precursor to the U.S. Air Force. The Tuskegee Airmen, also known as the "Red Tails," were credited with flying more than 15,000 individual sorties and shooting down 112 enemy planes during World War II. A good writeup on the men and the uniforms is here.
I was at first worried when these unis were announced, being gray, that Navy (their opponent yesterday) would wear white jerseys, but Navy wore their traditional gold/navy/gold combo. It turned out to be a relatively good looking game: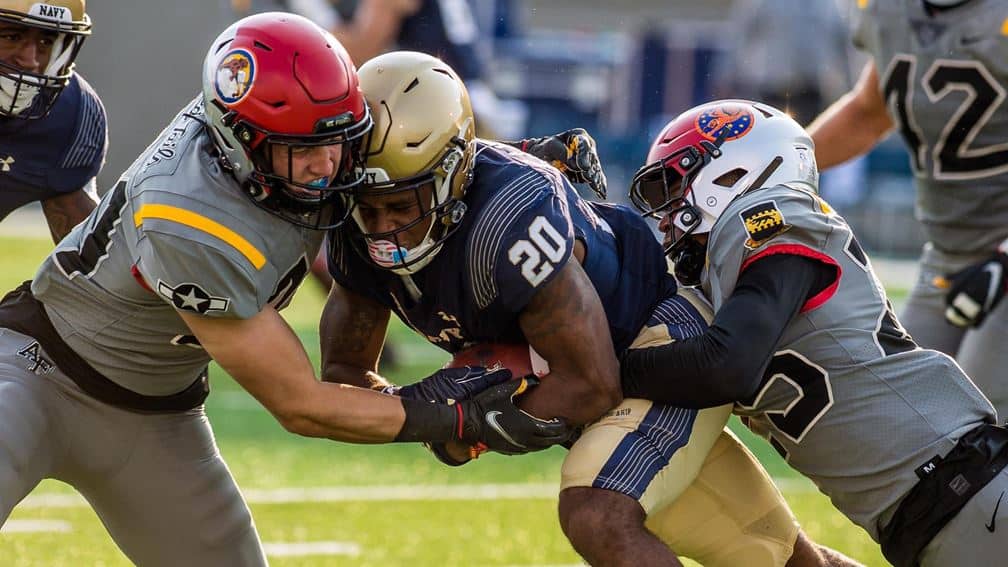 The half red/half chrome gray helmet was the most visually appealing of the uniform (it features the P-51 aircraft flown by the Tuskegee Airmen with signature red tails and nose). There were four different versions:
I should have said there were 4 different helmets honoring the 99th Fighter Squadron (TL), 100th (TR), 301st (BL), and 302nd (BR). #CFB2020NewHelmets30to32@UniWatch @PhilHecken @SimplyMoono pic.twitter.com/2S06GkDfzX

— Blaise D'Sylva (@wtfcoach) October 4, 2020
The rest of the uniform is gray with black lettering, with red and white highlights on the shoulders and arms.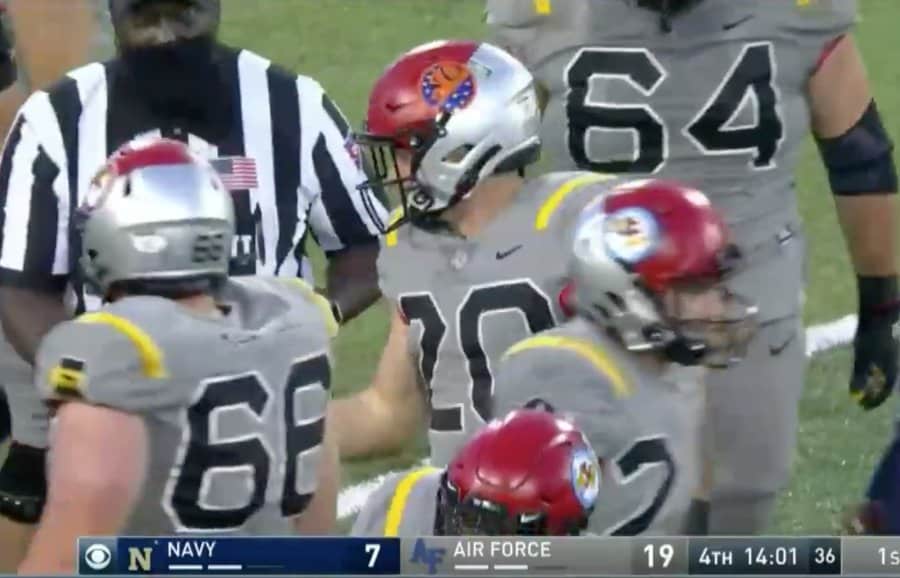 Air Force must have been inspired by these uniforms (and due to the COVID-19 pandemic, one of only two games they will play this season — the other comes against Army on Nov. 7 Air Force is playing eight games, not two — the Mountain West decided to start a shortened season on Oct. 24.), because they took Navy behind the woodshed. And this is not the first "one-off" uni Air Force has worn — some have been better than others, but they're always interesting.
These were not the most visually interesting uniforms (save for the Red Tails NOB), but since it brought attention to the Tuskegee Airmen, I'm all for it.
OK — here's TJ with the rest of your
• • •
Sunday Morning Uni Watch
by Terry Duroncelet, Jr.
It's OCTOBER, which means IT'S TIME TO GE– you know the drill by now. I think I've done this in the past, but just in case: this year, I'm gonna do something different this year: instead of scorning BFBS togs, I'm going to praise them instead. After all, black, orange, purple, and slime green are the official colors of Nightmare Night Halloween, and given the perpetual no-numbing root canal that's been this entire year, it's nice to liven things up every now and then, even if it comes across as unorthodox. Granted, if the general design looks like a Death Metal logo throwing up gang signs, I'm still going to make scathing note of it, but for the month of October, BFBS is a-OK… unless you're Bama, then we have problems. But without further ado, here's your short rundown of Week 5…
From Friday:
• BYU wore decals for Mental Health Awareness Week against Louisiana Tech.
• Wake Forest wore 'BREONNA TAYLOR' decals in their game against Campbell (h/t to Rex Henry).
From Saturday:
• Ole Miss wore their light blue helmets against Kentucky.
• Georgia State had a really cool helmet decal treatment for their game against East Carolina; vaguely reminiscent of the Dodgers.
• Even though NC State's uni design poses… QUESTIONS, I gotta say that contrast-wise, this game SLAPPED.
• UAB wore their Children's Harbor uniforms against UTSA. For those curious on how these came to be, here's an older article explaining their origins.
• I've said it before, and I'll say it again: while Iowa State's BFBS uniforms are actually quite good in a vacuum, they don't look like the Cyclones in the slightest. That said, I'm making an exception for October, and I applaud Iowa State for going as far as to match the on-field markings to the unis! It's in the details. Speaking of details, the Cyclones apparently add the flag of each individual player's home/birth country on the back of their respective helmets! (h/t Zach Fisher)
• I really liked Charlotte's look against the New England Patriots Florida Atlantic.
• I know current restrictions prevent the Bengals from doing this uniform the correct way (at least, for now), but take note, Cincinnati: THIS is how it's done.
• Vandy wore dandy helmets against LSU.
And now for a very-quick Twitter gauntlet:
• Hey, South Carolina: your Auburn is showing.
• Virginia made some small changes to their helmets, which reflect their jersey/pant tweaks.
• One of the NC State coaches was breathing that Pitt air, in more ways than one.
• You've heard of Sekiro: Shadows Die Twice, now get ready for: Kentucky: Jerseys Stretch Twice.
That'll do it for Week 5. Before I head off, I want to give a HUGE thanks to everyone who mentioned me on Twitter for even the smallest thing. For the sake of brevity, I can't put every single thing into the post, but please know that I do see them, and it really does make a huge difference in making these columns possible, ESPECIALLY to one Blaise D'Sylva, who's the ultimate in helmet knowledge, and helmet knowledge accessories. Happy October everyone, I hope you all continue to stay safe and healthy, and I'll see you next week!
• • •
Thanks, TJ! OK, now on to the rest of your SMUW.


Memal's COMRADE MARSHALL'S…
5 & 1
Wait…what?
Yes the hed above is correct — Memal is up in the wilds of northern Pennsylvania out of touch and unable to do the 5 & 1 this weekend, and he sent the following statement:
Memal is unavailable this weekend to do the 5&1, though he assured me Louisville would not have featured in the &1 for the fourth week in a row…they didn't play this week.
So, for one weekend only, I asked the inimitable Comrade Robert P. Marshall if he'd like to substitute for Memal (actually, I asked a couple people, but he was the only one who actually came through).
Robert's not much for words, but here's his substitute 5 & 1:
__________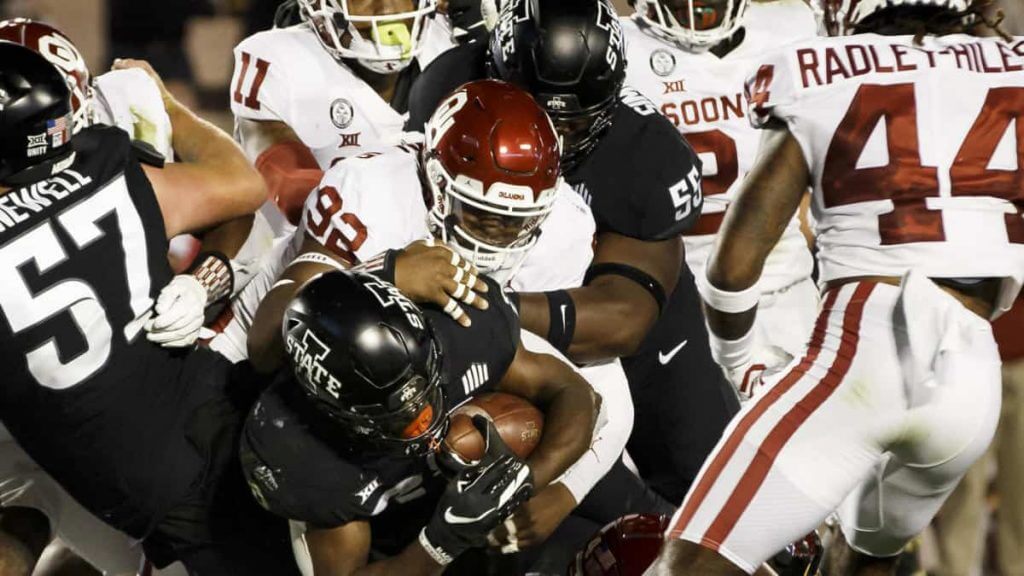 5) OU/ISU

yup, that's what I said. This game could have been as rancid as TAMU-Bama or MSU-UoA, but Aimes broke out the black, and I can tell the teams apart. If you are going to break out black, make it count.
__________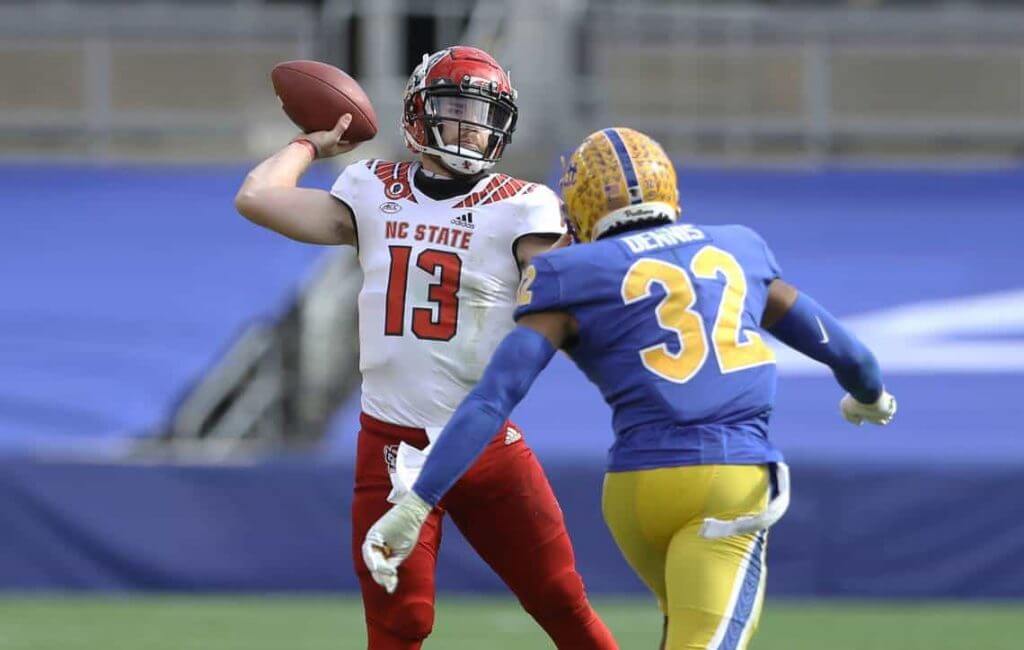 4) NCS/Pitt

Nothing like Pitt looking foolish in grey scale for a week to make you appreciate them in colour. As for State, a throwback logo, and sume purdy red contrast on a beautiful day. If only state would turn those shoulder stripes 45 degrees.
__________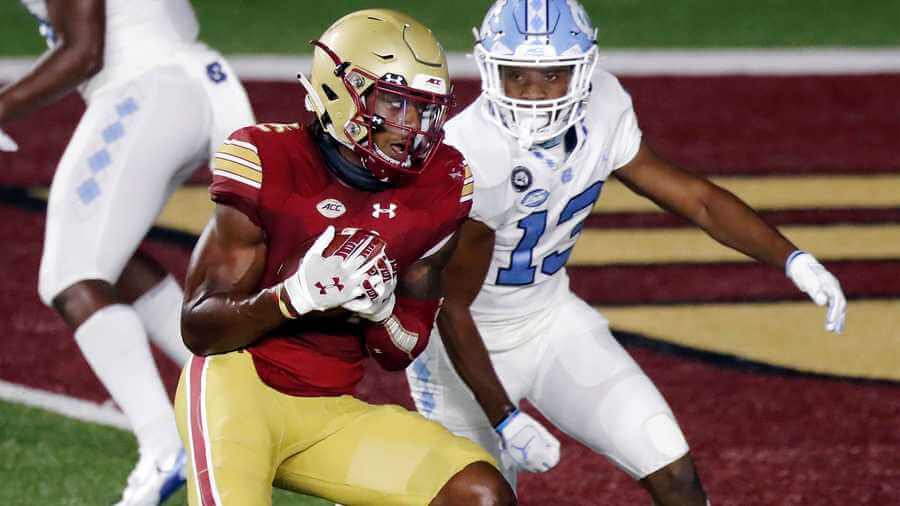 3) BC/UNC

Loving this Flutie look, and versus Carolina blue it's super swell.
__________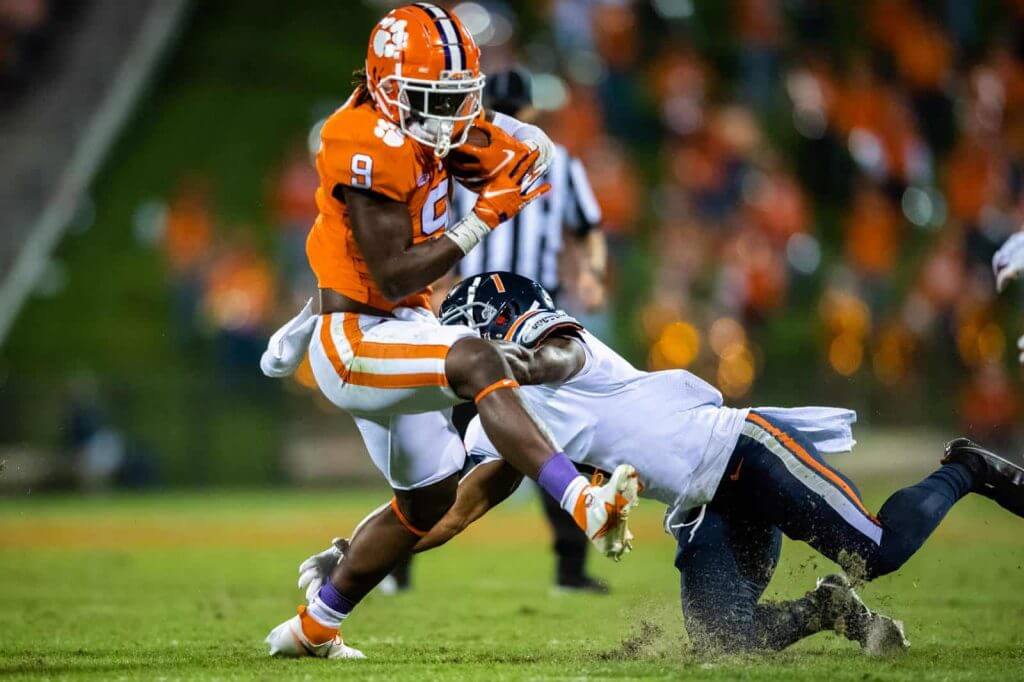 2) Clemson/UVA

I am overjoyed; UVA didn't emphasize orange against an orange team, and Clemson students were allowed to express their voices freely. Clemson always looks good, and with the exception of the overplayed helmet numbers, Virginia has the best newback look going.
__________
1) Every DII & DIII game that wasn't played.
__________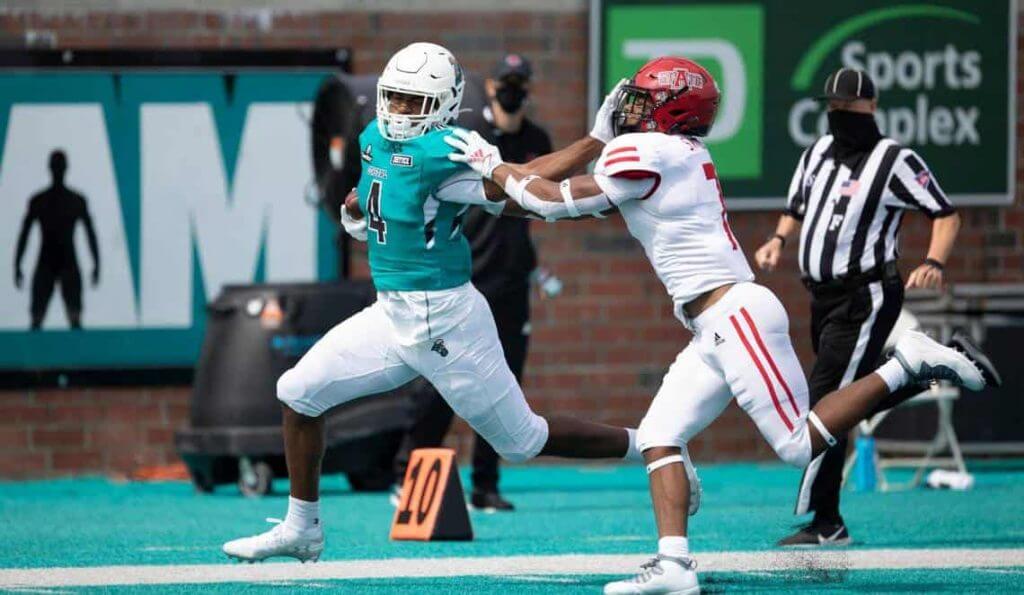 +1 CoCar/ArkSt

Do I need to explain?
• • •
OK. Thanks for pinching in, Comrade. I gotta admit, I wasn't expecting that #1 choice.
Memal will return next weekend!


NCAA Uni Tracking
Uni Watch will again track the uniform combinations worn by the "Power 5" conferences. All of the 2019 trackers are back! Unfortunately, not all of the conferences are back. Here's how the trackers would track, if all the schools were playing:
We've got Rex Henry (tracking the ACC), Dennis Bolt (tracking the PAC-12), Kyle Acker (tracking the Big XII), and Ethan Dimitroff (tracking the B1G AND the SEC). Rex, Dennis, and Kyle and are all returning from 2015, and Ethan is back after joining the NCAA Uni Tracking a couple seasons ago. Ethan continues his dual role of tracking both the B1G and the SEC.
But this year the B1G and PAC-12 aren't playing at all. So we won't have tracking for them this season. UPDATE: Both the B1G and PAC now will try to play in the 2020 season.
Here are the Uni Trackers for the Power 5 Conferences (I've left all the previous tracker info in their usual slots, even if the conferences aren't playing. In case you want to click on any of the links):
+ + + + + + + + + +
Rex is up first today (ACC):
• • •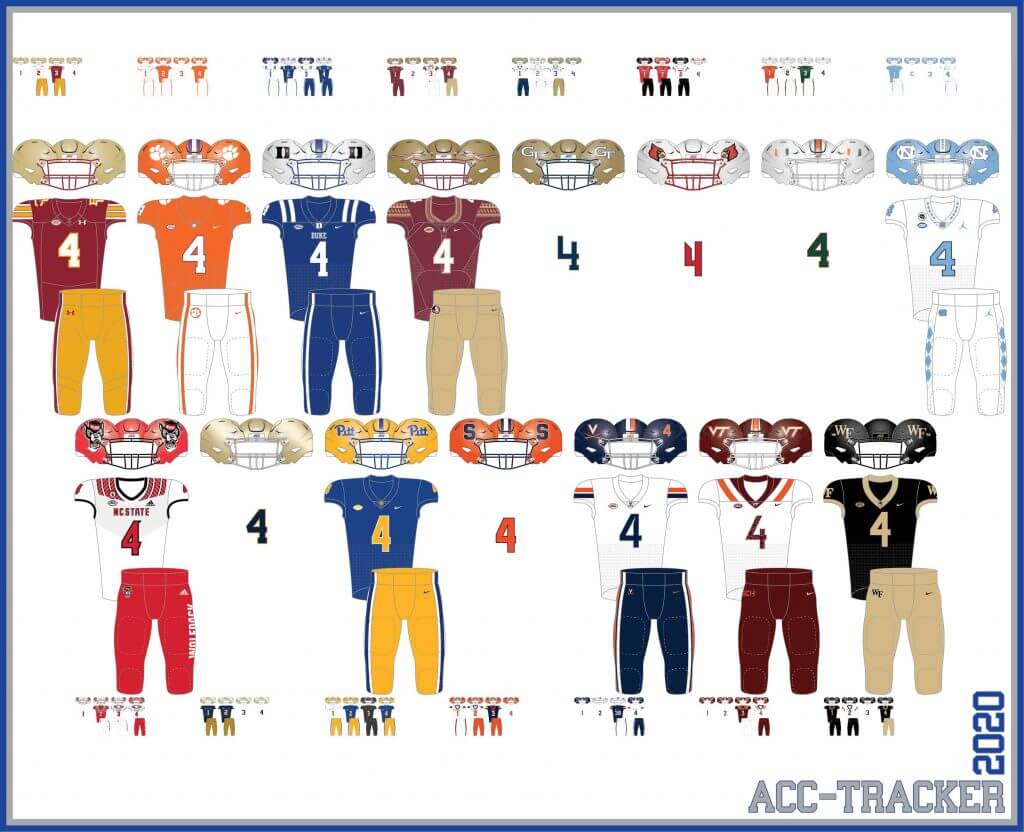 ACC

More Here.
Follow Rex on Twitter here.
• • •
And now, here's Dennis with the PAC-12: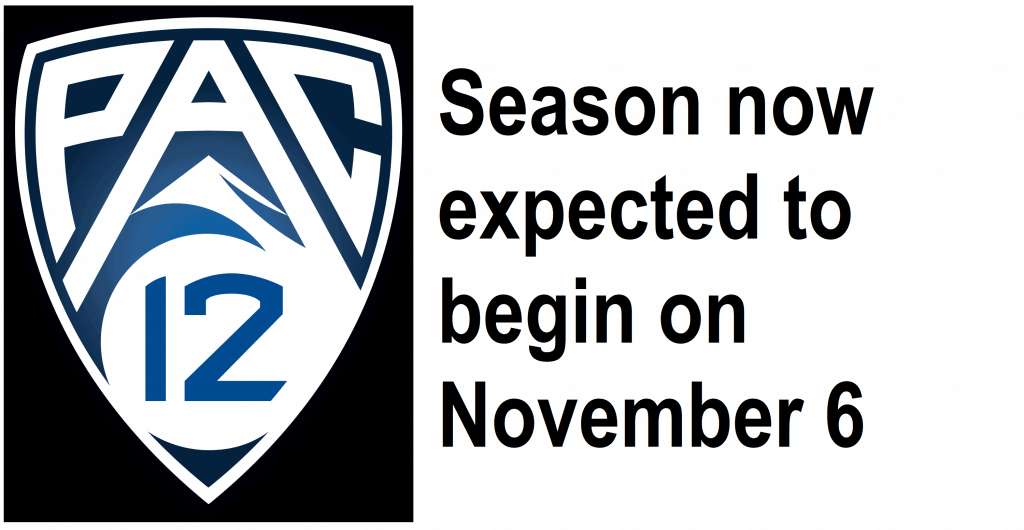 PAC-12

More here.
Follow Dennis on Twitter here.
• • •
And here is Ethan, with the SEC: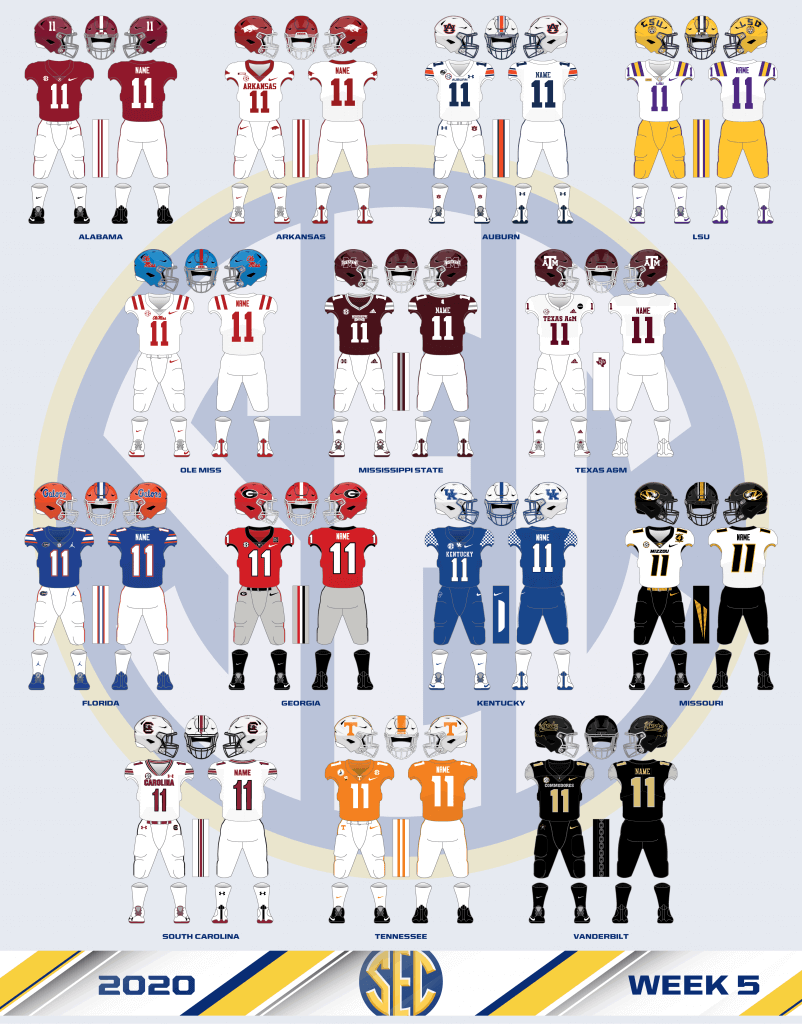 SEC

And be sure to check out Ethan's WVU Mountaineer Tracker.
Follow Ethan on Twitter here.
• • •
And here is Kyle with the Big XII: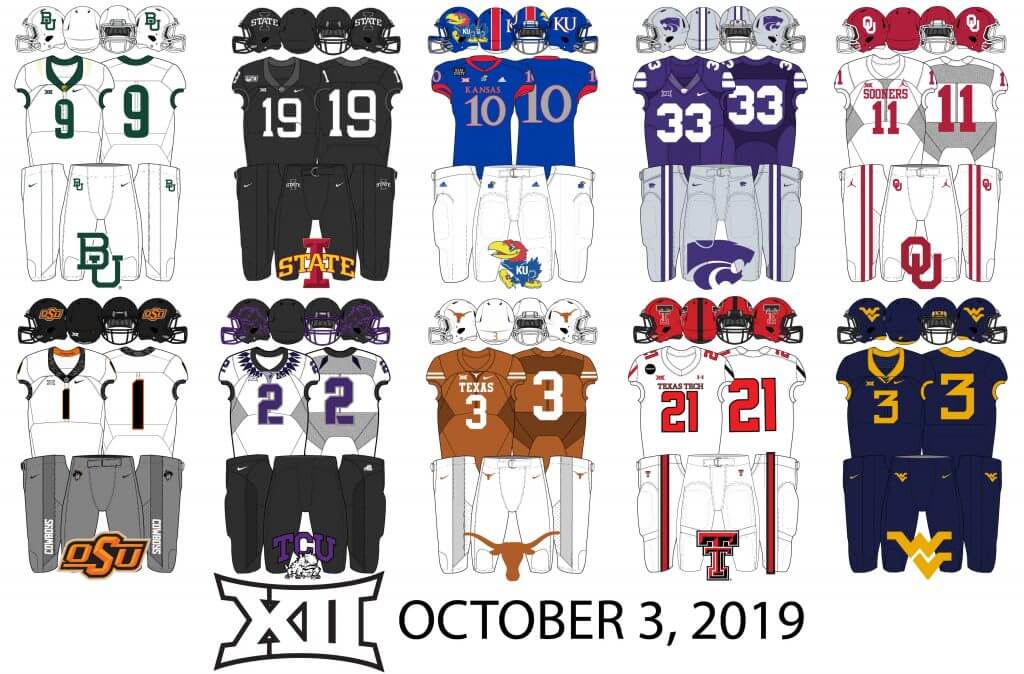 Big XII

Follow Kyle on Twitter here.
• • •
And here's Ethan with the B1G: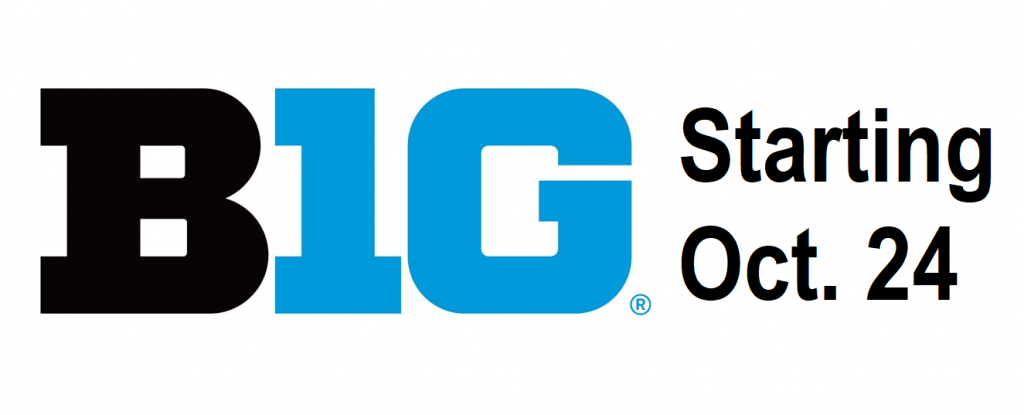 B1G



Meet The SMUW Crew!
I can't believe I haven't done this before, because the entire crew has been doing this for a number of years (some longer than others), and I never really gave them their proper due. Three weeks ago we "met" my Duck Tracker and PAC-12 Tracker, Dennis Bolt (and it now looks like he may end up being busy this season after all), two weeks ago, Memal (who brings you the 5 & 1), and last weekend Terry Duroncelet, who writes most of the main article. Today we'll meet another tracker (and a dual-tracker at that — SEC and B1G), Ethan Dimitroff.
So please everyone, here's your official introduction to Ethan, along with his photo (click to enlarge) and bio: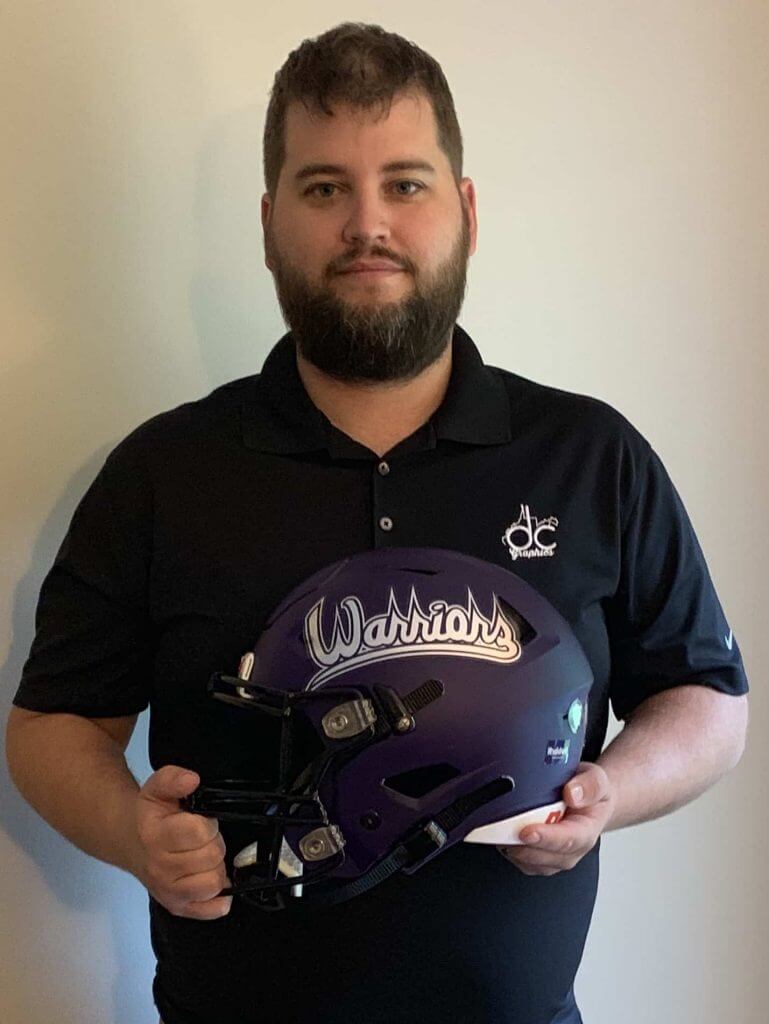 Name Ethan Dimitroff
Age 31
Hometown Charleston, WV
twitter: @ethan_dimitroff
websites: mountaineeruniformdatabase.com dcgraphicswv.com elkcitysportswear.com

I've lived in the greater Charleston area my whole life. My wife, Ashley and I recently purchased our first house last year in Charleston and a quick shout out to her for putting up with all of my uni-tracking activities. My day job is still working at the county courthouse but do have my uniform decoration business along with still doing freelance graphic design work.

My favorite sports teams have been West Virginia Mountaineers (all-sports), Pittsburgh Steelers & Penguins and the Cincinnati Reds. I'd say the first big uniform event for myself was back in 1997 when those Denver Broncos rolled out their new uniforms. Being a Steelers fan it didn't matter to me I had to have my own John Elway jersey after that.

In the mid-00s I came across Uni-Watch via the annual college football and NFL season previews. Now it's my go-to source to keep up with all the uniform related information. Since I began tracking for Uni-Watch in 2016 I've met a lot of great people in this "community" its really cool that other people "get it" like I do.

My graphics design business; DC Graphics, now has a new branch dubbed Elk City Sportswear which is the uniform decoration portion of the business. I've recently secured an Adidas supplier contract which I really hope to takes things to the next level.

On my WVU uni-tracking site (mountaineeruniformdatabase.com) I have a complete uniform history of every Big XII conference game as well as former Big East, non-conference and bowl games matchups; As well as a season by season back to the 1960s. I'd like to add more uniforms but sometimes my resources are lacking.

Lastly I've spent way to much time on twitter trying to convince WVU Head Coach Neal Brown to restore the navy football helmets to the beautiful glossy blue (pre-2013 "rebrand"). It makes no sense that the blue helmets have black face mask and accessories with no other black in the rest of the uniform!
Thanks, Ethan!
In the coming weeks, we'll meet the remaining SMUW contributors!


What They Should Have Worn
I'm pleased to present you a new feature on SMUW. Each week Logan Patterson will pick a Saturday game where the teams don't necessarily look nearly as good as they could. Logan fixes that. Sometimes he simply delves into a team's past for inspiration, other times he creates entirely new looks for a team. Sometimes he tweaks a previous look. But in the end, he comes up with a combo for both teams — "What They Should Have Worn" or "WTSHW" for short.
Here's Logan
__________
WTSHW – WAC-tion
By Logan Patterson
Quick disclaimer: I was celebrating my birthday this weekend with my three favorite Bs: beer, bourbon and BBQ. I did a quick survey of what was going on uni-wise and didn't see any obvious grievances in need of address, so I decided to do something a bit different. Baylor-West Virginia, Ole Miss-Kentucky and Oklahoma-Iowa State could have looked better, but I didn't feel like addressing them. Instead, I wanted to do something a bit more creative, and play around with some historical fiction. To frame this, let's pretend the WAC was still around.
The WAC was the premiere conference of the intermountain west for about 35 years, from it's formation in 1962 until many of its top teams split to form the Mountain West Conference in 1998. The WAC gained national attention from solid Arizona State teams in the early-mid '70s, which factored into PAC-8 invites that would bring ASU and UA into the west's premiere conference in 1978.
But…what if that never happened? What if we still had a power conference in the intermountain west? What if New Mexico and UTEP were part of it? (please, suspend your disbelief for a minute). Neither of these teams are playing this week, but it's a good time to get playful.
New Mexico needs a rebrand. Cherry and silver aren't particularly notable, especially considering UNLV around the corner has nearly the same colors. What if we went with a zia sun-inspired, flag hued uniform?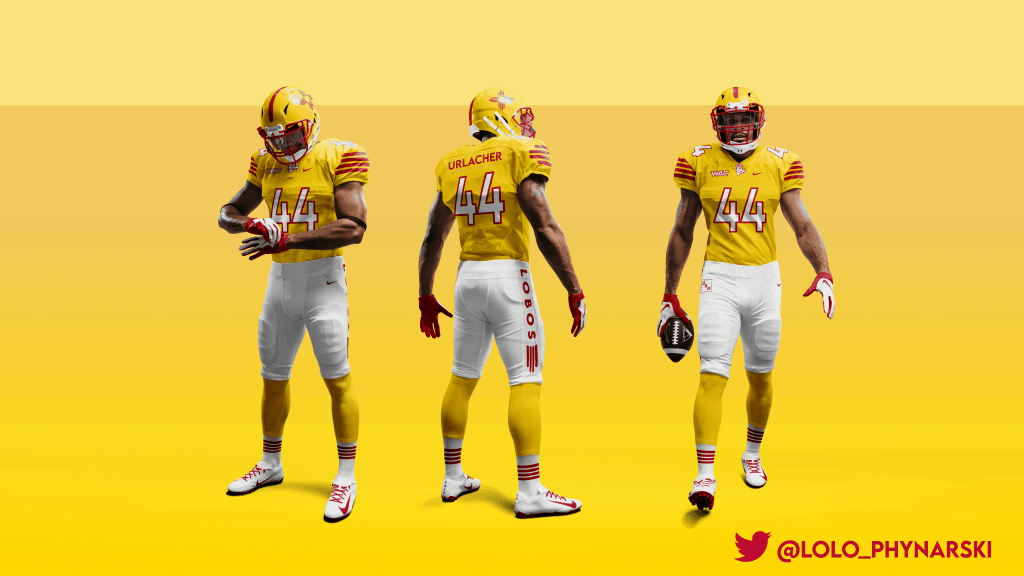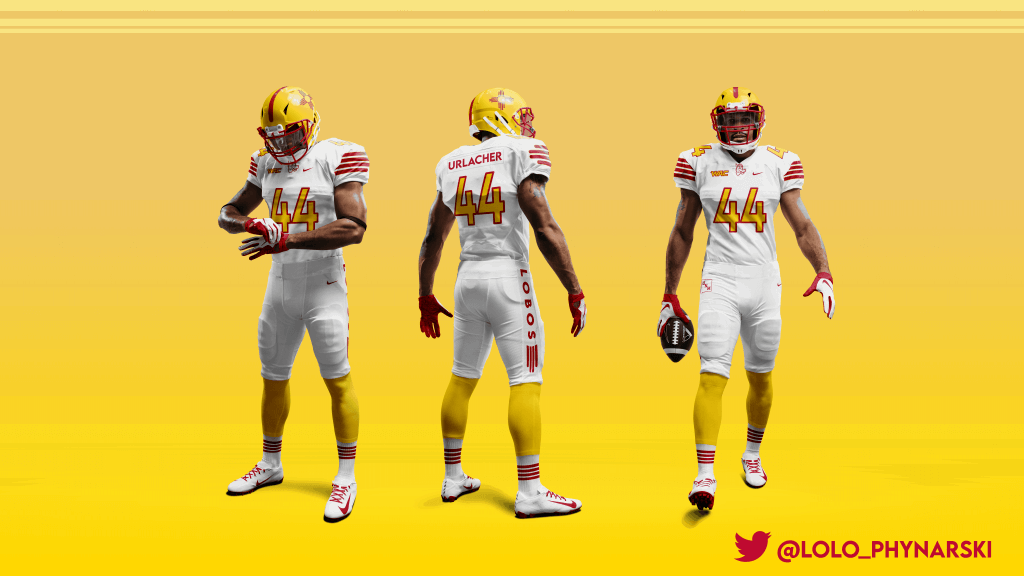 For the Miners, their navy blue and orange set isn't very memorable. What if they went with orange and sky blue, as they did in the '80s? While we're at it, forget UTEP. Let's reclaim the Texas Western name.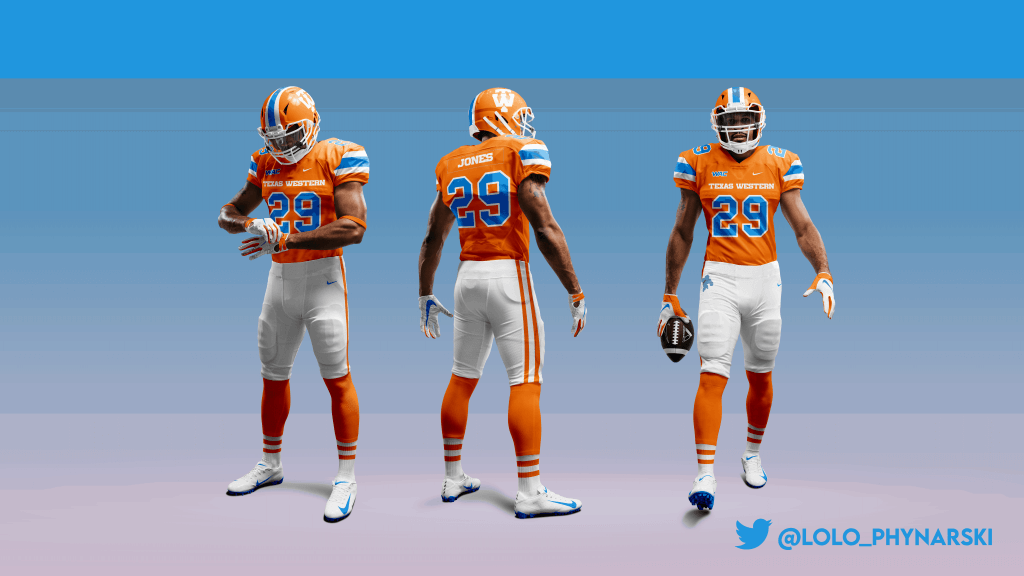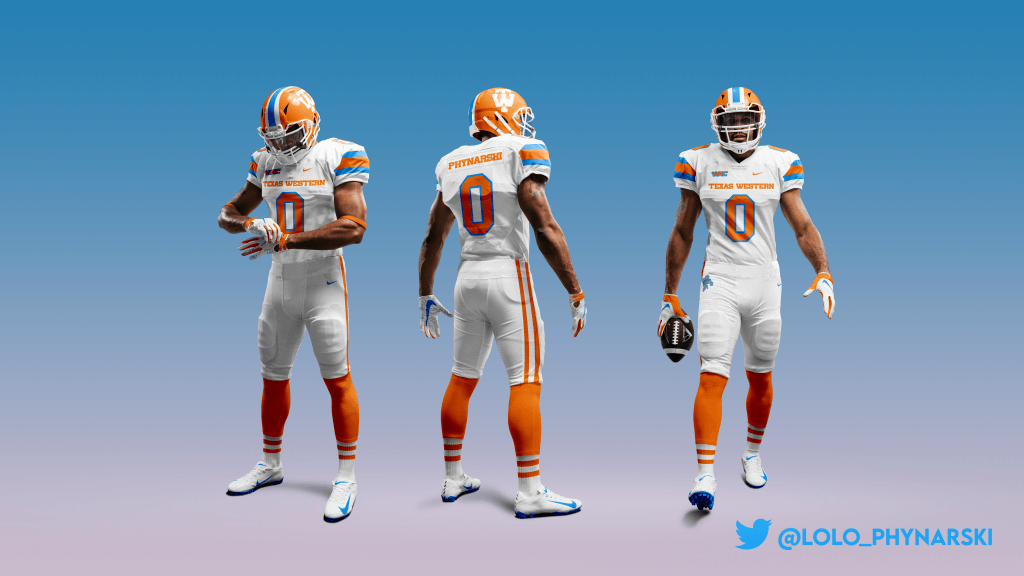 Here's what they should have worn (in my WAC-y timeline).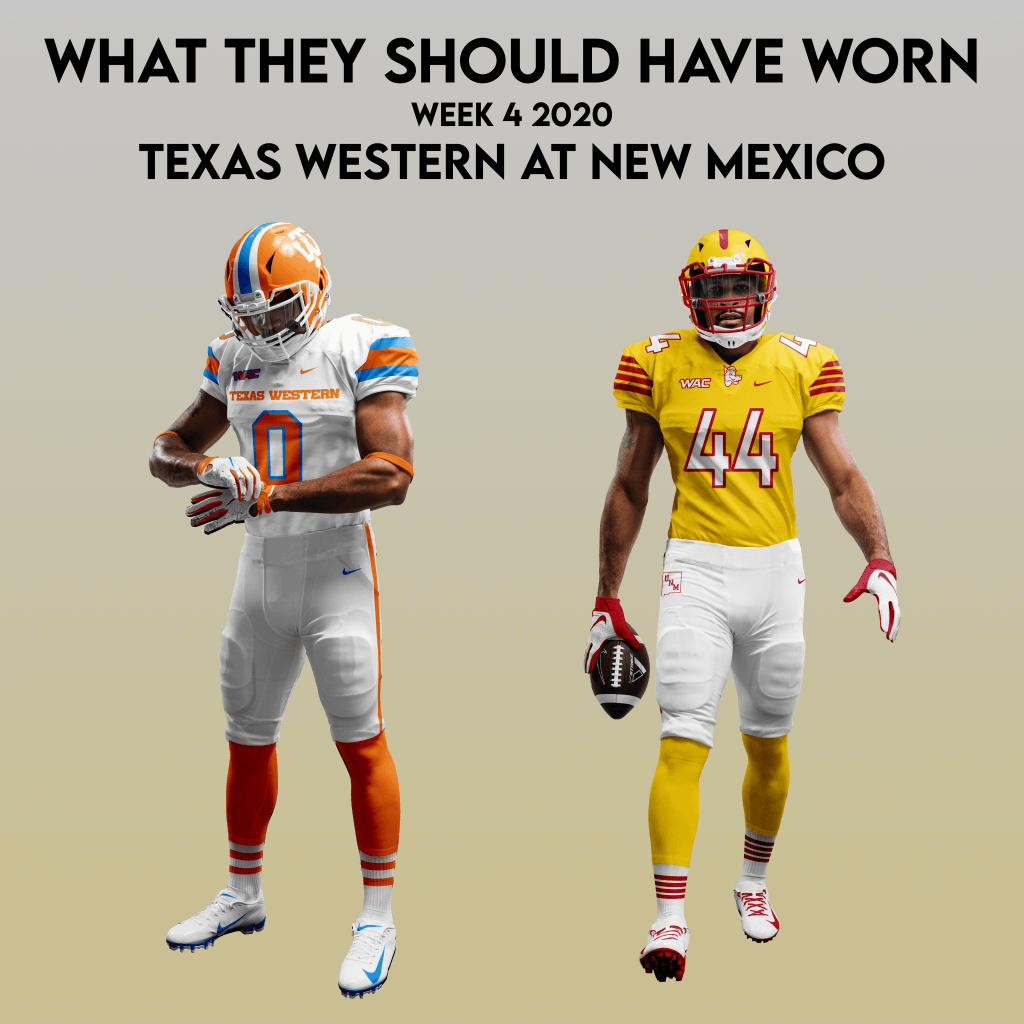 I'll be back next week with a more conventional column. Enjoy this week's WACness!
__________
Thanks, Logan. You can follow Logan on twitter @lylo_phynarski.


MLB Playoff Uni Tracking
Now that the first round (a/k/a the "Wild Card" round) of Major League Baseball Playoffs has concluded, I'm pleased to welcome back Alex Rocklein, who has for several seasons now tracked the jerseys of all the combatants in the playoffs. Prior to this year, the playoffs had a different format (one wild card game with the winners in each league advancing the their respective LDS'. This year, however, MLB changed the playoff format, resulting in 16 teams making the post-season, with eight Wild Card series (all played in the higher seeded team's ballpark) meeting up in a best two-out-of-three series.
Since the format changed, Alex needed to redesign his tracking, which is why this didn't actually run yesterday, after the final WC games were played. But today, we'll take a look at the jerseys worn by the 16 teams in each Wild Card game played. As the LDS' begin, Alex will add to the graphic and we'll get to see what jersey every team wears in every game though the end of the World Series.
Here, then, is your full Wild Card round jersey matchups (click to enlarge):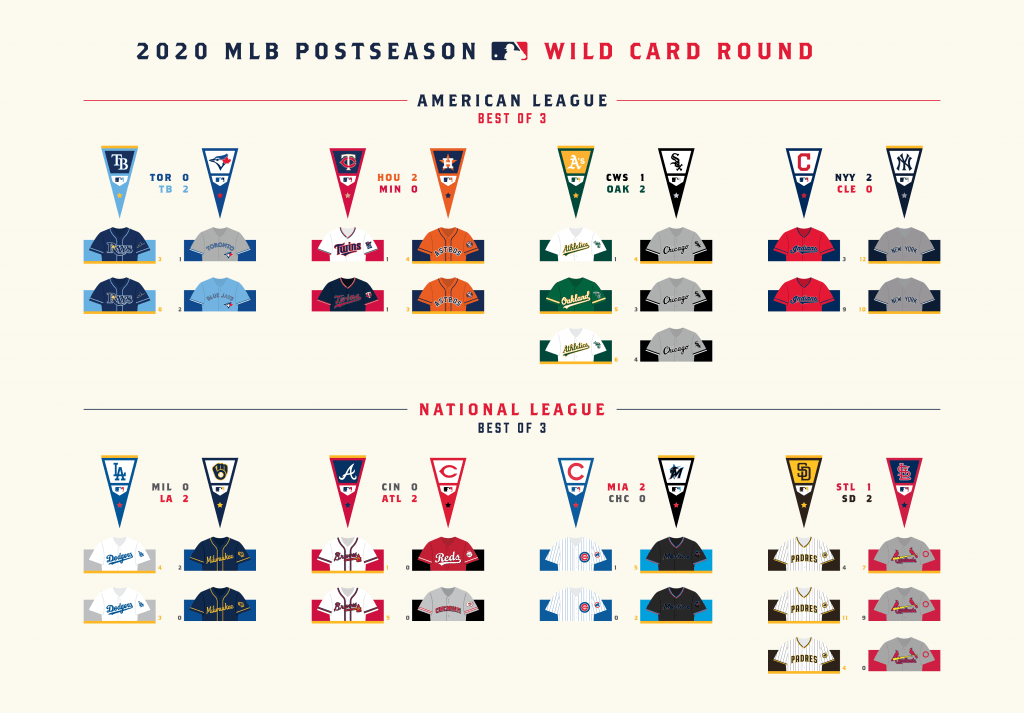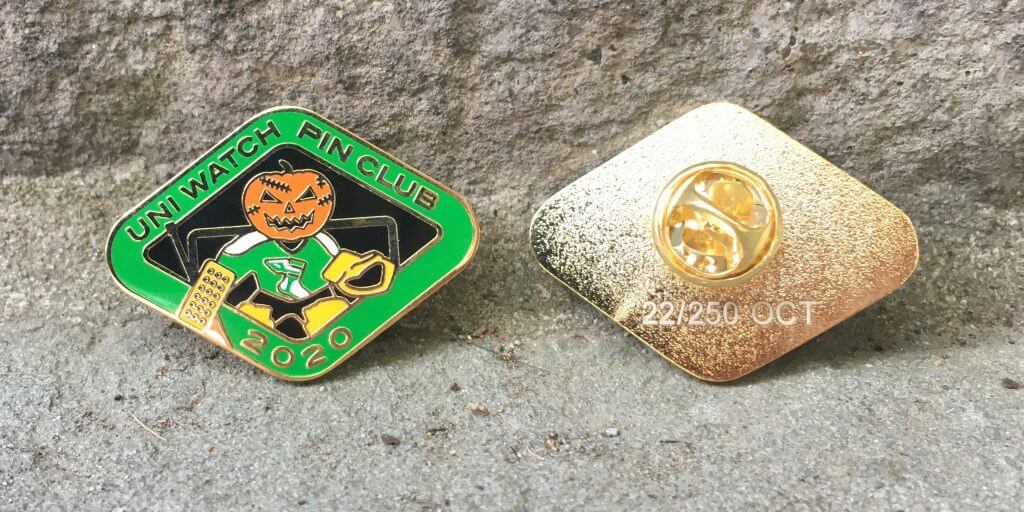 Click to enlarge
And now a few words from Paul
Hi there. In case you missed it on Thursday, the Uni Watch Pin Club's October design is now available. As you can see above, it features a jack-o'-goalie (complete with Gerry Cheevers-style stitch marks on his face!). It was produced in a limited/numbered edition of 250 pins, and more than half have already sold. You can order yours here.
Need to get caught up? Here are our January, February, March, May, June, July, August, and September pins. (Sorry, April sold out!)
Also: I'm trying to get at least a ballpark sense of how many people have been collecting 'em all. If that's you, and if you plan to purchase the remaining pins to complete the year-long collection (in which case you'll qualify for a bonus pin, available only to collect-'em-all-ers), please shoot me a note. No need to provide any documentation or proof — that will come later. For now, I'm just trying to get a rough sense of how many people we're talking about. Thanks!
Okay, that's it from me this weekend. Now, onto the ticker.


Uni Watch News Ticker
By Phil

Baseball News: Check out this can of Litchi flavored soda made ny Kirin, "which inexplicably says "Mets" on it in a logo remarkably similar to MLB's," writes Bob Hay. Here's a look at the back. He adds, "Definitely not exactly the same–the "e" is too big, there's no initial curl on the M–but close enough to be noticeable. The label mentioned a website kirinmets.jp which reveals they have an entire line of Mets-branded sodas." … Calling all sneakerheads! Kellen Gewecke noticed the Cardinals relief pitcher, Alex Reyes's cleats seem to be Nike except the Nike Swoosh is backwards, "and kind of look like the Jordan 1 silhouette to me. They remind me of a sorta red and yellow version of the travis scott Jordan 1 shoe." He adds, "after some research leading to nothing, I felt that asking you guys would be my best bet to get some information!" Anyone know the shoe model? … Cute tweet from Jay Wright: "So my 5 year old got this coloring book. And it actually says what colors to use on the uniforms. My son apparently decided the O's all orange were the way to go with Jim Palmer. And it looks like John McGraw originated the pink Mother's Day bat." … Have to zoom in on the pic w/ Cole, but Petco has already changed dugout railings to "ALDS" after Friday night's NL Wild Card game (from Reid Cure). … Anachronism alert! "spotted at a Walmart here in AZ. Wrong colors commemorating 2001 championship" (good spot by Steve Sher).

NFL News: Even though they are the away team this week, the Seattle Seahawks will be wearing blue jerseys against the Fish, who will wear white tops. As is their wont, on the road the team will not go mono-blue, so they'll be white pants. Wish they'd wear their dishwater gray pants, as that's a better look. … It looks as though the Ravens will be going mono-white at Washington. … Bills will be wearing white jerseys and blue pants against da Raidahs. … ICYMI: the Browns will wear their color rash kits in Dallas against the Cowboys, who will be wearing their usual white/seafoamtealgreen. … Saints going white tops/black trou in Detroit. … Oopsies! Rusty Flynn saw this Darren Rovell tweet that reads: "With as big as the card business now is, we need better quality control. Where exactly is there an "R" on a Mahomes Jersey?"

College Football News: U. of Guelph asking fans to debate which of their current football helmets is the best. It is white, black, or red? (from Wade Heidt). … Speaking of the Gryphons, 50th anniversary logo going up for 50 years of Guelph Gryphons university football at Alumni Stadium (also from Wade Heidt).

Hockey News: Introducing the 10th Anniversary alternate jersey for QMJHL's Blainville-Boisbriand Armada. It will be worn at home opener October 15. (from Wade Heidt). … The USA's the U17 and U18s appear to have switched to royal pants, or at least have the option now (from Patrick Thomas).

NBA News: Our first hoops item come from waaaay down under from Kane Young, who notes Tasmania's new NBL basketball team will be known as the JackJumpers. The link includes a "brand review video."

College Hoops News: Not too much college hoops news these days, but The University of Connecticut Huskies have some new uniforms for their first season in the Big East. … The Duke Blue Devils men's basketball has unveiled social justice message on their jerseys for the upcoming season: Equality.

Soccer News: Syracuse continues to add more script uniforms (this time for soccer). From Jakob Fox. … Each green, orange and red dot on Queen's Park's new kit represents every win, draw and loss the club has had in the league since 1900 (from Jeremy Brahm). Here's another look (from Ed Żelaski). … Also from Ed, there's a new third shirt for Sheffield United.


And finally… big thanks to the SMUW crew and Robert Marshall for pinch hitting on the 5 & 1, and to Alex for again doing the MLB Playoff jersey tracking.
Got another beautiful sunset last night — this time I tried to "frame" it with a long shot looking down the road — I usually stand at the end of that to take the pics: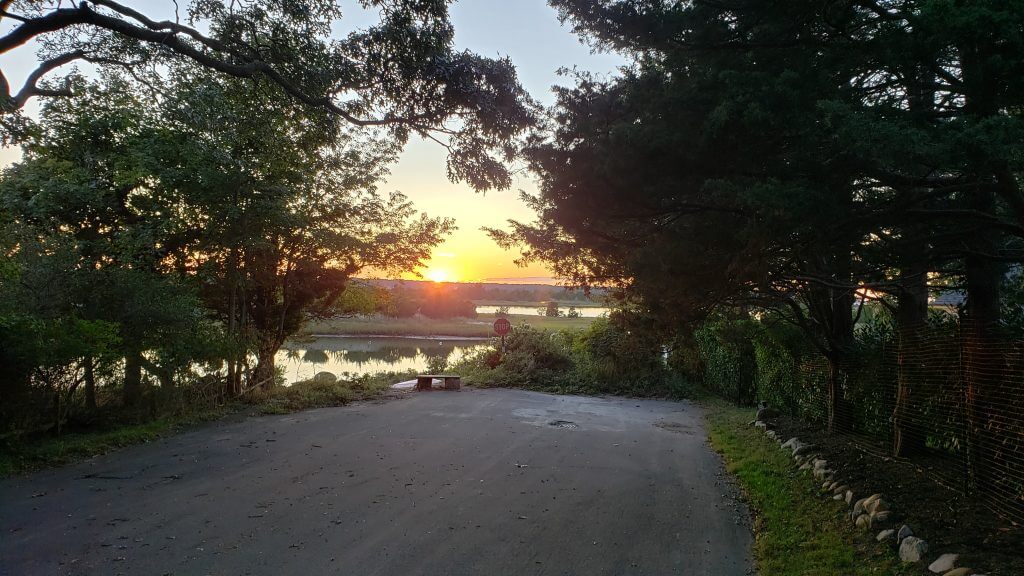 And as always, the colors in the gloaming were spectacular, with just a few clouds for perspective…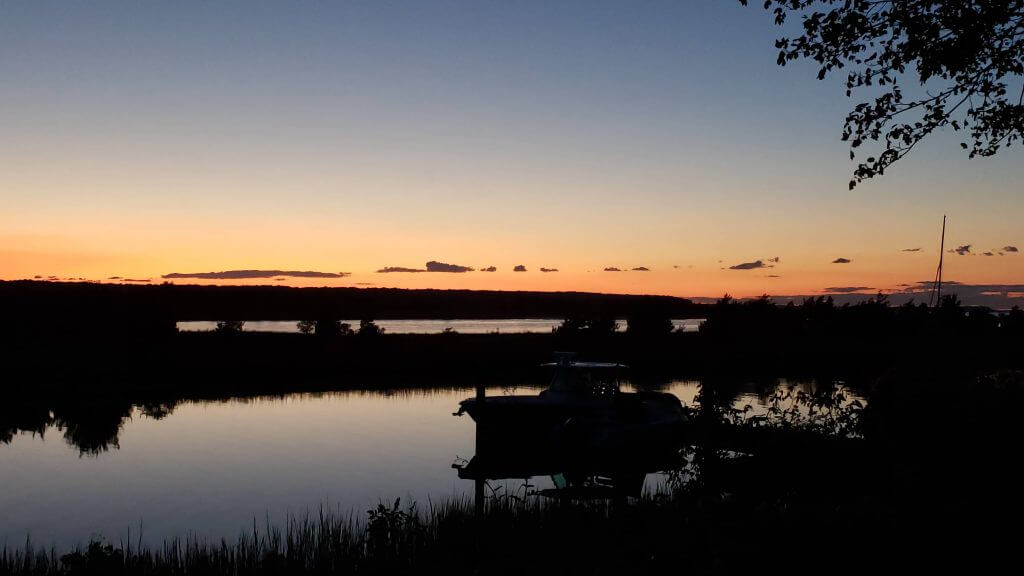 That's all for this weekend. Everyone have as good a week as you can as the Year from Hell trundles on.
Peace,
PH