For most of today's photos, click to enlarge
Hockey is the one major North American sport that doesn't have an active game schedule at the moment, but the NHL continues to dominate this week's uni news, as teams have been releasing new designs to coincide with the NHL draft, which began last night.
So: Yesterday's blog post reported on an NHL team getting back to its uniform roots and another team unveiling an anniversary patch. Today we have more of the same on both of those fronts. Let's go one team at a time, starting with…
The Senators
As you can see in the photo at the top of this post, the Sens have finally confirmed the league's worst-kept secret by unveiling a new primary uni set that almost-but-not quite duplicates the team's original early-'90s set. Here's a side-by-side comparison of the black jersey — original 1990s version on the left, new version on the right (click to enlarge):

The obvious difference is the belly striping. The more subtle differences are the outlining on the sleeve numbers and the trim on the far-left edges of the crest and just below the centurion's ear (both of which are red on the original version and gold on the new version). Overall, though, it's very close to the original look.
I know a lot of fans love this old design, but I am not among them. Always thought this uniform had a minor league feel. I would've much preferred an "O"-based design.
———
The Wild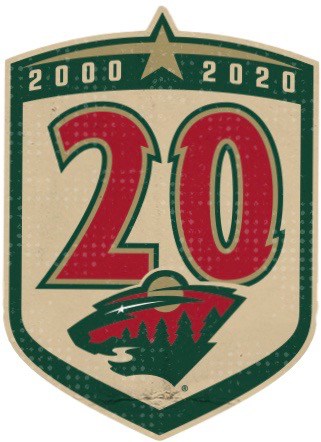 The Wild released a new 20th-anniversary logo yesterday. The design, which will be worn as a jersey patch, is solid work — I particularly like how they used the North Star, which also appears as the primary logo's eye, both as a topper for the shield and as a way of conveying the franchise's 20-year span.
The numerals are based on the jersey numbers from the team's inaugural uni set. That font hasn't appeared on a Wild jersey since the 2012-13 season, so it's a nice visual reference to the team's history.
Speaking of numbers, here's something interesting: All of the team's previous anniversary or ordinal logos (not all of which have been used as patches) have used Roman numerals, so the new design represents a break from that theme. Definitely wouldn't have known that if I hadn't looked it up. Here's the progression, including the new design: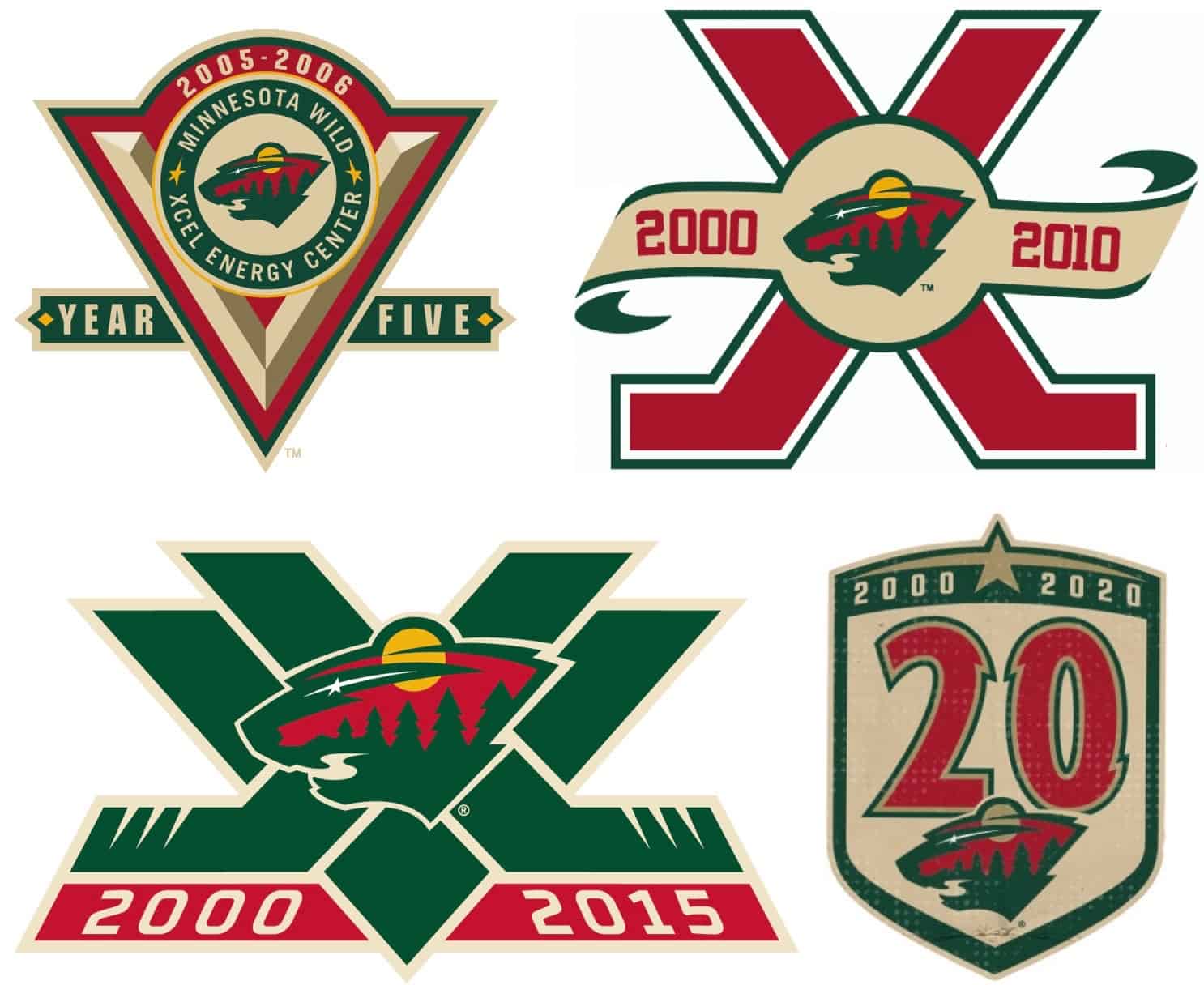 I like the new design better than any of the previous ones. Here's how it looks as a patch on the team's home jersey: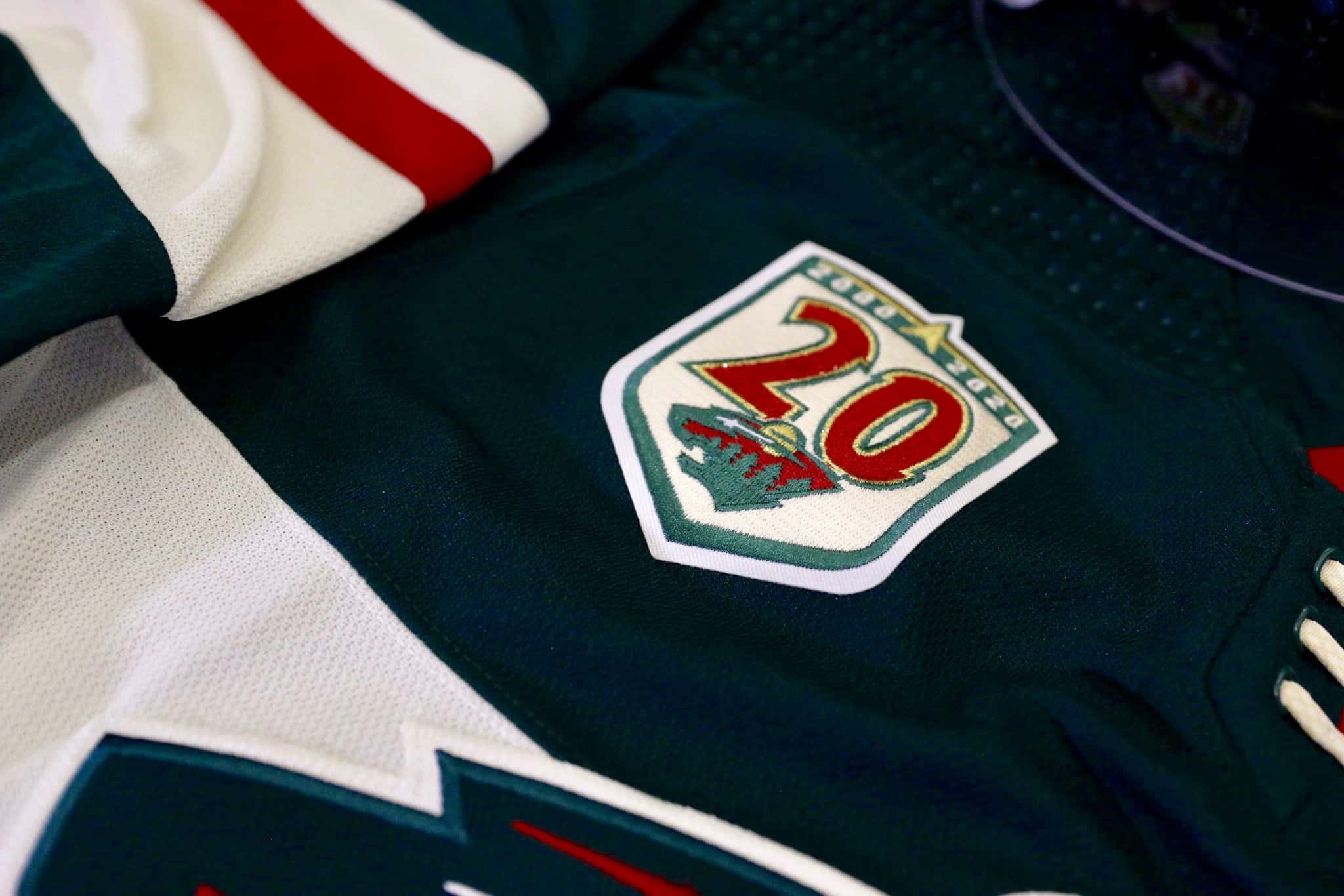 ———
The Coyotes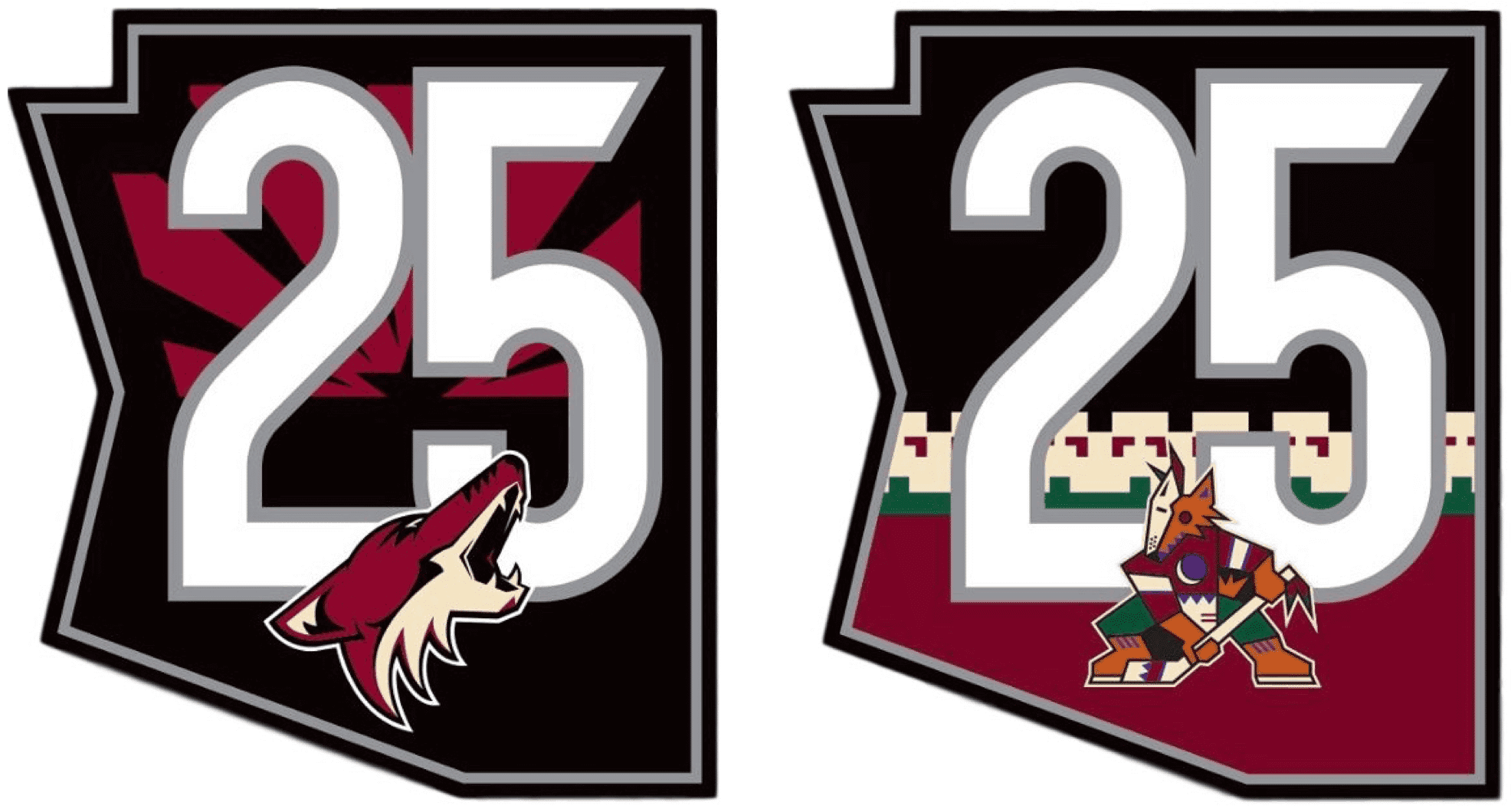 The Coyotes yesterday unveiled two patches to celebrate their 25th season since moving from Winnipeg to Arizona. The two designs are both Arizona-shaped and feature the crest of the jerseys on which they'll be worn — the coyote's head for the patch on the home and road jerseys, and the Kachina coyote for the throwback alternate (which the team says will be worn 25 times next season!).
Both of these look fine, if somewhat unremarkable. Here's how they fit into the team's anniversary/ordinal logo history: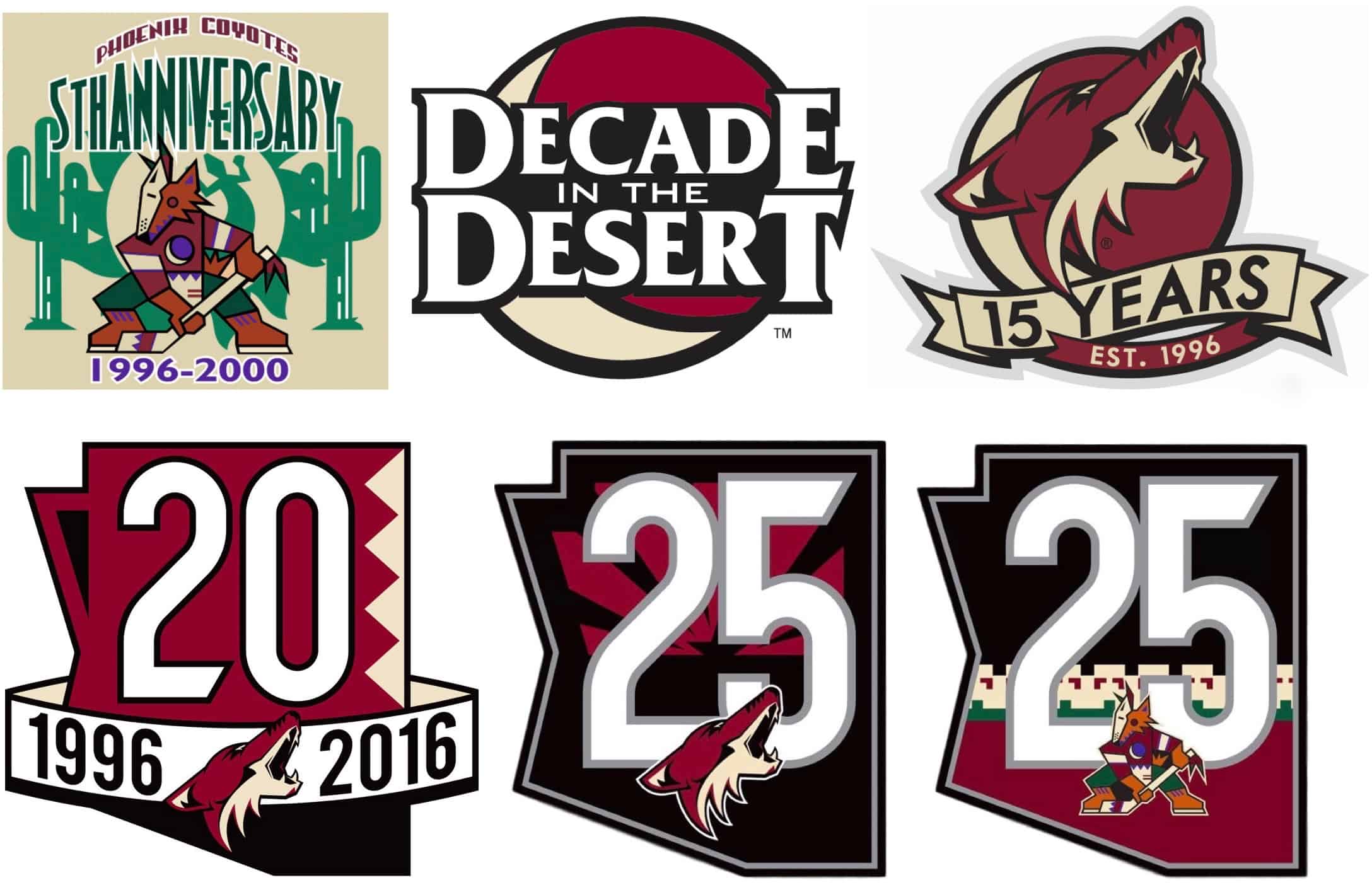 In addition, the Coyotes announced that they're reviving their crescent moon center-ice logo: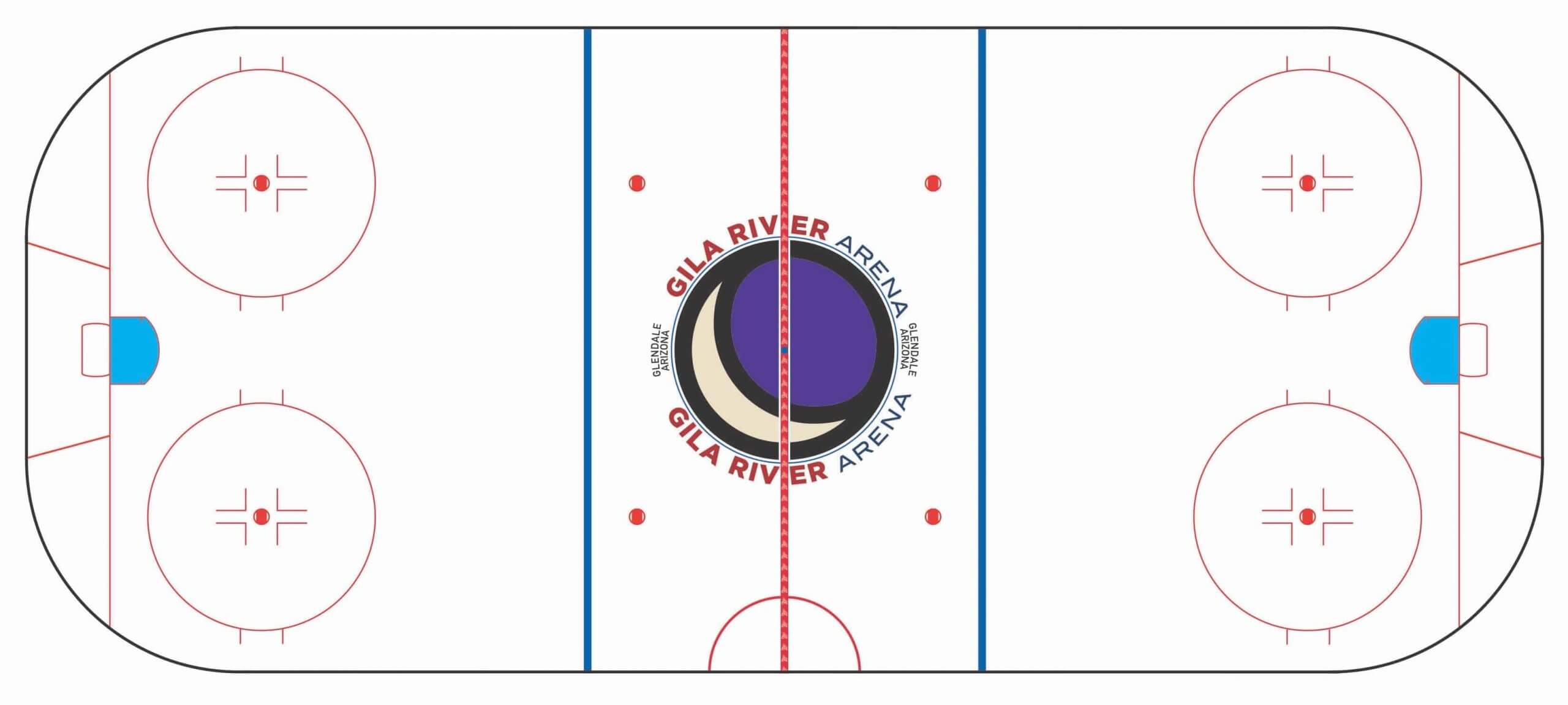 According to TheFaceoff.net's database, the last time the 'Yotes used the crescent moon logo at center ice was in the 1998-99 season. Of course, in those days it was blissfully unadorned, instead of cluttered up with all the text it will be saddled with this time around.
———
The Jets
In still more patch-related news, the Jets announced that their 10th-season patch, which began circulating way back in January, has been modified so it can do double duty as a memorial patch for Dale Hawerchuk, who wore No. 10 (and who died earlier this year). Here's a comparison of the original and revised versions of the design — original on left, revised on right:

———
Meanwhile, remember the Blue Jackets' 20th-anniversary logo that we talked about in yesterday's post? We've now gotten our first look at it as a patch on the team's home jersey: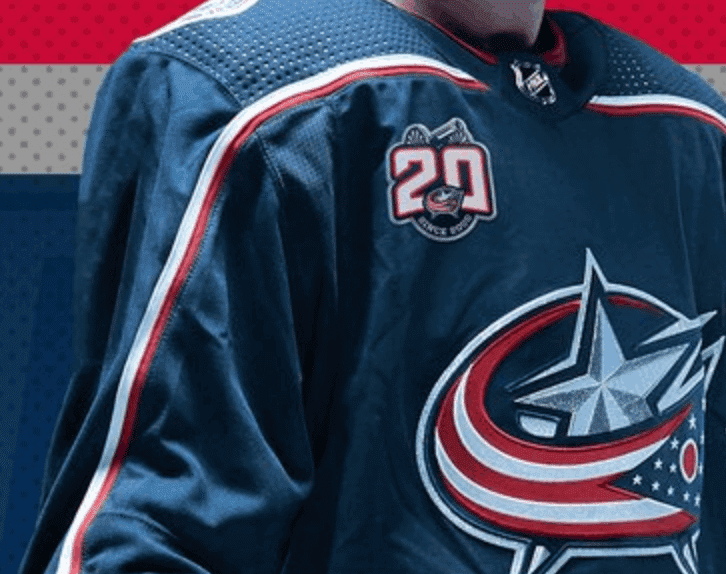 And there you have it — a mother lode of NHL uni news!
• • • • •
• • • • •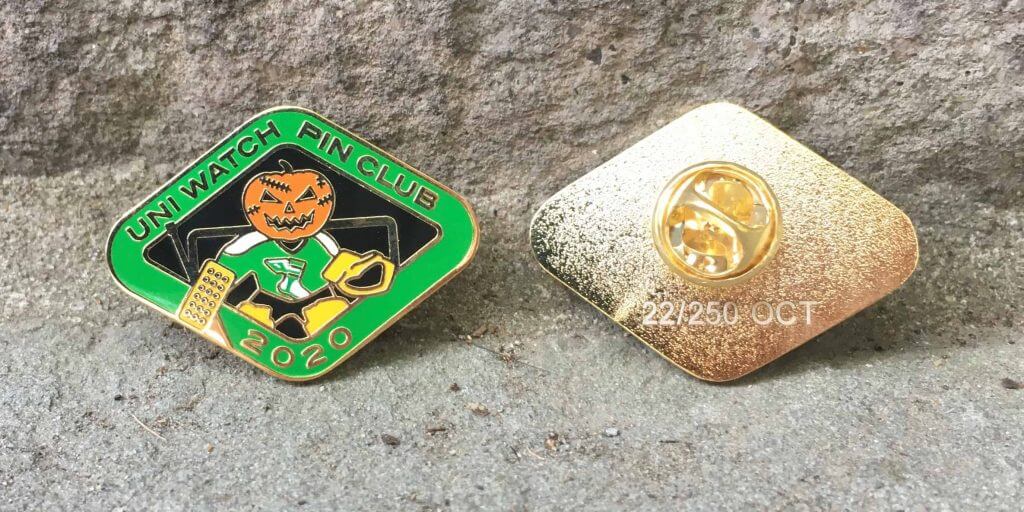 October pin update: In less than a week, we've already sold more than 180 of the Uni Watch Pin Club's October edition, meaning we now have fewer than 70 remaining. They're available here while supplies last.
Meanwhile, the 2020 Uni Watch Press Pin will launch next week — trust me, you're gonna like it!
• • • • •
• • • • •
The Ticker
By Lloyd Alaban

Baseball News: The Astros and A's went Kelly green vs. orange for yesterday's playoff game (from Ignacio Salazar). … A reader who prefers to remain anonymous notes that plate umpire C.B. Bucknor wore a light-blue shirt for last night's Yanks/Rays playoff game, while all the other umps in that game wore black. … Several teams are experimenting with digital bobbleheads.

NFL News: Check out this super-detailed bust of Chiefs QB Patrick Mahomes, created by reader Nate Mueller. … Packers LB Za'Darius Smith revealed a Breonna Taylor-related message on his base-layer shirt Monday night (from Mike Chamernik). … Eddie Van Halen, founder and guitarist for rock band Van Halen, died yesterday at 65. Here's a photo of him in a Mark Gastineau Jets jersey (from our own Brinke Guthrie).

College and High School Football News: Cincinnati's punter goes by James Smith but has "Jim Smith" as his NOB. The team's roster also includes Jaxon Smith, Cole Smith, and Blue Smith (from @p8onryb). … Alabama has gone all-digital with its tickets, but you can still purchase commemorative physical tickets (from Griffin Smith). … Central Michigan has a new number font (from @AVKingJames). … Reader Nate Mueller created a 3D-printed model of Alabama's 2009 national championship trophy.

Hockey News: The NHL announced yesterday that it's looking to start its next season on New Year's Day. That means the "2020-21" season would take place completely in 2021. … The NWHL has a new sweater supplier, K1 (from our own Jamie Rathjen).

Basketball News: New uniforms for Hawaii men's (from Rob DeMello).
.

Soccer News: Queensboro FC has released its colors and badge (from Jakob Fox). … New shirts for Ghana (from Damon, who didn't give his last name).

Grab Bag: An American cycling team has been fined 4,000 Euros for an "outrageous" jersey design (from David Petroff). … New logos for Gmail (which was also in yesterday's Ticker) and GSuite (from our own Brinke Guthrie).
• • • • •
• • • • •
• • • • •
I'll be away from Uni Watch HQ from about 11:30am Eastern until sometime tonight. Play nice while I'm away, okay? Thanks. — Paul