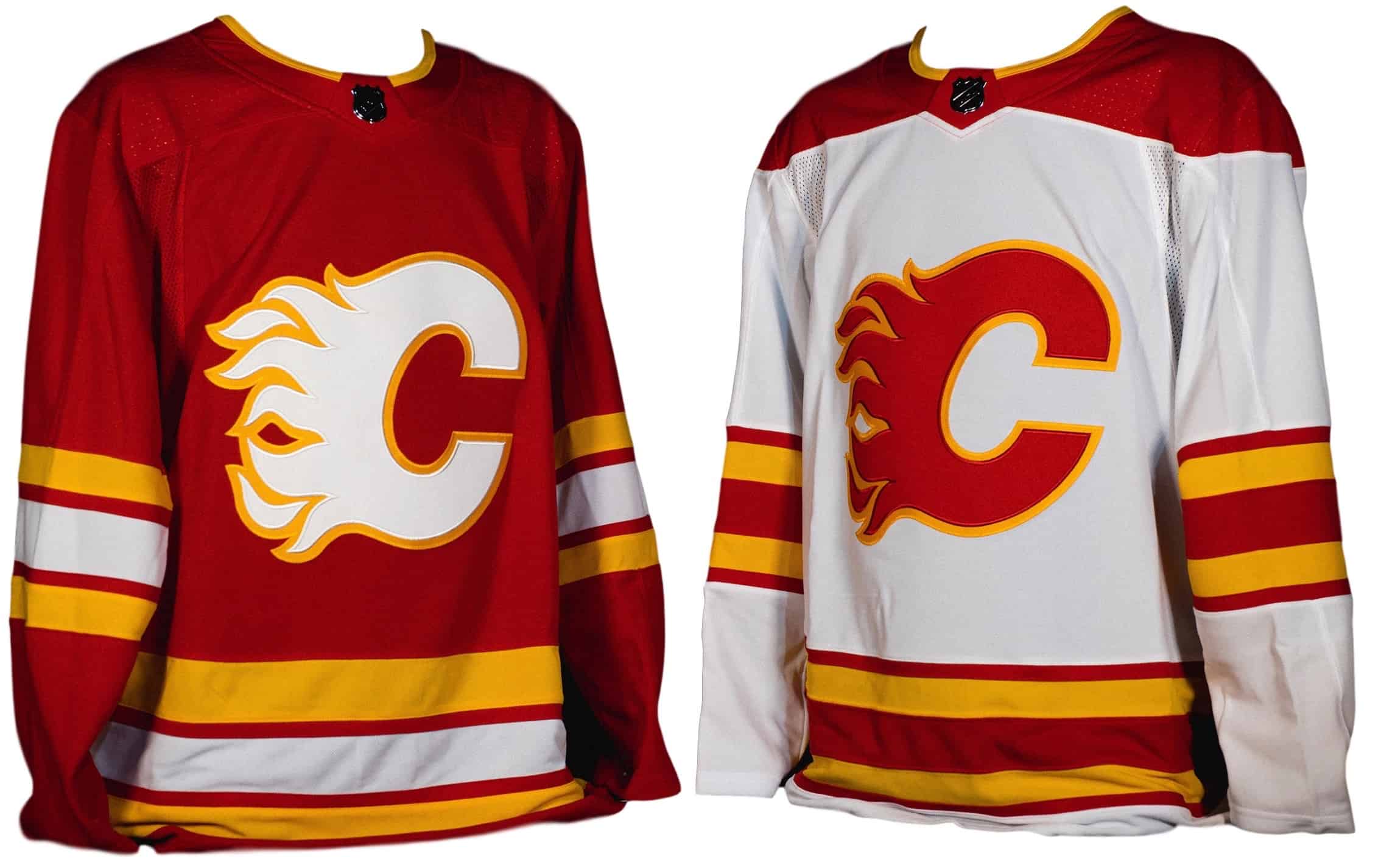 For all photos, click to enlarge
Good news out of Calgary yesterday, as the Flames unveiled their new uniform set, which is basically a throwback to their original 1980 Calgary uniforms.
The new home and road designs, aside from hearkening back to the team's inaugural Calgary set, also have more recent connections to the team's history. The new home red jersey has been used as a throwback alternate for the past two seasons, while the new white road design was worn 11 months ago in the Heritage Classic.
Kudos to the Flames for providing photos of more than just just the jerseys. Here's a shot that shows the pants and socks (well, at least some of the socks), along with a rear-view shot: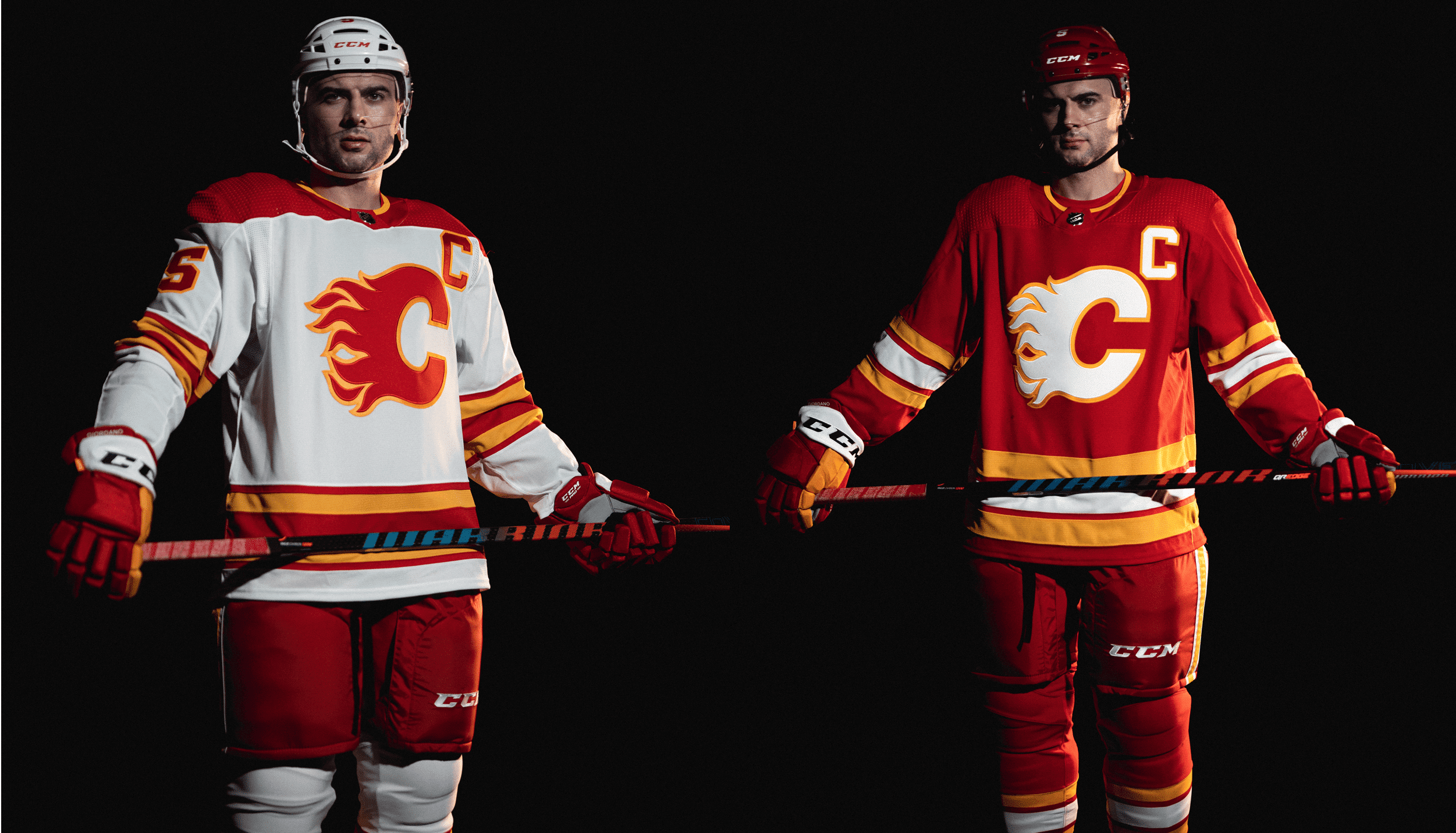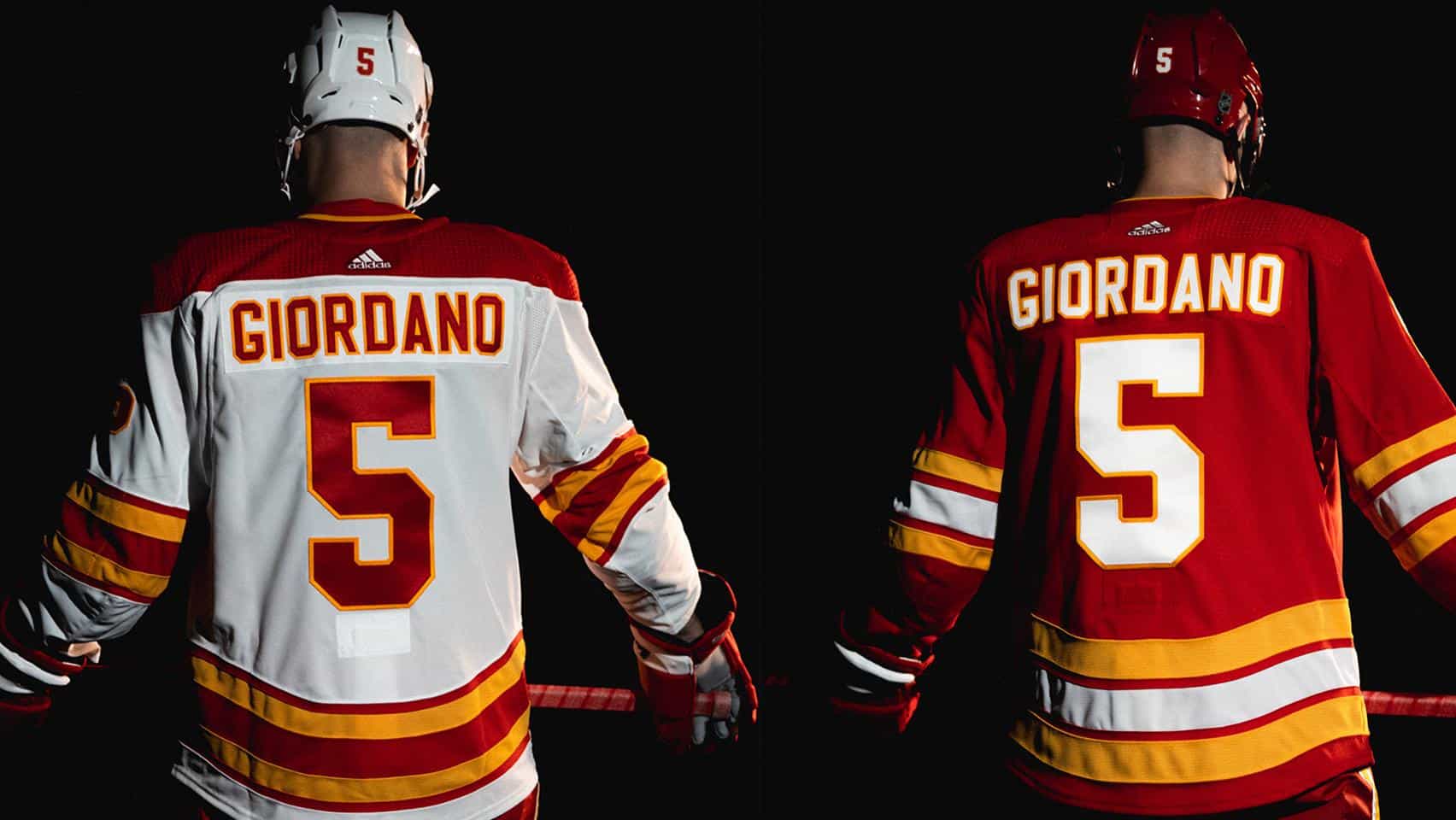 Best of all: no black! Well, except that the old home uniform — the one with the black flaming C — has been redesignated as an alternate. Here's hoping they wear it very sparingly. Aside from that, this is a big win. Even the collar designs are simple and straightforward!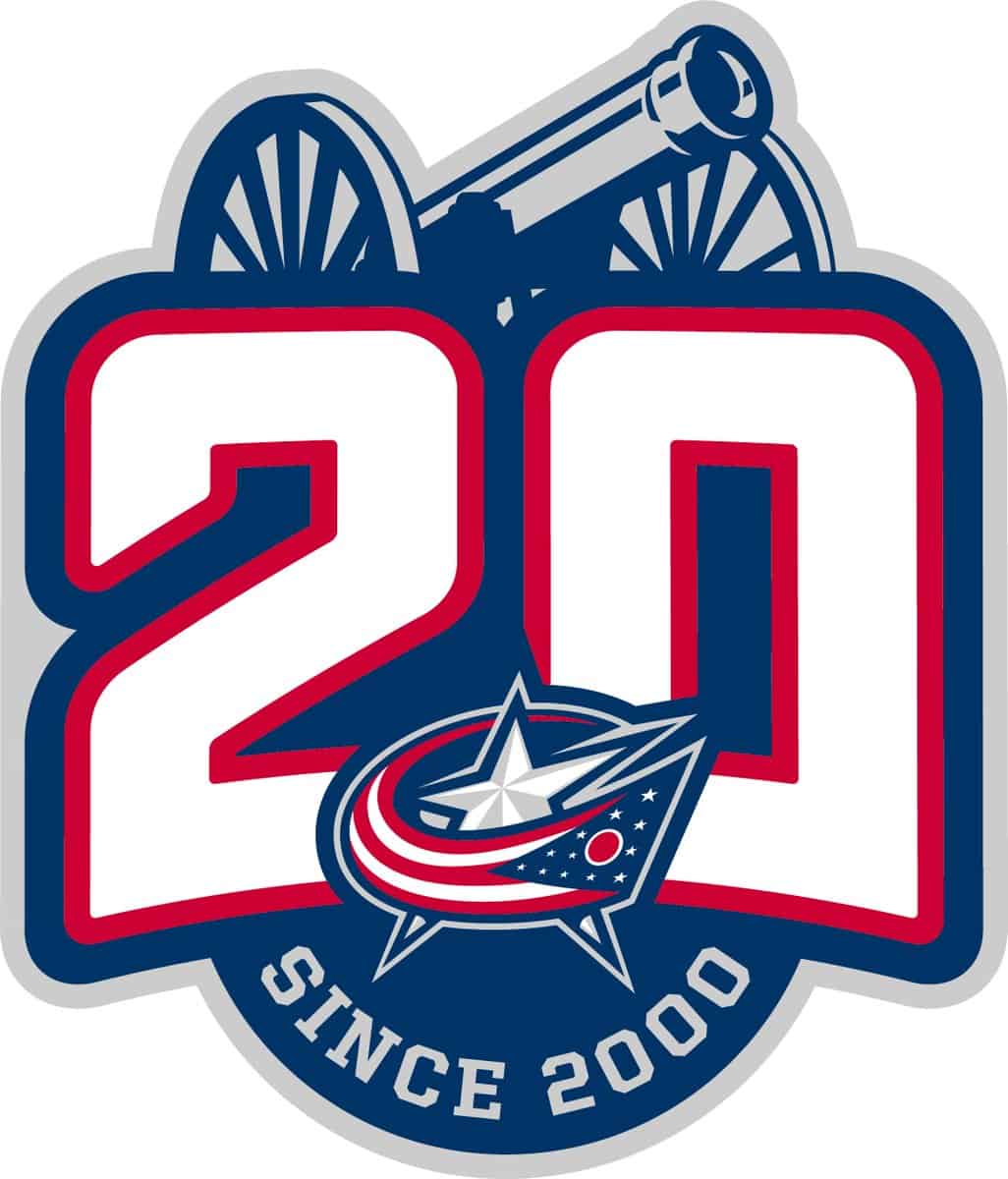 And that wasn't yesterday's only NHL uni news, as the Blue Jackets unveiled a new 20th-anniversary logo. The team says it will be worn as a patch "on the upper right chest of home and road jerseys throughout the 2020-21 NHL season," with a color-modified version added for the alternate jersey.
Overall, I don't much care for the design. But just the other day I was talking about how the NFL's Dallas Cowboys appeared to be the first Big Four pro team to use the "Est. [year]" format for an anniversary logo (instead of the more common date-range approach), and now we see the Blue Jackets using the "Since [year]" format, which is almost the same thing. As the saying goes, two times is a coincidence — three times would be a trend.
And we may not have long to wait in that regard, because the Wild — who came into existence in the same NHL expansion that brought us the Blue Jackets — are reportedly going to reveal their own 20th-anniversary logo today. Looks like the Coyotes have something in store today as well, so this will likely be another big NHL uni day. Full coverage tomorrow!
(My thanks to Jeff Brown for the Wild item.)
• • • • •
• • • • •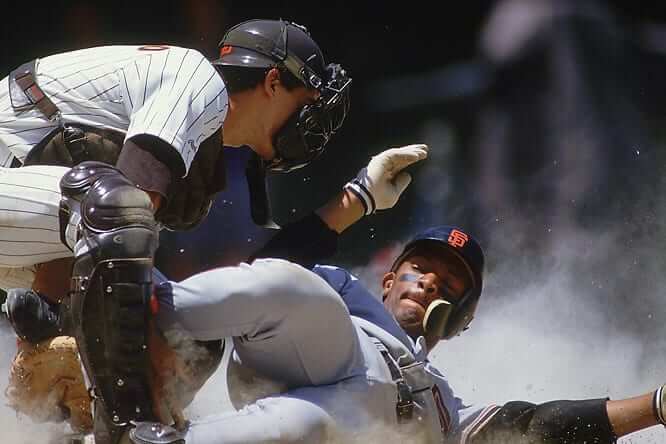 A new C-Flap challenger? Back in 2018, I wrote an ESPN piece about the history of the C-Flap, the protective face guard that attaches to a batting helmet. Then I had a follow-up item here on the blog in which we collectively determined that the earliest player known to have worn the flap was Giants infielder Chris Brown in 1987 (shown above).
Brown's status as MLB's first flapper had gone unchallenged until a few days ago, when Uni Watch proofreader Jerry Wolper alerted me to a recent interview with former MLB catcher Don Slaught. At one point the interviewer asked Slaught about how he came back from being beaned in the face in 1986, to which Slaught responded like so:
You know, it wasn't hard at all. … [S]even weeks later I came back wearing one of those extended face guards on the helmets. I think I was the first one to wear that, and a lot of guys are wearing them today.
So was Slaught actually the first player to go C-Flapped, one season prior to Chris Brown? It took me a few days, but I eventually found this photo from July 4, 1987 — Slaught's first game back after his injury: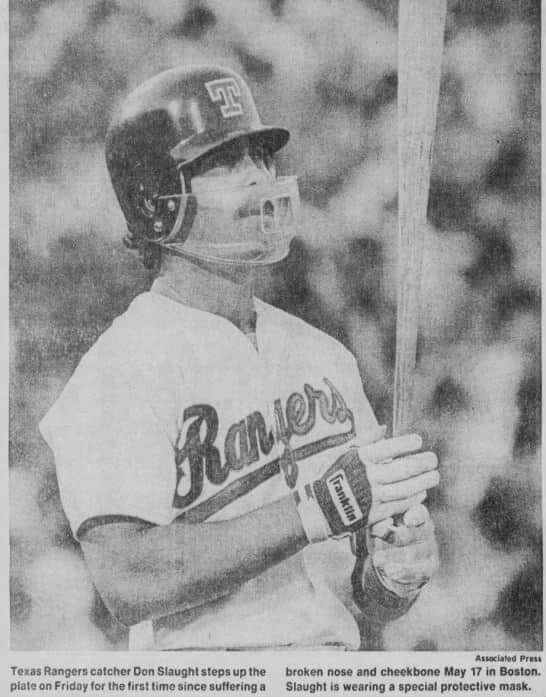 Obviously, that's not a C-Flap. It's more like a clear football-style facemask on a double-flapped helmet. Kinda looks like his brim might have been a bit truncated as well, no? Here's another shot — this one showing Slaught taking BP a few days prior to his return to the active roster. It definitely seems to confirm the shorter brim (click to enlarge):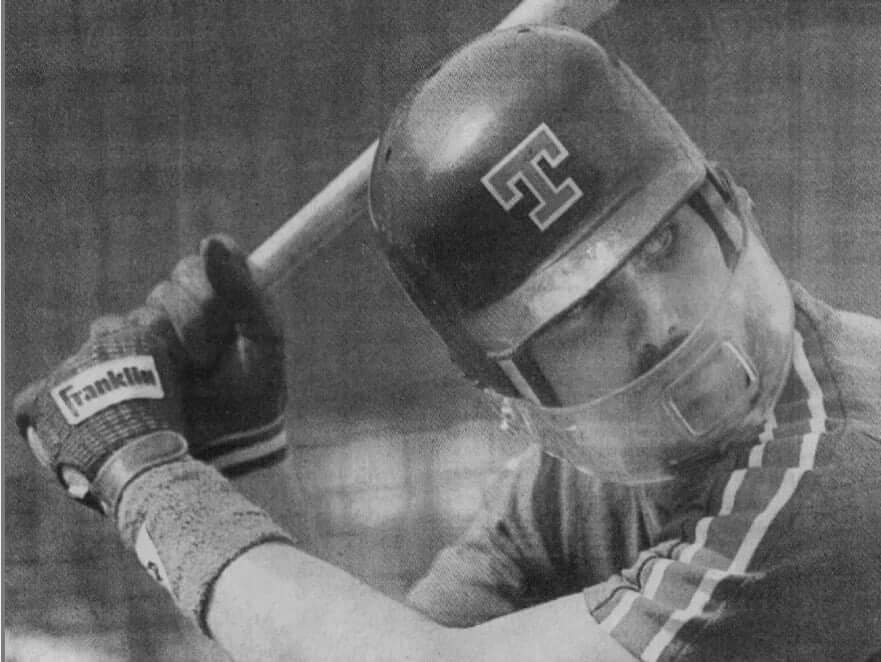 But those pics are from right when Slaught returned to action. Could he have switched to a C-Flap later in the season? I couldn't find any other photos of him from later in the 1986 season (anyone..?), but I did find this clipping from Aug. 26 of that year — nearly seven weeks later (click to enlarge):

Note that the writer referred to Slaught's "plexiglass facemask." That suggests to me that Slaught was still wearing the clear, football-style attachment, not a C-Flap.
Okay, but there was still a month of the season remaining at that point. Could Slaught have switched to a C-Flap at some point in September? Doesn't look like it. By Aug. 28, he'd chosen to get rid of the mask, and this Aug. 31 clipping helps explain why (click to enlarge):

That report makes it pretty clear that Slaught had worn the same mask all along, and that he stopped wearing it by the end of August. So despite Slaught's self-proclaimed status, it appears that he was not MLB's first C-Flapper. For now, that distinction remains with Chris Brown.
One the other hand, I hadn't realized that Slaught wore any kind of mask at all, so this has still been a worthwhile investigation that's added to our uni knowledge. Interestingly, I also found an article from June 21, when the Rangers' medical staff decided that Slaught would need to wear a mask when he returned. The article states that the mask they ended up using had been given to the team five years earlier, but nobody ever wanted to wear it just for protection (see higlighted area; click to enlarge):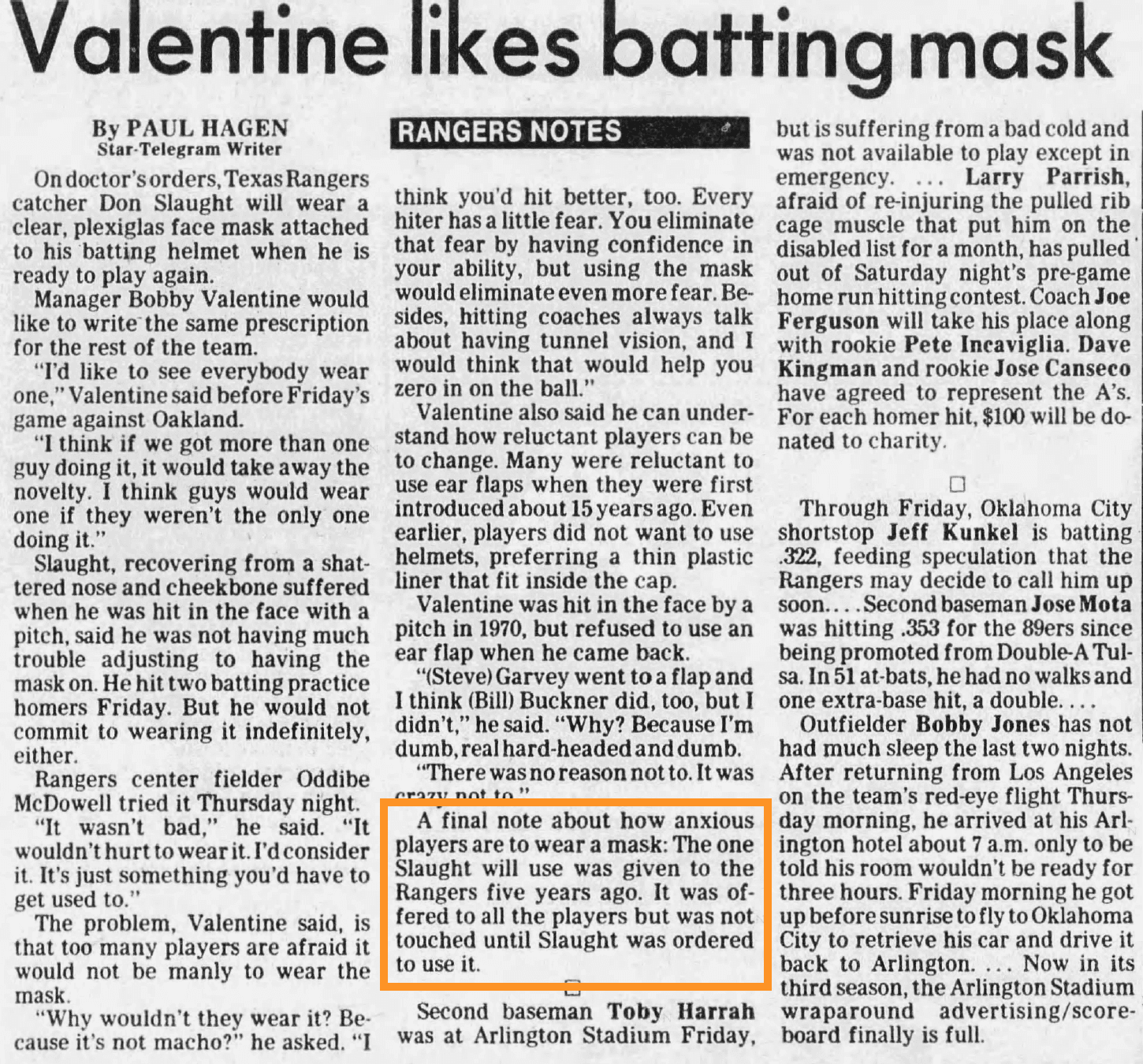 I'm not sure I've ever seen another MLBer wear a mask quite like Slaught's. The closest thing I can think of is the one Rockies third baseman Charlie Hayes wore in 1994 (click to enlarge):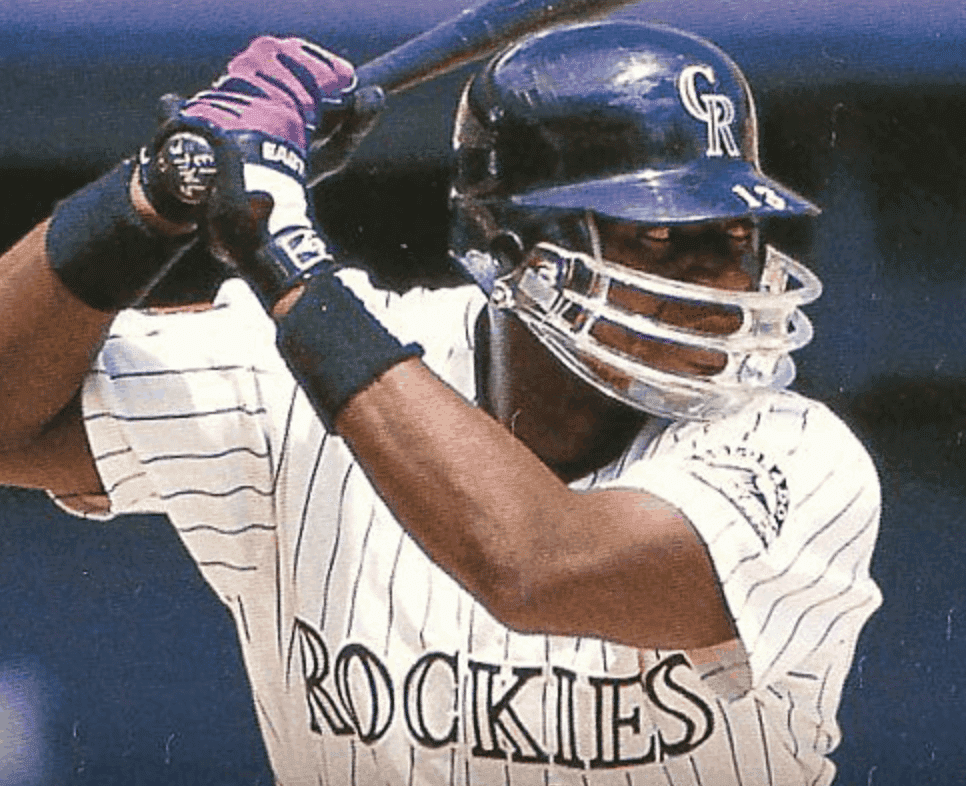 That mask is similar to Slaught's, at least in the sense that it's clear and has a football-style full-wraparound format. But it's obviously not the same design. (In addition to never seeing one quite like Slaught's, I don't think I've ever seen another one quite like Hayes's!)
All in all, a very enjoyable rabbit hole, even if it didn't end up changing our understanding of C-Flap history.
(Big thanks to Jerry Wolper for spotting that passage in the recent Slaught interview.)
• • • • •
• • • • •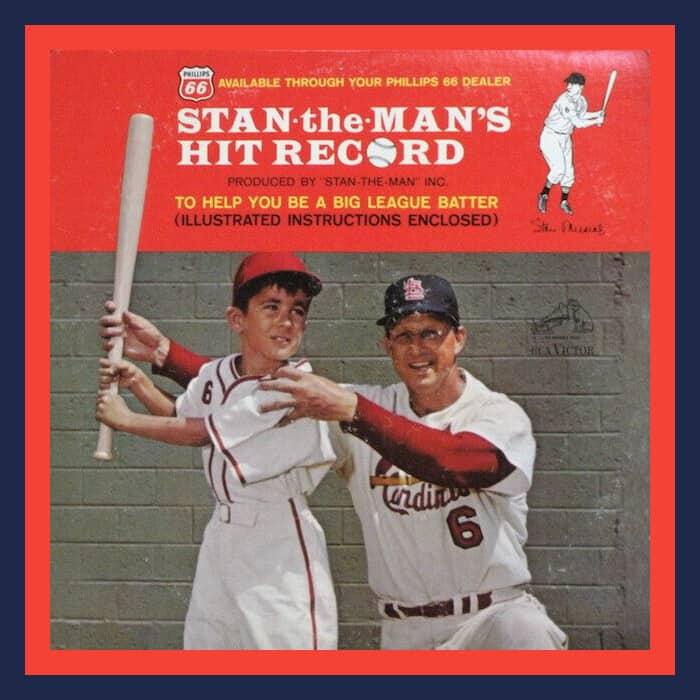 Collector's Corner
By Brinke Guthrie
Follow @brinkeguthrie    
Baseball Hall of Famer Stan Musial is featured today on Collector's Corner. Leading off, I present Stan in his pristine Cards uniform for Stan the Man's Hit Record, designed to "Help You Become a Big League Batter." Illustrated instructions enclosed!
Next, here's a hand fan for Stan Musial and Biggies restaurant — "Famous for Charcoal Broiled Steaks, Italian Foods, and a Complete Line of Sea Foods." Want to make a reservation? Call SWeetbriar 2626. 
Batting third, we've got a 1964 Official Stan the Man Rack-Um-Up, which is a bat rack that's been personally autographed by The Man himself!
And hitting cleanup today, here's one more Cards item not specific to Stan: "Big League Emblems of Your Favorite Team;" a 1950s felt press-on Cardinals script and St.L logo kit. Here's more on those emblems.
Now for the rest of this week's picks:
• Someone decided to make a DIY helmet buggy for the New Orleans Saints' short-lived 1969 black helmet.
• Speaking of black helmets; I've never seen a 1960s-70s Steelers helmet bank before. Did anyone stop to think there was only supposed to be a decal on one side?
• This vintage Seattle Seahawks Thermos is in good shape. The helmet looks white, doesn't it?
• This looks like someone cut an ad panel off a milk carton. This is for "Philadelphia Hockey Star" Flyer — Bobby Clarke. (With all his teeth, it seems.) Reminder; "Mighty Milk is served in the Flyers dressing room; watch Flyer's [sic] hockey on Channel 29." 
• This 1996 J.C. Penney ad shows all the various NFL and NCAA apparel makers of the era. I don't recall Fila ever being part of that bunch, though!
• Sears sold this 1970s NFL bedspread with all the correct team name fonts, but the players are decidedly generic.
• Got a 1980s Miami Dolphins sweatshirt here, featuring the standard helmet logo depiction of the period.
• This 1970s Chicago Bears polo shirt in fact has no team identifiers, but it comes with team colors and a football player silhouette. 
• AFC and NFC Pro Bowl players were featured on this 1960s-70s NFL Beach Tote Bag.
• Here's a 1970s Denver Nuggets bicycle plate with the multi-colored skyline design. 
That's it for today. Next week: The annual Collector's Corner Halloween Pumpkin stencil edition!
• • • • •
• • • • •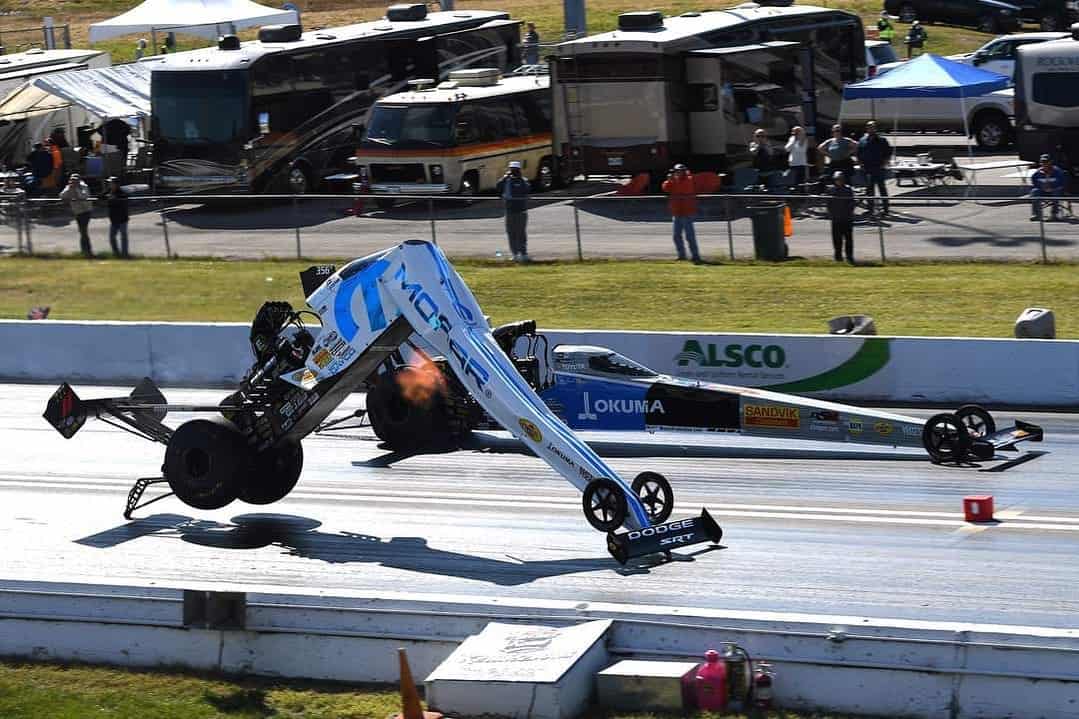 Click to enlarge
Too good for the Ticker: Holy moly, what's going on here? The car in the near lane was being driven by Leah Pruett, a drag racer who was competing Sunday in the Mopar Express Lane Midwest Nationals near St. Louis. Fortunately, she walked away unharmed.
Here's video of the mishap:
Yikes!
(My thanks to David Firestone for this one.)
• • • • •
• • • • •
The Ticker
By Paul, pinch-hitting today for Alex Hider

'Skins Watch: The WHL's Moose Jaw Warriors are reviewing their Indigenous-themed primary logo. "The logical step would be to transition to a version of their secondary moose head logo," says Wade Heidt. … The Saanich Braves, a junior "B" hockey team in British Columbia, are now the Saanich Predators (from Jim Wooley). … Eskimo Pie ice cream treats will be renamed as Edy's Pies in 2021 (from Timmy Donahue). … Uni Watch alum Vince Grzegorek, who's currently the editor-in-chief at the alt-weekly Cleveland Scene, has written a good piece on the Cleveland Indians' search for a new team name.

Working Class Wannabes™: In a classically absurd bit of blue collar cosplay, coaches for the Octorara High School football team in Pennsylvania wore auto mechanic-style shirts, complete with name tags, on the sidelines last Friday. Bonus points for the Native-themed logo. … An article about a high school football team in Louisiana says the team has a "tough, blue-collar work ethic" and also quotes the team's coach saying, "We live by a blue-collar approach." … An article on the University of Utah football team says the program has a "blue-collar workmanlike mentality." … South Carolina football coach Will Muschamp, speaking to reporters last week, said, "I thought we had a good workmanlike, blue collar practice today." … A recent article about an Iowa high school football team refers to one player as "blue-collar Cade Sheedy" and also includes the phrases "ready to go to work" and "the only thing missing was a lunch bucket." Bingo! … A sports columnist in California says he's always liked the Chiefs/Raiders rivalry because it matches " Midwestern, wholesome K.C. against gritty, blue-collar Oakland." … An article about the Colorado State football teams says coach Steve Addazio "is looking to bring that blue collar work ethic back" to the team. … West Virginia football coach Neal Brown says, "We need to be a blue-collar football team that plays the game with grit."

Baseball News: I didn't hear this myself, but Moe Khan says Marlins skipper Don Mattingly said on the radio that "he and the players like the uniform, but maybe a change is needed to the name and number because you can't really see it on the black uniform." … Here's a fairly extensive guide to the "bubble ballparks" that will be used for the rest of the MLB postseason. … The World Series sleeve patch will apparently look like this. Not very inspiring. … Wrigley Field's famous "W" flag is white — but it used to be blue. … With the Astros and A's currently facing each other in the ALDS, you might think it's the first time those two teams have met in the postseason — which is true if you don't count the 1977 TV movie Murder at the World Series. Note the A's player's NNOB jersey in that clip! (From Trevor Williams.) … A digital ad being projected behind home plate during last night's Yanks/Rays game interacted oddly with the Rays' jerseys, making them look Mother's Day pink.

NFL News: An item that I didn't get in time for yesterday's MMUW report: Panthers RB Mike Davis suffered some torn helmet stripes on Sunday (from Alex Benezra). … The Falcons went mono-white last night for the first time since debuting their new uni set. Additional pics here.

College and High School Football News: Houston is adding an "Equality, Justice, Peace" helmet decal this week (from Ignacio Salazar). … New turf and new midfield logo for Maryland (from Wes Brown). … "The University of Minnesota, Crookston shuttered their football program last year, says Will Belbye. "They are the Eagles. The Crookston High School team is known as the Pirates. Well this past weekend when CHS opened their season, they were wearing pants that have the UMC eagle's head logo on the upper right thigh, as you can see in this photo gallery." So the college team's pants were apparently given to the local high school team. … Here's one website's picks for the best stadiums in D2 football (from Kary Klismet). … BYU will be going white-navy-white this Saturday against UTSA. It's their fourth different uni combo in as many games this season.

Basketball News: New uniforms, with some very interesting inline-detailed chest lettering, for Gonzaga (thanks to all who shared).
.

Soccer News: Arsenal is getting rid of its "Gunnersaurus" costumed mascot as a pandemic-related cost-cutting measure (from Kary Klismet). … New uniforms for Syracuse (from Jakob Fox). … New Manchester United signing Edinson Cavani will wear No. 7, which is a storied number in ManU history. … If you scroll through the Puma soccer Twitter feed, you can see that they've released shirts for five African national teams — Côte d'Ivoire, Egypt, Ghana, Morocco, and Senegal — and also one for Paraguay yesterday (thanks, Jamie).

Grab Bag: Here's a good assortment of famous brand logos — some of them sports-related — adjusted with the word "Vote." … The Fairborn (Ohio) Music Club is raising money by making tote bags and pillowcases out of old band uniforms (from Timmy Donahue). … New 30th-anniversary logo for Tex Mex restaurant chain Baja Fresh (from John Cerone). … The French Open has released renderings of the winning bid to design the tournament's new Suzanne Lenglen Tennis Court (from Kary Klismet). … Also from Kary: Indiana University's student newspaper has a story about the enduring popularity of the Hoosiers' long-obsolete bison mascot, and the ongoing movement among some fans to bring it back. … Karate tournaments in Japan are adding innovative headgear to reduce the chance of spreading the coronavirus (from Jeremy Brahm). … New visual identity for the Working Families Party (from @EJL1984). … New logo for the search engine Bing (thanks, Brinke). … New logo for Gmail. … The police department in Waterloo, Iowa, is getting a new logo after people pointed out that the old one resembled a white supremacist image.
• • • • •
• • • • •
Click to enlarge
• • • • •
Our latest raffle winner is Ryan Farrar, who's won himself a Uni Watch membership card. Congrats to him, and thanks to Mike Engle for sponsoring this one. — Paul