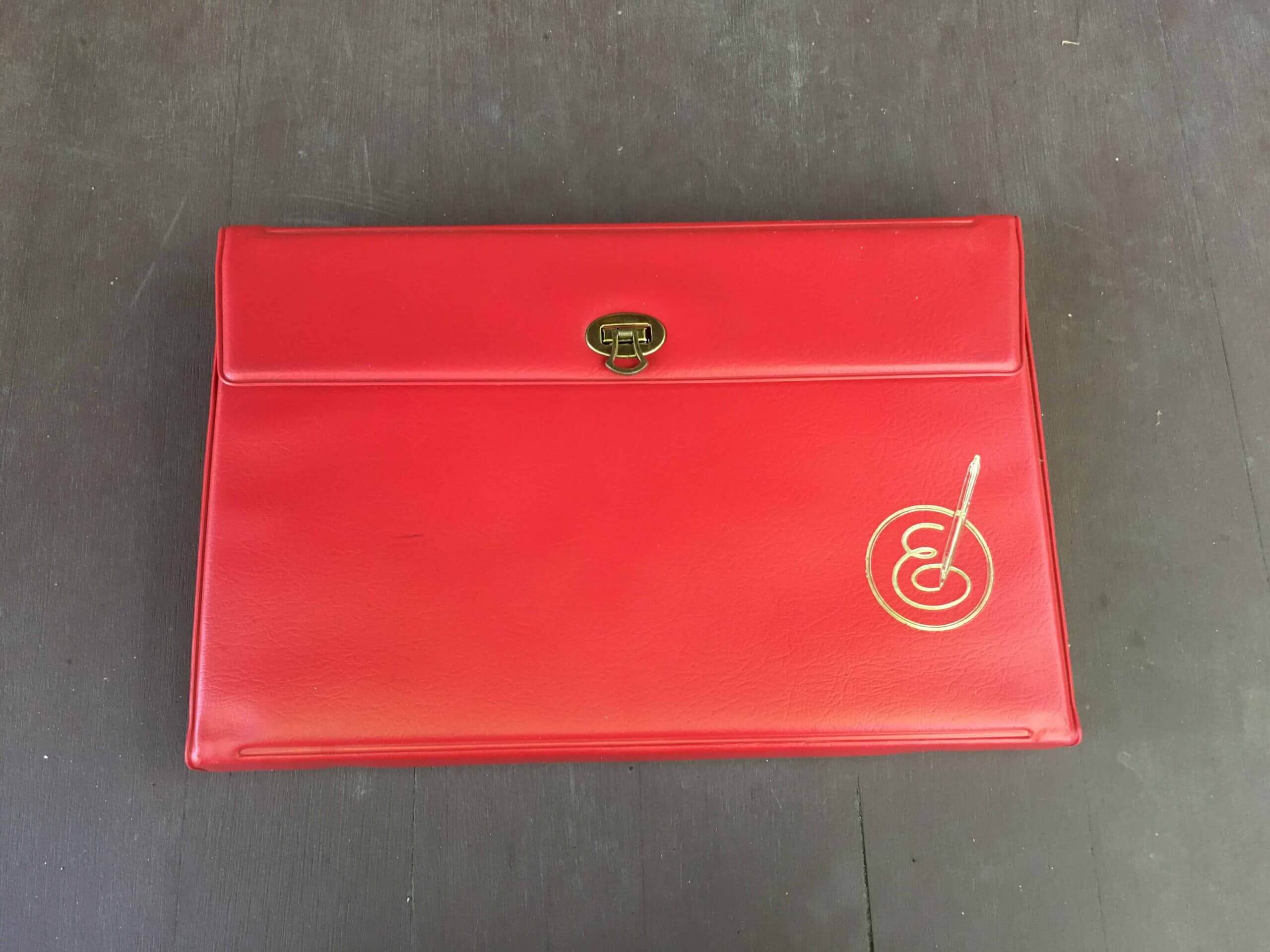 There was a live event last night in Cleveland that I was looking forward to. Unfortunately, it started going off the rails almost immediately and soon became a total train wreck that I found difficult to watch. I eventually turned off the TV in disgust and figured I could catch up on any pertinent details afterward. I later learned that it got even worse after I stopped watching.
I am of course referring to the Yankees' 12-3 win in their playoff opener against the Indians, a nauseating shitshow for any committed Yankees-hater like myself. I'm still depressed about it, so today I want to go off-uni and cheer myself up by telling you about something really cool that I recently acquired: a 1969 Everglide ballpoint pen salesman sample kit.
If that sounds familiar, it's probably because I wrote about a 1961 Everglide catalog back in June. That catalog featured beautiful illustrations and great page design, but this sample kit features actual pens! Like so many sample kits, this one pushes all of my uni-related buttons (and I hope yours, too), so let's take a look.
As you can see above, the kit starts out looking sort of like a vinyl purse with a gold-tone latch. It measures 12 inches wide, eight inches high, and about an inch and a half thick, and has the awesome Everglide logo stamped in gold.
If you open the latch, the top and bottom flaps fold down, with the bottom flap featuring a pocket that includes a price list: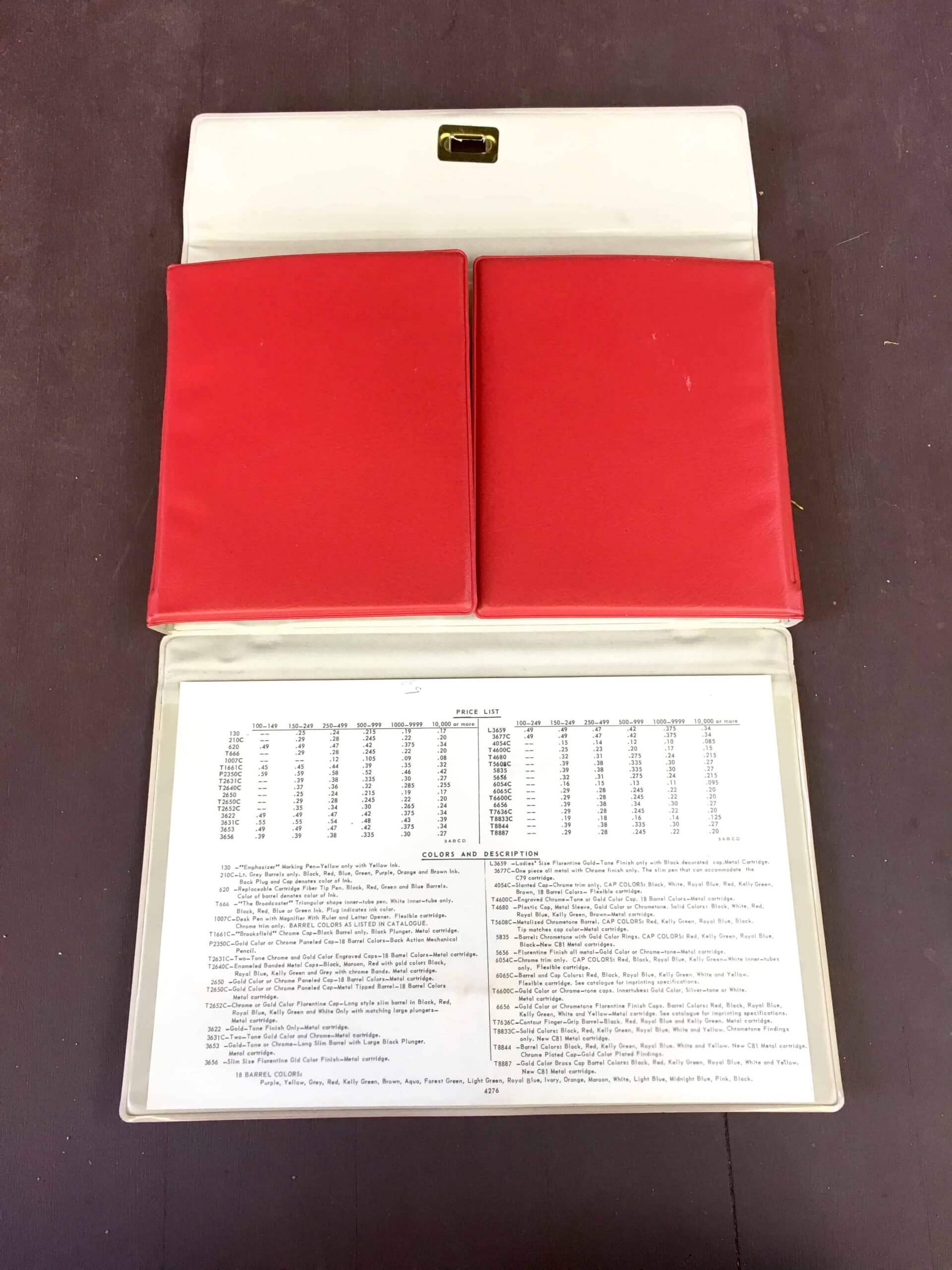 You can then open the left and right flaps, resulting in the spectacular money shot: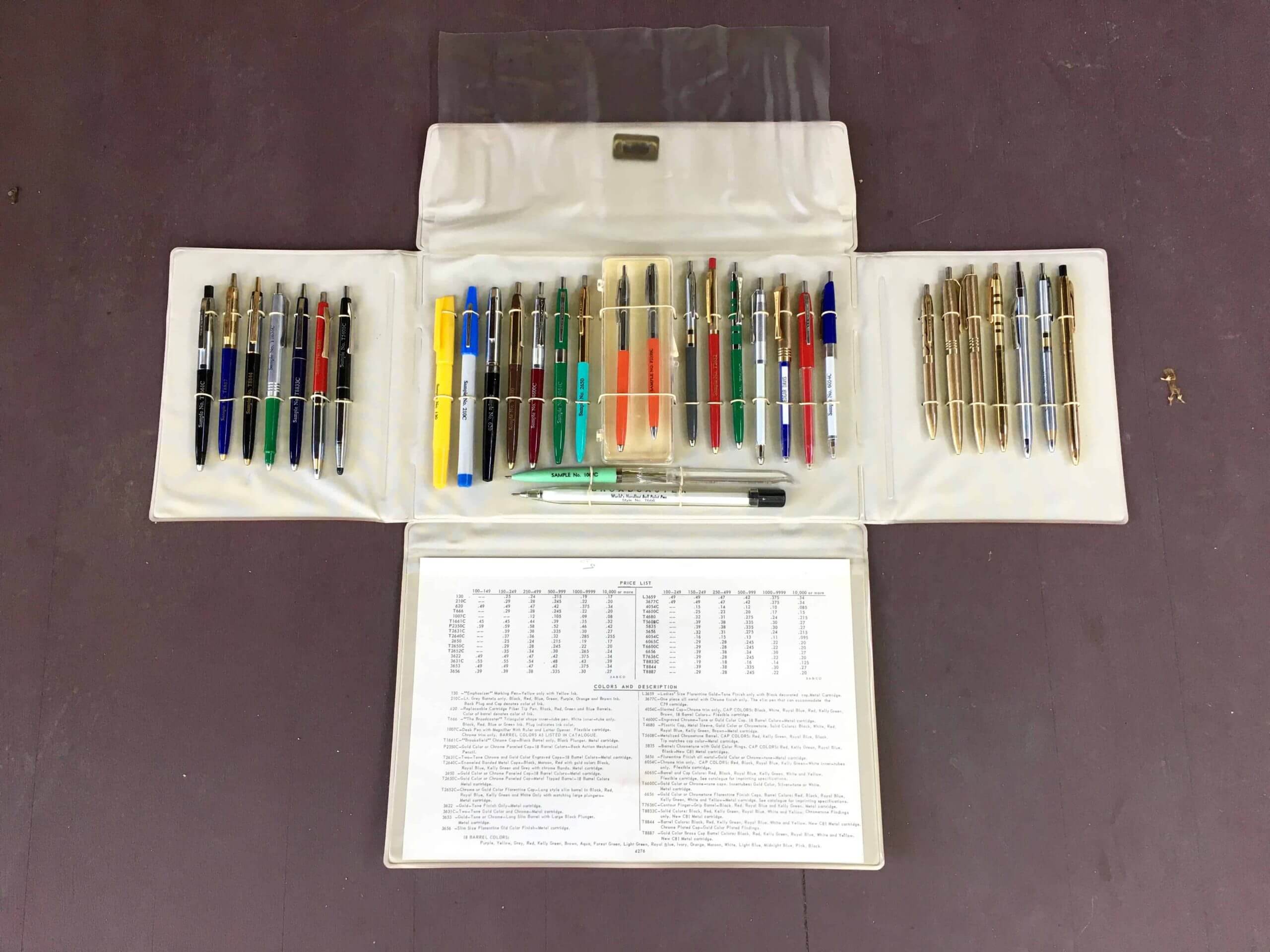 How awesome is that?! As you can see, there are three separate groupings of pens. Let's look at them one at a time, beginning with the one on the left: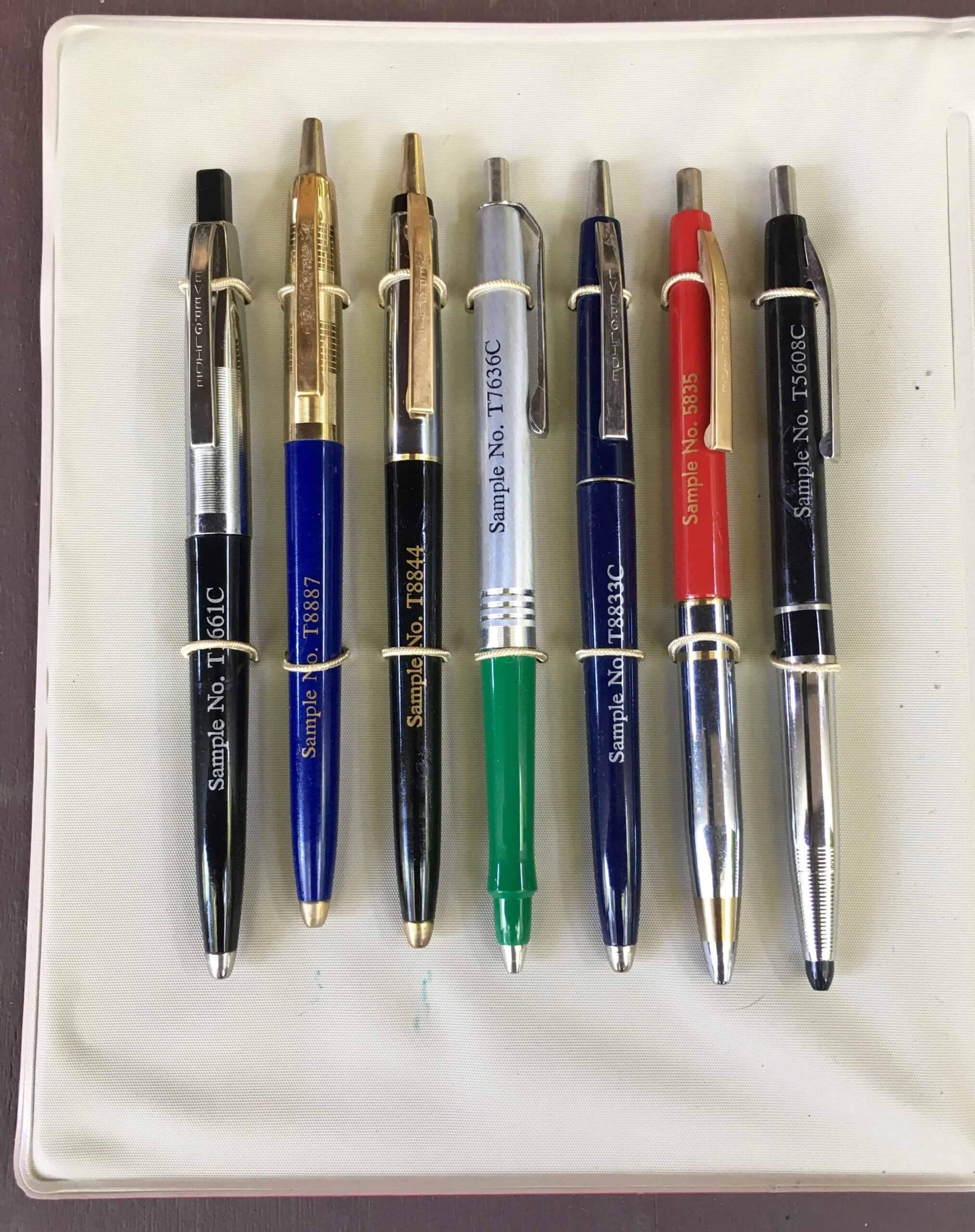 Beautiful, right? Naturally, I like the silver/green one the best — "Sample No. T7636C." Speaking of which, I lovelovelove that each sample is marked with the word "Sample" (although it's mildly irksome that they don't all align at the same spot). I also like that each pen's pocket clip is stamped with "Everglide."
Now let's look at the far-right pen grouping: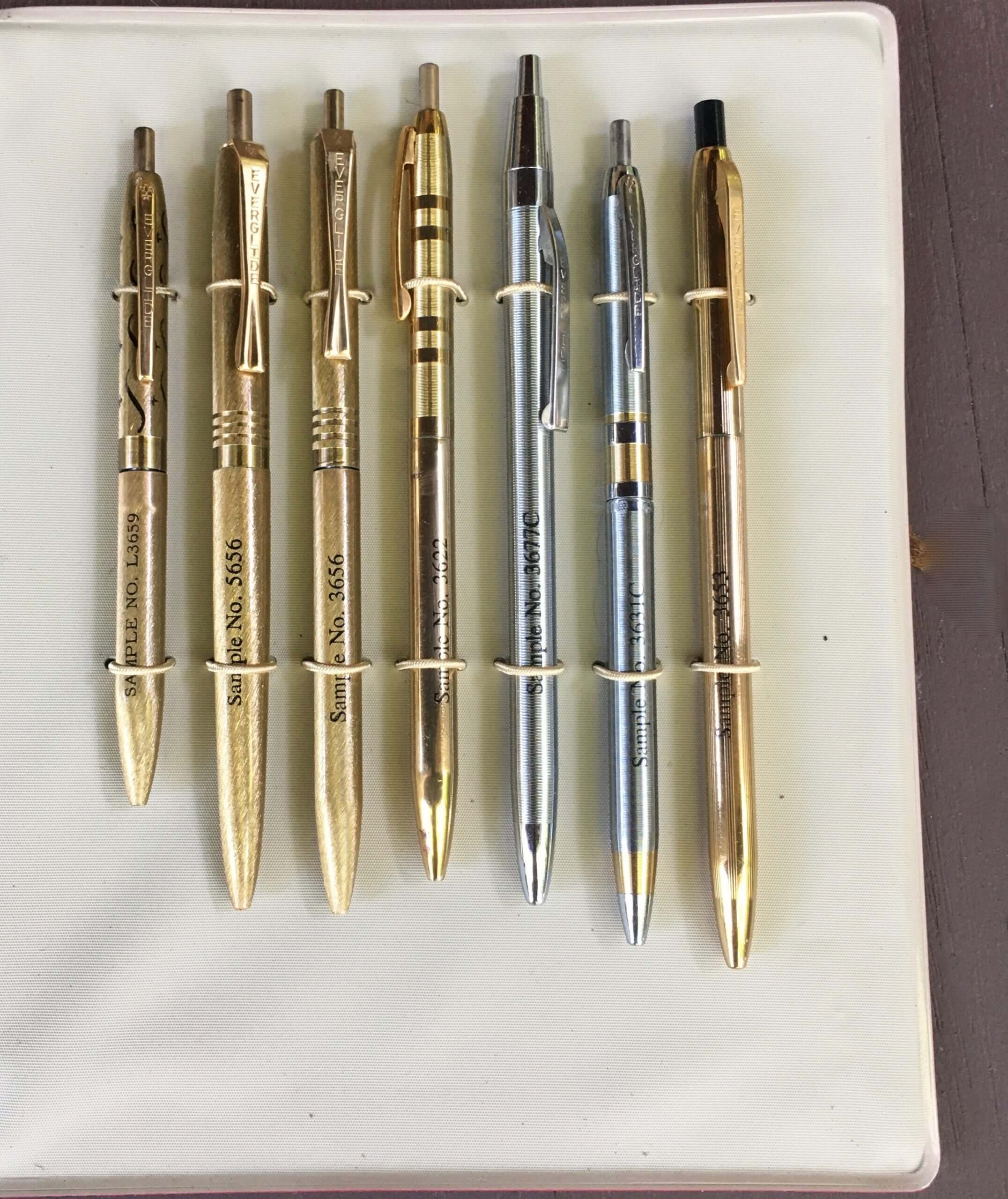 Nice set of designs there. I especially like the silver one with gold accents (second from the right), and also the one in the center with the two sets of stripes.
Now let's look at the batch in the center: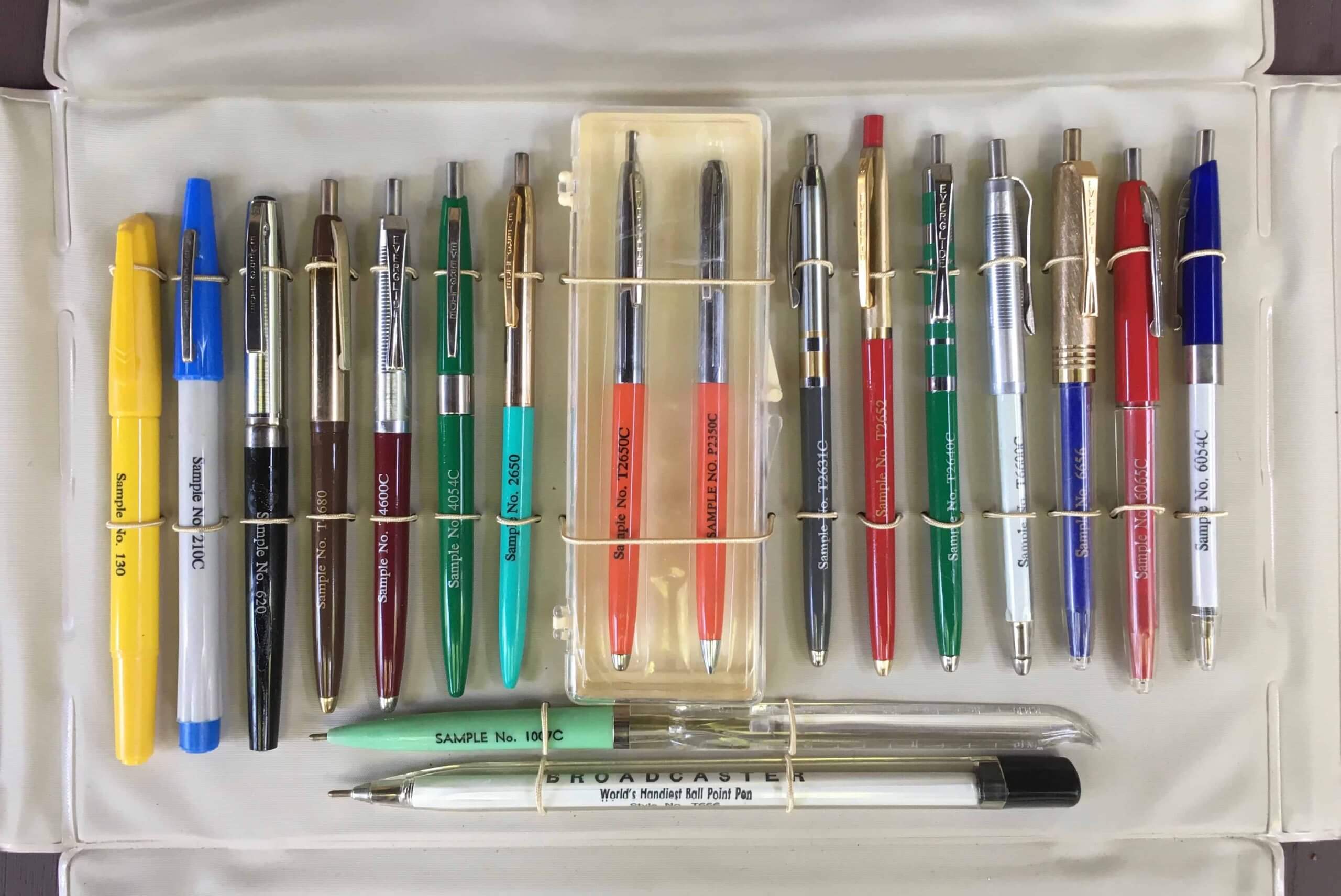 A few things about this grouping:
• The three at the left are actually markers, not ballpoints. Part of me thinks they belong in a different catalog. It also bugs me that they're positioned with their writing tips pointing up while all the others are pointing down, which in turn means the text showing their sample numbers is oriented differently. That's my one major gripe with the kit — ruins the uniformity!
• The two orange-barreled pens in their own plastic case are a pen/pencil set. The one on the right has a twist-handle to expose the lead tip.
• A few of the pens (it's most apparent on the burgundy one on the left and the green and blue ones on the right) have interesting clips that are shaped sort of like elongated bow ties. A catalog that accompanied the sample kits describes this style as a "military clip." I wasn't familiar with that term, so I Googled it and found myself on a discussion board for pen collectors, where someone had posted the following:
[Military clips were] to meet dress codes. The codes stated that the clip must not show below the bottom of the flap and that the pen must not cause a bulge of the flap at the top.
Interesting! But based on that explanation and some additional research, it appears that military clips are very short, while the bow tie-shaped clips that Everglide is referring to as military clips are pretty much the same length as the normal Everglide clips — just a different shape. So it appears to be a misnomer when applied to these pens.
• See the mint green pen toward the bottom, with the odd-looking clear plastic handle? That's a pen with a built-in letter opener! A different version of this appeared in the 1961 Everglide catalog (the one I wrote about back in June), where it was called the Mailmaster.
———
So those are the pens. But wait — there's more! The kit also came with a catalog. It would be fair to say that Everglide's approach to visual marketing had changed quite a bit between 1961 and 1969: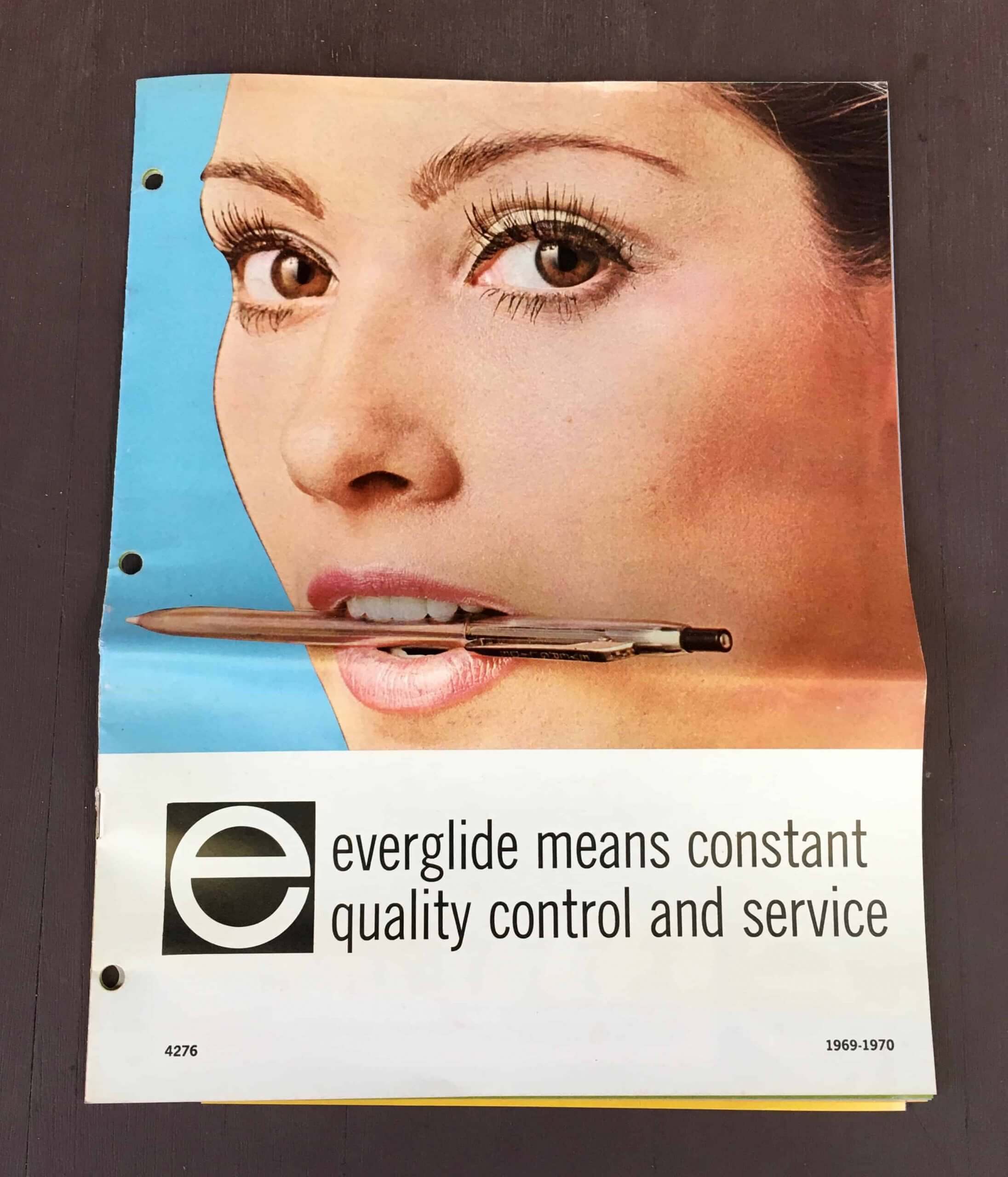 Yeah, nothing says "Come hither" like ballpoint pens. Ugh. Here's the rest of the catalog, which mostly lacks the charm of the 1961 edition (although the "New for '69" graphic on this next spread has an endearing late-'60s feel):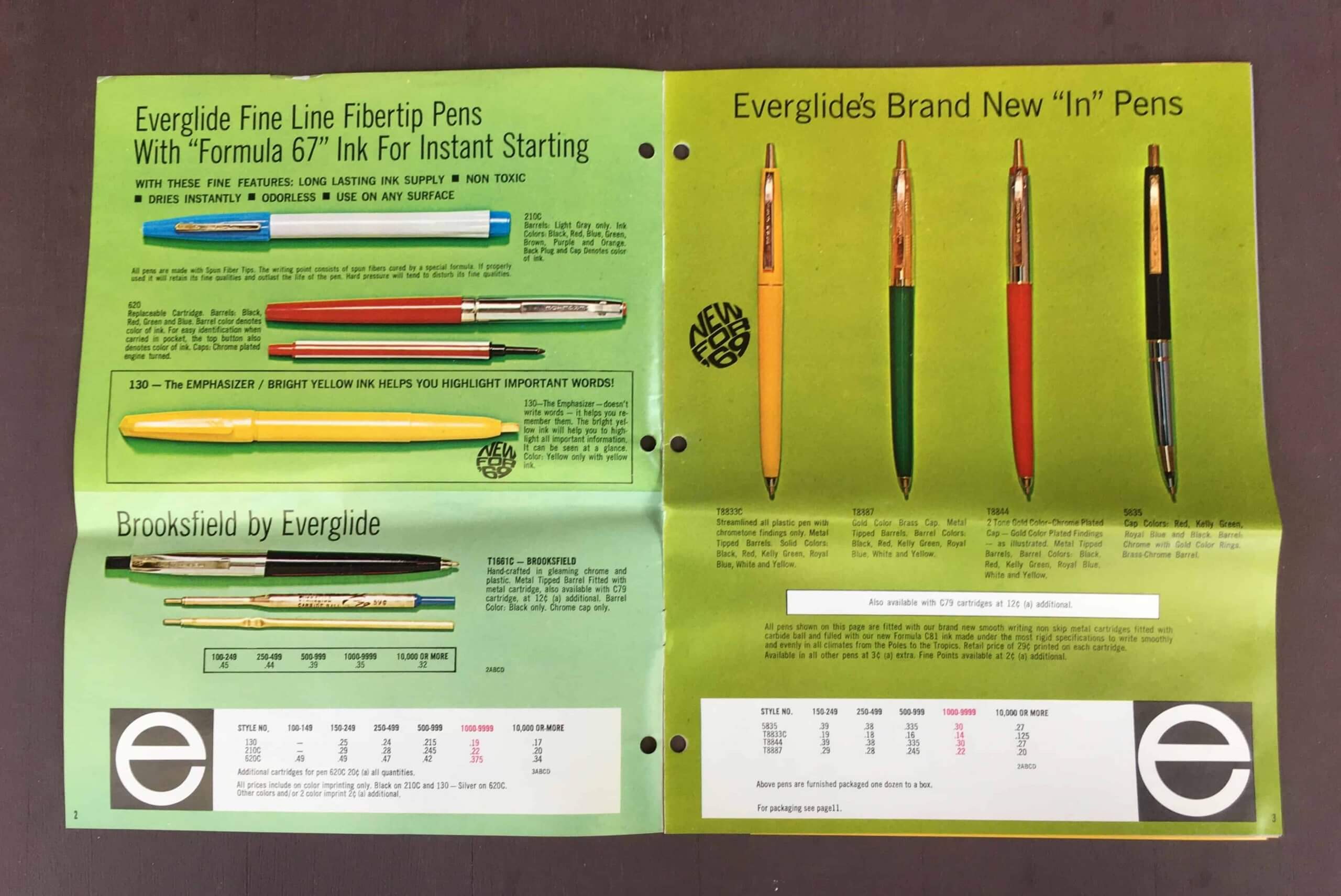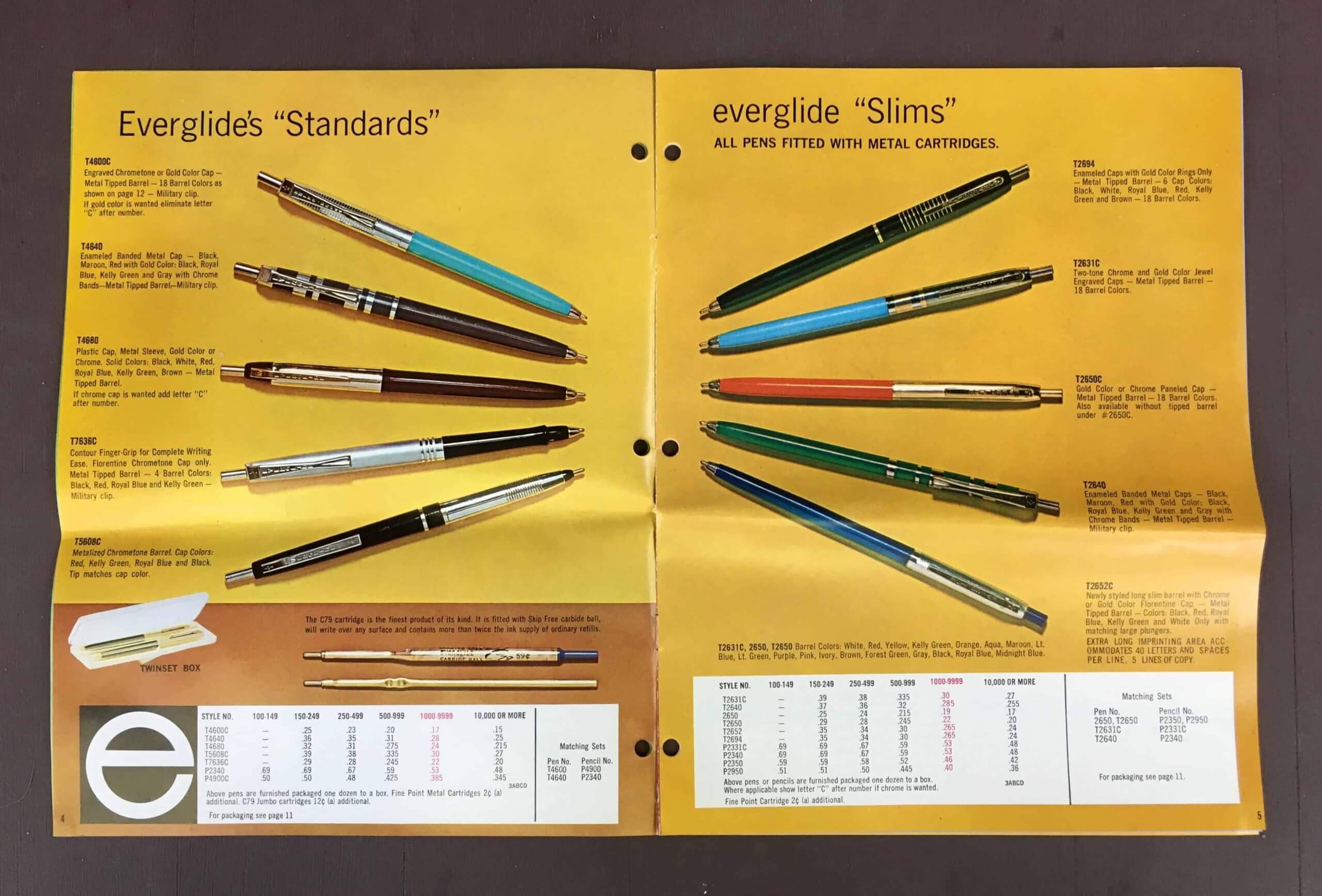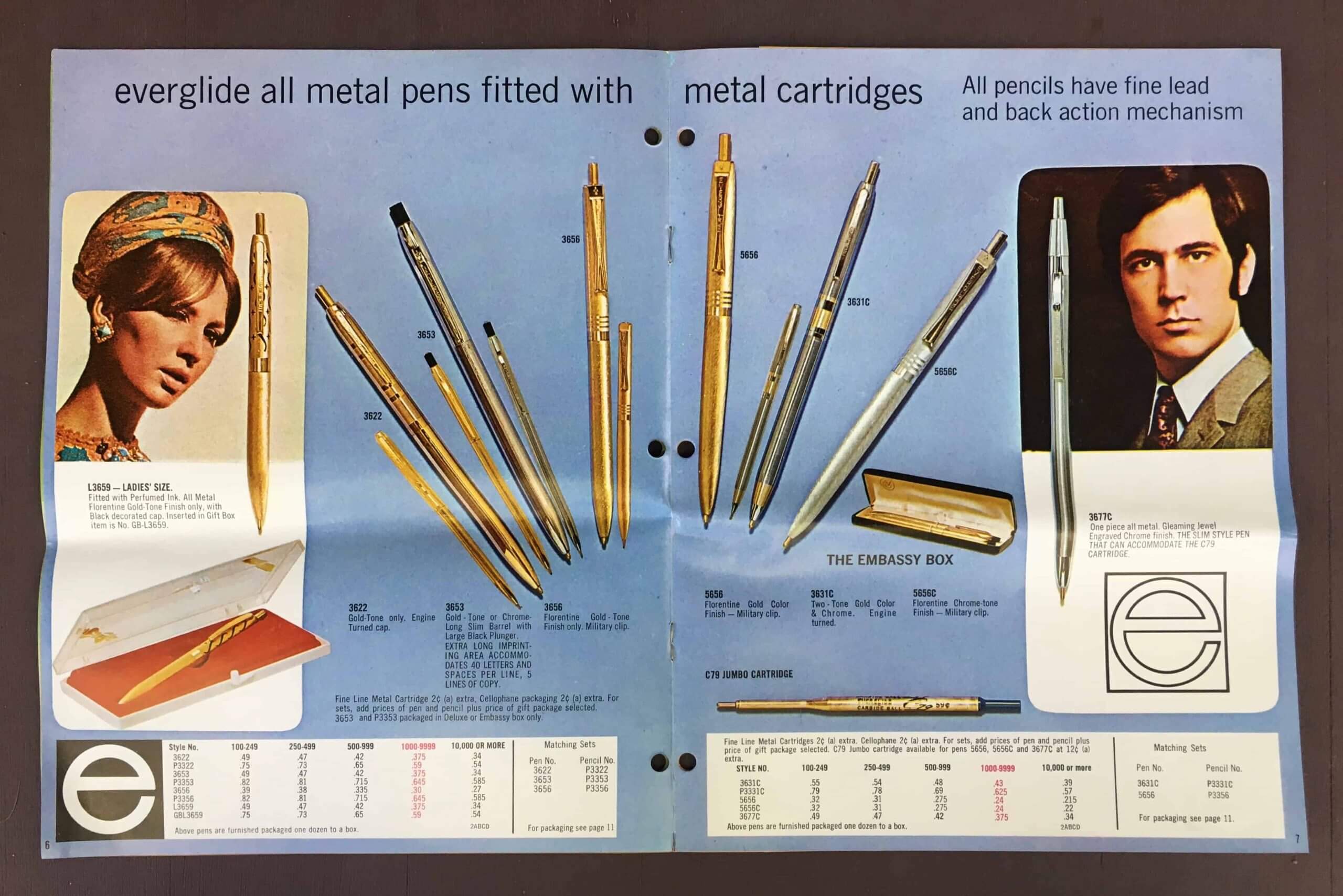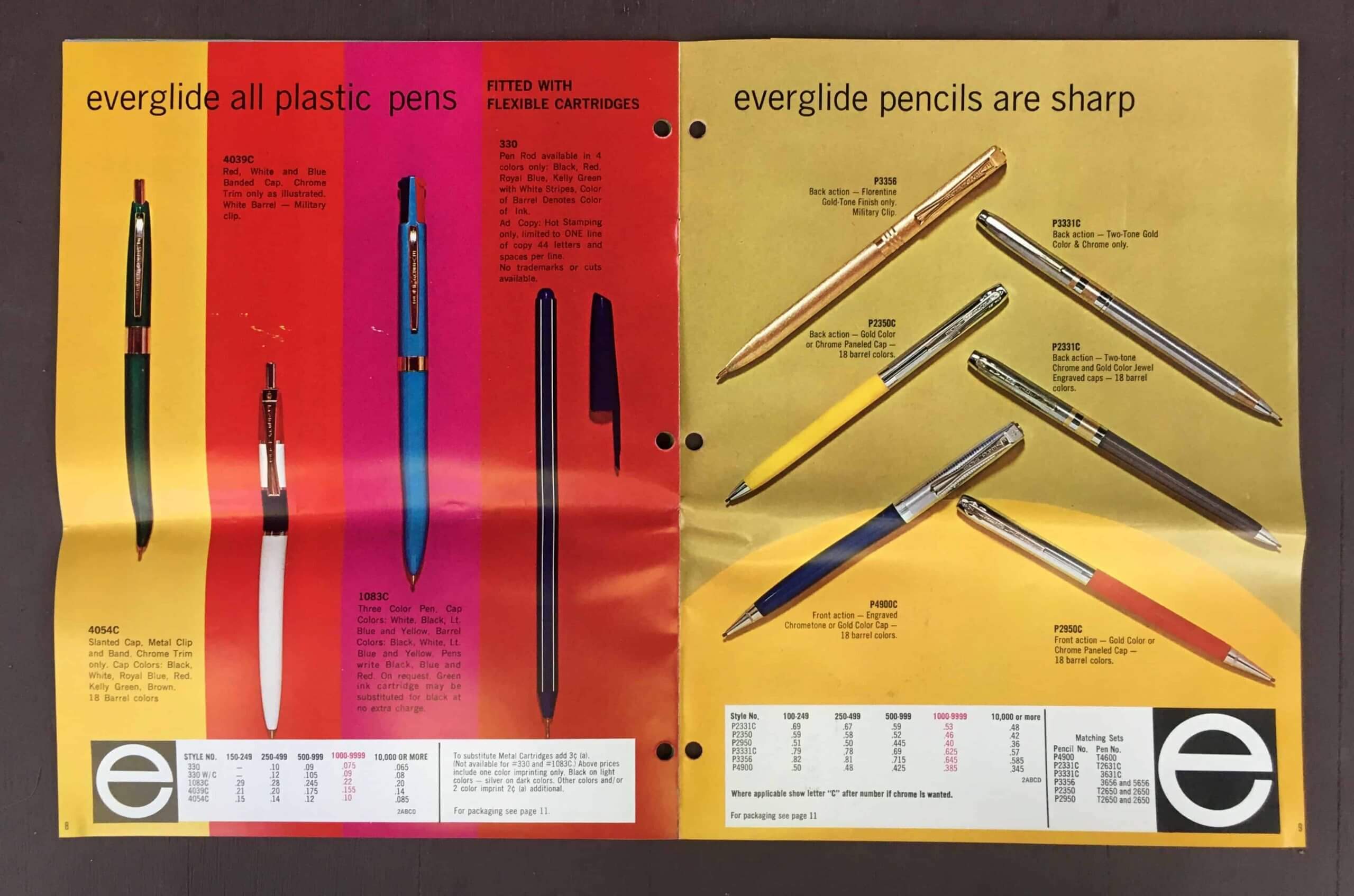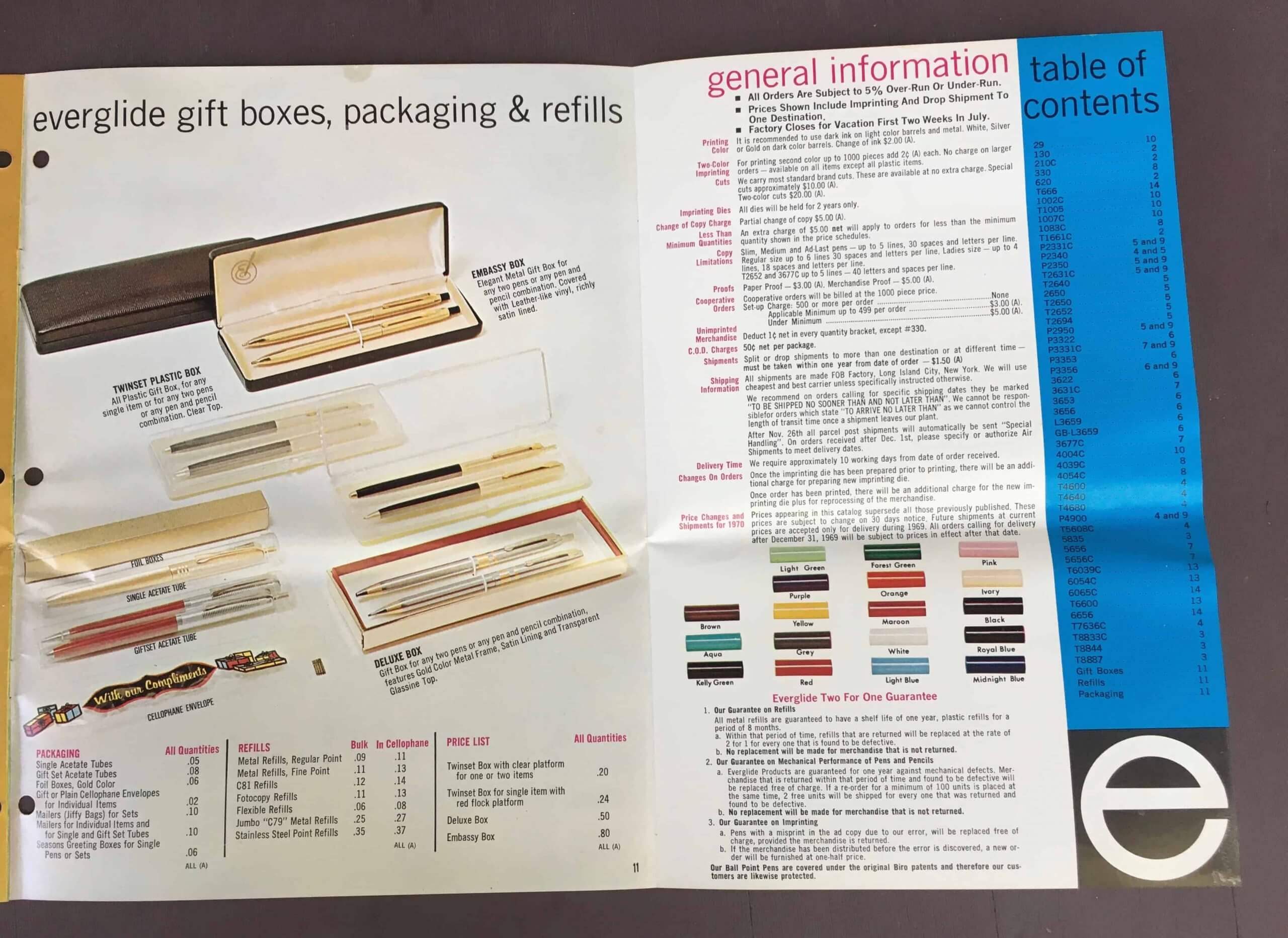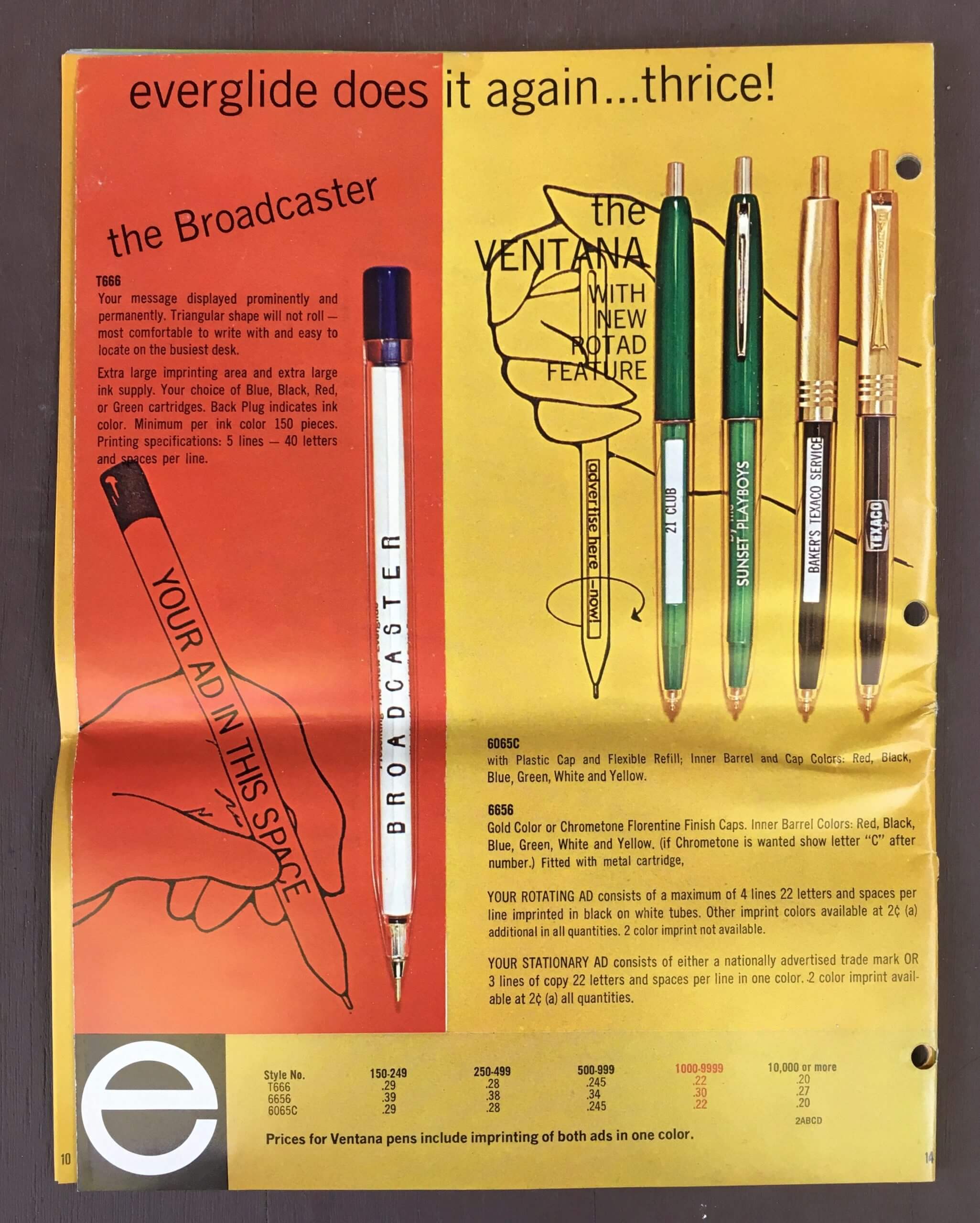 ———
So that's the catalog. But wait — there's even more! The kit also included a flier about a pen with a built-in calendar function: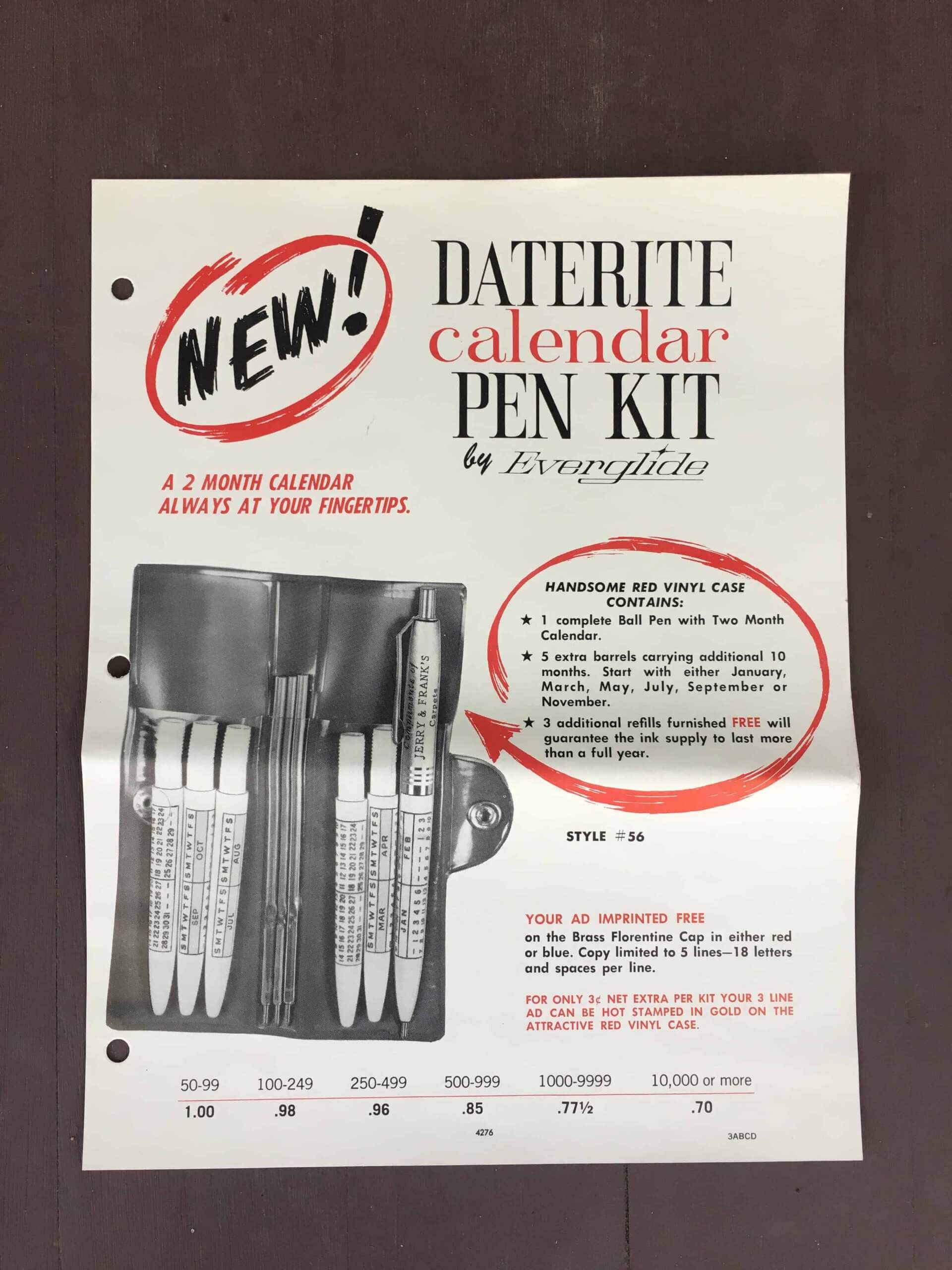 And finally, there's this "Salesman's Sample Plan" (including an illustration showing a hand holding a pen with one of the misnamed military clips!):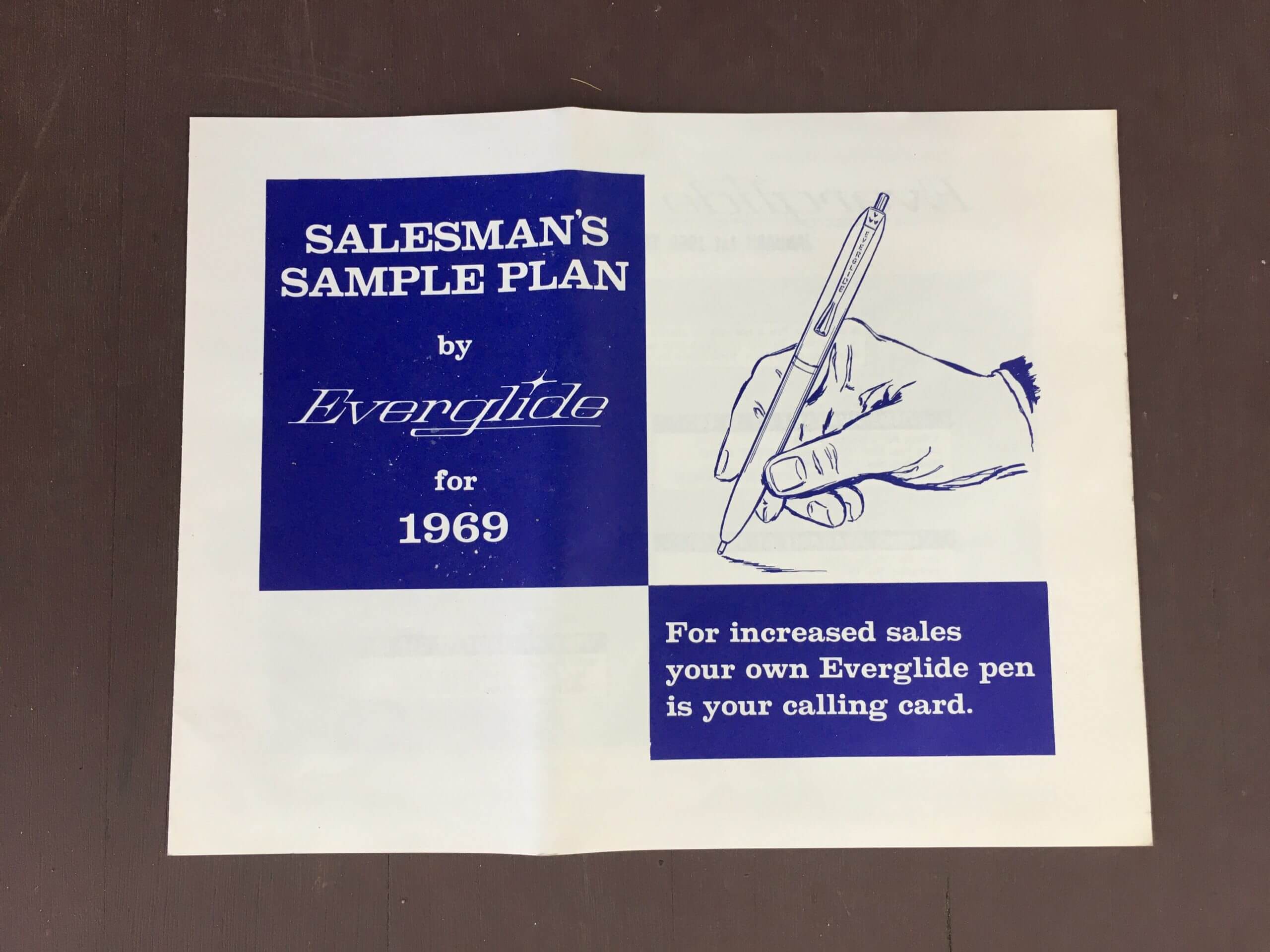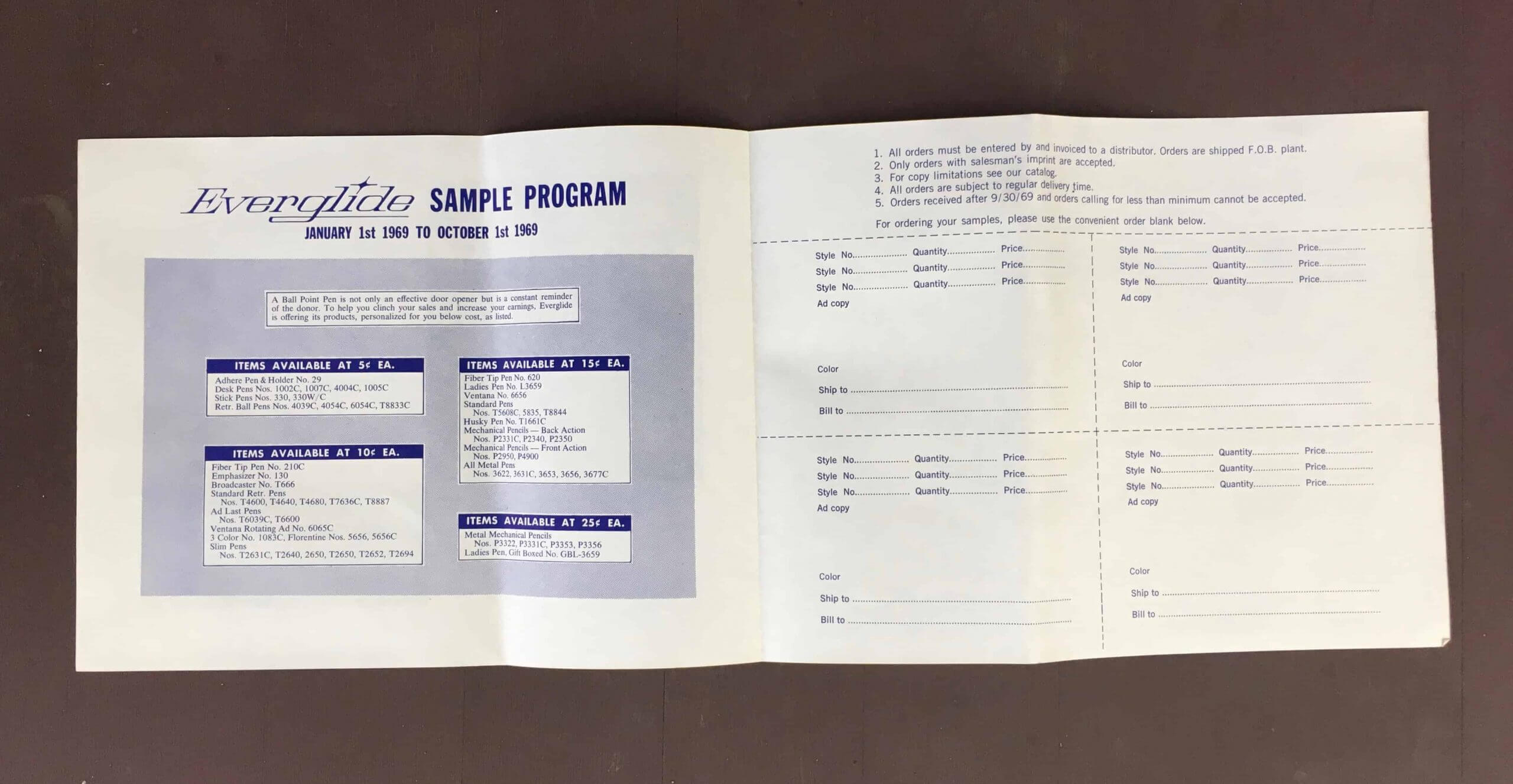 ———
And what did all this vintage goodness cost me? A mere 25 bucks — with free shipping! Now that, my friends, is a bargain.
But there's one thing I haven't mentioned that you're probably wondering about: Do the pens still work?
Alas, the ballpoints have all run dry. I suppose I could put new ink cartridges in them, but I'm in no hurry to do that, at least for now.
The blue-capped marker, however, still writes faintly. And the yellow marker seems practically good as new — if I needed to mark something up with a highlighter, this marker would definitely be up to the task. And of course the pencil still writes.
That concludes today's show and tell. Thanks for indulging me — we'll get back to more traditional Uni Watch content tomorrow.
• • • • •
• • • • •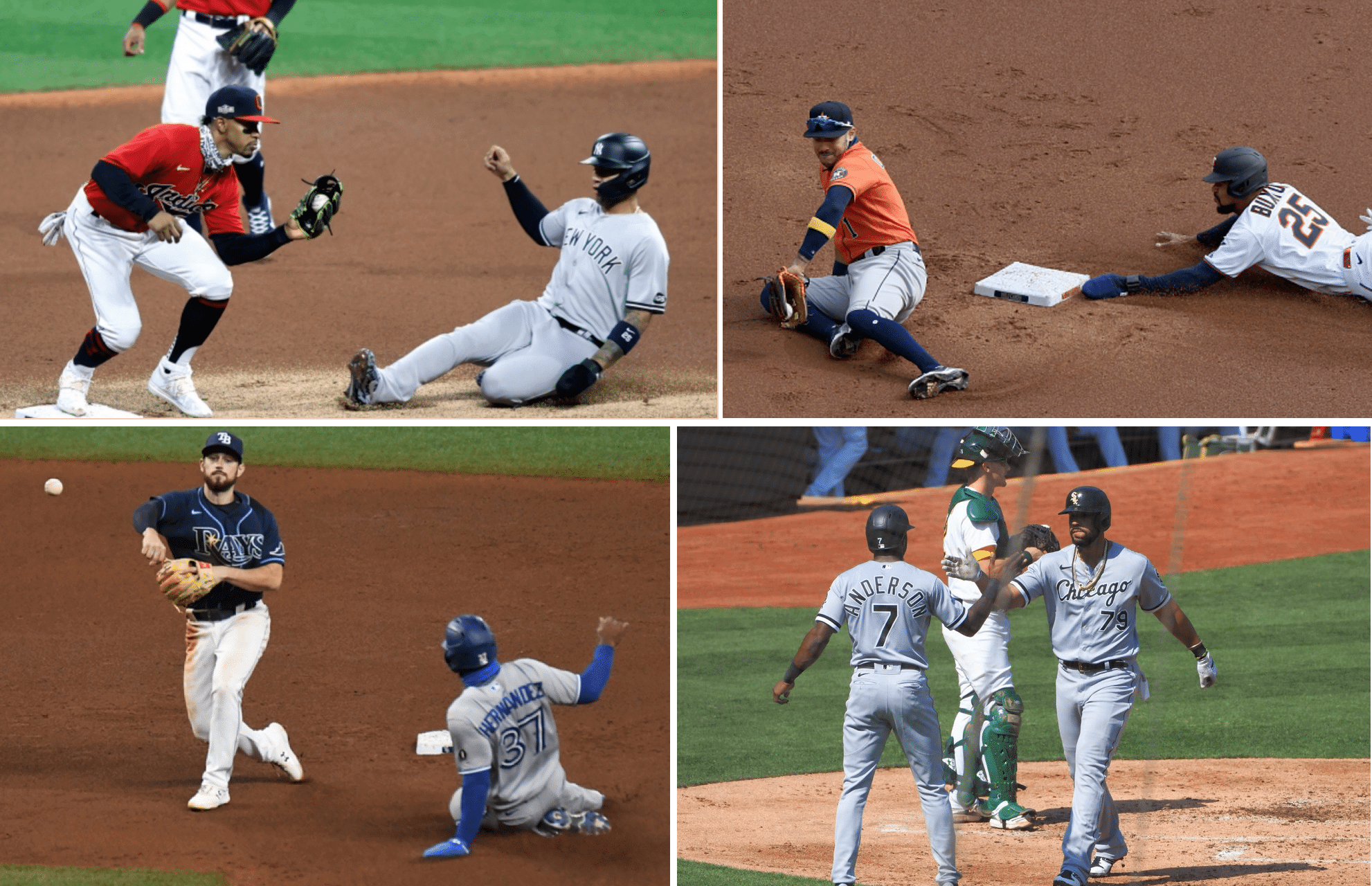 Click to enlarge
MLB playoff opener roundup: The MLB postseason began yesterday, with the four American League playoff series all holding their opening games. As you can see above, three teams (including two home teams) chose to wear their solid-colored alternate jerseys, with only the A's/Chisox game featuring home whites vs. road greys.
Some other quick notes:
• From what I could see, all players wore the MLB Postseason patch on the side of their caps — except for Astros starting pitcher Zack Greinke, whose cap was patch-free.
• The A's had the Black Lives Matter version of the MLB logo on the back of their mound. I'm not 100% sure of this, but I think they kept it there throughout the regular season, and that they were the only MLB team to do so. They were also the only team to have it there yesterday.
The four National League playoff series will begin today.
• • • • •
• • • • •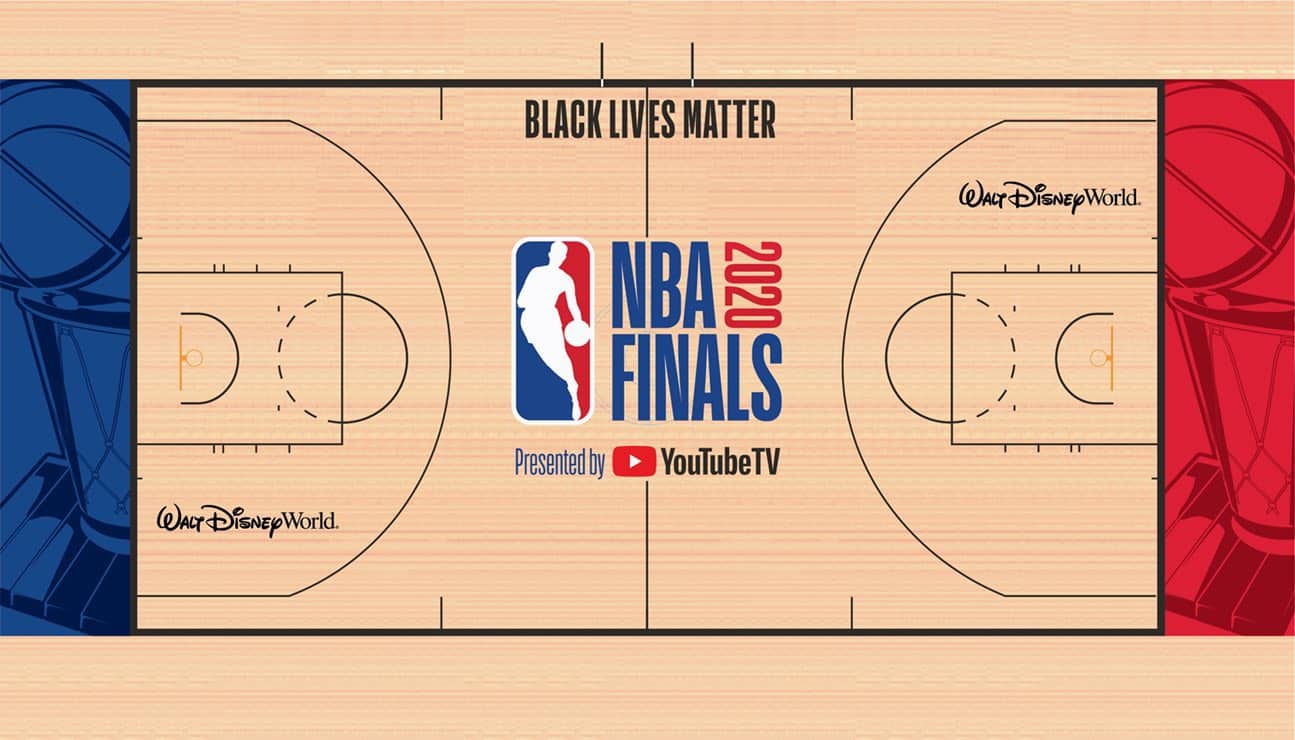 Click to enlarge
NBA Finals preview: The NBA Finals — Lakers vs. Heat — begin tonight. The court design is shown above. Just in case that YouTube TV ad wasn't prominent enough, they've added just a few more around the facility: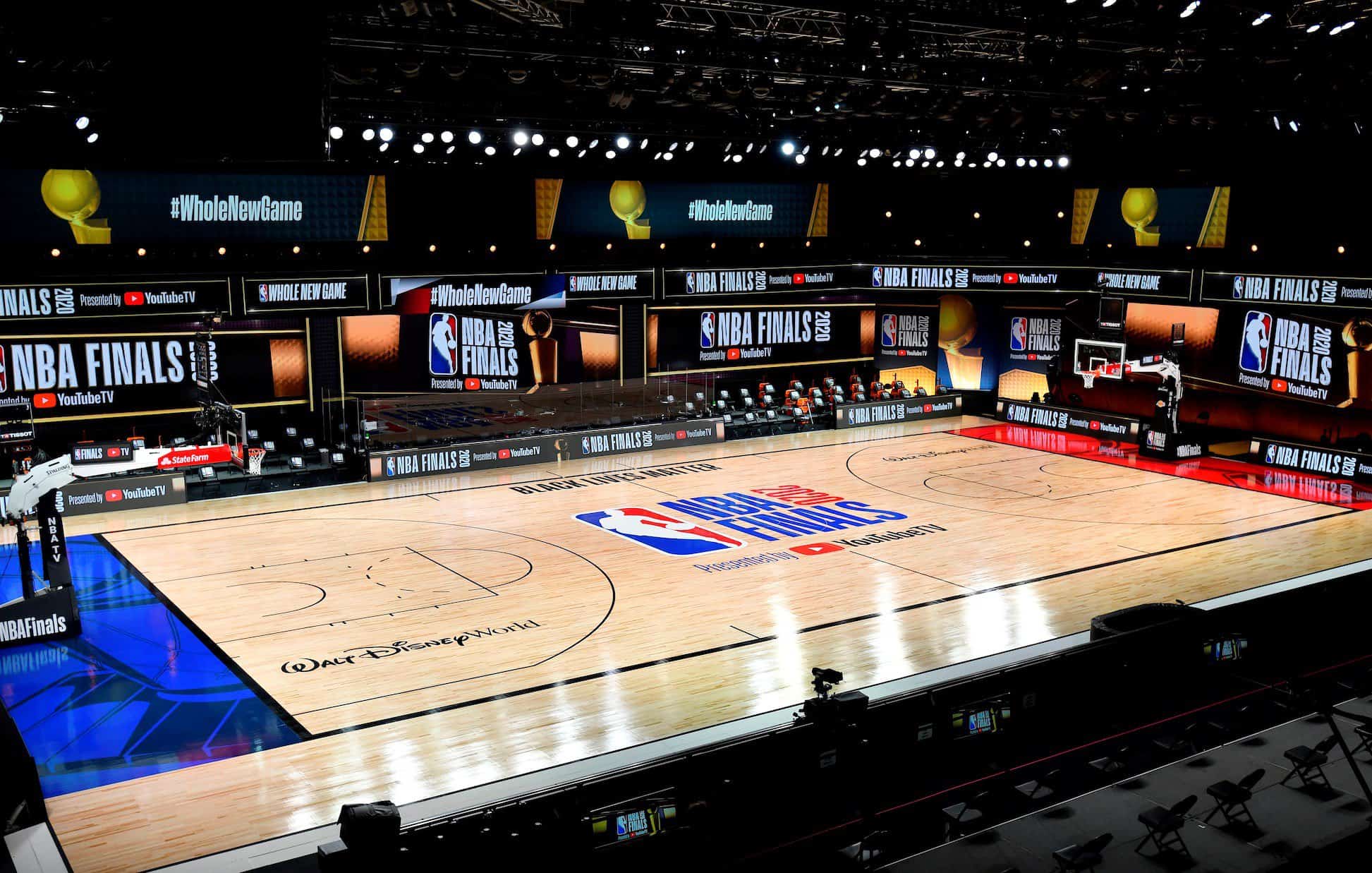 For tonight's game, the Lakers will wear yellow and the Heat will wear black. The uniform scripting for the rest of the series is shown here: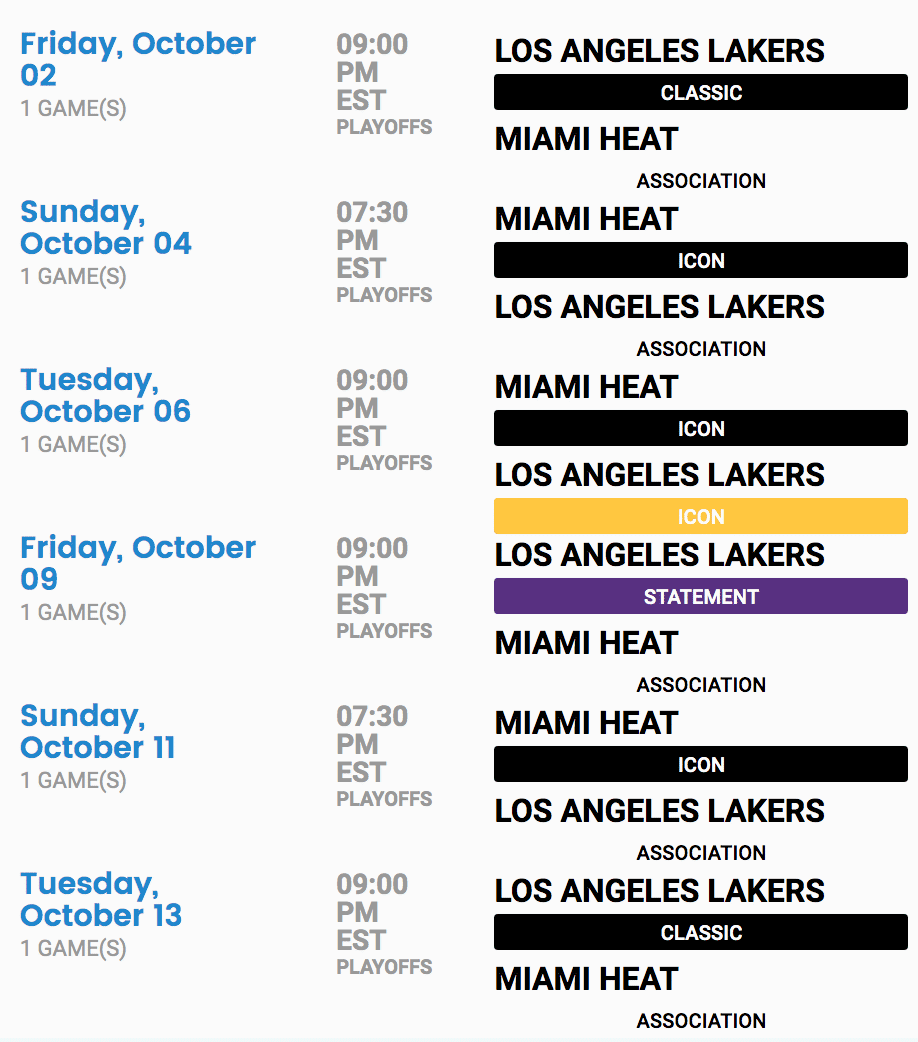 • • • • •
• • • • •
The Ticker
By Lloyd Alaban

Baseball News: MLB released a graphic featuring players from all the teams that made the postseason. The Yankees are represented in the graphic by 1B Luke Voit, who doesn't have a swoosh on his jersey (from Iain McHugh). … NYC Health and New York hospitals will give out Yankees merch to New Yorkers who take a Covid-19 test (from John Cerone). … Hamtramck Stadium, the former home of Negro League team the Detroit Stars, held a ceremony yesterday to celebrate the stadium's renovation. Hamtramck is one of only six Negro League stadiums still in existence (from Jerry Nitzh). … The Ironworkers Local union in Nashville, of all places, has a very Nationals-esque logo (from Josh Mendelson). … MLB and USA Baseball announced a format change for the Appalachian League yesterday, which among other things means that all of the league's teams will be changing their names and logos (from multiple readers). … Current Toronto Argonauts GM and CFL legend Mike "Pinball" Clemens wore an old Blue Jays jersey to wish the team luck in the MLB playoffs (from Andreas Papadopoulos).

NFL News: The Rams will wear their yellow pants for the first time on Sunday against the Giants (from many readers). … ESPN used a photo of the Titans' old helmet in a story about the team's Covid-19 outbreak. They later updated it to a photo of the current helmet (from multiple readers). … Here's a great write-up of how the 49ers rigged up an on-field speaker system in 1980 for QB Steve DeBerg, who was suffering from laryngitis and was having trouble barking out signals. Uni Watch has also written about this, back in 2011 (from Ellen Haller).

College Football News: Here's the Nebraska equipment staff getting the team's helmets ready (from Brett Baker). … New practice jersey for Temple (from Sam Cohn). … Clemson coach Dabo Swinney, who's always been a uniform traditionalist (no camouflage, no blackout, etc.), says he's uncomfortable with social justice messages spreading on uniforms. … Hawaii practiced with white helmets yesterday (from Charles George).

Hockey News: Lightning F Steven Stamkos suited up for Game Six of the Stanley Cup Finals and got to enjoy a postgame skate with the Cup even though he was listed as inactive for the game (from Ted Taylor). … Pittsburgh native Fred Rogers was once a "celebrity captain" of the Penguins and even had his own trading card (from @DoubleA_Ron_Yo). … Two 10-year anniversary decals for the Verizon Center are still stuck to the ground at the McPherson Square train station in Washington, D.C. The arena is now named called Capital One Arena, and the building's 10th anniversary was in 2007 (from Dell Michaels). … The Hurricanes' longtime equipment manager, who's been with the franchise since its New England Whalers days in the WHA, is retiring. … A media company has executed a rather awkward repurposing of the Hartford Whalers' logo (from Joe Giza). … G Ville Kolppanen's new mask honors healthcare workers. Kolppanen plays for Rogle BK of the Swedish Hockey League (from Wade Heidt).

Basketball News: New Statement alternates for the Suns. Basically the same as before, but with the Jordan logo (from @unimockups). … Here is Temple men's team's new basketball practice jersey (from Sam Cohn).

Soccer News: Tottenham Hotspur MF Erik Lamela has worn mismatched cleats his last three matches for the team because of a foot problem (from David Tra).

Grab Bag: Tennis player Mikael Ymer wore Novak Djokovic's former signature Adidas shoe during a first-round match at the French Open yesterday. Djokovic switched to Asics several years ago (from Mark Brieve). … Here's what goes into a mid-major athletic apparel deal (from Evan Cavey). … Reader Nate Mueller has 3D-printed several major trophies. … The U.S. Navy has updated its SEAL ethos and creed with gender-neutral language (from Timmy Donahue). … Also from Timmy: Buffalo Police officers are no longer required to display their names on badges. They can wear their badge number instead. … One more from Timmy: Alabama's new "I voted" stickers honor Alabama's veterans. … There might be a reason why all senators dress the same (from Tom Turner). … The Canberra Raiders of the National Rugby League have gone back to a jersey advertiser from their glory days of the early/mid-'90s and have also shown what next season's jerseys will look like (from Allan Jennings). … Also from Allan: A lost piece of Aussie rules football history was found and bought on eBay: the "Batmobile" that was used for the 1991 AFL grand final.
• • • • •
• • • • •
• • • • •
Our latest raffle winner is Ted Bloss, who's won himself a Brooklyn Branches T-shirt. He chose the green alternate design. Congrats, Ted!
Uni Watch Koozies are now sold out! Thanks for the enthusiastic response. I'll probably order more, maybe with a different design, soon.
Tomorrow: The Uni Watch Pin Club's October design. You're gonna like it — trust me. — Paul