For all photos, click to enlarge
In case you hadn't noticed, the whole world is stressed out at the moment. So today I thought I'd go off-uni and do a bit of show-and-tell.
As most of you know, I'm a big fan of salesman sample catalogs, so today we're going to look at some of the latest additions to my collection, beginning with a 1961 catalog for Everglide ballpoint pens. It's not a true sample catalog, because it features only illustrations, not physical samples, but the illos and the overall design are so good that I couldn't resist purchasing it, and I think you'll like it as much as I do.
The cover is shown above. I love the name "Everglide," I love the colors running down the left side of the cover, and I particularly love the script "E" logo. Perfection! Also dig that "for Quality and Service" script at the bottom, which looks like it should be stamped in metal affixed to the door of an old fridge or the back of an old car.
Let's open the cover and look at the first spread:
So much to like here, beginning with the bold colors. As you can imagine, I'm particularly fond of the green/gold model. Also note that you can get an accessory that "will attach like magic to any telephone dial," so you can use the pen to dial a number. Also-also, the pens are available with either "clip action" or "top action." And speaking of pen lingo, it turns out that the body of the pen is called the "barrel" — nice!
Now check out the gorgeous layout on this next spread:
Mmmm, tasty. So simple, but so good!
Next:
Love that headline on the right-hand page — "Streamlined Beauties in All Metal." Also, look at the next-to-last pen near the bottom of the left-hand page — white and red with gold stripes. Gorgeous!
Very nice composition on this next spread:
Check out the "Mailmaster," at lower right — it's "a desk pen, a penholder, letter opener, and a paperweight"! Never seen a pen with a built-in letter-opening blade like that.
Next up is what we might call the "sin page":
Ah, the classic bikini pen — hold it right side up and the woman is wearing a dress, but "just turn it upside down and watch these lovelies change." An unfortunate relic of a thankfully bygone era. I've seen plenty of those before, but I've never seen cigarette pens before — wow.
And don't overlook the gravity-driven pens on the right-hand page!
Next up we have a handsome array of mechanical pencils:
Have you noticed that just about every spread includes a pretty strong splash of green? Maybe that's why I like this catalog so much.
Next up are gift packing options and ordering info:
Love that "Color Information" banner on the left-hand page. And don't overlook that high-larious "Gag-Pak."
And here's the back cover:
Is that great? I don't even care about fancy pens, but I love this catalog! Cost me only $5, too.
The only disappointment is that there's no mention of where Everglide was headquartered. As it turns out, vintage Everglide pens are all over eBay and other collectors' sites, and this one indicates that Everglide was owned by the Burnham Products Corp. of Long Island City, N.Y. — that's in Queens, just a short drive from Uni Watch HQ. The company, alas, is no longer with us.
———
Our next item is this Brady Self-Sticking Identification Catalog from 1970:
This catalog features all sorts of stickers, placards, signs, rolls of tape, and so on, mostly for safety identification in manufacturing settings. Going through every page would be too much, but here are a few representative spreads to give you an idea:
That last one, with all those sign designs, is a real doozy!
I was particularly intrigued a listing for something called the Brady Aisle Markermatic™, a device that applies Brady All-Vinyl Aisle Markers™ to the floor:
How cool is that? It turns out there's one of these listed on eBay — and don't think I'm not tempted!
Much like the Everglide catalog, this one mostly features illustrations, not genuine samples — although it does have a pocket at the end with a few sample items:
If you want to see the entire catalog from start to finish, you can look here or click through this slideshow (hover over the first image to see the directional arrows):
W. H. Brady is now known simply as the Brady Corporation and is still headquartered in Milwaukee.
———
Up next for our consideration is a 1957 catalog from a now-defunct New York company called National Creative Sales. It features cheesy designs for sales fliers:
The catalog has well over 100 of these. I'll just show you some of the sports-related ones:
You can see a few dozen additional pages here, or in this slideshow:
———
And finally, we have a Hammermill paper catalog. No date on this one, but it feels like it's in the late-'60s/early-'70s range:
See those rainbow-striped salt and pepper shakers? Look what happens when you open the cover:
Pretty groovy, right? I thought a video would be better for this one, so you can fully appreciate how awesome it is. Dig:
Each of the paper samples features an illustration or embossed graphic. One of them is sports-related:
You can see the whole thing here, or in this slideshow:
I'm happy to report that Hammermill is still with us.
Thanks for looking/listening. We'll get back to more standard uni-related content tomorrow. Stay safe.
Click to enlarge
Too good for the Ticker: Longtime reader Alan Tompas recently sent me the item shown above, which he says was posted on the Baseball Fever discussion forum.
As a lifelong Mets fan, I've never seen this ad or heard of the Met Cats (as in hepcats — get it, Daddy-O?), described as "the official combo group for the New York Mets." I ran it past a few Mets acolytes, and of course also consulted Google — nothing.
I'm pretty sure the Met Cats never existed except in this ad, but it's amusing to see that they claimed to have played in front of "55,000 people" — i.e., the capacity of Shea Stadium (perhaps hoping people would mistake them for those lovable moptops from Liverpool who really did play at Shea). Such dubious claims notwithstanding, they sure looked great cramped together in a trailer pulled by a convertible in an otherwise empty Shea parking lot. Talk about hitting the big time!
If anyone knows more about the Met Cats, do tell. Thanks.
Update!: It turns out that the Met Cats really did exist! @QuirkyResearch turned up these two items from The New York Daily News — one from 1966 and one from '67 (click to slightly enlarge):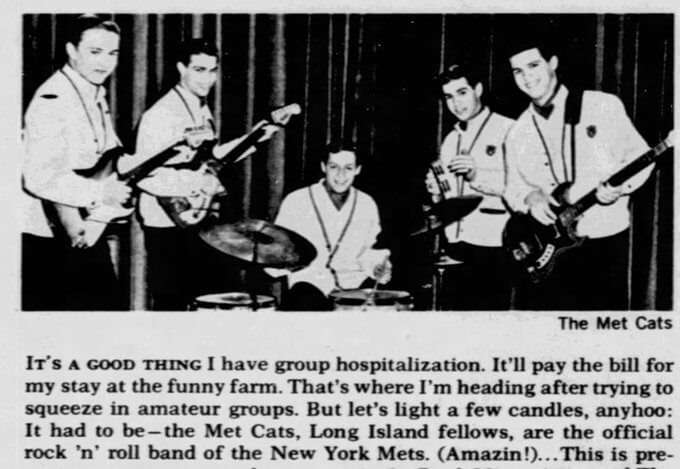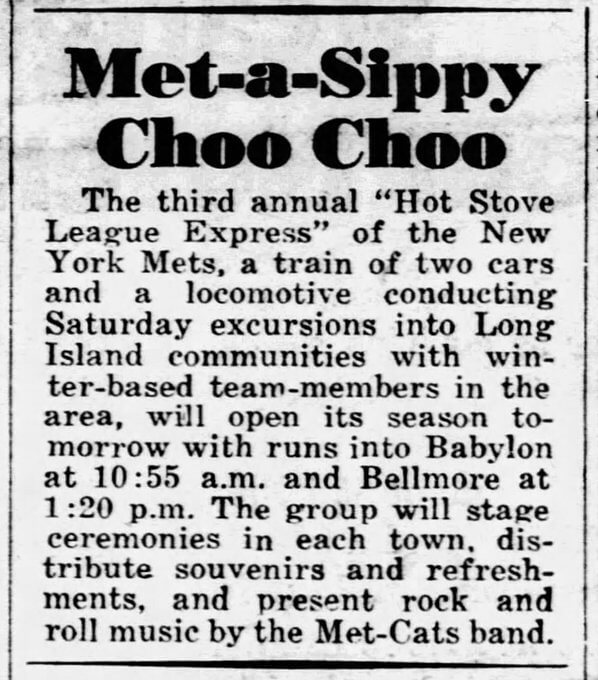 I apologize for doubting the authenticity of the very real Met Cats! Now we just have to find a member of the band and get the full story.
(Big thanks to Alan Tompas for this one.)
• • • • •
• • • • •
Click to enlarge
Pin Club reminder/update: As of this morning, there were 91 pins remaining for the Uni Watch Pin Club's June design (featuring an elbow bump because fist bumps and high-fives will likely be banished from the sports landscape for the foreseeable future, with green/purple and white/black symbolzing uni-ty). In other words, we've sold through more than two-thirds of the numbered edition of 300 in two days — amazing.
If you haven't yet gotten in on this one, the pin is available here. If you need to get caught up, we still have some of the May pins left, along with the March, February, and January pins. (Sorry, April is sold out.)
Speaking of which: If you order multiple pins and find yourself getting hit with multiple shipping charges on the one order, go ahead and place the order and then email me with your order number — I can arrange for the extra shipping charges to be refunded.
And remember that you can save a 15% on all of the pins, and on everything else in the Uni Watch Shop and the Naming Wrongs Shop, by using the checkout code COMMUNITY.
• • • • •
• • • • •
Hypothetically speaking: As you can see, there's a new addition to the hypothetical menu. Wouldn't it be fun, just theoretically, if that design actually existed? Let me know what you think.
• • • • •
• • • • •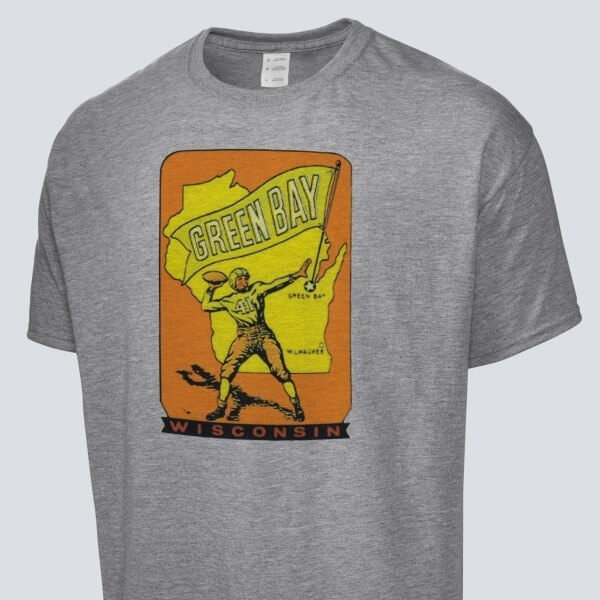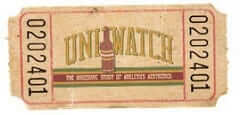 LAST CALL for the Vintage Brand raffle: Today is the final day to enter the latest raffle from our longtime advertiser Vintage Brand. The lucky winner will get to choose any item from the Vintage Brand website (including the Packers T-shirt shown above).
This raffle is open only to people with American shipping addresses. To enter, send an email to the raffle address by 8pm Eastern tonight (which should be easy, because you're probably under curfew anyway). One entry per person. Again, USA shipping addresses only. I'll announce the winner tomorrow.
• • • • •
• • • • •
The Ticker
By Lloyd Alaban

Baseball News: MLB is considering adding more virtual ads to ballparks during telecasts — including the possibility of ads in foul territory and on the back of the pitcher's mound (from Mike Chamernik). … Reader Joe Helligenstein was sent a photo of a Cardinals/Twins backpack mishap. … Reader Phillip Tutor found this video of the Rangers' equipment manager explaining the team's gear from 1974.

NFL News: Vikings LB Eric Kendricks used a modified version of the NFL logo to demand substantive action on equal rights from the league. Teammate Anthony Barr tweeted the same text but without the modified logo.

Soccer News: New shirt for Motherwell (from our own Jamie Rathjen). … New logo for the Bermuda national team (from Texas Trevor). … The remaining soccer items are from Josh Hinton: Alajuelense F Jonathan McDonald changed his NOB to "Burger King" in a recent match. … The new Germany second kit has leaked.

Grab Bag: Continuing social distancing regulations may lead to more single-rider golf carts (from Mike Chamernik). … Belgian cycling team Deceuninck-Quickstep has its fair share of national champions, which means they have special country-themed jerseys (from Jeremy Bearimy). … New logo for the town of Massena, N.Y. (from Timmy Donahue). … Fashion brand Comme des Garcons is selling its own championship rings (from @cash4title).
• • • • •
[adrotate group="2″]
• • • • •
Click to enlarge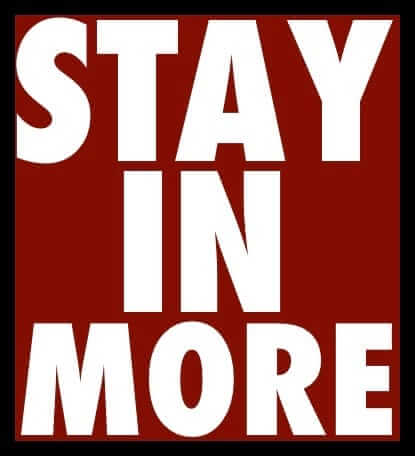 What Paul did last night: We had some gummy bears with us on the porch yesterday evening. On a whim, I dropped a few in my beer, thinking they would float, but instead they sank to the bottom of the glass (you can see a hint of them in the photo).
That was disappointing. But when I finished the beer and sampled one of the gummies from the now-empty glass, I found that it had absorbed some of the beer, leading to a nicely boozy/gummy experience. Recommended!
The branch is still there.
As always, you can see the full set of Pandemic Porch Cocktails™ photos here.