Good morning! Greetings from Uni Watch HQ, where all three inhabitants continue to be safe and well (and one continues to be incredibly cute). Hope the same is true at your home.
Now then: Epically unattractive game yesterday in Denver, as the Bucs debuted their mono-pewter alternates. Granted that uniform would probably look bad in any setting, but it was particularly bad when sharing space with the Broncos' stuck-in-the-'90s look. Lots of additional photos here and here.
Obviously, color-vs.-color games are unusual in the NFL unless both teams are wearing their Color Rash uniforms. I asked an NFL spokesman about this and was told, "This is the third season in which a road team may wear white or an NFL pre-approved non-conflicting color if the home team wears its color jersey. That was the case today." I was not aware of this being the official policy, but there you go.
Another visually notable element from that game: In addition to having about 5,700 live fans in attendance, the Broncos installed 1,800 cutouts of characters from the TV show South Park, which is set in Colorado and has made frequent references to the Broncos over the years (additional info here). All of the cutout characters were depicted wearing masks:
Gang's all here. 😅@SouthPark | @ComedyCentral pic.twitter.com/3OLVXQSK12

— Denver Broncos (@Broncos) September 27, 2020
The stadium staff even had diagrams indicating which character should sit in which seat (additional phtoos here):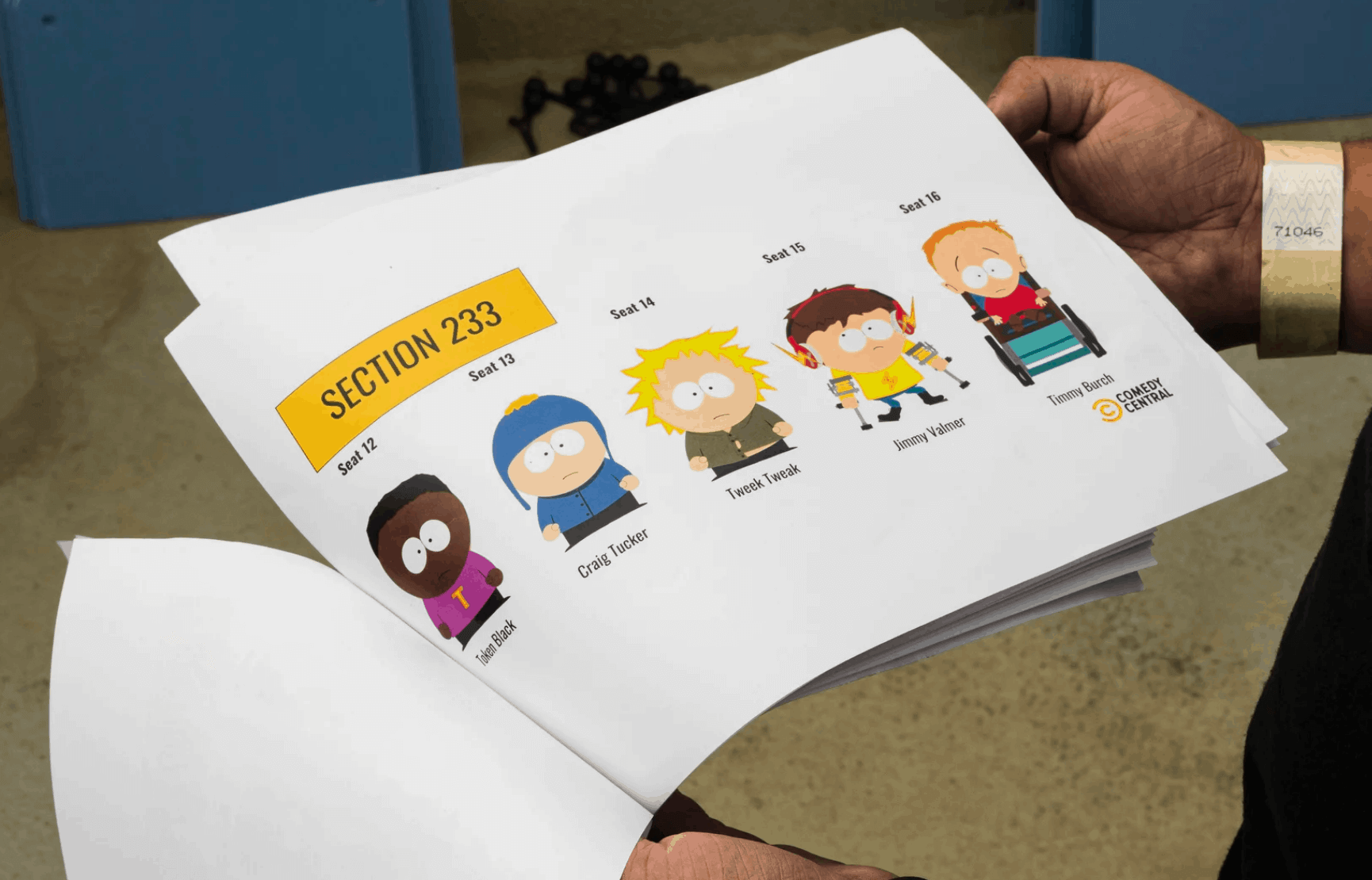 And yet another note from that game: Broncos head coach Vic Fangio wore a plastic face shield. I'm pretty sure he wore cloth face coverings for the team's previous two games, so this was a new look for him:
Embed from Getty Images
In other news from around the league yesterday:
• The Washington/Cleveland game gave us something we haven't seen in nearly six decades: an NFL game in which neither team wore any helmet logo or decoration other than a number!
The last time that happened, I'm pretty sure, was Oct. 28, 1962, when the Browns played the Steelers. (By the time they played again four weeks later, the Steelers had added their helmet logo.)
Update: Reader/commenter Jim Vilk points out that there have been quite a few throwback games in which neither team had any helmet logo or other ornamentation. My bad for not specifying that yesterday was the first time since 1962 that we had such a game in a non-throwback situation.
• In that same game, Browns coach Kevin Stefanski appeared to be wearing a shirt with the team's outdated white-facemasked helmet logo, instead of the current brown-masked version: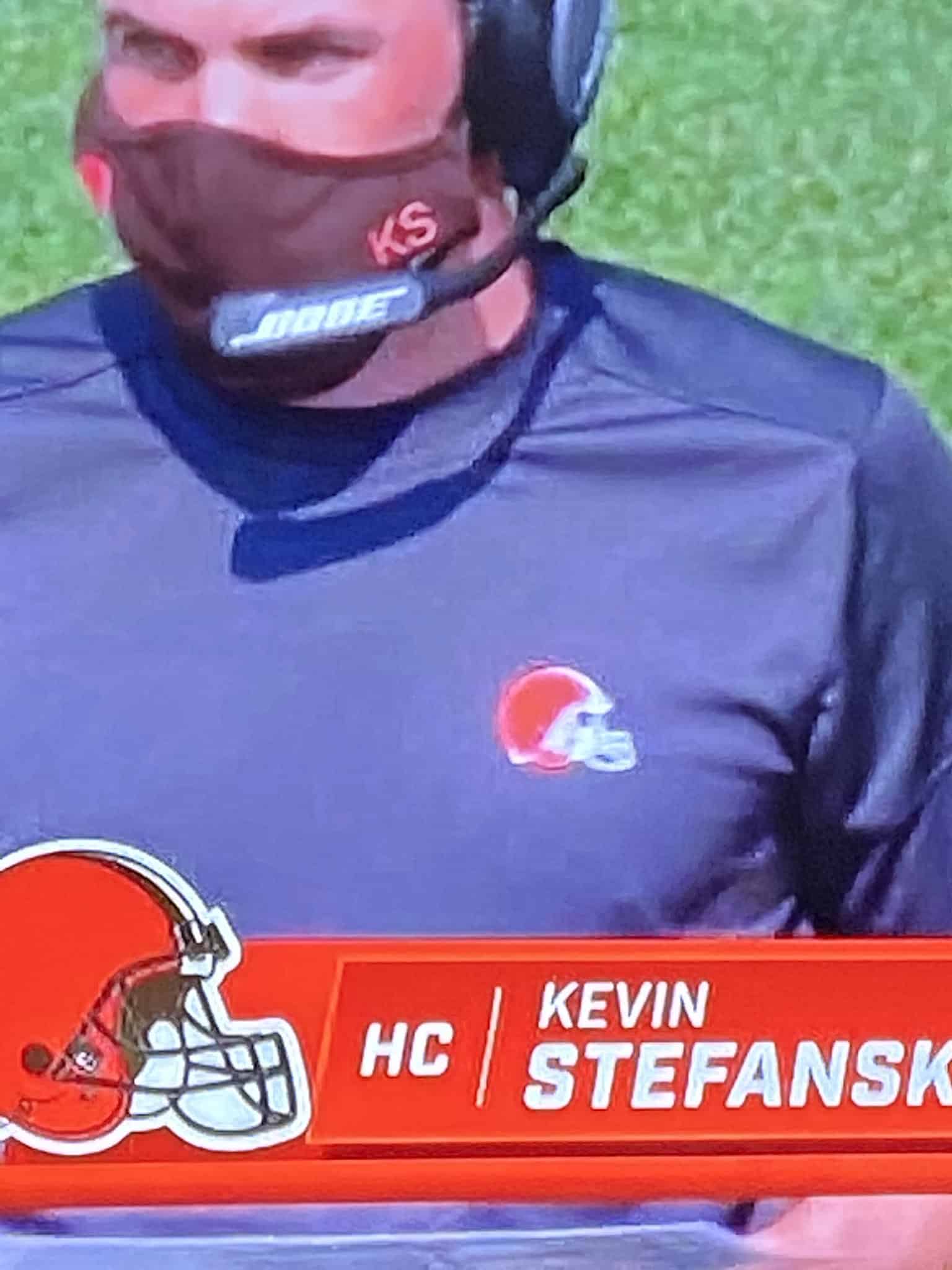 • The Rams, playing in Buffalo, wore their gradient-numbered mono-blue look for the first time, while the Bills wore white at home (additional photos here and here):
• Two weeks after the Patriots had players wearing their old number font and old NOB font for the season opener, offensive lineman Jermaine Eluemunor still had the wrong number font yesterday: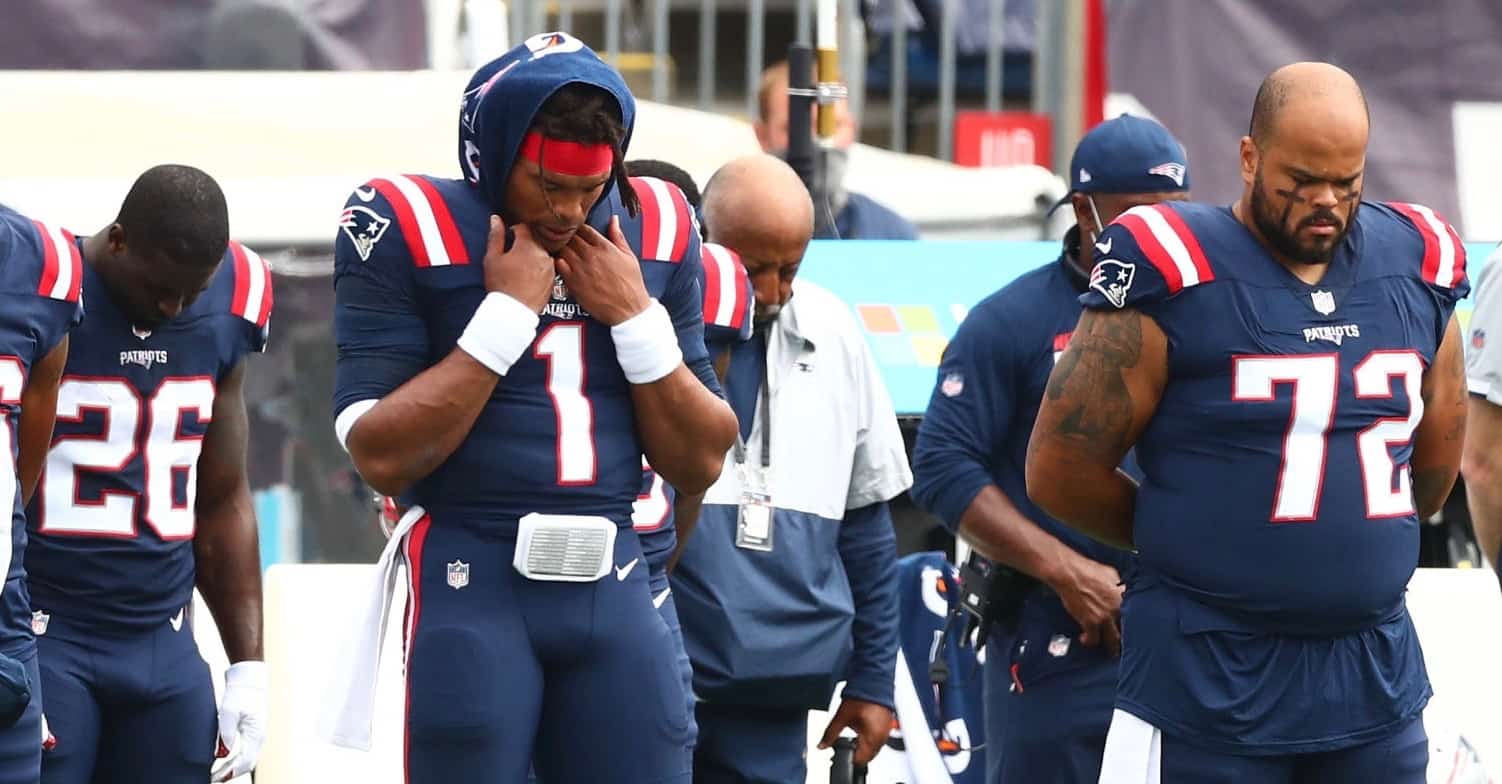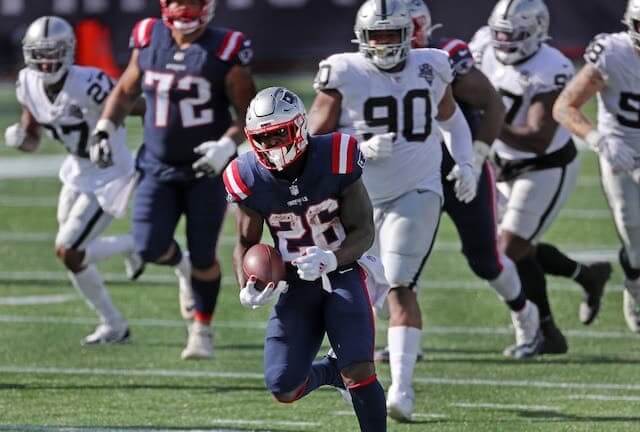 In both of those photos, that's Eluemunor (No. 72) wearing the old font and teammate Sony Michel (No. 26), with the correct font.
But wait, it gets better (or, really, worse). Wideout Isaiah Zuber's jersey was in proper order — except for the Z on his nameplate, which was in the old font: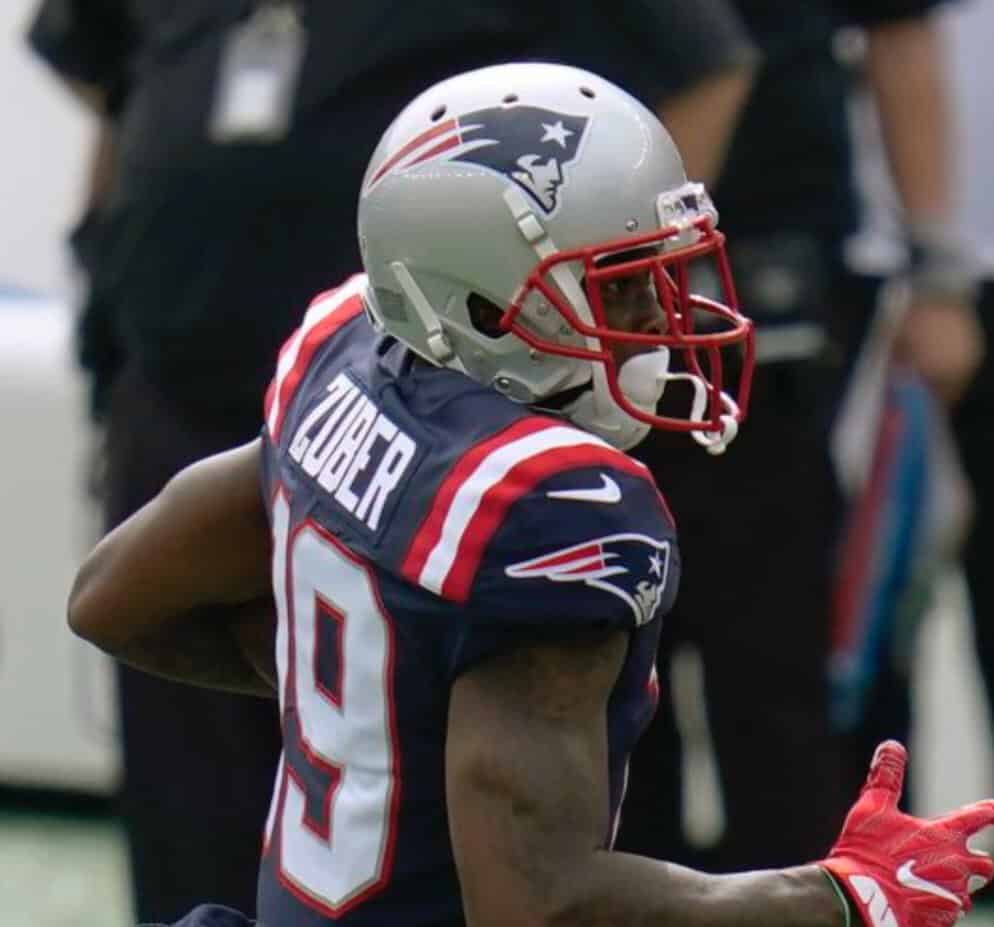 How crazy is that? Here's teammate Ryan Izzo with the correct Z.
Come on, New England — get your shit together!
• The Cardinals went blood-clot and also added an "8" memorial patch for Hall of Fame safety Larry Wilson, who died on Sept. 15: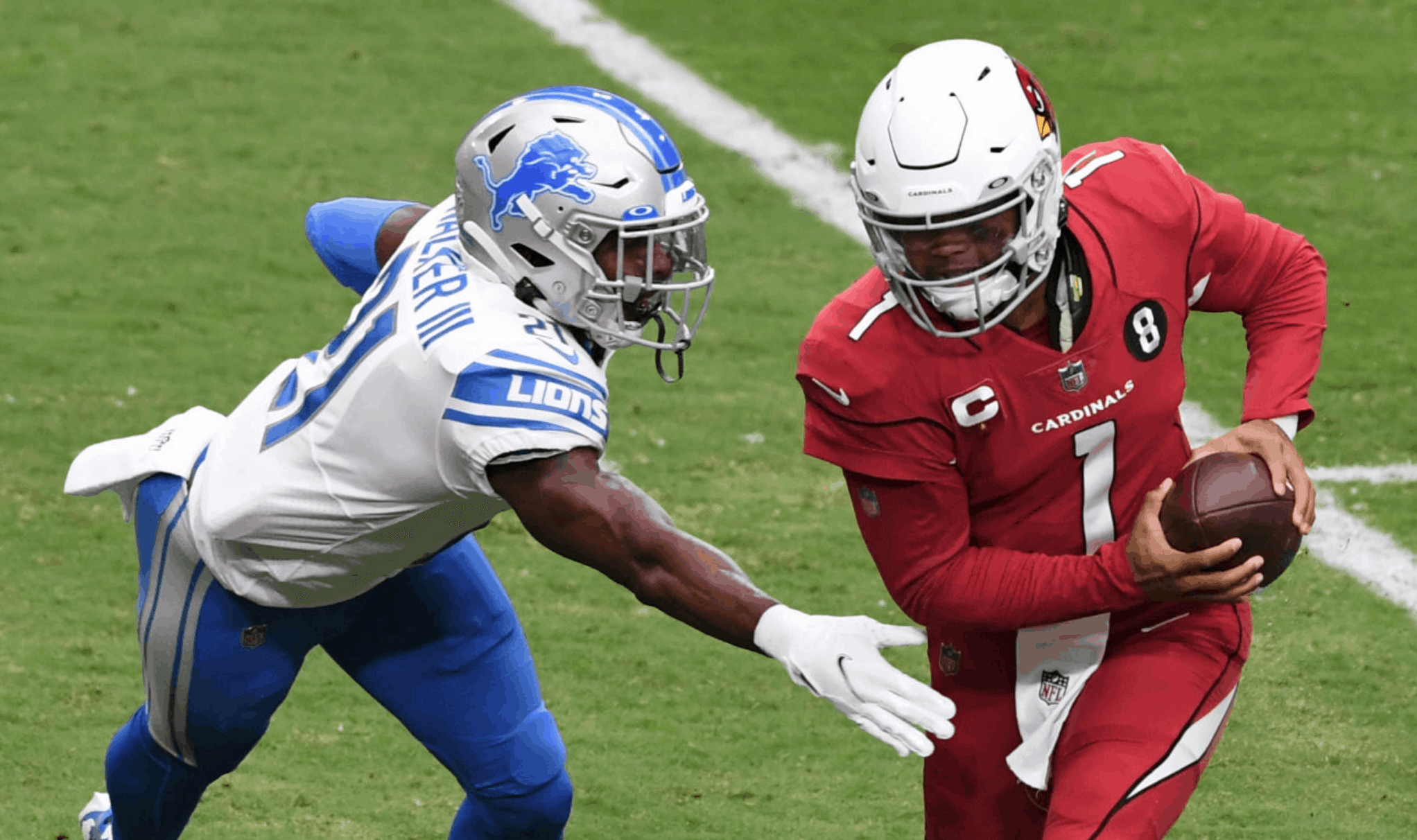 They'll wear that patch for the rest of this season. (As an aside, isn't it crazy to think there was once a time when a safety could wear No. 8?)
• Speaking of uniform memorials: The Bears, surprisingly, did not add any kind of memorial for Gale Sayers — no patch, no rear-helmet decal, no throwback helmet logo, no white-over-white uni combo, no nothing. That seems almost unthinkable, doesn't it?
• For the second consecutive week, the Panthers' opponents — in this case the Chargers — opted to wear white at home. And for the second consecutive week, the Panthers responded by wearing their blue alternate jerseys instead of their black primaries:
It made sense for them to wear blue instead of black last week in Tampa, because of the heat. But yesterday's game was in the new L.A. dome, so it's not clear why they'd again opt for the alternates instead of wearing the black primaries.
• Raiders cornerback Damon Arnette's red-dyed hair appeared to be leaving a red stain on the back of his jersey: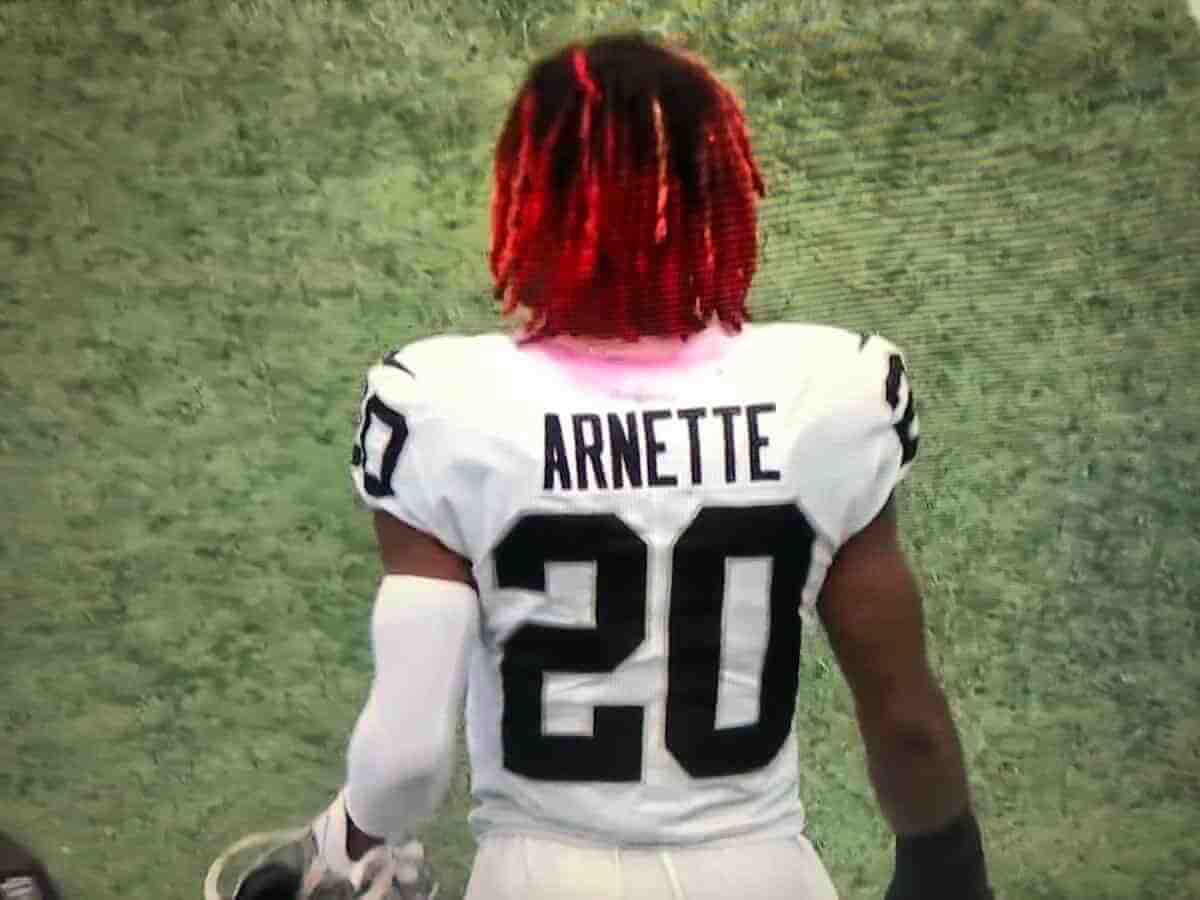 • Packers linebacker Za'darius Smith was wearing an updated facemask. It appears to be the same as his old one, but with a pair of Zs (for Za'darius, get it?) added: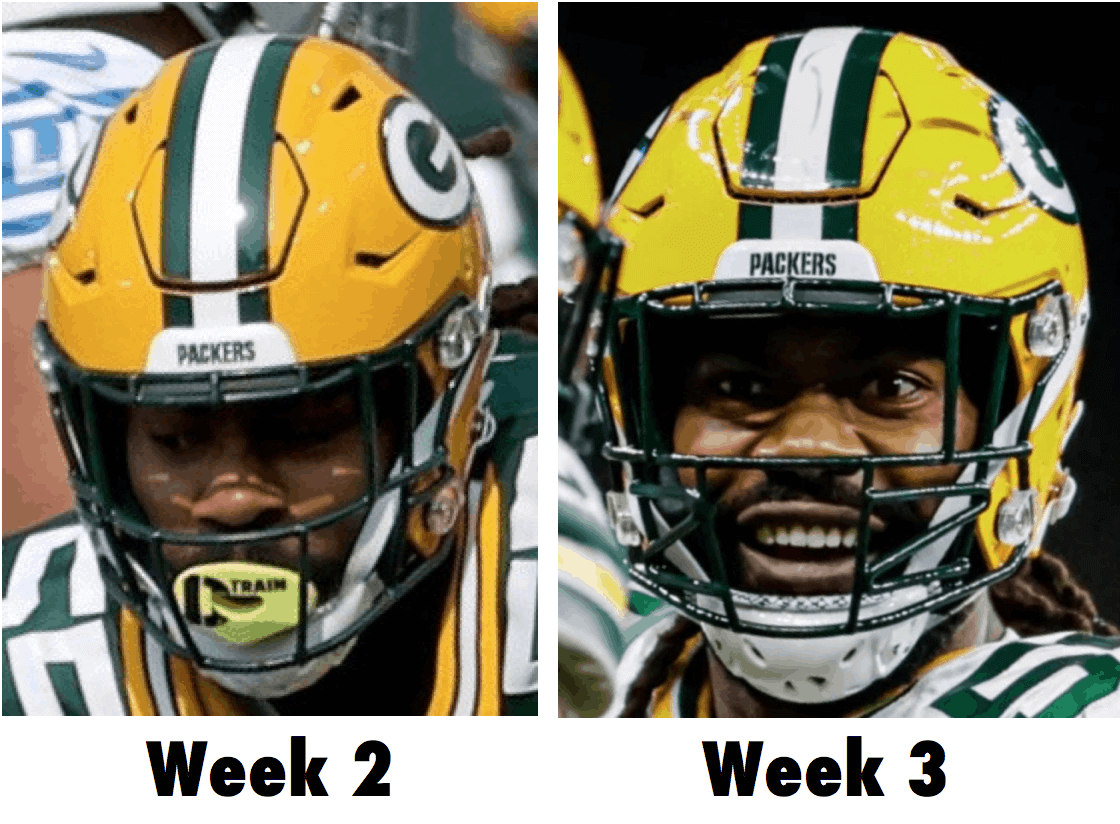 • 49ers coach Kyle Shanahan's pullover appeared to have a Niners logo patch covering up last season's NFL centennial patch: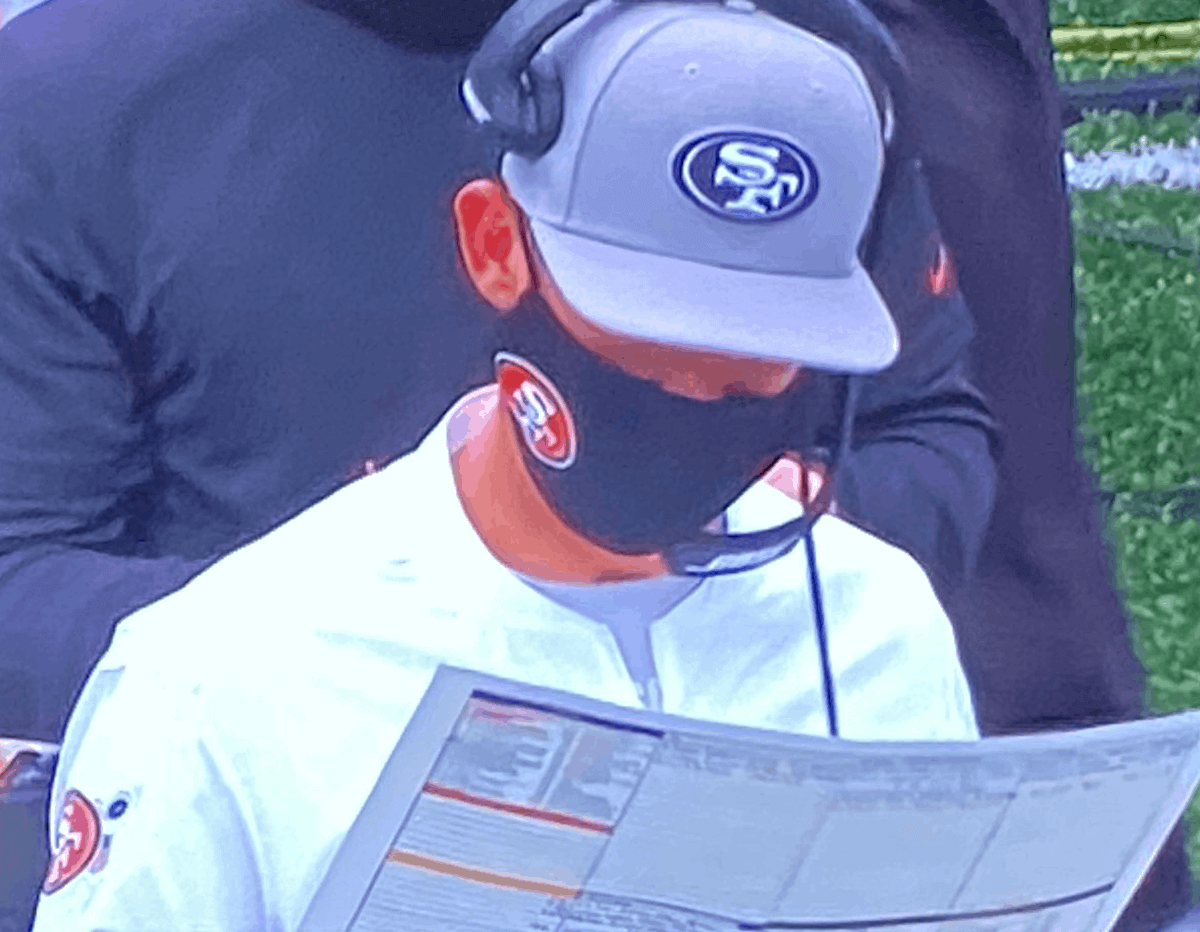 • The aforementioned Bills and Chargers were the only two teams that wore white at home.
(My thanks to all contributors, including Andrew Flynn, Rob Gugliotta, Ron Ruelle, @ianb78, @ewbozz, and @Richie59FIFTY, and mega-thanks to Lance Harris for spotting Isaiah Zuber's wayward Z — a Uni Watch Hall of Fame catch if ever there was one!)
• • • • •
• • • • •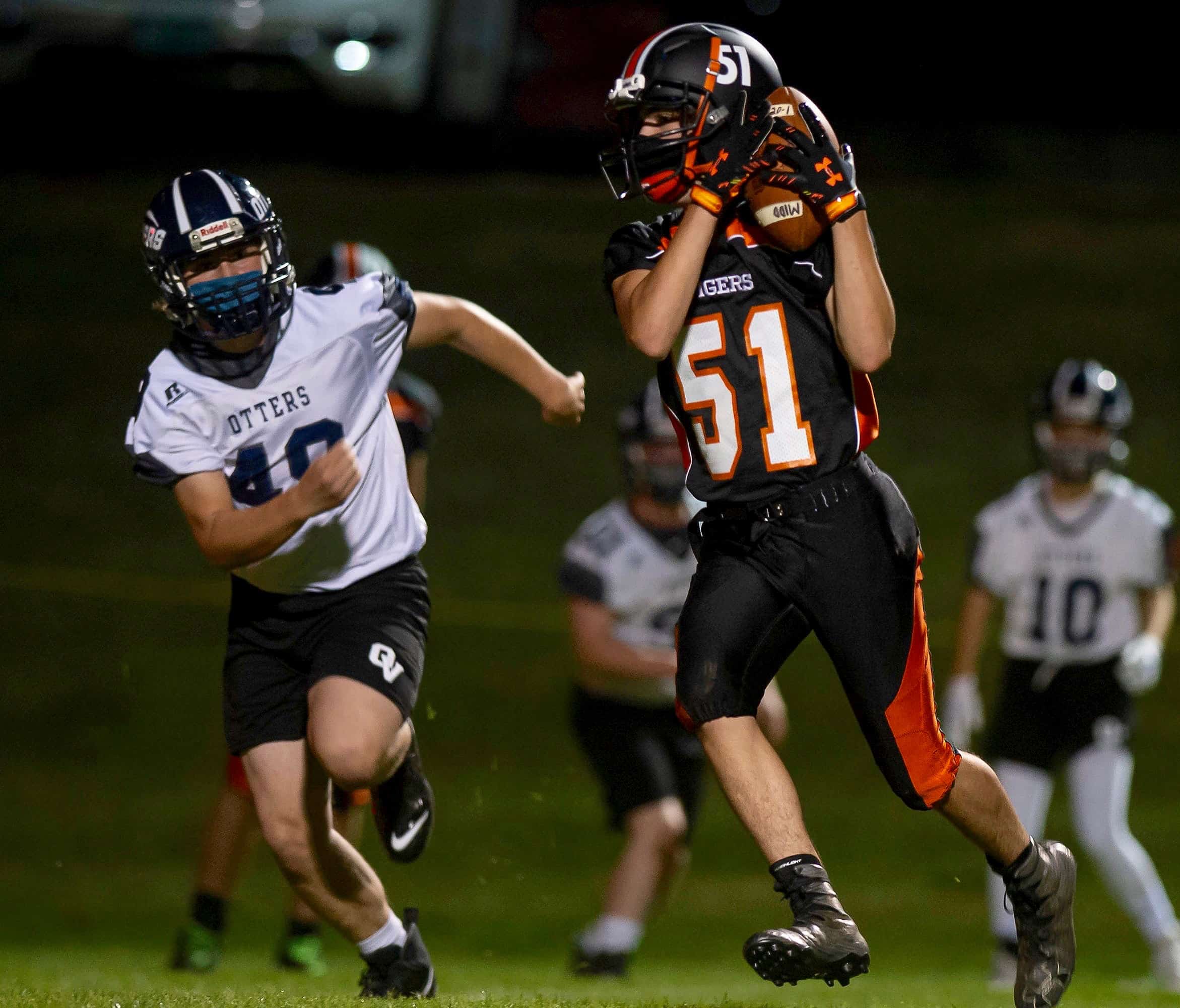 Photos by Austin Danforth, Burlington Free Press; click to enlarge
Pants vs. shorts: We've seen plenty of football players who wear their pants very short, but the Otter Valley (Vt.) High School team literally wore shorts for their game against Middlebury High on Saturday night. Also: No shoulder pads! "It's all part of Vermont's move to seven-on-seven one-hand-touch football this fall," explains Tris Wykes. (As you can see, all players also wore cloth masks.)
Some of the Otter Valley players wore white tights under their shorts, including this kid who's apparently happy to be a poster boy for a certain sportswear company: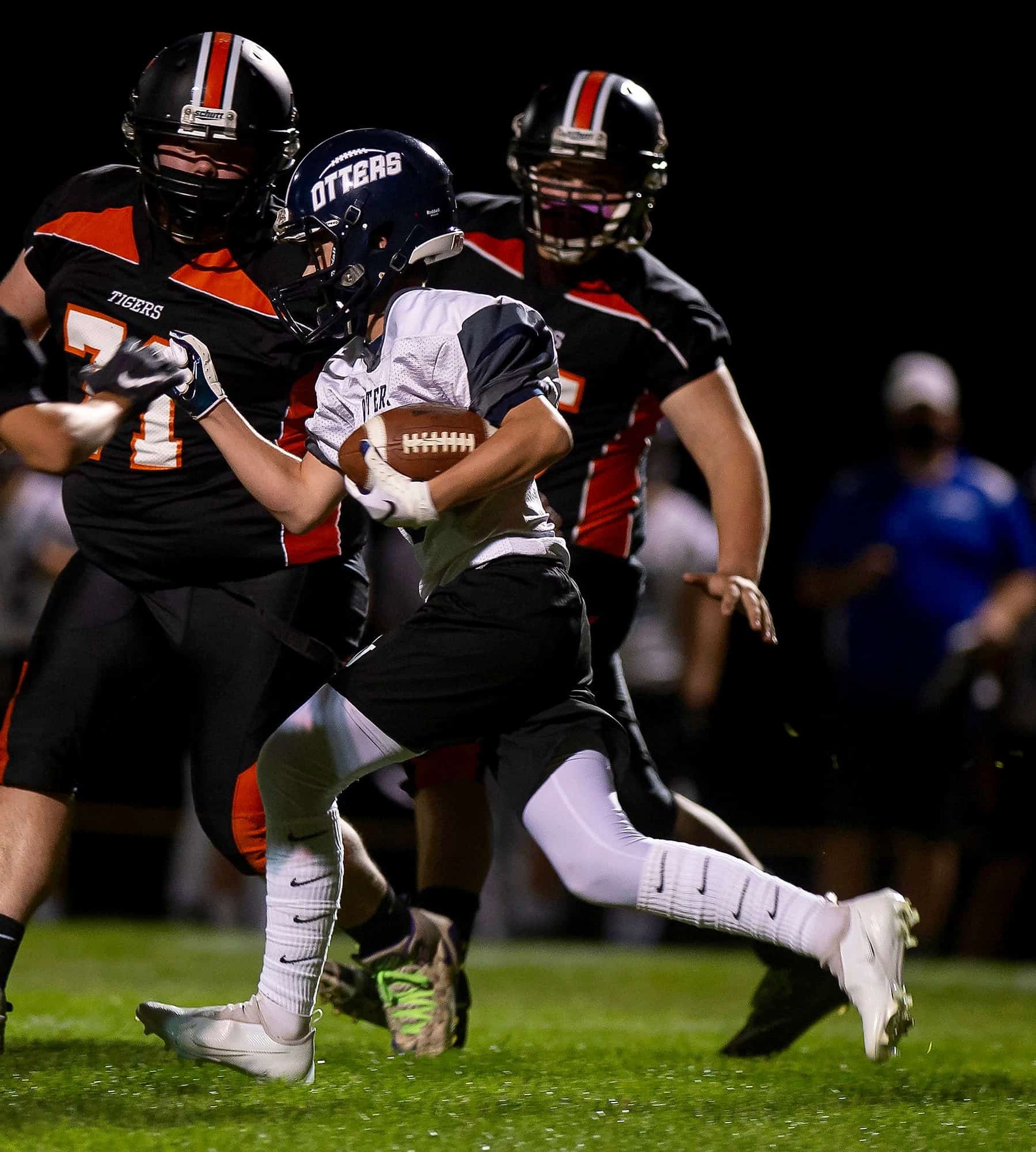 And then there was the Otter Valley quarterback, who had one bare leg and one white-clad leg: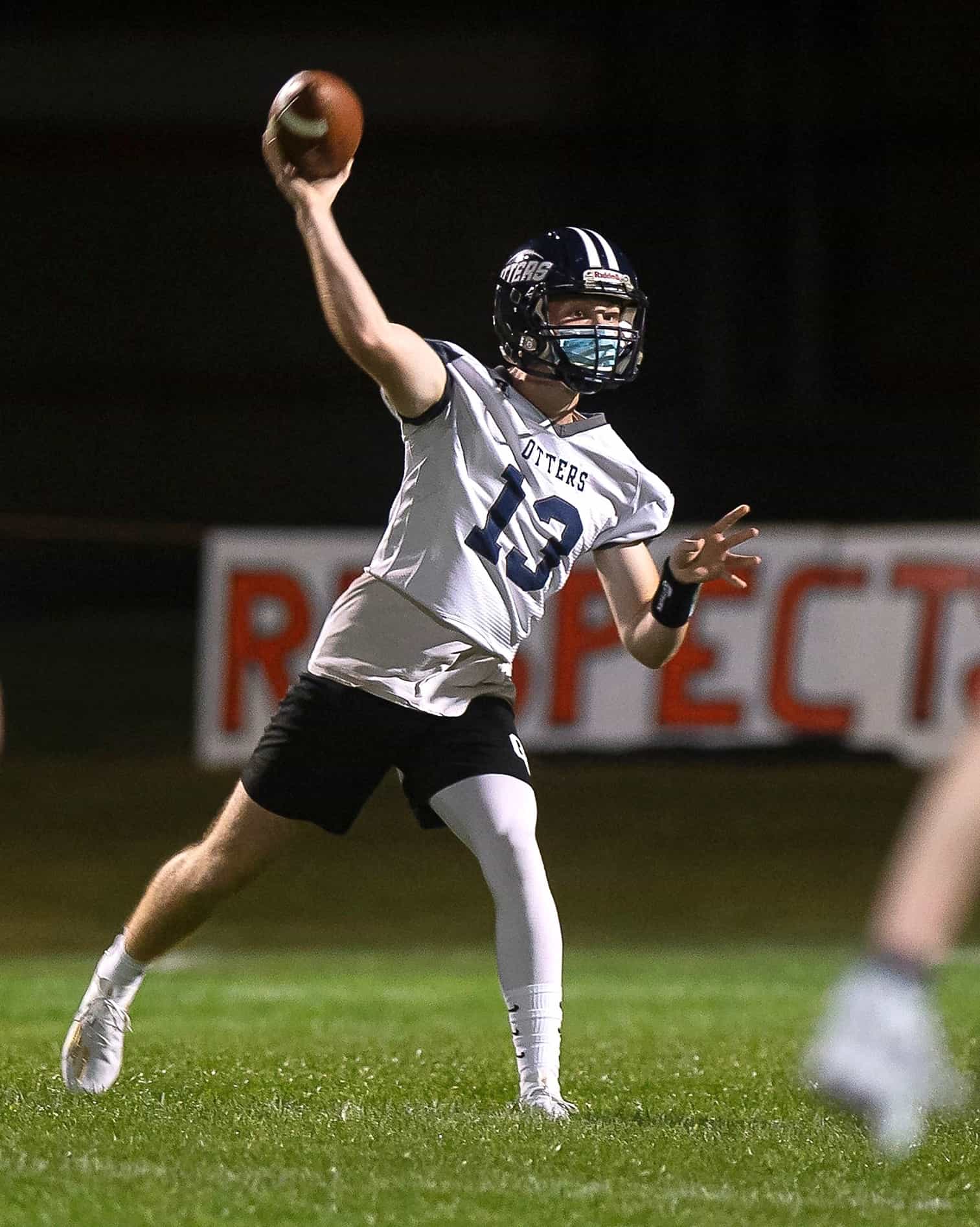 All very interesting. You can see lots of additional photos here.
• • • • •
• • • • •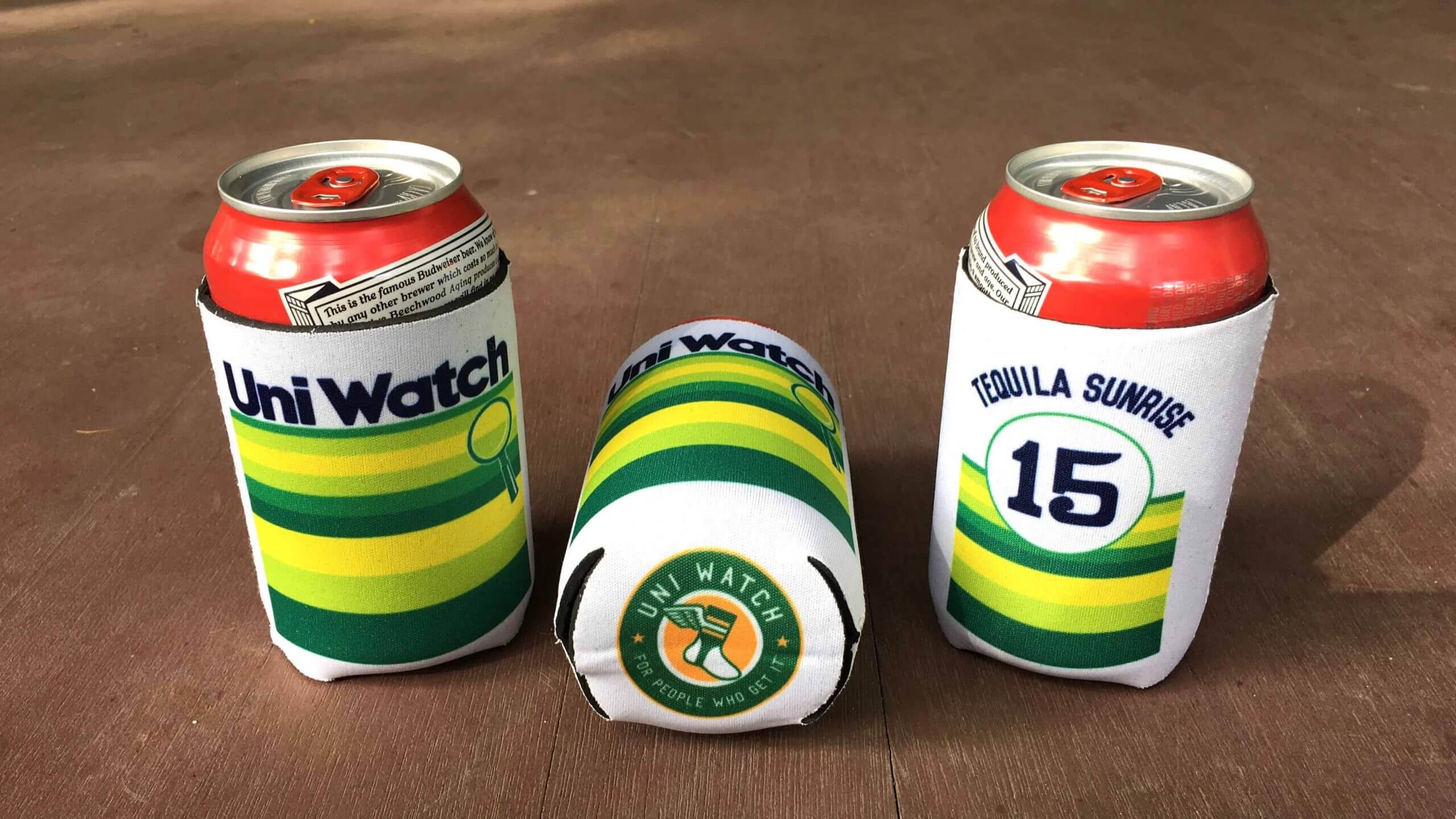 Click to enlarge
ITEM! Uni Watch Koozies: After getting loads of requests, I'm happy to report that we now have collapsible Uni Watch Koozies available! They feature our tequila sunrise design on the front and back (they'd be particularly good holding a can of this beer), along with the Uni Watch circular logo on the bottom.
This was sort of an experiment, so I only ordered 50 of them, and about 30 already sold over this past weekend. The remaining ones are available here while supplies last.
It turns out that koozies are relatively easy to produce in small quantities, so I'm open to making more of this same design, and/or other designs. Since the koozie has a front and a back, it's easy to use the same designs we've used for our two-side T-shirts — "Vertically Arched," "Radially Arched," "BFBS," stars/stripes, Canada Day, Padres/brown, even Brooklyn Branches! Should I do koozies of any of those? Just the winged stirrup on both sides? The circular logo on both sides? Other? I'm open to suggestions.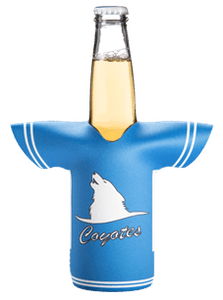 Also: The manufacturer I'm using also offers jersey-themed koozies, complete with "sleeves." They're a bit cheesy, and they only fit bottles, not cans. Still it seems like a website devoted to uniforms should probably have a jersey-based product like this, no? Let me know what you think.
These aren't big-money products — I see them more as a fun outlet. Hope you agree! Feedback welcome.
(My thanks to reader Jeffrey Link, who not only asked/suggested that I produce Uni Watch koozies but also pointed me toward a good manufacturer for them.)
• • • • •
• • • • •
Membership update: With the Royals sending outfielder Alex Gordon off to retirement by saluting his signature pine tar stain, Uni Watch reader Jesse Holt decided to do likewise with his new membership card — nice!
Jesse's card is part of a new batch that's been added to the membership card gallery. I have one slot left in this batch before sending it to the printer, which means the next person to sign up will get his or her card very quickly, hint-hint.
Ordering a membership card is a good way to support Uni Watch (which, frankly, could use your support these days). And remember, as a gesture of comm-uni-ty solidarity, the price of a membership has been reduced from $25 to $20 until further notice, plus a Uni Watch membership card entitles you to a 15% discount on any of the merchandise in the Uni Watch, Uni Rock, and Naming Wrongs shops. (If you're an existing member and would like to have the discount code, email me and I'll hook you up.)
As always, you can sign up for your own custom-designed card here, you can see all the cards we've designed so far here (now more than 2,900 of them!), and you can see how we produce the cards here.
• • • • •
• • • • •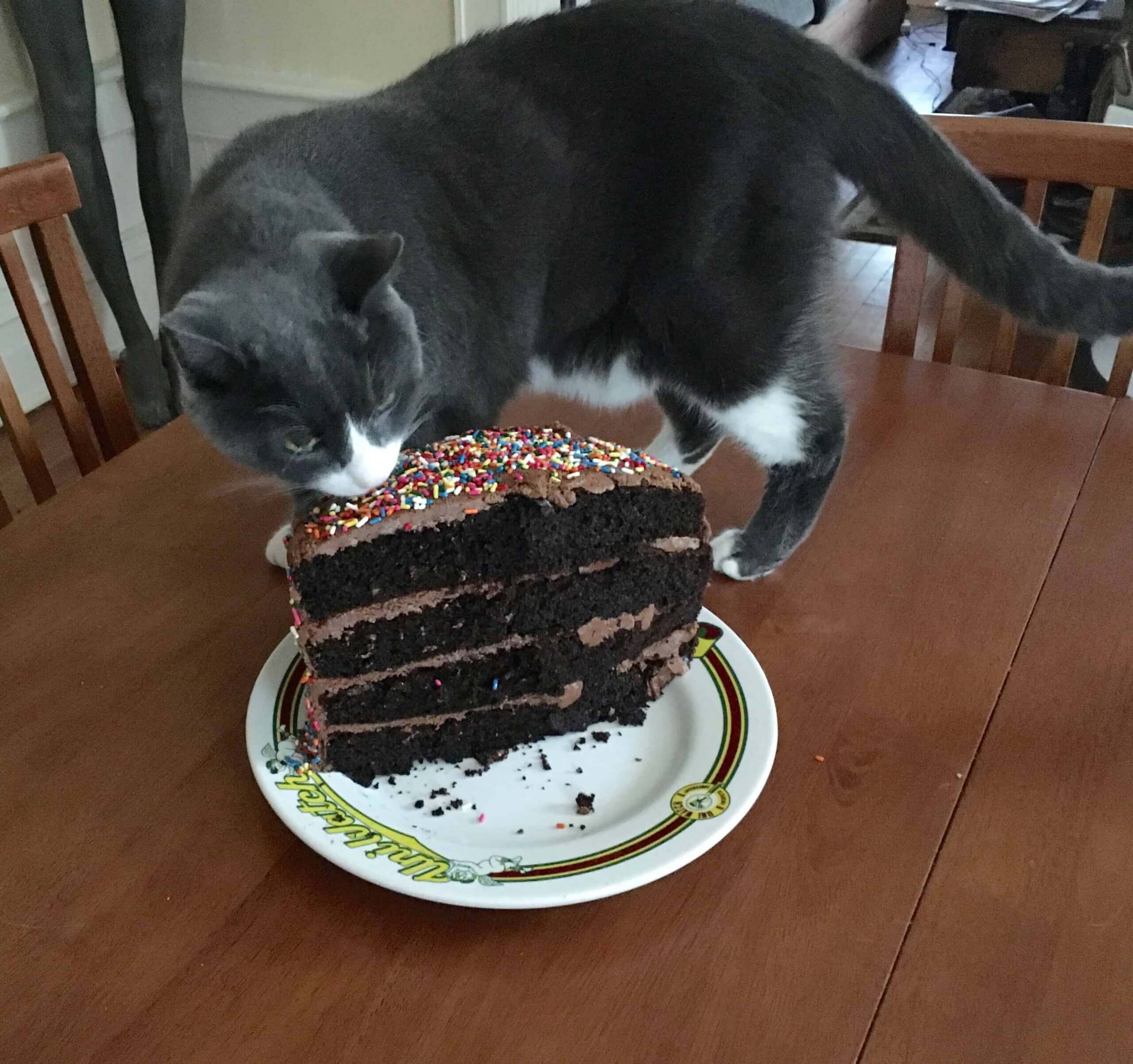 For all photos, click to enlarge
Lucky fella: Last Monday was my half-birthday, so the Tugboat Captain decided that Saturday was Paul's Half-Birthday (Observed) and surprised me by making me half a cake!
Mocha with mocha frosting, natch (my favorite). As you can see, Uni Watch girl mascot President Caitlin liked it, too. I can confirm that half a cake, much like the cliché about half a loaf, is much, much better than none!
The cake was a surprise, but we had already planned to make gumbo that day (not for my half-birthday — just as a fun project). Some gumbo recipes call for using okra as the thickener, while others call for filé powder. We decided to use both: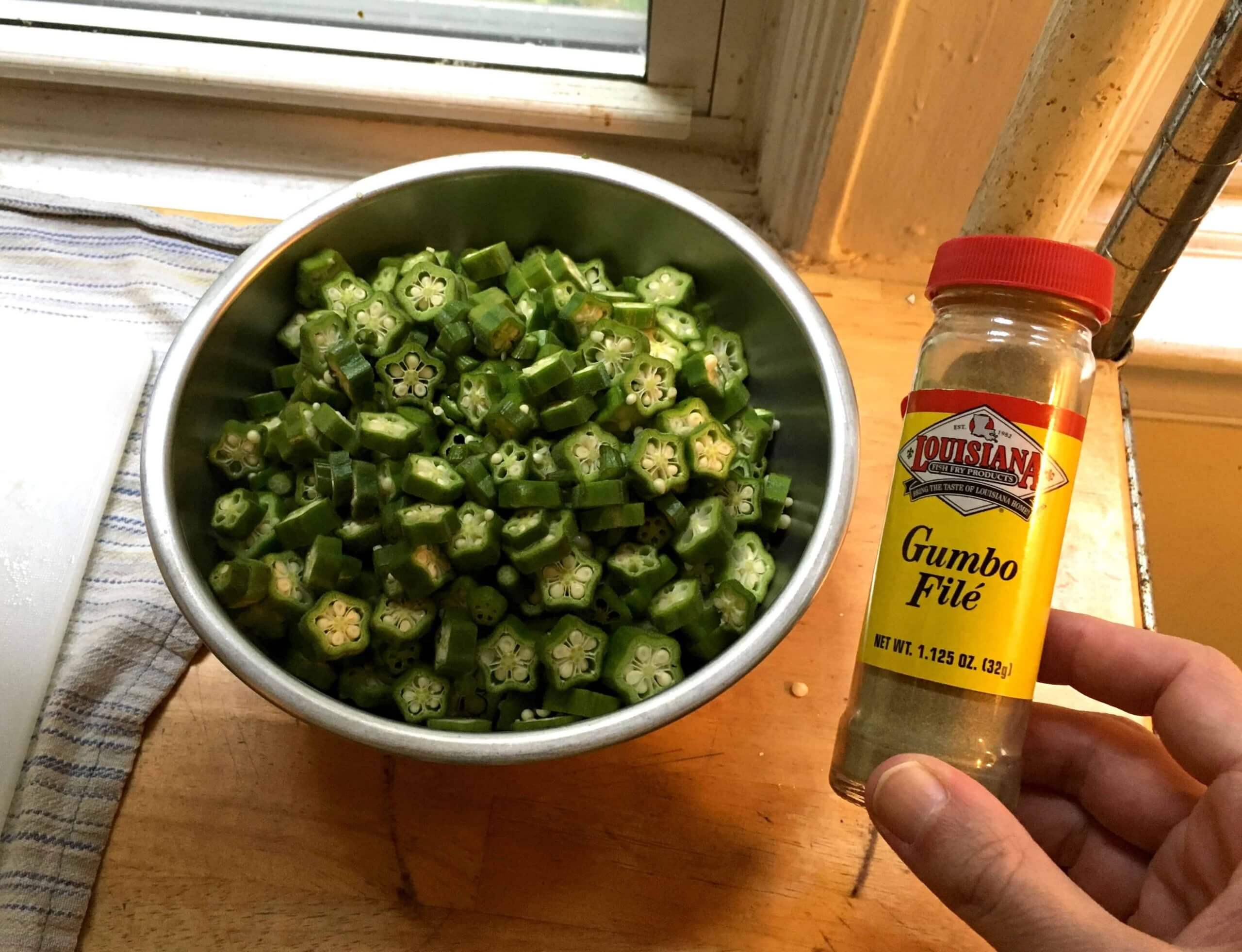 The "holy trinity" for any gumbo is onion, bell pepper (our was green, although some people prefer red), and celery. The two shades of green and the white onion looked so nice together: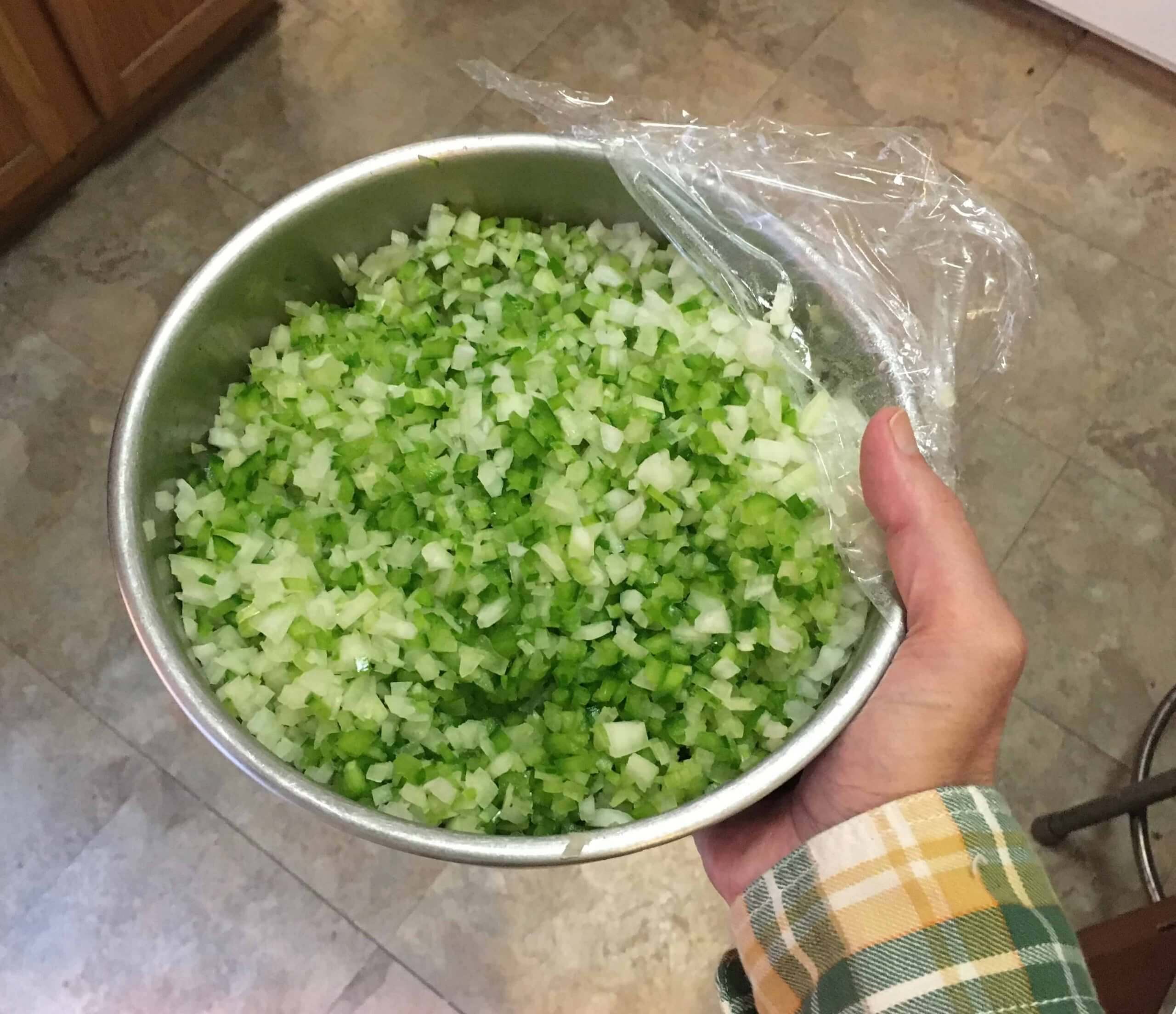 Some gumbo recipes call for duck, but I've found over the years that chicken works fine (and is, of course, a lot less expensive). Once everything's stewed down, you can't really taste the difference between chicken and duck — or at least I can't. So we went with all dark-meat chicken, along with plenty of andouille sausage and plenty of shrimps: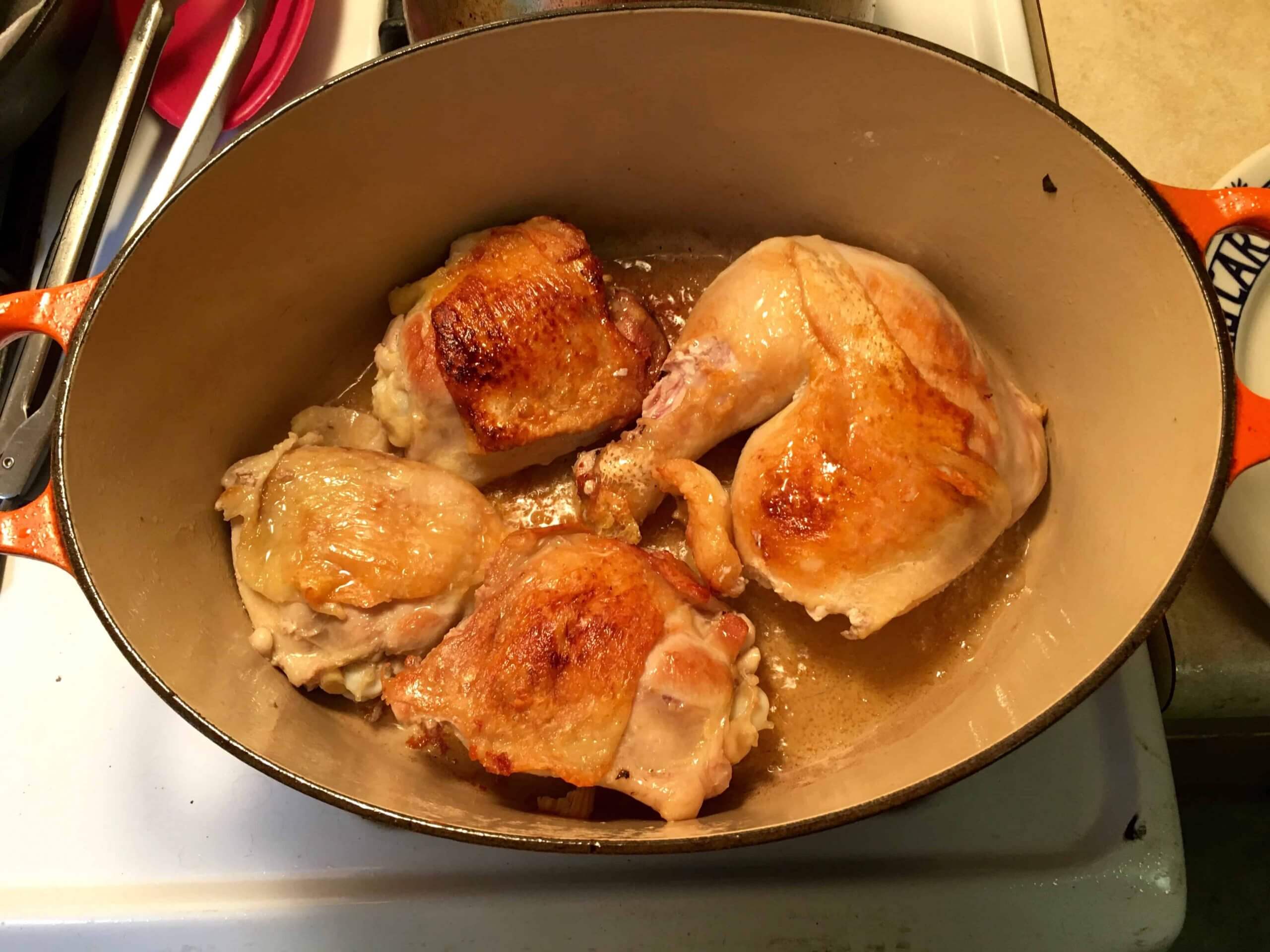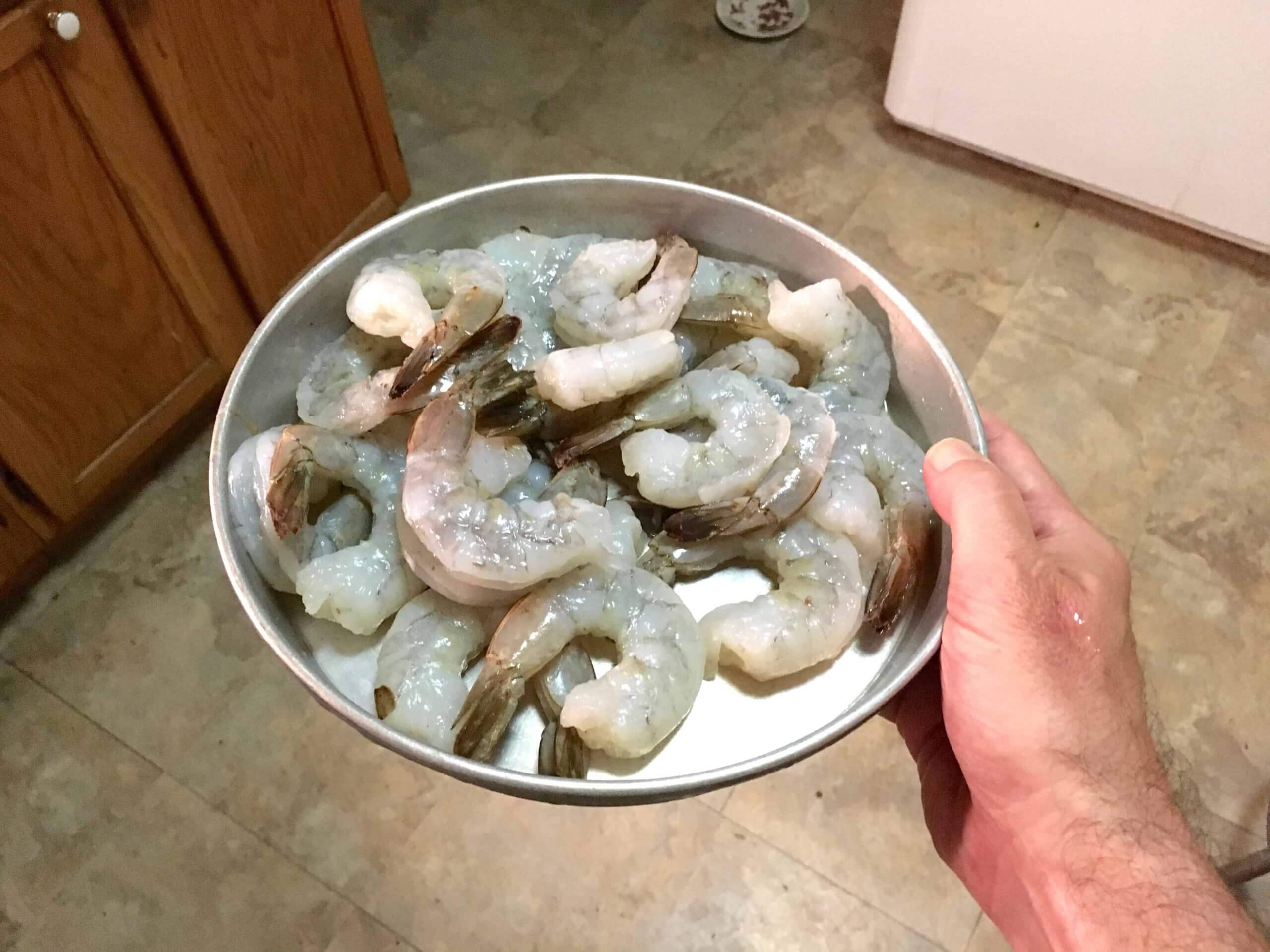 Several hours' worth of roux-making, simmering, and stirring later, it was done. Like any good gumbo, this one came out looking like a big tub of mud: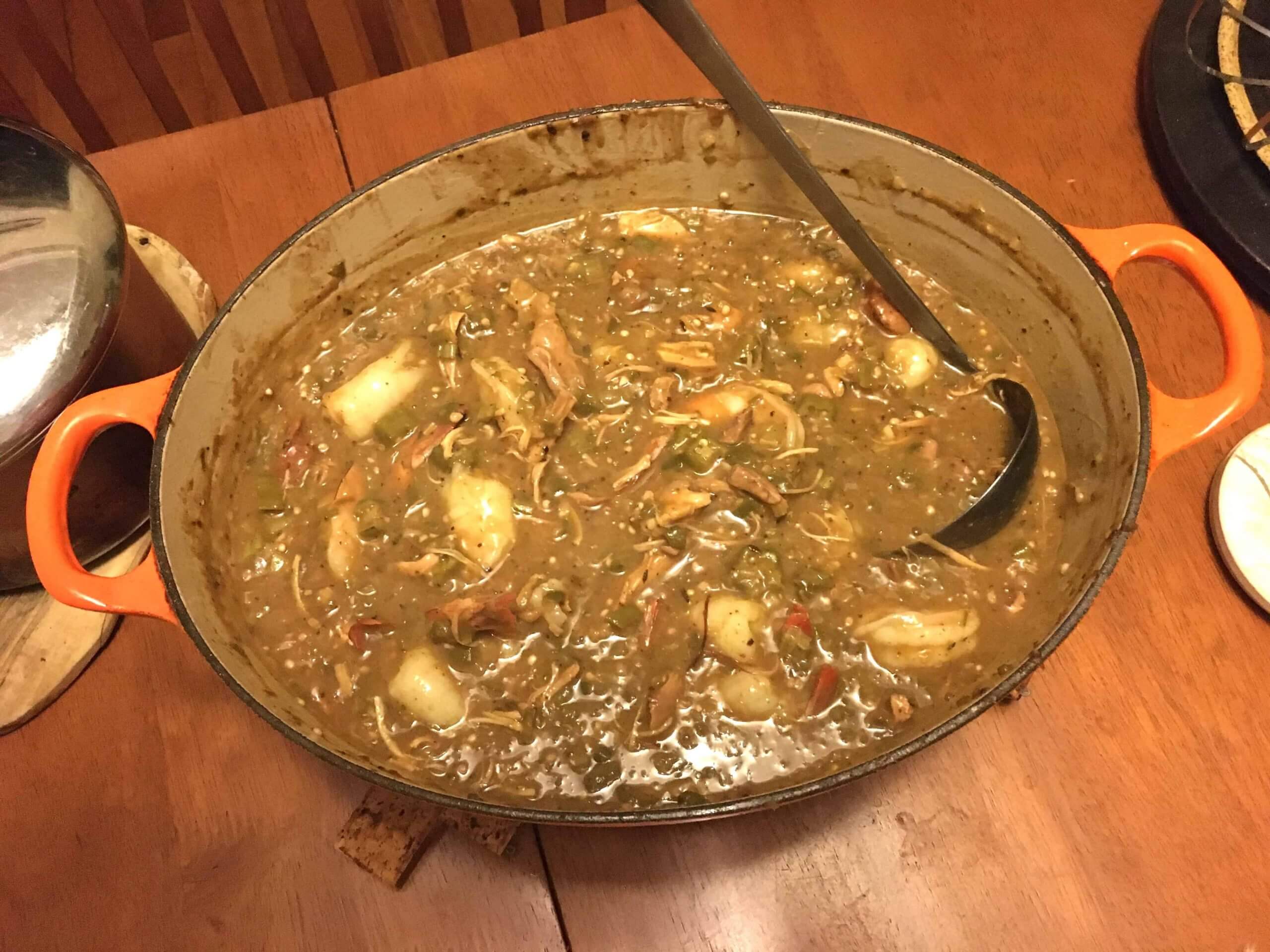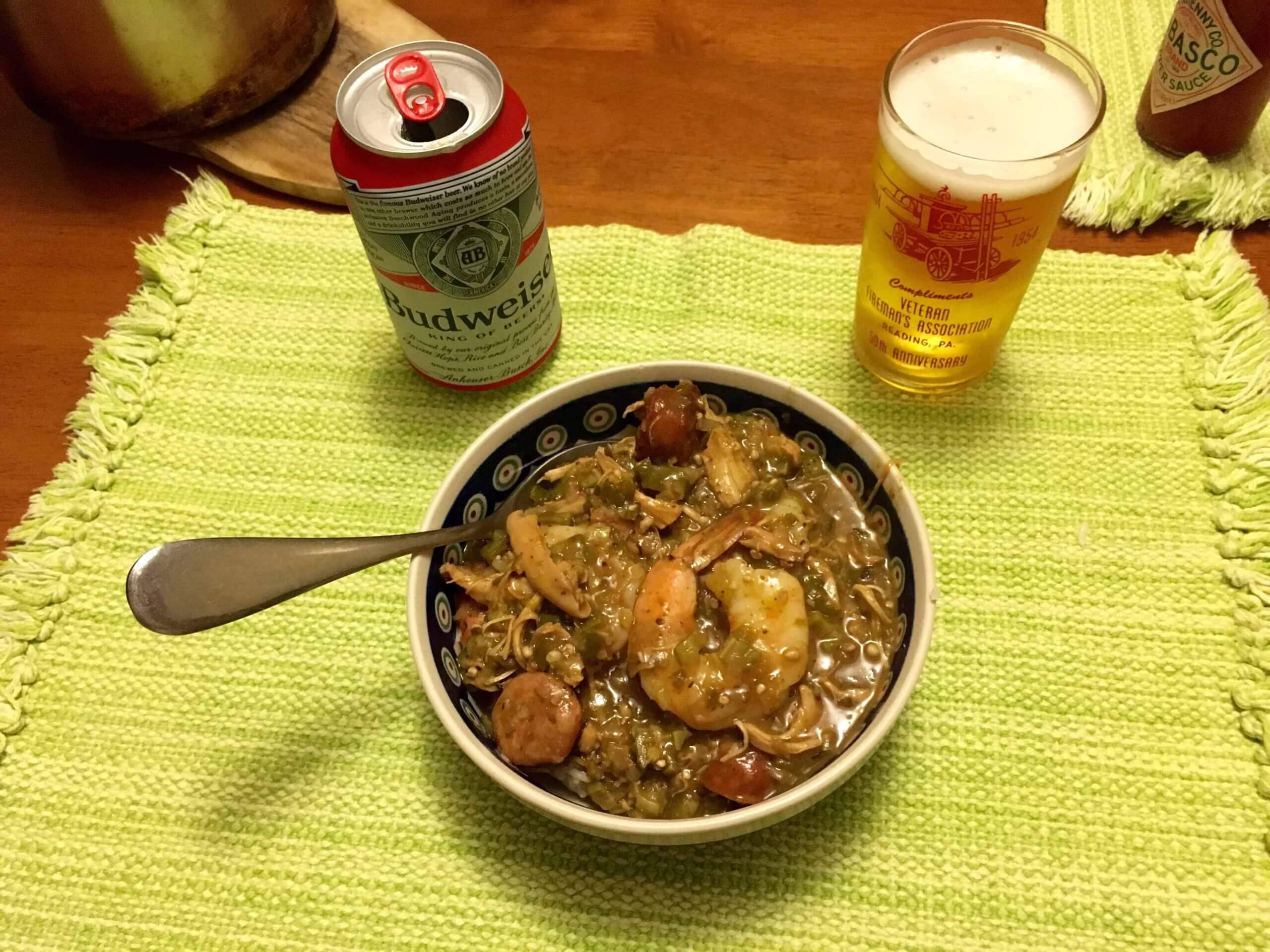 I cannot even begin describe how completely delicious it was — a truly stupendous meal!
• • • • •
• • • • •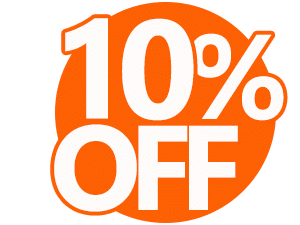 Teespring sale reminder: Today is the last day for Teespring's latest 10%-off sale. So if you move fast, you can save some coin on Uni Watch merch and we'll still make our full profit — a win-win!
This discount applies to everything in the Uni Watch, Uni Rock, and Naming Wrongs online shops. To claim your discount, use the checkout code GOLDEN for any orders you make now through midnight tonight.
My thanks, as always, for your support and consideration.
• • • • •
• • • • •
The Ticker
By Jamie Rathjen

Baseball News: The Royals honored retiring LF Alex Gordon with a No. 4 mowed into the grass and again with a pine tar stain on the players' NOBs, which is a reference to Gordon's signature jersey stain (from Blake Cripps). … Meanwhile, the Paper Stadiums Twitter account, which we've featured here a few times, made a commemorative logo of sorts for Gordon (from James Burke). … The Nationals completed the entire season without wearing their standard white jerseys and also seem to have left out two others (from David Raglin and Marc Masters). … Cubs 2B Jason Kipnis played first base yesterday and wrote "Gold Glove" on his mitt yesterday. The team's usual first baseman, Anthony Rizzo, is the reigning National League Gold Glover at that position (from @CoachCrewser). … Marlins OF Lewis Brinson was apparently wearing a Miami Heat "Vice" jersey under his Marlins jersey yesterday (from @ezbutton11).

Football News: Reader Johnny Woods has come up with a pretty clever Browns logo concept. "I could see them using it on their sleeves, since the stripes no longer wrap around," he says. … We apparently had this in the Ticker a few weeks ago, but once more won't hurt: A USAA commercial shows a 49ers-themed pickup truck that includes the team's infamous "one-day" logo (from Chris Hickey).

College and High School Football News: Virginia WR Terrell Jana went NNOB on Saturday. You'll see a few UVa backups with NNOB in probably every game, but Jana, a starter, is apparently doing it to honor the unknown individuals memorialized at the school's new Memorial to Enslaved Laborers. I also noticed starting C Olusegun Oluwatimi with NNOB. … Virginia Tech RB Jalen Holston is their first player to wear No. 0 (from Andrew Cosentino). … Shiner (Texas) HS has a shoeless kicker (from Brian Walter).

Hockey News: A QMJHL preseason game between the Chicoutimi Saguenéens and the Shawinigan Cataractes was color-vs.-color, with Shawinigan wearing yellow at home, "like what many hockey teams used to wear for their light uniforms if they did not have white," says Wade Heidt. The game also featured entirely blank boards.

Basketball News: Cross-posted from baseball: Miami Marlins OF Lewis Brinson was apparently wearing a Heat "Miami Vice" alternate jersey under his Marlins jersey yesterday (from @ezbutton11). … The SuperSonics' number font had different No. 2s and possibly No. 4s in 1978-79 (from John Przebieglec). … If this shirsey is any indication, the Lakers will have a blue throwback next season.

Soccer News: English clubs Bristol City and Norwich City released third shirts. Bristol City's shirt features the names of over 5,000 season ticket holders who chose not to receive a credit towards ticket purchases to make up for games held without fans. … Scottish Premiership team St. Mirren wore warm-up shirts thanking National Health Service workers. They also wore their red and black second kit at home. … A group of former gamblers finished a 130-mile walk between the stadiums of eight Premier League and Championship clubs in the English midlands that all have gambling ads, but not necessarily on their shirts. … In MLS, the Vancouver Whitecaps are playing their home games in Portland because of travel restrictions, so their logos and ads went up in the stadium and the Portland Timbers were the away team-designate (from Wade Heidt). … In the NWSL, Orlando Pride coach Marc Skinner wore a T-shirt referencing current events for the second week in a row. This one had several references to Ruth Bader Ginsburg and a swoosh for good measure. … OL Reign and the Utah Royals also wore warm-up shirts in memory of Breonna Taylor.

Grab Bag: Virginia field hockey has three new kits, which ends their status as the school's only team sport not to wear blue. … A reader who wishes to remain anonymous tells us that a U.K. clothing company stopped selling one of its shirts in the U.S. and Canada because it's been coopted by a far-right group. … Meanwhile, the Portland, Ore., police explained that a cap officers can wear with a "P" logo represents the police union and not that same far-right group (from @EasyPretzel). … With airline revenues in free-fall, Qantas has ended its sponsorship deal with Rugby Australia.
• • • • •
• • • • •
Click to enlarge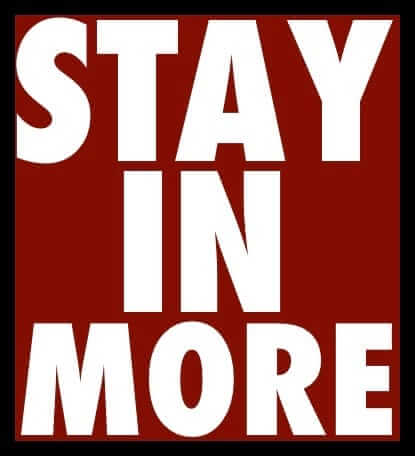 What Paul did last night on Friday night: The Tugboat Captain and I love our UPS guy, Ricky, who always takes good care of us and our packages. Sometimes he drives by during our Pandemic Porch Cocktails™ sessions — he always waves, and we always wave back. I happened to be setting up for Friday's photo just as he came down the block, and I managed to capture the moment when he and the Captain waved at each other. Perfect!
As always, you can see the full set of Pandemic Porch Cocktails™ photos — now nearly 200 of them — here.