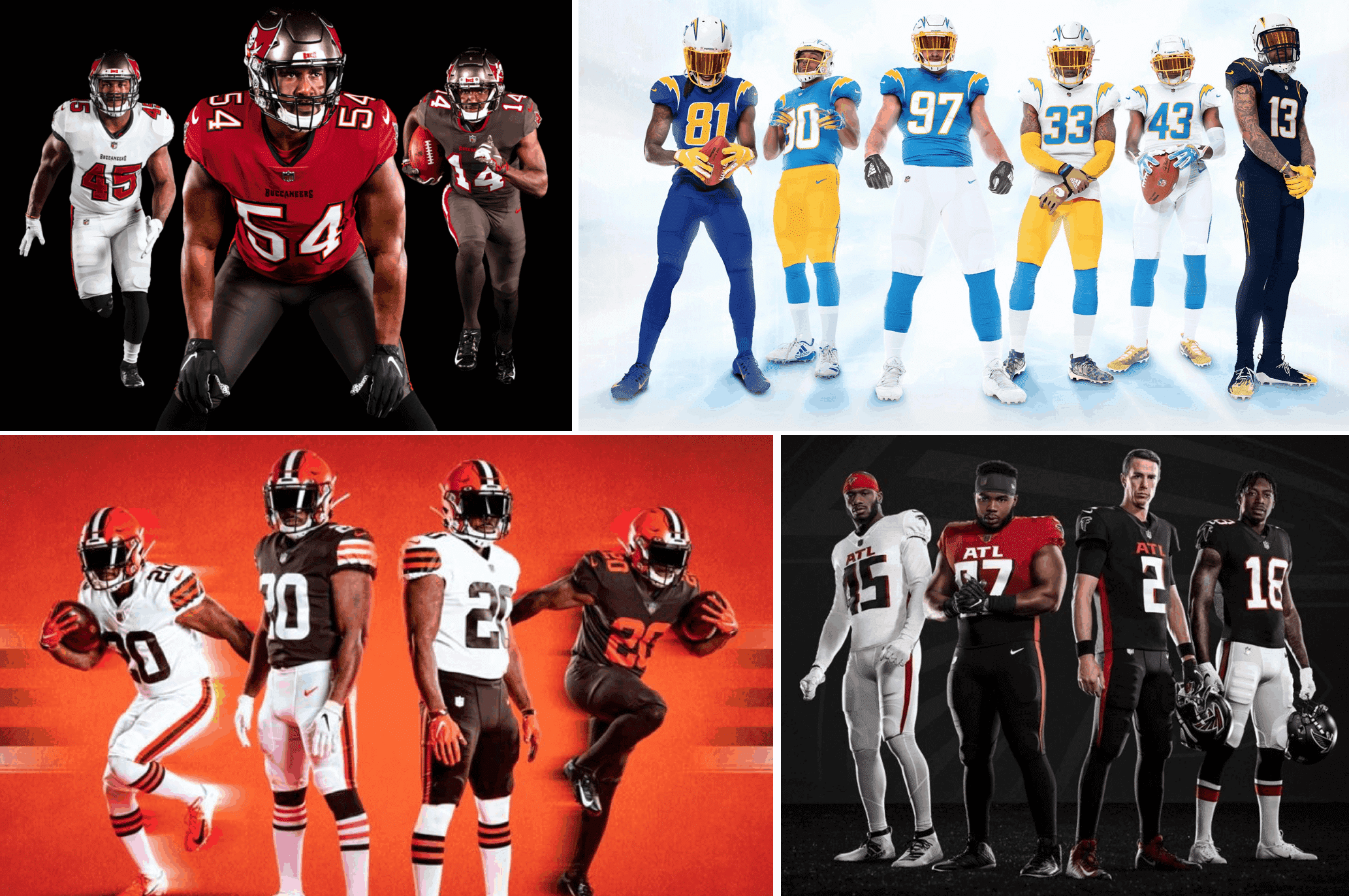 Don't look now, but the 2020 NFL season kicks off tomorrow night. That means it's time for the annual Uni Watch NFL Season Preview, which is jam-packed with all the uni-, logo-, and field-related news for the season. A whopping eight teams have new uniforms this season (including the new looks for the Bucs, Chargers, Browns, and Falcons, as shown above), so this is a particularly uni-momentous season, plus there's the usual mix of patches, memorial decals, and a lot more. You can get the full scoop here.
• • • • •
• • • • •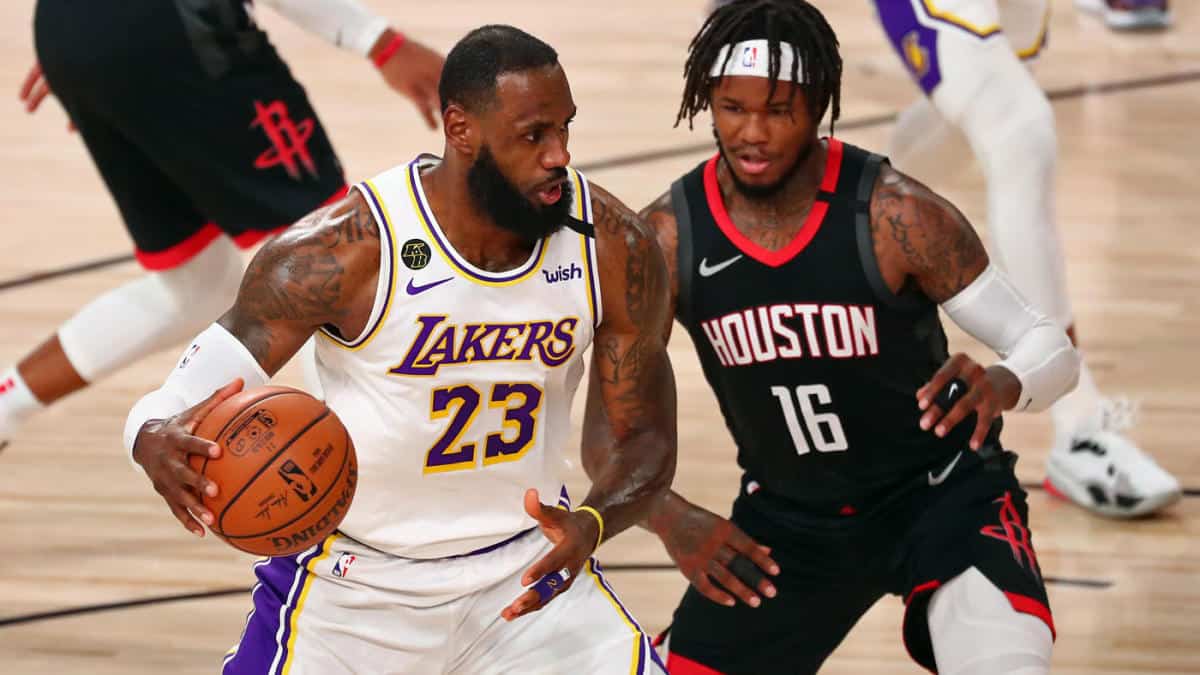 NBA endorsement: The Rockets lost to the Lakers last night, which means Houston now trails L.A., two games to one, in the NBA's Western Conference semifinals. Normally I wouldn't care one way or the other — I have no emotional rooting interest in either team — but this year is different, because the Rockets are currently the only NBA team with ad-free uniforms (their ad patch deal with Rokit phones expired during the period when the NBA was shut down due to the pandemic).
That means the Rockets have, by definition, the best uniforms in the league, which in turn means Uni Watch is rooting hard for them. Amidst all the nonsense that this year has served up, crowning an NBA champ with ad-free uniforms would be a small but tasty morsel of goodness.
Game Four of the Houston/L.A. series is scheduled for tomorrow night. Go Rockets!! #NoUniAds
• • • • •
• • • • •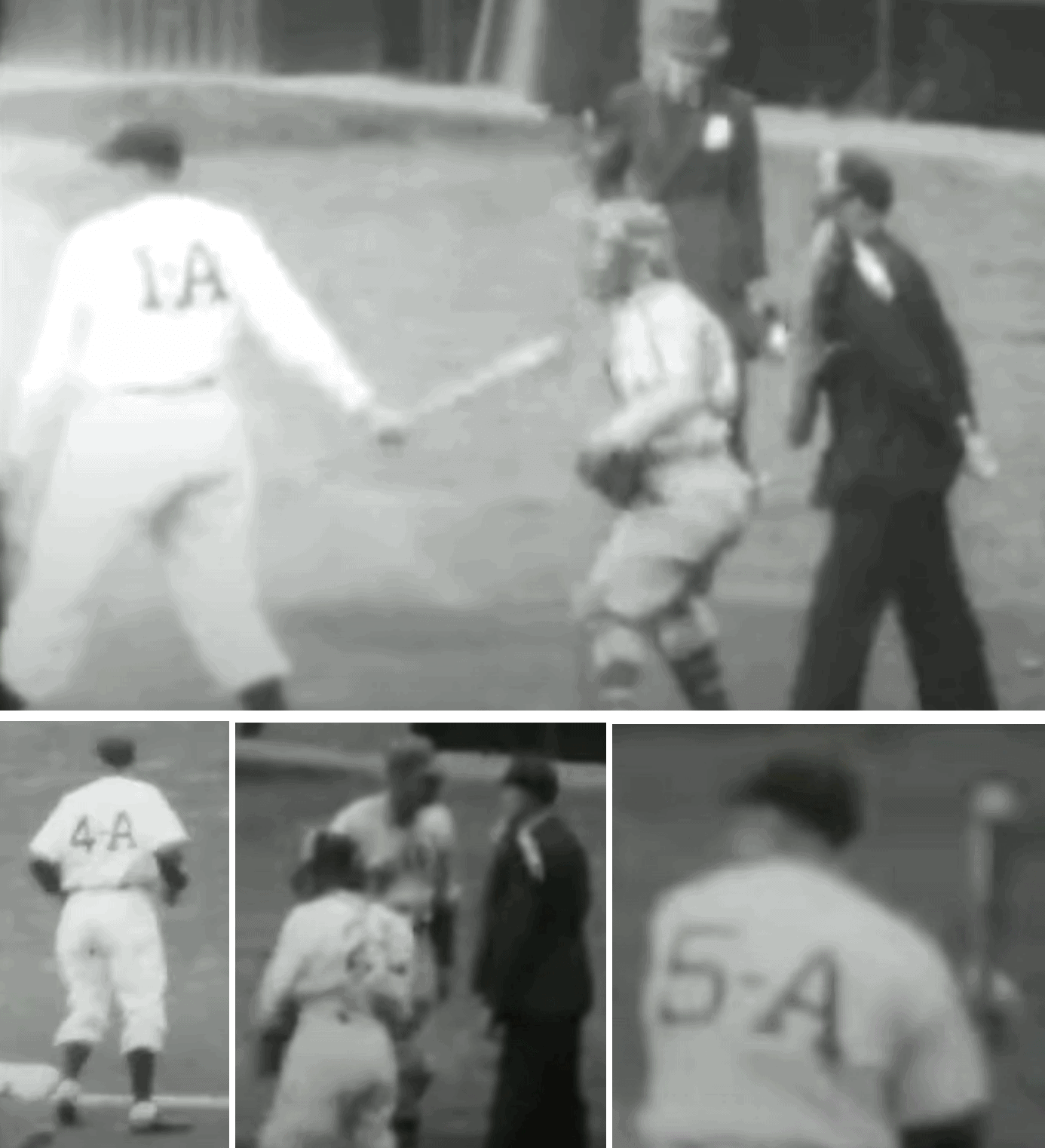 "You sank my battleship!": The screen shots shown above are from this video, which shows 1940 footage of the minor league Louisville Colonels. As you can see, they used an alpha-numeric roster system!
The text on the YouTube video page explains the system like so:
The jersey numbers worn by Colonels [were] part of a scheme to number players based on their position. Numbering was 1 for pitchers, 2 for catchers, 3 for first base, etc., in addition to a [letter] for multiple players at a position, meaning pitchers were numbered 1-A, 1-B, etc. The jerseys were used only in 1940, possibly only by the Colonels.
There must be more to it than that, because the catcher appears to be wearing No. 2-L. I mean, did they have 12 catchers on the team? In any case, interesting stuff!
(My thanks to Andy Rivkin for bringing this one to my attention.)
• • • • •
• • • • •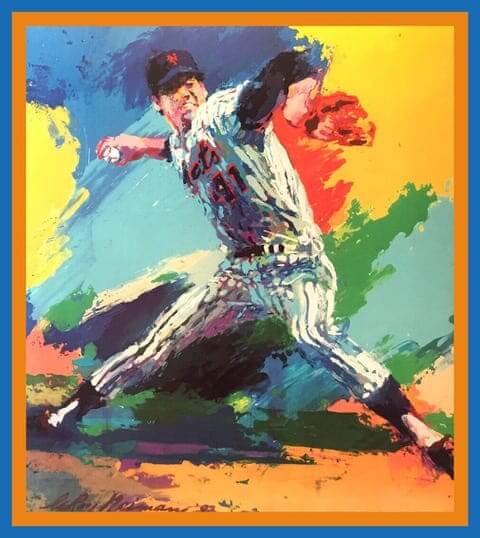 Collector's Corner
By Brinke Guthrie
Follow @brinkeguthrie   
Leading off this week's Collector's Corner with a remembrance for Hall of Famer Tom Seaver, who passed away last week at the age of 75. While living in Cincinnati, I distinctly recall the news when I heard he had been traded from the Mets to the Reds in June of 1977. "We got Seaver?" A true baseball immortal, he is depicted here wearing his classic Mets pinstripes in a framed print by LeRoy Neiman. (Also, this button refers to that Mets/Reds trade but gains a sad double meaning with Seaver's death.)
Now for the rest of this week's picks:
 • We've got a 1964 record here on "Columbia Auravision" featuring Dodgers Hall of Famer Sandy Koufax.
 • Check this out: This 1928 sheet music is for the tune "Babe Ruth! Babe Ruth! We Know What He Can Do!" Great artwork, presumably from the Babe's SlimFast period.
 • This Minnesota Twins 20th-Anniversary Homer Hanky from 2007 commemorates the team's 1987 World Series win.
 • Here we have an auction for a set of four Johnny Unitas Golden Arm cocktail glasses. The Golden Arm was open for business from 1968 until 2004.
• Dallas car dealer Kircher Pontiac-Fiat was the sponsor of this 1978-1979 Dallas Cowboys Stars in Action calendar, with Blaine Nye and Preston Pearson on the cover.
 • Interesting generic Sears football T-shirt here. No team identifiers, but those are clearly Riddell and Spot-Bilt shoes, and the stadium facade is definitely Yankee Stadium. Color-vs.-color game, too!
 • Saints fans will really, uh, "geaux" for this vintage Louisiana Superdome bank.
 • The seller says this 1972 San Francisco Giants mg was presented to VIPs as a holiday gift.
 • Staying in The City, here's a classic Bill Walsh-era 49ers sweater from Cliff Engle (naturally).
 • These 1960s Buffalo Bills stadium cushions seem to be in good shape! White with the old standing buffalo on the front, red on the reverse.
• • • • •
• • • • •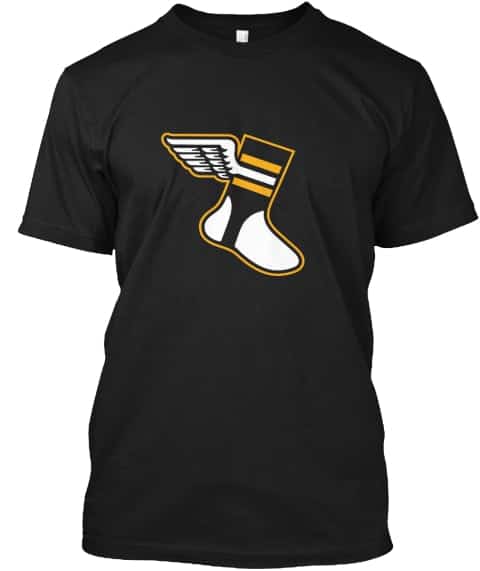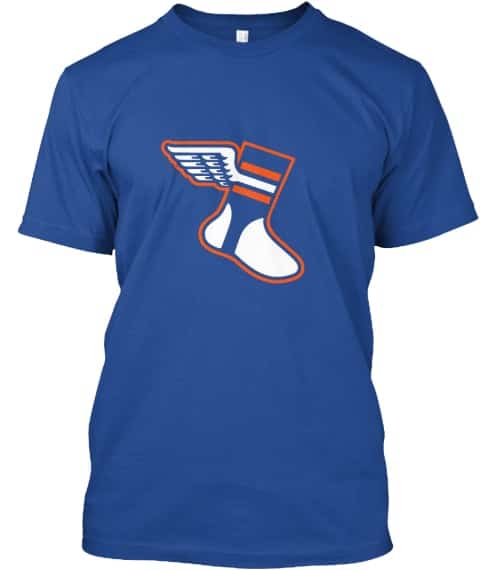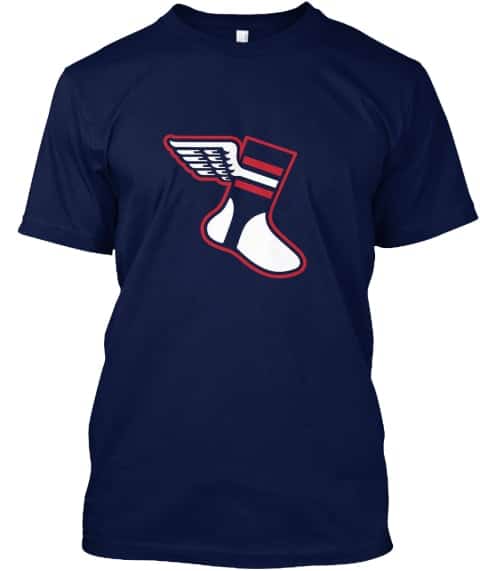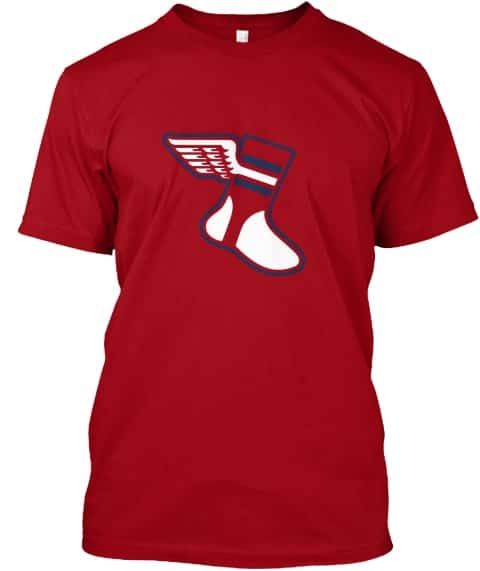 Color Remix reminder: In case you missed it on Tuesday, our first four Uni Watch Color Remix T-shirts have launched. Here's where you can order the black/yellow, royal/orange, navy/red, and red/navy versions.
The corresponding four caps will be available next week, and then we'll roll out shirts and caps for three or four new color combos next month, and another three or four in November, and so on.
All of the shirts will remain available indefinitely in our Teespring shop; the caps will be available on Bryan's website for one-month windows, although we'll probably bring back the most popular ones. Thanks for your interest!
• • • • •
• • • • •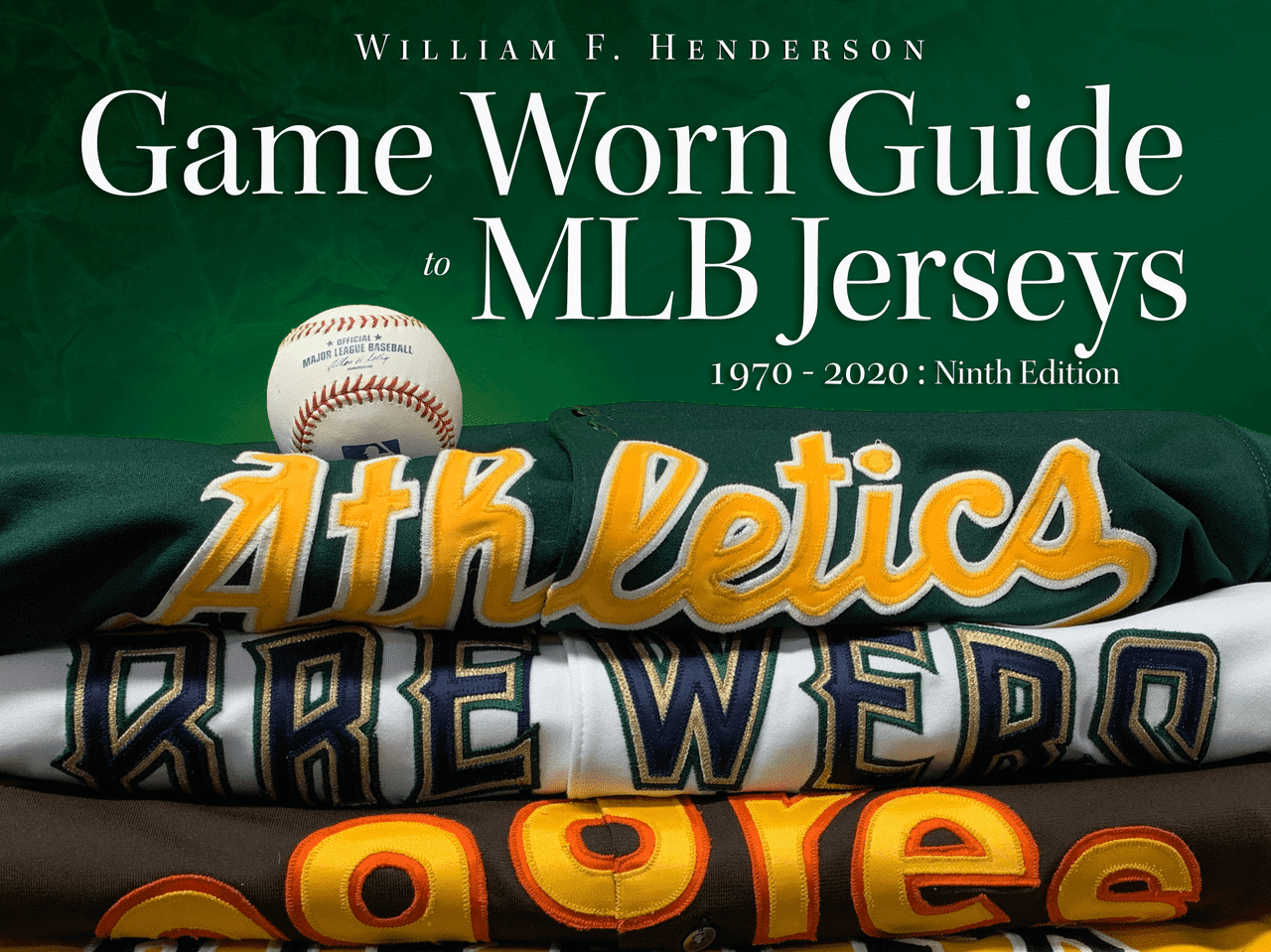 Henderson discount reminder: The new ninth edition of Bill Henderson's Game Worn Guide to MLB Jerseys — an essential resource that I find myself referring to literally almost every day — is out now, and Bill is very generously offering a big discount to Uni Watch readers.
If you use this link anytime from now through this Sunday, Sept. 13, you can get the guide for $24.99, instead of the price of $45.95.
I don't receive any royalty or affiliate fee on any of these sales. My only stake in this is promoting a great uni-related product that I strongly believe in. Take advantage of this great discount while you can!
• • • • •
• • • • •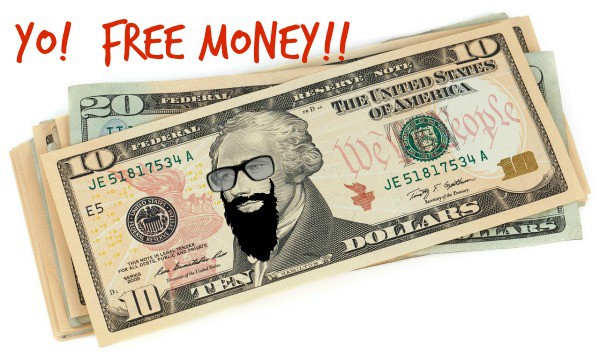 Raffle reminder: In a very generous move, reader James Mellett has donated a whopping $200 that can be spent on Uni Watch merchandise. I'm going to raffle it off to two winners, who'll each get $100 that they can spend on any combination of Uni Watch items.
This is a two-day raffle. No entry restrictions. To enter send an email to the raffle address by 8pm Eastern tonight. I'll announce the winner tomorrow.
• • • • •
• • • • •
The Ticker
By Lloyd Alaban

Baseball News: The Cardinals haven't yet added a memorial patch for Lou Brock, who died on Sunday, but their social media avatar shows a Brock memorial icon that matches the style of the patches the team previously wore for Stan Musial and Red Schoendienst. According to this story, the Brock patches "were being designed and manufactured earlier this week in hopes they'll be affixed to the Cardinals' jerseys by the end of this home stand." The home stand runs through Sunday, although it's hard to imagine that it will take that long to get the patch in place. … The Phillies wore their day game cream alternates in the second game of yesterday's doubleheader, which took place at night (from multiple readers). … Dodgers broadcaster Vin Scully is auctioning off memorabilia from throughout his career. The items can be viewed and bid on here (from Mike Chamernik).

NFL News: The Ravens require the eye in their logo to remain red even in grayscale (from @TruColorNet). … The Seahawks released a photo of LB Bobby Wagner still wearing the old Flywire jersey template (from Eric Farrell).

College/High School Football News: Florida State is adding a "Seminole Scholar" patch to the jerseys of players who achieve a certain level of academic merit (from Kary Klismet). … The Big 12, whose season begins this weekend, has a new anti-racism campaign that includes "a social justice message on the front left of their uniforms, as well as a black Big 12-branded unity sticker on the back of their helmets." … Reader Ben Zoss's mother stitched together a backpack from a Morton High School jersey, where Ben is both a teacher and a football coach. Ben said, "At first, I thought she had just attached part of the jersey to a backpack she already had, but she apparently sewed the backpack and then repurposed many parts of the jersey into parts of the backpack. She even attached the Nike tag from the jersey, which is kind of like a strange version of logo creep. I think the whole result is kind of cool. I have told her about your website and encouraged her to take some pictures as she made the backpack."

Soccer News: In England's Women's Super League, Reading striker Jess Fishlock had her NOB misspelled (from our own Jamie Rathjen). … Also from Jamie: New shirts for Tottenham Hotspur, Chelsea, and Barcelona. … One more from Jamie: Scottish Premiership team St. Johnstone released their second kit for this season. … Fulham has released some renders of its planned stadium upgrades (from Kary Klismet). … The Telegraph ranked every Premier League uniform this season (from Ted Arnold).

Grab Bag: A couple of items from our own Jamie Rathjen: New field hockey kits for Louisville. … Renault is renaming its Formula One team "Alpine," after one of its car brands, starting next season, and changing to a French flag color scheme instead of black and yellow. … New kits for Polish Men's volleyball team Indykpol AZS Olsztyn (from Jeremy Brahm). … The Latvian National Road Race Championships took place over the weekend. A new champion was crowned because the previous year's champion, Toms Skujins, was riding in the Tour de France and could not be present to defend his title. On Saturday, Skujins wore his national champion's jersey but had to swap that out on Sunday for the standard trade team jersey, which he ripped open after a crash yesterday (from Mark Smith). … There are plans to reconfigure Auto Club Speedway from two miles down to a half-mile (from Christopher Hickey). … DC Mayor Muriel Bowser's office uses an official font in press releases (from @OlegKvasha). … The grocery store chain Food Lion changed its uniform policy after an employee resigned because he was told he couldn't wear an American flag-themed mask (from Timmy Donahue). … Also from Timmy: A Toronto police officer faces disciplinary action after he was photographed wearing a Punisher skull patch on his police uniform. The Punisher skull symbol is based on the Marvel Comics character the Punisher, and has been adapted as a symbol for the Blue Lives Matter movement. … Images of Democratic vice presidential nominee Kamala Harris went viral after she wore Chuck Taylors (WaPo link) in a recent campaign appearance.
• • • • •