[Editor's Note: Paul is on his annual August break from site. Deputy editor Phil Hecken is in charge from now through the end of the month, although Paul may be popping up here occasionally.]
By Phil Hecken, with Alan Filipczak
Follow @PhilHecken

Good Monday Morning, Uni Watchers. Hope everyone had a good weekend, and you're all staying safe and smart. Wear a mask! And to all of our Gulf Coast readers, hoping both Marco and Laura spare you their worst.
Now then. As I begin my final full weekday run on UW, I have another really well-researched column from today's guest author Alan Filipczak. Alan actually has a blog he runs called minorleaguegeek.com, which he describes as "a hobby site devoted to minor league baseball that has been in conception and development since about 2012." When I put out the call for reader assistance, Alan reached out to me and offered to pen a story just for the Uni Watch audience. It's a case study of the Minor League team, the Utica Blue Sox. We had actually planned on running a different article last week, but at the last minute it was vetoed. But Alan whipped up today's lede in lieu of the scrapped piece. Here's Alan.
• • • • •
When Sox Were Blue
By Alan Filipczak
Hi everyone. I'm a daily reader and occasional contributor here at Uni Watch. My truly geeky obsession is minor league baseball history, and I'm pleased that I can share this history of the Utica Blue Sox. For my money, the Blue Sox are one of the most unusual stories in in modern minor league history, and a big part of what made them unique was their branding and uniforms. Let's begin at the beginning.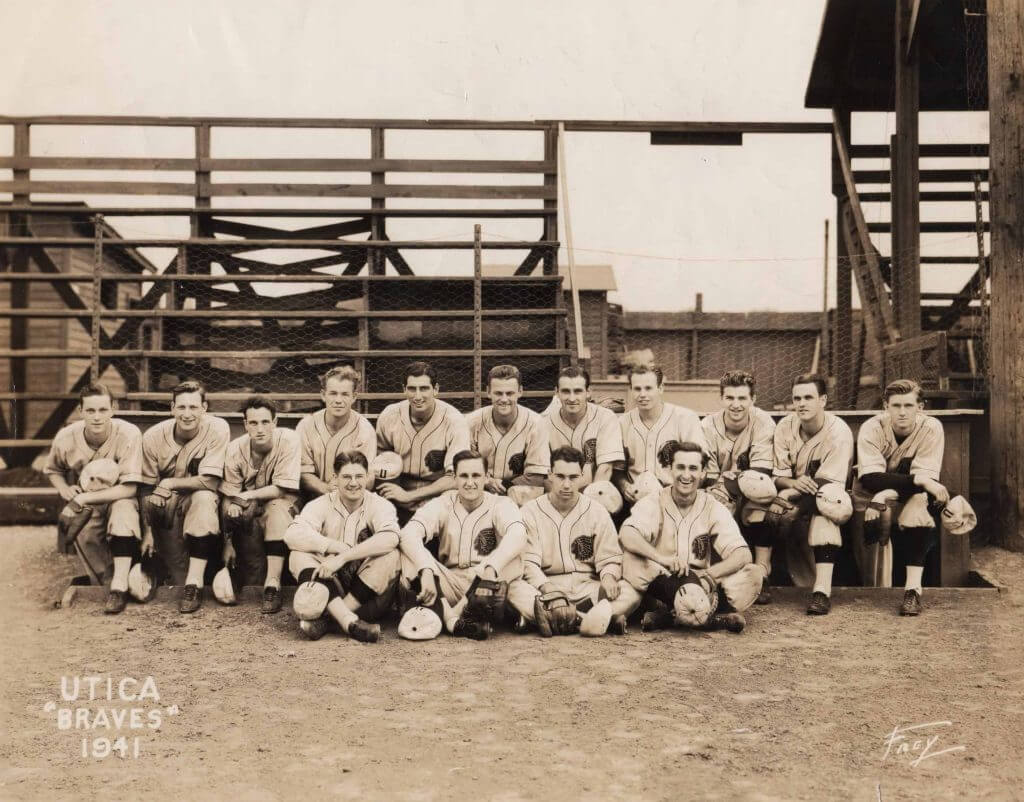 Preceding the Blue Sox were the Utica Braves, a team that began competing in the Canadian-American League in 1939 and took their name from their Boston-based parent club. Boston abandoned Utica after just one season, but the Utica Braves continued to use the erroneous name for a few more years–playing as a Detroit Tigers affiliate in '41 and going indy again in '42. In 1943, when the minors were drastically pared down due to World War II, the Utica franchise was shifted from the Can-Am to the Eastern League. The Philadelphia Phillies signed on with the Utica Braves and sent their young prospects to play for a team that still carried the name of one of Philly's National League rivals. After the season, it was time for a change.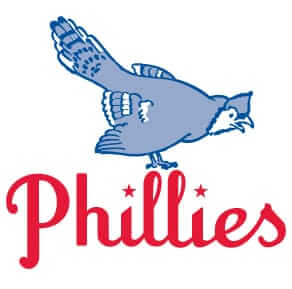 In 1944, Philadelphia bought their Eastern League affiliate and had renamed them in their own image. But they weren't called the Utica Phillies. As I'm sure many Uni Watch readers know, Philadelphia made an honest and protracted effort to completely overhaul their brand in the 1940s, attempting to call themselves the Philadelphia Blue Jays. For more on that, check out Todd Radom's brief history. The minor leagues were a convenient testing ground for the new name, and some of Philly's affiliates in this era were the Schenectady Blue Jays, Salina Blue Jays, and Bradford Blue Wings. For Utica, they chose a name that was sort of a hybrid between a parent club-based name and a unique moniker: the Utica Blue Sox.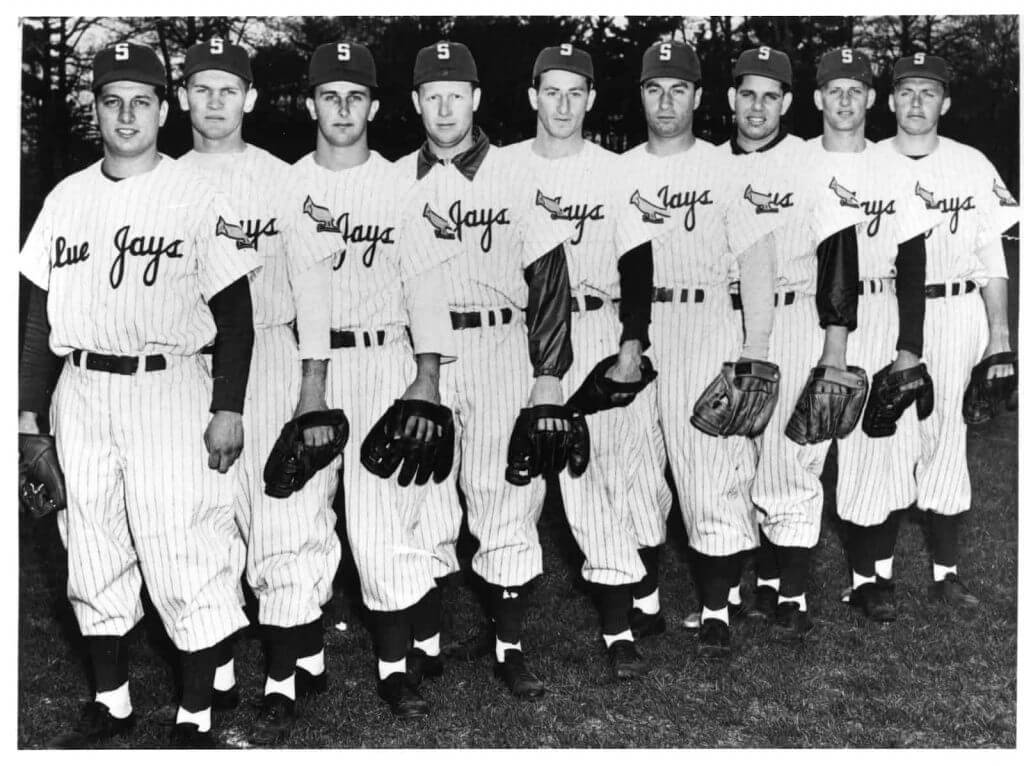 Tommy Lasorda (left) and the 1948 Schenectady Blue Jays
The history of the Blue Sox is rife with weird coincidences, and the Phillies' farm system in the Forties was about as weird and coincidental as it comes. Another one of their farm clubs, the Green Bay Bluejays, were also in the Philadelphia Blue Jays' system in 1946, but Green Bay had already been using that name independently since 1940, when the Phillies were still content to be the Phillies. In 1941, Green Bay briefly changed their name to the Blue Sox, but that appears to be completely unrelated to Utica's name change a few years later. The Wilmington Blue Rocks were also in the developmental chain alongside the various Blue Jays, Bluejays, Blue Wings, and Blue Sox, but the Blue Rocks (literally named after blue granite) began using that name as an Athletics' affiliate a few years earlier. Lastly, Philadelphia's Triple-A team in the late Forties was the Toronto Maple Leafs, another blue-hued club that played in a city that would later host a different team called the Blue Jays who would eventually defeat the Phillies in the World Series. Now that our minds are melted, let's get back to the Blue Sox.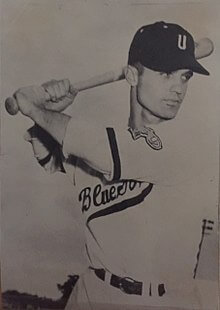 Nick Piccuito played for the Blue Sox from 1944-46
From 1944-1950, the Utica Blue Sox were a Phillies/Blue Jays affiliate in the Eastern League. Their home ballpark was Utica's McConnell Field, which was named after Amby McConnell, a Utica resident and former big leaguer whose playing career was split between the Red Sox and the White Sox. The Blue Sox were a successful club in their own right, winning the '47 Eastern League championship, but they are best remembered for their alumni. Blue Sox rosters in the later Forties were stacked with many of the famed "Whiz Kids" Phillies, including Hall of Famer Richie Ashburn, Granny Hamner, Stan Lopata, and Willie Jones. Minor league journeyman Lee Riley was with the Blue Sox in the summer of '44. That was about nine months before his son, noted basketball-man Pat, was born.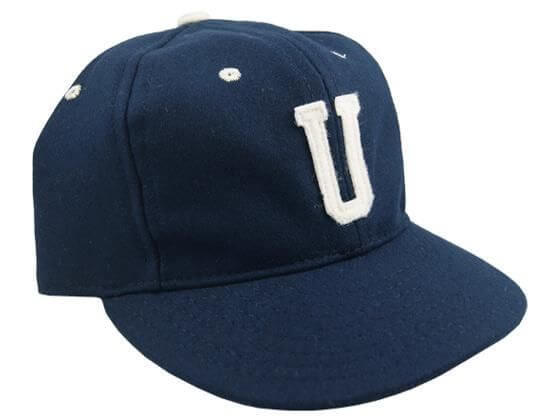 Like just about every baseball team in that time period, the original Blue Sox had some cool uniforms. According to one report, they had dark blue socks, so despite having only black-and-white photos from this time period, we can probably extrapolate that the dark tones were dark blues and formed the basis for the team color scheme. When Ebbets Field Flannels replicated the 1945 Utica cap, it was indeed dark blue with a simple white block letter U. When I think about the uniforms of these Blue Sox, what stands out the most are the avian sleeve patches. At one point, the patch was the same bent-over blue jay logo that Philadelphia was using, but by the time Richie Ashburn was in Utica, the patch that most players wore was a small dark-colored bird perched on a branch–somewhat similar to the St. Louis Cardinals' single-bird-on-bat logo.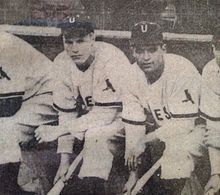 Some Blue Sox unis had the team name rendered in cursive script across the chest, while others (both home and road) used a basic, sans-serif font. In one mid-decade team photo, players wore spoon-placket tops with a large collegiate-lettering U on the left breast. In another team shot from 1950, by which point the Philadelphia Blue Jays experiment was formally abandoned, the Blue Sox players wore parent club-supplied Phillies unis and their caps appear to have been two-toned (red bills?) with a larger-sized U for a cap logo. This would be the last season of this version of the Blue Sox.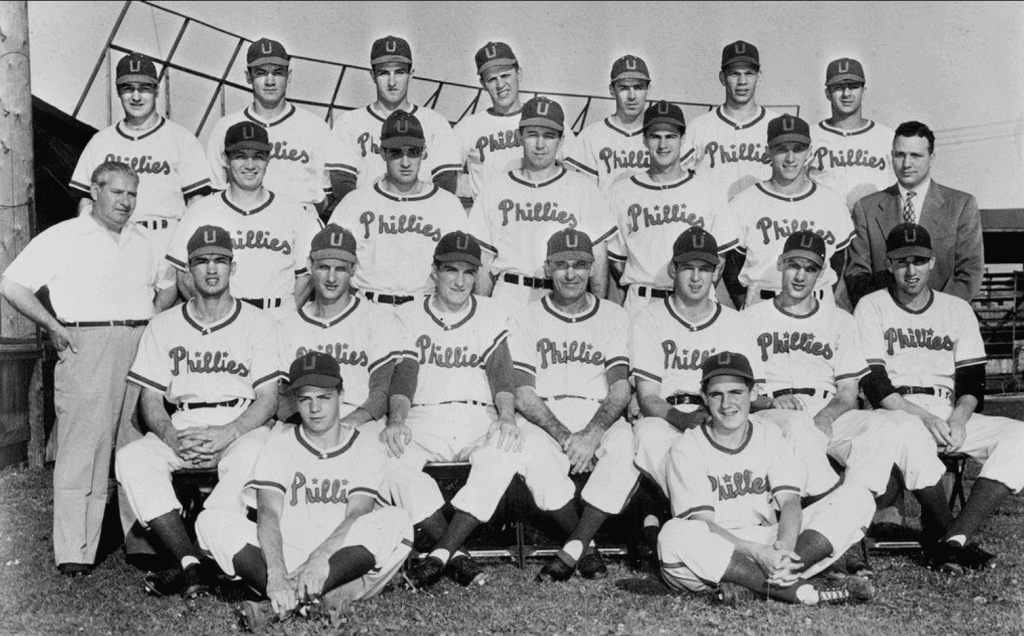 From 1951 to 1976, a wholly uneventful time period in which nothing really changed in American society, Utica was devoid of minor league baseball. Fortunes turned in 1977, when the expansion Toronto Blue Jays, in need of teams in which to stash their young players, set up shop in Utica. This new team, dubbed the Utica Blue Jays, played in the Single-A New York-Penn League. The U-Jays were only around for four seasons, and their list of notable alums pretty much starts and stops at a 17-year-old Jesse Barfield. While they made a token effort to add some flair to the Toronto logo, removing the maple leaf and shaping the head-feathers into an era-appropriate slicked-back bird mullet, their uniforms were parent club-supplied duds that were carbon copies of Toronto's, including the maple leaf in the cap logo.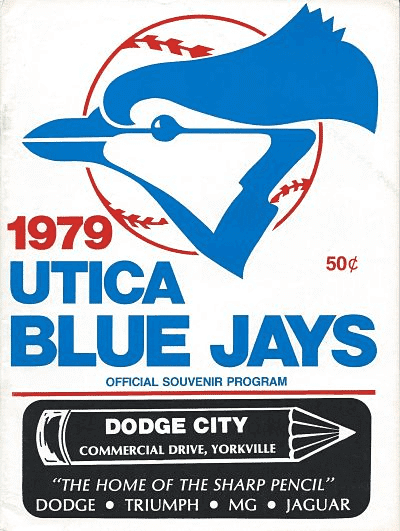 History repeats itself. While one team called the Blue Jays paved the way for the Utica Blue Sox in the Forties, another team called the Blue Jays paved the way for the Utica Blue Sox in the Eighties. When Toronto left town, the Utica franchise was held in place by minor league front office legend Miles Wolff. Rather than scramble for an MLB parent club, Wolff (the man who basically invented what we now call "indy leagues") stocked the team with unsigned players from a Texas-based talent company. The old Blue Sox moniker was dusted off and the cash-strapped club kept on playing as the only non-affiliated team in the rapidly-growing NY-Penn League. Despite remaining competitive in the early Eighties, even winning the 1983 league title, only one player in these years would go on crack the bigs: Tom Romano, who appeared in seven games with the '87 Expos.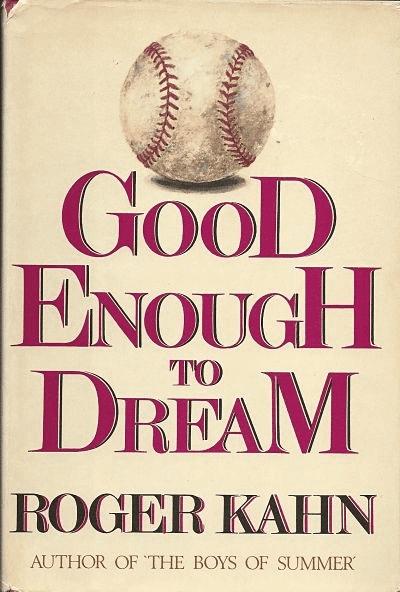 Things were more interesting behind the scenes. Wolff had assembled a group of team stakeholders that included Bill Murray, who reportedly sang the national anthem at the '81 home opener. In '83, Wolff handed the team president reins over to venerable sportswriter and author Roger Kahn, who ran the team and wrote a book (Good Enough to Dream) about the experience. Kahn and his Blue Sox were profiled in the August 29, 1983 issue of People magazine, which I was able to grab on eBay a few years back. Although I have never seen any pictures of what these Blue Sox definitively wore in the Wolff years, 1983 is well-covered. The photos in People are black-and-white, but a recent article about one of the '83 players confirms the color scheme. Utica's polyester double-knits appeared in both navy and powder blue. Bafflingly, the team caps seem to have been exact copies of what the Chicago White Sox wore in the late-60s and early-70s, almost as if the team found a bunch of old unsold Sox caps at a sporting goods store.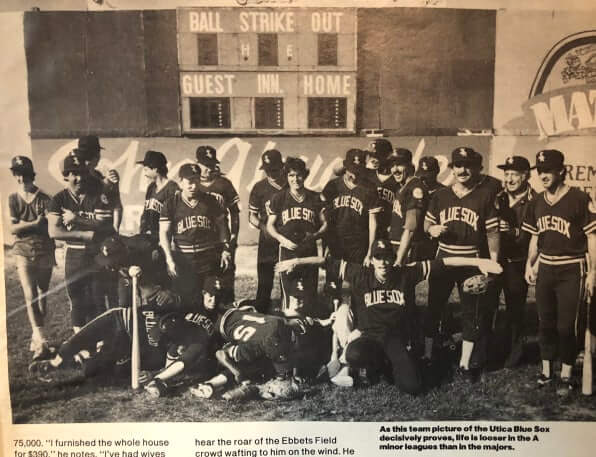 1985 was the last season of Utica's non-affiliated streak, and they managed to pull off what amounts to a near-miracle for an indy club at the bottom levels of the minor leagues: they hosted a future Hall of Famer. Larry Walker was a young anonymous slugger from British Columbia who was signed by the Expos on a whim. The 'Spos sent him to Utica, which may as well have been the Island of Misfit Toys–a place where baseball careers typically ended. Instead, he managed to impress his bosses just enough to stick around pro ball, and the rest is history.
On the uni side, a set of '85 baseball cards indicate that Walker and his cohort were still wearing a similar style of jerseys as the '83 club, but the cap logo had been swapped out to an Old English U. I found an auction listing with a white button-down uniform top featuring a similar U that purports to be from this time period, though I have yet to find other confirming evidence.
In 1986, the Philadelphia Phillies picked up the new Blue Sox as an affiliate. Although they kept the nickname intact, somewhat rare given the time period, the uniforms were swapped out. Much like in 1950, the Blue Sox wore button-down Philly-issued suits. This time around, the uniforms were maroon-accented, pinstriped numbers with a large varsity-letter U on the chest. In some cases, the tops didn't even have the chest emblem switched and displayed the aspirational maroon P on players who would never reach the grandeur of Veteran's Stadium. The only remaining blue element of the uniform was a dark blue cap with a simple white U. The second coming of the Phillies lasted a quick two seasons, and the biggest-name Blue Soxers were Andy Ashby and Jason Grimsley.
Let's talk about Utica logos from the Eighties. On the back cover of my Encyclopedia of Minor League Baseball (2nd Edition), there is a Blue Sox pennant littered in with several other pieces of minor league memorabilia–most of which have some relation to the tome's co-editor, one Miles Wolff. As such, I suspect that the logo on the pennant — a crudely-rendered blue sock with Hermes-style wings — is from the early Eighties, when Wolff ran the team. By mid-decade, however, Utica was using a logo with the city's name spelled out in white within the space of a new blue sock which was superimposed on a baseball. This logo was used at least as early as the Phillies era, and was altered shortly thereafter–paired with lettering that was similar their new parent club in 1988, the Chicago White Sox.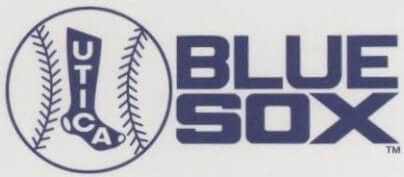 Everyone is happy when Sox match up, and Chicago stayed with Utica through 1992. Chicago's navy/red color scheme was adopted by Utica, and their uniforms were heavily influenced by the ChiSox. For their first cap logo of the White Sox era, the Blue Sox made a bold attempt to extend the lines of Chicago's curlicue C to make it into a cursive letter U. The famous Morganna the Kissing Bandit became a part-owner of the Blue Sox around this time, and she sports the unwieldy U on an iconic misspelled baseball card from 1990.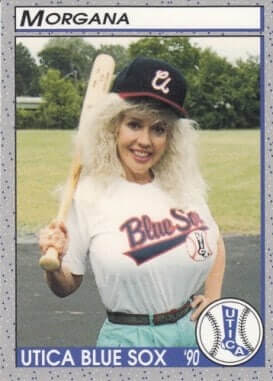 When the White Sox underwent a brand redesign in '91, the Blue Sox quite literally followed suit. Young stars like Ray Durham and Mike Cameron got to wear uniforms that were essentially the same as those they would wear once they reached the American League. When the logos already say "Sox," there's no need to alter them. Heck, the '83 Blue Sox were wearing similar caps, and they had no relation to the ChiSox whatsoever.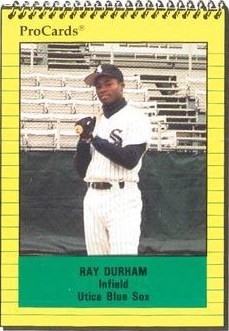 We all like to change our Sox from time to time, and Utica was no exception. After the '92 season, the Blue Sox swapped out the White Sox in favor of the Red Sox. The Blue Sox were once again able to make use of sock-based convenience for their cap logo. Boston's red pair o' socks was recolored light blue and surrounded by a large, thin-gauge red block letter U. The entire works was plopped onto navy caps and paired with jerseys featuring the team name rendered in Boston's "Tuscan" font.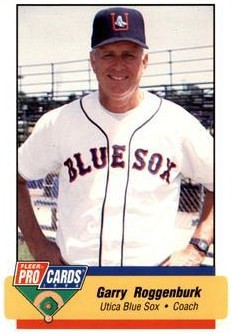 After three unremarkable years with the BoSox, the Blue Sox landed the Florida Marlins, who still had that fresh-fish scent. There are some sources that say that Utica used a different team nickname in '96, their first year with Florida. I've seen suggestions that they were called the Utica Marlins, the Utica Blue Marlins, and even the Utica Teal Sox. If you want to hear the whole story, click here, but suffice it to say that hard evidence shows that the team ended up being called the Utica Blue Sox that year–even if some people were trying to push for a name change. Speaking of "teal sox," Boston apparently allowed (or were oblivious to) a re-coloration of their famous logo and its continued use by a non-Red Sox farm club.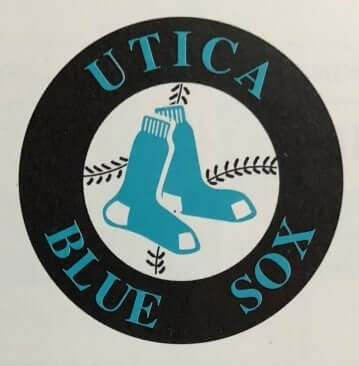 The Marlins era brought yet another new U to the (now black) cap, this time with flaring at the top and the teal-ish socks tucked in. Utica's uniforms were also very fishy, with both home and road unis borrowing the unforgettable Florida font. The affiliation with the Marlins lasted six solid years and the Blue Sox boasted the likes of Adrián González, Josh Willingham, and baby-faced future Hall of Famer Miguel Cabrera. To connect the full Blue Sox history to present day, consider that Cabrera, who is still taking hacks for the 2020 Detroit Tigers, once played for a team that was named after another team that took their name from an alternate name for a major league club.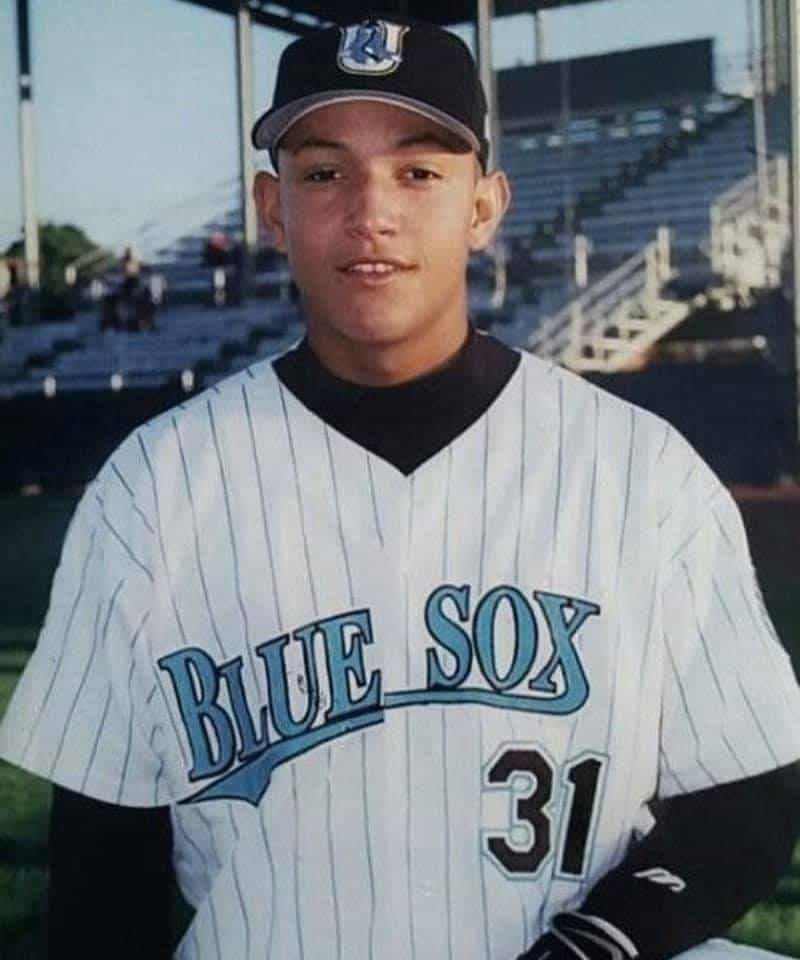 Miguel Cabrera, 2000
As it happened, the Blue Sox were pulled up for the last time in 2001, when the franchise was purchased by the Ripken family and moved to Maryland, where they exist today as the Aberdeen IronBirds. Or was it the end of the Blue Sox? In 2016, the Utica franchise in the summer wood-bat Perfect Game Collegiate Baseball League began using the old Blue Sox identity, even designing a logo that resembles the Morganna-era U if it were partly composed of a blue sock. Does this version of the Blue Sox count toward the overall history of the team identity? I mean, the PGCBL is like the third or fourth most prominent summer collegiate wood-bat baseball league in the Northeastern United States, so that's something, right?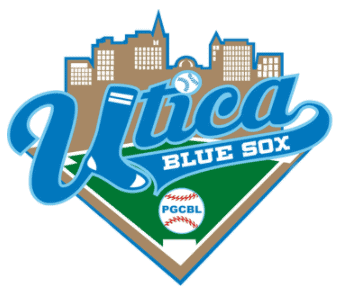 Either way, it would darn tough to ever fully unravel the legendary legacy of the Utica Blue Sox, one of the great weird minor league baseball teams of all time.
__________
Afterword
If you are interested in reading more about the Utica Blue Sox, check out the page I made for them on my website. I don't really promote the site, and it always feels like a construction zone, but feel free to tiptoe around the piles of building materials and don't hesitate to reach out with any questions or comments. Many thanks to Phil and the Uni Watch crew and all of you for reading!
• • • • •
Thank YOU Alan, for that thoroughly researched history of the team. I don't get to a lot of MiLB games, but the Utica club was, at one time, on my list (I went to college about 10 miles south of Utica); unfortunately, I never did make it there. But now I wish I had.
Readers, what say you?
• • • • •
• • • • •
More on Facemasks…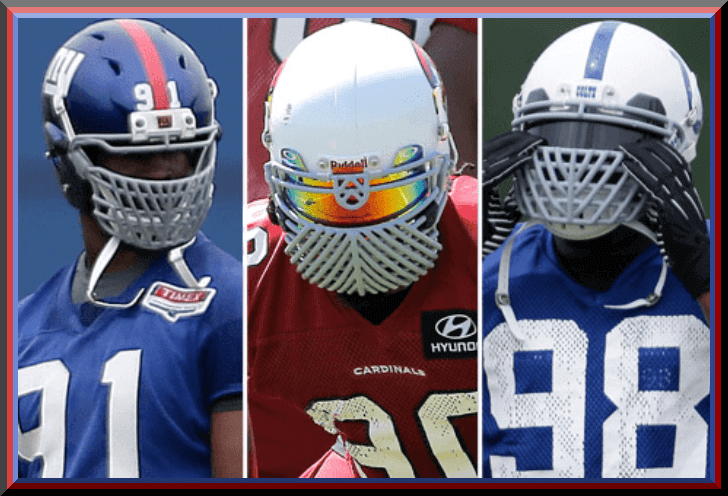 In case you missed it last week, reader Skott Schoonover did a tremendous guest piece on NFL facemasks.
A couple days ago, reader Christopher Noice shot me an e-mail regarding that piece. It read as follows:
Hi Phil,

I'm always a little surprised when I don't see Ray Brown of the Falcons mentioned in facemask discussions. Maybe you've covered it, but I've never seen an explanation of his unique welding together of what looks like three different masks, and even a second odd one (middle photo).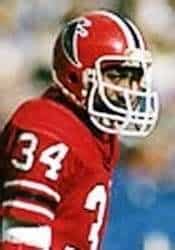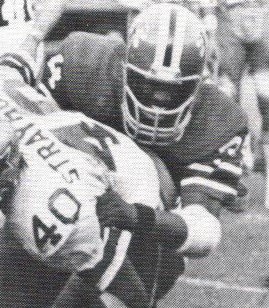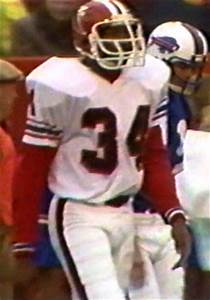 Keep up the good work!

–Christopher Noice
Thanks Christopher! And thanks for sharing the Ray Brown photos. If you guys didn't get a chance to read Skott's article on facemasks, I urge you to do so.
• • • • •
• • • • •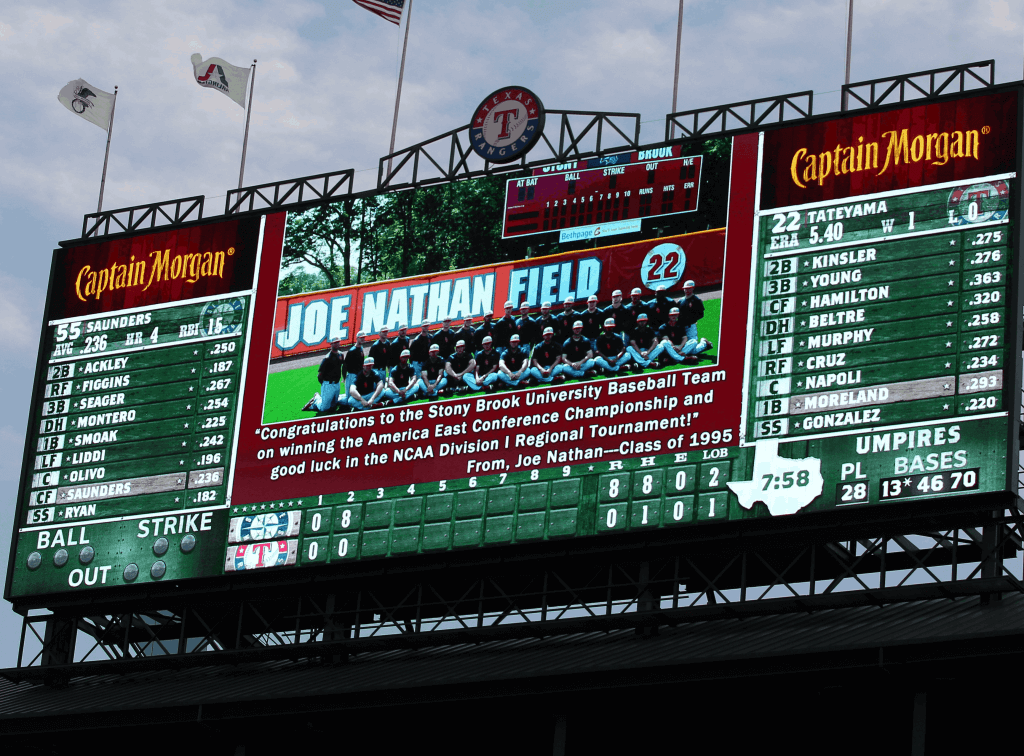 Guess The Game…
from the scoreboard
Today's scoreboard comes from Bill Moss.
The premise of the game (GTGFTS) is simple: I'll post a scoreboard and you guys simply identify the game depicted. In the past, I don't know if I've ever completely stumped you (some are easier than others).
Here's the Scoreboard. In the comments below, try to identify the game (date & location, as well as final score). If anything noteworthy occurred during the game, please add that in (and if you were AT the game, well bonus points for you!):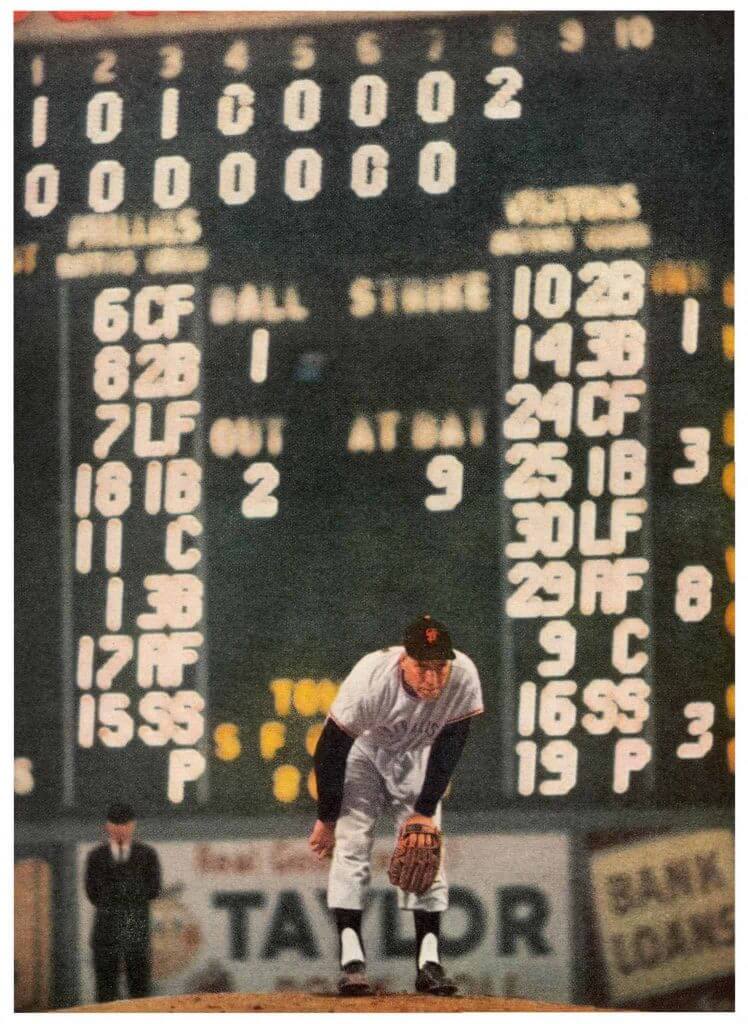 Please continue sending these in! You're welcome to send me any scoreboard photos (with answers please), and I'll keep running them.
• • • • •
• • • • •
And now a few words from Paul
Hi there. Look at the faux pas I committed here — one of my eyeglass lenses is in front of my mask and the other one is behind my mask. Embarrassing!
Aside from that, though, I'd say I look pretty sharp in my Uni Watch Tequila Sunrise Mask. This design launched a week ago, and in that time we've already sold more than 360 of the 500 masks we made (raising more than $1900 so far for the National Alliance to End Homelessness).
Like all of the masks we've offered in recent months, these were produced for us at no cost by the generous folks at ProLook sports. They've now made 800 masks for us, and I can't in good conscience ask them to keep doing that for free, so this will probably be the last mask offering we do for a while. They're available here while supplies last.
Meanwhile: I'll be announcing a really fun new project tomorrow, and the annual Uni Watch College Football Season Preview will run on Wednesday. Stay tuned!
• • • • •
• • • • •
The Ticker
By Jamie Rathjen

Baseball News: The Cardinals and Royals are planning to wear Negro League throwbacks Sept. 22 (thanks, Phil). … On Saturday, Rangers P Jesse Chavez wore a batting practice/spring training jersey (from multiple readers). … On Friday, Twins LF Eddie Rosario had his batting helmet logo turn sideways (also from multiple readers). … Brewers manager Craig Counsell's 50th birthday, which was on Friday, had its own logo (from R. Scott Rogers). … The Dodgers lined up wearing Kobe Bryant jerseys before yesterday's game on what would have been his birthday (from Jabox Fox). … Phillies RF Bryce Harper also wore a Kobe jersey under his own and also wore cleats based on one of Kobe's shoe designs (from Phil and @tlschwerz). … In a new music video for a demo of Tom Petty's song "Wildflowers," he's wearing a cap with the first Marlins logo (from Sam Dolson). … A signed rookie card for Angels CF Mike Trout is now the most expensive sports trading card (from Mike Chamernik). … A high school near Denver manages to poach three logos at once, at least for baseball (from Jamie Rohrig).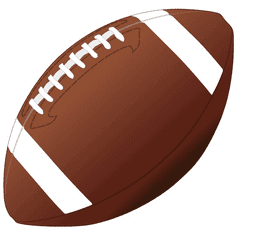 Football News: A lawsuit over the use of the Steelers' Terrible Towel trademarks calls them "the Terrible Marks" (from Jerry Wolper). … The Raiders have a Las Vegas inaugural season patch (from multiple readers). … Eagles C Jason Kelce had a Flyers jersey under his practice jersey on Friday (from Moe Khan). … Yesterday, Kelce then wore Kobe Bryant's high school jersey (from Timmy Donahue). … The second set of Virginia players choosing their numbers includes QBs Ira Armstead and Keytaon Thompson picking Nos. 98 and 99, respectively, two years after fellow QB Brennan Armstrong also wore No. 98.

Hockey News: The KHL's Traktor Chelyabinsk have a new logo, font, and uniforms (from David Streeter and Conan Streeth). … Another from Conan: also in the KHL, new uniforms for Dynamo Moscow. … The same company that redesigned Traktor also designed a new logo for Russia's amateur ice hockey league, the Night Hockey League (from Mikhail Antipin). … Cross-posted from football: Eagles C Jason Kelce had a Flyers jersey under his practice jersey on Friday (from Moe Khan).

Basketball News: The NBA used the video boards around its court to honor Kobe Bryant and his daughter Gianna on what would have been his birthday (from Jakob Fox). … A purple No. 24 was also added to the WNBA's court. … Some Phoenix Mercury players are wearing sneakers that promote causes during the WNBA's season. Here are Jessica Breland's (from James Gilbert). … Celtics PF Grant Williams has been wearing various WNBA teams' jerseys in the NBA's bubble.

Soccer News: Clubs with new kits or shirts include Aston Villa's second shirt (from Brandon Veale), Italy's Fiorentina (from Chris Cruz), Lazio's second kit and Scottish club Celtic's third shirt (both from multiple readers), Germany's 2. Bundesliga's Würzburger Kickers, French Ligue 2's Paris FC, and Ukraine's Vorskla Poltava (those three from Ed Żelaski). … Swansea City's new shirts have been praised for ditching a betting ad in favor of the club's first bilingual English/Welsh ad (from Terry Mark). … USF's men's team also has a new light green shirt (from @_danonymous). … Armenia, who revealed new kits recently, also got a third shirt, which national teams rarely have and even more rarely need (from Germán Cabrejo). … Another from Ed: In Scotland, Rangers striker Kemar Roofe had his NOB spelled wrong on Saturday. … Also in Scotland, Saturday's St. Mirren/Ross County game featured both teams wearing second kits, with St. Mirren in red and black, at the request of the referee to avoid color clashes. … The next four items are from the Women's Champions League final-eight tournament: Scottish team Glasgow City got a new ad. … Teams in the tournament are also wearing "Thank You" or equivalents above their crests, except for Arsenal. … Atlético Madrid and Barcelona wore T-shirts for their quarterfinal team photos in support of Atlético midfielder Virginia Torrecilla, who was diagnosed with brain cancer earlier this year. … Olympique Lyonnais revealed and wore a third kit. … In MLS, D.C. United are on their third sleeve ad of the season. … Uruguayan club Nacional managed to wrest control over their designs and number font from Umbro, and the results are great (from Jon Arnold).

Grab Bag: Virginia wrestling coach Steve Garland posted the new designs for the team's singlets. New UVa uniforms should be coming soon, perhaps at short notice. … The Australian Football League's Indigenous round didn't feature the Australian Aboriginal flag this year because it's copyrighted for use on clothing and the league didn't get permission to use it. In response, many if not all AFL teams wore "Free the Flag" T-shirts in training or warm-ups. … You can see all the AFL's Indigenous guernseys here. Some players also wore specially-painted boots.
• • • • •
• • • • •
And finally… big thanks to Alan for that great history of the Utica Blue Sox — nice piece!
Once again, to anyone in the path of Marco and Laura — please be safe and our thoughts are with you. Everyone else just be safe!
Yesterday's sunset was a typical August sunset on a day with high humidity and warm temps — a bit hazy over the horizon…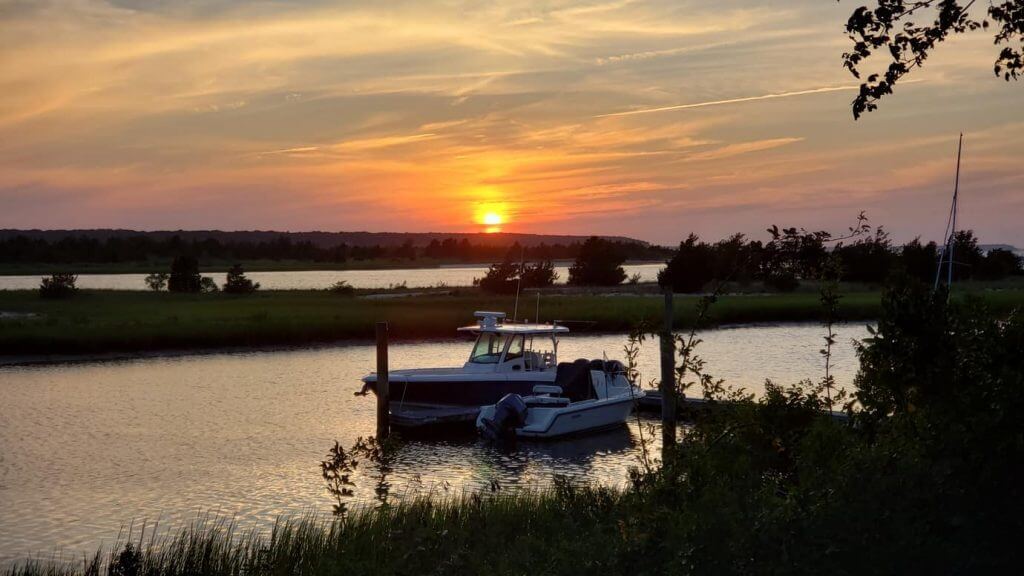 … but the more interesting pic comes from Saturday evening, when a big storm cloud formed just to the northwest of my location. We didn't get a drop of rain, but I did hear some thunder in the distance. Where I live "up-island" (i.e. the other 10ish months of the year), there are far too many trees and buildings around (I'm also in the center of Long Island, not a bay), so I don't get to see these pretty cool cloud formations that often. Well, I found it interesting, anyway :P.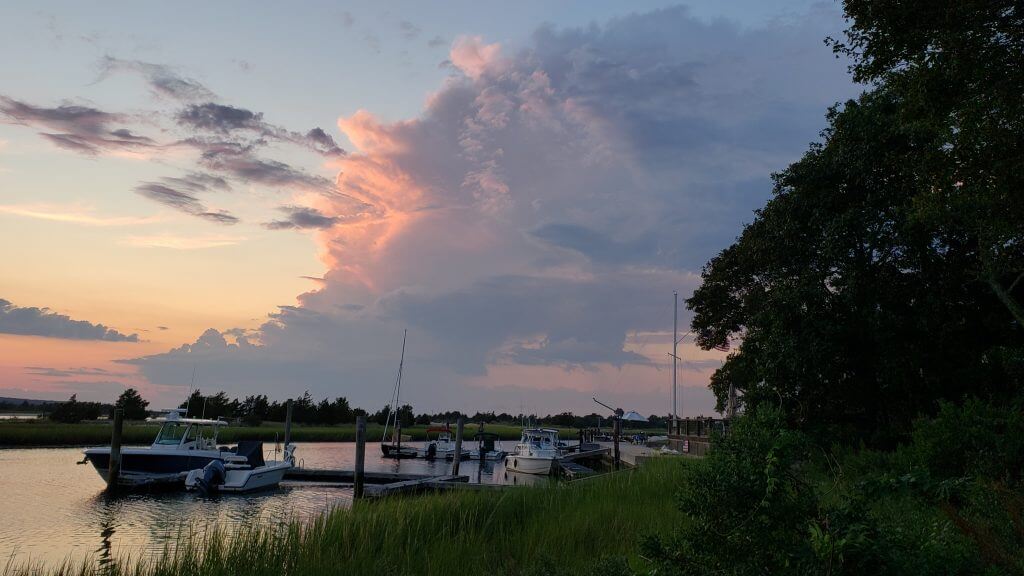 That's all for today — I'll be back tomorrow and I'll catch ya then.
Peace,
PH