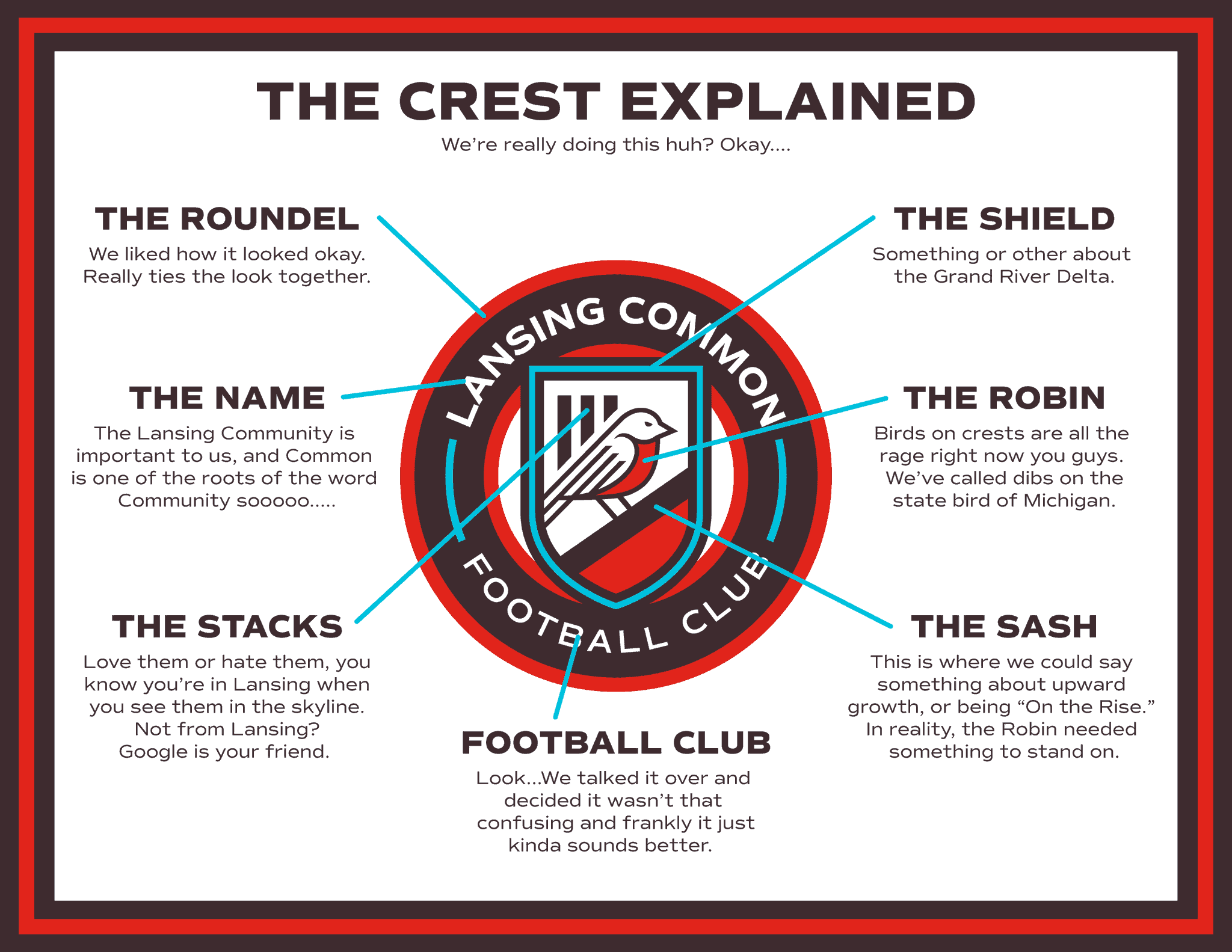 Click to enlarge
Lansing Common FC is a new community-owned soccer team in Lansing, Mich. I'd never heard of them until yesterday afternoon, when one of my Twitter followers, @29_Sunset, pointed me toward the team's very entertaining breakdown of their new crest (shown above). So I retweeted it, along with the comment "Best logo/crest explanation ever."
Within 20 minutes, my tweet had garnered nearly 200 likes (that's a lot for me) and dozens of retweets (ditto), and it kept going from there. The team's original tweet racked up even bigger numbers — pretty amazing for a new, low-level team most people have never heard of.
Granted, Twitter isn't a valid measure of anything besides Twitter. And also granted, my Twitter followers might be more predisposed to the logo breakdown's tone than the average sports fan would be. Still, it was clear to me that Lansing Common's deadpan approach really struck a nerve with people, and with good reason. It's not just no-bullshit — it's anti-bullshit. (It probably doesn't hurt that it's also a very nice piece of design, irrespective of the explainer.)
I got in touch with the team's designer, Geoff Sykes, and asked if he could tell me a bit more about the logo explainer. Was it his idea? The team's? Here's what he told me:
Lansing Common FC was founded by a large group of fans of the now-defunct Lansing Ignite FC of the USL and Lansing United men's side that played in the PDL. After getting burned, soccer fans in Lansing wanted a team where our community would be at the heart of every decision we made, including branding. So we had workshops where people could come and give us thoughts and feedback on the brand. (More details can be found here.)

So about a week and a half before our launch, one of my friends who's working on our social media side sent me a message that we needed some sort of explainer graphic. My initial response to him wasn't really fit for print, but I reluctantly agreed. He laughed (he knew how much I hate logo explainers) and told me that I had free rein to word it and design it as I saw fit. So that's how the idea of a joke explainer came about.

In terms of humor, it wasn't hard to determine what approach to take. Lansing is a smaller city that was hit hard by the recession, and residents have sort of developed a snarky, self-deprecating attitude as a result. We have a joke around here that goes, "Lansing: a decent place to end up." So I just sort of leaned into that by telling the truth in a funny way.

To me, the reason the explainer works is that it's honest.  As a designer tasked with including the important symbols of the club into one logo, sometimes you do just have to make decisions because it makes it look good. My personal favorite bit is about the sash in the shield — the bird really did just need something to stand on!

I feel that what puts people off about logo explainer graphics in general is the lack of authenticity. Not everything has to mean something for the sake of meaning something. That generally distracts people from the actual meaningful elements, possibly even minimizing their importance. People connect with honesty and authenticity, so I hope more brands take that into account in the future.
Nicely stated, Geoff. Couldn't agree more.
Obviously, the financial stakes for a team like Lansing Common are low. But imagine if a top-level team — a Nike-outfitted team — decided to go this route. Would they be ridiculed? Or would they be hailed as geniuses for telling it like it is, embracing straightforward authenticity, and bursting the balloon of "storytelling"-driven branding that's become the insufferable norm throughout most of the uni-verse?
It would be nice if one team — just one — would be brave enough to find out.
Until then (and even afterward), let's all root for Lansing Common! Here's their website.
• • • • •
• • • • •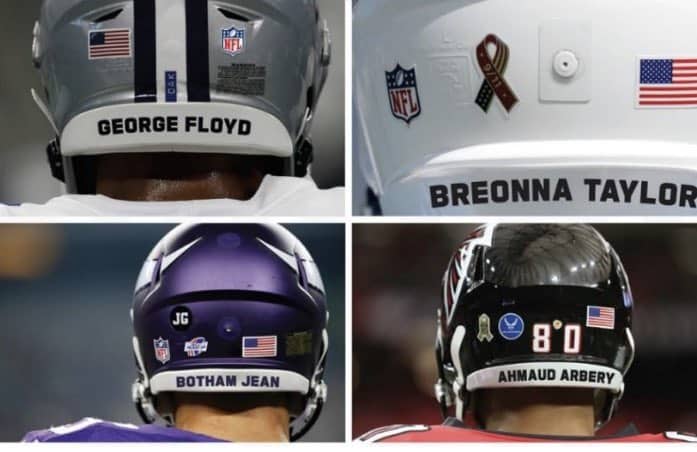 NFL update: It had previously been reported that the NFL would likely allow players to wear helmet decals honoring victims of police brutality or systemic racism. Yesterday we got our first peek at how that will look, and it turns out that they're actually going with messaging on the neck bumpers, not on the helmet shells. Pretty sure that's the first time we've seen the neck bumper used for any kind of commemorative messaging in the NFL. (Also, according to an analysis by Uni Watch reader Omar Jalife that I published last year, six NFL teams — the Browns, Chiefs, Giants, Saints, Steelers, and Washington — go with blank neck bumpers, so it will be new for them to have any sort of graphics or messaging in that spot.)
According to the NFL Network's Tom Pelissero, "[T]he helmet decals are optional. Players will be offered a list of names, but 'they can also select a victim of systemic racism who is not represented on this list.' Can wear Week 1 or all season. Coaches have option to wear hat patch."
In addition, two new messages — "It Takes All of Us" and "End Racism" — will be added to the end lines of the end zones for home openers: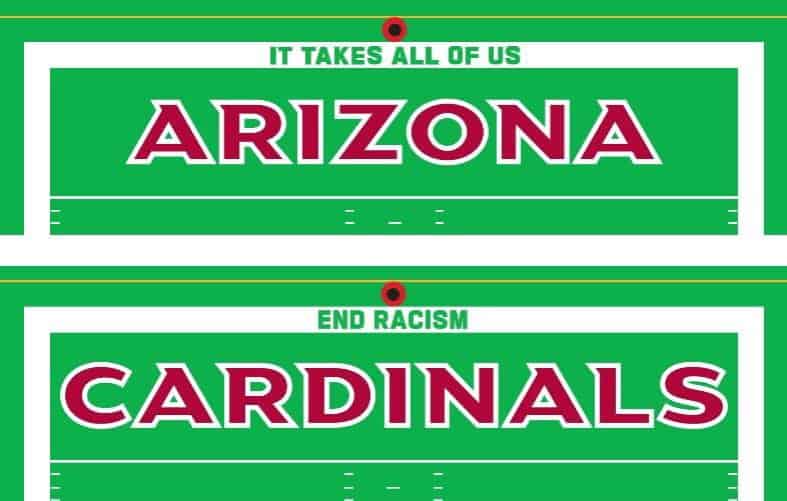 Also, according to ESPN, "[O]n each club's seat covering between the 30-yard lines, there will be messaging thanking frontline [pandemic] workers."
• • • • •
• • • • •
The latest in pandemicwear: Pirates third base coach Joey Cora has been wearing a cap with a clear plastic face shield under his helmet. He started doing it during summer camp scrimmages, at least as far back as July 15, but I wasn't aware of it until reader Geoff Poole brought it to my attention last night. Have any other coaches been doing this?
• • • • •
• • • • •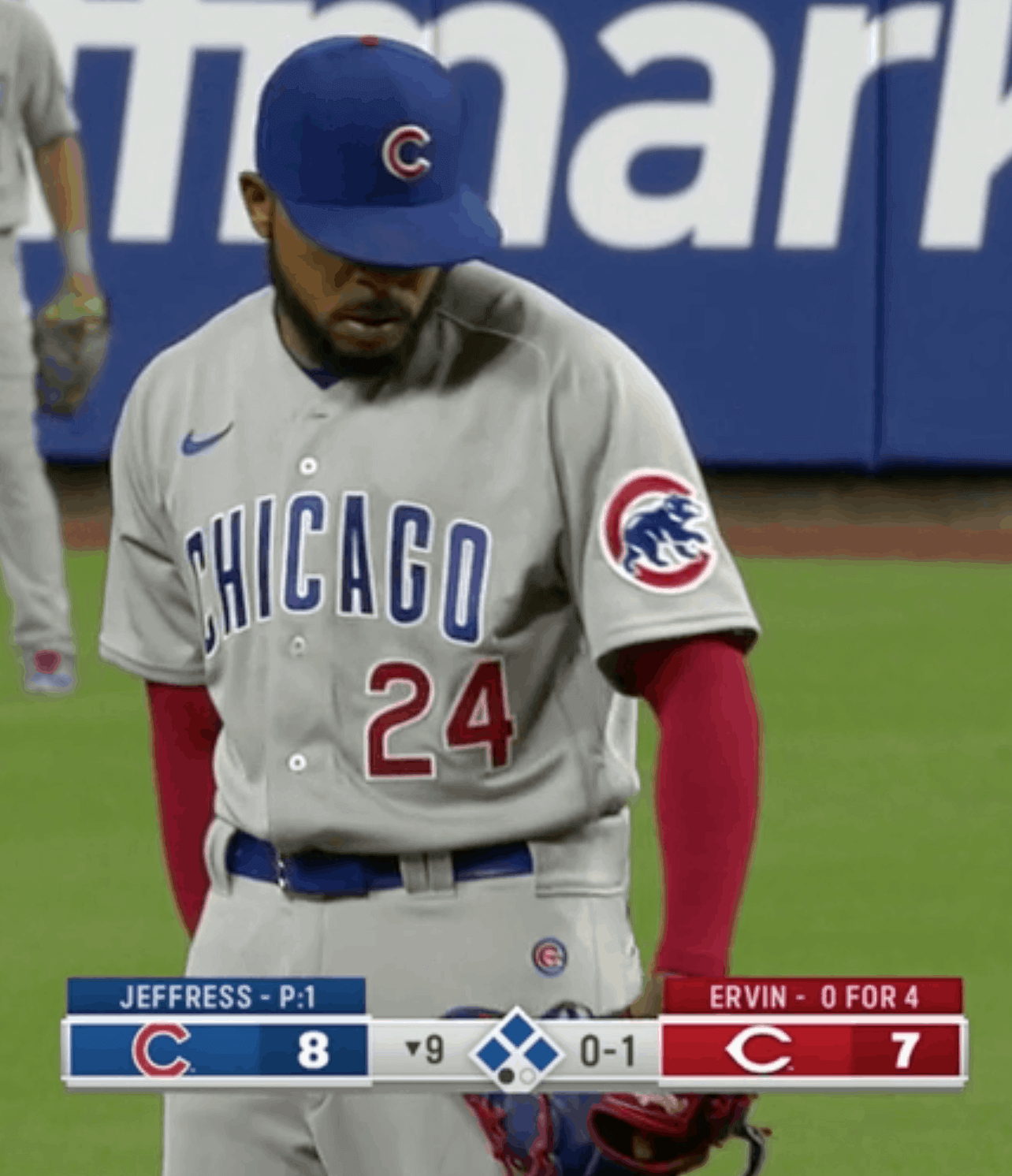 Red alert: Disturbing sight last night in Cincy, as Cubs reliever Jeremy Jeffress took the mound wearing red sleeves, instead of the Cubbies' usual blue. Close inspection reveals that Jeffress did appear to be wearing a blue undershirt, so the red armwear was probably a pair of compression sleeves.
Someone needs to nip this in the bud, pronto. We've already seen MLB socks and belts become free-for-alls — the last thing we need is for base-layer sleeves to go that route.
(My thanks to @MMBSports for bringing this one to my attention.)
• • • • •
• • • • •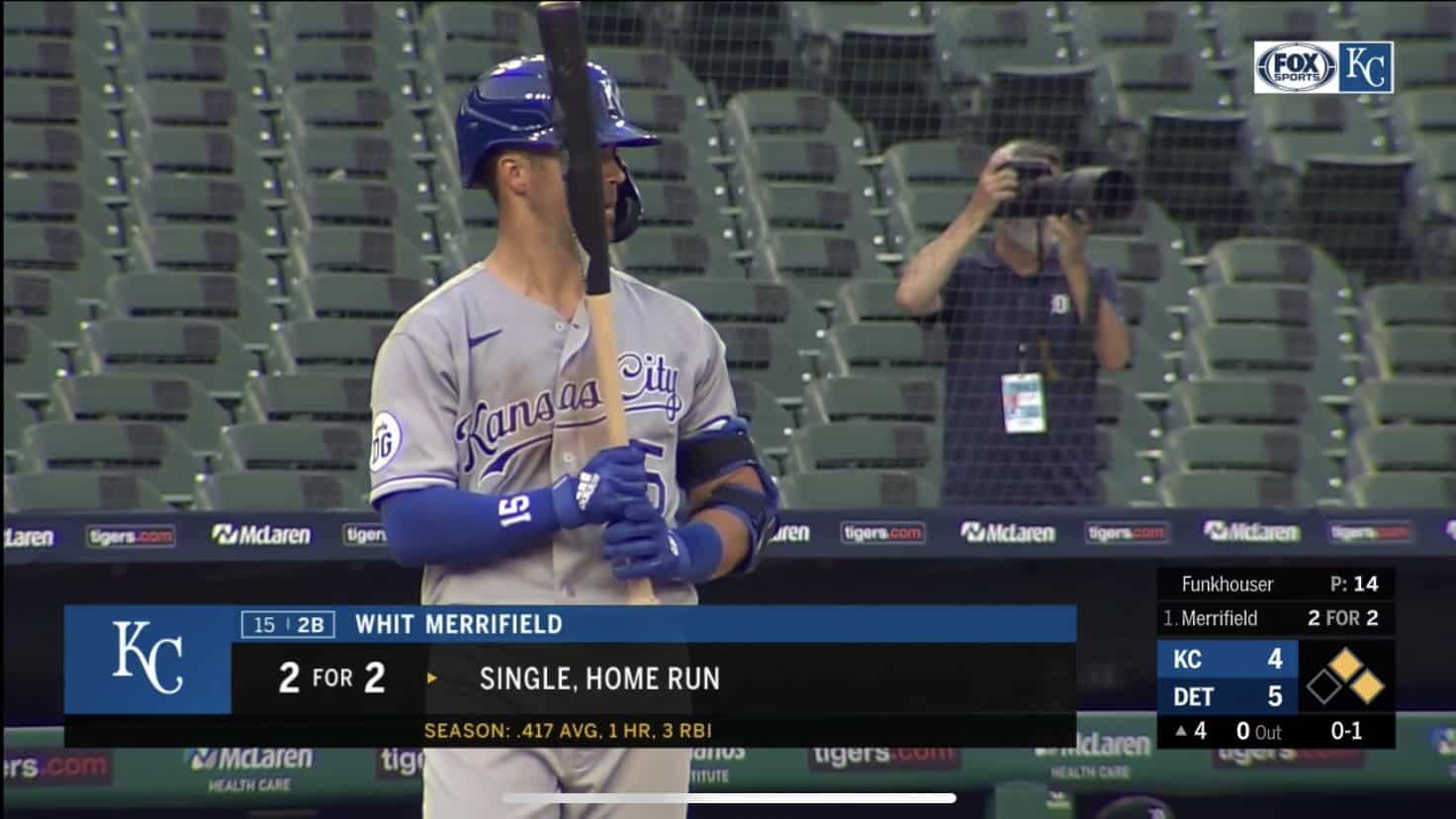 Click to enlarge
Law of unintended consequences: See how the seat numbers at the Tigers' ballpark have been covered with black tape? What's that about?
Turns out they did that two weeks ago because the glare from the metal number tags was distracting the players. Under normal circumstances, of course, the numbers would be covered up by fans sitting in the seats. But without fans in attendance, the number tags suddenly became a problem.
Who'da thunk?
(My thanks to Seth Kincaid for this one.)
• • • • •
• • • • •
Key ring reminder: In case you missed it on Monday, Uni Watch key rings are now available. The response to their launch yesterday was tremendous (thank you!), so move fast if you want one. Full details here.
• • • • •
• • • • •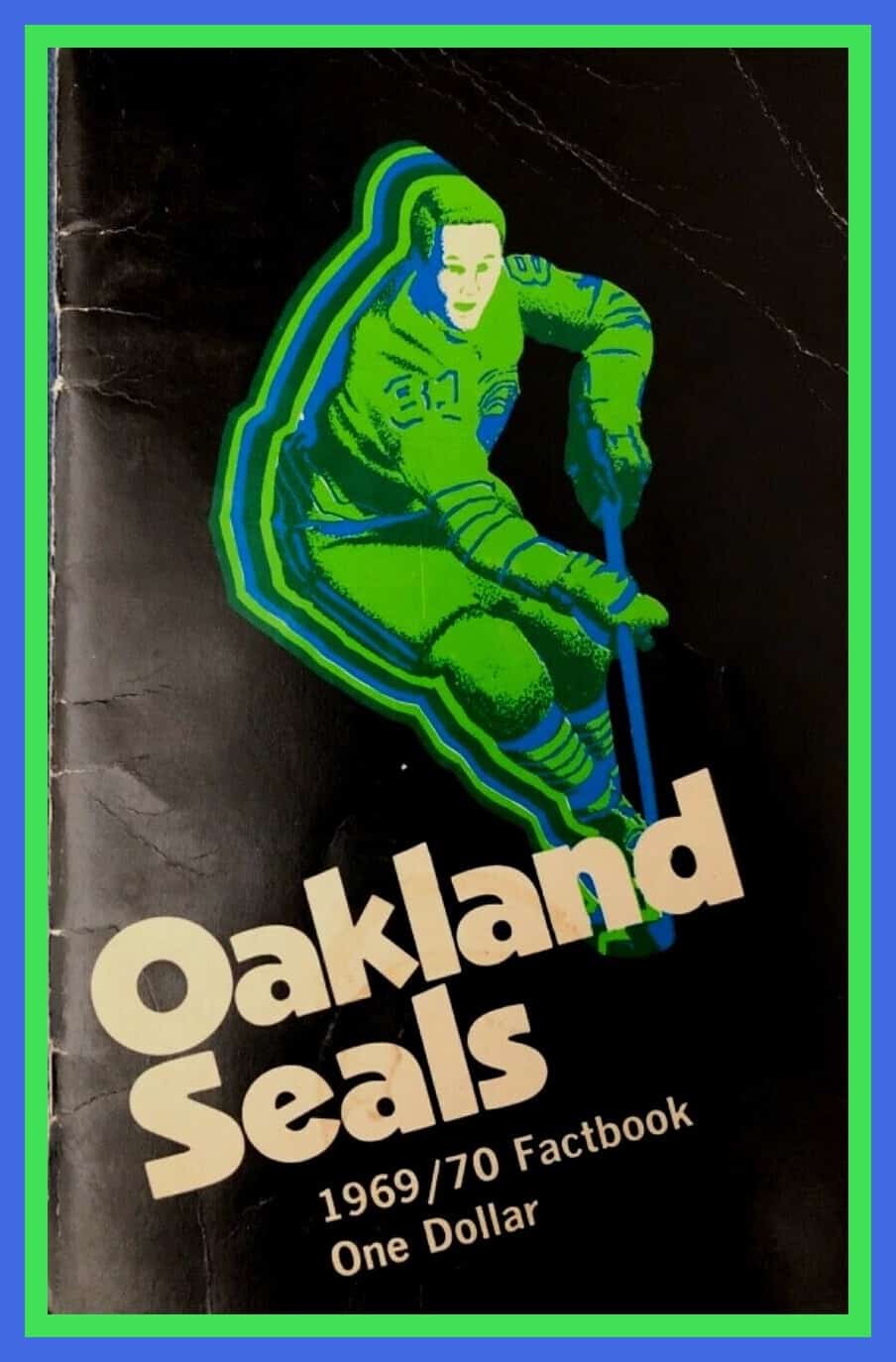 Click to enlarge
Collector's Corner
By Brinke Guthrie
Follow @brinkeguthrie
This 1969-70 Oakland Seals Factbook is a classic example of late-1960s sports art. Not familiar with the team name? Wikipedia says, "Initially named the California Seals, the team was renamed the Oakland Seals partway through the 1967–68 season (on December 8, 1967) and then the California Golden Seals in 1970, after two games as the Bay Area Seals." Talk about an identity crisis!
Now for the rest of this week's picks:
• Some more great sports art here, this time on the 1978 MLB board game
Steve Garvey's Super*Star Baseball. It's New! Fun! Challenging! With Breathtaking Action! It's also, "an authentic quality game for kids from eight to eighty. Your friend, Steve Garvey."
• Speaking of baseball board games, this one is called Leslie's Base-Ball Game. It's also known as "Perfection Base Ball" and dates back 111 years! From the Perfection Novelty & Advertising Co. of Cleveland, Ohio.
• This Cleveland Browns sweater is quintessential 1970s Sears. Dig the pull ring and bold striping. Made of 100% Orlon® Acrylic!
• These 1960s Cincinnati Reds glasses featuring Mr. Redlegs were sponsored by a local gas station chain, Tresler Comet. For some reason, I've never forgotten their 1970s commercials about their car washes. A guy pulls out in a Datsun (!) 240-60-80Z, and the voiceover says, "My friends think I'm crazy, but I think a clean car drives better."
• One more Reds item: Charlie Hustle would put his name on anything! In the last few months we've featured his chocolate drink and candy bar, and now we have an unpopped bag of Pete Rose (Butter Flavor) microwave popcorn. No team logo on the cap, but the Mizuno logo is on the bat.
• Check out this NFL pigskin leather folder. A friend of mine at the Bengals gave me one years ago and I still use it!
• I've never seen the particular NFL player graphic shown on this 1970s St. Louis football Cardinals bumper sticker. Kinda reminds me of the art used on Fleer NFL Big Signs, like this one for the Houston Oilers.
• Staying in St. Louis for this one: I've always loved snow globes, except when they get that little bubble on the top. And that little bubble is present on this otherwise cool little St. Louis Blues 50th-anniversary snow globe from a few seasons back.
• A cartoony Joe Cool is depicted on this 1991 Joe Montana tackling dummy. He's "Totally Durable & Hugable [sic]."
• This Yankees top hat logo pin was given out to team scouts in the 1950s.
• • • • •
• • • • •
Click to enlarge
KRC update: The latest installment of Key Ring Chronicles is about a pocket screwdriver. Check it out here.
• • • • •
• • • • •
The Ticker
By Alex Hider

Baseball News: Cubs LF Kris Bryant wore a mask during last night's game in Cincinnati. According to Wes Muniz, he did not wear one during the first three games of the season. … Staying in Cincinnati, there was a lot of on-field ad creep at Great American Ball Park last night, including a mound ad and ads up the baselines. … Jakob Fox notes that at one point yesterday, there were three rosin bags on the mound during the A's/Angels game. … Mariners P Taijuan Walker was wearing his "Black Lives Matter" and "United Through Change" patches on the back of his cap on Sunday, instead of on his sleeve (from Michael J. Miller). … Blue Jays LF Lourdes Gurriel Jr. was spotted wearing a mask with Vlad Guerrero Jr.'s number yesterday (from Pat Cahill). … Ryan Bower was watching the Mets and noticed a local ad that took a very direct route to obscure team names and logos they weren't allowed to use. … Topps says its new baseball card featuring Dr. Anthony Fauci's infamous first pitch sold more than 50,000 copies in the first 24 hours — an all-time record (from Jason Tierney and Paul Friedmann). … David A. Arnott wrote about the dimensions of the Rangers' Globe Life Park and the trend of asymmetry for asymmetry's sake. … Eagle-eyed reader Dwayne White spotted Reds coach Stan Williams smoking a heater in the bullpen during the 1991 All-Star Game. … Over the weekend, the Field of Dreams movie site in Iowa held a "First Responder Game" (hard paywall) featuring police and fire personnel from New York and Chicago. The New York team wore Brewers-inspired unis, while the Chicago team wore White Sox-style threads (from Jesse Gavin). … Hiroshima Toyo Carp will be having a Peace Night game on Aug. 7 — the 75th anniversary of the atomic bombing of the city. They will wear a patch with an origami crane and the Atomic Dome building (from Jeremy Brahm). … Elsewhere in Asia, the Samsung Lions of the KBO wear faux-sansabelt pants with a large yellow belt tunnel (from Jason Sonnabaum). … Mets DH Dom Smith became the latest MLBer to hike up his pants above the knee last night. He homered, so he'll probably stick with that look for a bit.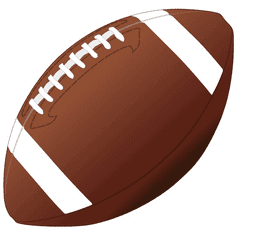 Football News: Reader David Aycock found a nearly complete set of '80s NFL helmet push pins in storage and went the extra mile to group them into proper conferences and divisions. … North Carolina has released the new number assignments for freshman defenders. S Ja'Quirous Conley will wear No. 0, the first player in program history to wear the number (from James Gilbert).

Hockey News: Architectural Digest has a piece about Seattle's new arena and its goals to revolutionize green stadium/arena design (from Kary Klismet). … Here's a series of really nice Seattle Kraken concepts (from @Z89Design). … Doug Adams notes that the logo for the Baltimore Blades of the WHA is strikingly similar to the logo for Royal Farms Arena in Baltimore.

Basketball News: It appears TV networks are adding virtual graphics on the court to help distinguish home and road teams during NBA scrimmages. Here's how it looks with the Kings logo and Jazz logo (from @nomuskles and Darren Morey). … From this video shared on Twitter, it appears the at least some Blazers players were practicing on one of Orlando's courts (from Paul Panganiban). … Reprinted from yesterday's comments: The Rockets haven't made any announcement about ending their ad patch deal, but their red uniforms were ad-free for recent scrimmages against the Raptors and Grizzlies (from Richard Hochroth).

Soccer News: Couple of stadium notes from Kary Klismet: FC Cincinnati has published a virtual tour of its new stadium, which is on track to open next season, and third-tier Spanish club Marbella F.C. has unveiled renderings of its proposed new stadium. … Two unveiling notes from Ed Żelaski: New away jerseys for Hungarian club Ferencvárosi TC, and three new jerseys for Russian club FC Dynamo Moscow. Check out more jersey unveilings on his Twitter account. … We've got a few jersey leaks from Josh Hinton: Arsenal's new away kit, Real Madrid's new home kit and, possibly, Southampton FC's new away kit. … St. Louis's MLS franchise designed logos for several fan-submitted team names that didn't make the cut (from Matt Fitzpatrick).

Grab Bag: More legal/regulatory woes for Under Armour, which is having a brutal year (from Tom Turner and @walbergLines). … Check out the No. 6 on this Polish beach volleyball uniform. Don't think I've ever seen a font quite like that (from Jeremy Brahm). … Who knew McDonald's handed out gold service rings to guys who played Ronald McDonald for more than 10 years? (From Scott Gurrola.) … A bunch of former Deadspin staffers are starting their own website (NYT link).
• • • • •
[adrotate group="2″]
• • • • •
Click to enlarge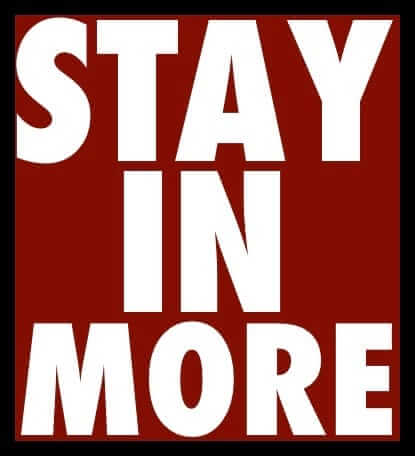 What Paul did last night: A long time ago — early 2000s, I'd say — my friend David gave me a really nice gift: four small-ish beverage glasses, about seven or eight ounces apiece, each one having something to do with a Pennsylvania fire department. He found them at a flea market and thought (correctly) that I'd get a kick out of them. The four glasses were four slightly different heights and diameters, but they still felt like a set.
Over the years, I broke two of the glasses. Each time I felt terribly guilty about ruining such a lovely gift. I had that feeling again yesterday after a butterfingers move on the porch:
Dang.
Only one left. Need to be careful with it.
As always, you can see the full set of daily Pandemic Porch Cocktails™ photos here.
• • • • •
Our latest raffle winner is Scott Adams, who's won himself $30 to spend on Uni Watch merchandise. Congrats to him, and big thanks to Pedro Naranjo for sponsoring this one. We'll have another raffle tomorrow, and it's gonna be a very interesting one! See you then. — Paul