Good morning! Greetings from Uni Watch HQ, where all three inhabitants continue to be safe and healthy.
Today I want to go off-uni and talk about something I've been mildly obsessed with over the past couple of months. It has nothing to do with uniforms or sports, but I'm fairly certain it will appeal to Uni Watch readers in a very big way, so stay with me here.
Let's start with this: Back in 2013, someone started a Tumblr called Things Fitting Perfectly Into Other Things (we can call it TFPIOT for short), which is exactly what it sounds like — photos, and occasionally videos, of objects that happen to fit exactly inside of other objects. If your brain happens to be wired a certain way (mine definitely is, although I accept the distressing reality that some people's are not), there's something immensely satisfying about having two objects fit together in this manner, like a laptop computer in a baking pan, or a clementine in a mesh tea infuser, or one roll of tape inside another. Each pairing feels like its own little Harmonic Convergence.
I'm pretty sure TFPIOT was mentioned in the Ticker a couple of times five or six years ago, and it even got some attention from The Atlantic. But the site has been dormant since 2015 (and its server now appears to be very sluggish and slow, at least on my computer). Still, I occasionally think about it and smile when I encounter two objects that fit together Just So.
Now let's shift gears and talk about Maria cookies. Maria cookies are these sweet-but-not-too-sweet wafers that are very popular in Latin America and are easy to find here in NYC (and, I presume, anywhere else with a large Hispanic population). The Tugboat Captain and I got hooked on them sort of by accident last fall, when we were on our way to see a movie and wanted a snack to bring into the theater with us, so I ducked into a bodega and randomly grabbed a pack of Maria cookies for 50¢ or something like that. We liked them so much during the movie that we bought another pack on the way home. And another a few days after that. Soon they had become a semi-regular staple snack here at Uni Watch HQ.
There are many brands of Maria cookies (the one I'm using in today's post, Gullón, is based in Spain but is commonly found in our neighborhood shops). Most of them come in a cylindrical plastic/foil package, like this: (for this and all the photos that follow, you can click to enlarge):
The packages usually open with a zip strip. So after you use the strip to open the package, you end up with this:
At that point, I would discard the strip and the end of the package and then eat a few (okay, more than a few) Maria cookies. But the Tugboat Captain recently came up with an ingenious maneuver. Instead of discarding the end of the package, she ate a few cookies and then did this:
How great is that?! It's totally TFPIOT! But in this case there are additional benefits. For starters, the inverted end of the package protects the remaining cookies and keeps them fresh. Also, as you continue repeat the cycle of eating a cookie or two and then replacing the package top (reaping tremendous psycho-emotional satisfaction each time!), the package top serves as a de facto wafer gauge, tracking your dwindling Maria cookie supply:
As the level of the gauge goes lower and lower, sort of like a plunger, you get the satisfaction of TFPIOT mixed with the alarm of knowing you're running out of cookies and the shame of realizing you've eaten more of them than you should have but you can't stop because they're so addictively good, all of which creates some intense but interesting cognitive dissonance. (The effect is enhanced with the larger package size that many brands offer, but that size has been harder to find in our local groceries since the pandemic hit.)
Now, some of you may be thinking that this isn't truly a case of a thing fitting perfectly inside another thing, because it's actually a thing fitting perfectly inside itself! Fair enough. But it's definitely related, plus the interactive/functional aspect is pretty great, plus-plus you get to eat cookies.
Update: Reader/commenter Mike Chamernik points out that there's a TFPIOT-themed Reddit page called Perfect Fit. Worth checking out!
• • • • •
• • • • •
"No, not peppers — pepperoni!": I'm not sure which Blue Jays player is shown in this photo from Saturday's intrasquad scrimmage, but I love-love-love how the combination of his right hand and his helmet's C-flap makes it look like he's talking on his cell phone while rounding third. Hey, it must've been an important call!
(Big, big thanks to Twitter-er @Big_Paper_Daddy for this one.)
• • • • •
• • • • •
ITEM! The return of Uni Watch Haiku: Not sure where this came from, but it started writing itself in my head during a recent bike ride:
Fucking Nike swoosh
On MLB jersey chests
Is a huge buzzkill
I'll try to have a few more of these in the days and weeks to come.
• • • • •
• • • • •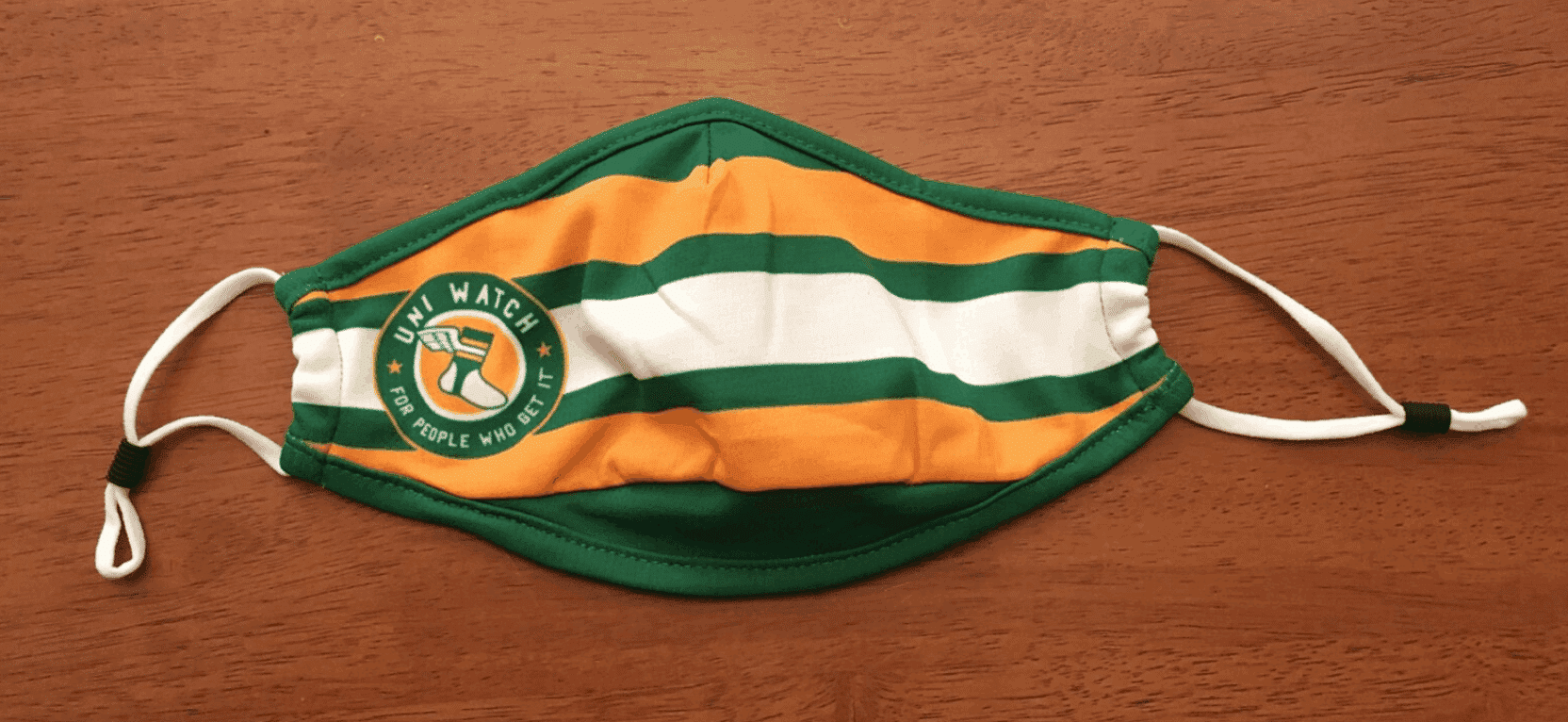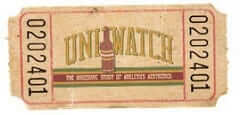 ITEM! Mask raffle: Reader Jon Eidukas purchased a bunch of Uni Watch masks from the last batch. Since they sold out so quickly, he's generously offered to raffle off three of them so other Uni Watch readers can have a chance.
This will be a two-day raffle. Please don't enter if you already have one of these masks. To enter, send an email with your mailing address to the raffle in-box by 8pm Eastern tomorrow, July 21. I'll announce the three winners on Wednesday. Big thanks to Jon for doing this!
• • • • •
• • • • •
Click to enlarge
Lookin' sharp: Who's that practicing responsible public health protocols by wearing a Uni Watch mask? None other than Uni Watch reader Greg Mitchell, who's also holding both of his Uni Watch membership cards — one of which is based on the Wiffle Ball jersey he's wearing in that photo!
That's a very respectable-looking hot dog, too (despite the apparent lack of capers). Hope you didn't get any mustard on the mask, Greg!
• • • • •
• • • • •
Click to enlarge
Five days left: In case you missed it last week, we're taking orders through the end of this week on a new line of Tour de France-inspired Uni Watch cycling jerseys: yellow (for the overall leader), green (Points Classification leader), and polka dot (King of the Mountains).
Each jersey can be customized with your choice of number (there's a bib-style panel on the back for that) and/or NOB — or you can skip those elements and leave the back blank. Up to you!
You must get your order in by this Friday, July 24, which should allow us to get the finished jerseys to you by Aug. 29 — the first day of the Tour de France.
Full details, including rear views, a sizing chart, and more, here.
• • • • •
• • • • •
Number 226/500 has made it to Western Pennsylvania! Best pin ever. @UniWatch pic.twitter.com/hvxaJb0wuR

— Noah Kastroll (@nrkastroll) July 18, 2020
Bobble-pin update/reminder: People continue to love their Uni Watch Pin Club bobble-pins. Thanks to a recent sales bump (thank you!), we're now down to about 125 pins remaining from our original limited/numbered edition of 500. You can get yours here while supplies last.
And remember, if you order multiple pins and get hit with multiple shipping charges, email me and I can get the charges reduced for you.
My thanks, as always, for your consideration and support.
• • • • •
• • • • •
*feels like 104* pic.twitter.com/LOOeM6GCmA

— Mary Bakija (@mabatron) July 19, 2020
Actual non-posed photographs: How how was it in NYC yesterday? So hot that this was the scene in Uni Watch HQ's backyard. You know it's bad when even the squirrels can't deal with the heat!
• • • • •
• • • • •
The Ticker
By Jamie Rathjen

Baseball News: A Twins blogger thinks it's possible that the three uni numbers never worn in MLB history — Nos. 86, 89, and 92 — could appear this season (from @FittedsFlannels). … MLB may add some sort of social justice logo or patch when the season resumes later this week. That article also has the news that Jackie Robinson Day, normally held on April 15, will be held this year on Aug. 28, so get ready for the annual wearing of No. 42 by all uniformed personnel. … In this photo set, former Yankees CF Bernie Williams is wearing a Puerto Rico flag pin on his hat. Michael Engle says Getty Images identifies the photo as coming from a game on April 25, 1997, in Anaheim. Michael asked if the pin had any significance but Williams "doesn't remember any real story, aside from representing Puerto Rico," he says. … The independent American Association's Milwaukee Milkmen have a black-over-charcoal uniform (from Kurt Crowley). … Movie details: Tom Cruise is wearing a backwards stirrup in a softball scene in A Few Good Men (from Jimmy Lonetti). … The White Sox's spring training jersey, which they wore for last night's game against the Cubs, features team logos from two different eras in disturbing proximity. … Cleveland has added a ton of ads to its ballpark. Also, it looks like there's a "C" in the clouds! (From Chris Mayor.) … Yankees RF Aaron Judge has been wearing TruSox, instead of the standard-issue Stance hosiery. He also wore a matte road batting helmet last night, even though the Yanks were hosting the Mets. The rest of the Yanks wore glossy home helmets (from @brianspeaksnow). … Speaking of the Yanks, P Jonathan Loáisiga wore the team's hybrid-logo spring/BP cap last night, while everyone else wore the standard game cap (from Eli Ganias). … An ad for a financial services company that appeared behind the plate at Wrigley Field last night had an upside-down N (from Dave Garabedian).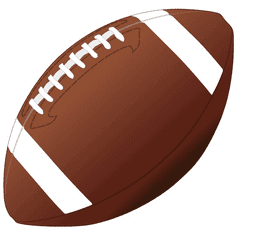 Football News: Here's a good game shot of Saints S Obert Logan, the last NFL player to wear No. 0 (from @Ol_TimeFootball). … A user on Reddit posted mockups Reebok made for a potential Vikings redesign in 2003. Paul wrote about some of these mockups in 2014, but more are shown here (from Kary Klismet).

Basketball News: Rockets PG Russell Westbrook's clothing brand will apparently produce "social justice shirts" for NBA players, in cooperation with the players' union, that include messages other than ones allowed to be used in place of NBA jersey NOBs (from Mike Chamernik). … Clippers SG Lou Williams has been wearing an upside-down and backwards No. 23 on his practice jersey. It's the same way on the back (from @ohjoeye). … FiveThirtyEight did a study on mascots, primarily focusing on the NBA because its teams seem to give mascots the most attention and pay their portrayers the most, but it also breaks down mascots in several American leagues by type (from Jason Tierney).

Soccer News: The blog Museum of Jerseys looked at the four times out of more than 11,000 Premier League games since 1992 in which the home team was forced to change to avoid a clash, with the last one coming in 2008-09. … New first shirts for German 2. Bundesliga team 1. FC Heidenheim, Scottish Championship team Greenock Morton, and Croatia's Hajduk Split (the last from Ed Żelaski). … Also, three new shirts for French club Montpellier, and new first and third shirts for German 3. Liga team Ingolstadt 04. … Scottish League Two team Queen's Park switched to Admiral from Under Armour. … Several players and personnel from Polish team Śląsk Wrocław received commemorative shirts with significant numbers after the last game of the season (from Tom Gronek). … An integral part of celebrations of promotion from the English Football League's divisions is small banners saying "We're going up." Ever since the league got its current advertiser in 2013, the banners have had a large ad on them and an additional one on each corner; the U.K. has a long way to go if it wants to eliminate gambling ads (from @anthonytx42). … Many players, coaches, and other team personnel at the MLS Is Back Tournament have been wearing identical Black Lives Matter T-shirts. … All teams at the tournament also have team-specific BLM captains' armbands (from Wade Heidt). … No NWSL team has ever had or needed a third shirt, but here's a great concept for one for the Chicago Red Stars.

Grab Bag: While cricketers can usually apply spit to the ball when bowling, it's currently not allowed for sanitary reasons, but England's Dom Sibley accidentally did it out of habit yesterday during a Test against the West Indies. The umpires wiped the ball off with wipes — the initials and cap number of one, Richard Illingworth, are also visible on his hat (from @MrBudziszewski). … Germany's men's and women's handball teams revealed a new shirt.
• • • • •
[adrotate group="2″]
• • • • •
Click to enlarge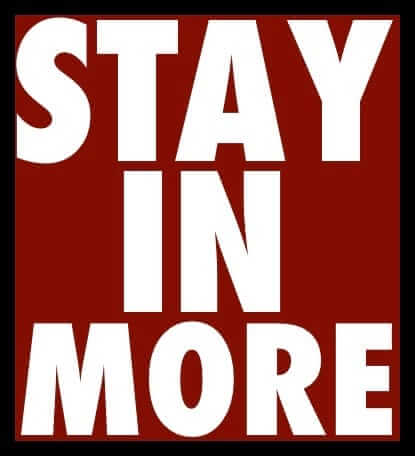 What Paul did last night: Yesterday afternoon we joined our friend Rachel, who we hadn't seen since before the pandemic, for a socially distant pizza picnic party on the wide, grassy median that runs down the center of one of our neighborhood streets. We really only needed two medium pies, but we got three: soppressata, mushroom, and plain (yes, there were leftovers).
Although it was a hot day (see earlier squirrel tweet), the median was comfortably tree-shaded and we brought along plenty of cold beers. A very enjoyable Sunday diversion!
Between the pizza and the beers, we were feeling pretty logy by the time porch o'clock rolled around. So just Diet Coke for me, seltzer for the Tugboat Captain, and a nap soon afterward.
As always, you can see the full set of daily Pandemic Porch Cocktails™ photos here.