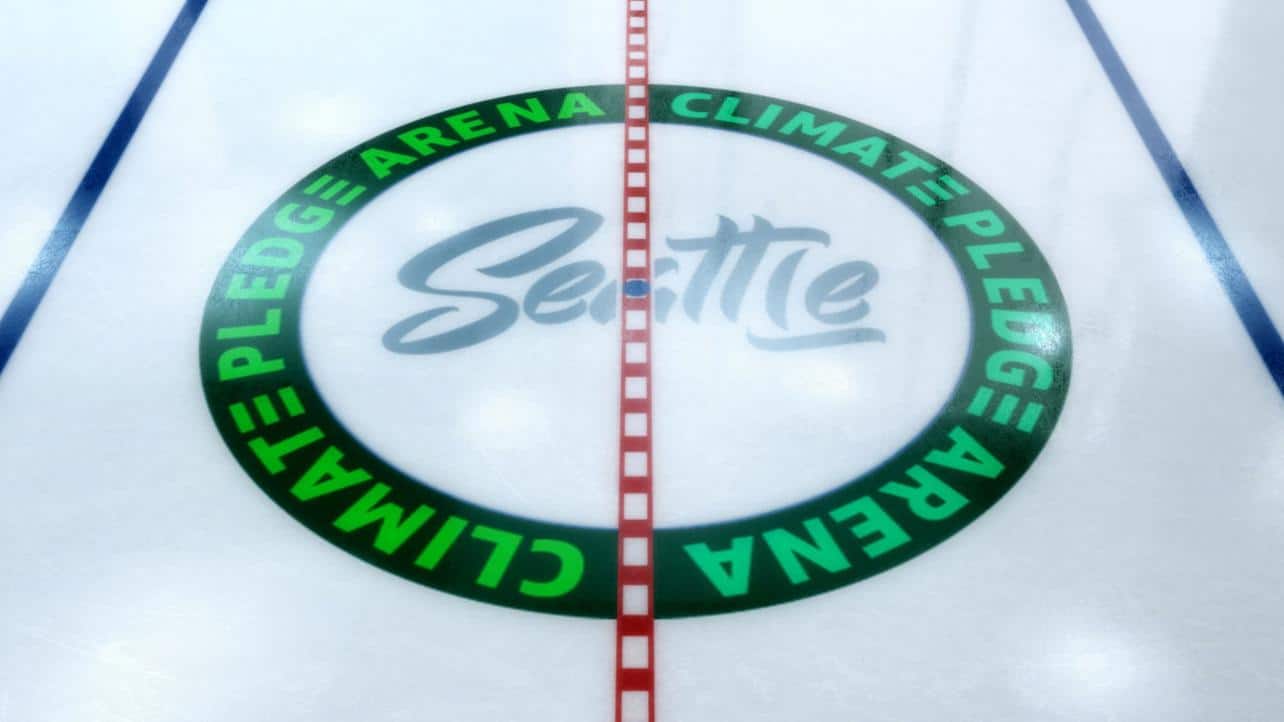 Seattle's new NHL franchise is set to hit the ice at the start of the 2021-22 season. We still don't know what the team's name will be (the latest word is that it may not be revealed until the fall), but now we at least know the new name for their arena.
Some quick background: The new Seattle team will be playing in an arena that opened in 1962. Over the years it has variously been known as the Washington State Pavilion (1962), the Washington State Coliseum (1962–64), the Seattle Center Coliseum (1964–1995), and the KeyArena (1995–2018; this name was an advertisement for a bank). It is now undergoing renovations in preparation for its NHL debut next fall.
It was announced yesterday that a Seattle-based corporation had purchased the naming rights to the building but will not be naming the facility after itself. Instead, the complex — which is also the once and future home to the WNBA's Seattle Storm — will now be known as Climate Pledge Arena. The name refers to the goal of operating the arena to be carbon-neutral, zero-waste, and so on. Everything — including the Zambonis! — will run on electricity, not on fossil fuels. Food and beverage concessions will be sourced primarily from local farmers and producers. Even the ice surface will be produced from recaptured rainwater (which sounds like a Portlandia sketch, but hey, it rains a lot in Seattle, so why not?).
To my knowledge, there's no American precedent for a company purchasing the naming rights to a sports venue and not putting its own name on the building. There's a somewhat analogous situation in the NBA's uniform advertising program, however: The Utah Jazz sold their jersey ad spot to the software company Qualtrics, but the Qualtrics name has never appeared on the team's uniform. Instead, the Jazz wear a "5 for the Fight" patch, which refers to a Qualtrics-initiated fundraising program to find a cure for cancer. It is the NBA's only charity-based ad patch.
Climate Pledge Arena isn't quite the same thing, but it's similar in at least two ways: The company paying for the rights isn't using its own name, and the message is generally altruistic.
You may have noticed that I haven't yet mentioned the Seattle-based company's name. One reason for that is that I didn't want to give them free promotion right off the bat. The other, more important reason is that the company is a huge monolith that's assumed such a monstrously large footprint in contemporary life that it basically distorts everything it touches, so I wanted to present the basics of the situation before I identified the company. But you've probably already heard who it is: It's Amazon.
If the company behind Climate Pledge Arena was, say, Qualtrics, or a company with a similarly low-ish profile, I think most people would count this situation as a win, or at least as a non-loss. Like, if you have to have naming rights, this seems like a better solution than, say, AT&T Park.
But because the company is Amazon, the situation feels more complex. Like many people, I have complicated feelings about Amazon. I do order things from them from time to time (I'm expecting a package from them today, in fact), but I often feel a bit dirty afterward. On the one hand, they offer tremendous convenience, generally reliable service, competitive pricing, and a lot more. On the other hand, they've put a lot of Mom-and-Pops out of business, they treat their workers like shit, they sometimes engage in dubious business practices, their CEO is wealthier than any human should ever be, and a lot more. Much like Facebook, Google, Microsoft, and Apple, Amazon's role in modern society is undeniably useful but is also larger than I'm comfortable with. When their planned NYC headquarters didn't work out, I was relieved.
The misgivings that some people have about Amazon — or, in some cases, the outright hatred for them — led to a lot of backlash after yesterday's announcement about the arena. Much of it can be summed up by this tweet from journalist Ken Klippenstein, which was brought to my attention by our own Anthony Emerson:
Big thanks to the richest man on earth for spreading awareness of the need for climate action instead of just funding climate action pic.twitter.com/22KXchvvk0

— Ken Klippenstein (@kenklippenstein) June 25, 2020
That's a good zinger. But I find it problematic on a few levels. For starters, who says Jeff Bezos isn't funding climate action? (I honestly don't know.) And even if he isn't, that would mean on Wednesday he was doing nothing to help the climate crisis; as of Thursday, he started turning an old arena into a more enviro-friendly space, possibly setting a model for other arenas to do likewise, and he did it without putting his company's name on the building. (In fact, the new name promotes and describes the arena itself more than most sports venue names do.)
Some people, perhaps including some folks who are reading this, may be saying, "Yeah, well, that's the least he could do!" And maybe that's true. But fixating on that aspect of this story seems like a textbook case of something I've long pushed back against here on Uni Watch: indicting the messenger instead of engaging with the message. I get that Bezos is no ordinary messenger, I also get that some people simply think he's fundamentally evil, and I also-also get that it annoys some people that he and/or Amazon will get some sort of civic-goodwill windfall out of this. Still, I sure like Climate Pledge Arena — both the name and the operating plan — better than the previous name, which was an ad for a bank. And if this arena inspires similar sports facilities to do something similar, think of what a benefit that could be.
Would I like it even better if they just went back to calling it the Coliseum and made the place enviro-friendly anyway? Yeah, just like I'd prefer it if the Jazz had no patch instead of "5 for the Fight." But both cases show a more enlightened approach toward an otherwise odious phenomenon. After the Jazz went with the charity patch, I was hoping other NBA teams would follow. That hasn't happened, but we can hope other arenas and stadiums do something like what's happened in Seattle. It would certainly be better than naming all the venues after airlines, banks, and tech firms.
• • • • •
• • • • •
Too good for the Ticker: Marc "The Ballpark Hunter" Viquez has assembled four-and-a-half minutes' worth of minor league team commercials from the 1980s and '90s, and it's pure gold. Fun stuff, and lots of very cool uniforms to boot. Don't miss!
• • • • •
• • • • •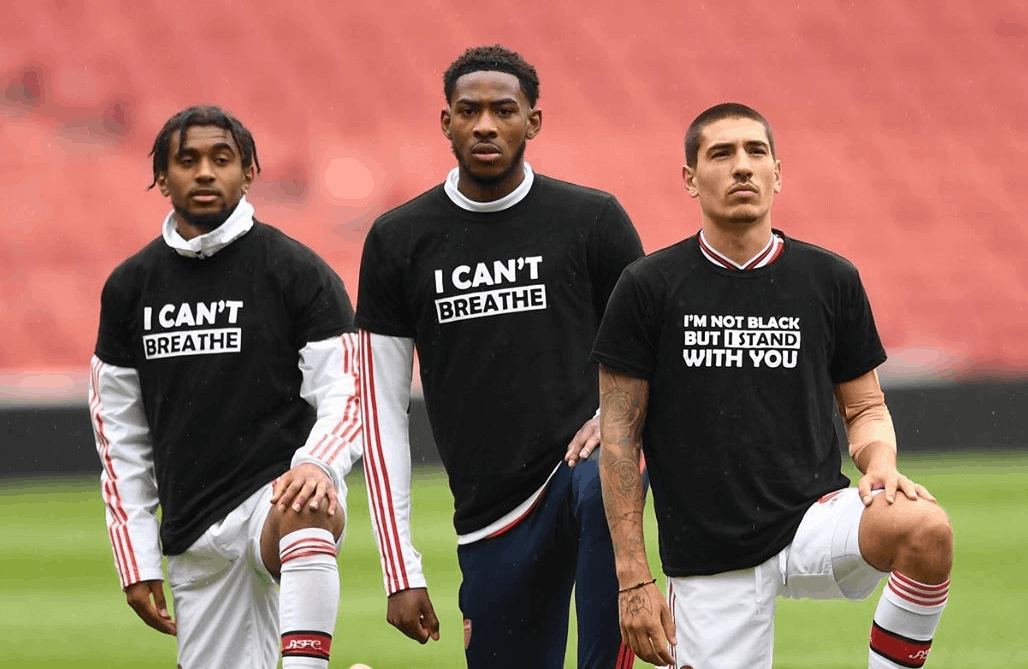 LAST CALL for the latest design contest: Today is the final day to submit an entry for my latest Uni Watch design contest, which is to create a logo for teams or leagues to wear in acknowledgment of the current racial justice protests.
We're probably going to see a lot of these logos/patches/etc. when American sports leagues resume (well, if they resume). What should they look like?
Full details over at InsideHook.
• • • • •
• • • • •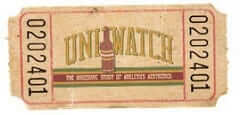 ITEM! Another membership raffle: Reader Bill Emigh recently purchased two membership cards for himself, two for friends of his, and one for me to raffle off, so that's what we're going to do today.
This will be a one-day raffle, with no entry restrictions. To enter, send an email to the raffle address by 8pm Eastern tonight. I'll announce the winner on Monday. Big thanks to Bill for sponsoring this one!
• • • • •
• • • • •
The Ticker
By Anthony Emerson

Baseball News: MLB's new rules include a provision allowing pitchers to carry a wet rag in their pockets, which they can to use in lieu of licking their fingers. I imagine Nike is excited at the opportunity to add their logo to something else. Will the rags carry a maker's mark? … Here's an excellent article about how the Twins' original mascots, Minnie and Paul, came to be (thanks to all who shared). … New Era is selling MLB caps with a golden maker's mark and "100" in honor of their 100th anniversary (from Joel Mendelson). … The Brewers released a 50th-season logo for broadcaster Bob Uecker (from Chris Bravata). … Here's a good look at Pittsburgh's ballparks through the years (from Kary Klismet). … The Giants are the first MLB team to announce that they'll let fans submit photos for faux-fan cardboard cutouts. … Meanwhile, the Astros say they want to have live crowds at their games. Good luck with that.

NFL News: This generic football jersey being auctioned on eBay has a Harley Davidson tag. Did Harley Davidson have a sportswear division back in the '40s? Or is it a different Harley Davidson than the motorcycle company? (Great find from Brad Eenhuis.) … Matt Vitelli found a 1962 Eagles pocket schedule in a 1960 Italian For Beginners book given to him by his father. A double dose of neato. … Panthers coach Matt Rhule is considering taking a knee with his players during the national anthem.

College Football News: Ole Miss coach Lane Kiffin and Mississippi State coach Mike Leach have joined the growing number of athletes and coaches calling for the Mississippi state legislature to remove the Confederate battle flag from the canton of the state flag (thanks, Paul).

Hockey News: Reader Kevin Vautour sends along this pic of Bruins players and a Canadiens player after a 1935-36 season game. What makes this uni-notable is that the Habs player — Kevin believes it's Johnny "Black Cat" Gagnon — appears to have an upside-down jersey crest.

Hoops News: Dikembe Mutombo played in the 2015 NBA Africa Game with the flags of the Democratic Republic of Congo and the USA beneath his uni number (from @GoatJerseys, Carlos González-Mariche and Gabriel Hurl). … Here are the numbers for UVA men's new players (thanks, Jamie). … Grafton (WVa.) High is getting a new basketball floor (from Kary Klismet).

Soccer News: The NWSL's Washington Spirit have unveiled their new home kit. More pics here (from Ryan Ramirez, Oleg Kvasha, Andrew Tanker and our own Jamie Rathjen). … Also from Jamie: Another NWSL kit launch, with Sky Blue FC unveiling their new home kit. … A Colorado Rapids blog has a pretty great post on the team's kit history (from Kary Klismet). … Salvadoran giants Club Deportivo FAS are holding a Twitter poll to find the most popular crest in club history (from Ed Żelaski). … New logo for the Cape Verde national team (from Andrew Voodoo). … With Liverpool winning the Premier League championship yesterday, it's the first time a team with a red shirt has won the title since 2013. … New away shirt for Scottish side Kilmarnock (from Ed Zelaski). … New primary and secondary shirts for the NWSL's OL Reign (thanks, Jamie).

Grab Bag: Sports Illustrated has a fascinating article about the downfall of the handshake in pro sports. … In the Australian Football League, Essendon and Collingwood will wear their Anzac Day guernseys when they meet next week. The two clubs always play on Anzac Day, which is April 25, but couldn't this year due to the pandemic (thanks, Jamie). … Loudoun County (Va.) High is thinking about nixing its "Raiders" nickname due to associations with the Confederacy (from Kevin Tepley). … On a similar note, alumni of Holrick High in Racine, Wis., are petitioning to change the school's "Rebels" team name (from Kary Klismet). … Google Photos has a new logo, in addition to a redesigned app (thanks, Brinke). … The U.S. Army will no longer allow "DA Photos" to be included in applications for officer promotions in an effort to eliminate unconscious bias. DA Photos are 3/4-length pics of the candidate in full dress blue uniform (from Timmy Donahue). … Also from Timmy: Gov. Gina Raimondo of Rhode Island has signed an executive order dropping "and Providence Plantations" from the state's official documents, though it remains part of the state's official name.
• • • • •
[adrotate group="2″]
• • • • •
Click to enlarge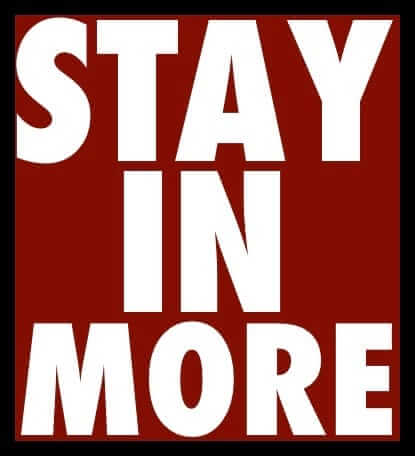 What Paul did last night: A few minutes after I took yesterday's photo, our neighbor Jason wandered over and chatted us up for a bit from the sidewalk. He's an eccentric cat, and I always enjoy his visits. I never really knew him before the pandemic (Mary did slightly), but now he's become a semi-regular presence during our porch sessions, plus we've sometimes gone over and chatted from the sidewalk when we've seen him on his own porch. I'm fairly certain we'll be good friends when things get back to normal, which is one of the nicer developments from this whole episode.
The branch is still there.
You can see the full set of Pandemic Porch Cocktails™ photos — now more than 100 of them — here.
Have a great weekend, enjoy Phil's weekend content, and I'll see you back here on Monday. I have some good stuff planned for next week! — Paul