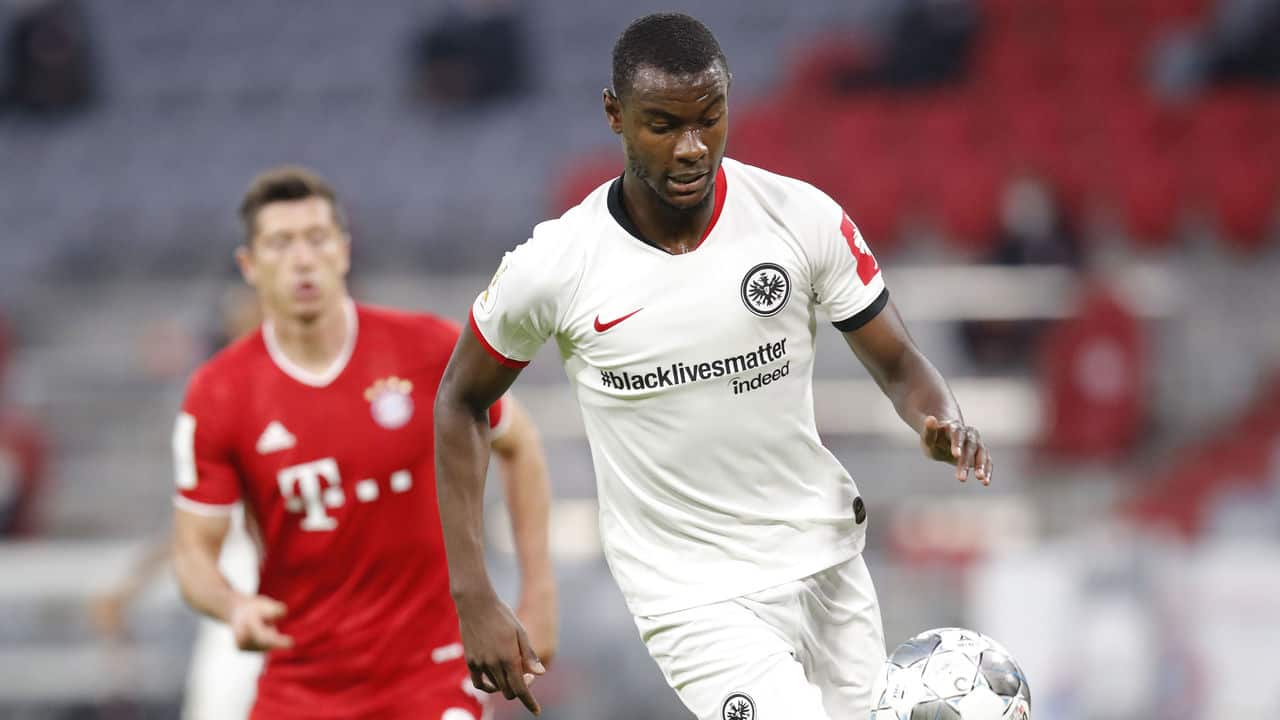 Click to enlarge
The racial justice protests that started in the United States after George Floyd's murder and soon spread around the globe have already had a profound effect on the uni-verse and related aspects of the sports world's visual messaging — even though the sports world is barely conducting any live events because of the pandemic. It's probably the most sweeping set of changes in response to a non-sports event that I can recall in my 20-plus years of writing about uniforms.
I've created a rundown, broken down by sport, of what's happened so far this week. This list includes some items that have been in the Ticker over the past few days, along with some new developments from yesterday. It does not include any of the many non-sports items that have appeared in the Grab Bag (removing the Confederate flag from military bases, e.g.), nor does it include any moves that have been called for but not yet enacted.
Even with those two provisos — and even with the sports world mostly shut down — it's a significant list. And the situation is so fluid, with new developments taking place at such a breakneck pace, that the list will likely be badly out of date by the end of today. But here's how it stands as of now:
Soccer
• U.S. Soccer on Wednesday rescinded its ban on kneeling during the national anthem. Federation president Cindy Parlow Cone followed up yesterday by apologizing to women's national team player Megan Rapinoe, whose kneeling during the anthem in 2016 prompted the enactment of the now-rescinded rule.
• MLS went out of its way to release a statement on Tuesday reiterating its existing policy of allowing players to kneel during the anthem. (That statement was then rendered moot the following day, when commish Don Garber announced that the anthem won't be played before games at the league's return tourney in Orlando, because he doesn't see the point of playing it if there are no fans on hand.)
• In Germany, Eintracht Frankfurt wore "#blacklivesmatter" on its shirts for Wednesday's German Cup semifinal against Bayern Munich.
• In England, Premier League players will wear "Black Lives Matter" NOBs, instead of their surnames, when games resume next week. They will also wear Black Lives Matter badges on the front of their shirts (along with "NHS" badges, as a salute to the National Health Service during the pandemic), and will reportedly be permitted to take a knee before kickoff.
NASCAR
• NASCAR driver Bubba Wallace drove a Black Lives Matter-themed car in Wednesday's NASCAR Cup Series race at Martinsville Speedway in Virginia.
• That same day, NASCAR announced that it had banned the Confederate flag at its events and properties. (NASCAR Truck Series driver Ray Ciccarelli responded by saying he will quit NASCAR at the end of this season.)
• NASCAR has also rescinded its rule requiring team members to stand during the national anthem.
NFL
• Titans owner Amy Adams Strunk yesterday became the first NFL owner to specifically support "peaceful protests," widely interpreted to mean she'd be okay with players kneeling during the national anthem, despite the NFL's rule requiring players to either stand during the anthem or stay in the locker room while it's being played.
• After the Panthers initially removed the statue of former owner Jerry Richardson from the front of their stadium on a temporary basis "for precautionary reasons" (Richardson sold the team in 2018 after allegations of racial and sexual misconduct, and there were rumors that activists in Charlotte planned to deface or topple it), The Charlotte Observer reported yesterday that the statue's removal is permanent.
• Eagles wide receiver DeSean Jackson appears to be the first athlete (at least that I'm aware of) to have commissioned a set of George Floyd memorial cleats.
MLB
• Wednesday's MLB draft began with a shot of all 30 MLB general managers holding "Black Lives Matter" signs. In addition, the MLB Network's coverage of the draft included a giant "Black Lives Matter" banner on the set.
Golf
• The PGA Tour's Charles Schwab Challenge observed a moment of silence for George Floyd at 8:46am yesterday. The time was chosen for the eight minutes and 46 seconds that Floyd endured a police officer's knee on his neck.
Boxing
• Heavyweight boxer Jared Anderson had "Black Lives Matter" on his glove tape and on his cornermen's shirts on Tuesday night. He also wore one of the shirts himself after his victory (as did another boxer on that same card, featherweight Shakur Stevenson).
Aussie Rules Football
• With the AFL returning to action this week, both teams in both games — Collingwood vs. Richmond and Geelong vs. Hawthorn — participated in a pregame kneeling observance.
Team Names and Mascots
• Western Connecticut State University, whose teams are called the Colonials, said it would consider changing the name.
• Howell High School in New Jersey announced that it is removing all traces of its Confederate-themed mascot character (although the school's teams will still be called the Rebels, at least for now).
———
Did I miss anything? If so, please let me know.
And there's presumably a lot more where that came from. It now seems inevitable that the Big Four pro leagues will all have some sort of uni-based gesture regarding this issue when they return to action (assuming they actually do return to action, which still isn't a sure thing).
(My thanks to Jamie Rathjen for the AFL items.)
• • • • •
• • • • •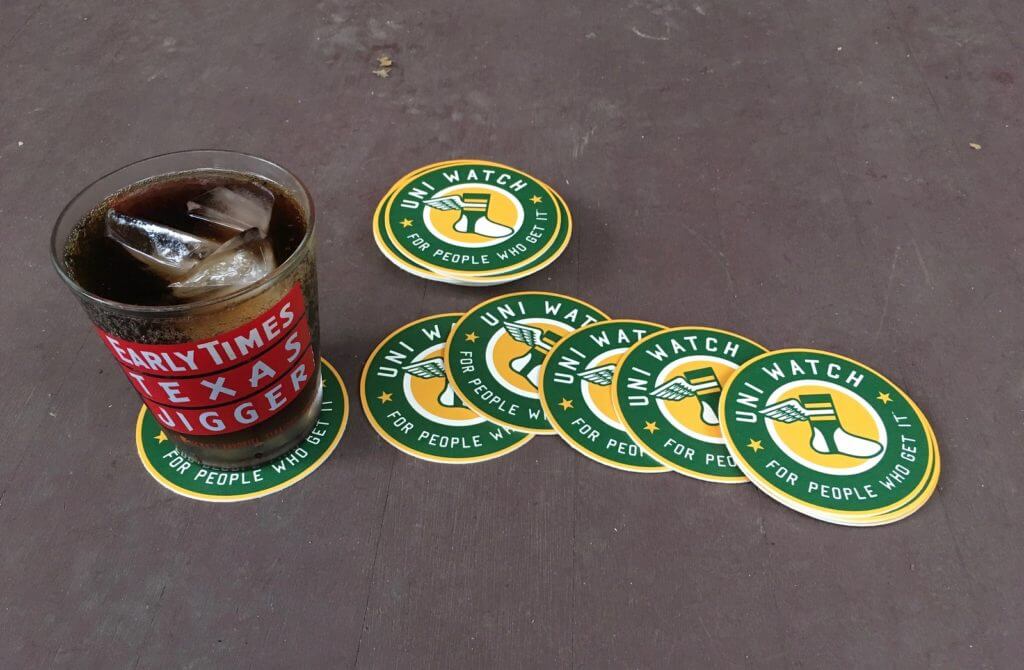 Click to enlarge
ITEM! Coasters available once again: Last summer I was able to get 50 Uni Watch coasters made at a discounted price. I made them available, and they sold out quickly.
That same supplier just offered the same discounted deal, so I ordered 50 more. Just like before, I'm selling them in sets of three for $9 (plus this time I'll throw in a matching sticker). Full details here.
• • • • •
• • • • •
Membership update: People ordering membership cards usually ask for designs based on home jerseys (except for Red Sox and Giants fans, who usually ask for road designs because those teams' home jerseys don't have NOBs). So it's always interesting when someone asks for a design based on the road greys, as Joanna Zwiep recently did for her card, which is patterned after the Reds' mid-1990s road set.
Joanna's card is part of a new batch that's been added to the membership card gallery, where I'm happy to report that we've finally gotten through all the Purp Walk orders.
Ordering a membership card is a good way to support Uni Watch (which, frankly, could use your support these days). And remember, as a gesture of comm-uni-ty solidarity, the price of a membership has been reduced from $25 to $20 until further notice.
As always, you can sign up for your own custom-designed card here, you can see all the cards we've designed so far here (now more than 2,800 of them!), and you can see how we produce the cards here.
• • • • •
• • • • •
The Ticker
By Anthony Emerson

Baseball News: This story details the saga between the two guys who fought — on Waveland Avenue and in court — over Sammy Sosa's 62nd home run ball in 1998 (from Mike Chamernik). … Red Sox President of Baseball Operations Chaim Bloom wore a really nice retro Red Sox cardigan during the MLB Draft. … Round Rock, Tx., has been granted a temporary Texas Collegiate League team, and they're adopting the "Round Rock Hairy Men" one-off identity from MiLB team the Round Rock Express (from Ignacio Salazar). … Nate Sanderson, the head girls' basketball coach at Linn-Marr High in Iowa, has a pretty amazing backyard wiffle ball field (from Kary Klismet). … Whoa, dig this shot of country music star Willie Nelson in an Astros tequila sunrise sweater! (From Dwayne White.) … Speaking of, the Houston Gaels — a Gaelic Football club — have just released their own tequila sunrise jersey design (from @Madmaclegend).

NFL News: The second part of Robert Bacon's review of NFL unis is live on YouTube. … Wouldn't it be cool if NFL coaches could wear suits with embroidered logos on the jackets, like Rankin Smith is in this screenshot? You gotta admit that looks better than this (from @NFL_Journal).

Hockey News: Holy moly, check out the stripe action in this old AHL matchup between the Hershey Bears and Providence Reds (from Matt Campbell, with Reds identification from Jason Chaimovitz).
.

Basketball News: The Daily Beast broke the news yesterday that reporters covering the NBA's restarted season might have to be in quarantine lockdown in the Disney/Orlando "bubble" for three and a half months, just like the players. This might lead to most of the media coverage being remote instead of live, because (a) most reporters won't want to be away from their families for that long, and (b) media outlets won't want to cover months' worth of hotel expenses for their reporters.

Soccer News: The NPSL's Fort Worth Vaqueros have chosen the Fort Worth Police Officers Association as their new primary shirt advertiser. This has led to intense criticism from the supporters — just look at the replies to the tweet — and the resignation in protest of the chairman of the official supporters' group (from Alex Rawden). … Celtic's new Adidas kits have finally leaked. For those who were wondering how Adidas's trademark shoulder stripes would look on Celtic's famously hooped shirts, it appears Adidas have taken an appropriately subtle touch that doesn't look that out of place. The training gear looks top-notch as well. (from Ed Żelaski and Josh Hinton). … Also from Ed: Scottish side Motherwell have unveiled a gorgeous home kit . … The following are all from Josh Hinton: More images have leaked of Manchester City's away and third shirts. I'd hate to admit it, but those do look nice. … The FA Cup is dropping its title advertisement, and instead giving the space to Heads Up, a mental health charity. … Bayern Munich wore next year's home kit in their win over Eintracht Frankfurt on Wednesday. … France's Ligue 1 has unveiled a new logo, with a new title advertiser. … MK Dons of England's League One have unveiled a very clean home kit. … Norwich City will put fans' names and locations on the ad boards when the Premier League kicks off next week (thanks, Jamie). … In an interview, former Arsenal and Manchester United ST Robin van Persie said the No. 20 he wore with United was his favorite.

Grab Bag: The Financial Times has detailed how Adidas struggled to make an appropriate statement on the George Floyd protests when many other companies felt compelled to do so. Adidas finally decided to retweet longtime rival Nike's statement. …  Rugby league team Keighley Cougars, out of England's RFL League One, have a really garish Union Jack/NHS jersey they're going to wear when lower-league rugby kicks back off in England (thanks, Jamie). … Max Weintraub sends along this fascinating article about how brands are changing taglines and logos during the pandemic. … With horrifically long poll lines in Georgia, many voters brought along lawn chairs so they could sit while waiting to vote. Atlanta Magazine talked to them about their chair choices (from Austin Gillis). … Simon Fraser University in Burnaby, British Columbia, is the only Canadian school in the NCAA and plays against American teams. The school's team name, the Clan, is a reference to the Scottish heritage of the school's namesake, but some are calling for it to be changed, since "Clan" has unfortunate overtones. "I would agree it is time for a name change," says Wade Heidt, who lives in nearby Vancouver. … Spencer Cox, a candidate for Governor of Utah, has a campaign logo with a very Uni Watch-esque color scheme (from Benji King). … Cross-listed from the baseball section: The Houston Gaels — a Gaelic Football club — have just released a new jersey based on MLB's Houston Astros' famous tequila sunrise design (from @Madmaclegend).
• • • • •
[adrotate group="2″]
• • • • •
Click to enlarge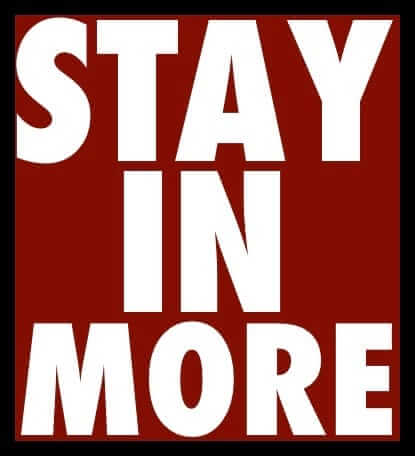 What Paul did last night: Our neighbor Sarah (in the green jumper) is a professional bassoonist. She and her son, Owen (in the Nirvana tee) stopped by yesterday while they were taking a walk. While we were yakking, another pair of neighbors, whose names I'm unsure of, walked by on the opposite sidewalk while carrying a 25-pound bag of flour, because NYC lockdown rules require everyone to bake their own bread or else you get hit with a sourdough tax. Yes, really. (Read: Not really.)
Here's the fourth and final candy bar-themed tumbler:
I always think of this tumbler as the oddball of the quartet, because Mars bars weren't commonly available in our local five and dimes when I was growing up — they were more like an unconfirmed rumor. They were discontinued in 2002 and then reintroduced as Snickers Almond, which is probably my favorite current candy bar.
Meanwhile: The branch is still there.
As always, you can see the full set of Pandemic Porch Cocktails™ photos here.
• • • • •
Our latest raffle winner is Robert Baker, who's won himself a Uni Watch membership card. Congrats to him, and thanks to Matthew Walthert for sponsoring this one.
Have a great weekend, enjoy Phil's Saturday and Sunday content, stay safe, and I'll see you back here on Monday. — Paul