Click to enlarge
The photo above shows Tigers designated hitter Luis Polonia legging out a triple on April 11, 2000. It was the first base hit in Comerica Park. Notice anything amiss?
It's a very subtle nuance, but the "D" logo on Polonia's jersey is a little bit off. Here's a side-by-side comparison — Polonia's logo on the left, the standard logo from a game-used Tigers jersey on the right (click to enlarge):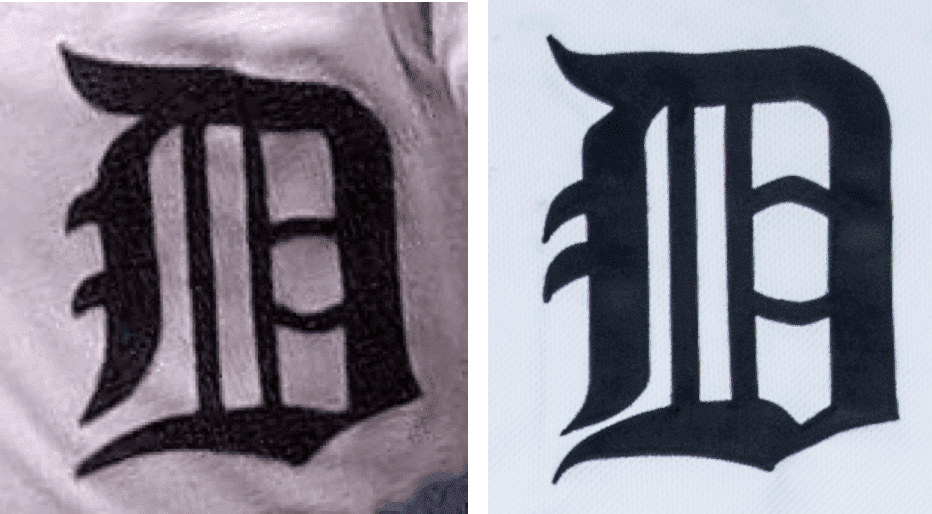 Weird, right? They're similar but definitely not the same. Sharp-eyed reader and longtime Tigers fan Jeffrey Sak noticed the difference while watching a replay of that 2000 game last night. He says six of the Tigers' 10 starters that day (catcher Brad Ausmus, second baseman Gregg Jefferies, shortstop Deivi Cruz, third baseman Dean Palmer, right fielder Karim Garcia, and Polonia) were wearing the incorrect logo, along with two of the three relief pitchers who later appeared in the game (Danny Patterson and Doug Brocail).
But he says four of the starters (first baseman Tony Clark, left fielder Bobby Higginson, center fielder Juan Encarnación, and pitcher Brian Moehler) wore the standard logo, as did reliever Todd Jones.
Here's a comparison of Palmer wearing the incorrect logo and Moehler wearing the correct logo — Palmer on the left, Moehler on the right: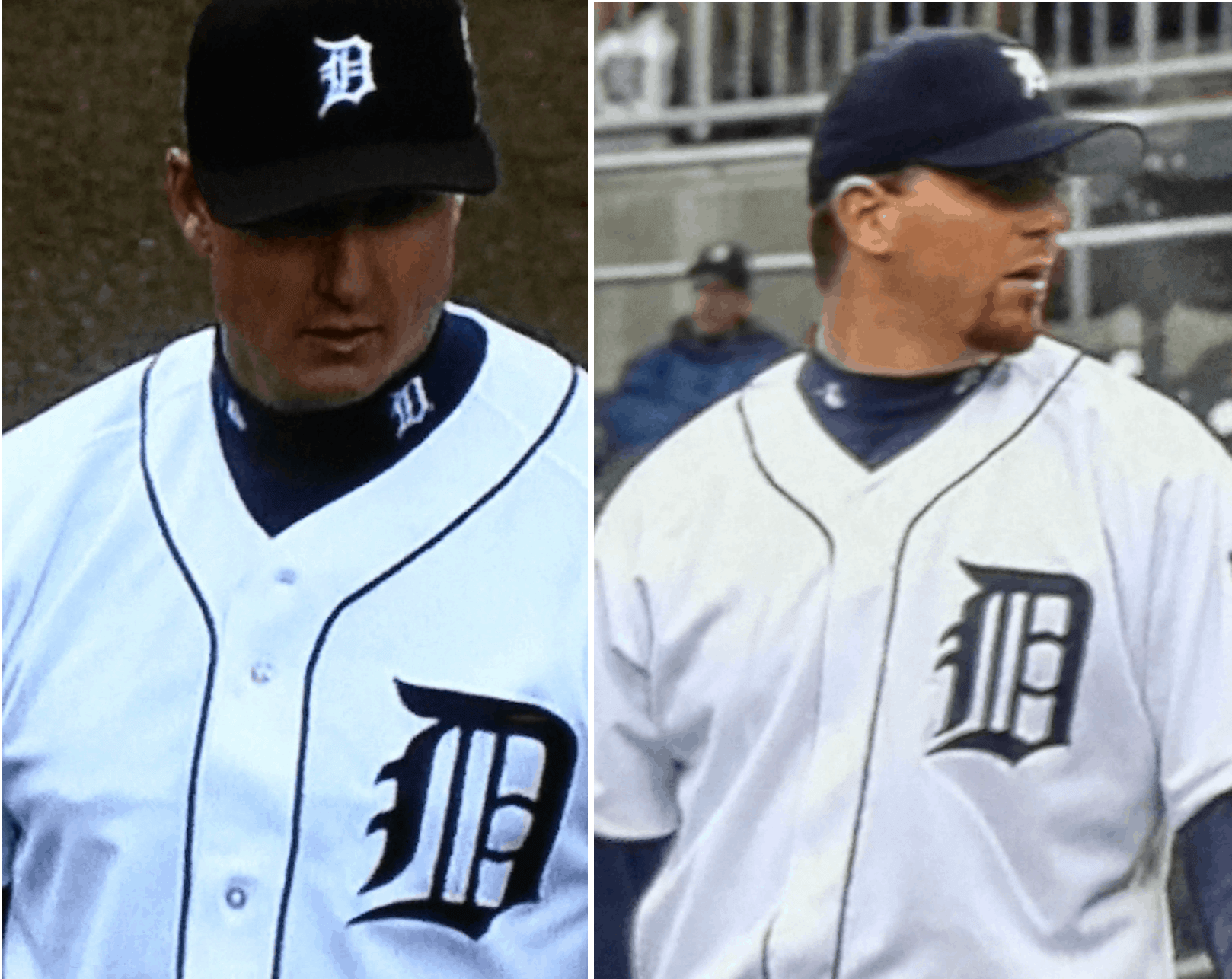 Although you can't see it because of the cropping, Palmer and Moehler both had the Russell Athletic maker's mark on their left sleeve, so this wasn't a "slightly different logos due to a different manufacturers" situation.
We all know the Tigers' jersey and cap logos didn't match for many years. But now it turns out that some of the jersey logos didn't even match each other!
"I can't say for sure that this was the only game that this discrepancy existed," says Jeffrey. "But as a diehard Tiger fan since 1981 who noticed the jersey/hat logo discrepancy in 1982 as a nine-year-old [this was noted as how Jeffrey first Got It™ in yesterday's blog post — PL], I've never noticed anything like it, so I think it's a very rare quirk."
Anyone know more? If so, do tell.
• • • • •
• • • • •
Click to enlarge
The color(s) of money: The map above shows the color of a $20 or £20 note in various countries around the world. It's from a faaaaascinating article about currency design that includes info on currency Pantone colors, which categories of people, animals, and buildings, are featured most often on currency, and more. Really great stuff — check it out here.
(Big thanks to my longtime pal Rob Walker for this one.)
• • • • •
• • • • •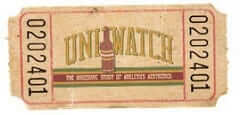 ITEM! Membership raffle: Reader Matthew Walthert recently purchased a membership for me to raffle off, so we're going to do that today.
This will be a one-day raffle. To enter, send an email to the raffle address by 8pm Eastern tonight. One entry per person. I'll announce the winner tomorrow.
Big thanks to Matthew for sponsoring this one!
• • • • •
• • • • •
The Ticker
By Paul

Working Class Wannabes™: The coach of the D-3 football program at the Rose-Hulman Institute of Technology describes one of his former players as "blue-collar tough and nasty." Footnote: Rose-Hulman's teams are called the Fightin' Engineers — a white-collar occupation. … South Carolina defensive coordinator Travaris Robinson says he wants his team to have "a blue collar mentality." … An article about Purdue's new defensive coordinator says (paywalled), "Nothing glorious or glamorous about playing the nose tackle spot. It's dirty, blue-collar work for tough men who need to tie up blockers." … An article about high school football in Virginia begins, "When you think of Galax [High School] football, you think of a rugged, hard-working, blue-collar style of play." … An article about Virginia football DL Jowon Briggs says he brings a "blue-collar mentality" to the defensive line. … A highly recruited high school football player from Yelma, Wash., says Boise State is one of the schools he's considering because "they really sold me the emphasis on family, offensive line tradition and blue collar work ethic." … An article about the WVU football team's upcoming season quotes an anonymous coach who says, "They [WVU] want to be blue-collar; they want to be disciplined." … MLB prospect Zach McCambley, who pitches for Coastal Carolina, says, "I think coming to Coastal, you've got to be a blue-collar type of guy. You've got to be a hard worker." … An article about another MLB propect, Arizona C Austin Wells, describes him as having a "blue-collar approach to his craft." … A high school baseball coach in Florida says, "[W]e're looking to get Crystal River baseball where it used to be; good, hard-nosed, blue-collar work ethic." … An article about Boston Bruins D Kevan Miller describes him as having a "a blue collar career." … An article about the NHL's Columbus Blue Jackets describes them as "the blue-collar Blue Jackets." … New Mexico basketball coach Paul Weir, engaging in a bit of working class lingo bingo, says one of his new recruits will bring "a blue-collar, hard hat energy and work ethic" to the team. … An article about the Duke baseball program describes the team as a "group of Blue Collar players who had to scratch and claw for so much." … An article about new Sul Ross State basketball commit Matthew Simpson says he has a "blue collar mentality" that will fit in with the school's "strong work ethic." … An article about Big East soccer teams describes Butler as a "blue-collar unit." … Boston Red Sox director of amateur scouting Paul Toboni says the team's top draft pick in last night's MLB draft, 2B Nick Yorke, is a "blue-collar baseball rat." … In another article about Yorke, he describes himself as a "blue-collar player." … In yet another article about Yorke, he describes himself as "more of a blue-collar, put your head down and go to work kind of guy." … Meanwhile, an article about the Diamondbacks' top pick, who played college ball at Duke, says he "embodied the blue-collar spirit of the squad." … The new coach of the Hastings College women's soccer team says, "I want to come in and sort of have that blue collar type attitude that has got that program to where it is in the first place."

Baseball News: MLB lettered up some jerseys for the top picks in last night's MLB draft, but the jerseys didn't have numbers — just NOBs. Looks weird, no? (From Phil Spain.) … This is pretty awesome: the cast of Happy Days in softball uniforms, complete with Northwestern-striped stirrups. And at Wrigley Field, too! (Big thanks to K. Richardson.)

NFL News: The Panthers have moved their statue of former owner Jerry Richardson to protect it from potential damage amidst civil unrest. Richardson sold the team in 2018 after allegations of racial and sexual misconduct. The terms of the sale included a clause stipulating that the new owners could not remove the statue. … Here's the stupidest thing you'll read today: Two youth football organizations in Park Ridge, Ill., are squabbling over which one of them has the rights to poach the Atlanta Falcons' old logo (from Eric Bangeman).

College and High School Football News: Oregon's "O" logo almost didn't make it onto the Ducks' helmets because Nike honcho Phil Knight didn't want it there (from @ianb78). … Administrators from Bear River and Box Elder High Schools are holding a logo design contest for the 100th annual Golden Spike football game this Septeumber. The game is the longest uninterrupted football series in Utah (from Timmy Donahue). … New helmet for Cumberland Valley High School in Pennsylvania (from Kary Klismet).

Hockey News: Sacrilege, or just sacré bleu? Canadiens owner Geoff Molson says the team may add an alternate uniform next season (from Moe Khan). … The ECHL's Maine Mariners are auctioning off jerseys with proceeds going to pandemic relief. … New 10th-anniversary logo and slogan for the North Iowa Bulls, a junior team in the NA3HL (from Timmy Donahue). … New 50th-season logo for the WHL's Prince Albert Raiders (from Wade Heidt). … Speaking of Wade, he was walking past the Canucks' arena and noticed a banner showing G Jacob Markstrom wearing a mask and jersey that he's never actually worn together. "That's his old mask that he wore with the previous jersey, which had the 'Vancouver' lettering above the Orca logo. Never been worn with the newer jersey."

Soccer News: U.S. Soccer has voted to rescind its rule that had required players to stand during the national anthem (from our own Jamie Rathjen). … Also from Jamie: Players on at least two EPL teams — Arsenal and Tottenham — want to kneel in protest before kickoff when the league resumes play. The matter will be discussed at an EPL shareholders' meeting today. … EPL players also want to replace their NOBs with "Black Lives Matter" for the opening round of matches next week. … One more from Jamie: MLS's return tournament has its own logo. … Eintracht Frankfurt wore a Black Lives Matter shirt yesterday (from Football Kit Watch). … The NWSL's Utah Royals FC will release a new home kit on June 17 (Jamie again). … Looks like Barcelona F Lionel Messi may have been wearing teammate Luis Suárez's warmup top. … New away kit for Belfast side Linfield. "The colors match the flag of the Ulster Volunteer Force, a Protestant paramilitary group in Northern Ireland," notes Ed Zelaski. "Linfield is known as a Protestant club, and supporters have gotten in trouble for sectarian chanting, so that hardly seems accidental." …

Grab Bag: In the "I never thought I'd live to see the day" department: Two days after driver Bubba Wallace called for the Confederate battle flag to be banned at NASCAR events, NASCAR has done just that. Amazing. … In a related item, the U.S. Army appears to be following the lead of the Marine Corps and the Navy by preparing to ban the Confederate battle flag. That article says the Army would then take up the issue of renaming the 10 bases currently named for Confederate generals, but President Trump then ruled that out yesterday, saying that the bases are part of a "history of Winning." Whatever one thinks about the issue of the base names, citing "Winning" is a puzzling rationale for justifying the names, since Confederate generals were losers, in the most literal sense of the term, on the battlefield (from Timmy Donahue). … In a further related item, about 100 students, teachers, and parents in Hanover County, Va., protested outside a school board meeting earlier this week, demanding new names for two schools that are named after prominent figures from the Confederacy (from Tom Turner). … Here's an article, with lots of photos, about how rappers used to wear sports jerseys. … A U.S. Marine veteran protested for racial justice outside the Utah state capitol in full uniform. More info here. … The city of Poughkeepsie, N.Y., has a new logo for its reopening. … Looks like Syracuse's Carrier Dome no longer has a formal name (from Jeff Sharon). … Here's one branding expert's take on how the pandemic will affect logos and branding. … A school district in Texas has spent nearly $100K on legal and related fees fighting a group of parents who created a rainbow/pride-themed version of the district's logo. … Lots of different U.S. Postal Service uniform components shown in this photo essay featuring employees at one Queens post office. … Rugby league team the Toronto Wolfpack has announced a plan to have staff and eventually fans wear contract tracing bracelets to help inhibit the spread of the coronavirus. … Comic book writer and Punisher co-creator Gerry Conway, who has previously criticized police officers who've used the Punisher logo, is now looking to repurpose the logo for the Black Lives Matter movement. … Although the 2020 Olympics were postponed until next year, Olympic-themed sneakers are still hitting the market now (from Asa Domolky). … New primary athletics logo for D2 school Assumption University. … One sportswriter thinks it's time for the sports world to stop having police appreciation promotions (WaPo link). … Speaking of the police, George Floyd's uncle wants his town of Gettysburg, S.D., to remove the Confederate flag from its police department logo. The town was founded in 1883 by Union and Confederate Civil War veterans and named for the Battle of Gettysburg, although the police logo with the Confederate flag wasn't adopted until 2009 (from Timmy Donahue). … Good article about how Felix the Cat became the mascot of an Indiana high school. … Aussie rules football resumed last night, with an extra guernsey ad above the number (from @maclovenotwar).
• • • • •
[adrotate group="2″]
• • • • •
Click to enlarge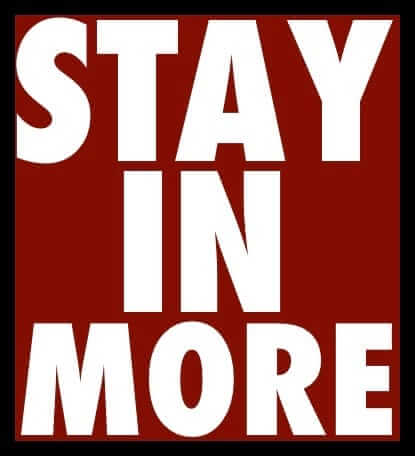 What Paul did last night: Perfect weather yesterday — mid-70s, low humidity, a bit of a breeze. I spent most of the day working out on the porch, then went for a Perfect bike ride, and then back to the porch for an extremely pleasant Pandemic Porch Cocktails™ session. It was almost enough to make me forget that the world is such a mess.
Here's the latest candy bar-themed tumbler:
Fun fact: The 3 Musketeers bar got its name because it originally came in three pieces — one chocolate, one vanilla, and one strawberry, like Neapolitan ice cream. The vanilla and strawberry components were phased out due to wartime ingredient shortages during World War II.
Only one more candy bar-themed tumbler to go. Can you guess which candy bar it will be?
Meanwhile: The branch is still there.
As always, you can see the full set of Pandemic Porch Cocktails™ photos here.