[Editor's Note: Today I'm re-running — with some light edits and updates — a post that originally appeared on April 26, 2011. It involves a metaphor that I've found myself invoking quite a bit lately when I've been interviewed by writers radio/podcast hosts, so this seemed like a good time to revisit it. Enjoy. — PL]
Yes, that's me in the photo shown above. It was taken at the old Uni Watch HQ in the autumn of 2000 (I'll explain why later on). I'm using it for today's entry because the cola wars serve as a handy lens through which to view the uni-verse.
First, some quick history (and bear with me here — I promise this will lead back to uniforms): For roughly the past 60 years, Pepsi's marketing campaigns have emphasized youth and generational themes. Here are some of the company's slogans during that time:
• "For Those Who Think Young"
• "You're in the Pepsi Generation"
• "The Choice of a New Generation"
• "The Taste That's Generations Ahead"
• "Be Young, Have Fun, Drink Pepsi"
• "Generation Next"
• "Taste the One That's Forever Young"
• "Every Generation Refreshes the World"
You might think youth appeal is basic soda marketing, but Coke has never gone this route. The company's slogans over the past century have tended to emphasize timeless, universal messages with no generational pitch:
• "Enjoy Coca-Cola"
• "Coke Is It"
• "It's the Real Thing"
• "Coke Adds Life"
• "Things Go Better with Coke"
The closest they've come to a generational slogan is "For People on the Go" (and maybe "Catch the Wave," which was paired with the supposedly youth-directed Max Headroom character and was also widely perceived by mid-1980s ad critics as an attempt to align the brand with new wave music, although I always thought that was a bit of a stretch).
The thing about constantly pitching yourself as the hip new thing, as Pepsi tends to do, is that you constantly have to reinvent your image to keep up with current trends and fashions. That's why Pepsi's logo has changed so much over the years: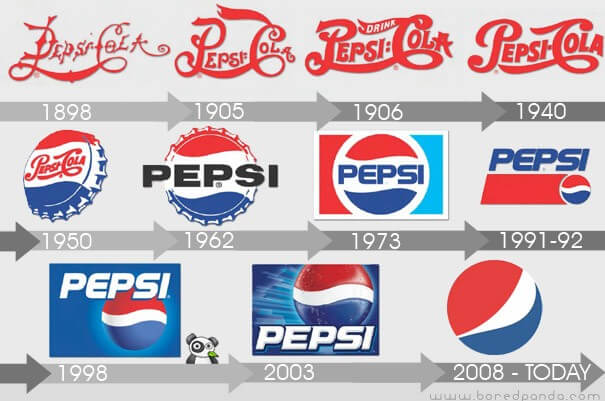 By comparison, Coke's familiar script has remained largely unchanged over the years: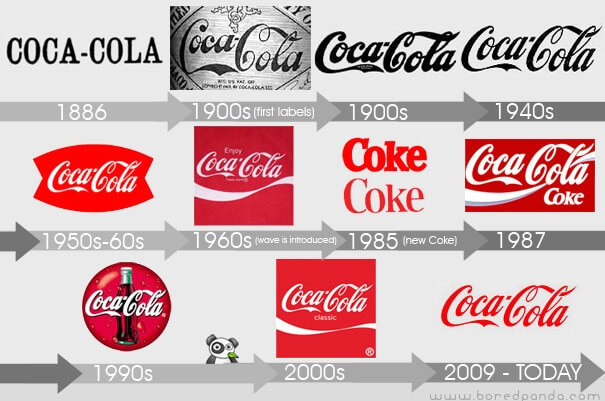 For a while now, I've been thinking of sports franchises as either Coke teams or Pepsi teams. This has nothing to do with which soda is sold at which stadium or arena. It's about whether the team's approach to marketing — including, but not limited to, its logo and uniforms — reflects Coke values (stability, universality, timelessness) or Pepsi values (youth, change, generational themes). The Yankees, for example, are the ultimate Coke team; Oregon football is probably the ultimate Pepsi team.
Obviously, I've made some generalizations here, and not every team fits neatly into a tidy little Coke box or Pepsi box. Some teams even change from one to the other: For much of the 20th century, for example, the White Sox were about as Pepsi as a baseball team could be (tons of uni changes, logo changes, team color changes, first MLB team to wear NOBs, the leisure suits, the shorts, the numbers on the pant legs, etc.), but over the past 30 years they've become paragons of Coke-ism.
Here in New York, the Coke/Pepsi dichotomy is easy to see. The Yankees, obviously, have always been a Coke team (which is why it made such perfect sense when they developed a player named Phil Coke — too bad they traded him to Detroit). And for a long time the Mets were fairly Coke-ish, too — they wore pinstripes, stayed NNOB until the late 1970s, were one of the handful of teams that never wore sansabelt pants, held Old Timers' Days (a Pepsi team would never do that), and generally adhered to a set of relatively traditionalist baseball values.
But in the late '90s the Mets began to change. Remember, this was when the Yankees were re-establishing themselves as a dominant force on the field and at the box office, and it's almost like the Mets said to themselves, "Okay, we're never gonna out-Coke the Yankees, so we may as well embrace the Pepsi approach." That's how the Mets ended up adding black throughout their design program; it's how they introduced a new alternate cap design for three consecutive years; it's how they almost completely stopped wearing their primary home cap and listed their black alternates as their "preferred" uniforms in the MLB Style Guide; it's how they were the first team to go with those embarrassing two-tone Cool-Flo batting helmets; it's how they took the 1999 TATC promotion a step further by becoming the Mercury Mets; and so on. These days the Mets have largely abandoned that approach and are back to being a Coke team.
Coke and Pepsi approaches go beyond uniform choices, of course. A team's cola protocol can be evident in everything from the style of its P.A. announcer (the NBA is pretty much a Pepsi league in this regard) to the music it plays at its stadium or arena (there's nothing more Coke than a live organist) to its commercials and other advertising.
Again, I realize this paradigm doesn't work for every team, but it's good food (or drink) for thought.
Meanwhile, here's another odd intersection of the cola wars and sports: When I attended Game 5 of the 2000 World Series (the Yankees beat the Mets to win the championship that night), a Pepsi Challenge booth had been set up in the Shea Stadium parking lot. I not only took the challenge but wrote a small item about it for Fortune (the fee for which conveniently covered what I'd paid for the Series tix). For reasons I still don't understand, the story's editor insisted on using me, instead of a model, for the photo accompanying the story — which is how we got the photo shown at the top of today's entry. It is, of course, not the least bit representative of how the Pepsi Challenge actually works, but the editor had his mind made up about it.
Not mentioned in the story: My then-girlfriend, a lifelong Coke partisan from the South, chose Pepsi and was mortified. It really challenged all her assumptions about herself, like discovering she was adopted or something, and she was pretty inconsolable. Ah well — within a few hours, that seemed like the least of our worries.
———
Hi again. I wrote that nearly a decade ago, and I find that the Coke/Pepsi paradigm can still be a very useful way of framing things, although it sometimes needs to be tweaked slightly. For example, after the Chargers recently unveiled their new uni set, a reader asked me if I considered it a Coke update or a Pepsi update. "Cherry Coke," I responded. (By contrast, the Falcons' new uniform unveiling was pure Pepsi — ironic, given that Coca-Cola is headquartered in Atlanta.)
We could also say that the NBA, with its freewheeling approach to uniforms, has essentially become a Pepsi league.
Again, this framing doesn't work for every team or league, but it definitely has its uses.
• • • • •
• • • • •
I made a model of Kauffman Stadium almost completely out of Royals baseball cards. from r/baseball
Oh. My. God.: Great project by a Redditor who created a model of Kaufman Stadium by using old Royals trading cards. Spectacular!
(Big thanks to Mike Chamernik for this one.)
• • • • •
• • • • •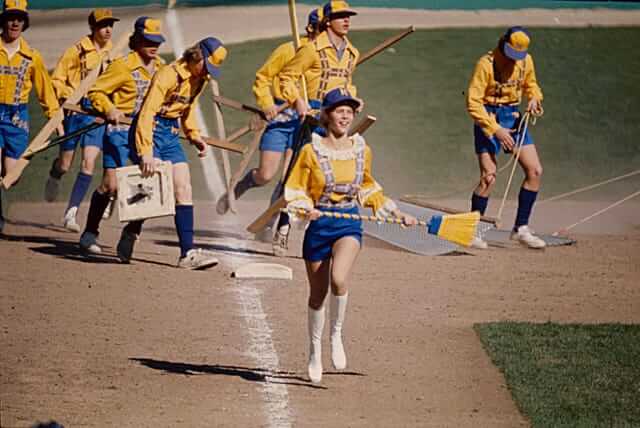 Too good for the Ticker: The original Astrodome groundskeeping crew often gets a lot of love, and deservedly so. But check out how the Brewers were dressing their groundskeepers in 1976 — wow!
(My thanks to @TexasTrevor for this one.)
• • • • •
• • • • •
Click to enlarge
ITEM! New Uni Watch masks: Dan Mullins, COO of a Utah-based company called ProLook Sports, recently got in touch with me and asked if I'd like to have 100 masks like the one shown above, gratis. Uh, sure!
The box arrived yesterday. The masks look great, and I'd love to make them available to you — ideally via our Teespring shop (with all profits donated, natch). Give me a day or three to get some things set up and then I'll let you know all the details.
• • • • •
• • • • •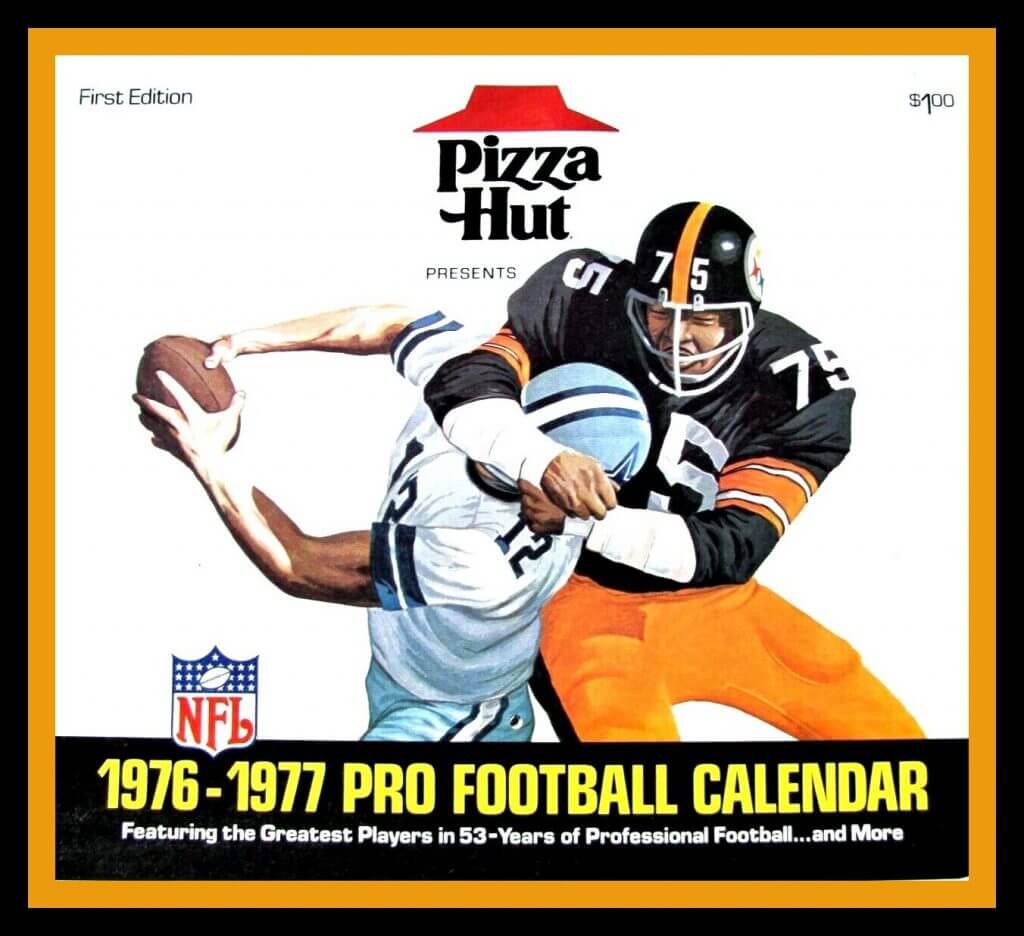 Click to enlarge
Collector's Corner
By Brinke Guthrie
Follow @brinkeguthrie 
We're gonna go with two lead items today, because I loved the artwork on both of these and didn't want to ditch either of them. 
Let's start with this 1976-1977 season Pizza Hut NFL Calendar. Based on the artwork, It seems that Mean Joe Greene is attempting to unscrew Roger Staubach's head from his body, like a cap off of a pop bottle. But notice that the Steelers decal is on the wrong side of the helmet, and is missing the word "Steelers." That image, of course, was based on this famous photo featuring the late Mike "Mad Dog" Curtis of the Colts and the unfortunate Roman Gabriel of the Rams. (The Cowboys and Steelers played in the 1976 Supe, which might explain why those two teams were chosen for the calendar artwork.)
Next up: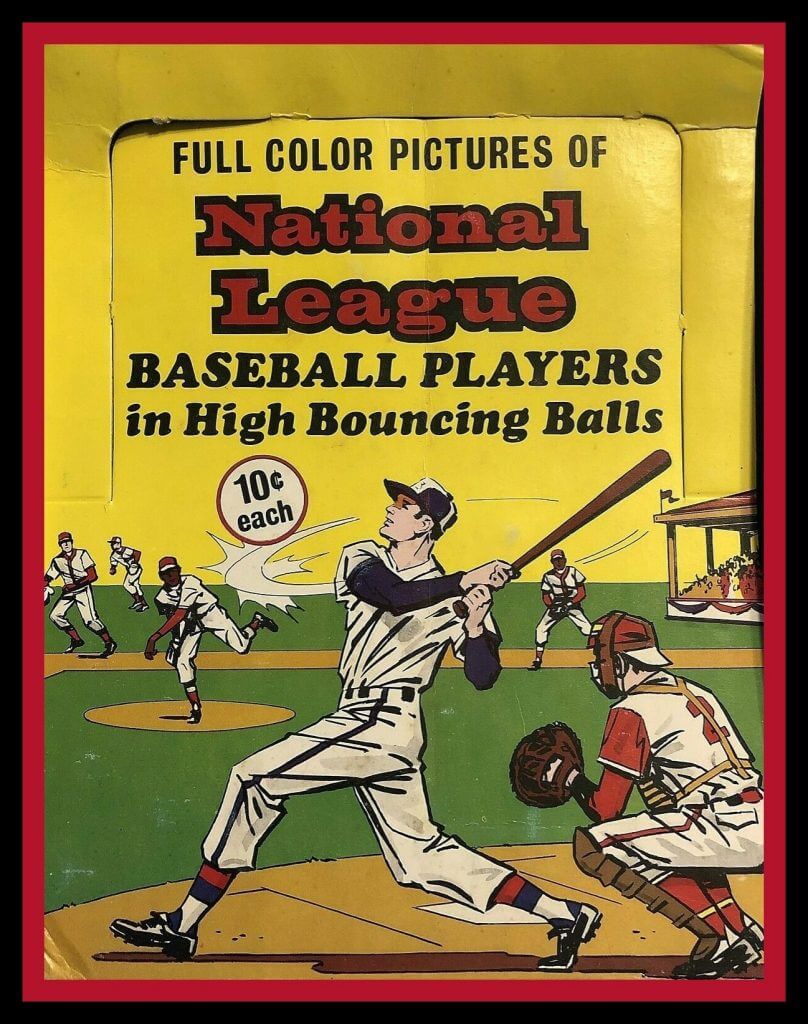 Great artwork on this display box for "National League Baseball Players in High Bouncing Balls." These transparent rubber balls were made by Chemtoy in 1970 and had little photos of MLB players inside. Ten cents each!   
Now for the rest of this week's picks:
• Look at this — the "Wheel of Champions" from 1953. It's a "Quick-Reference Index of 'Big League' Team and Player Champions since 1900." You'd rotate this thing to get the leaders for a particular year (unless it was marked "NORK," for "No Official Record Kept," of course). This looks like a sample to show potential advertisers.
• Interesting-looking New York Mets press pin from the 1969 World Series. I like the globe theme — it is the World Series, after all!
• Here's another Mets item from that same era: six drink coasters and a serving tray depicting Manager Gil Hodges wearing "Famous Number 14."
• McDonald's and their Ronald McDonald House charity were the sponsors of this 1980 Philadelphia Eagles Super Bowl XV jacket. 
• One more for the Iggles: This decal says "Philadelphia Eagles," but of course there's no way this was ever used — the colors are all wrong! Wonder what this was for? Maybe someone just made 'em up..?
• I like the simple looks of these 1970s NFL Record Books. Notice how they used the same basic design from year to year.
• Cartoonist Jim Dobbins created this 1971 poster of Boston Bruins star Bobby Orr.
• This vintage ABC Sports corduroy snap-back cap just screams "Wide World of Sports," no?
• Jets fans will love these NFL helmet stereo headphones. But look at the size of those — they look pretty darn heavy to me! A far cry from the ear buds of today!
• And from reader Will Scheibler: Here's a great catalog for the NHL's 1990s "Heritage" uniforms.
• • • • •
• • • • •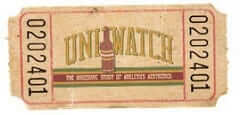 Membership update: Reader Ryan Houdayer recently purchased a membership for me to raffle off, so that's what we're going to do today.
This will be a one-day raffle, open to all. To enter, send an email to the raffle address by 8pm Eastern tonight. One entry per person. I'll announce the winner tomorrow.
Speaking of which, the winner of yesterday's membership raffle for essential workers is Patrick Raven, who works at a Trader Joe's in Seattle. Congrats to him, and big thanks to reader Pete Garofalo for sponsoring that one.
• • • • •
• • • • •
The Ticker
By Alex Hider

Baseball News: Prior to the pandemic, the Florence Freedom of the independent Frontier League announced they had rebranded as the Florence Y'alls. While they haven't yet taken the field this season, they've gone ahead and unveiled their new uniforms (thanks to all who shared). … Across the Ohio River, a University of Cincinnati player is calling on the team to rename its ballpark, which is currently named after former Reds owner Marge Schott — a notorious racist. Fellow Bearcats alum and former MLBer Kevin Youkilis has joined the chorus of those calling for the change. … It appears Blue Jays CF Devon White used safety pins on his jersey during the 1993 World Series (from Matt Wilcott). … Speaking of the Jays, the inlining on the "E" of P Jack Kucek's jersey in this photo is inconsistent with the rest of the team's (from @Minor_Leaguer). … Bob "Sodfather" Christofferson, the Mariners' longtime head groundskeeper, has retired (from Timmy Donahue). … The University of Florida's new baseball stadium, Florida Ballpark, will house Alfred A. McKethan Field. Florida's old field, which was set to close after this season, was named McKethan Stadium (from Timmy Donahue). … Kansas State will wear purple beach blanket-style jerseys as part of their 2021 set (from @nategar11).

NFL News: The Jets and Giants will have new end zone designs this fall (from @GoatJerseys and Steven). … Speaking of end zones, the Browns used at least three different styles of end zone art during the 1971 season — large brown lettering on an orange end zone, small orange lettering on a truncated white background and small white letters in the end zone corners (from Bill Kellick). … Steelers OT Zach Banner is calling on the league to add Black Lives Matter decals to every player's helmet this season (from Phil). … Cardinals WR DeAndre Hopkins and Texans QB DeShaun Watson — both Clemson alums — are calling on Clemson to remove John Calhoun's name from Clemson's honors college. Hopkins says this is why he does not use the university's name when he's introduced before NFL games.

College Football News: An Iowa State design student has come up with a football uniform concept to honor Jack Trice, the school's first African-American player (from Kary Klismet). … FAU is outfitting their entire team with custom masks with player numbers and team logos (from Ayden Pierce Maher).

Basketball News: John Stockton's short shorts certainly made an impression on the women from Friends in this mid-'90s NBA commercial (from Mike Chamernik). … An artist has redesigned several NBA logos as characters from Disney movies (from Eric Farrell). … Michael Jordan's boat, "Catch 23," is wrapped in a Carolina blue pattern (from James Gilbert). … New uniforms for John Hardin High School in Elizabethtown, Ky. (from Josh Claywell).

Soccer News: In 2017, the U.S. Soccer Federation adopted a policy that required national team players to stand during national anthems after USWNT MF Megan Rapinoe began kneeling during the U.S. anthem. Now, the Federation is considering ending that policy. In addition, Washington Spirit CB Kaiya McCullough plans to kneel during the anthem when the NWSL's Utah tournament starts (from our own Jamie Rathjen). … Also from Jamie: The Orlando Pride of the NWSL will unveil new uniforms today. … Man City's 2020-21 third shirts have reportedly leaked (from Josh Hinton). … Also from Josh: Everton has struck a shirt ad deal with used-car startup company Cazoo. … The period on Liverpool G Alisson Becker's NOB is riding a bit high in this photo (from Michael Blake Raymer). … As teams prepare creative ways to hold games in stadiums without fans, they can take a warning from Arsenal. With part of its stadium under construction in 1992, the team commissioned a mural of fans to hide the construction mess — a mural that originally included only white fans (NYT link). Arsenal was able to redesign the banner before it debuted for games. … More EPL: Brighton is filling its stadium with cardboard cutouts, and will use the photo of any fan who pays $25. … Another English club, Northampton Town of EFL League Two, is doing a similar promotion with its cardboard cutouts (from @KevPKing). … Mexican club Mazatlán F.C., which recently relocated from Morelia, has unveiled its new purple and black crest (thanks to all who shared).

Grab Bag: Reader Raafi Rivero has a long-running project called Unarmed, in which he designs — and in some cases produces real-world versions of — sports jerseys in honor of unarmed people of color who've been killed. The jersey number refers to the person's age at the time of death, and some of the jerseys have stars indicating the number of bullets involved. You can scroll through the entire project here. … In yesterday's post, Paul mentioned that he hasn't been missing sports during the pandemic. According to this post from The Guardian, he's far from alone (from Ted Arnold). … NASCAR driver Corey LaJoie's paint scheme includes a photo of a person in a mask on the hood. … Speaking of NASCAR, there were no fans at last weekend's event at Atlanta Motor Speedway — but the parking lot was full. The Speedway has allowed car dealerships and rental companies to park their inventory there while pandemic-related shutdowns slow demand (from Chris H.). … The New Jersey State Seal that appears behind Gov. Phil Murphy at his daily press briefing has a few inconsistencies with the official state seal — notably, the color of one woman's clothes and the stroke outlines on some objects (from Brian DeViteri). … JT Marvelous, a women's volleyball team in Japan, and its affiliated men's club, JT Thunders Hiroshima, added a mask to their logos. They've also unveiled their 2019-20 championship banner (from Jeremy Brahm). … Howell High School in New Jersey has announced that it's keeping its "Rebels" nickname but scrapping the accompanying mascot and is asking students to pick a new mascot (from Ron). … The Army is said to be open to changing the names of bases currently named for Confederate military leaders (from Timmy Donahue).
• • • • •
[adrotate group="2″]
• • • • •
Click to enlarge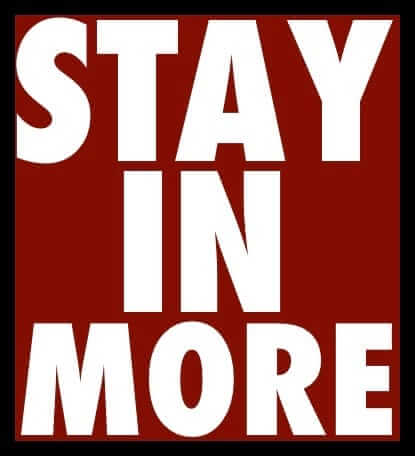 What Paul did last night: A long time ago — I'm guessing around 1990, give or take a year — I acquired a set of four plastic tumblers, each of which was emblazoned with the logo of a different candy bar. I don't remember exactly how I got them, which is unusual for me — I usually retain info like that — but it was probably at a yard sale.
Anyway: The tumblers are fun and summery, or at least I associate them with summer. So I've decided to use a different one each day for this week's Pandemic Porch Cocktails™. Here's the one I used yesterday:
Meanwhile: Someone stole the traffic cone that our landlords put out there to mark the edge of their driveway. That seems about right — that shit doesn't fly here in NYC, and I was surprised they tried it.
The branch is still there.
As always, you can see the full set of Pandemic Porch Cocktails™ photos here.