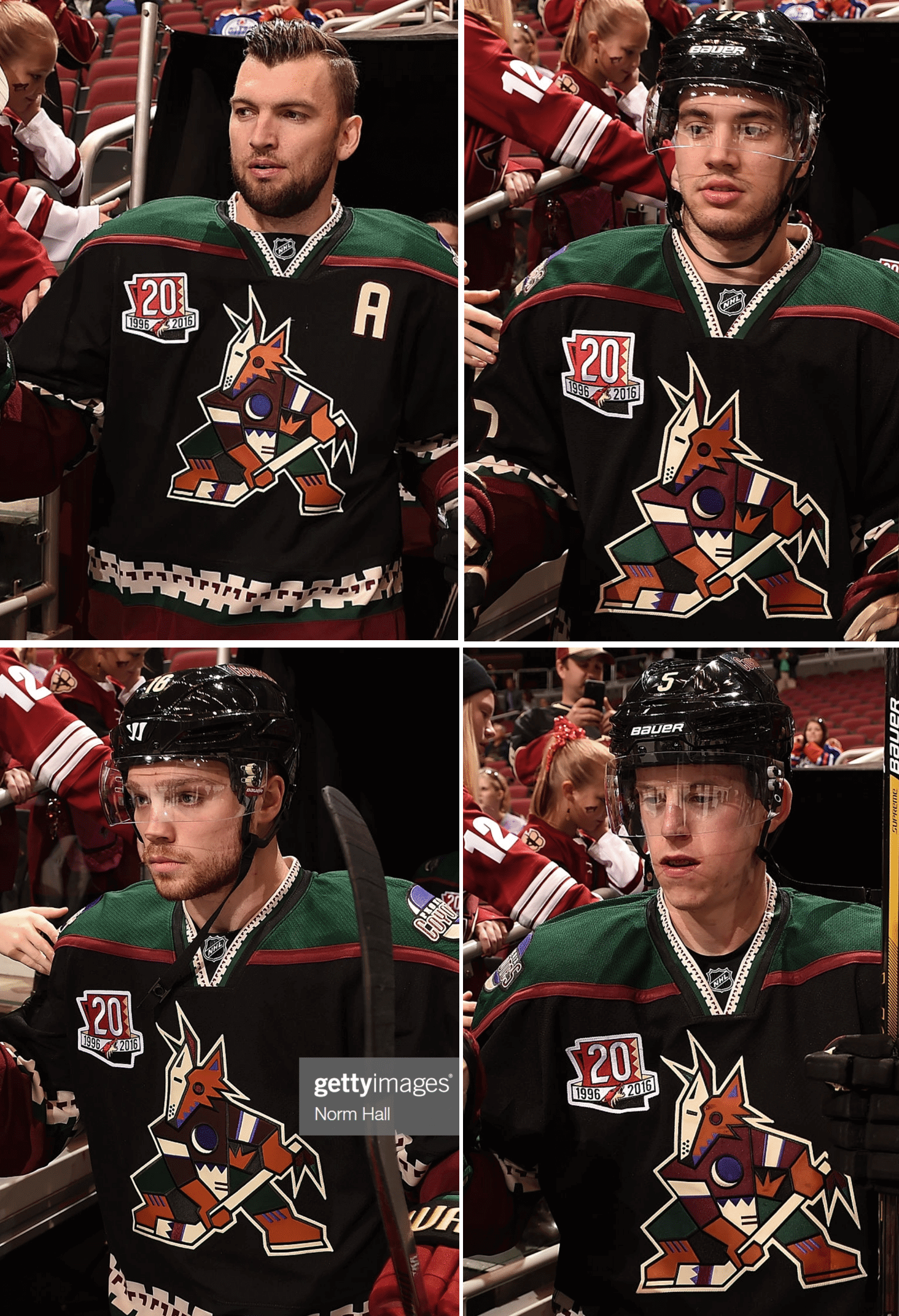 Click to enlarge
On Nov. 25, 2016, the Arizona Coyotes wore their Kachina throwbacks as part of their season-long 20th-anniversary celebration. It turns out that there was an interesting inconsistency in their uniforms that night. Can you spot it in photos shown above?
Here's the deal: The coyote mascot crest for the two players on the left (centers Martin Hanzal and Max Domi) shows the coyote wearing two beige skate blades. But the two players on the right (defensemen Anthony DeAngelo and Connor Murphy) have one beige blade and one brown blade. Photos from the game show that this inconsistency ran throughout the team that night. And therein lies the start of a very interesting rabbit hole.
Some background: The Coyotes began play in the 1996-97 season. Their original uniforms, which were made by Starter, featured the two matching beige blades, as you can see in these two game photos:
Embed from Getty Images
The two beige blades also appear on these two game-used 1997-98 jerseys: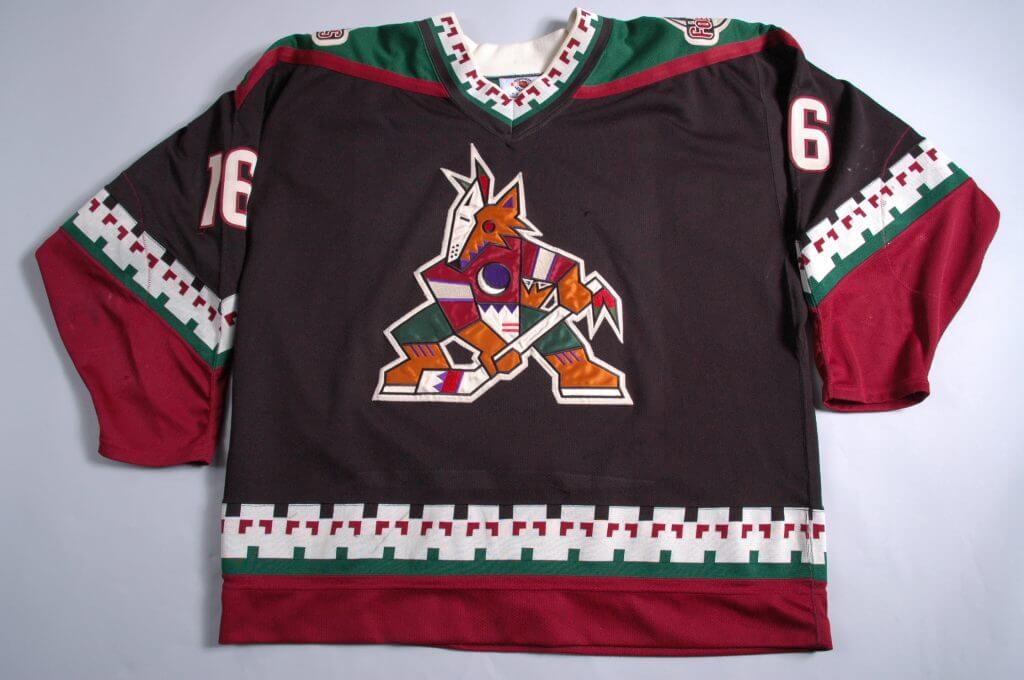 I have copies of the official NHL Style Guide for the 1999-2000, 2000-01, and 2001-02 seasons. All of them show the two beige skate blades (click to enlarge):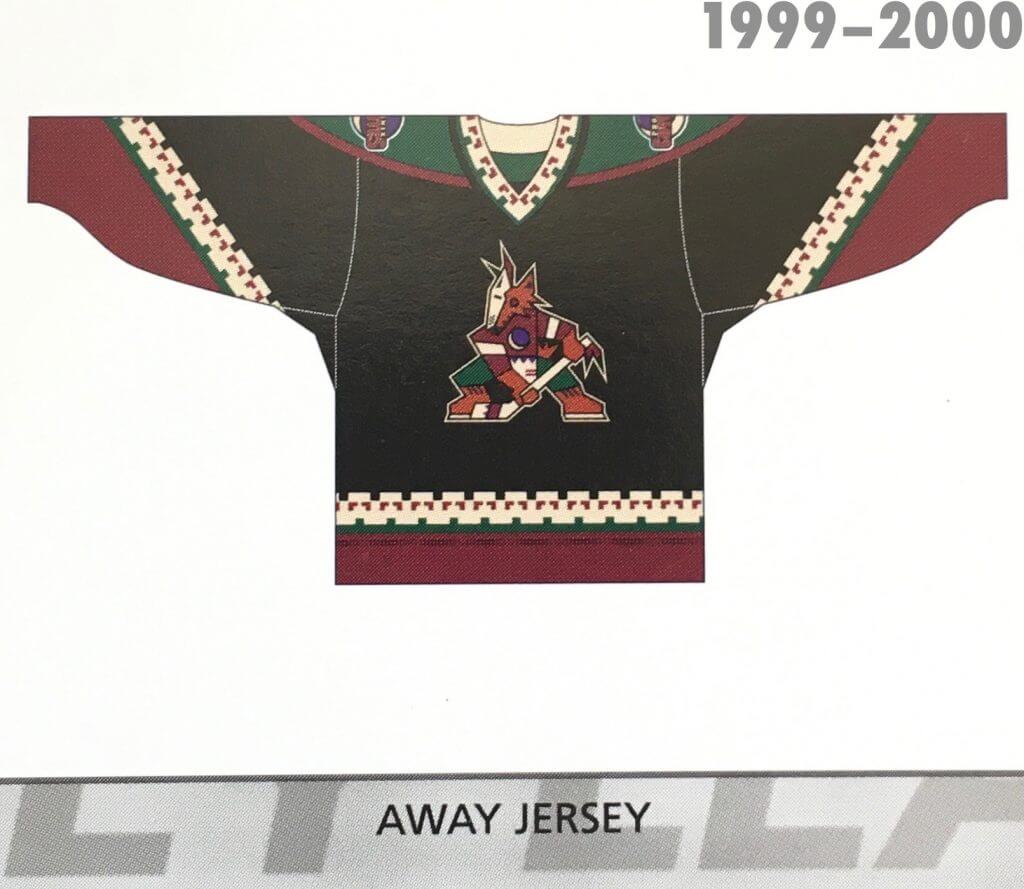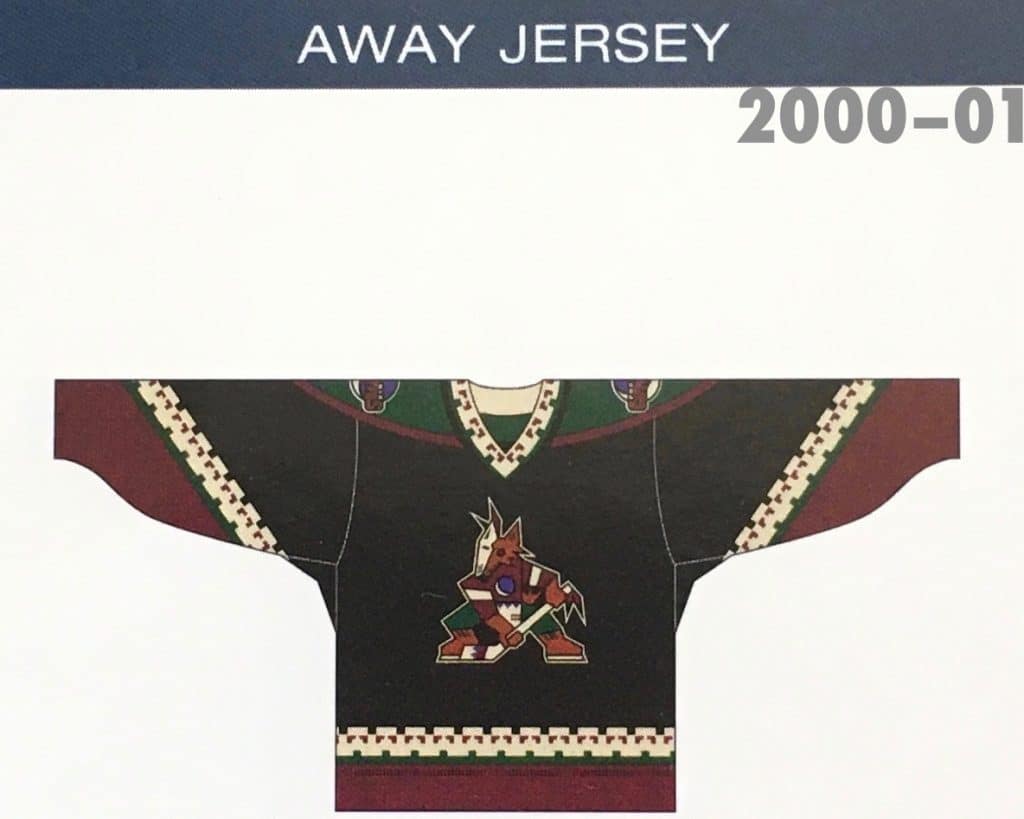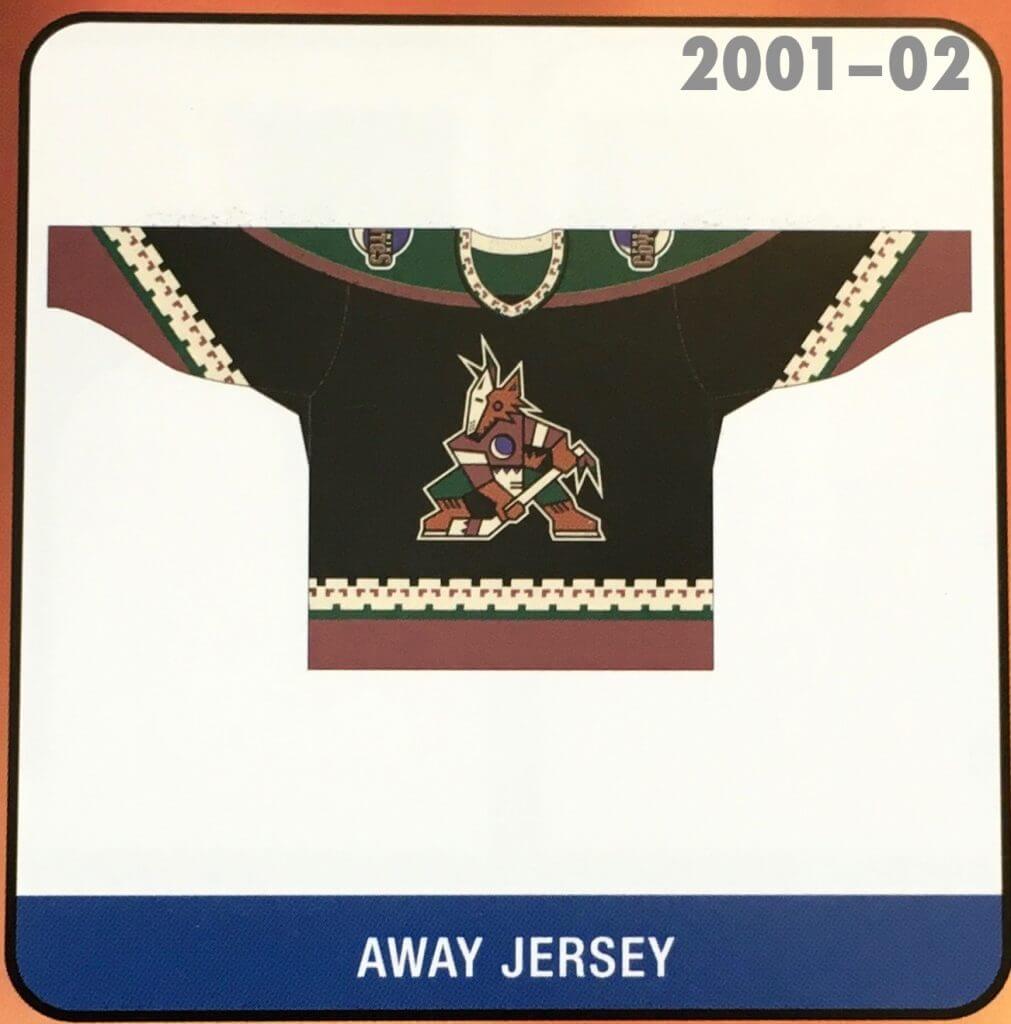 So the original version clearly had the two beige blades. And then Reebok (which still had the NHL uniform contract in 2016) apparently introduced the brown blade, presumably by accident, on some of the jerseys worn for that November 2016 throwback game.
And what has happened since then?
On June 22, 2018, the Coyotes announced that they'd be reviving the Kachina design as their third/alternate uniform for Saturday home games ("Kachina Saturdays") during the 2018-19 season. As far as I can tell, all of the photos and graphics that accompanied the announcement showed the two beige blades. So the Reebok glitch appeared to have been fixed by Adidas.
But when the new Adidas throwbacks made their debut on Oct. 13, 2018, here's what happened:
Embed from Getty Images
The brown blade was back! Based on my admittedly cursory photo research, it appears that the brown blade was worn by all players for all of the Coyotes' throwback games in 2018-19.
So was the problem fixed for 2019-20? The Coyotes' first throwback game of that season (i.e., the current season that's been interrupted by the pandemic) was on Oct. 5. Here are some pics from that game (click to enlarge):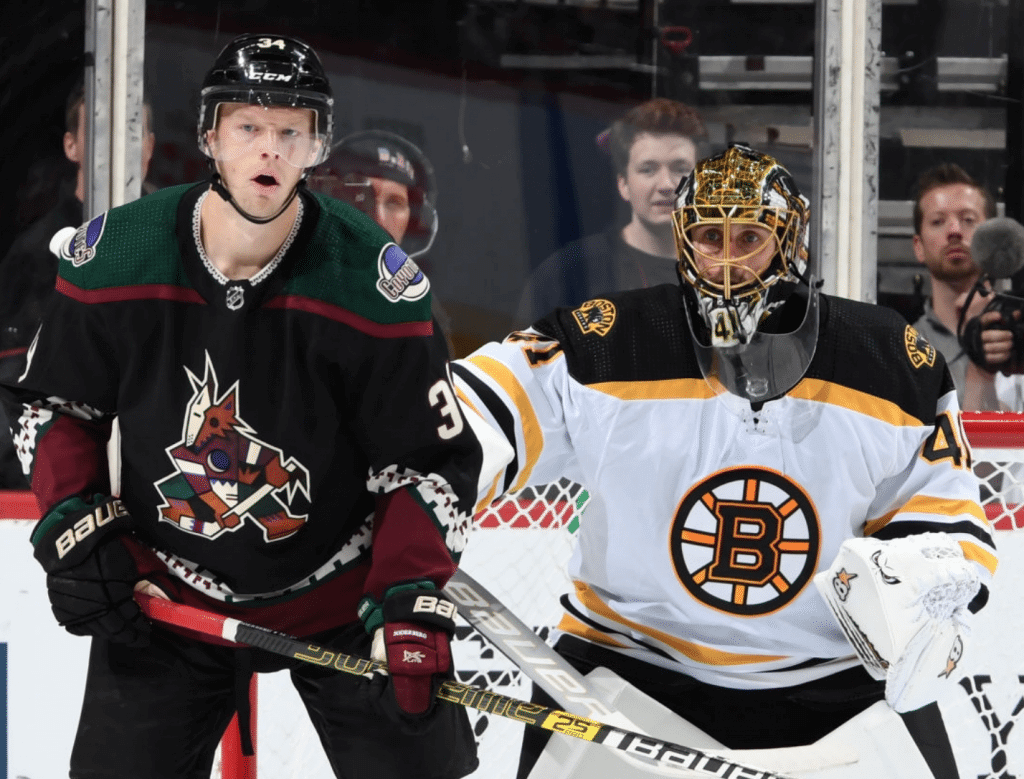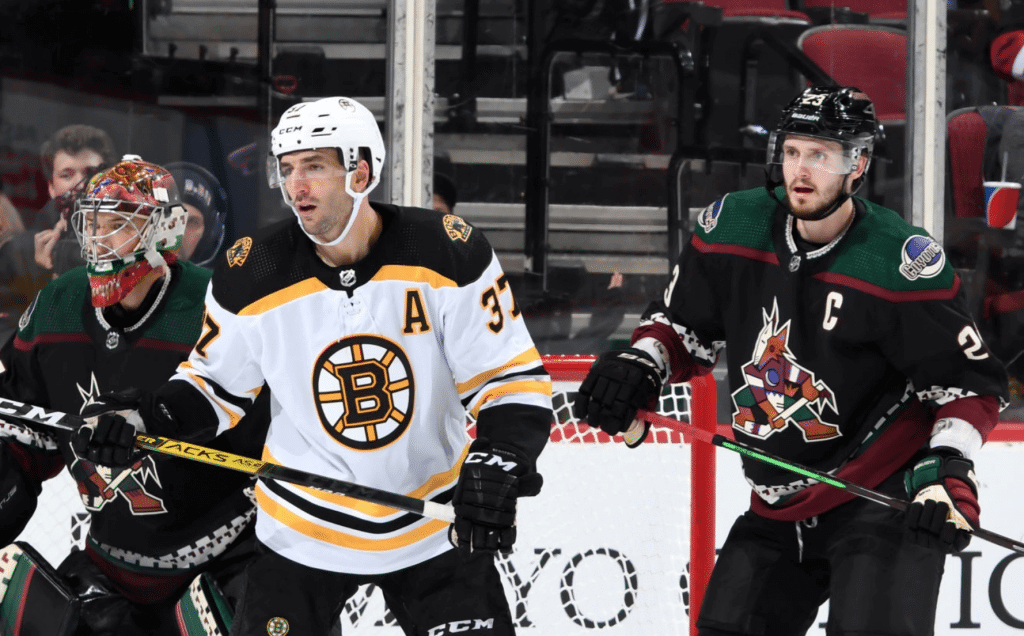 Still with the brown blade! Again, based on my admittedly incomplete research, it appears to have been worn by all players throughout the 2019-20 season. In fact, earlier this month the Coyotes' official Twitter account tweeted that the team was "missin' Kachina Saturdays" and used a photo clearly showing the brown blade:
Missin' Kachina Saturdays. pic.twitter.com/0IWKTJC5KH

— Arizona Coyotes (@ArizonaCoyotes) May 16, 2020
But wait — it gets weirder! If you go to the Coyotes' online shop, the authentic jerseys do not have the brown skate blade, even though the on-ice jerseys clearly do have it. So the game jerseys and retail jerseys don't match (not that I care about retail jerseys, but the inconsistency is nonetheless interesting).
How did Reebok introduce this glitch into the Coyotes' visual program? How did Adidas initially fix it and then reintroduce it? It's all very bizarre.
By coincidence, this all came to my attention just as the Kachina logo and its designer, Greg Fisher, were the subject of two feature articles — one on NHL.com and another on AZcentral.com. Both articles were accompanied by photos that showed the brown blade, even though Fisher's original design did not include the brown blade.
I emailed Fisher on Tuesday to ask him about all of this — no response yet, unfortunately. I'll post an update if I hear back from him.
(This entry would not have been possible without eagle-eyed reader Jordan Lacoste, who recently brought the brown blade to my attention.)
• • • • •
• • • • •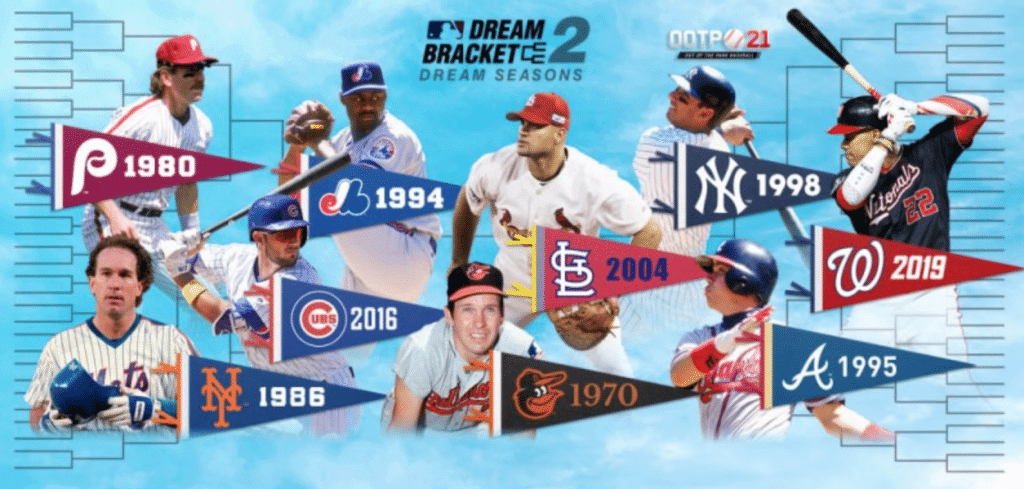 Solving a history mystery: The MLB Network recently used the graphic shown above to promote some of its pandemic filler programming. Do you notice anything surprising about it?
Eagle-eyed Padres radio broadcaster and longtime Uni Watch reader/pal Jesse Agler did. I'll let him explain:
Gary Carter was my childhood hero, so my eyes went right to him [in the bottom-left corner of the graphic, representing the 1986 Mets]. My immediate thought was "I'm guessing that picture's not from '86 — the uniform is too baggy and he looks a bit older."

Then I noticed the helmet. I never remembered him wearing one with an earflap.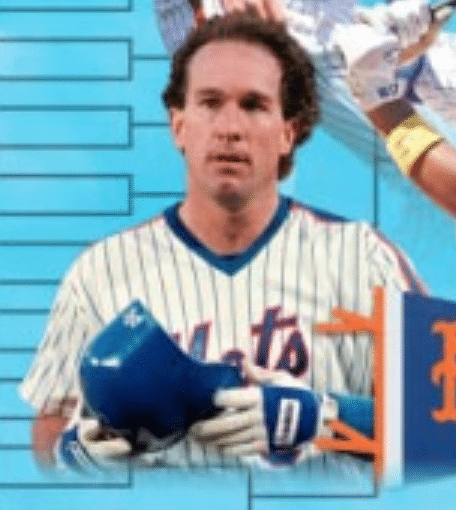 I can see him standing on second base in his final game as an Expo before retiring — no flap. Thinking of images of him as a Giant and Dodger, I didn't recall a flap.
I'm going to break into Jesse's story here to say I completely agree with him. I watched a lot of Gary Carter (especially when he was with the Mets, but also before and after his stint in New York), and I definitely think of him as a flapless player.
But! Jesse did a bit of digging and discovered that Carter wore an earflap early in the 1988 season, as seen in this clip from an April 7 game — the third game of that season — in Montreal:
I have no memory of Carter going earflapped that season, but apparently he also did it at least once at home (I say "apparently" there because the photo is undated, which is unusual for AP pics) and apparently as late as June 12 (I say "apparently" in that case because Getty captions are notoriously unreliable, plus that's a pregame photo, so it's not clear he was going flapped in the actual game). That was the year Carter spent nearly three months stuck on 299 career homers, so Jesse theorizes that the flap may have been an early-season thing and then he may have scrapped it as a slumpbuster move.
In any case, bad move by the MLB Network (for using an '88 photo to depict the '86 Mets) but great spot by Jesse!
• • • • •
• • • • •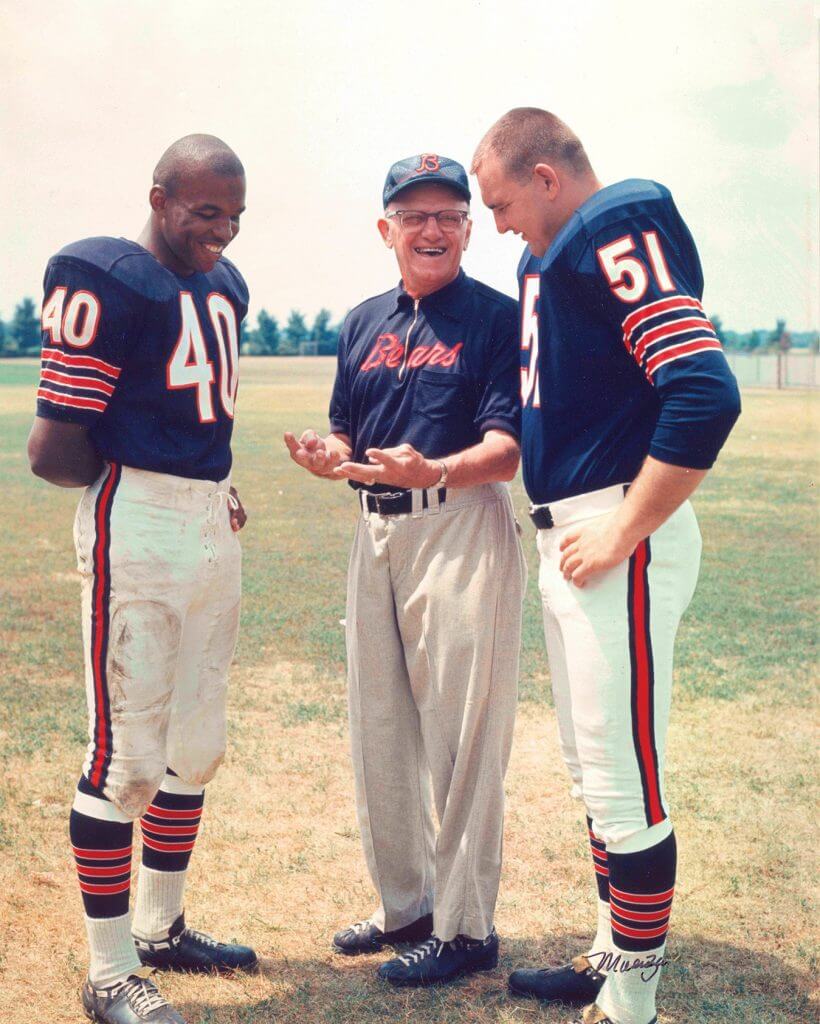 Click to enlarge
Worth 1,000 words: So much to like in this photo of George Halas with Gale Sayers and Dick Butkus — and so many uni-centric details! For example:
• I particularly like Papa Bear's zippered shirt with the script insignia — but it's odd that it includes a pocket.
• It's hard to be sure, but it appears that Halas may also be wearing cleats (which was not uncommon for NFL coaches at the time).
• Sayers has short sleeves while Butkus has long sleeves.
• Butkus's pants have belt tunnels and maybe a zipper; Sayers's pants have neither.
• Both players are using athletic tape to keep their socks up.
(Big thanks to Brian Wulff for sharing this one.)
• • • • •
• • • • •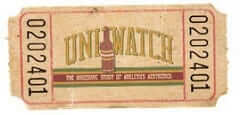 ITEM! Yet another membership raffle: Reader Frank Seitz recently donated two memberships for me to raffle off, so that's what we're going to do today.
This will be a one-day raffle. To enter, send an email to the raffle address by 8pm Eastern tonight. One entry per person. I'll announce the two winners tomorrow.
Speaking of raffles, the two winners of yesterday's membership raffle are Marc Bronitt and Aaron Telecky. Congrats to them, and big thanks to the anonymous reader who sponsored that one.
• • • • •
• • • • •
The Ticker
By Paul

'Skins Watch: In 1998, the school district in Auburndale, Wis., complied with a request from the Apache Nation to stop calling its teams the Apaches. Since then, the district has used an "A" logo but has had no official mascot or team name. That is now changing: They will henceforth be known as the Eagles (from Timmy Donahue). … The Newmarket Redmen, a youth hockey team in Ontario, will now be known as the Newmarket Renegades. The team had been urged to make the change by the Ontario Human Rights Commission, which determined that the old name was insensitive to indigenous people.

Working Class Wannabes™: According to an article about former Detroit Lions player Chris Spielman, he was popular with fans because of his "blue collar work ethic." … The father of new Wisconsin football commit Jack Pugh says his son chose Wisconsin because it "comes across as a blue-collar type of program." … Speaking of Wisconsin, Miami Dolphins LB Vince Biegel, who played for the Badgers in college, says, "When people draft Wisconsin guys, they know they're getting coachable guys who are going to bring their lunch pail" (from Kyle Speicher). … An article about pro golfer Hale Irwin says he was a "blue-collar athlete" when Colorado football coach Eddie Crowder recruited him. … An article about the Cleveland Browns says highly paid star players are nice, but what teams really need are "these blue-collar players [who] come through for them." … Former NFL player Chad Cascadden, who's getting ready to transition into the financial world, says his high school team was "a close-knit, tight, hard-working, blue collar, no-nonsense team." Even better, his college team — Wisconsin again! — played "a blue collar, lunch pail, no-frills, let's-get-after-it kind of football."

Baseball News: Everyone knows the A's are famous for wearing white shoes. But according to a quote attributed to former A's P Vida Blue, they would take BP in black shoes and then change to white for the game. I hadn't been aware of that. … Gross: The Cardinals invited fans to design their own uniforms — and gave them a template with a Nike maker's mark (from many readers).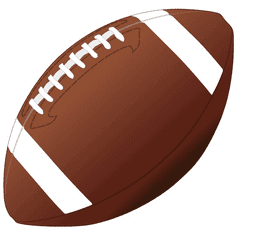 Football News: Bucs QB Tom Brady learned a lot about golf attire during last weekend's celebrity match. … Meanwhile, Peyton Manning's golf cart had lots of visual references to his football career (from Kary Klismet). … Former NFL WR Antonio Brown was seen practicing in a Raiders practice jersey and helmet and Steelers pants (from our own Anthony Emerson). … Tons of awesome stuff from a 1981 NFL merch catalog. That sound you just heard in the background was Brinke Guthrie drooling. … College football bowl game naming sponsors advertisers are absurd enough as it is, but they take things to a new face-palm level when they play musical chairs with the various games.

Hockey News: "This is quite rare, and I've never seen it before," says Johnny Garfield. "It's a photo of Mark Messier, shortly after he was acquired by the Canucks during the team's 1997 training camp, by which time the team had changed its logo to the first-generation orca design. But he's wearing the team's 'flying skate' practice jersey, part of an identity system that he'd never wear in game action."

Basketball News: Spurs fans want the team to bring back the fiesta-themed uniforms. … Dan Kennedy put together a fun Pistons redesign concept. … The 76ers held a fan contest to design a new shooting shirt. Here's the winning design. … The Basketball Hall of Fame is pushing back its induction for the class of 2020 to 2021.

Soccer News: FC Cincinnati fans have chosen the logo that will be created by the color pattern in the seats of the team's stadium (from Wade Heidt). … Also from Wade: LAFC is seeking a new stadium name advertiser after their existing advertiser pulled out. It'll be interesting to see if there are similar developments elsewhere, since naming advertisers are presumably feeling the financial pinch from the pandemic (just like potential uniform advertisers). … From our own Jamie Rathjen: "English club Reading's women's team are to be the first team in the Women's Super League to play all their home games at the same stadium as their men's team, Madejski Stadium. The other WSL teams all use smaller stadiums in their local areas, although most have played at least once at their men's team's stadium."

Grab Bag: The astronaut suits that were going to be used for yesterday's now-postponed SpaceX launch had some massive side panels. Here's more on how they were made, a design assessment (NYT), and info on how these space suits are the first in many decades not to include patches (from Don Silsby, James Gilbert, and Blaise Lucas). … The Canadian rugby union team will now be outfitted by Macron (from Ed Zelaski). … From our own Jamie Rathjen: "Australia's Seven Network, which shows the Australian Football League, is saying that AFL teams are now permitted to put ads above their numbers because of the shortened season this year. For what it's worth, there's not much room there and some teams have the initials of their former identities in that space." … I can't say for sure how legit all of this is, but here's a faaaaascinating thread that purports to explain — with some evidentiary/sourcing backup — why right-wing protesters often wear aloha (i.e., Hawaiian-style) shirts. The explanation appears to be backed up — at least broadly, if not in every specific detail — by this short piece in The Economist, which is a reputable source. Bizarre (from the Tugboat Captain). … With Pride Month about to begin in June, New Orleans police officers have the option of wearing a rainbow-striped badge (from Timmy Donahue). … We've often run Ticker items about the the latest projects showcased on the @PaperStadiums Twitter account. Here's a whole article about the guy who makes the the amazing paper sculpture (from Chris Weber).
• • • • •
[adrotate group="2″]
• • • • •
Click to enlarge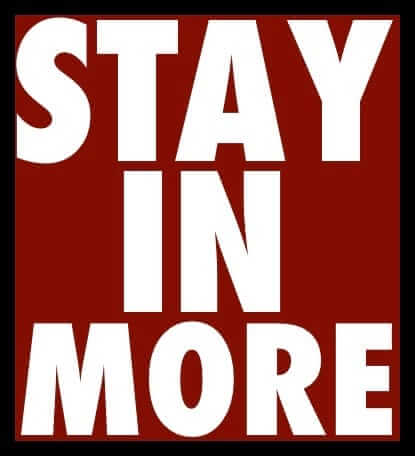 What Paul did last night: Being a garbage man is a tough, underappreciated job under the best of circumstances. I can't even conceive of what it's been like during the pandemic.
So as we hit the porch yesterday evening and I heard the rumble of the garbage truck a few houses down, I wanted to be sure to include that in the daily photo, as a way of acknowledging the essential work that continues to take place during this difficult time.
As it turned out, I got a nice shot, with the garbage truck nicely juxtaposed against the roses across the stret.
The branch is still there.
As always, you can see the full set of Pandemic Porch Cocktails™ photos here.