[Above: Robert's first game: November 26, 1977 — the Olympiastadion in Berlin: Schalke 04 vs Hertha BSC]
By Phil Hecken
Follow @PhilHecken

How's everyone doing out there? Happy first day of what was once a long, holiday weekend, where everyone has Monday off and we spend Memorial Day (most times) with big BBQ's, watching parades, laying wreaths/wearing poppies, and generally enjoying the "unofficial" kick off to summer. But these days, with so many of us not working and those of us who are (the real heroes) probably working superhuman shifts and hours, it doesn't quite feel like a holiday weekend. With a number of states and regions (in the US of A) "opening up," at least it will be a little closer to what we remember. But in our new normal, nothing is the same. So, hang in there everyone…we'll get through this together.
Although most sports and leagues throughout the world are still on hiatus, it's been tough to squeak out any new uni news (well, other than the seven new NFL unis, which Paul covered so very well), but there is a soccer league in Germany — the Bundesliga — which has resumed play after a couple months of COVID-19-induced lockdown. And as it just so happens, my pal, and Uni Watch stalwart, Comrade Robert Marshall, is completely nuts (in a good way) about the league. So when I asked him earlier this week if he would like to pen a piece for UW, he jumped at the chance.
For each team, I have created a Flickr album, so if you click on the team name you can see all the photos in as large a resolution as possible and non-cropped (so feel free to check those out — they're hyperlinked in the team name).
Trust me when I say, you're in for a real treat today! I'm just gonna turn the keys over to Comrade Marshall now…and catch you on the flip side.
Enjoy!
Bundesliga
By Robert P. Marshall, III
I want to start off by apologizing to Phil, my cat (Chowderhead) died during writing this, and with covid-brain hampering my already sketchy skills, he's a saint. I did however really want to write this. I lived in East Berlin from 1975-9 and traveled through Checkpoint Charlie every gull darn day to go to school, my first game sporting event was Schalke at Berlin when I was 7, not long before my first Brooks Robinson baseball game the summer we came home for a couple weeks. While it has been difficult to follow closely over the years, I have been watching weekly for 5 years, and since The cradle of coaching embarrassment let Urban keep his job, the Bundesliga 1st and 2nd divisions is the only sport I follow. So when it became the only game in town, I wanted to tell people about it. Here are a couple quick bullets to start.
• The one thing you must know and will love about the Bundesliga is the 50+1 rule which says 51% of every club must be owned by the fans. They have open meetings, vote for the board that runs the team, and protest the heck out of what they hate. When they put games on Monday night to help sell the States and China, thousands of tennis balls hit the pitch at Eintracht (sports community united) Frankfurt. One of many protests across all levels of German football. There will be no more Monday night games in the future instead of the gradual acceptance of what you hate because they can.
• Bibiana Steinhaus is the only female referee in any of the major leagues of Europe.
• The largest selling point of the league is the fans, fan culture, fan displays, and everything that goes with it. This is a massive aesthetic missing from the Bundesliga right now. The love affair and spontaneous cheers and chants blow college football away.
All of the things above and below are put into the cauldron of German football and are stirred by their love of clubs, sense of community, and what you owe your neighbor. I know, that sounds far fetched to some, but the Reichstag has a glass ceiling, and they didn't build monuments to hate 50 years after the fact, they own their mistakes. Instead of love it or leave it, they say never again, which is why they also don't sing the national anthem before league games.
++++++++++
TRADITIONAL TEAMS
++++++++++
The one and only Gerd Müller
If you don't know Bayern, you won't be watching Bundesliga Fußball, but this team is positively shameless in style and substance with regards to sponsorship. There was a big uni-stink 2 years ago when they were wearing navy shorts at home, and since then they have gone, and will go all red, too bad. If you want local flair, Canadian Alfonzo Davies is an exciting talent that may just turn into a global superstar. Having consolidated their power since the 90's, this team is any Yankees glory decade on steroids.
++++++++++
The greatest aesthetic of BVB is the yellow wall, a giant standing room terrace in the biggest fußball stadium in Europe(which won't help you now). They are going to wear hooped hose, and mismatched patterns every year. and the louder and more awful the better. BVB is in steel and coal country, have a massive fan base, and they are truly touched for winning, so they are a natural Pittsburgh Steelers. The only thing they are missing is scenic beauty of Pittsburgh.
++++++++++
One of the traditional powerhouses, they got the nickname "Foals" for their runners in the 1970's, and the zebra stripes they wear. Gladbach will always wear white at home with green/black accents, and light blue on the road, and usually pull it off. Their name is fun to say, they have an umlaut, have fun nom de plume like "A German Team", and they will stay in the 1st division, but only occasionally fight for titles. They had a glory day, and can't stay good for long because they just can't compete with their larger neighbors; meet the Baltimore Orioles.
++++++++++
The Cathedral City has a long standing love affair with "EffZeh(FC)" or the "Billy Goats" that has more to do with whining then winning in recent years. They have a live mascot who famously bites opponents, they always wear white, have a global name, a diverse roster to positively LOVE, and are the center of carnival in Germany. Geaux Saints!
++++++++++
You have to love the coal mine team entrance to the ground, and they always turn out the lights before games and shine their cells like lights in a coal mine. They love coal in Gelsenkirchen more then they do in Wheeling, and have won about the same number of titles despite being the 3rd largest club in the country, and having been successful since their dawn of time. What they do well is perform in Cups, earning them a reputation as a tournament club. They also have Winston McKennie who is an inspiring workhorse on the pitch. Ravenous fans, rust belt, never winning in the modern era, and a mascot with no eyes? Cleveland Paul Browns.
++++++++++
100% fan owned! A famously tolerant fan base, green-white-green every year in some fashion except the pinch of orange glory years. They are as traditional as you can get, and in massive financial trouble due to the epidemic if they don't escape relegation. This is a team we should ALL root for. For fans, I will also mention northern rival Hamburger is in the second division for the first time in their history, so as bleak as it is, at least you are not HSV. There is no team like Werder in the states. I suppose if the Green Bay myth was real, they would be an even more lovable version of the Packers.
++++++++++
The "Eagles" are also known as "The Moody Diva" because they always are so close but so far for such a big club. Another team with a live mascot, an awesome fan base, a globally mined roster of budding superstars. All you need to know about Frankfurt is to look at their unreal tifos. And remember those are always fan made and paid for by every team. It's hard to mess-up a primal pallet, and quirkier the better. A hard color scheme to screw-up, financial center of Germany, a die hard fan base, and a close but no schnitzel ethos? New York Mets.
++++++++++
This is an old school team with a history of yo-yo-ing up an down the leagues, and the type of team I love. Unfortunately this years disastrous on field visual program makes me sick with one of the kits designed by a band. They are really trying my patience, but they have a chant at the end of games that pulls you in, the drummer rolls the tom, and the crowd chants FOR! TUNE! AH! it's killer atmosphere. No heyday to speak of, yet there quite often. They are the team in the pack of bubblegum cards you didn't really know because they stink and are outside of your region. Seattle Mariners or Buffalo Bills.
++++++++++
A lot to like about this team from a hippie college town with a stadium in the black forest. They have only been in the league 10 years, but they are now a mainstay who spends responsibly and has a plan. The crest is absolute perfection, but not just because it looks good, but because the bird head, that ain't no bird head, it's a Griffin! who has an eagle headed lion mascot, and only uses the head? it's awesome! Let's also consider that their sponsor is a local bread maker that uses a traditional Black Forest Bollenhut for a logo (unmarried=red, married=black). Since Every Year could be their last year, i suppose they are the Miami Marlins, if they were from Jackson Hole.
++++++++++
In the shadow of traditional giants Bayern München, 1860 München, and and 1.FC Nürnerg; this is a Bavarian club that has no real history to speak of. What they do have is fairy tale marionnettes and the Augsburger Puppenkiste. I remember Peter and the Wolf on German TV like it was yesterday. What makes this special here is, before every game instead of the usual pennant, opposing teams are given a hand made puppet from the theater. Reminds me of how Kansas City is under appreciated arts town, and (mysteriously)dwarfed by their neighbor in baseball for wins. KC Royals.
++++++++++
A third straight club with prolonged success despite their size, and living on borrowed time. This is the club Klopp played for and learned coaching. Mainz is also another Carnival town, but instead of red-white hoops, it's loud primary red-blue-yellow, and I included last years with the square which might be the single greatest catastrophic piece of awesome i have ever seen. If there was a team that everybody knew in Biloxi, I would go with that, but since there is not the LA clippers will have to do.
++++++++++
This team is a great underdog story, and instead of parking the bus and dumbing it down like so many overmatched teams, they play up tempo attacking fußball, it's Wunderbar! 3 years ago they were to be relegated to the regional leagues, but too cool for schule 1860 München didn't pay their fees for the third division after being relegated from the 2nd, so THEY went to the regional league. so Paderborn stayed up, immediately won the 3rd division, then immediately won the second division, and here they are! So we might have another on steroid analogy here by calling them the 1991 Atlanta Braves, but this 1906 club sees little Bundesliga time, so just making it is something.
++++++++++
In every other European Capital there is at least one massive club, not here. Berlin is difficult to explain here, but I can tell you that the team is named after a steamship, steamships being the height of technology at the time. They play in the cavernous Olympic stadium, which is one of their sporting problems. but they do pull big crowds, and recently got an influx of spending money, so hope is always alive. unfortunately players always leave for greener pastures, and things always go wrong for Hertha, even when things are going right. Chicago Cubs pre-16.
++++++++++
This is unfortunately the only traditional DDR team in the Bundesliga, but to anybody who follows world football, this is the hip new team to follow I am sure. Former DDR, the fans literally built the stadium, and donated money from giving blood to keep the team from bankrupcy. There is a big Christmas carol celebration in the stadium every year, their fans are ravenous and notoriously loud and wild, and they are going to enjoy every second this small club that plays in their ground that translate's into stadium at the Old Forester's House. what more do you want?!!!! How about this? They were the rival of the dreaded, and all to familiar to me Stasi run club Dynamo Berlin. The perfect storm of everybody loving it driving you mad even though you love it too? Chicago Cubs 2016.
++++++++++
PLASTICS IN DESCENDING OFFENSES TO FUßBALL
++++++++++
Known as Neverkussen for never winning the league, this is a pharmaceutical company team from the good people that brought you Heroin. The most interesting aesthetic for this team is every years home kit becomes the next year's away kit, and they alternate red or black. A well run team, respectful family friendly atmosphere, consistently decent fußball, no titles, limited character. Indiana Pacers(sorry!)
++++++++++
The home of Volkswagen, Wolfsburg is essentially the auto factory and a stadium for the workers, which is fantastic. Unfortunately, the town has little character for visiting fans, and their popularity is limited due to their unfair backing, and players only go for the paycheck and because it's a short train to Berlin. The X on the kit is traditional, and they always have the most horrendous colours of blue and green. Look at this hot mess. Yet somehow, with that kit history, the fans had the nerve to protest the use of the blue kits above (worn once). Your Hartford Whalers.
++++++++++
Hoffenheim:
Dieter Hopp of SAP is the most hated man in German fußball. You might remember him as the guy who told the White House to kiss off about the potential vaccine. Well dig this. That guy bought his little hometown's lowest of possible level clubs that he played for, and funded it into a powerhouse in the last 20 years. That is his crime against fußball. I am sure you are asking yourself "why"? But to Germans he is an affront to the 50+1 rule, no matter how sweet the story, because if you allow him to do that, what's to stop any big money from buying any club, running it as his own instead with sycophants instead of answering to fan representatives like every club, thereby destroying every loved club in Germany? Baltimore Ravens leaving behind colors comes to mind.
++++++++++
And that brings us to the most hated team in the league, RasenBallsport (Lawn Ball…gag me with a head-spoon). The club is run by an Austrian energy drink that first tried to take over and destroy Werder, St. Pauli, and 1860 before they beat up a kindergarten team, and turned it into RB Leipzig. The board is roughly 11 members compared to 75,000 at the other end. It is an affront to the 50+1, and would have been challenged in court if not for the fact that it would wind up being overturned. They have quickly become the second best team in Germany, which makes things worse. On the other hand, they quite frankly play exciting fußball, and are very well run, and their coach is a rising star. They are also in the former DDR which is tragically under-represented in what was once a cornerstone of German fußball. All this in an area increasingly reactionary that desperately needs to stem that tide. They are also starting next year on the adidas super-duper-10 or some such nonsense for merch-dumps, but that smokey number is nice for next year if i may. Love the town, hate the owner type thing, the New York Knicks.
• • •
Wow. Thanks Comrade! For anyone who now has the jones to catch some live soccer action, here's how to watch. And here's the list of games being played this weekend.
If you want to see how sports will look with no fans in the seats, aka the future of American sports for the foreseeable future, then you might want to check the Bundesliga out.
Jonathan Martin's Astros Concepts
Normally the "Uni Tweaks" section is short and sweet, with only a few sentences by the designer(s) to describe their work. Jonathan Martin, who has four similar (but different) Houston Astros concepts, has forsaken brevity in his description. But they're definitely worth a look-see, so here here's Jonathan:
• • •
As a die hard Astros fan, while I can say that I'm actually fine with the current set I can also admit it's pretty uninspired, if not a bit half-assed. The skewed "Astros" curve, the lack of pop, the obviously thrown together at the last minute rainbow side panels of the blue alt/bp jersey… they can obviously be improved upon, especially with the rich uni history of the team.
Also, in light of the scandal that needs no further elaboration from myself, I think the team should look forward with a refreshed look as soon as possible.
Thus, I went backwards while moving forward. I drew upon the rainbow era of the 'Stros, while also maintaining some of the general feel of the modern era as well. What struck me was how timeless the rainbow actually is if implemented correctly. I also wanted to try two things — one I had always wanted to see done, the other something that struck me as having never been in done with the rainbow stripes. The first was to try the rainbow shoulder stripes with an updated take on the original shooting star design. How did it look? 'Effing awesome.
Second, I realized the rainbow had never actually been used as sleeve piping before. How did that look? Surprisingly clean, and with some of the designs it really sings. Thus, also 'effing awesome.
Here's what you may or may not notice about the designs:
1. Every cap has an orange squatchee on top.
2. The pant striping is orange with a blue outline on all pants.
3. The font is an updated take on the 70's – early 90's font, with an arch acknowledging the current look.
4. For the shooting star concepts, I began the "star stream" after the A and H, which made the whole design less cumbersome.
5. The Astros on the chest is often outlined in white, which would be apparent in a physical design, but gives quite a clean look to the overall scheme.
6. Kept the serif H-Star on the hat the same. It works, despite maybe needing slight tweaking.
Finally, three rules/theories about Astros uniforms I tried to implement into this design:
1. The Astros are not a pinstripe team or cursive team.
2. The Astros are a navy blue and orange team. End of discussion.
3. Are the Astros a serif or sans-serif team? Definitively both. The quirk is the H-star hat, which works only as a serif font. But all other wordmarks are best sans-serif.
• • •
Thanks, Jonathan! That's a lot to chew on, but the explanation certainly helps notice all the subtle differences between the four different uniform sets. Readers? What do you think?
Guess The Game…
from the scoreboard
Today's scoreboard comes from Bonnie Lee.
The premise of the game (GTGFTS) is simple: I'll post a scoreboard and you guys simply identify the game depicted. In the past, I don't know if I've ever completely stumped you (some are easier than others).
Here's the Scoreboard. In the comments below, try to identify the game (date & location, as well as final score). If anything noteworthy occurred during the game, please add that in (and if you were AT the game, well bonus points for you!):
Please continue sending these in! You're welcome to send me any scoreboard photos (with answers please), and I'll keep running them.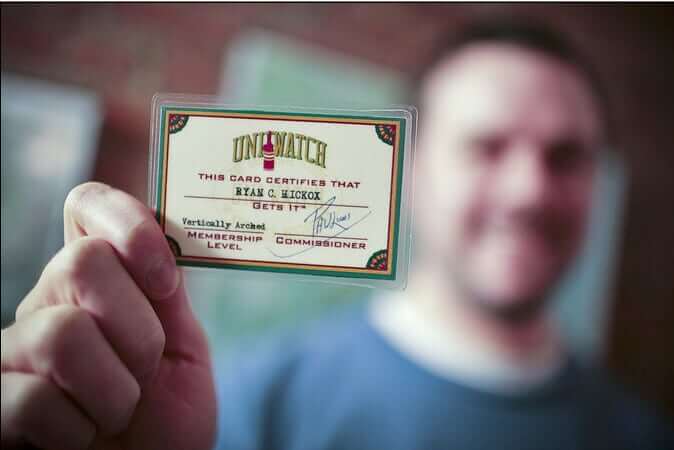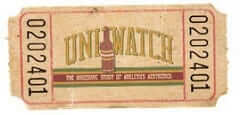 Raffle reminder: Paul here. In case you missed it on Friday, I'm currently raffling off a whopping five Uni Watch memberships that were donated by reader Stan Sulkowski.
This raffle will run through the weekend. To enter, send an email to the raffle address by 8pm Eastern on Sunday. One entry per person. I'll announce the winners on Tuesday.
Meanwhile, while I have you here:
• Uni Watch cufflinks, which usually sell for $26.99, have had their price cut to $16.99. You may not have much use for them now, but imagine how good it'll feel to wear them in the post-apocalyptic world that awaits us!
• And remember, you can save an additional 15% on those cufflinks — and on all other items in the Uni Watch Shop and the Naming Wrongs Shop — by using the checkout code COMMUNITY.
• Supplies of the Uni Watch Pin Club's May design are dwindling, so move fast if you want one. And if you need to get caught up, here are the January, February, and March editions. (April is sold out.)
• I still have all colors of Uni Watch seam rippers in stock, although green is about to run out again.
Okay, end of sales pitch. Thanks for your support! Now to Anthony for the Ticker.
The Ticker
By Anthony Emerson

Baseball News: The Rangers posted a graphic mashing-up their unis with the unis of other Dallas-area sports teams (from multiple readers). … A Red Sox blog has gone into the team's logo history (from Kary Klismet). … Also from Kary: the Collegiate Summer Baseball Invitational has unveiled new uniforms. … Ryan Tomorrow inherited this weird lucite "diamond" with the Mets' 25th anniversary logo. He can't find anything about it online, can any readers help him out? … Mike Williams got an advertisement for a weird Phillies mask, featuring a "Philadelphia" logo that has never existed. Bizarre. … Mike Sylvester noticed Dodgers P Tim Belcher had a tear in his hat in Game 1 of the 1988 World Series. … Call to the Pen has a decent analysis on the Orioles uniforms from 1971 to 1988 (thanks, Phil). … Tigres de Quintana Roo have unveiled their 65th anniversary uniform (from Cesar Martín).

College/High School Football News: The final round of voting in the Massachusetts high school helmet tournament is open (from John Fitzgerald).
.

Hockey News: Yesterday, we ticker-linked the "cat-eye" masks Brett Hull and his teammates were wearing in the early 80s at the University of Minnesota. Jeff Ingalls wrote in with some more info on them: "These masks were made by Pro-Tec. I still have one I acquired in 1982! I played a lot of cross-border minor hockey in the mid/late 70's and all the American kids wore these. I always thought they looked cool so I saved up and bought one through mail order, Ocean Hockey (IIRC), a company that advertised in The Hockey News. They were legal and approved for wear in US minor hockey until around the time I bought mine…. the company sent me a letter with the mask advising me not to wear it on the ice… they were phasing them out and I received one of the last ones! They had originally sent me a new "legal" cage as a substitute. But I returned it and demanded the cat-eye version! They wouldn't have been allowed on the ice in Canada. The CSA (Canadian Standards Association) clamped down on minor hockey helmet safety around 1977. It sure saw a lot of duty as a goalie mask on the street, though!" Thanks Jeff! … USA Today has published an NHL jersey "power ranking" (thanks, Phil). … WFAN has ranked the best and worst Islanders uniforms as all time. You'll never guess what came out as the worst! (from Kary Klismet). … NHL.com writers ranked the best current players wearing No. 55 (from Wade Heidt).

Soccer News: Arsenal's home kit has leaked. Hate to admit it, but I really dig it (from Josh Hinton). … Also from Josh: Atlético Madrid's new home kit has leaked again. … Scottish side Heart of Midlothian, who were just relegated to the second tier a few days ago with the summary cancellation of the rest of the Scottish Premiership season, have released their new home shirt (from Ed Żelaski). … The NWSL's Portland Thorns have released their 2020 kits (thanks, Phil). … Cagliari Calcio has released renderings of its new stadium (from Kary Klismet).

Grab Bag: Some flags make particularly good masks, such as this one worn by Arizona Sen. Martha McSally. this one worn by Maryland Gov. Larry Hogan, this one worn by Oregon Gov. Kate Brown, and these ones worn in St. Louis (from Mike Judy and Billy Rothman). … The University of Oregon has released renderings of its new track and field stadium (from Kary Klismet). … Skittles is ditching the rainbow color scheme for pride month, and going with the tagline "only one rainbow matters during pride." A weird inverse of the rainbow-washing the brands undergo in June (from Corky Gaines).
And finally…
Big thanks to Comrade Marshall for that tremendous Bundesliga post! And just to show you what a batshit crazy guy he is (and I mean that in the nicest of ways), check out this insane Bundesliga-inspired video:
How crazy/insanely-great is that?
On the other side of the coin (sad face): RIP Chowderhead von Meatsackerface (2003-2020). Robert explained to me that the "von Meatsackerface" is actually a reference to Per Mertesacker, who "took a ball in the face to save a goal."
The man loves his fußball.
Everyone stay safe on this first Saturday of Memorial Day weekend!
Peace,
PH