Good morning! Greetings from Uni Watch HQ, where all three inhabitants continue to be healthy and safe. Hope the same is true for you and yours.
Yesterday was the 14th anniversary of the very first post on this website (not to be confused the the first Uni Watch column, the 21st anniversary of which is coming up next week). By longstanding tradition, that would have made it Purple Amnesty Day — the one day of the year when I grudgingly acknowledge the uni-verse's most accursed color. But since the date fell on a Sunday this year, I decided that today — Monday the 18th — would be Purple Amnesty Day (Observed). That means the usual ban on purple-inclusive Uni Watch membership cards has been lifted until midnight Eastern tonight (you can order yours here), plus we have some special purple content and merchandise today.
But before we get to that, it's worth noting that this is Purple Amnesty Day's 10th anniversary. The idea came from reader Tim Cox. On the blog's fourth birthday — May 17, 2010 — Tim posted the following comment:
Congrats on 4 entertaining years, Paul & company. I'm a daily reader but not a member because I can't do a Rockies membership card without purple. The 4th anniversary seems like the perfect occasion to grant amnesty to all the Rockies, Vikings, LSU, Northwestern, etc. fans out there.
I then responded:
[Y]our idea for a one-day purple amnesty program is a good one. If anyone wants to sign up for a purple-inclusive membership card, today — and only today — I will honor all such requests!
And just like that — very informally — Purple Amnesty Day was born. Five years later, in 2015, membership card designer Scott M.X. Turner came up with the ingenious slang term "Purp Walk," and then we started offering special Purple Amnesty Day merchandise, so the culture of the annual tradition continued to grow and evolve. It's now one of my favorite days on the Uni Watch calendar, even though I hate looking at all that purple!
Speaking of which: People sometimes say I have "purplephobia." But as I always explain, that's not accurate, because "phobia" means fear. I don't fear purple; I loathe purple. If anything, purple should fear me.
Why do I detest purple so much? Short answer: a near-bottomless reservoir of good taste. Longer answer: I actually think purple in nature is quite nice — violets, plums, eggplants. But purple as a human-imposed design element usually strikes me as tasteless and tacky. It's the diva of colors, the Celine Dion of colors — loud, grandiose, never content to do just enough when it can do way too much.
Or at least that's usually the case. But there are some purple uniforms I've managed to enjoy over the years. This year I decided to list my top 10 purple (or at least purple-inclusive) uniforms. When possible/applicable, I've also posted a corresponding membership card, ordered on one of our previous Purple Amnesty Days, for each uni on the list. Ready? Here we go (for all photos, you can click to enlarge):
1. Arizona Diamondbacks Home Vests, 1998-2006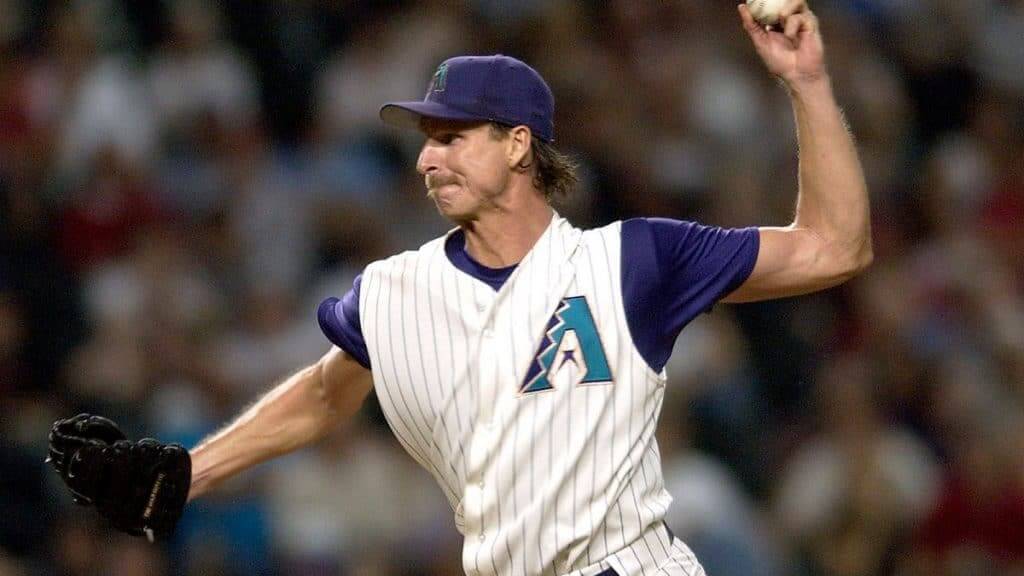 Most new franchises launched in the 1990s used purple or teal. The Diamondbacks used both. I hated this set when it was released, but I have to admit that the vest version in particular has aged extremely well (as I've said many times before). Too bad they didn't stick with it — could've been a modern classic.
---
2. Louisiana State Football Home Whites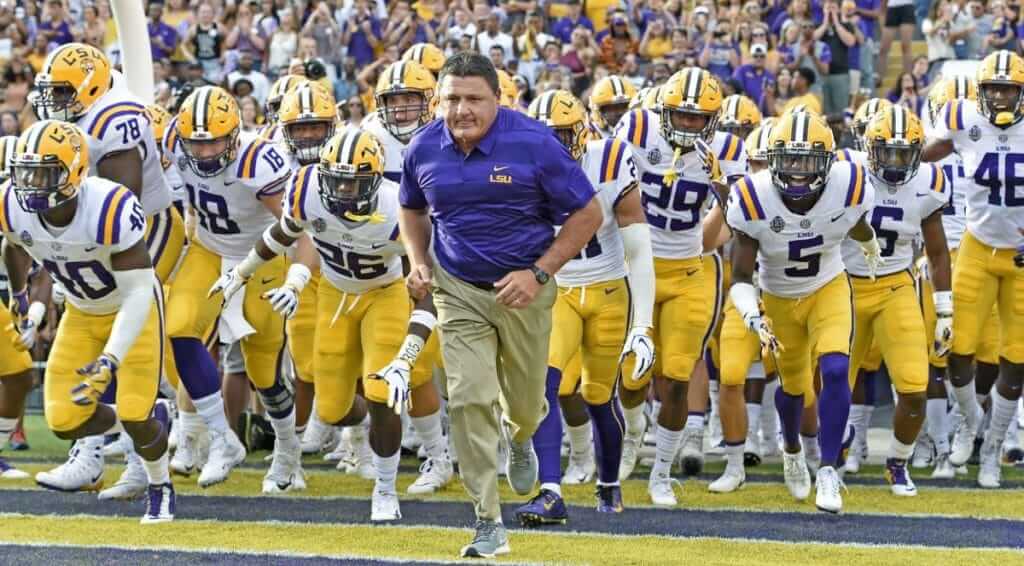 Such a gorgeous look. Dare I say it, the purple looks magnificent against LSU's shade of yellow, and the purple works everywhere it's deployed — the helmet, the shoulder stripes, the numbers/NOBs, the pants piping, even the socks. Since LSU wears this combo for most of its home games and also on the road, we get to see a lot of it — and that's a good thing!
---
3. Minnesota Vikings, 1970s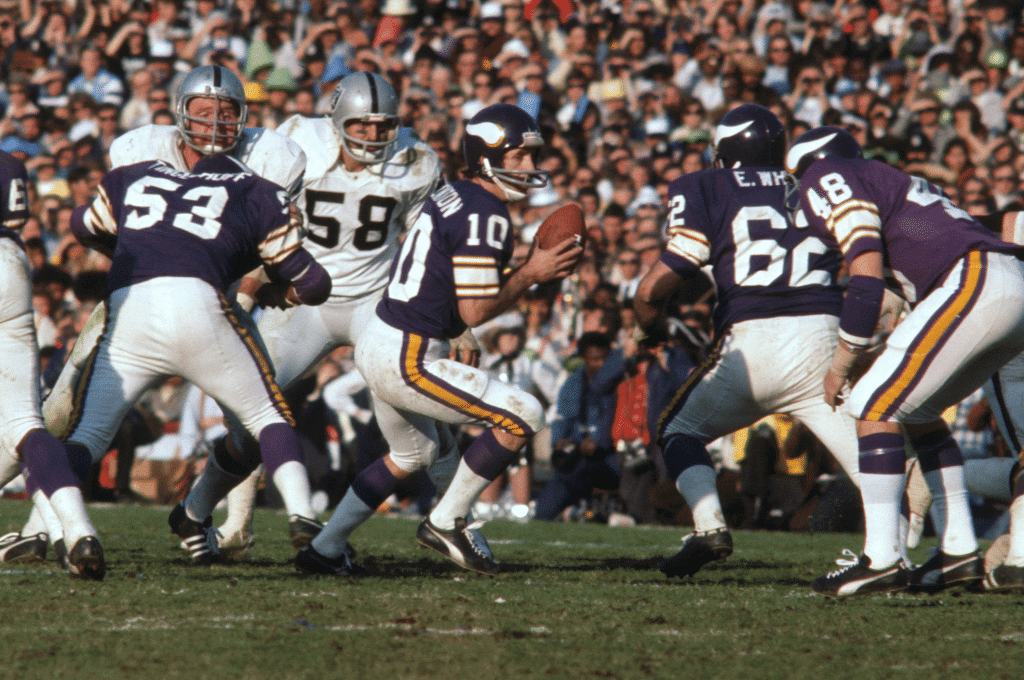 My purple antipathy hadn't yet fully formed when I was a kid, so I enthusiastically rooted for this uniform set (unsuccessfully, alas) in several early Super Bowls. And really, how could you not like a team whose defense was nicknamed the Purple People Eaters? The Vikes wore this basic design for decades, up until the disastrous 2006 redesign, but I prefer the 1970s version, when the home sleeves were still long enough to accommodate the full Northwestern stripes and the road jerseys still had the full-length UCLA inserts.
---
4. New Orleans Hornets Mardi Gras Alternate and New Orleans Pelicans City Alterate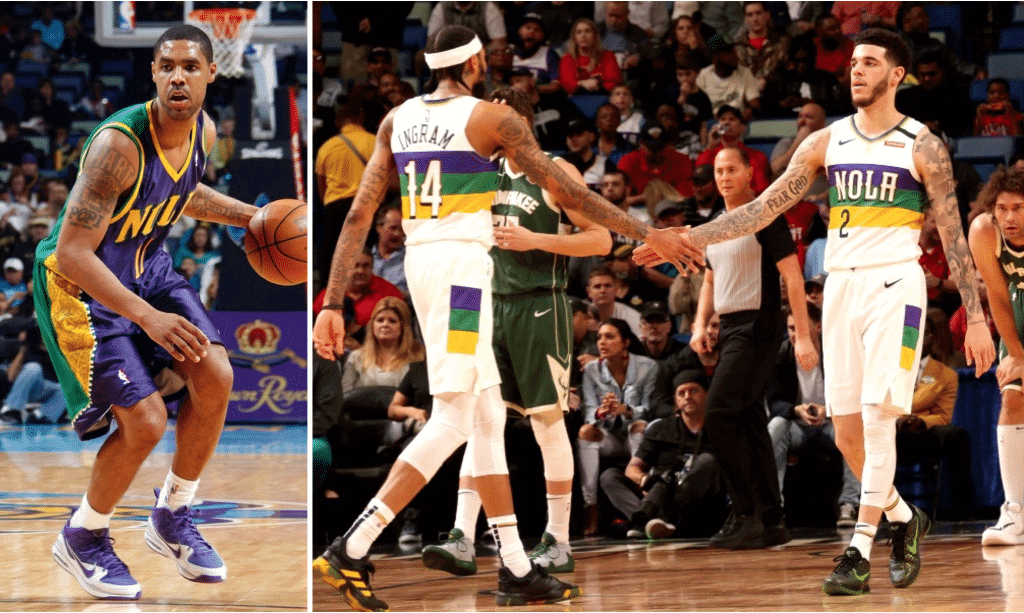 I could have counted these as two separate entries on this list, but the two teams are the same franchise and the two designs both celebrate Mardi Gras, so it felt right to group them as one entry. I love the two-tone Hornets design (and said as much when it was released in 2009), which feels appropriately gaudy for Mardi Gras. Likewise, I had high praise for the gorgeous Pelicans alternate when it was released in 2018 and wish they'd make it their primary white design.
---
5. Los Angeles Lakers "Showtime"-Era Home Yellows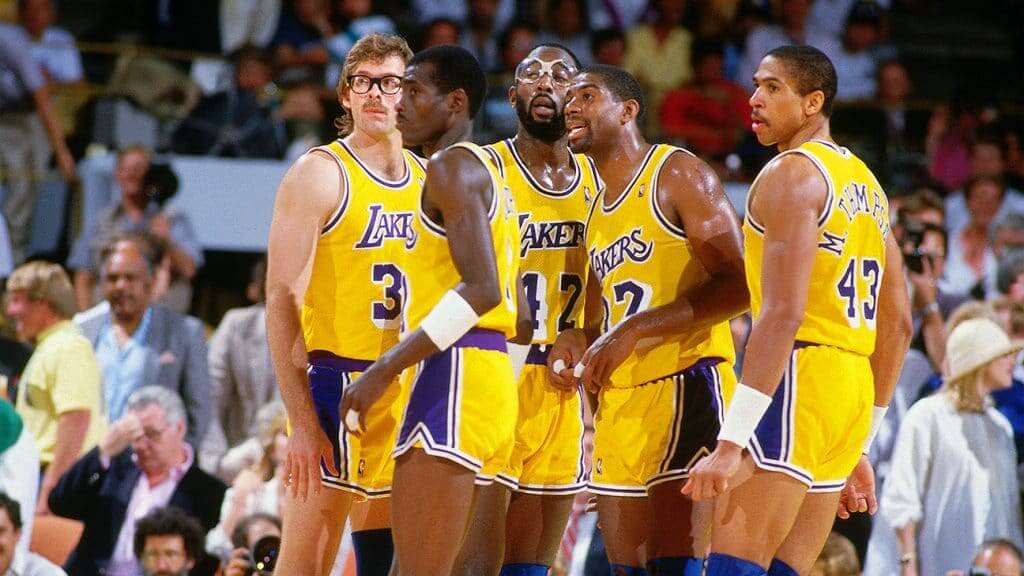 As a kid, I was always intrigued by the Lakers' block-shadowed uni numbers and their lack of a white uniform. The purple was part of the package, and I still have a soft spot for this design today. Bonus points for Magic's purple knee pads. (And yes, I know there's a major purple storyline lurking in the Lakers' road uniforms from this era — we'll have more on that later in today's post.)
---
6. Northern Iowa Basketball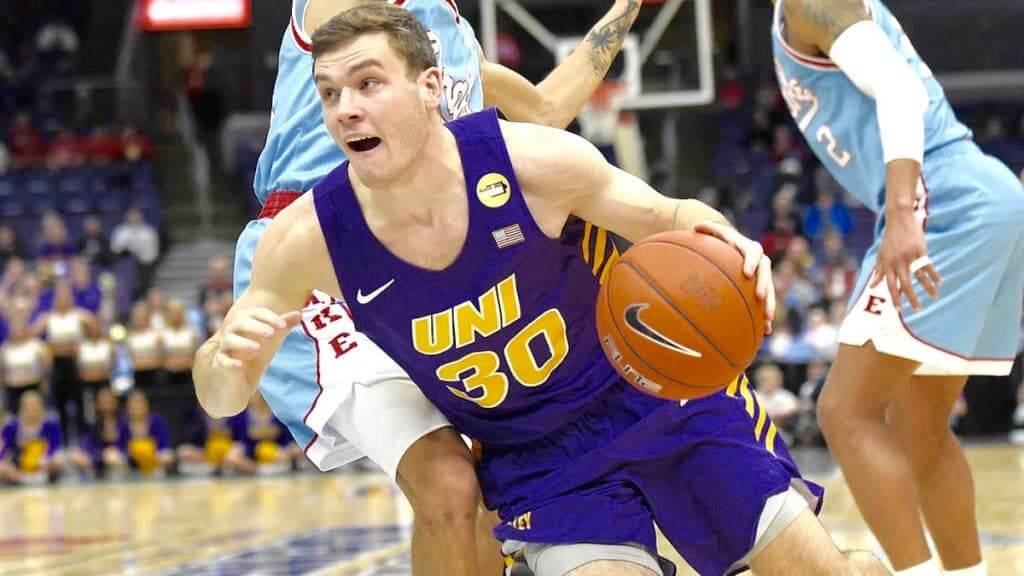 It figures that the one school to wear "UNI" on its chest would have purple as its primary team color. Oh cruel fate, why do you torment me so?! But purple or no purple, I can't get enough of that acronym — go UNI! (As an aside: Although Northern Iowa usually uses the all-caps abbreviation, at one point in the early 1980s they had warmup tops with "Uni." So all the fans in the crowd were Uni watchers!)
---
7. Los Angeles Kings, Rogie Vachon-Era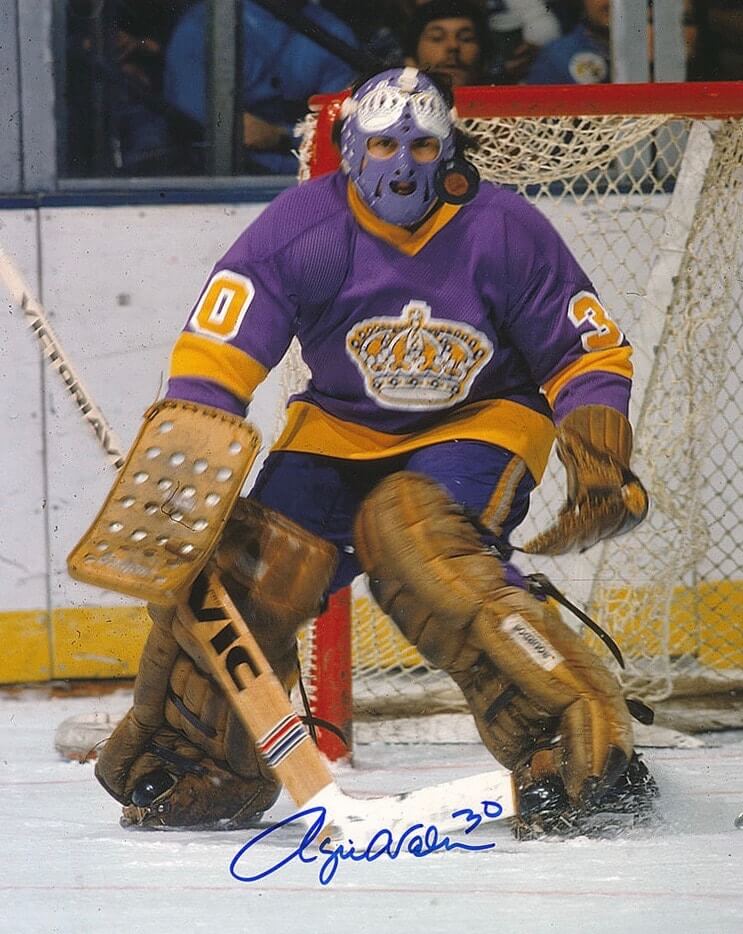 When I started following hockey, Rogie Vachon wore that mask that made it look like he was always smiling. That confused me — like, was he a King or a jester? But then he painted the mask purple to match his uniform and added the two crowns above his eyes (which didn't really make sense, but whatever) — indeed, he was now the kingliest of Kings! No Kings uni since then has compared.
---
8. Denver Nuggets City Alternate, 2018-19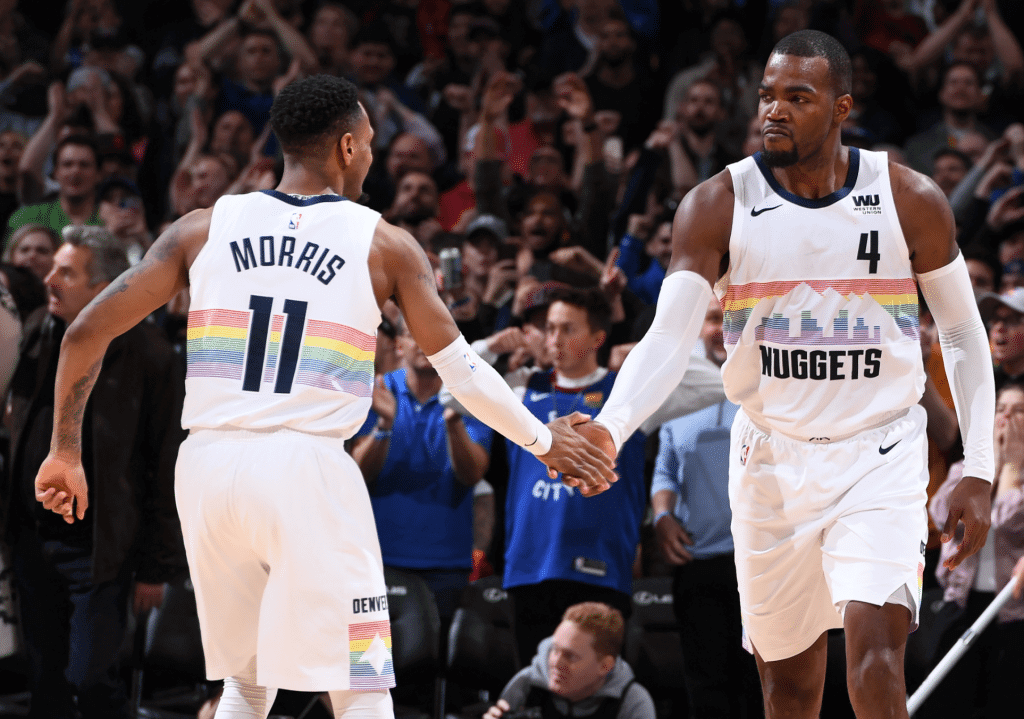 As noted in the introduction to today's post, one of my longstanding gripes about purple is that it's too loud, to diva-ish. But it turns out that purple can look really nice if you mute it a bit and tone down the saturation, as the Nuggets did with this rainbow-striped design. (They also came out with a BFBS version a year later, although I don't care for that one as much.)
———
9. Phoenix Coyotes "Peyote Coyote" Alternates, 1998-2003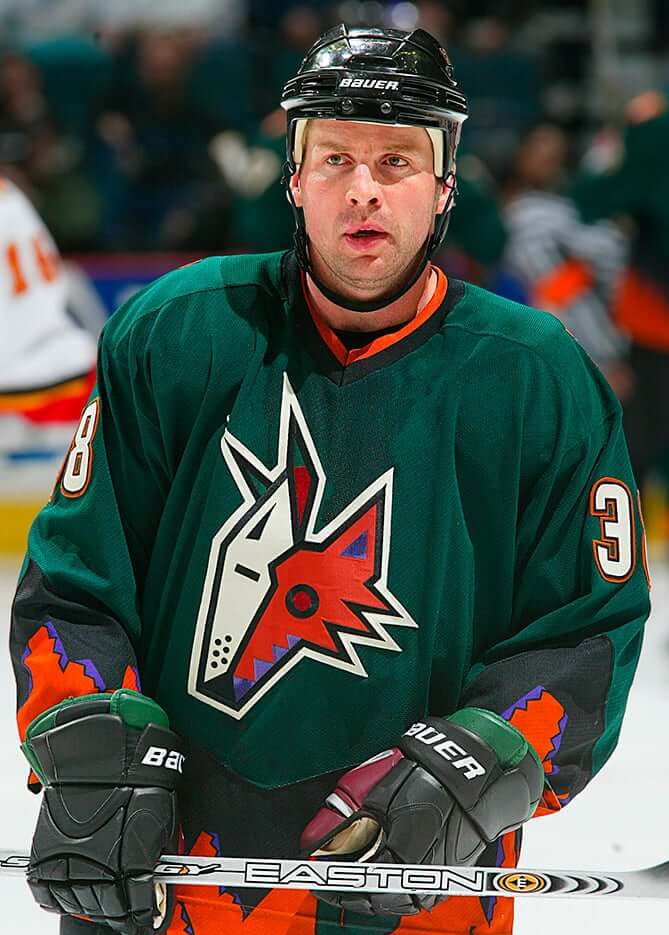 This one almost feels like cheating, since there's relatively little purple (you can get a better sense of the full extent of it here) and a whole lot of my favorite color, green. But I have to admit that the purple accents work surprisingly well here, and the design gets bonus points for featuring one of the strangest jersey crests in NHL history.
---
10. 1995 NBA All-Star Game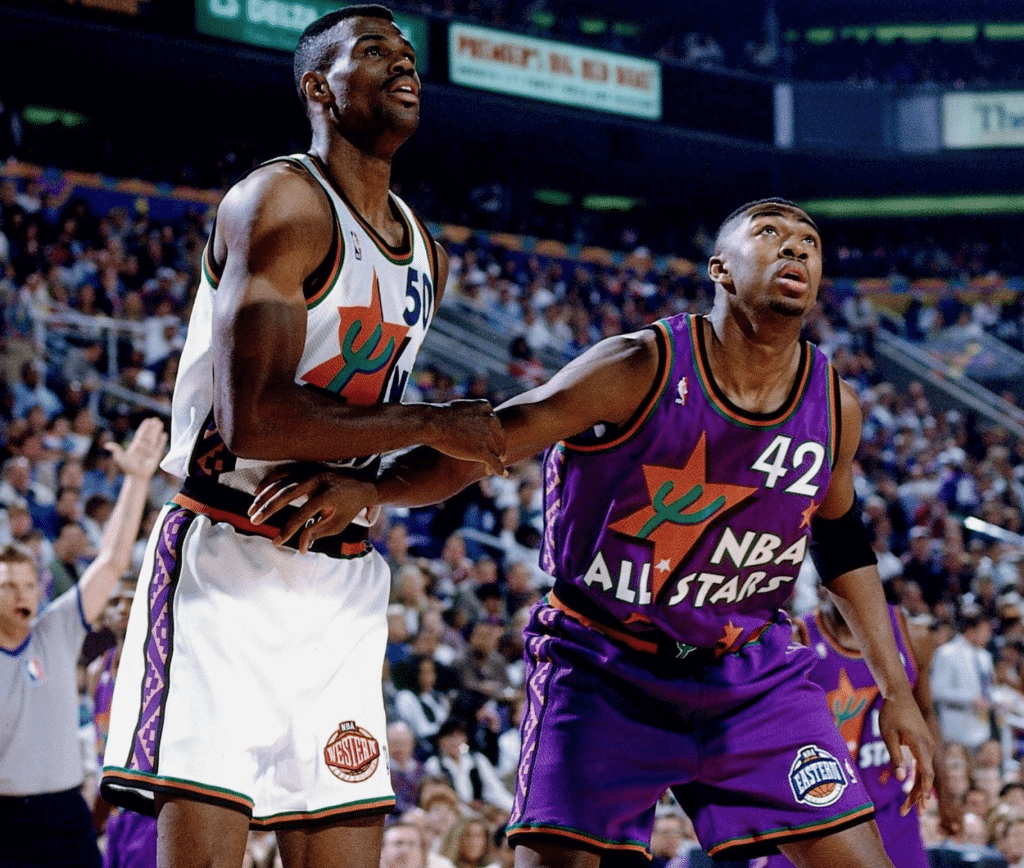 I don't actually like these uniforms, but they've achieved a certain "so bad they're good" status over the past quarter-century. Much like MLB's futuristic uniforms from 1999 (which had some notable purple designs as well), these NBA All-Star designs were a terrible mistake, but I'm glad I live in a world where this kind of mistake can be made.
---
Honorable Mention: Baltimore Ravens Logo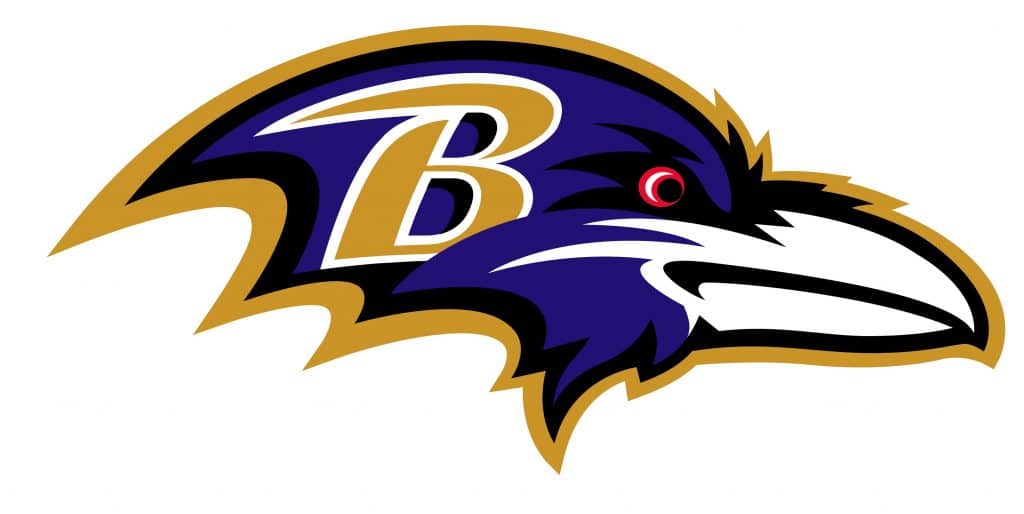 Going with just the logo here, not the full uniform (can't deal with that number font). So: I've heard many, many people over the years express disdain for this logo, and I still don't understand why. I've always liked it — a nice middle ground between the endearingly cartoonish "Bugs Bunny"-style mascot logos of the 1950s and '60s and the godawful "intimidating" animals we tend to see today. The detail that totally makes it for me is the little downturn at the base of his beak — not quite a frown, not quite a smirk. More of a quiet confidence, a "Yup, I got this. Even though I'm purple."
———
And there you go. By tomorrow I'll deny having said any of this, so enjoy it while you can!
Now then: In 2015 I was working with designer Bryan Molloy on the Uni Watch T-Shirt Club. He suggested that we pretend to do a purple design as an April Fool's stunt, but I nixed that. So instead he proposed selling a purple shirt as a 24-hour offering on Purple Amnesty Day, which I agreed was a fun idea, so that's what we did. Bryan and I have continued to collaborate on 24-hour purple merch offerings in 2016, 2017, 2018, and 2019, so of course we have something special for you this year as well.
In fact, we have several things for you. First, there's a great ringer T-shirt (purple on purple!). Note that the design has changed slightly since I showed you a teaser view last Friday, because reader Ed Hahn suggested that we turn the feet into winged stirrups — an excellent and obvious move that Bryan and I are both embarrassed not to have thought of ourselves. Shirt's in the mail, Ed! Click to enlarge:
This shirt is available here until midnight Eastern tonight and will never be offered again. You snooze, you lose — no exceptions!
In addition, we're offering a purple snapback version of our winged stirrup cap:
The cap is available here until midnight Eastern tonight. Unlike the shirt, however, the cap will be offered again — we'll bring it back each year for a 24-hour cameo on Purple Amnesty Day. We'll also have a new year-specific item each year, but the cap will be a Purp Walk evergreen (or everpurple).
And! If you order the shirt and the cap, a $5 discount will automatically be applied to your order. Not bad, right?
Oh, and speaking of these merch offerings: The winners of last Friday's Purp Walk merch raffle are Alex Allen (who's chosen the shirt) and Jesús Orduño (who's chosen the cap). Congrats to them, and thanks to Tim Cox for sponsoring this one!
But wait — there's more. Remember how I recently posted a photo of reader Bob Andrews and his DIY Uni Watch face mask? Longtime Uni Watch ally Bob Halfacre, who runs the uniform outfitter Bobcat Athletic (and is a really great guy despite being personally responsible for the Mets' BFBS phase, grrrr), saw that and offered to make Purple Amnesty Day masks! Bob only had about 24 hours to put a prototype together, so the design is a little rough, but still not bad:
The masks are available here. Uni Watch will make no profit on this item. Our cut — about $2 per mask — will be donated to Doctors Without Borders.
Okay, that's it. Remember, you can order a purple membership card — or a non-purple one, for that matter — here until midnight Eastern (and this year, at the excellent suggestion of reader Ray Bergman, I will use a purple pen when signing my name on the front of the card!), and ditto for the shirt and cap. Whether you're order/purchasing or not, enjoy our annual purple holiday!
(My everlasting thanks to Tim Cox for coming up with the idea for Purple Amnesty Day; to Scott Turner for coming up with the term "Purp Walk"; to Bryan Molloy for continuing to collaborate with me on Purp Walk merch; and to all the readers who make this day so much fun. Cheers!)
• • • • •
• • • • •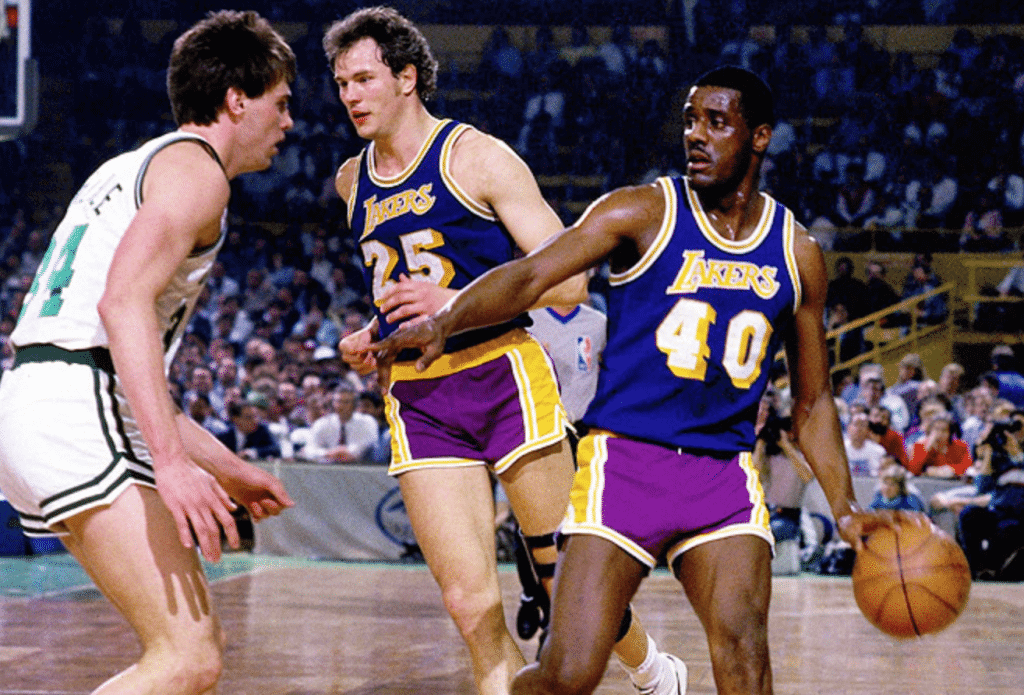 [Editor's Note: We have some bonus Purp Walk content today from reader Kary Klismet, who's taken a closer look at the Lakers' famous mismatched-purple uniforms. Enjoy. — Paul]
Double Your (Dis)Pleasure: The Lakers' Mismatched Purples
By Kary Klismet
It's fairly common knowledge that the Lakers' road uniforms had mismatched shades of purple in the early to mid-1980s. Paul has written about the phenomenon before, and reader Mark Gutierrez even used it as the basis for a membership card in 2012.
Until recently, the photo I'd seen of this uniform quirk always showed a bluish/indigo shade for the jersey and a brighter, more violet shade for the shorts. So while the shades of purple were mismatched, the mismatch itself was consistent (or, if you prefer, uniform).
In a 2009 Uni Watch entry, the late, great Terry Proctor — a former sporting goods magnate with a deep knowledge of textiles — explained the mismatch like so:
Back when teams were responsible for actually buying their own uniforms, the Lakers' duds were made by Galbraith and Tiernan of Inglewood, Calif., a small cut-and-sew operation that made custom uniforms.

G&T bought their fabrics and braid trim from Yarrington Mills of Hatboro, Penna. The Lakers' jerseys were made from Yarrington's Stretch Nylon Eyelet Mesh, and their shorts were made from Yarrington's #157 Medium-Weight Double-knit Stretch Nylon smooth-knit fabric.

Unfortunately, the mesh was not as colorfast as the double-knit. It had a tendency to "bleed" after a few washings. I know this to be true because we used that Yarrington mesh for two sets of basketball uniforms back in the late 1970s. One set was white, the other was purple, and the school's laundry person decided to wash both sets together. Big mistake! When she took them out of the dryer, one set was a light grape color while the formerly White uniforms had turned a lovely shade of lilac. The company did replace the uniforms- in double-knit.

So the Lakers' garments were from two different fabrics.
So that has been the long-accepted explanation, at least in Uni Watch circles. But I recently came across photographic evidence that challenges that assumption. Sometimes the mismatch was reversed, with bright violet jerseys and darker, more muted shorts: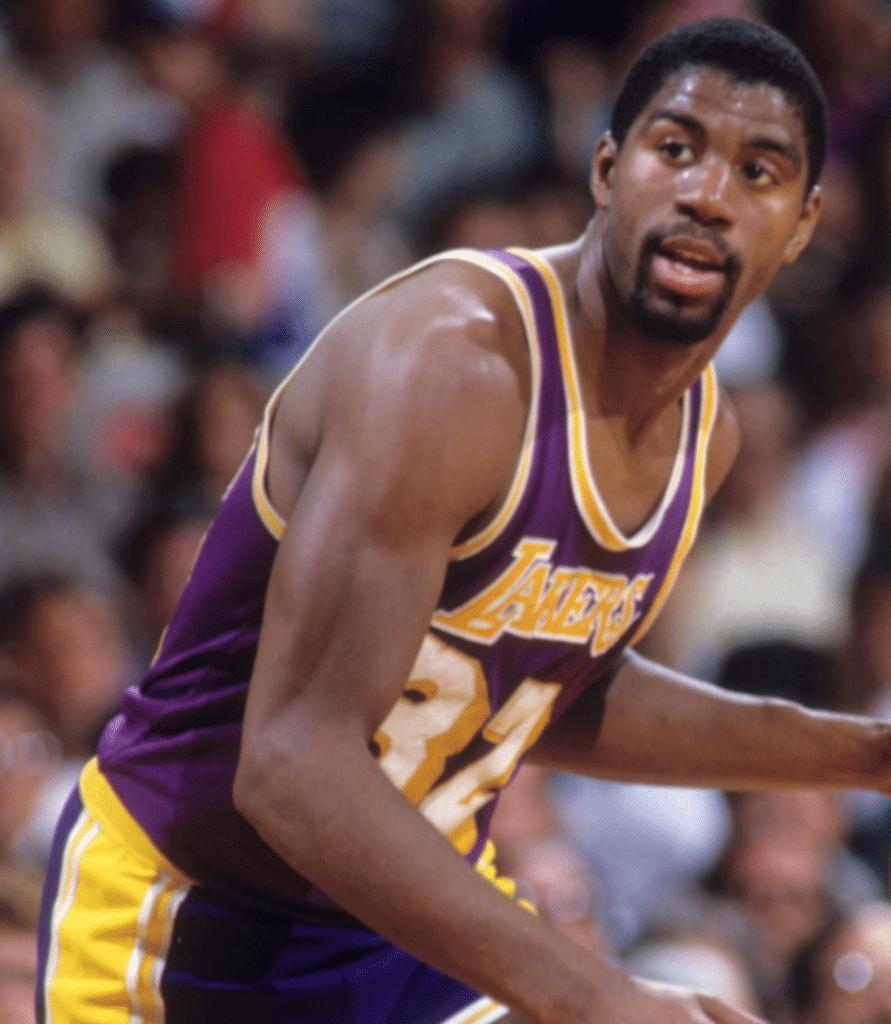 There were also examples of one player going mismatched and another wearing all-violet: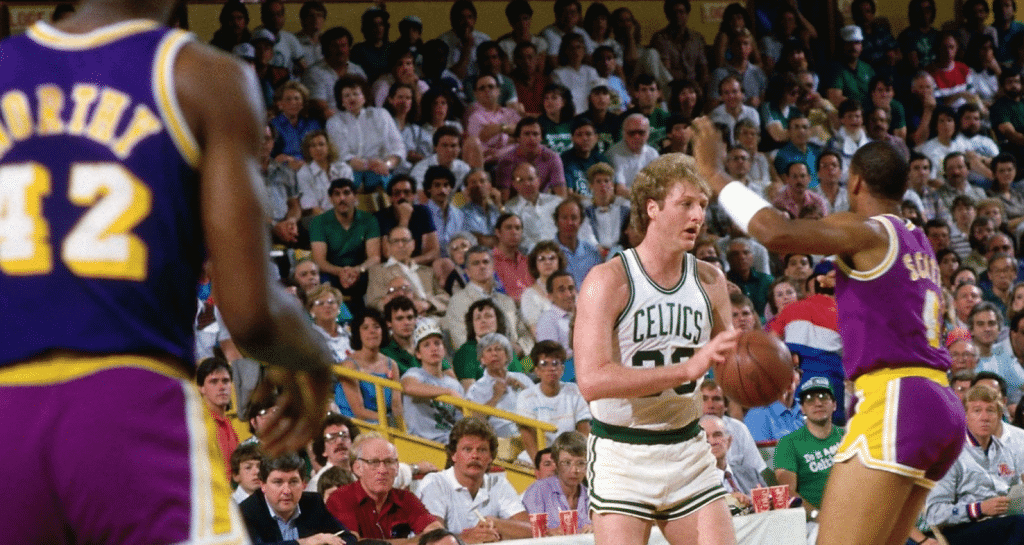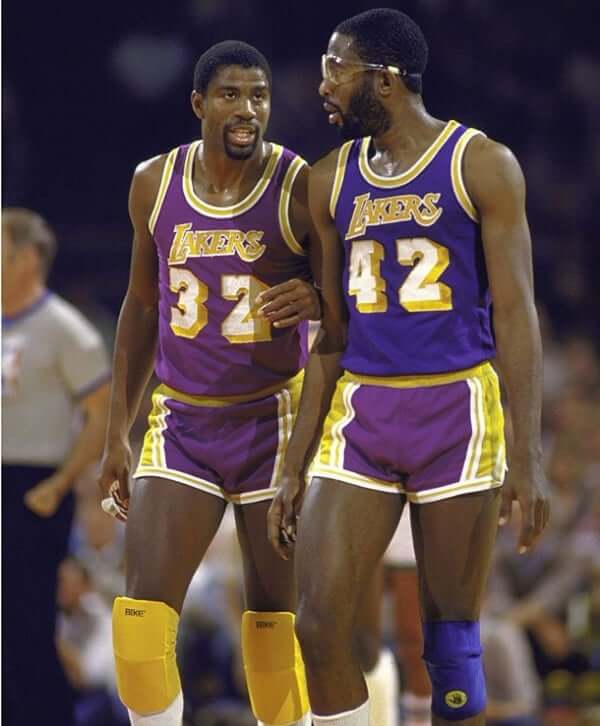 A closer look at these photos reopens many questions about the Lakers' 1980s uniform program. Was it a case of mixing and matching uniforms from different manufacturers? Were the equipment managers really that oblivious to the chromatic catastrophe being put on the court each night? Or worse, were they simply indifferent? 
We may never know all the answers. But what better way to celebrate Purp Walk than to reexamine one of the few mysteries in the uni-verse steeped in multiple tints of purple?
• • • • •
• • • • •
Membership update: Brilliant request the other day from reader Ricahrd Paloma, who asked for a card based on last year's MLB Players Weekend jerseys and then accessorized it with the perfect NOB. Well done, Richard!
Richard's card is one of many that have been added to the membership card gallery, as we clear the decks in preparation for the purple onslaught.
In fact, as you can see in the gallery, the purple onslaught has already begun! We received more than 40 purple orders yesterday, and card designer Scott M.X. Turner has already produced some of them (including Mike Engle's card, based on the New Orleans Brass, a now-defunct ECHL team). I'm expecting a lot more purple orders today. Keep 'em coming!
Ordering a membership card — purple or otherwise — is a good way to support Uni Watch (which, frankly, could use your support these days). And remember, as a gesture of comm-uni-ty solidarity, the price of a membership has been reduced from $25 to $20 until further notice.
As always, you can sign up for your own custom-designed card here, you can see all the cards we've designed so far here (now more than 2,700 of them!), and you can see how we produce the cards here.
• • • • •
• • • • •
Too good for the Ticker: I'm not sure how this works, but it's pretty fucking amazing!
(Big thanks to @MarkMaurice89 for this one.)
• • • • •
• • • • •
Click to enlarge
A Sunday outing: We decided to go to the beach yesterday. My first time driving in nearly two months, which was interesting (turns out it's like riding a bike). I like how the photo above makes it look like I'm holding back the ocean with the power of my mind, like Charlton Heston parting the Red Sea or something like that. (And yes, this is definitely the only time I'll ever compare myself to — or even want to be mentioned in the same sentence as — Charlton Heston.)
The water was so cold, it made my feet ache. I mean that in a good way. After so many weeks of feeling next to nothing, at least in a physical/outdoorsy sense, it was good to feel something visceral.
Going to the beach means, inevitably, seeing surf casters. And seeing surf casters means, inevitably, seeing them catch zero fish. Seriously, I have seen literally hundreds of surf casters over the years, and I have never seen any of them reel in anything besides seaweed, or even have any catch in their buckets. Still, there was a guy yesterday who earned his spot on the beach by going out a bit on a jetty and fishing while the water crashed around him, which looked suitably dramatic even though he (of course) didn't catch anything (click to enlarge):
There were birds. There were dogs. It was brisk. It was beautiful. It was all really wonderful and really sad and really perfect and really awful all at once. Everything was completely fucked up and none of it mattered to the ocean — the ocean doesn't know, doesn't care. The ocean just is.
• • • • •
• • • • •
The Ticker
By Jamie Rathjen

Baseball and Softball News: About a week ago, we had a paywalled article on the Yankees' facial hair policy. Here's a an article on the same subject from a Yankees blog, including some run-ins former players had with the policy (from Alan Kreit). … Brandiose relaunched something called The Clink Room, where designers can submit caps that might be made by the company (from Kai Takahashi). … Owatonna (Minn.) HS debuted softball uniforms that would have been worn if sports weren't canceled (from Timmy Donahue).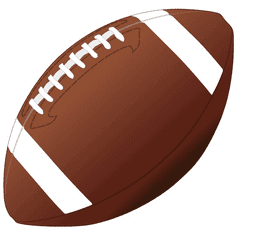 Football News: Reader Mark Crosby sent us his NFL redesigns. … Reader touchdown72315 sent us a picture of 49ers QB Steve Young in the 1993 NFC Championship Game apparently wearing a Schutt helmet with a Riddell nose bumper. … A Montréal sports blogger has been picking the best Alouettes players to wear each number. Here's Nos. 50 to 59 (from Wade Heidt). … A Pittsburgh Post-Gazette columnist wrote about the logistical challenges facing NFL teams even if they allow partial attendance at stadiums (from Kary Klismet). … More from Kary: a Catholic school in Delaware topped off its new stadium. … The sign from a defunct Florida high school's stadium was moved to a local park.

Hockey News: Cross-posted from Grab Bag: NASCAR driver Reed Sorenson's livery featured the ECHL's Greenville Swamp Rabbits yesterday (from Ian Lee).
.

Basketball News: Hot Springs (Ark.) HS is building a new arena (from Kary Klismet). … NFL QB Matthew Stafford is selling is Detroit-area home, which comes with a Pistons basketball court (from Mike Chamernik).

Soccer News: A German soccer writer described what it was like to attend one of the Bundesliga matches this weekend, for which the German term "Geisterspiel" or "ghost game" has gained currency in English. … German team 1. FC Köln made a display of shirts and scarves for their first Geisterspiel. More pictures here (from Josh Hinton). … Italian former midfielder and manager Luciano Spalletti apparently has a big collection of shirts, all folded or rolled up so the NOB is displayed (from Steve Kriske). … Scottish team Rangers announced their kit deal with Castore, which is the company's second deal in team sports after one with the West Indies cricket teams. I will say I've never seen a uni-related press release where the team feels the need to call themselves "the world's most successful" club. … Staying in Scotland, two new shirts for League One's Falkirk. … Two new shirts also for Brazilian team Santos; those versions have the ads removed. … Here's a history of the New York Cosmos' shirts, for the 50th anniversary of their NASL debut (from @texastrevor).

Grab Bag: Some items from NASCAR's return yesterday: Hendrick Motorsports pasted healthcare workers' names over the driver names above their driver's-side windows. … Reed Sorenson's livery featured the ECHL's Greenville Swamp Rabbits (from Ian Lee). … One of the ads stuck to the Darlington walls partially came off, and track workers could later be seen ripping it off (from @Benji_91). … Fox pit reporter Regan Smith wore a network-branded mask (from Josh Hinton). … Australian Football League teams almost always run through large banners when entering the field before games, which leads to interesting stories such as how a tribute was added to a banner for Fremantle's Tendai Mzungu's 100th appearance in 2016 when he was a last-minute addition for a game played across the country in Tasmania. Fremantle is the only purple team in the league, of course. … New logos for the U.S. Paralympic Alpine skiing, Nordic skiing, and snowboarding governing bodies (from Kary Klismet) … Kellogg's redesigned Froot Loops mascot Toucan Sam. "It appears to have gone over about as well as the Rams uniform reveal," says Timmy Donahue.
• • • • •
[adrotate group="2″]
• • • • •
Click to enlarge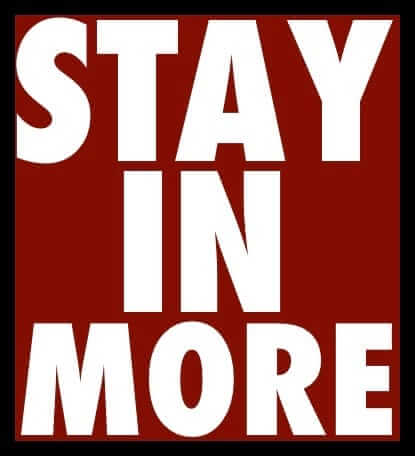 What Paul did last night: After we got back from the beach, we had a quick cocktail session on the porch. Didn't talk much, because we had already talked a lot at the beach, plus there are fewer and fewer things to talk about that aren't upsetting and depressing. (Example: We can't move to New Zealand because they have restrictions on immigrants over 55, and I'm now 56. Dang.)
This was a short cocktail interlude, because we had a Zoom appointment to celebrate our friend Rebecca's birthday. That was plenty festive, and then after that we made oureslves a clam bake — clams, mussels, chorizo, potatoes. It was reeeeaaaaallly good — definitely one of the best meals we've had during the pandemic:
The branch is still there.
As always, you can see the full set of Pandemic Porch Cocktails™ photos here.