For all photos, click to enlarge
I was poking around on eBay a few days ago and saw listings for something I'd never seen before: a series of four 1969 postcards (or at least that's when the seller said they were from) showing a jersey, cap, and stirrup for each then-current MLB team, broken down by division. The National League East postcard is shown above, and here are the ones the N.L. West, the A.L. East, and the A.L. West:
The back of each postcard had basic info identifying the publisher as the Hall of Fame:
It was immediately obvious to me, as I'm sure it is to most of you, that these postcards could not have been from 1969 (I'll get to that in a minute). But whenever they were from, I'd never seen them before, so I emailed Hall of Fame curator Tom Shieber. He said he'd never seen either the postcards or the display cases depicted on them.
There are so many odd things about these postcards. One thing at a time:
• The display cases appear to have been propped up against a wall and photographed — nothing fancier than that. This is most evident in the A.L. West card, where they didn't bother to crop the photo very well, so you can see a radiator and two windows in the background. Not exactly the most professional presentation!
• Are those actual caps in there? The display cases don't look that deep, but they'd have to have some depth in order to accommodate a cap without it looking smushed, right?
• The N.L. East and A.L. East cases appear to have an additional label/caption/etc. at top-left. Unfortunately, the photos aren't sharp enough to read them.
• The home jersey is shown for each team — except for the Padres and A's, which are represented by road jerseys (a vest, in Oakland's case).
• It's so great to see little stirrup details like the Astros' star and the Padres' three stripes.
• Speaking of the stirrups, it's funny how some of the stirrups are positioned to show the open loop and others are shown to show just the strip.
• The White Sox display includes a sanitary sock in addition to the stirrup, presumably because the Chisox had colored sannies. But the A's also had colored sannies at the time, and those aren't shown. Hmmmm.
• As a Mets fan, it's striking to see a No. 14 jersey. That number has been retired for Gil Hodges since 1973.
• It's a bit odd to see a Yankees jersey with set-in sleeves, instead of their current raglan sleeves with the pinstripes running across the shoulders.
———
Now then: There are all sorts of clues indicating that these postcards are not from 1969. So when are they from? It's surprisingly inconsistent. Consider (all date citations based on Okkonen):
• There's a Texas Rangers uni in there. They didn't even exist until 1972.
• The aforementioned White Sox uni with the blue sannies was last worn in 1970.
• The sleeve striping on that Brewers jersey was a carryover from their Seattle Pilots uni and was worn for only one year — 1970.
• The Indians jersey was another one-year design, from 1971.
• The Angels jersey debuted in 1971.
• There's at least one uniform that could only be from 1969: That would be the Padres', because the triple-striped stirrups and San Diego bicentennial patch shown in the postcard were only worn in that year.
So: Based on the Rangers jersey, the postcard couldn't have been produced prior to 1972. But it nonetheless included quite a few uniform designs that were outdated by that point. It would be fair to say that the Hall wasn't doing the best job of keeping its uniform displays up to date! Still, that's part of what makes this historical find so much fun.
If anyone knows more about the postcards or the display cases, please enlighten us. Thanks!
• • • • •
• • • • •
Uni Watch Haiku: Here's the latest from the Uni Watch haiku lab:
Player's name on back
Straight, radial, vertical
Except the Yankees
And there's more where that came from.
• • • • •
• • • • •
Click to enlarge
Too good for the Ticker: Style guides aren't just for sports uniforms. Case in point: Check out this great page from an early style guide for The Simpsons — so good!
(Big thanks to Twitter-er @fv_rob for pointing me toward this one.)
• • • • •
• • • • •
Click to enlarge
ITEM! Hockey jerseys redux: Nathan Haas of Adelph Wear and I are taking orders for another batch of Uni Watch hockey jerseys. Just like before, you'll have your choice of three different colors (green, gold, white) and two different tailoring cuts (standard "fan cut" and roomier "game cut," which will fit over pads for on-ice use).
To get in on these, you must order by next Friday, May 1. Full details here.
While we're at it:
• I still the Uni Watch Classic Cap in sizes 7 and 7-7/8. And remember, the price has been reduced to a pandemic-friendly $35.99. (If you'd like to be notified when other fitted sizes and adjustables are back in stock after our factory reopens, email me.)
• As of this writing, I have one — one! — green gumball helmet remaining. Who wants it?
• Uni Watch memberships, which usually cost $25, are reduced to $20 until further notice.
• You can get 15% off of everything in the Uni Watch Shop and the Naming Wrongs Shop by using the checkout code COMMUNITY.
• You can also support Uni Watch by making a donation.
My thanks, as always, for your consideration.
• • • • •
• • • • •
Click to enlarge
Hypothetically speaking: I ask you: Who doesn't enjoy a nice, tasty brat? Wouldn't you like to have one right about now?
If you'd like to discuss those questions with me, feel free to drop me a line. I'll bring extra napkins.
• • • • •
• • • • •
Membership update: More than a dozen new designs have been added to the membership card gallery, including Mike Boyce's. Do you recognize the design?
Answer: It's based on this Harlem Globetrotters jersey! Honestly, I'd never even seen that design before, and it's obviously no great shakes compared the classic-era 'Trotters uni, but it looks really sharp on a membership card. Nice choice, Mike!
We also have a new card from Paul Ricciardi, who's become the first member to base his card on the Uni Watch hockey jersey! (Have I mentioned that we're taking orders for a new batch of those?) I know I always say the ugliest jerseys make for the best cards, but this is a case where a really good-looking jersey makes for a sharp-looking card. I love how it turned out!
Ordering a membership card is a good way to support Uni Watch (which, frankly, could use your support these days). And remember, as a gesture of comm-uni-ty solidarity, the price of a membership has been reduced from $25 to $20 until further notice.
As always, you can sign up for your own custom-designed card here, you can see all the cards we've designed so far here (now more than 2,600 of them!), and you can see how we produce the cards here.
• • • • •
• • • • •
The Ticker
By Paul

'Skins Watch: "There's an annual gravel bike race in Kansas — one of the top gravel races of the year — called Dirty Kanza," says Bernie Langer. "Apparently, some groups have been upset at the name, calling it racist against Native Americans. In response, the race organizers issued a joint statement with the Kaw Nation saying it's not disrespectful, and that the 'Dirty' moniker is meant positively (which, being a gravel race, it clearly is)."

Baseball News: All of these are from Kary Klismet: Here's one writer's pick for the best facial hair in the history of each MLB team. … Some fans recounted which signatures were stamped into their childhood baseball gloves. For the record, I had a Pete Rose model and then a Tom Seaver model, but of course neither of them was left-handed like I am, so it always felt a bit unsatisfying, or even like cheating, to have their signatures on my glove. … New costumed mascot for the Fredericksburg Nationals. … Man, the 1981 National League All-Star team was powder blue-o-rama (from @OldTimeHardball).

NFL News: New England's uni-numerical annexation of the Buccaneers continues: Bucs TE Jordan Leggett is switching to No. 81 so newly acquired TE Rob Gronkowski can wear No. 87. It's similar Bucs WR Chris Godwin changing from No. 12 to No. 14 to accommodate newly acquired QB Tom Brady (from many readers). … Washington's equipment staff just launched its own Twitter feed (from Joe Brooks). … Some new uni number assignments for the Broncos, Bears, and Panthers (from Kary Klismet and John Stark). … Great find by the Gridiron Uniform Database's Bill Schaefer, who discovered this 1964 photo of Broncos RB Billy Joe with FNOB. … What is it about football coaches thinking they're some sort of drill sergeant and field general rolled into one? In this article about how Washington coach Ron Rivera is preparing to participate in the NFL draft from his home, he says, "It's teamwork, just like in the military." "Riiiiiight," says Willard Kovacs, "because scratching names off a list is the same as losing a limb to an IED." For the record, Rivera has never served in the military.

College Football News: Here's a look at the evolution of BYU's uniforms since 1965 (from Kary Klismet, who was really on a roll with the Ticker submissions yesterday!).

Hockey News: The NWHL has announced a Toronto expansion team, which will begin plan next season. "No name, logo, colors, or uniforms yet, but they're letting people submit ideas for all of those," says our own Jamie Rathjen. … If you're a hockey fan, you've probably heard of the Vezina Trophy. But have you ever seen this awesome photo of its namesake, Georges Vezina? (From @MrBudziszewski.) … Here's a video discussion of the greatest goalie masks shown on hockey trading cards (from Dave Lucas).

College Hoops News: New court design for Texas Tech (from @TheVeaze). … If you've always wondered what Virginia Tech's jerseys might look like if they were patterned after certain NBA team designs, wonder no longer (from @tdotflip05).

Soccer News: The Columbus Crew SC's grounds crew has turned the team's pitch into a pandemic-solidarity message (from Jared Sloan). … Here's another look at Liverpool's new home and away kits (from Josh Hinton). … Wanna read about the best mullets in MLS history? Of course you do (from Wade Heidt). … Chelsea's third kit has leaked. … Scottish side Hibernian released their new first shirt for next season. "It has 'Thank You NHS' [for the National Health Service] on the front instead of an ad, though they were already wearing their charity's logo instead of an ad last season," says our own Jamie Rathjen.

Grab Bag: Chicago mayor Lori Lightfoot is encouraging the city's residents to hang their favorite jersey in their windows. … The new Xbox Series X logo was quietly revealed yesterday. … Canada may end up having a big say (NYT link) on when U.S. sports are reactivated. … Olympic gold medalist gymnasts Nastia Liukin and Shawn Johnson donned their Team USA leotards to watch a replay of the 2008 Olympics all-around women's gymnastics finals (from Kary Klismet). … Golfer Rory McIlroy says he'd rather scrap this year's Ryder Cup than stage it without fans in attendance. … Congressman Jamie Raskin has asked the Commandant of the Marine Corps to relax grooming standards due to the pandemic (from Timmy Donahue). … Also from Timmy: There was a bit of online controversy when the U.S. Navy added a surgical mask to its logo. … Classic pandemic filler: the five best uniforms in Detroit sports history (from @zenojones). … Good article about a new Facebook group devoted to one of my favorite subjects: old Wisconsin bowling alleys. … Oklahoma State is now selling officially licensed facemasks (from Matt Wilson). … ESPN is apparently planning to air a segment tomorrow about people wearing masks with sports team logos on them (from Randall Sanders). … In a related item, Minnesota Gov. Tim Walz wore a Twins mask yesterday (from Adam Stillman). … The Ohio Association of Track and Cross Country Coaches will no longer require athletes to wear numbers. According to that memo, this leaves New Jersey as the only state that still requires them (from Kyle Sutton).
• • • • •
[adrotate group="2″]
• • • • •
Click to enlarge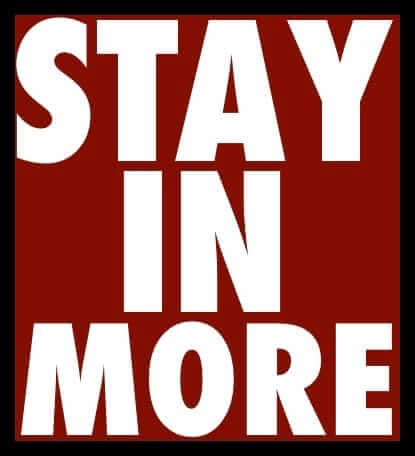 What Paul did last night: By now you're used to seeing the Tugboat Captain all bundled up in these photos. I too am all bundled up. That's because the temperature is usually in the mid- to high 40s by the time we hit the porch at 6pm-ish each evening. I for one am really tired of it — I am so ready for warmer weather, even if my enjoyment of it will largely be limited to the daily porch session.
Anyway: We talked about some good stuff, some sad stuff. Mostly sad stuff, honestly. We met a new dog, a really nice-looking cocker spaniel named Archie. Archie's person, an entertainingly demonstrative Russian woman, liked our tulips so much that she took a few photos of them, which was sweet. My oatmeal stout was great.
• • • • •
Raffle results: The 10 winners of our special raffle for people are who out working in the real world while the rest of us are sheltering in place are Ken Alimento, Jeremiah Allyn, Christian Berumen, Jordan Bonham, Giovani Corona ("Yes," he says, "that's my real name"), Jeff Jensen, James Richardson, Bill Riley, Scott Thomas, and Mark Zrebiec, each of whom has won a Uni Watch membership card. Congrats to them (and, more importantly, big thanks for the important work they're doing), and a heartfelt thanks to the anonymous reader who made this possible.