For all photos, click to enlarge
[Editor's Note: Today we have a guest entry from reader Ken Clark, who's going to show us how he turned an MLB cap into a protective mask — and it was his first time sewing! Enjoy. — Paul]
By Ken Clark
I'm a registered nurse, originally from New Jersey but now living in Germany, where the local authorities have recommended that everyone begin wearing facemasks when out in public. Since these masks are simply not available to purchase, my daughter and I decided to make our own out of items readily available in our house.
I took our trusty seam ripper and got to work dismantling an old California Angels cap. I decided to use the front two panels in order to show off the team's logo:
I wanted the mask to be more or less formed to the shape of my face, so I found this flexible copper wire in the basement. I figured I'd be able to sew this into the mask and then adjust it once it was on my face.
When I removed the front two panels of the cap, I left the strips of fabric covering the seams on the inside. I wrapped these strips around the copper wire and sewed the loose side onto the outside of the mask. I chose to do this on the outside, rather than the inside, to reduce the friction on my face. As you can probably tell, it was my first time sewing:
I need straps to hang the masks from my ears, so I doubled up some fabric bandages left over from an old injury. We had to use whatever materials were readily available, even if it happened to be camouflage:
My daughter supplied some hair ties to go over the ears. That's a 35-year-old Decepticon monitoring my progress.
Here's the final product:
You may be wondering about the circular ventilation holes. Although not shown in this step-by-step sequence, I used a thick, felt-like material to line the mask, so that helps to block the holes.
Next: I had an old multicolored seersucker bow tie in the closet that I'd never worn. It was blue, yellow, green, and pink. I decided to turn it into a mask for my four-year-old son.
I sewed the main portions of the tie to create a wide surface to use as the mask. Then I folded over the curved parts of the tie and sewed in the copper wire:
Here's the final product. Lots of color and hopefully lots of protection:
I find that last photo both adorable and depressing. We'll get the wires in the mask adjusted on when we use it out in the wild.
Last but not least, I made a mask for my wife out of an old necktie from her company. I took the label from the back and sewed it onto the front so her fellow essential coworkers know of her dedication to the company (she works for a firm that sells pharmaceutical ingredients to pharma companies around the world). I sewed a thick, fleece-like pad into this mask, to act as an extra barrier. She still needs to shape her mask, but once that's done she'll look stylish in silk.
I know some people are skeptical about masks. And it's true that these types of homemade masks are not 100% effective. Even an N95 mask is only 95% effective when it fits the wearer properly (and it takes a lot of effort to ensure the proper fit). But any type of protection is better than nothing. Protecting yourself involves a range of methods, including wearing a mask, hand washing, and isolation. Each is good individually, but your level of protection goes up as you add the others. Think of it like protecting your house from a burglar: A lock on the front door is great, but also locking your windows and adding an alarm system is better.
———
Paul here. I love all of this! Big thanks to Ken for sharing these projects with us, and stay safe out there.
• • • • •
• • • • •
Click to enlarge
And speaking of uni-related masks…: The great DIYer Wafflebored has made himself — of course — a Canucks-themed mask. He says:
I had a lot of reservations about this project. I didn't want anyone to think I was making fun of a very serious situation, nor did I want to equate sports with anything much more important happening in the world right now. But I also know that I have been very appreciative of people providing fun content to lift everyone's spirits during this tough time, so decided to share this with that intent in mind. I also know there is considerable debate about wearing masks, and what type to wear — please note this is a novelty piece and I will not be wearing it for protective purposes.
Here are some additional pics:
• • • • •
• • • • •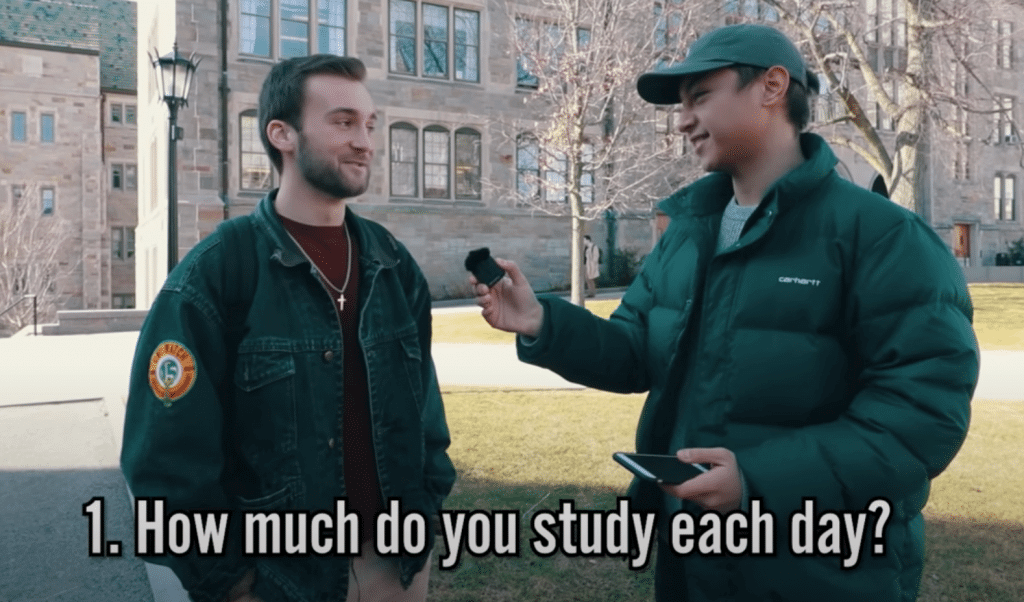 Click to enlarge
ITEM! Uni Watch spotted in the wild: Reader Harrison Hamm was watching a YouTube video in which a guy approaches people on the campus of Boston College and tries to guess their majors based on their answers to three specific questions. And as you can see above, one of the students he talks to, identified only as Ryan, has a Uni Watch 15th-anniversary patch on his jacket!
The video, which was posted a month ago, has over 760,000 views. Ryan, if you're reading this, thanks for the exposure! Give me a shout and let me know how you're doing. (Also, you have the same major that I had when I was in college!)
You can see Ryan's segment of the video here:
• • • • •
• • • • •
Click to enlarge
Meet the Uni Watch Team — Mark LaFountain: When we launched the Uni Watch Classic Cap in 2018, Ebbets Field Flannels not only made the caps but also sold them on their website and handled all the shipping. In 2019, though, they decided that they were happy to keep making the caps but didn't want to handle the fulfillment anymore. I was wondering how I'd fit lots of bins of caps in my small NYC apartment, how I'd find time for endless trips to the post office, and so on.
And that's when reader Mark LaFountain stepped in. He volunteered to keep the caps at his house in Maine and handle all the fulfillment tasks. I set him up with some storage bins, boxes, packing tape, a postal scale, and so on, and he took it from there. When a cap order comes in, I forward it to Mark and he takes care of it, and then he bills me each week for his postal expenses. It's been an excellent working relationship, and I can't adequately express how grateful I am to Mark for that.
Here are a few words from the man himself:
I live in Topsham, Maine. I came aboard the Uni Watch team about a year ago. I had been a fan and avid follower of the site for some time, and I remember when Paul mentioned he was wondering where he was going to store all those hats. A couple things occurred to me: I had room in my basement where I could keep the hats, an old dresser on which I could pack the caps for shipping, and I live in a small town, which makes access to the post office pretty easy. So I thought what the hell, I'll offer up my services. I sent an email to Paul, we talked on the phone a couple days later, and the rest is history. It's been fun fulfilling cap orders and sending these beauties out all over the country and to many parts of the world to folks who Get It™.
Thanks, Mark! As an aside, Mark also refs women's DIII basketball games. Last month he was set to be the official game clock operator for a women's DIII sweet 16-round game that was slated to take place without a live crowd, and he had agreed to write about the experience for Uni Watch, but then the game was cancelled. Too bad.
Mark is part of the wonderful team of people who work behind the scenes to help make Uni Watch possible. Think of him whenever you order a cap, because he's the one who makes it happen.
• • • • •
• • • • •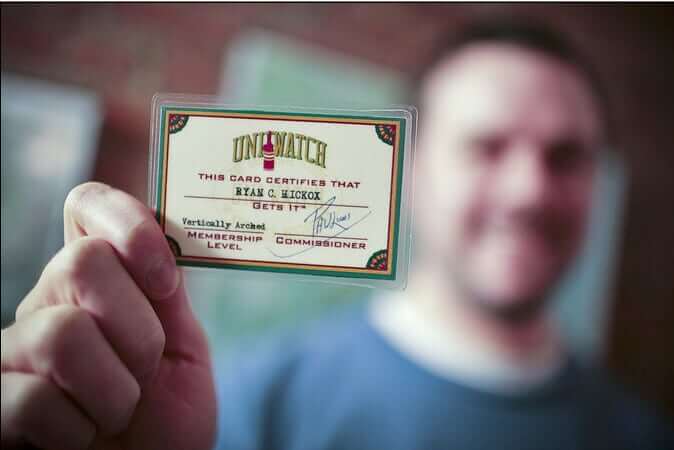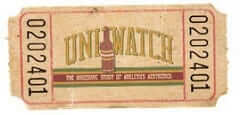 ITEM! Another membership raffle: Longtime reader and all-around good guy Mike Engle recently purchased a Uni Watch membership for me to raffle off, so that's what we're going to do today.
To enter, send an email to the raffle address by 8pm Eastern tonight. One entry per person. I'll announce the winner on Monday. Thanks to Mike for sponsoring this one!
Speaking of raffles, the winner of yesterday's FOCO giveaway is Jeff Paterno, who's chosen a Red Sox hoodie. Congrats to him, and thanks to FOCO for once again partnering with us.
And speaking of memberships, eight news designs have been added to the membership card gallery, including Glen McCollum's card, which is based on — get this — Canada's 1948 Olympic hockey jersey. What a beauty!
Ordering a membership card is a good way to support Uni Watch (which, frankly, could use your support these days). And remember, as a gesture of comm-uni-ty solidarity, the price of a membership has been reduced from $25 to $20 until further notice.
As always, you can sign up for your own custom-designed card here, you can see all the cards we've designed so far here (now more than 2,500 of them!), and you can see how we produce the cards here.
• • • • •
• • • • •
Click to enlarge
Some happiness amidst the gloom: It was a very happy 96th birthday yesterday for my mom, as she enjoyed video-chatting with my brother Roy, the Tugboat Captain, Uni Watch girl mascot President Caitlin, and me. Mom has always been a technophobe and have never owned any internet-related device (I arranged for the staff of her retirement community to bring her an iPad for this session), so the whole thing was all magic and science fiction for her. And she loved it! Not the birthday we all would have preferred, but still something that made her happy on her special day. As you can see in the background, the staff also brought her balloons — nice!
Mom's pretty indestructible, so I pretty sure we'll have several more of her birthdays to celebrate in person in the years to come. All things considered, though, this one wasn't so bad.
• • • • •
• • • • •
The Ticker
By Anthony Emerson

Baseball News: The Reno Aces, Triple-A affiliates of the Diamondbacks, have released a new alternate cap with the letters BLC — an abbreviation of "Biggest Little City" — in the font of the neon Reno welcome sign (from Nicklaus Wallmeyer). … Syracuse.com has published a photo gallery featuring every Syracuse pro baseball uniform they could find, going back to 1858 and all the way up to the modern Syracuse Mets [But no Syracuse Devices! — PL] (from Tom Wanamaker). … The Cedar Rapids Kernels, Class-A affiliates of the Twins, will become the "Lattes" on Aug. 7 to promote Busch Light (from @Mr.Budziszewski). … Ohio Gov. Mike DeWine, who's taken to wearing sports-themed ties during coronavirus press briefings, brought a piece of gear from every Ohio minor league team during yesterday's coronavirus press conference, including Dayton Dragons socks! (From Dante Centuori.) … New Mile High Stadium has a home-plate-shaped marker in the parking lot, where home plate was at Old Mile High (from Kary Klismet). … The Jamestown Tarp Skunks — there's a name — of the Perfect Game Collegiate Baseball League have released their new uniforms. With a name like Tarp Skunks, their uniforms could be … weirder, or something (from @BallparkHunter). … An Ohio brewery has come up with the first beer that trolls the Astros for their cheating scandal.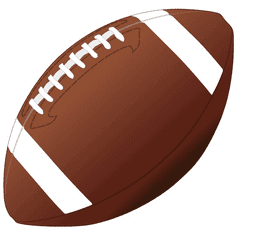 Football News: The Chargers confirmed that their uni unveiling will be on April 21, a week from next Tuesday (from Mike Chamernik). … The Browns released a teaser video of their new unis. It's hard to see any detail, but one thing's for sure: block numerals appear throughout the video (from multiple readers). The photoshoot for the new unis apparently followed strict social distancing guidelines (from Erik Drost and John Sabol). … Speaking of, a Browns blog has published an opinion piece calling for the return of the team's classic uniforms (from Bob Moon). … Here's a great colorized look at the Cardinals' infamous "lung" jerseys (from the always great @NFL_Journal). … Fanatics is selling a matte black Michigan State helmet with the words "authentic" and "alternate" in the title. Maybe a sign of things to come? (From @MSU_Uniforms.)

Hockey News: A Jets fan has built a mini-rink in his basement (from Mike Chamernik and Wade Heidt). … A Canadian fast food chain has partnered with hockey stick manufacturer Bauer to place credit card readers at the end of hockey sticks to maintain social distancing and limit the number of people touching a single card (from Mike Chamernik). … Fox Sports West tweeted highlights of the famous 1996 Kings/Mighty Ducks matchup where both teams wore horrendous jerseys — Burger King vs. Wild Wing! (From Kyle, who didn't give his last name.) … Check out the Cooperals worn by Providence College in 1985 (from James O'Connor).

NBA News: Here are a bunch of examples of the WNBA's different proprietary fonts (from James Roche).
.

Soccer News: Despite the pandemic, demolition is progressing at the site for what will become Nashville SC's stadium (from Wade Heidt). … It appears VfL Wolfsburg will go with a much paler shade of green for next year's kits.

Grab Bag: These two tweets have some great looks at a very 1970s design for the National Lacrosse League's Toronto Tomahawks. Look at the socks on the Philadelphia Wings' player from the action shot! (from Michael Sullivan). … Here's something I never knew: Paralympic medals are filled with tiny steel balls that make noise when shaken. Gold, silver, and bronze medals all have different sounds, too (from William I. Wells). … A blog post has listed iconic pro cycling jerseys (from Graham Clayton).
• • • • •
[adrotate group="2″]
• • • • •
Click to enlarge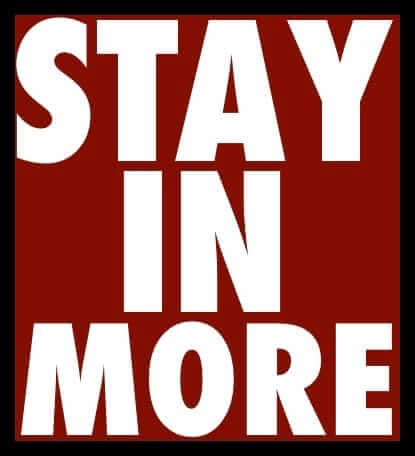 What Paul did last night: Really nice time on the porch yesterday evening. Bud for me, white wine for the Tugboat Captain, mixed nuts for both of us. We talked about the video chat with my mom, and how we should probably do something similar with her parents. We talked about how much longer we could avoid going the supermarket. And we talked about what kind of pizza we should get for dinner (which is silly, because we always end up getting pepperoni). And we probably talked about a bunch of other things that are a blur to me now.
The Captain had to run inside to video-teach a class, but I stayed on the porch for a bit and composed some haikus in my head:
Plague and pestilence
But this pandemic porch Bud
Makes life bearable
and
Not really hungry
But can always eat pizza
Mmmm, pepperoni
and
The world is dying
But one thought keeps recurring:
Falcons unis suck
And then I went inside and ordered the pizza. Everyone have a safe and sane weekend. Phil will take you through the weekend, and then I'll see you back here on Monday. Peace. — Paul